I know I'm not the only one who loves fresh flowers am I? I mean like all year? For me they are on the list like milk, eggs, flowers. I have a poster of sayings in my office and one line says you can never have too many books or flowers and I believe it. That being said, it can be an expensive habit – we are worth it I know but still….so you've seen the posts about arranging grocery store flowers and yes this is one of them. But I am putting a little twist on it.
First, I've already elevated the name to Market Flowers, seriously that just sounds better. Here are my flowers for today. $4 from Wegmans – that's a perfect price for me.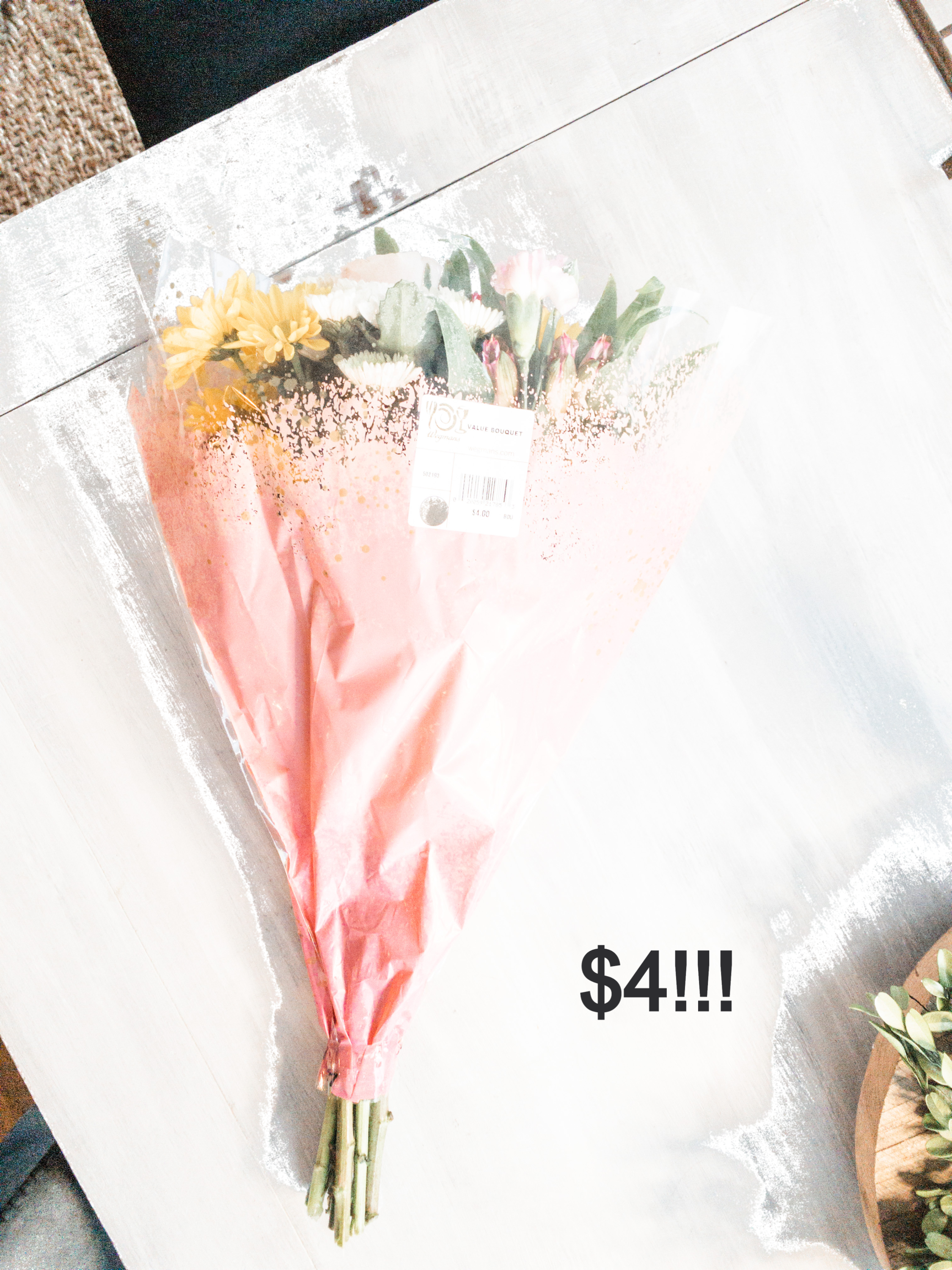 It's ok if you unwrap them and plop them in a vase if…
1. Amazon is at the door
2. You have to get back to your Zoom call
3. The dog is barking
4. You can't find the scissors
But let's elevate our game a bit shall we?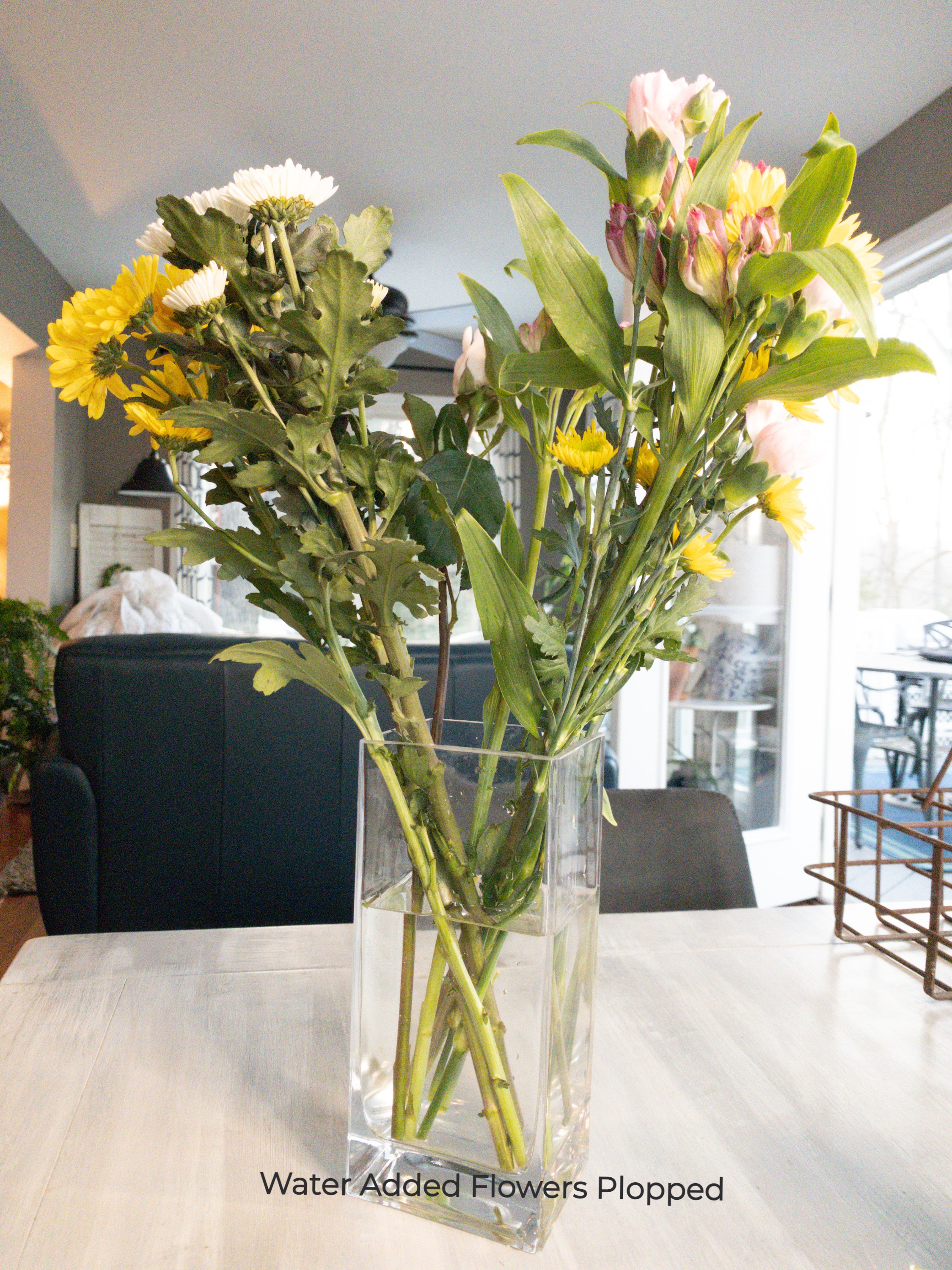 We can do this in baby steps.
Unwrap the flowers from the paper.
Then the first step to elevate your flowers is to cut the stems.
This is a good practice so they have a fresh cut to soak up water.
Below is a straight cut, all the same length….better.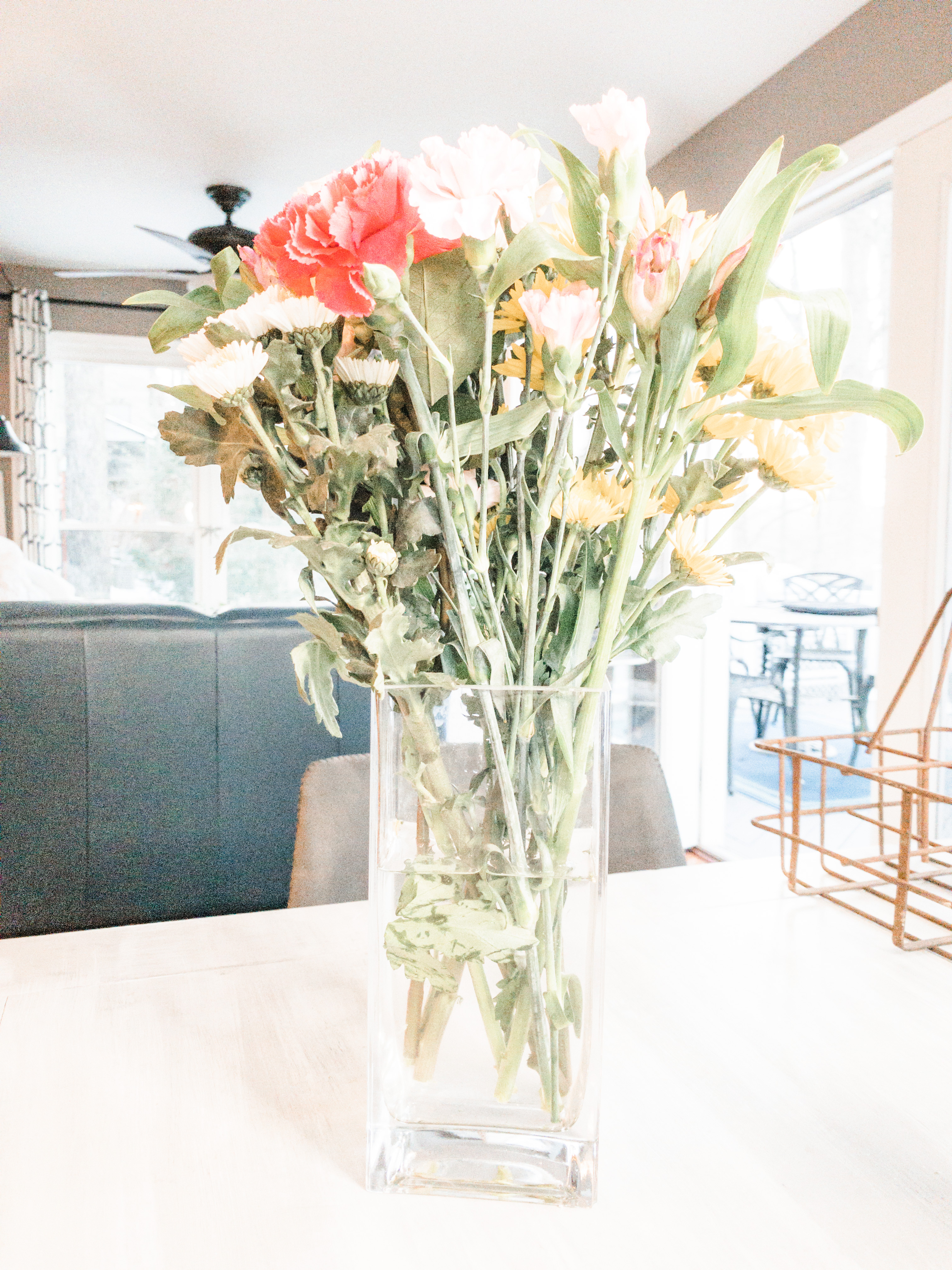 To enhance the look, lay them out so the bottoms are even.
Then cut them in at least 3 different lengths.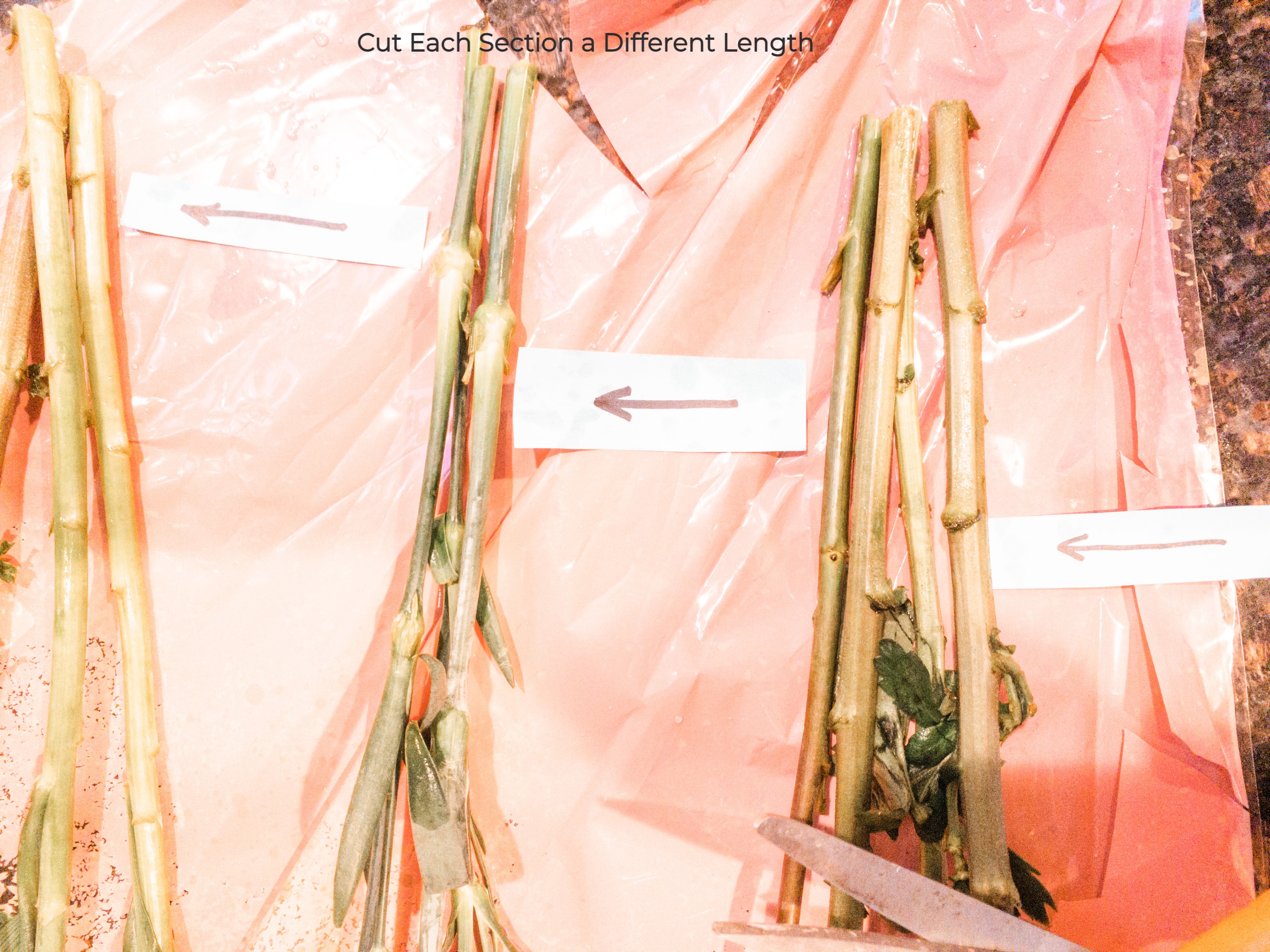 See the difference? The progression from the first unwrap and plop to the trim the stems to the cutting them in 3 different lengths.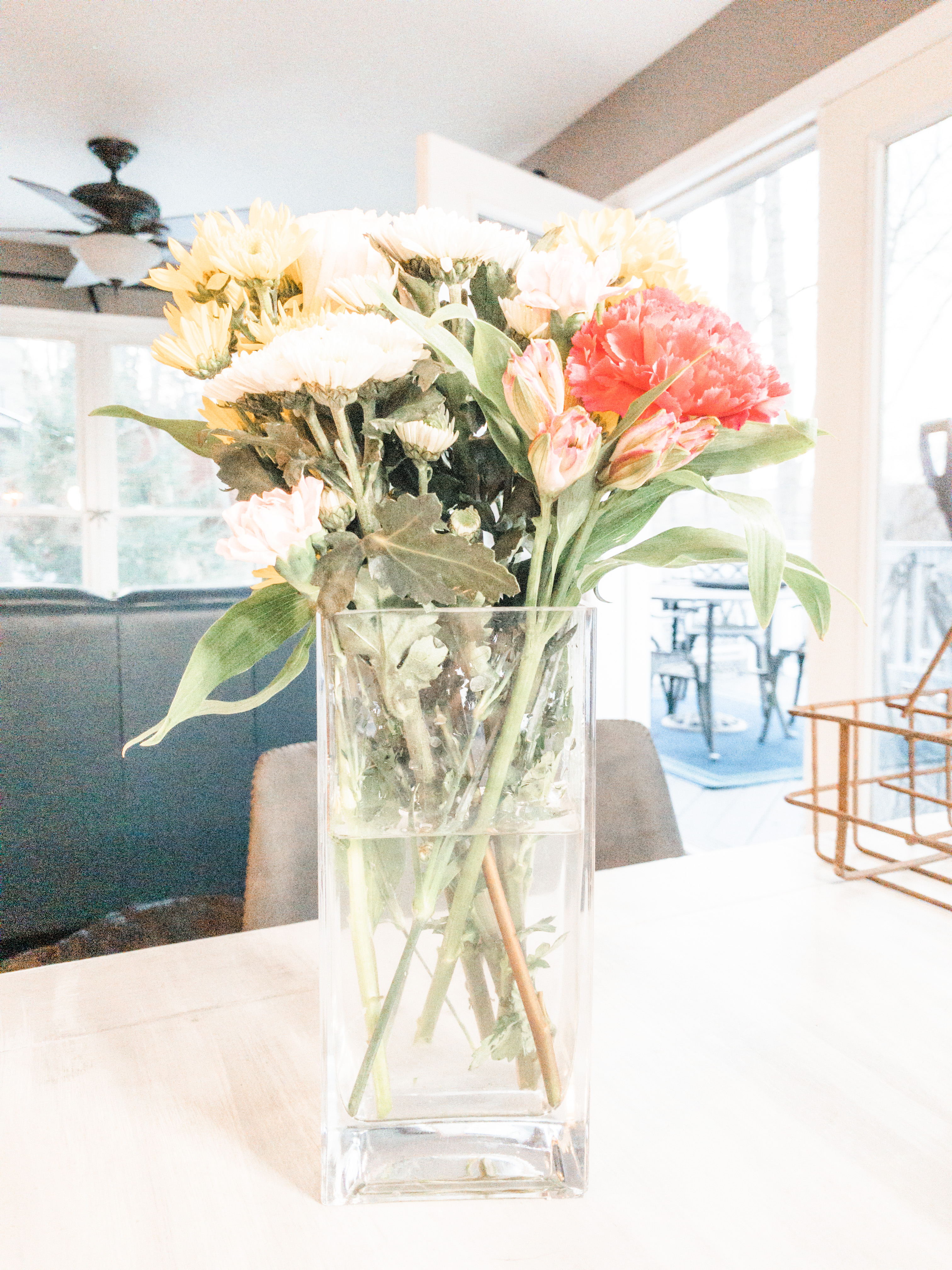 Now we are going to take it one step further.
Btw, it was 63 today but the ground is still covered in snow. I headed out with scissors and was asked by a neighbor why was I walking in the snow with scissors. (Isn't that the name of a book?)
Anyway, I snipped a branch from a cherry tree, a few pieces of some shrub that looks like boxwood, and a little Rose of Sharon.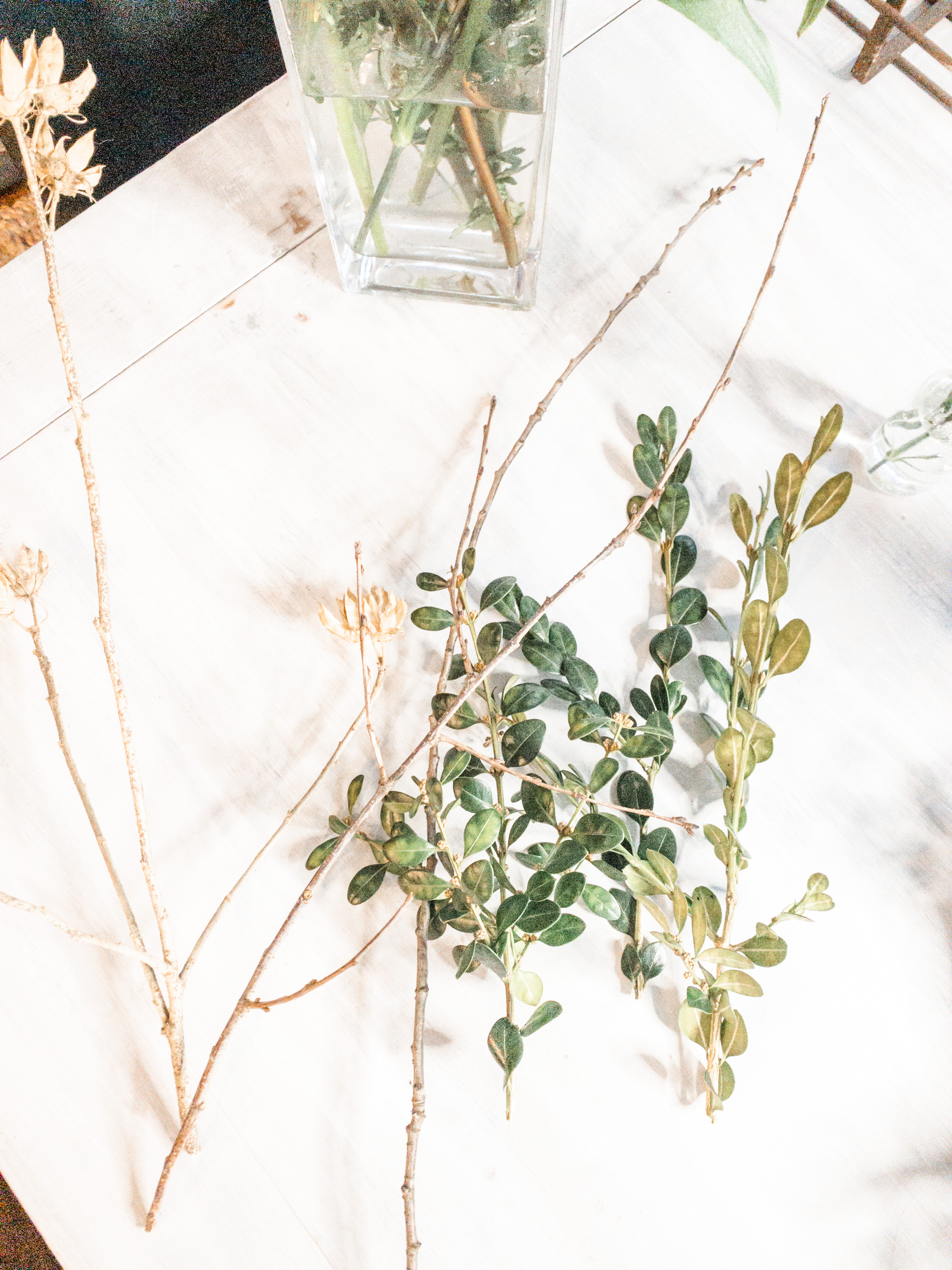 Before I added the branches, I did what I always do, I broke a few stems by accident.
But it's ok, because now I will have a few extra flowers to put in my tiny bottles or salt shaker like I mentioned in my post on Keeping Memories Close.
I was ready to add the branches, stems and sticks into my arrangement to give it some added dimension and interest. It elevated the look and didn't cost a thing!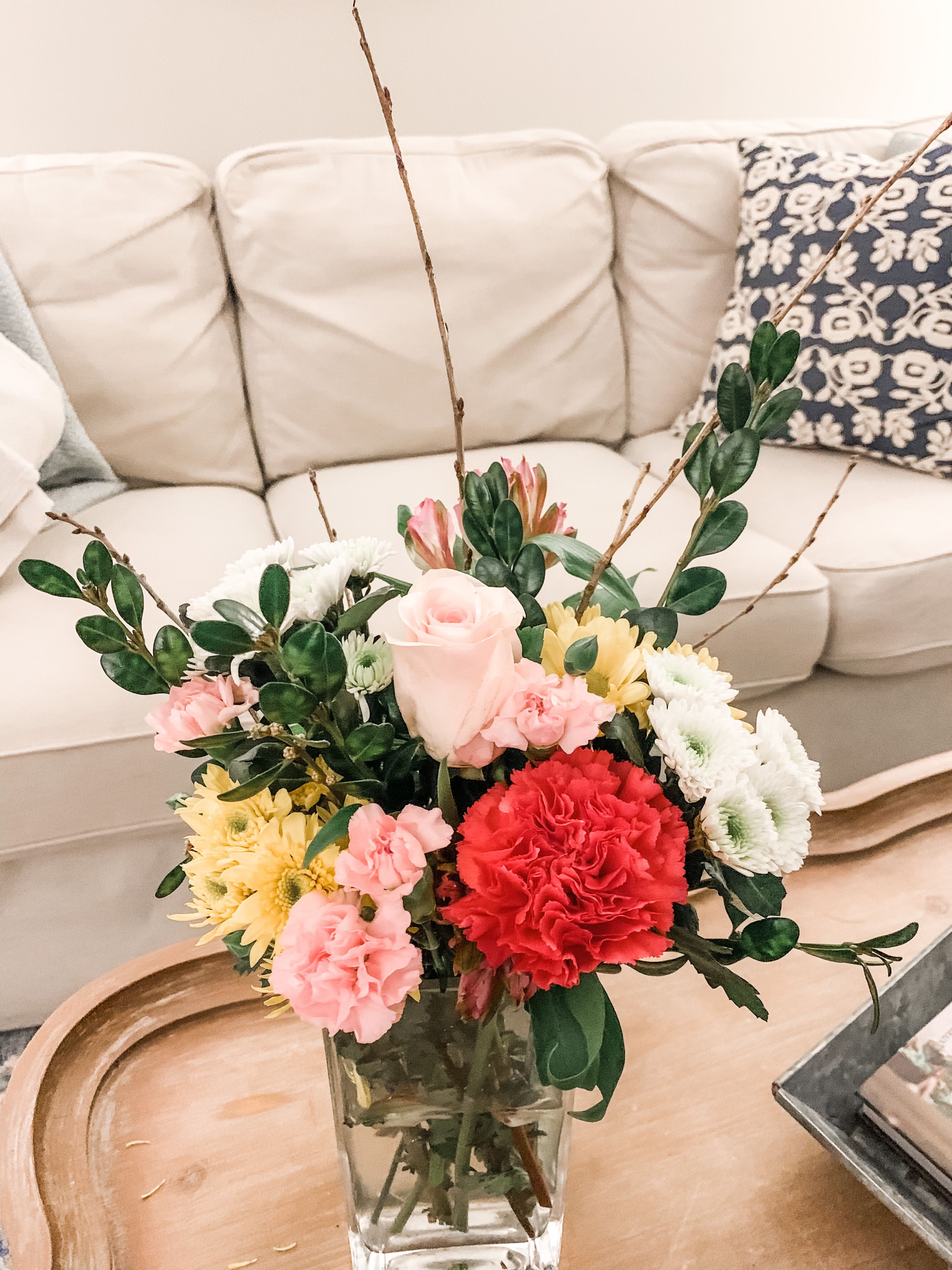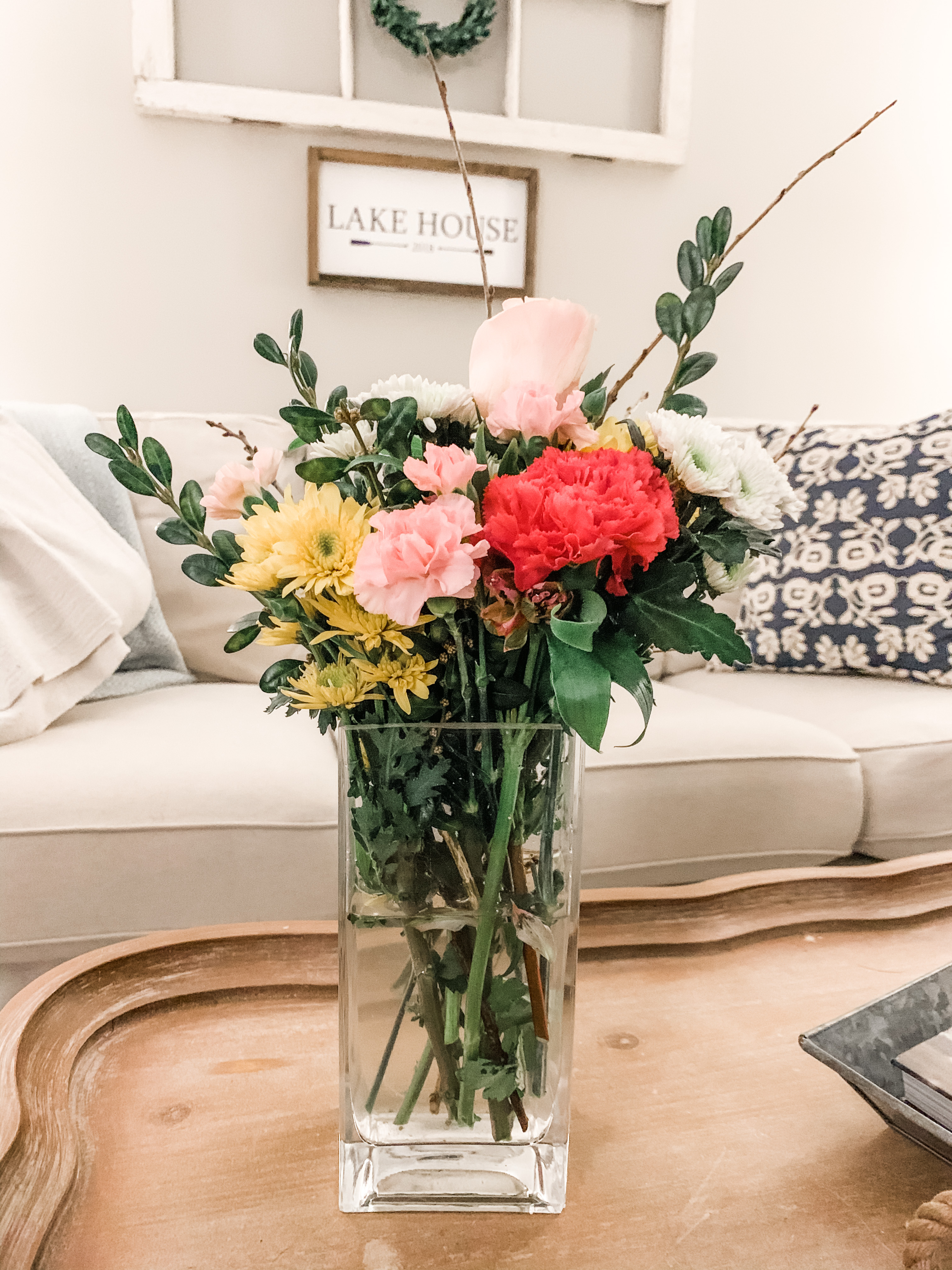 It looks better don't you think? If you want to change the look up a bit more, just change the vase.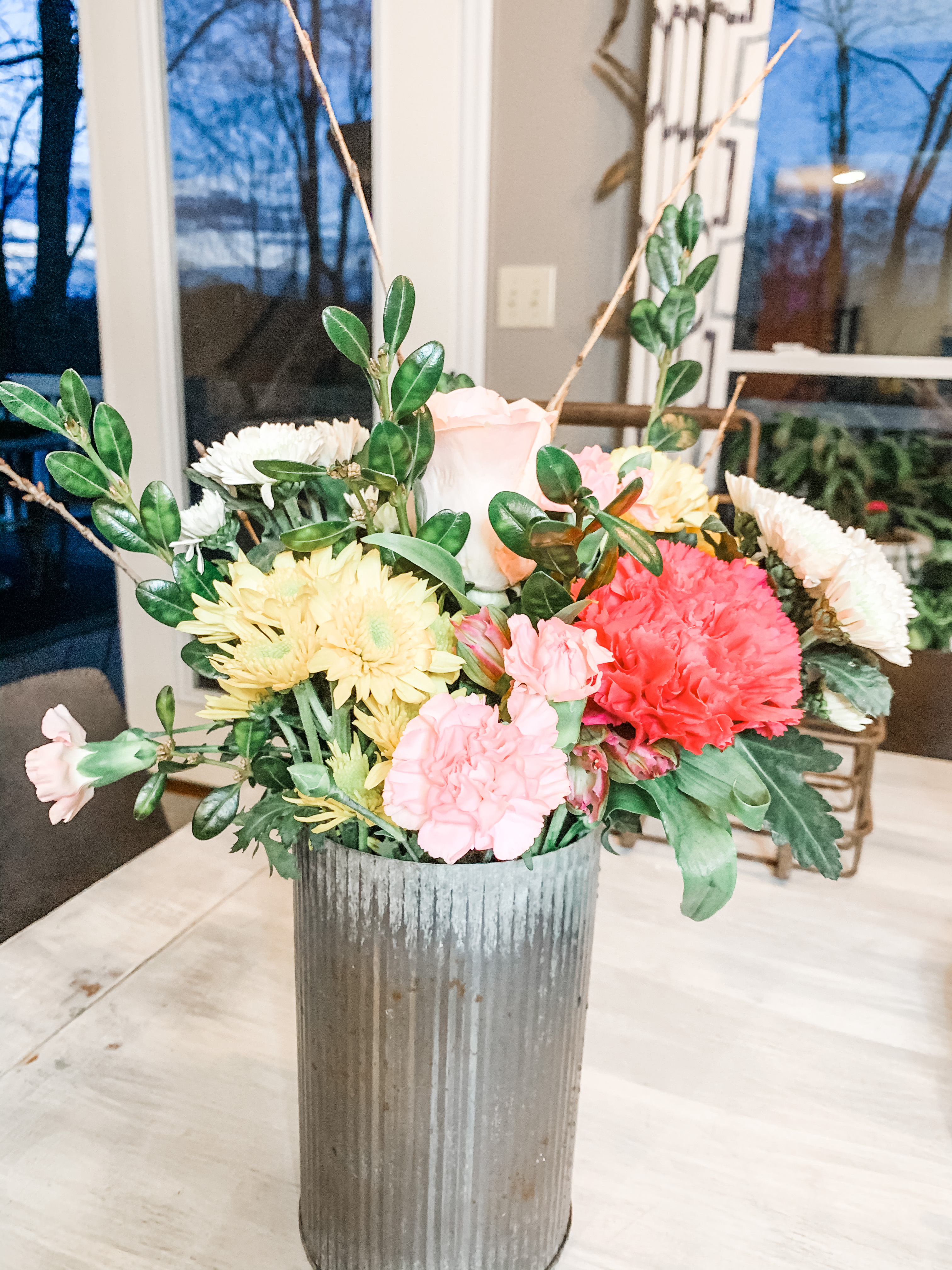 Now it's really time to get crazy!
I try to keep plants from my yard alive throughout the winter. Some thrive and some…not so much.
I've had great luck with my fern – I absolutely love ferns and use them often in my tablescapes.
I snipped a few pieces off and tucked it into yet another vase to change up the look even more. I think it makes all the difference.
At Wegmans I could have purchased a bunch of greens for $8, but I prefer the free version.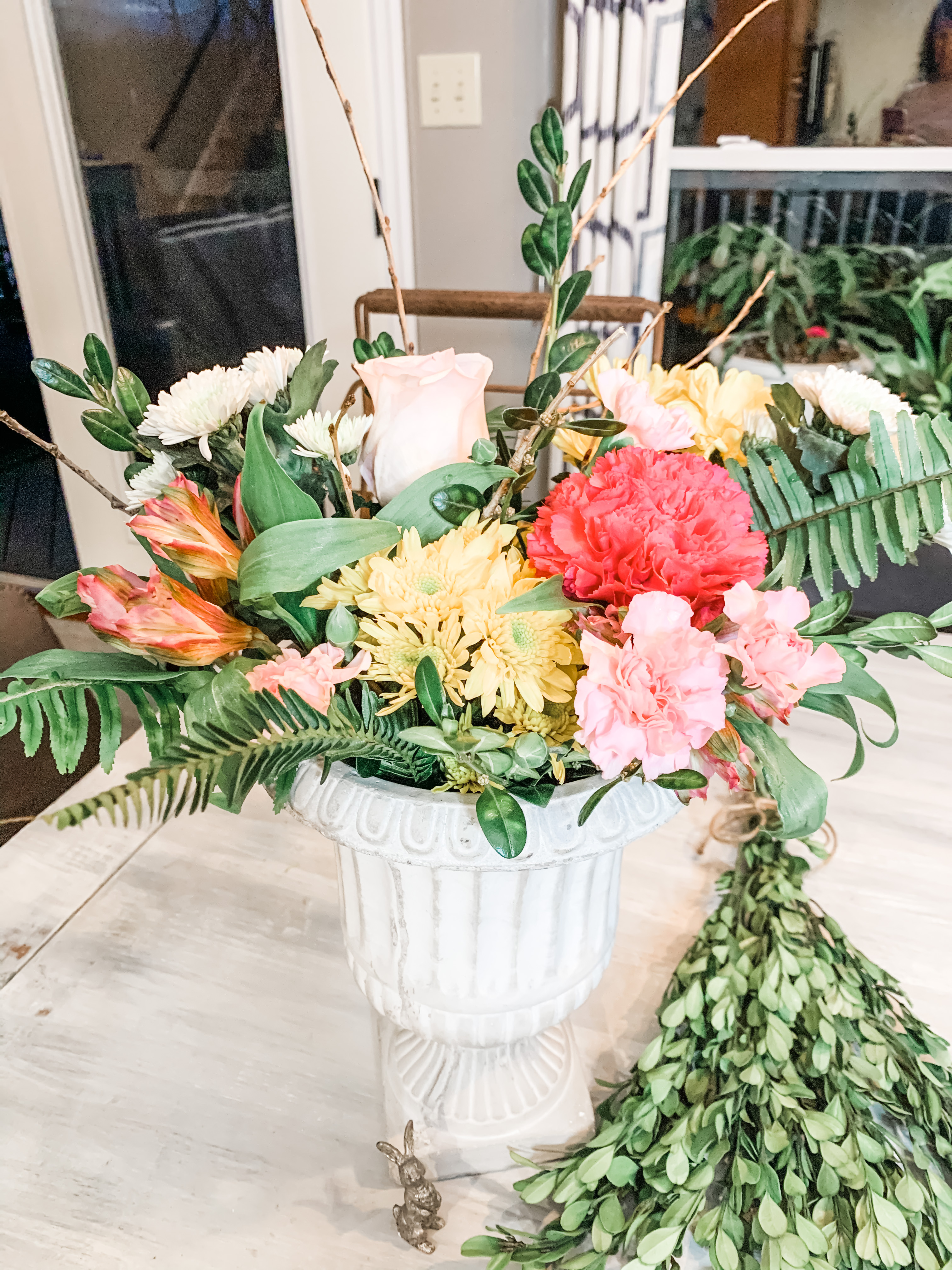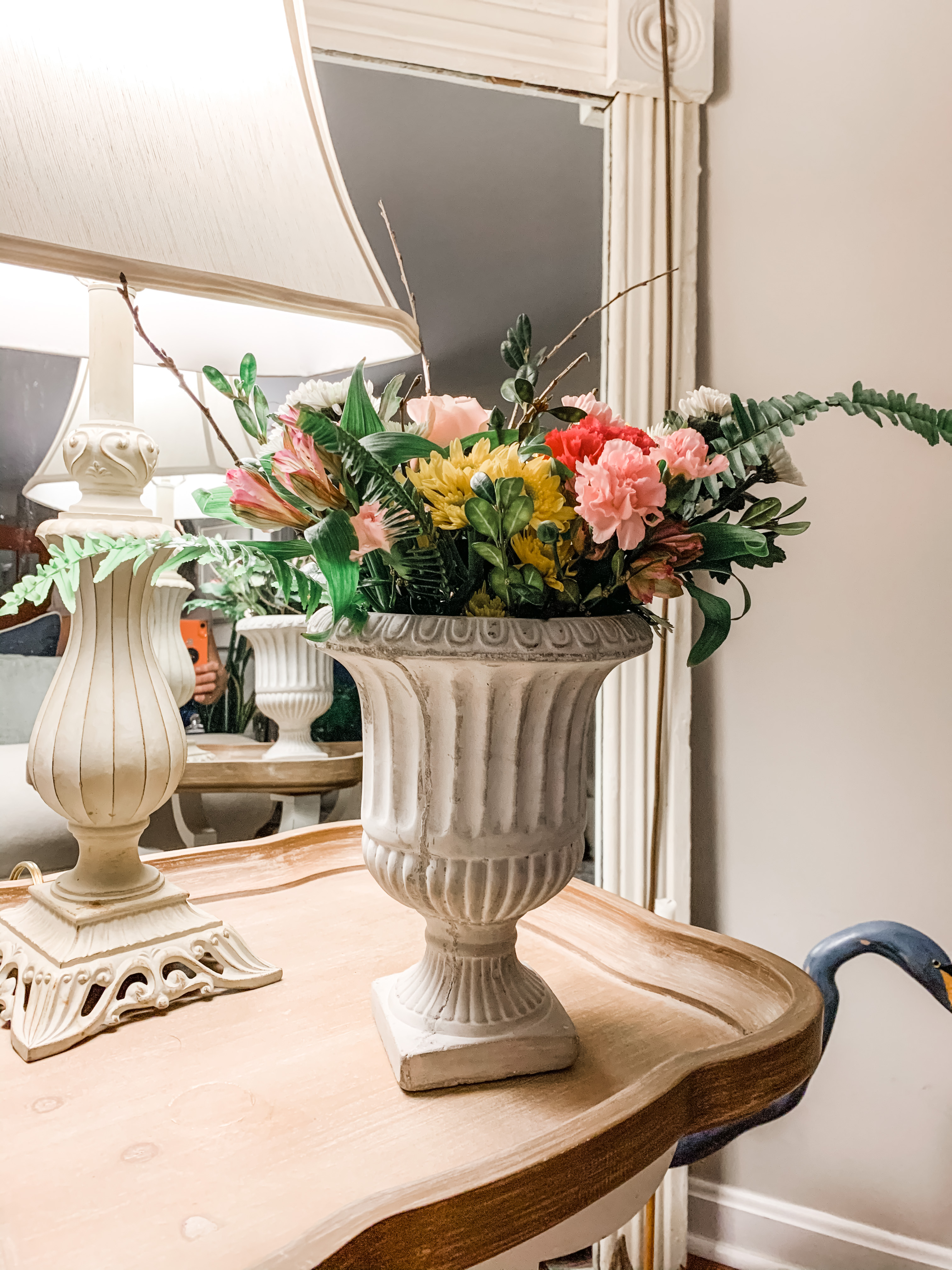 Here are the same flowers, with the sticks, branches and sprigs of ferns in the beautiful urn I picked up on my trip to Terrain.
---
Let's look again.
Here is the unwrap and plop look (before) and the after version.
Next time you are at the "market", add flowers to your list and then elevate your look! XO Regina