Are you looking for easy ways to get your home "summer" ready? I'm sharing simple summer refresh ideas for your home that are fast, easy and affordable.
Today I'm part of a Blog Hop, where you will get a glimpse at several of my blogging friends summer decor.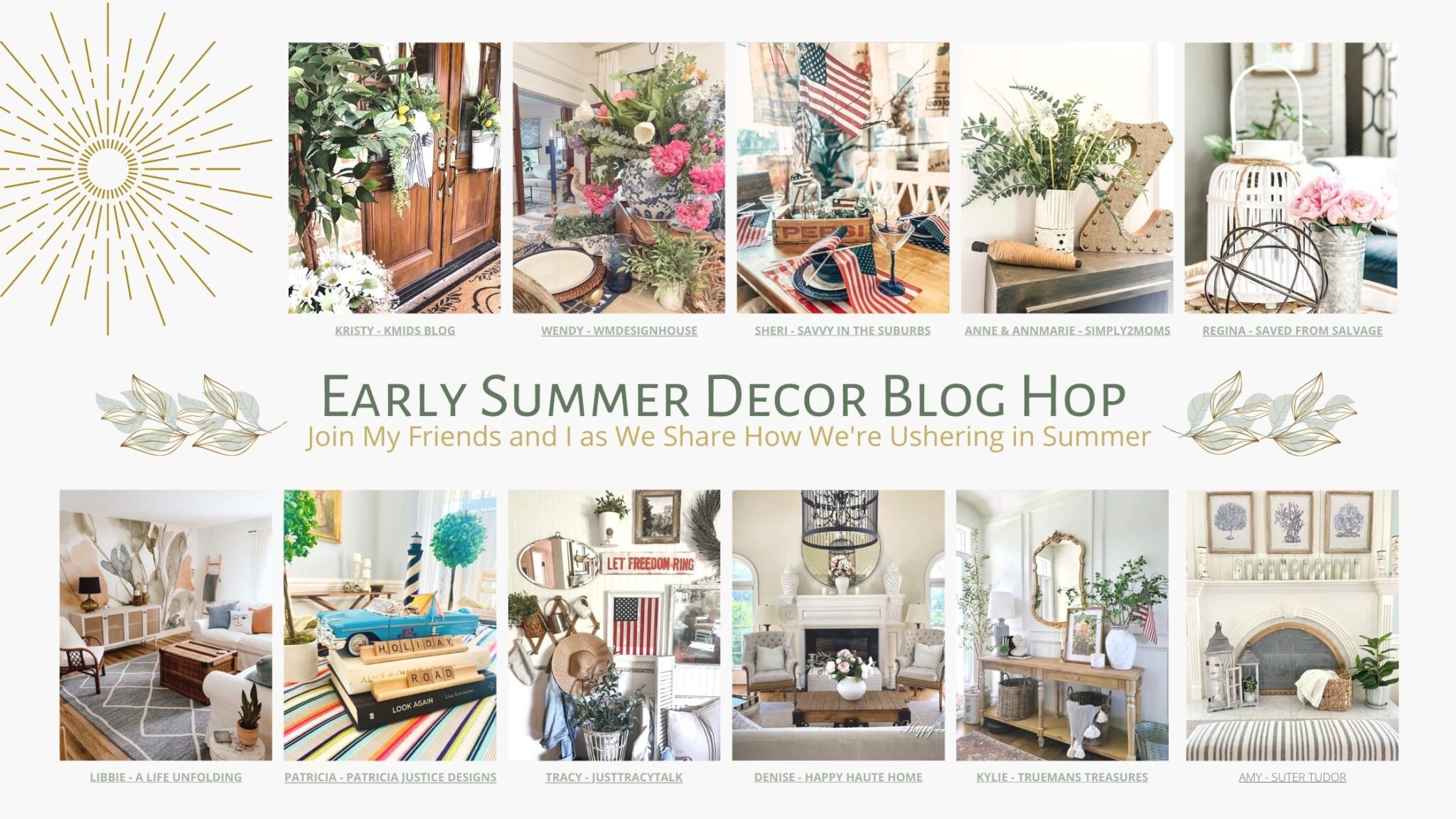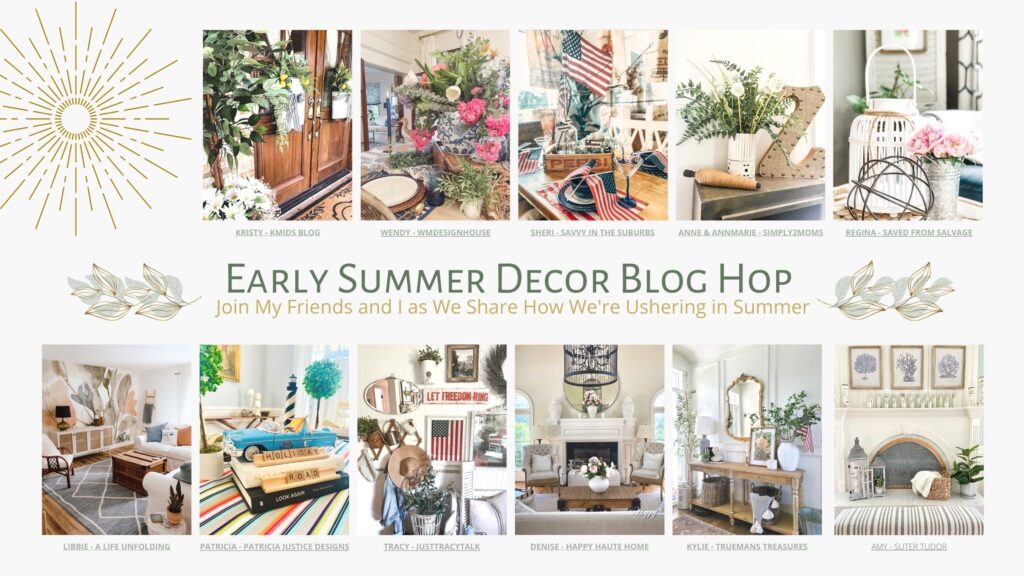 You will enjoy tablescapes for summer, indoor and outdoor decor ideas and maybe a few DIY's thrown in.
SUMMER DECORATING
Some seasons are easier to decorate for than others for sure. Think Fall, Winter, the holidays…sometimes it's more challenging to get your home ready for "summer."
It doesn't have to be. There are ways to make just a few little changes that make a big impact.
Do you like to decorate for Memorial Day and leave these items up through July 4th? I think because of the color of my house, I do love to keep my red, white and blue out on the porch and under the deck throughout the summer.
If you want to change it up, then perhaps you could shop your home, hit your throw pillow collection, repaint a few pots, rearrange books and vases.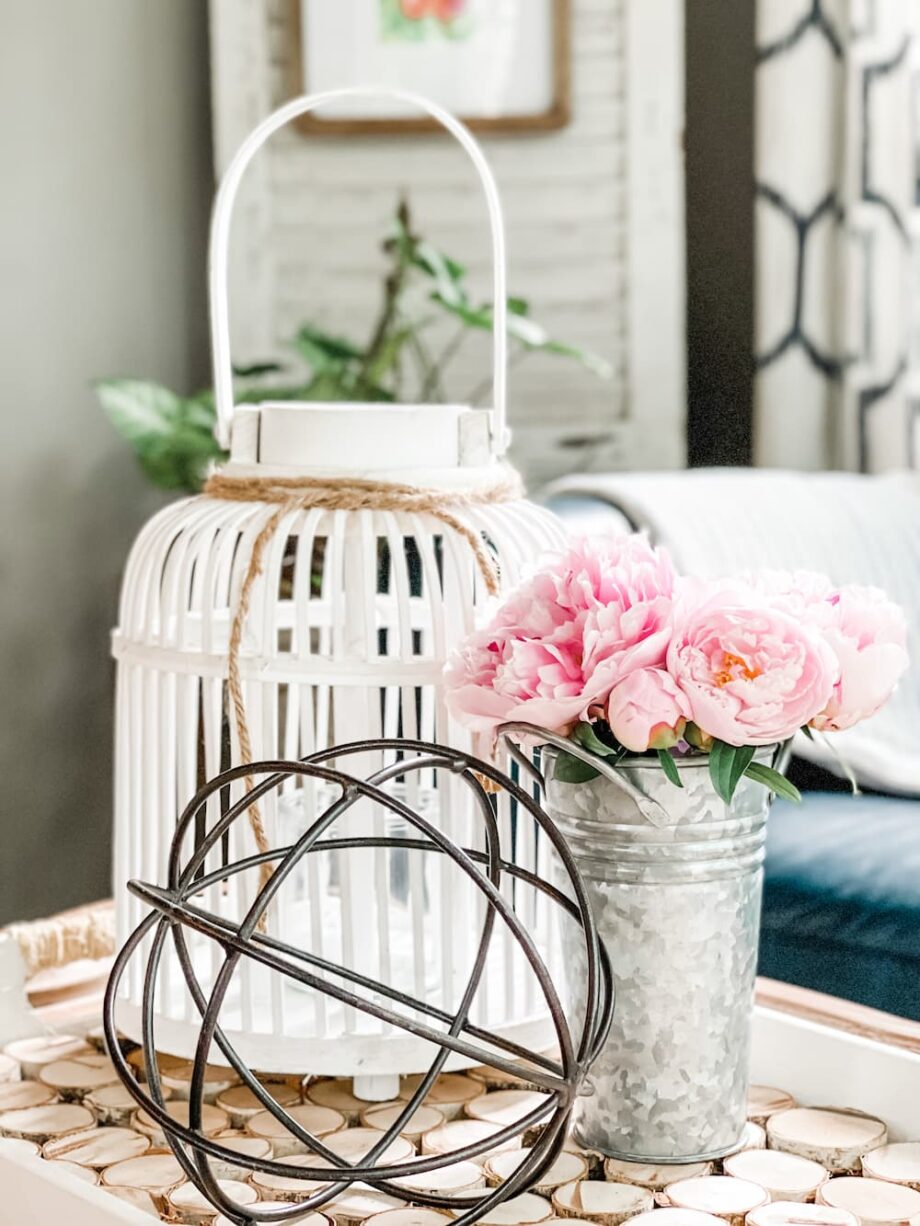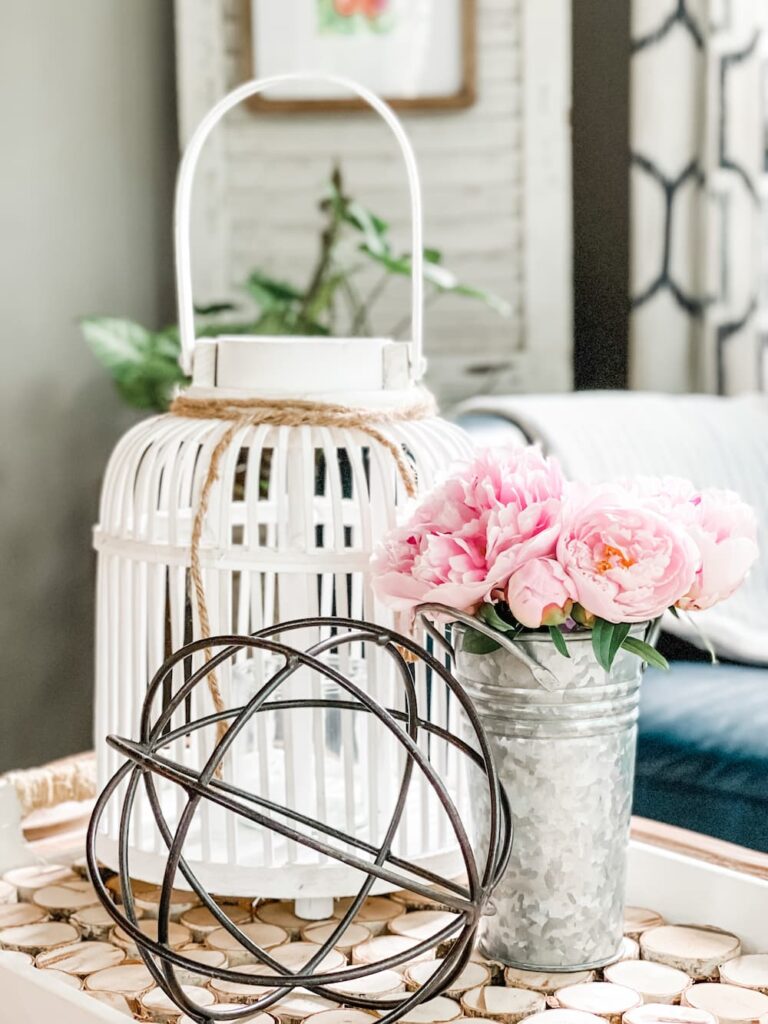 Display seasonal fruit in your kitchen or dining area. It's a fun challenge and your will get plenty of inspiration at the end of the post from my friends.
I'm breaking down my post into two sections, the first I'll share ideas for outdoors. Your porch, fire pit, deck, patio or gardens.
The next section I'll share some simple ideas for inside your home, from the coffee table to the bedroom.
I hope get some inspiration and ideas for your own home.
GET YOUR OUTDOORS SUMMER READY
REFRESH OUTDOOR POTS WITH NEW PLANTS
ADD A FRESH COAT OF PAINT TO OUTDOOR TABLES OR PLANTERS
SWAP OUT NEW PILLOWS ON YOUR DECK, PORCH OR PATIO
ADD AN OUTDOOR RUG
UPDATE YOUR FRONT PORCH MAT
ADD SOME WHIMSICAL PIECES TO YOUR GARDEN
CREATE SUMMERY TABLESCAPES TO DINE OUTDOORS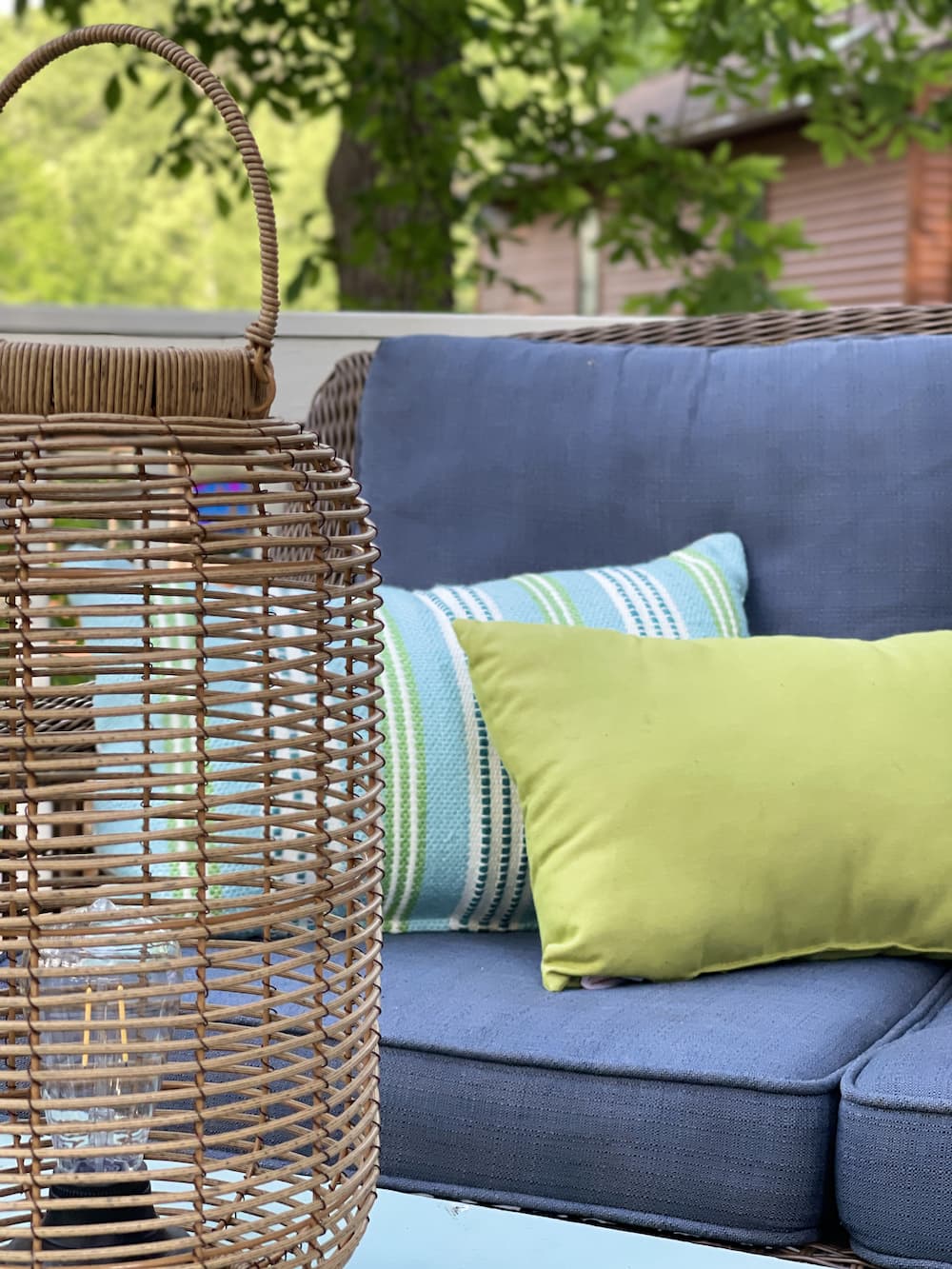 Tablescapes in the summer are the best. I love to eat out doors. If it's chilly we turn on the heater, hot, I put out a fan, buggy, I burn my bug sticks. Here is last nights tablescape.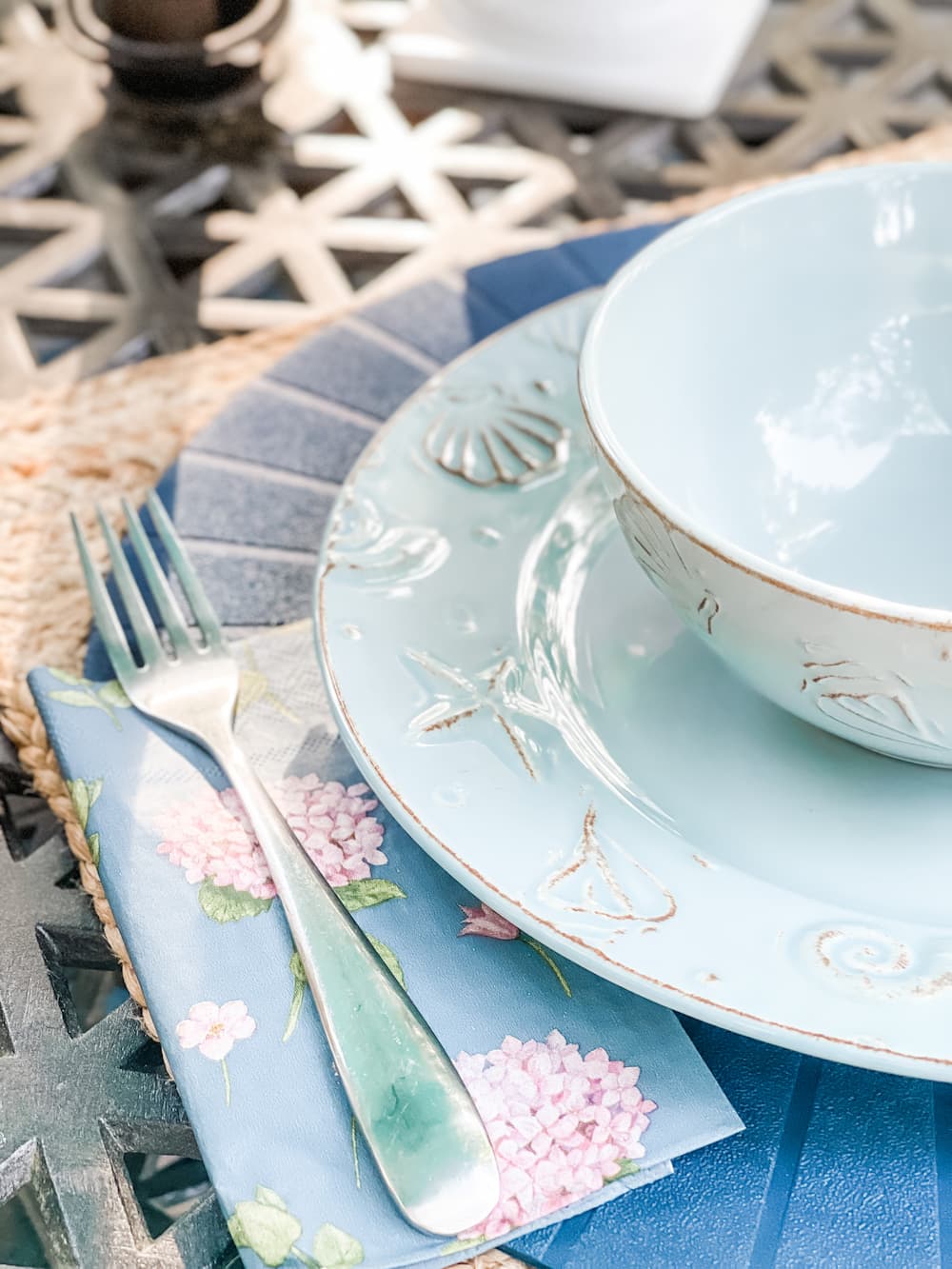 SET THE STAGE FOR SUMMER INDOORS
ADD FRESH FLOWERS ALL AROUND
ADD SEASONAL PRINTS TO YOUR MANTEL
CHANGE THROW PILLOWS TO INCLUDE A SUMMERY COLOR
ADD LIGHTWEIGHT THROWS TO YOUR CHAIRS / SOFAS
ADD NEW CANDLES WITH CITRUS OR FLOWERY SCENTS
CHANGE YOUR BEDSPREAD OR DUVET COVER IN YOUR BEDROOM
CHANGE THE BOOKS AND VIGNETTE ON YOUR COFFEE TABLE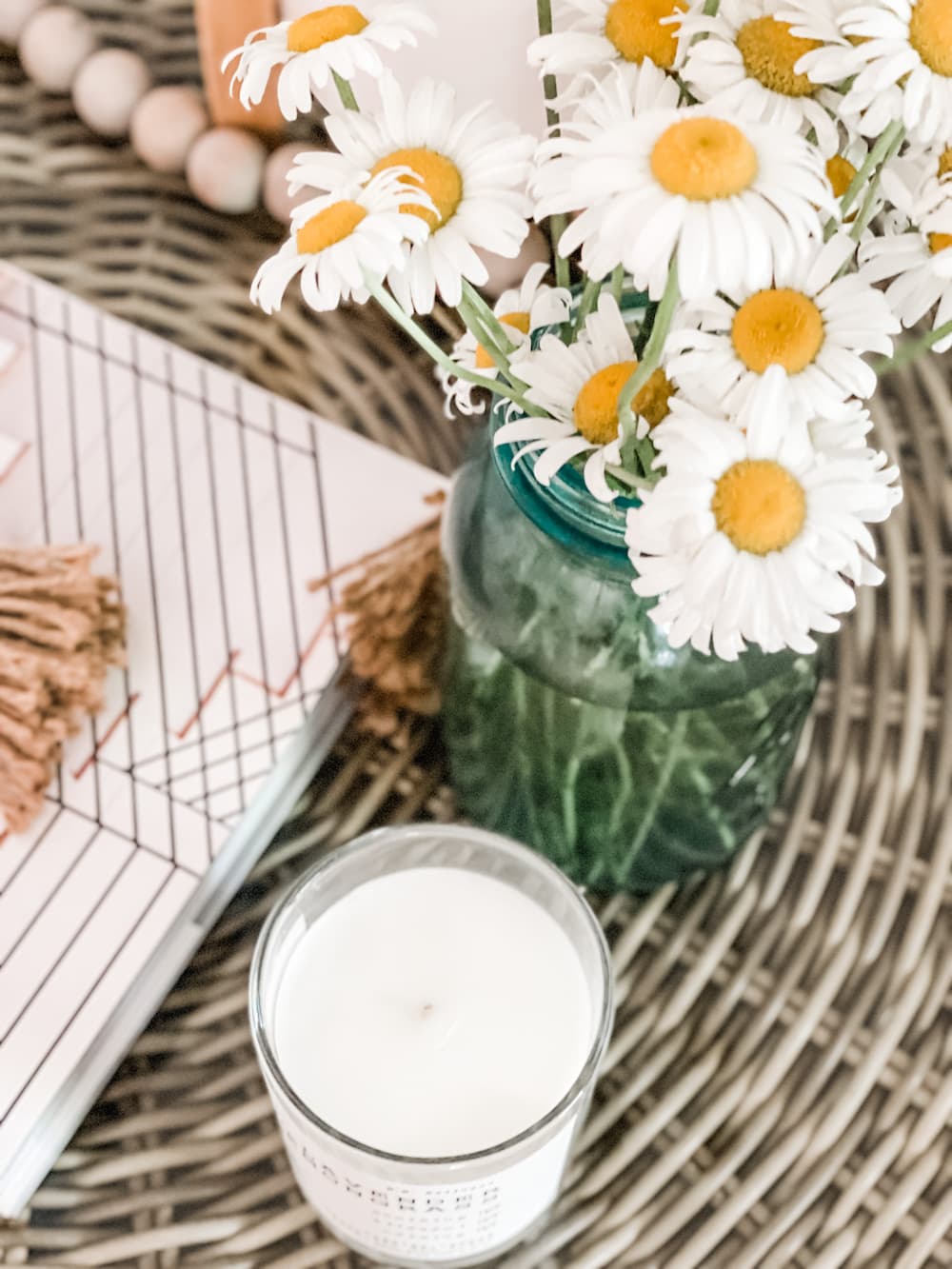 A quick coffee table refresh includes swapping out books, adding a new candle and of course – fresh picked daisies.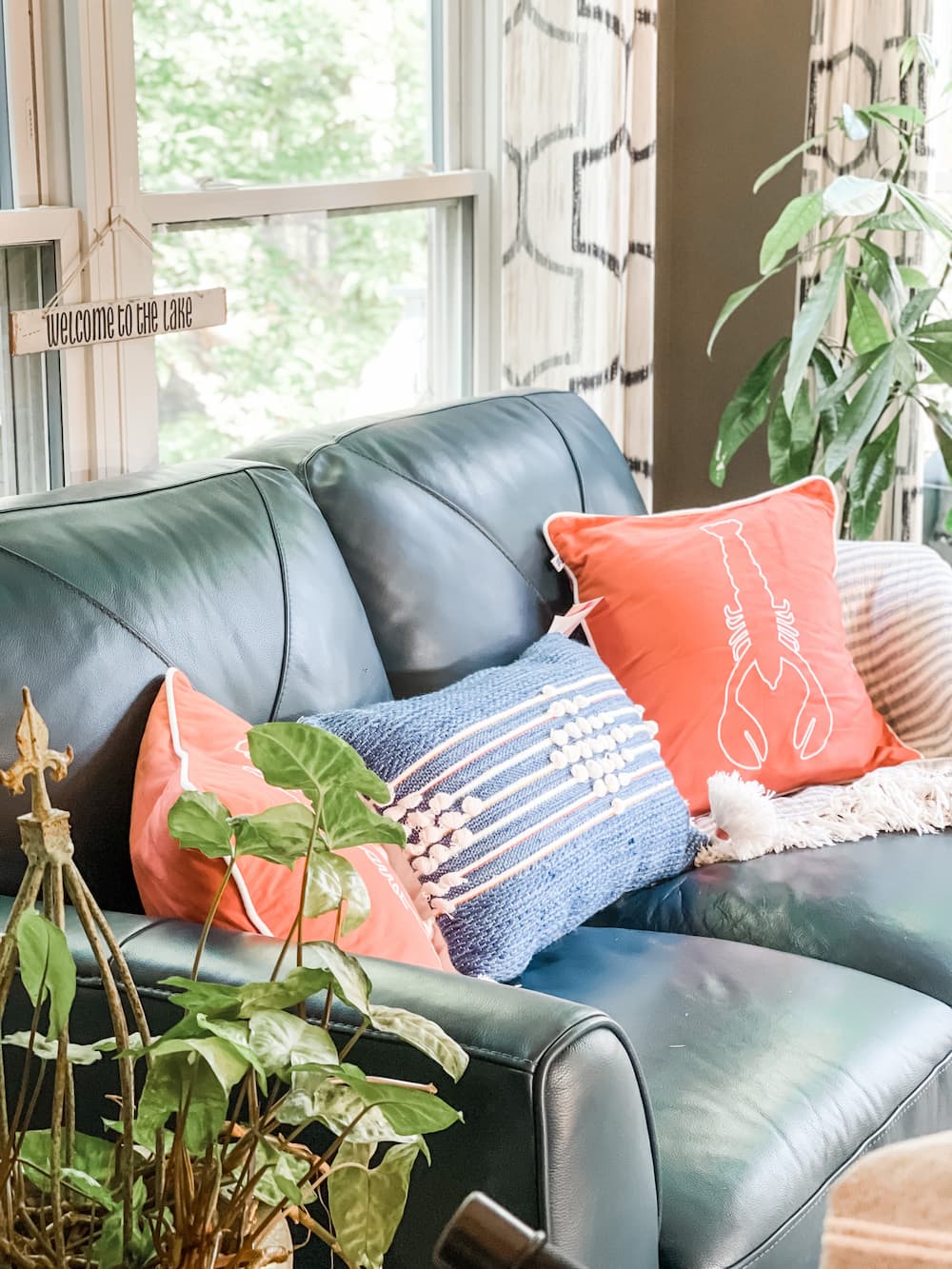 We live on a lake so I always love a nod to nature. We've enjoyed a brown pelican, herons, egrets, crayfish, eagles, and my favorite kingfisher. I'm lucky enough to have a dear friend who gifts his beautiful carvings to me. Here is a pelican he made.
The front door mat was beat and worn since this is how we come in and out everyday. Carmine is in the middle of replacing the front porch and railings and rebuilding our columns.
While he is doing a dump run, I changed out the front rug, so if you see the big gaps in the porch, that's old vs new! Very similar look but fresh.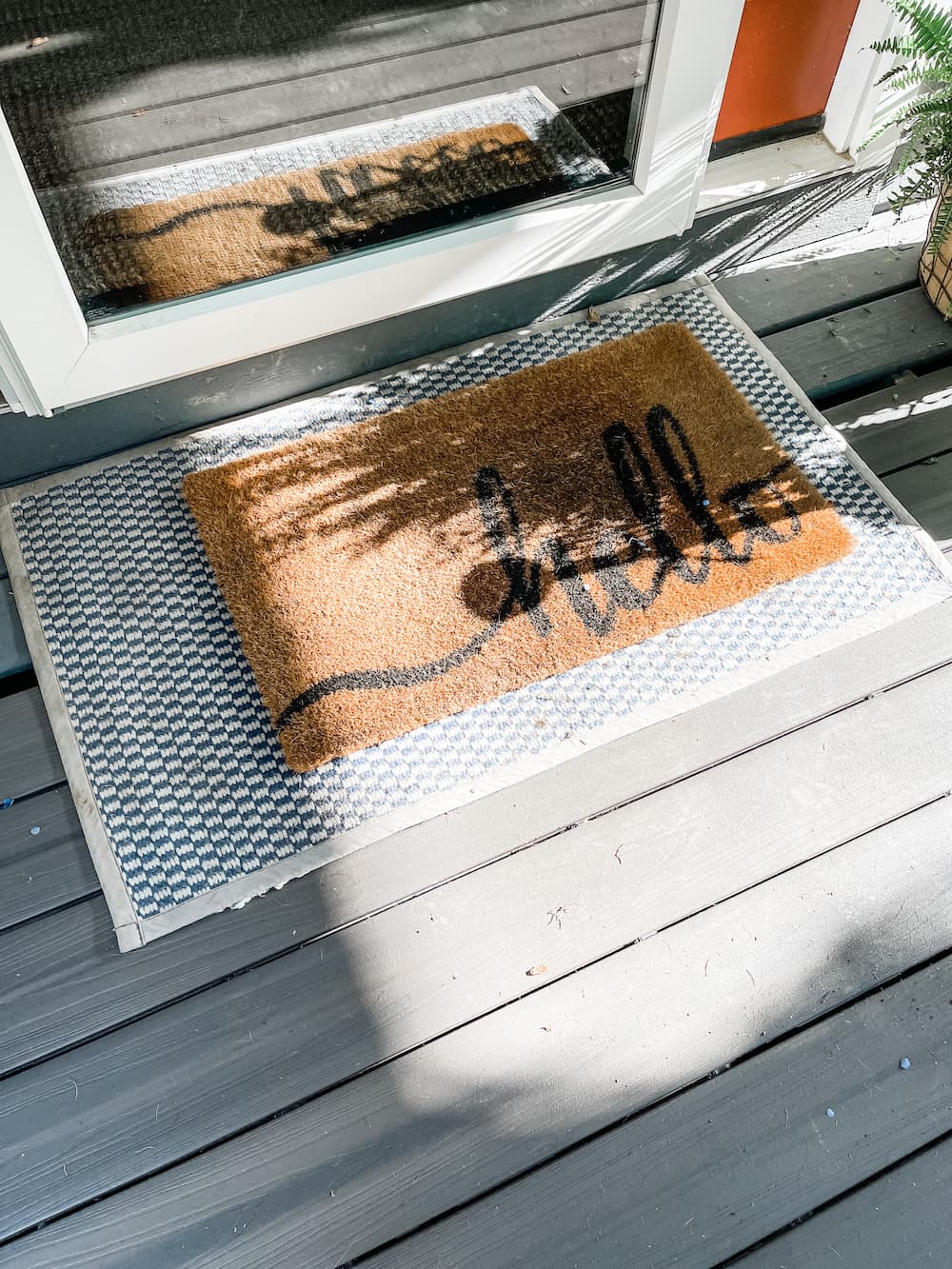 Just a few summer lanterns can be moved around and used often. Tablescapes, the front door, deck.
Often I add twine or another decorate piece to them.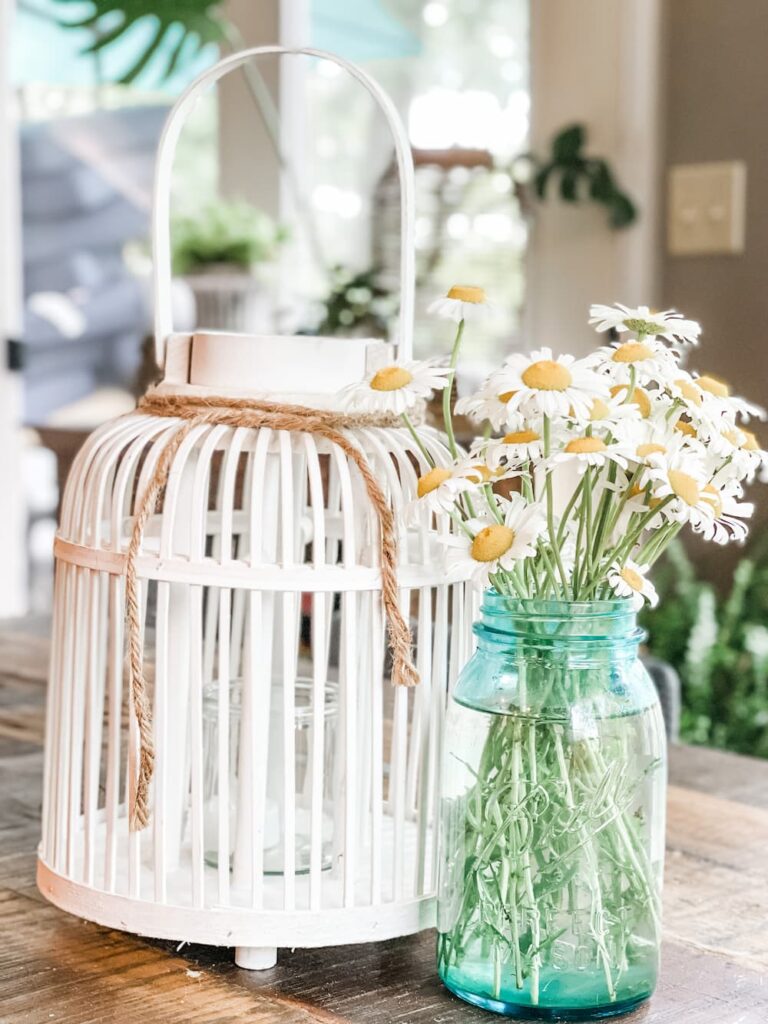 I think adding ferns is my favorite thing. Some come indoors into the sunroom over the winter and always get new ones for the porch and to hang.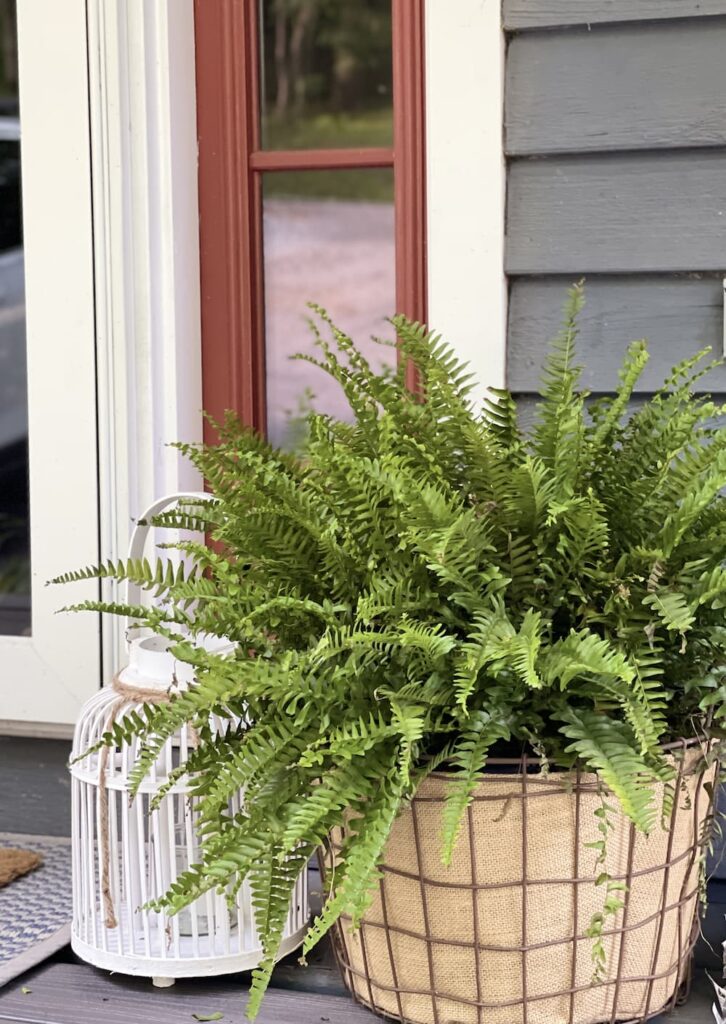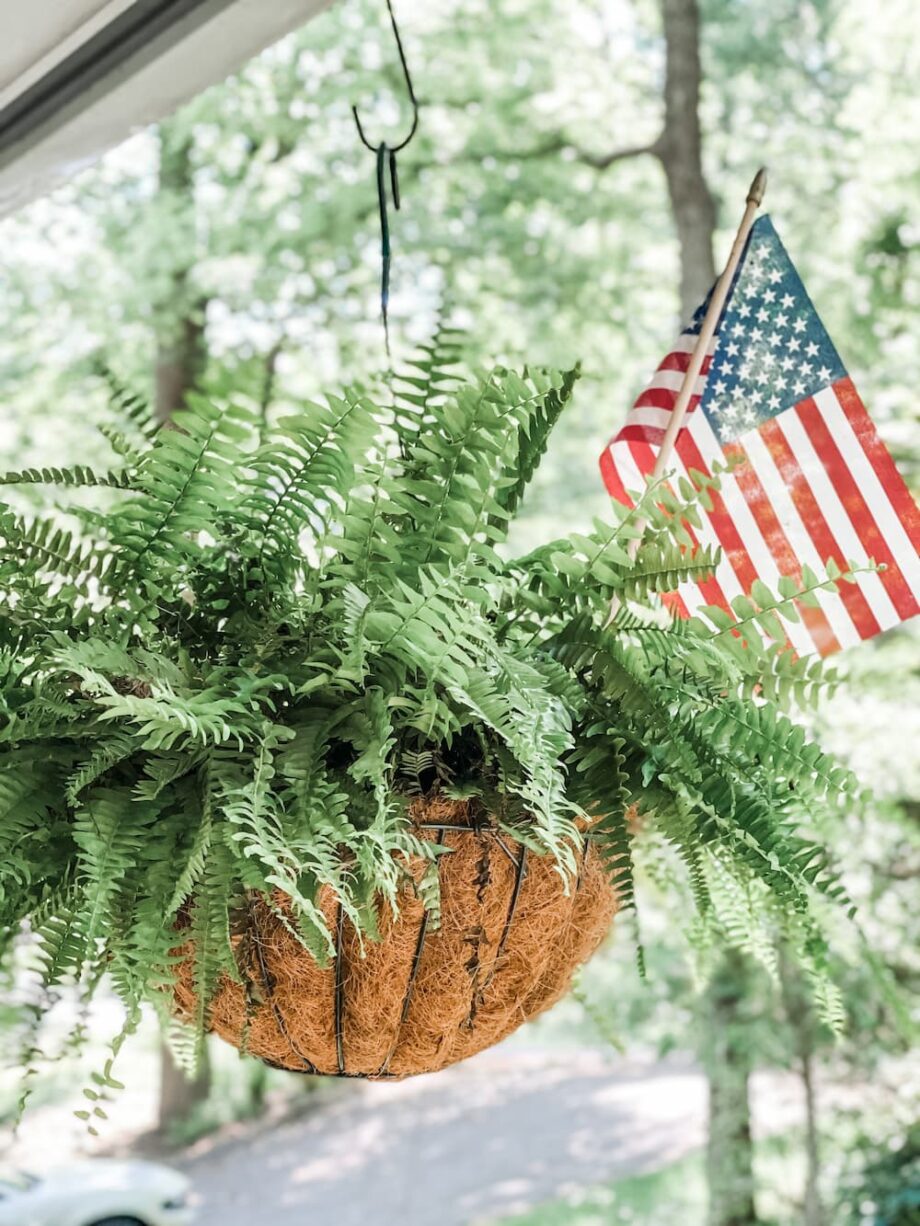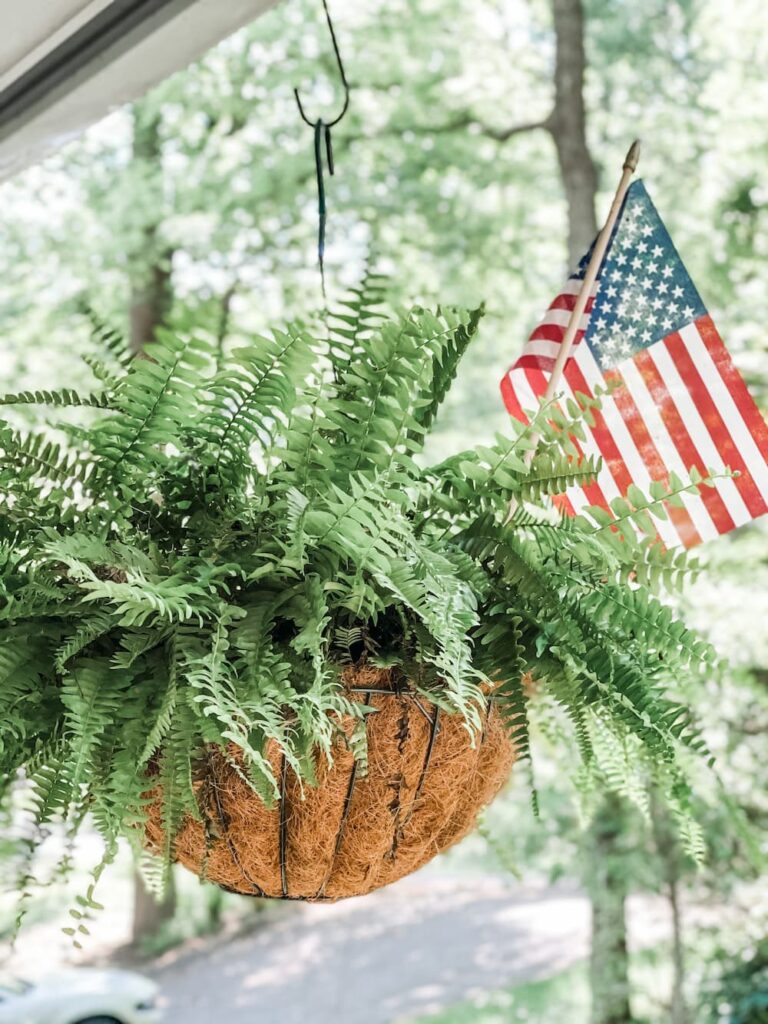 If you are visiting from Simply2Moms – welcome! Aren't they amazing?
When you are finished here – hop over to Libbie from A Life Unfolding, then later when you kick back with a glass of wine or ice tea, visit everyone else!
HERE ARE THE LINKS TO MORE SUMMER REFRESH IDEAS FOR HOME
Kristy of Kristy Mastrandonas
https://kristymastrandonas.com/easy-breezy-summertime-decorating/
Wendy of WMDesign House
https://wmdesignhouse.com/summer-decorating-new-traditional-style/
Sheri of Savvy in the Suburbs
https://savvyinthesuburbs.com/?p=36619&preview=true
Anne and Ann Marie of Simply2Moms
https://simply2moms.com/easy-ideas-to-decorate-your-home-for-summer
Libbie of A Life Unfolding
https://alifeunfolding.com/summer-cottage-home-tour/
Patricia of Patricia Justice Designs
https://www.patriciajusticedesigns.com/blog
Tracy of Just Tracy Talk
https://www.tracyshaven.com/blog
Denise of Happy Haute Home
https://happyhautehome.com/2022/06/04/early-summer-decor-home-tour-blog-hop/
Kylie of Truemans Treasures
https://truemanstreasures.com/early-summer-decor-ideas/
Amy of Cuter Tudor
https://www.cutertudor.com/homedecordesign/summer-decor-blog-hop/
Thanks so much for visiting today. I hope you have a wonderful day, please don't forget to share what you like to do to refresh your home for summer.
Here is a quick look at one of my favorite and easy diys.
https://savedfromsalvage.com/topiary-time/
XO, Regina