Do you love dough bowls but aren't sure how to style them? I'm going to share 10 ways to style a dough bowl.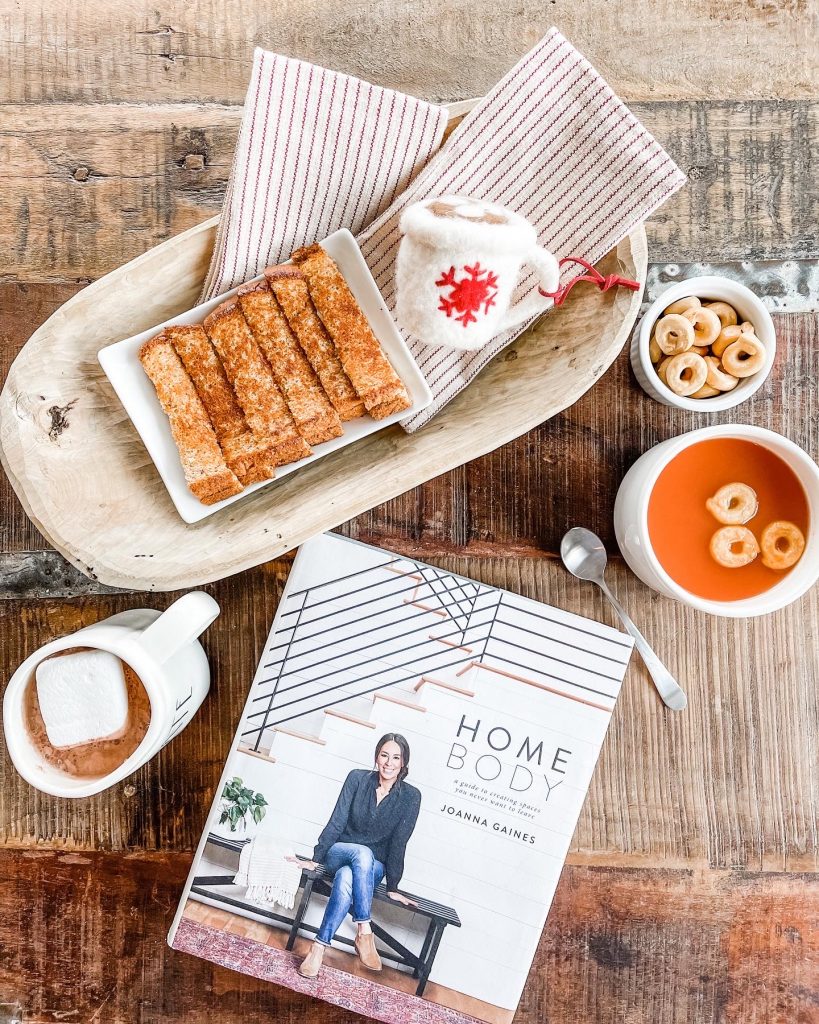 Dough Bowls, vintage, reproduction, trough style, round, oval – the possibilities are endless. Not only in how they look but in how they can be used in your home.
Do you have one? Is it in the kitchen?
Come along as I show you how to move it from the kitchen to other spots.
I'm going to show you how to style a dough bowl in various rooms in your home.
THE HISTORY OF DOUGH BOWLS
Once a staple in the kitchen, dough bowls are popping up in dining rooms, coffee tables, entry ways, bathrooms and bedrooms. I challenge you to see how many ways you can style it and we are giving you lots of ideas and inspiration.
Dough bowls are versatile and easily fit into a variety of design styles, all depending on how you fill them.
Above I used fabric pumpkins, pods, dried orange slices and moss to create this fall themed bowl.
They are perfect for holidays, creating vingnettes and tablescapes.
I've joined up with 8 blogging friends to share our creative juices when it comes to styling our dough bowls.
The bowl above is holding vintage Christmas balls, ones that were on my tree as a child. They are very worn but they evoke so many wonderful memories.
Displaying them like this puts the focus on the ornaments, where they might get lost on the tree.
Can you tell how old this one is? Dough bowls have been around for a very long time.
This one is more of a trench or trough shape.
They were called "Trenchers" which comes from the French word Tranchier which means "to cut." Trencher referred to an old stale piece of bread that was cut in a square shape and used in lieu of a plate.
(Defining France.com)
THE FIRST DOUGH BOWLS
Over time, they took on more of a rounded bowl shape.
They were used to mix and allow dough to rise. The sides kept the draft away, the wood absorbed the heat of the dough so it rose evenly.
They were handed down through families back when kitchens had fireplaces, copper and wooden utensils. A simpler time for sure. The oldest daughter was usually the one to be gifted her mom's bowl.
There is even a romantic side to dough bowls, a man would often carve one for his bride to be, and young women included them in their hope chests as a sign that they knew how to bake. I love learning the history of things I find.
I like to do it with furniture pieces I redo. Here I share a little about the history of vintage washstands and show you how I updated one.
STYLE A DOUGH BOWL IN THE DINING ROOM
This styling included a place to hold cloth napkins for holiday meals. Tied with twine and a DIY Sculpey ornament.
Maybe it's that longing for days past that makes them such a treasure even today.
STYLE A DOUGH BOWL IN THE KITCHEN
Here is a great way to use them to hold coffee and tea essentials.
My first dough bowl was carved by an artisan in West Virginia. It's a lighter wood, obviously not new but the hand carving makes it unique.
On a daily basis it holds fruit and veggies on my counter.
STYLE A DOUGH BOWL AT CHRISTMAS
During holidays dough bowls can morph into a bowl to hold ornaments and fresh greens.
For this post I was lucky enough to use some vintage dough bowls from a family member who had an antique booth for years. The one above is the trough shape while the other is more oval in shape.
The base of the trough style is large and flat and perfect for so many things.
Above the board is overflowing with fruits and veggies and a loaf of bread is placed in a vintage scoop.
One styling idea was to use the dough bowl for snacks for Santa and his reindeer. I wrote a poem for Santa and added a glass of milk, perfect to sustain him on his long journey.
This was for the day we styled them on our coffee tables. The carrots look so natural in the bowl.
Here is a close up of the poem I wrote for Santa to add to my vignette.
I even traveled with one of the dough bowls to a cabin in the mountains. With no tv, kitchen and sketchy cell and internet service, games, hikes and bird watching were in order.
STYLE A DOUGH BOWL IN A CABIN
The dough bowl worked perfectly to keep all of these items together and ready to grab.
This actually looked like it belongs in a cabin in the woods.
Another great use for a larger dough bowl would be to hold leashes and collars for the pups.
Below is Dempsey – he may look miserable but he's really not. He was just waiting for mom to stop taking pictures and go for a hike.
DOUGH BOWLS IN THE BATHROOM
Dough bowls in the bathroom can hold all sorts of essentials, depending on the size they can hold hair dryers, make up, toiletries, hand towels or even extra rolls of toilet paper!
See – the possibilities are endless!
Be sure to visit the 8 other bloggers who were part of the #DoughBowlChallenge2021 – click the link below their blog name to get more inspiration. Then you can enjoy so many different styles.
Happy Styling!
faithandfarmhouseblog
https://faithandfarmhouse.com/7-simple-ways-to-style-a-dough-bowl/
fromfarmhousetoflorida
https://fromfarmhousetoflorida.com/how-to-decorate-an-antique-dough-bowl/
gatheredinthekitchen
https://gatheredinthekitchen.com/8-festive-ways-to-style-an-antique-dough-bowl/
henandhorsedesign
https://www.henandhorsedesign/7-ways-to-style-your-dough-bowl/
shopatblu
https://www.shopatblu.com/50-ways-to-style-a-dough-bowl/
sweetvalleyacres
https://sweetvalleyacres.com/5-wooden-dough-bowl-decorating-ideas/
whitelilacfarmhouse
https://www.whitelilacfarmhouse.com/beautiful-ways-to-style-a-dough-bowl-for-christmas/
I hope you have enjoyed seeing all of this inspiration for styling dough bowls.
You can scour antique stores to find one or look on Etsy for some beautifully hand crafted ones. I've also provided some links for bowls you could purchase online. Some are reproductions and some are original. How beautiful are these from Ballard Designs?
Amazon Wooden Dough Bowl
Amazon Wood Dough Bowl – White
Thanks so much for stopping by. The holidays are a great time to get a dough bowl but they certainly can be put to great use throughout the year.
Have you subscribed to my blog? Be sure to so you can get ideas, instruction and inspiration!
Next I'll be sharing the details on how to make a beautiful holiday planter for your porch with greens and sticks you can find outside.
XO, Regina
This post contains affiliate links, if you purchase from the links, I receive a small commission at no extra cost to you. Thank you for supporting my small business.