Last holiday season was different in so many ways because of Covid. Realizing what most of us really missed was being with family, the thought of dropping off an outfit, toy or book just didn't seem to fit the bill. Yes, it had to be different. Enter – The Best Gift Ever.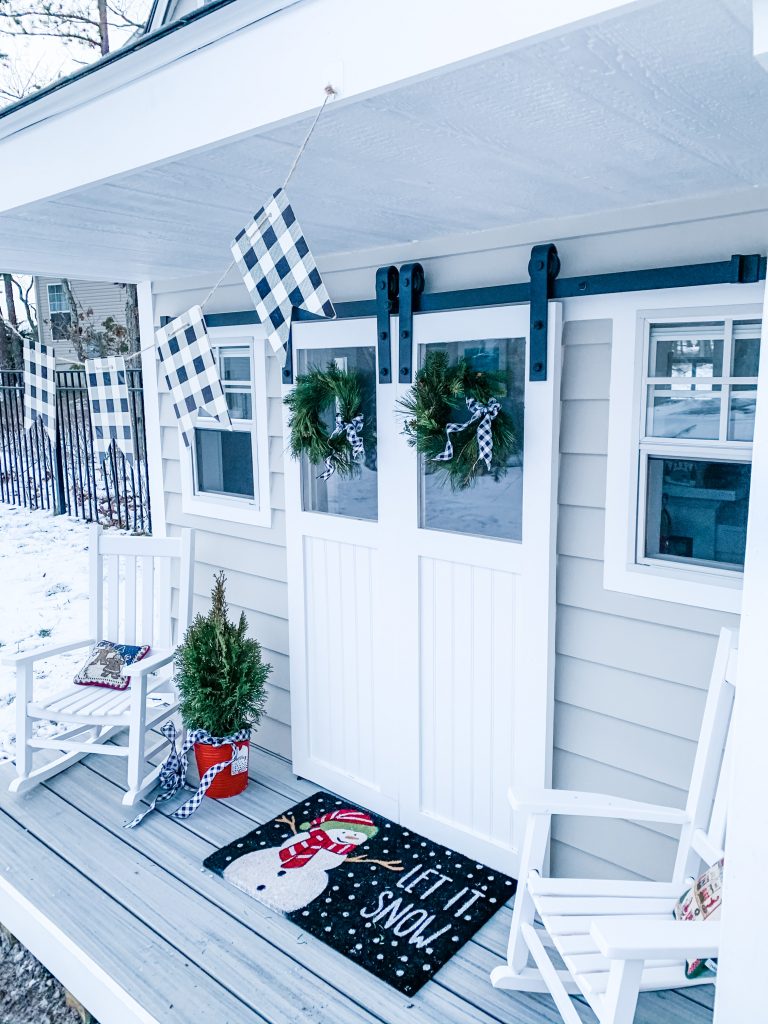 WHY A PLAYHOUSE AS THE BEST GIFT EVER?
The younger grandchildren asked for a playhouse, and Carmine aka Pop said he would build one. After being shown a few playhouses on Pinterest by his daughter, he had a picture in his head and the work began.
It was built in our driveway with no written plans or measurements. I guess that's what happens when you live with someone crazy handy.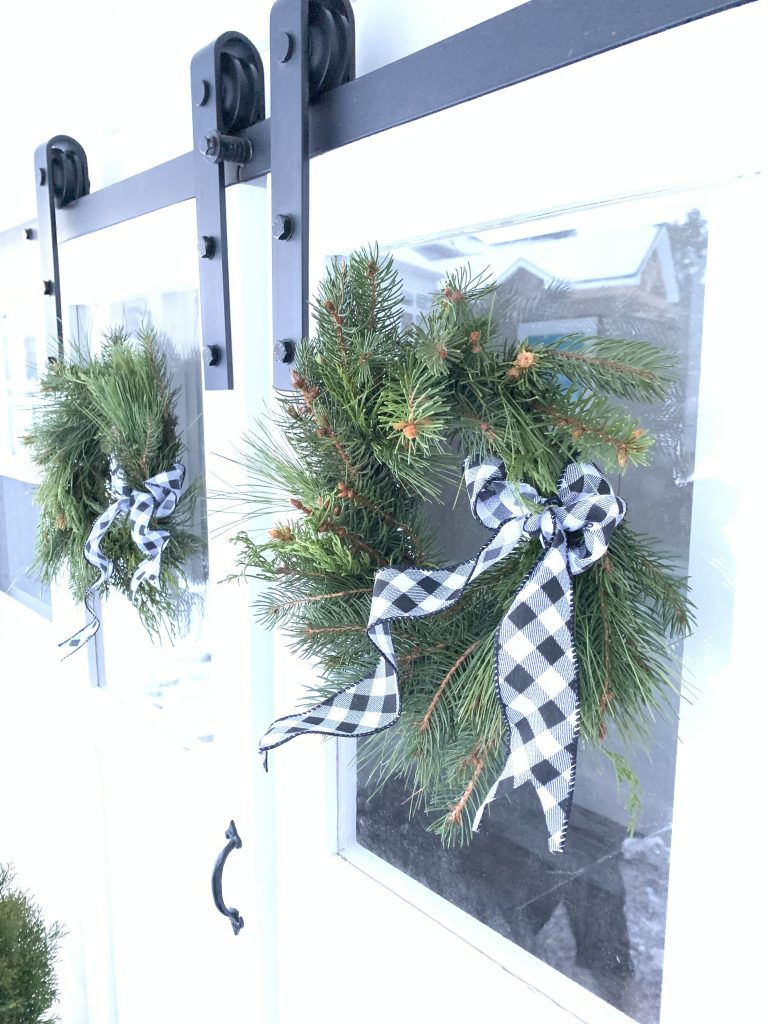 One minor detail was that it was built in MD, then had to be disassembled and moved to NJ. As if that wasn't enough, then it had be be put back together and moved to it's new home in the backyard.
This labor of love became Carmine's obsession, nights, weekends, early mornings, with spotlights and propane heaters.
We took trips to specialty hardware stores for the perfect shingles. It would have custom designed barn doors, windows that open, a front porch, a fireplace and mantel. It was so amazing to watch it come to life.
Come along for the journey of The Best Gift Ever.
AND SO IT BEGINS
This is the beginning, the framing and placement of these little bitty real windows!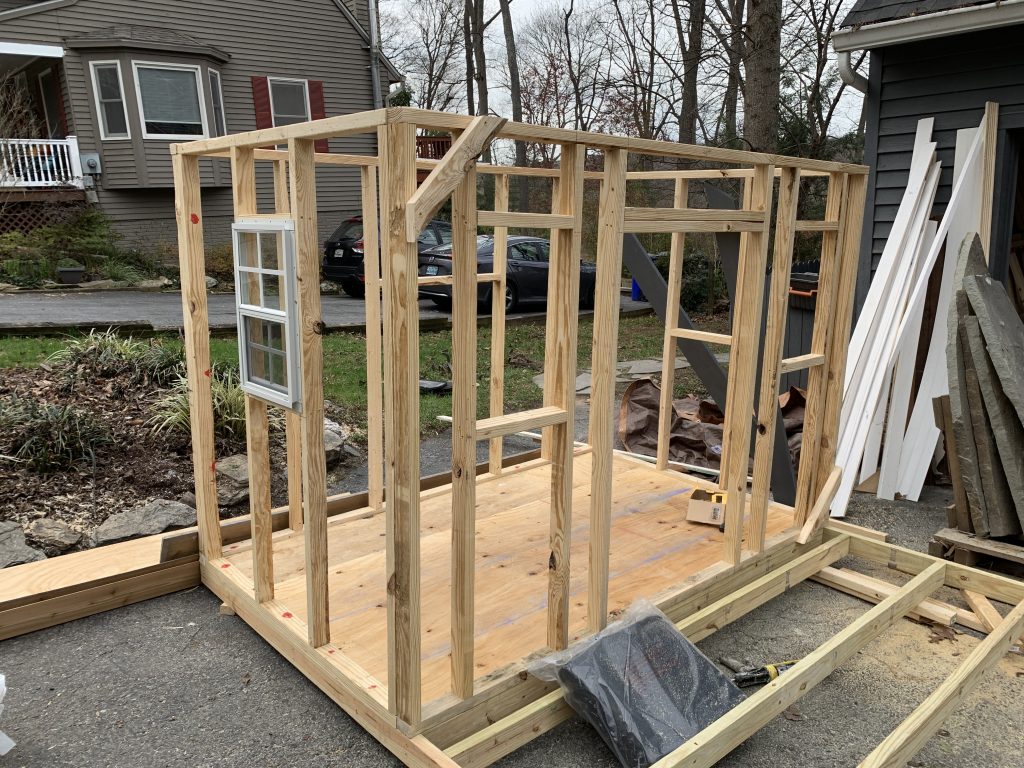 If you are anything like me, you follow recipes to a T. If you are like Carmine, you just go with your senses. That my friends is a gift I do not have.
Actually the first part of the Best Gift Ever was making the custom barn doors. The doors were made with plexiglass for safety. After they were assembled they then were clamped to dry.
After the doors and framing and window were put in, then work on the walls began.
Then the roof, then the porch.
MAKING GOOD PROGRESS
The siding was cedar and the shingles were a special rubber that looked like slate.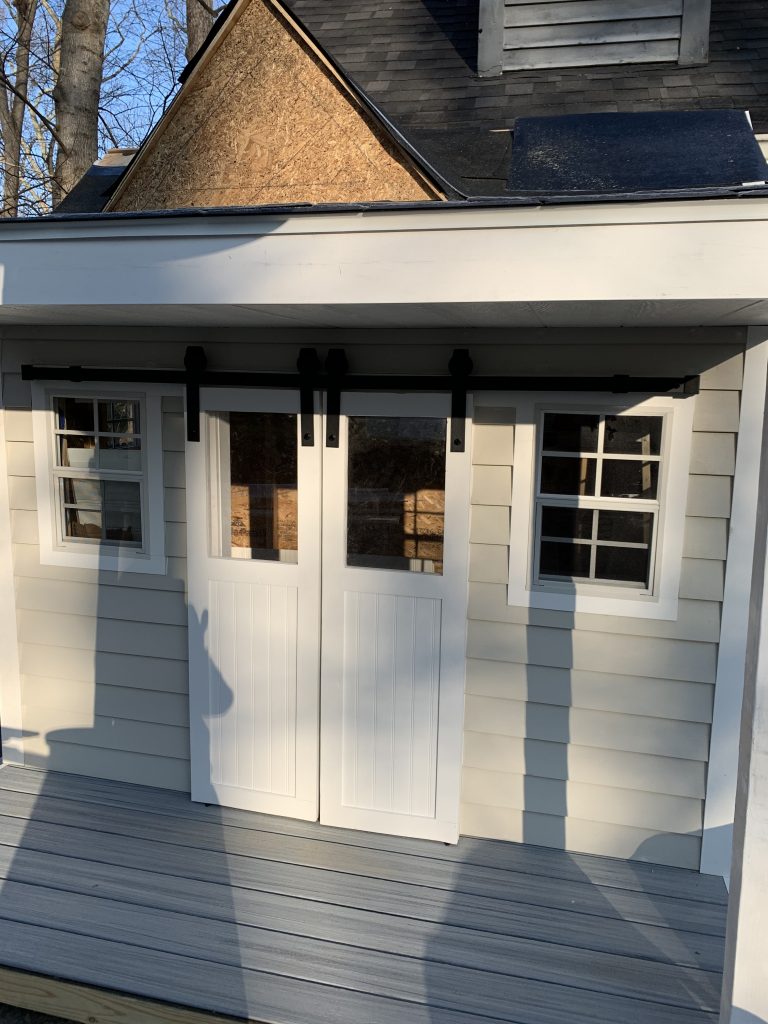 Putting in the dormer seemed to be the only challenge. The front porch was made of Trex. We don't even have that on our deck or porch!
The big secret to building with the intent of taking it back apart was to paint all the screws that needed to come back out in red. That way Carmine would know what needed to be unscrewed when it was to be dissembled.
After the interior was done, I sliced up a few birch logs to create a mock wood stack in the fireplace. I painted the back of the mantel black then used Liquid Nails to glue the wood slices down.
Here it is all done and ready for me to decorate, just in time to be taken back apart. All together it had the windows on the barn doors, one on either side of the doors. Inside there were windows on each side and a long plexiglass window over the mantel. So much light!
NOW FOR THE FUN PART – DECORATING!
I made little fresh greens wreaths for the barn doors, bought the wooden banner and covered it in buffalo check wrapping paper and covered with Mod Podge.
Another touch was the little cloth container placed outside of the door with a small Christmas tree inside.
I got a festive holiday doormat for the entry, and added a large cardboard Christmas box that had buffalo plaid trim.
We ordered 3 little rocking chairs that I was able to put together to have on the porch and inside.
Pink trees and the girls initials were made on the Cricut then ironed on little stockings to hang on the mantel too.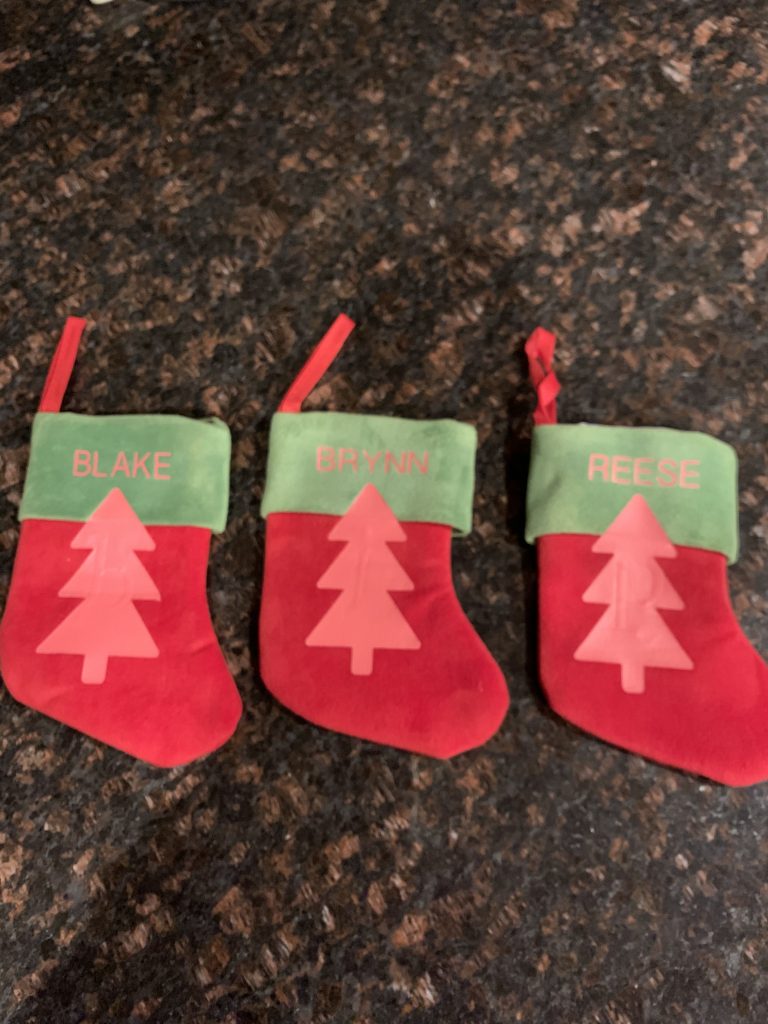 GOODBYE MARYLAND – HELLO NEW JERSEY
When it was time to take it apart and load it up on the trailer we rounded up friends and neighbors to help. I was giving out bottles of wine and gift cards as a thank you for the help.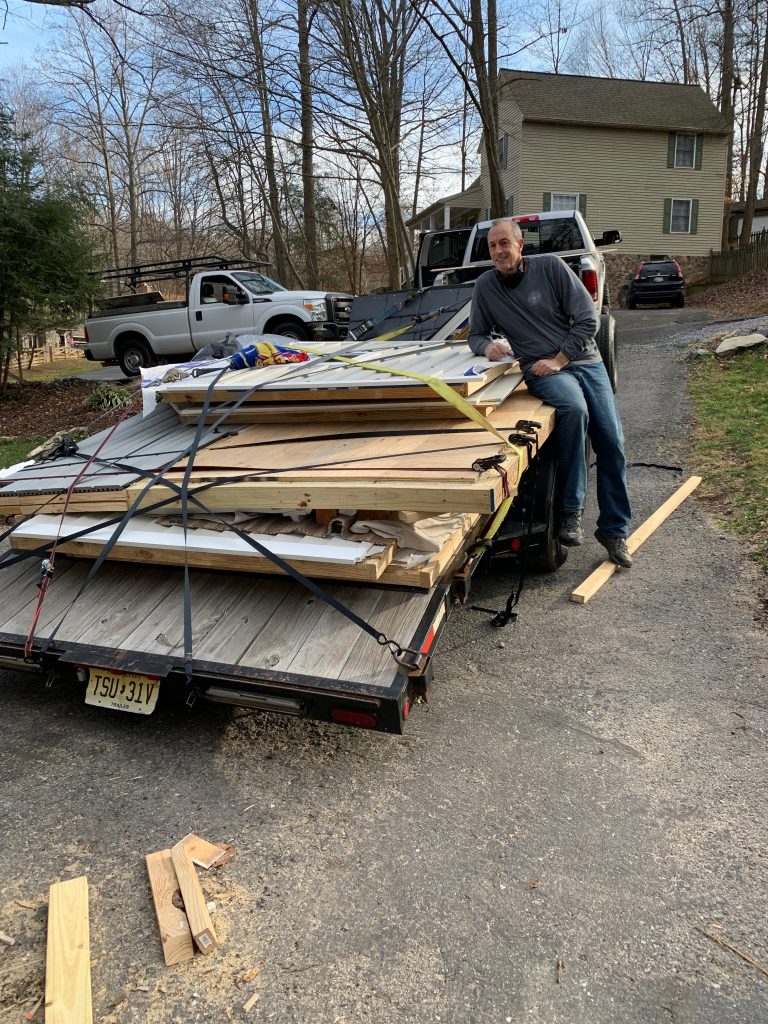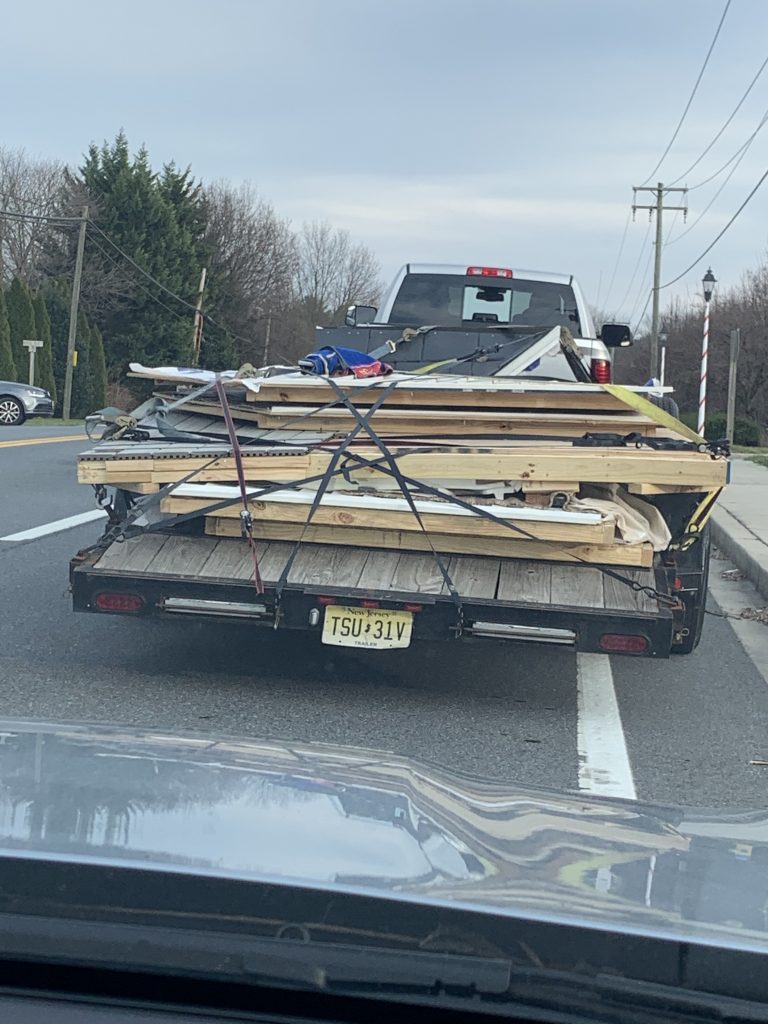 This part was so hard. It was so much work and so beautiful, then to have it taken apart and loaded on a flatbed trailer it looked so sad. We followed for a little bit to make sure nothing fell off.
Once in NJ, it lived for a week or two in a warehouse. Another large group consisting of lots of family and friends gathered over a weekend to put it back together and obviously touch up a few dents and dings.
Talk about making memories – this truly was THE BEST GIFT EVER.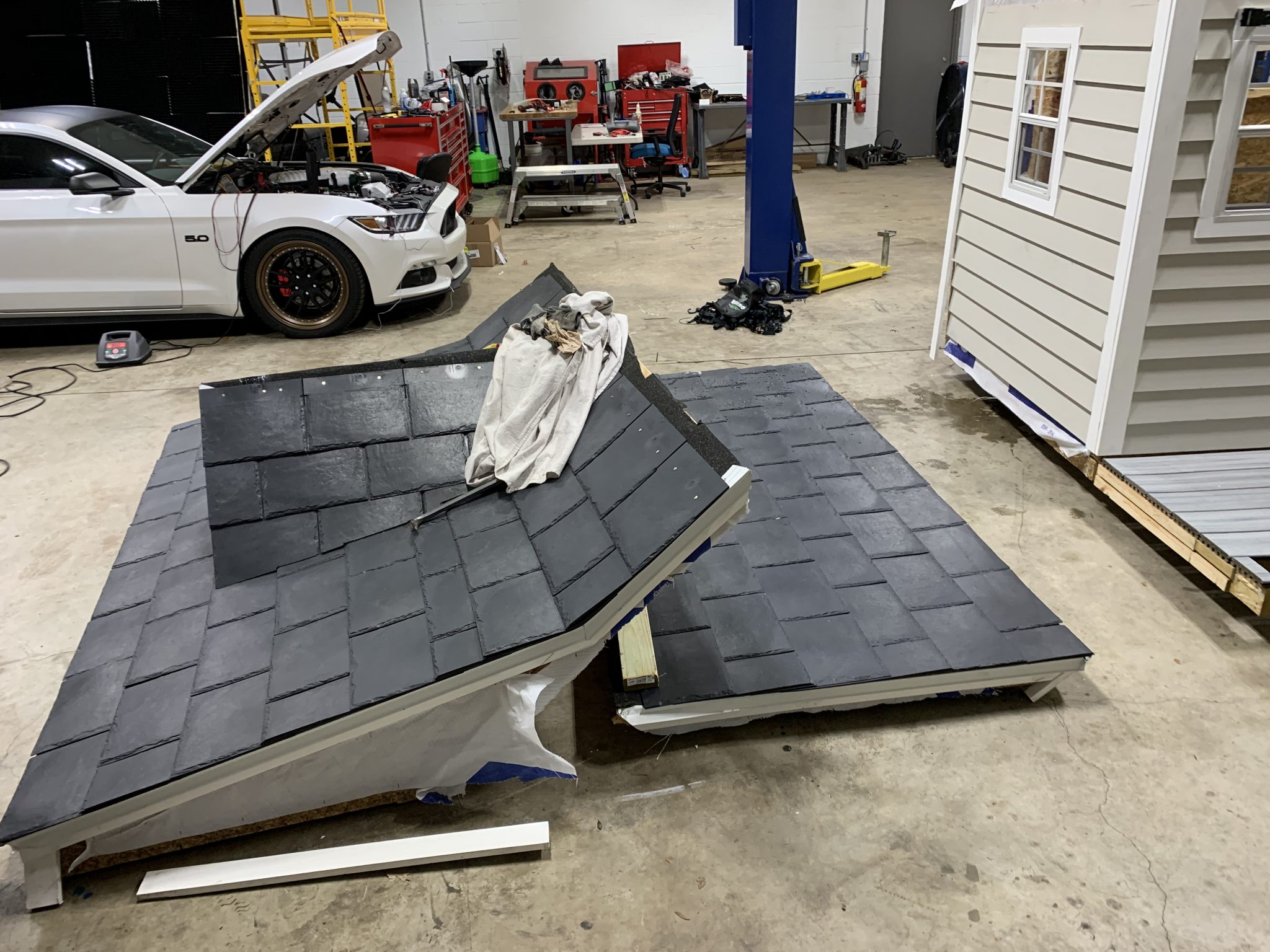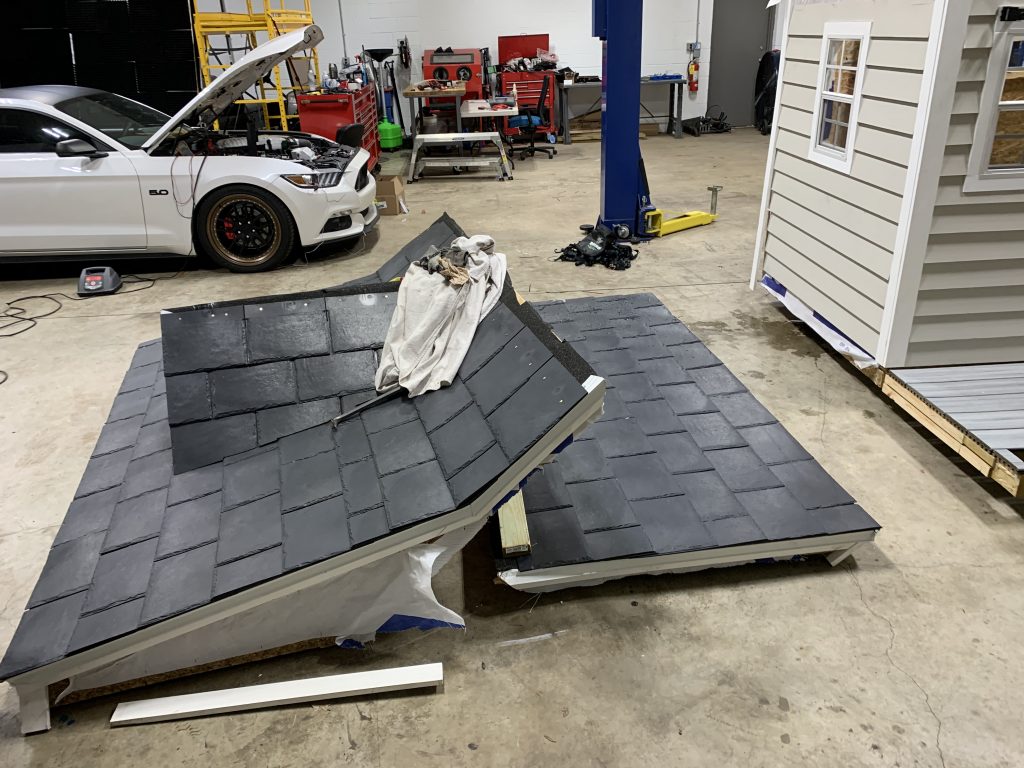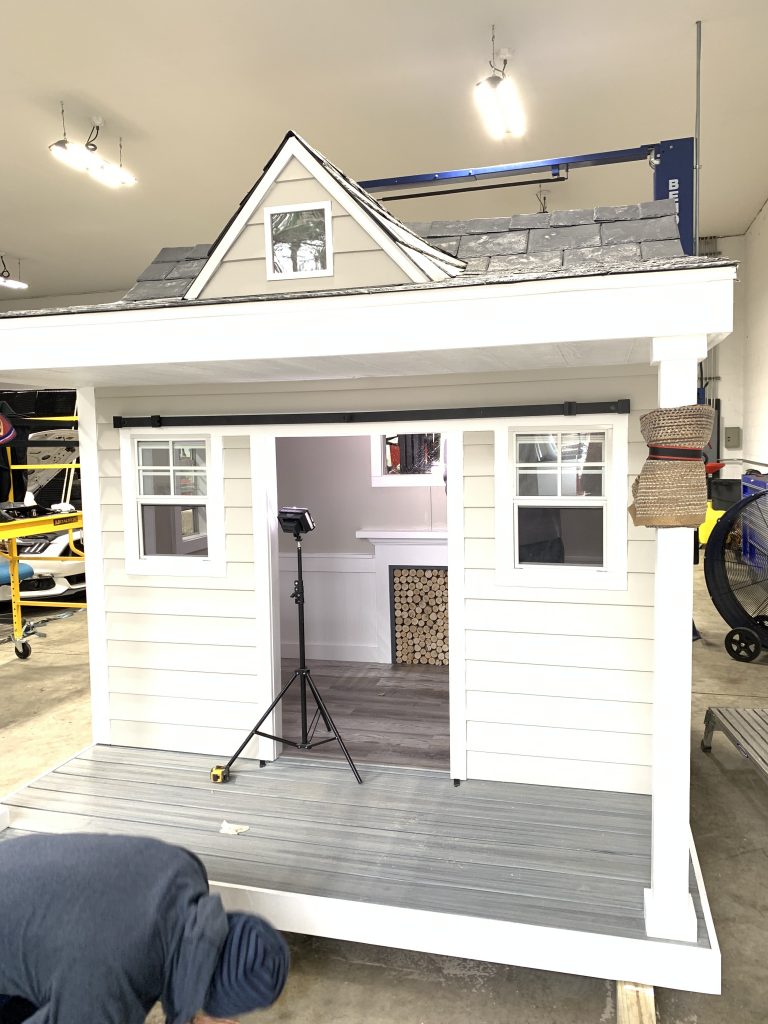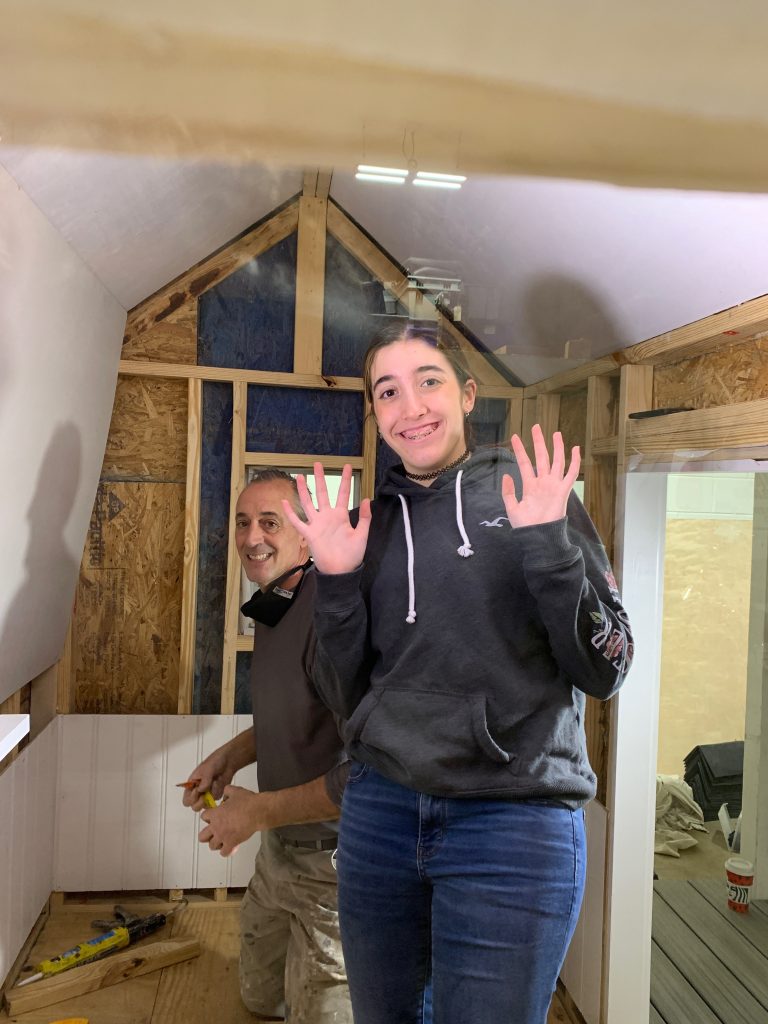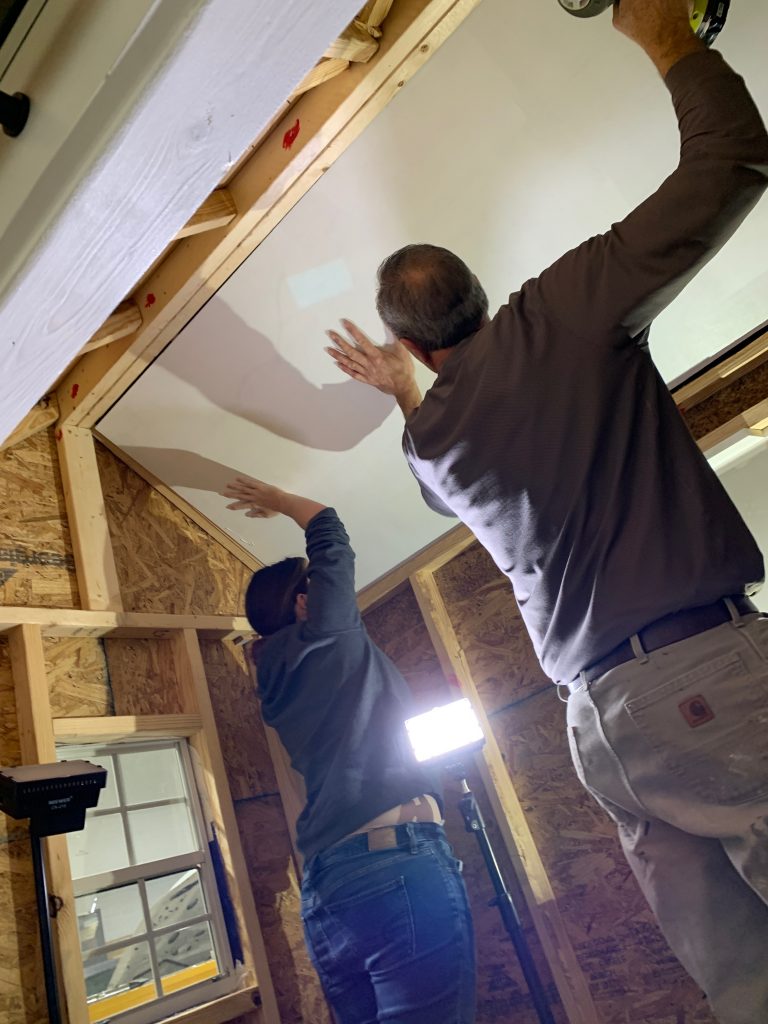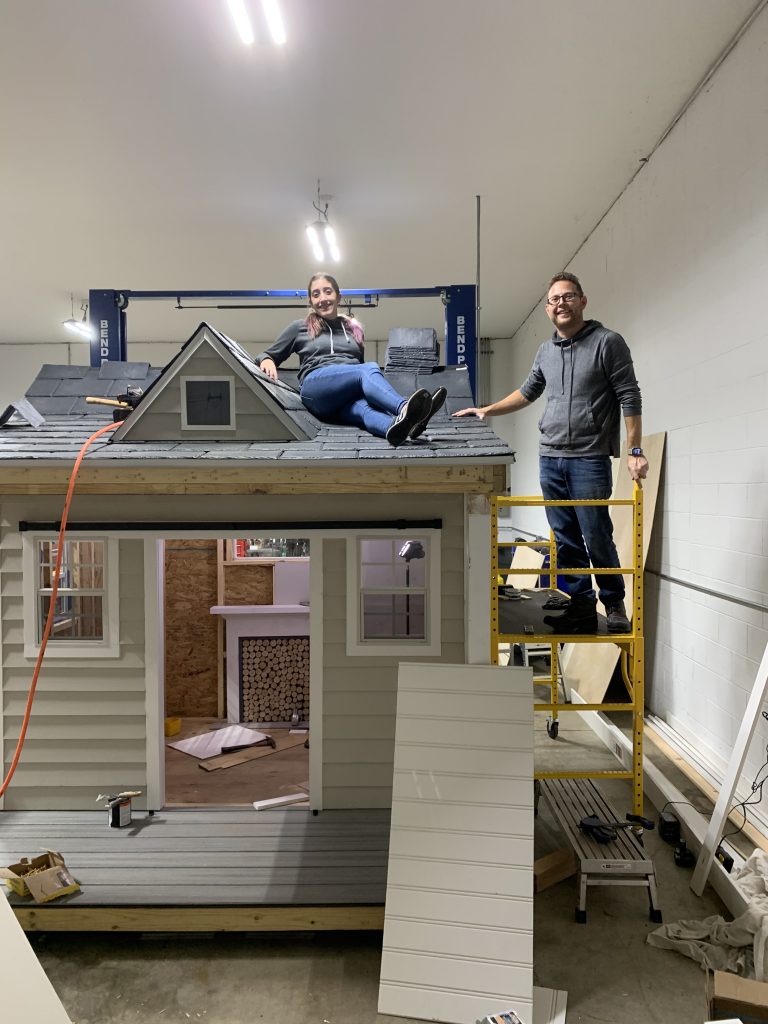 TIME TO DELIVER THE BEST GIFT EVER
Between the trip to NJ and the reassembly work, we had several inches of snow. The warehouse was chilly and the parking lot was covered in ice. I drove up to join in the festivities of the two mile road trip to the house.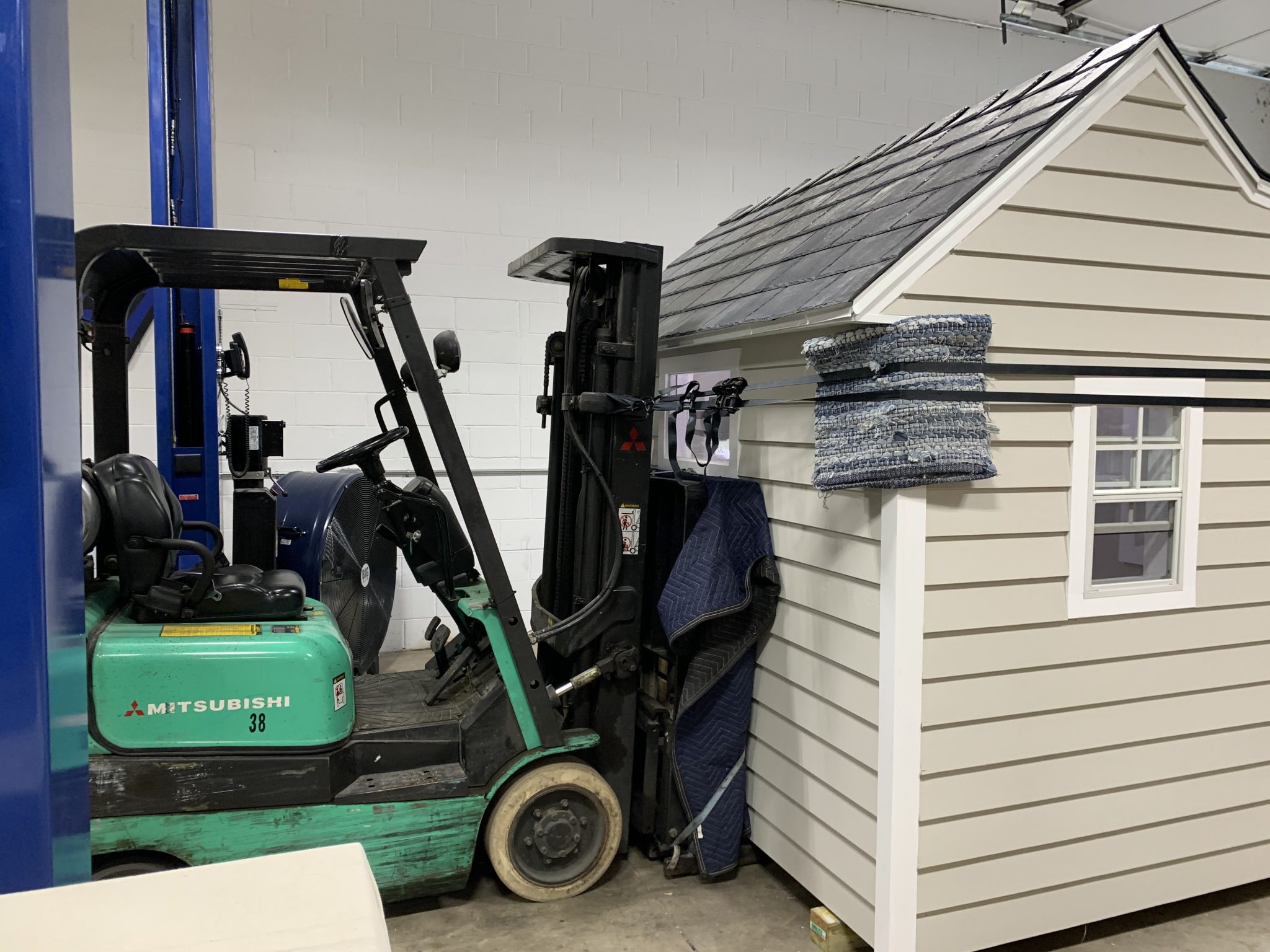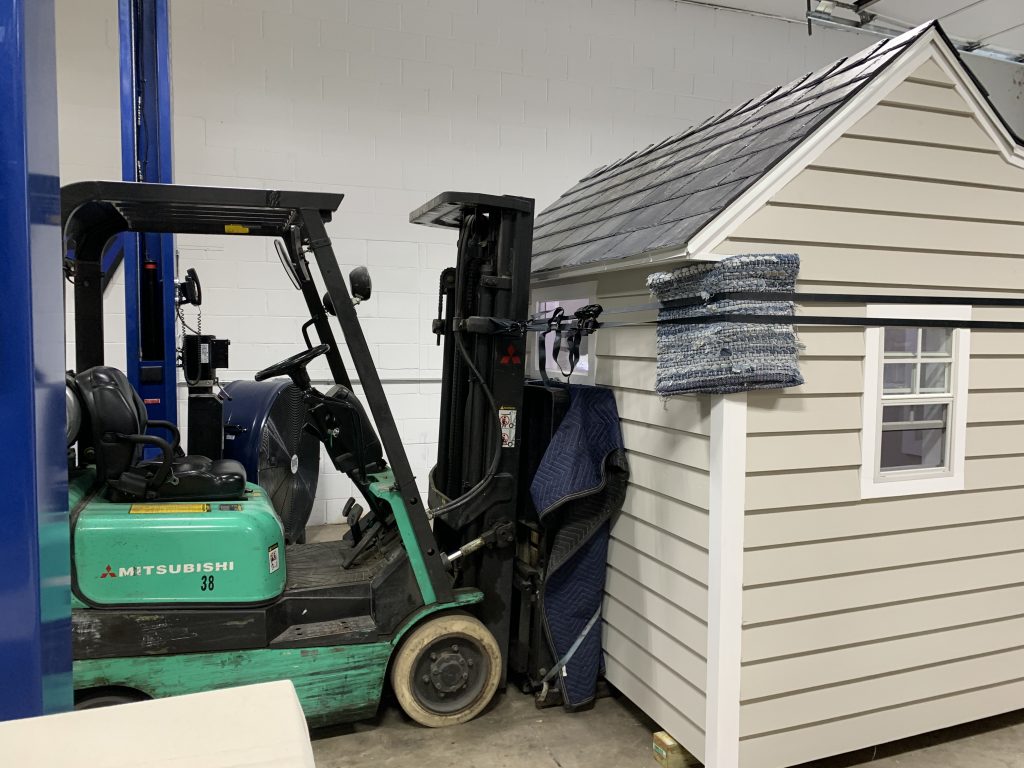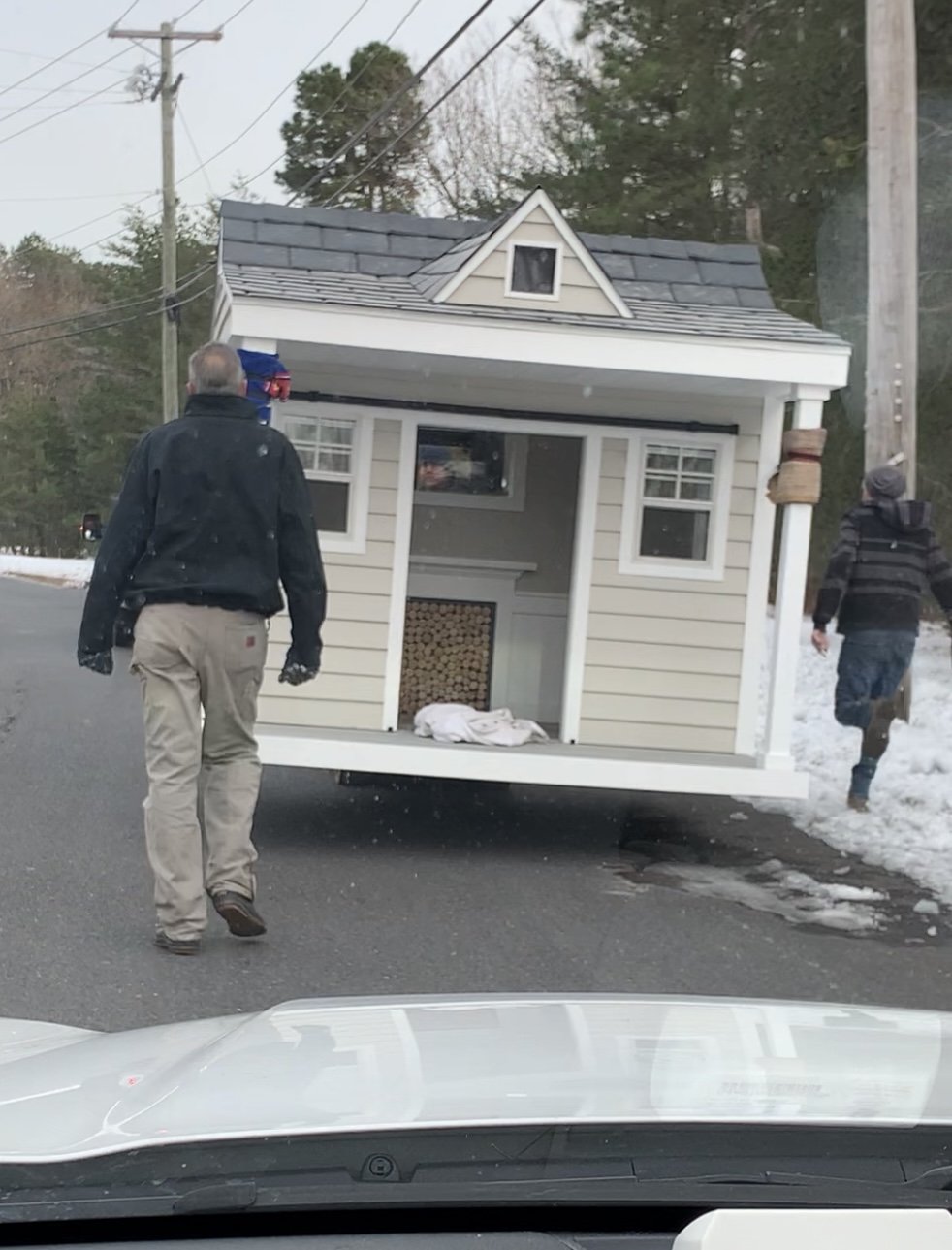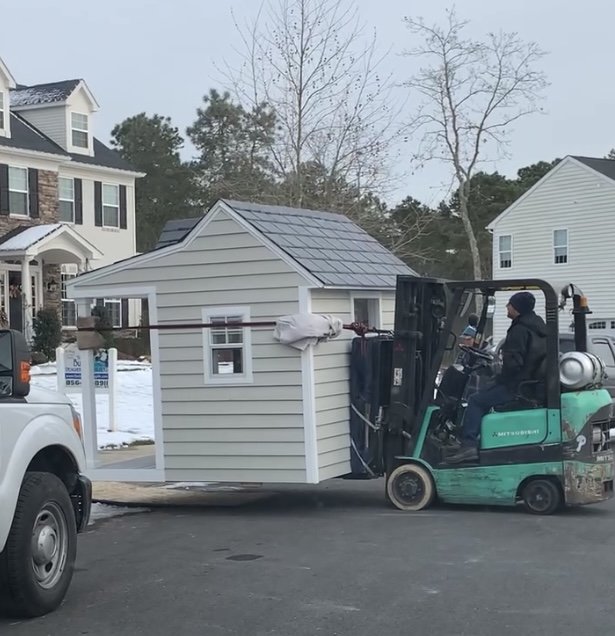 The girls were out so the plan was to get it in place and be done by the time they arrived home. It was something that could not be hidden until Christmas, so we worked fast and furious to get it ready.
The playhouse went down the road about two miles backwards on this little forklift. Carmine and his son walked along side, one son in law drove the lead vehicle and the girls dad drove the forklift. It felt like we were in a parade. It was scary every time there was a curb or bump or hill.
I have a saying when someone has a crazy idea – I just say "helmet," sort of like "you must have bumped your head." This was definitely a "helmet" worthy idea.
IT'S NEW HOME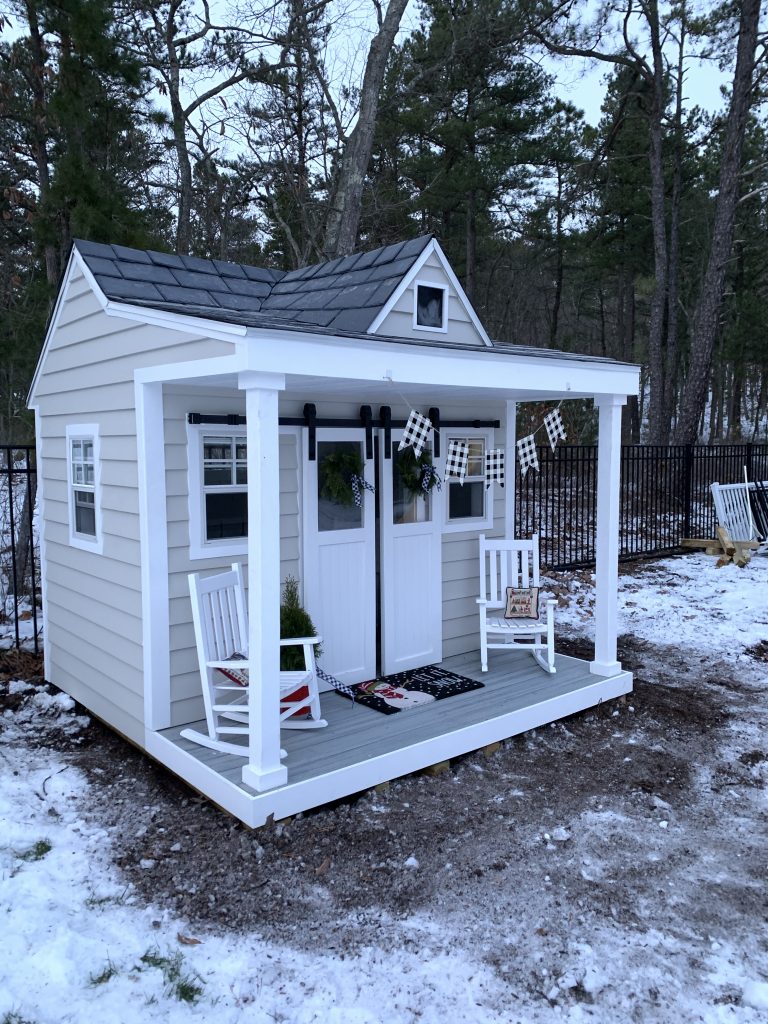 When the girls arrived home they were wide eyed and wondered what in the world was going on in their backyard and why was Pop and everyone there?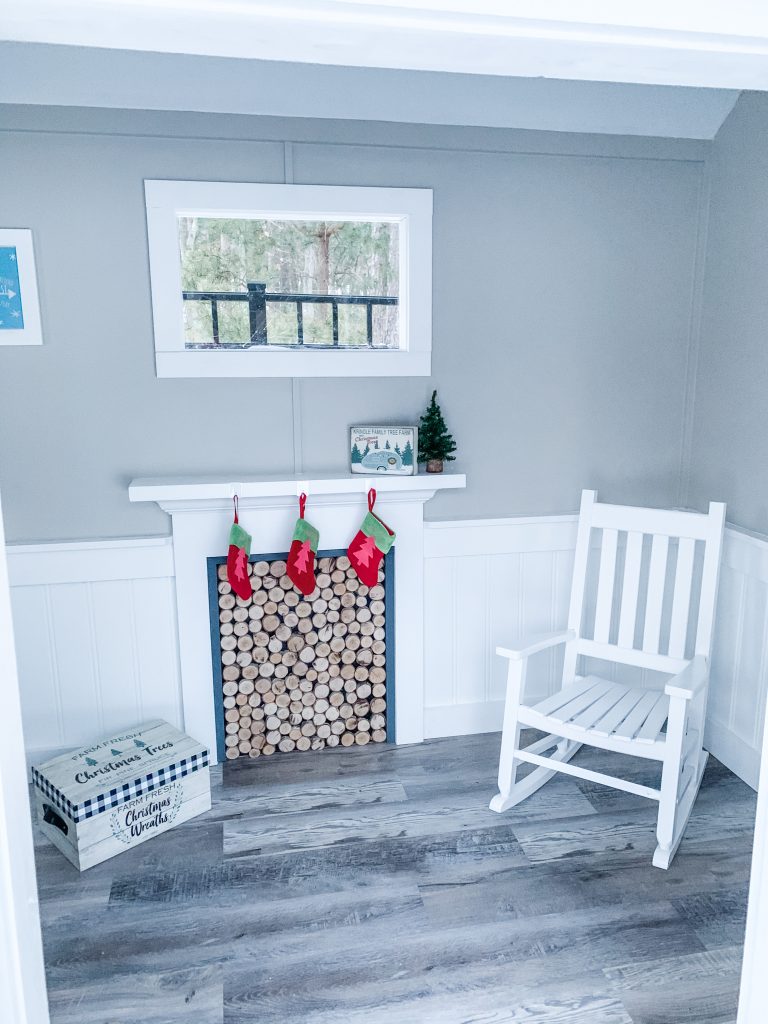 I had so much fun putting the decorations back up and getting ready to welcome the girls to their new playhouse. This house was made better than our house or at least with better materials!
A few more pictures before they arrived.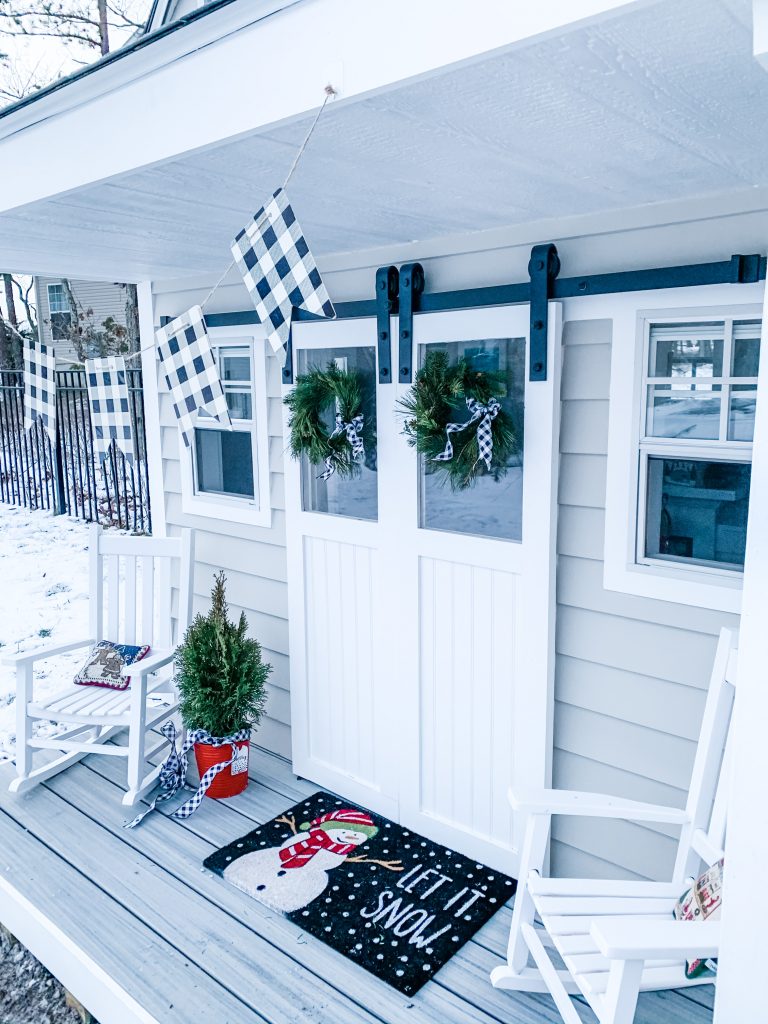 This is why we did it. You have to watch til the absolute end. Priceless.
IT'S A WRAP
Thanks for coming along on the journey of how the BEST GIFT EVER was built, taken apart, driven to NJ, put back together and delivered to it's new home.
This was a time consuming but a total feel good gift for the girls. One they won't forget, but I did have a little plaque made so they couldn't. The neat part is their mom sends me pictures every holiday of how she decorates it, Easter, Valentines, July 4th – it's wonderful!
It was quite the conversation piece in our driveway. All the dog walkers and neighbors would ask about it. Everyone was eager to know if the kids liked it.
Several people have asked if he would make one for them. The answer was a huge "heck no." It was definitely one of the bright spots of quarantine, not having a commute allowed for more time to work on this special project.
I hope you enjoyed seeing the playhouse story and are thinking about how you can make memories for your holiday, because memories are the best things to make.
Not everyone has the time or skills to build such a gift. If you don't, you can find several options to purchase. Below I included links to two available from Home Depot you could check out. These are super cute too!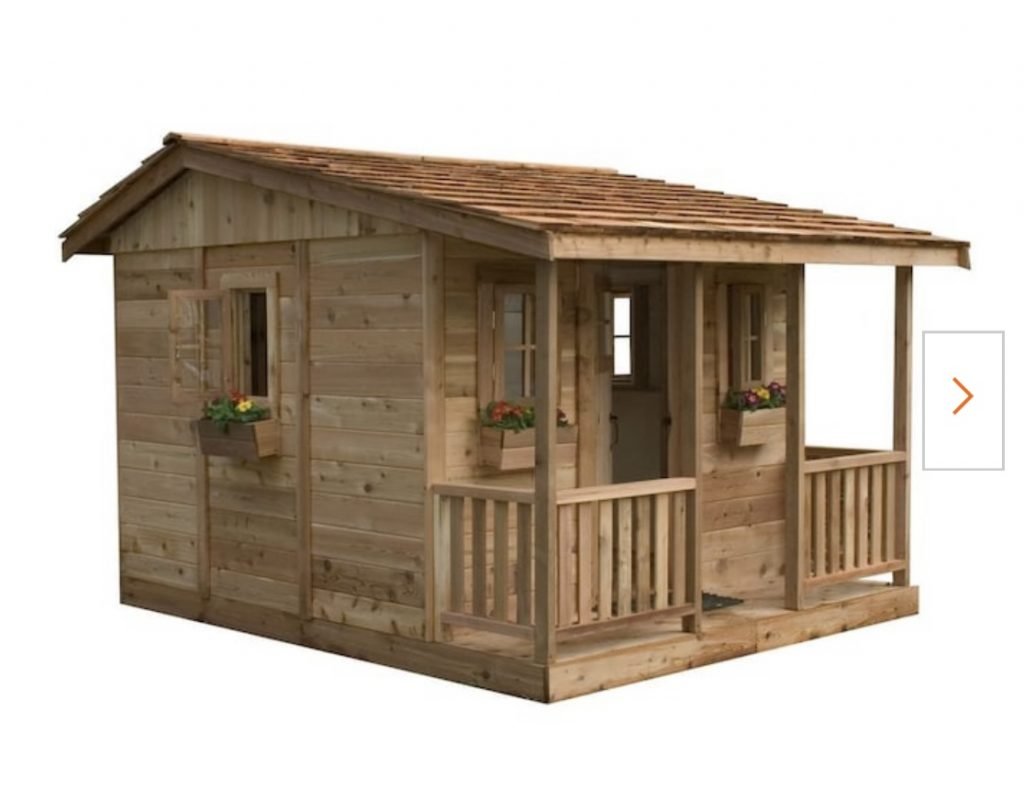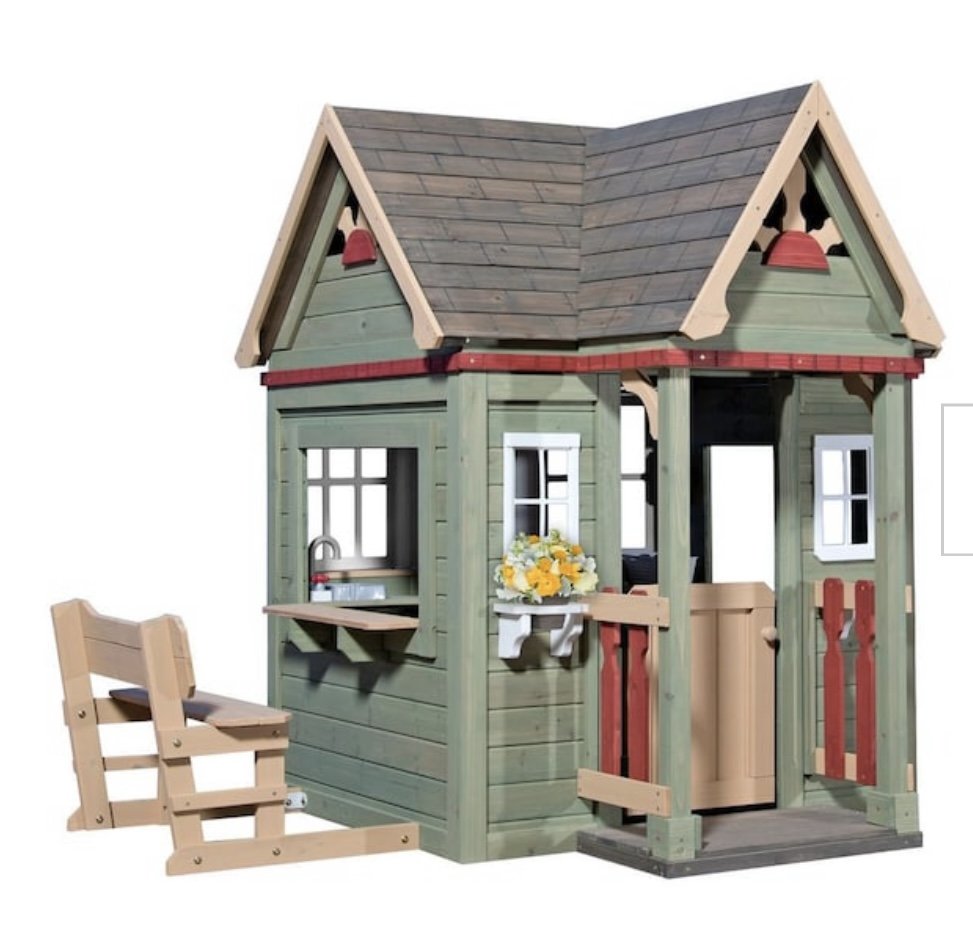 MERRY CHRISTMAS!
If you are ready for Christmas then yay! If you need ideas for wrapping – see my post on Cozy & Creative Wrapping Ideas.
I love Christmas. I love the lights, the music, the story, the smiles and the time with family and friends. Oh and that it's my birthday too. Growing up I shared my birthday with an aunt and I thought that it was pretty special to share the same birthday with her, especially since it was Christmas.
So Happy Birthday to me and Merry Christmas to you! Whether you spend the day surrounded by family, friends or furry paws – I wish you peace.
XO, Regina
This post may contain affiliate links. If you purchase from these links, I will receive a small commission at no additional cost to you.