Are you ready for some fun? Then you won't want to miss this LOW COUNTRY BOIL, get all the recipes, including my Hush Puppy Hack!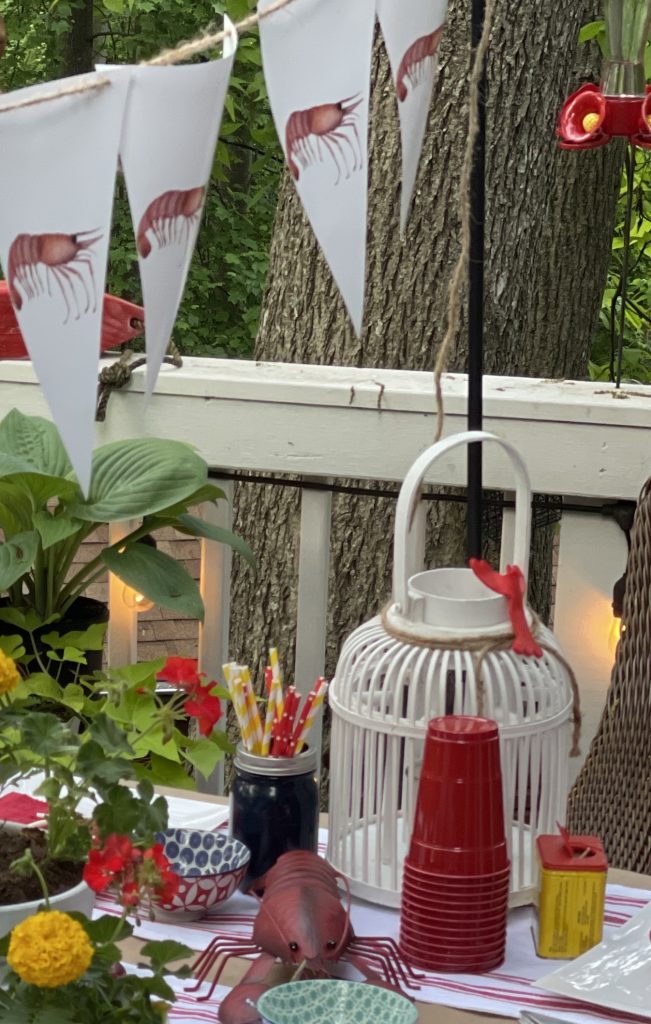 As part of the Virtual Supper Club for May, the theme was this delicious seafood meal.
We had so much fun creating the tablescapes, now to the main event – the food!
The whole menu is yummy and I'm going to share every recipe. If you've never been to a Low Country Boil, then you are going to want to save this post.
THE LOW COUNTRY BOIL MENU
DRINKS
How pretty and refreshing does this look?
This Simple Sumer Spiked Strawberry Lemonade was made by Jen from Midwest Life and Style.
A perfect drink to serve as guests are gathering and appetizers are being enjoyed. Click here for the recipe.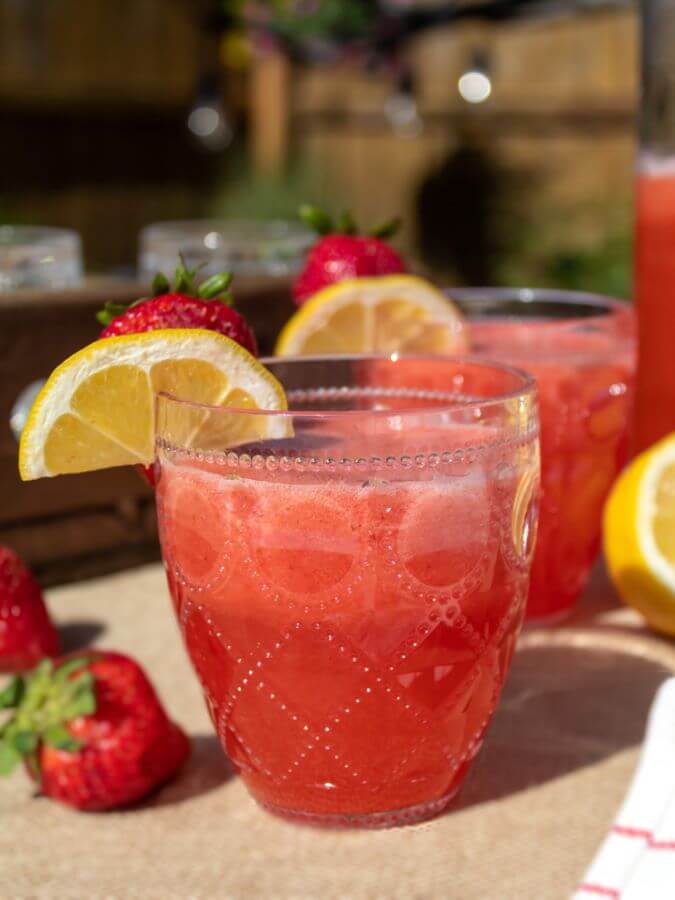 APPETIZER
Have you ever had Carolina Caviar?
Anne from Simply2Moms said this is THE BEST appetizer to pair with a Low Country Boil.
How yummy does that look? So fresh and chock full of goodness.
Even the colors go with the tablescape! Click here for the recipe.
MAIN COURSE LOW COUNTRY BOIL
The star of this show is the boil itself. Look at all of these ingredients, cooked together with a special seasoning, it is a one pot meal and so easy to do. Well at least my friend Rachel from The Ponds Farmhouse makes it look easy. Click here for her Easy Low Country Boil recipe.
THE SIDES
Ok, so yes it's really a meal in itself but how fun is it to leave out sides? Not very, so we are sharing two different sides with you. The first is a summer special that is fresh and light.
Made by Stacy of Bricks N Blooms, this Cucumber, Tomato and Onion Salad is sure to be a hit. I'm loving the colors.
Click here for the recipe.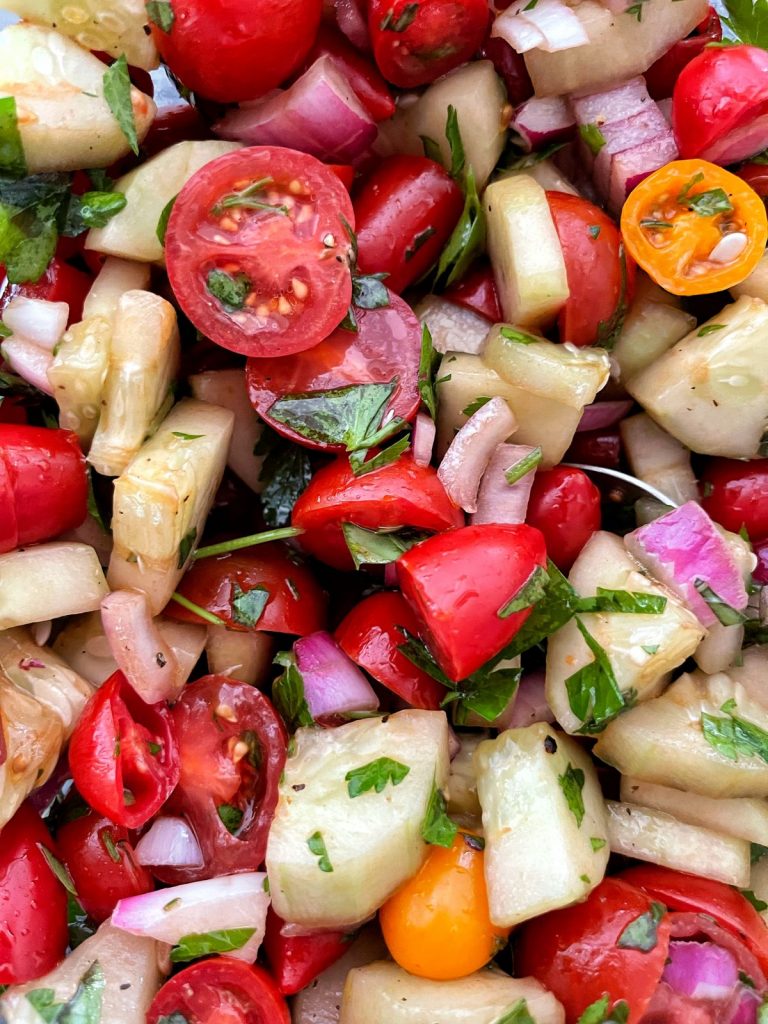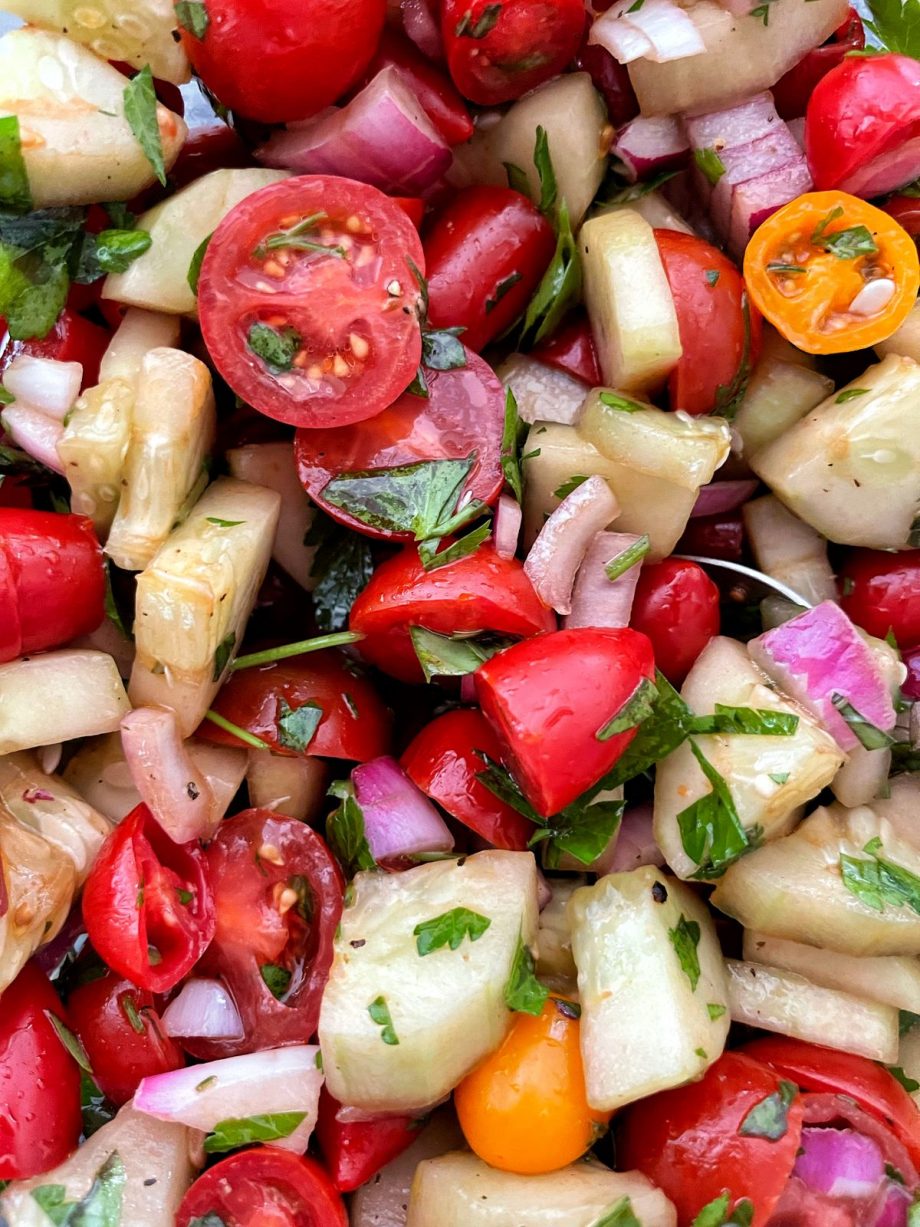 So who doesn't love Hush Puppies? I'm talking the kind you eat, not wear. I am dating myself I know.
I don't normally fry foods, if I make donuts, they are baked but c'mon it's a Low Country Boil. We like to focus on easy recipes and shortcuts so that's exactly what I'm sharing.
I bought a packaged mix of Hush Puppies and then doctored them up to my liking. The details are below.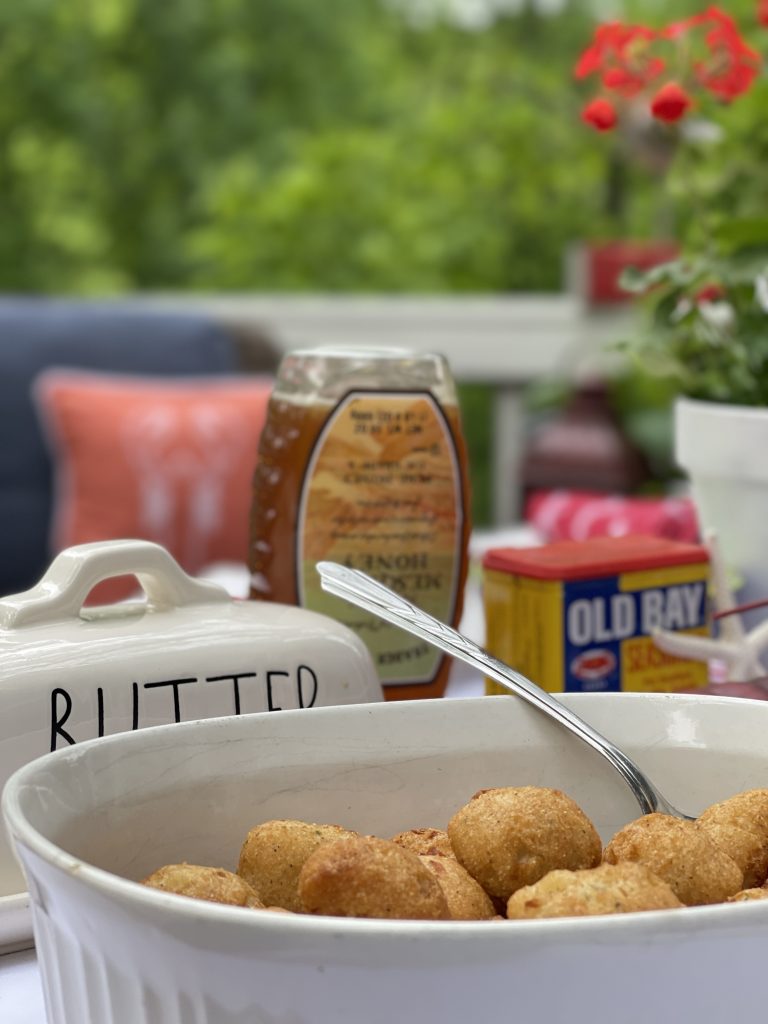 DESSERT
How about this for a fancy dessert? Michele's presentation is on point.
I am a sucker for anything in a jar and this is no exception. Michele of Vintage Home Design is sharing her Old Fashioned Banana Pudding in a Jar. Click here for the recipe.
A perfect choice to wrap up our boil.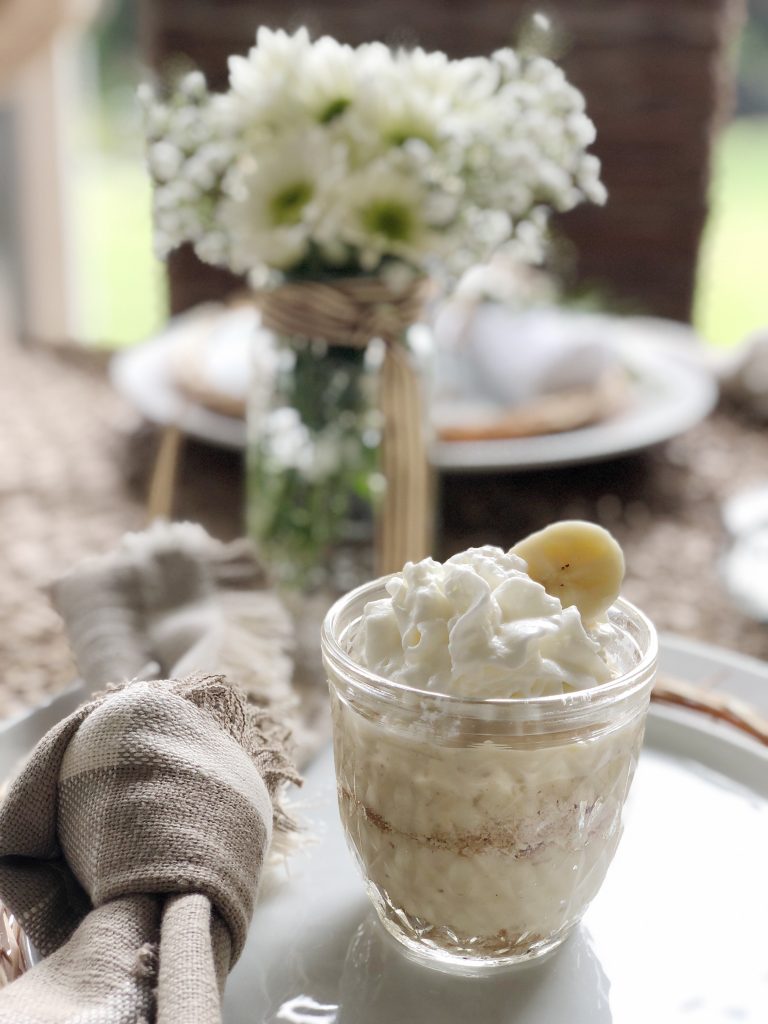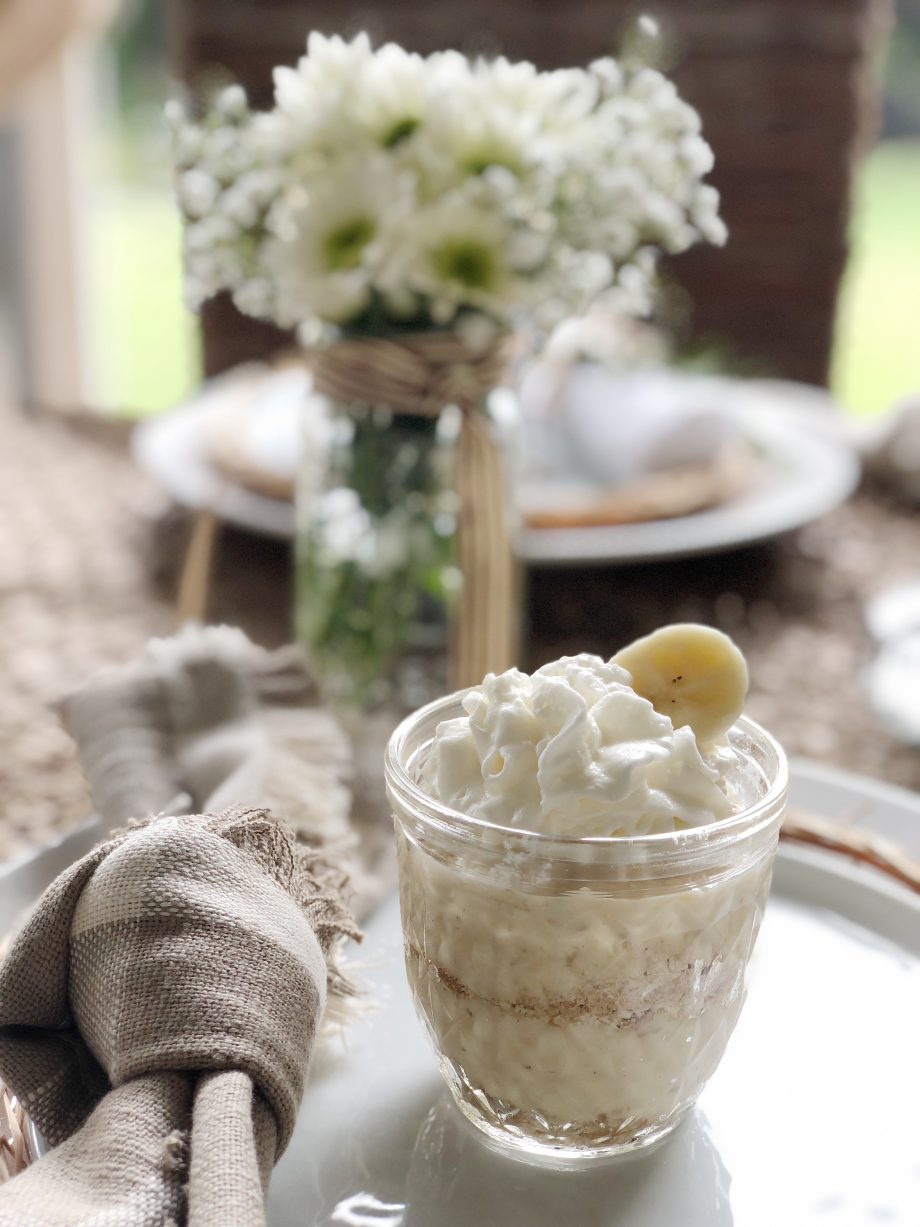 I think you can agree that you have everything you need to create a FUN AND FABULOUS LOW COUNTRY BOIL. You can also add any one of these recipes to other menus you are creating this summer.
If you make the banana pudding, be sure to invite me!
HUSH PUPPY HACK
INGREDIENTS:
House of Autry Hush Puppy Mix (1 package)
1/2 cup and 1 T Almond Milk
2 T Mesquite Honey by Trader Joes
2 T Brown Sugar
Mix all ingredients and let sit for 7-10 minutes.
Heat vegetable oil in a cast iron pan on your stovetop.
Allow oil to get to 350 degrees.
Drop mix by spoonfuls into oil.
Bake 2-3 minutes or until golden brown. I flip them halfway.
Place on paper towels to drain.
Optional (Toss in powdered sugar)
Serve.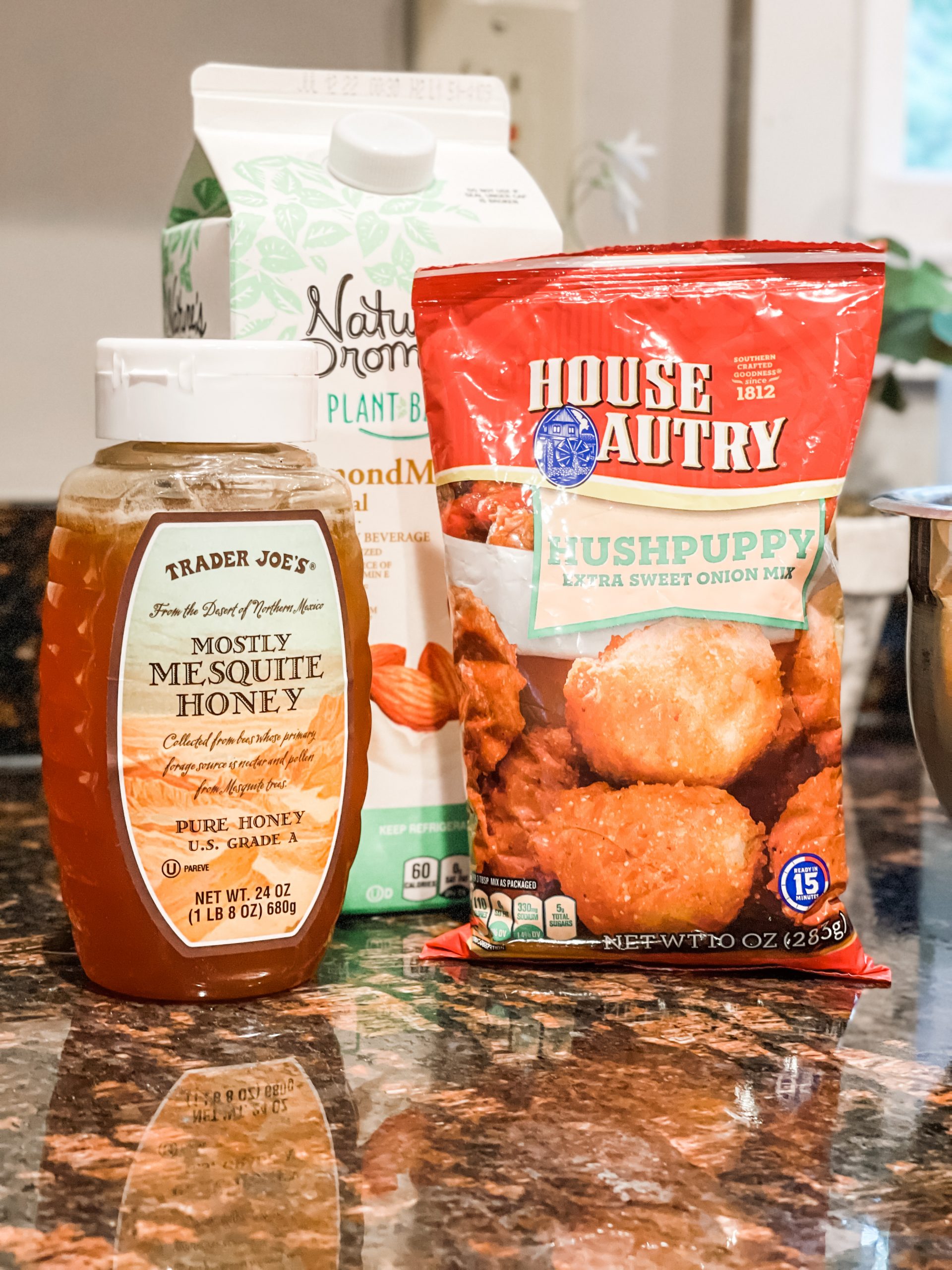 These are super easy to make. You could certainly cook completely from scratch too but….
SAVED FROM SALVAGE IS AN AMAZON AFFILIATE. I RECEIVE A SMALL COMMISSION ON ITEMS PURCHASED USING THESE LINKS – AT NO ADDITIONAL COST TO YOU.
SHOP THIS POST
Thanks so much for stopping by. It was so much fun being a part of the Virtual Dinner Party this month. I hope you enjoyed it too. Let me know if any of this inspiration with tablescapes and recipes moves you to host a party!
XO, Regina