Have you ever had a Low Country Boil?
If you are a fan of seafood, or entertaining outdoors, you will find all sorts of inspiration, as I share the best ideas for a Low Country Boil.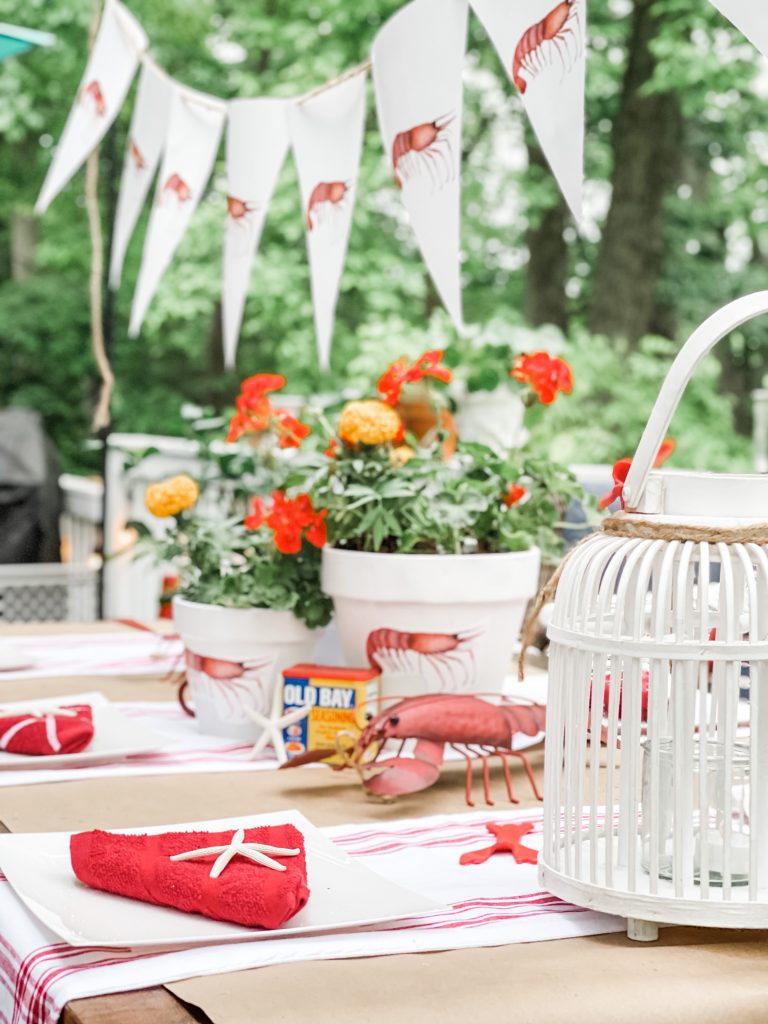 If you are visiting from Stacy at BricksnBlooms – WELCOME!
I'm Regina and I'm so excited to be part of the Virtual Supper Club this month with some amazing bloggers. Everyone shares a theme related tablescape and recipe.
This was a perfect month to be part of it for me, because just the word Lowcountry makes me smile.
What is Lowcountry?
By definition, it is a geographic and cultural region along South Carolina's coast, including the sea islands. The culture has its roots in Gullah and Geechie cultures. But more on that some other time.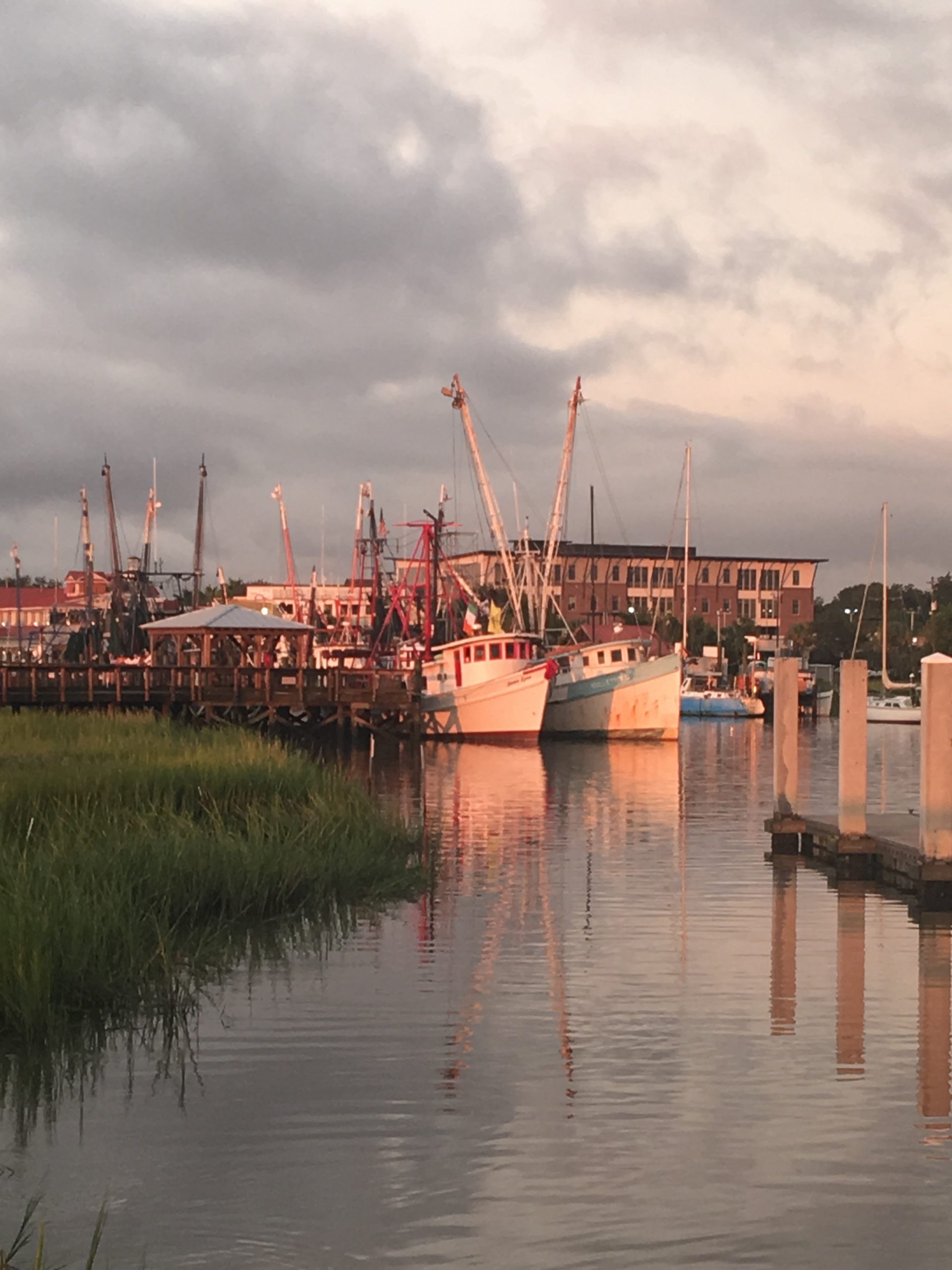 For me, it is a special place where I have vacationed for decades, yes I love all things South Carolina.
A LOW COUNTRY BOIL EXPLAINED
A Low Country Boil is a culmination of several yummy ingredients such as shrimp, potatoes, sausage, corn and onions. Plus a delish seasoning mixed throughout.
This part of the Virtual Supper Club features tablescapes, stay tuned for part two when we share our recipes.
At the end of this post you will find the tablescapes from these seasoned veterans.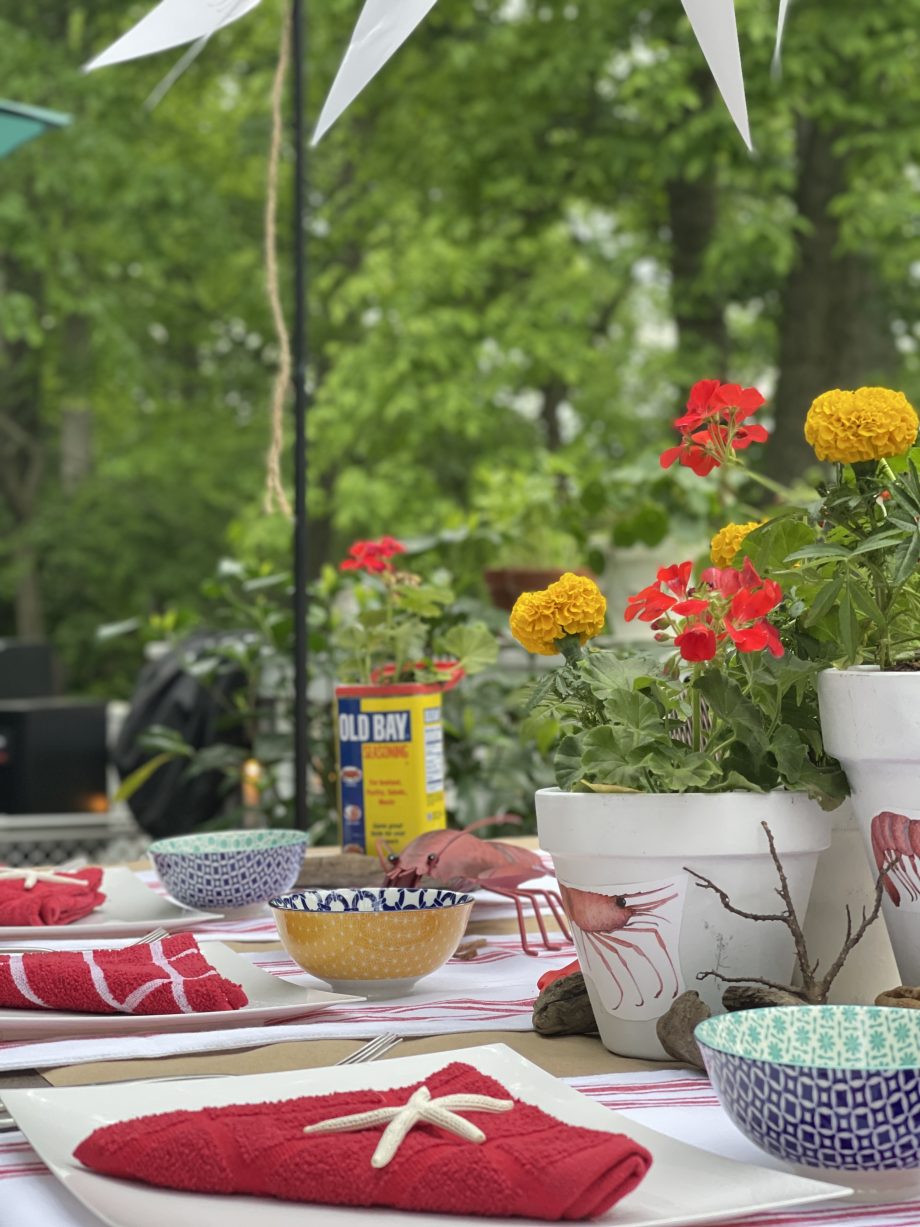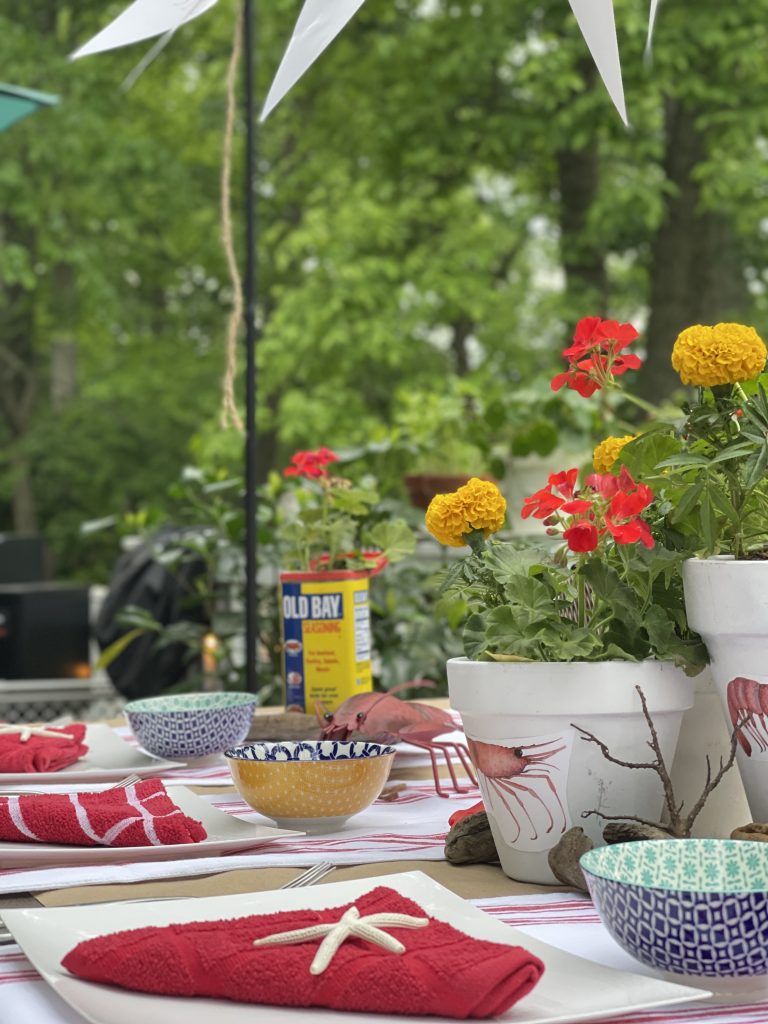 A Low Country Boil is best held outdoors. It's a bit messy and lends itself to a casual outdoor space.
Since it's typically a laid back affair, my tablescape has a relaxed feel to it.
LOW COUNTRY BOIL CENTERPIECE
Often the boil gets dumped directly on the table or onto a tray in the center of the table. Think steamed crabs for my Maryland friends. We plop a pile on the table covered with newspaper or butcher paper and have at it.
For this centerpiece I decided to use plain terra cotta pots and add plants in the colors of my table.
Red geraniums and yellow marigold popped against the white pots.
Potted plants are going to last much longer (all season) than purchasing cut flowers, and my daisies are not tall enough to cut yet.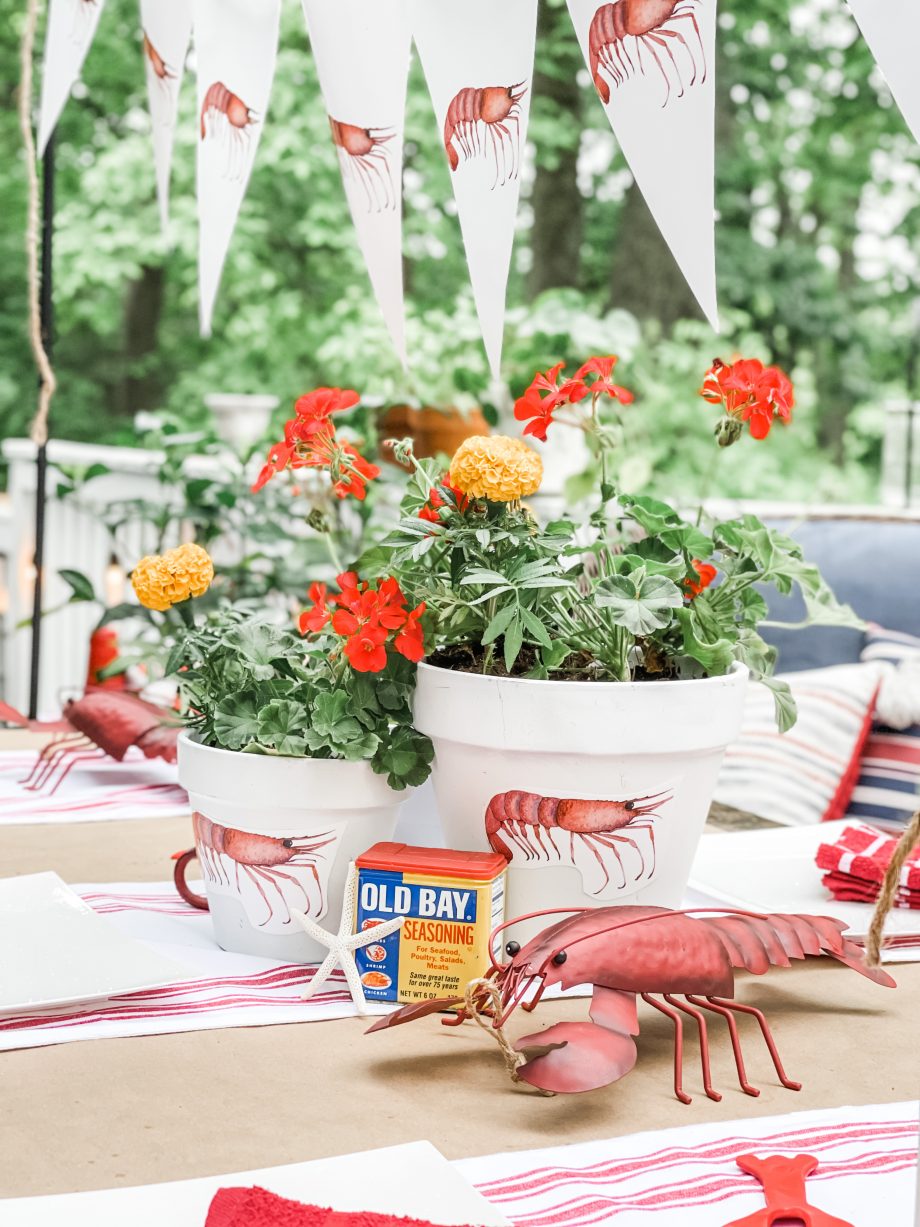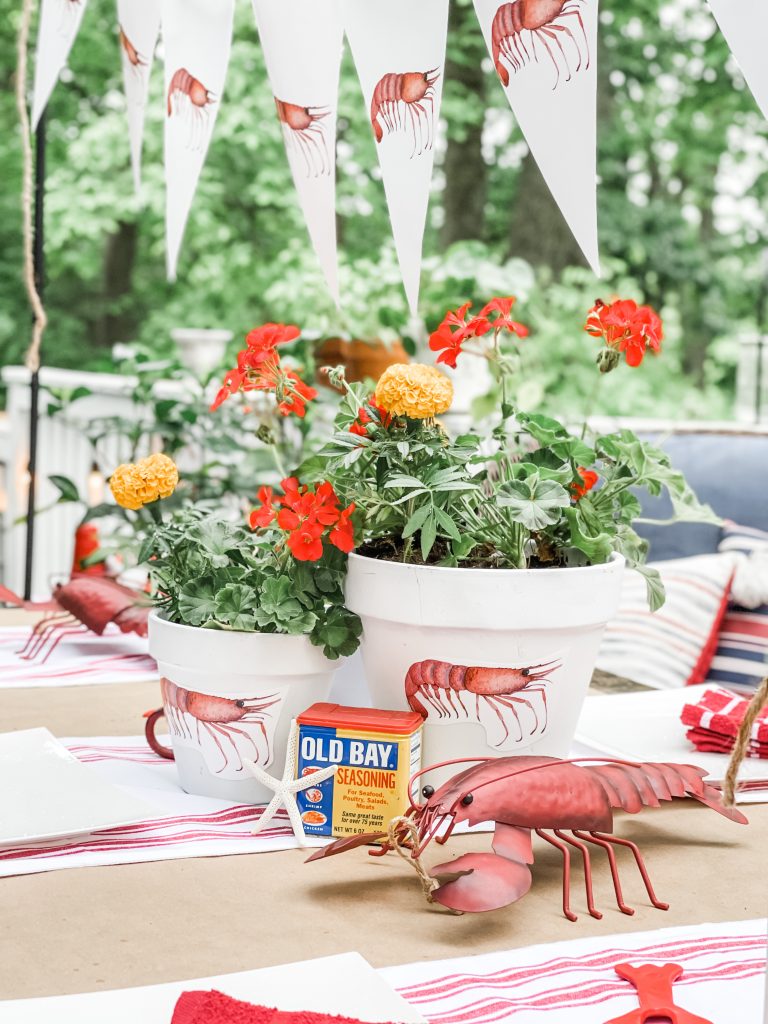 I used a white primer spray paint to give them a quick coat and added my flowers.
Adding items in threes provides a more balanced look, so I chose two small pots and one larger one.
This adorable shrimp was on Canva, so I printed him out and adhered him to two of the pots using spray adhesive. I normally would consider using Mod Podge but I didn't want to make these permanent.
Using the same little shrimp, I printed him out on paper and created a banner to hang over the table.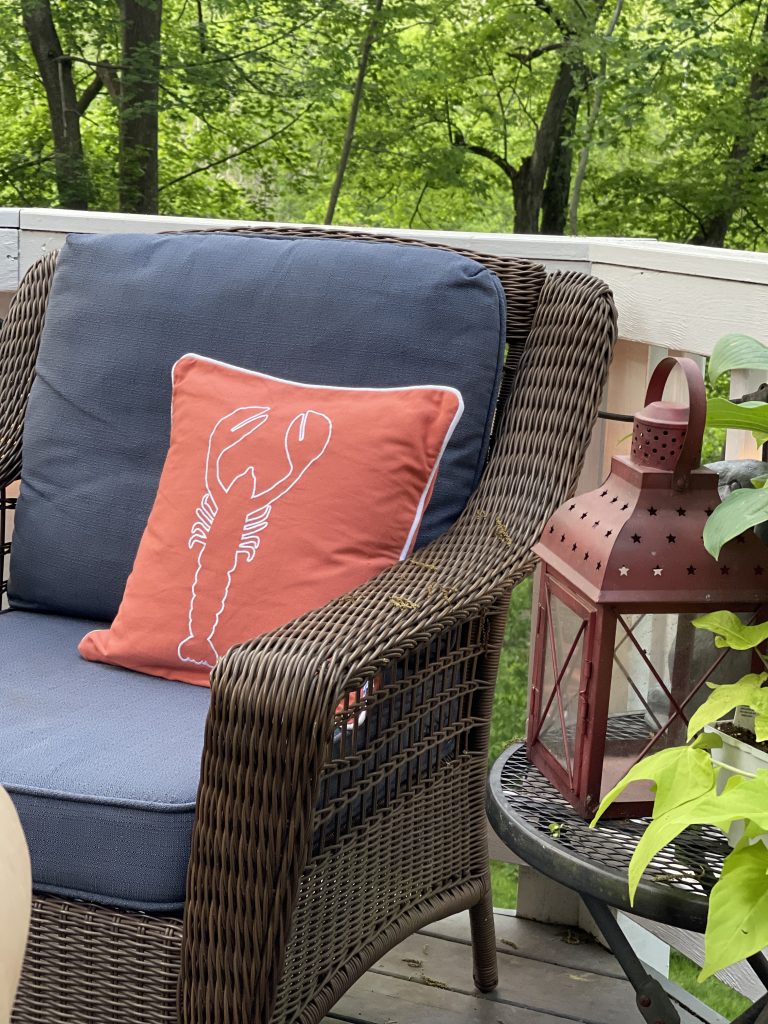 Next I added two lobster/crayfish on the table. I found these at Michael's for 50% off in the store.
Last year I created these fun cans for a Crab Feast and I had several Old Bay containers left over. I placed some around the table and added a geranium to the tallest one. The colors worked perfectly with the flowers.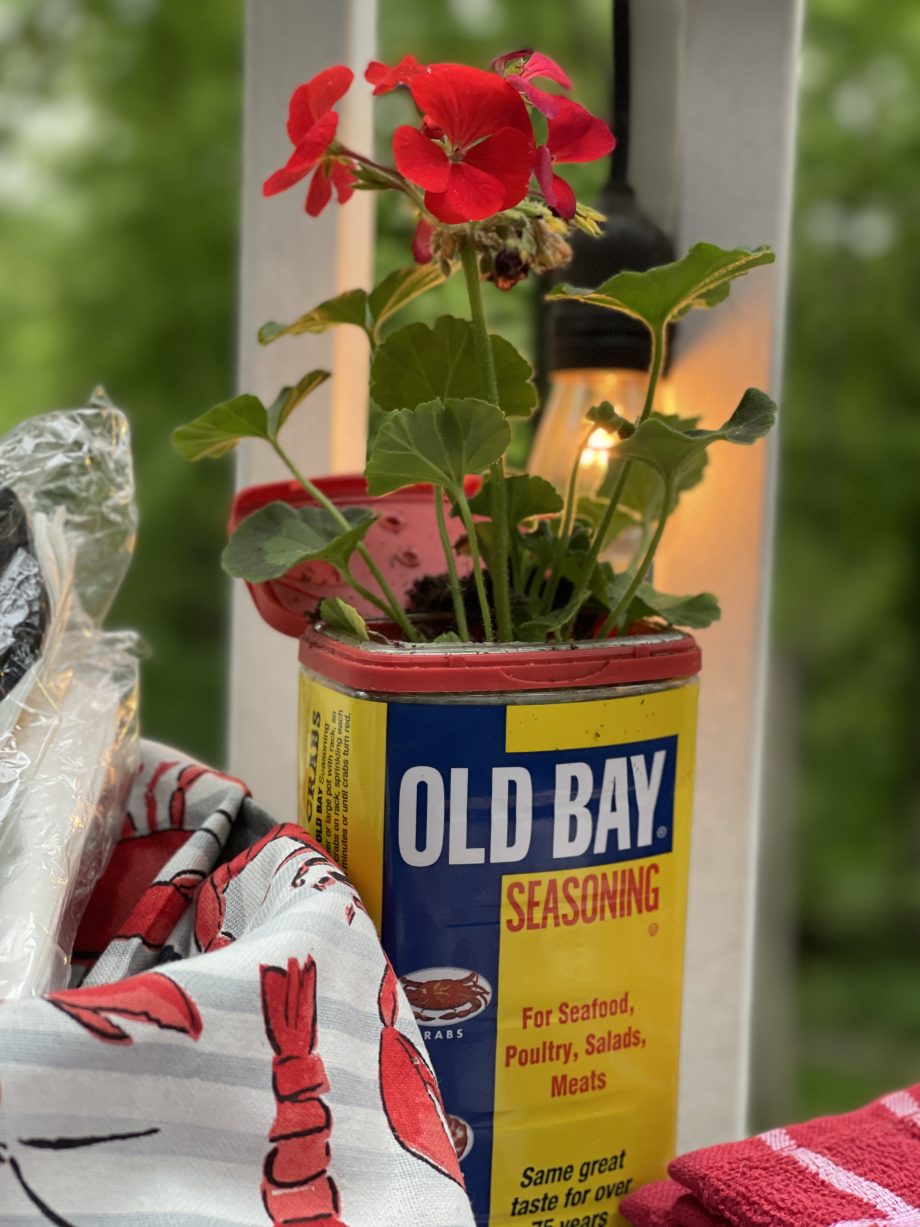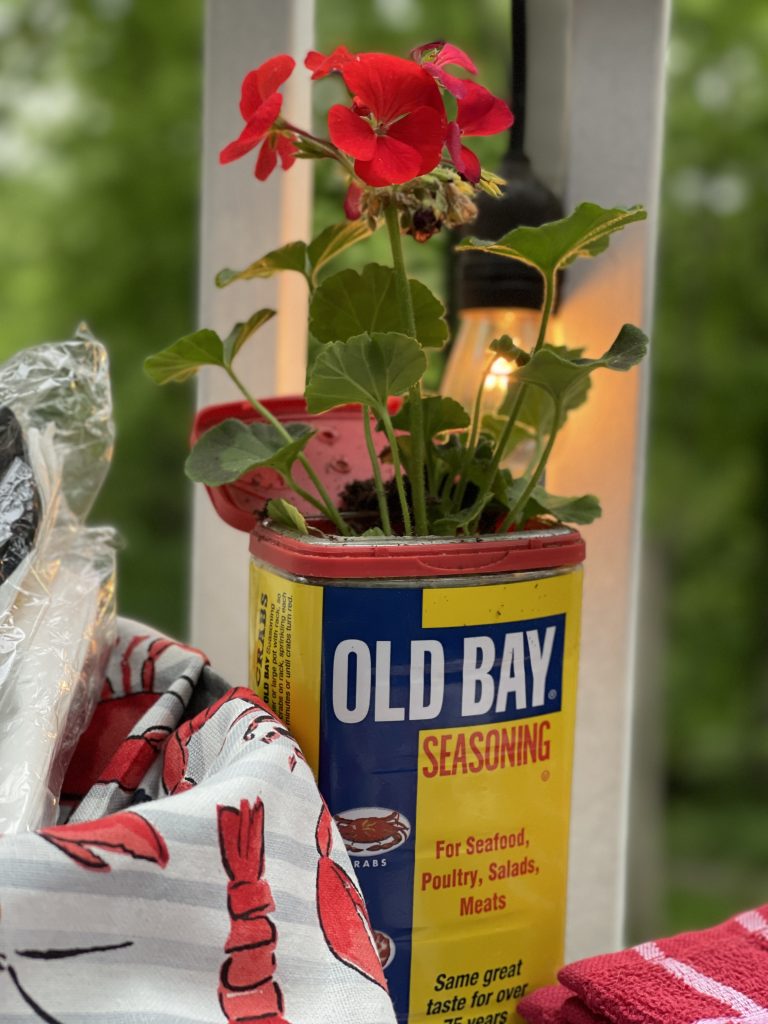 I added some treasures I've found on the beach over the years. If you are not lucky enough to drag home things from the beach, you could find some online. I especially love driftwood, you can see a project I made using only driftwood here.
PLACE SETTING FOR A LOW COUNTRY BOIL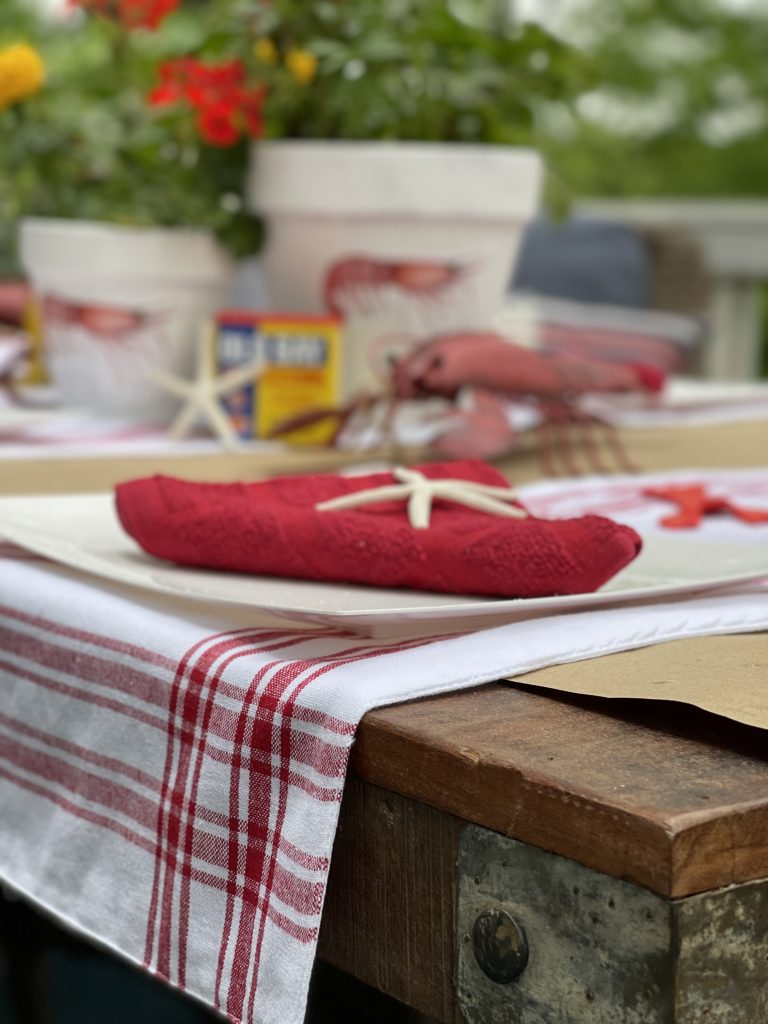 I opted to use plastic platter type plates for this. Even though you drain the boil, there could be extra liquid and I was afraid that paper plates may leak. Keeping in mind it might be messy, next I bought these red and red and white dish clothes to use as napkins.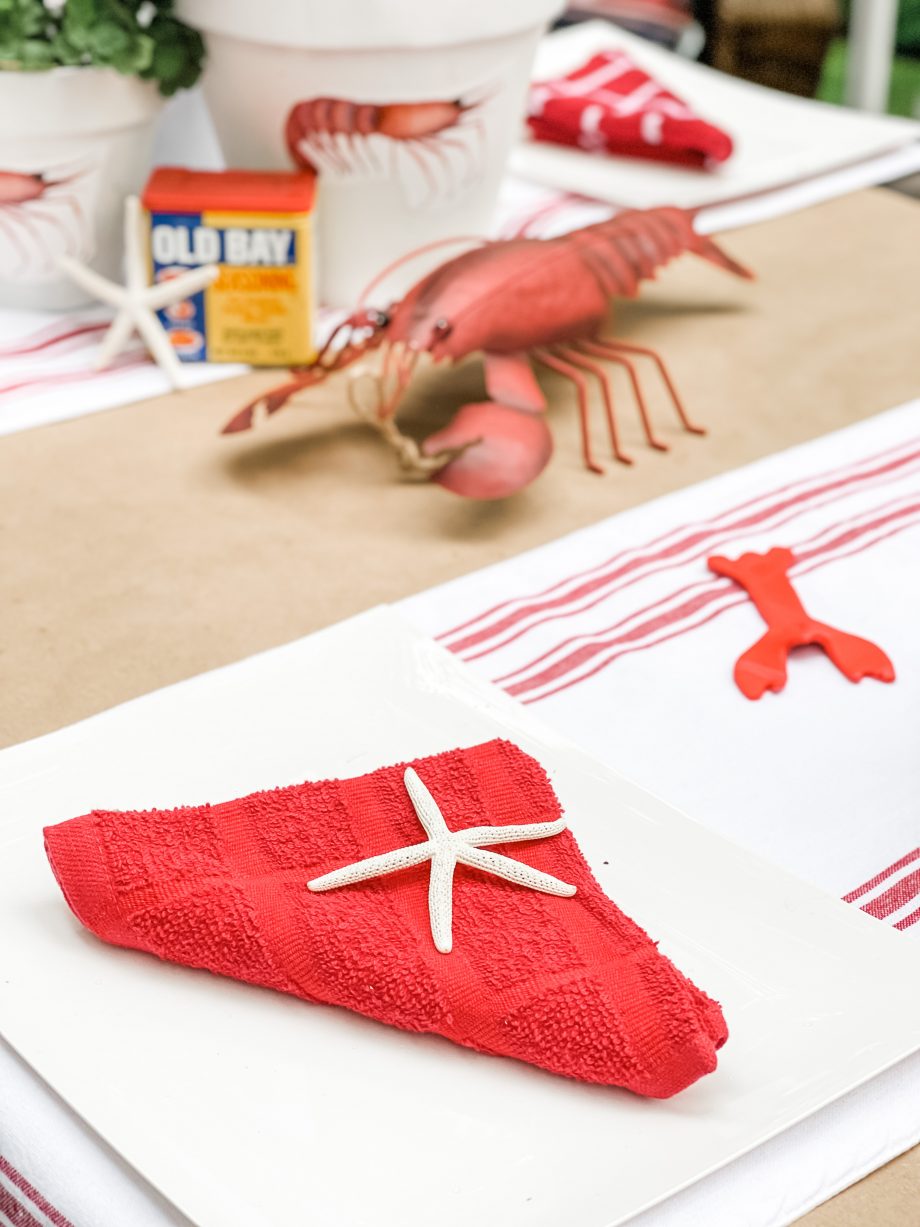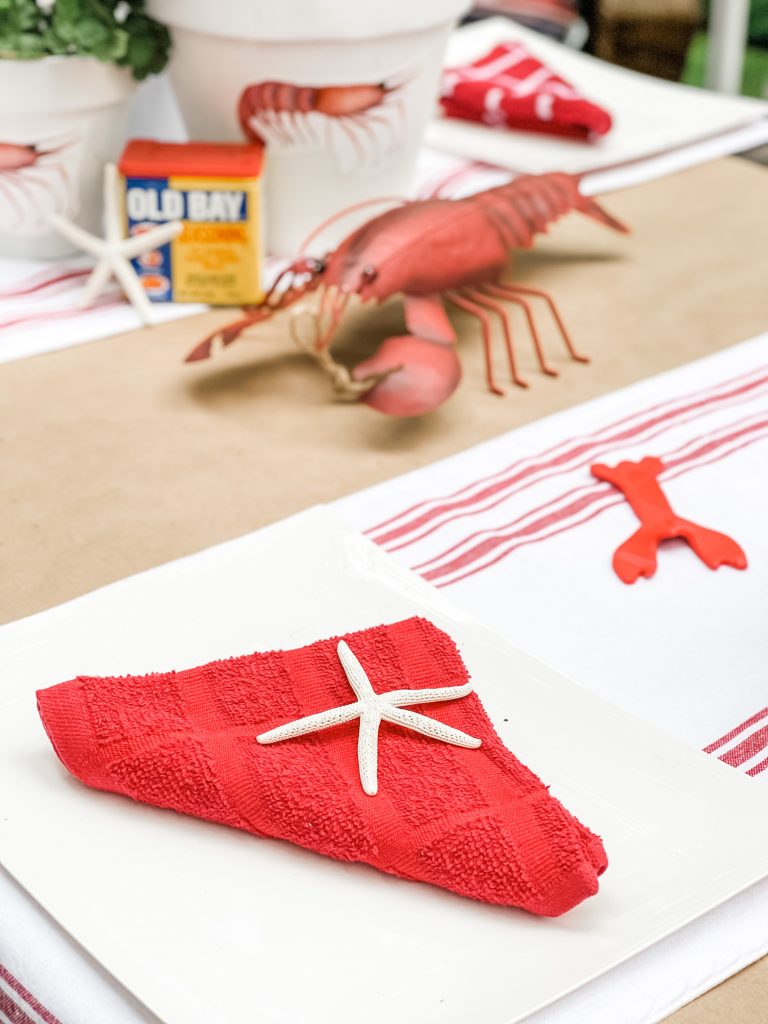 These are more absorbent and prettier than a roll of paper towels on the table. I added a bleached white starfish to each napkin and laid the place setting on a red and white table runner as a placemat. I purchased two table runners and cut them in half so I had enough for four seats on each side.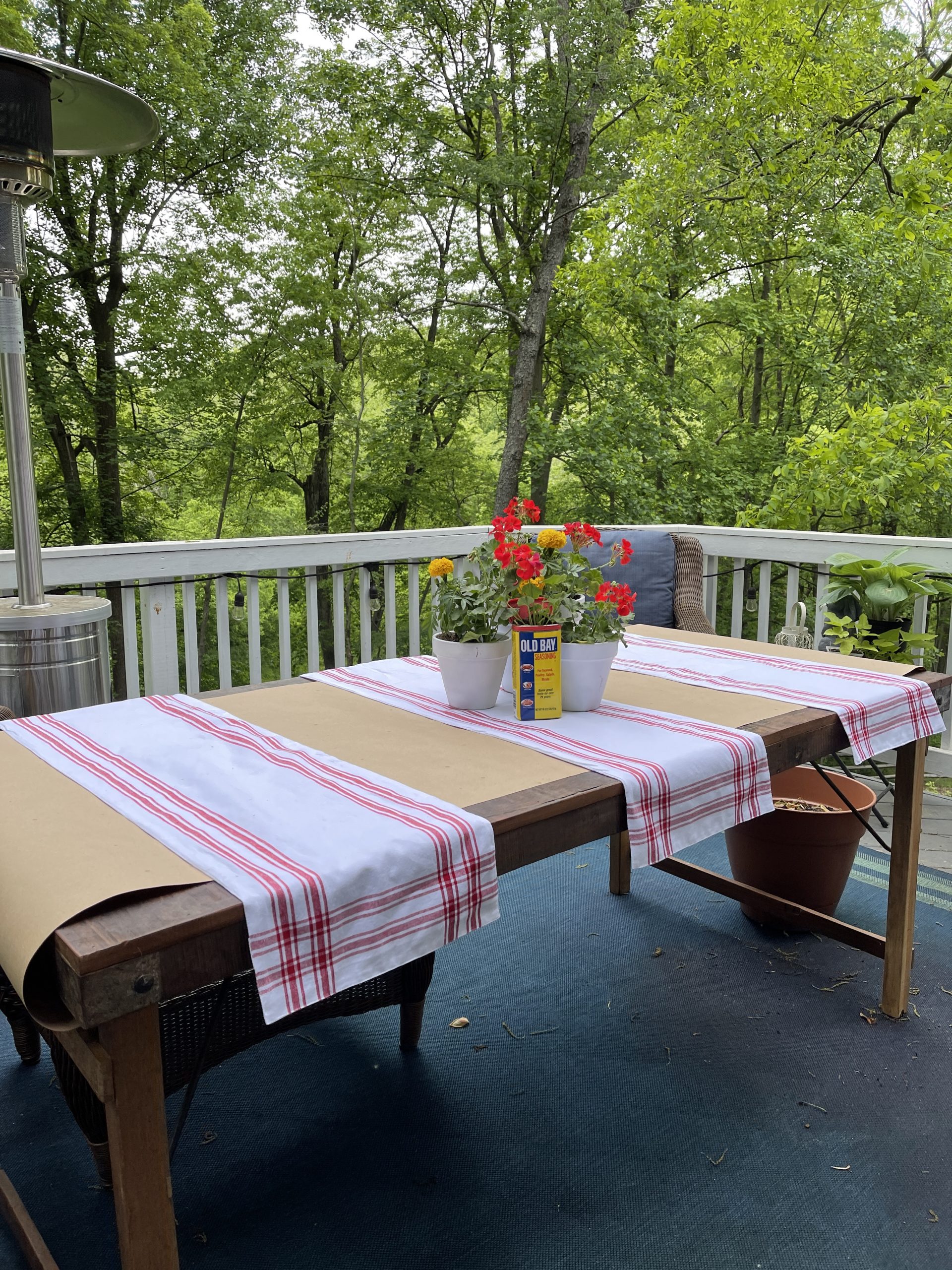 Under the table runners I had a rolled out a large piece of butcher paper to serve as my tablecloth.
I did choose to use real silverware, but plastic cups. I painted a small Ball Jar navy and added my yellow and red paper straws.
THE EXTRAS TABLE
On a small wicker side table, I had extra plates, plastic bibs, napkins and extra plasticware. I also had additional cloth napkins with a lemon sliced tied up for cleaning your hands after the meal.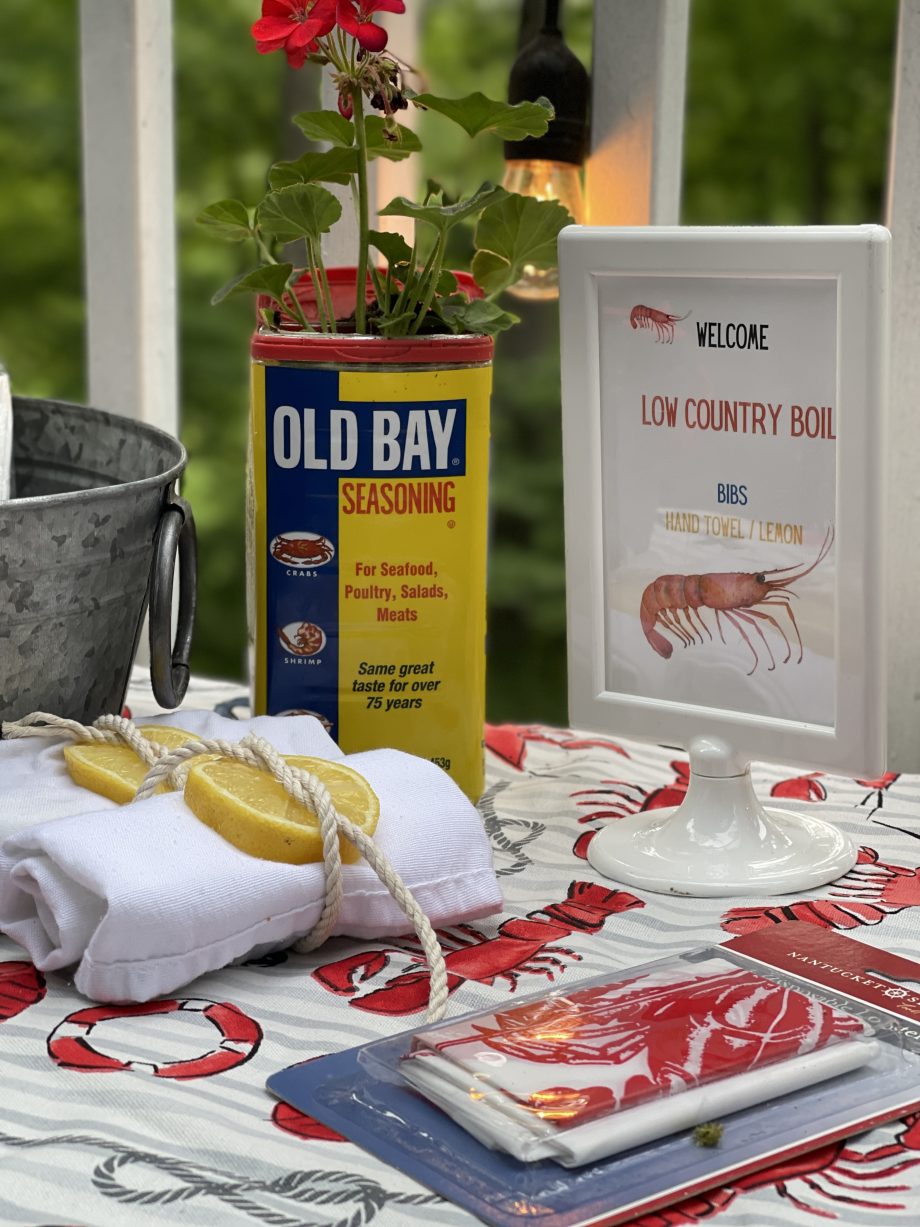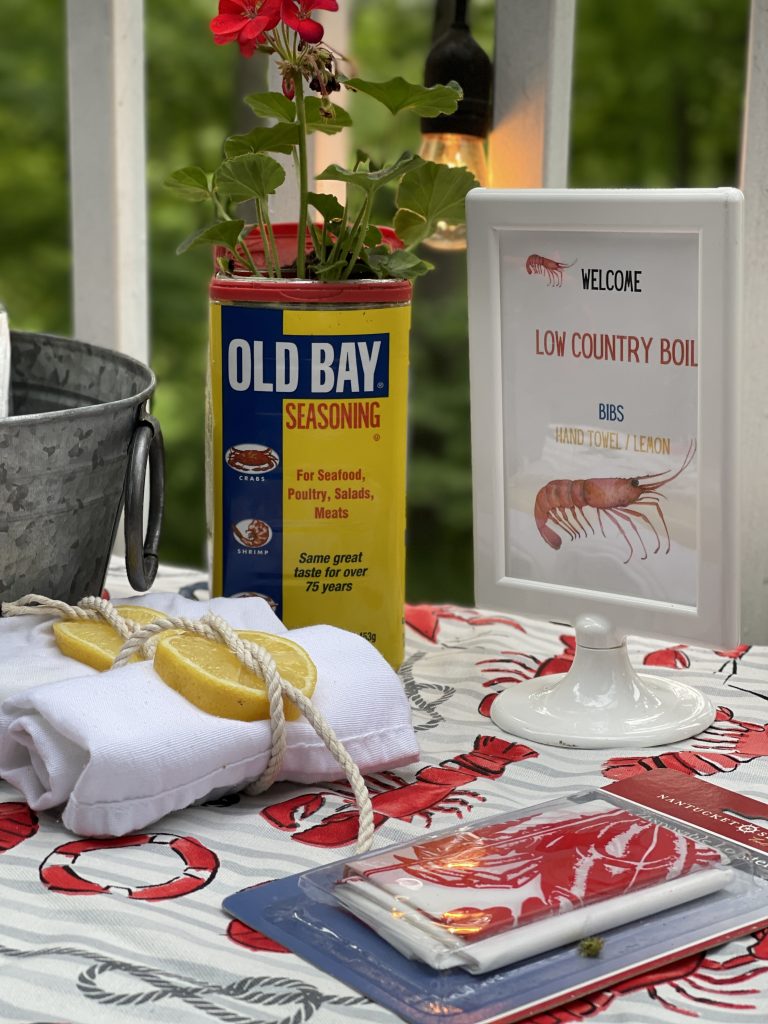 Thanks so much for stopping by! Leave me a comment and tell me if you have ever had a Low Country Boil. Even if you opt not to have a boil, these ideas would work perfectly for a crab feast.
Be sure to check out all of the inspiration from my friends. You will LOVE them.
For more tablescape inspiration from Saved From Salvage, click here.
SHOP THIS POST
Click on any link to shop.
Saved From Salvage is an Amazon Affiliate. I receive a small commission if you purchase from these links at no additional cost to you.
MORE FABULOUS LOW COUNTRY BOIL INSPO
Jen from Midwest Life And Style
Anne and Anne Marie from Simply2Moms
Rachel from The Ponds Farmhouse
Michele from Vintage Home Designs
XO, Regina
NEXT UP IS GOING TO BE THE RECIPES!