Do you love summer picnics? How about a picnic in October? Picnics in fall are nothing new, I'm sharing the cutest fall picnic setting ideas.
For this picnic I chose a lake side spot and fall decor to give it a cozy feel. I actually decided the entire tablescape around a cream and blue throw.
Throw
I brought this basket along to carry my plates and cups and napkins, some decor and another throw to keep the cozy factor up!
PICNIC TABLE
I elevated the picnic from a picnic blanket to a table. I'll give you details on that DIY project below – it was $17 coffee table. I decided to saw the legs off. It's the perfect size for 4-6 people and it's even got a drawer to hold silverware or placemats.
What do you need for a picnic? A place for your food and drink, a place to sit and a theme (that's a requirement for me). Then surround yourself with the ones you love and love to spend time with. It's really all about making memories.
I enjoy creating the setting to do just that.
PICNIC SEATING
I found these adorable rattan cushions and these soft pink cushions that I can tie into any theme moving forward. You could also add a small rug or blanket under the coffee table or on either side for additional.
PICNIC DECOR
To keep the fall theme in the forefront, I added a variety of pumpkins in grey blue, navy and cream colors. Small and large, faux and real and of course my DIY fabric pumpkins that I am still making!
I opted to add a few stems of Dusty Miller to a navy and white vase, it's muted color blended perfectly with the neutral look I was going for.
When you have such a pretty setting, the food can be anything, sandwiches, if it's a lunch, or appetizers if it's an evening. Not necessary to make anything, just pick up carryout and enjoy the lovely scenery and relaxed vibe of being outdoors on the grass or sand.
The focus here is the setting – on the lake next to the beach.
I added cloth napkins to tie in the with color, and placed them in the non breakable wine glasses. I added navy placemats and a wood look charger and melamine plates.
PICNIC TABLE DIY
Back to the table. I spotted it when I found the Coffee/Wine bar cabinet I redid – if you've not seen that – you can check it out here.
It was easy to use a hand saw and take off the legs. I didn't cut them all the way off so I had feet for the table to sit up a little bit on sand or grass. You can see below how much I left on.
I sanded the entire thing down to the bare wood.
Here it is almost done.
The next step was to clean it with White Lightning. I sprayed it on and wiped it back off to make sure the piece was free of dust and grease.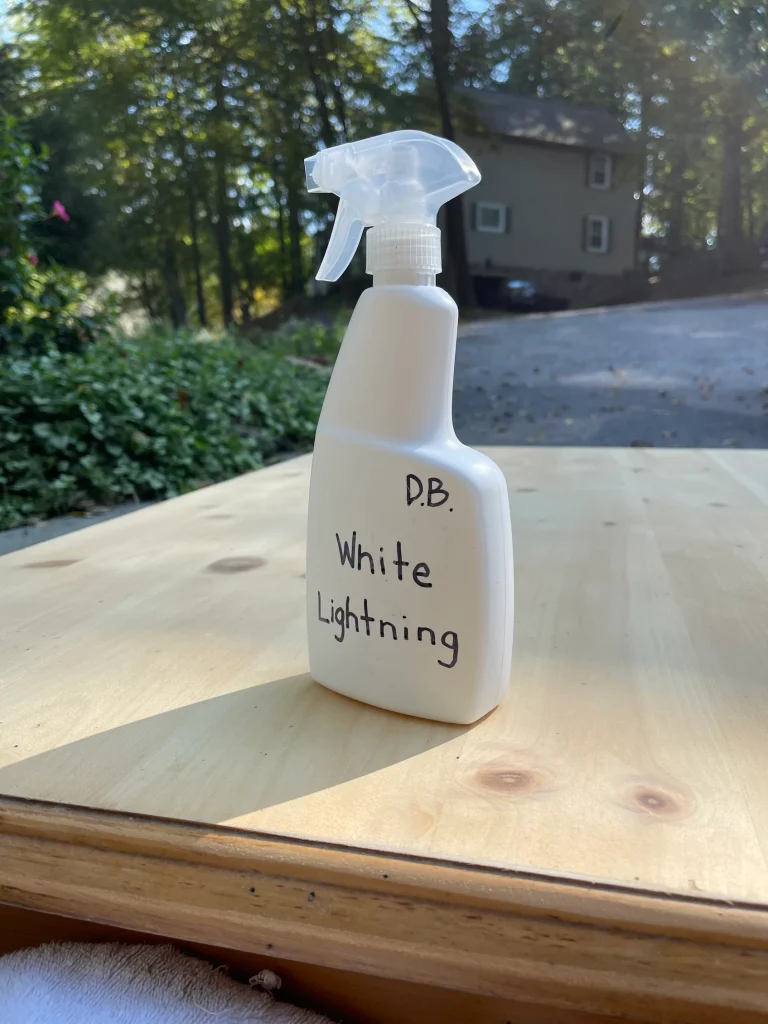 I didn't want to leave it natural because using it for food and picnics, I wanted it to have a coating on top.
Dixie Belle All in One Silk Mineral Paint in Oyster, was what I decided to paint a thin coat on.
Then I distressed it so it was not all one color. It's now the perfect backdrop for a picnic. With a bonus drawer for utensils and stuff! After it cured, it will be easy to wipe clean since the All in One Mineral Paint includes a topcoat and there is no need to wax.
PAINT I USED
To order Dixie Belle Paint – click the link here.
About those legs I sawed off…I glued the wooden disc candle lid. Then I I painted them in Anchor. Coated in Crackle and then finished with Whitecap.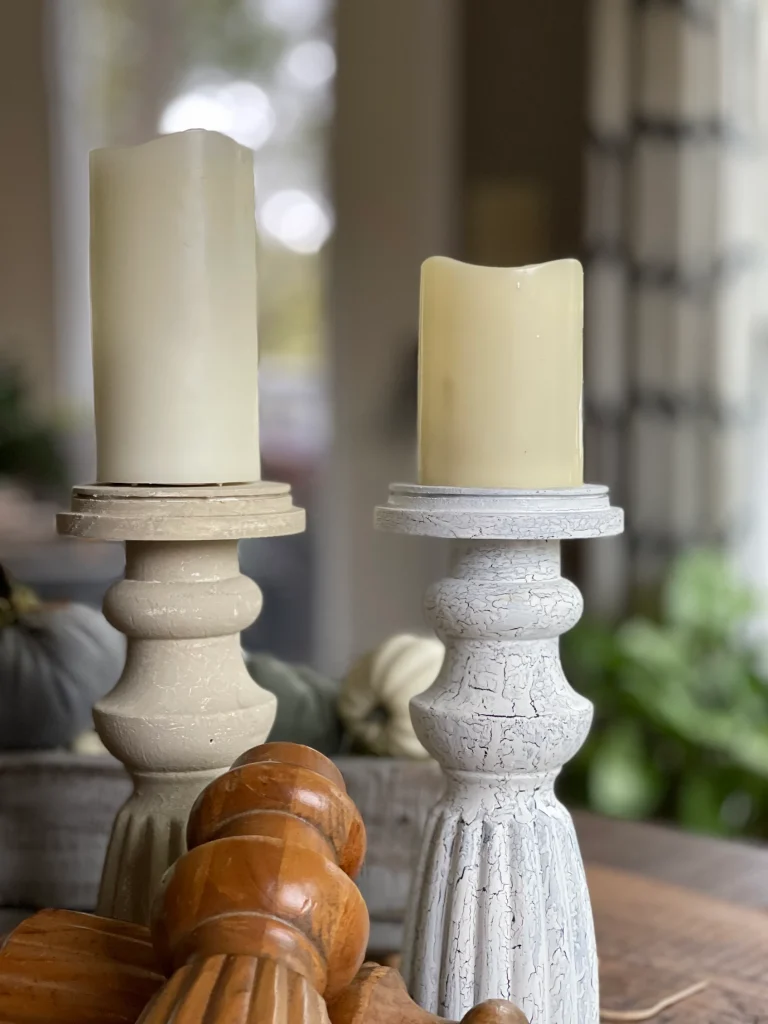 I love eating out this time of year, you can see my post on a fall happy hour here.
Have a wonderful week! Bear with me I only have one more Fall Tablescape post coming soon! Then believe it or not I'll be sharing this super cute
Twine Christmas Tree I created after I was inspired by one at the beach.
If you love fall like me, check out this post all about a Chili Cook-Off and fall inspiration.
Sign up with your email and don't miss a post. Also – I'm super excited to share that in about 2 weeks I'll be unveiling a brand new website. I can't stand it I'm so excited to share it with you. Stay tuned!
XO, Regina