Fall is such a beautiful time to dine outdoors. I'm sharing the most beautiful tablescape for dining outdoors in the fall.
A picnic, a happy hour or a bite by the fire pit. The weather is cooler, and you can add cozy throws into the mix.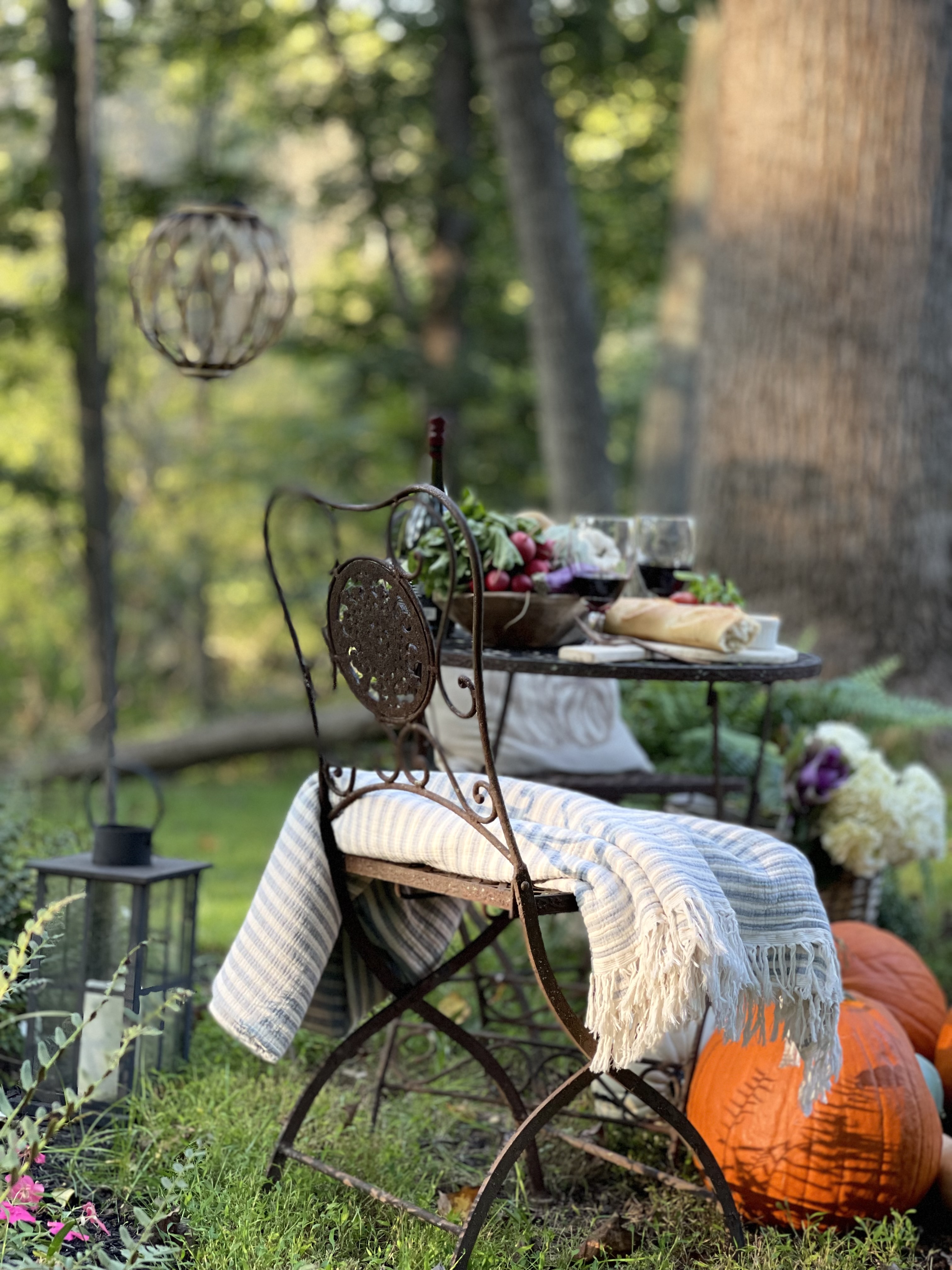 I'm sharing some simple tablescape ideas for dining al fresco. No fancy vases of flowers, just a dough bowl full of fruits and veggies.
How to Make it Special
Do you love to make a get together look inviting and cozy? You don't have to spend lots of money to do it. For this centerpiece, everything is useable. I gathered squash, asian pears, gourds, artichoke, a bunch of radish and mini eggplants. The colors are beautiful.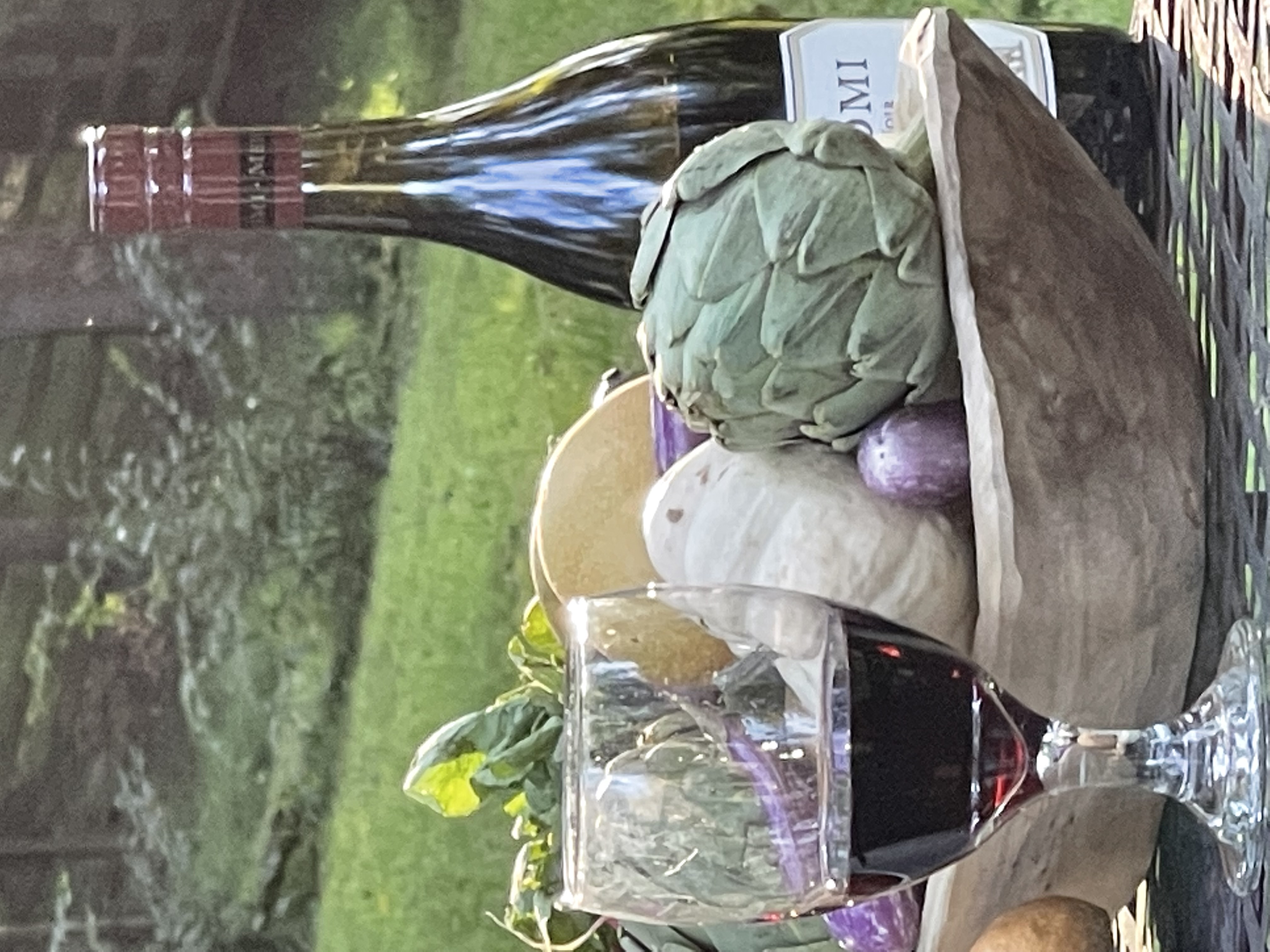 I love fresh flowers and I do treat myself to seasonal cut flowers. Have you ever heard you should never feel bad about spending money on flowers and books, I agree…oh and magazines!
I actually prefer a simple bunch of cut flowers to a fancy arrangement, it feels more like "me" and it's much more affordable.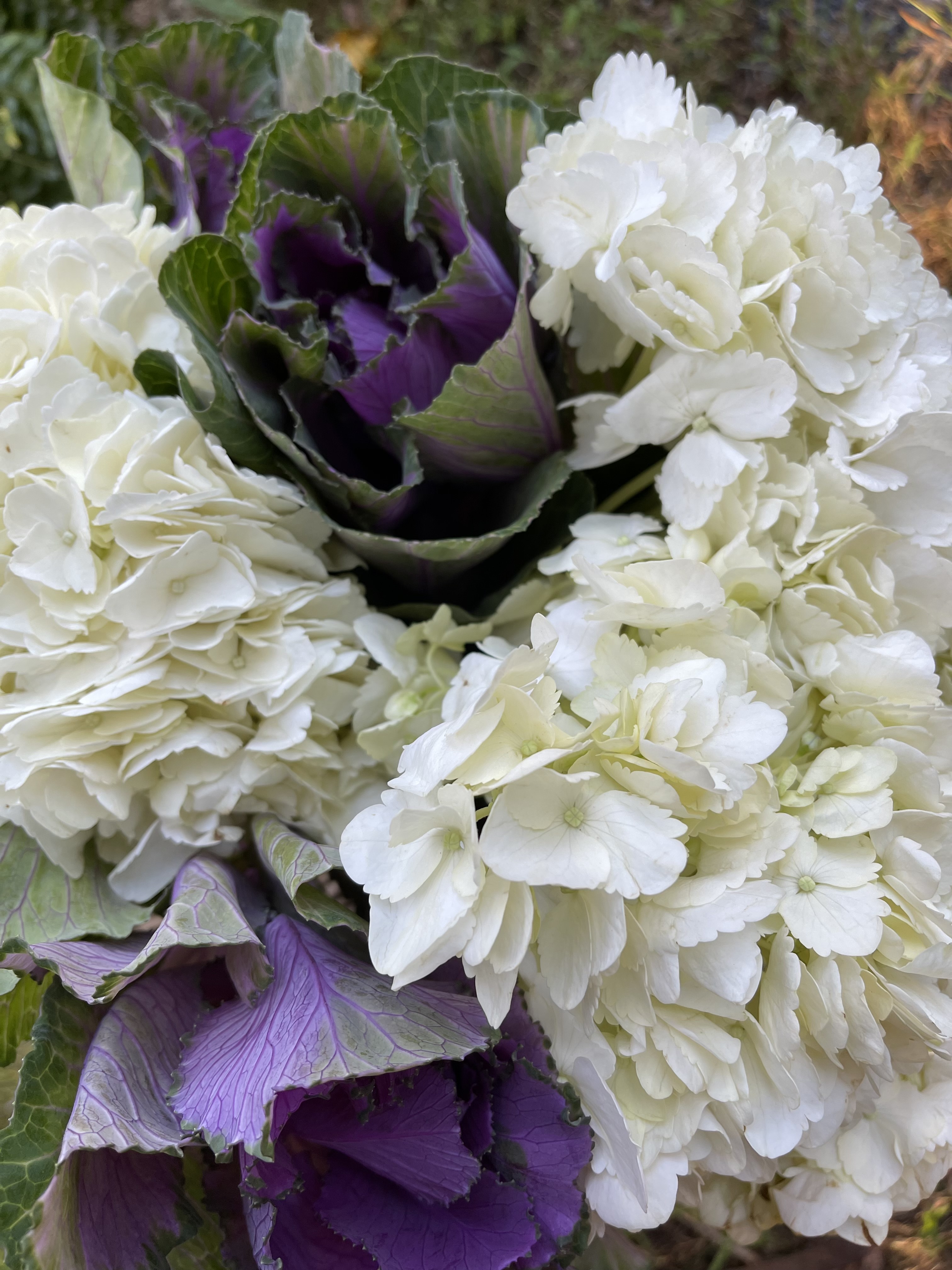 Here I added a bunch of white hydrangeas and cut long stemmed kale together in a basket. I propped it up next to a chair instead of on the table.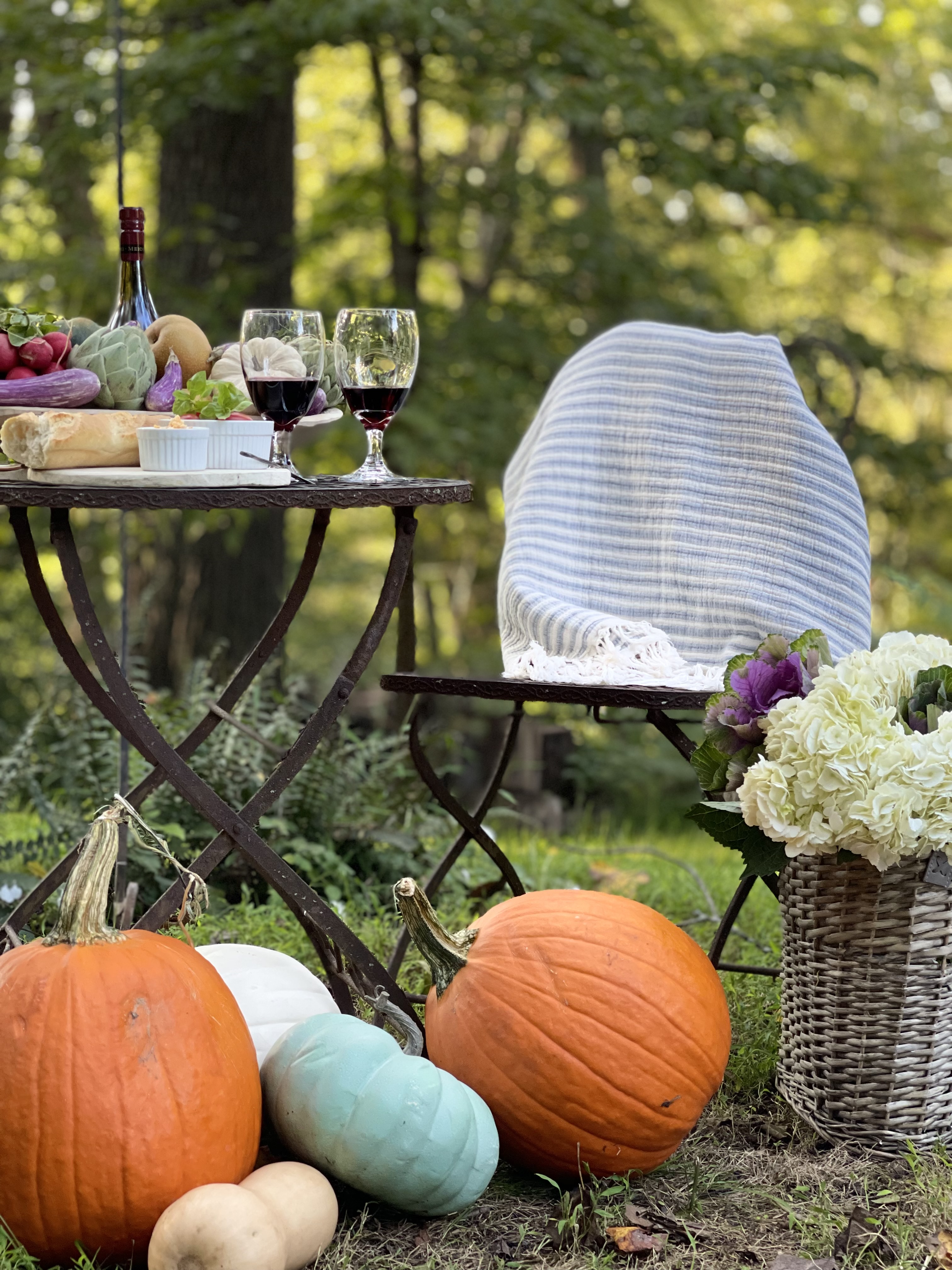 I mixed squash and pumpkins around the base of the table, adding in some faux as well.
Lighting
Lighting is a key. Here I had a solar lantern hanging from a hook and a black lantern with a battery operated candle. The electric just go put in the shed this week so next up will be party lights over the fire pit.
Party lights make everything look special.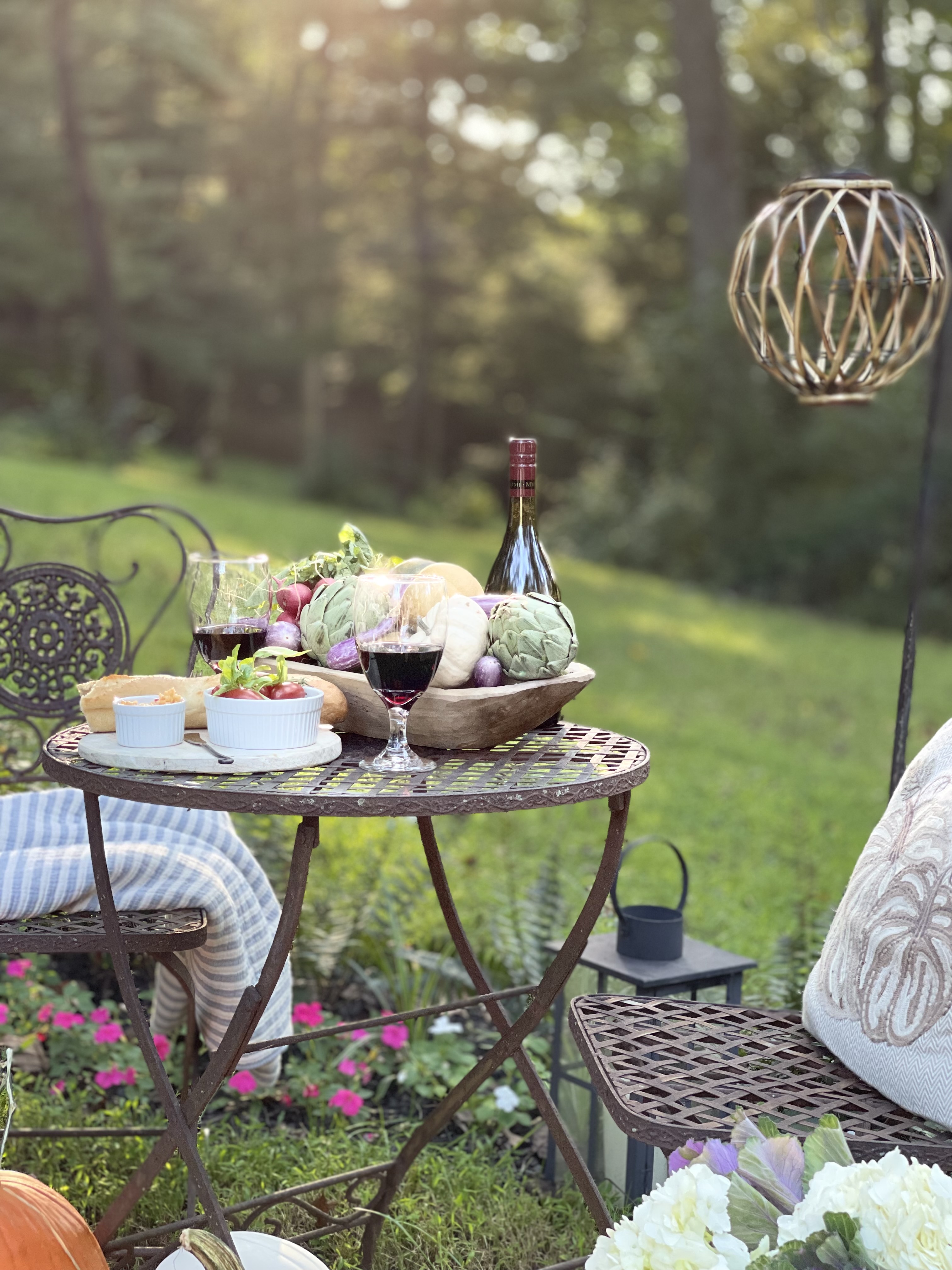 The sun was just beginning to go down which just added ambience to the setting. Here it is shimmering off of the glasses.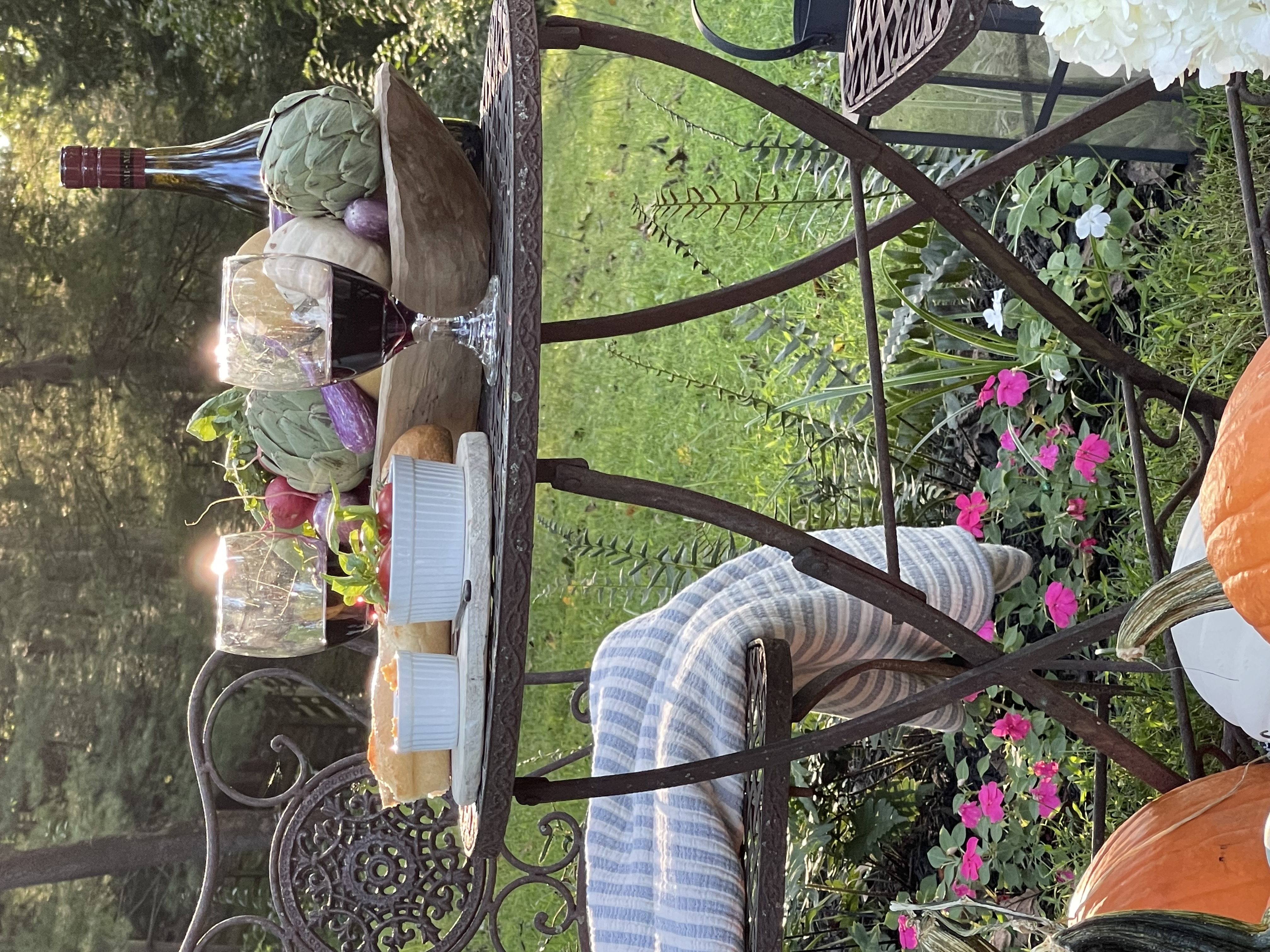 Cozy Touches
In addition to throws, you can add seasonal pillows to the seats for comfort and to up the cozy factor. Pull them from in the house, the porch…if you are like me, you have some back ups!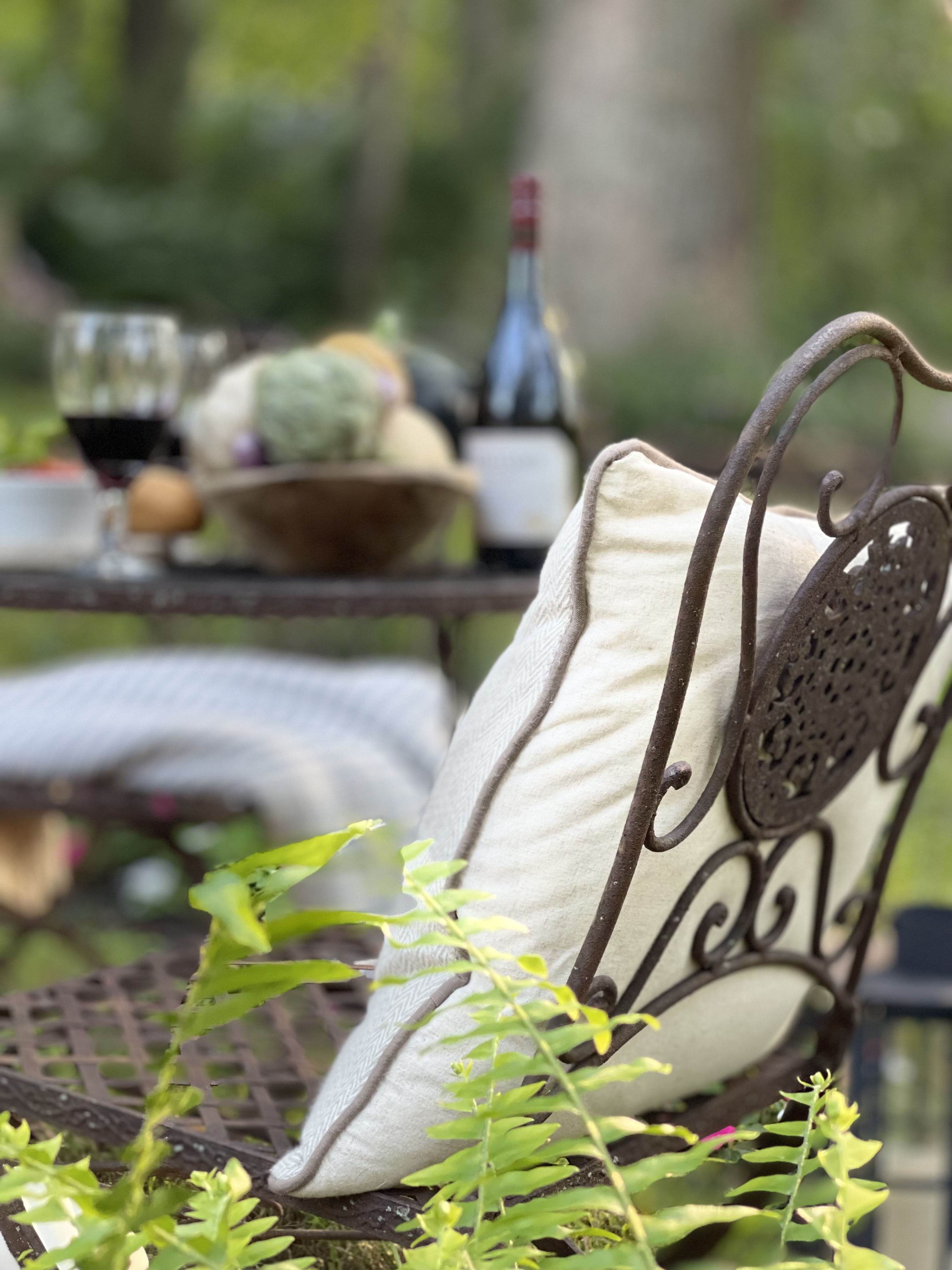 Even though I set the table and chairs up next to my row of ferns and impatiens, I added some mums in a galvanized bucket and placed a potted fern close by.

Having additional flowers and plants anchored the space and made it look more intentional.
What to Serve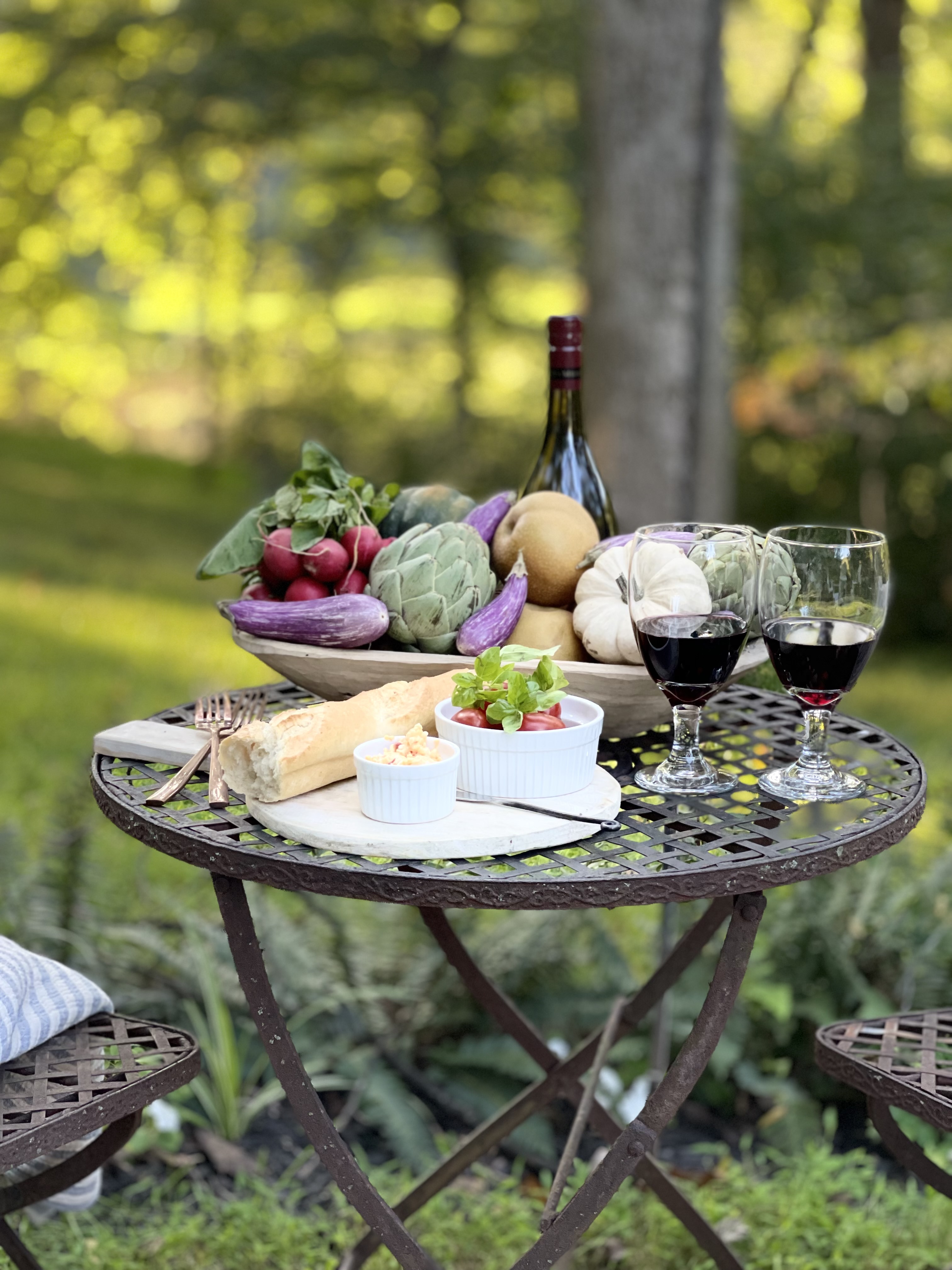 Again, it's easy to throw together a happy hour or inviting setting without making a big fuss. Here I used a wooden pizza or charcuterie board to serve a simple dip and tomatoes and basil with a baguette.
You can never have enough white ramekins in all sizes!
It all works together, several simple touches to create an elegant space.
Here is a video of the set up.
If you are like me, a setting and atmosphere can make all the difference. So I encourage you to take that extra few minutes to plan out your setting to make a lasting impression. Worst case? Just add party lights!
I've provided link below for your convenience.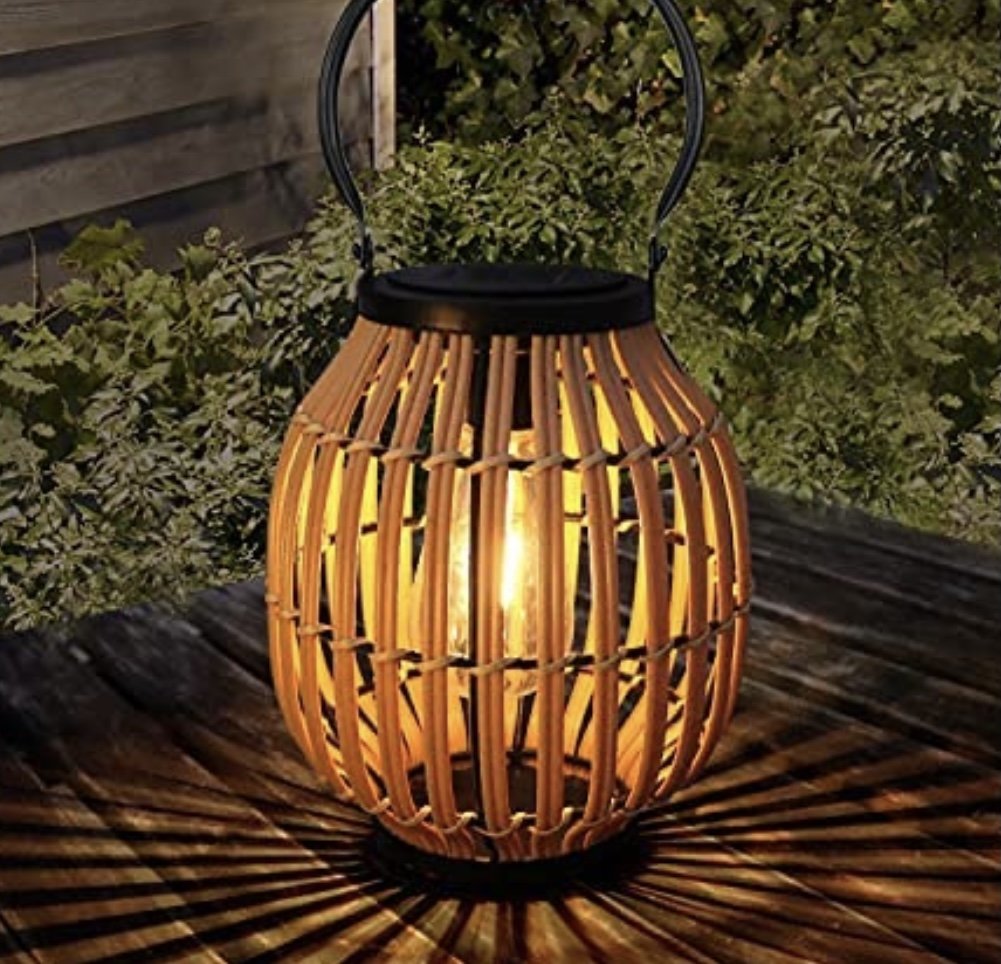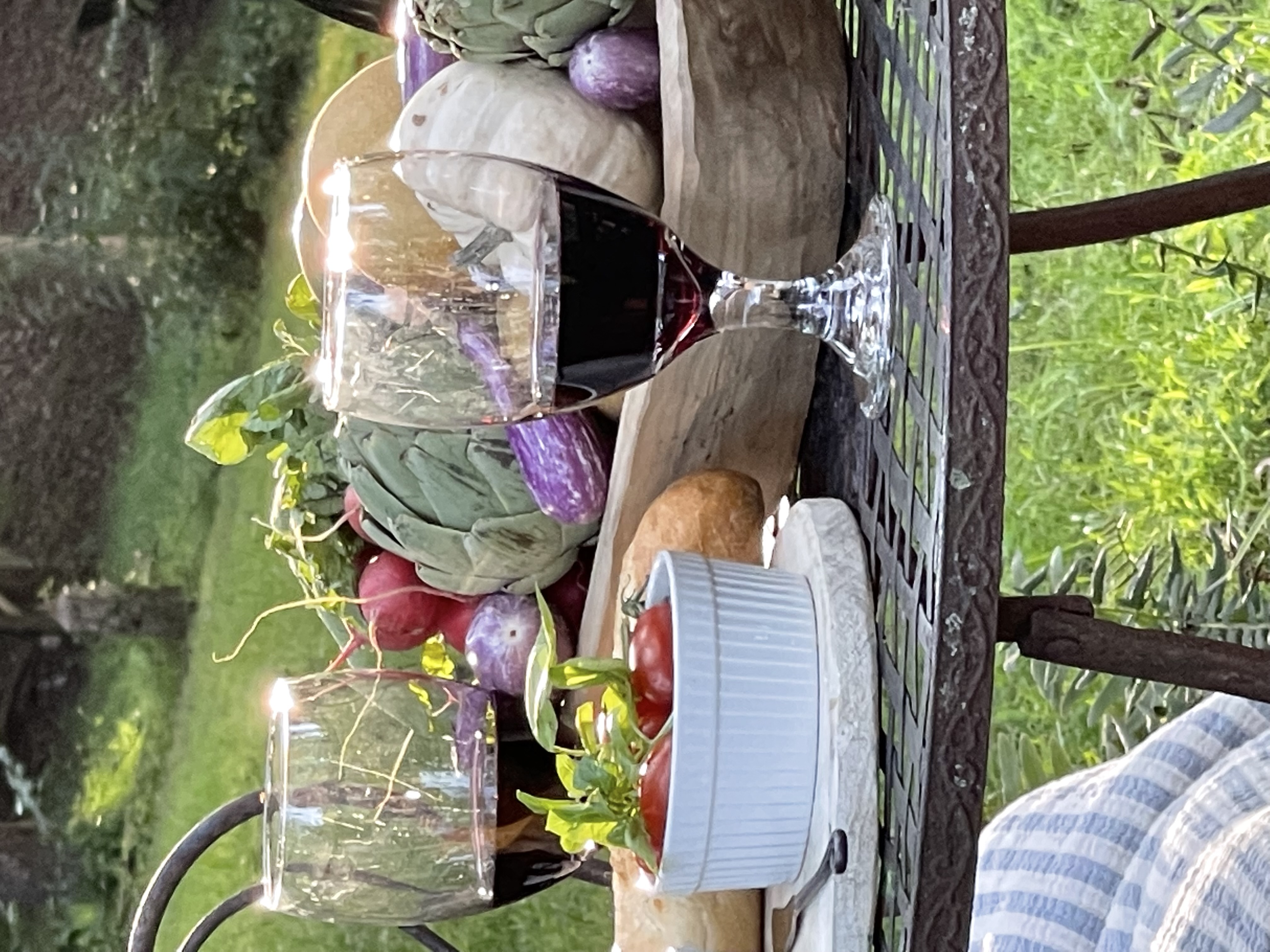 Thanks for stopping by. This month I'll be sharing several fall tablescapes with DIYs you can make in minutes and add to your setting.
Subscribe to my blog and never miss a post!
XO, Regina
This post contains affiliate links for your convenience. If you order from the link I will receive a small commission at no additional cost to you. Thank you for supporting my small business.