Bags, Tags and Baked Goods Oh My
Are you looking for creative ideas for your holiday wrapping? I have several ideas for bags, tags and baked goods.
It's that time of year when we have get togethers, office events, neighborhood gatherings or parties to attend. I'm so thankful that we actually can get together this year. Sometimes you need a quick and easy idea to take along for your hosts right?
I've got you.
There are a few things you can have on hand or make ahead of time so you are always ready. In this post I'll share some ideas for wrapping or presenting your gifts and included some yummy homemade items to wrap.
You can even categorize your gifts into hosts who enjoy entertaining, or ones who love to cook, or eat or love happy hours!
These gift ideas can be made or baked in an afternoon and then pulled together at the last minute when you need them.
My mom had a "gift" closet. We'd joke that we might want to trade for what was behind Door #2 or #3. It started because every time she'd give us a gift she'd say "if you don't like that color, I have another one," or "if that doesn't fit I have a small."
She had some great items in there but I'm not advocating for a whole closet. Just a few items to keep on hand that look like they were picked special.
Which is perfect because they were!
Giving something handmade or homemade is something I've always loved to do. Not crafty, handy or great at cooking? Doesn't matter – anyone can pull these off.
Tags
I can never get tired of tags for gifts. Personalized tags or unique tags are even better. I love to use air dry clay and letter stamps to personalize tags to tie onto a home baked treat or a bottle of wine.
Roll out the clay.
Cut out the clay.
Put a hole in the clay.
Stamp your letters into the clay.
These take minutes to make and then you let them dry about 24 hours. You can keep them handy to tie onto a gift for anyone from your bestie to the guy from your partner's work who you've never met.
These soy wax sachets are perfect and beautiful keepsakes to use as a decorative tag. They are so easy to make and can be tucked in a drawer, or placed on a table for display. See my post on Terrain Sachet Hacks here.
You can use so many items from your home and yard and spice cabinet.
Below are some sliced up birch branches I'm using as tags.
You just need any wood slices and a wood burning tool, paint or stencils. These can be cut up from any sticks or branches from your yard or your walks.
Drill a hole for the twine, burn a small saying like "joy" or stencil on a design and paint it.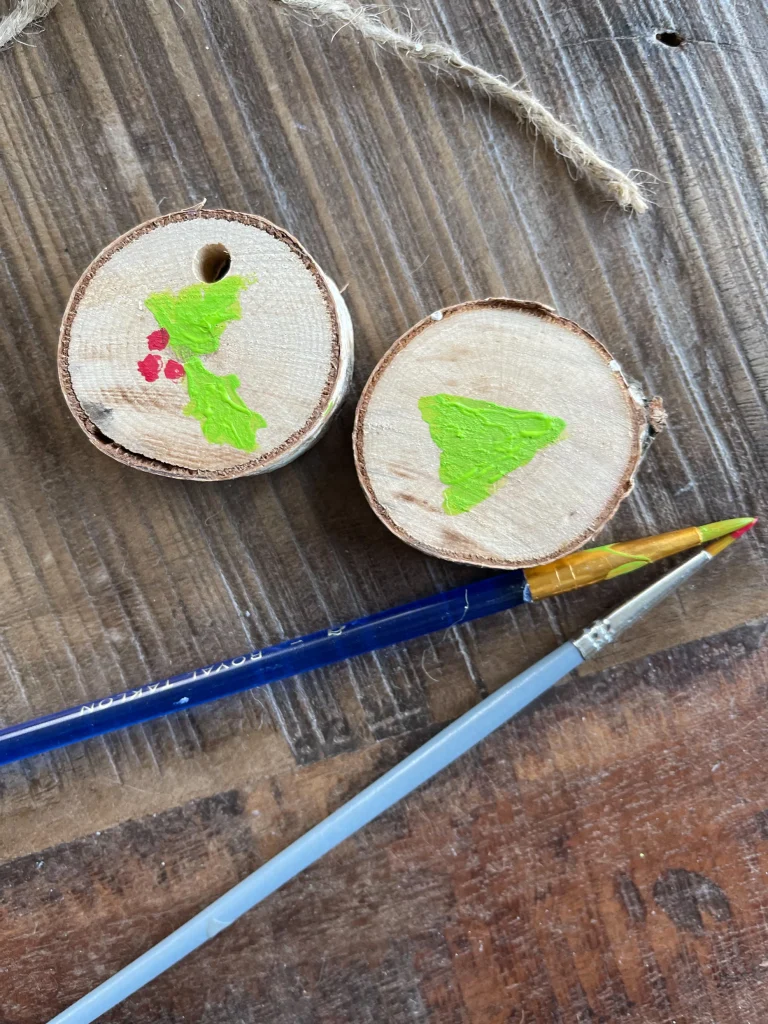 This is perfect for a gift wrapped to look rustic.
Sculpey clay made into tags or buttons to add to your gift are so easy and adorable as a tie on for children's gifts too. Use cookie cutters, add a hole for a string or two holes for a button look and tie it onto your gift. Sculpey comes in so many colors, it's easy to match your wrapping.
Bags
I will never get tired of the flannel sleeve wine bags you can find here.
A bottle of wine for your host to enjoy later is always a hit, not wine drinkers? This time of year there are many delicious sparkling ciders and drinks available.
But I've added a few more bags to my stash.
Above is a bag I made from leftover material from my Fabric Pumpkins.
No sewing machine? You can purchase festive napkins from TJ Maxx or World Market and wrap a loaf of bread in it. Place on an inexpensive cedar plank to make it stand out and tie it onto.
How about a little wrap? Who doesn't love this idea using some scrap fur or fuzzy fleece to make a perfect scarf or wrap for a bottle of wine or cider.
You just cut a piece and added a vintage pin to hold it together. I think it looks regal.
Using my good ole paint tarps that I buy to use as tablecloths, sofa covers, curtains, pillows I made a few more bags.
I've also cut a piece of fleece and cut some fringe on the ends and tied it around a bottle or it can be tied around a loaf of bread or plate of cookies.
I love to shop at Pottery Barn after the holidays when all of their wine bottle wraps and bags are on sale. They never go unused but if you can't make it there – try to make your own.
Or this adorable one from World Market.
For more ideas on wrapping and presenting your gifts see what Elizabeth from Pinecones and Acorns shared here.
https://pineconesandacorns.com/…/easy-holiday-gift…/
Or Liberty from Before and Afters shared here.
https://www.b4andafters.com/buffalo-plaid-christmas-gift…/
Baked Goods
Between now and Christmas – baked goods are in. Actually I think they always are but there are certain things that just seem better when it's chilly out.
My take on baked goods…you don't have to gift 3 loaves of bread or 5 dozen cookies. Consider smaller batches or amounts and just wrap them up adorable and share.
Check out below these lovely ideas from some blogger friends.
Elizabeth from Pinecones and Acorns shared:
https://pineconesandacorns.com/…/the-best-homemade…/
Stacey from StaceyLives shared:
https://staceylives.com/chocolate-dipped-gingerbread…/
Liberty from Before and Afters shared:
https://www.b4andafters.com/easy-diy-coffee-creamer/
I hope you were inspired to try some of these ideas for tags, bags, and baked goods!
I honestly think wrapping is the most fun for me…. and baking.
Below are some links to items I used for your convenience.
World Market Bottle Hat & Scarf
Thanks so much for stopping by. Things are kicking into high gear now that Thanksgiving is over. It's time for all things holidays!
Remember – don't over plan – make time for you – remember what the holiday is about and take time to do the things that matter most – spending time with family and/or friends – reflecting on your blessings and do things that make your heart happy at Christmas.
Holiday hugs! XO, Regina
This post may contain affiliate links. If you order from these links, I receive a small commission at no additional cost to you. Thanks for supporting my small business.