Do you dislike 3 legged plant stands? Me too! I'll show you how to create a plant stand that doesn't tip over from an upcycled lampshade.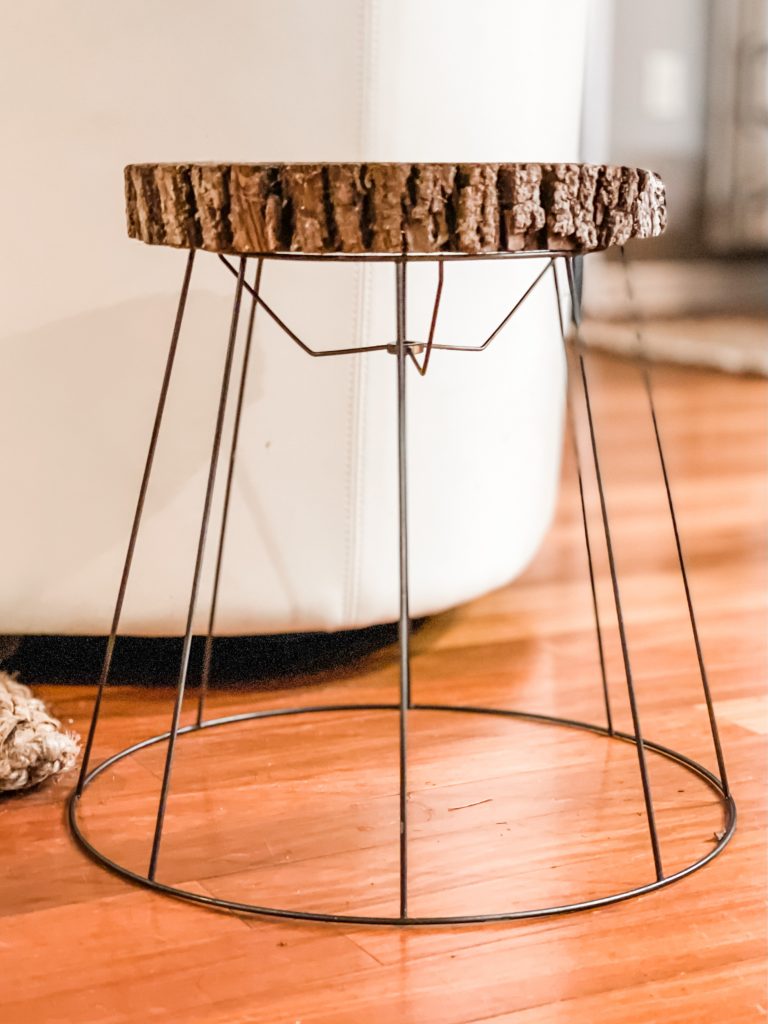 Obviously with a blog named "Saved From Salvage", it's no surprise that I'm sharing a "how to" using a thrift store lamp shade.
This easy and functional DIY uses only a lamp shade, spray paint and a slice of wood from a downed tree.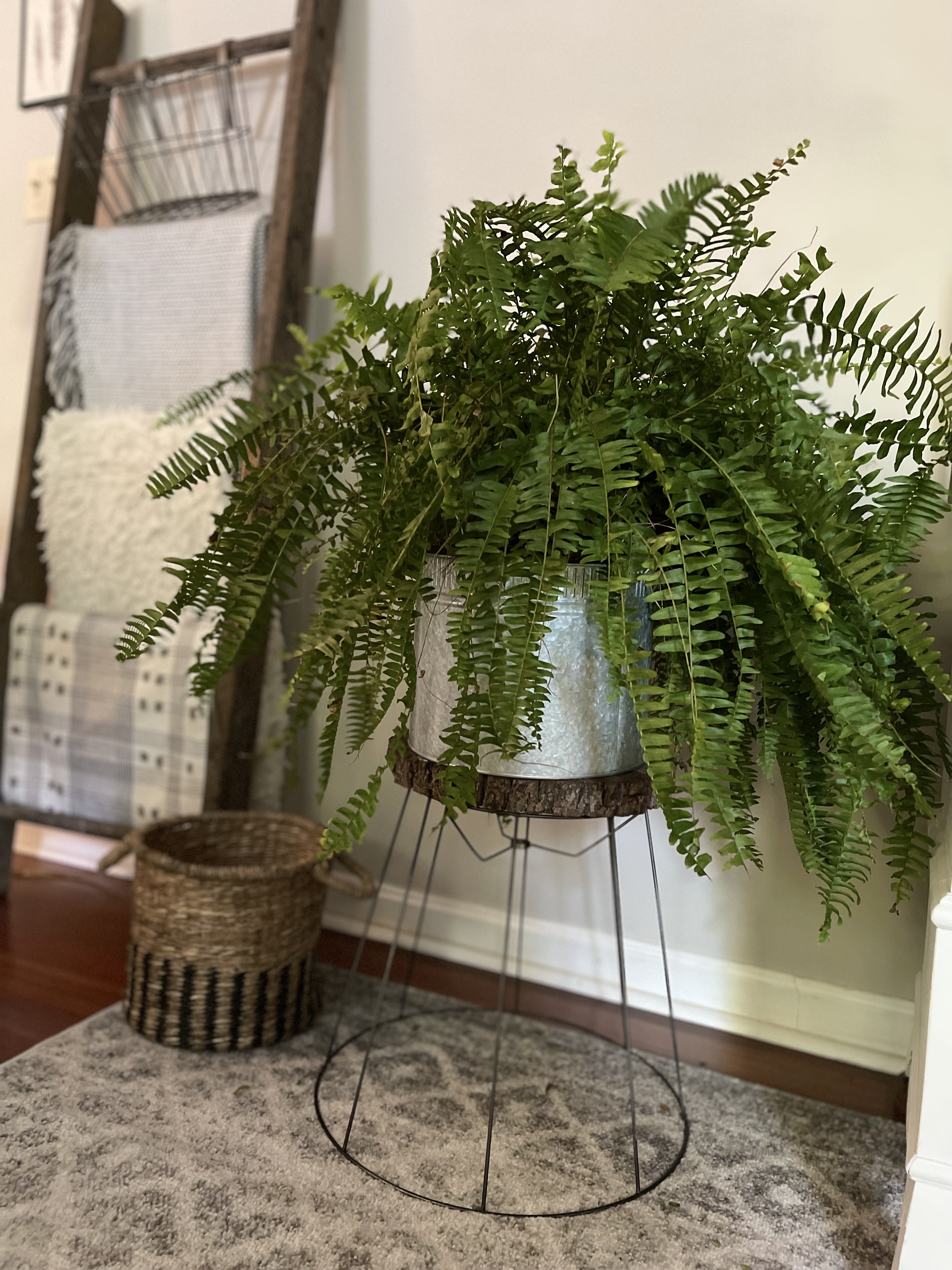 I have lots of plants and not that many surfaces to place them, for that reason I need plant stands or something to elevate them from the ground. That makes for easier sweeping around them and you can actually see them.
Marshall's and HomeGoods are great places to pick up plant stands and I have done that many times but here is my issue. Most of them that I get are 3 legged and they tip over so easily. I can't tell you how many times the dogs or me have knocked over a plant and had to clean up the dirt and put Humpty Dumpty back together again.
Usually when this happens they tumble onto a throw rug or it happens on carpet. Even better if you've recently watered and you have mud…get the picture?
Seriously I couldn't believe that as I was taking pictures of my new stands, I went to the basement to move a plant onto one of them and yep, you guessed it. Seriously not a fan of 3 legged stands.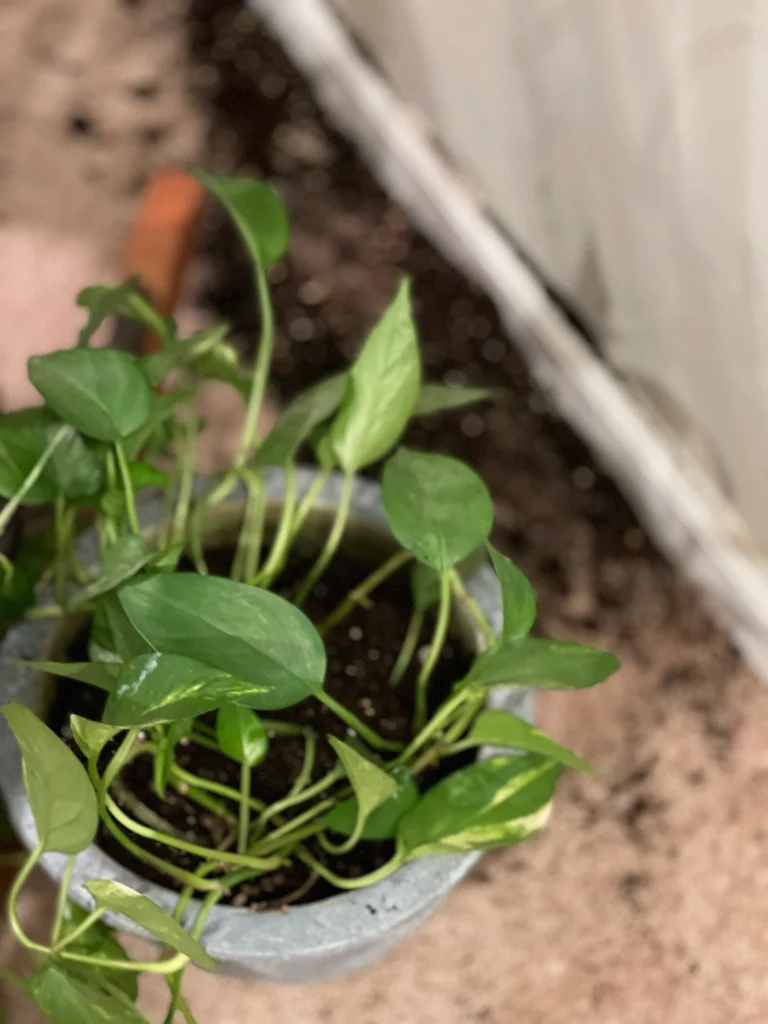 Back to the project….
I've seen a few thrifted lamp shades made into table bases and that was my initial intent. Flash forward to the fact that I don't really need any more side tables but I do need plant stands.
So why not make one using my thrifted lampshade? A plant stand that won't easily tip over for the win. I made my first one using the lamp shade I had gotten for the table.
I began by ripping off the cover, using a scissor to cut a hole, then I was able to tear the remainder of the shade off of the frame.
PREPPING THE SHADE
Then I took it outside and spray painted the top and sides then waited for it to dry and flipped it over and did the bottom and sides.
PAINTING THE SHADE
My next step was to use another one of my wood slices from our downed trees. If you enjoy the rustic look or want to see what else I've made using them, click here for the post.
These wood slices have been chargers, plant hangers, vignettes and more.
ADDING THE WOOD SLICE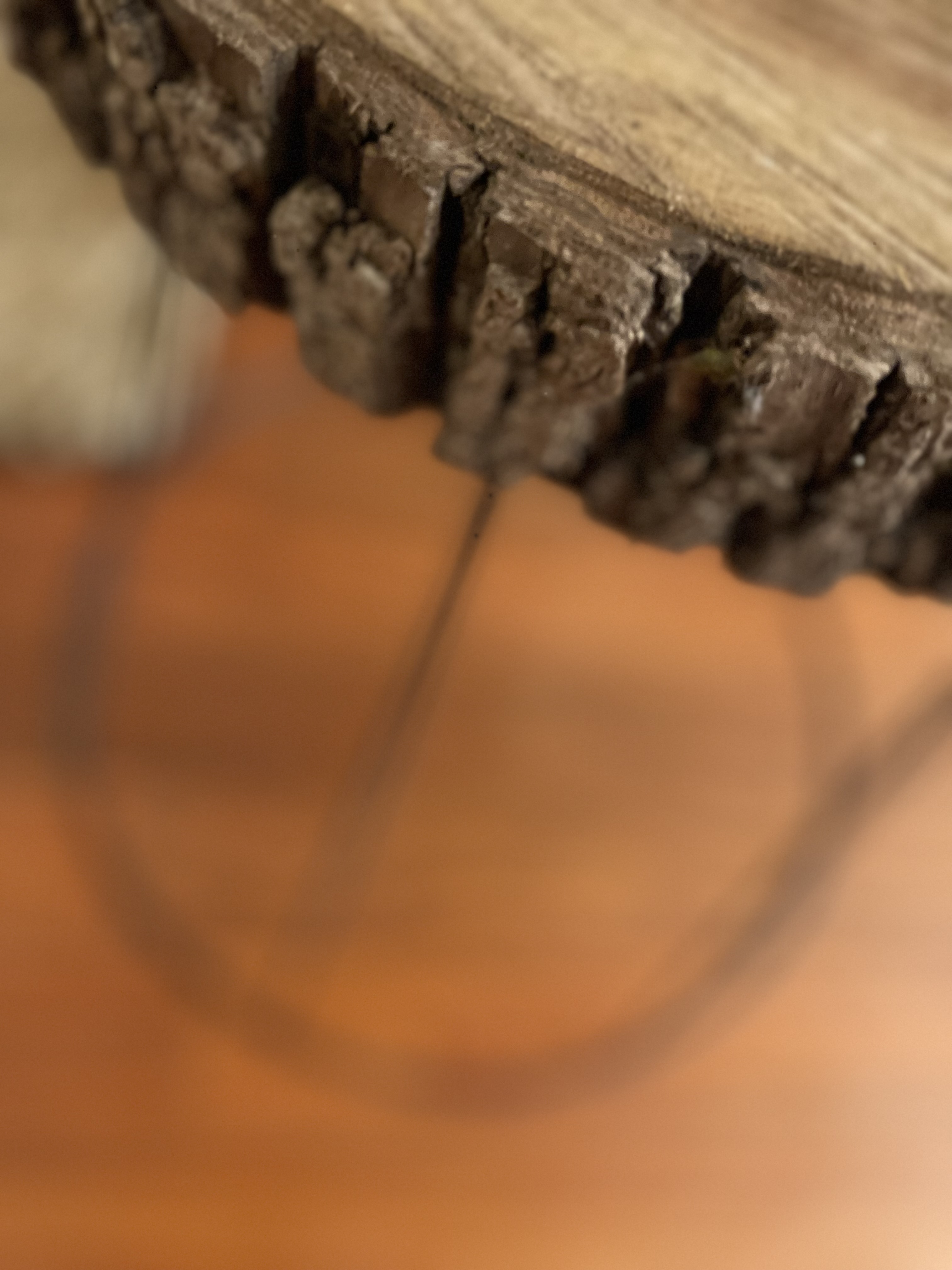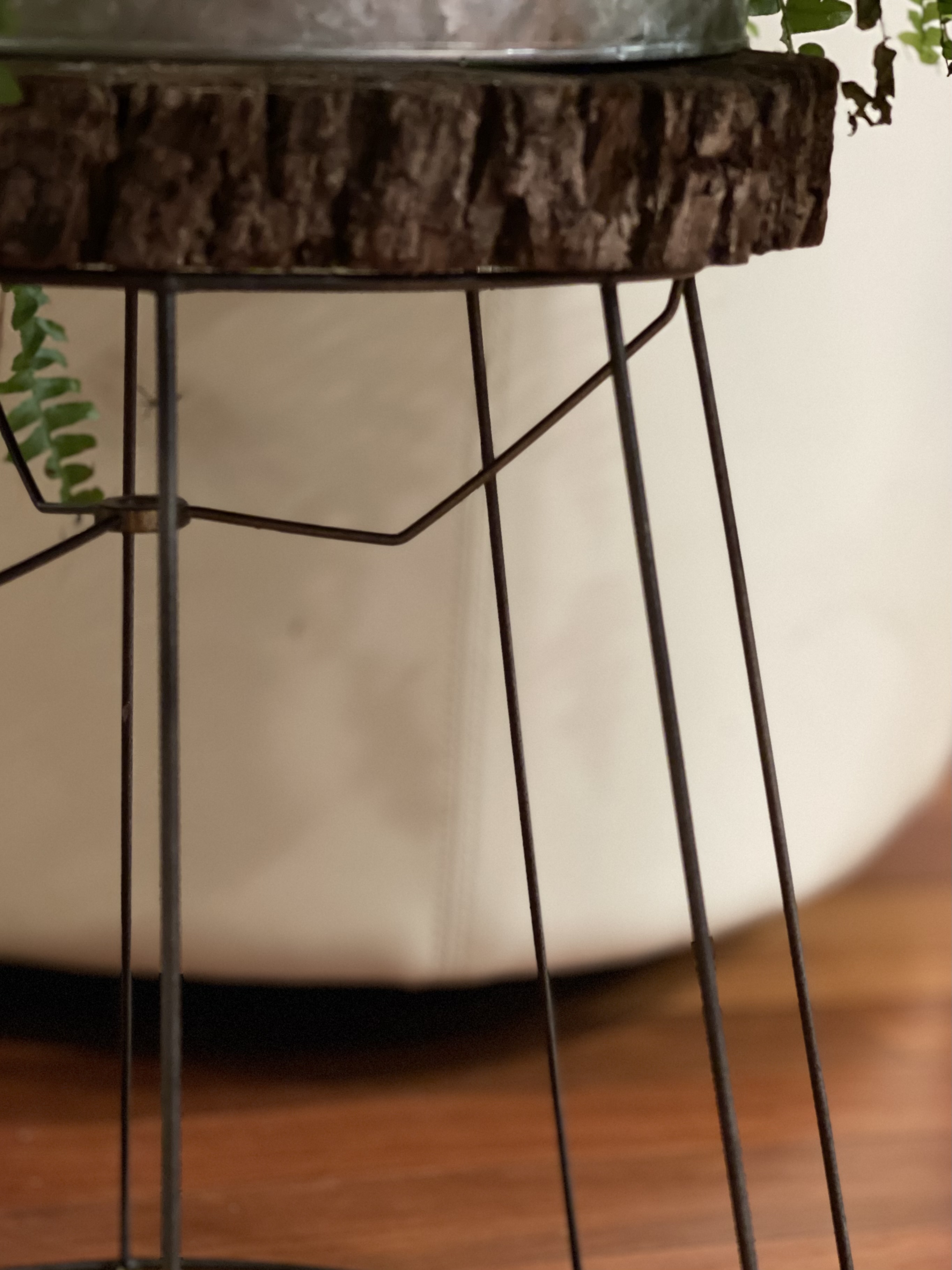 You could glue the wooden slice on top, screw it on or just lay it on top.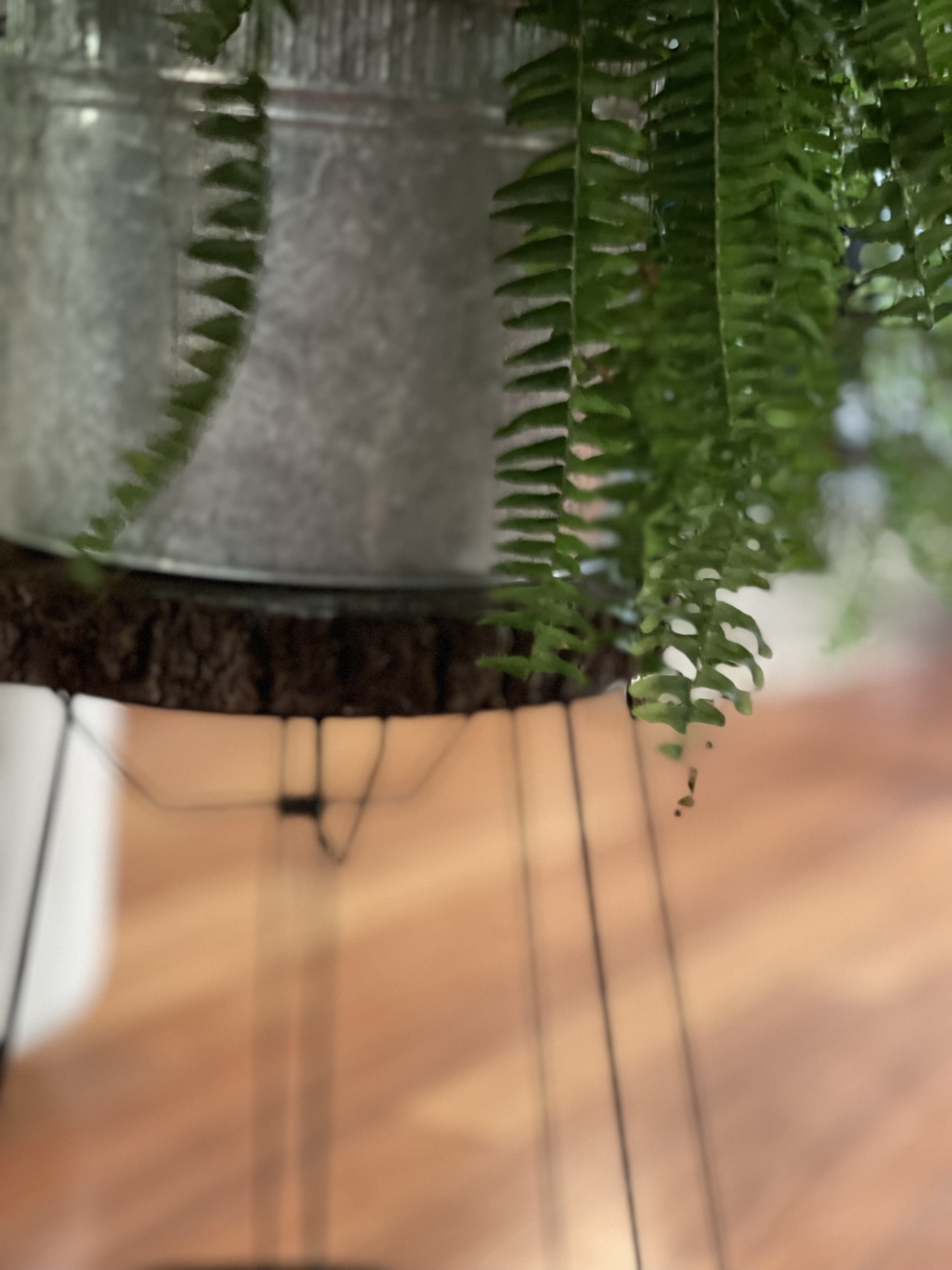 FINISHED PRODUCT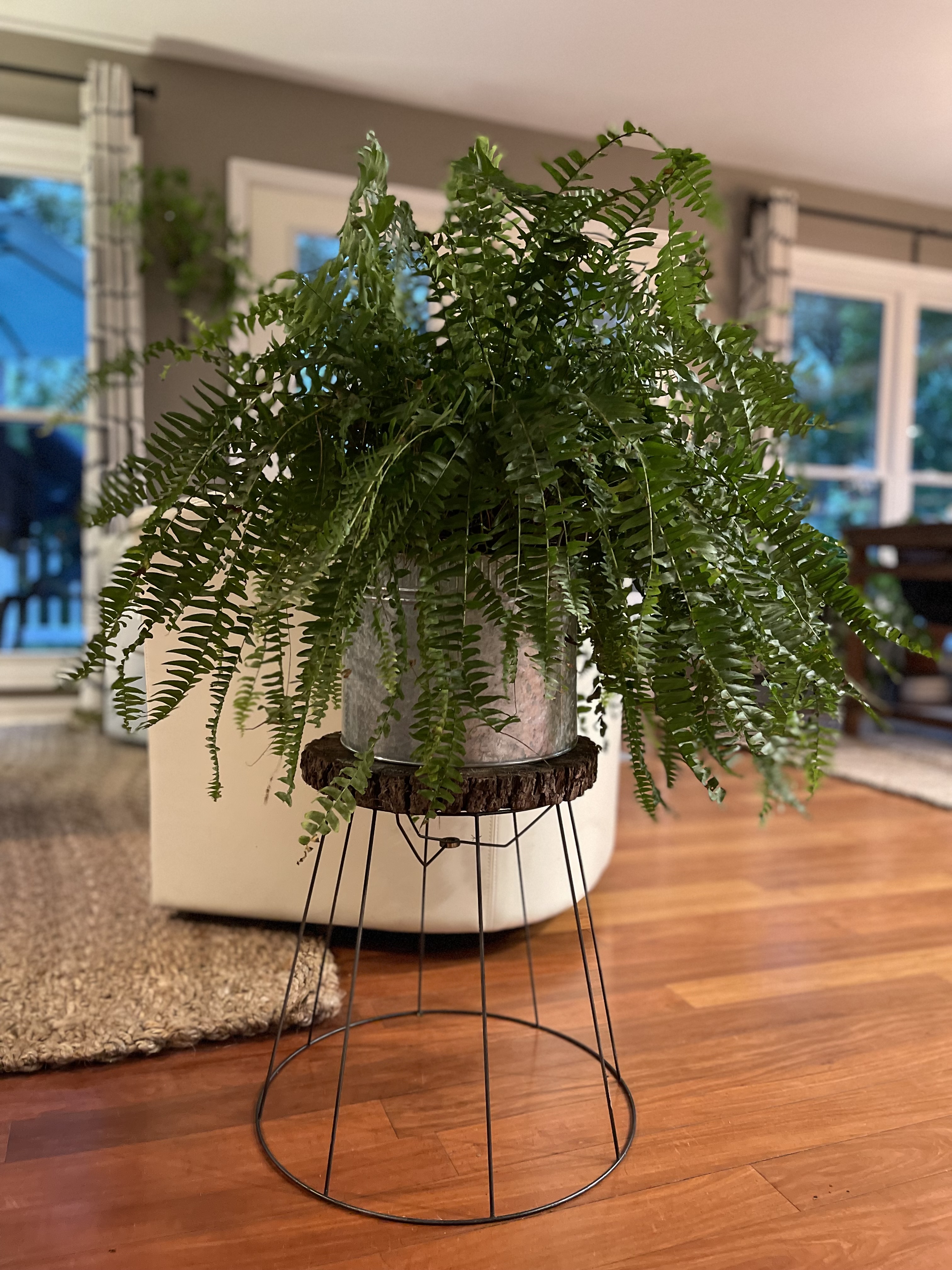 After being so happy with how this turned out, it was back to the thrift store to search for more….I said I had enough side tables, not plant stands!
I found a smaller lampshade that was more straight up and down and did the exact same thing to it.
Here it is below.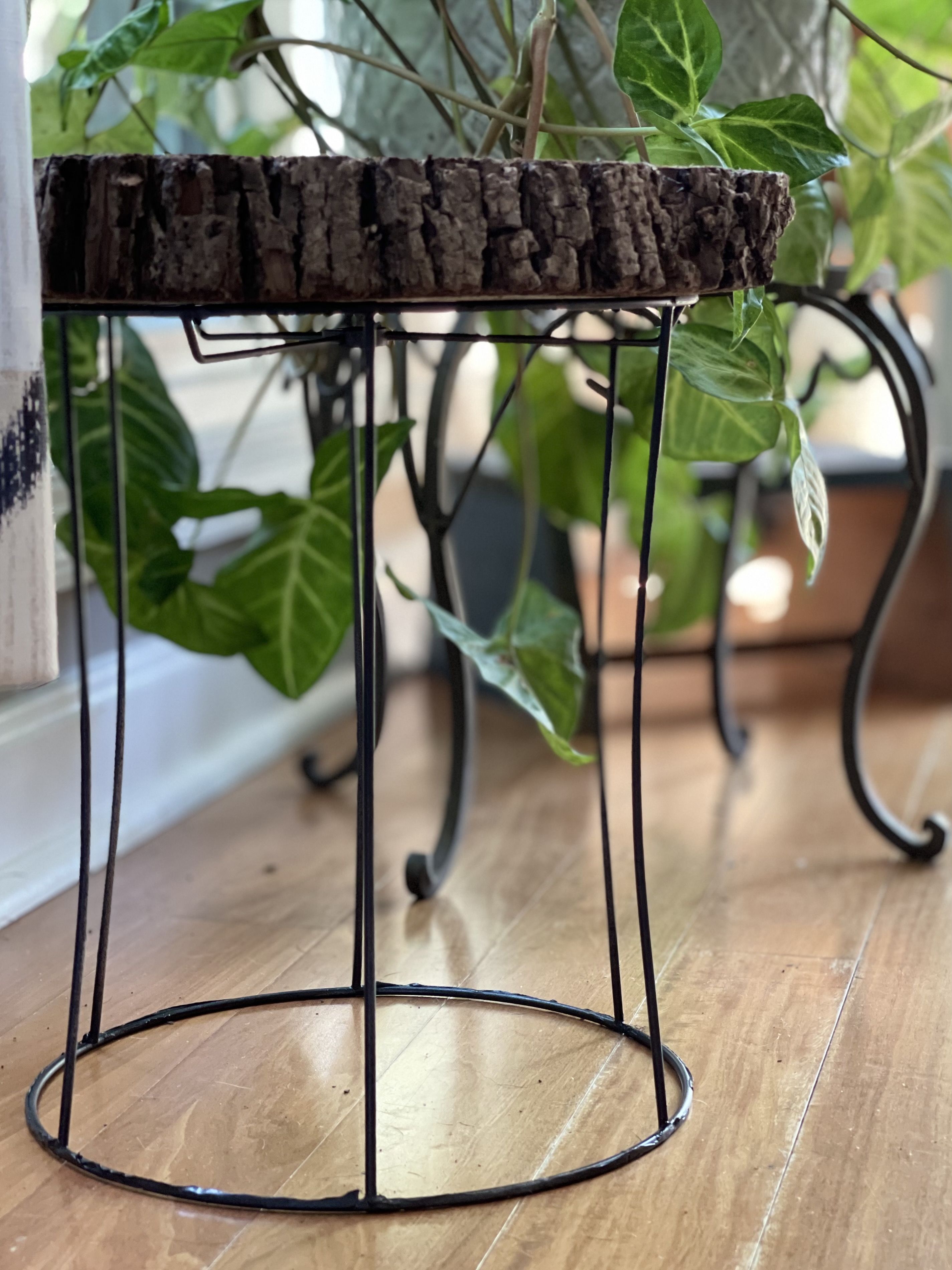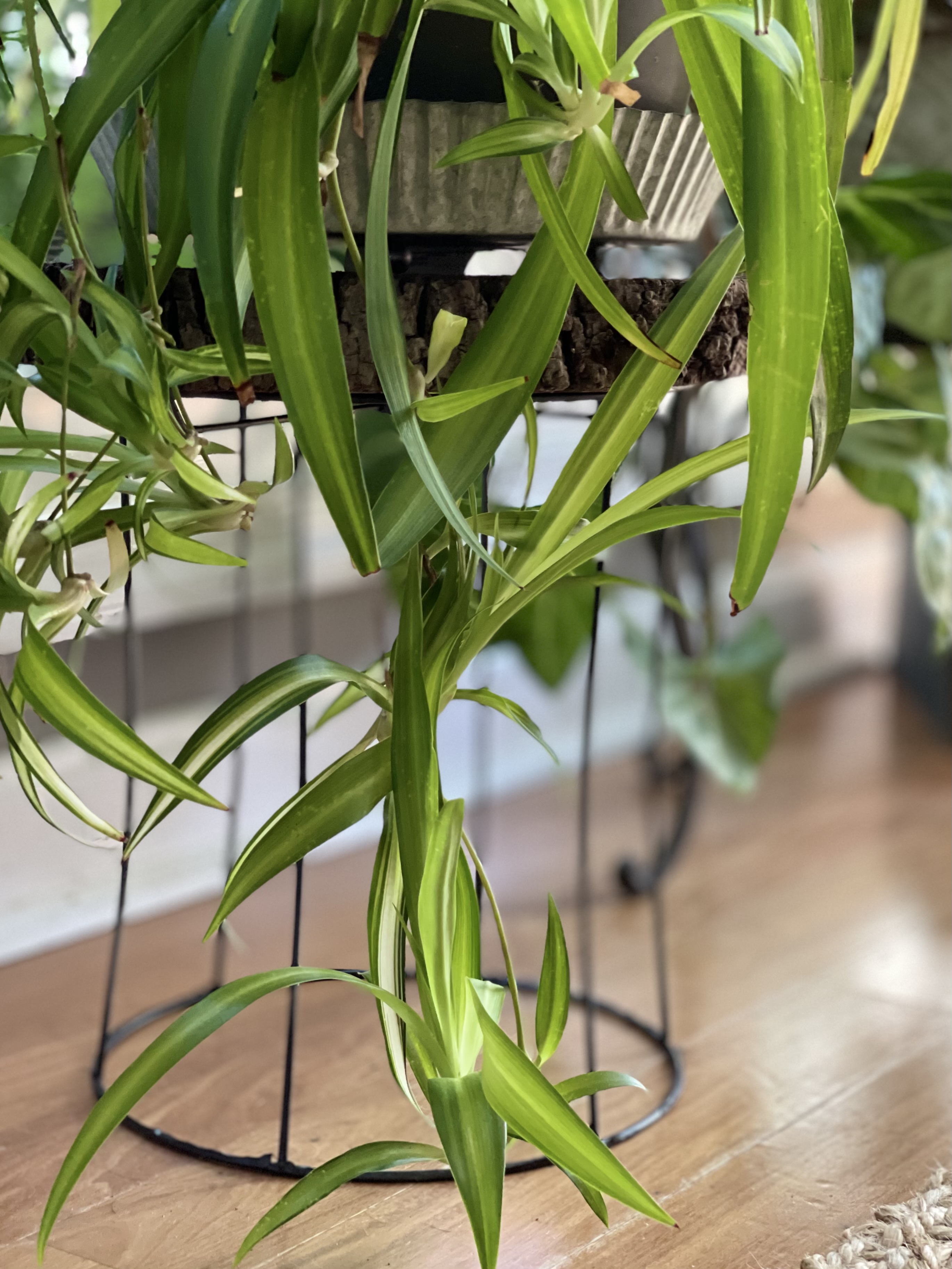 If you know me, I couldn't stop there! I found two small lamp shades and decided to try them on my light in the dining room.
It's a hanging light that had large glass globes on it when we moved it. I didn't love it so I immediately took the globes off. It's been bare bulbs for 3 years but I like it.
To jazz it up, I painted the two smaller lamp shades and added them to the light.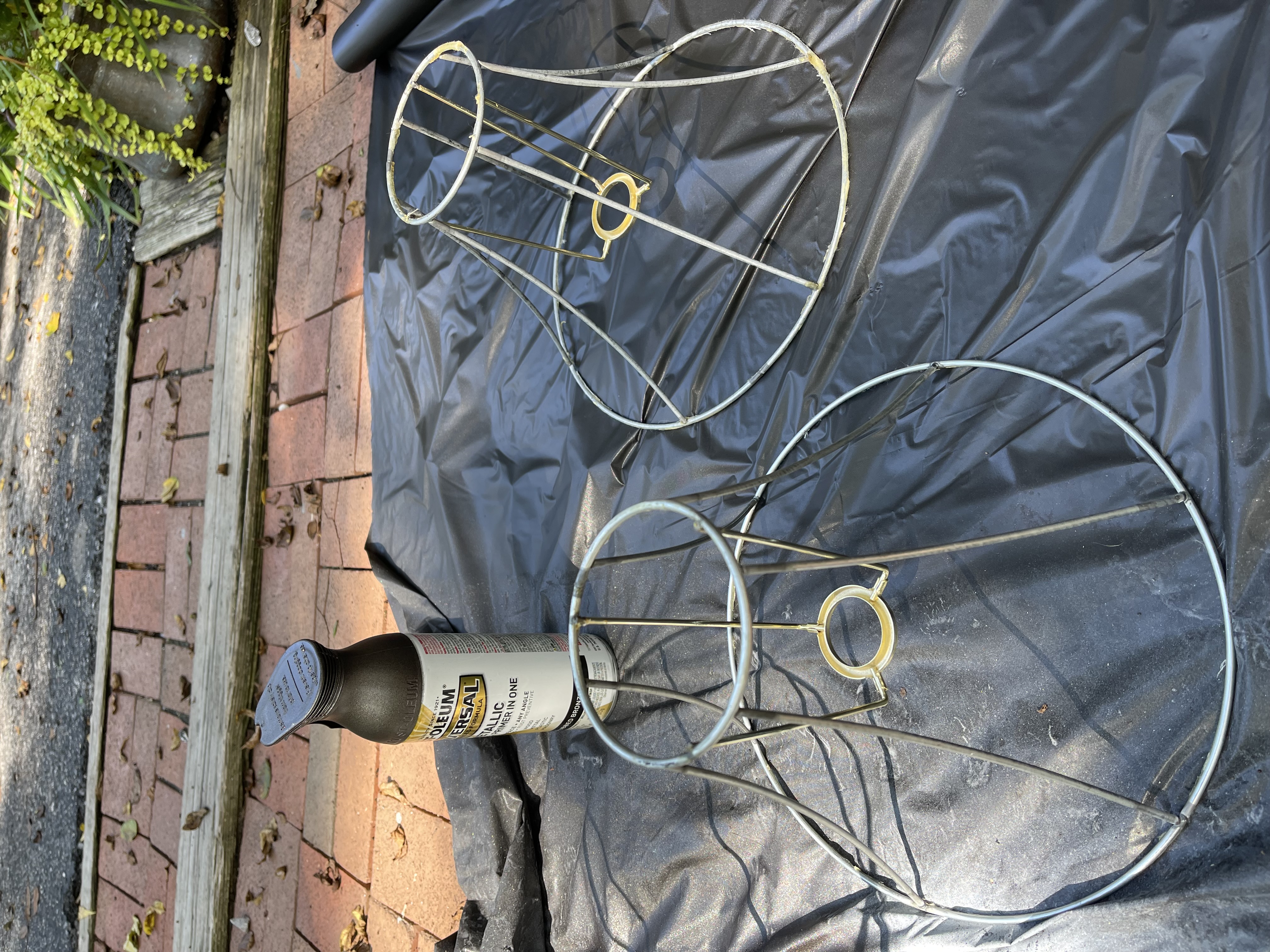 What do you think?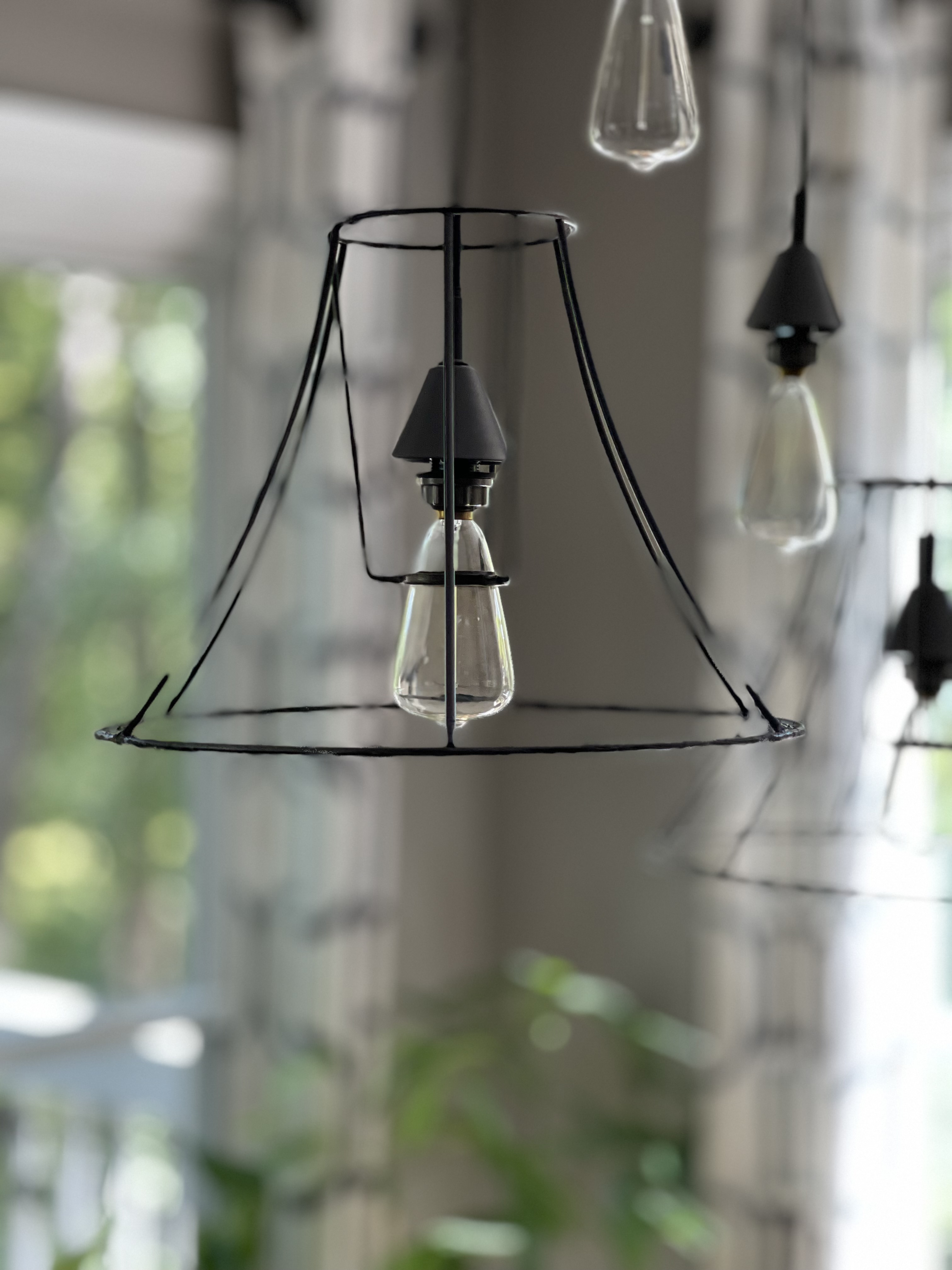 Added to the lights!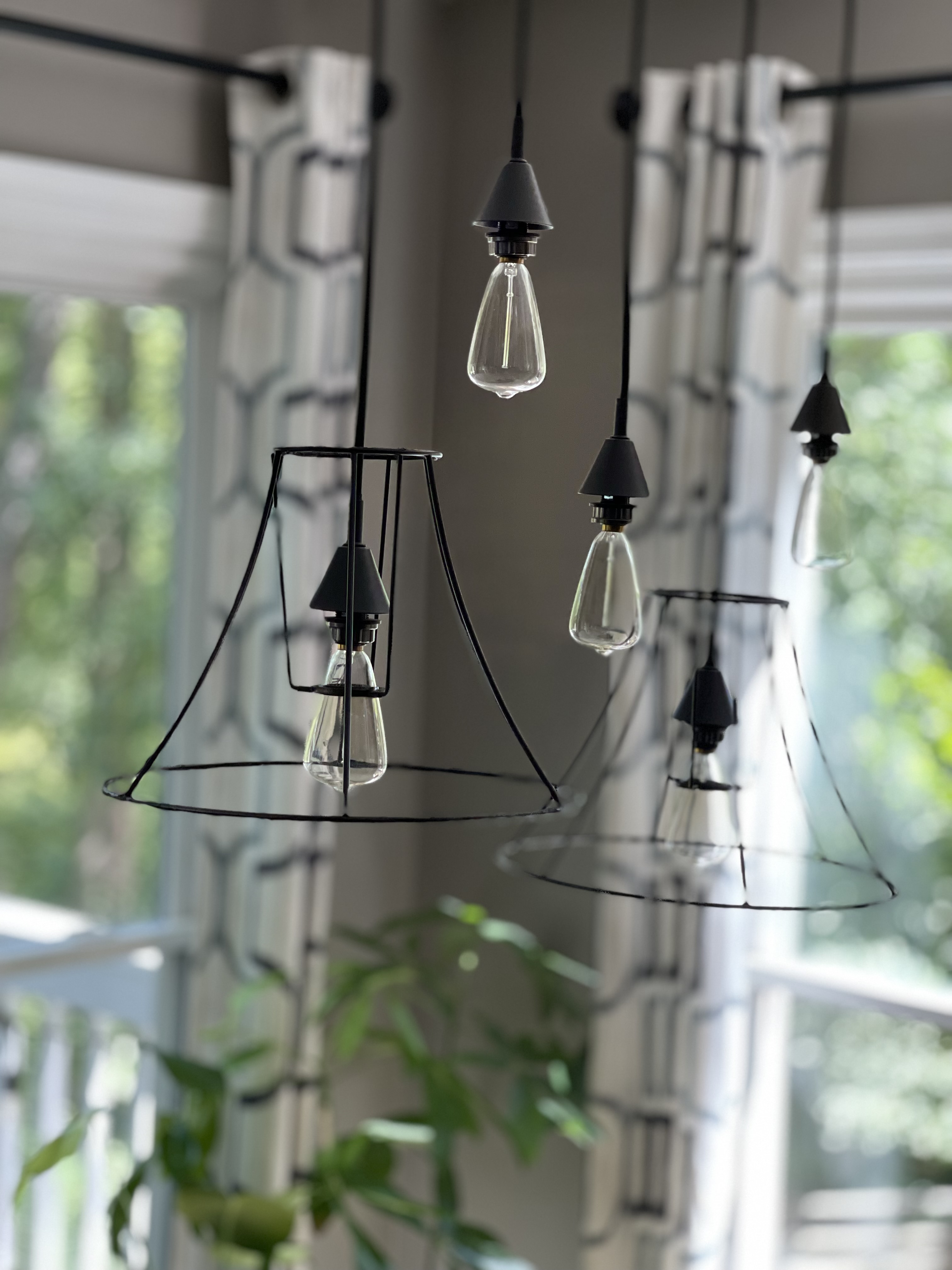 I love it. It just adds a little to the look.
None of these shades were more than $2.50 – I think that's a steal for a new plant stand.
You know how my mind starts to wander right? I tried out the ones on the dining room light with a wood slice on top and a plate to use as a stand for food or serving dishes.
When I entertain I love to use height on the table and what better way?
I hope you enjoyed coming along for my lamp shade upcycle project. It was fun and I don't think you can beat the price. A nice stable and airy stand for a fraction of the cost of one in the stores.
Next time you are thrifting…look around for some lamp shades, which are most always sold separate and see what you can find!
My next project is all the things I made with treasures I found on vacation last week in South Carolina. A palm frond pumpkin, oyster shell earrings and driftwood garland.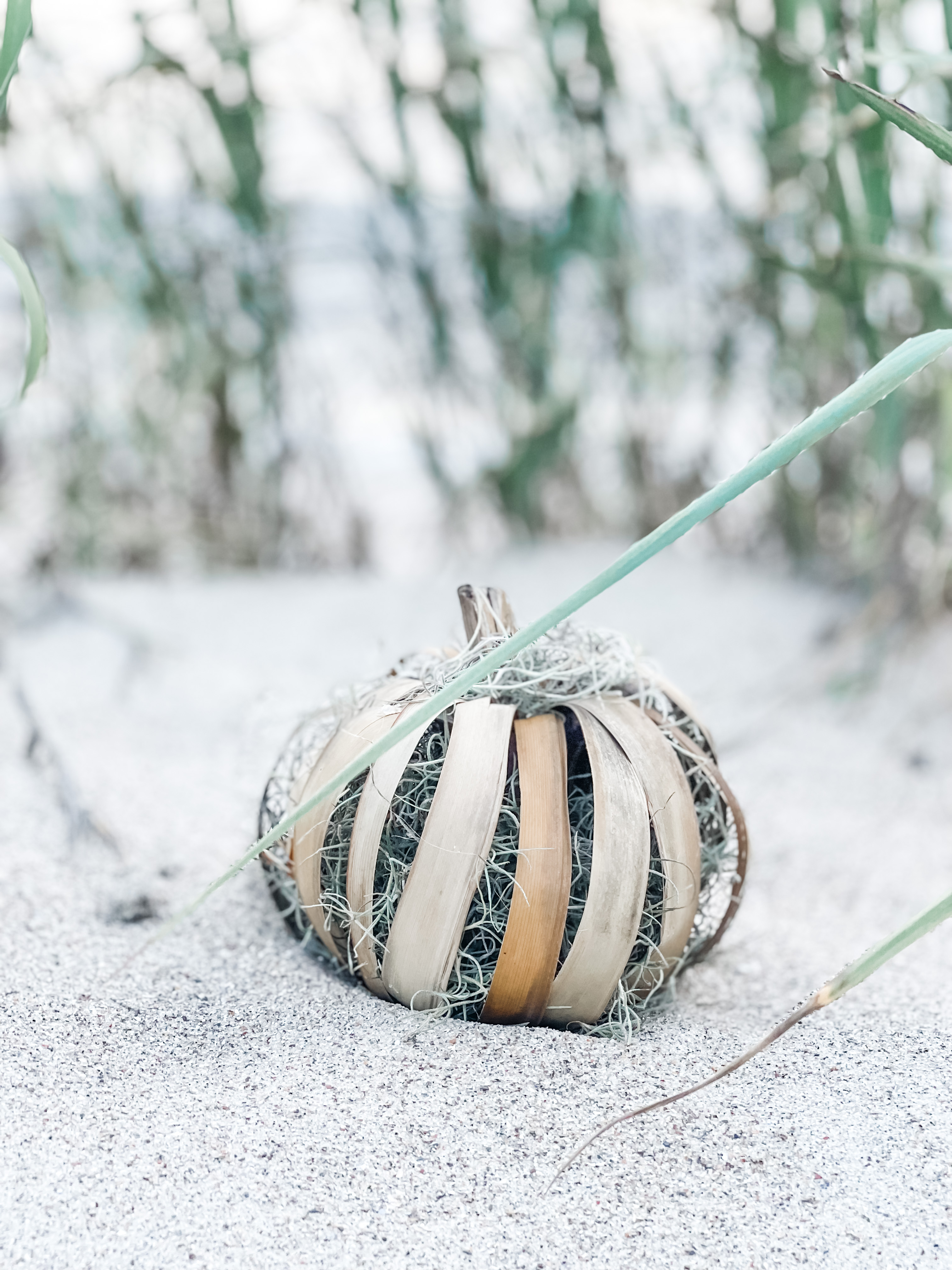 Til then, XO, Regina