Do you enjoy wrapping your gifts as much as buying them? Me too! Get inspired to wrap your gifts using fresh greens and natural elements.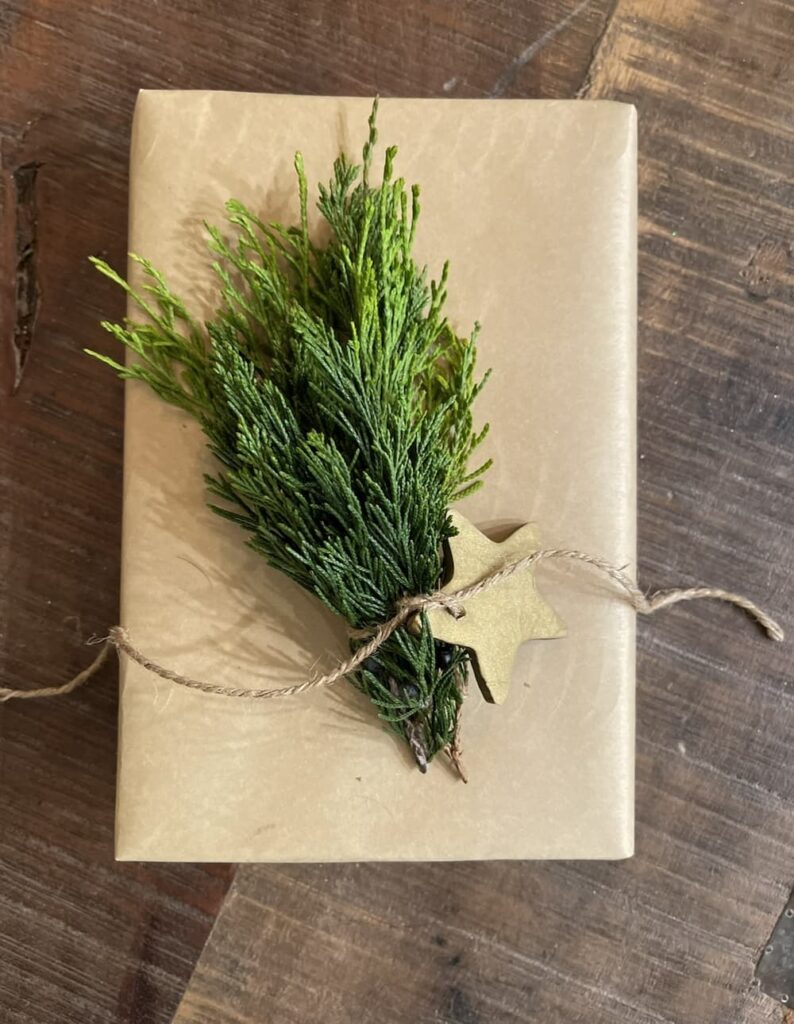 If you are looking for creative ideas to wrap your gifts this year – you've come to the right place.
In this post I am sharing wrapping ideas that are rustic, cozy, whimsical, and using natural elements especially fresh greens.
Throughout the post I've bolded where I've used natural elements in my gift wrap.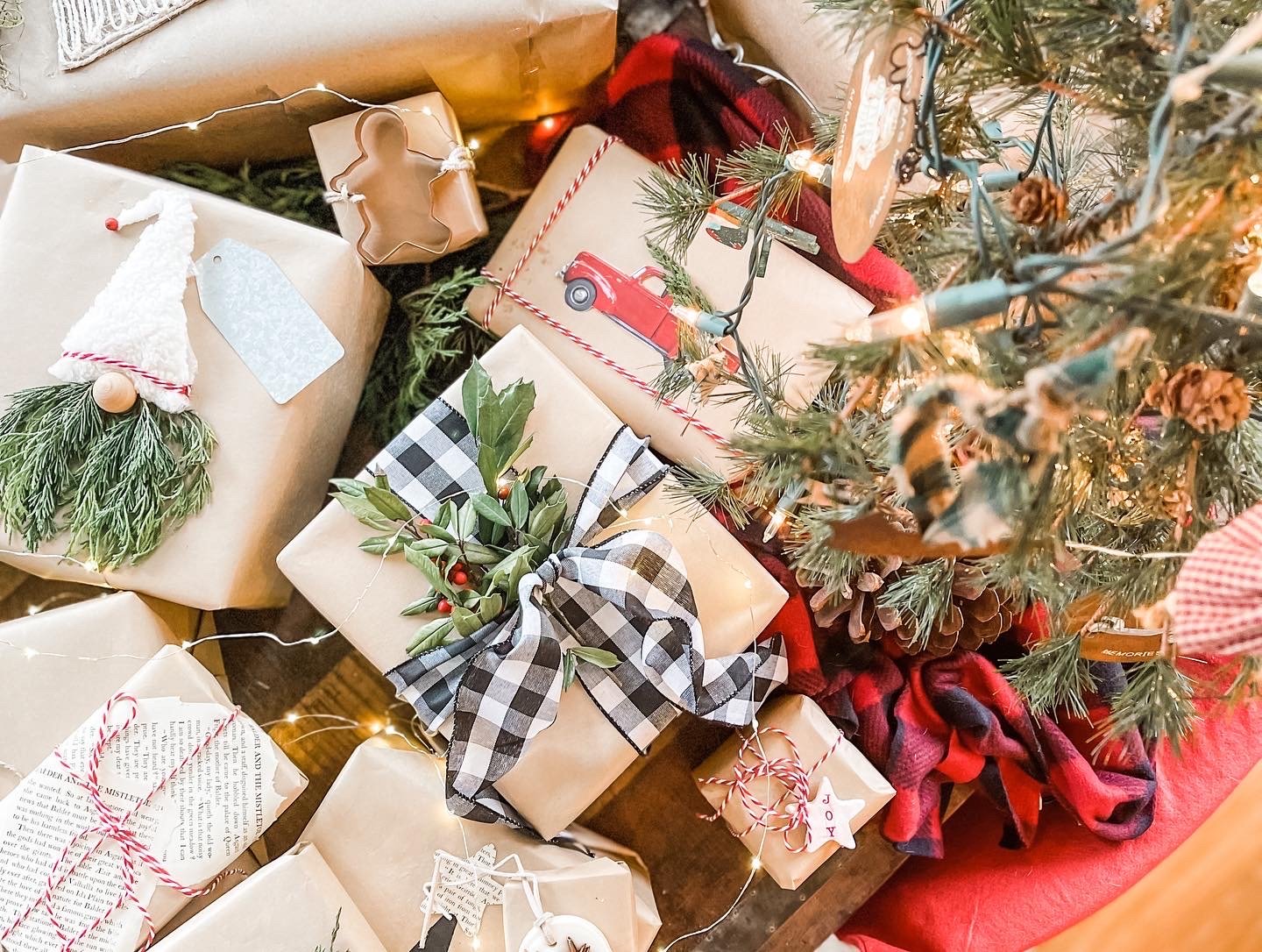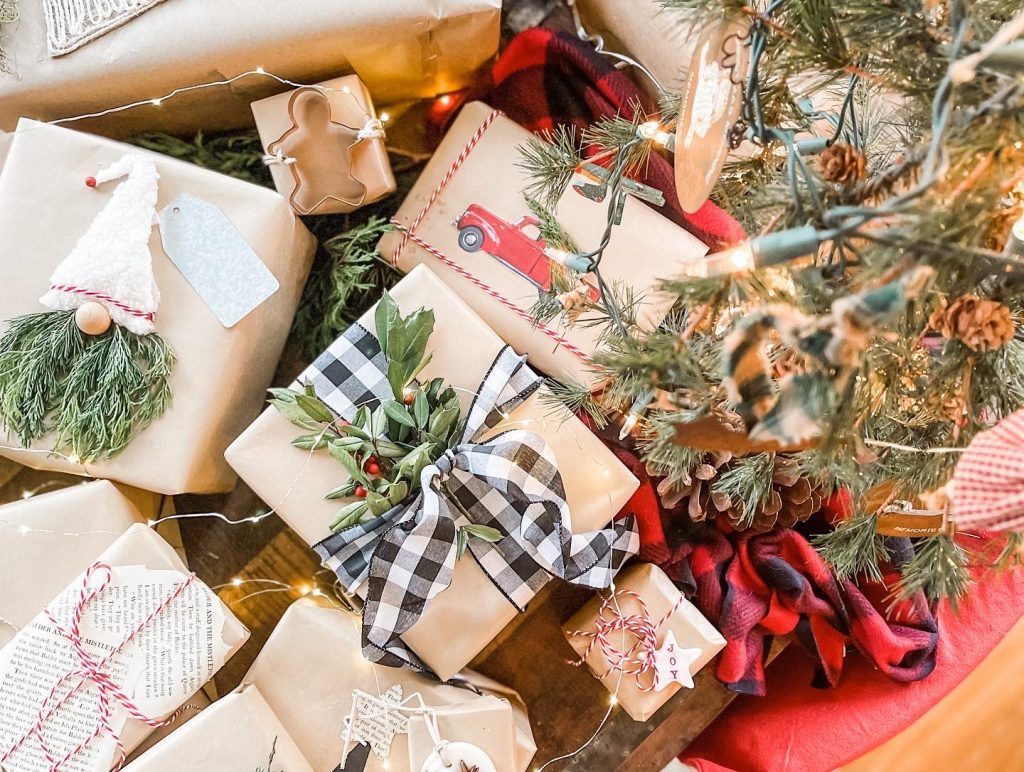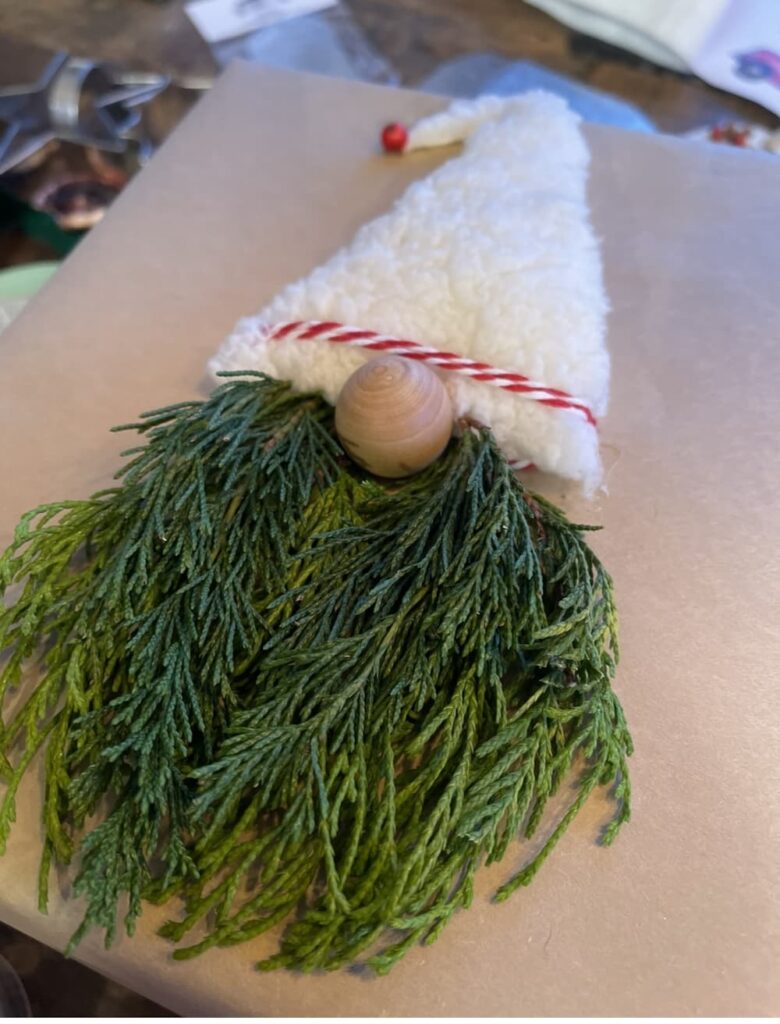 TRADITIONS
Does your family have any wrapping traditions?
In our house, Santa didn't wrap. We knew right away what Santa had left because it was in plain sight.
The four of us would peek in the living room and immediately see all our presents. Of course that was followed by running into our parents bedroom announcing with glee what Santa had left.
As an adult I realized why they seemed to be more tired than excited at first!
For us there was no digging through piles of wrapped packages – it was instant happiness as soon as we saw the room.
Santa was so organized that he had areas designated for each child and amazingly he remembered to put things in the same spot year after year!
Everything else was wrapped in colorful paper and had a sticky bow on top. In our family we wrapped using what we called "Baltimore Boxes." A Baltimore Box was a box where you just wrapped the top.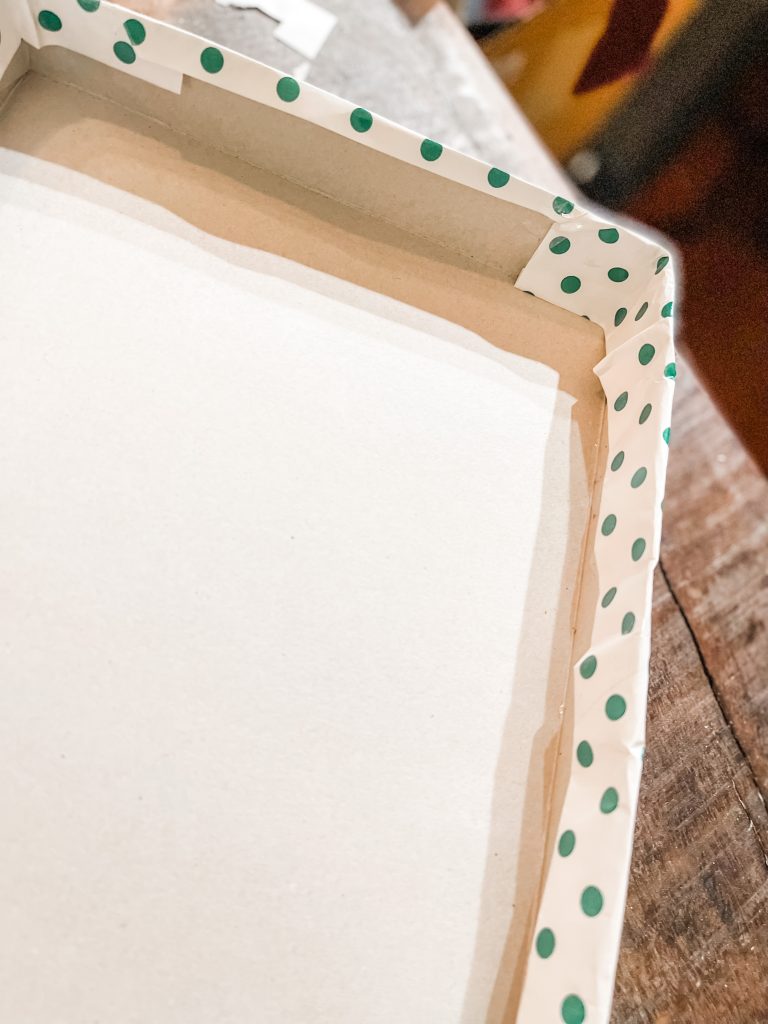 You could take off the lid, unfold the tissue to see what you received, then put the lid back on and everything under the tree stayed beautiful throughout the season.
You used less wrapping paper but it did take a little more time. We would save them and use them year after year. We would add a new tag and sometimes a new bow and we were done!
A much more eco friendly approach for sure.
INSPIRATION
I'm sharing wrapping ideas that are a little different than I had as a child.
In addition to this post on wrapping, you can find one on Bags, Tags and Baked Goods that showcases lots of ideas. For a homemade reusable tag you can check out my post on Terrain Sachet Hack, beautiful and useful soy wax sachets.
For my wrapping this year I used simple brown Kraft paper. First, it's easy to recycle, and it's a perfect blank canvas to decorate.
Below I've categorized my wrapping so you could hop to the style you prefer.
RUSTIC & NATURAL
For this package I printed off a picture of a vintage red truck and cut it out. I used a glue stick to adhere it to the package and then added a sprig of fresh greens.
It looks like the perfect Christmas tree is coming home in the truck. Next I added red and white bakery string to finish it off.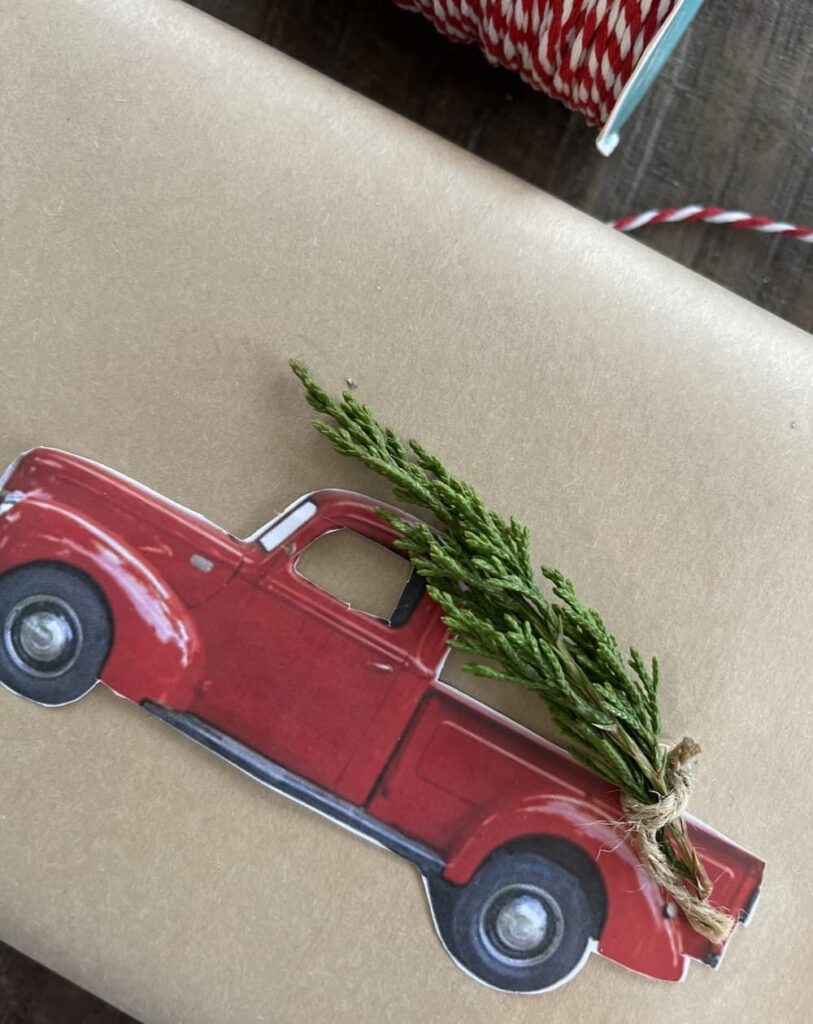 I made this twine tree on a package as a take off on my Twine Tree Tutorial. I drew the shape of a tree then outlined it in hot glue and laid the twine on top.
Next I filled in the rest with more twine and added a stick as the tree stump. Topped with a book page star and moss, it's simple.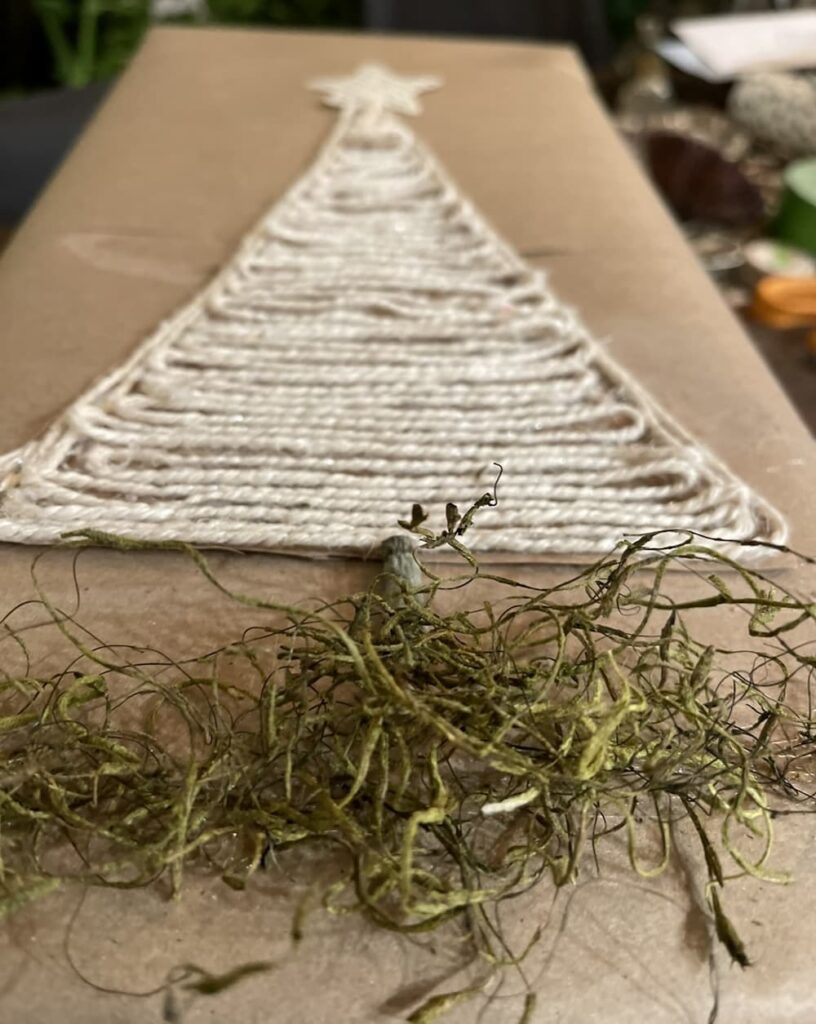 NATURAL
For this gift I used orange slices that I had dried in the oven at 180 degrees for 2 hours. Then I used a hole punch so I could hang them on twine along with stars I cut from old book pages.
It's a perfect topping for the plain Kraft paper. Just a little garland keeps it simple and elegant.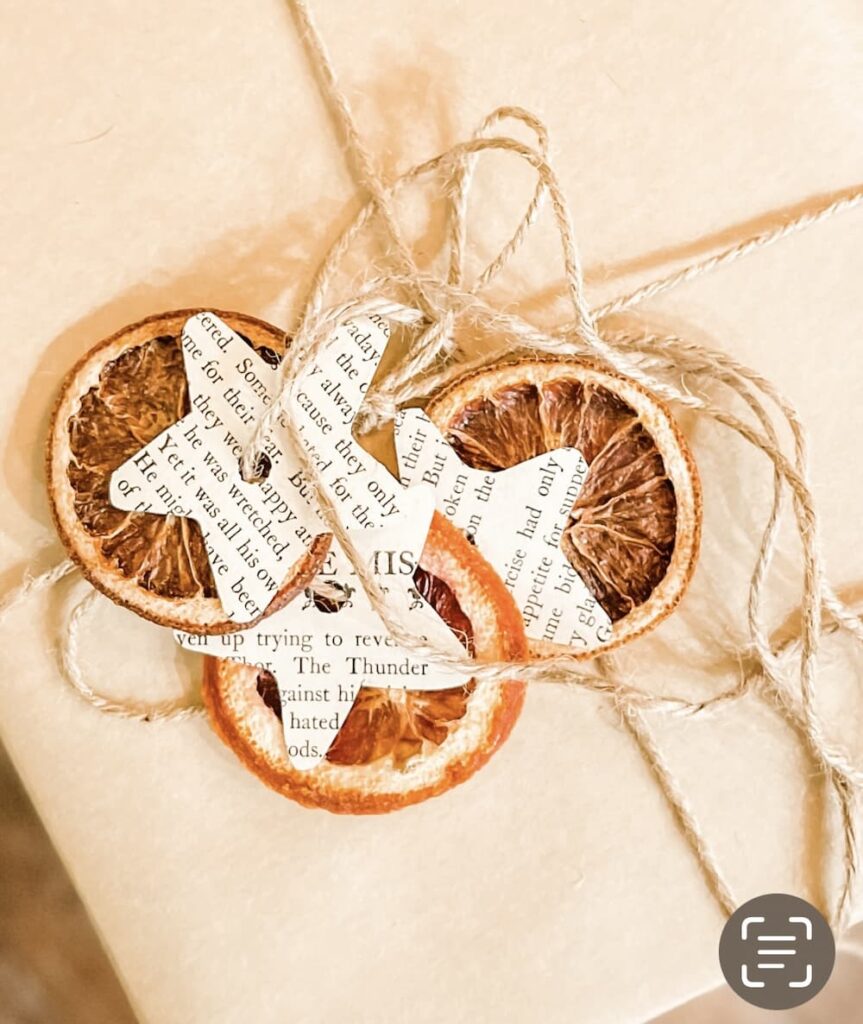 How easy and simple is this style? Fresh greens were added and tied up with twine and added on a clay star to finish it off. Use glue to adhere to the package.
WHIMSICAL
I styled this package as a playful take off on the ever popular gnome. You may have seen neighbors decorating large shrubs to look like gnomes, I thought I'd replicate it on a box! Next I used a scrap of material from my DIY Fabric Pumpkins and glued it to the box, then added a holly berry on the end of the hat.
I had a leftover wooden ball with one flat side and glued that on to the box at the bottom of the hat. For his beard I added more fresh greens.
Lastly, it was finished off with two pieces of bakers string along the bottom of his hat. This could be used for anyone, young or old.
C

OZY
Who can argue with cozy, even if it's a package? This look can be easily duplicated with a scarf from the Dollar Tree. My first idea was to use a scrap of material I used as a tablecloth, and cut a strip and fringe at the ends so it resembled a scarf. If this isn't the epitome of Cozy and Creative Christmas Wrap – I don't know what is!
Next step was to tie it around the package and you are done!
REUSABLE
A perfect idea to wrap up a supply of baking items or any gift – adding a cookie cutter to your package is a simple and functional decoration. You could match a cookie cutter to the ribbon or string and tie it on top.
TRADITIONAL
One of my last examples includes a fresh and crisp buffalo check plaid ribbon. Start with Kraft paper and then tuck in a sprig or two of holly for additional color.
VINTAGE
Reusing pages of books reminds me of wrapping school books in the funny papers or brown kraft paper. My mom had dozens and dozens of old books, I use many of them as decor throughout my house.
There are so many that I can't possible use them throughout the house but I also don't want to get rid of them. Enter using pages of books to wrap. I was taking pages from one vintage book and it wasn't a Christmas book but I saw pages that had the word "mistletoe" on them. How perfect!
I tore around the edges and glued pieces onto the kraft paper instead of wrapping them in the pages. These turned out to be a really neat vintage look.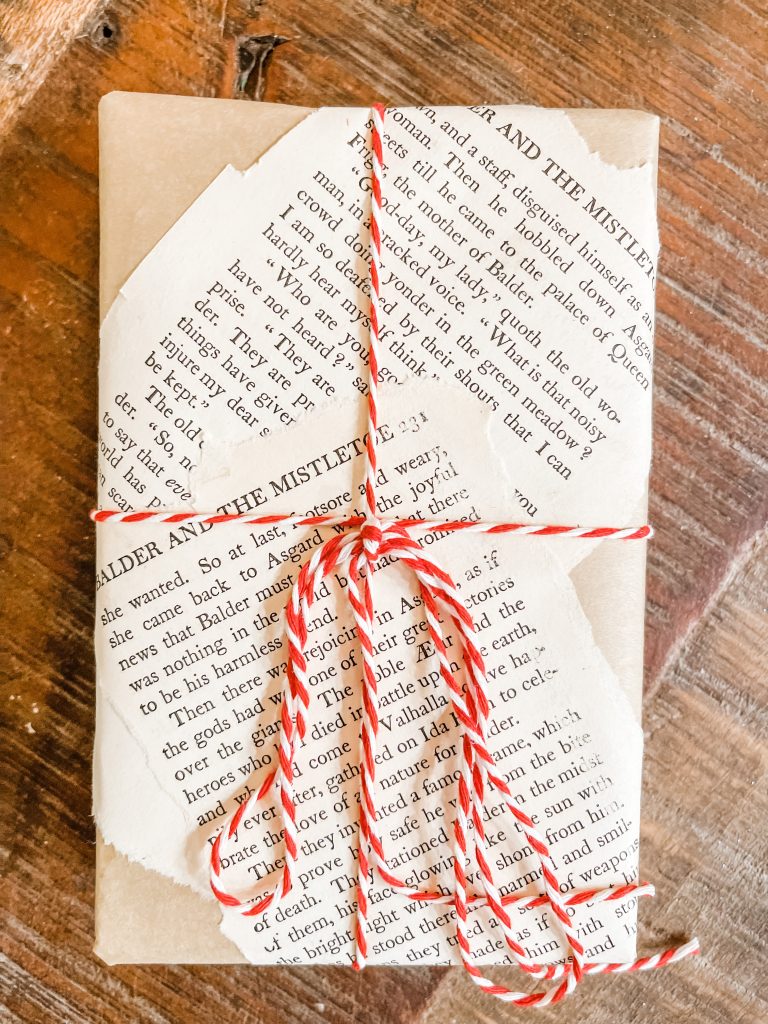 SUPPLIES
Everything I used is listed below: My natural elements are bolded.
Kraft Paper
Glue Gun
Fresh Greens
Dried Orange Slices
Twigs
Holly Leaves
Holly Berry
Moss
Ribbon
Twine
Tape
Scissors
Chalkboard Paint
Fleece
Clay (Sculpey)
Dried Orange Slices
Vintage Book Pages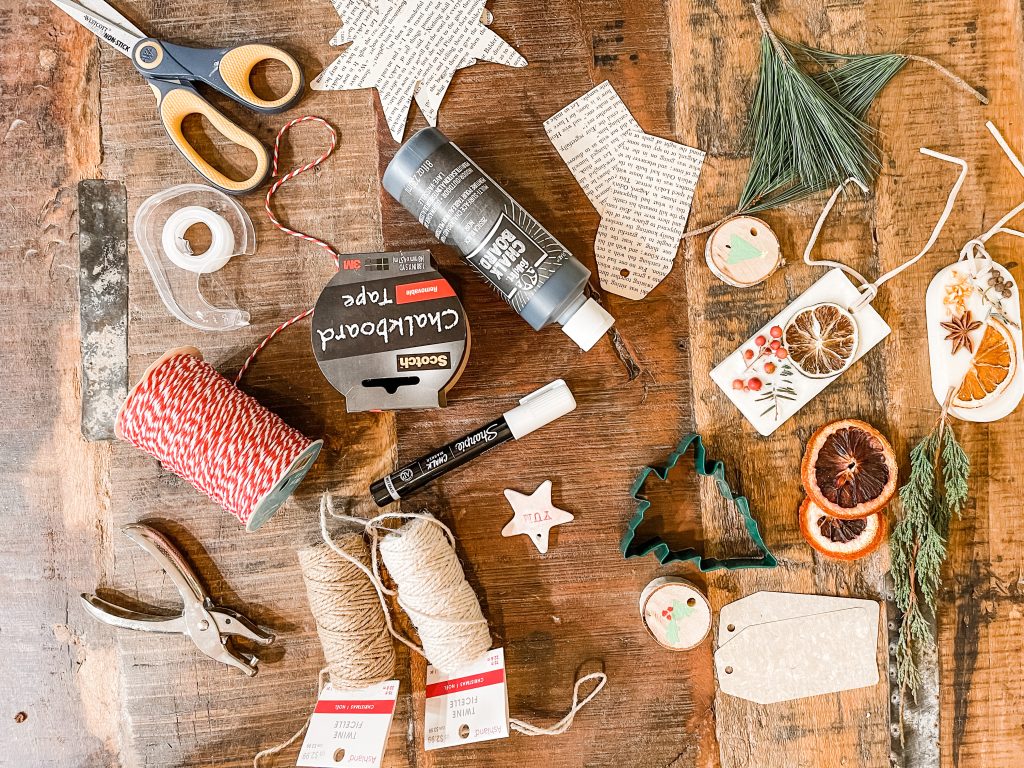 Thanks so much for stopping by to see my ideas on how to use fresh greens on your packages!
Merriest of Christmases to you! I am so excited you are visiting Saved From Salvage. Make sure to subscribe so inspiration comes straight to your inbox.
XO, Regina
This post may contain affiliate links for your convenience. I receive a small commission if you purchase from these links, this is at no additional cost to you. Thank you for supporting my small business.