Hi and welcome to Lately On The Lake, Volume 2. This is where I recap my week, what I'm loving and what I'm working on.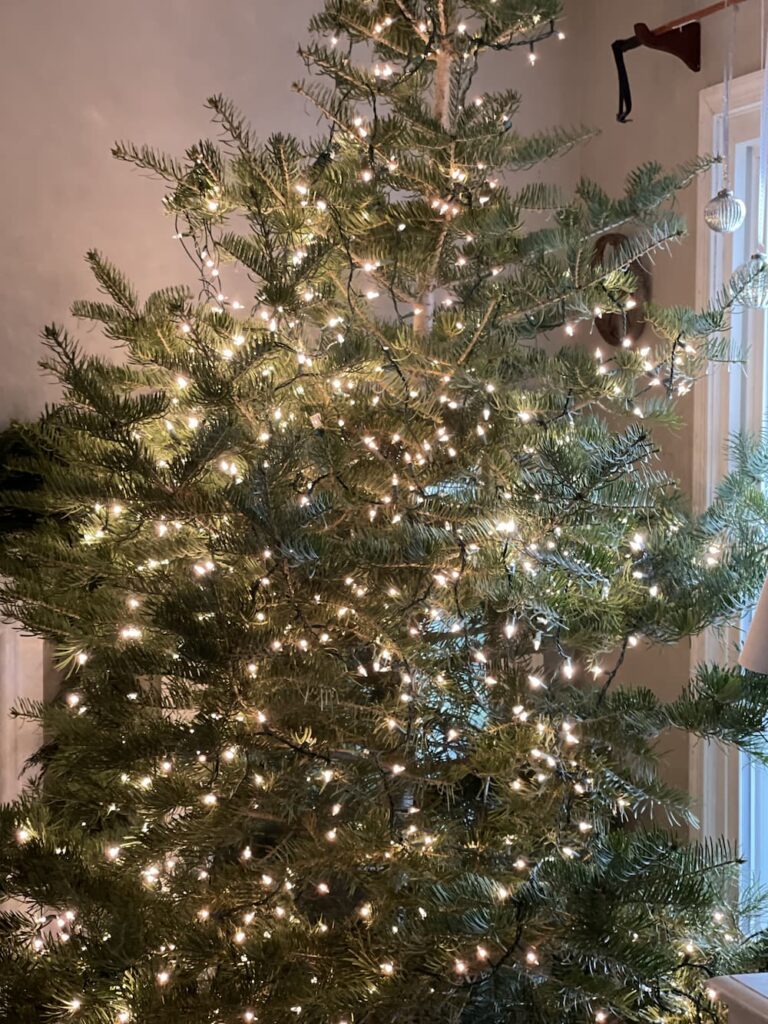 Hi and welcome to Saved From Salvage. Last week on "Lately From The Lake" I shared my week to do list. I didn't make too much of a dent. I think sometimes I am overly optimistic about what I can accomplish.
Do you ever think you are way more productive than you are?
I have a saying, "helmet," it's what I say when you've (apparently) bumped your head, after sharing an overly ambitious idea.
THE TREE
Check this off the list! It seems the reason only customers who received a "green" envelope were allowed to cut a tree this year is because they were trying to keep numbers down due to low inventory.
My belief is once decorated, all trees are beautiful, and when we arrived, I stated that "we will be leaving with a tree." Mistake number one.
Last year we cut a Concolor Fir. I loved the long sturdy needles, and the space between branches and I wanted another one.
We walked up and down hills to all of the fields, several times. We finally cut down a 13 foot tree.
Mind you, we don't have 13 foot ceilings, we don't even have 10 foot ceilings. So we had to cut four feet off and unfortunately, not just from the bottom.
It looks like our tree goes through the ceiling and the top may be out of sight. I put the lights on and it helps. See in the background I put up my vintage ski poles to use as curtain rods during the winter. I love them.
Oh, but I did take some pics of the vintage tree stands I had mentioned.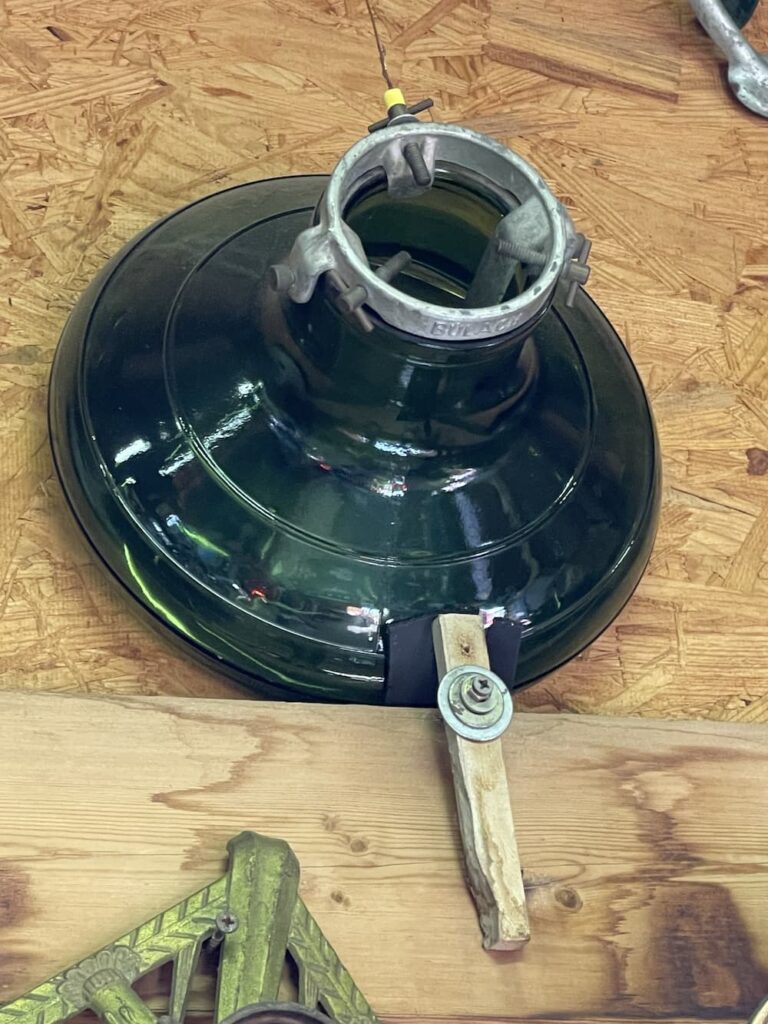 workshops
fresh wreaths
I had a fun wreath workshop this week. I saw so many new and old faces and everyone made the most beautiful wreaths. We cut greens from everywhere and offered a wide variety along with pre-made bows to choose from.
The holiday music was going, hot chocolate was poured and everyone got into the spirit. Dempsey was part of it and then was too tired to go to work on Wednesday and Thursday. I think he needs a part time, not full time job.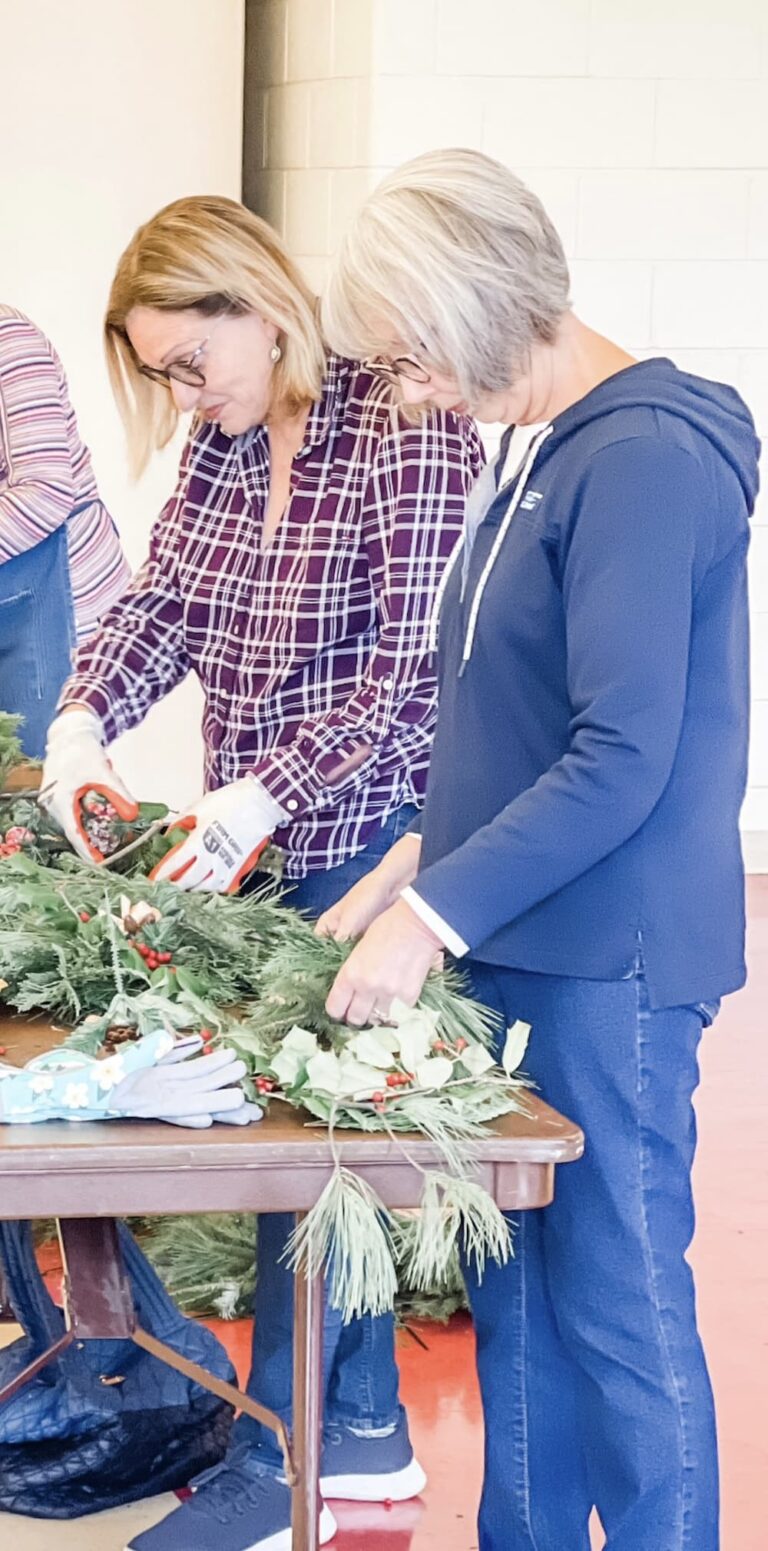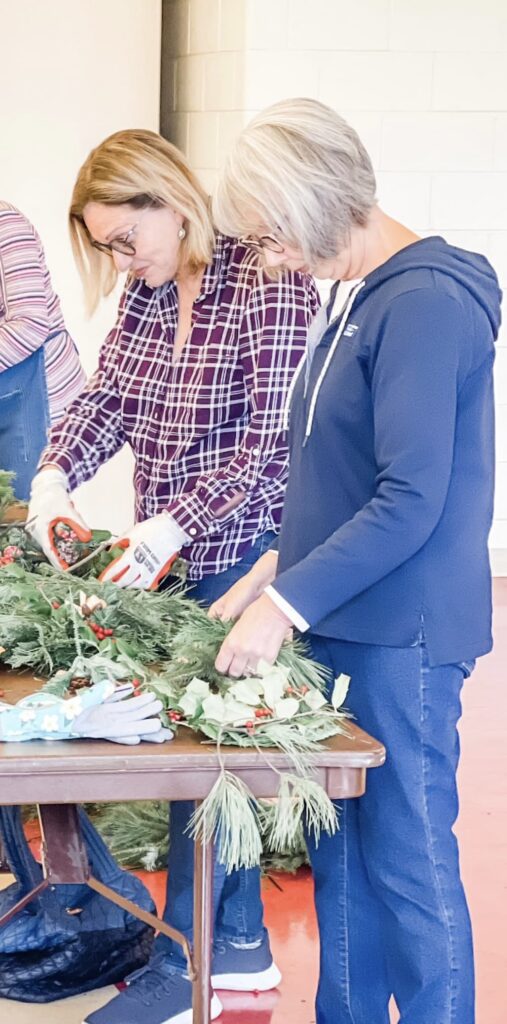 Have you ever made your own fresh wreath? It's really so easy, especially with my wreath hack.
Seeing everyone so happy with their finished wreaths was wonderful, these are the things that bring me joy.
bath scrubs
Salt Scrubs were the next day. See what I mean when I say 'helmet?"
You could chose from lavender, vanilla, chamomile, sweet orange, and lemongrass to scent the bath scrubs.
How cute are these little containers from the Dollar Tree?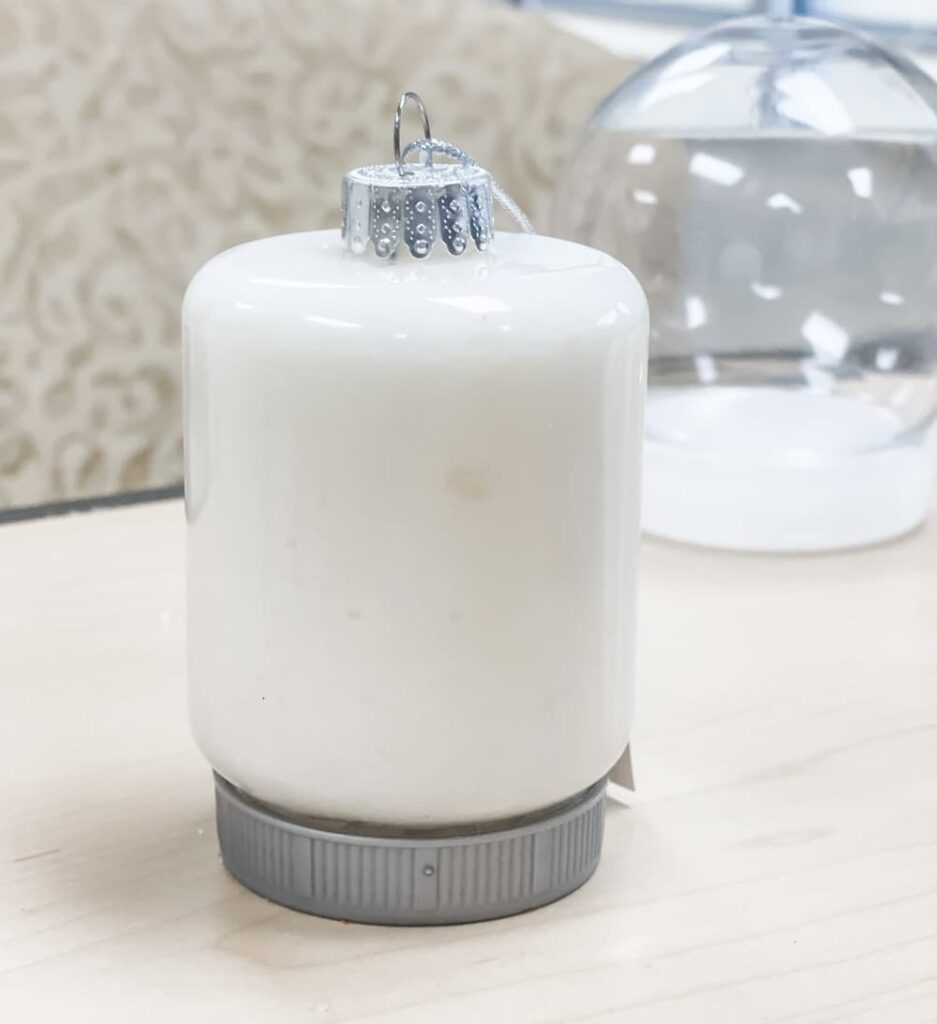 Everyone went home with a gift to give, and one to use.
what i'm working on
This week I shared two really fun projects. One is an easy no sew Christmas Pillow hack using napkins. It is the most affordable way to add fun pillows to your decor.
The other is the cutest idea to preserve a memory. See my Keepsake Ornaments here.
Today I'm sharing a great post featuring 13 different bloggers showcasing their favorite wrapping ideas.
Later today Carmine and I will be in the kitchen baking. On the list is biscotti, some of his mom's favorite cookie recipes and I will be making sugar cookies in holiday shapes using marshmallow fondant.
Some will be for Christmas Eve and others will go to a cookie exchange next week.
what i'm loving this week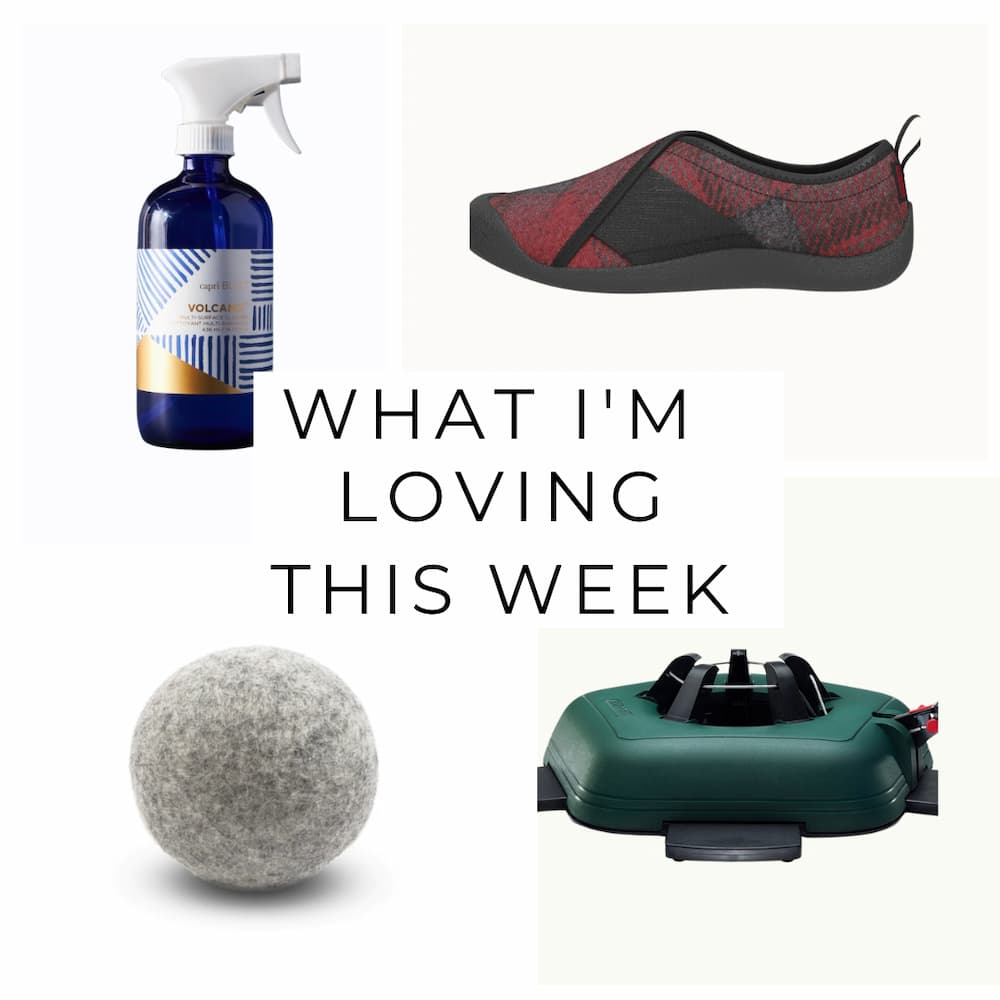 Ok, this may not sound that exciting but I'm serious. Best thing ever. Remember I said our tree was huge? We couldn't get it to work in old stand. I googled best tree stands and ordered it right away. I got it the next day and let me tell you, it's genius. It's small and compact which is nice but the best part is the foot pedal that you step on and these teeth grab the tree in seconds. #musthave
I love this scent. I love these candles, and now I'm loving this cleaner. The good news? Right now it's on sale. Don't feel like lighting a candle? I love to use in the bathrooms for a lovely touch.
See a theme here? Well they are on sale right now. It's that same lovely scent for your dryer. I need these more than most people. If they fall on the floor as I'm folding clothes, they are mistaken for dog toys. The end.
Ever since I worked at REI, I've loved KEEN. These slippers are a no frills, take the dog out to tinkle kind of shoe. Perfect for my needs and I need the wide toe box that Keen provides.
Thanks for coming by today. By the time you read this I'll be covered in flour I'm sure. Have a wonderful weekend and please subscribe to my blog and get inspiration to the inbox. Like what you see? Share with a friend.
XO, Regina