Do you love vintage items? Are you always thinking of ways to add them to your space? Or do you prefer shiny and new?
I love anything that is rusty, has chipping paint, old glass or has a story.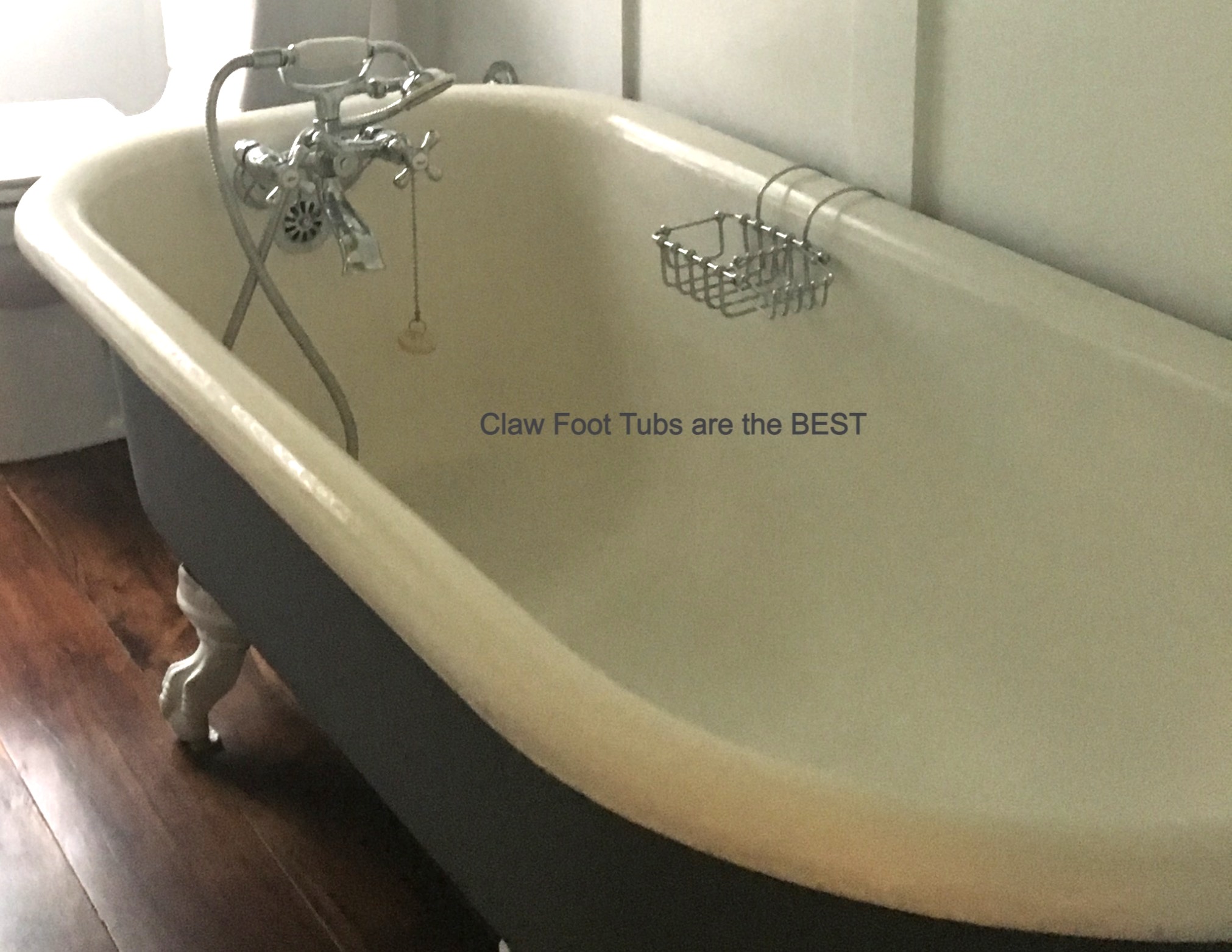 My son was only a few months old when I became a single mom, to say we moved a lot is an understatement. When Josh was six, I was lucky enough to find an ad for space in a Colonial Revival home built in1800. It was called the Cedars. It sat on over 70 acres with a metal roof, (heaven to listen to in the rain) an old elevator, shutters that closed, a built in china cabinet, pocket doors, a wrap around porch, a wood stove, oh and a claw foot tub (swoon). I loved it there. I paid rent, did yard work, house sat and fed pets in exchange for our lovely wing. I remember that from early spring until late fall there was always something blooming on the property, which was a combination of woods, and meadows. It sat far back from the road and the long driveway was lined with trees. It was here I learned about gardening in raised beds and composting. I would come home from work and before changing I would be in the garden checking my lettuce, pole bean or whatever I was growing.
It was also at the Cedars that my love for vintage was born.
I just love seeing these old pictures. These are obviously prior to when we lived there but you can see it was lovely. There was a large tree on the property that came out of the ground a few feet then went sideways for about 5 feet and then up again. We called it the "laying down" tree. We would have picnics sitting on the part of the tree that was flat like a bench and I even have a picture of our lab Shammi sitting on it with Josh and I.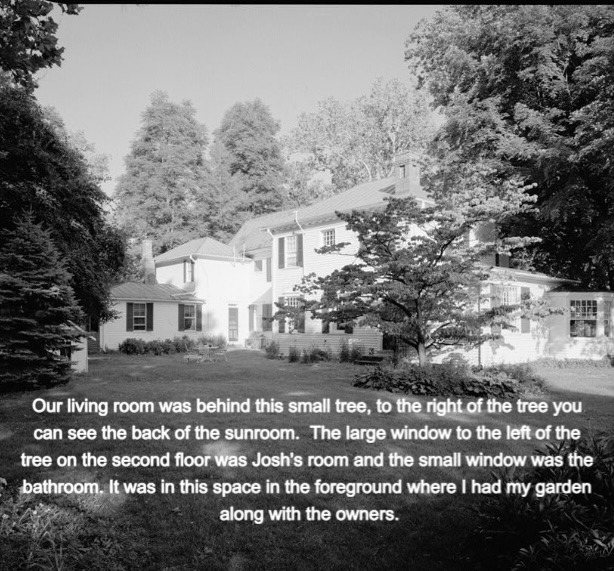 Above and below are pictures of the Cedars. In the first picture you can see the front porch goes around to the left, that is where our front door was. In the second picture, the smaller tree in the middle right was directly behind our living room.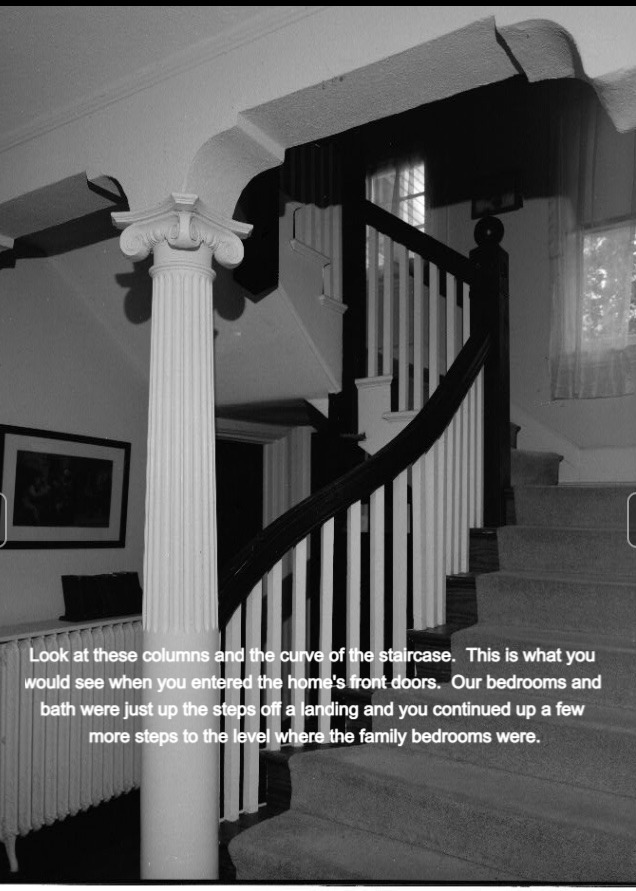 We had a front door and two side doors but to get to our bedrooms on the second floor, we opened a door into the foyer and had to go up the main stair case you see above on the right. The entrance to our bathroom and two bedrooms was just to the left up these stairs. Although it had the old elevator, the only thing I used that for was to call up to Josh after he was in bed instead of going out the door to the hall downstairs and going up the shared staircase to the second floor and our space.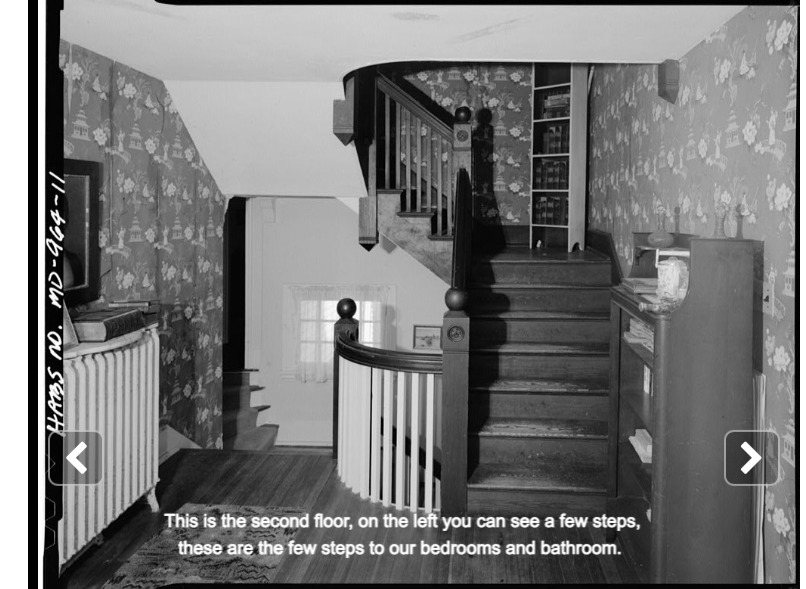 Everything was grand, the beautiful wooden bannisters, wide hallways, big windows and doors. The ceilings were high, the pocket doors were large and heavy, the bump out was full of windows and let in so much light. I loved the history, the creaking of the house, and the story of the family it was built by. See more history at the bottom of this post.
We lived there less than two years but it had a lasting effect on my style and tastes. These days I find many of my vintage treasures from reuse warehouses like Community Forklift, The Loading Dock, and Second Chance, all in MD. You can find anything from architectural salvage to mid century modern furniture. At one of these locations several years ago, I bought three old wooden shutters. White, chippy and old – I love to decorate with them.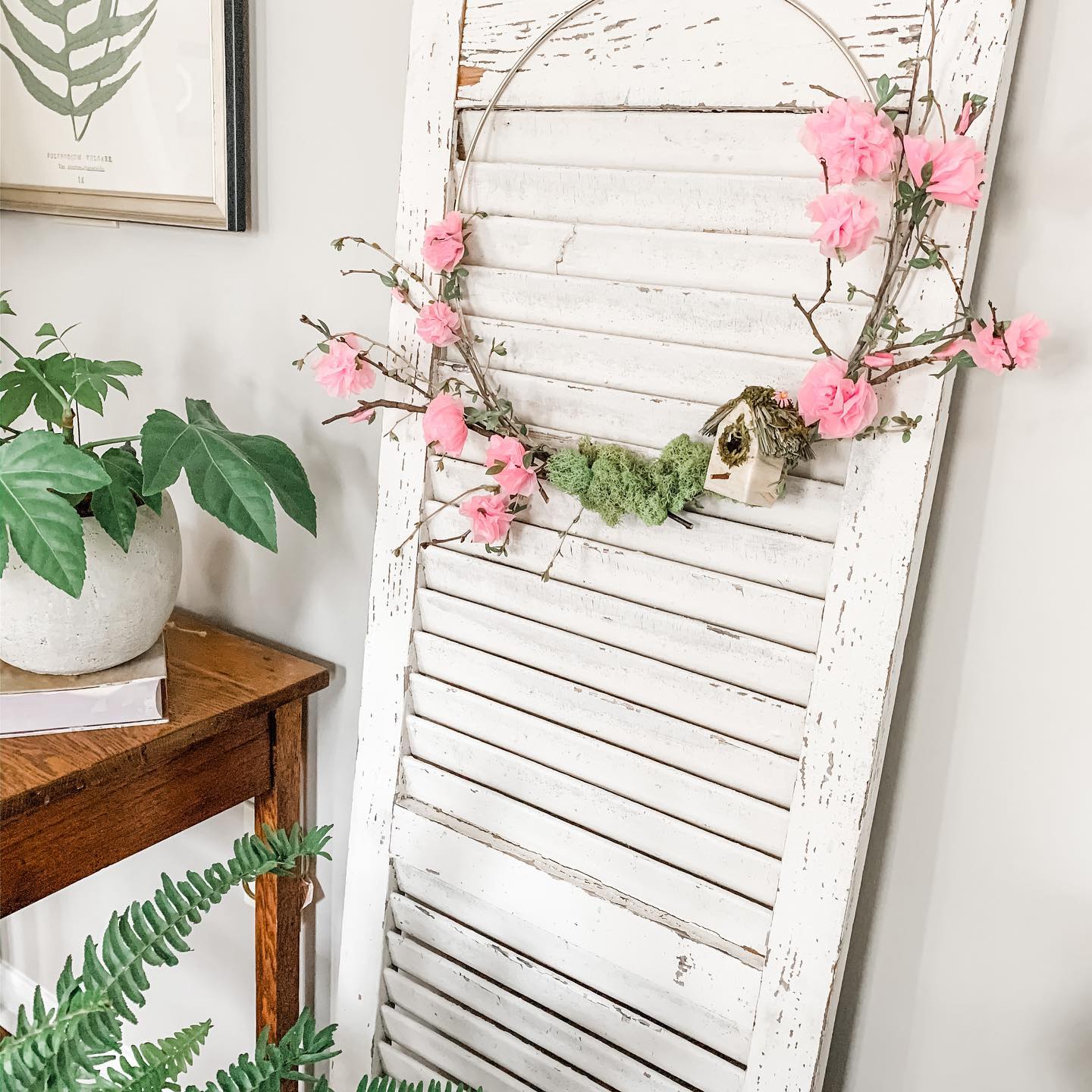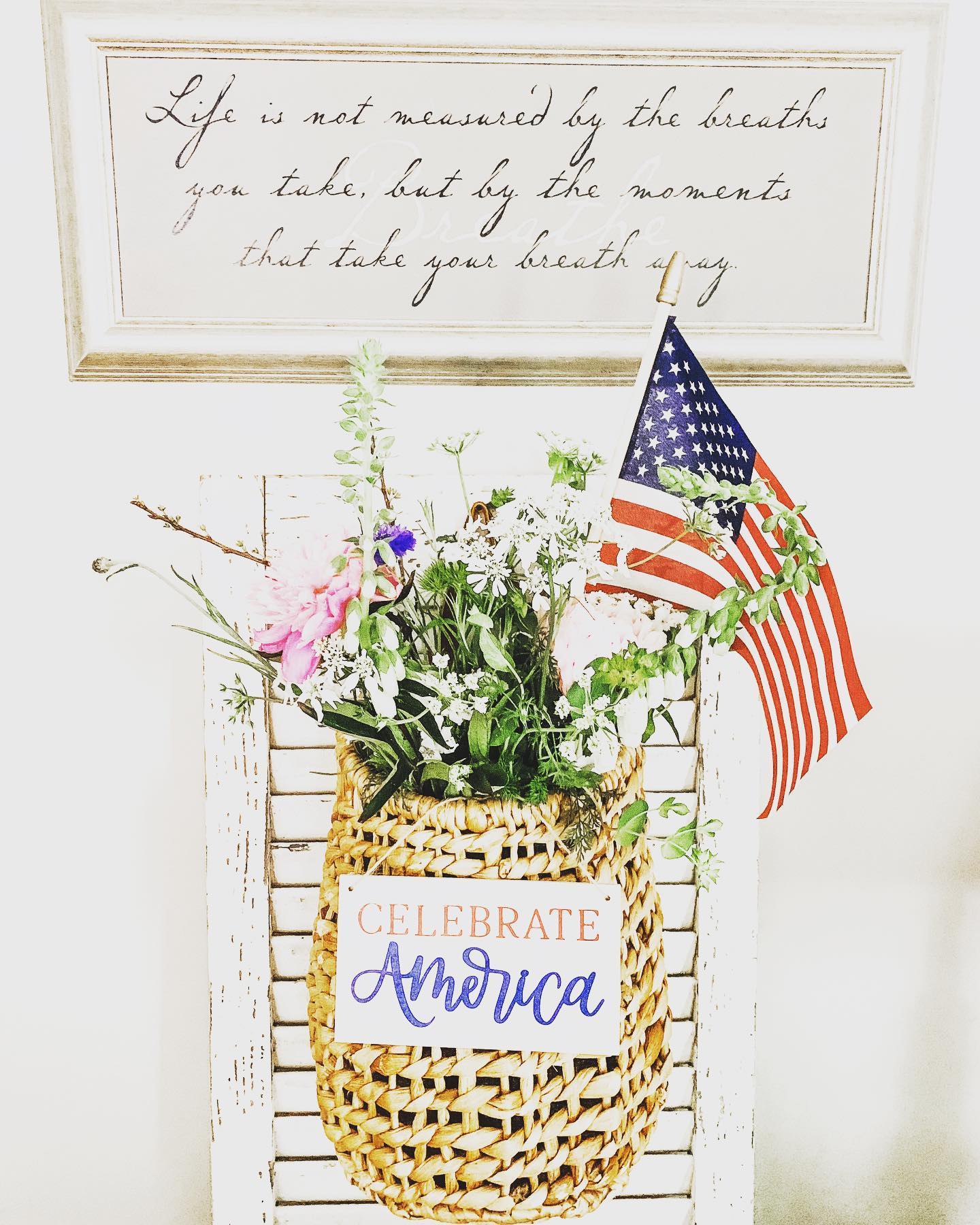 Where am I am going with this? Well one of my beloved shutters has bit the dust. My year old chocolate lab Dempsey comes back from our 2 mile morning walks and is seriously wound up. He will chase his sister Daisy around the living room while zooming from one chair to another which makes them slide into things…like my shutter.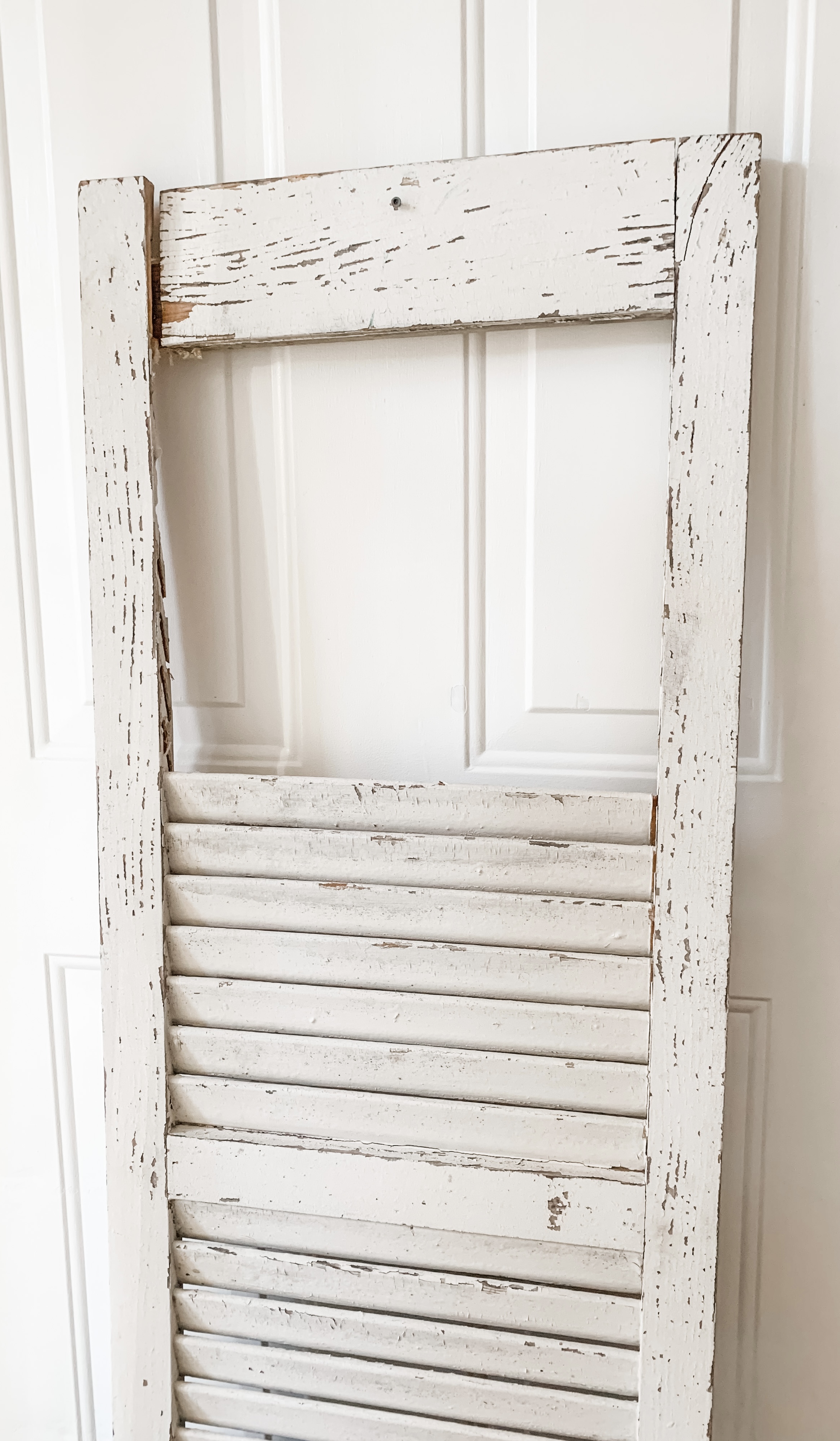 It has hit the ground a few times and I glued it together more than once, but this last time it was done.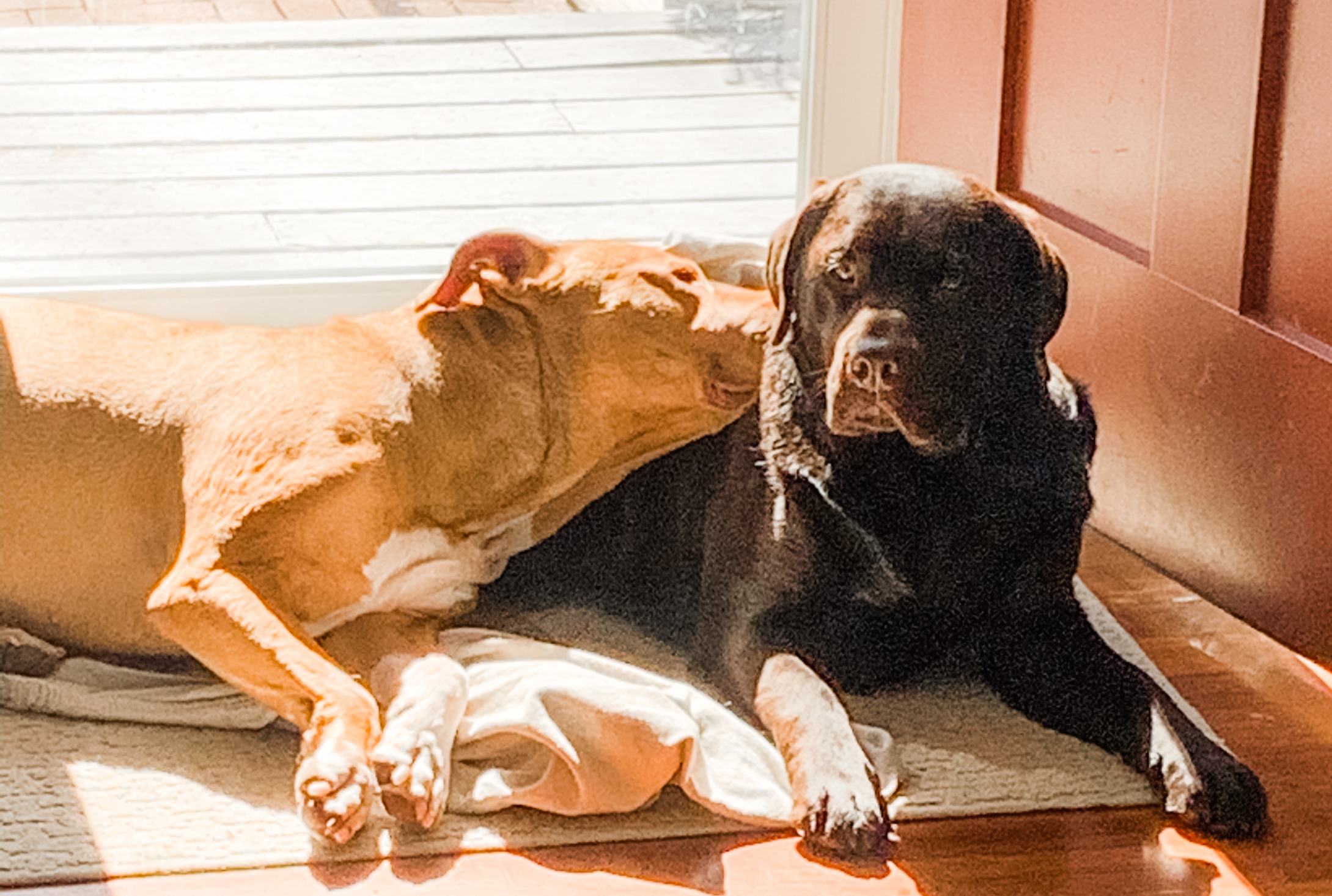 Who Me?
So what to do with a broken vintage shutter? Well since my site is Saved From Salvage, you know I had an idea. Here it is…

I decided to paint some with Chalkboard Paint and use them to make signs for upcoming events. I thought they'd be perfect to hang to at my nieces bridal shower.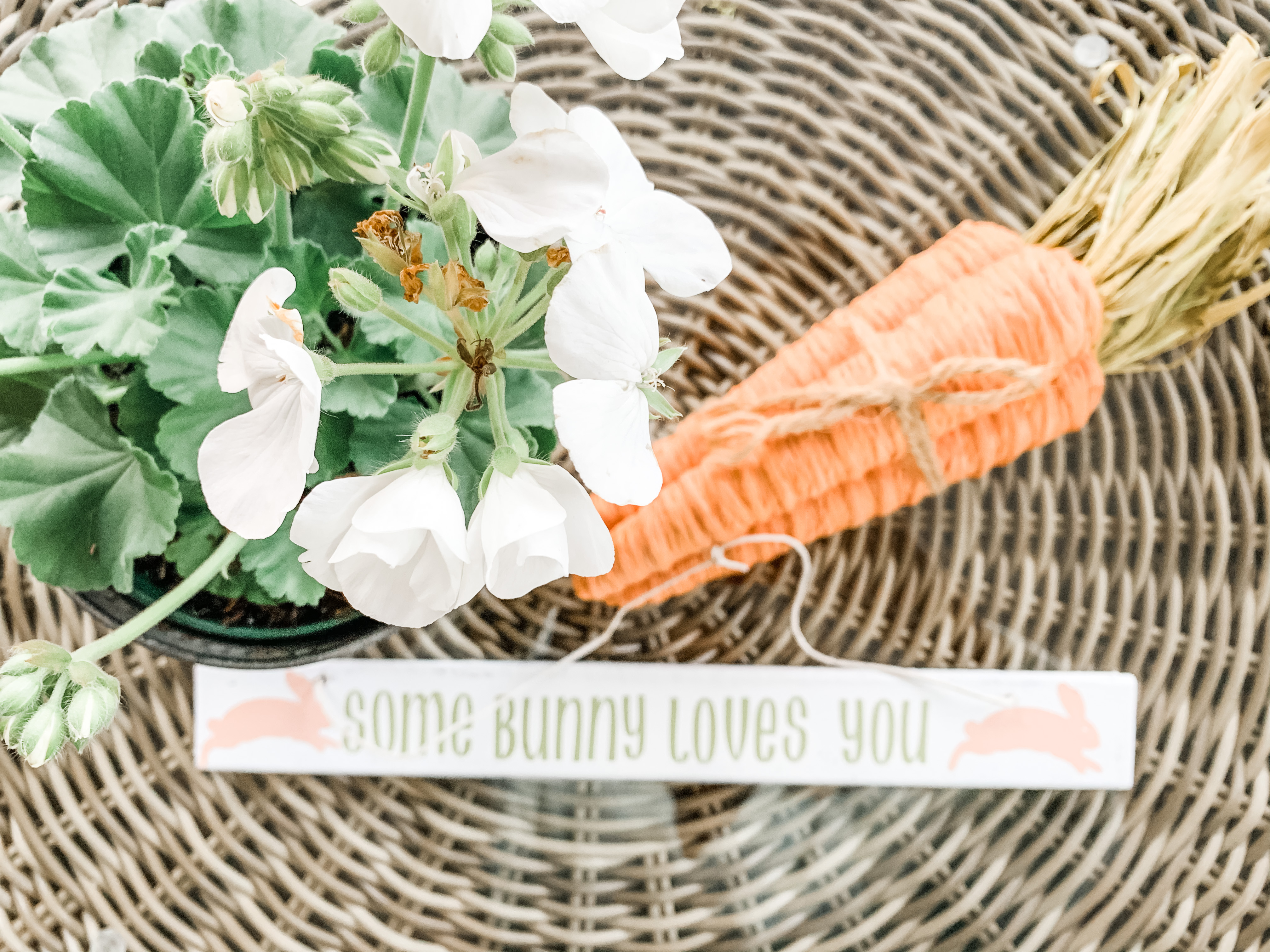 Or they would be cute as Easter gifts. So I painted a few white, left one chippy and painted one blue all to try different looks.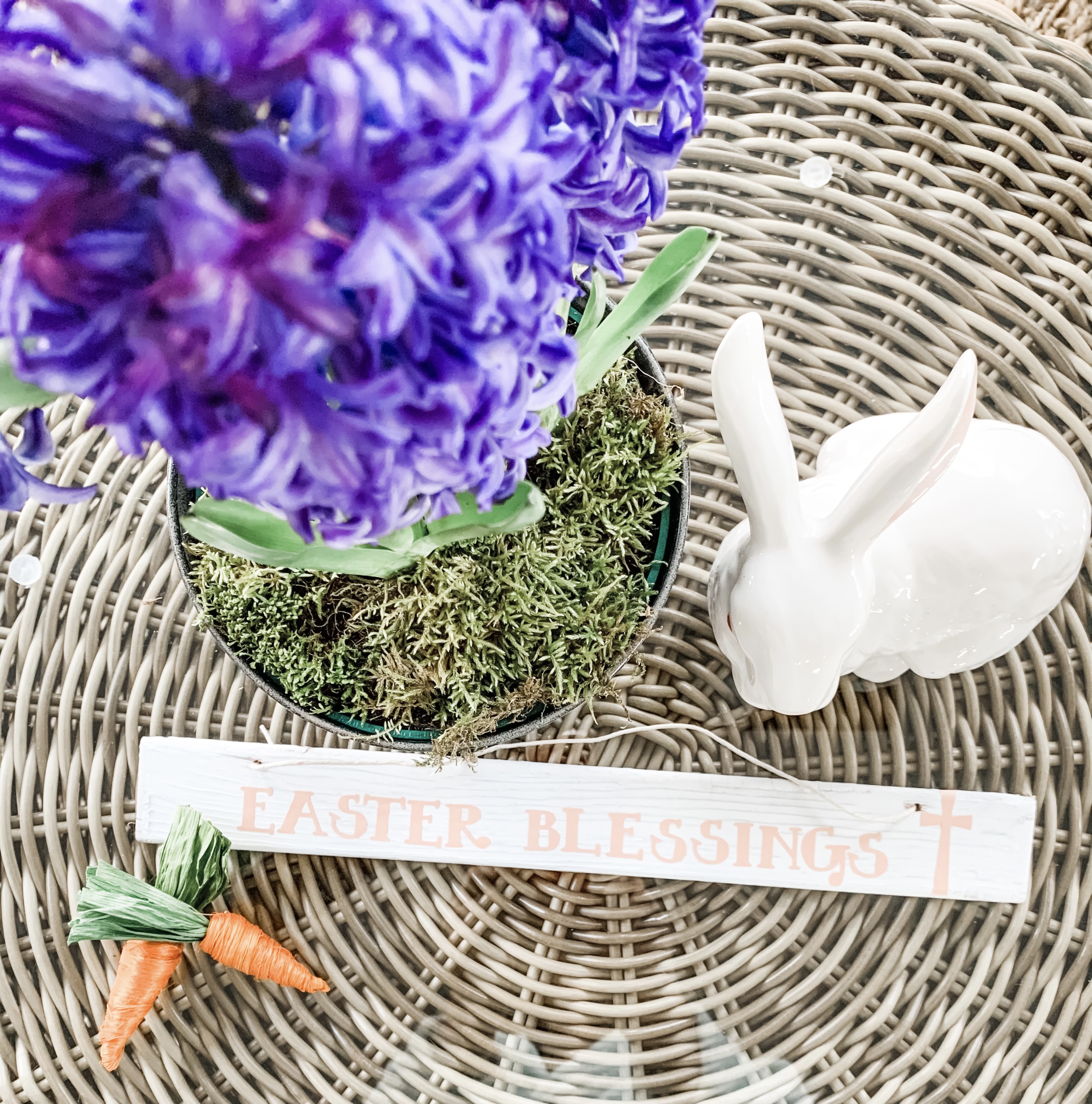 I decided to use my Cricut Maker because the ones I did with my handwriting in the chalk pen just didn't look great.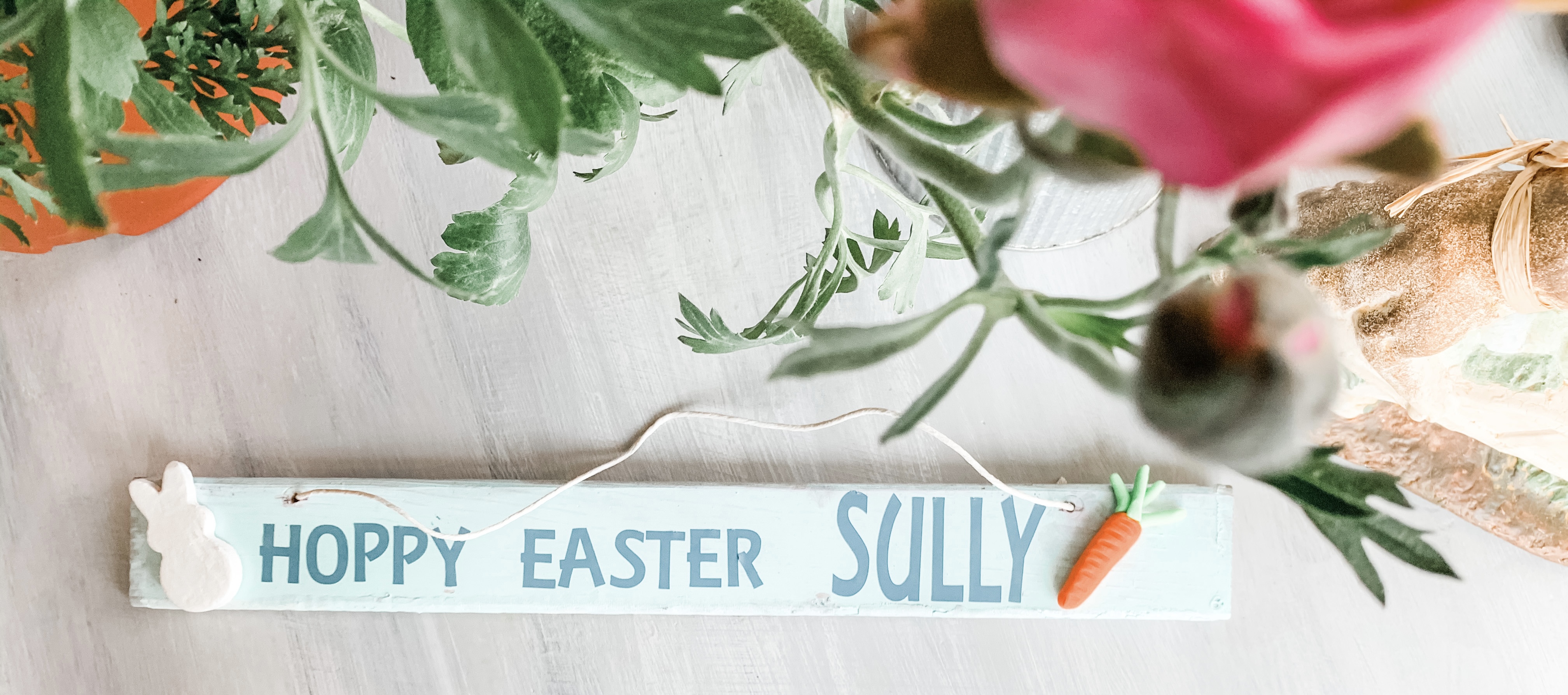 We live on a lake so why not make a personalized sign for me! This one I left as it was and just added the vinyl.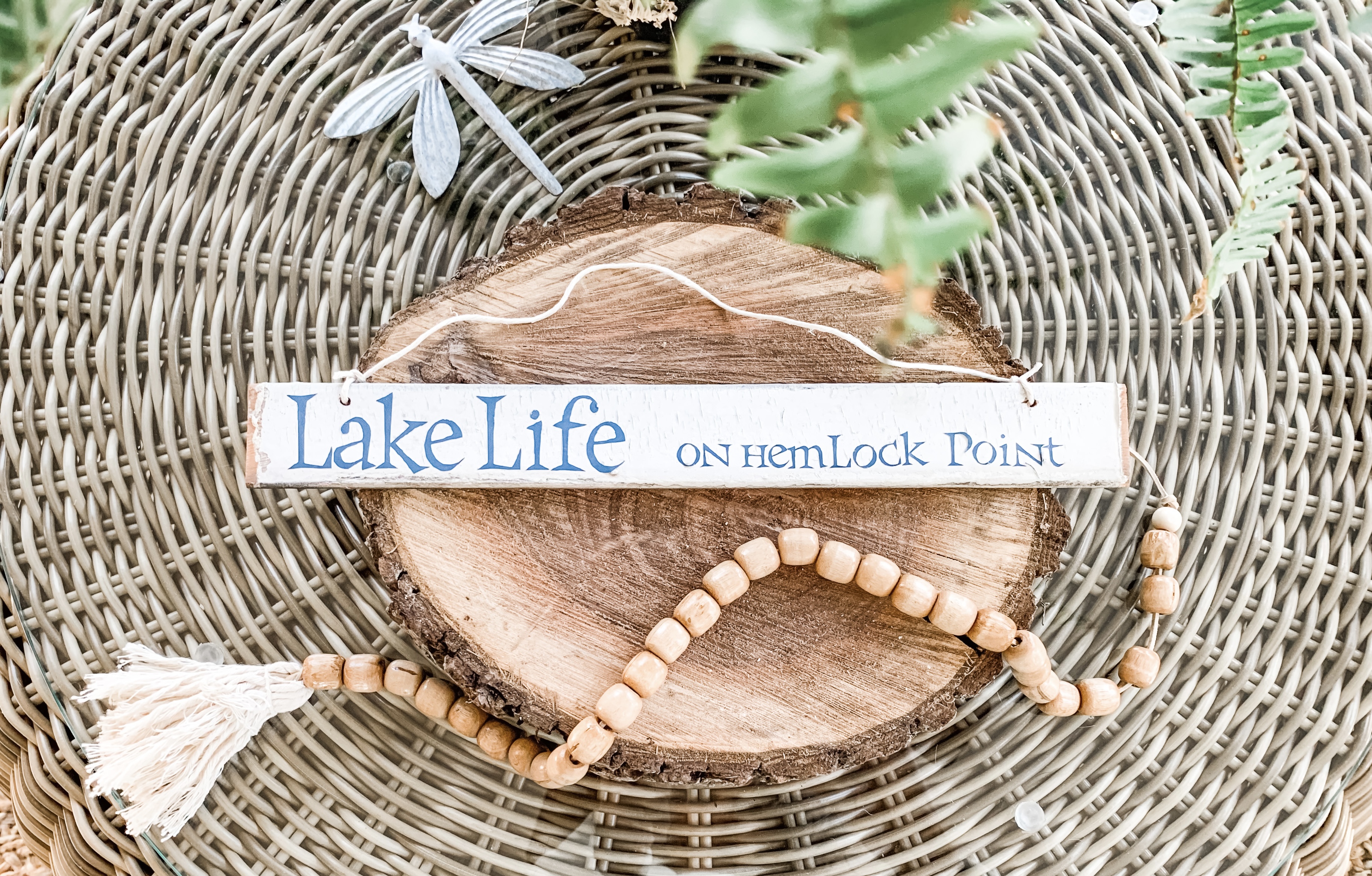 So something many would have thrown away, I decided to repurpose once again and "save" them a little longer. Shutters had a real purpose back in the day, to protect from weather, keep out sunlight and privacy, mostly now they seem to be more for aesthetics….or home decor!
Do you have a problem throwing things out? Carmine tries to get things in the trash or recycling before I can "rescue" them. But seriously, have you seen the small soy sauce bottles? They would make adorable little vases once painted so I have 3 of them stashed in the jelly cupboard waiting for the perfect time…
I hope you enjoyed my post and learning a little about where my love of vintage began. I encourage you to subscribe to my blog and keep up on posts and projects!
Thanks for taking time to visit my little corner of the internet – XO, Regina
More History About the Cedars:
The Cedars was built with a separate, interior, two story apartment (which can be entered through the main house or through an entry at the southern facade elevation of the northwestern wing, under the porch) known as the "West Cedars." Allan Farquhar had the house built in this manner to as to provide a home for his maiden sister, Ellen (a teacher at one of the local private schools, Stanmore) that would be close to family yet allow her to be independent. This has been the site of the Farquhar family homestead for almost one hundred and fifty years. …
So much more can be found about this historic property here.
This post contains affiliate links I may receive a small commission at no additional cost to you.