Hi friends! There is something about this cabinet that draws me in. It's not the musty old smell, the missing knobs or thin plywood top, I think it's the wheels (casters). I love dressers and cabinets on casters. Not because I have a need to push them around, but I just find them charming and old. You have a soft spot for them too right?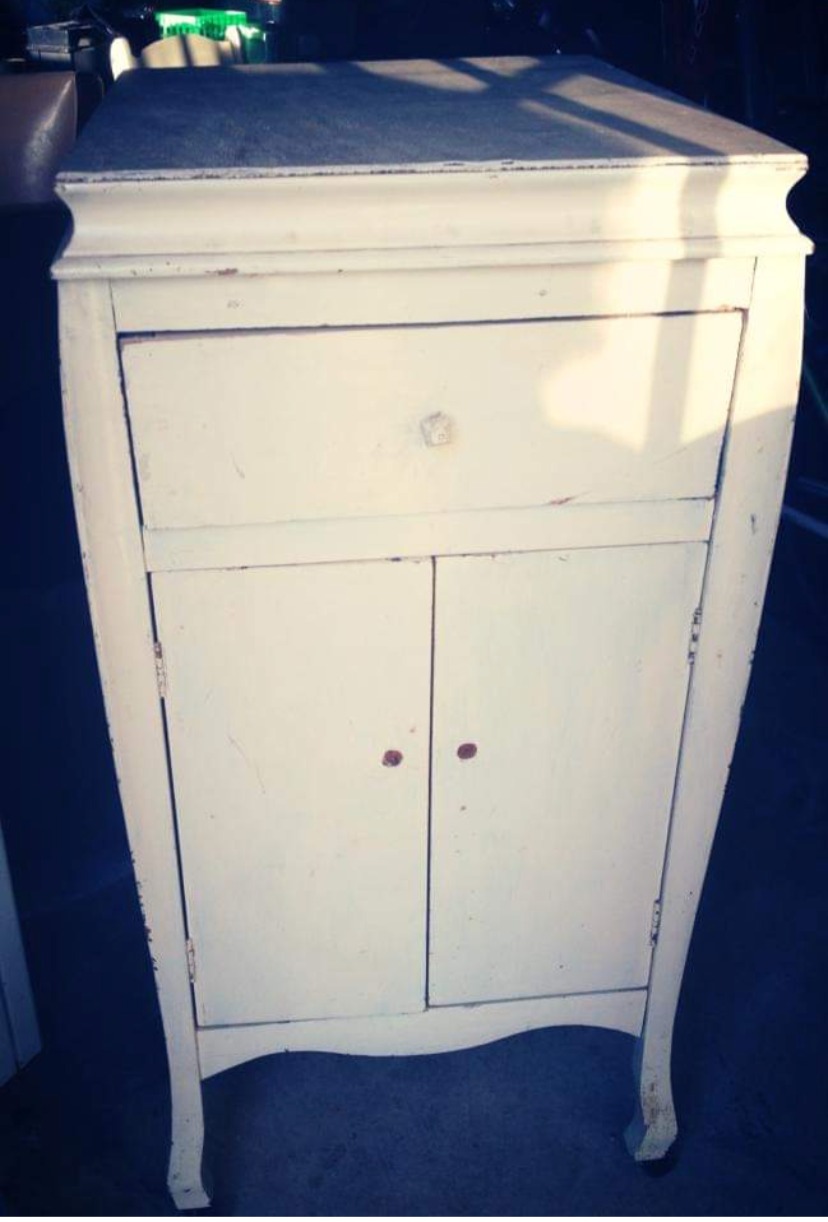 Tell me I'm not the only one that goes down a rabbit hole easily. I was wondering about the casters, then came across some thing about vintage furniture and I read this: when talking about vintage pieces, it only means its at least 20 years old. Hmmmph.
Back to the rabbit hole, it is almost Easter. Wheels or casters? Although they were around a long time they weren't used for the purpose of moving furniture until they were patented in the 1870's by David A. Fisher. You can date a piece of furniture with casters by the type, if they are wooden, they most likely were from the Georgian Period between 1720 -1760. I could go on but I won't.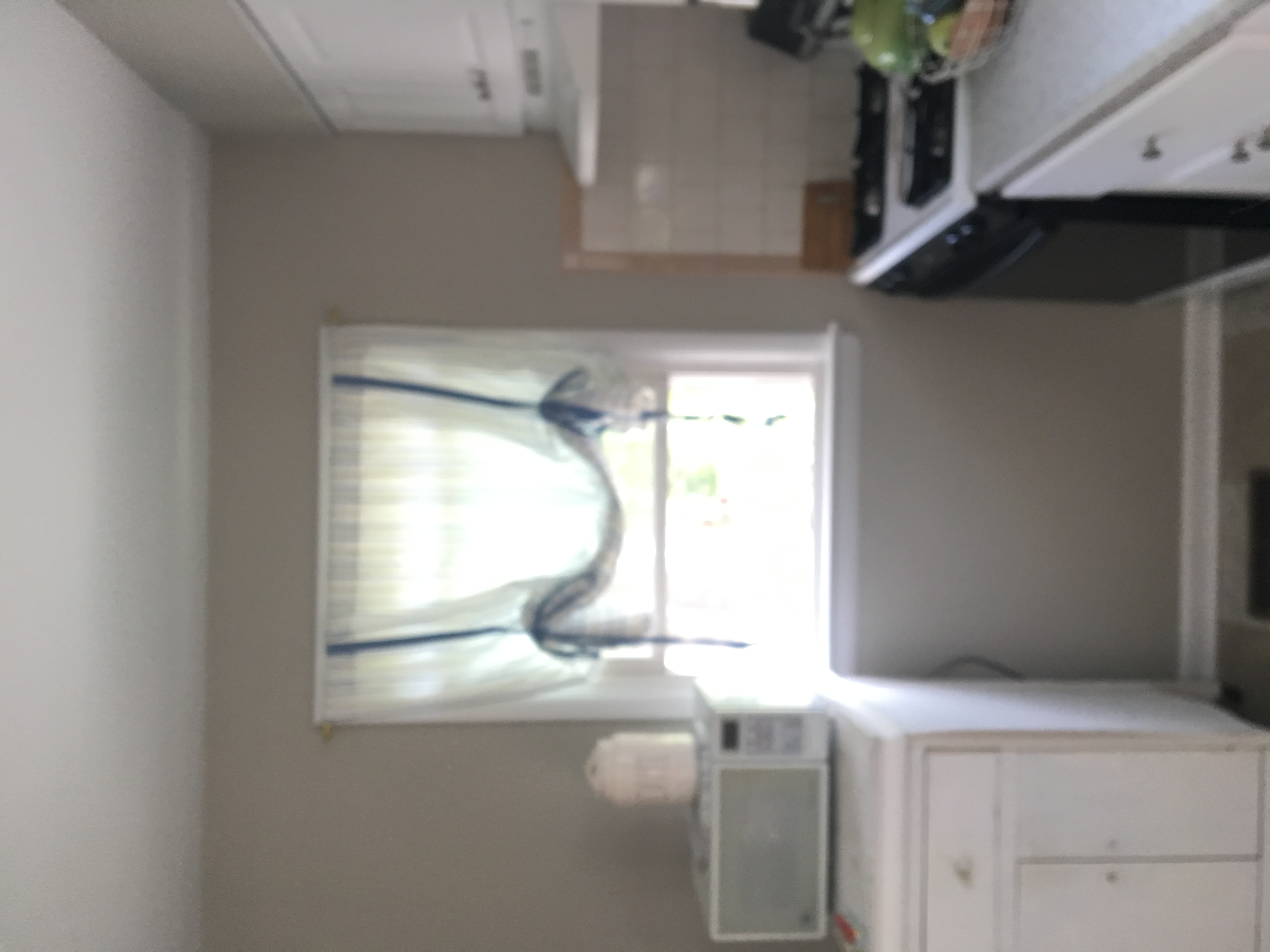 Back to the cabinet. My sister found this for me in North Eastern PA over 8 years ago. (How can it still smell?) I had it in my kitchen in my last house and kept the microwave on it. In our house, it just recently moved from the garage to the sunroom. You might think I'm a hoarder but I can't part with it. But I also know it couldn't stay looking like this if I was to convince Carmine it was a keeper.
He suggested an old piece of thick oak to make a new top. I wanted to keep it natural so it's only got urethane on it. I think it's beautiful. Here it is with the new top, step one in making it something he won't try to get me to toss again.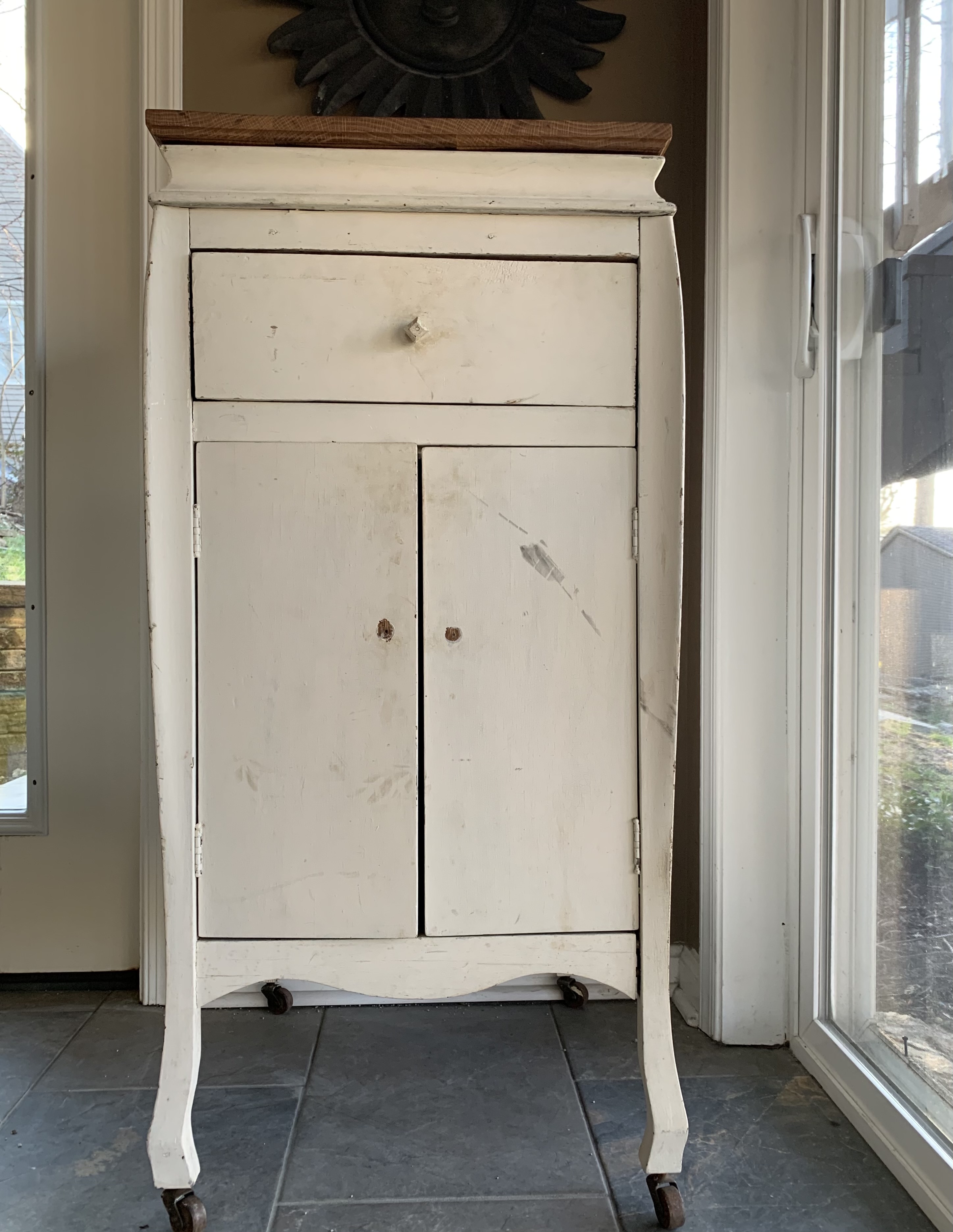 Carmine used a router to create an edge for the top.
I have spent way too long trying to get the screws that have been painted over maybe 5x to loosen and take off the hinges. No luck, I had to wait for Carmine to try.
Ok, It wasn't even easy for him but they are off.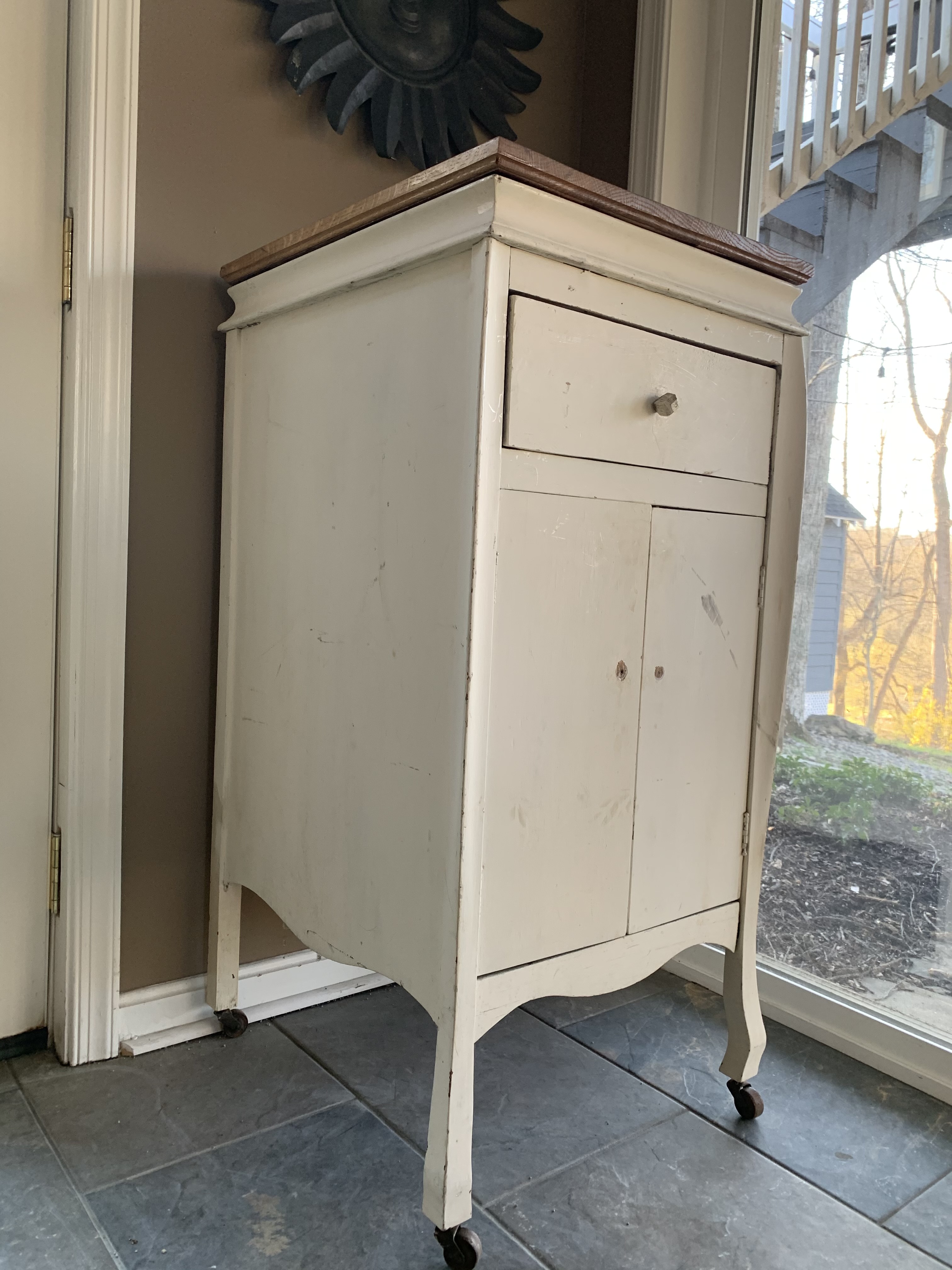 I am a sucker for whites so that is what color I'm painting it, it's like a dingy cream here. I decided to give transfers a try too.
I'll share how it turned out and whether I recommend or will ever use transfers again. Because it lives in the sunroom now and we have a hot tub down there, I'm a little worried about the transfers, I can just see when the hot tub has the windows and doors all steamed up, them peeling off to the floor. I'll let you know. But also because of that, I'm using Rustoleum Chalk paint because it's cheaper.
After finally removing the hinges, I boiled them and the screws in water and was able to get the paint off with my nails and steel wool. I decided to leave them as is.
On to cleaning the piece and doing a very light sanding all over (except the top). I ended up using my palm sander to sand these. Was a little more thorough then I normally would be before chalk painting.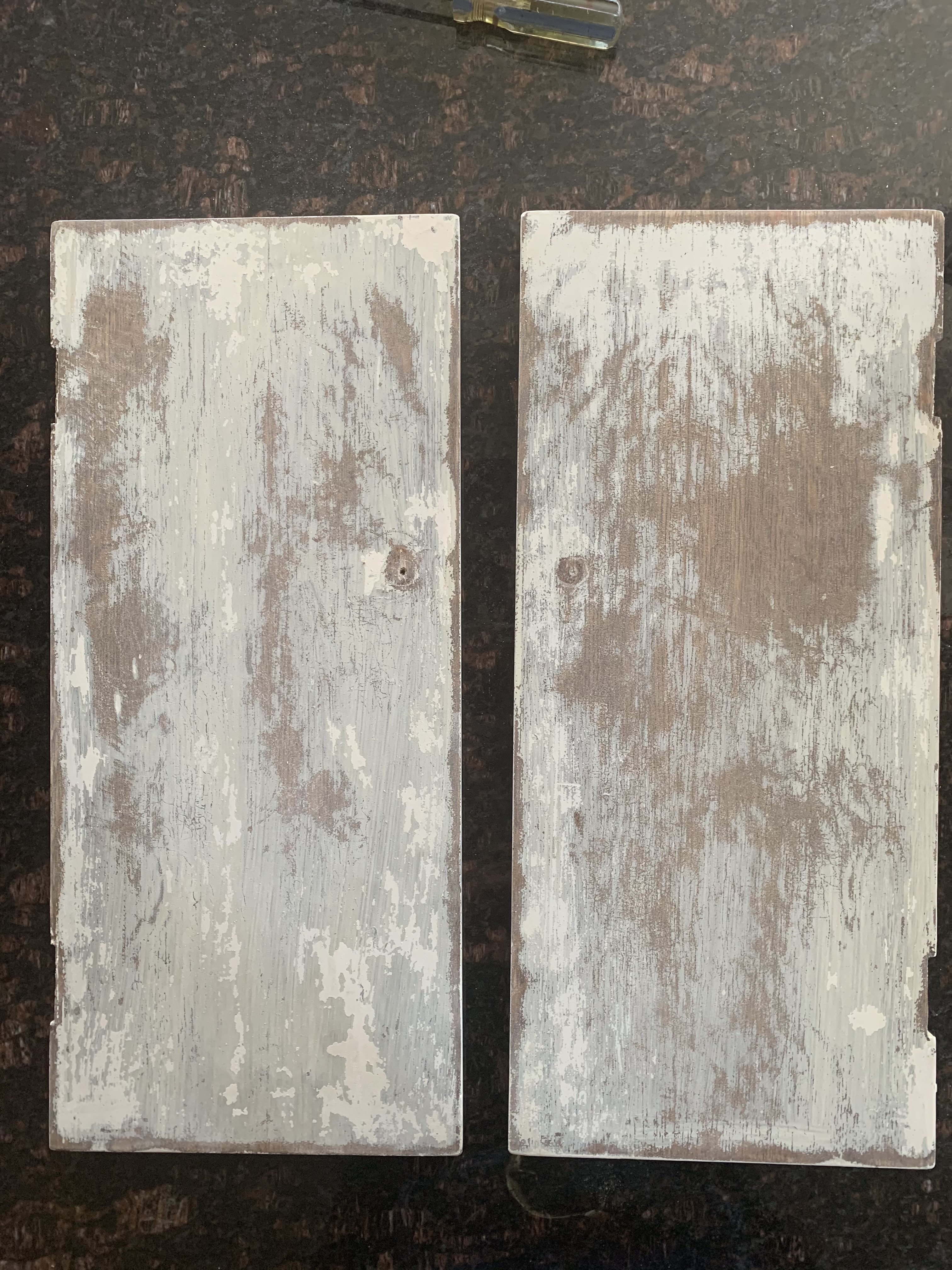 Next I painted one coat of the paint on and let it dry, which was only about 30 minutes.
I added an additional coat and let it dry.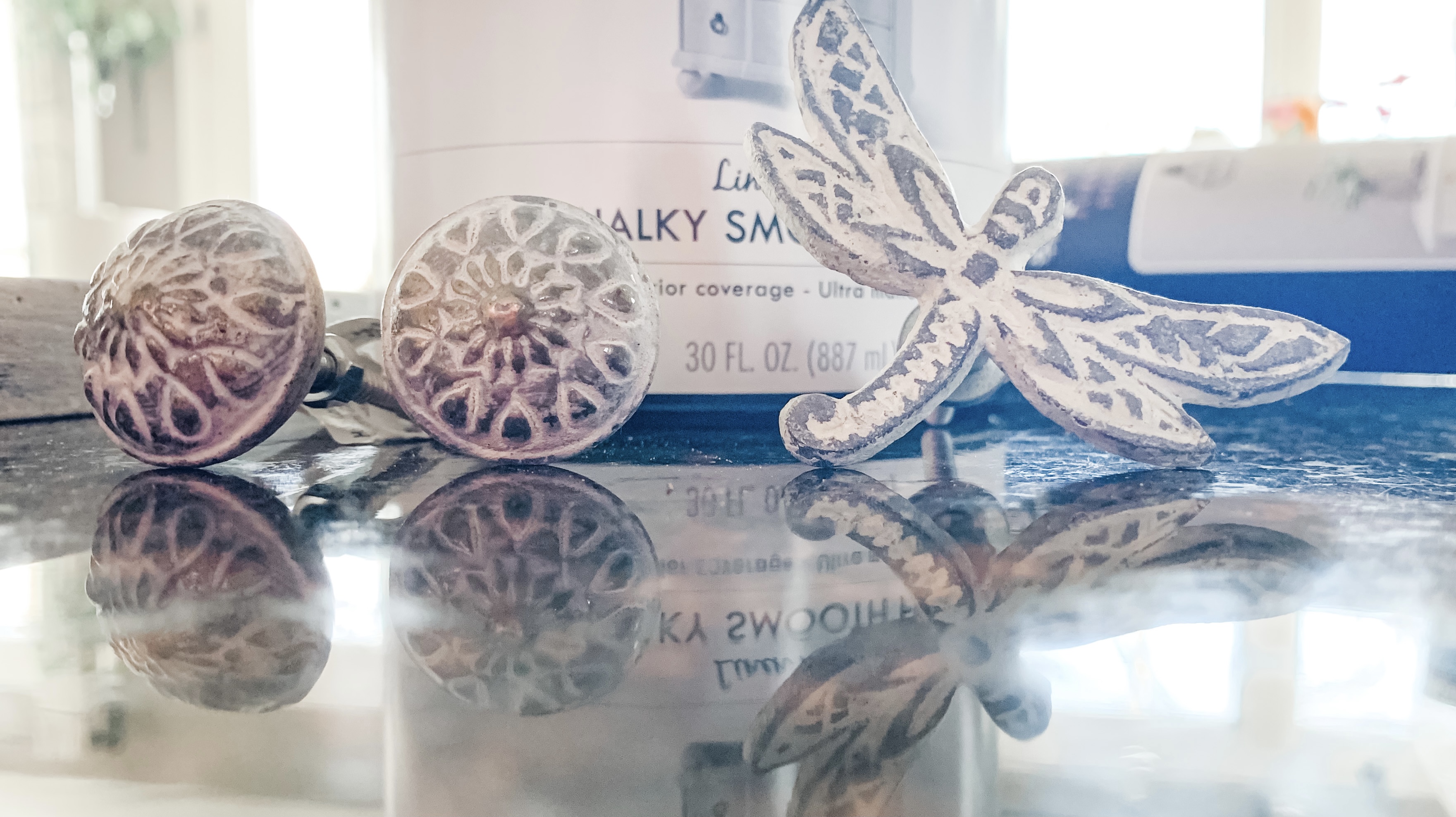 Next I drilled holes in the doors and drawer and put on the knobs I picked up today at Hobby Lobby, they were at least 30% off today, so all three were under $10 total. Here they are on – I took forever to pick some but I'm happy with these. After I finished and took a picture of the cabinet, I could see some spots I needed to caulk so I did that and touched up the paint.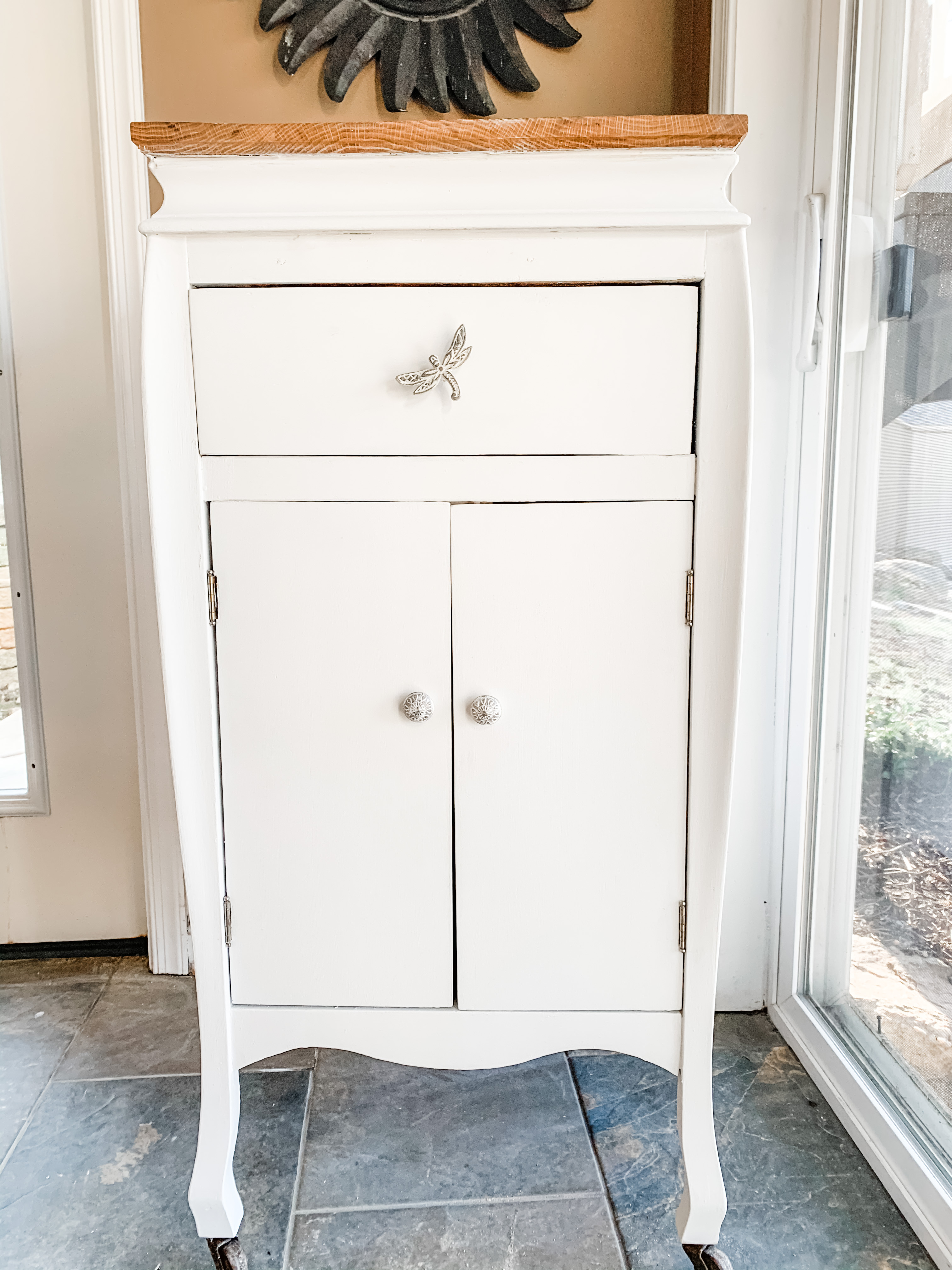 So I found these transfers last week at an shop that has various antique and vintage shops inside. I saw ReDesign by Prima, I've heard of those and rarely see them anywhere. So I picked up one and was ready to get it, it had flowers on it, then I saw another brand and it was $10 cheaper, they are super expensive if you ask me. Anyway, I decided to buy the cheaper one. Remember earlier in my post I said it was my first time and I'd let you know what I thought? They were terrible. I won't say the brand, but I will say if you are going to buy transfers, spend the extra money and buy Redesign by Prima. I've only heard good things. I could kick myself because they were still over $30. Ugh.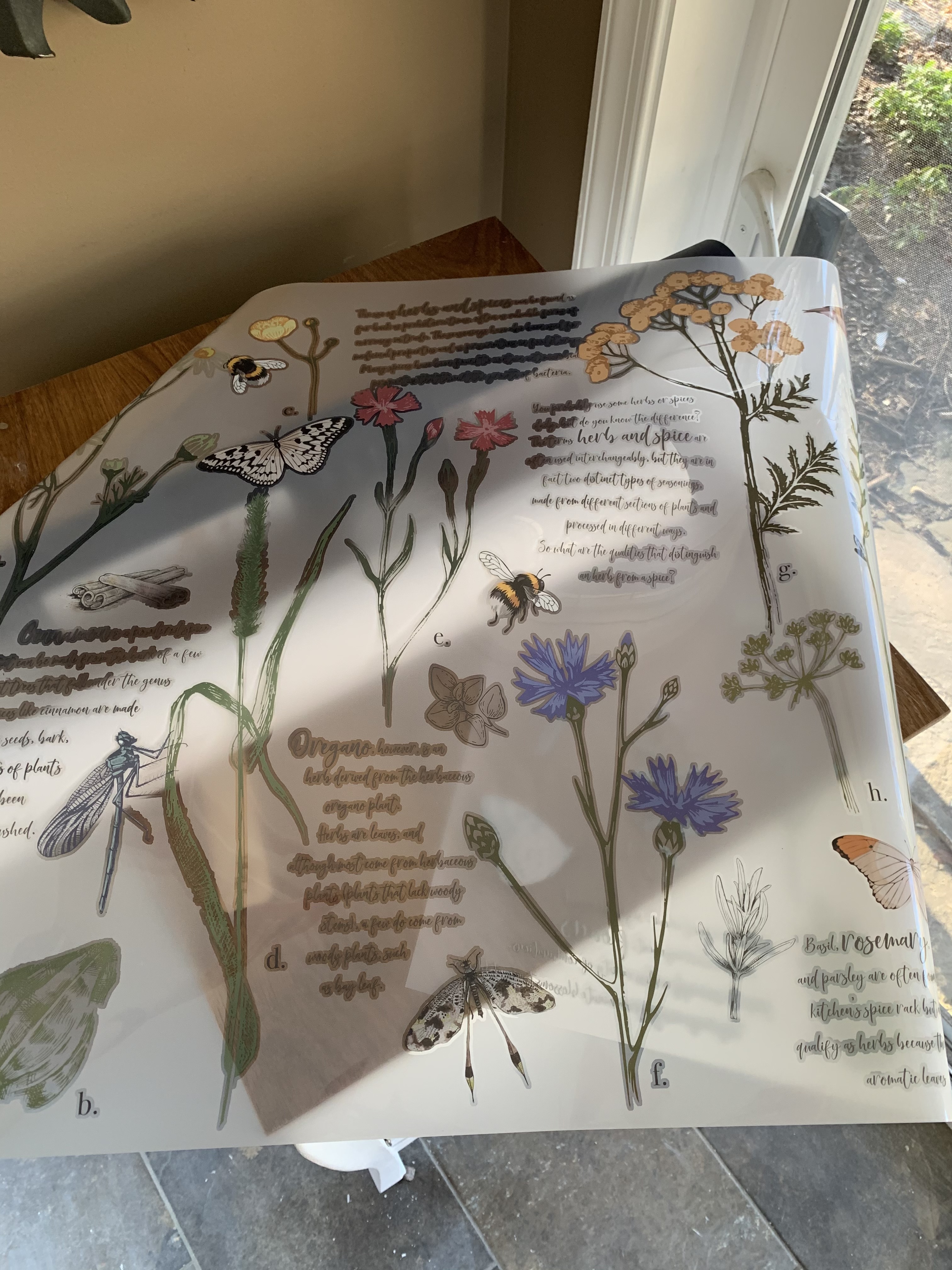 After I finished painting and putting the knobs back on, I was really happy with the clean look and simplicity of my cabinet. I was leaning against trying the transfers then Carmine suggested I do it since I bought them. (Good news is he never reads my posts so I'm safe). I should have gone with my gut. I didn't think they wouldn't work, I just didn't think they were needed.
Here it is after I added some transfers…. it looks great unless you look closely. I followed the directions and still much of the transfers wouldn't rub off onto the cabinet. I also realized as I was trying them, that I didn't want the bright colors of the flowers, I leaned toward the greens and greys. The reason it's not in the sunroom anymore is because it's too dark in there so that's why you see carpet. And seriously what was I thinking with the random butterfly?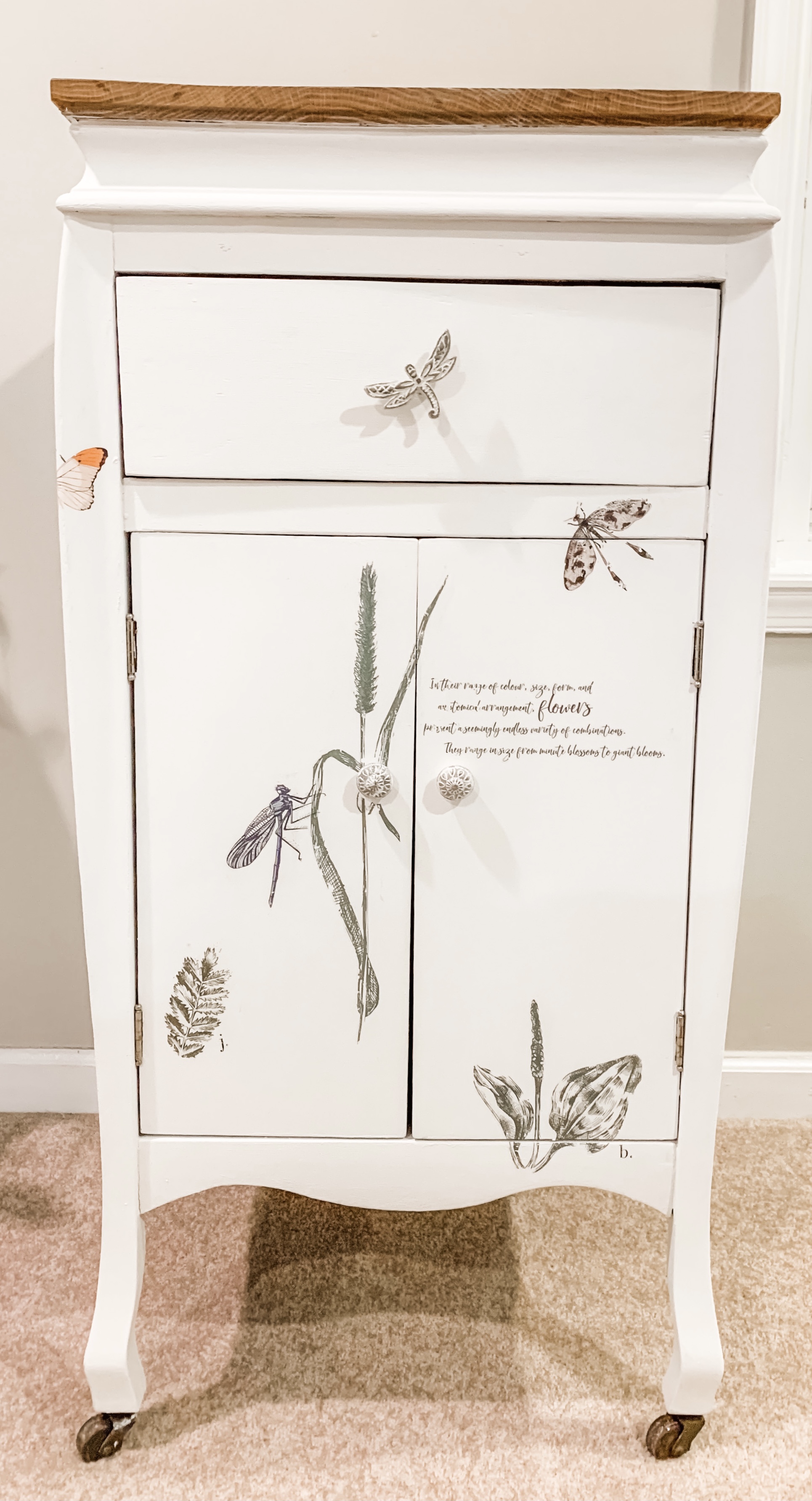 The good news is I can get rid of them, I can sand them lightly or it says you can use a hairdryer to loosen the adhesive. But for now it's staying – it still looks a million times better than before.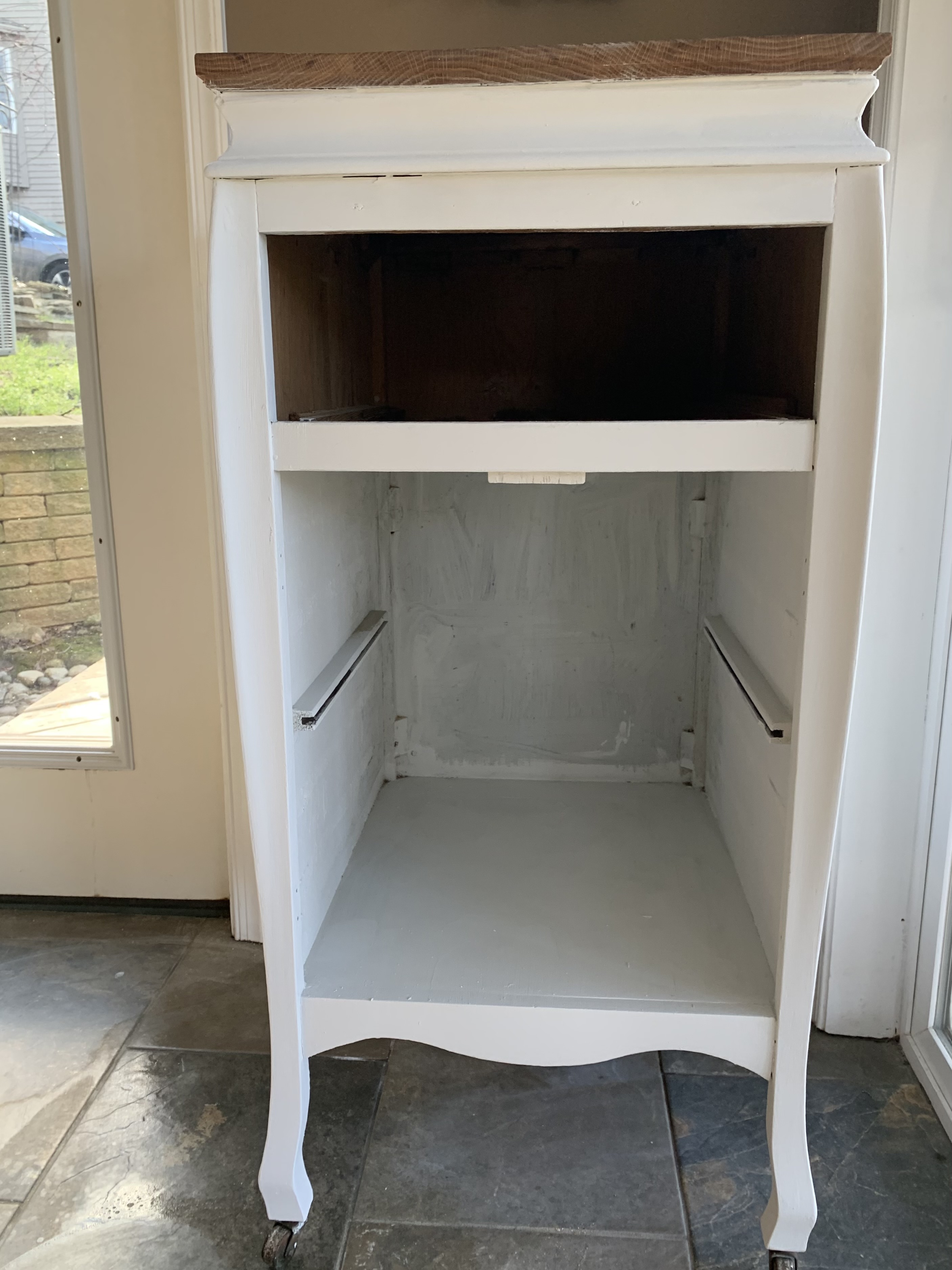 I had forgotten to show the inside. This is the only picture I took before I finished painting inside.
On another note, this piece has seen some changes, I really think it might have been an old record cabinet. The shelf inside and the shape remind me of one. I think someone repaired the drawer at some point, put the plywood top on it, that definitely wasn't original, but the doors seemed to be. When I sanded them down, they were a pretty wood underneath.
Here are a few pictures off the internet of old record cabinets…do you see why I think that? It might even have held an old Victrola. I will never know but you know I love something with a story.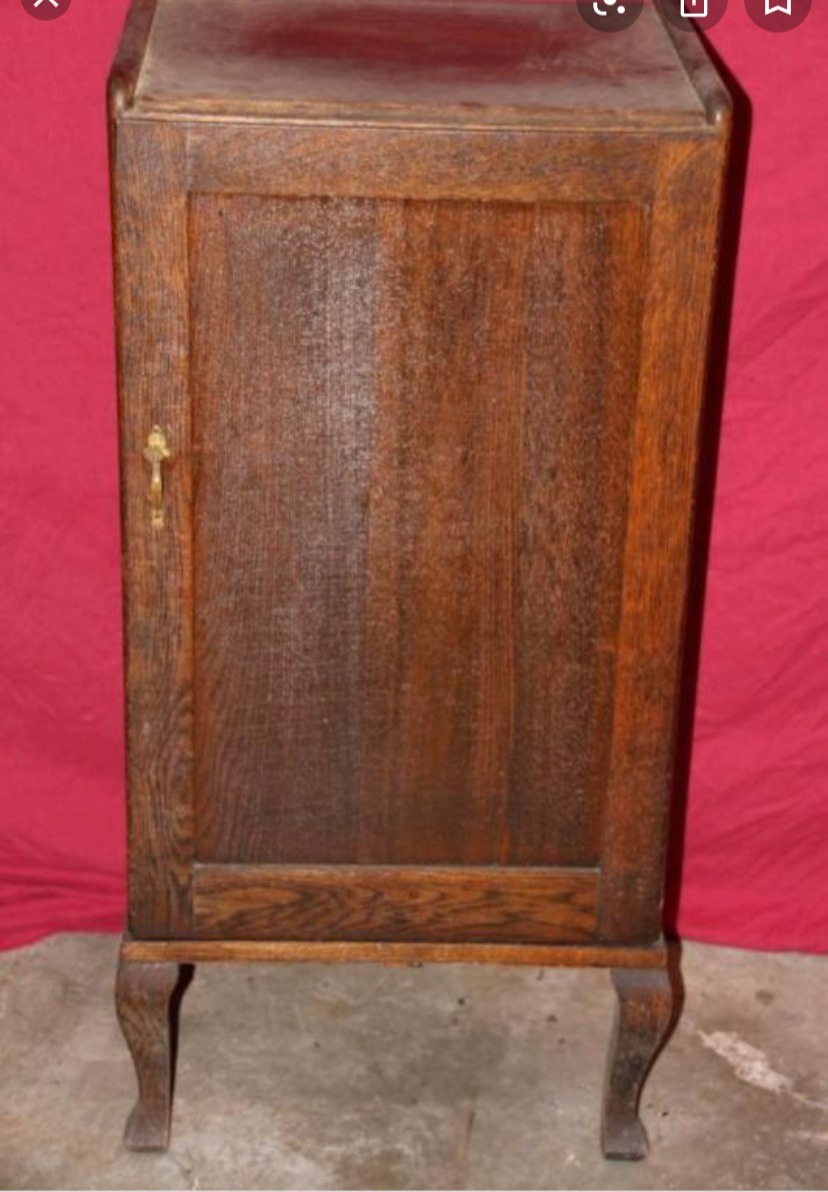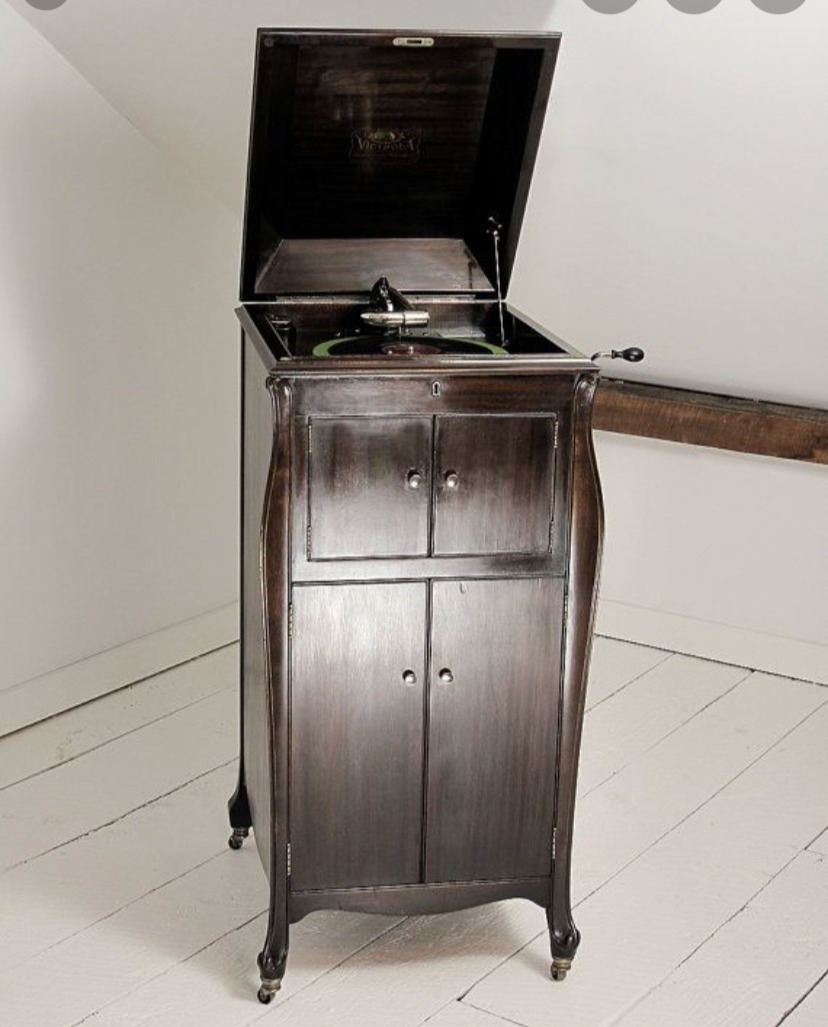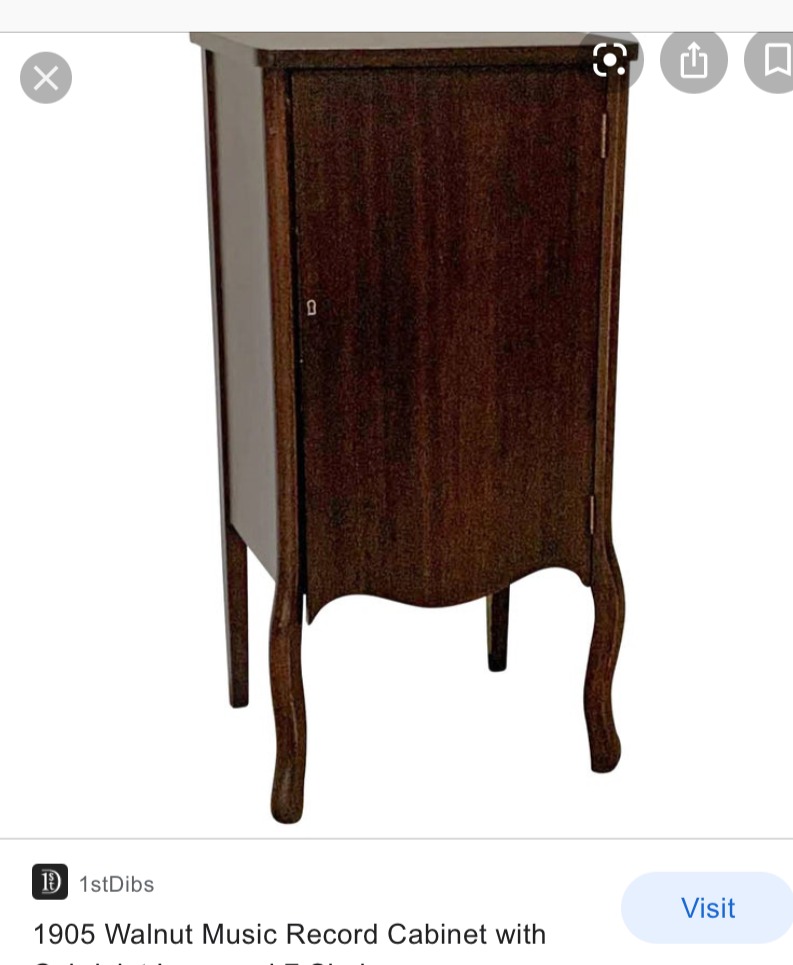 Well that's a wrap and it took most of my Friday. It's prettier but it still smells. I know I can look up how to get the smells out of old wood but I just haven't yet.
Thank you Lori (my sister) for the cabinet, sorry it took me so long to make it shine and thank you my friend for stopping by my blog and reading about my cabinet refresh and transfer fiasco.
Here is one more look at the progression today.
If you enjoy what you read, consider subscribing to my blog, I promise I only post 2x a week so you won't get overrun with emails.
Have a wonderful weekend and until next time XO, Regina