Are you looking for spring and easter gift ideas?
I've got you covered.
I'm sharing simple and quick diys that make the perfect gift.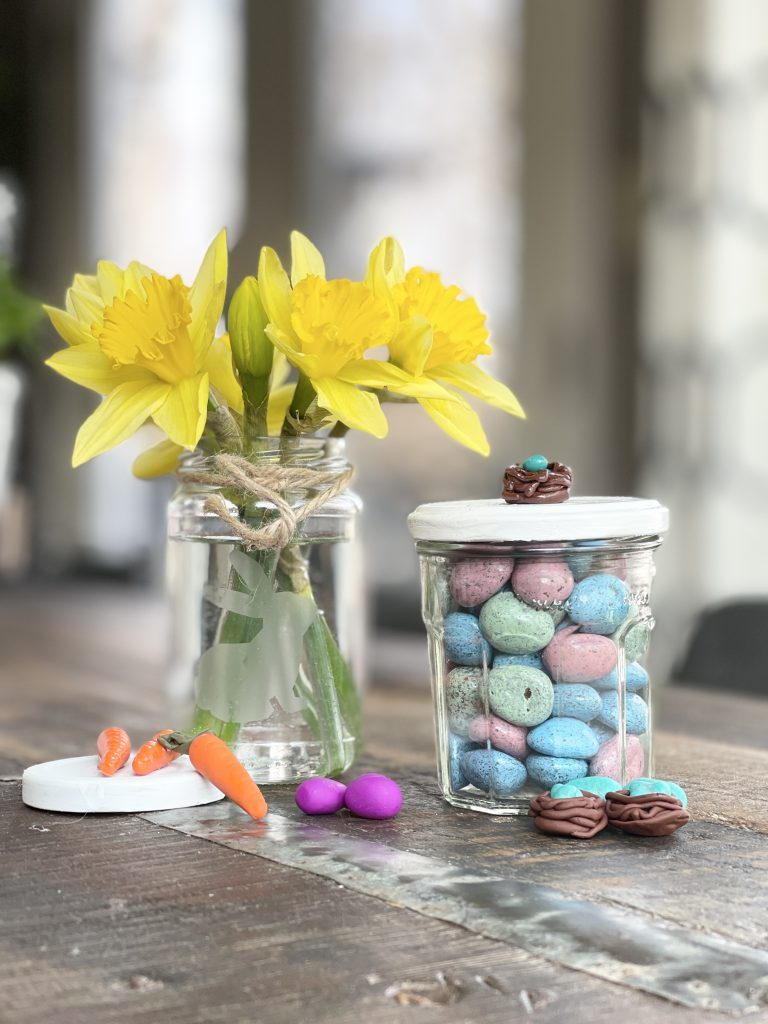 Whether you are headed to dinner at a friend's or gathering for Easter dinner, these gifts will bring smiles to anyone.
I have 2 ideas you could make in less than an hour with very few supplies.
SPRING GIFT IDEA: GLASS ETCHING
I love glass etching. It sounds fancy and complicated but it can be as easy as adding a stencil and painting etching cream. Your imagination is your limit.
You know I love to upcycle and repurpose jars from the kitchen, they make the perfect vessel to etch and fill and gift.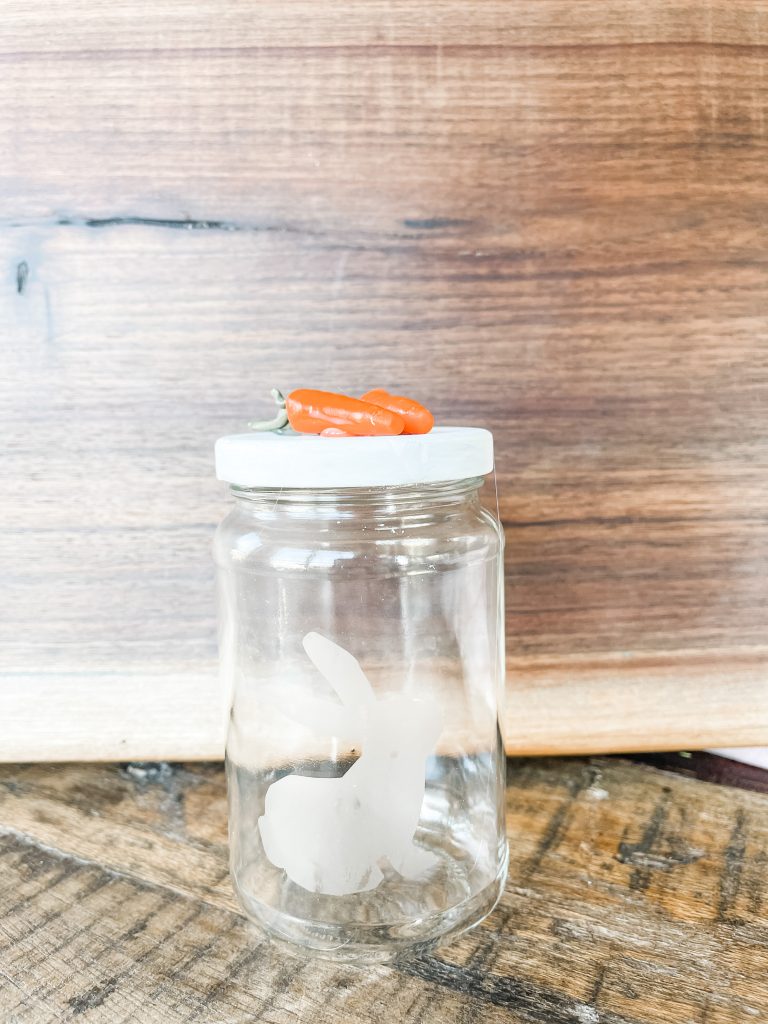 But I'm showing how you can take something like a bottle of wine, bourbon or any other type of glass and elevate it with etching.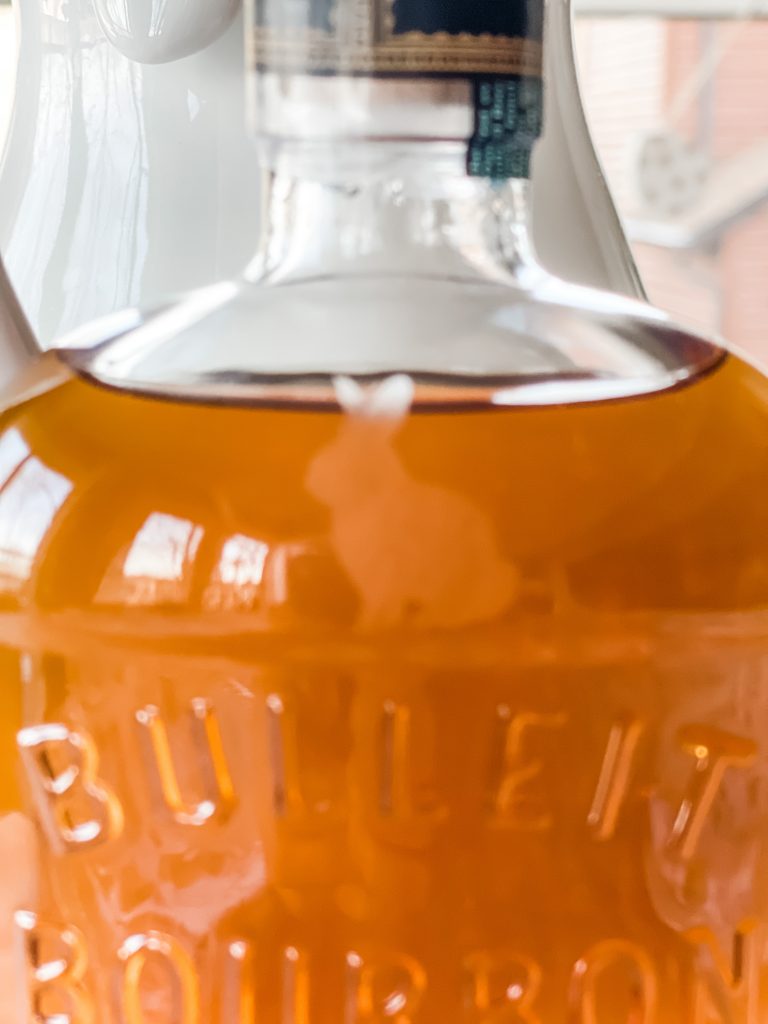 ETCHING SUPPLIES AND STEPS
The first item you will need is etching cream. You can order online here or you can head to a local craft store. I've had luck with several types but the smallest container goes a long way. I have used Armour and Martha Stewarts cream both come in a small bottle. A little goes a long way.
Rubber gloves is the second item. This is not something you want to get on your hands. A simple pair of rubber gloves while adding the cream and washing it off and you will protect your skin.
A stencil, you can buy one (adhesive is the best) or you can make one from contact paper or vinyl you would use in a CRICUT MACHINE.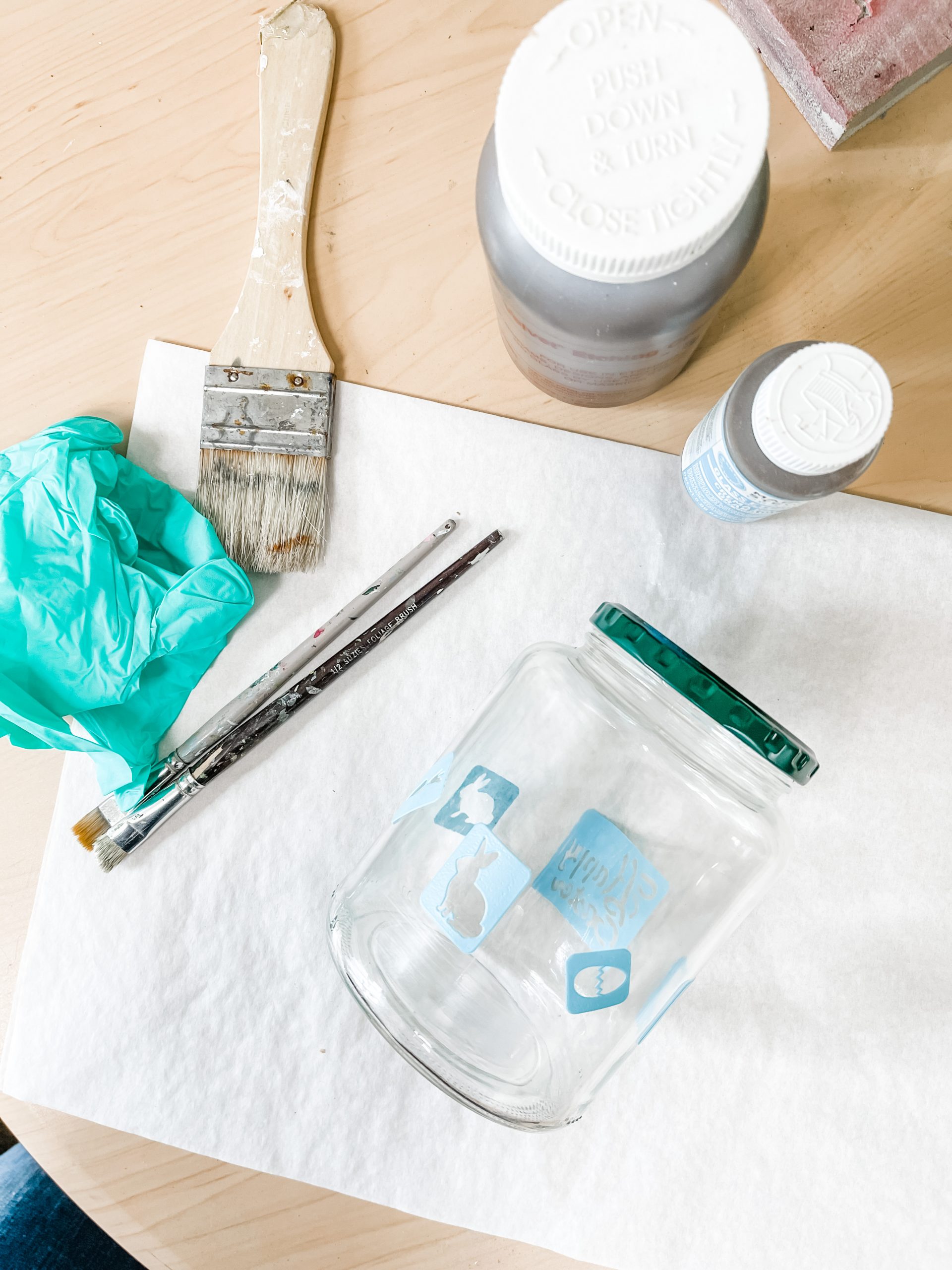 If you want to create a personalized stencil, then the Cricut is a must have.
The adhesive stencils I had were very small. I wanted a larger bunny so it showed up better. These are easy to create yourself.
I printed a bunny off of the computer, cut it out and traced it onto vinyl. (contact paper works too).
I cut that out and placed it on the jar and added my etching cream.
You can add the etching cream with a paint brush but you want to dab it on.
You don't want to brush it and leave brush strokes. The adhesive stencil keeps it from bleeding through to the rest of the jar.
Leave it on about 10 minutes then rinse off.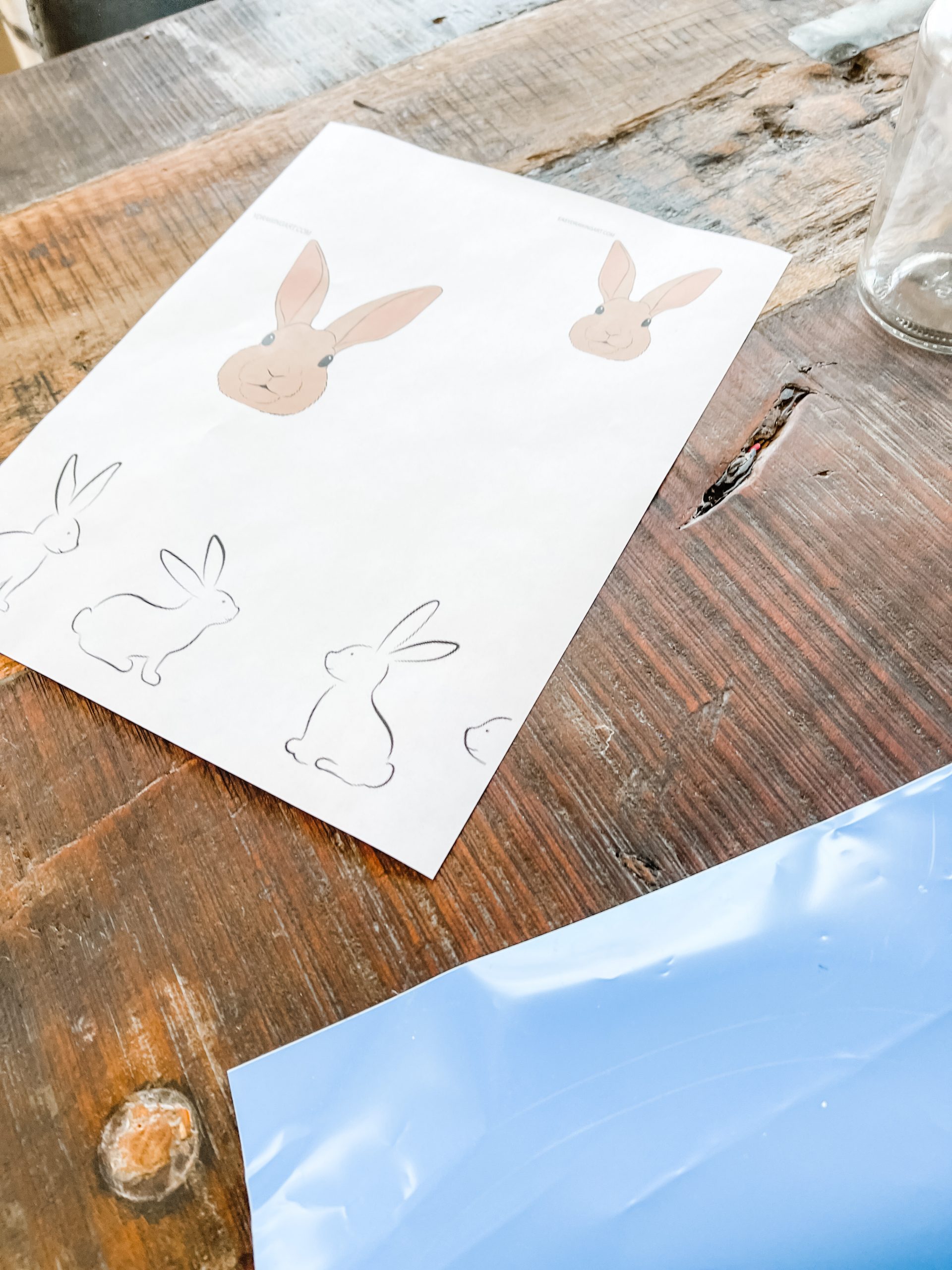 Up until now I had only etched clear glass. This time etching a colored bottle, I was so happy with the result and how it showed up. See that above on the bourbon bottle.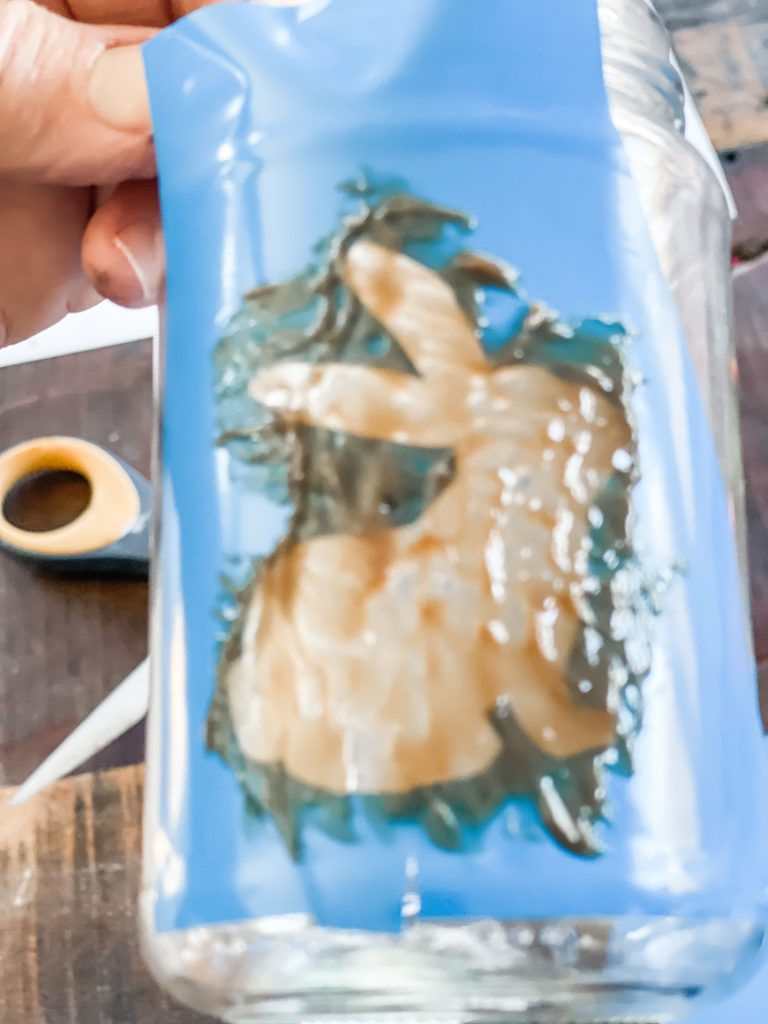 Pick up a bunch of daffodils from the grocer and use a tall jar from home and gift a little spring to someone with flowers.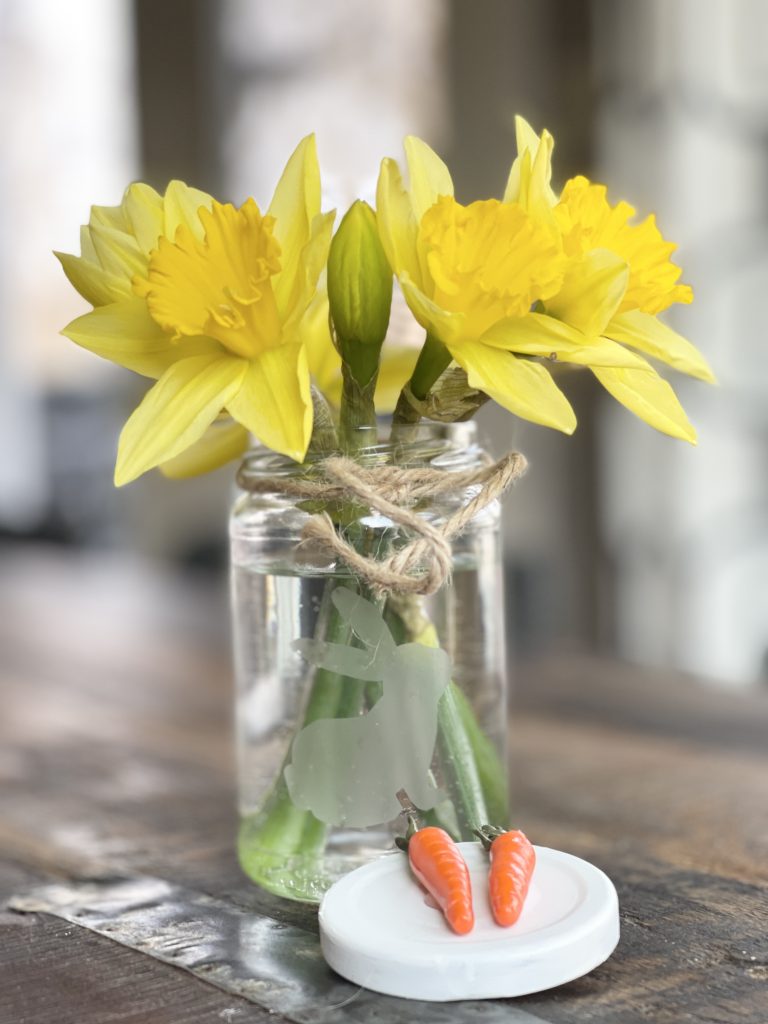 SPRING GIFT JARS
I have a fondness for clay. Air dry or oven baked like Sculpey. To see more clay projects click here and here.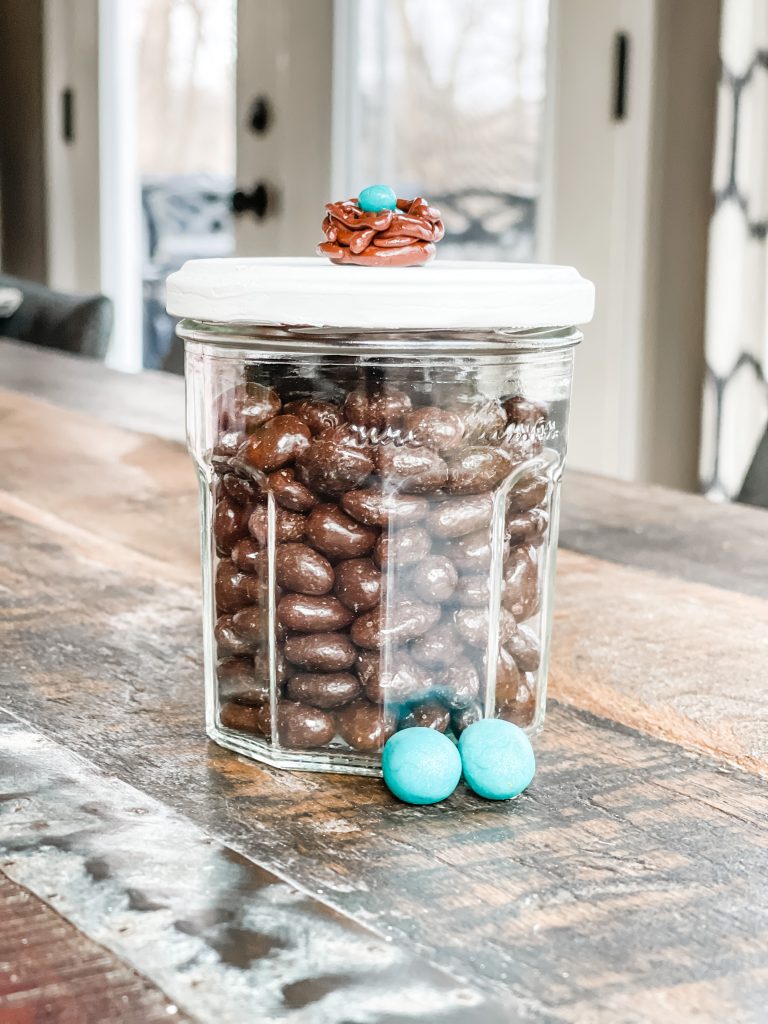 When you need an adorable gift or thank you, nothing is better than creating a personal jar lid out of clay.
Are you thinking "I can't do this, I'm not crafty or artistic" but trust me you can.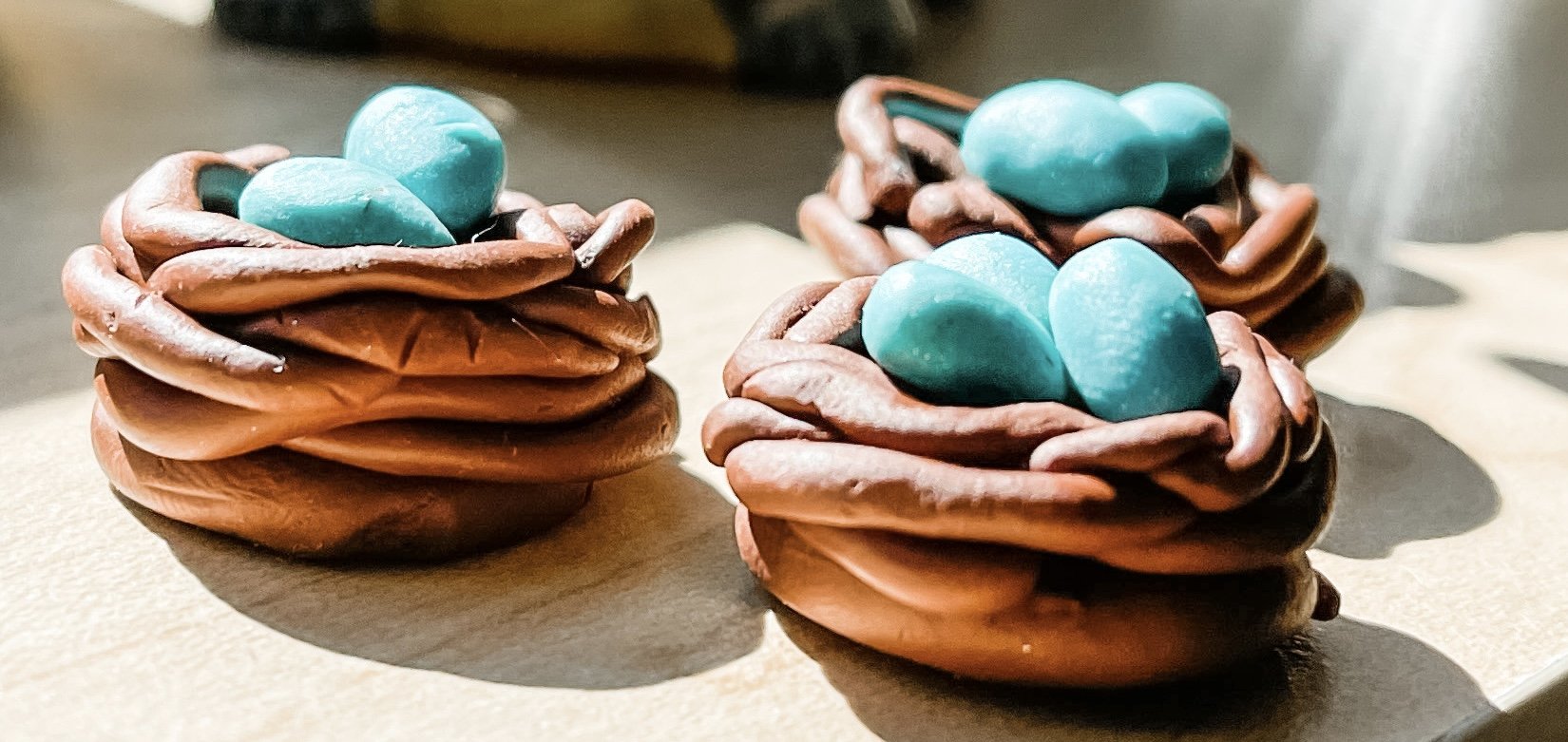 You might even find it therapeutic to play with clay. I realize sometimes sitting at my desk I've spent an hour playing with a hunk of clay.
SPRING JAR SUPPLIES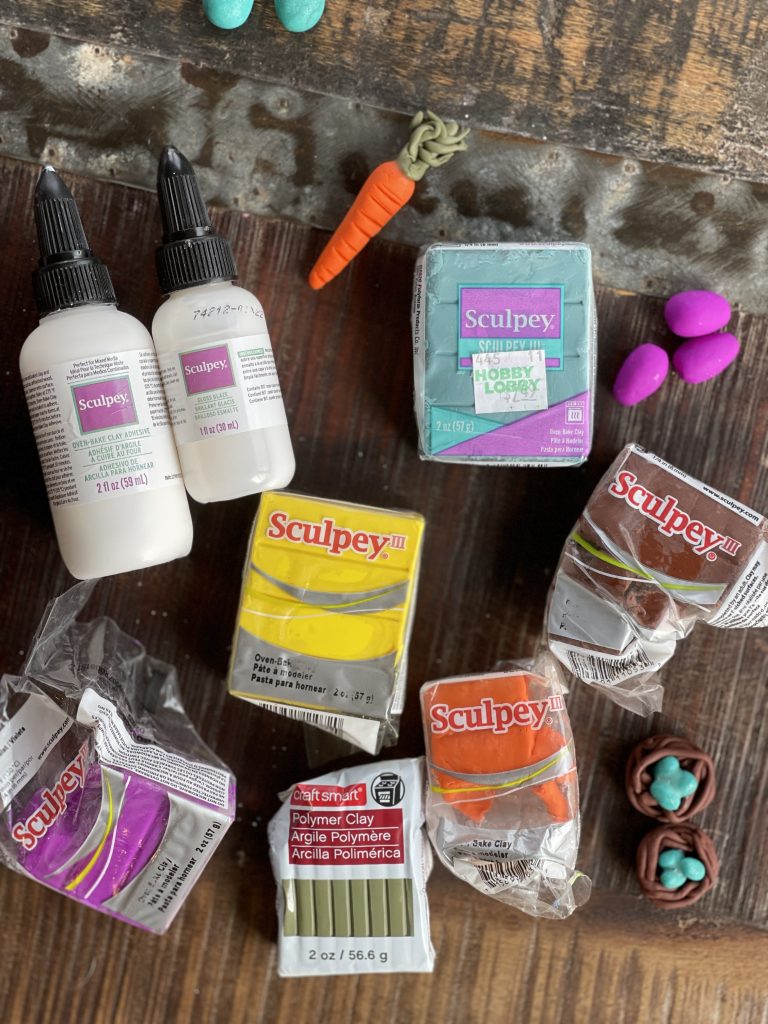 I made perfect little spring carrots, bird nests and jelly beans for the top of my jars. For the carrots I just rolled it out and then took a knife to make the lines.
I found an adhesive you can use to attach the pieces together, it needs to be put on before they are baked.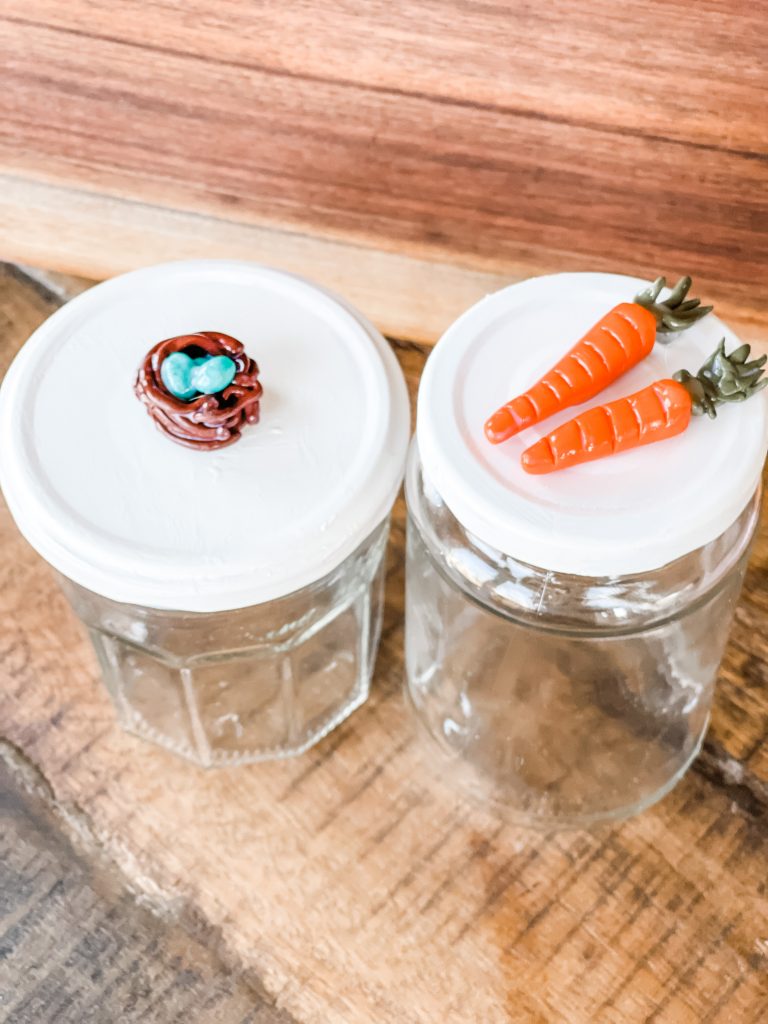 After you shape your clay, you bake it in the oven based on the directions on the package. I painted my lids with acrylic paint, you can use any type of paint brush on or spray.
I like the look of a gloss on my clay so I painted that onto my clay objects before I glued them to my jar lid.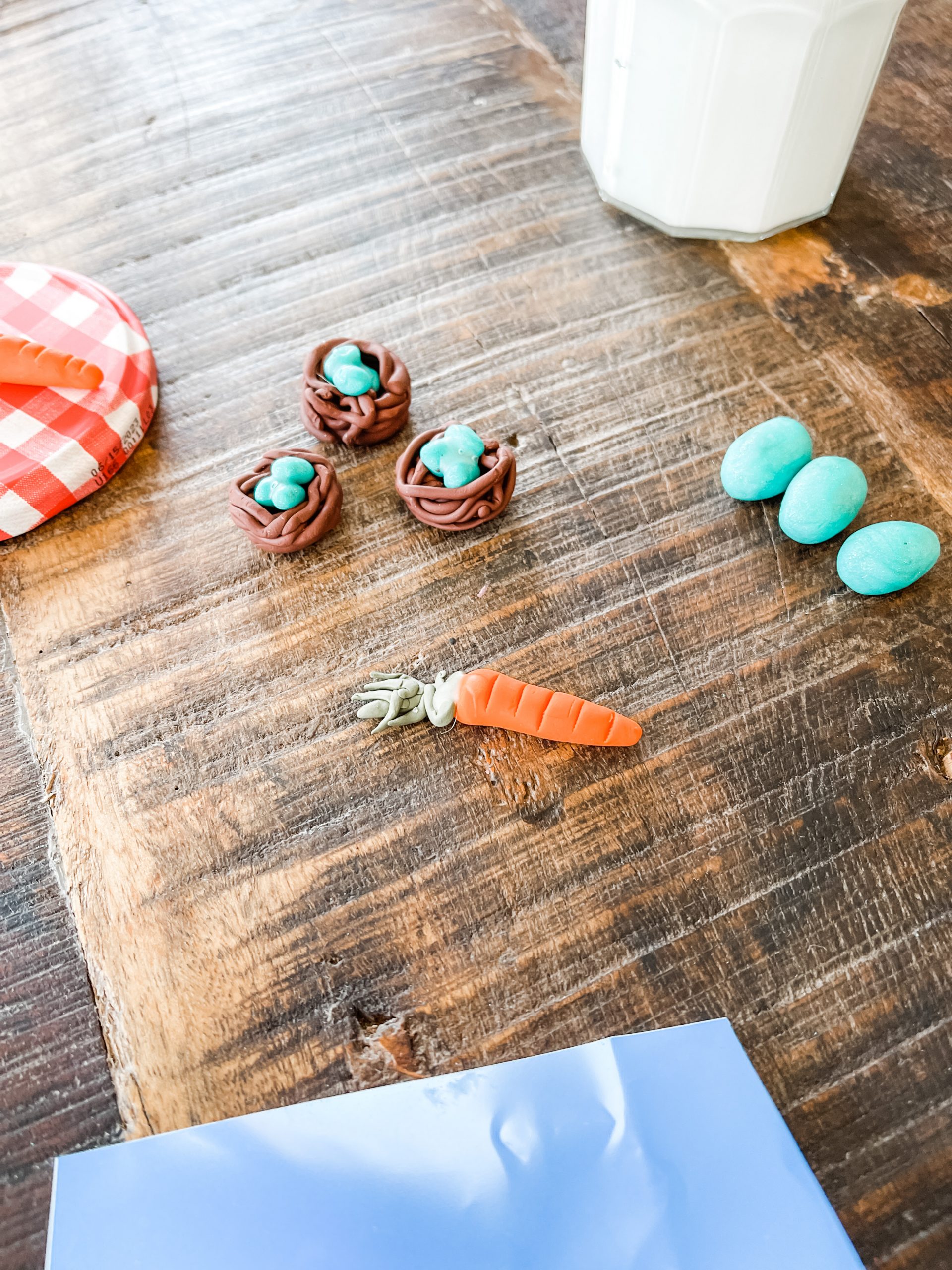 These jars are perfect to fill with candy, jelly beans, a gift card, earrings, anything you want. This will serve as the "box" for your gift. Next time you are thinking about spring gift ideas, grab a package of Sculpey, FIMO or CraftSmart polymer clay and have fun!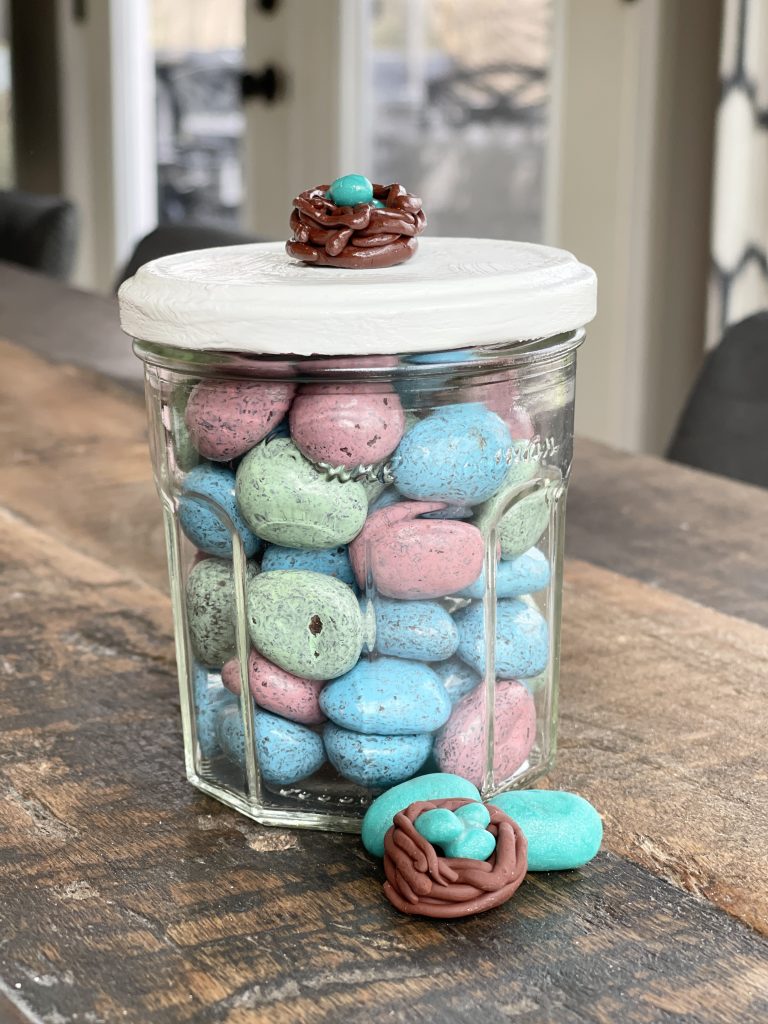 I love sharing these easy ideas to create special gifts to give. Sometimes you just have to look around at what you have, add minimal supplies and apply imagination.
I hope you enjoyed this post on spring and Easter gift idea. Feel free to comment if you've tried etching or polymer clay before. I so appreciate your coming by and taking time to read the blog!
XO, Regina
MATERIALS LIST
This post contains affliliate links. If you order from these links, I receive a small commission at not additional cost to you. Thank you for supporting my business!