Are you looking for a creative wreath?
I'm sharing a DIY wreath for spring using a vintage oval picture frame.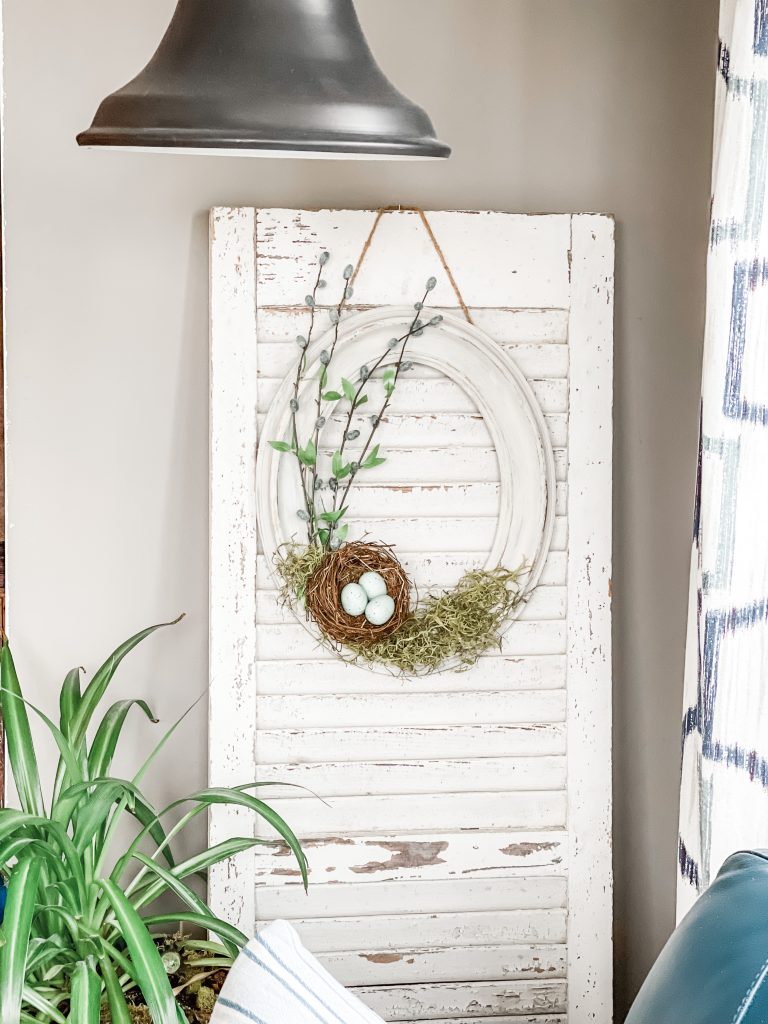 It may be February but I'm ready for spring and I needed something fresh for my front door.
I've had these vintage wooden frames for years. I found them at a thrift store and they held portraits of children.
The names are still on the back written in pencil. One was Peter and the other Charlotte. If they had last names I could have done research on them.
I have one intact still, minus a few holes.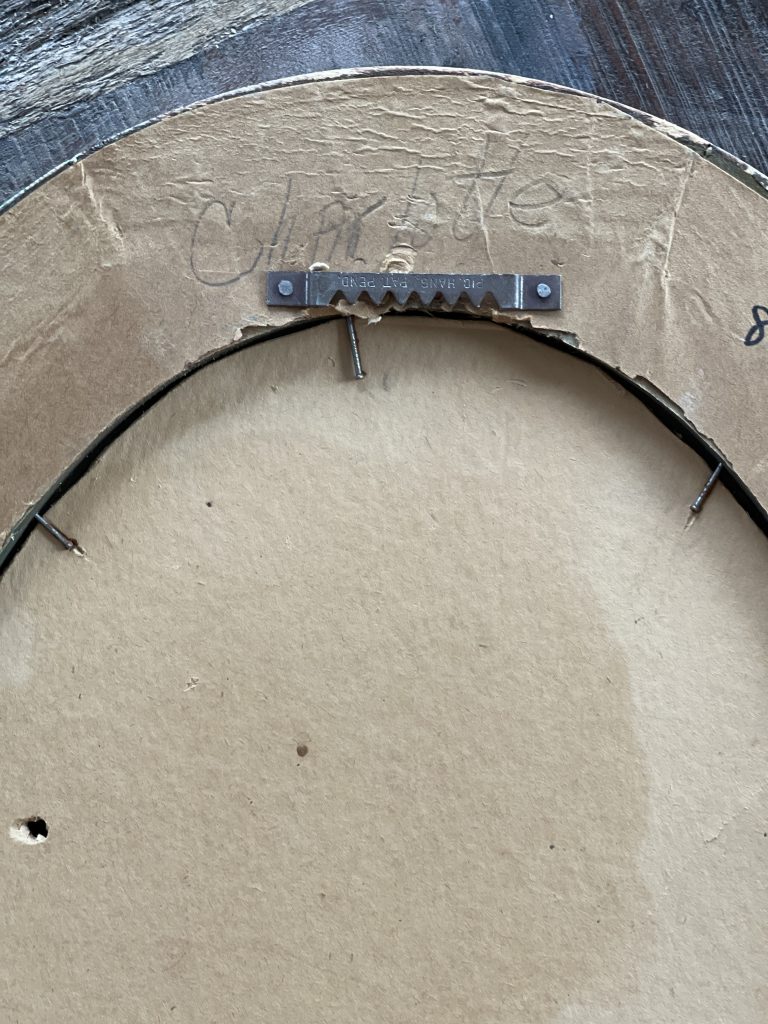 I loved everything about them, especially the price but they didn't fit into my decor so they've been in a box in the attic.
The shape is lovely so I thought I'd create a spring wreath with it.
Moss, birds nests and buds are the things I wanted to incorporate into my wreath.
Not a huge fan of faux flowers but sometimes you just have to go with the flow.
I found these adorable buds at JoAnn's on sale for less than $5.
I already had a small birds nest that would be perfect.
MAKING THE WREATH
I started by painting the frame. The frame did not have glass so I would be attaching my items to the bottom of the frame.
I chose an off white paint and dry brushed it onto the frame. I used Dixie Belle Chalk Mineral Paint in Drop Cloth.
After it was painted, I used a sanding block to distress it just a little bit so the dark wood showed through.
Next I gathered my moss, birds nest and flowers. Pussy willows for the win. I never see them anymore but we had a tree in our backyard growing up and they always were a sign of spring to me.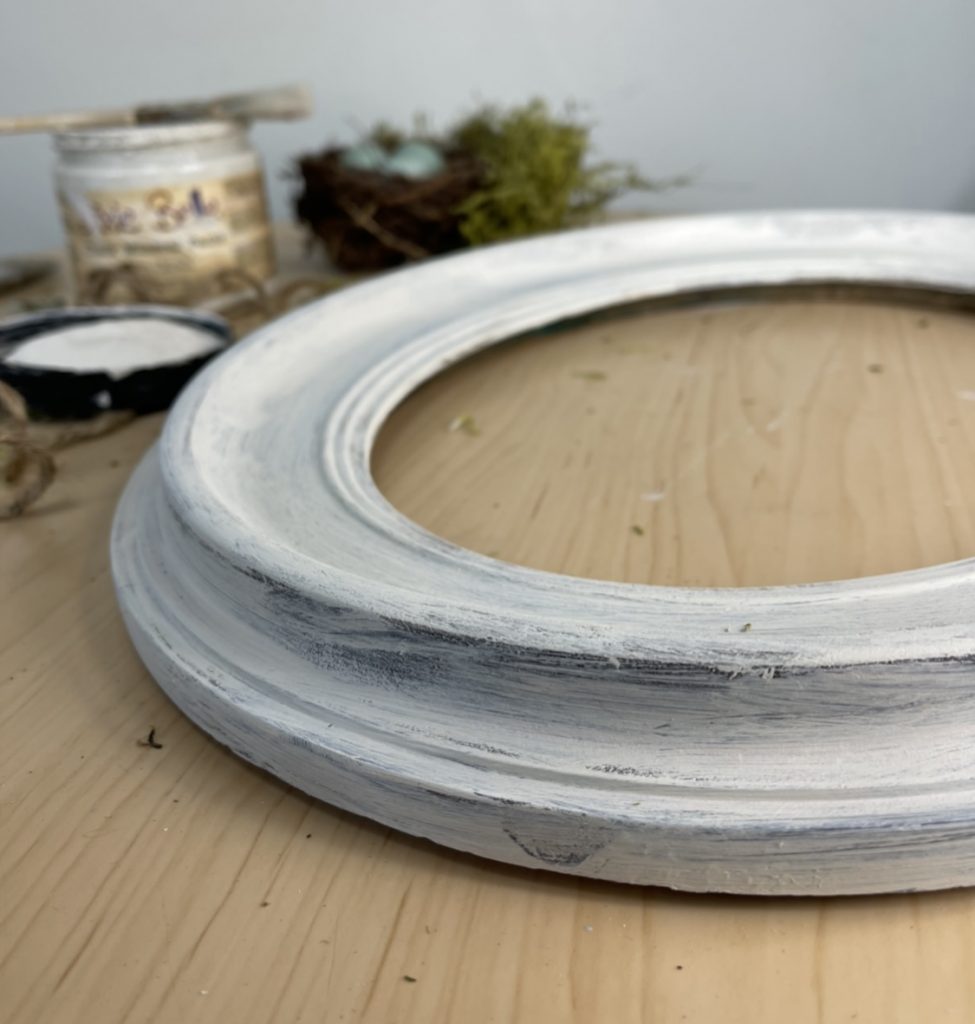 Spanish moss filled out the bottom of the frame and I attached it with hot glue. Gorilla glue sticks, are my go to, they work the best.
Then I added my sprigs of pussy willow across the frame and secured them with glue as well.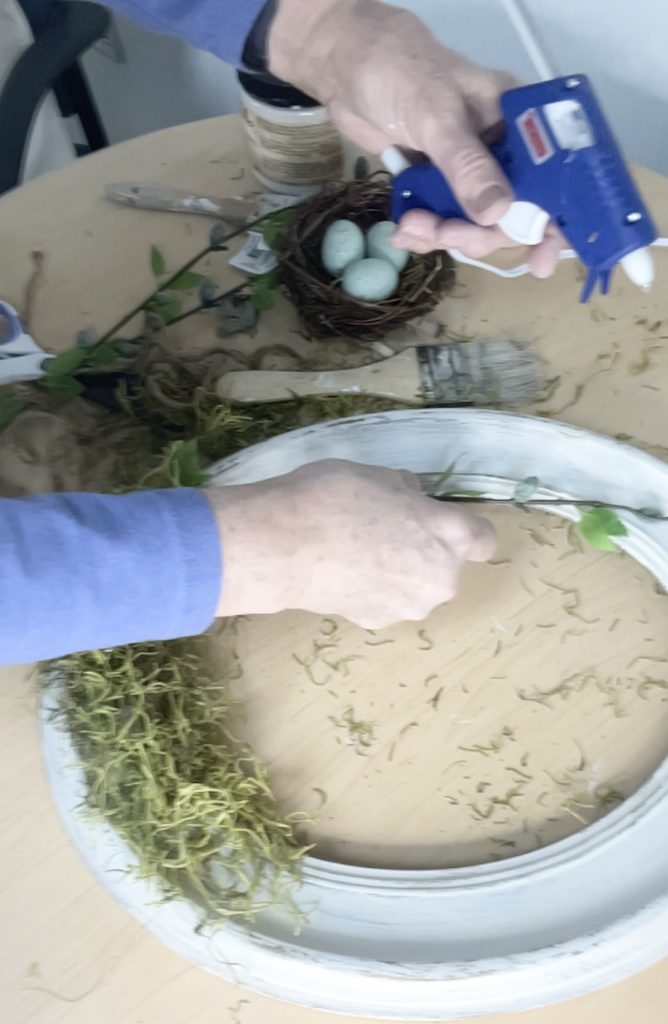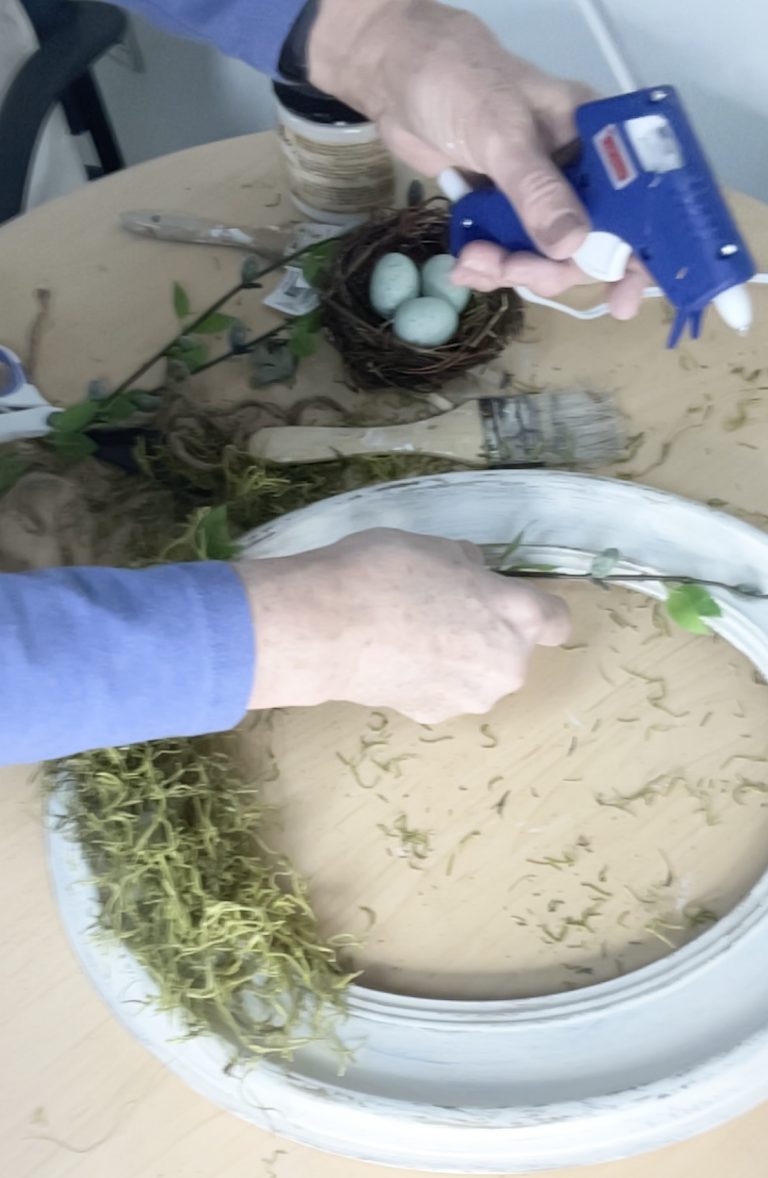 Next I attached my birds nest on top of the Spanish moss and covering the base of the pussy willow.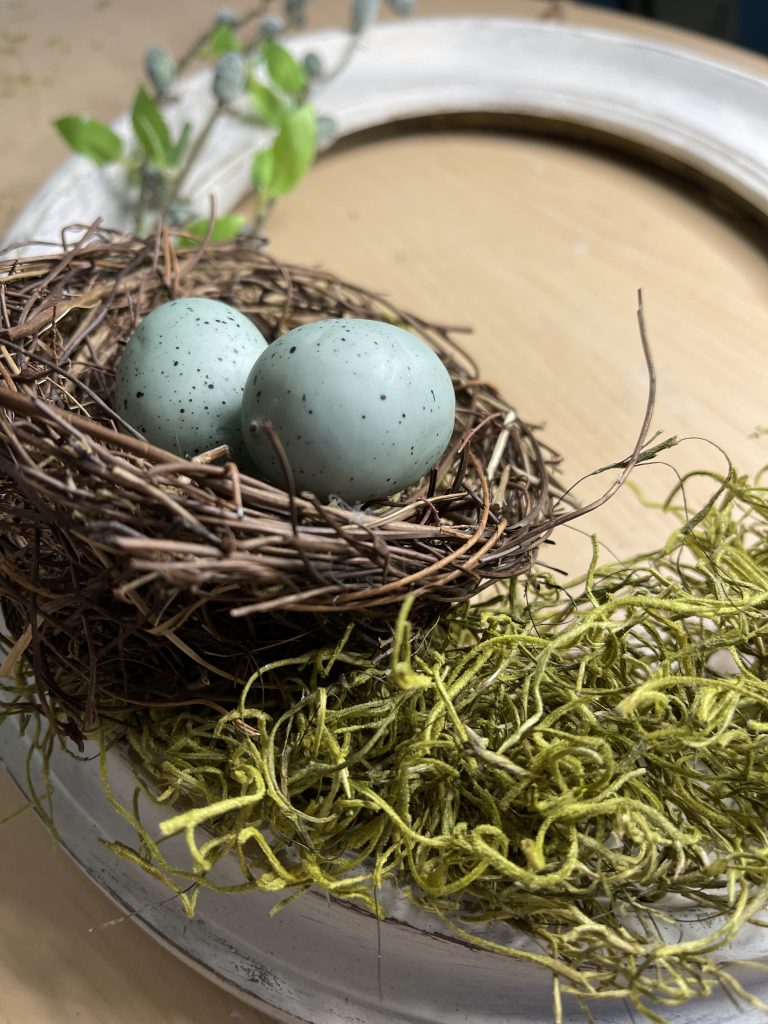 Lastly I attached twine to the back of the wooden frame with a heavy duty staple gun.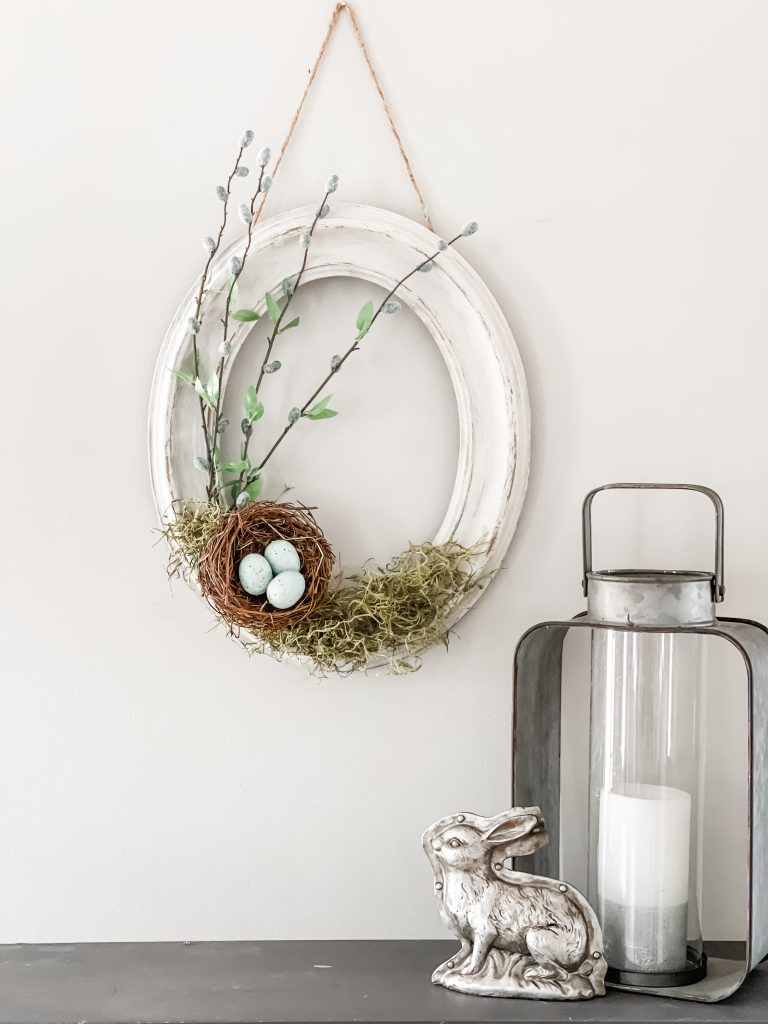 This is an easy and quick DIY Wreath, perfect for spring and easily changed up for other seasons.
DISPLAYING MY DIY SPRING WREATH
This looks so cute in many different spaces, the front door, my vintage shutter, and on my vintage armoire.
Next time you are thrifting, hunt for a thick frame, even square would work, I've seen some cute wreaths on Pinterest in square frames.
I think this would look really pretty in a green or grey color also, I might try the second picture in that color and mix up the flowers a bit.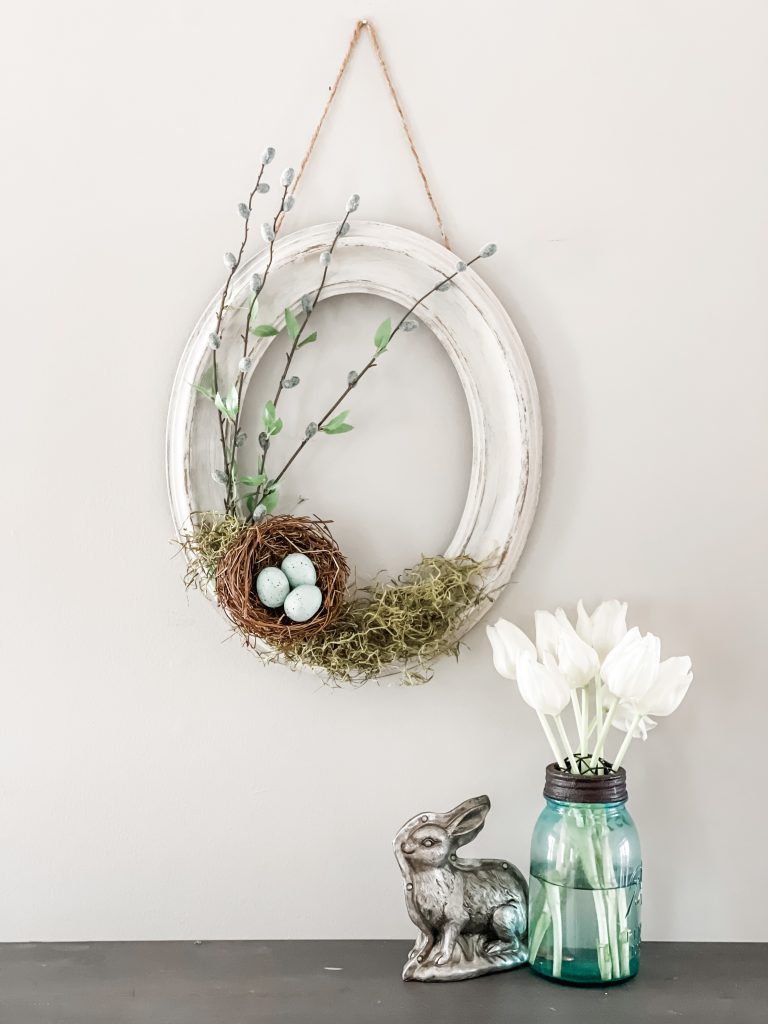 MORE OPTIONS
For more spring wreath inspiration, click here.
If you wanted to add items to a frame but not hide the bottom, I would staple on a piece of cardboard to the back and use that to glue my items on. That way you could cover the cardboard up with moss or your birds nest and branches but you could see the entire frame.
If you had glass in the frame, you could glue your items to that. I did not have glass so I glued my items to the bottom of the frame.
To see what I did with second frame, click here.
Are you thinking about spring decor now? I'm sharing 10 Amazing Spring DIY Projects here.
THANKS SO MUCH FOR STOPPING BY! ARE YOU BEGINNING TO DECORATE FOR SPRING?
XO, REGINA
This post contains affiliate links. If you purchase using a link, I receive a small commission at no additional cost to you. Full disclosure statement is located under "contact me" tab.
SUPPLIES