Hi friends! Did you sit at the kids table growing up? Do you still set a kids table for the little ones on holidays? Are you against kids tables?!
I remember Thanksgiving at my aunts, the "kids" table was in the kitchen and adults were in the dining room, we were only divided by a half wall so we were still close to the action. At my mom's, most of the time the kids table was an extension of the main table. A kids table makes sense, it can be a little more relaxed than the grown up table and more fun because you are sitting next to cousins and siblings.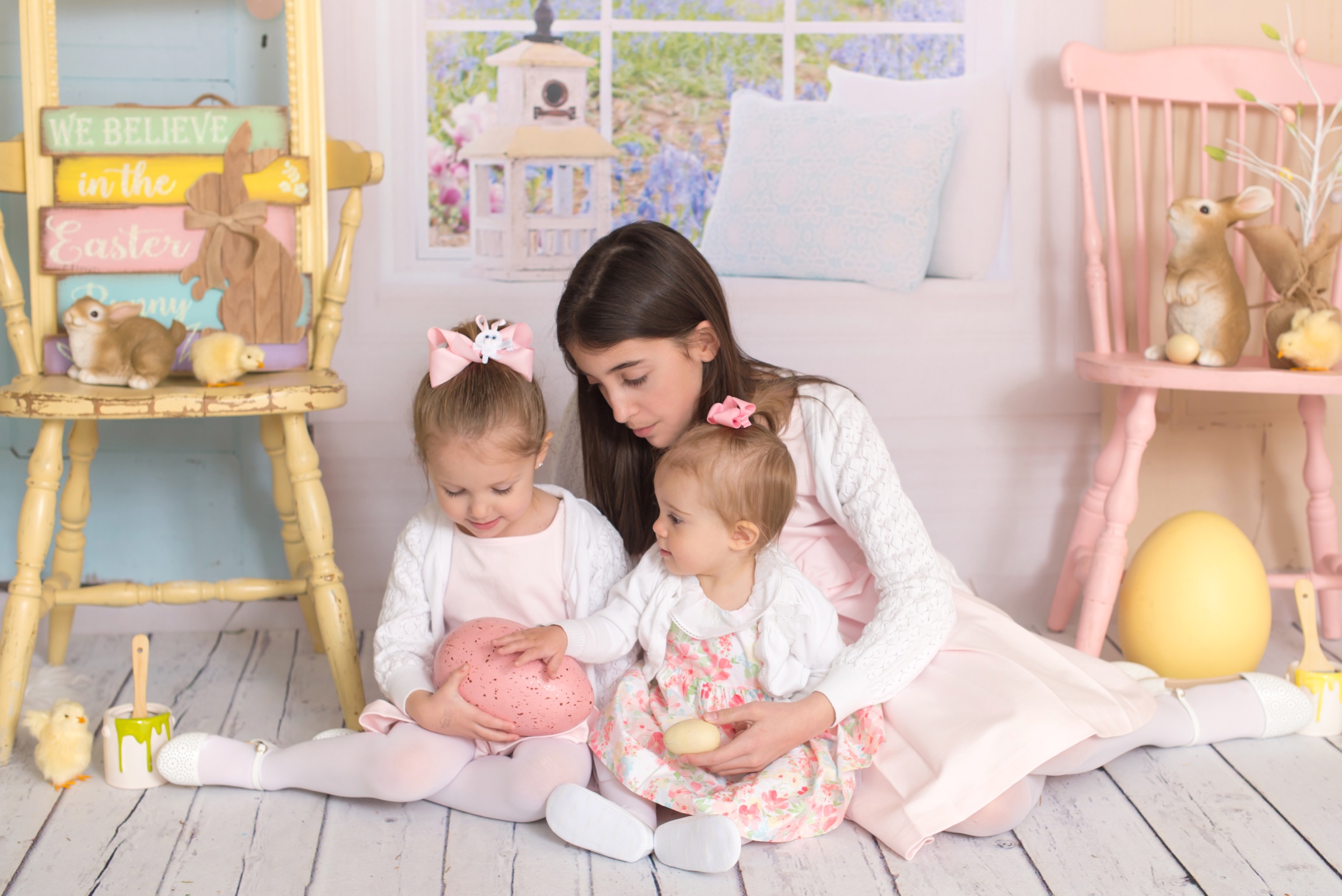 I love setting tables, I wish I could say my job was "tablescaper." I honestly have no idea why, but it makes me so happy to set a nice table and put out flowers. I'm lucky to have a job that pre-Covid I could set tables for all of our events and make them special.
I remember back as a child camping at Gifford Pinchot State Park in PA, and picking wildflowers and putting them in a plastic Tupperware pitcher on our picnic table. I think I was 10 or so, but I guess it's when it began.
So if you want to make the little ones in your family feel special at Easter or anytime – be intentional in setting up the kids table. I saw a kids table online (I can't remember where or I'd share) and they had a little Easter tree as a centerpiece and cookies were hanging from it. Maybe next year…
I'm sharing my Peter Rabbit themed table perfect for Easter, or a spring birthday party. How festive and whimsical is this?
I think Peter Rabbit is timeless.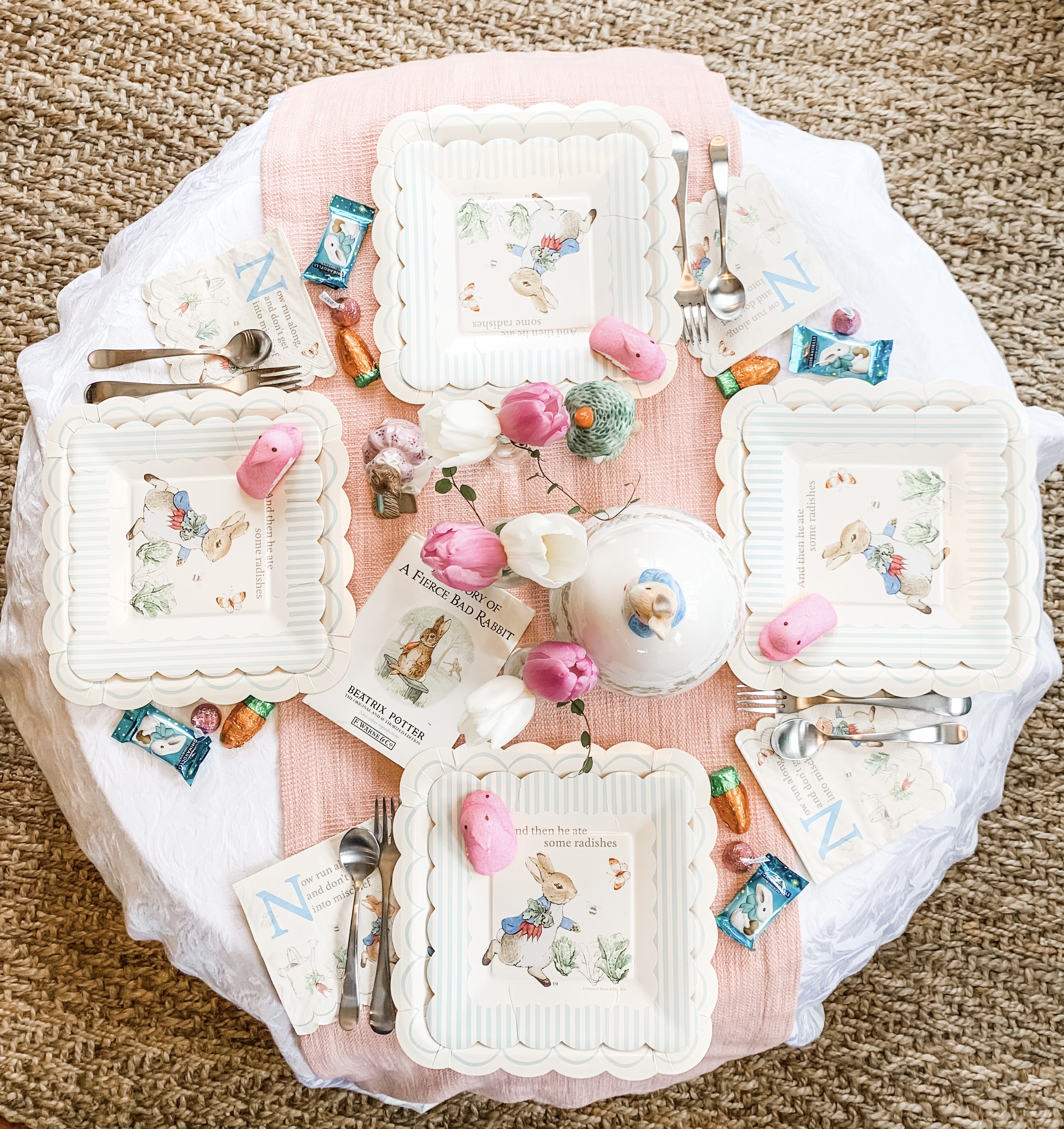 I started with a tablecloth that was my mom's, if I had a decent vinyl one, I might use that. I take my vinyl ones camping and they are not fit for Easter.
I layered the tablecloth with a pink runner form Target, cute plates and accessories. Little touches are what make it fun and special.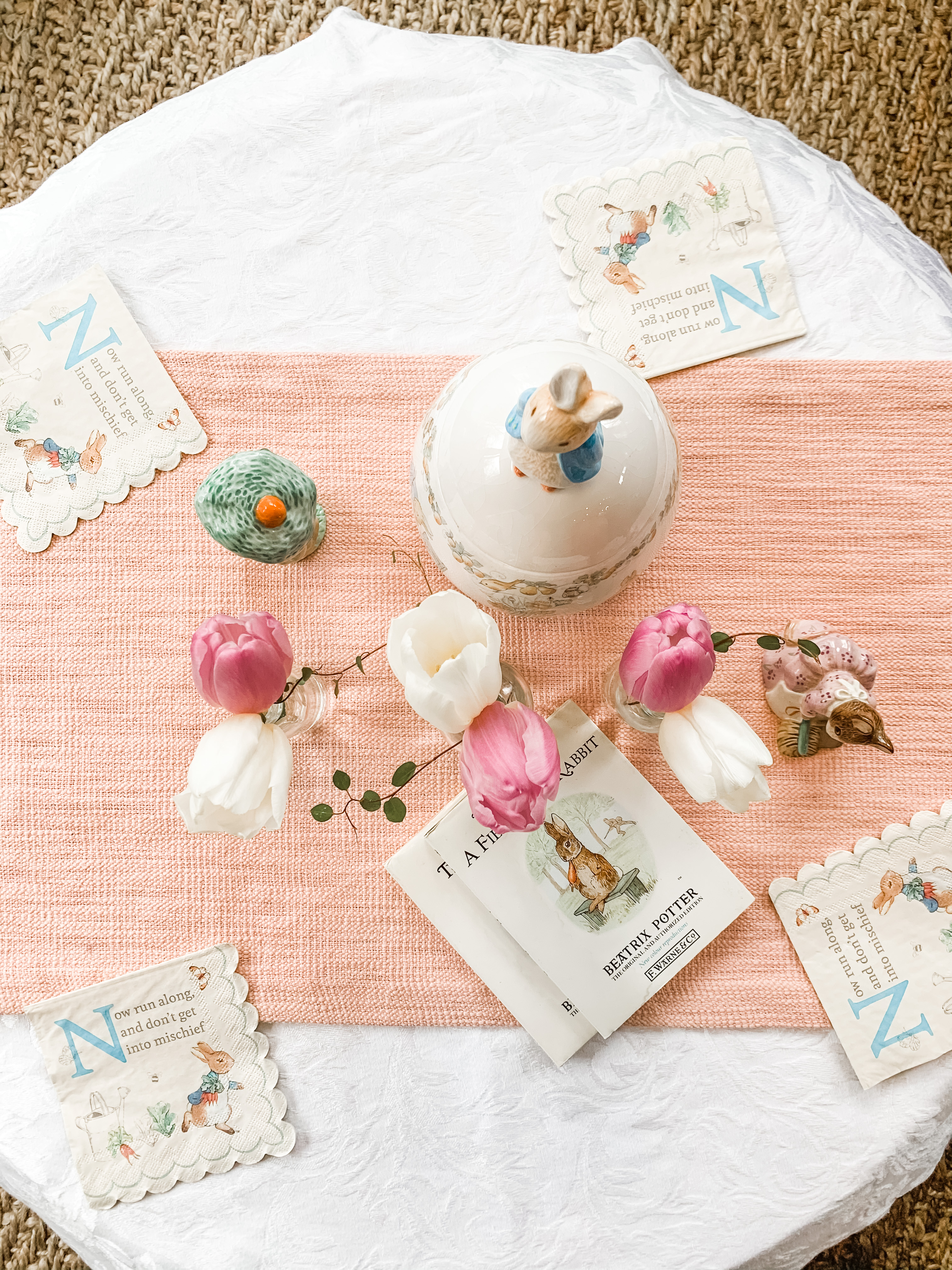 At Marshall's I did see sets of Peter Rabbit bamboo plates, bowls and cups, but I decided against them and I opted for paper plates and napkins.
I used Peter Rabbit figurines, a porcelain Peter Rabbit large egg and scattered the Peter Rabbit books around the table. All from my son's nursery, long ago.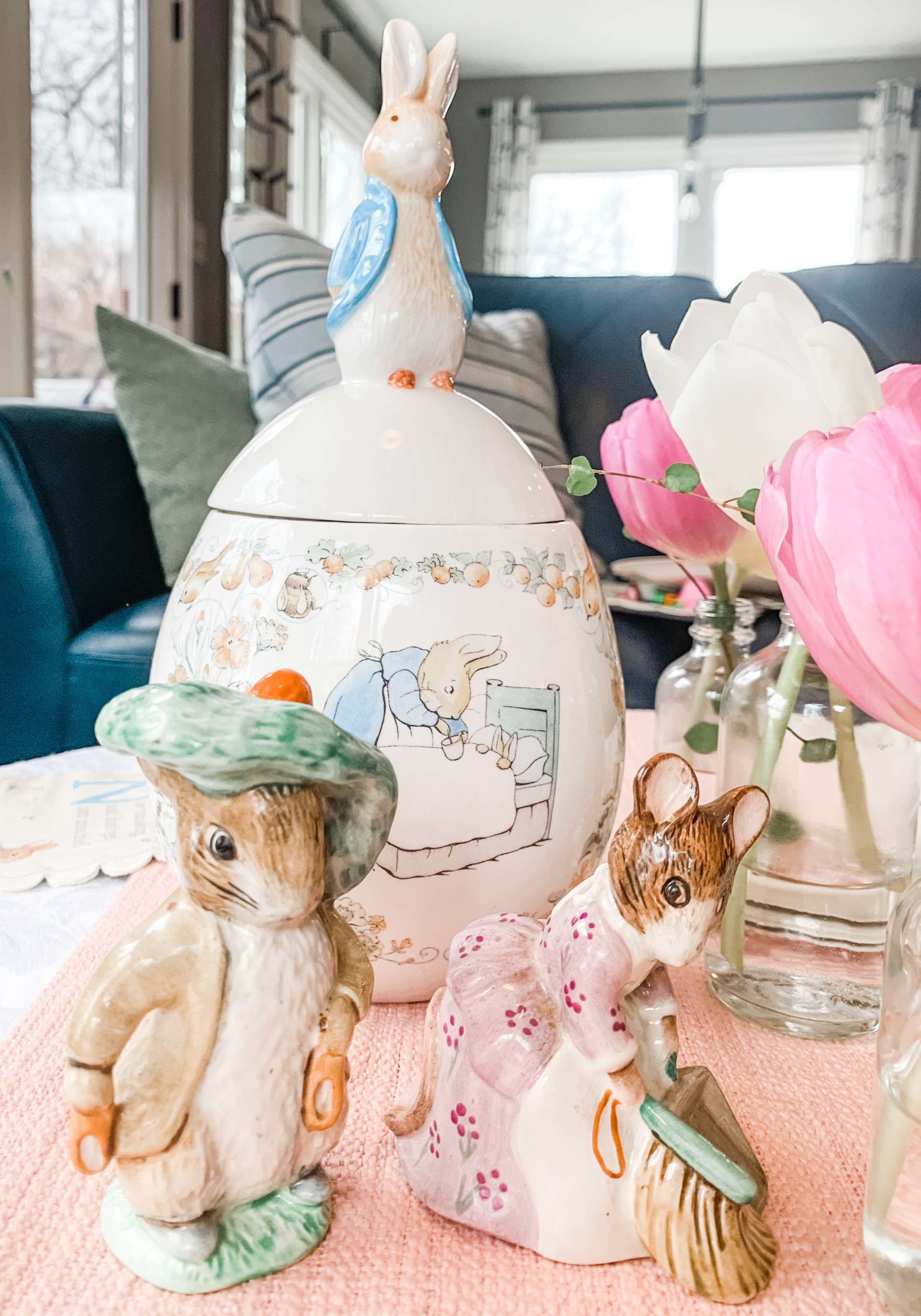 Adding some "kid size" jars with fresh tulips is something that counts toward making it elegant like the grown ups table. I put two tulips and some angel vine in each jar.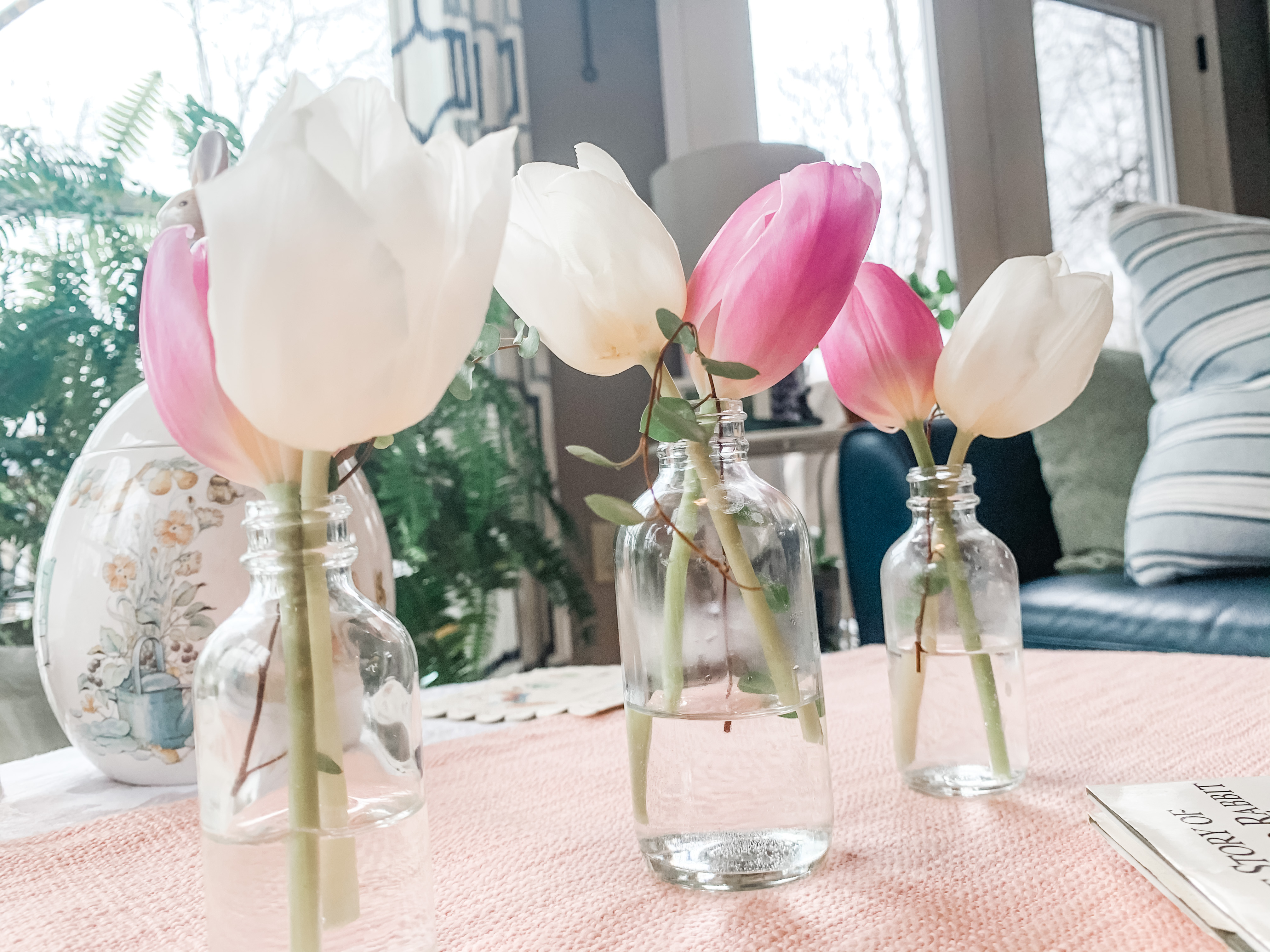 Next I put just a few pieces of wrapped candy next to the plates and added a Peep on each plate. I also added a little carrot decoration I made using Sculpey clay.
I put a small side table near the kids table with a Peter Rabbit lamp (another nursery hold over) added some additional flowers and a bunch of carrots to keep things "kid size."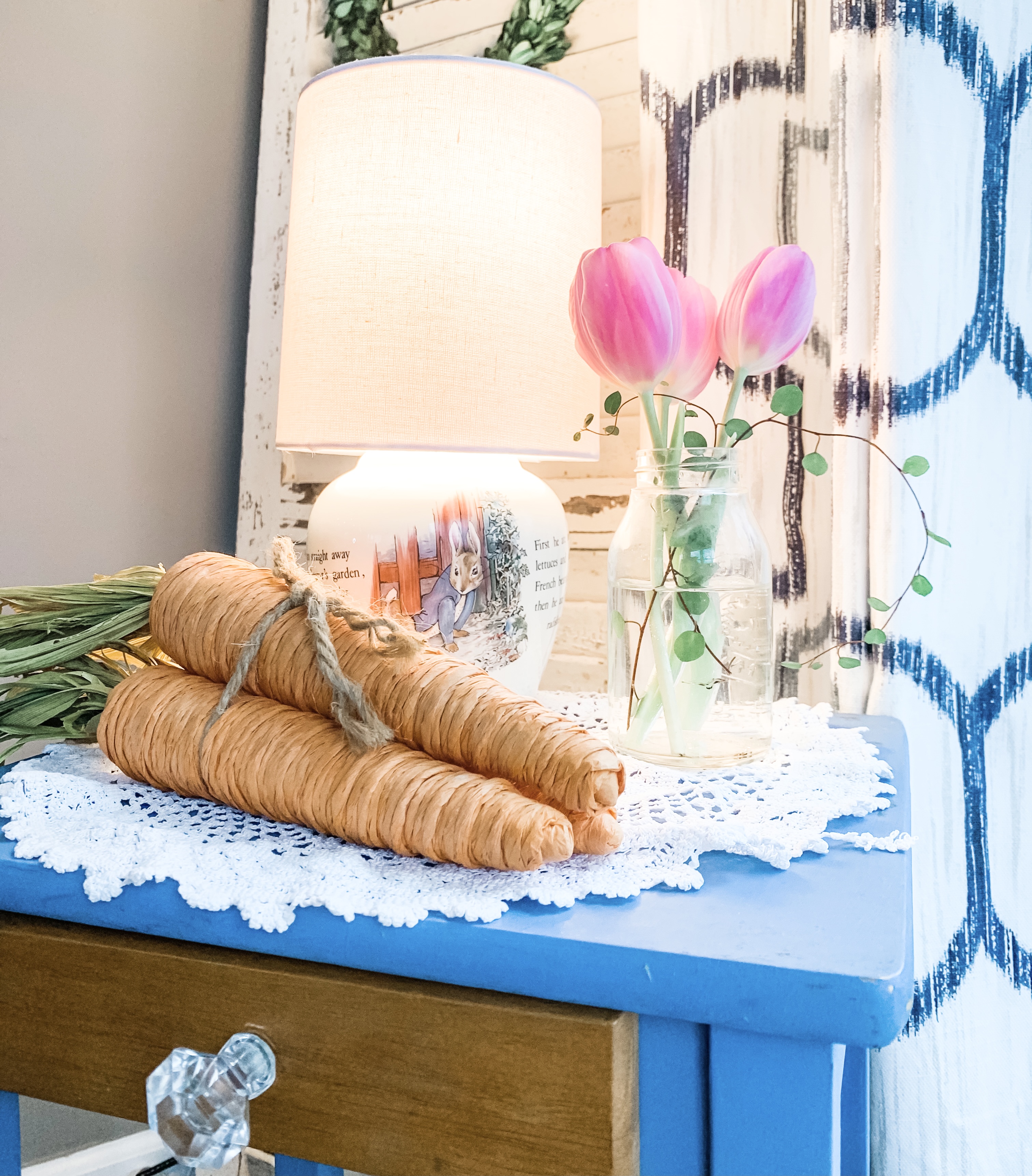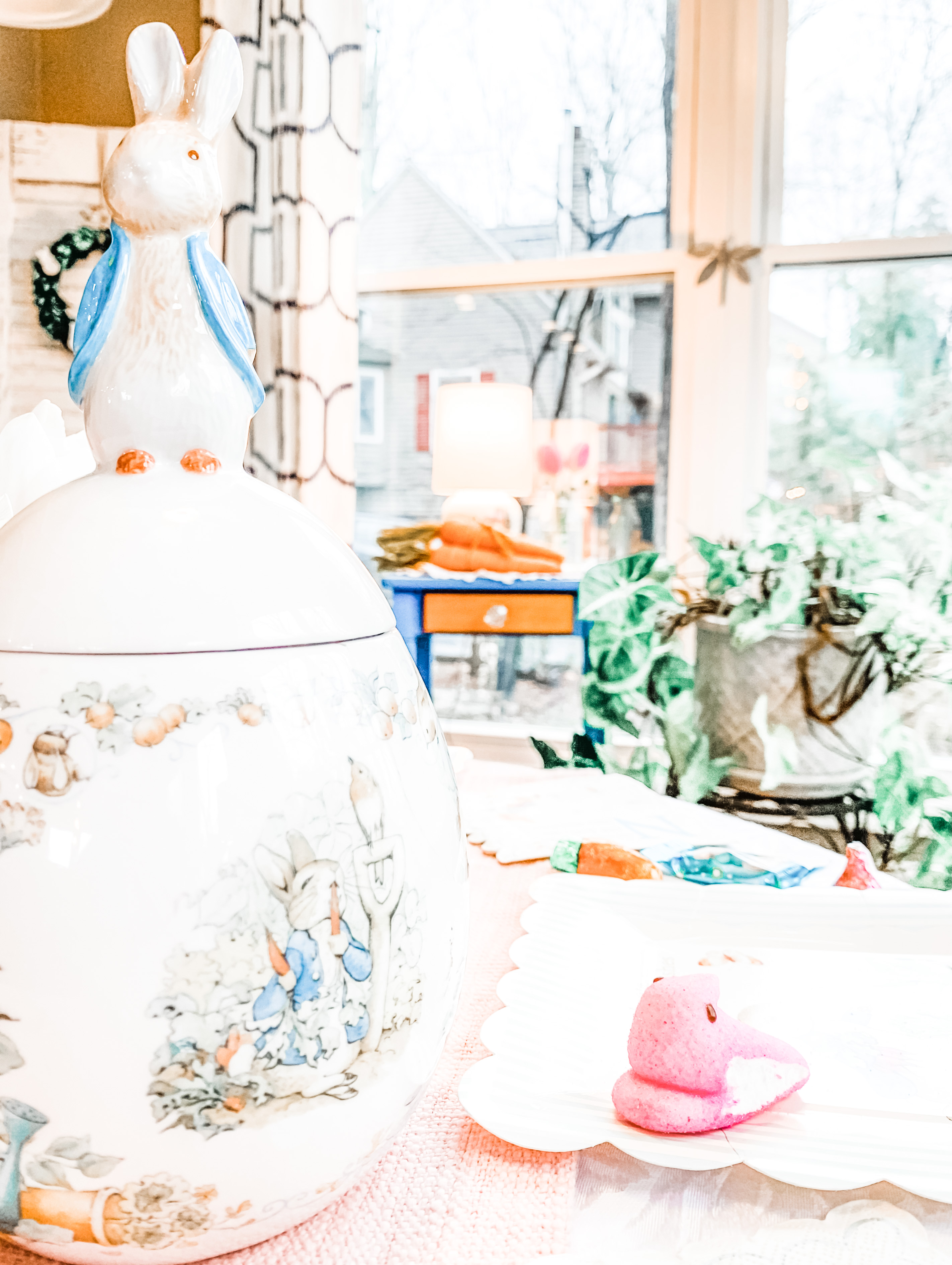 Taking time to make snacks geared toward little ones is a great way to add more fun to mealtime. The ones I made below are super easy. Soften and then mold your cheese into a carrot shape, cover with shredded cheese and a parsley top. Cut up veggies and add a little jacket from felt and place on a skewer and add a sign saying "Mr. McGregors" Garden – Keep Out!
You still have time to plan your kids table this year, whether it be for Easter or a birthday celebration. Make it more fun to be a little one this year!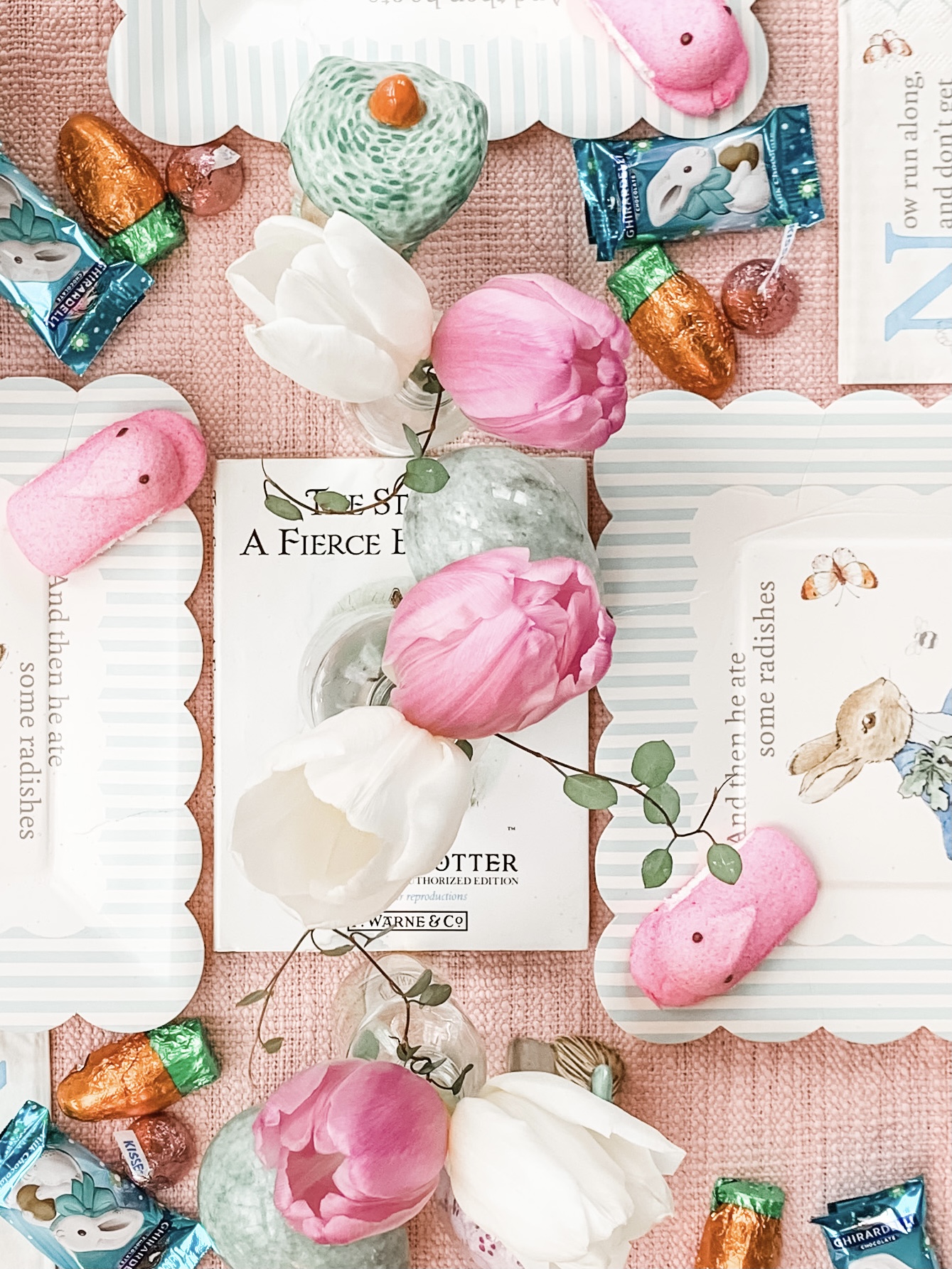 I hope you have been inspired to set an inviting kids table. If you want some ideas for the "grown up" table see my post – Dinner is Served.
Thanks for stopping by and if you like what you see, consider subscribing to my blog and never miss a post. I promise you won't get a ton of emails from me – I don't love that even a little bit.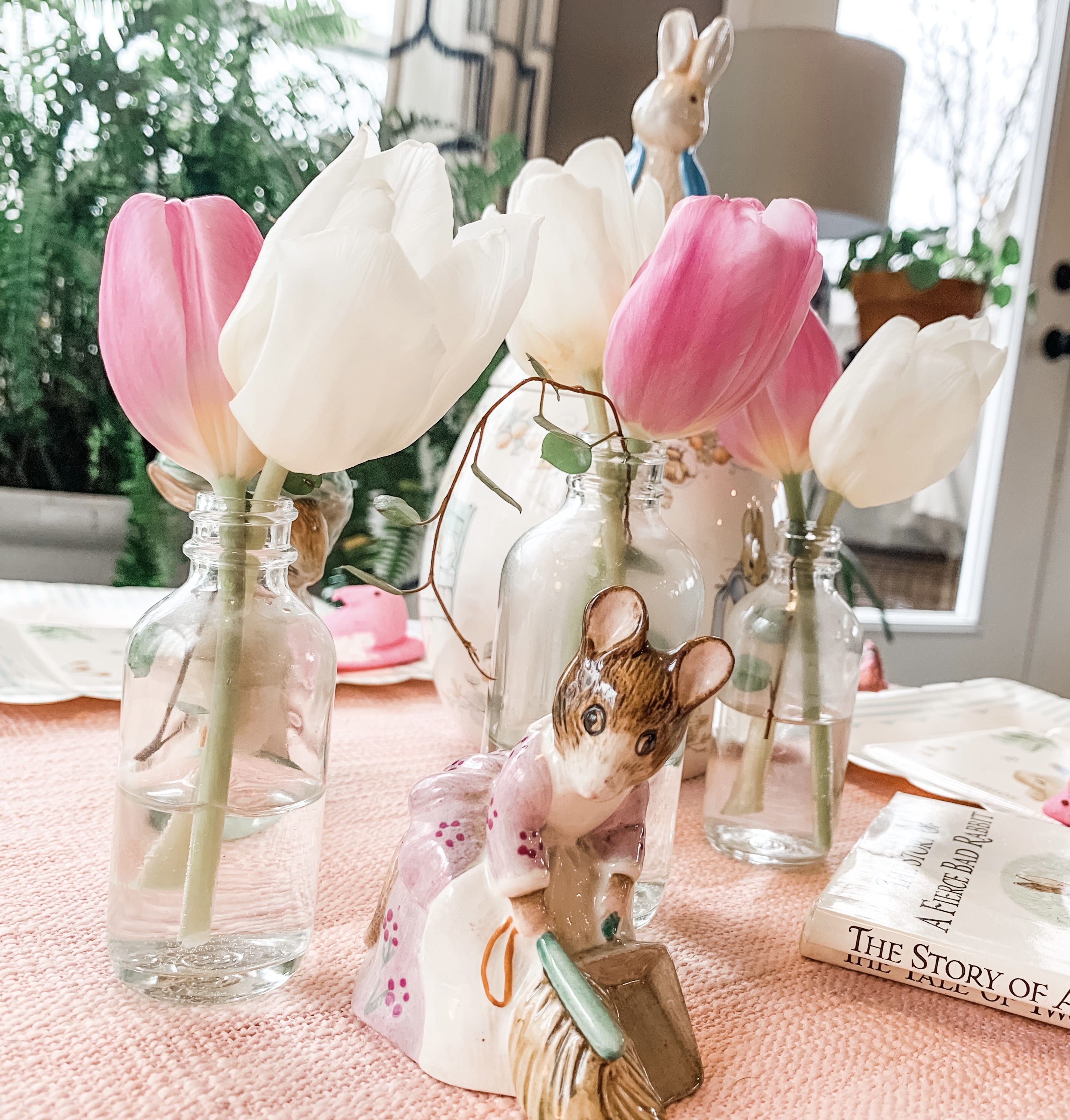 Leave a comment for me and let me know what you think or ideas you'd like to share with other readers. I'm sure you have lots!
XO, Regina
This post may contain affiliate links.