Have you ever wondered how to host a chili cook-off?
I love planning parties and today I'm sharing tips for the best chili cook-off party.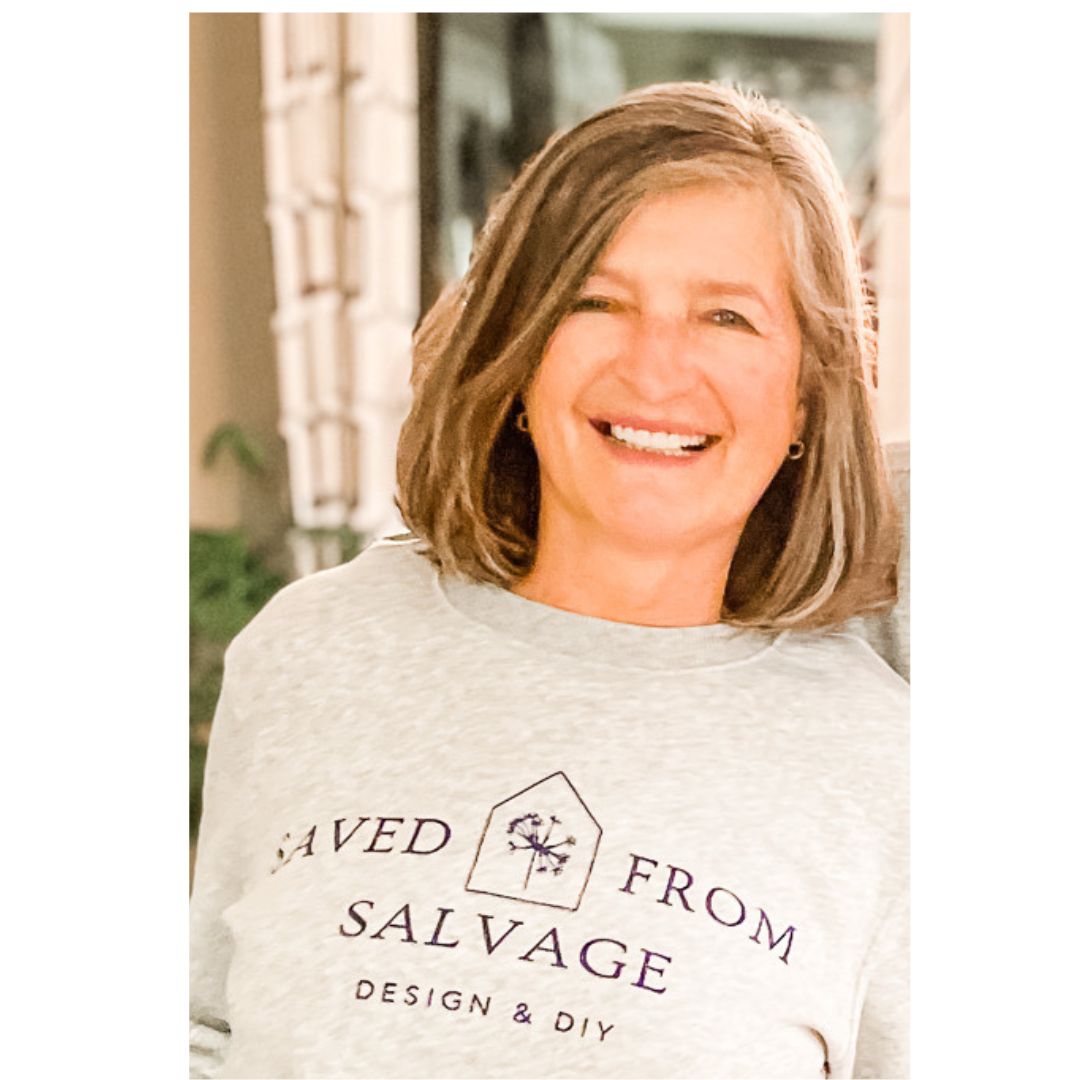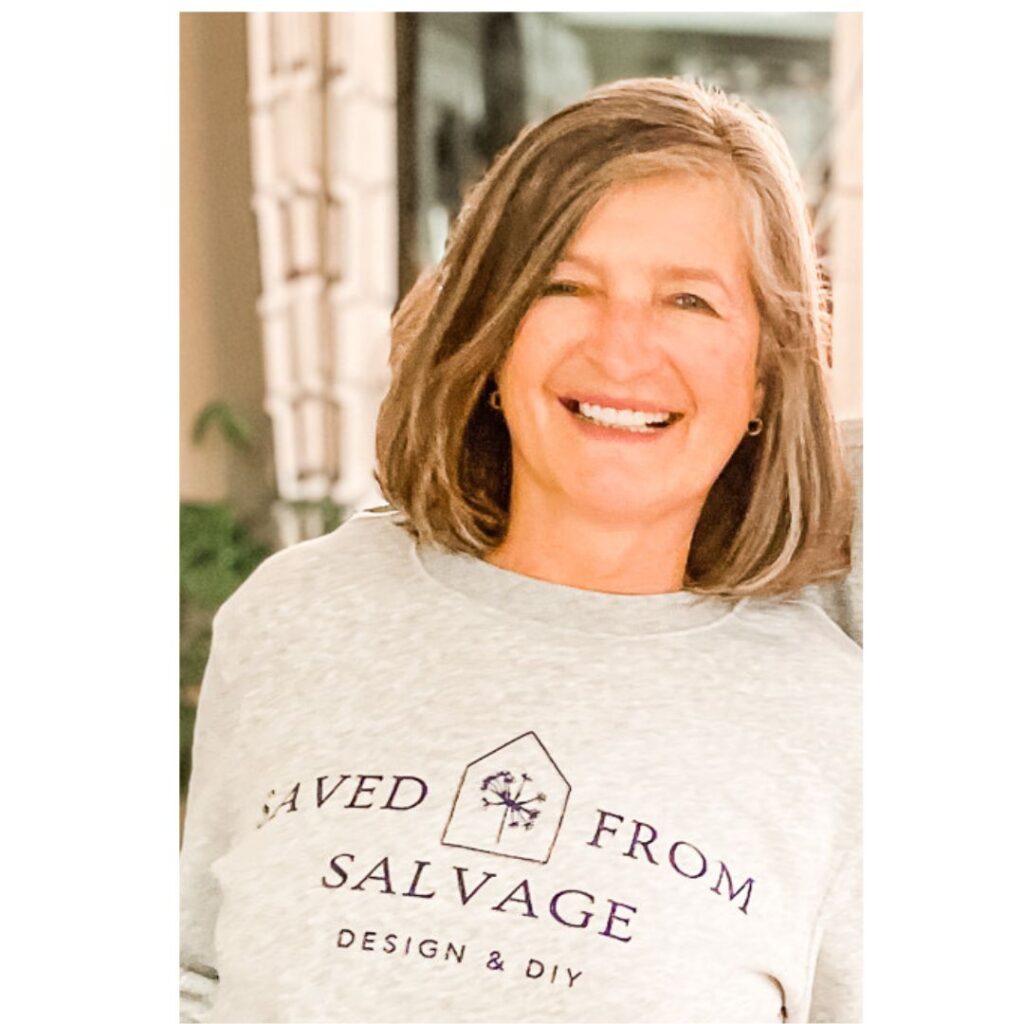 Hosting events can be so much fun. Sometimes they can be stressful, but I'm going to give you ideas and little touches to make your Chili Cook-Off a success.
Hi, I'm Regina, welcome to Saved From Salvage. Here you can find all sorts of DIY projects and tutorials, upcycling, repurposing and event planning ideas. I'm so glad you are here.
Make sure to subscribe below to get your weekly newsletter and inspiration galore.
If you are coming from Michele at Vintage Home Designs – welcome!
I'm so excited to be part of the Virtual Supper Club, an amazing group of bloggers host a supper each month and of course this month we are all part of a Chili Cook-Off.
Are you thinking about hosting a Chili Cook-off? Send me and email at [email protected] and I'll be happy to email you a pdf file with all of my decor printables. They include a banner, scorecard, food signs, directions and more.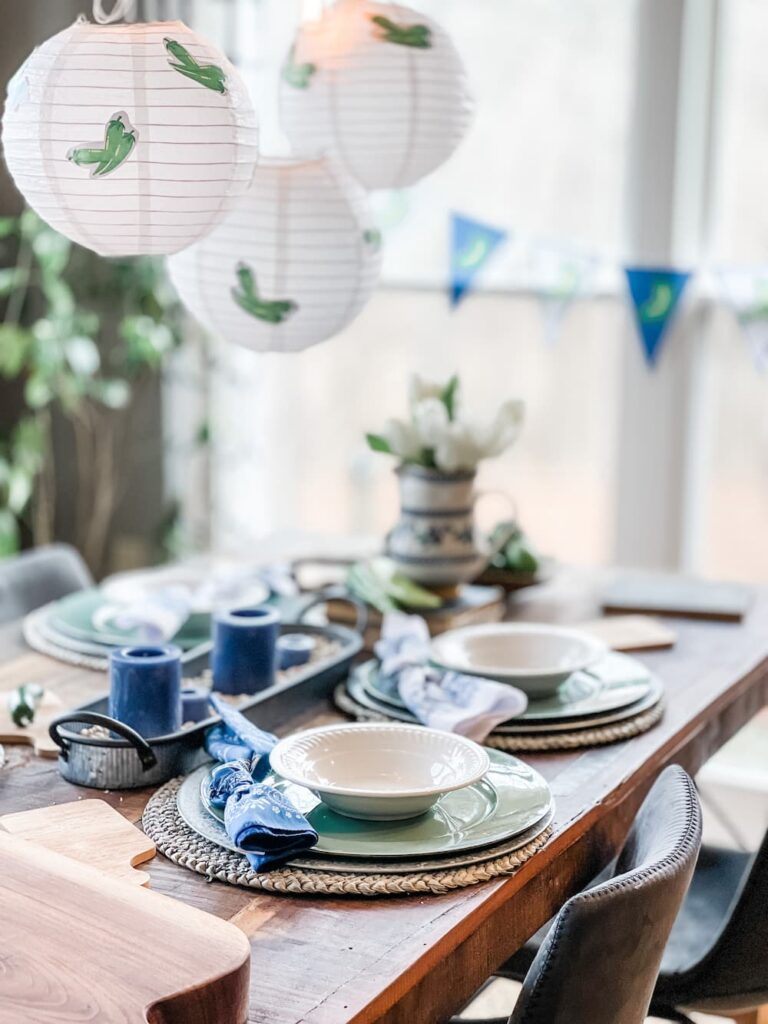 WHAT YOU NEED FOR A CHILI COOK-OFF
The first thing you need for a Chili Cook-off is Chili! Of course.
If it's a cook-off, then you will need multiple pots of chili to be judged by the participants.
Have your guests all bring a pot of chili to add to the cook-off and you will only need to provide drinks, toppings, and cornbread or tortilla chips.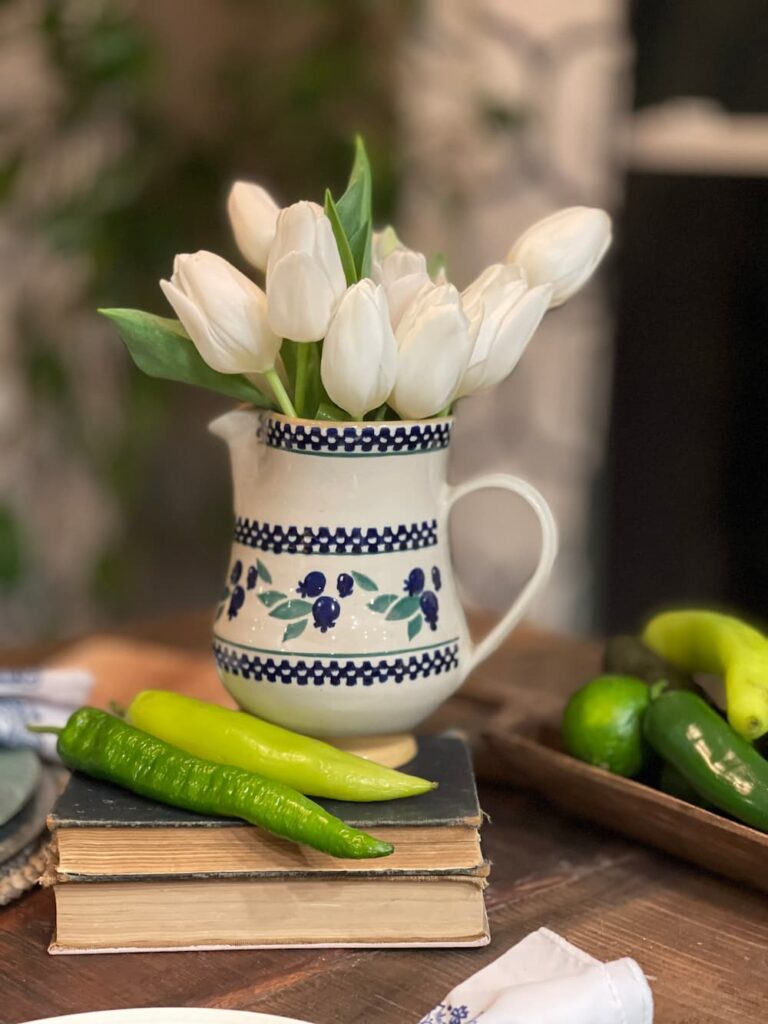 For the toppings you can serve cheese, onions, jalapenos, green chiles, sour cream, avocado and limes.
The easiest get togethers have a theme and since Chili Cook-off is our theme, I decided to take it one step further and create a color palette to use for my tablescape and decor. Green and navy are the colors I chose.
I wanted something different.
This chili cook-off is a casual event, I wanted the tablescape to be laid back and relaxed. I decided to forego a tablecloth and let the rustic table be the star.
CHILI COOK-OFF TABLE SETTING
Since I chose green chiles and navy as my colors, I set my place setting with a woven green and blue placemat, on top of that I added a galvanized charger and topped with a light green charger.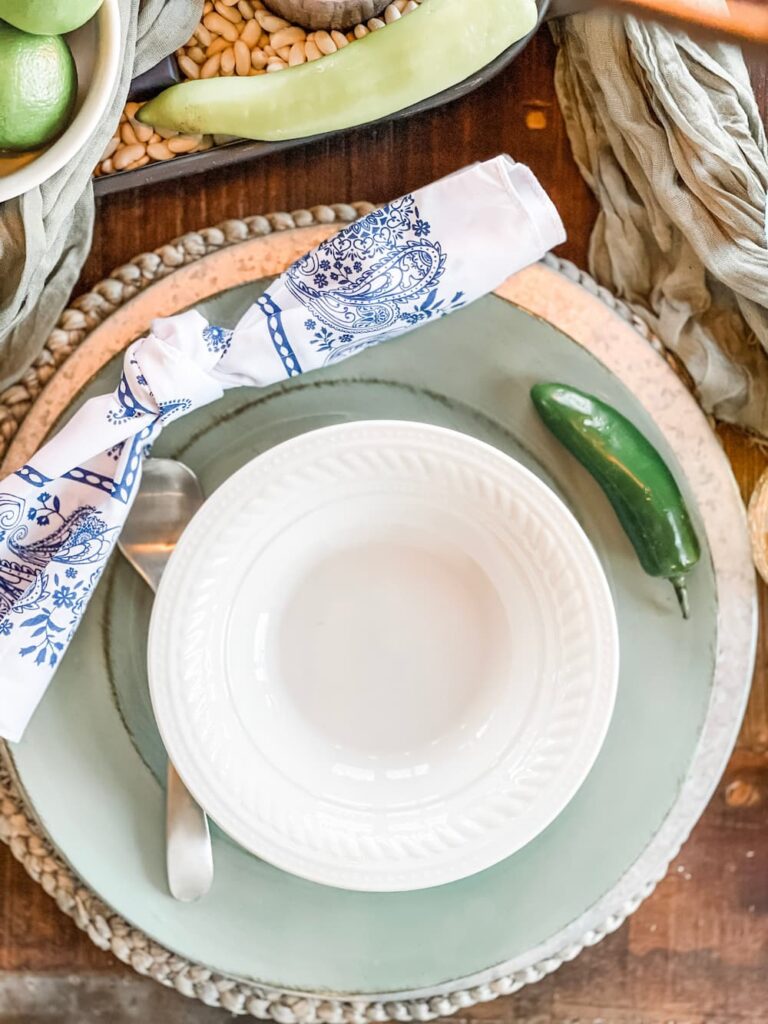 Next I added the bowl for the chili. I added blue and white paisley napkins and then created a DIY Green Chile Napkin Holder from clay.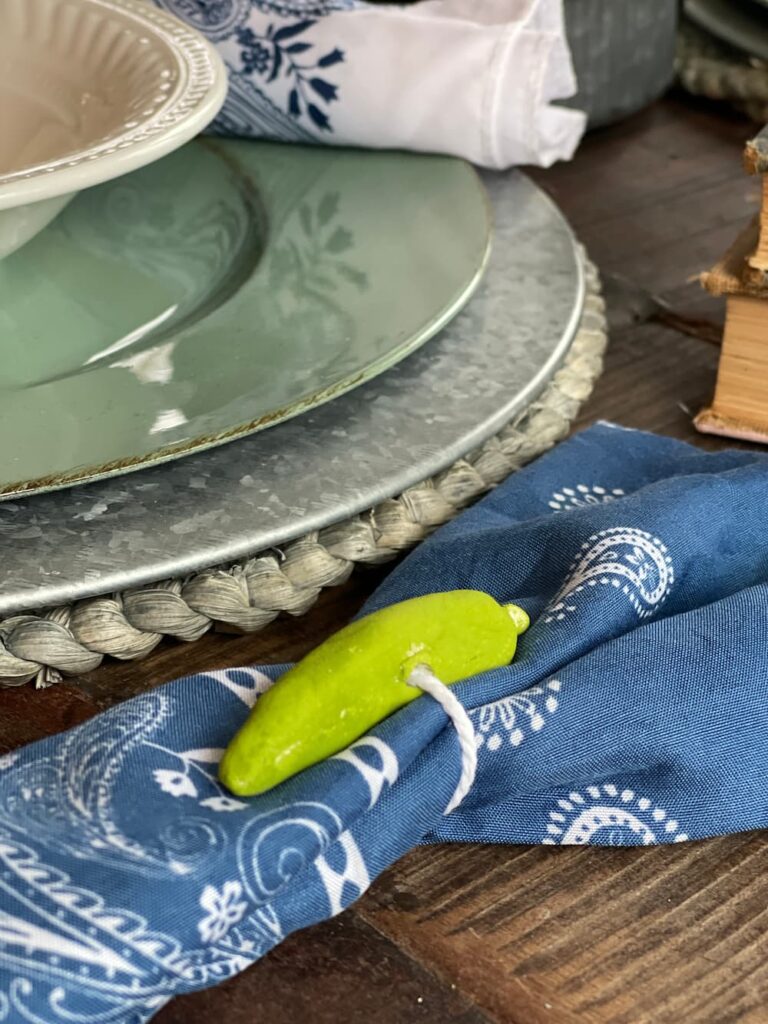 In addition to the napkin holders, I added green chiles to the ends of my butter knives for the cornbread.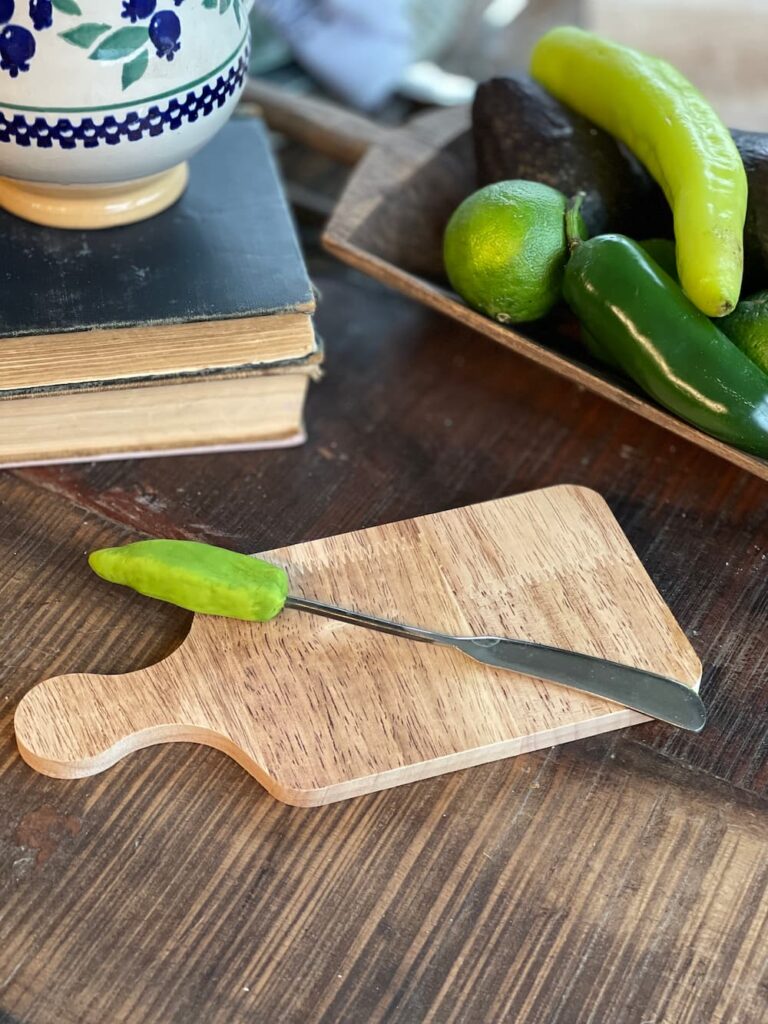 I used these individual serving boards to hold the cornbread and added a small ramekin for the homemade honey butter.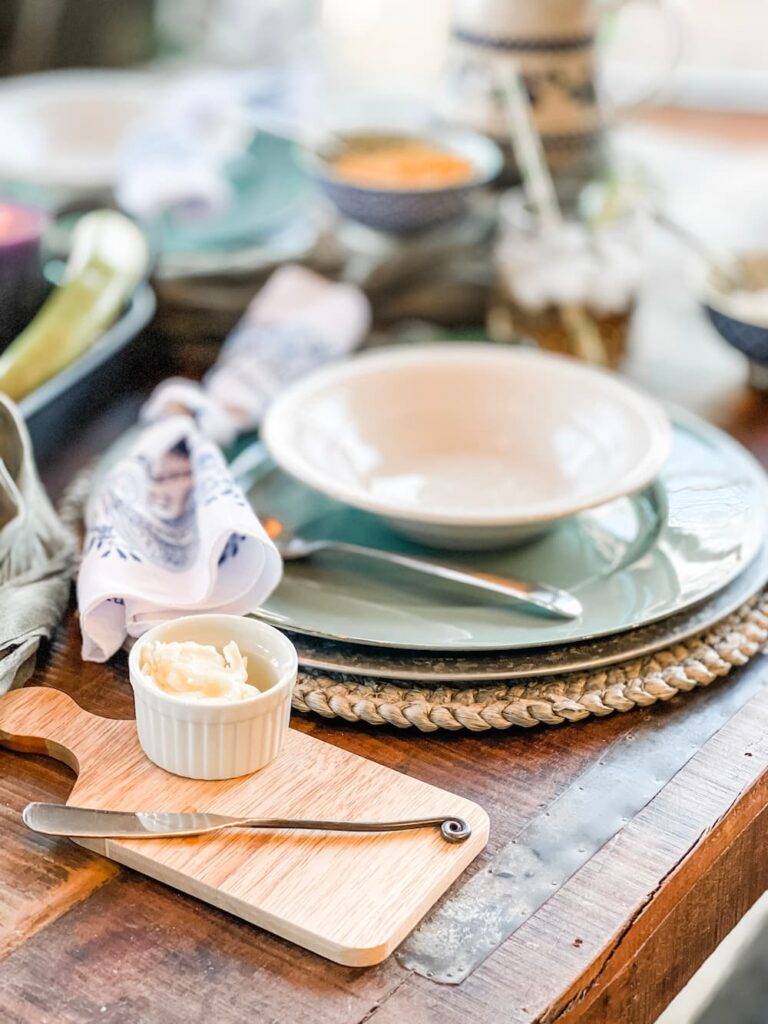 I have a lovely collection of colorful bowls that I used for the toppings.
Each bowl has at least some green or navy on it.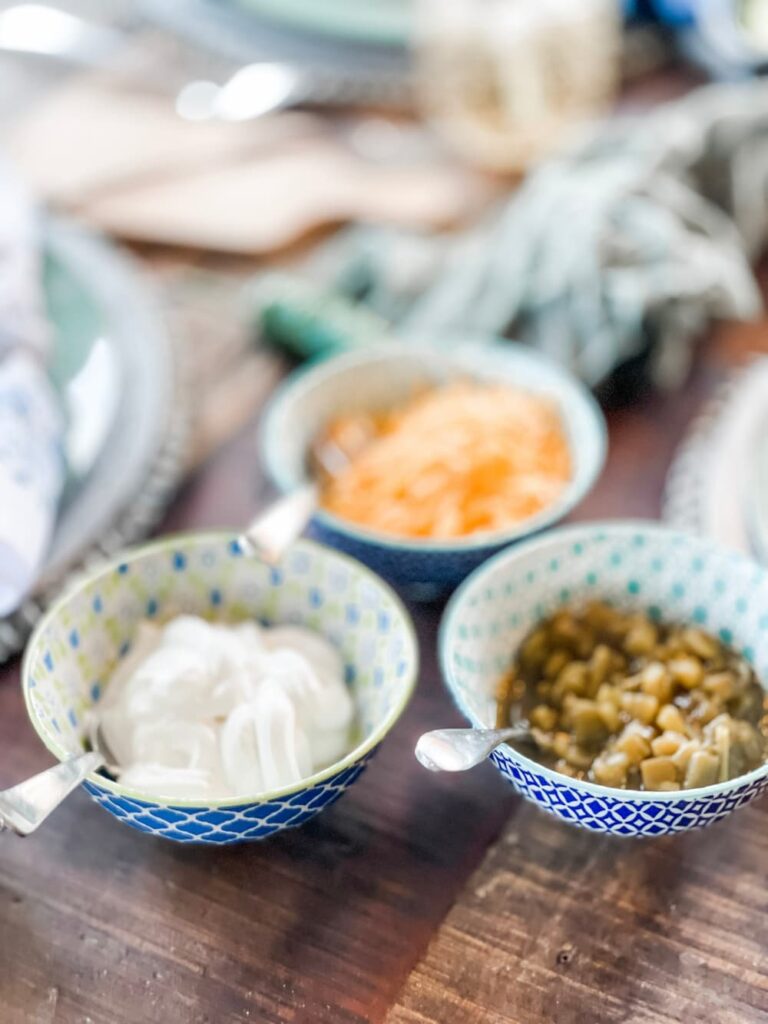 CHILI COOK-OFF DECOR
To continue my theme of green chiles, I created a banner to hang in the window.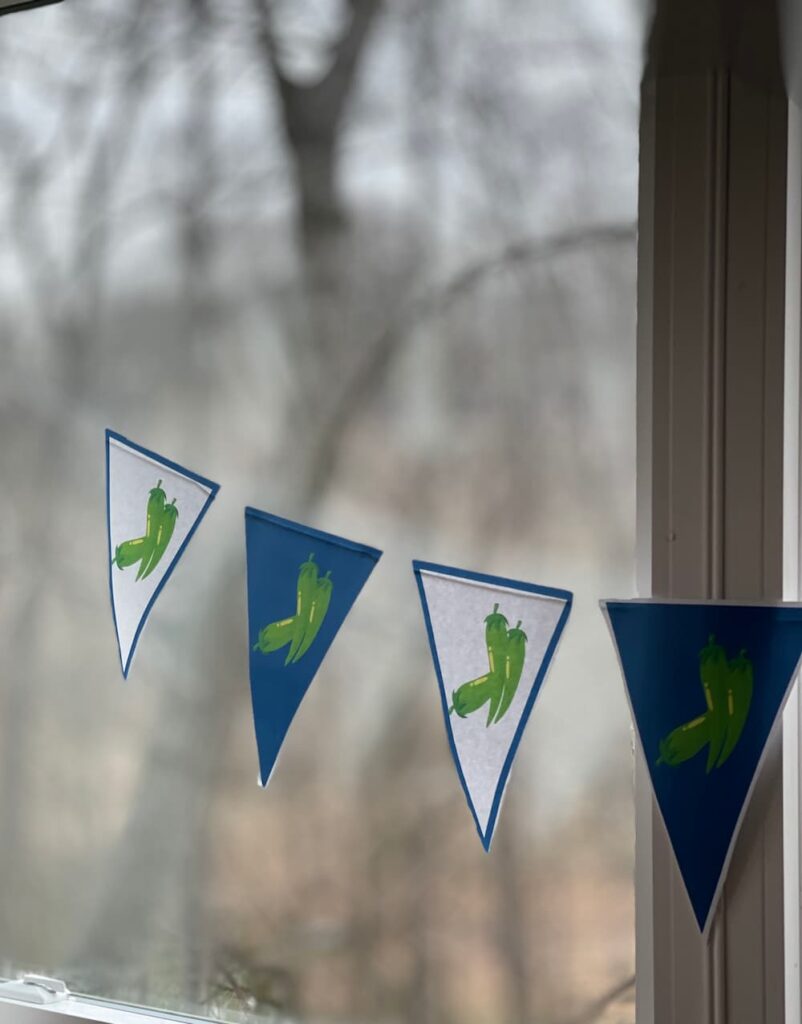 Next I had these white lanterns forever and decided to add little green chiles on the and hang them from my lights.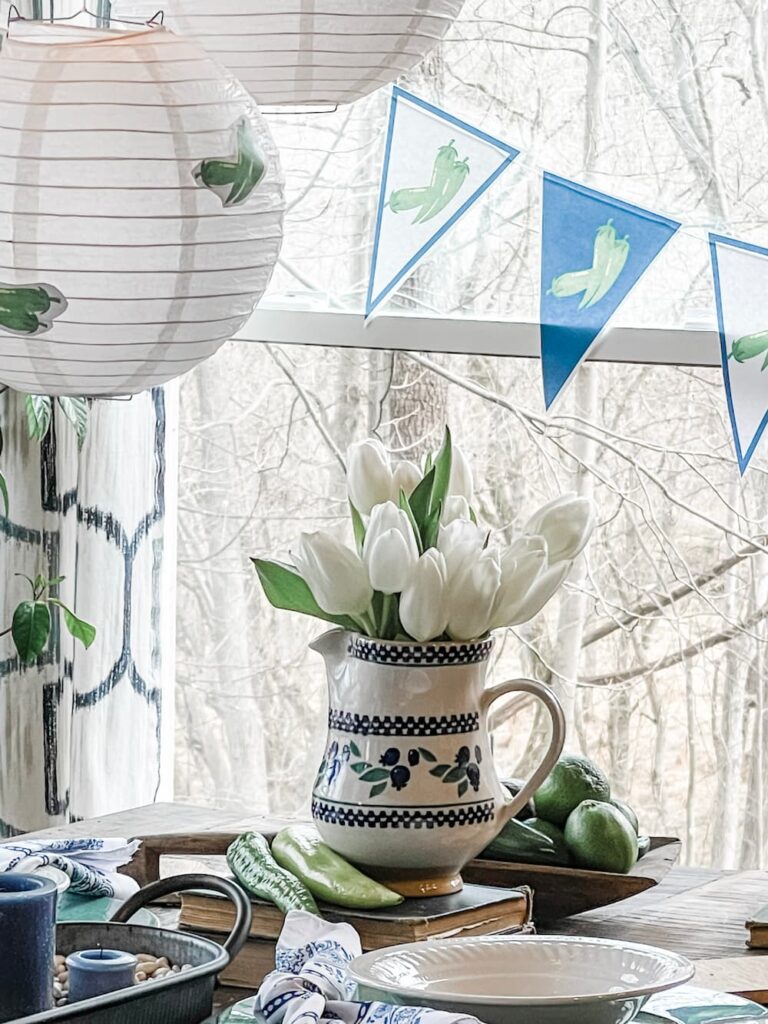 I also added several types of green chiles to the table to tie the theme together.
In a vintage wooden scoop, I layered peppers, avocados and limes keeping with the green.
Useful and decorative, they add a nice pop of color.
For my main centerpiece, I used a new galvanized tray and filled it with dried cannelini beans and then added some peppers and navy candles.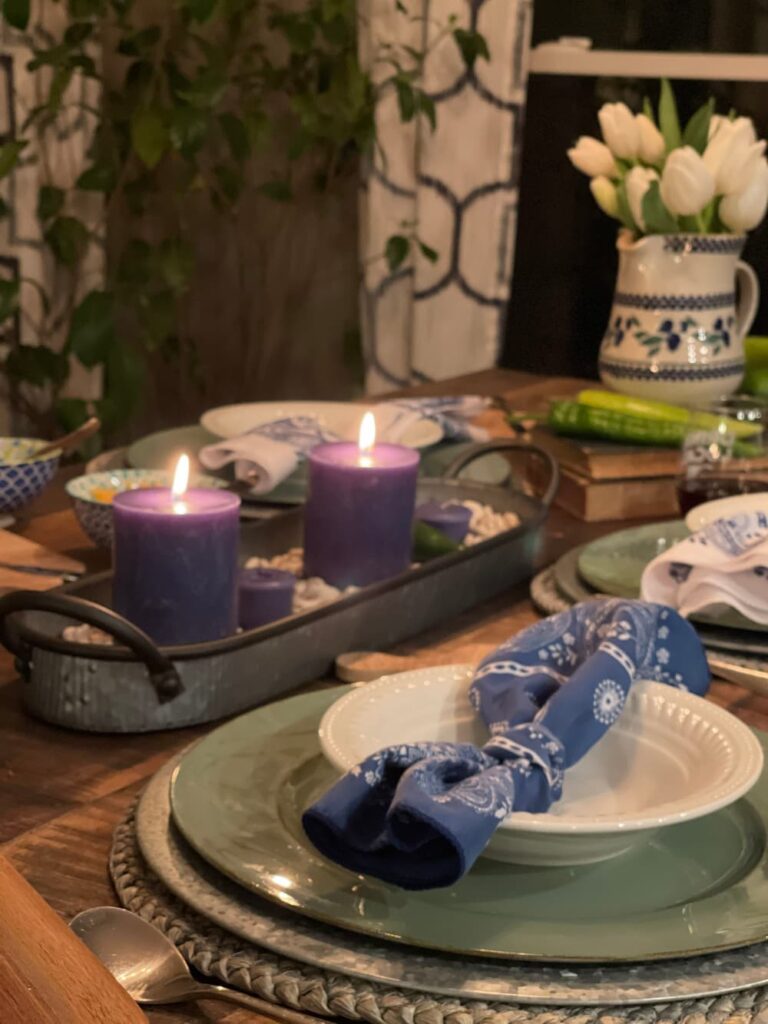 THE CHILI COOK-OFF SIGNS & SCORECARDS
I love to create small signs, they take minutes and add a sweet touch to your events.
This sign welcomed guests to the Chili Cook-off and listed the menu and game plan.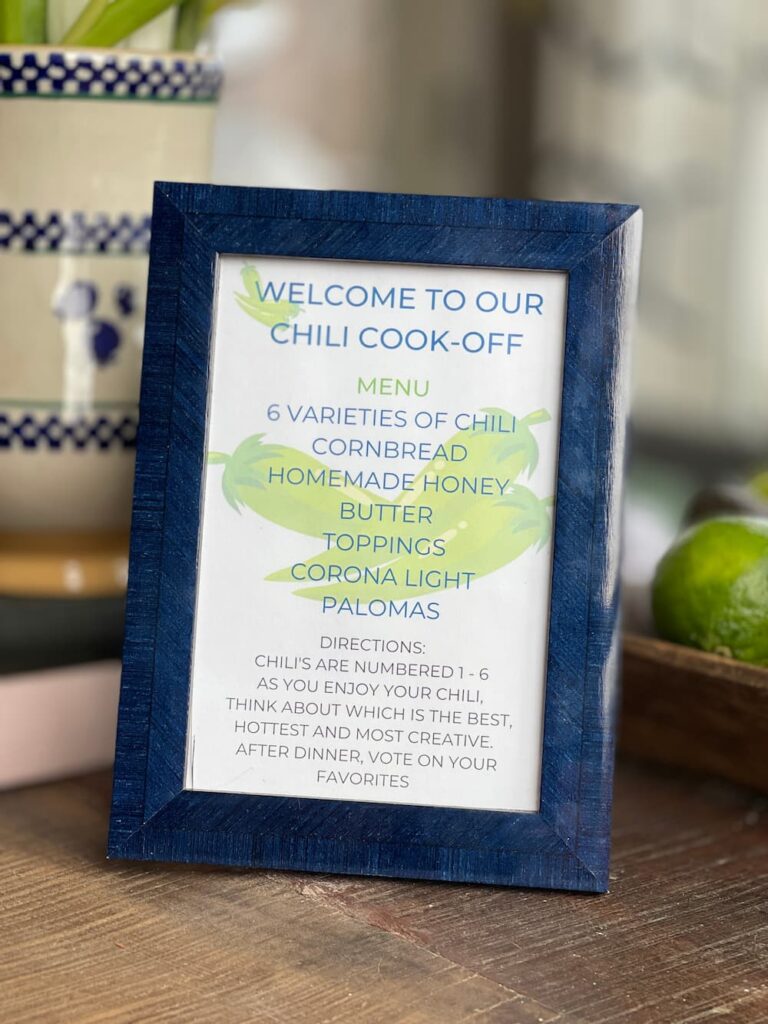 For your guests to judge the chili's you need to create a Chili Cook-Off Scorecard.
I've created one that can be sent to you if you email me.
For my chili cook-off, I had guests select three different categories.
The best overall, the hottest and the most creative. I wanted to keep it simple.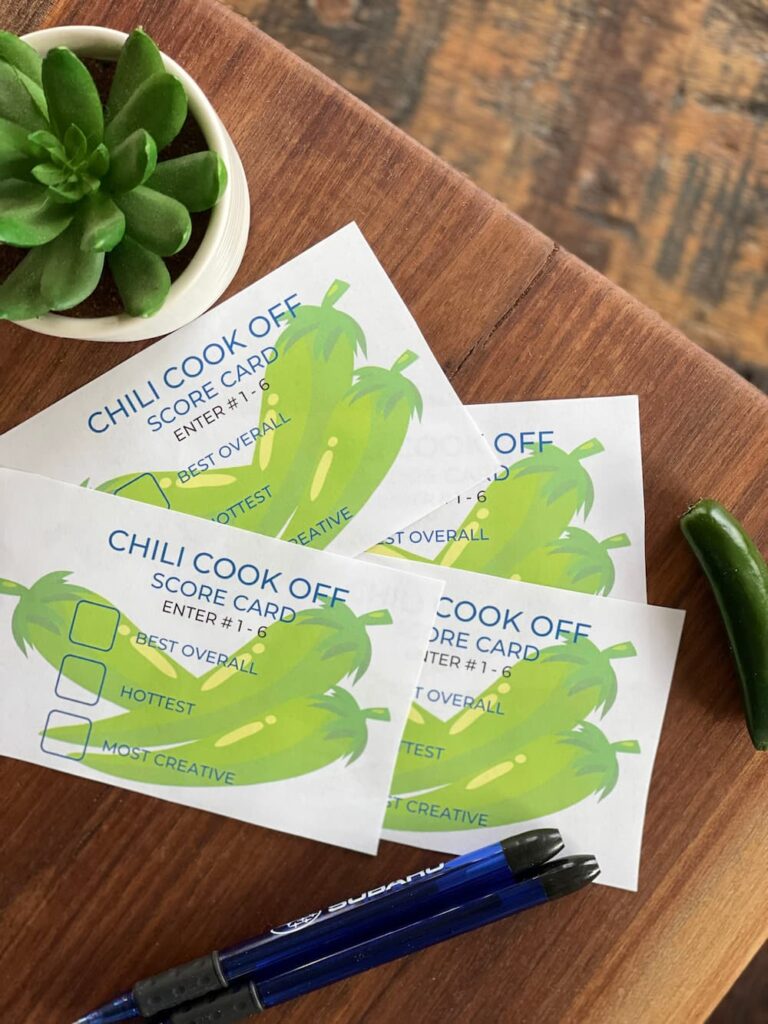 In addition to the welcome sign and scorecards, I made these little signs for in front of the different pots of chili. This way you could remember and judge by number.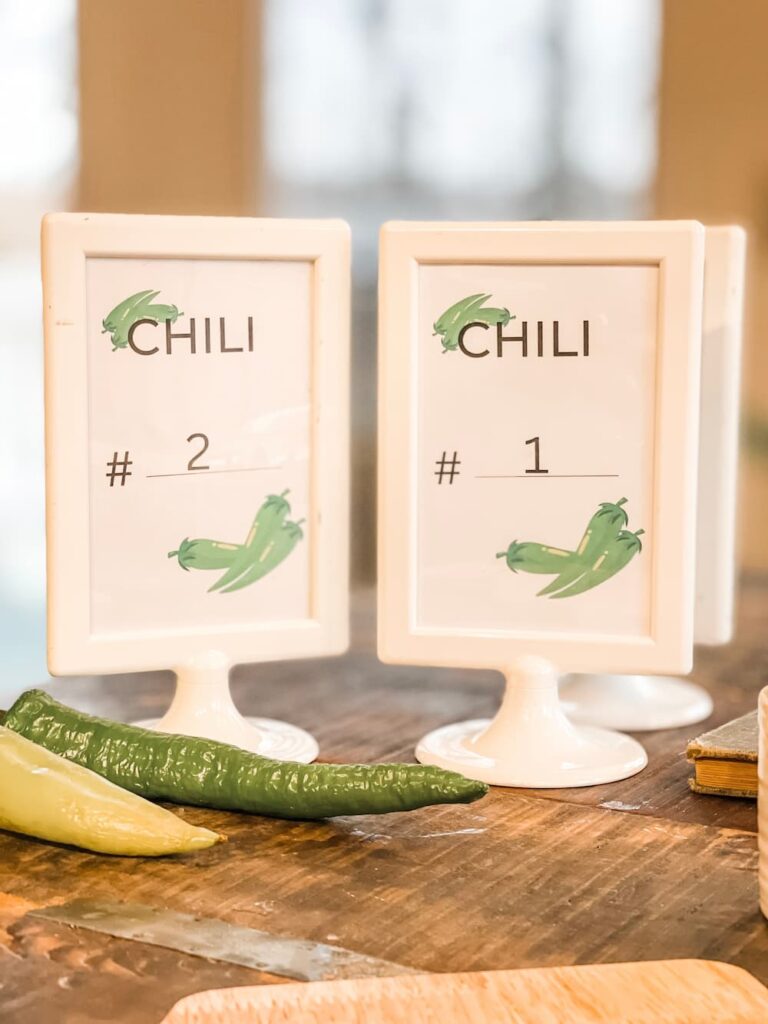 I also made these for in front of the various toppings. I added the green chiles to every sign to have a cohesive look.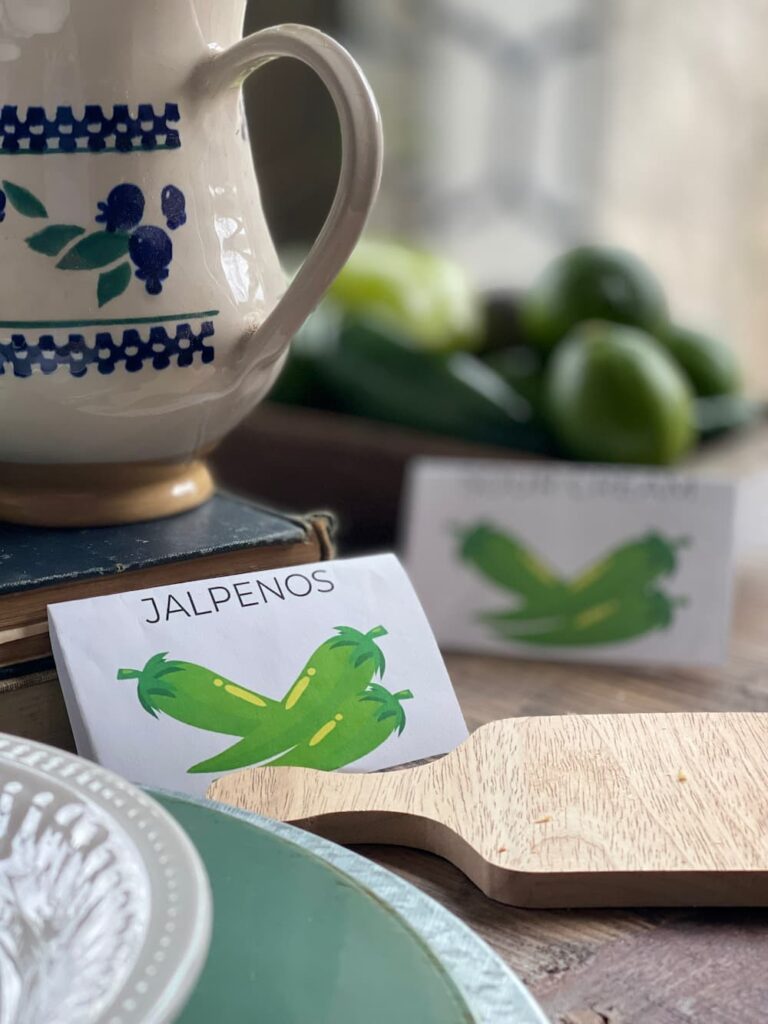 CHILI COOK-OFF AWARDS
Of course you have to have some sort of prize for the winners.
I picked up these little trophies for the winners.
Instead of trophies you could gift wooden spoons, or some great potholders.
A giftcard is also a great prize.
If you want, bragging rights could be enough.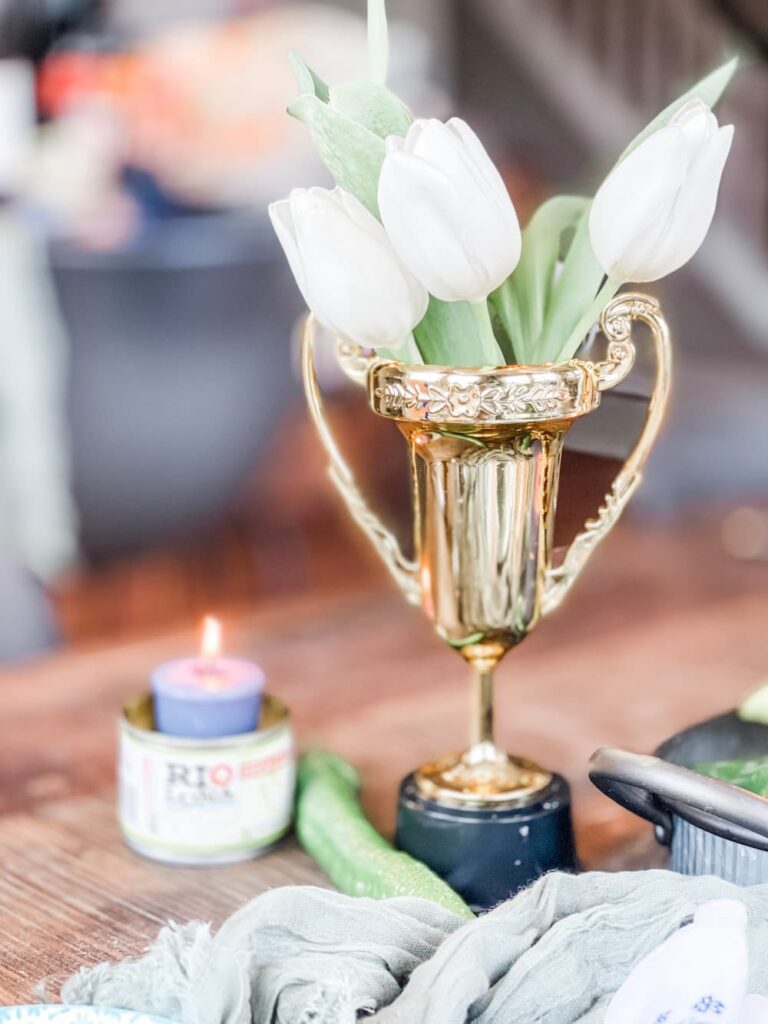 I tucked some white tulips in the trophy. You can also use empty cans of green chiles or peppers or tomatoes and add flowers or like I did above, a small votive.
Next up on is Jen from Midwest Life and Style. You can see her tablescape here.
I hope you were able to gleam some tips and ideas for your own chili cook-off. It's truly a fun event and who doesn't enjoy getting together over good food?
Thanks so much for stopping by. Until next time,
XO, Regina
MORE CHILI COOK-OFF INSPIRATION
Meet the other contestants in the Chili Cook-Off. Make sure to visit each of them to see their creative tablescapes.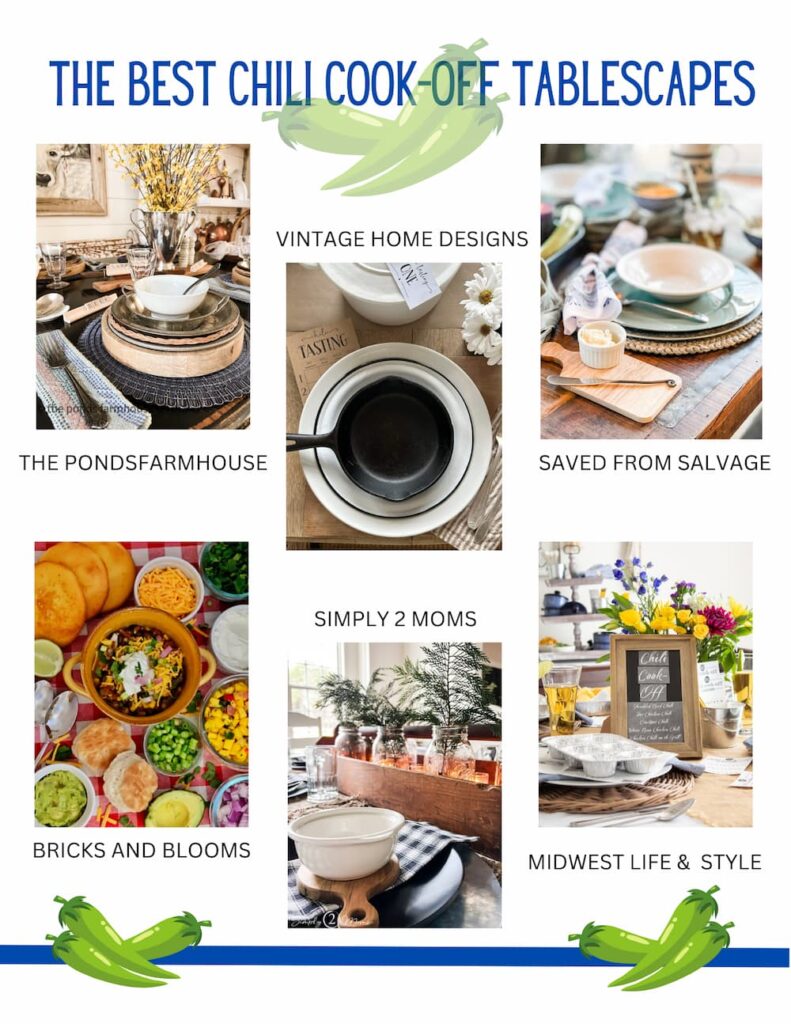 ANNE AND ANNMARIE – SIMPLY 2 MOMS
MICHELE – VINTAGE HOME DESIGNS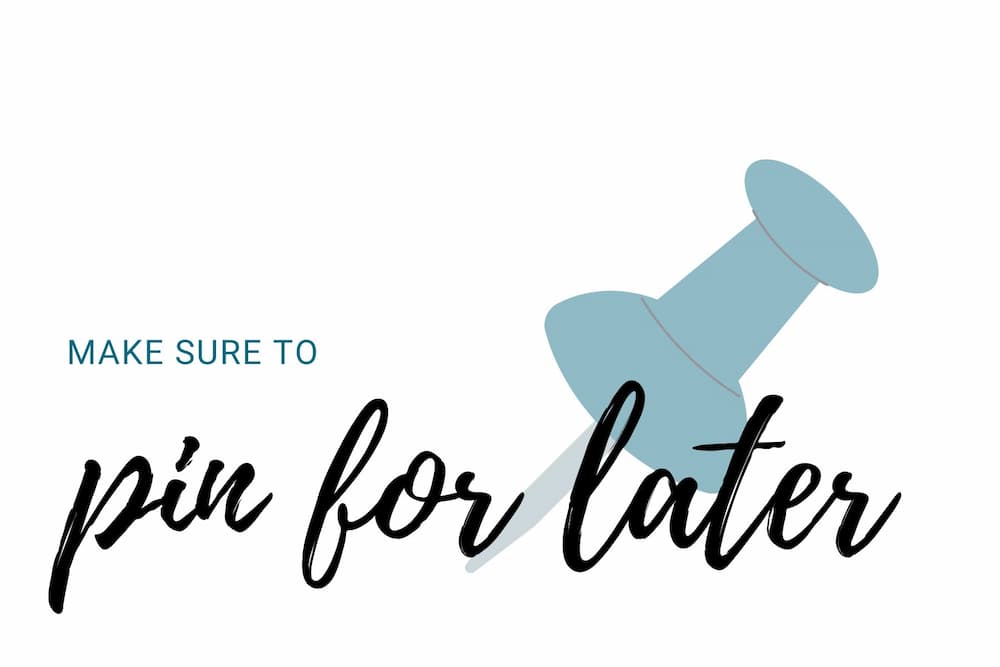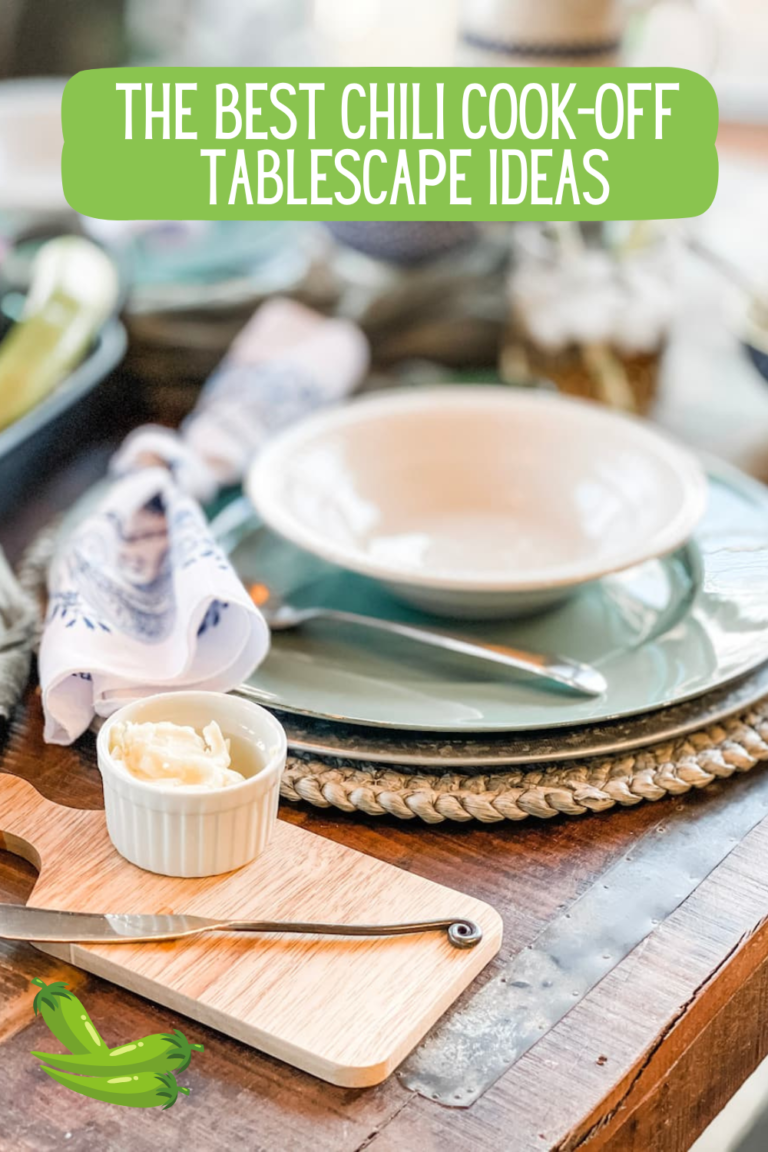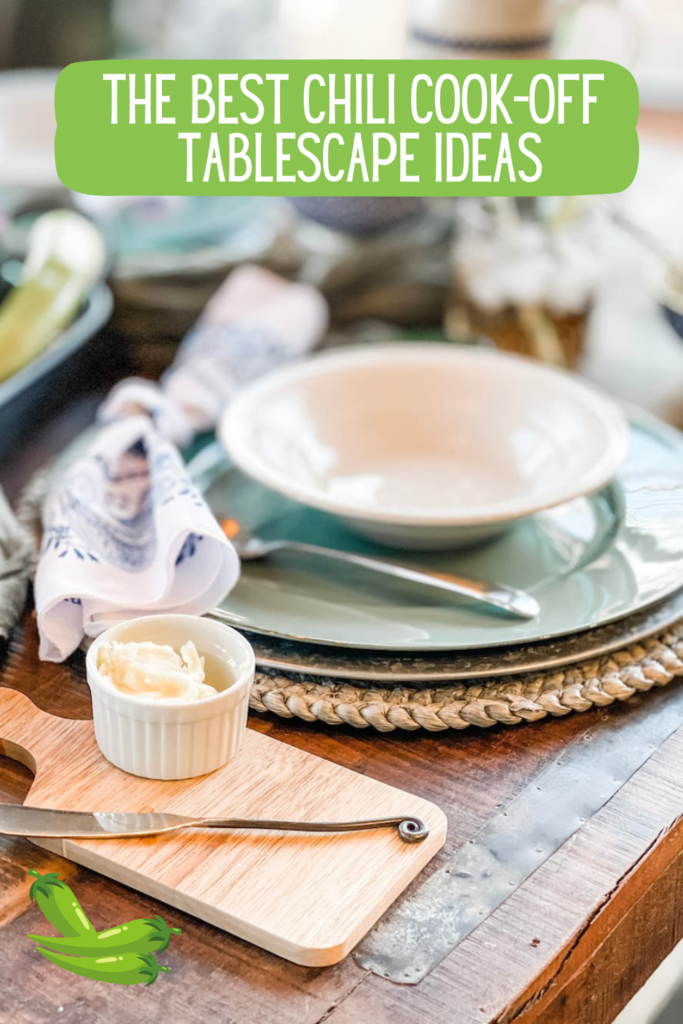 SHOP A CHILI COOK-OFF EVENT
Did you know you could click on an image and order? I am an Amazon Affiliate, if you purchase from the links provided, I receive a small commission. Thank you for supporting my business.