Are you a fan of white chili or red? I lean toward white and I am sharing a yummy recipe for White Chicken Chili on the Grill. I am using our Traeger.
Hi, I'm Regina, welcome to Saved From Salvage. I'm so glad you are here. I love to share DIYs and Furniture Flips, Tablescapes, Home Decor and the occasional recipe.
Make sure to subscribe and be the first to know about upcoming projects.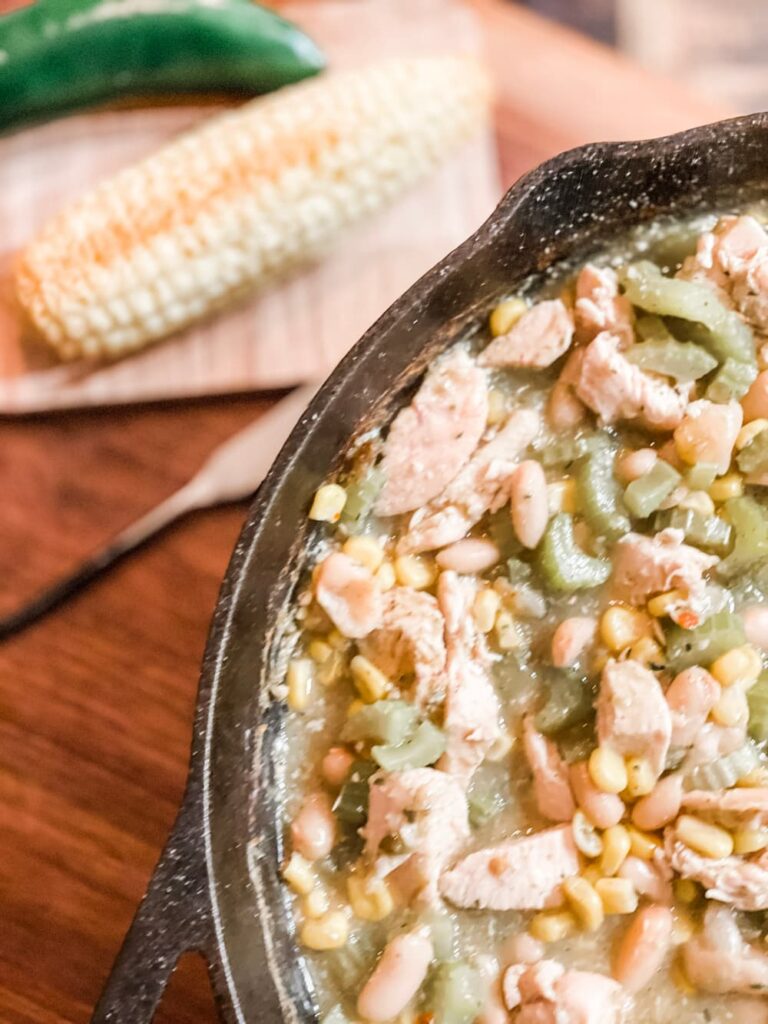 WHITE CHICKEN CHILI RECIPE
This is such an easy go to recipe. I always have all the ingredients on hand except for the celery. It's quick perfect for a chilly
INGREDIENTS FOR THE WHITE CHILI
1 LB OF BONELESS CHICKEN BREAST
1 STALK OF CELERY
1/2 CUP OF WATER
2 TABLESPOONS OF OLIVE OIL
1 14 OZ CAN OR BAG OF CORN
1 TABLESPOON OF BUTTER
1 4 OZ CAN OF GREEN CHILES
1 14 OZ CAN OF CANNELINI BEANS
1 TEASPOON CHILI POWDER
1/2 TEASPOON CUMIN
1/2 TEASPOON SALT
1/2 TEASPOON DRIED OREGENO
1/2 TEASPOON ONION POWDER
1/4 TEASPOON PEPPER
1/4 TEASPOON CAYENNE PEPPER
3 TABLESPOONS CREAM CHEESE
PREPARING THE CHILI ON THE GRILL
First step is to preheat the grill.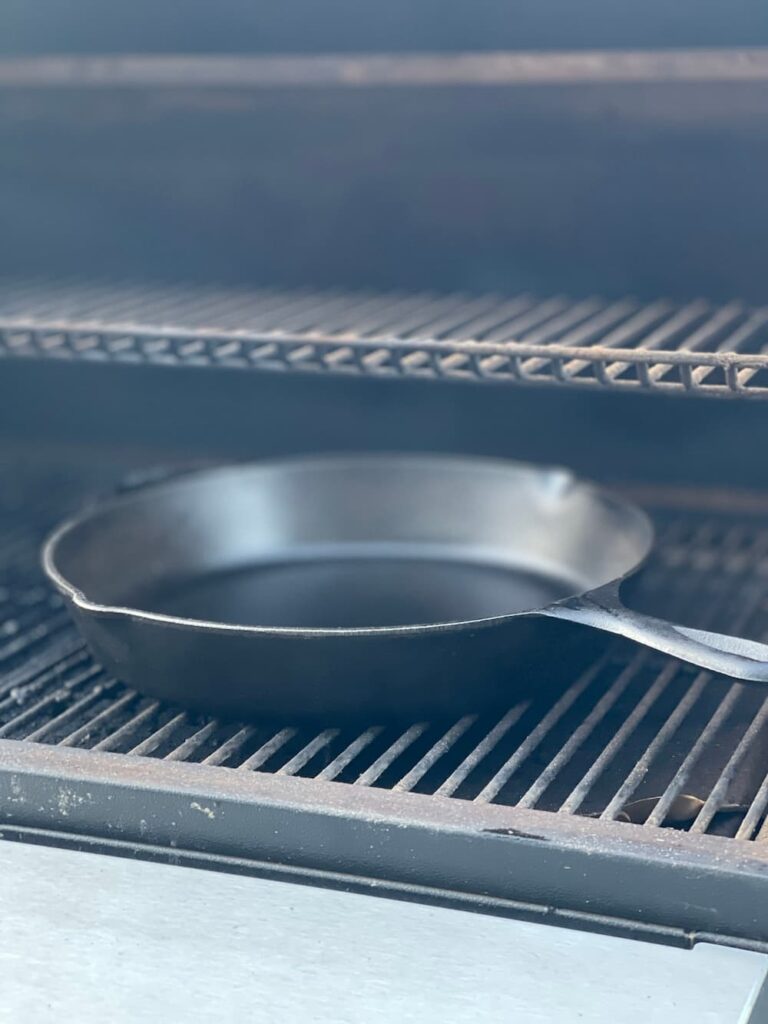 After preheating the grill, add the olive oil to a cast iron skillet and heat.
Add the chicken breast and cook until pink is gone.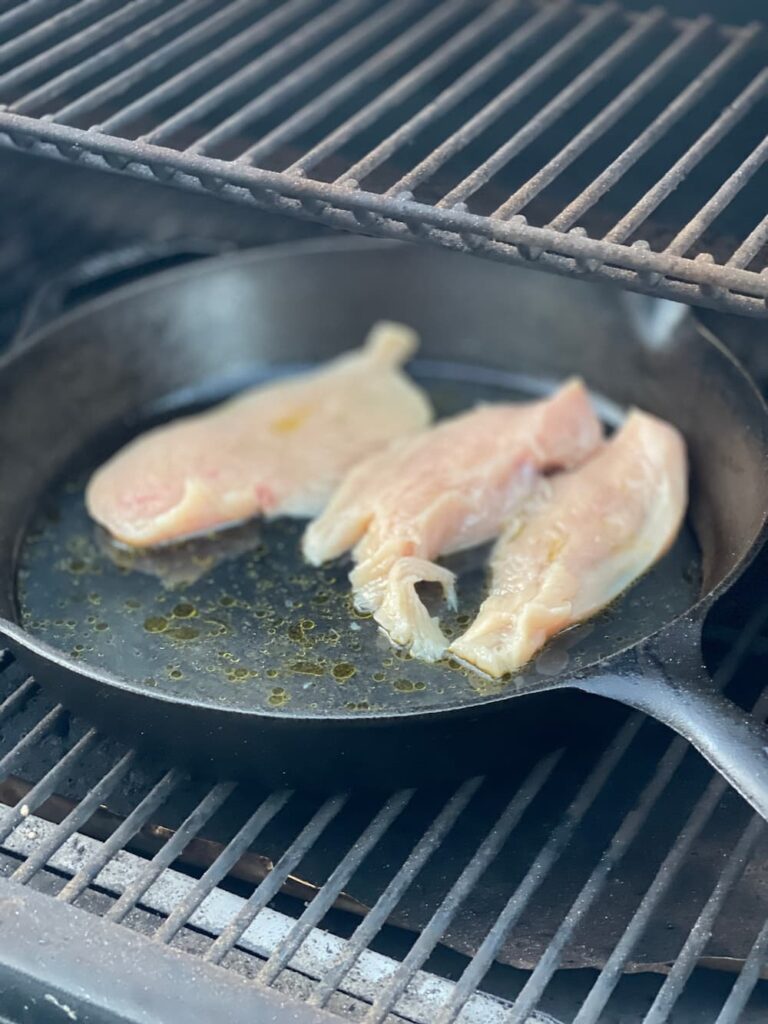 Cut up chicken into chunks to make sure it's cooked through. Check with a thermometer until it is at 165 degrees.
Add 1/2 cup of water.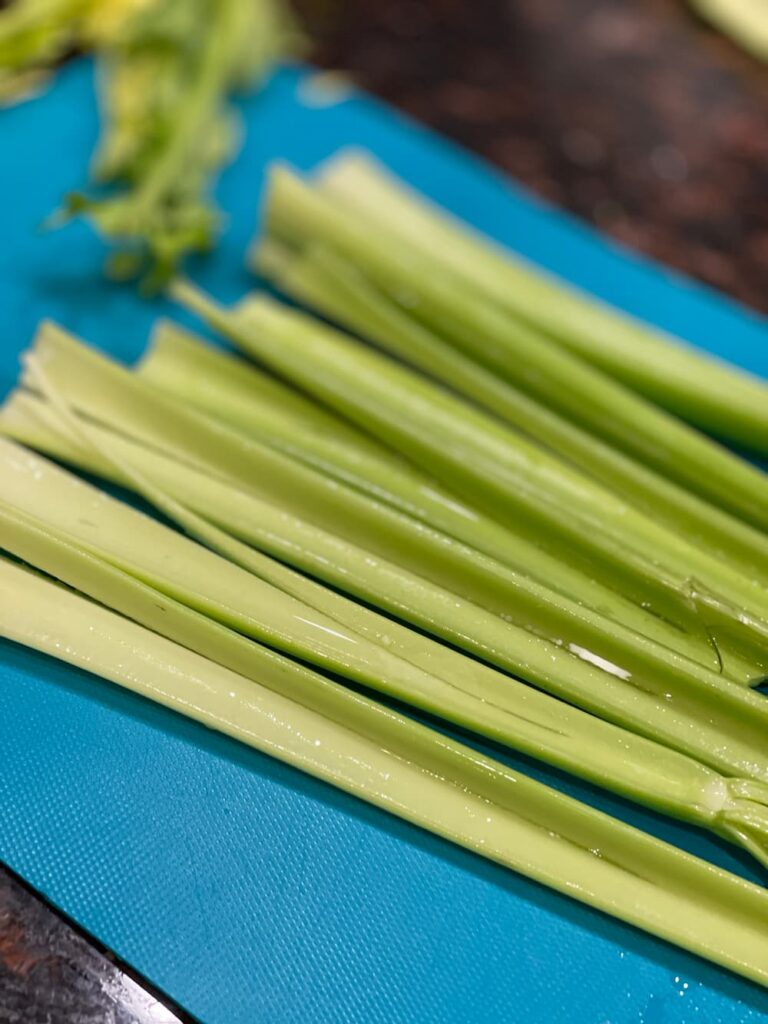 Cut up your celery and add to the pan, cook until soft.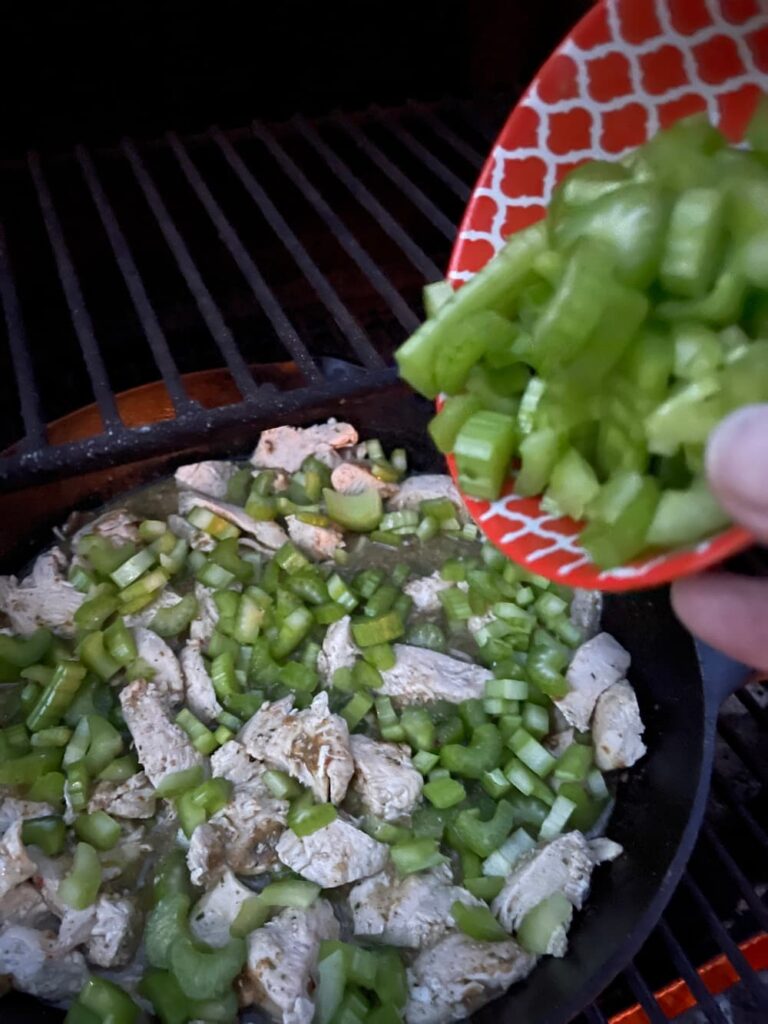 Next add your can of green chiles.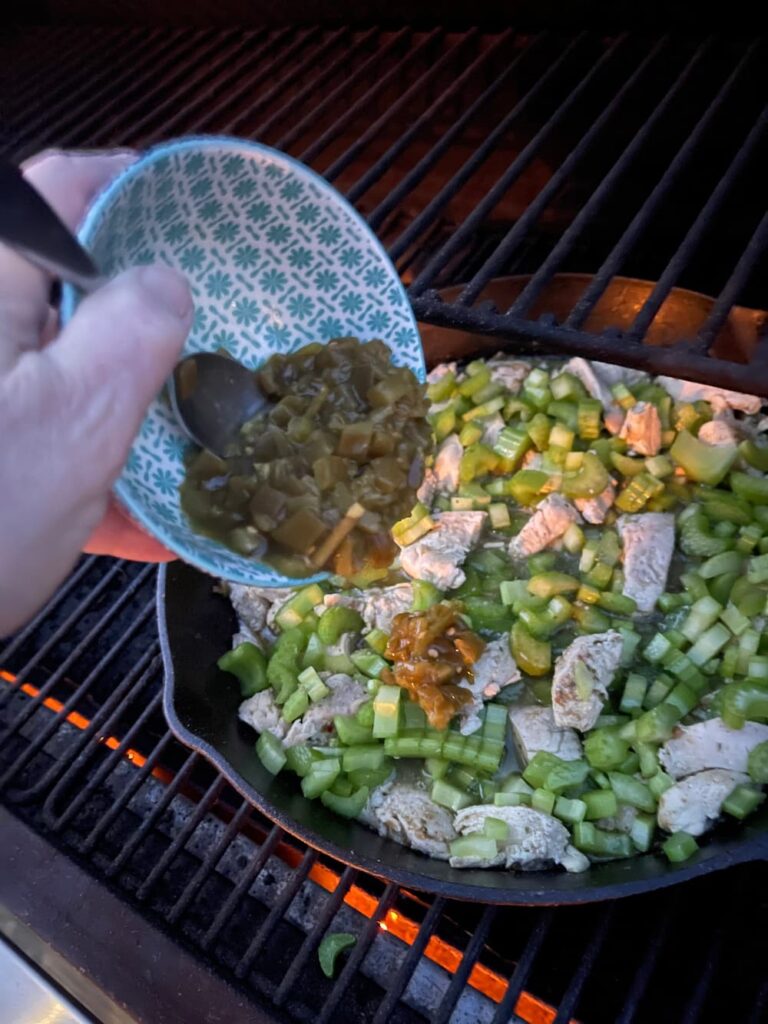 Now it's time to add your spices and stir.
Meanwhile in another pan, cook corn in 1 tablespoon of butter until charred, add to meat mixture.
Continue to cook for 20 minutes, stirring occasionally.
Add your cannellini beans and stir.
Continue cooking, add cream cheese, stir and serve.
CHILI TOPPINGS
AVOCADO
LIMES
CHEESE
GREEN ONIONS
SOUR CREAM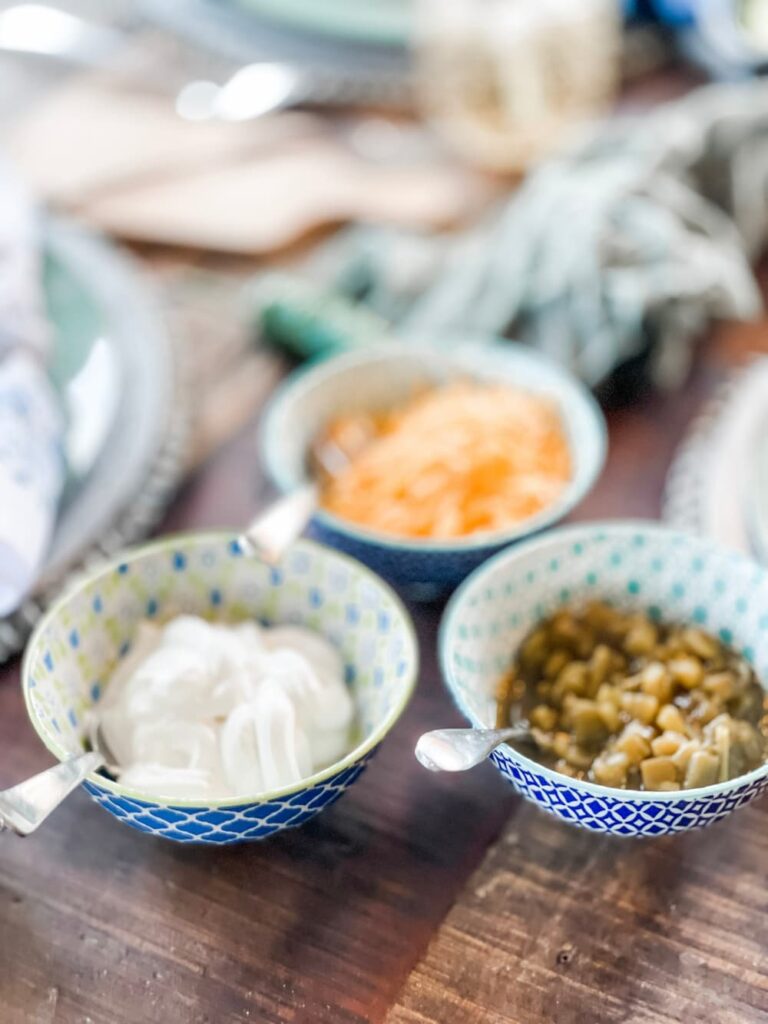 CORNBREAD
I opted to make cornbread from a mix. I used Jiffy Cornbread mix. It's always on hand and requires egg and milk. The best part was I got these corn shaped silicon baking cups to cook it and it was so cute.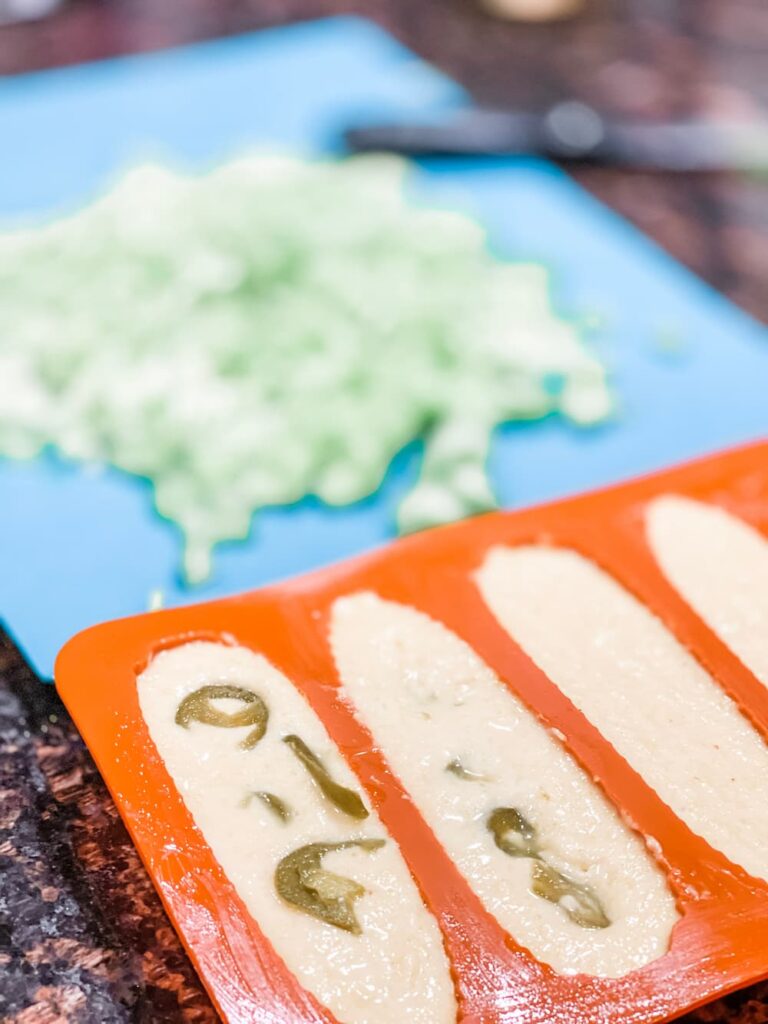 Carmine likes it hot so I added jalepenos to 1/2 of them.
What do you think?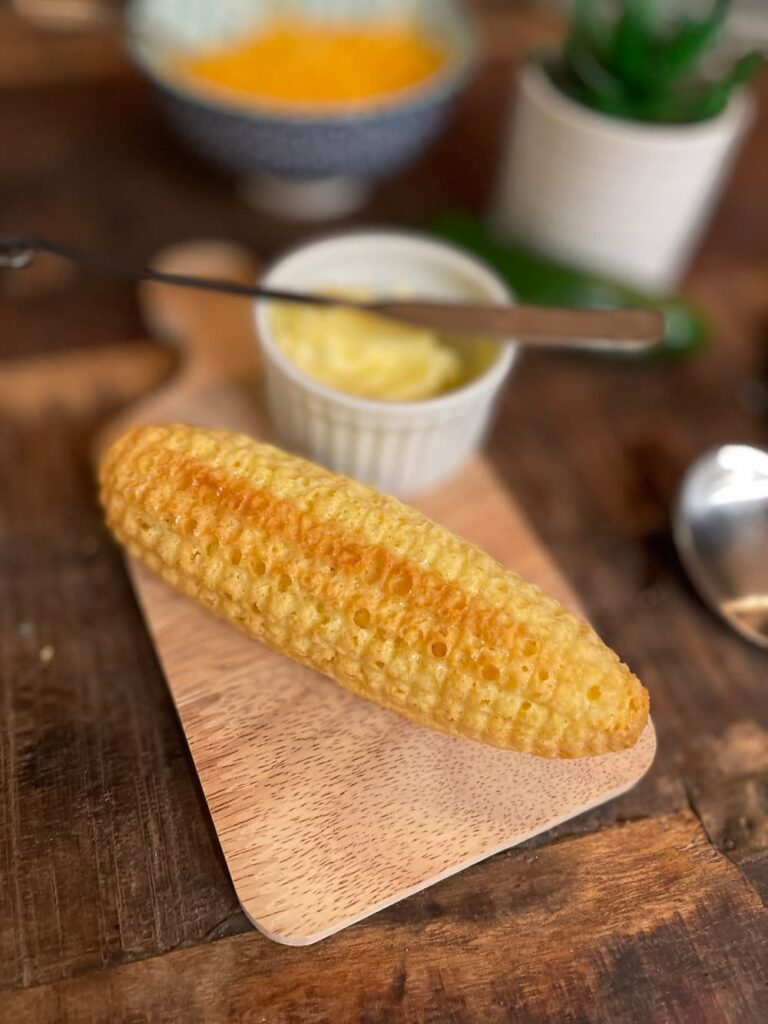 WHITE CHICKEN CHILI ON THE GRILL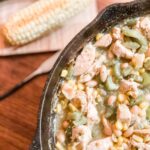 AN EASY AND DELICIOUS HEARTY CHILI THAT CAN BE COOKED ON THE GRILL.
Preheat grill.

Add cast iron skillet to heat, add olive oil until heated and then add chicken.

Cook until chicken is 165 degrees. Cut chicken while in pan into chunks.

Cut up and add celery to the pan, cook until soft.

Next in another pan, add butter and corn, cook until charred.]

Add to chicken mixture.

Add water and then spices to the chicken mixture. Cook and stir for 5 minutes.

Add cannellini beans (not drained) and green chiles.

Continue cooking until bubbly.

Add cream cheese on top, as it melts, stir and serve.
If you make this – email a picture at [email protected] and let me know what you thought.
If you are a chili fan – check out this fun post on my Chili Cook-Off here.
My posts contain affiliate links where I receive a commission on qualifying purchases.
SHOP THIS POST