Hi friends. I was happy to be able to help plan my niece's bridal shower last weekend. It turned out beautifully and she was a happy bride to be.Thinking of ways to make an event special with guests saying "wow" is always my goal.
I'll share what I think can take a shower or sprinkle to the next level.
It's all in the details and it shows you care.
The six ways are Signage – Flowers – Favors – Food – Lights – Presentation.
These are no steadfast rules, just ones I go by.
Signage
Having signage that is consistent in color and look adds cohesiveness to the event. These were easy DIY's. The large sign was an old picture I painted over, added flowers with Mod Podge and cut letters using a Cricut Maker. By the way, if you don't have one and you like DIY – you need one.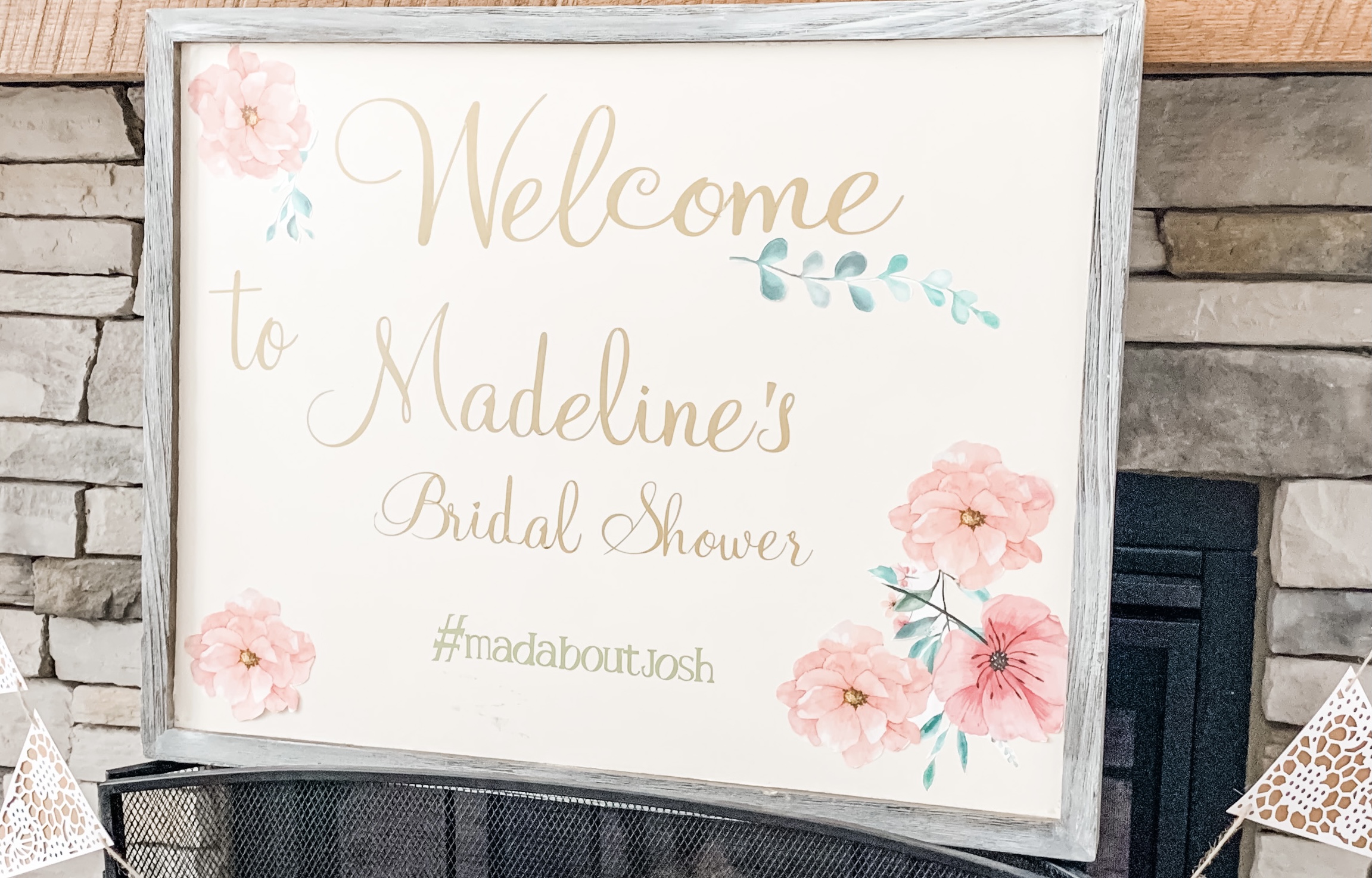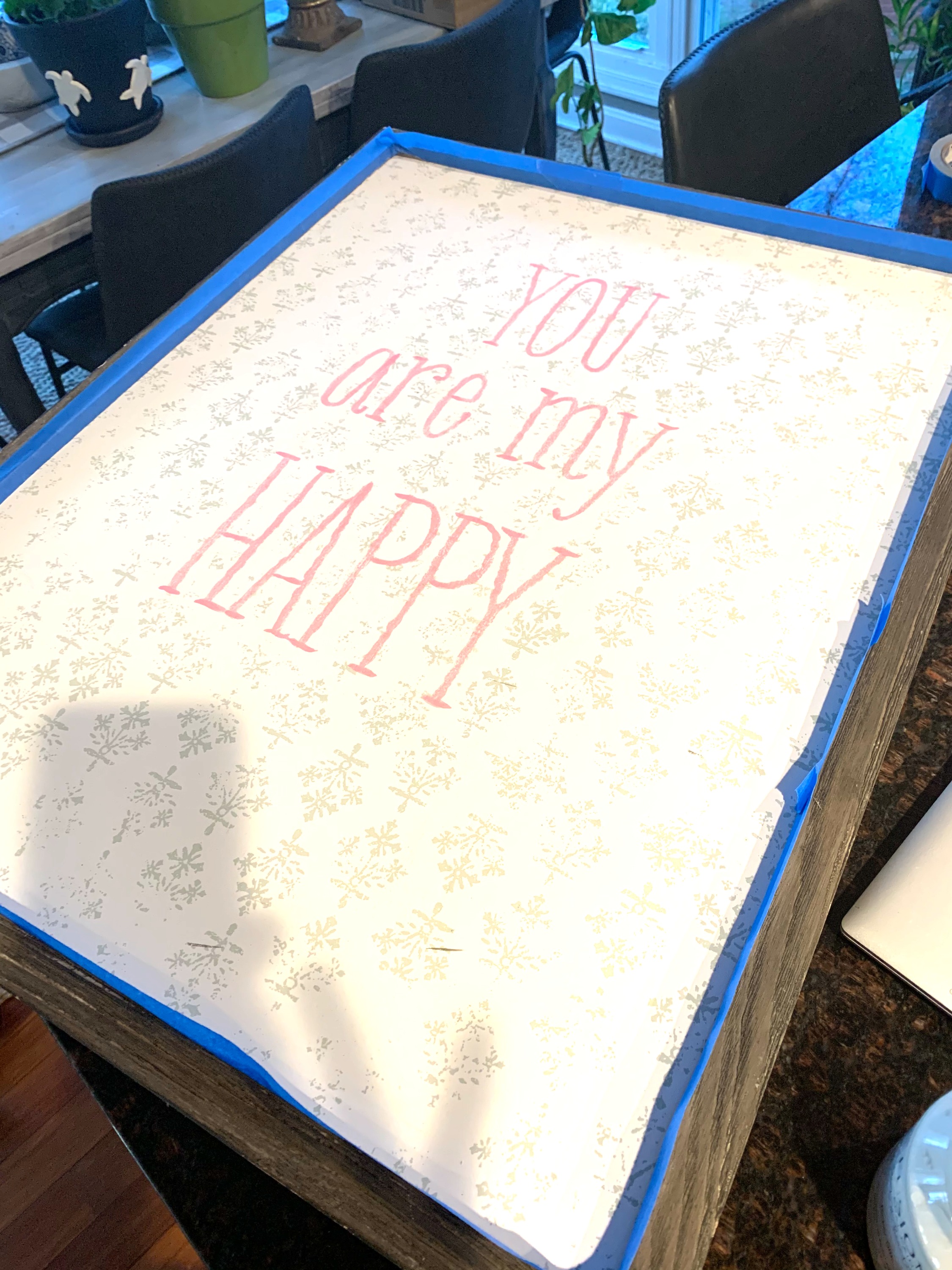 These food signs were done on the computer and I used these frames from Ikea. They come in a variety of colors. You can find some similar on Amazon here.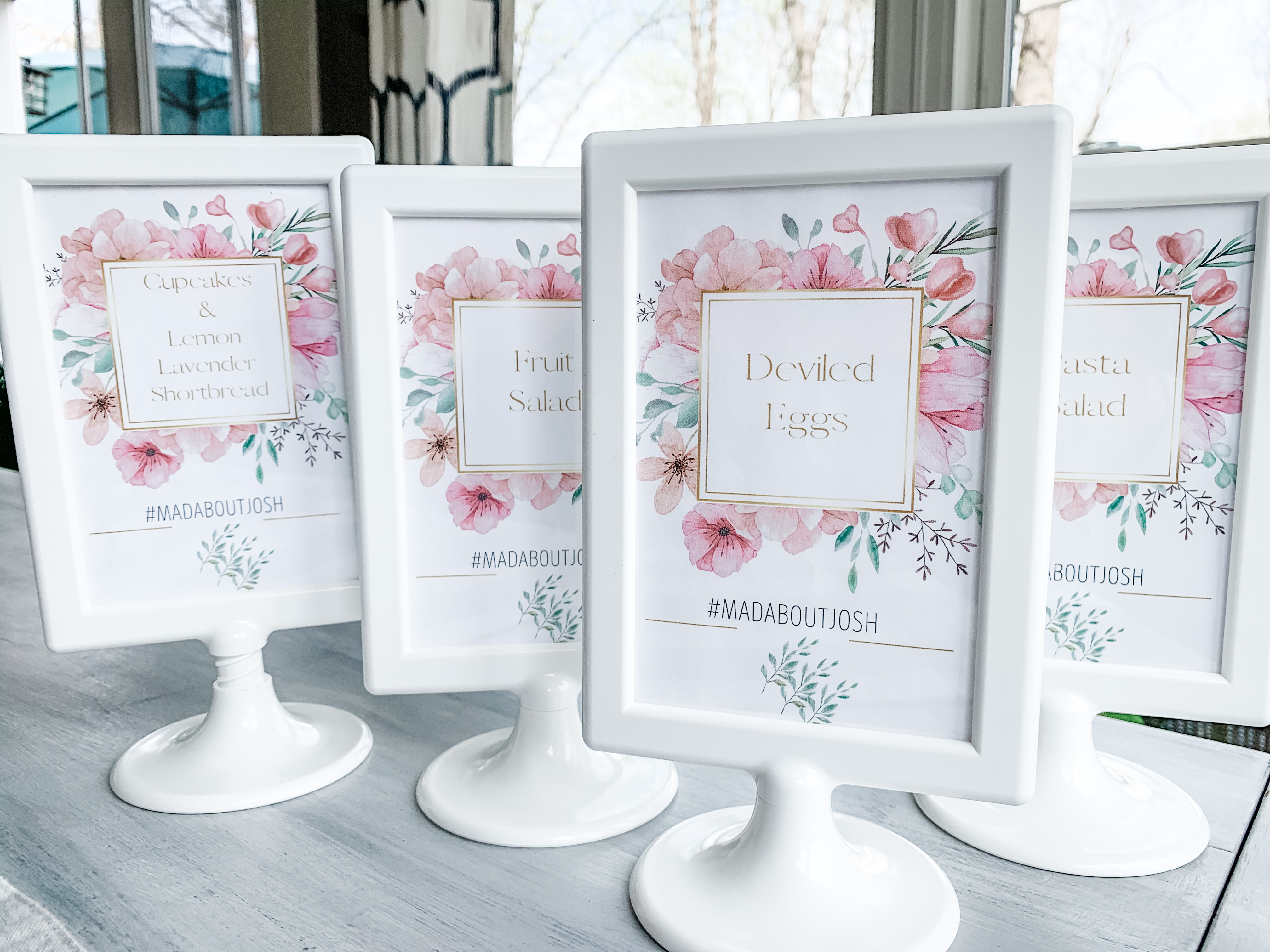 Keeping the look the same, I used small white frames for other signage.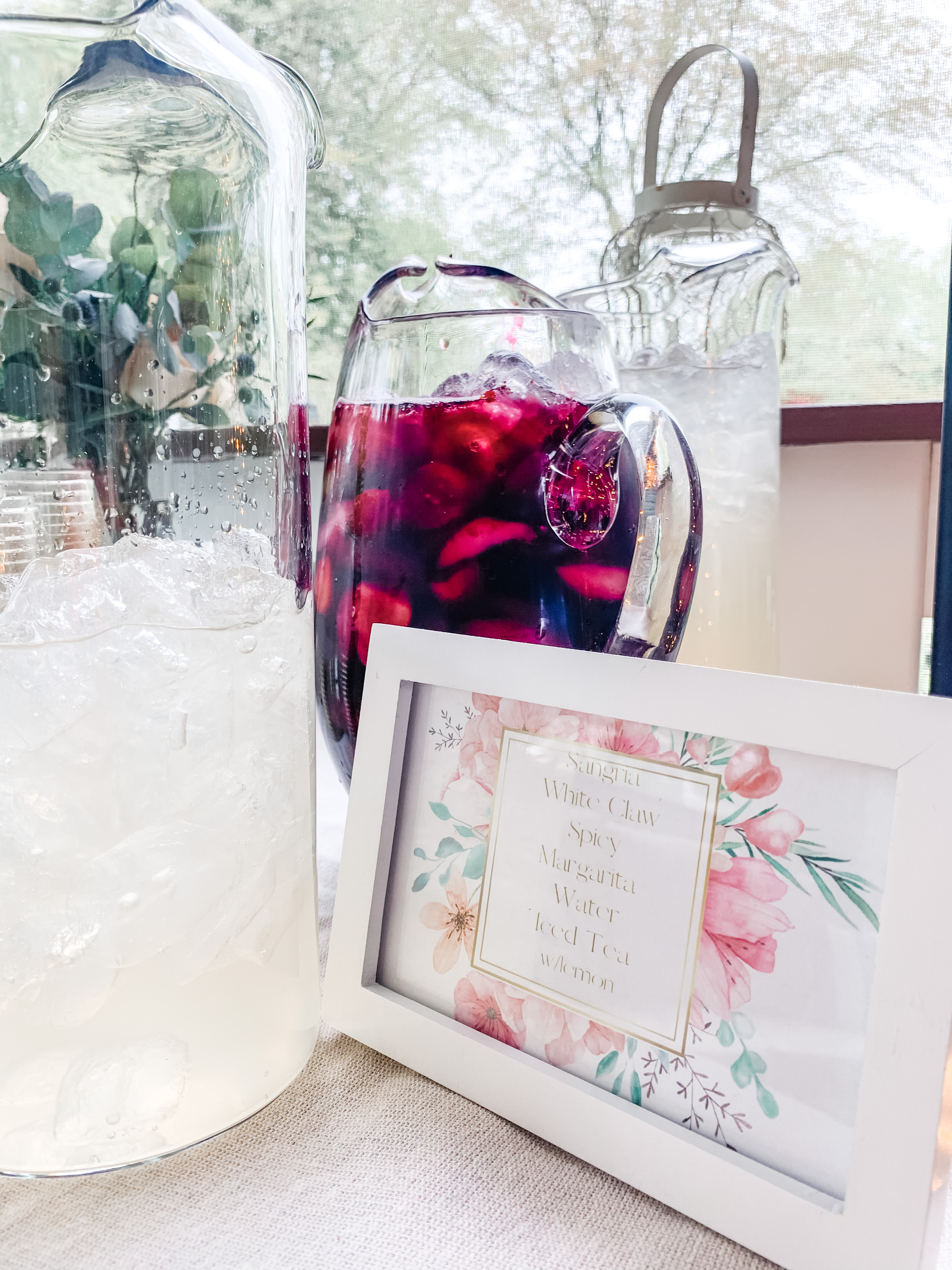 This listed the offerings at the bar table.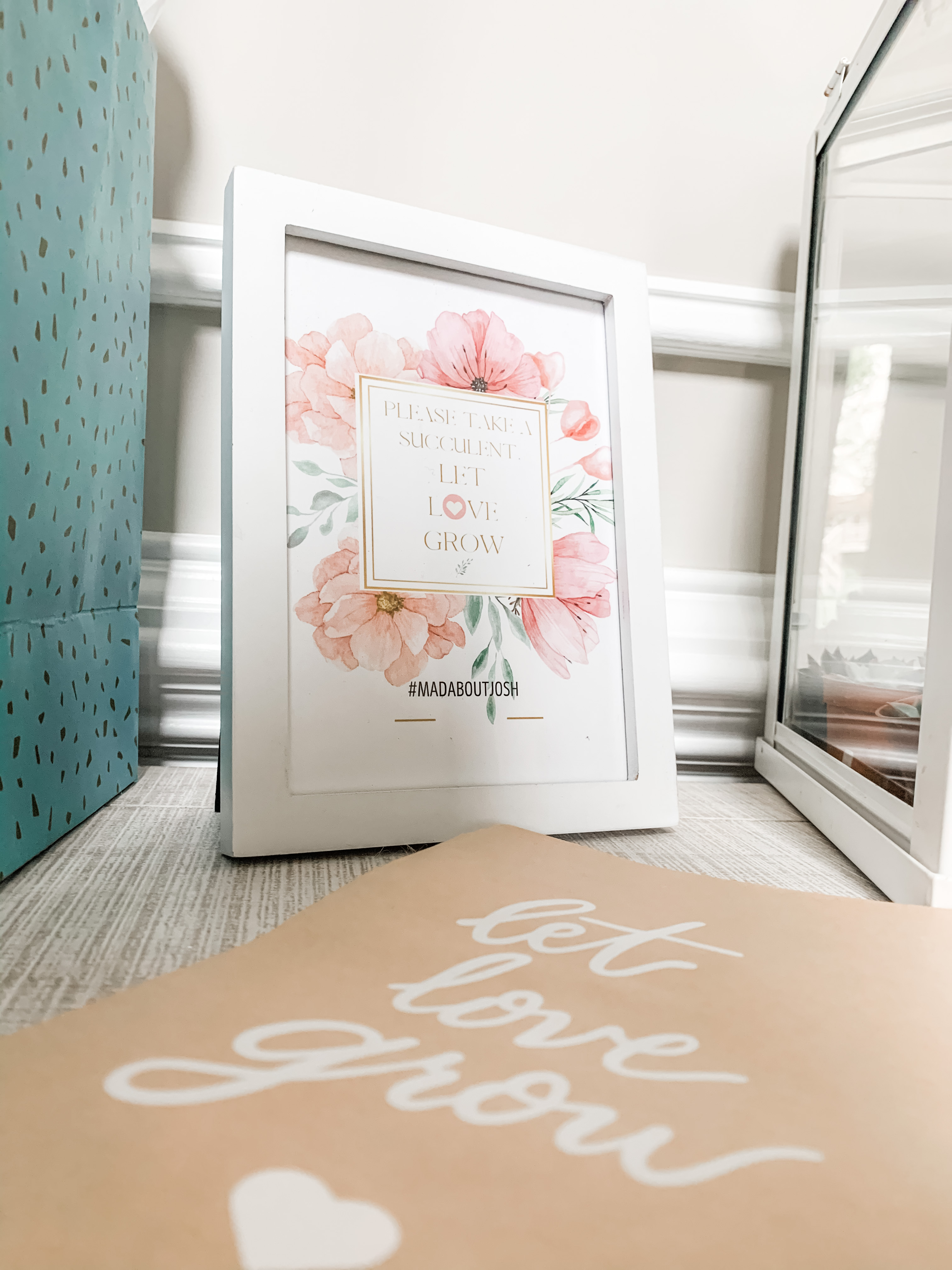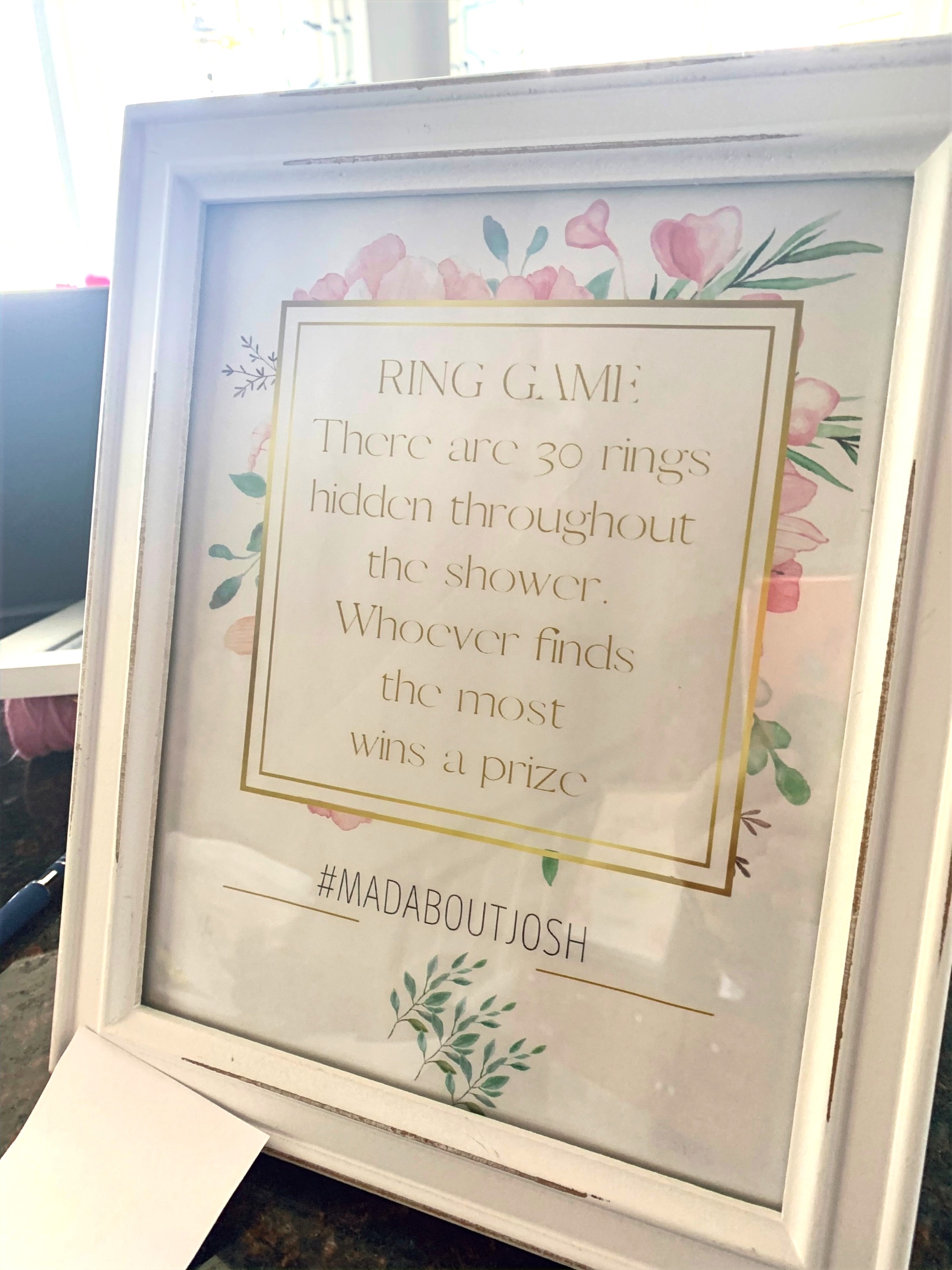 These signs were next to the favors and announced a game.
Lights
Who can argue that twinkle or party lights make everything better? This was an afternoon shower so the only special lights were over the bar area. They still added a layer of fun and elegance even in daylight.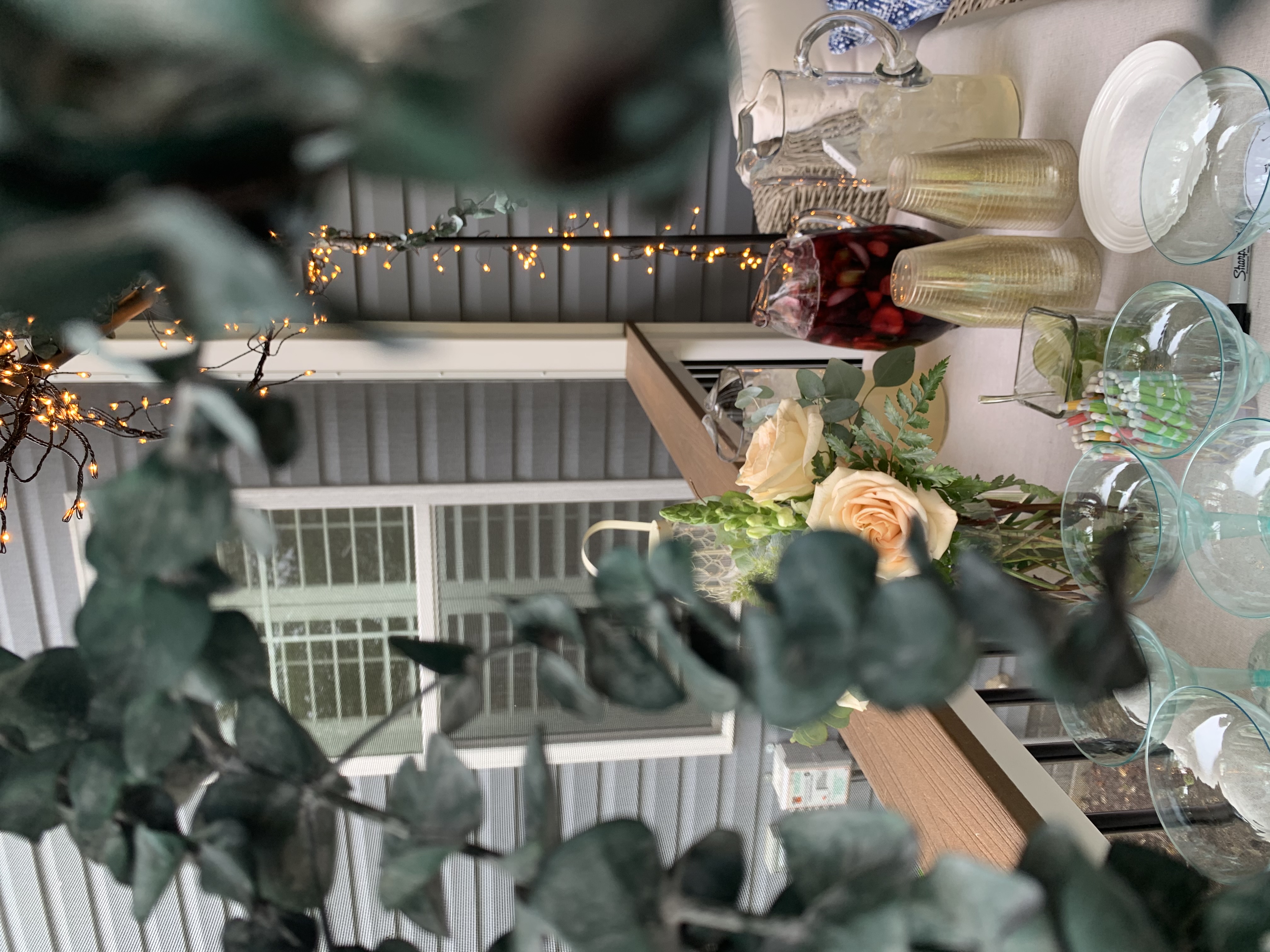 The "over the table bar" is from Terrain.
It attaches to the table and you can adorn it anyway you like. I also have hooks that hang from it if you wanted to hang baskets or containers.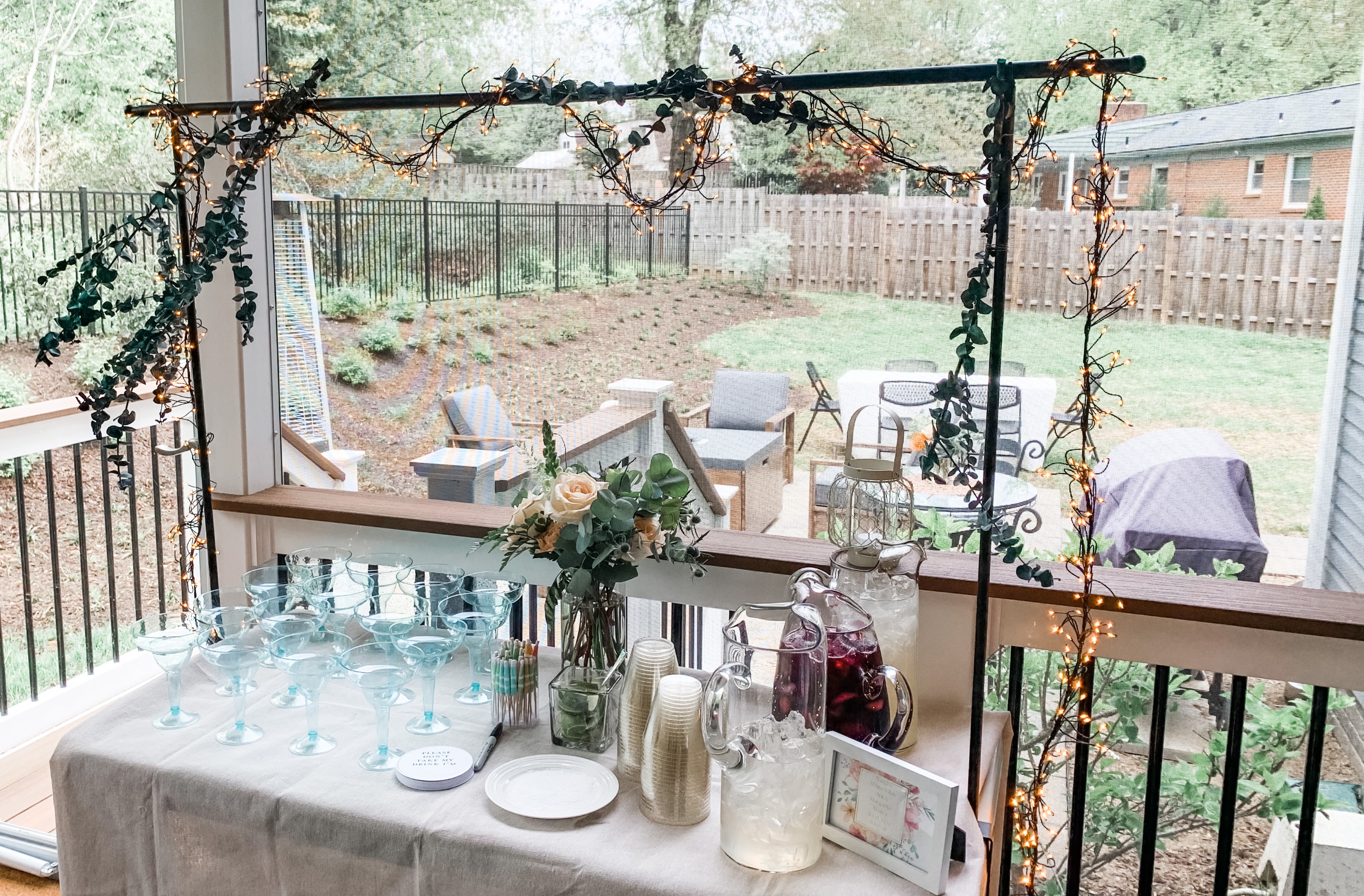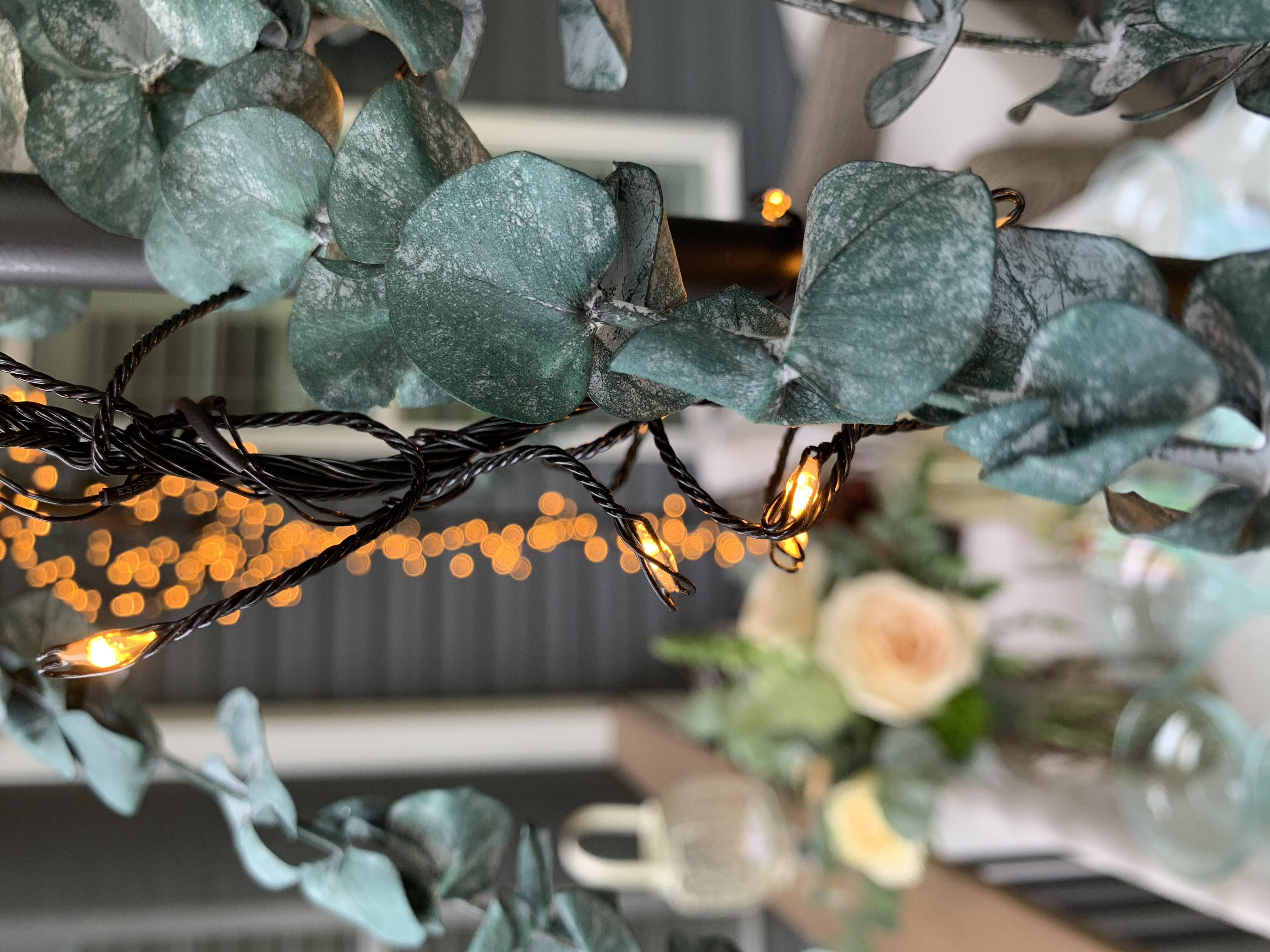 Flowers:
Flowers are right up there with party or twinkle lights in my book. For this shower, the flowers were done by a friend of the bride who has a new business. She did an amazing job. The flowers were stunning. They added a pop of elegance everywhere they were placed.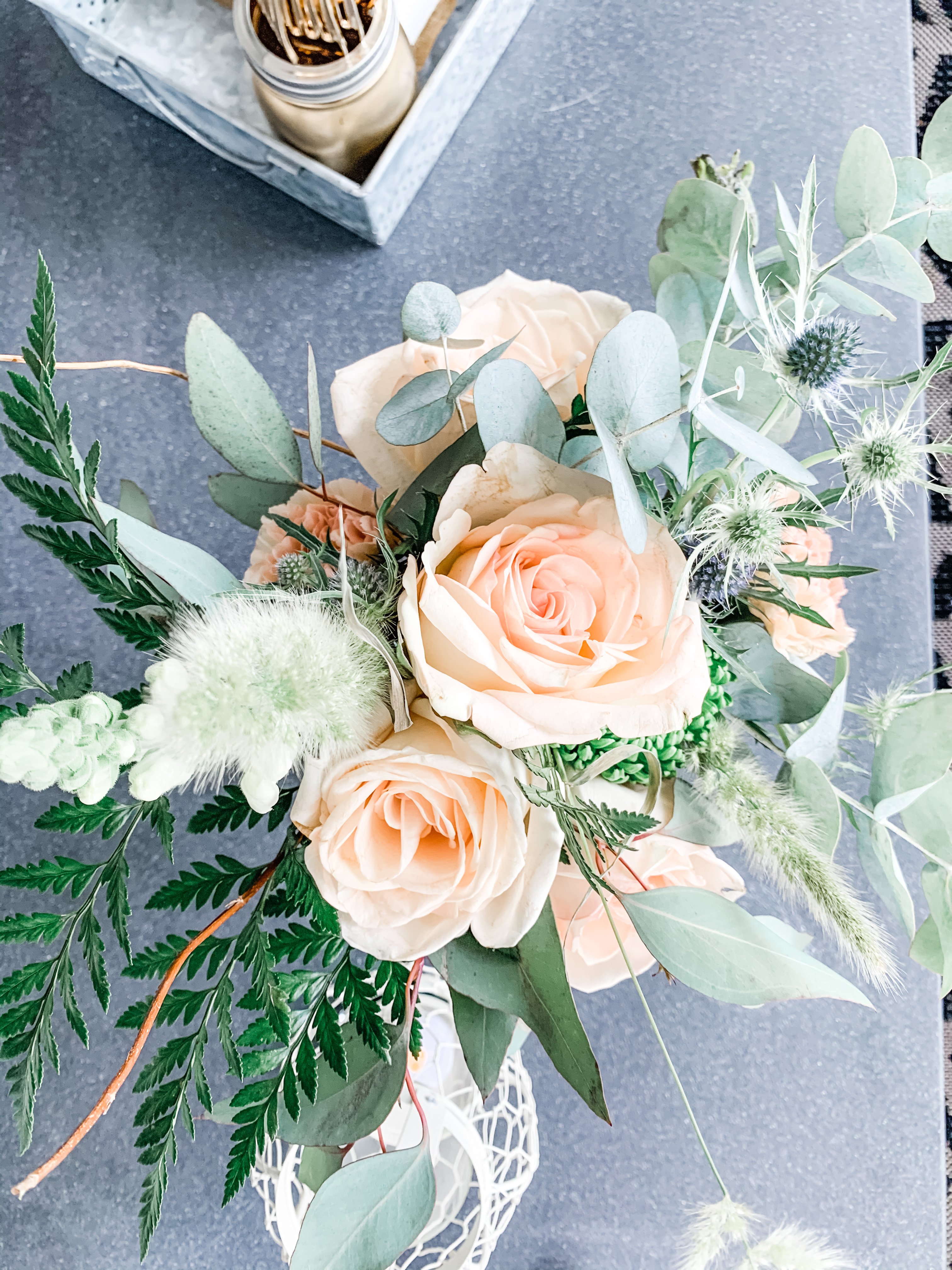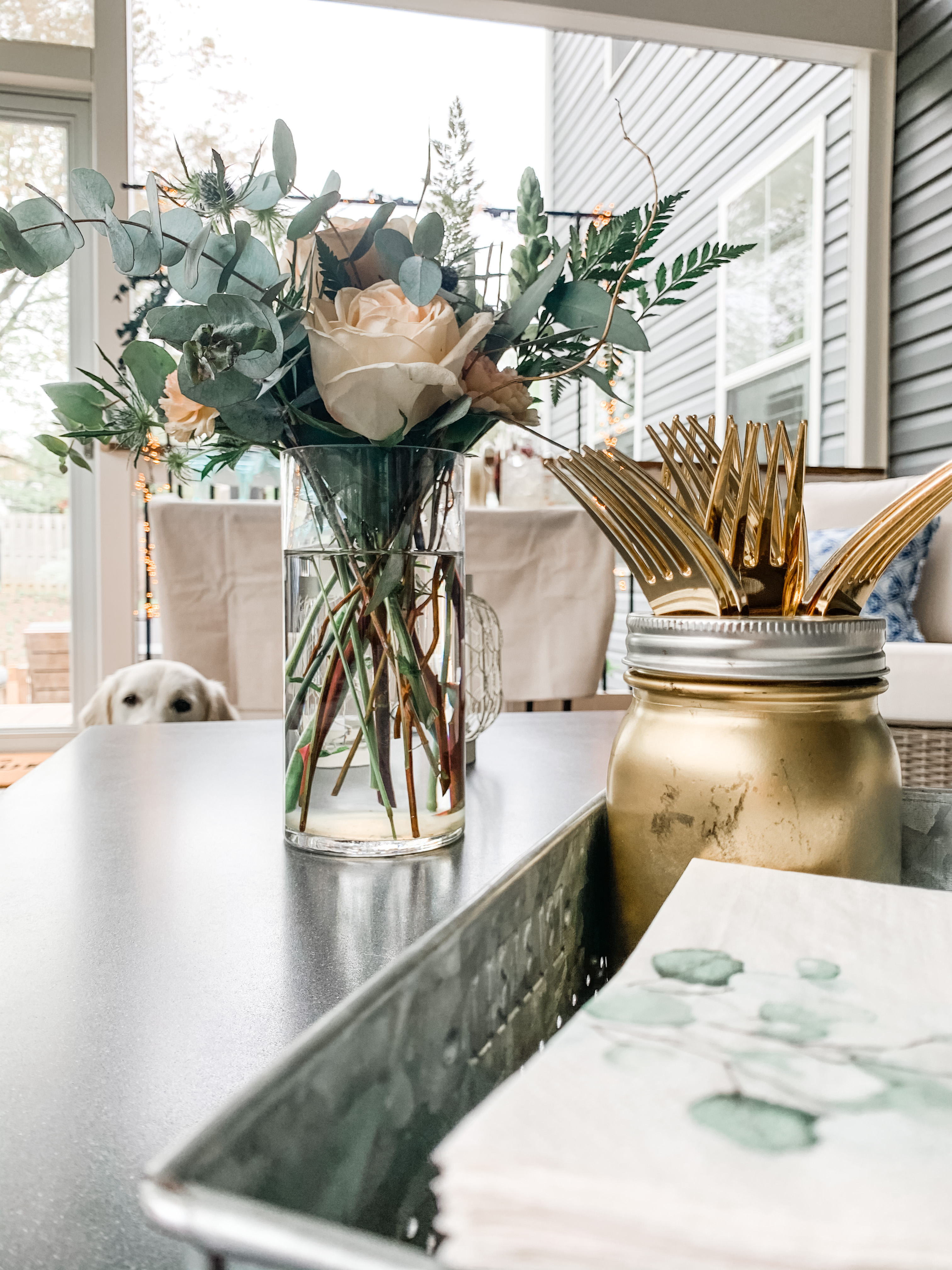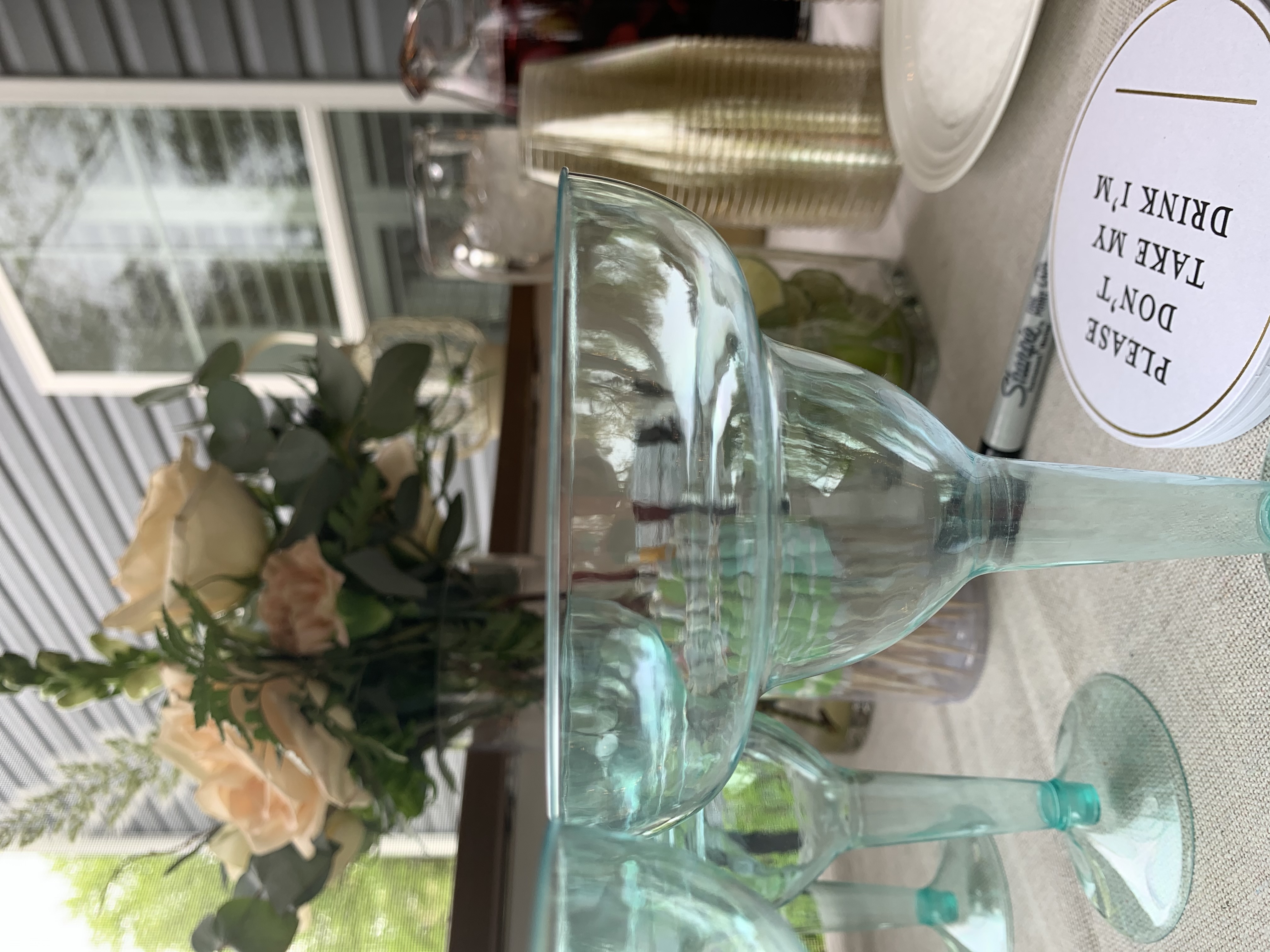 Favors:
These are a fun addition to any event. Something small but thoughtful is key. These little succulents were bought from Etsy. The small greenhouse container was another easy DIY. I cut out the letters and succulent from vinyl on the Cricut. The bags matching the saying can be found at Target.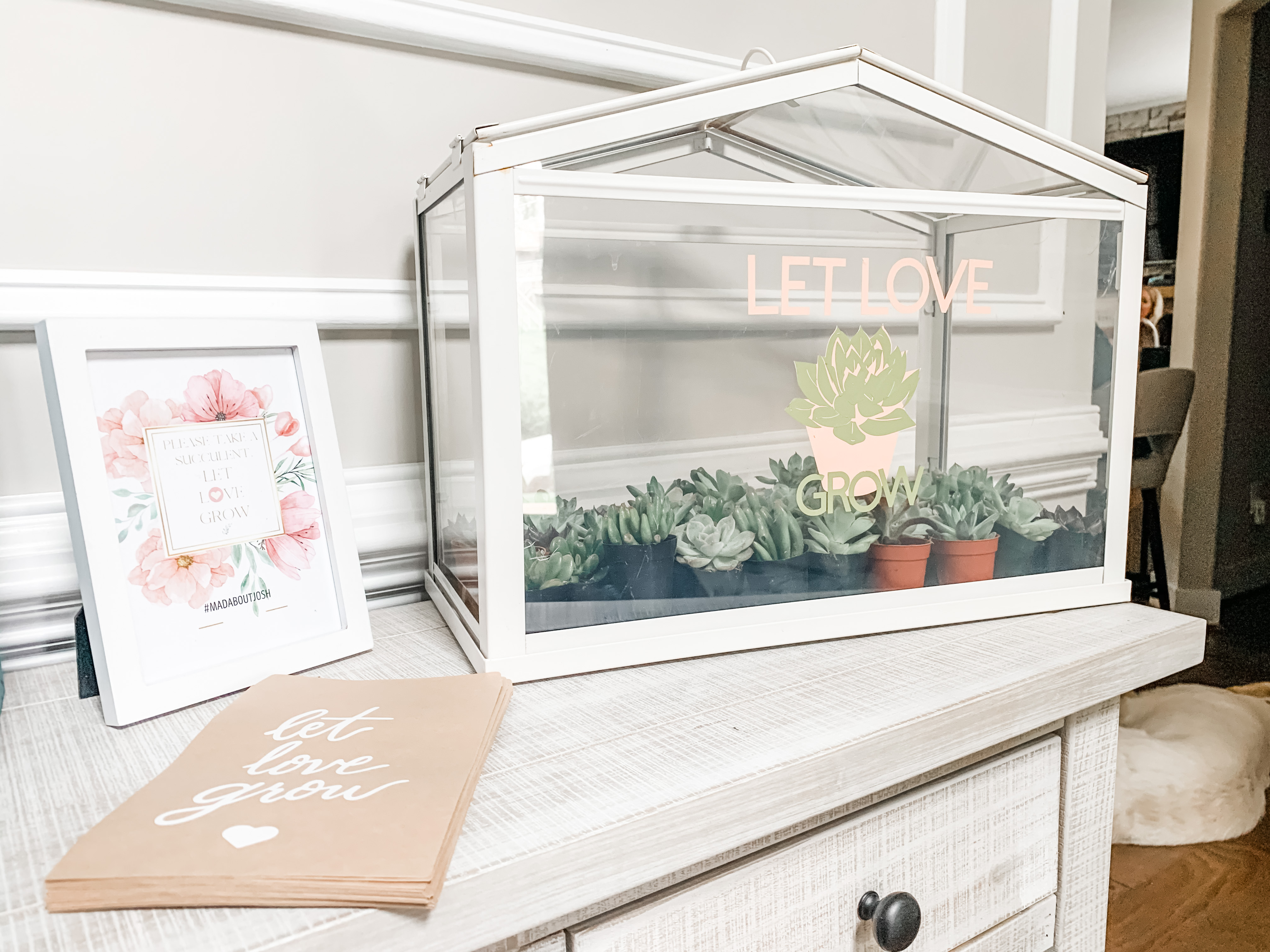 These were on display when guests entered. The top of the little greenhouse was opened later so guests could easily grab a flower and place in the paper bag to travel home.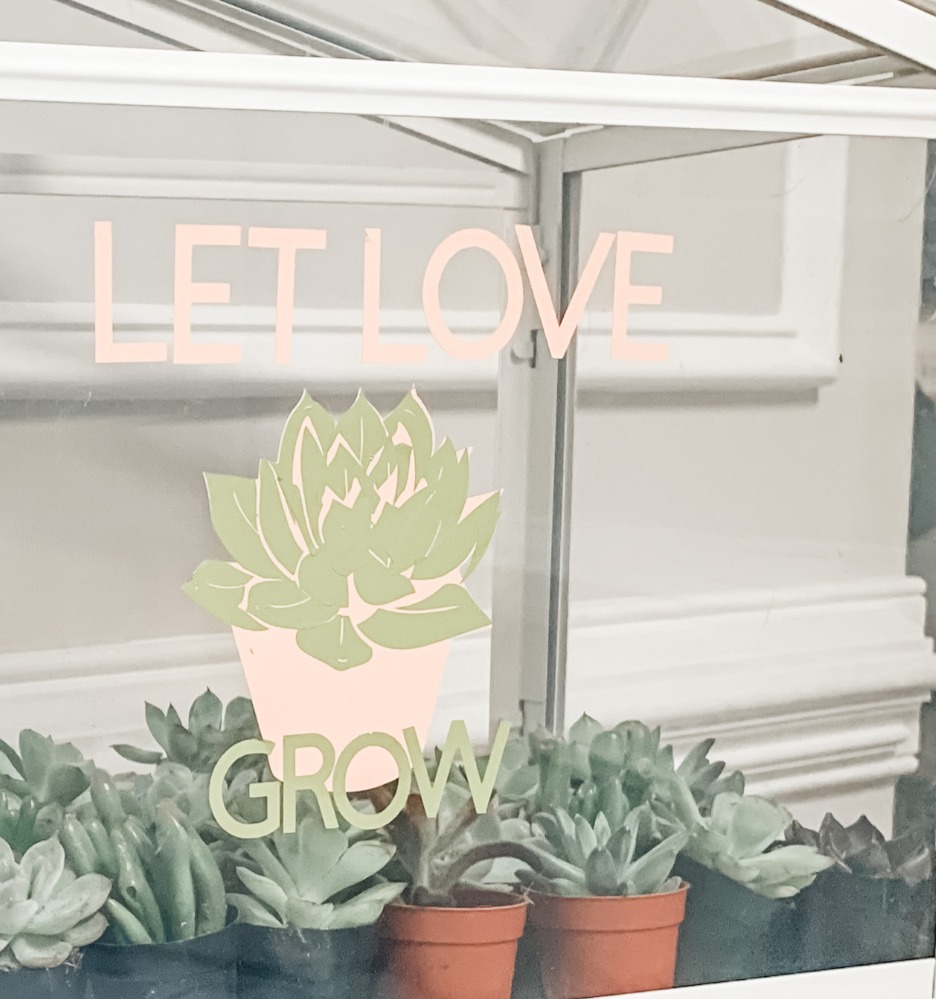 These would be perfect for a baby shower also.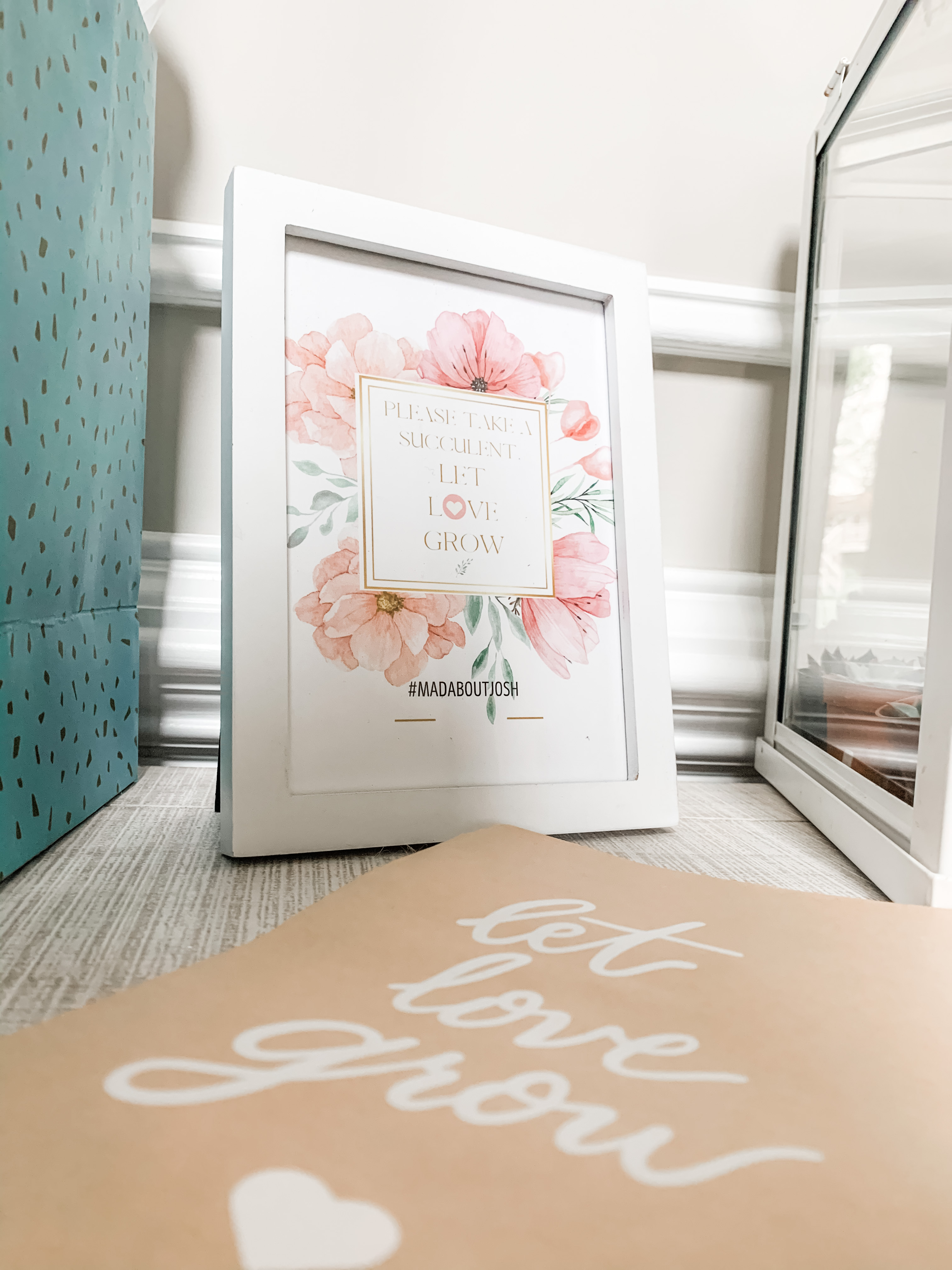 Food & Drink
It doesn't have to be fancy or expensive but food is a perfect reason to gather. For this event, small sandwiches were the main event and were joined by sides of coleslaw, pasta salad and fruit salad. Condiments and a relish tray were at another station to eliminate any slow downs at the food table.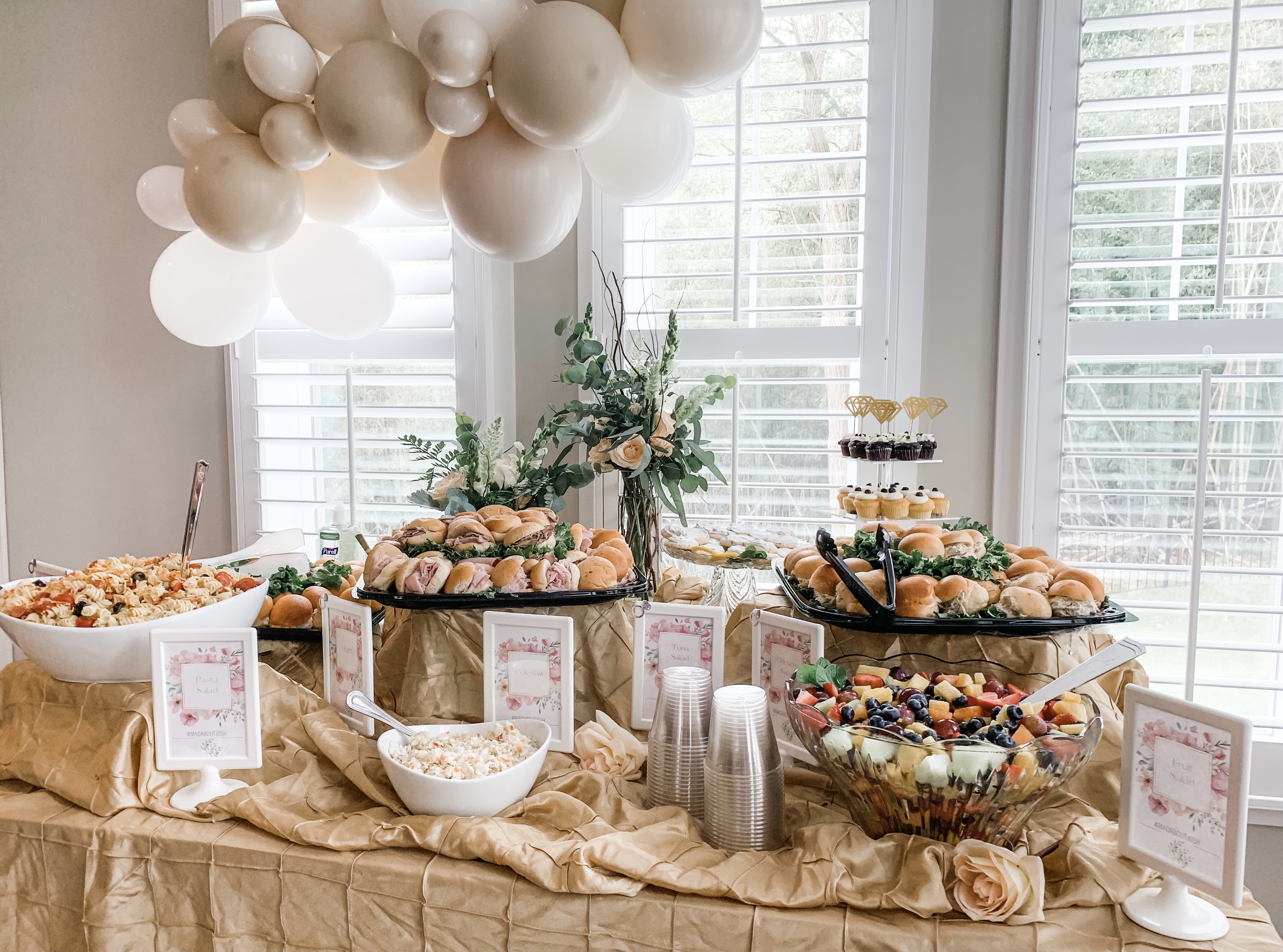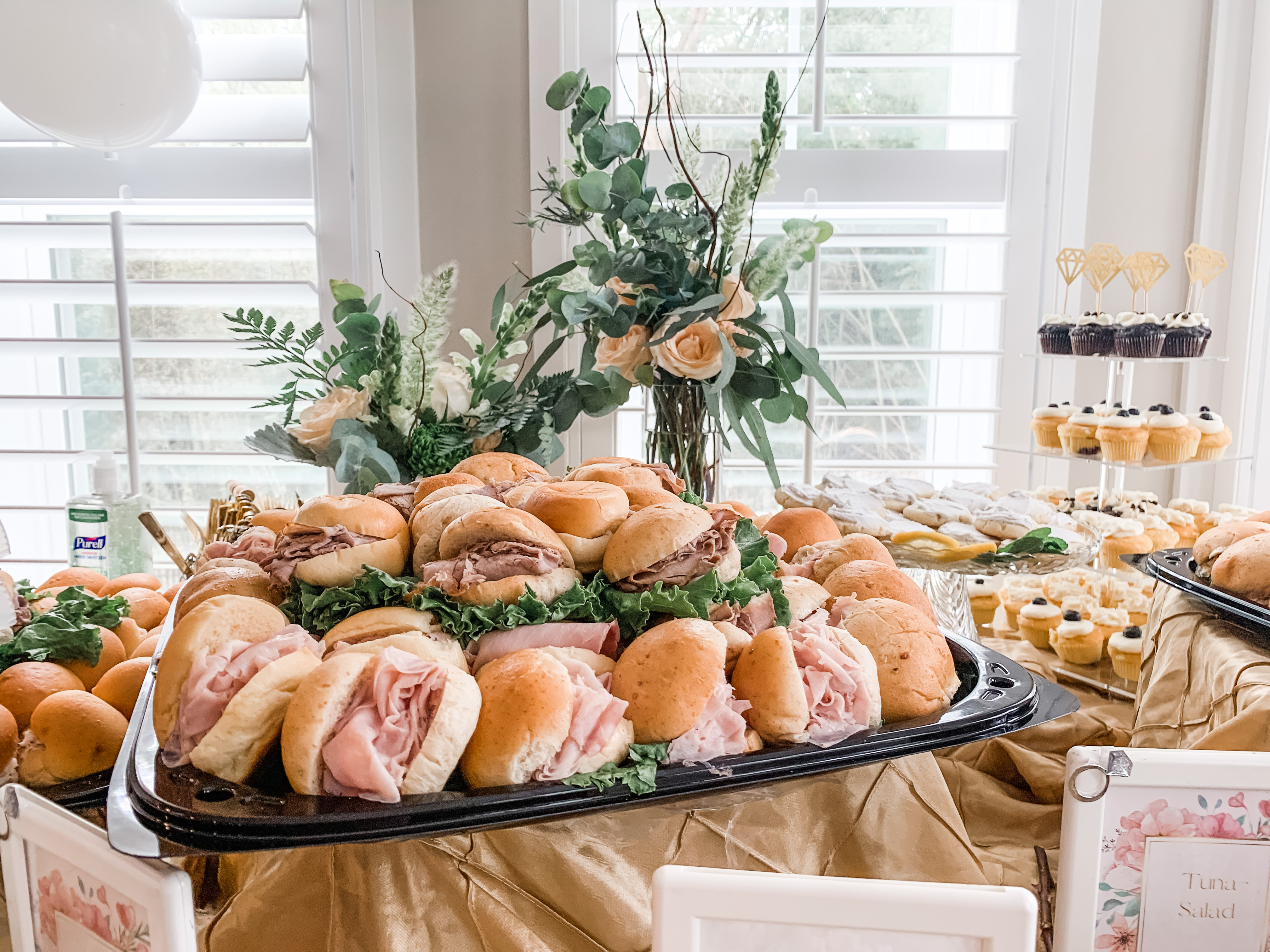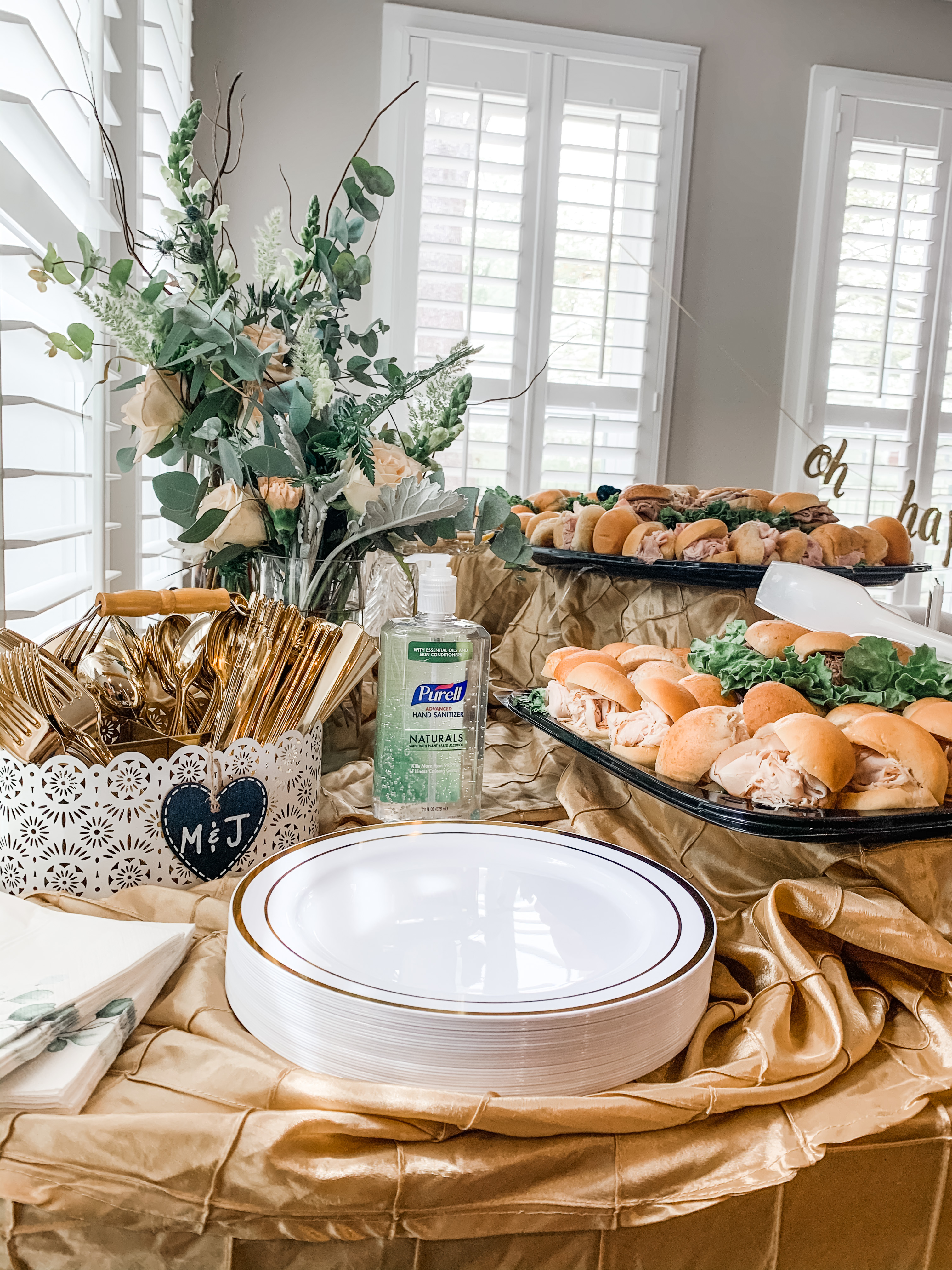 Hand sanitizer was located on the table for guests before they went through the buffet. Plastic plates were used instead of paper for elegance and durability. If the event is small enough, consider using china plates.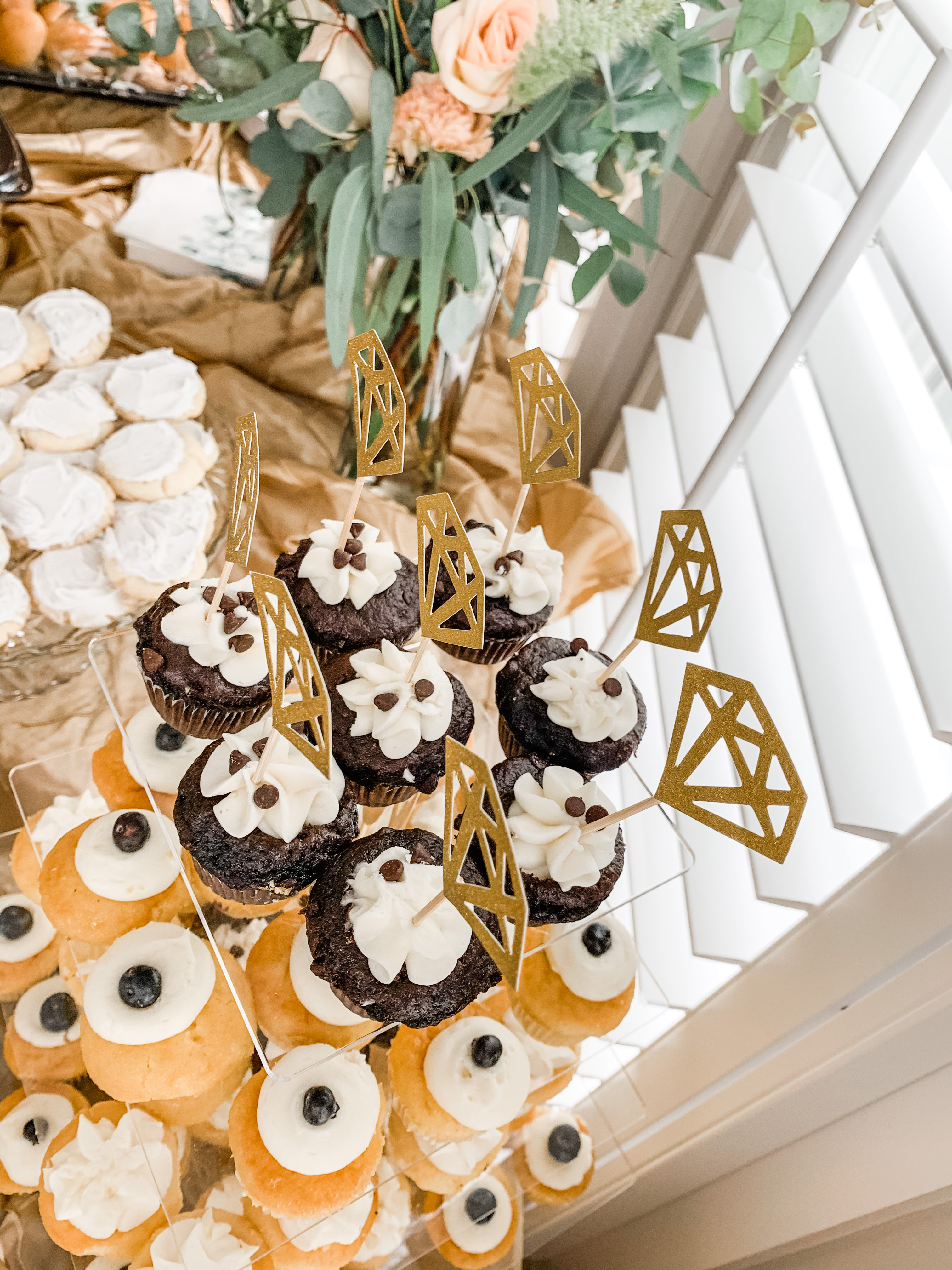 Desserts included mini cupcakes and homemade Lemon Lavender shortbread cookies.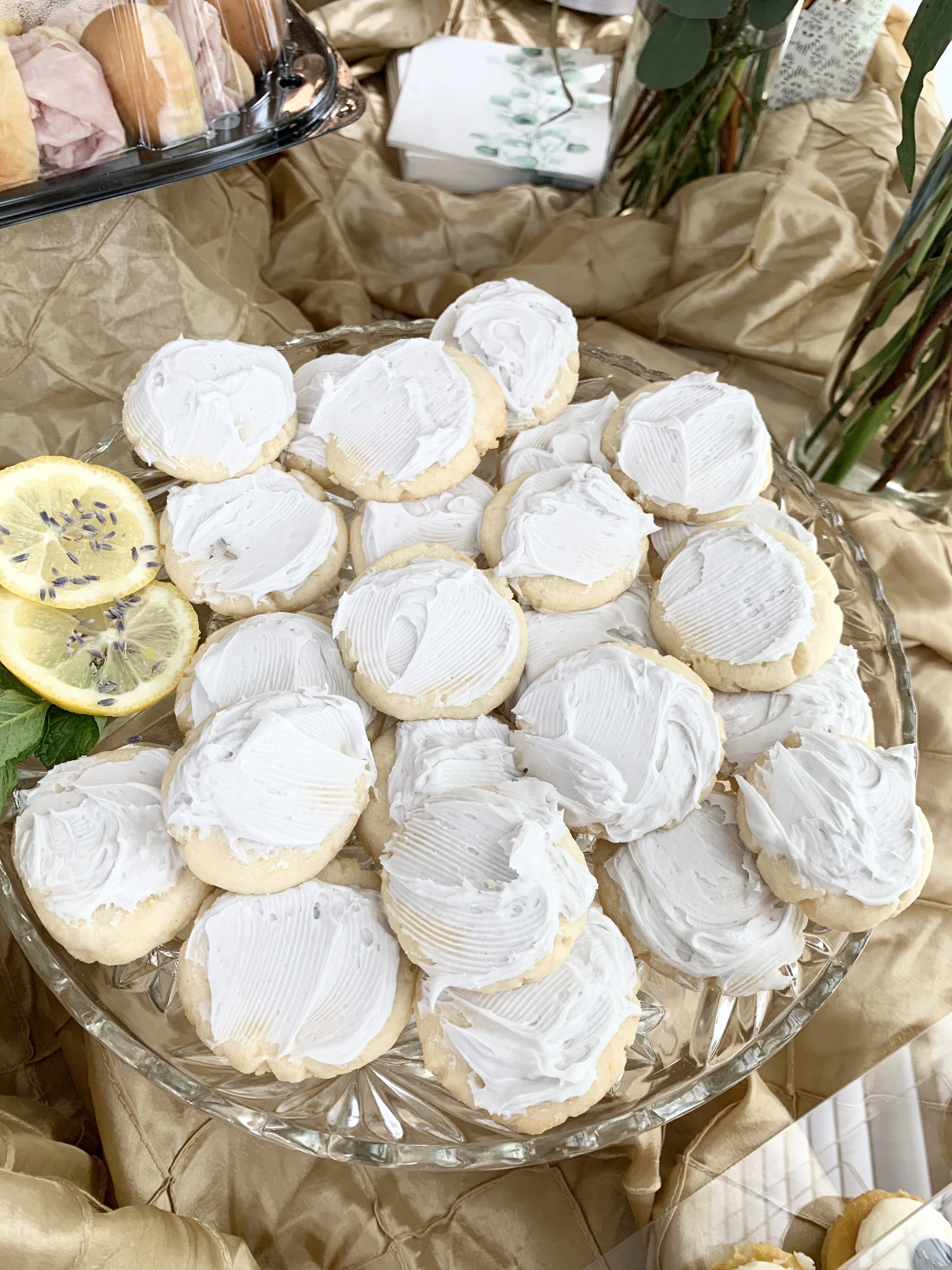 Appetizers were created with Covid in mind. The individual cups of veggies and ranch dip, chips and guac, and a mini charcuterie with cheese, pepperoni, crackers, pretzels and grapes, made it easy for guests to pick and and hold.
The drinks included both alcohol and non alcoholic drinks. There was a bar cart with waters and seltzers and the sangria, and margaritas were on the bar table. The limes, salt, variety of glasses and coasters with a sharpie to mark your drink spot were all right there. The ice tea was on the counter with fresh picked mint, lemon slices and assorted sweeteners.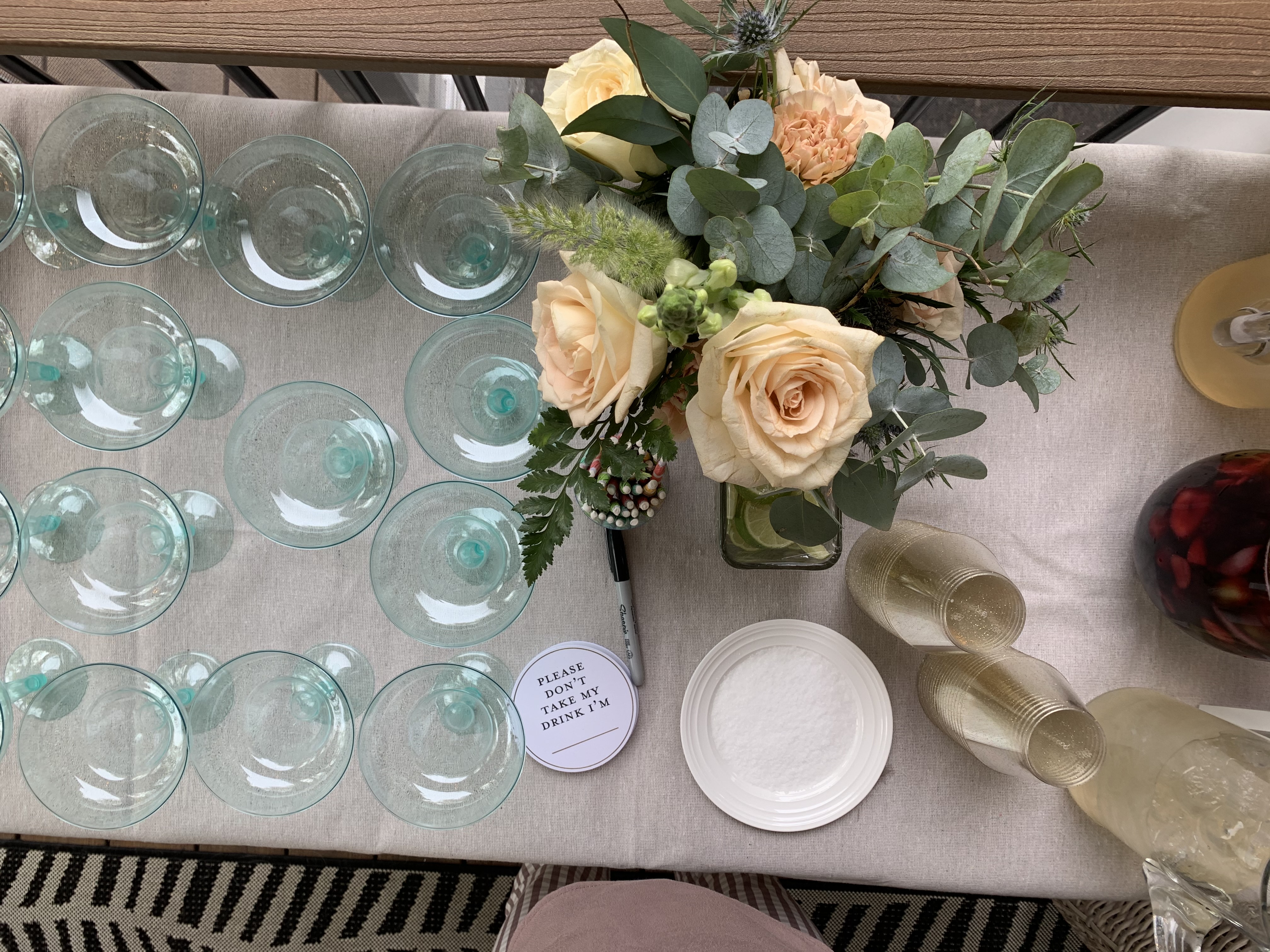 Presentation:
This is the key that ties everything together. The extra effort it takes to make your event inviting and beautiful is nothing in exchange for the way it can make your guests feel.
First, change the way the food is displayed. Elevating the platters by placing boxes or books under a top layer of tablecloth, is visually appealing, adds height and interest, and is an easy thing to do.
Having extra forks and napkins on the coffee table and eating tables let your guests know you are anticipating their needs. A simple ball jar was spray painted gold the day before to keep our brides favorite color front and center.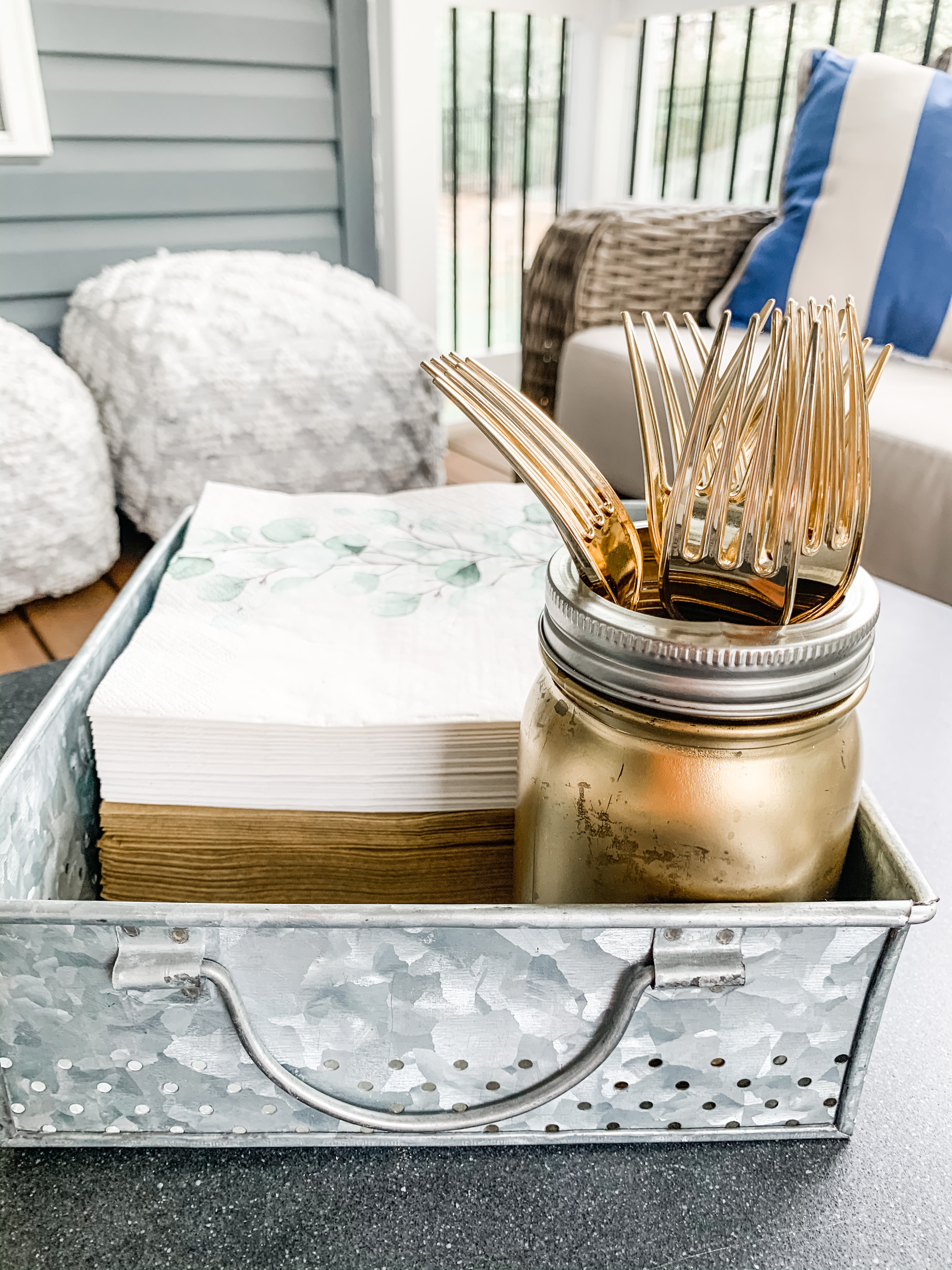 The balloon garland was created and placed behind the food table. These kits come in a variety of color combinations. You can also buy the parts separate and make your own.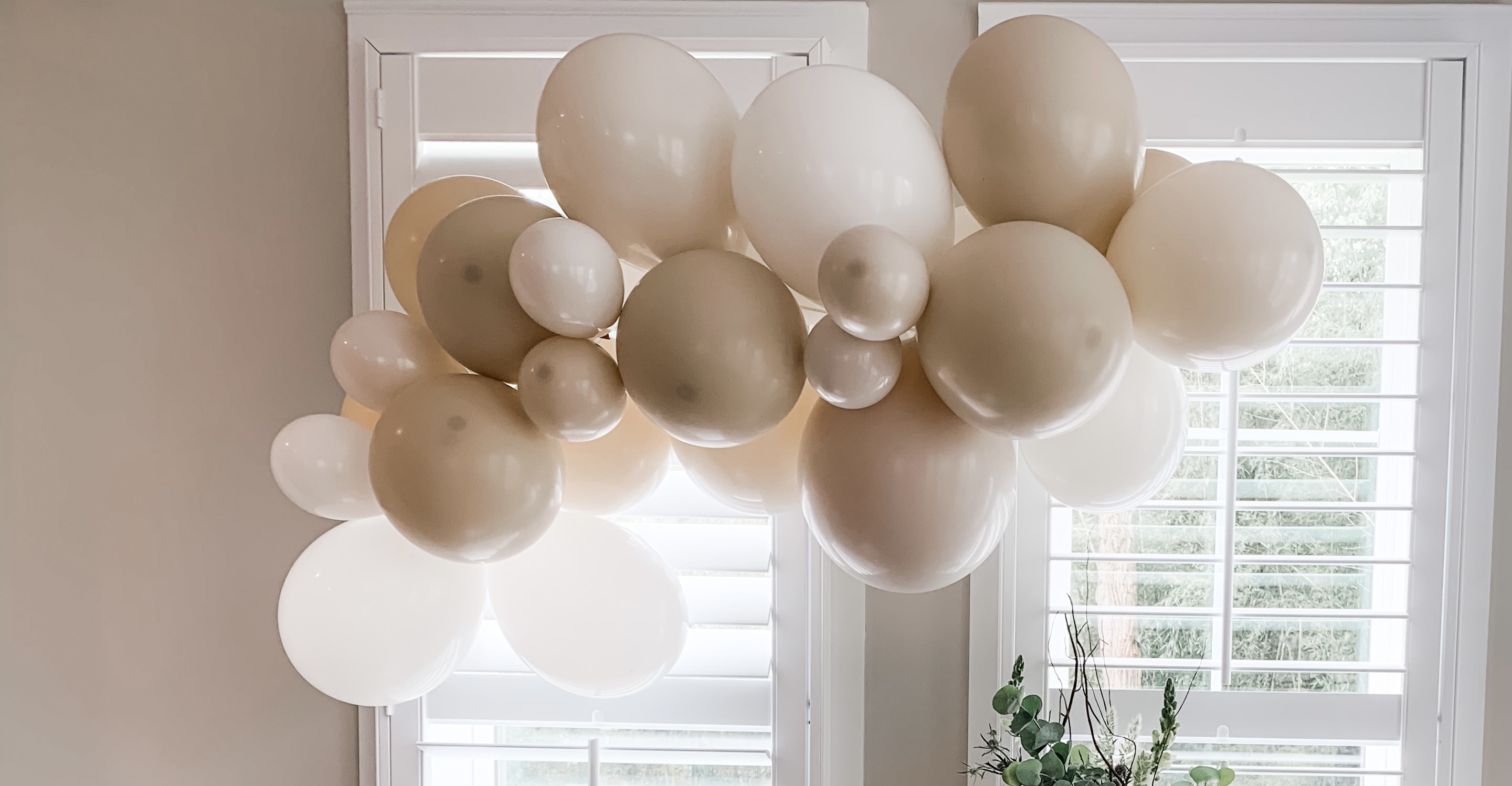 In the rush of an event, sometimes you might be tempted to forego the matching tablecloths, or adding paper hand towels to the powder room, or thinking of those with food allergies but it's the little details that make everyone feel special when they walk in the door.
The appetizers could have been poured in bowls, but guests commented on the individual cups for safety and ease.
The way the succulents were displayed, the set up of the bar, all little things that create an overall feeling of caring.
It brings me great joy to plan and execute events. I think if it's worth doing, it's worth doing nice 🙂
Thanks for stopping by! Please share any great party or event tips you have tried. Pinterest is a great spot to get ideas. Feel free to pin any of the images for inspiration for your next event.
XO, Regina
(This post contains affiliate links)