Are you a fan of neutrals? Even if you know the gender, but want soft colors that work for a boy or girl, I'm sharing my decor for a neutral baby shower.
Hi, I'm Regina and welcome to Saved From Salvage. I love to share my DIYS, event planning and decor, I'm glad you are here!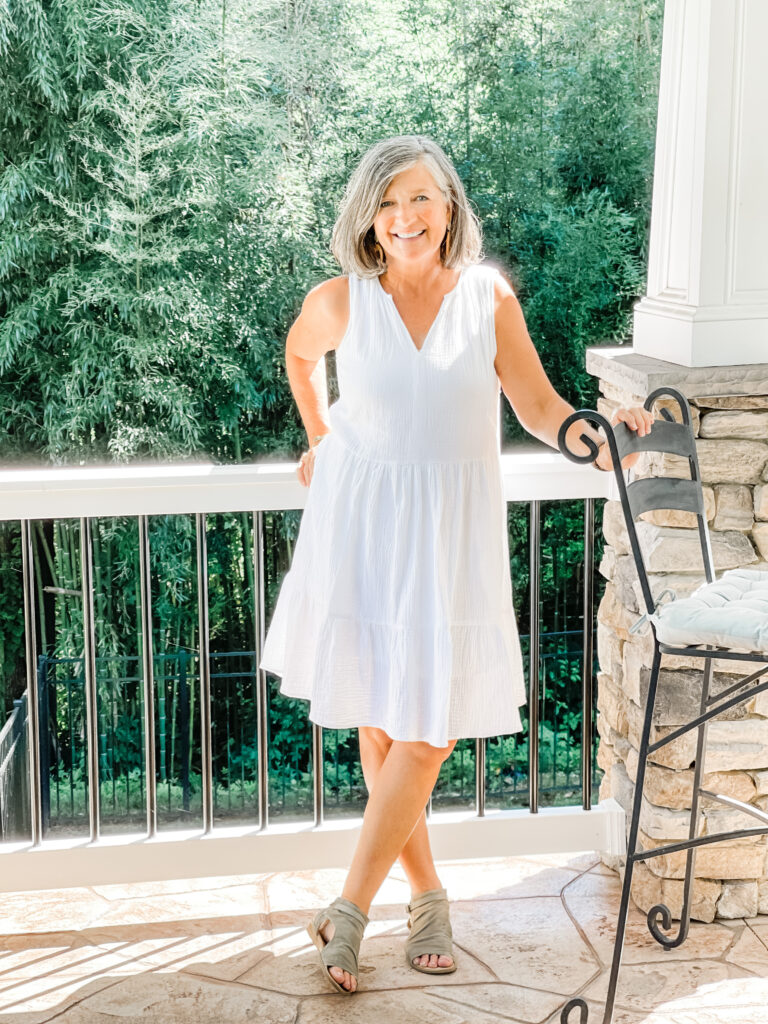 I recently did the decor for a baby shower and everything was done in soft muted tones and was beautiful.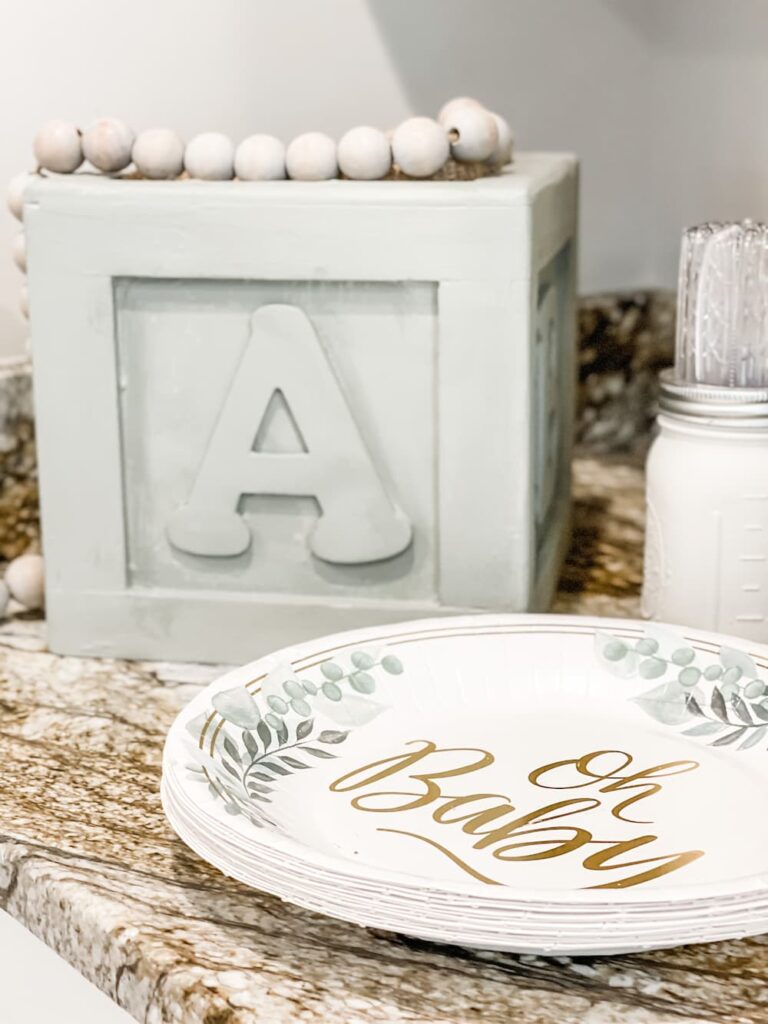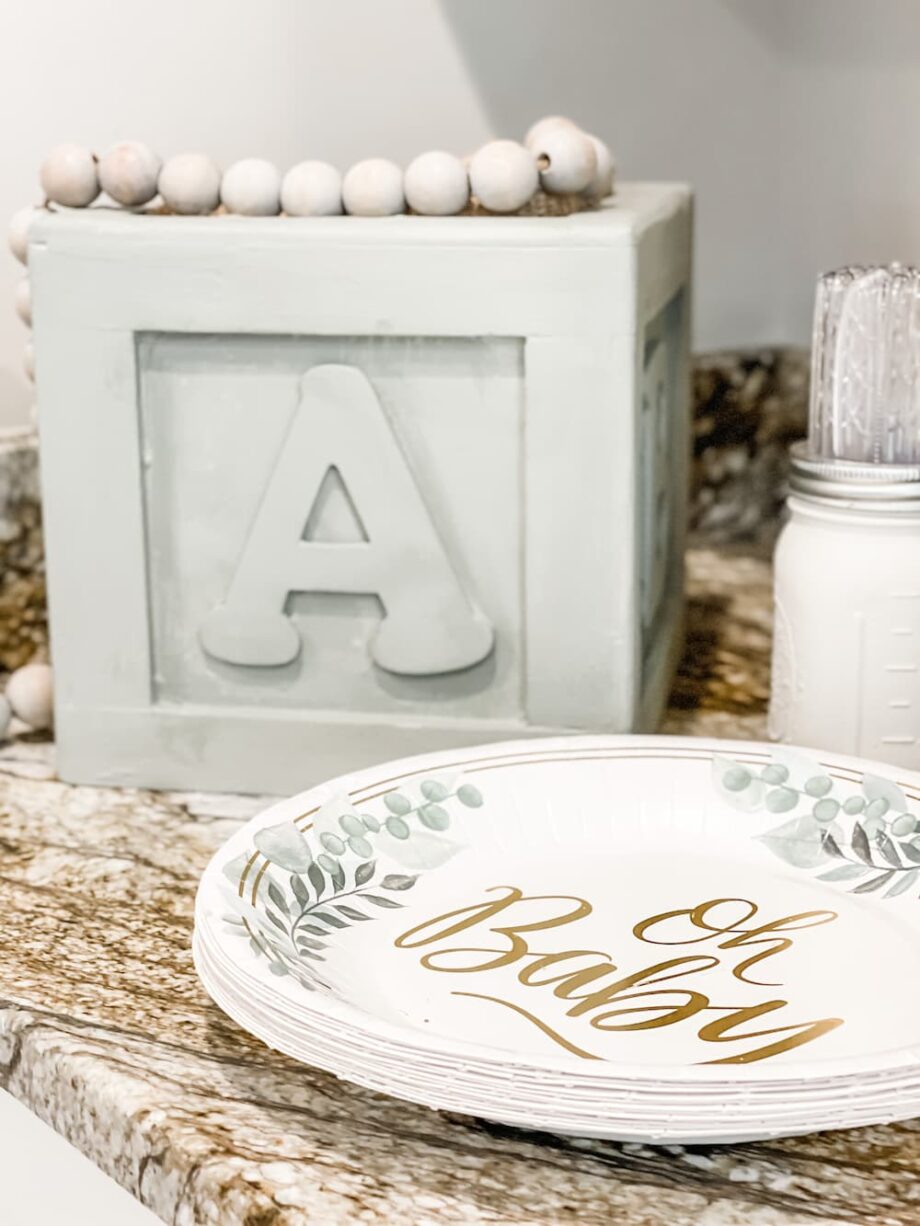 CHOOSING THE COLORS FOR A NEUTRAL SHOWER
Once you decide on the colors, it's easy to pull together all of the other details. We decided on a muted green, grey and cream. They were soft and subtle.
We knew she's expecting a boy so there were definitely some pops of blue included.
THE "BUILDING BLOCKS" TO A SHOWER
I was able to recycle these wooden blocks we made 3 years ago.
This may be about the 5th shower they have been featured. I just repaint them each time.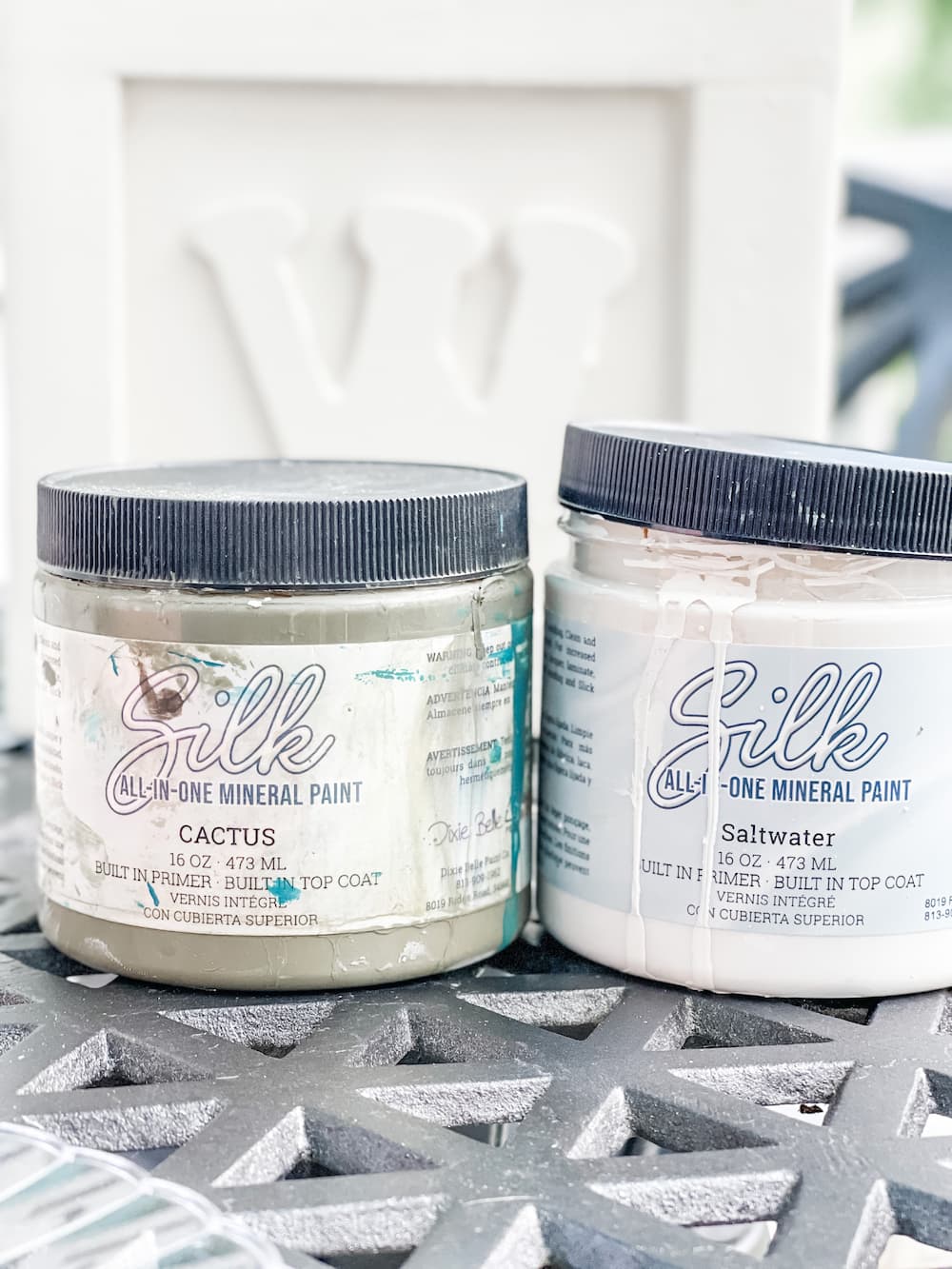 For this shower I painted them in Dixie Belle Cactus mixed with Saltwater, another in just Saltwater and the last in Baja Gray.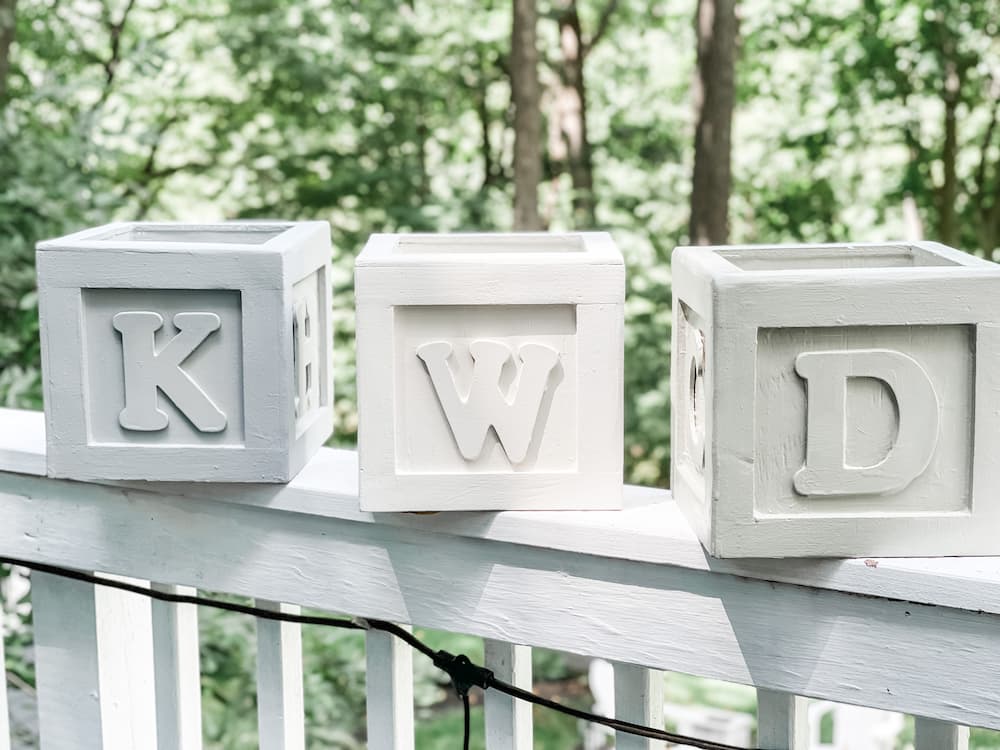 Instead of a two tone, I opted to paint the entire block one color.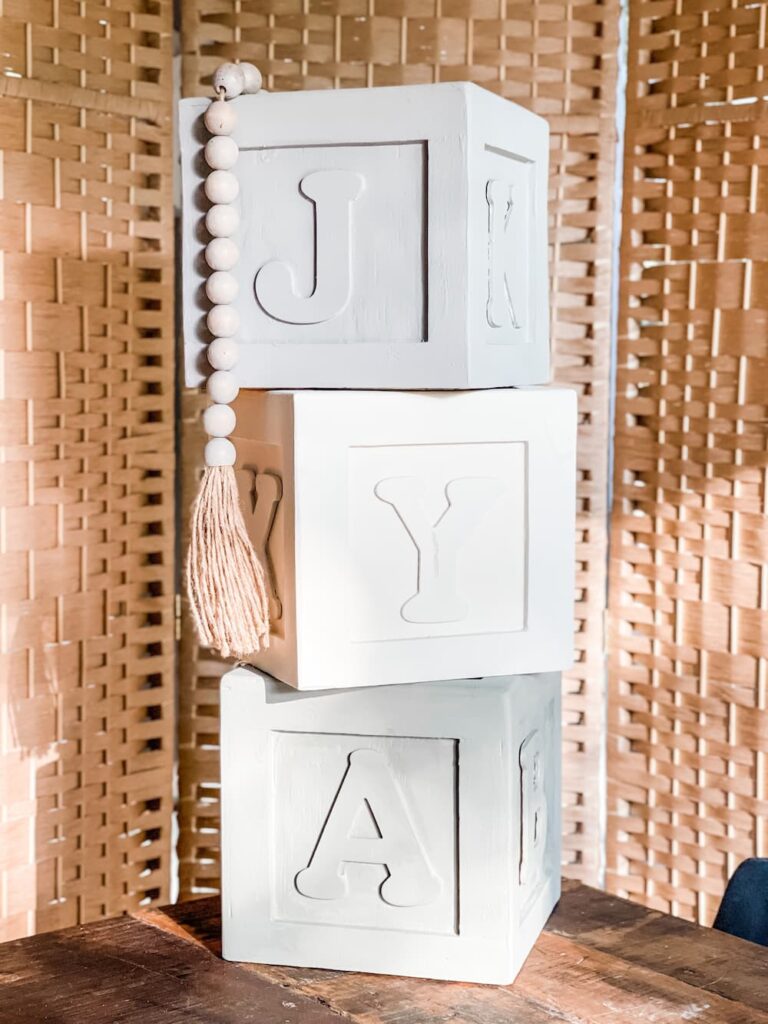 SHOWER DECOR DETAILS
I found this Oh Baby Sign in my stash and it was pink. Dixie Belle Paints to the rescue and now it fit in perfectly with our colors.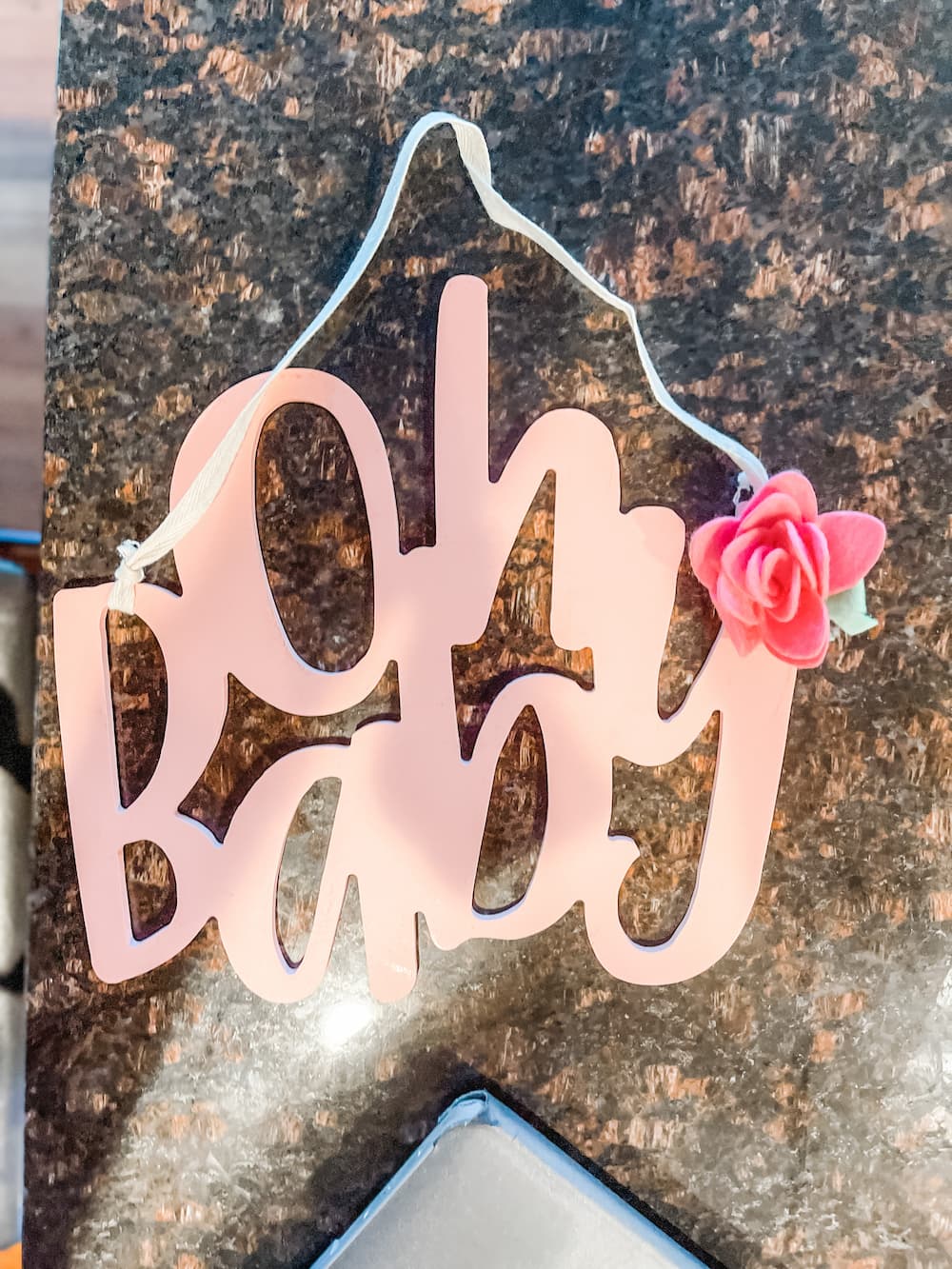 Another small detail was painting little Ball jars with the same colors and adding our plasticware.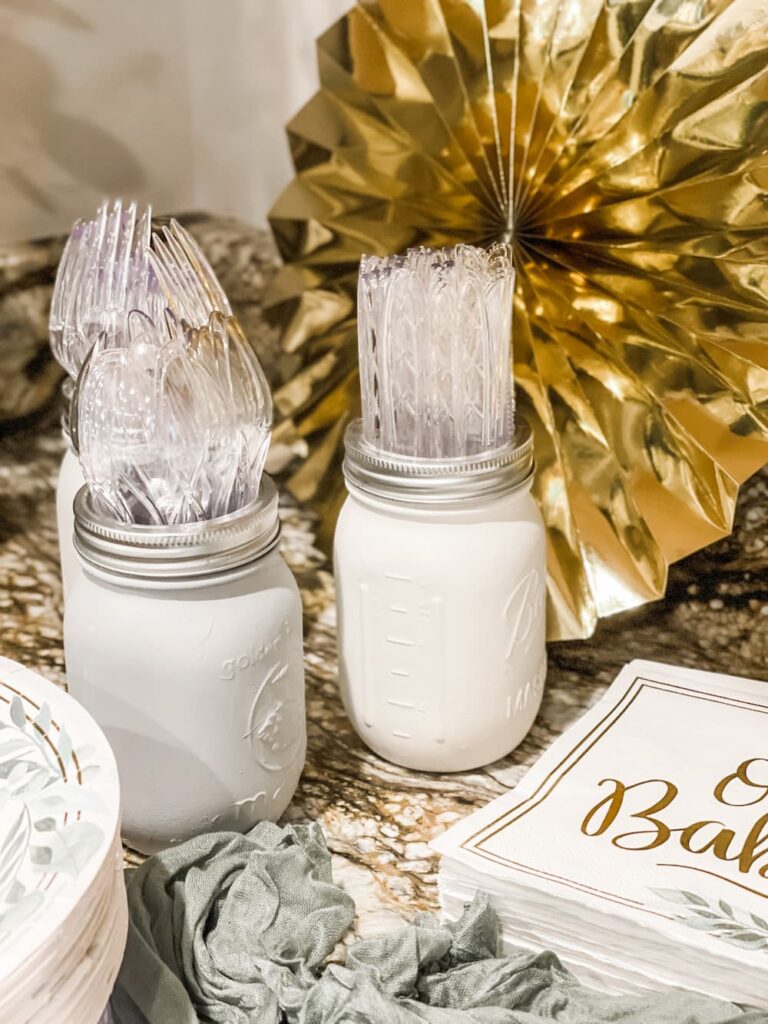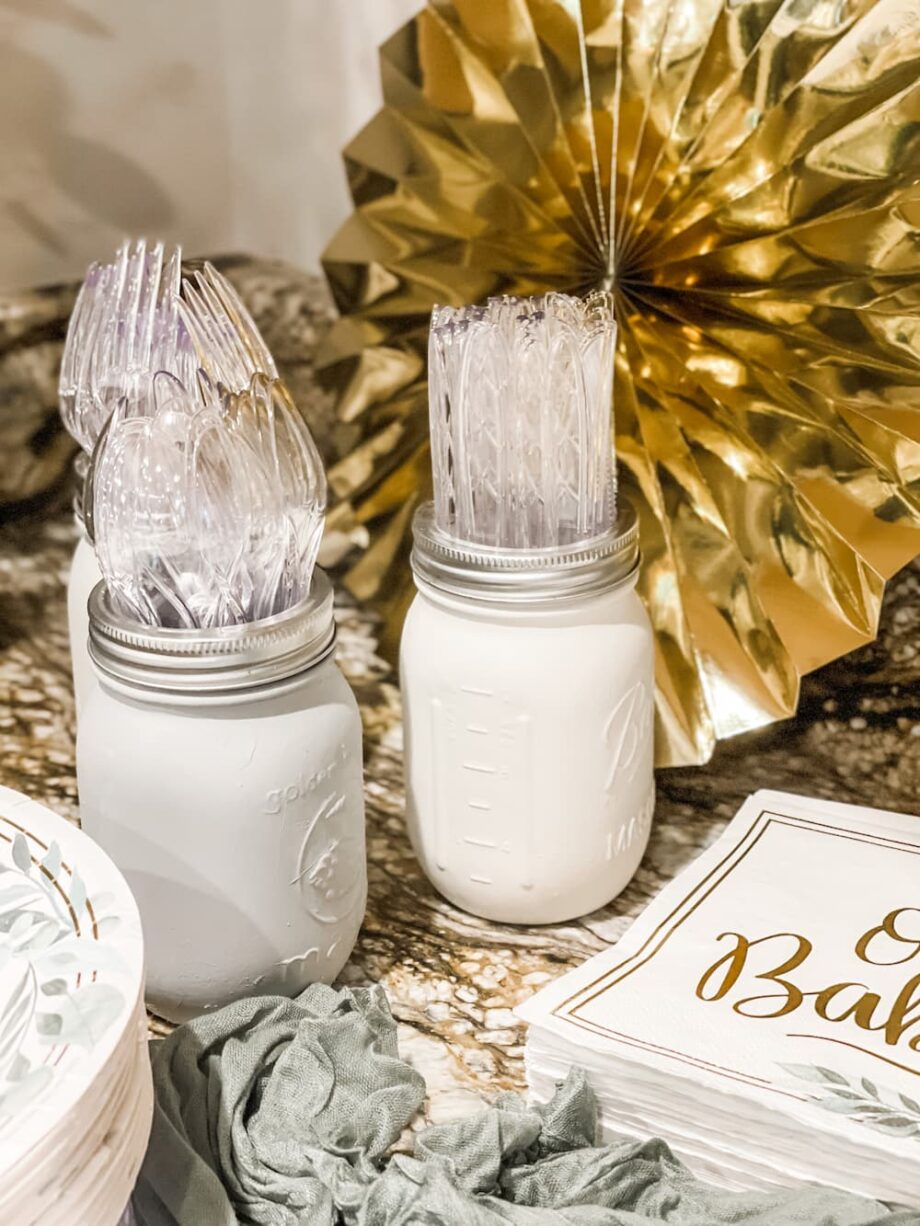 BAR AREA
This over the table bar from Terrain is a party must have. It can be decorated in so may ways.
For the shower I decided to use it to hold a banner. Keeping it simple.
Below was the set up for drinks. Wines, seltzers, water and tea were offered.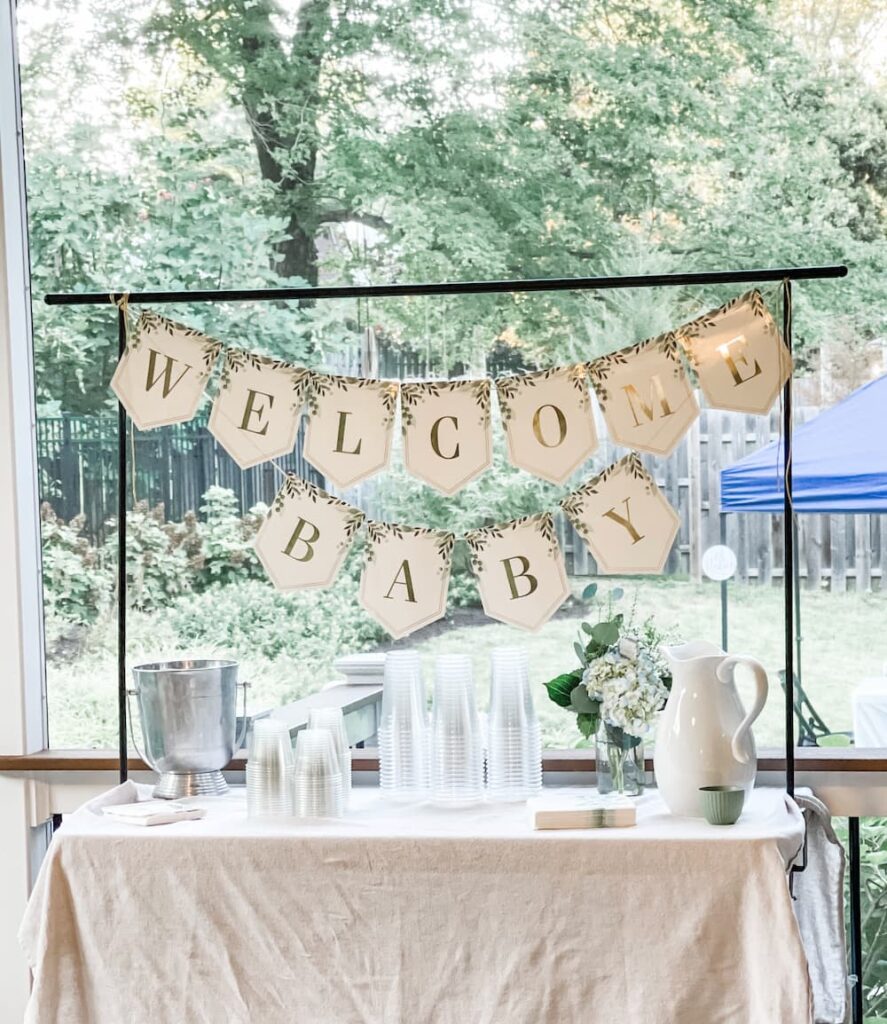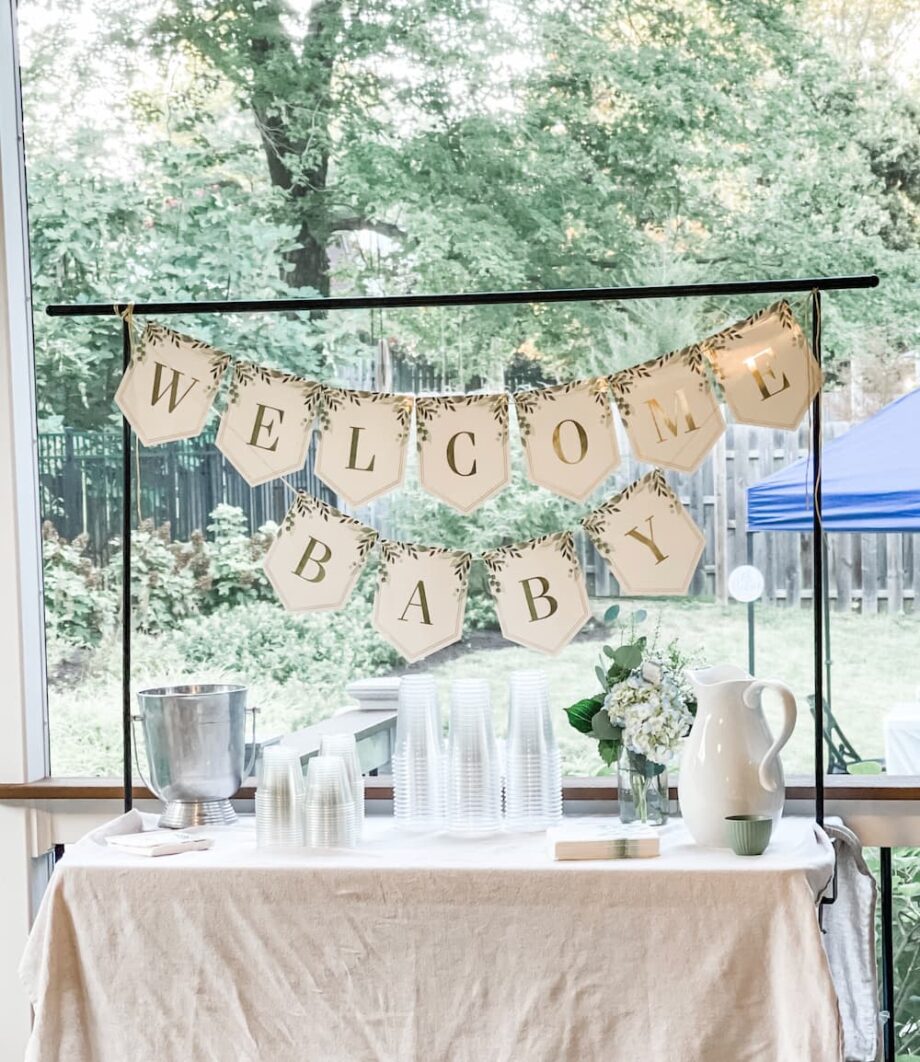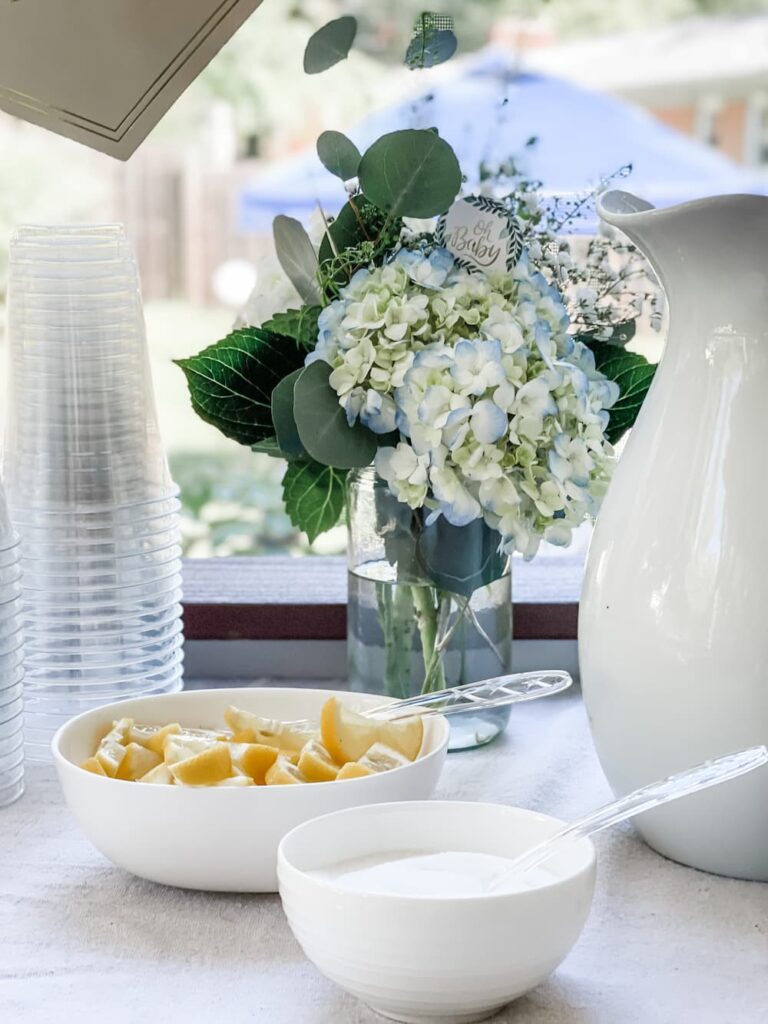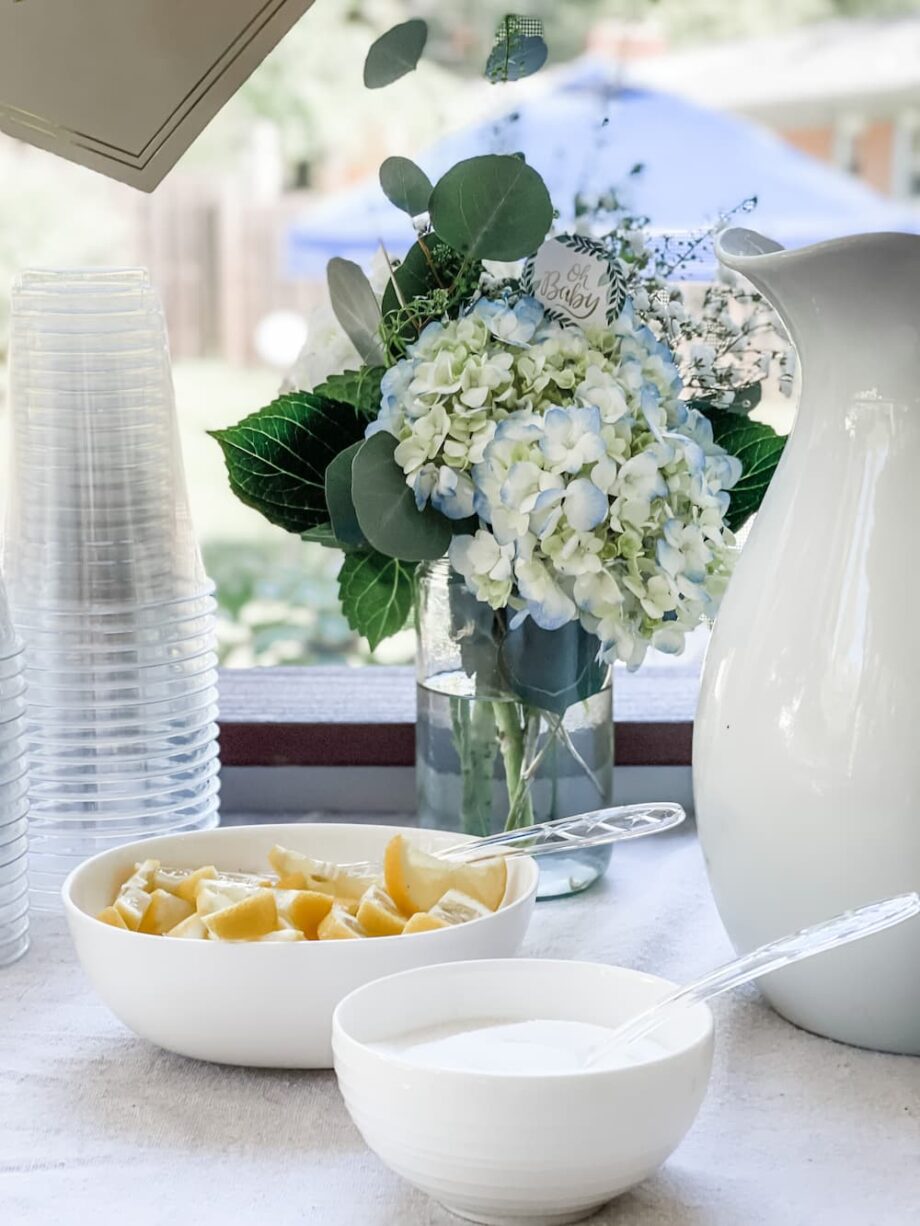 GIFT AREA
I brought along this 3 part screen to use as a back drop for the mom to be when she was opening gifts.
Hanging three little onesies by KYTE that of course matched the shower colors perfectly. These were so incredibly soft, I want some for me!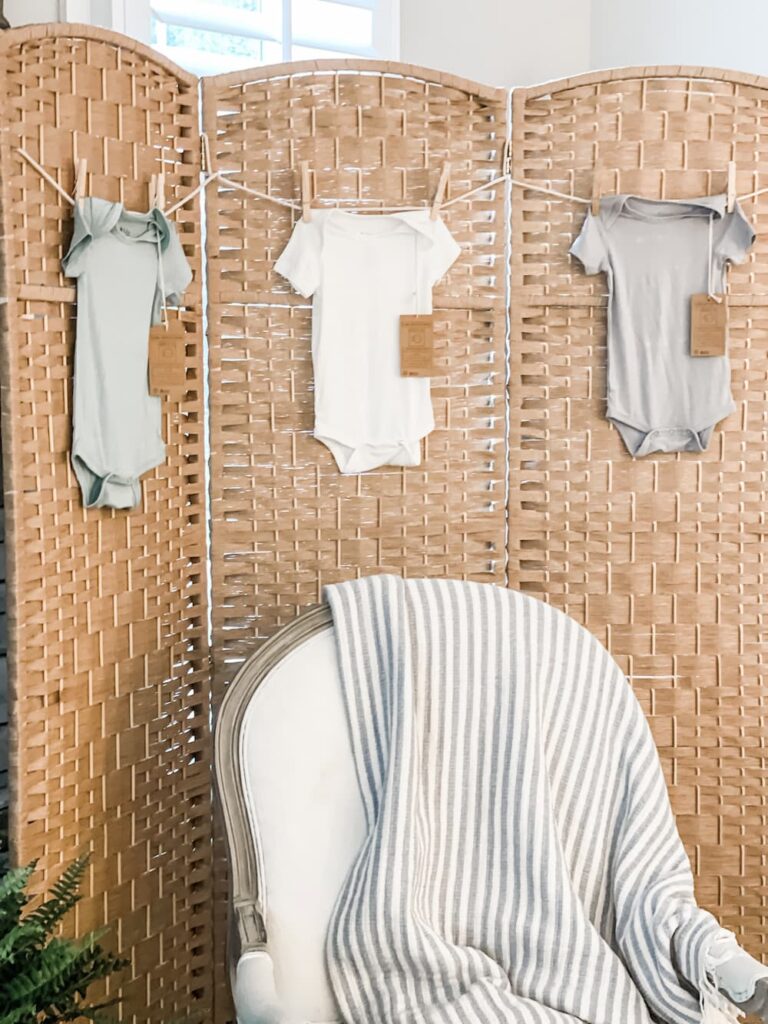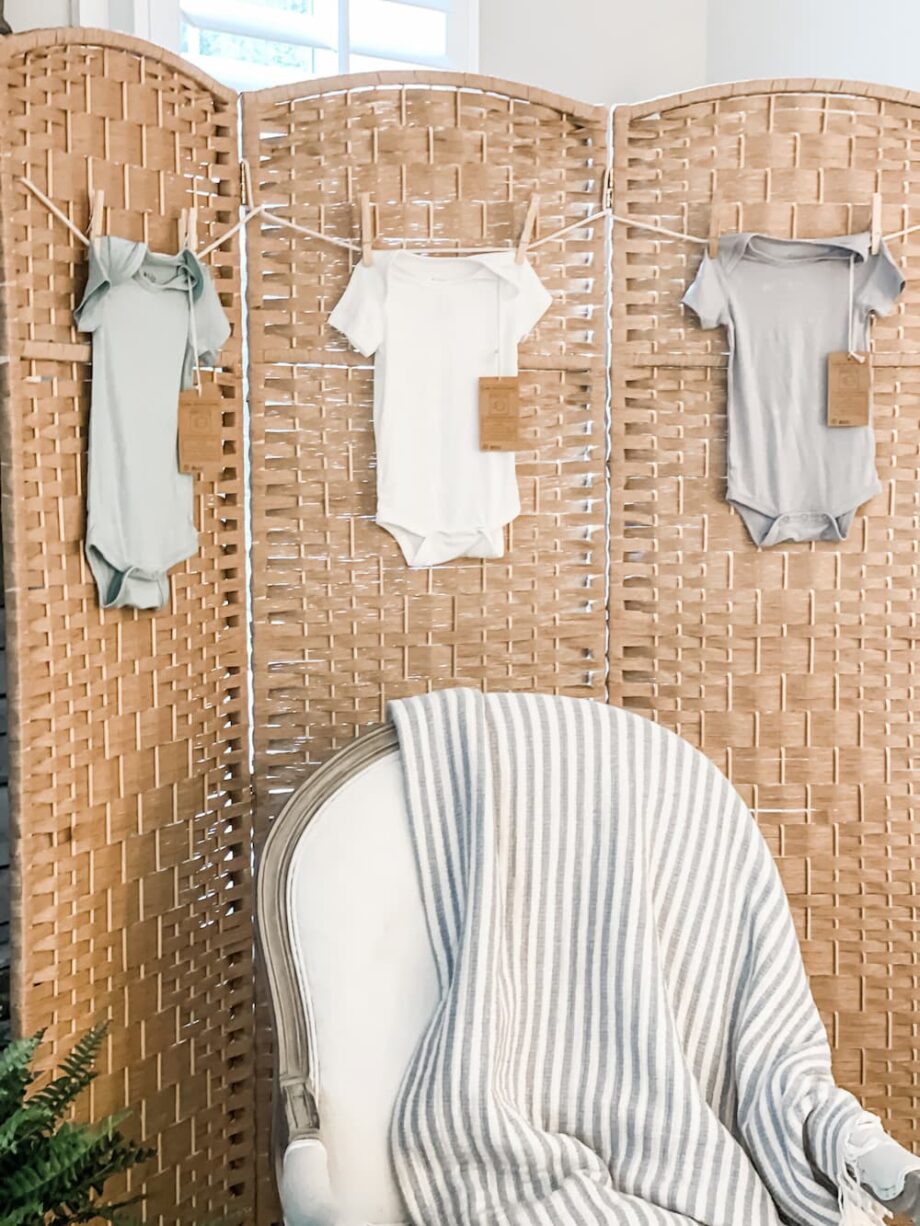 It was requested that I brought my chair that I painted, I covered it with a soft blue and cream throw and that's where the mom to be opened her gifts. For a similar one, click here.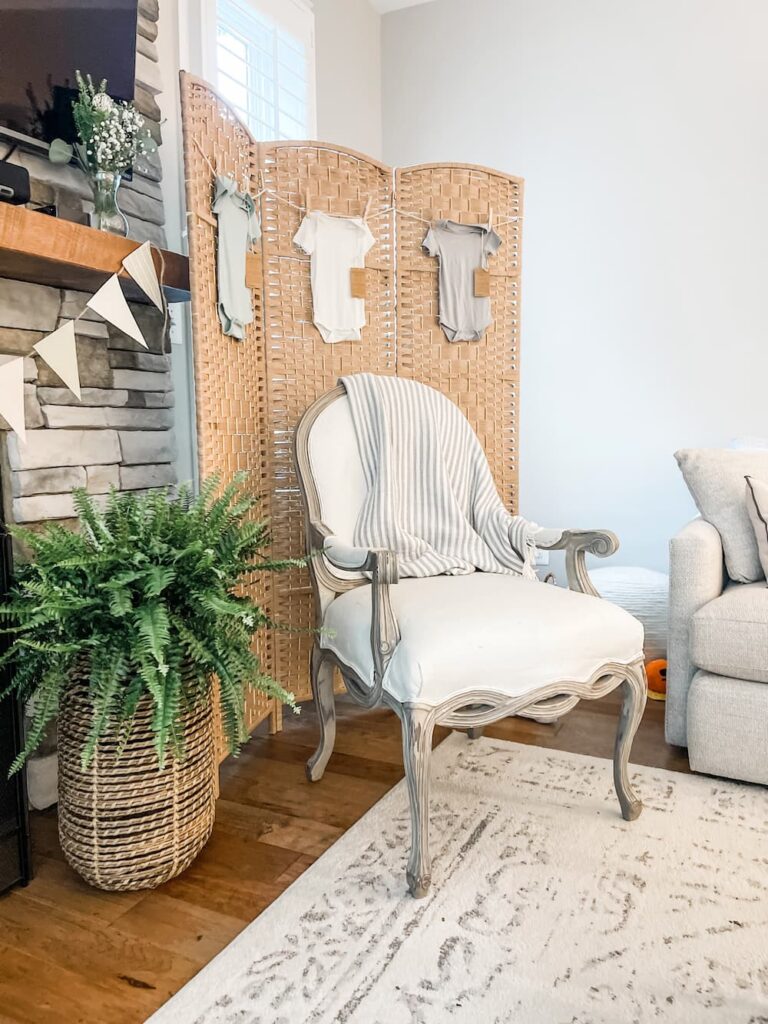 A few ferns came along with me and were placed near the screen. The green and texture of the planter added a layer of warmth.
For the details on how I transformed this chair and what it looked like before, click here.
A hand made paper banner hung from the mantel reinforcing the colors but not taking away from the mom to be.
SHOWER SIGNAGE
This fit perfectly in the opposite corner from the screen. For this sign, I created it in CANVA and had it printed and shipped. A bargain for only $13.50 and 18 x 24.
The sign came as a poster in a heavy shiny paper, I used spray adhesive and mounted it onto cardboard. Super cute and very affordable. Highly recommend going this route.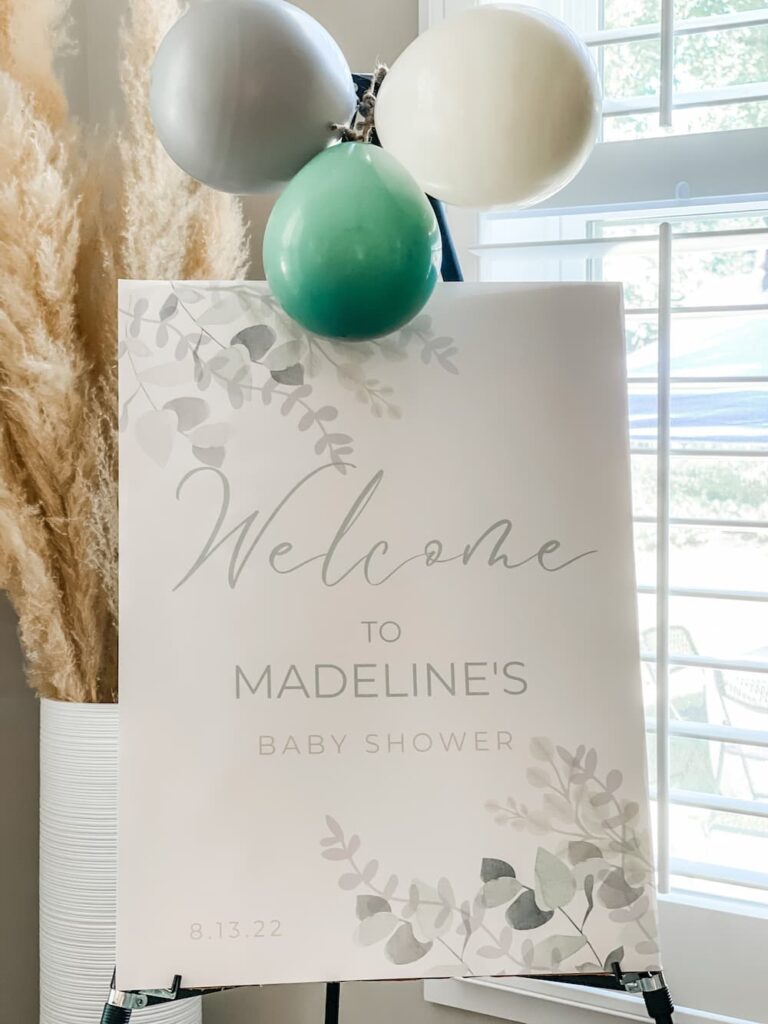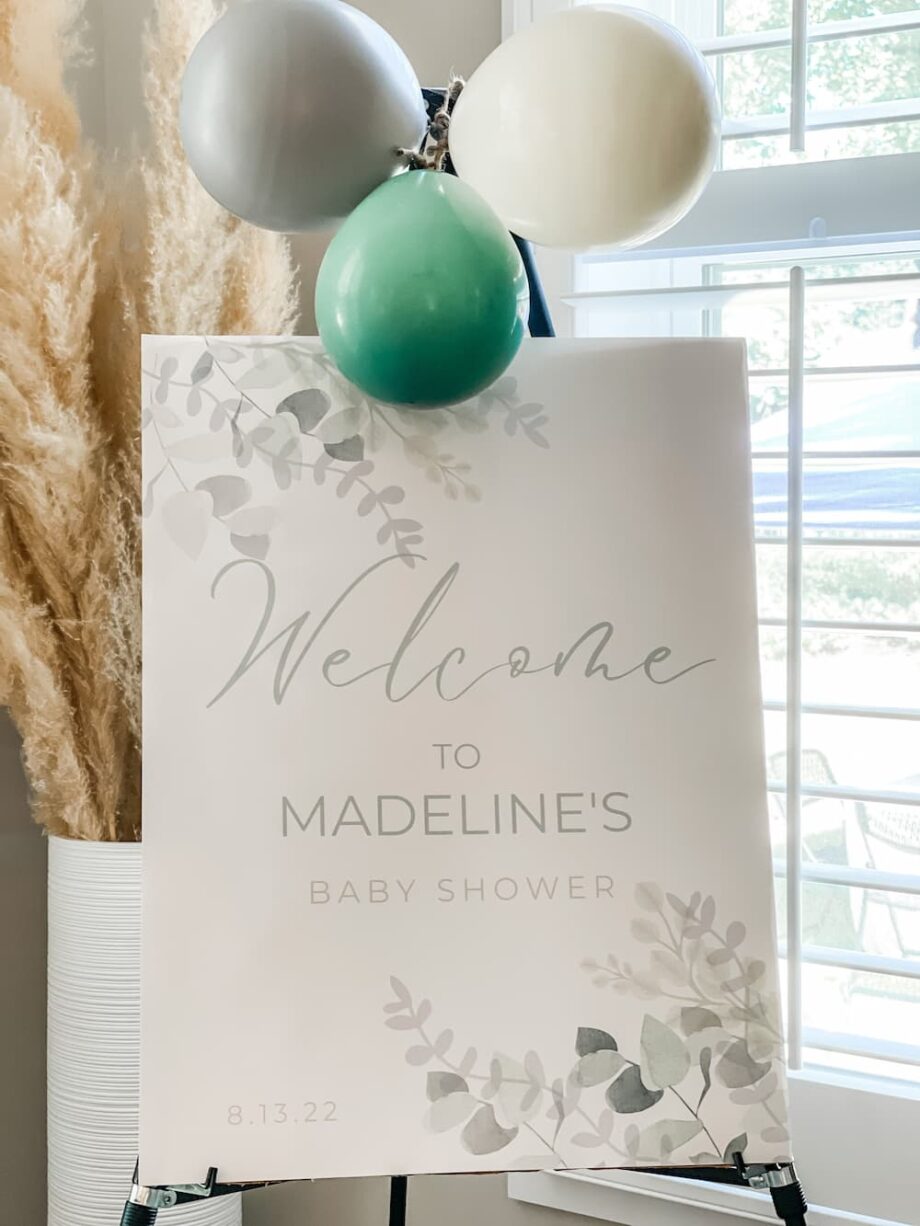 Using these plastic frames and small wooden frames, I made little signs to place throughout the shower.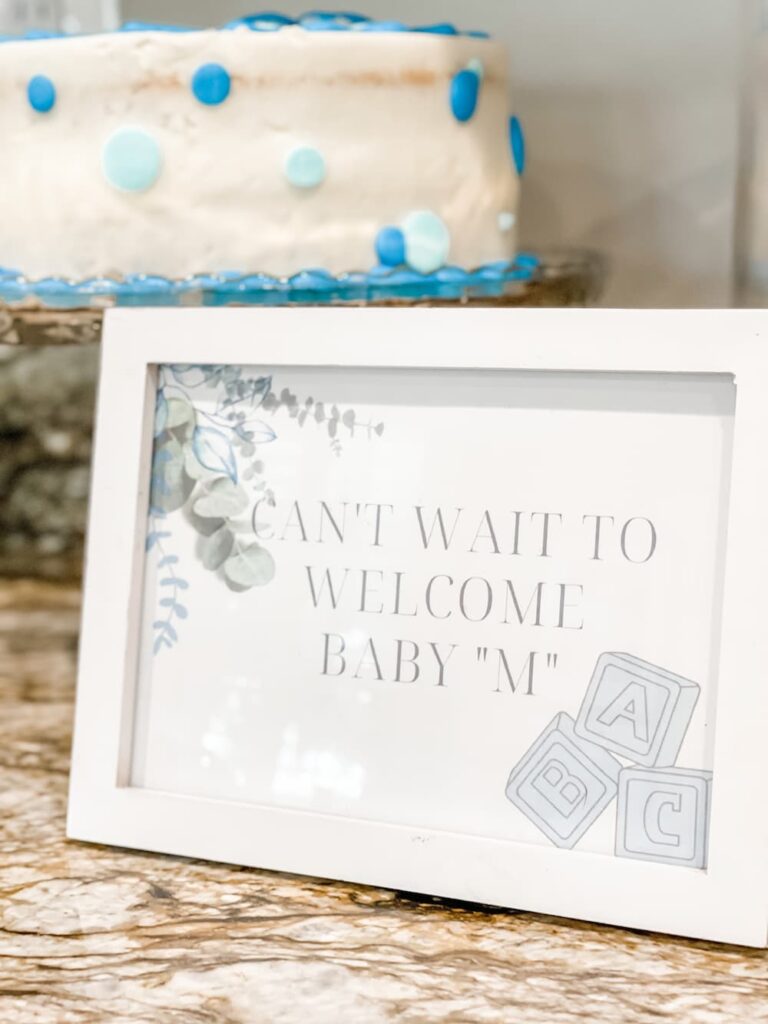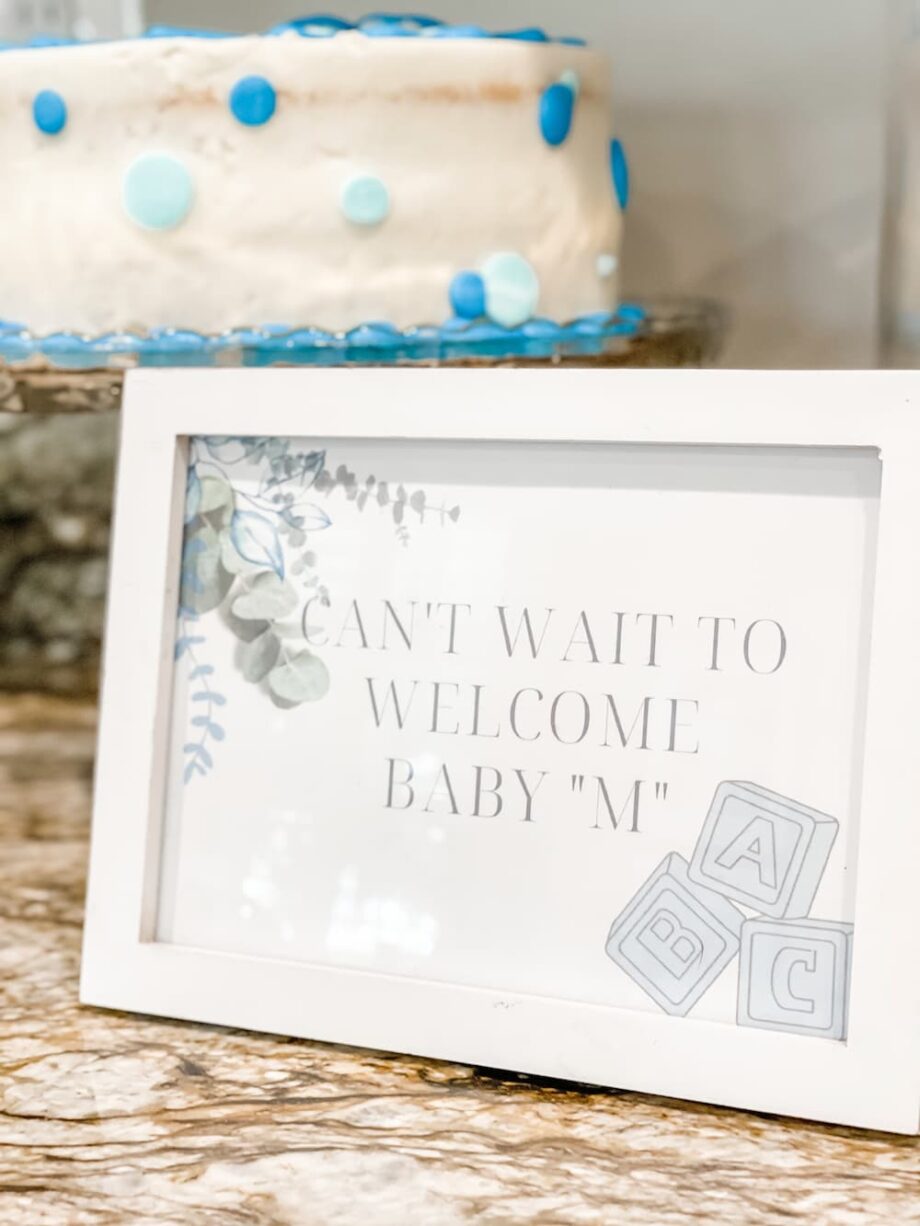 SHOWER FAVORS
This is where I added a touch of blue. I ordered bath bombs from ETSY.
They were large, affordable and super cute. I've used a few already and being the bath lover that I am they are perfect.
I created a personalized label. It said "BOYS ARE THE BOMB" and "Madeline's Shower 8.13.22."
They arrived in the blue foil wrapping, I placed in a clear cellophane bag, added the label and tied with twine.
I displayed them in a vintage cheese box that I put feet on.
NEUTRAL FLOWERS
I lean toward jars or vases of flowers instead of a traditional arrangement.
They are more casual and fit the vibe of the shower. Hydrangea's are the new mom's favorite so I was sure to include them.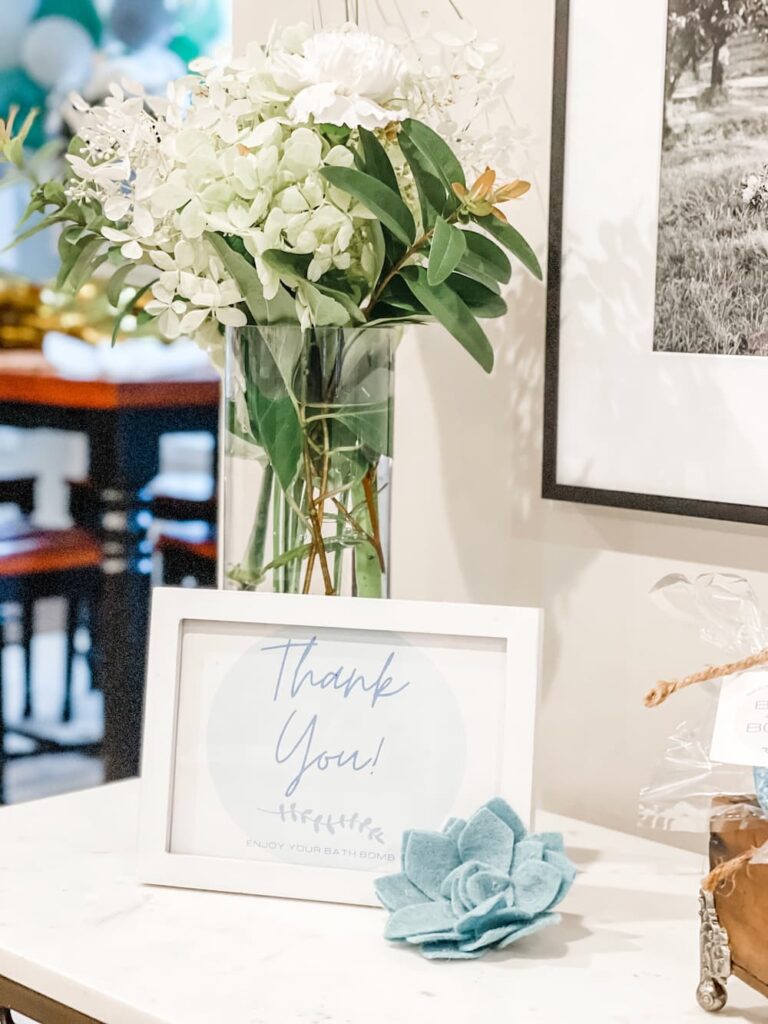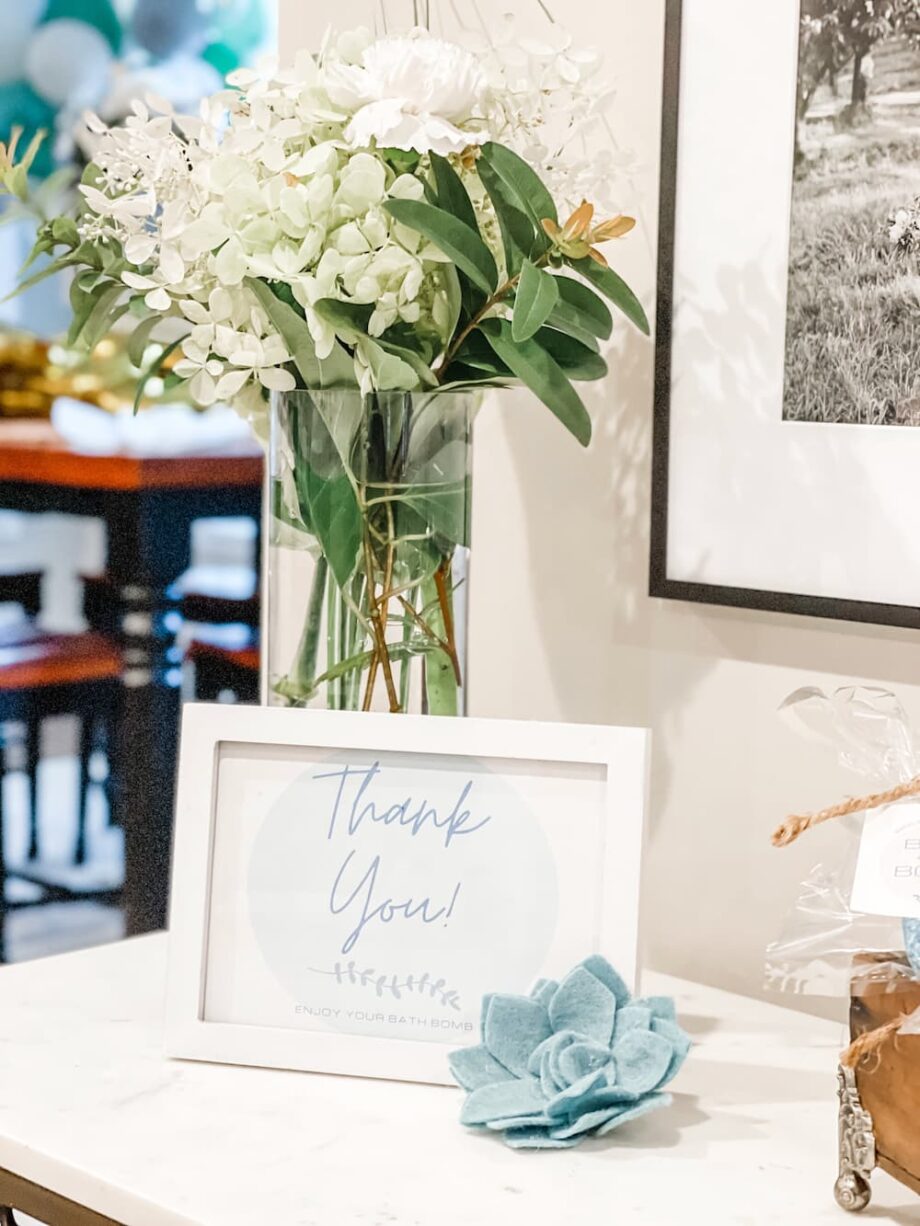 So off to Trader Joe's it was. Only 3 bunches of flowers were purchased and the total cost was $39.
That is a bargain. I split them up into a variety of containers and added some additional hydrangeas, hosta leaves and greenery from the yard.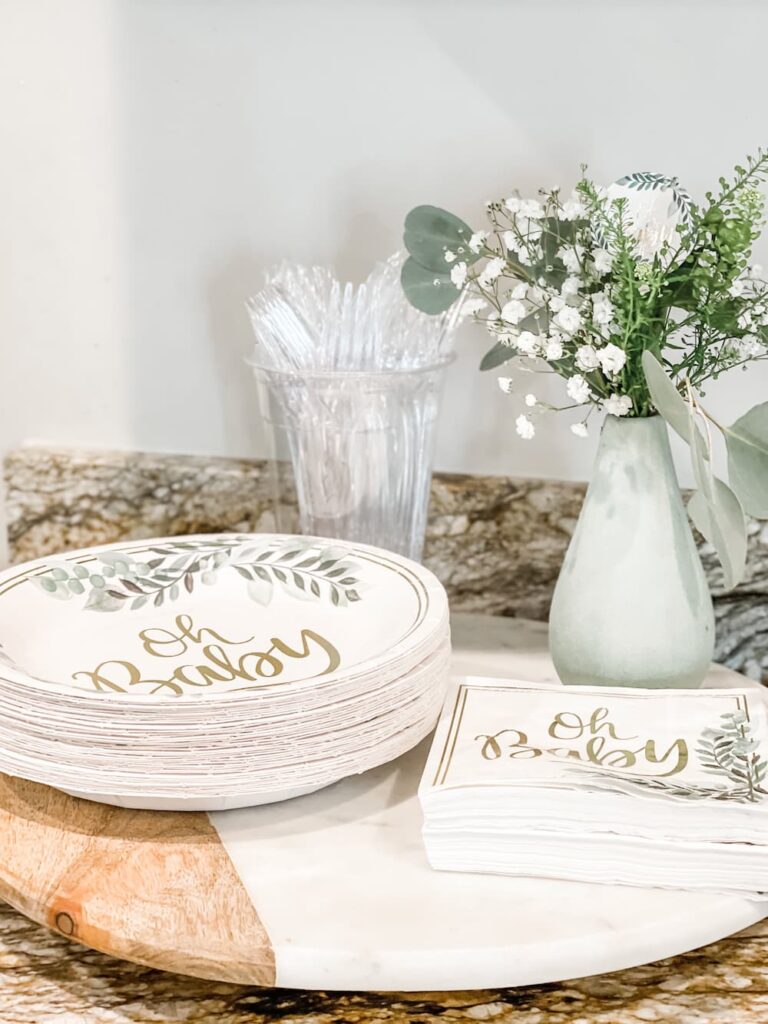 This created a naturally pulled together look. Not like them came from a grocery store.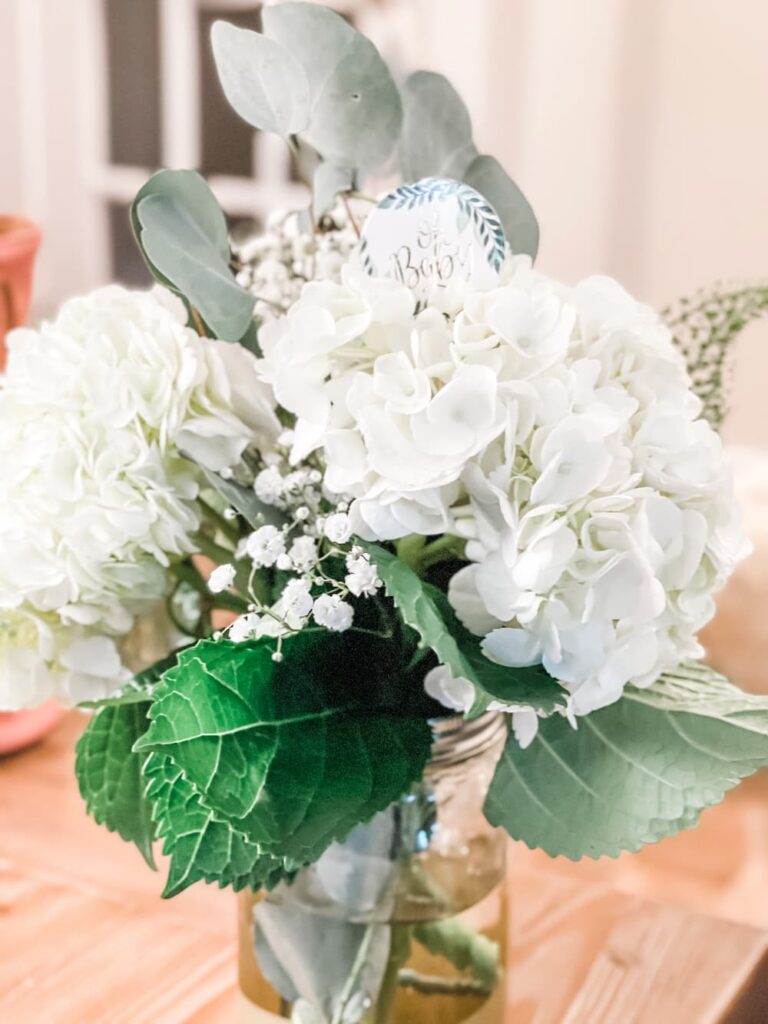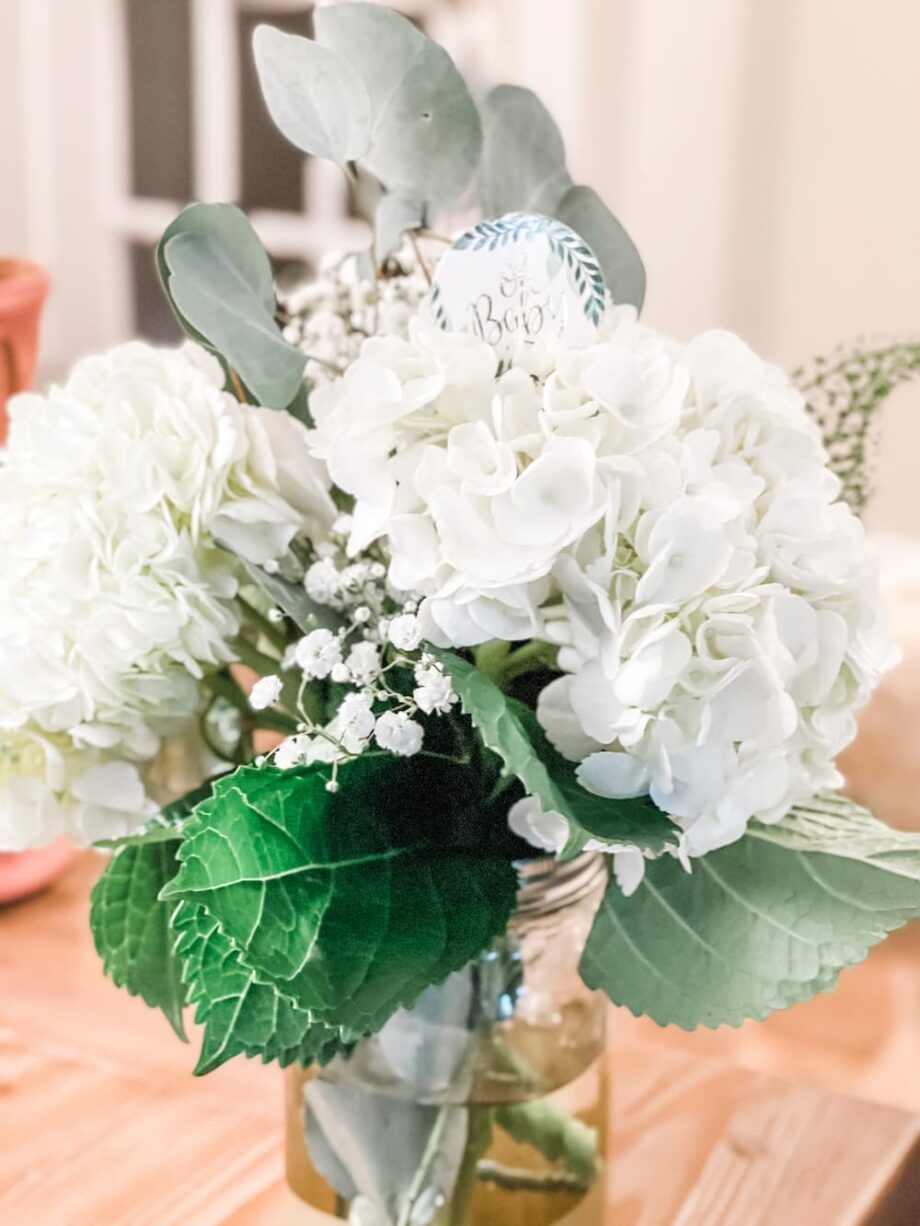 SHOWER GAMES
We wanted a few games but ones that were integrated into the shower and not something that everyone had to stop and participate in.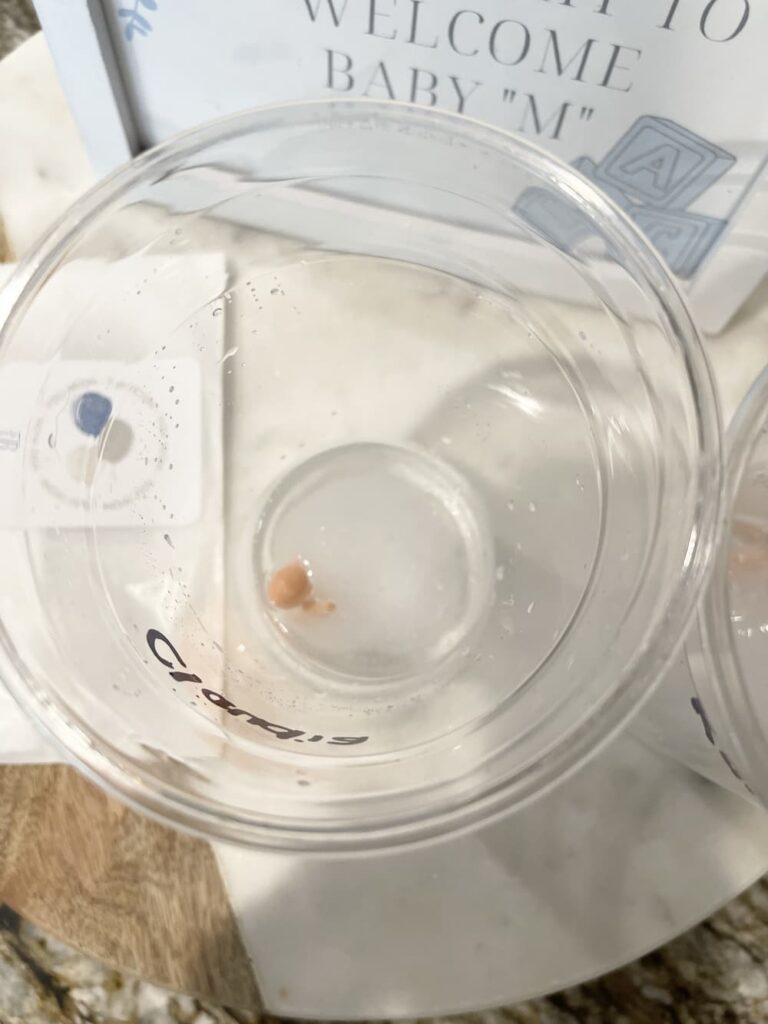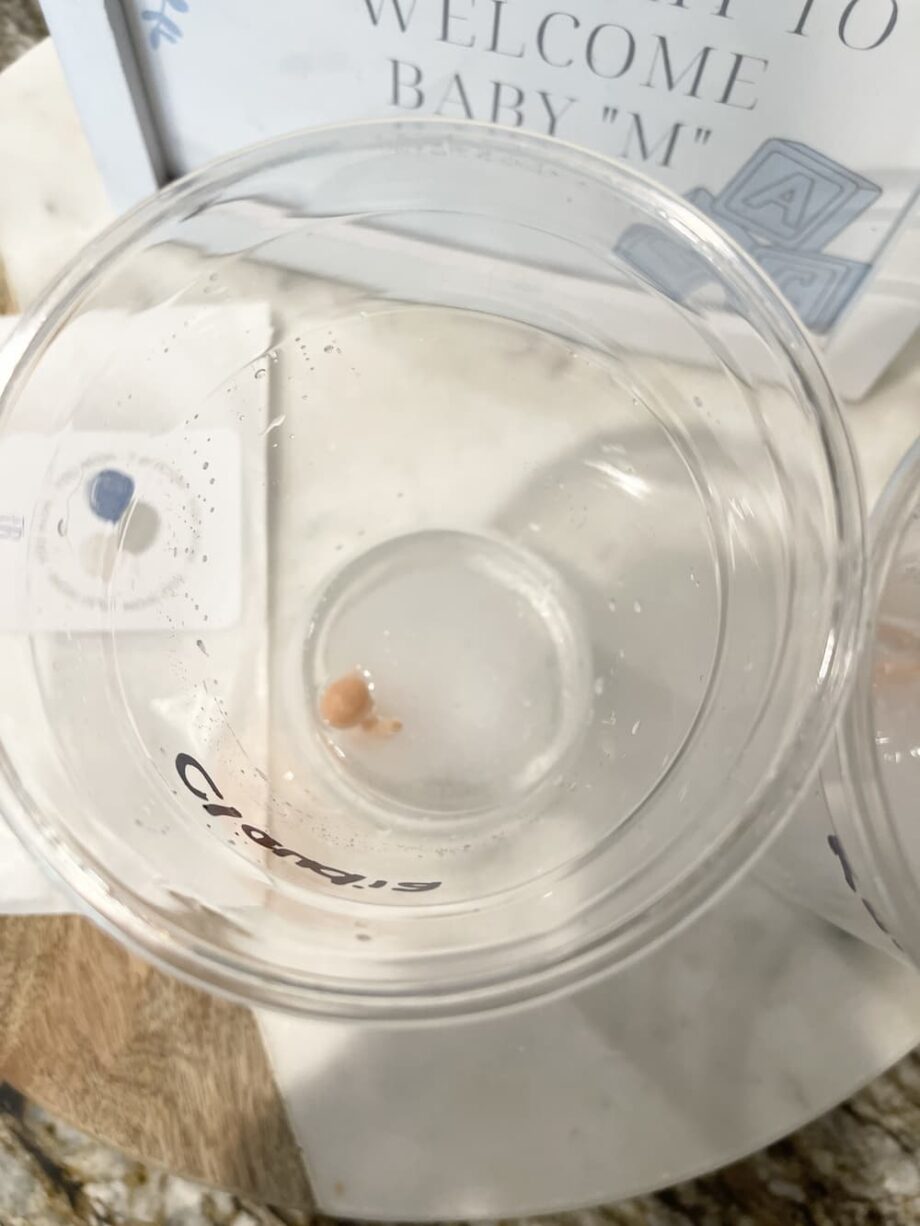 The ones I chose were easy to implement. I made little signs and put them in white frames with the description of each game.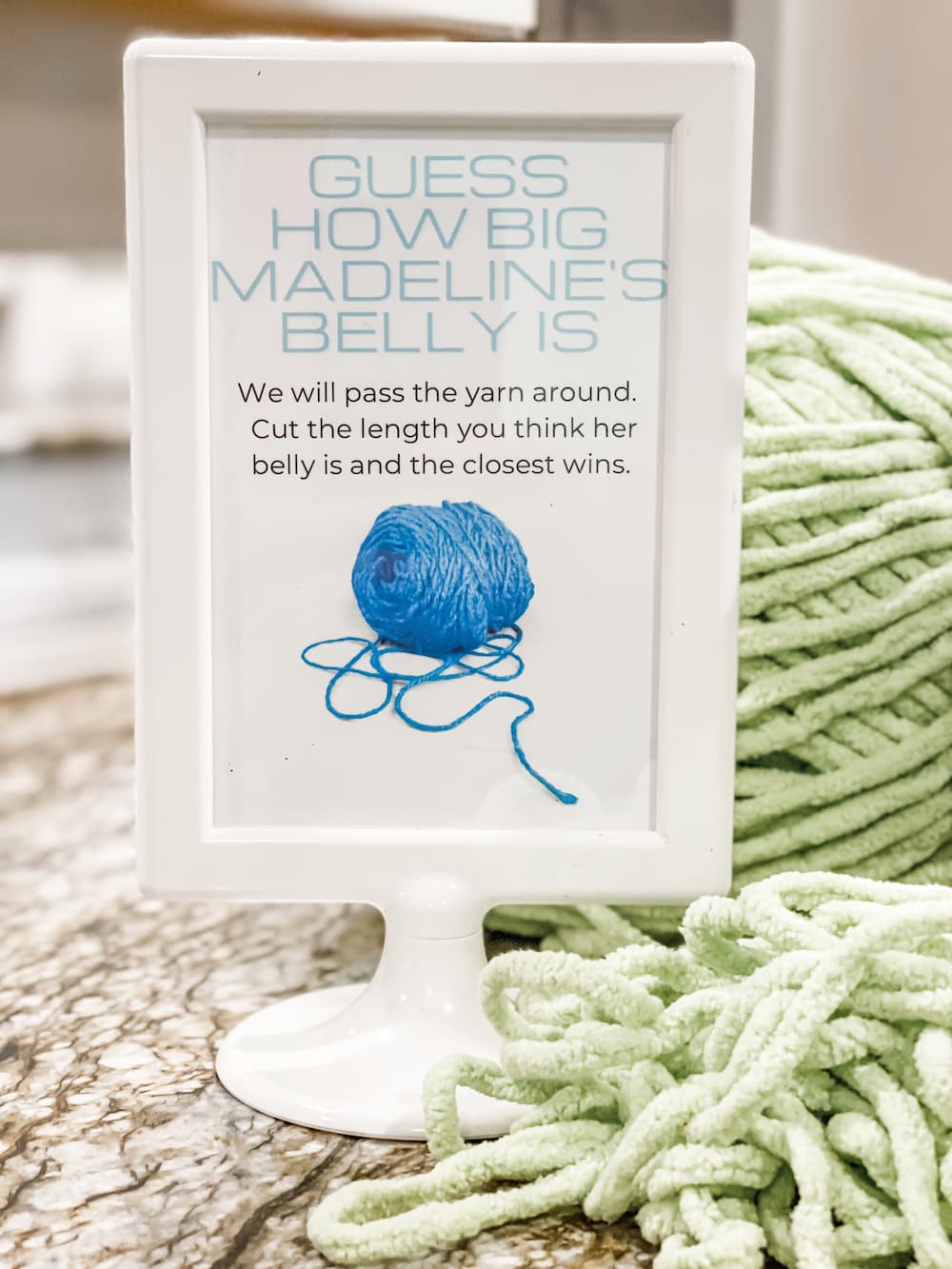 BABY GAME SUPPLIES
The winner of each game received a Starbucks Gift Card.
I made a label and placed it on a white parchment bag that held the gift card.
A little detail to make our guests feel special and carry the colors through.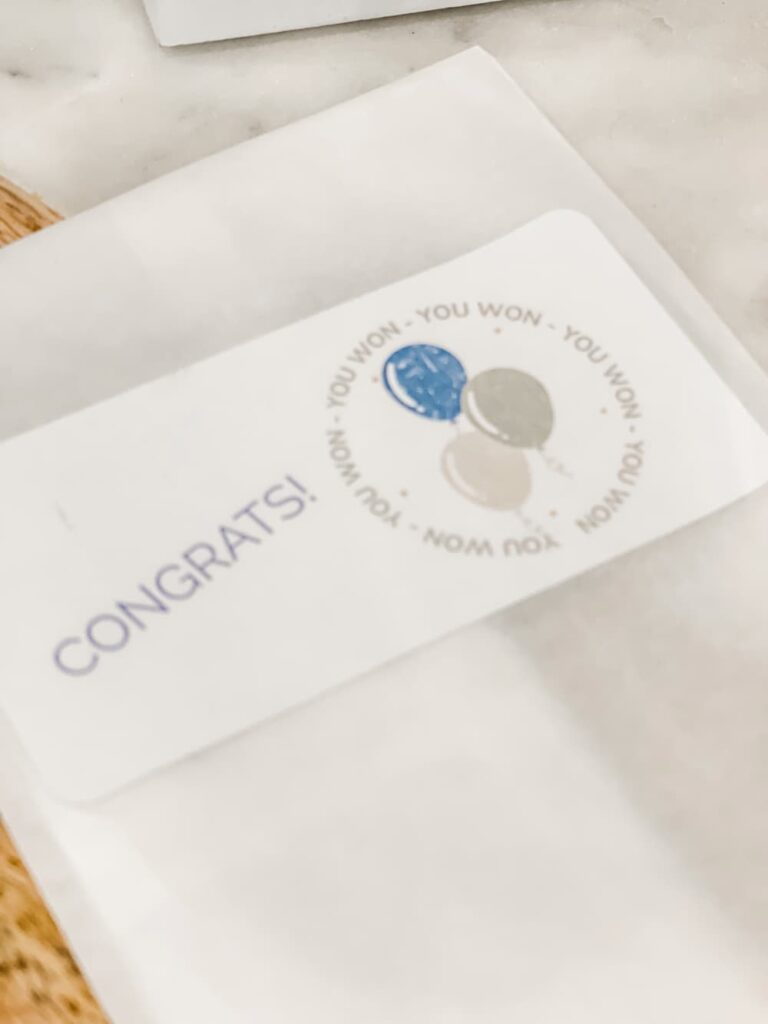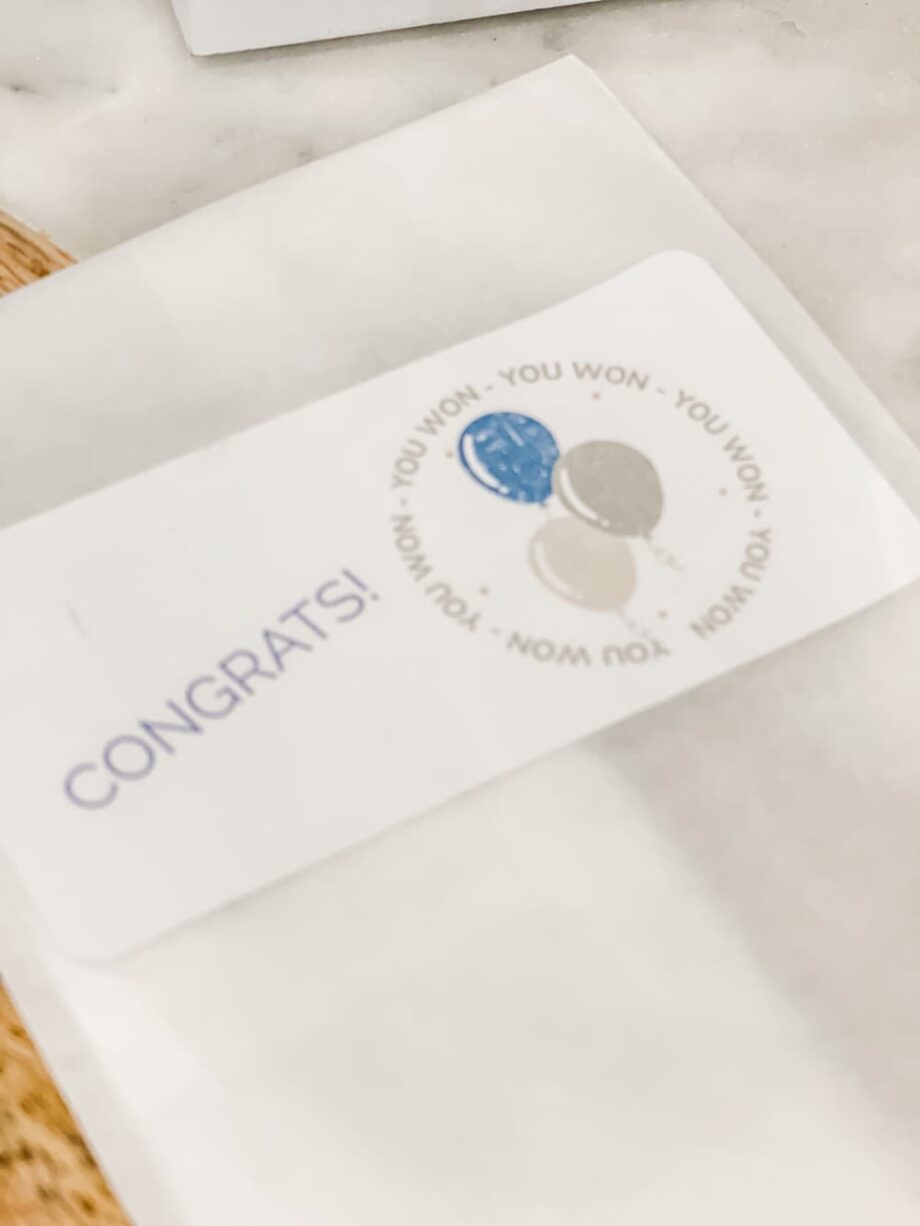 NEUTRAL BALLOONS
I swore I wasn't doing another balloon arch but somehow I couldn't resist.
Using a ribbon made with holes for the balloons, I used a compressor (a must) and blew up the balloons.
I purchased a sage green, sand and grey balloons.
Next I placed them randomly on the ribbon and hung in the corner behind the table.
MUTED SHOWER DECOR DETAILS
To make it easier for the mom to be to write thank you notes, I created a small sign and left pens and envelopes so the guests could fill out their addresses.
This makes it a snap to write thank you notes.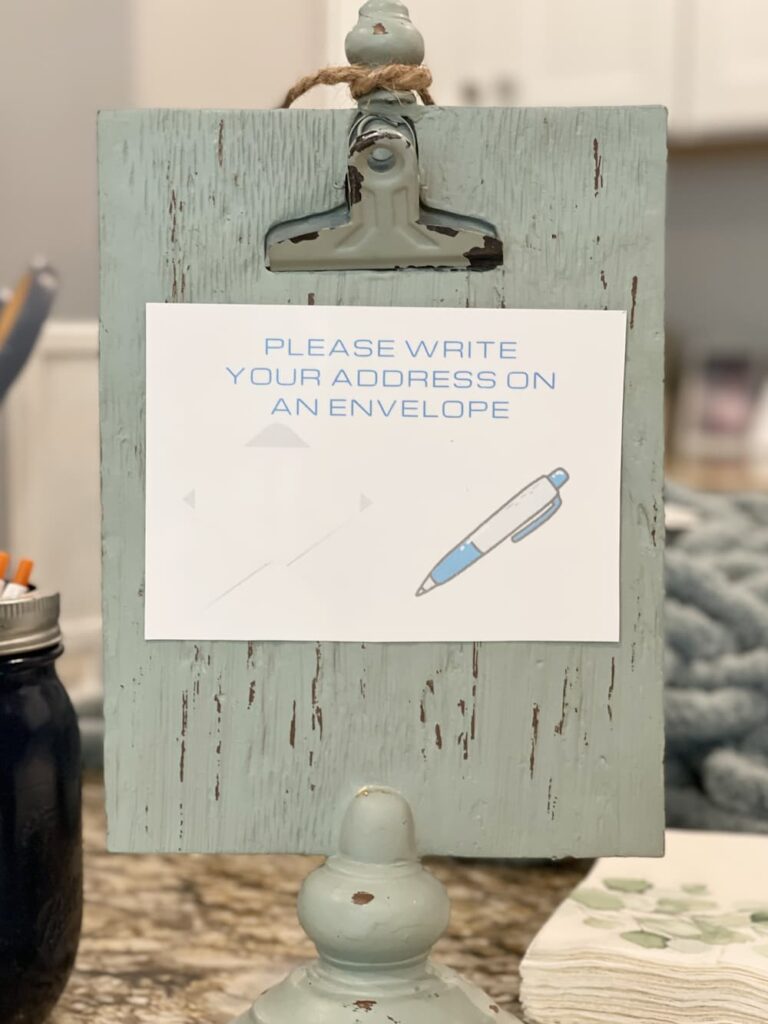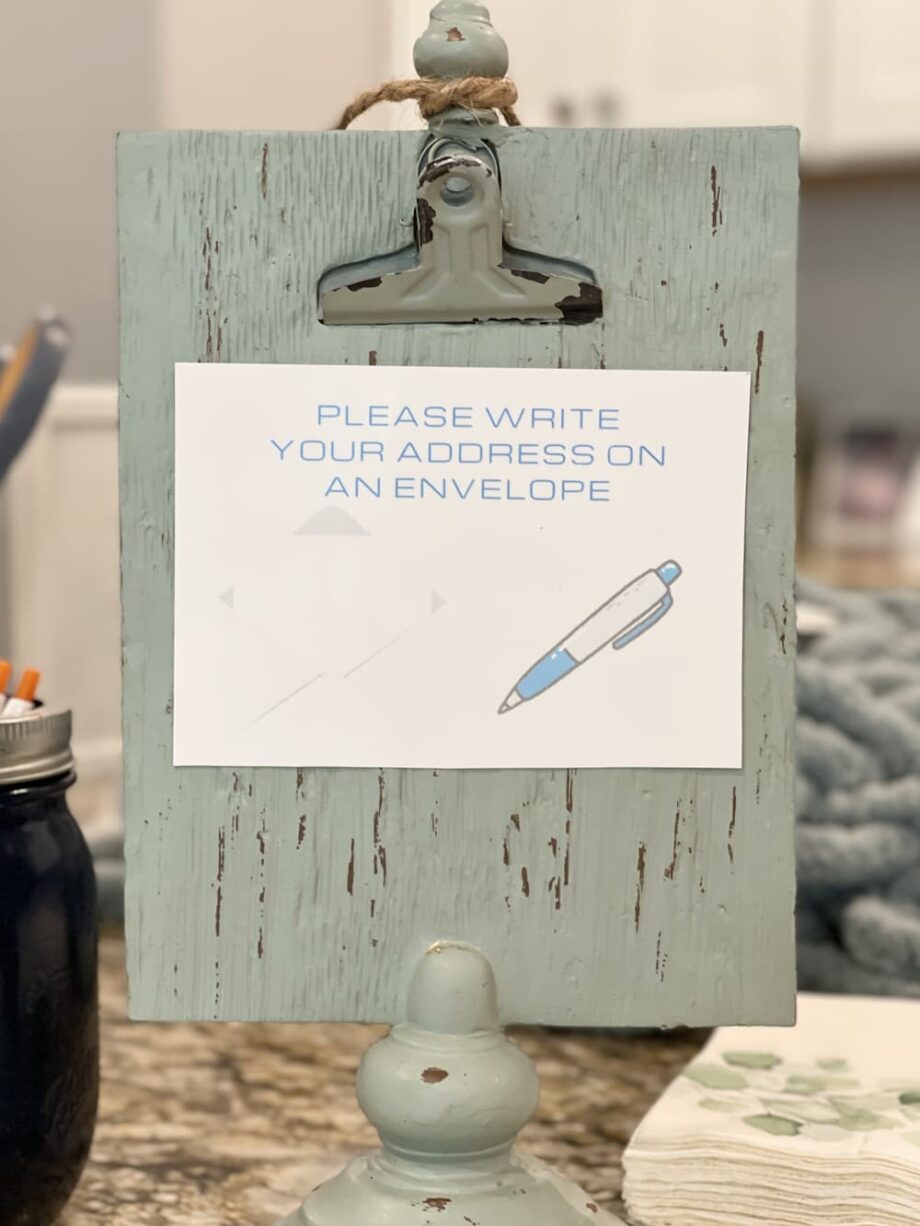 For a glimpse at a neutral wedding shower, click here.
The labels are so easy to make. Here are the two I created, for the favors and game winners.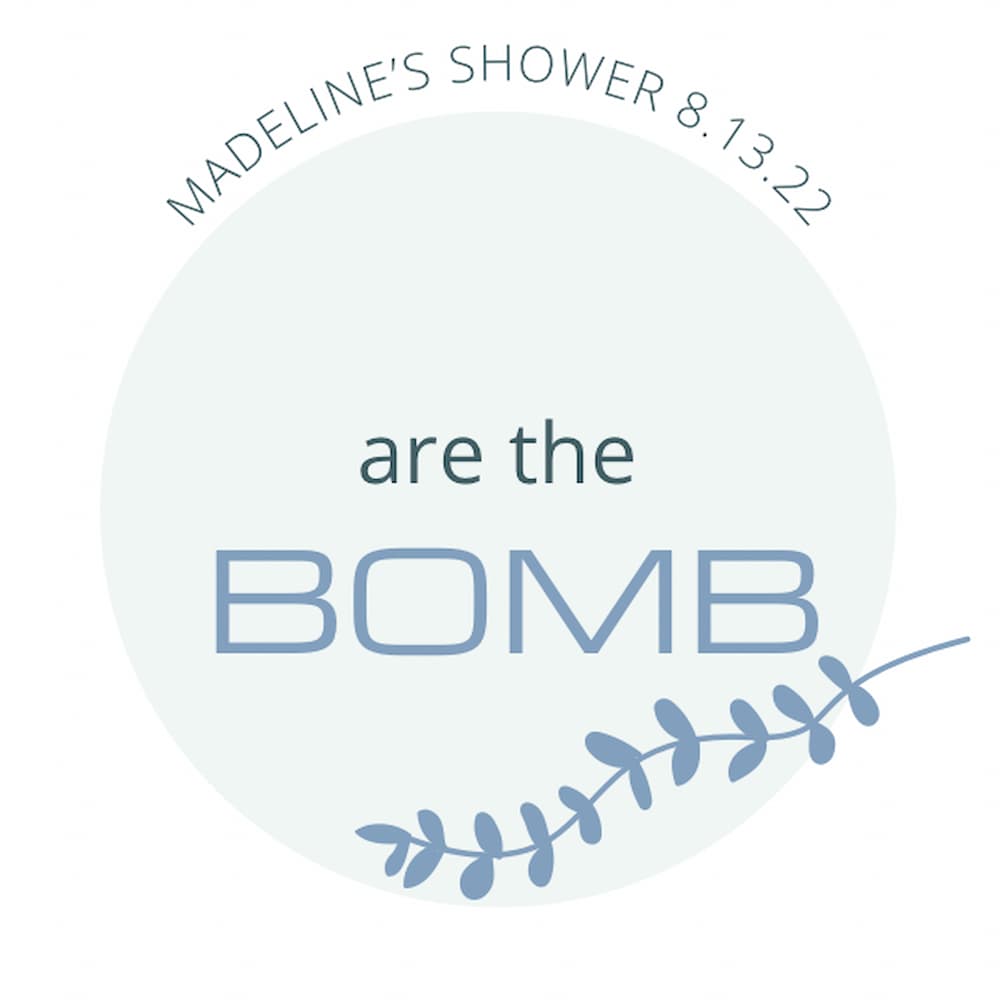 I also took pictures of the decor, put them through the WATERLOGUE app and printed out cards that could be used as thank yous.
Here are a few of the pictures I used in the cards.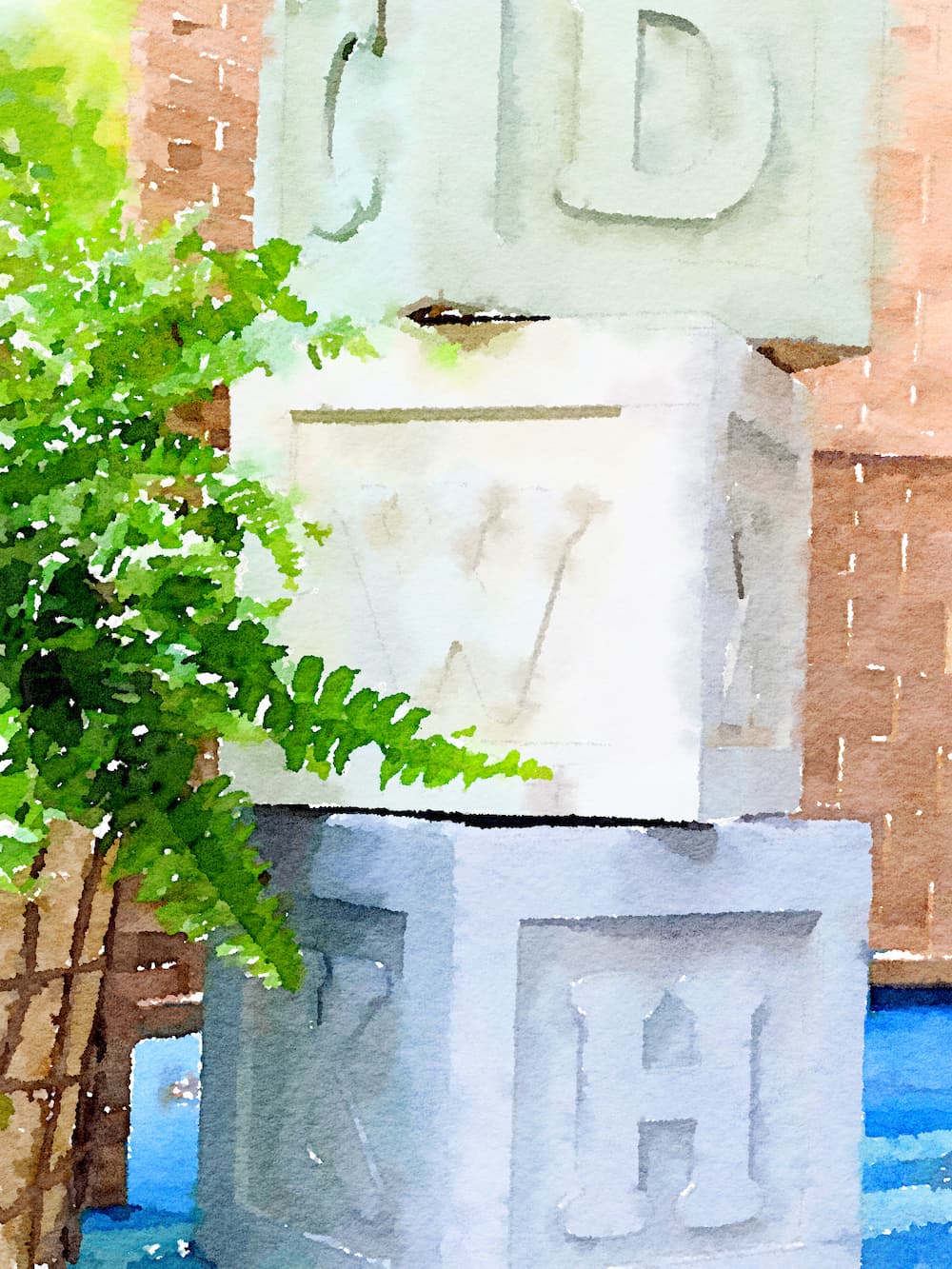 SCENES FROM THE SHOWER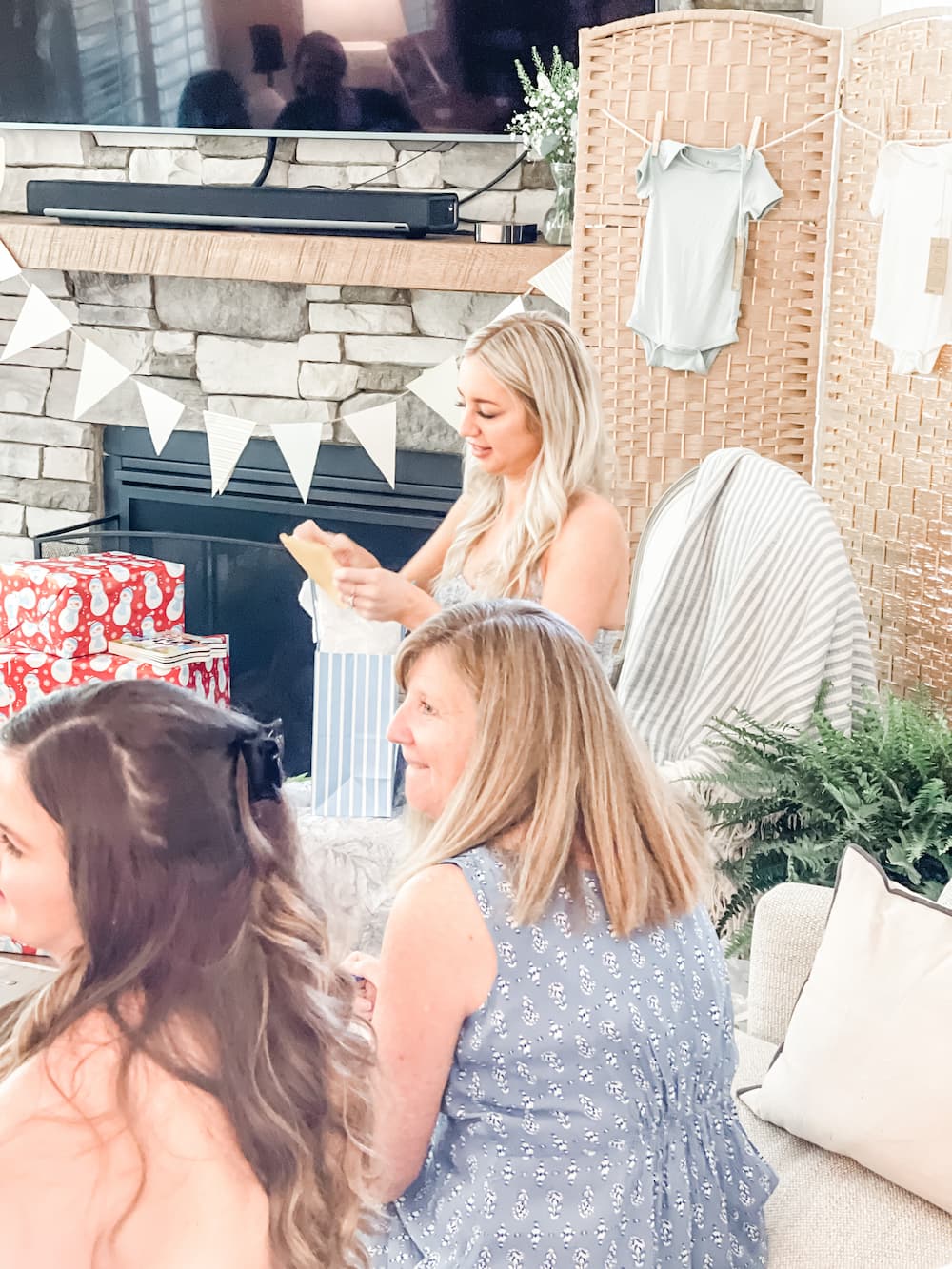 I love putting on events, creating little details to make them memorable. It takes a little planning, a little paint, and some creativity! So see, planning a neutral baby shower isn't that difficult. You've got this!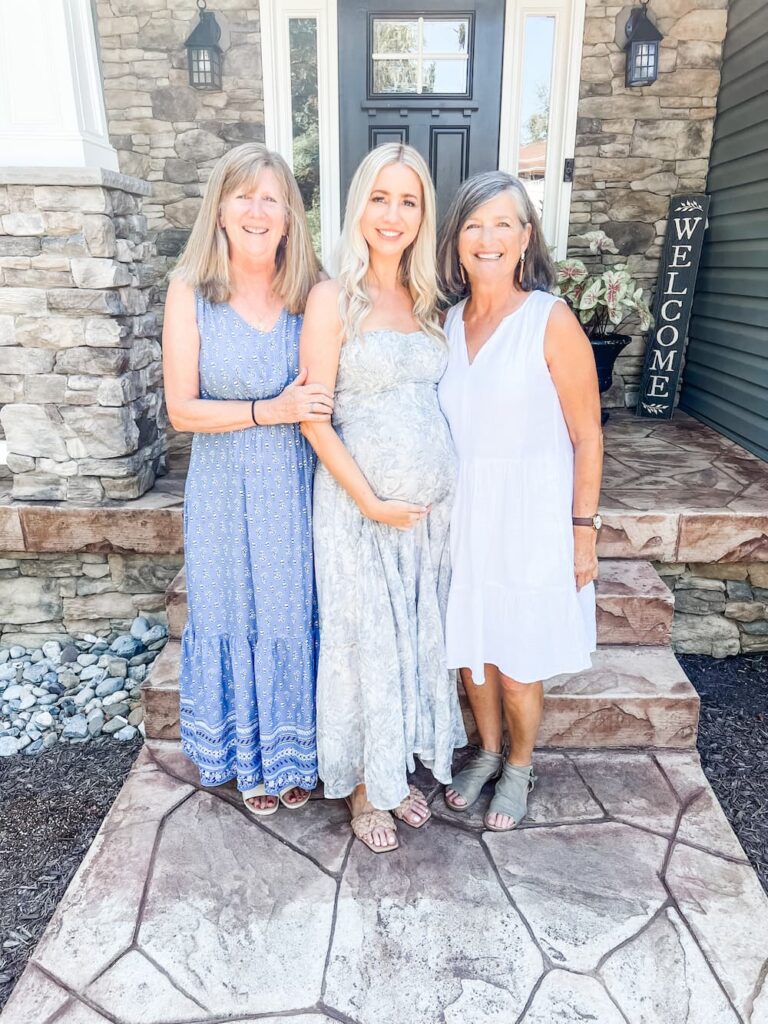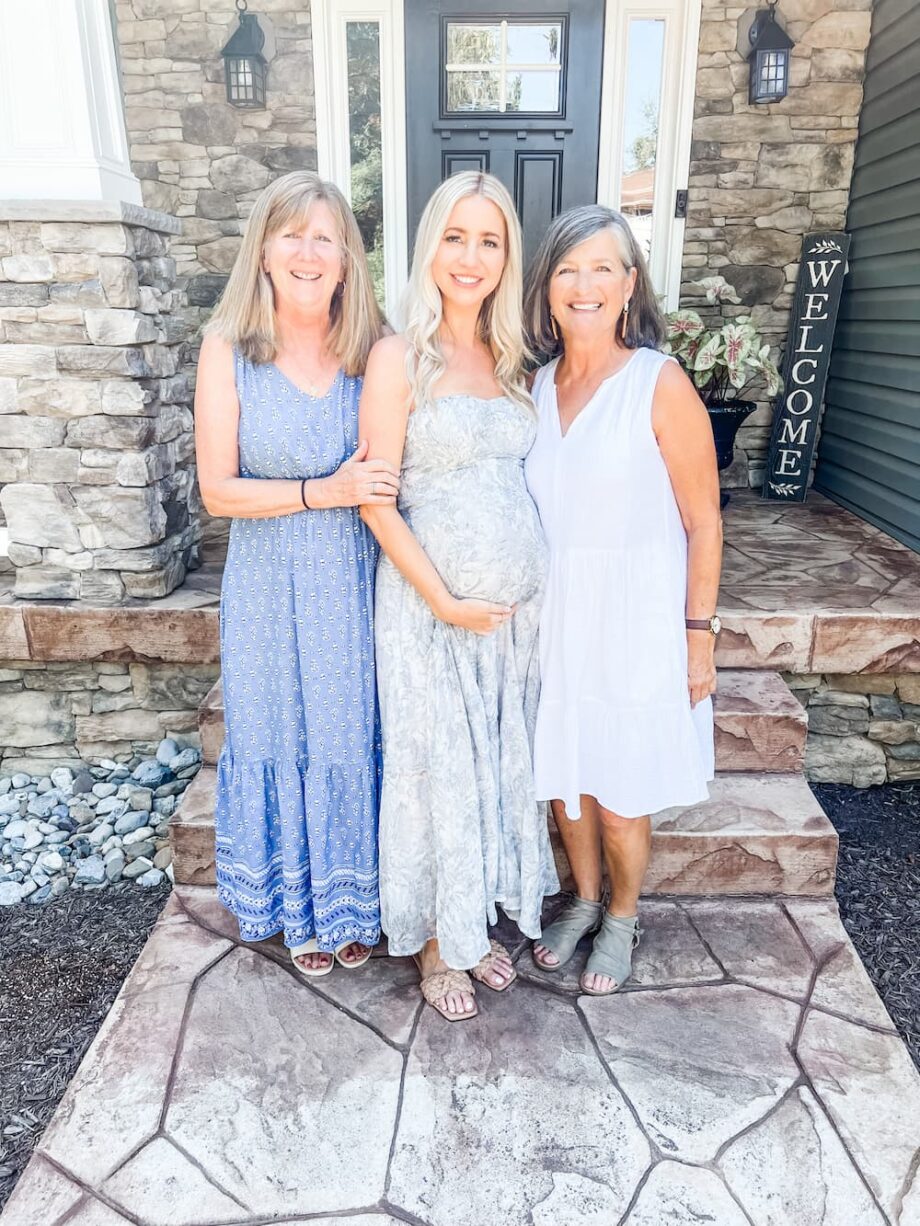 Thanks so much for stopping by. If you enjoyed what you saw, pin it and save it for later. I'd love for you to subscribe to my blog so you can stay updated on what's happening at Saved From Salvage.
XO, Regina
I have included affiliate links, if you purchase from these links, I receive a small commission, at no additional cost to you. Happy Shopping!
let's Go Shopping