Do you have any crab lovers in your life? Being from Maryland, eating steamed crabs summer and fall is a favorite pastime, albeit a messy one.
But they are so yummy.
Learn how we eat crabs in Maryland, or at least how we did in my family.
For sure Nattie Boh was a staple at our family crab feasts.
I'll also share ideas on hosting a "crab feast" perfect for a birthday or Father's Day with a few DIY's sprinkled in.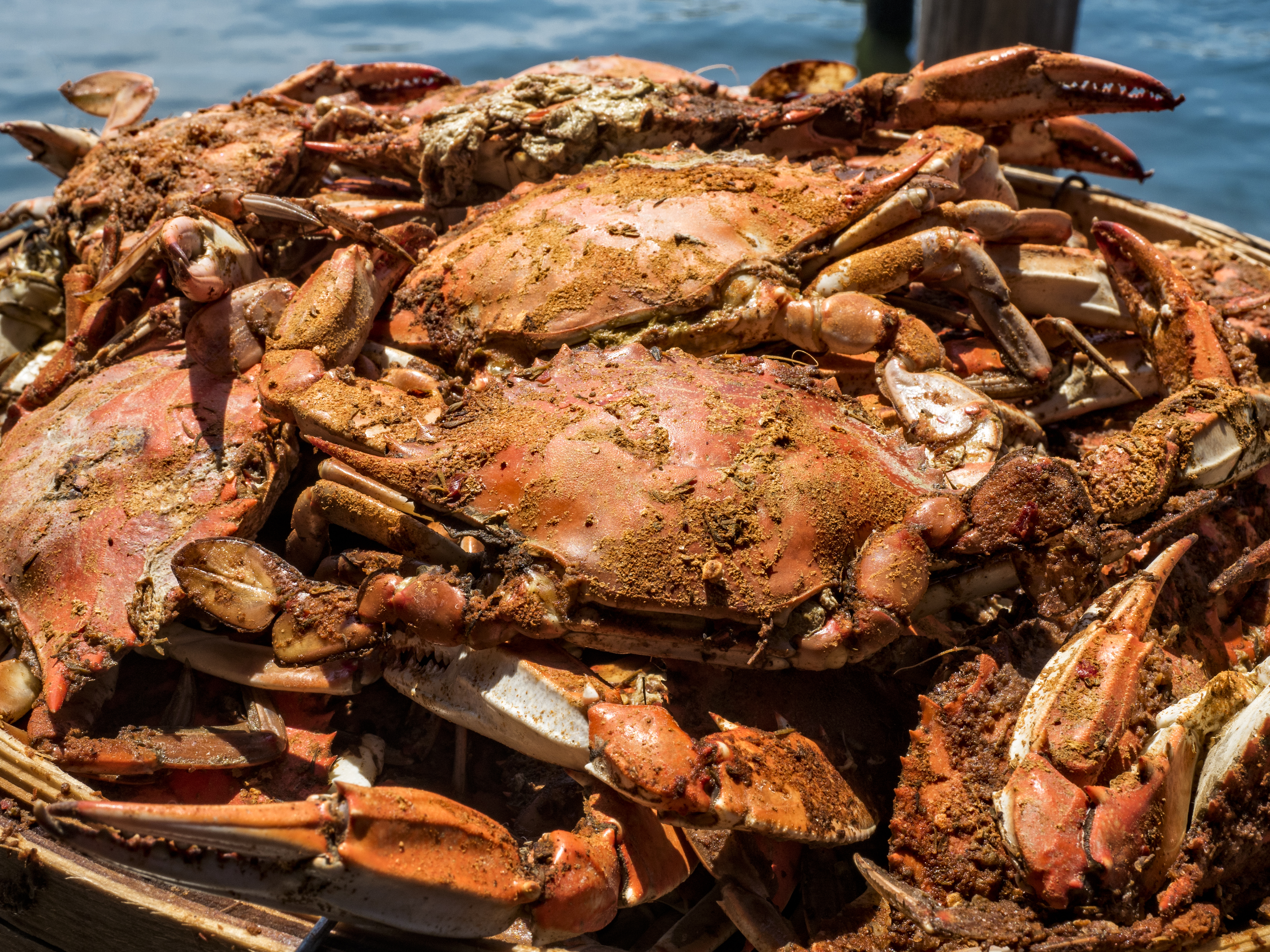 There are a few staples you need if you are serving crabs. Crab eaters have rituals and "must haves" when eating crabs, in my family, there was always white vinegar and extra Old Bay on the table.
Old Bay is made by McCormick Spice company, a local Maryland institution. Our routine was to dip in vinegar, dip in Old Bay then eat.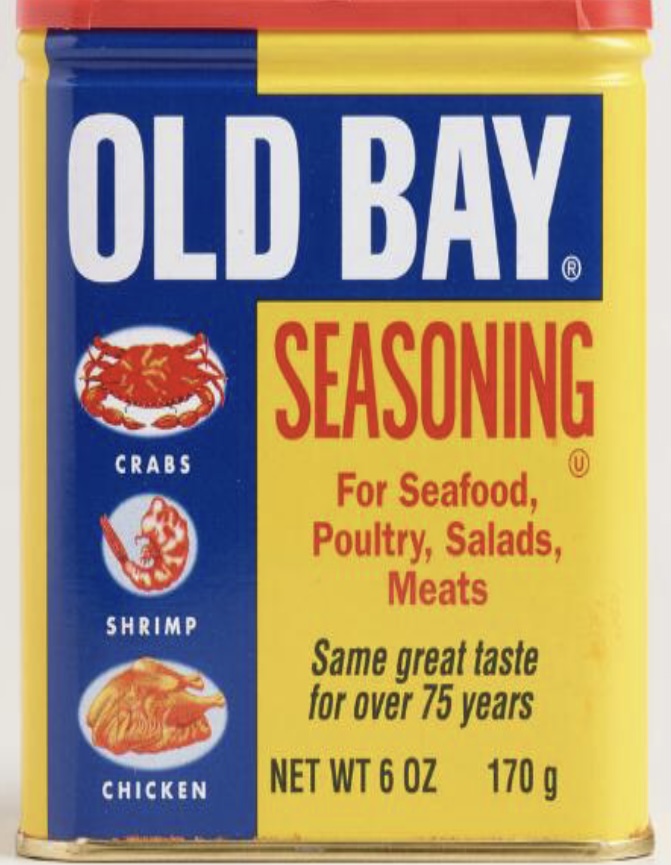 I know some like melted butter for crabs like they do for lobster.
Some people eat claws and some toss them aside. Some people use the leftover crabs and claws and make crab soup.
As a young girl, my aunts and uncles would rent homes on the Magothy River in Maryland and my family would visit on weekends. My uncle Jake had a boat and it was with him we learned to crab. It involved string, chicken necks and a net. You would tie a chicken neck onto a string and drop it over the side of the boat. You would watch for the string to move, as the crab grabbed onto the chicken neck and began to take off with it.
Next you would pull in the string, hand over hand, slow and steady, you could feel the tug of the crab as you pulled. If you were lucky, you could feel the tug the whole time, that meant it was still hanging on.
Then there was the net guy, you would wait until you could barely see the crab through the murky water then you'd yell "get the net, get the net." The net guy was to slide the net into the water and scoop the crab. This took practice. Many would get away, especially if you took too long to scoop it, or if you pulled it up too quickly. But oh the excitement of catching one!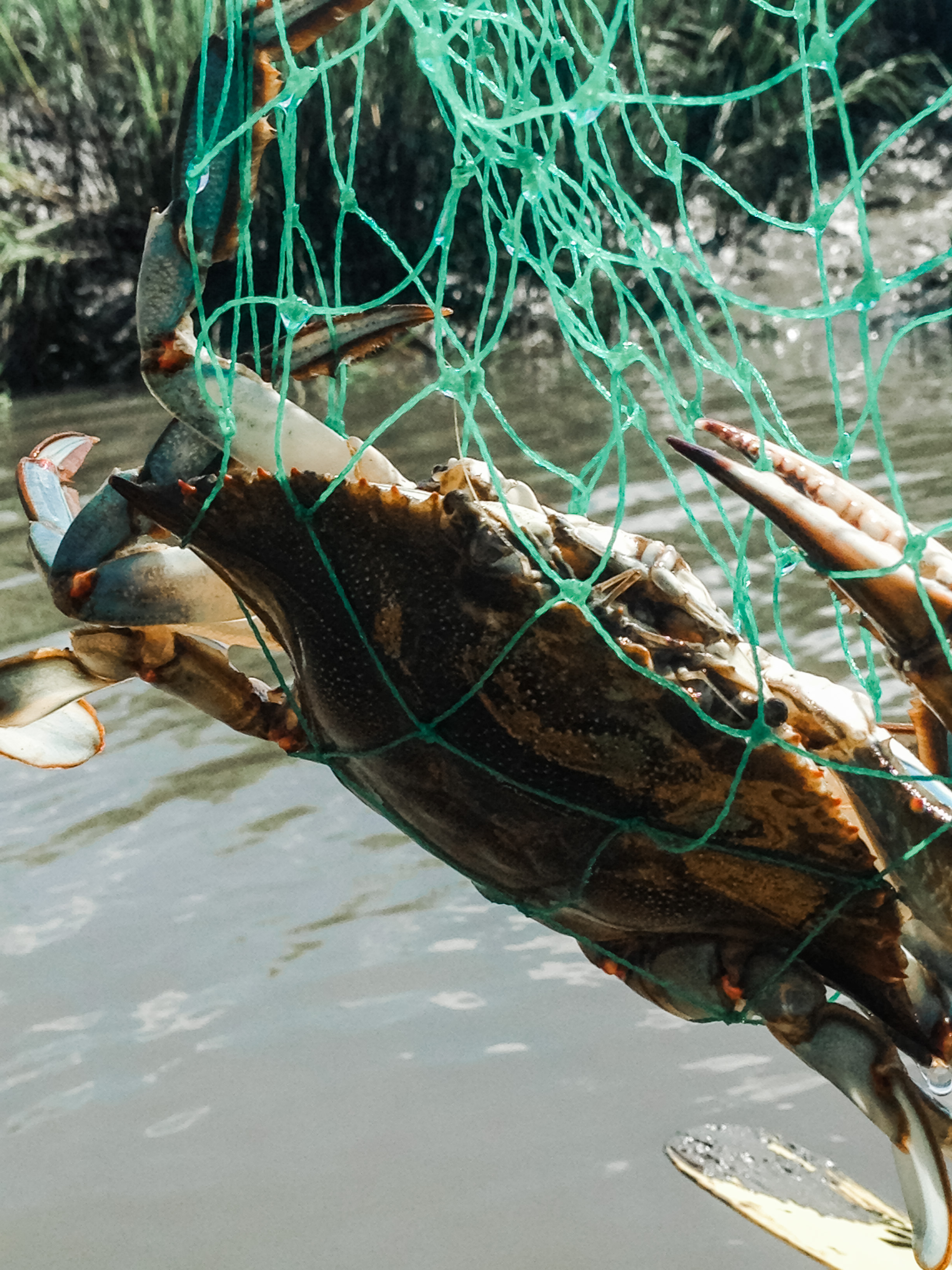 Have you ever crabbed? Were you successful? When my nephews and niece were younger, my brother from Texas would take them crabbing off of a pier on the Chesapeake Bay, I know they enjoyed it, almost as much as him.
I began crabbing again about six years ago on a trip to Edisto Island, a favorite beach in South Carolina, on a kayaking adventure.
We weren't very well equipped but we did purchase a net to scoop them. We'd paddle through the little inlets and waterways and enjoy the scenery along the way. Crabbing we'd see dolphins, herons, egrets, oyster catchers and river otter.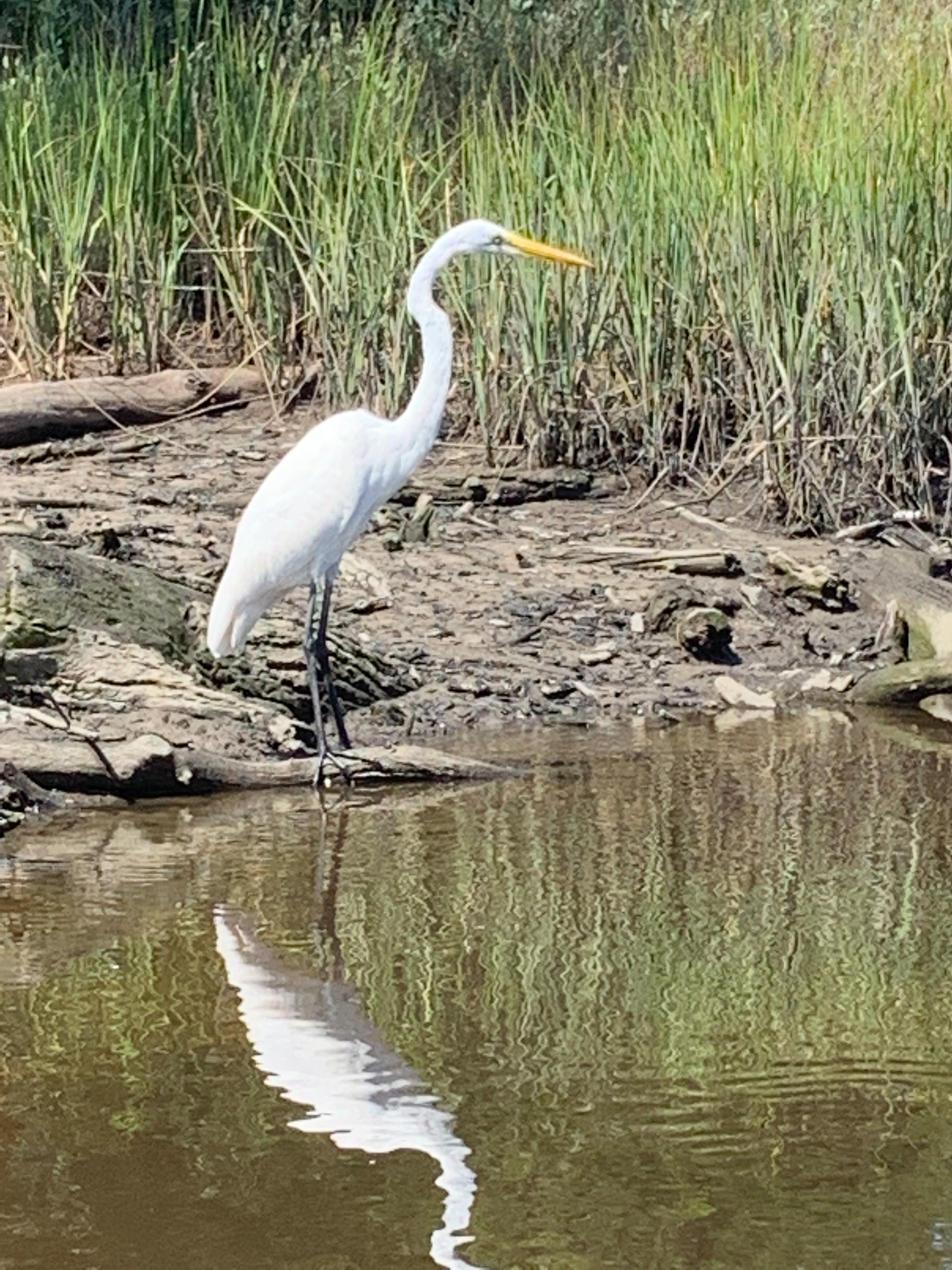 We would drop empty water bottles with string tied to a chicken neck into the water. We'd paddle to the next spot, throw a water bottle over and continue until all of our water bottles were out and then we'd go back and check on them.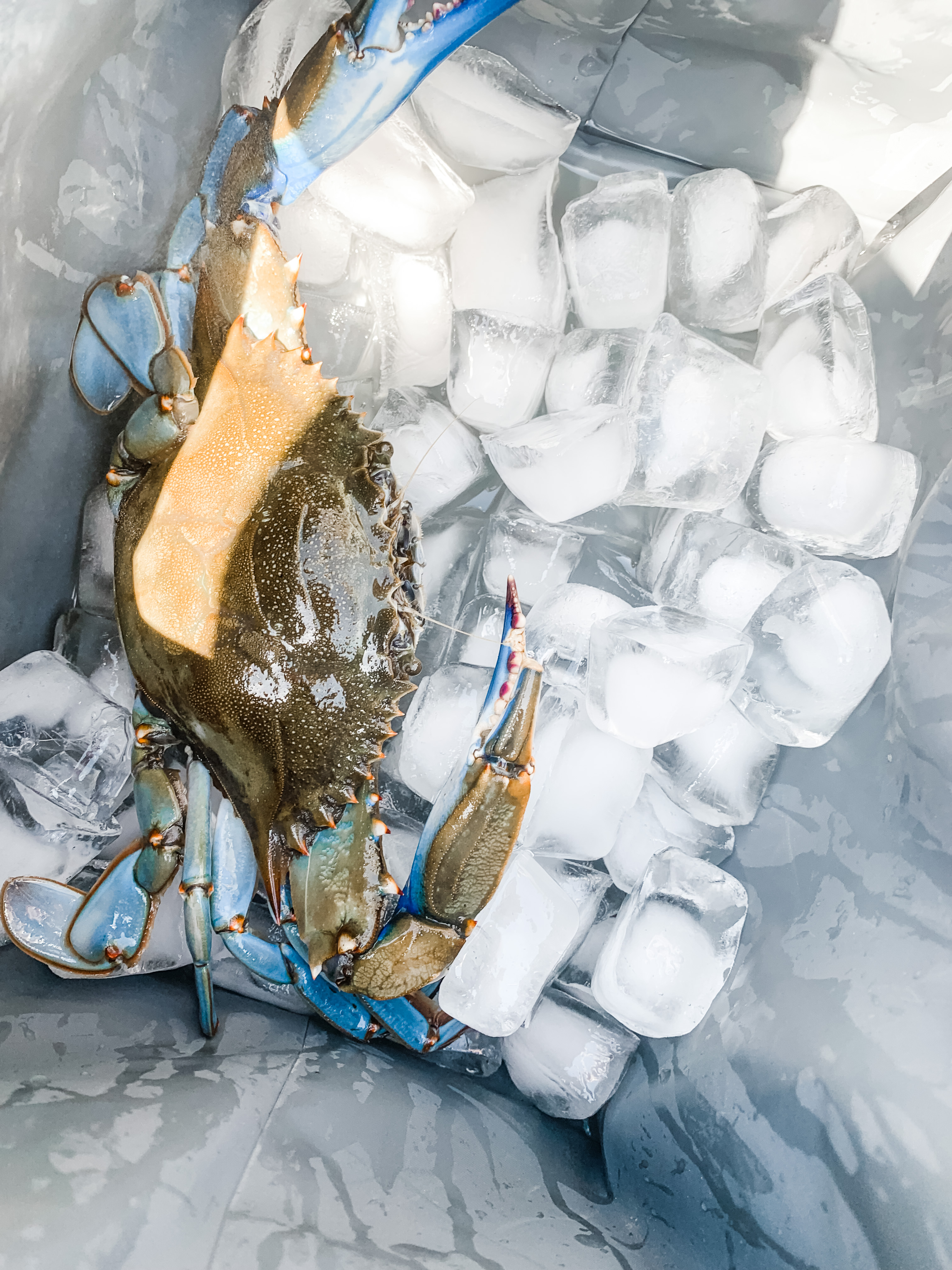 We were always so excited to catch one. You would typically hear a few shrieks as we feared them dropping on our legs in the kayak.
We'd catch just enough for dinner and then head back to the beach house.
Next is to steam the crabs. There are a few recipes but the standard is written right on the Old Bay container. Here is the link to the Old Bay recipe.
When you drop them in the steam pot they are still blue.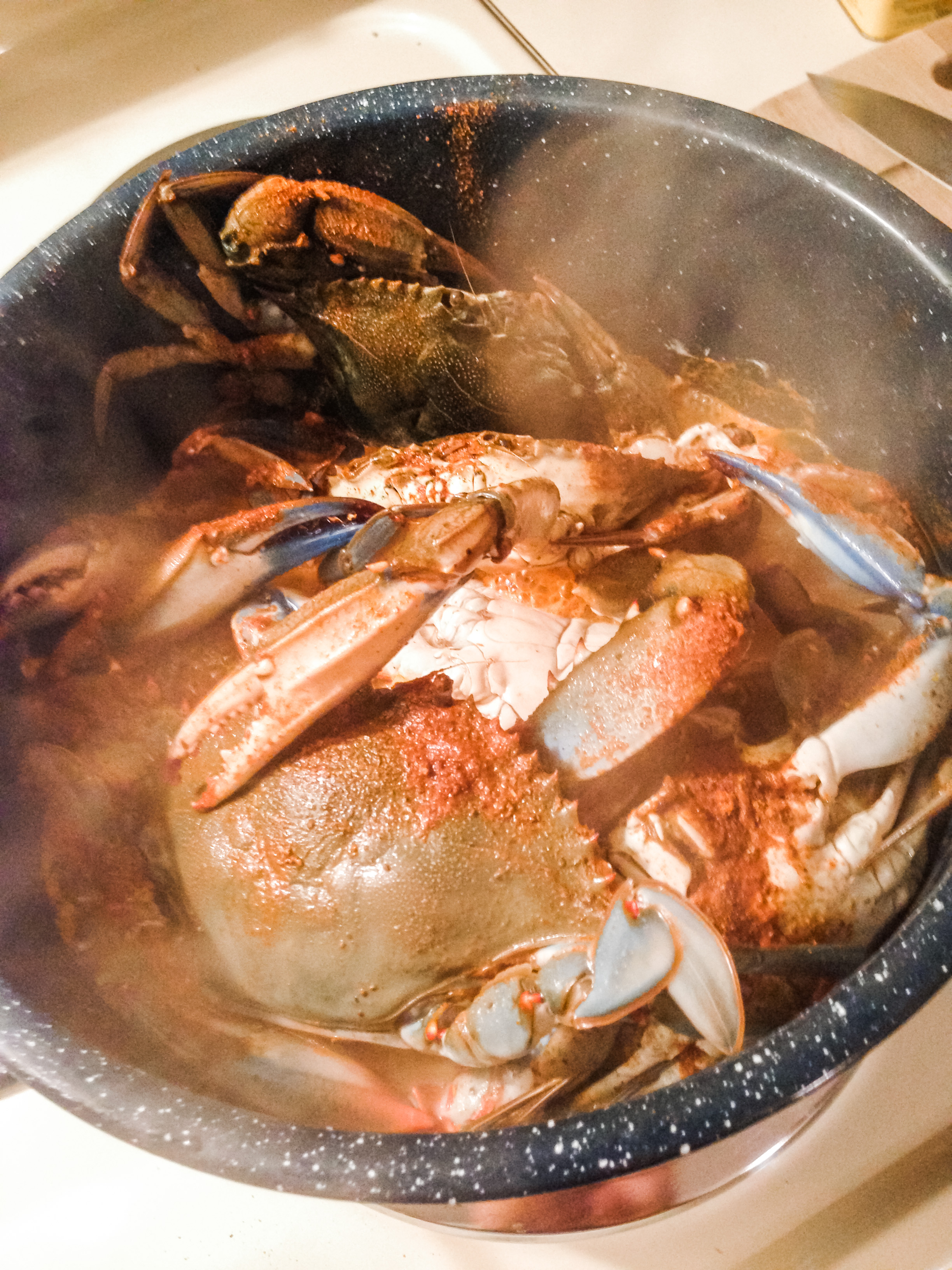 When they are done – they are red.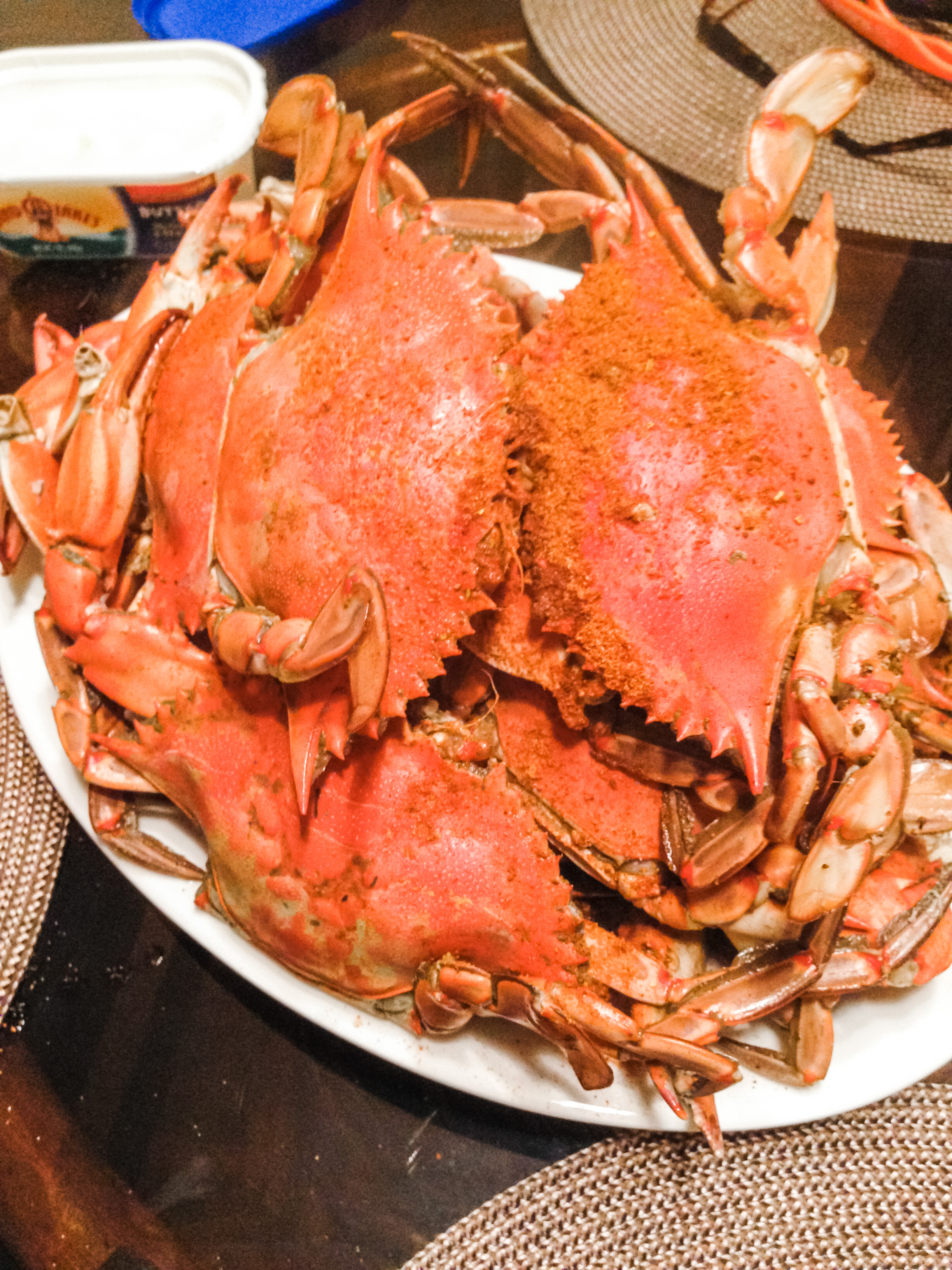 When we had crabs at a family get together, you knew you were loved when an uncle would work to pick a pile of crab meat just for you. Doing that for someone surely meant they were special.
Eating steamed crabs is an event. It usually requires a few hours and often a few beers. Many people will cook burgers and dogs or chicken to serve. Corn on the cob pairs well with crabs, a steaming hot ear of corn with butter and Old Bay is delicious.
If you are planning a crab feast, you could steam them yourself or purchase them already steamed. This is great for Father's Day or any birthday between now and October.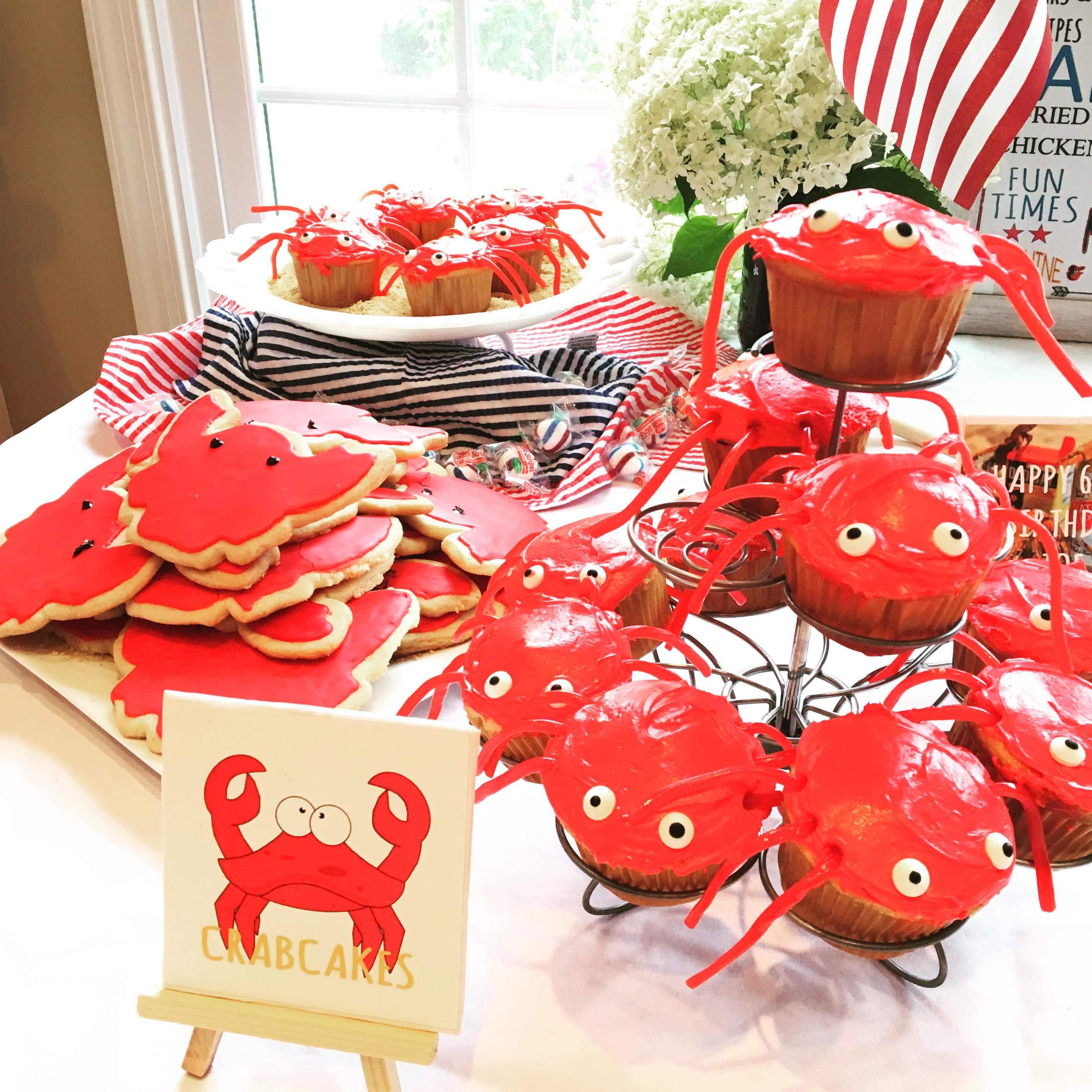 These "Crabcakes" and Crab cookies are perfect. Here is a link to the Crab Cookie Cutter.
There is even an Old Bay beer you could serve.
Another fun idea is for a personalized container to put the empty shells in. The table can get a bit overwhelming if you don't have one.
I purchased a galvanized bucket and using my Cricut Maker, made this with Maryland and a crab.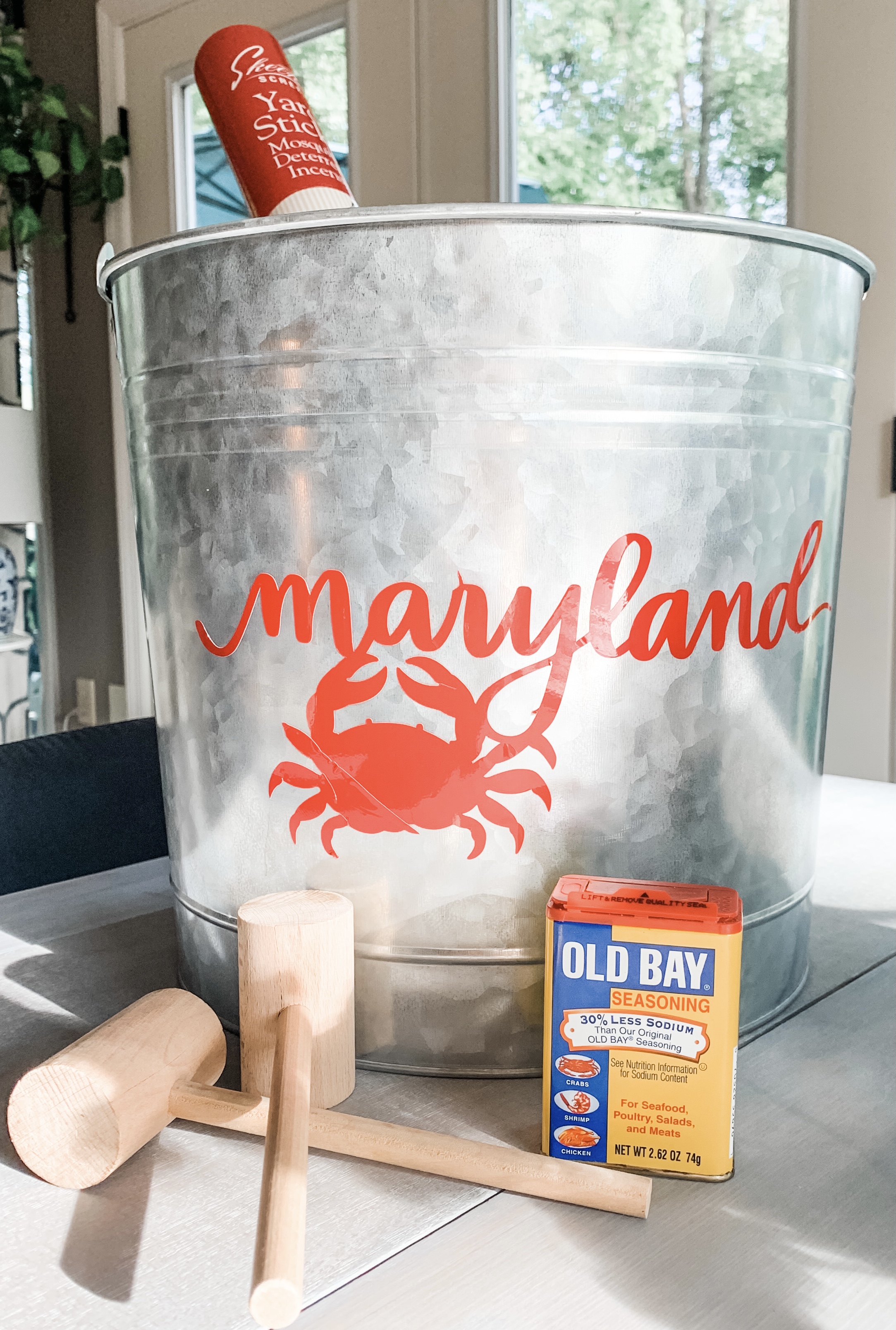 For a fun Father's Day gift you could create a whole basked like I did and include knockers, bug sticks, paper towels, a roll of crab kraft paper a can of Old Bay and a bottle of white vinegar. Maybe even tuck in a gift certificate for a 1/2 bushel of crabs.
Setting the table for crabs inside or out is easy. Because there ends up being lots of mess, I like to keep it simple.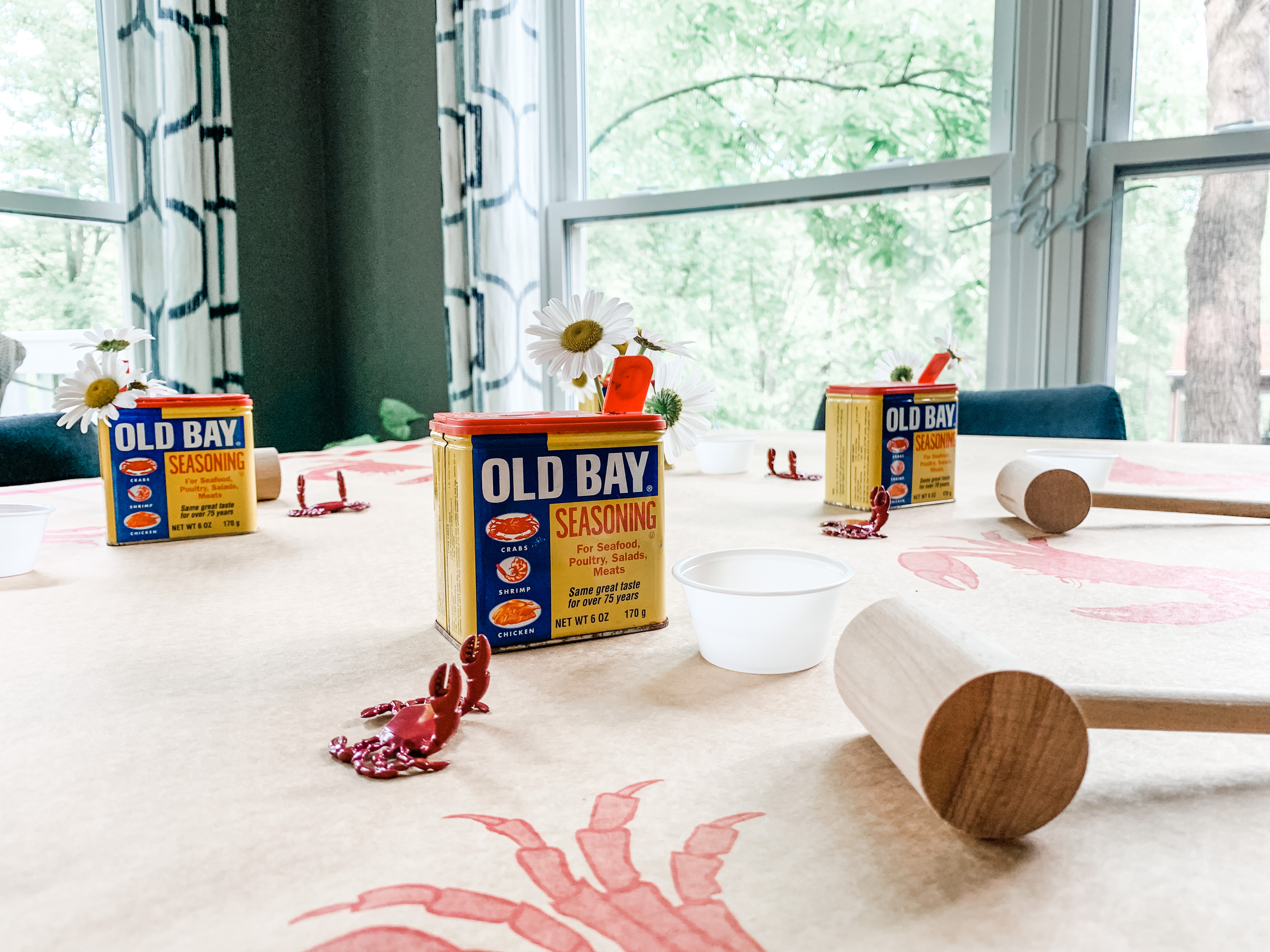 Here I used empty Old Bay containers to hold some daisies and made name tags with these adorable crab holders from Pottery Barn.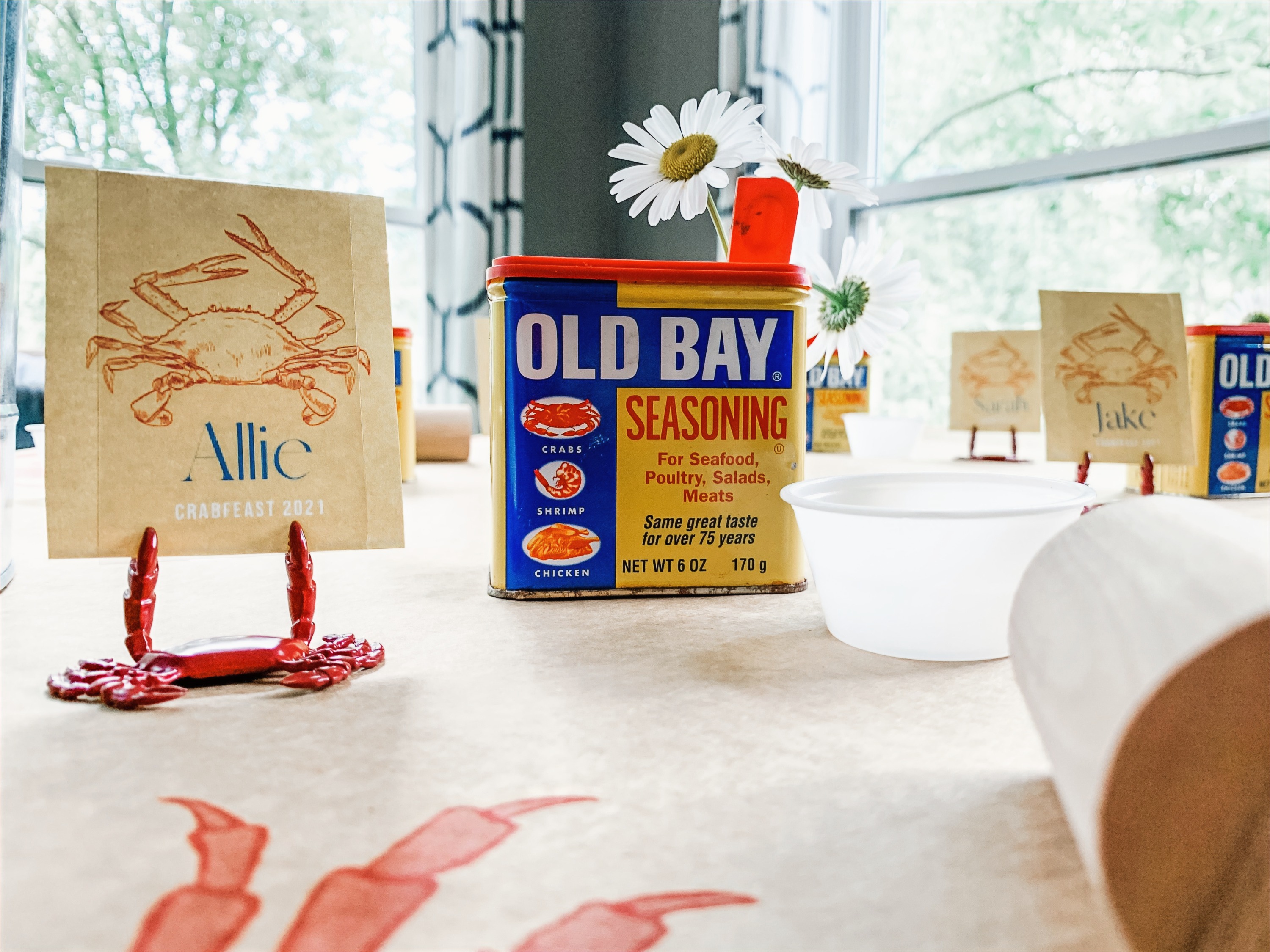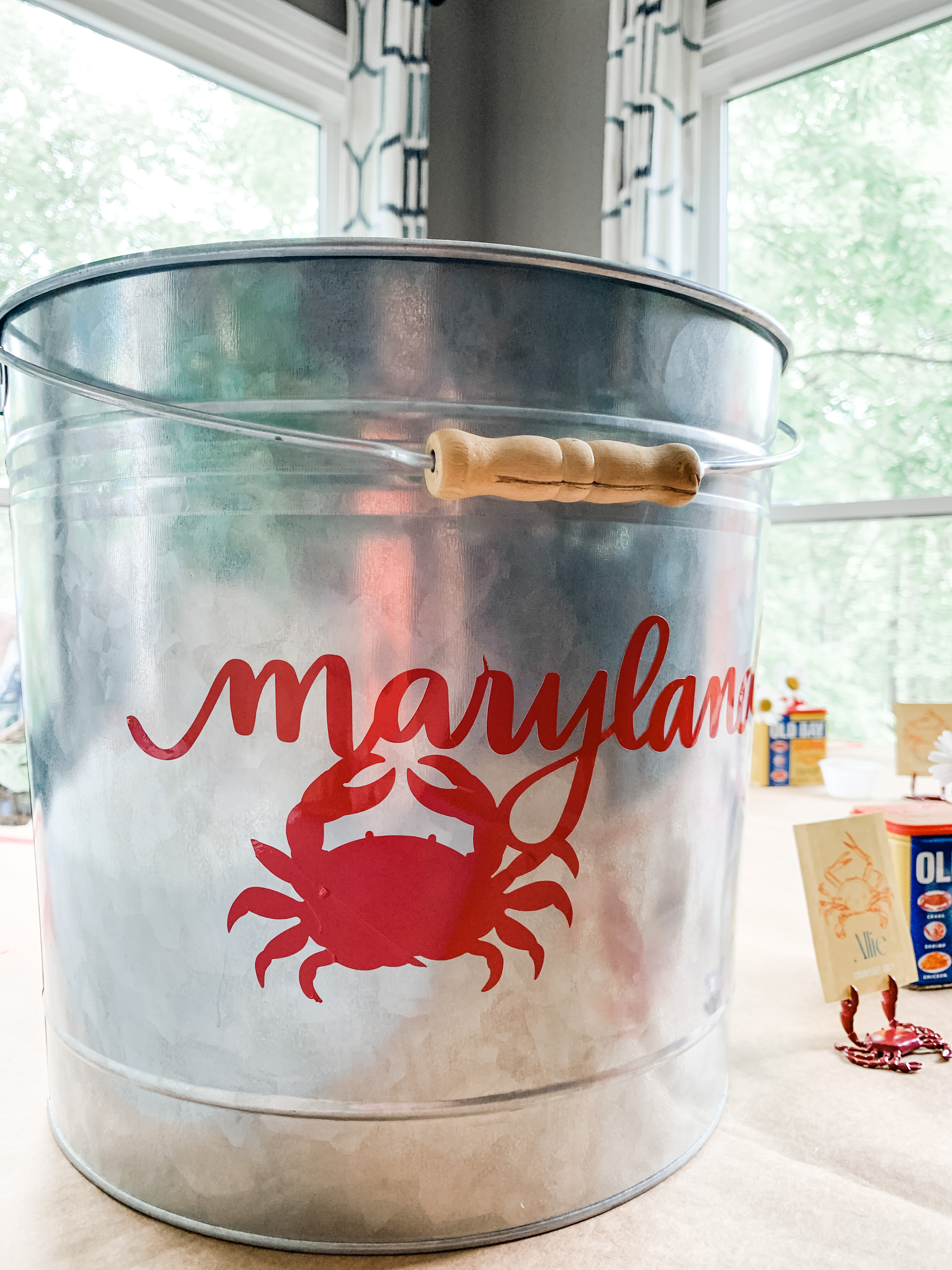 I decided to personalize the gift a little bit more. I used a wood burning tool with stamps to put an initial on the knockers. I added six to the bucket with the initial of the last name.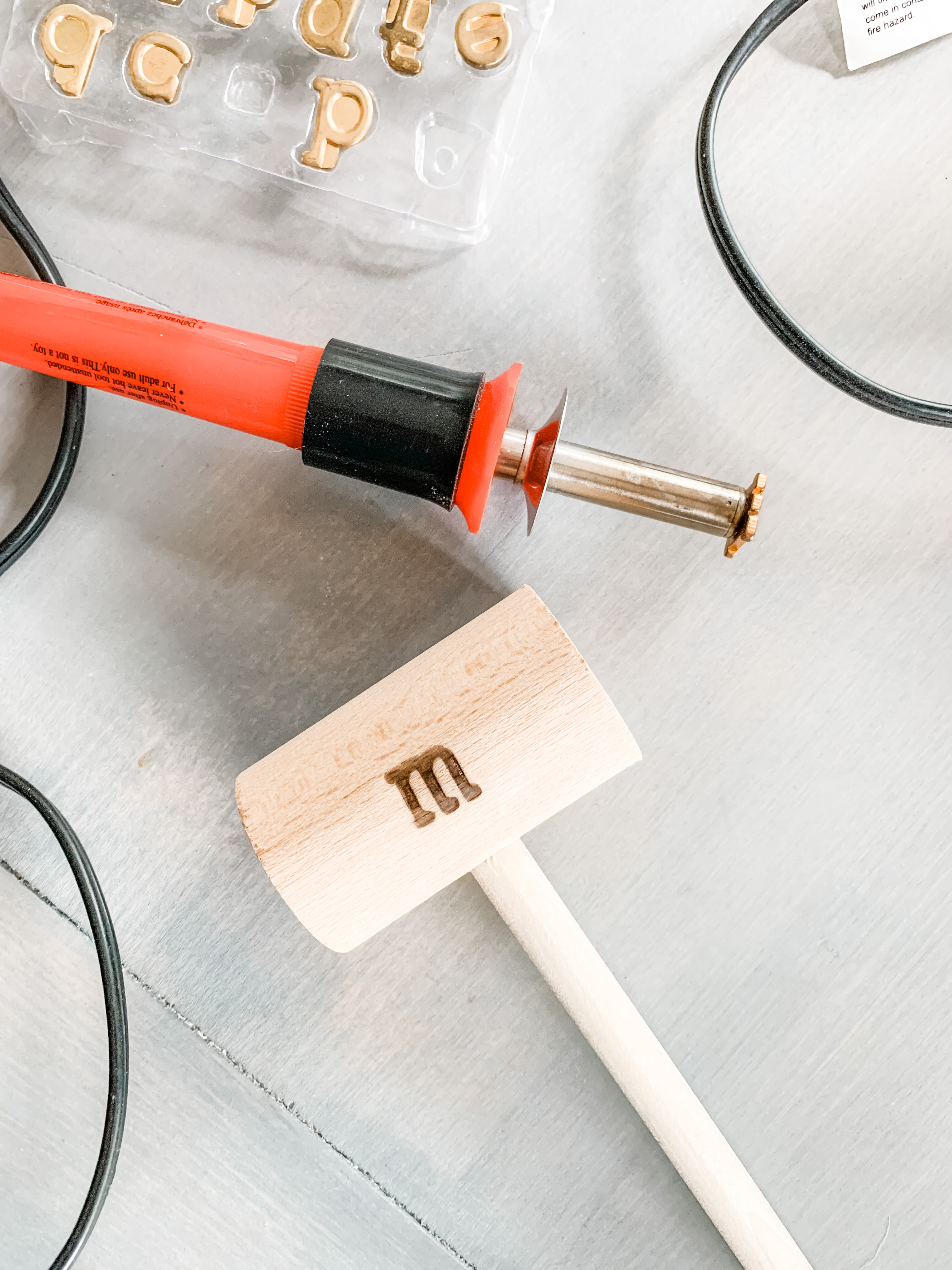 It took a few tries. It's very hot so be careful. I learned you need to rotate the stamp, kind of roll it around on the mallet to make sure it's stamped evenly all over.
Here's the basket ready to go to a special Father I know 🙂
So do you love steamed crabs? Have you ever tried steamed crabs? Let me know!
Thanks so much for stopping by. Please take a moment to comment if you liked the post.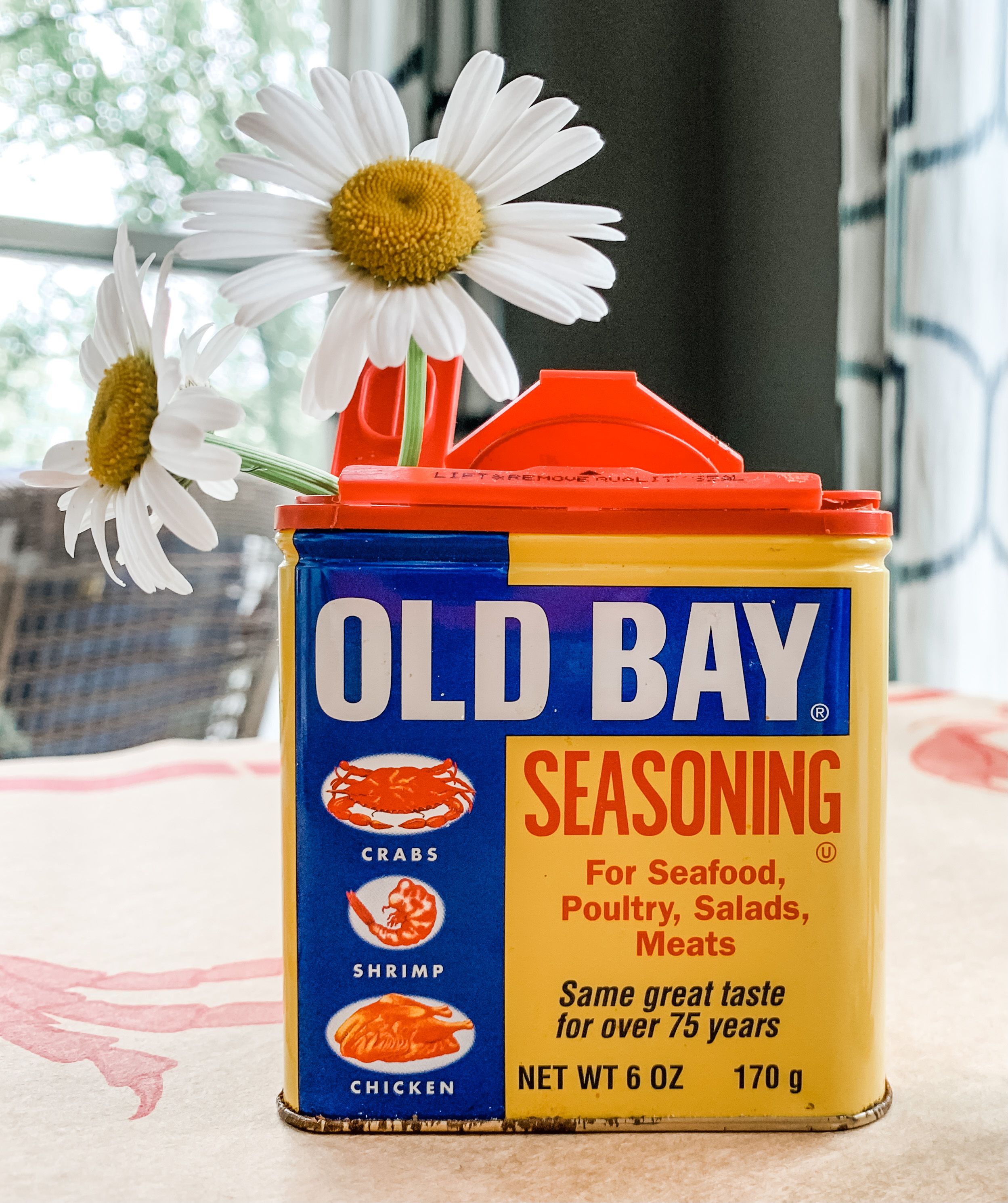 Have a great week – XO, Regina
This post contains affiliate links for your convenience. If you purchase something from a link I may receive a small commission at no additional cost to you.