Do you have a get together for Memorial Day? I'm sharing the best ideas for celebrating Memorial Day.
It's that time of year when our thoughts turn to outdoor gatherings, family fun and lazy days poolside, or in my case it's mostly "lakeside." It's a far cry from last summer and I'm sure I'm not alone in welcoming all chances to gather with friends and family.
Memorial Day signals the kick off to summer, but let's not forget June 14th which is Flag Day and Independence Day on July 4th. Perfect times to gather.
In this post I share ideas for all things patriotic.
You know the craziest thing? I used to detest Red, White & Blue decorations. I would go out of my way at work to avoid it when planning events. It felt tacky.
Have you ever felt this way?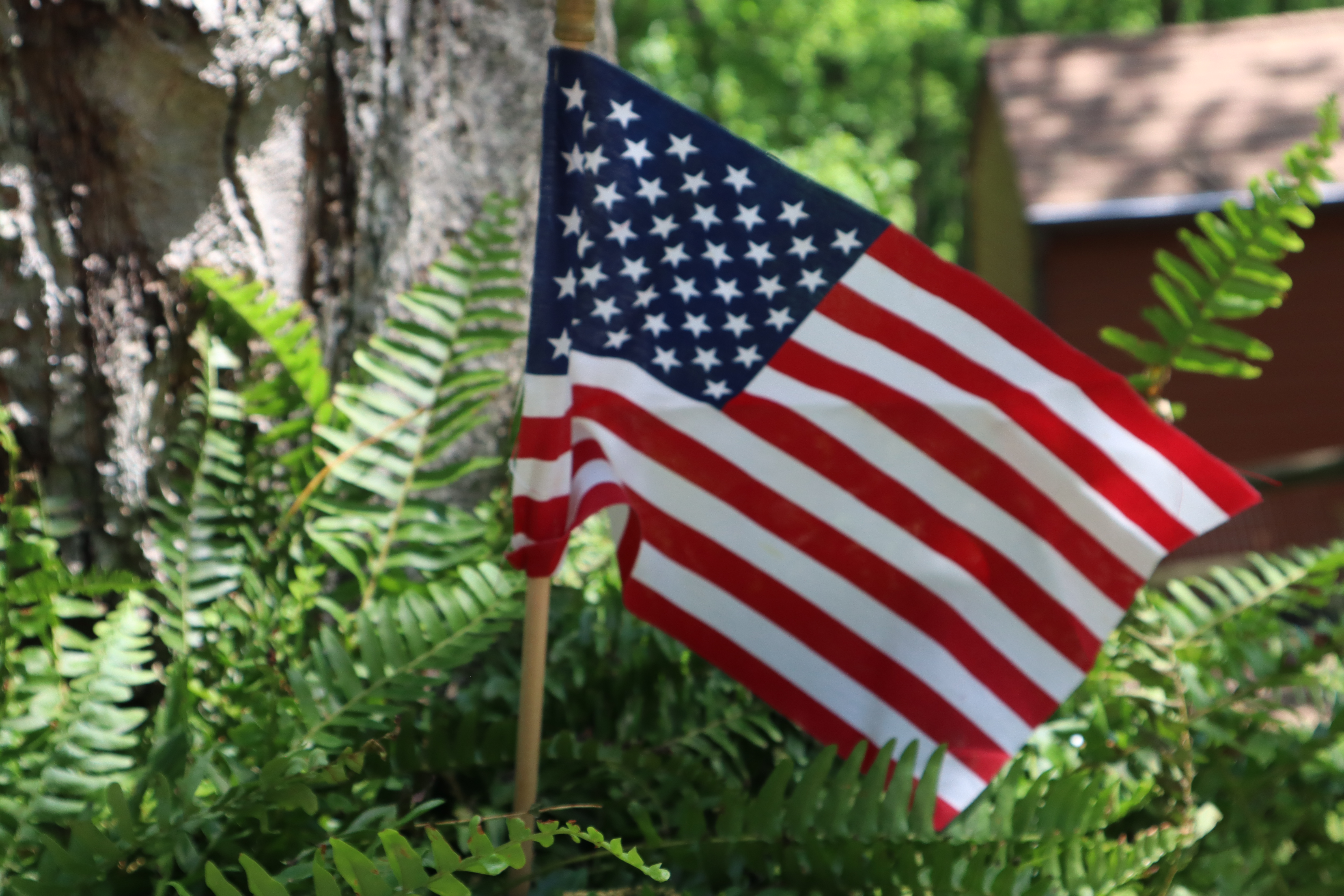 I don't know exactly when it happened but now I embrace it! (holidays only) Maybe because we moved into a blue home with red shutters. I have white rockers on the front porch and I vary the throw pillows (shocking I know) seasonally. I always try to have blue in my pillows to tie into the house.
That's the only thing I can think of that's changed.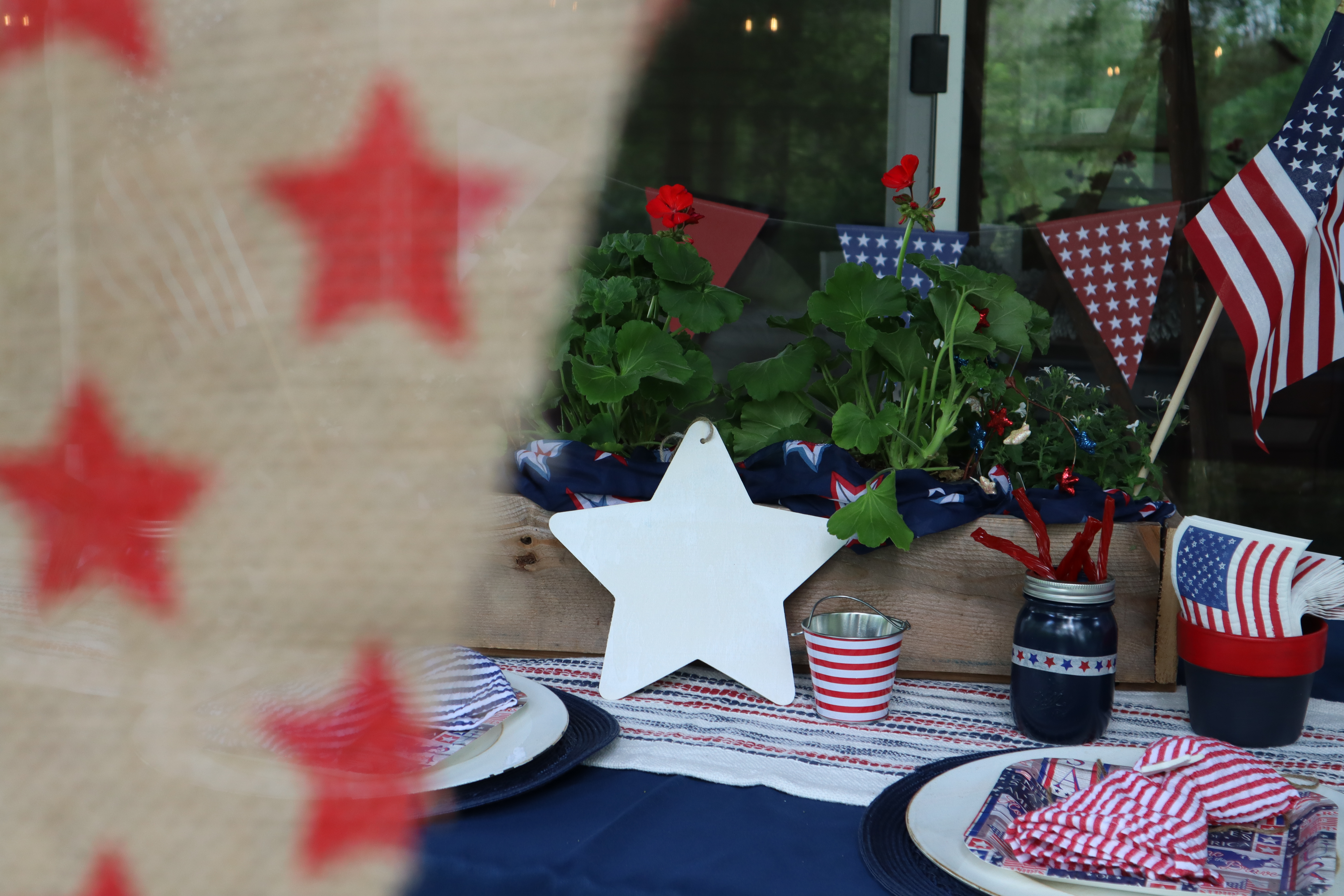 Ok, back to the post. I've teamed up for the first time with three blogger friends to share inspiration for Memorial Day, Flag Day or July 4th celebrations. I'll provide links to their sites at the close of my post. Please take time to visit them, they are lovely and part of "my tribe" of support.
Wendy from WMDesign House
Missy from Sonata Home Design
Susan from Hen and Horse Design
I'm excited to see what they have created too. We are sharing ideas from Maryland, New York, Nebraska and Southern California!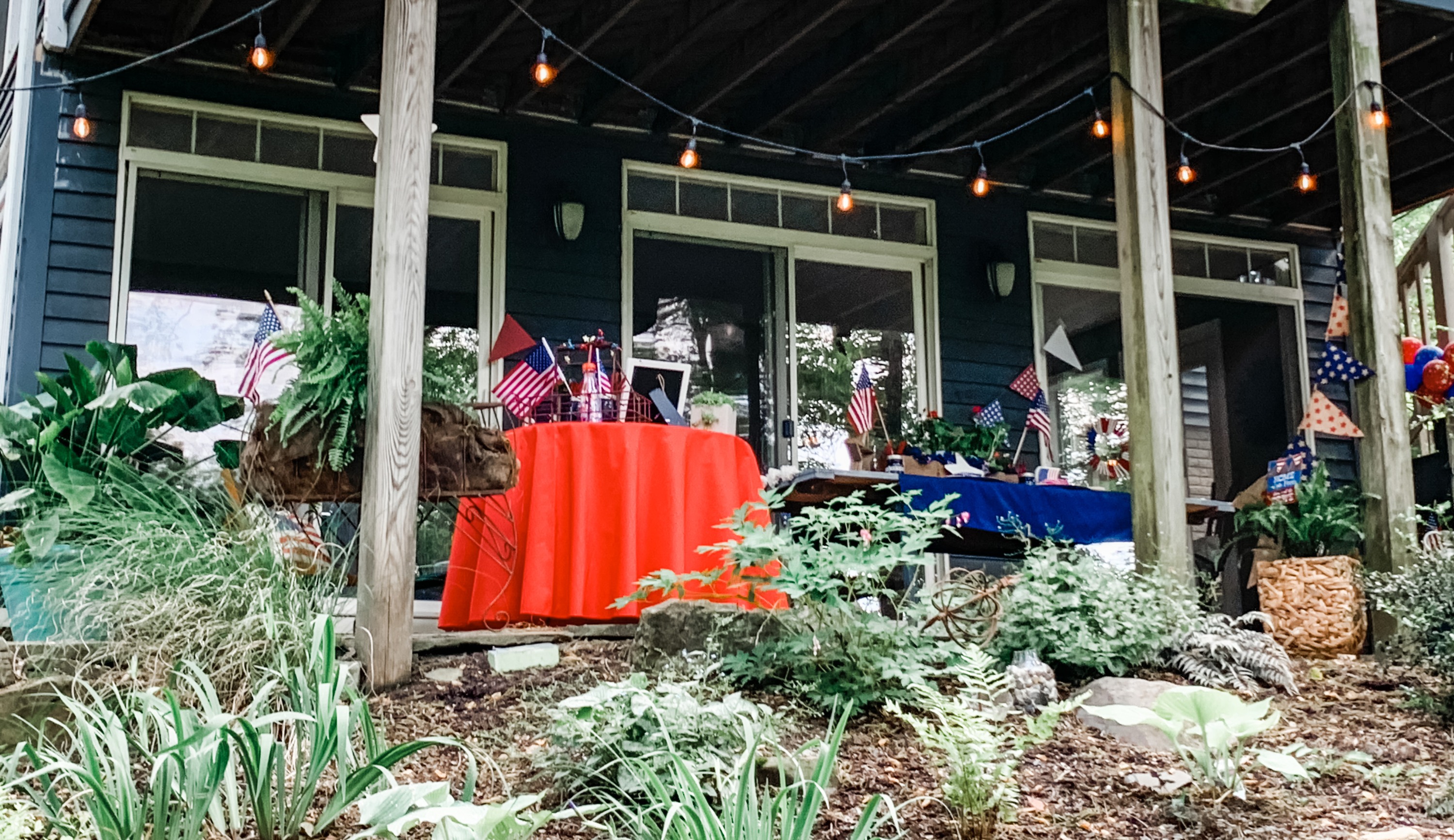 I chose to decorate outside under my deck for my Memorial Day event. This area is the yuckiest place to look at right now. Our plan is to paint the deck columns and add some trim to them, but for now they are a lovely green 🙂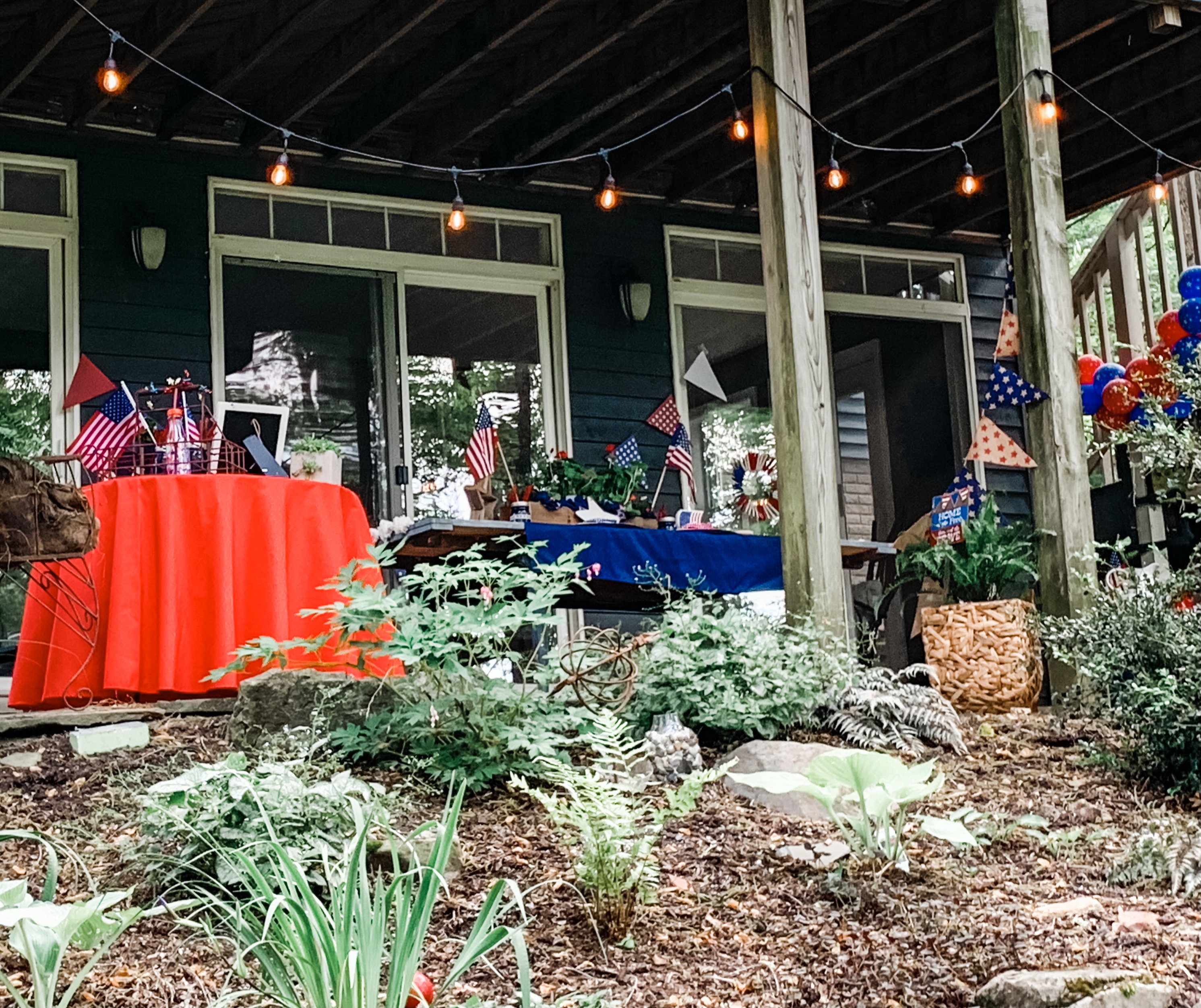 It's mostly shady, and it's where the best mushrooms, moss and toads thrive.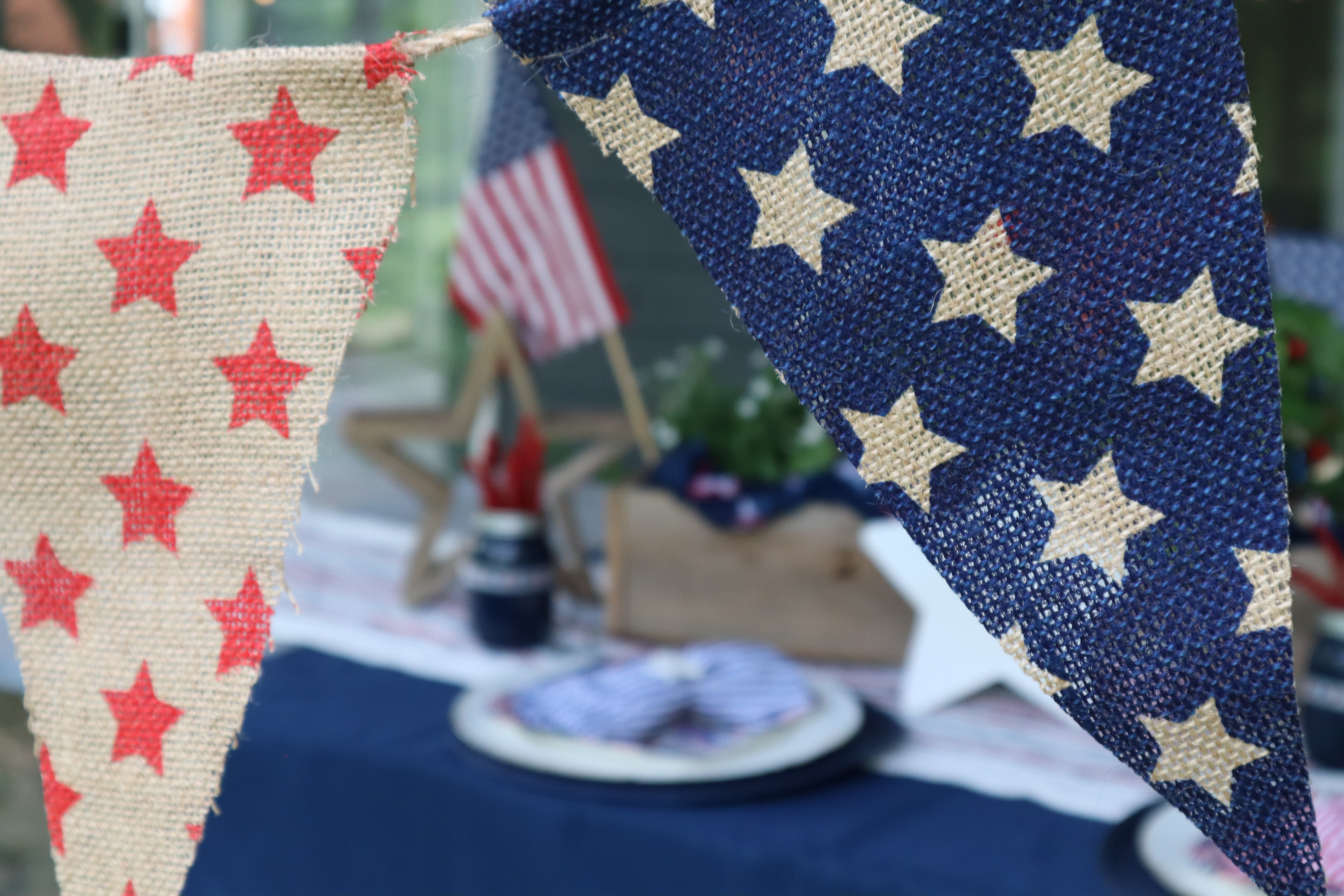 But… it's where I wanted to put the table, food and bar because it's easy access to the yard and fire pit area. Also this time of year, having food out in the shade isn't a bad thing.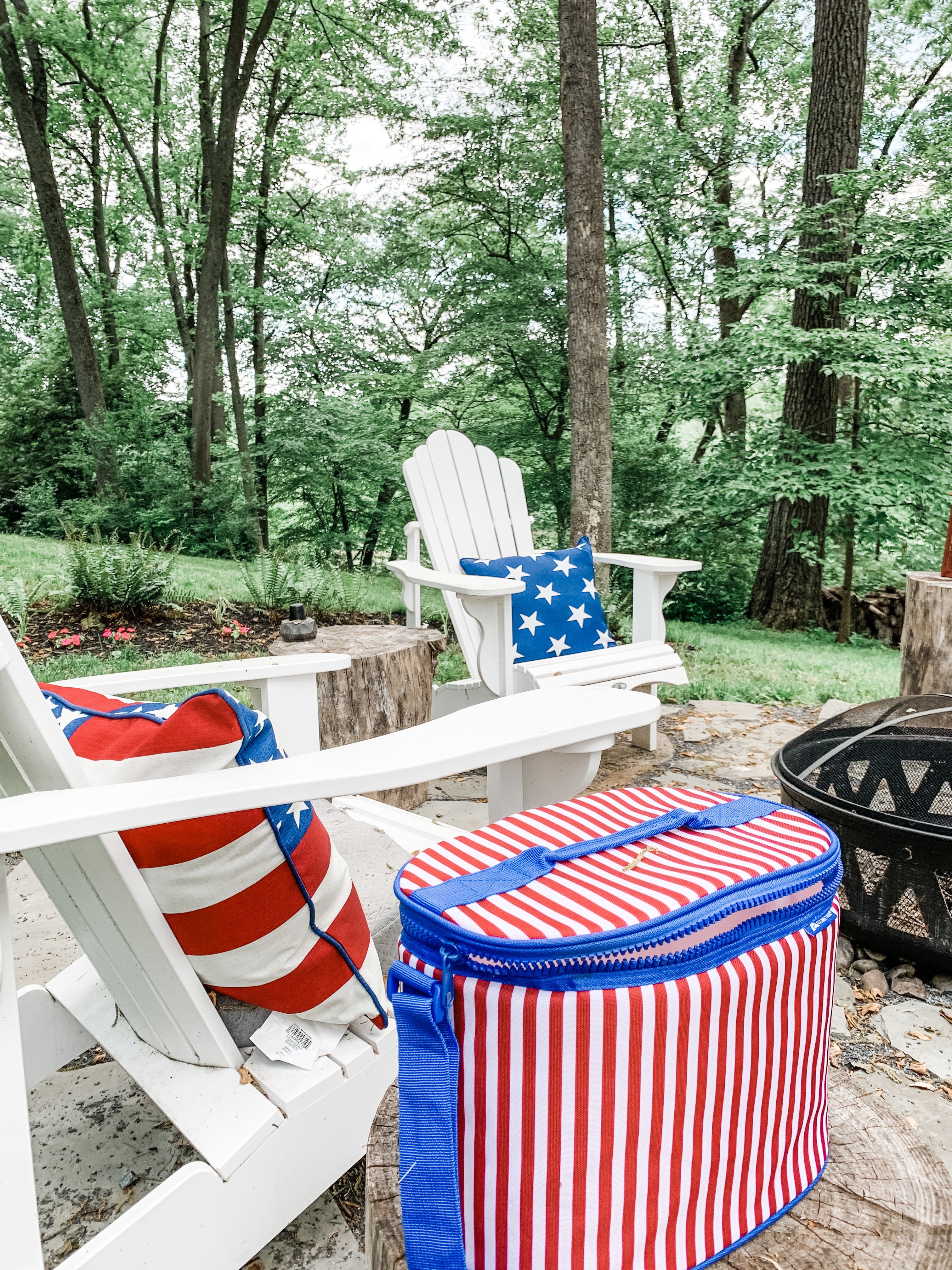 I will be adding decorations to my deck as Memorial Day gets closer, so it will be festive for anyone that gathers there. It's got a small round table and sofa and chairs, not enough room to maneuver around so that's another reason why I chose underneath.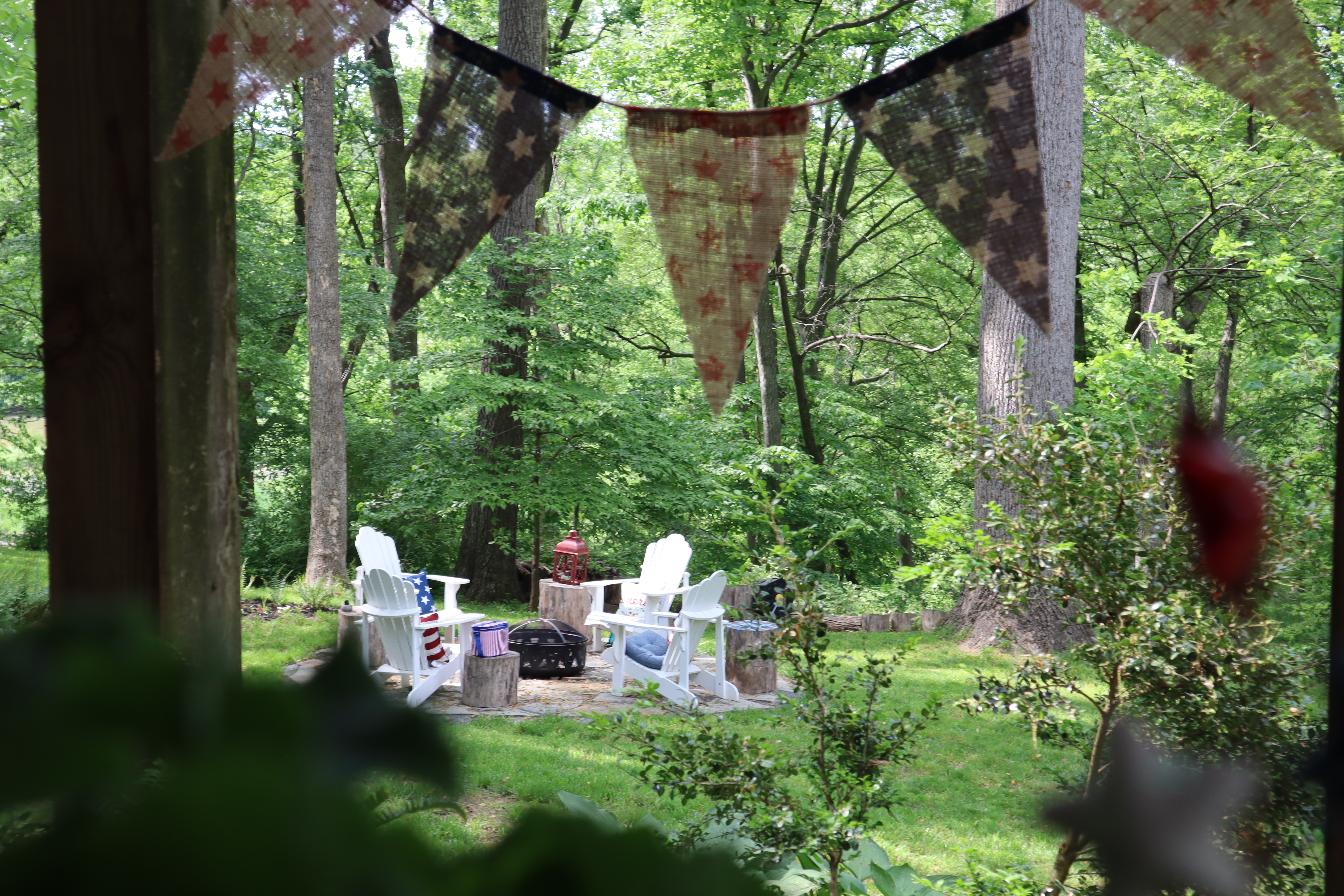 When guests arrive, they can grab a drink and head to the fire pit area, kids are greeted with pinwheels and patriotic tattoos.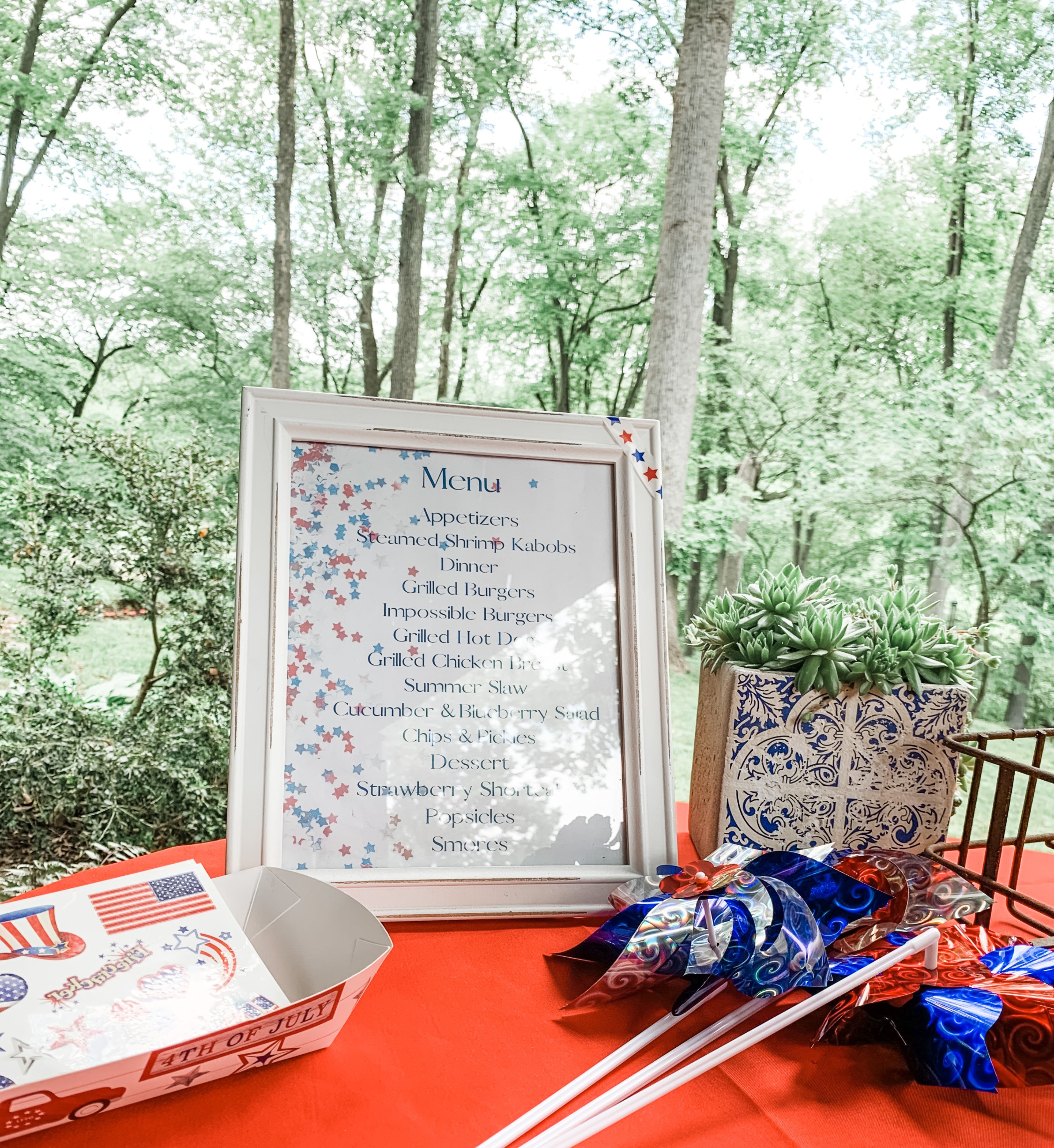 My Memorial Day, Flag Day and July 4th events have quite a few DIY's incorporated. I'll lay them out for you at the end, and in a subsequent post, give you some additional details.
The first DIY was once again my Air Dry Clay! Yes it makes yet another appearance. I used it to make stars to tie onto the napkins with twine. It's DAS Air Dry clay, and it's available here from Amazon.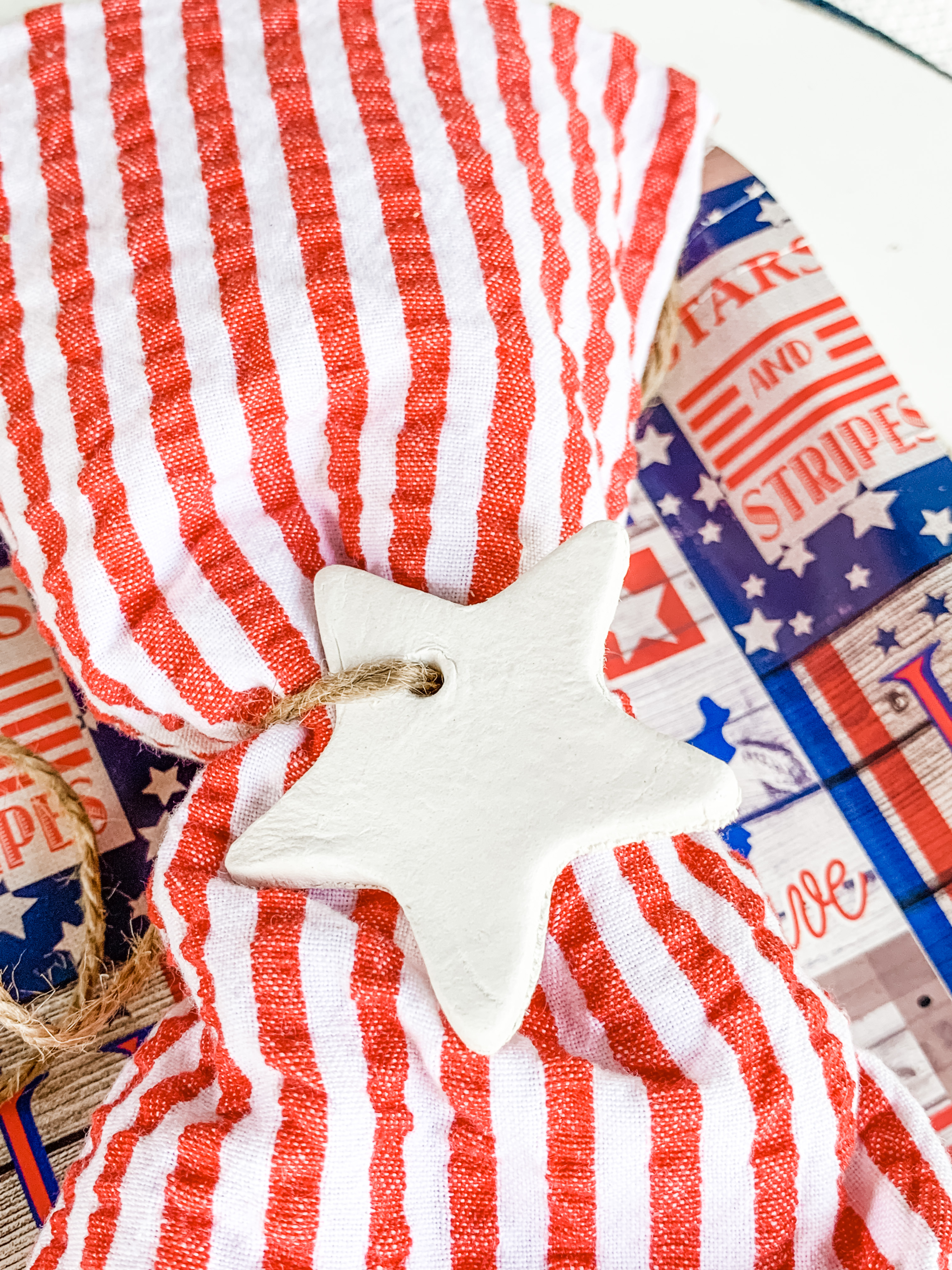 You can barely see the little start cookie cutter I used perched on the table runner.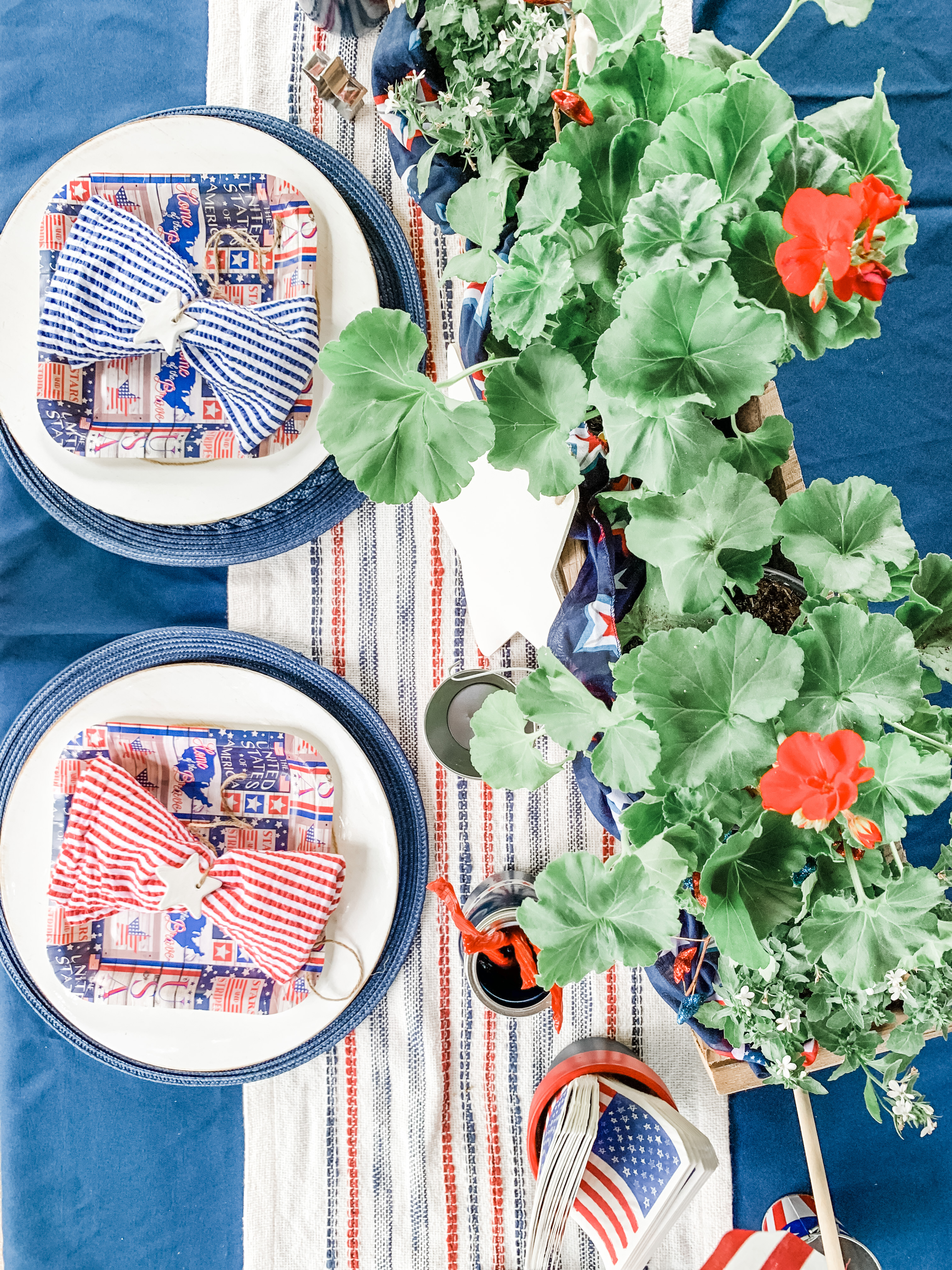 The next was this small terra cotta pot that I painted blue and red, for a few of them, I also added twine and a white star.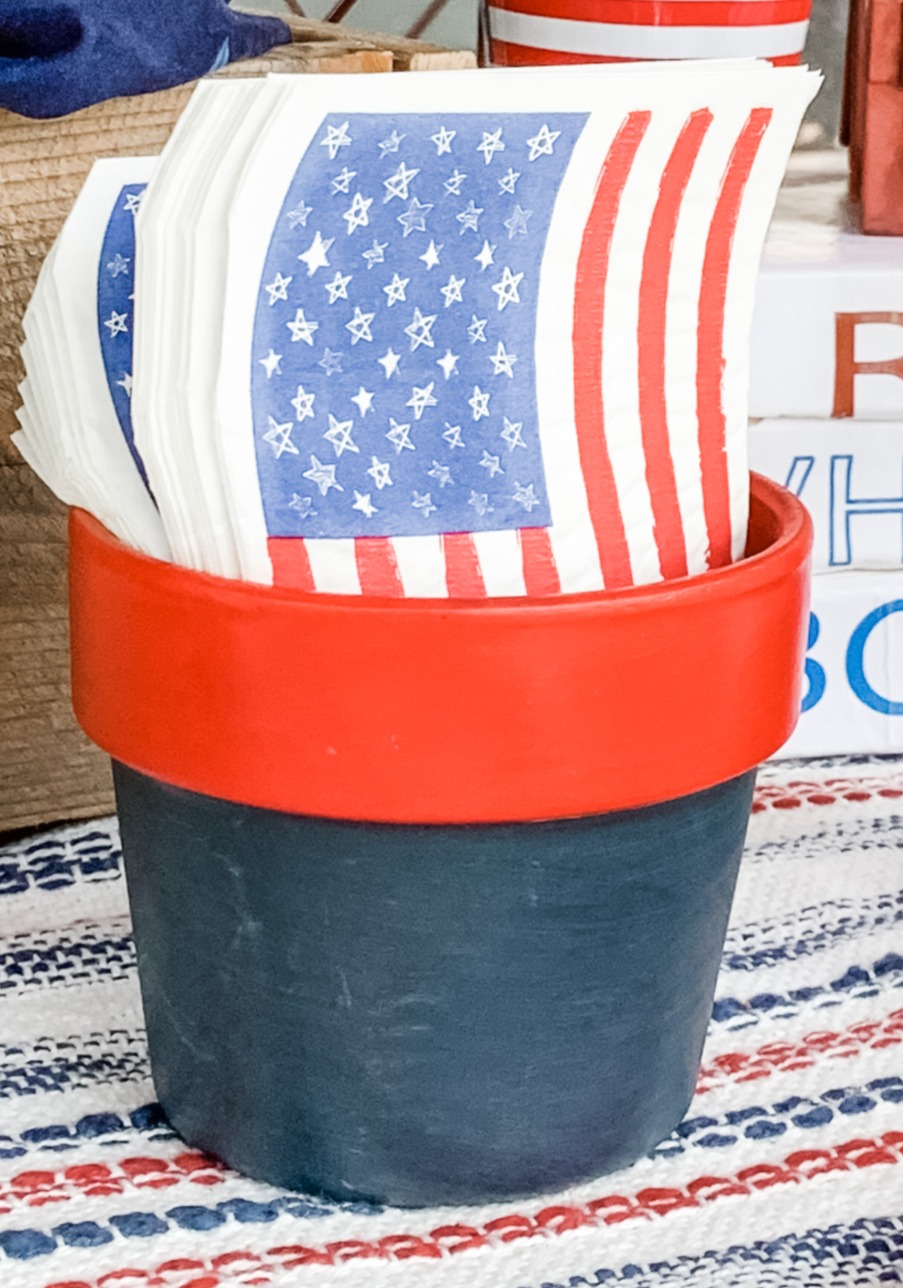 Who doesn't love balloons? Especially from Dollar Tree.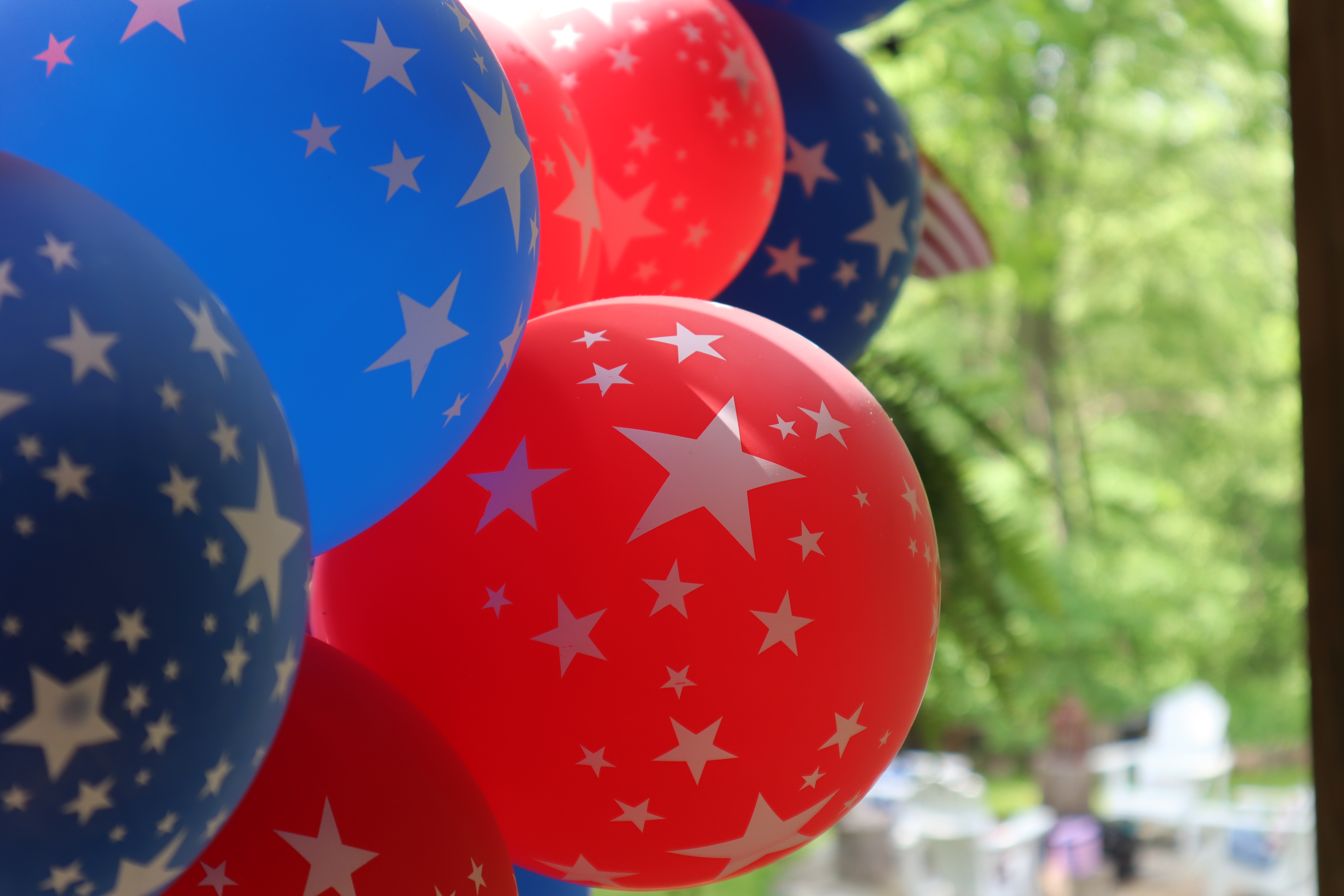 A balloon garland. Have you made one? Oh my gosh, you have to do this. It's super easy and so festive. It adds a great visual and is perfect for hiding a blemish or mossy spot – imagine that!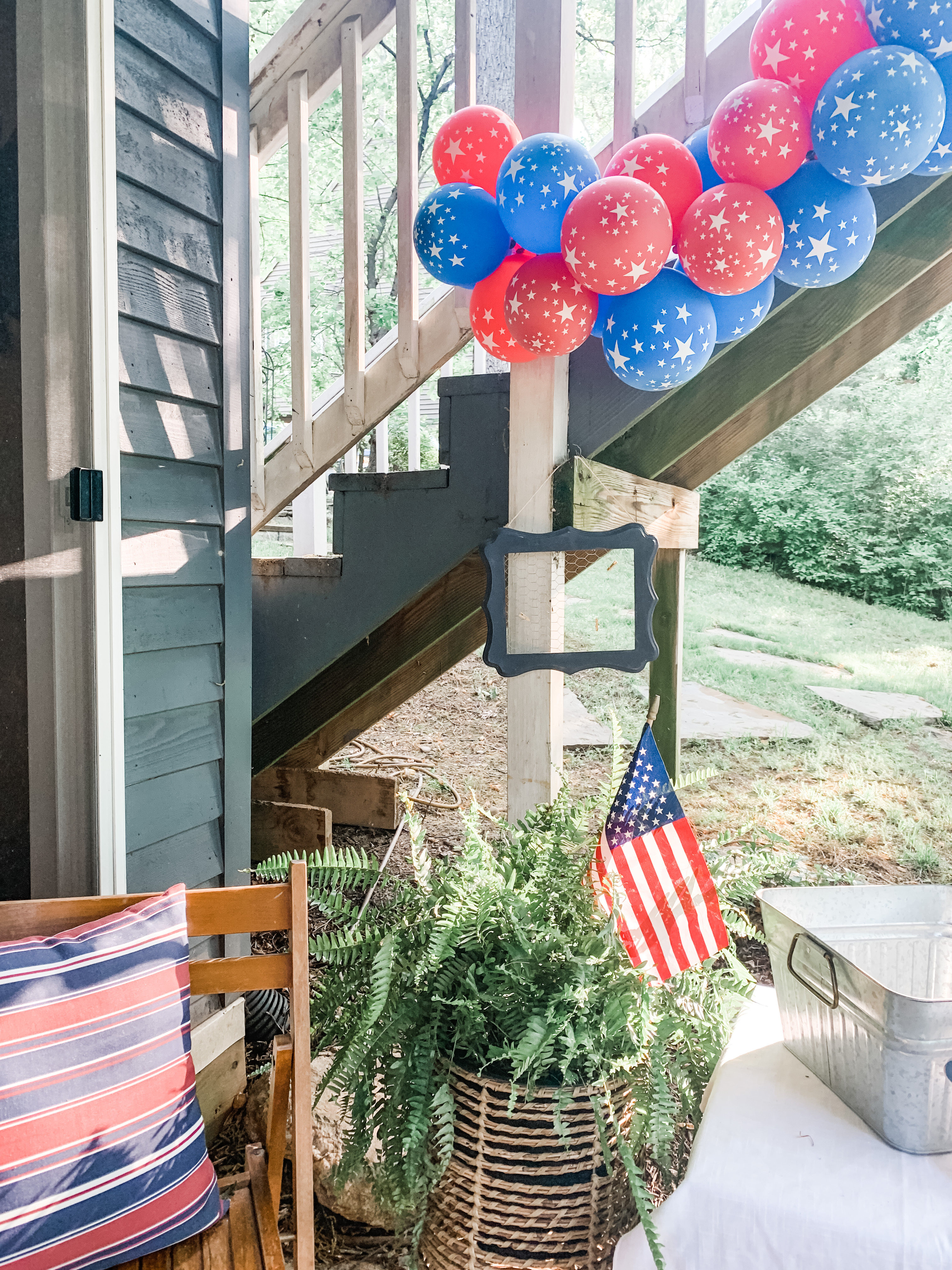 I would see these incredible balloon garlands in pictures from Carmine's daughter. She told me how easy they were and she was right. You don't even need a kit, just buy a strip of balloon garland and you blow up the balloons (no helium) and pull the knot through the holes. You can find the garland strip here.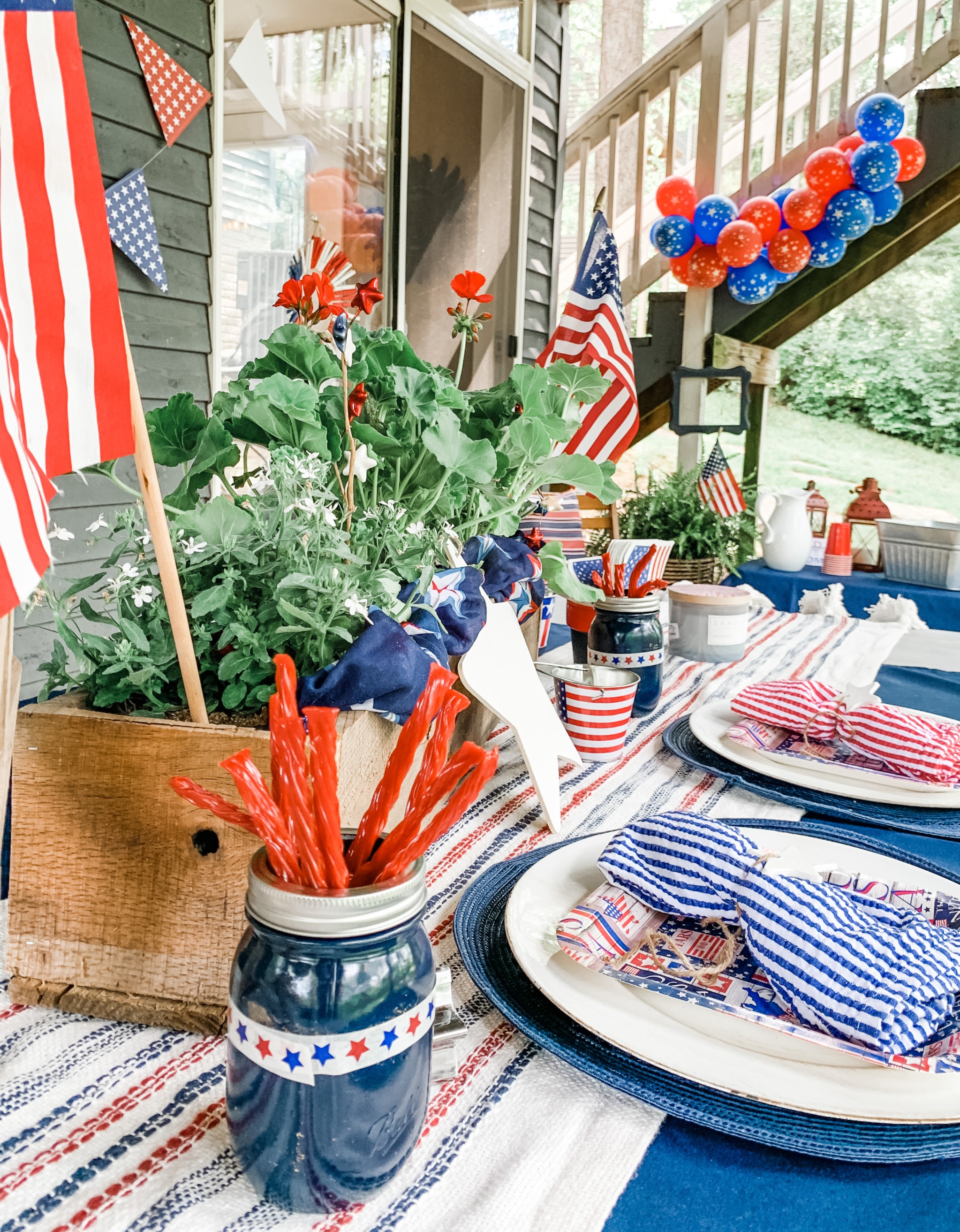 For this tablescape I decided to go with potted plants for my centerpiece instead of cut flowers. So I guess this is one area where I've not been converted…I don't love many cut red flowers. But I do love geraniums and thought they'd look perfect with white flowers tucked in.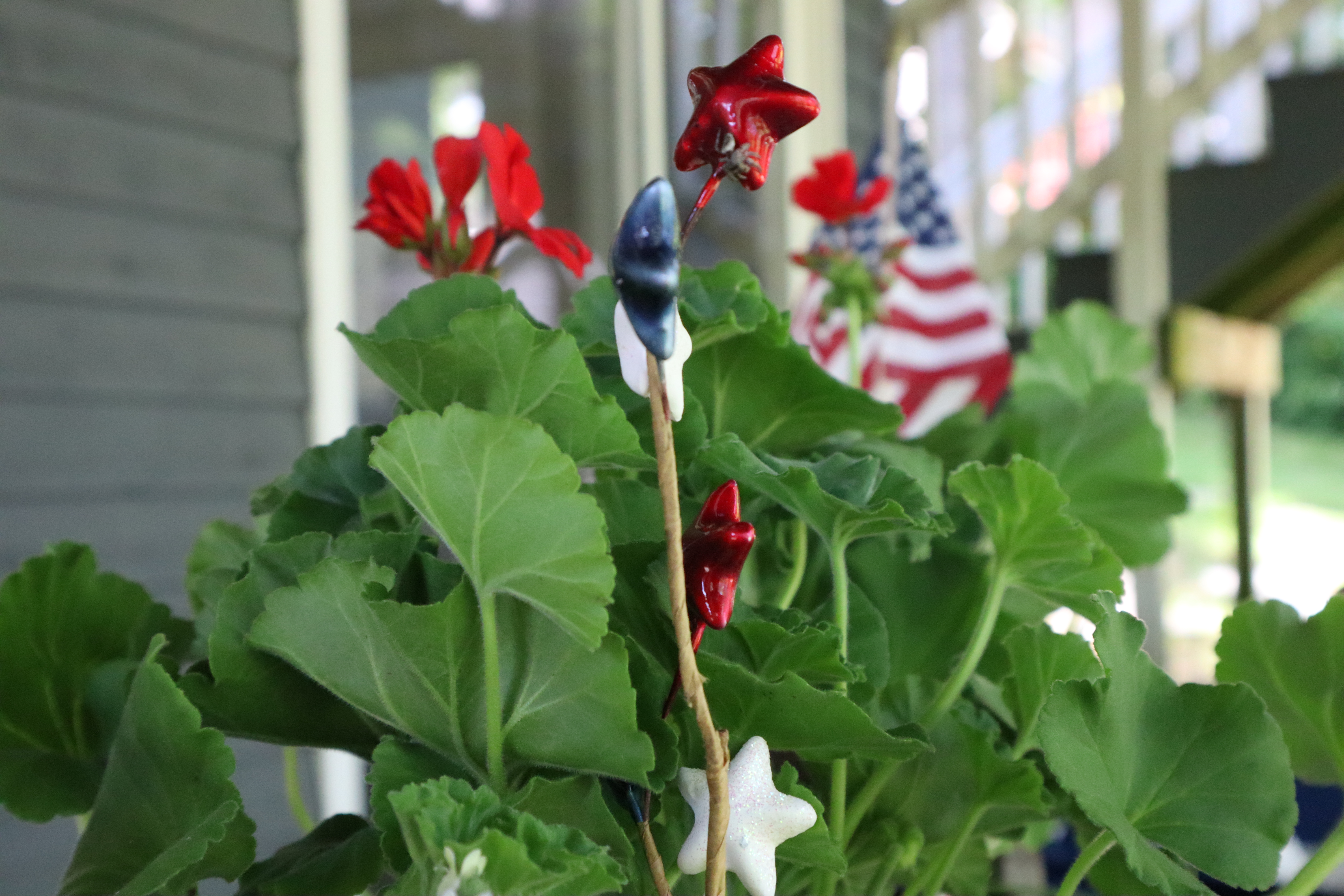 To fill the box and hide the plastic pots, (I did not plant them in here) I tucked this scarf from the Dollar Tree along the top for a whimsical detail and cohesive look.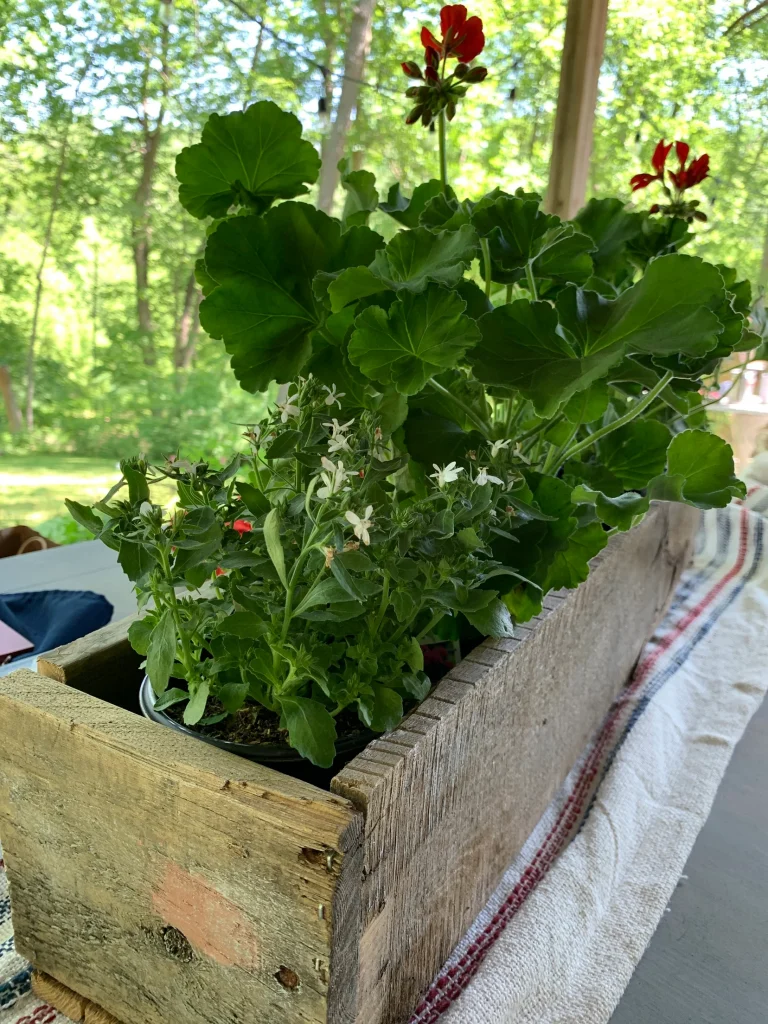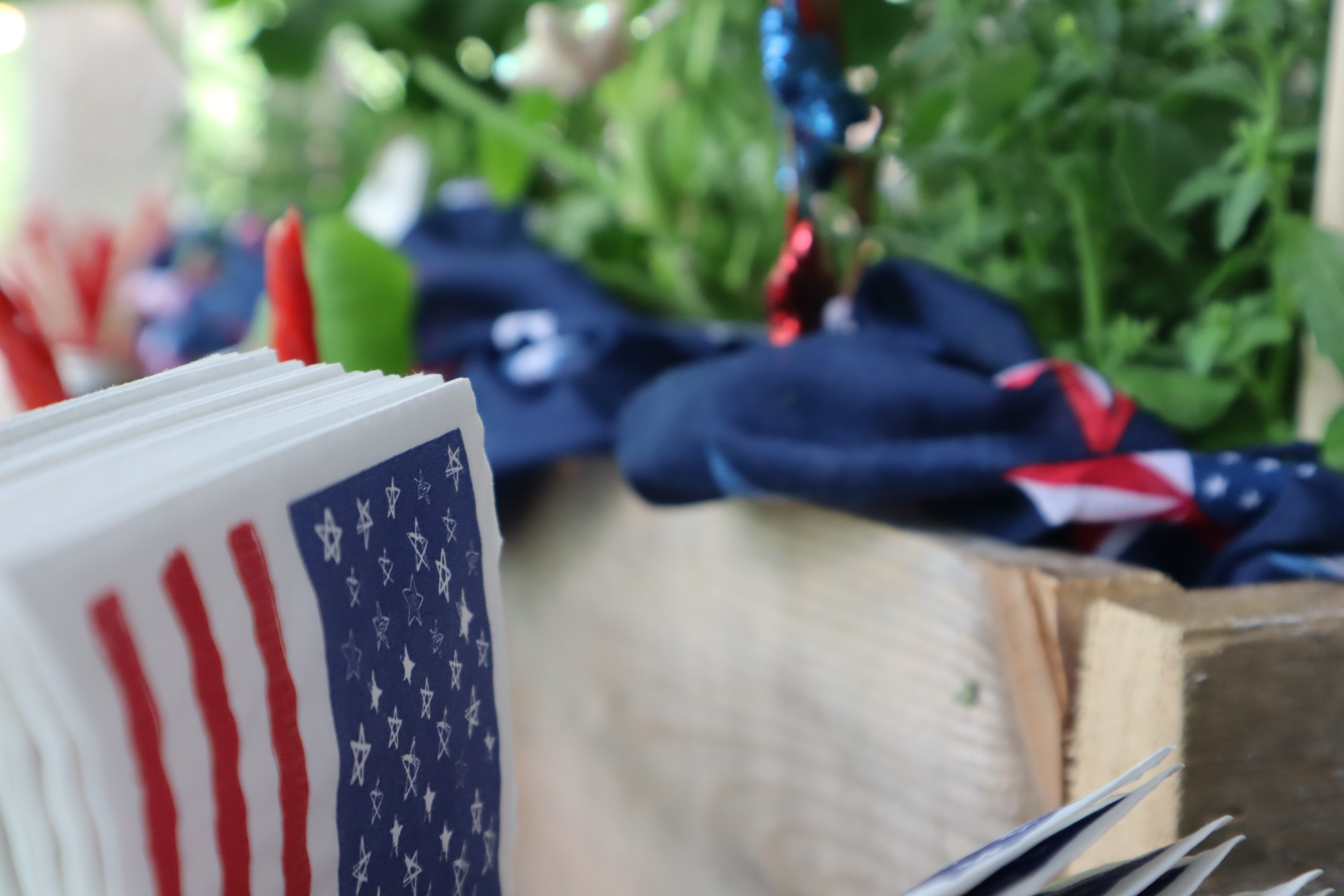 I love how versatile this box is.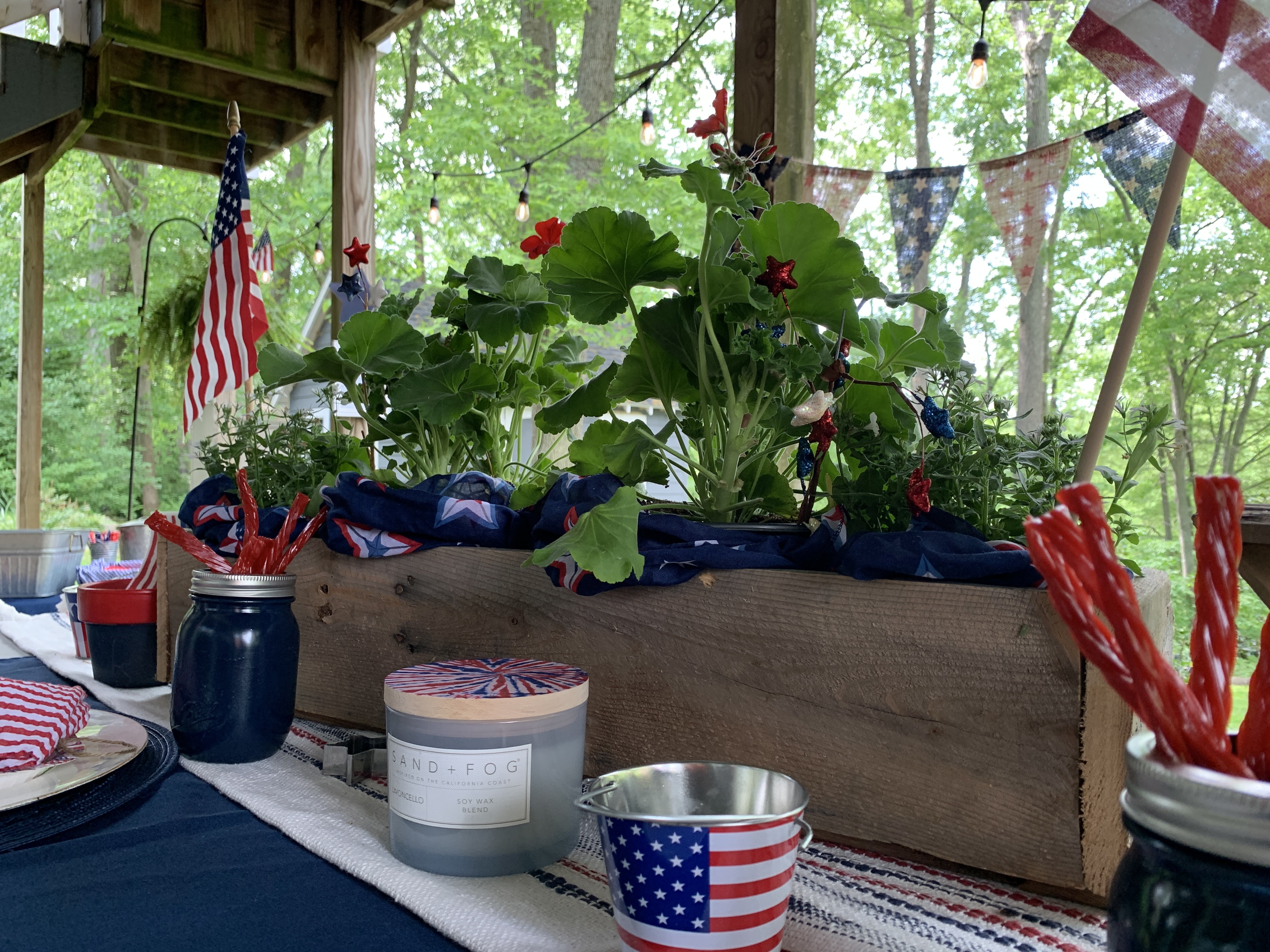 I made this box from scrap wood, it's very rough but I love to use it to decorate seasonally. In the winter I add balls, greenery and lights, in the fall I use dried hydrangeas and lights, in spring I fill it with all things mossy. It's really easy to style and added that rustic relaxed feel I was going for. The candle pictured here is my favorite brand – Sand and Fog and Sand and Paws. Not only do they smell delicious, they have the cutest tops, and make a perfect hostess gift. These are available here at Marshall's.
What event doesn't have Ball Jars? They are perfect for any event. You can spray or brush paint them any color, dye them, give gifts in them.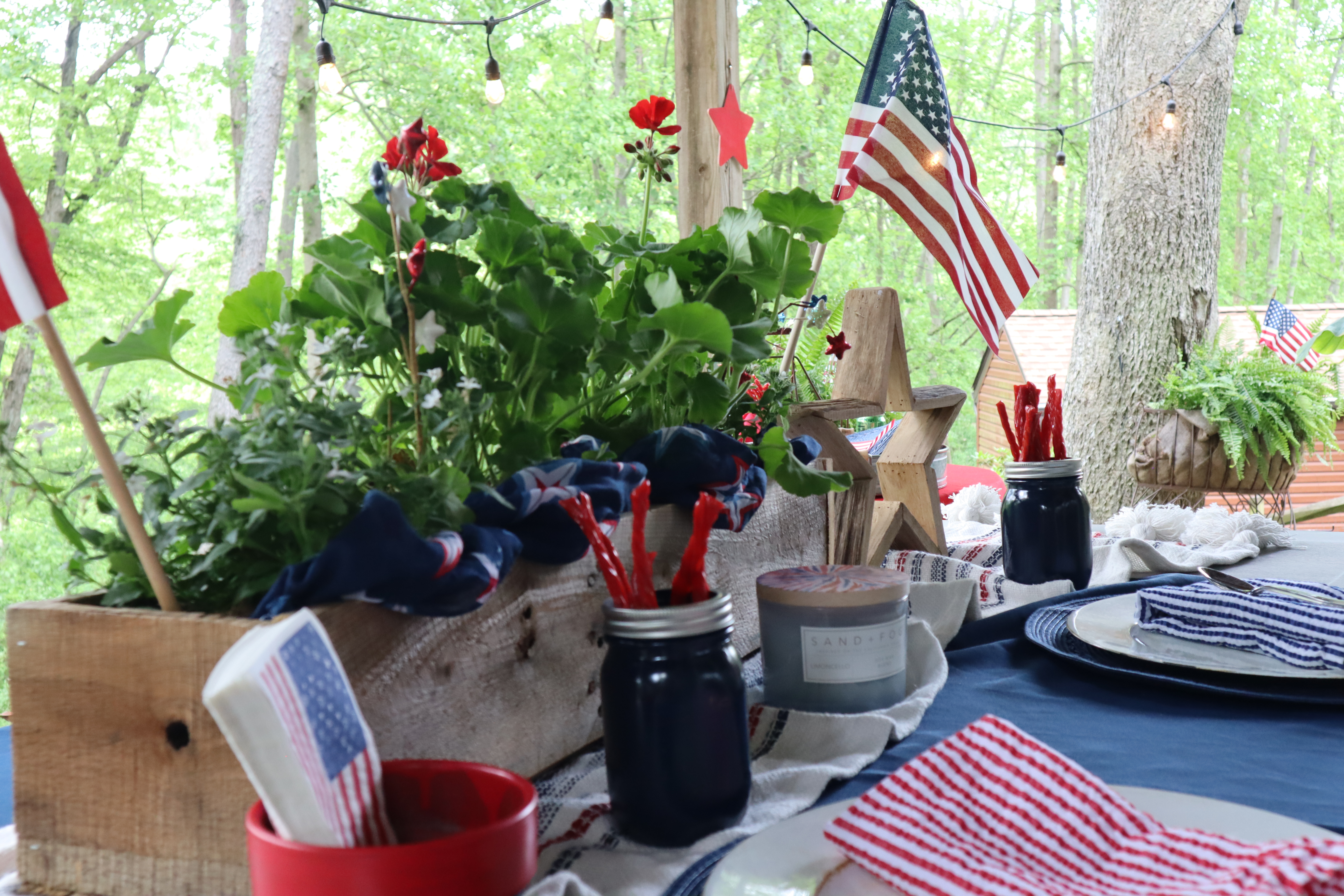 I painted these navy and added a little Washi tape to some of them to give them a stars and stripes feel. These are filled with Twizzlers for a "yummy" touch.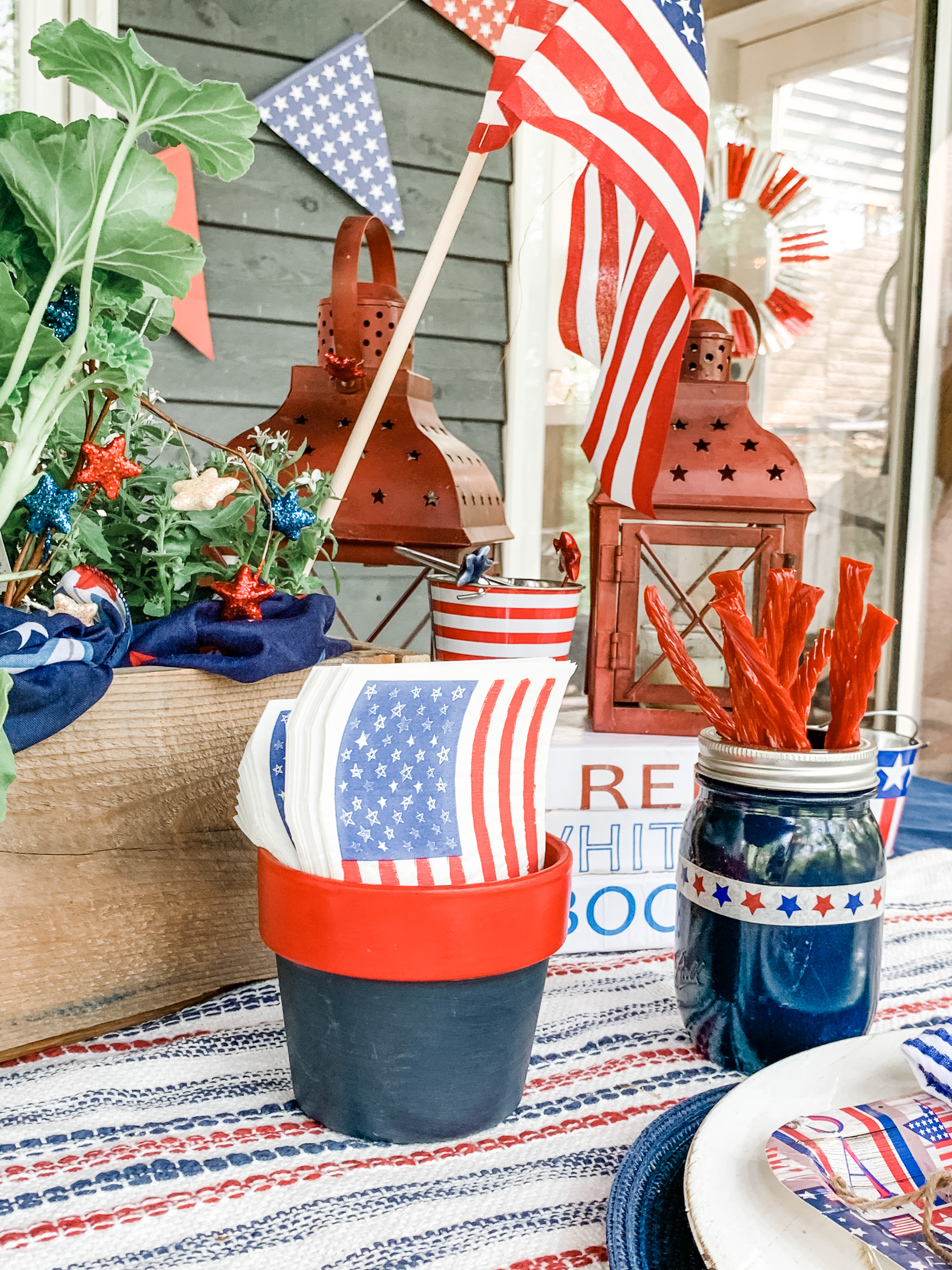 Washi tape, if you don't know comes in a zillion colors and designs, perfect to add fun details to absolutely anything.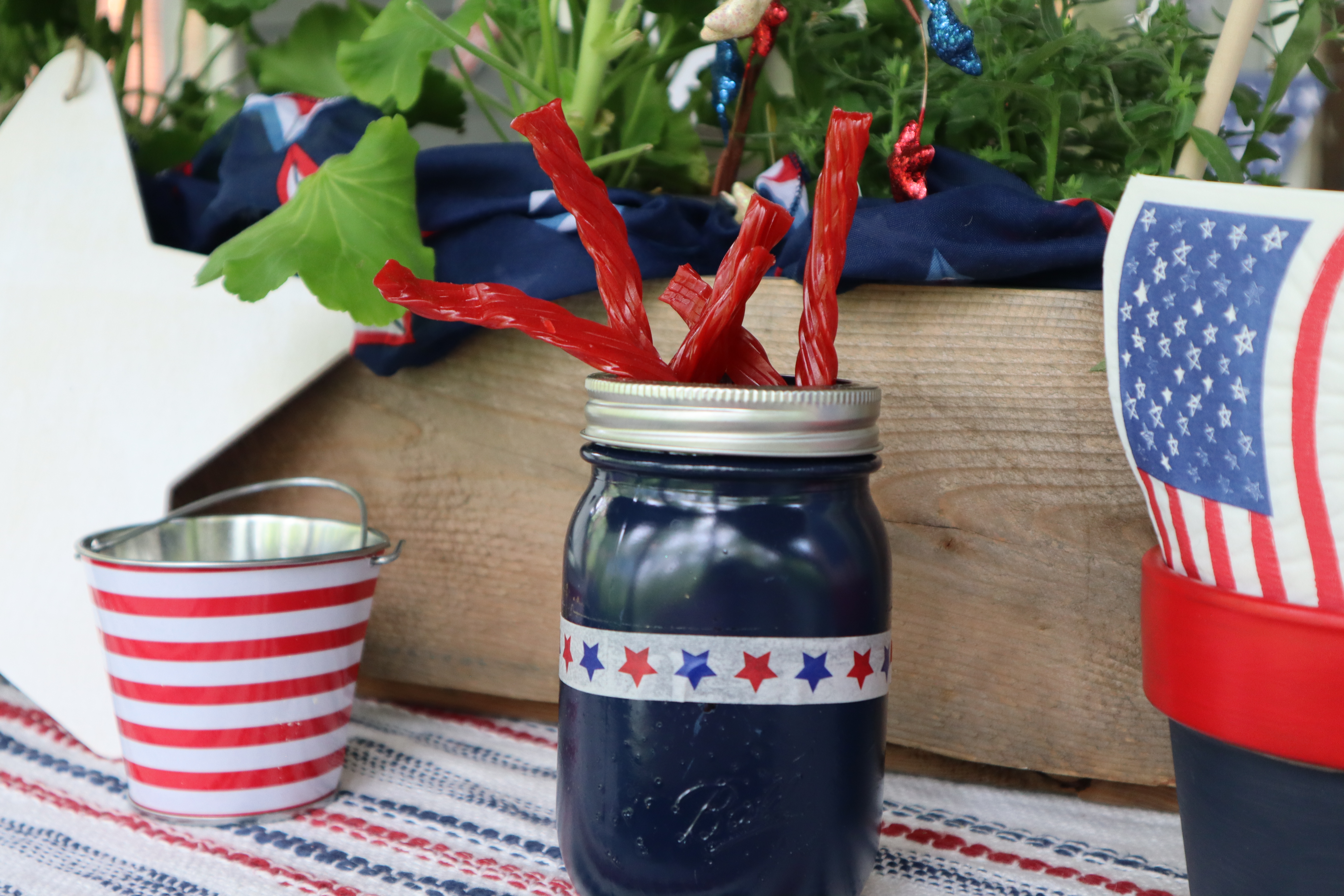 I made paper cones for popcorn with a festive drizzle for people to pick up and munch on as they arrived. I used this vintage milk bottle crate to hold them. For the cones, I used single sheets of scrapbook paper cut into a triangle then twisted into a cone shape.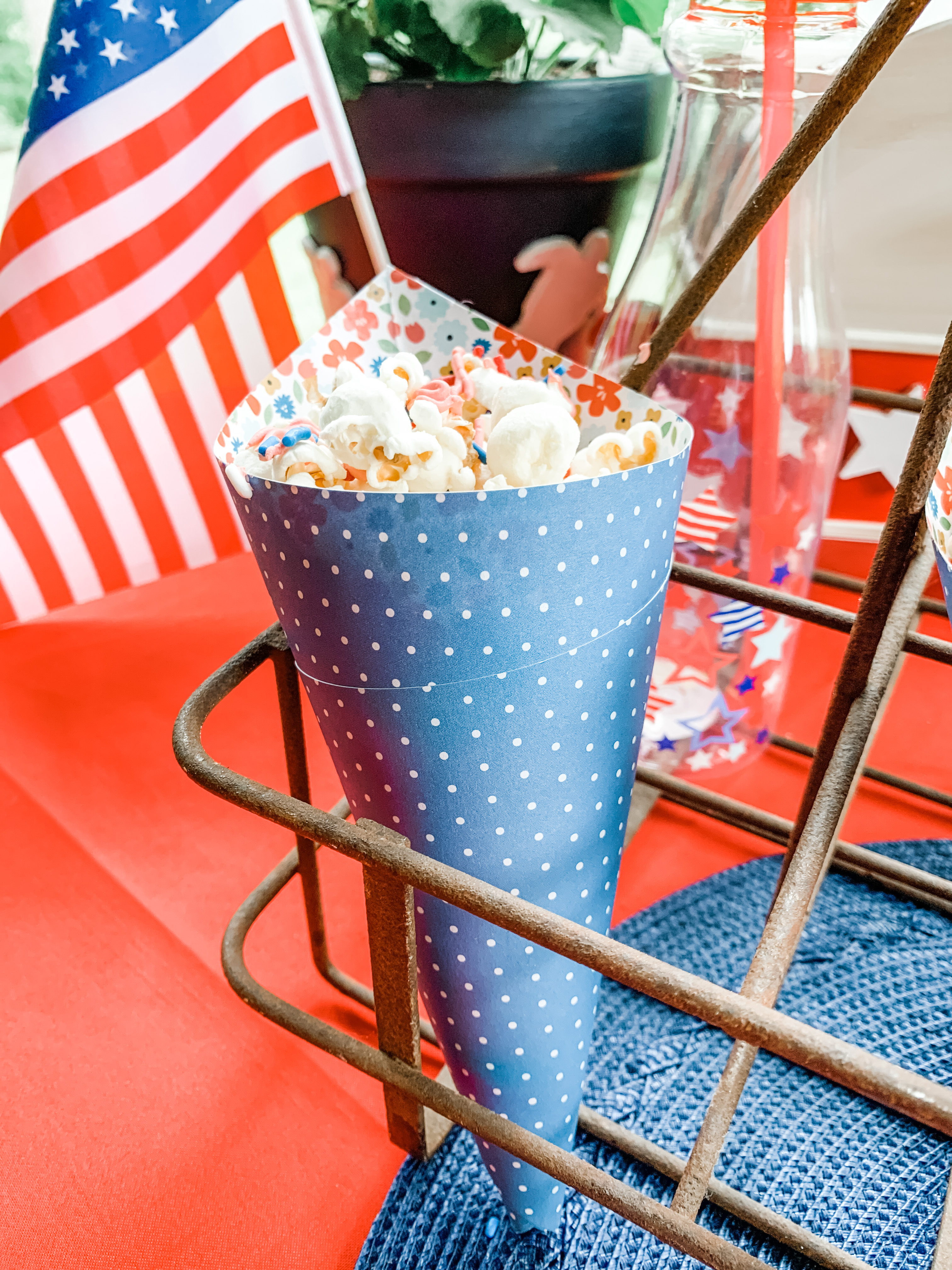 I melted vanilla candy melts, colored with red food coloring, drizzled over the popcorn then sprinkled with red, white and blue sprinkles. Festive, cute and super easy to make. Presentation makes a difference too so how you lay them out for guests can make a big impact.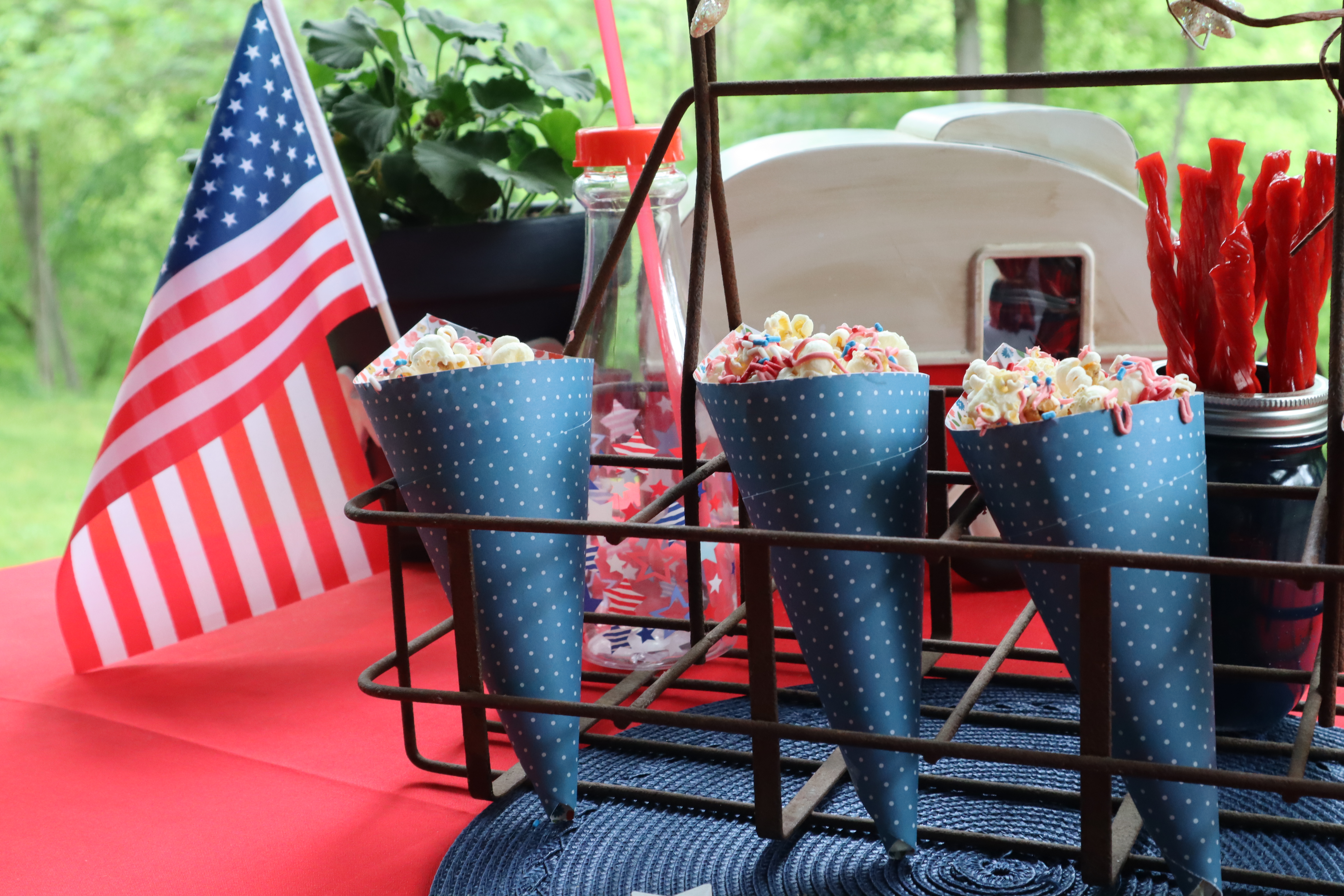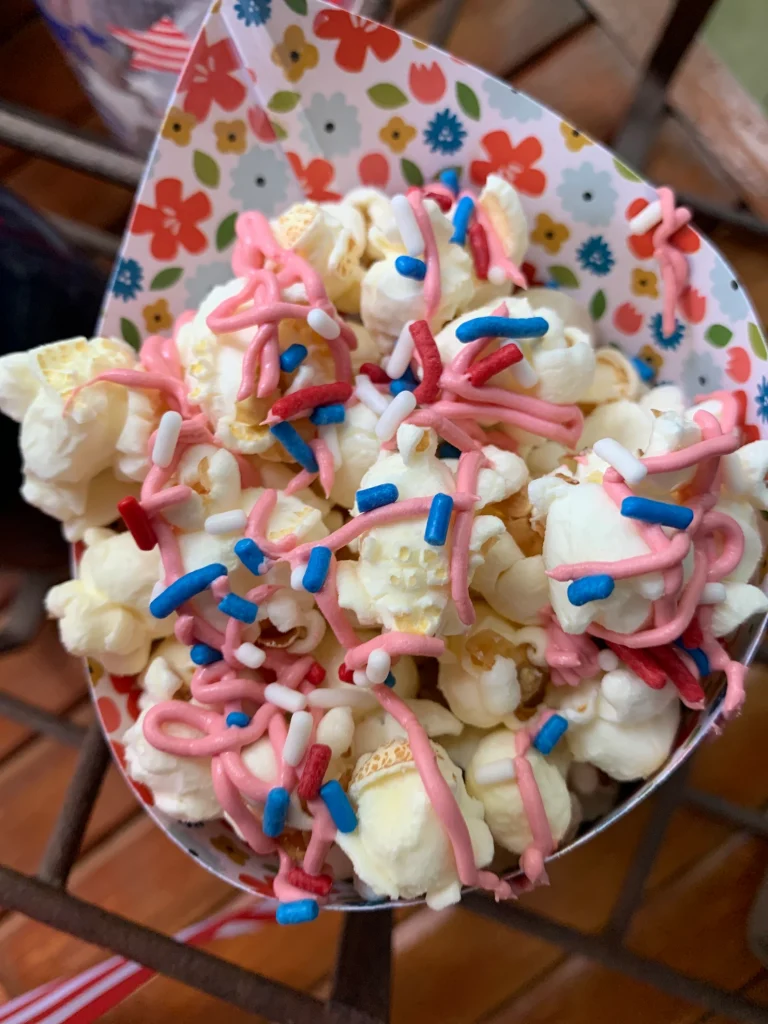 I picked up these wooden stars from the Dollar Tree and sprayed them Red, White & Blue to hang and tuck in various areas.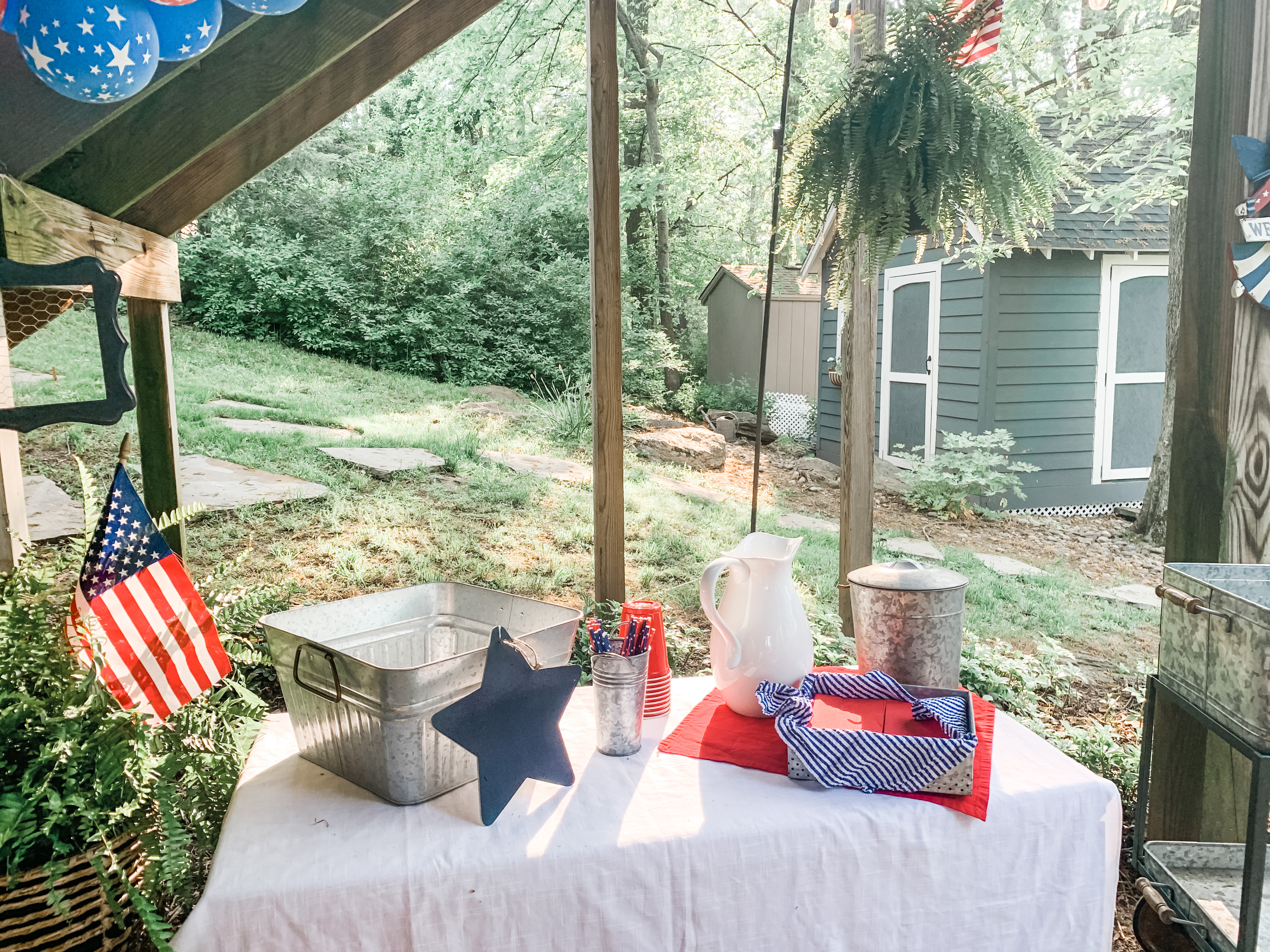 Here one rests on the container for waters. This pretty white pitcher is where the Sangria will be and it's available from Target. Can you tell I have a thing for anything galvanized? This large tub from Walmart is perfect for icing down drinks at the bar.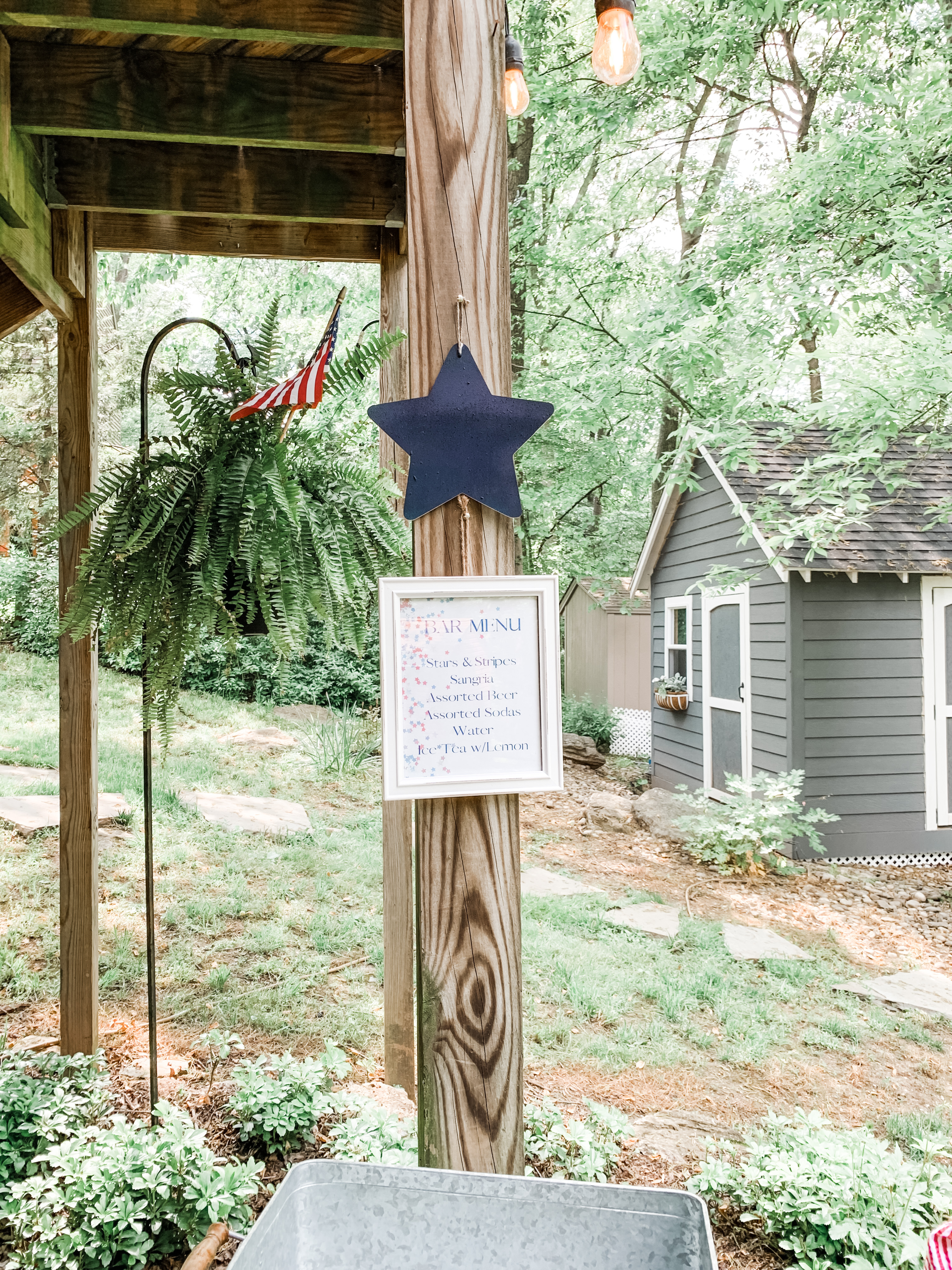 Another star points out the ever important bar menu.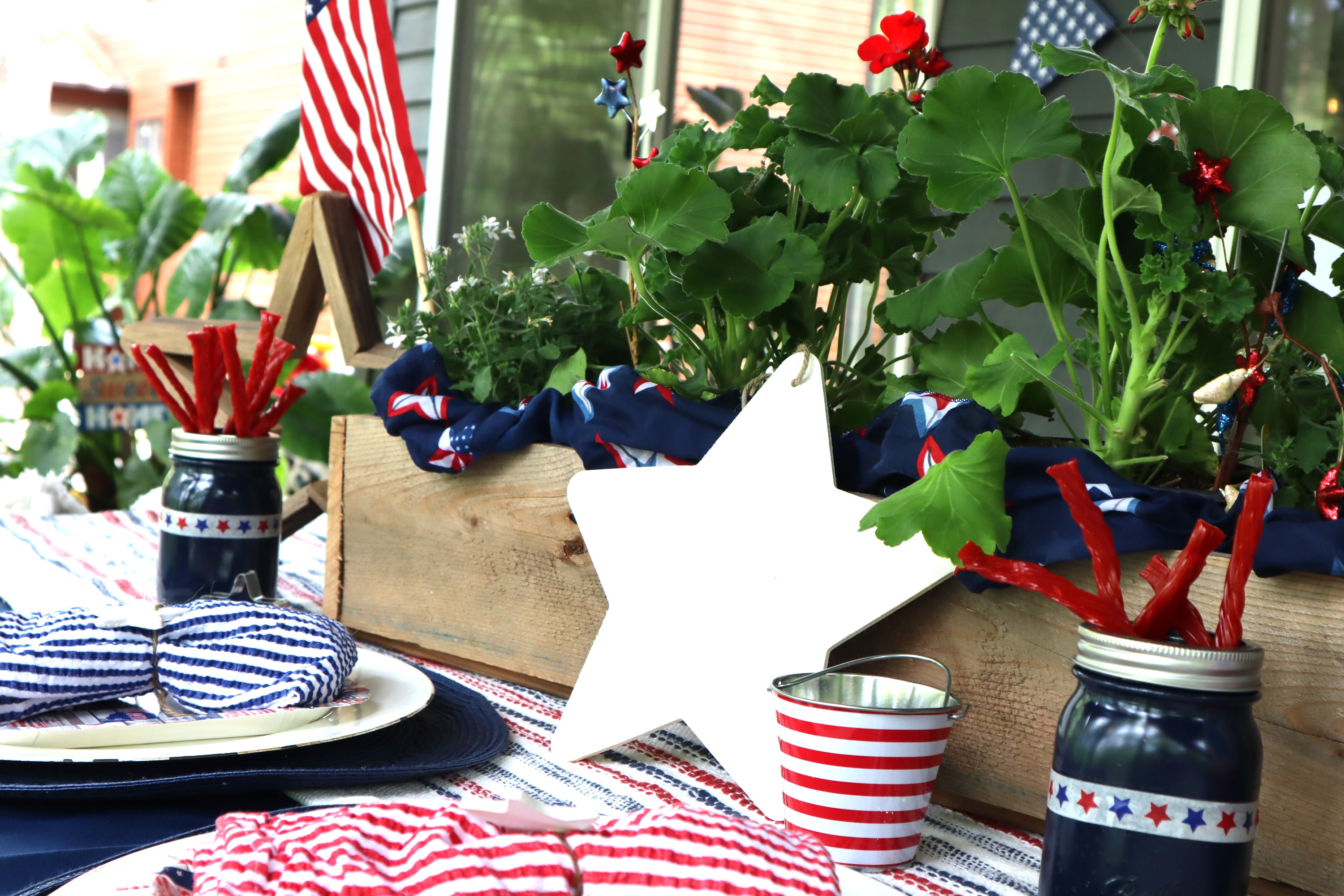 This is more fitting for 4th of July than Memorial Day but it still fits the theme. This is an old stack of paperbacks with the covers torn off, the words were typed on the computer, printed out and adhered with Mod Podge.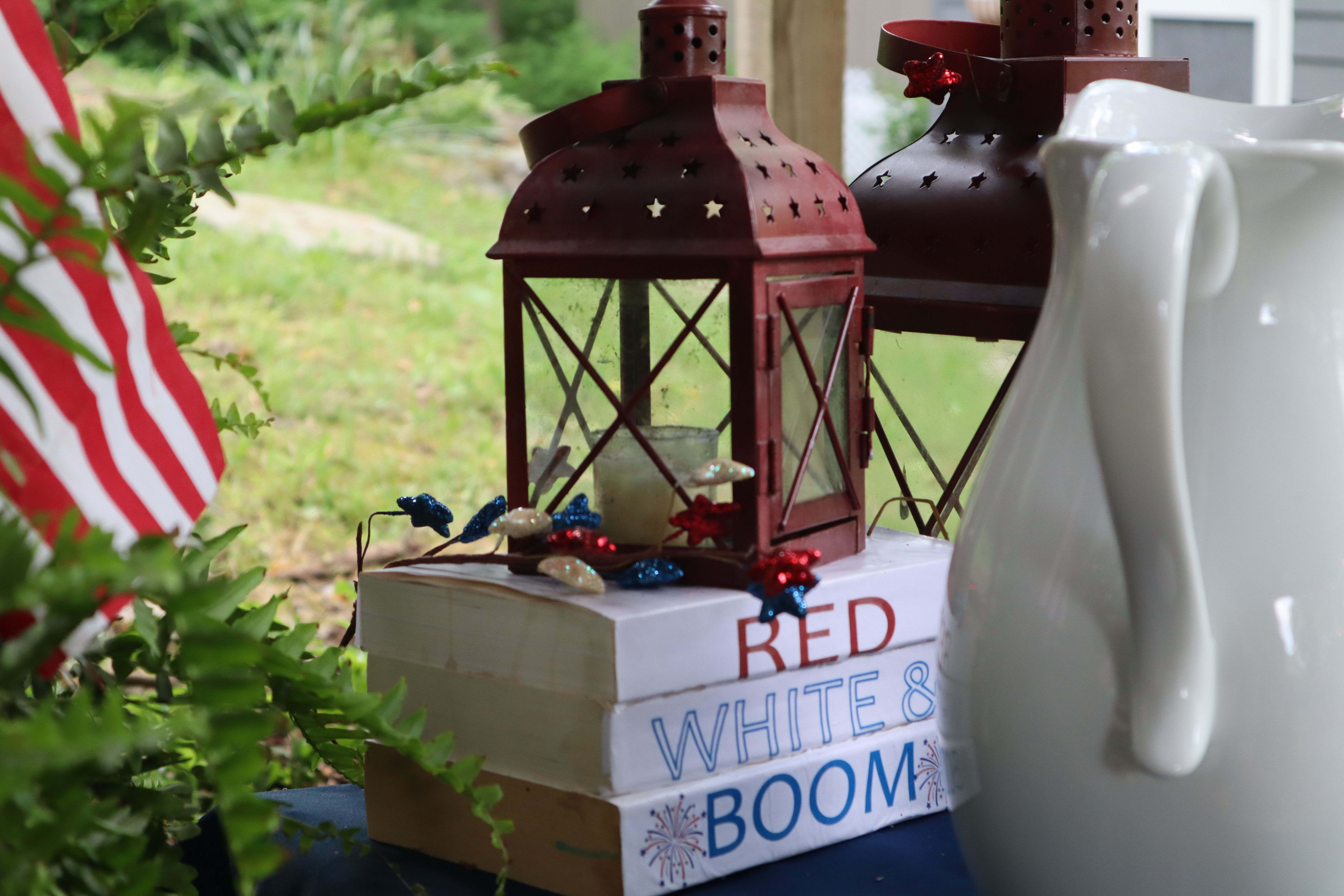 If you want to see how to do this same thing with other decor for your home, be sure to check it out when you visit Wendy's blog at WMDesignHouse. Plus this cost me zero and they sell similar ones at Marshall's for $7.99 – $10.99.
The next DIY is a flag table. This was an old black table from a thrift store and I painted stripes and added some stars and painted the legs blue. I did this years ago and I'll never forget the hard time I was given because of the number of stars I drew. Goodness I was just being festive, it wasn't an accurate portrayal of our flag. Today it's where I'm storing extra plates and napkins.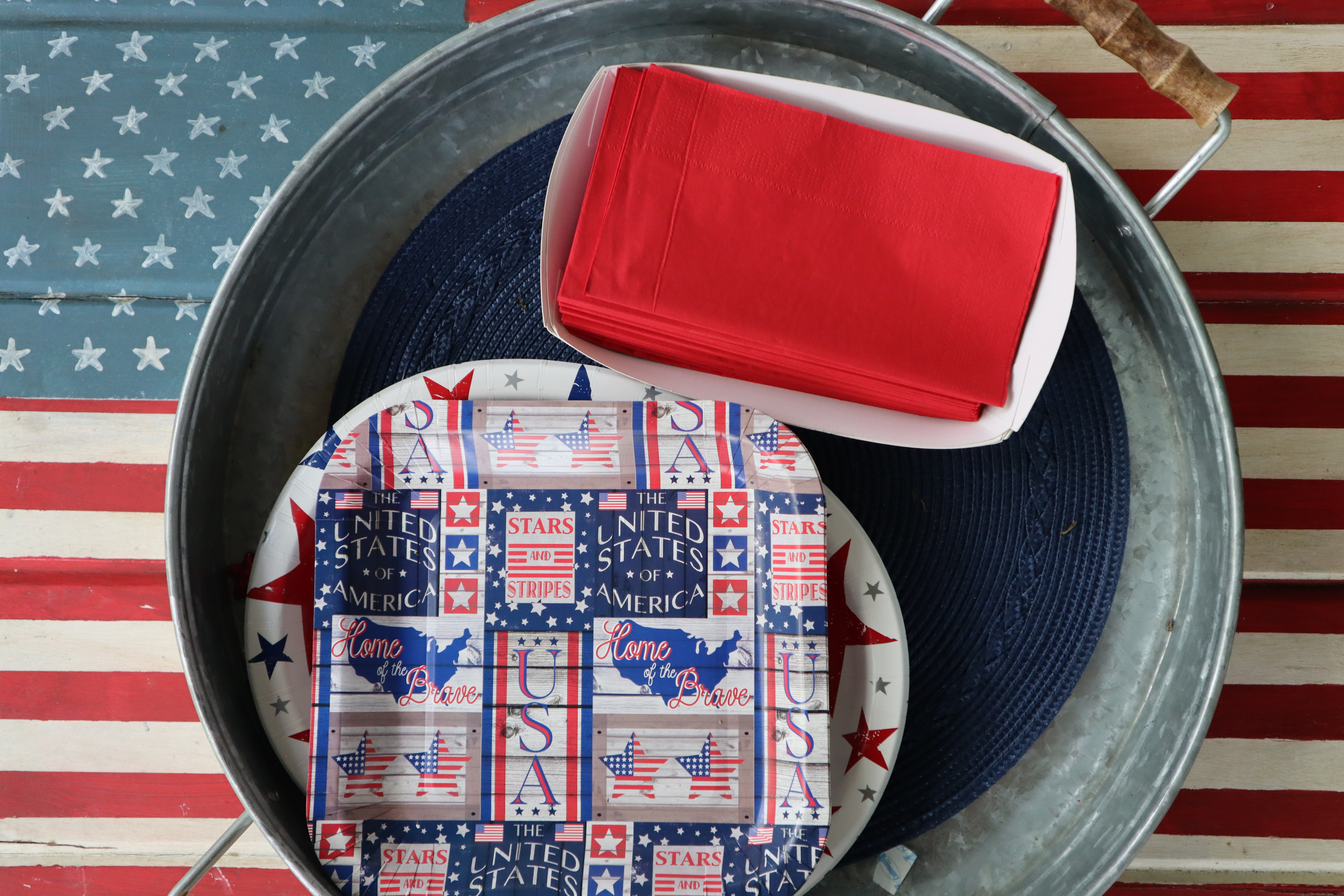 A quick silly DIY is this Tic Tac Toe game. We've lost a few trees and I'm always finding reasons to keep the wood.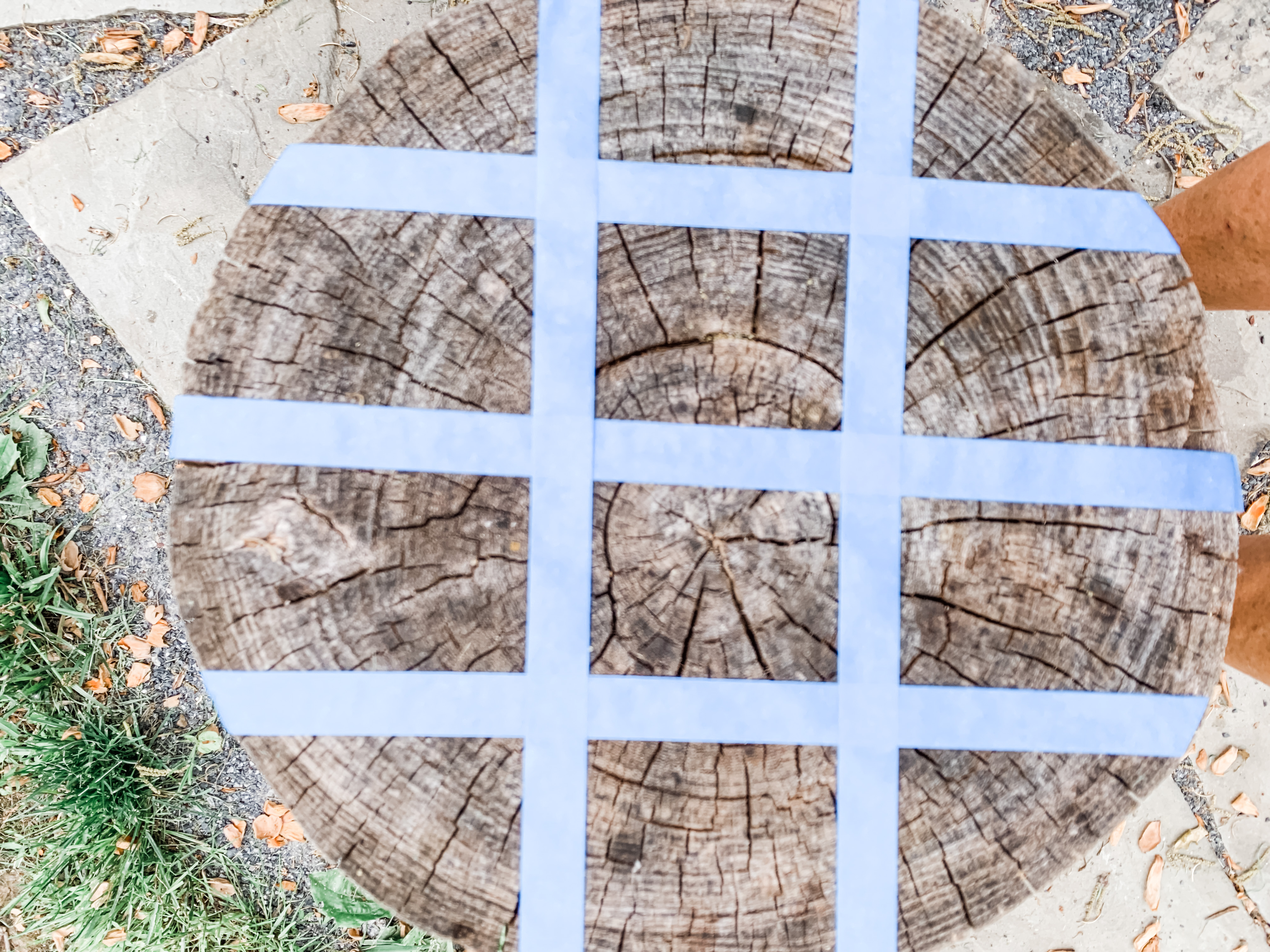 Around our fire pit I have 4 large logs on their sides to use as extra seating, side table or in this case a fun game of Tic Tac Toe.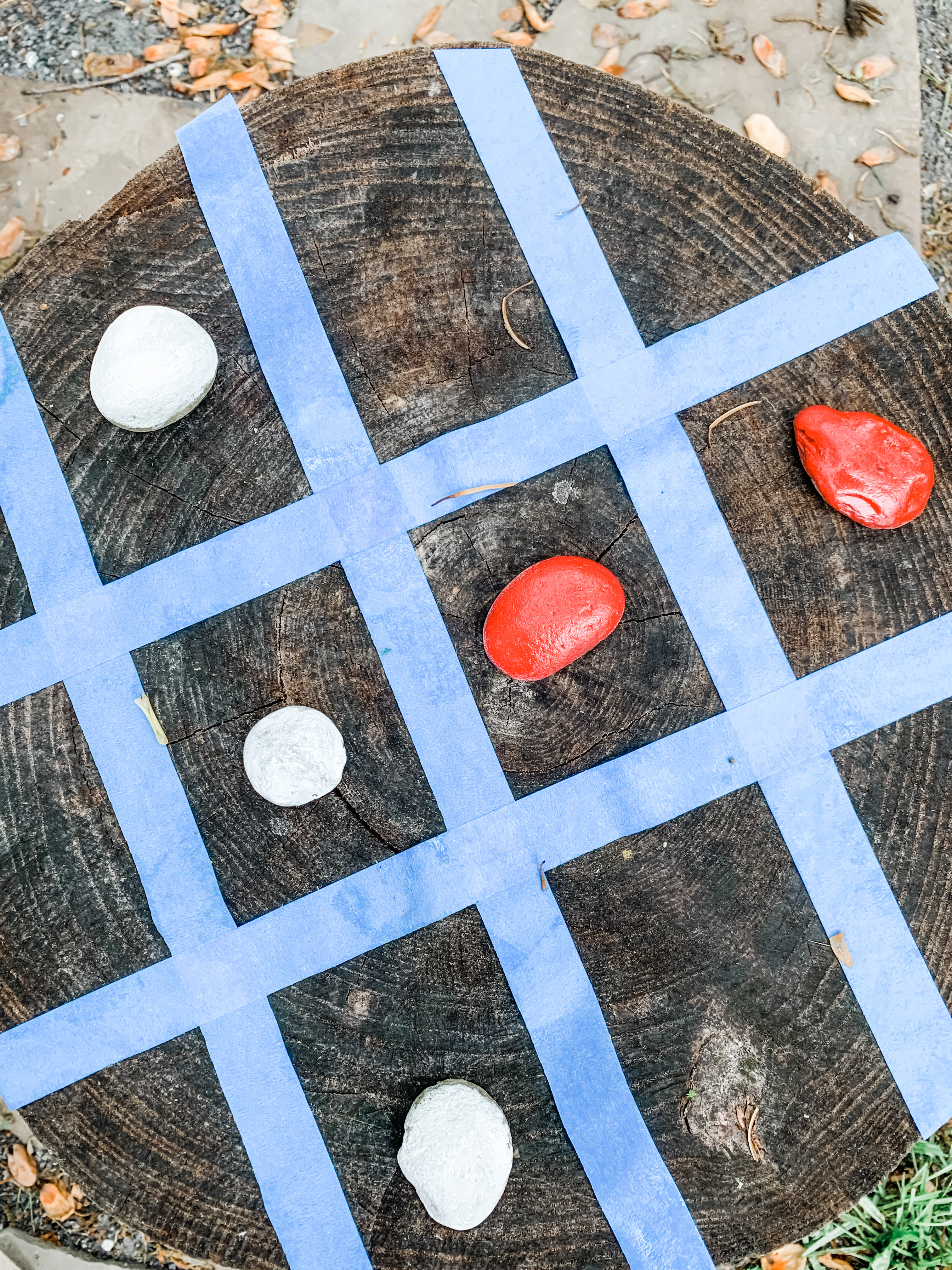 I used painters tape and added the board, painted some rocks from around the shed and voila!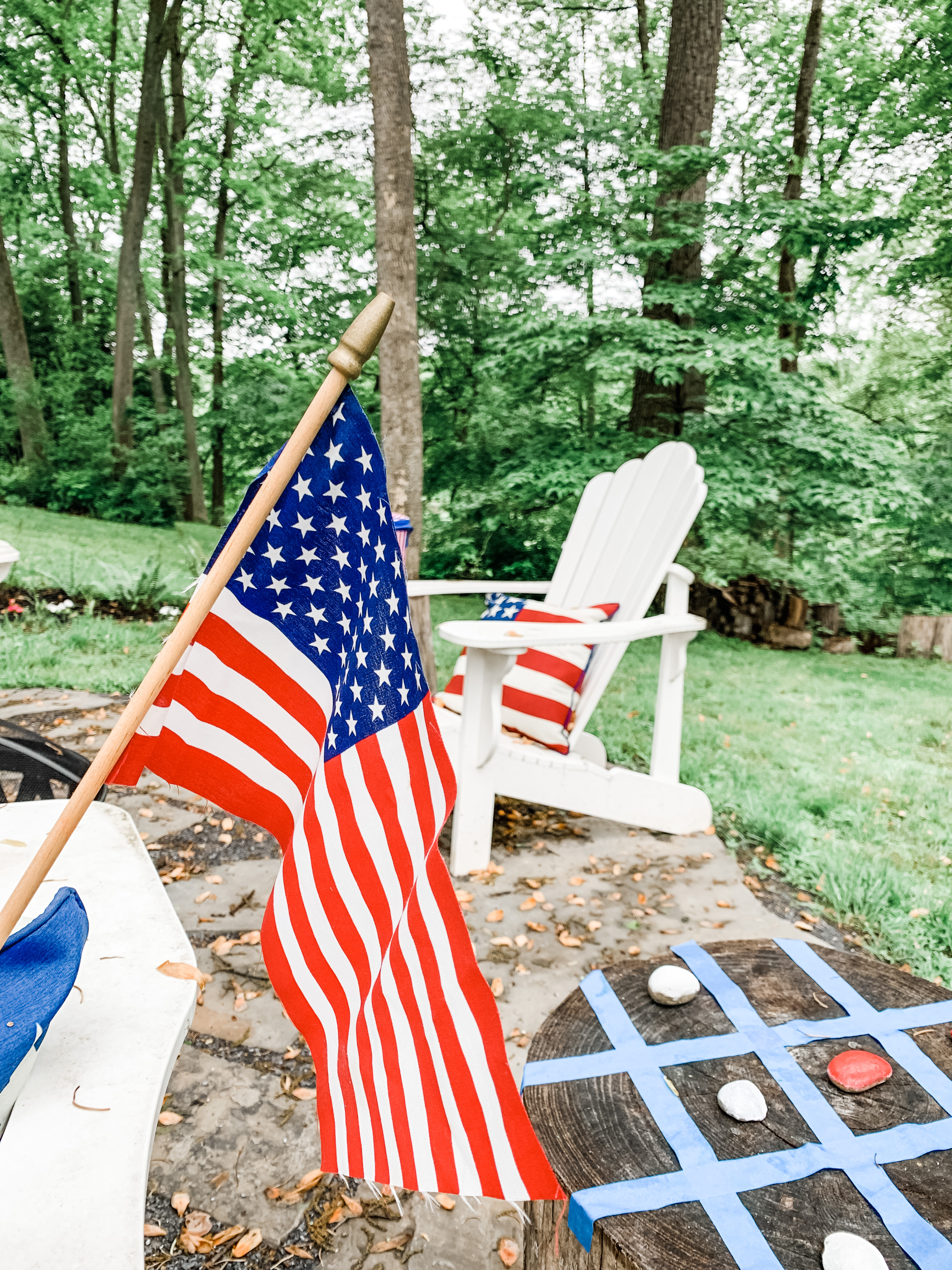 A temporary game board.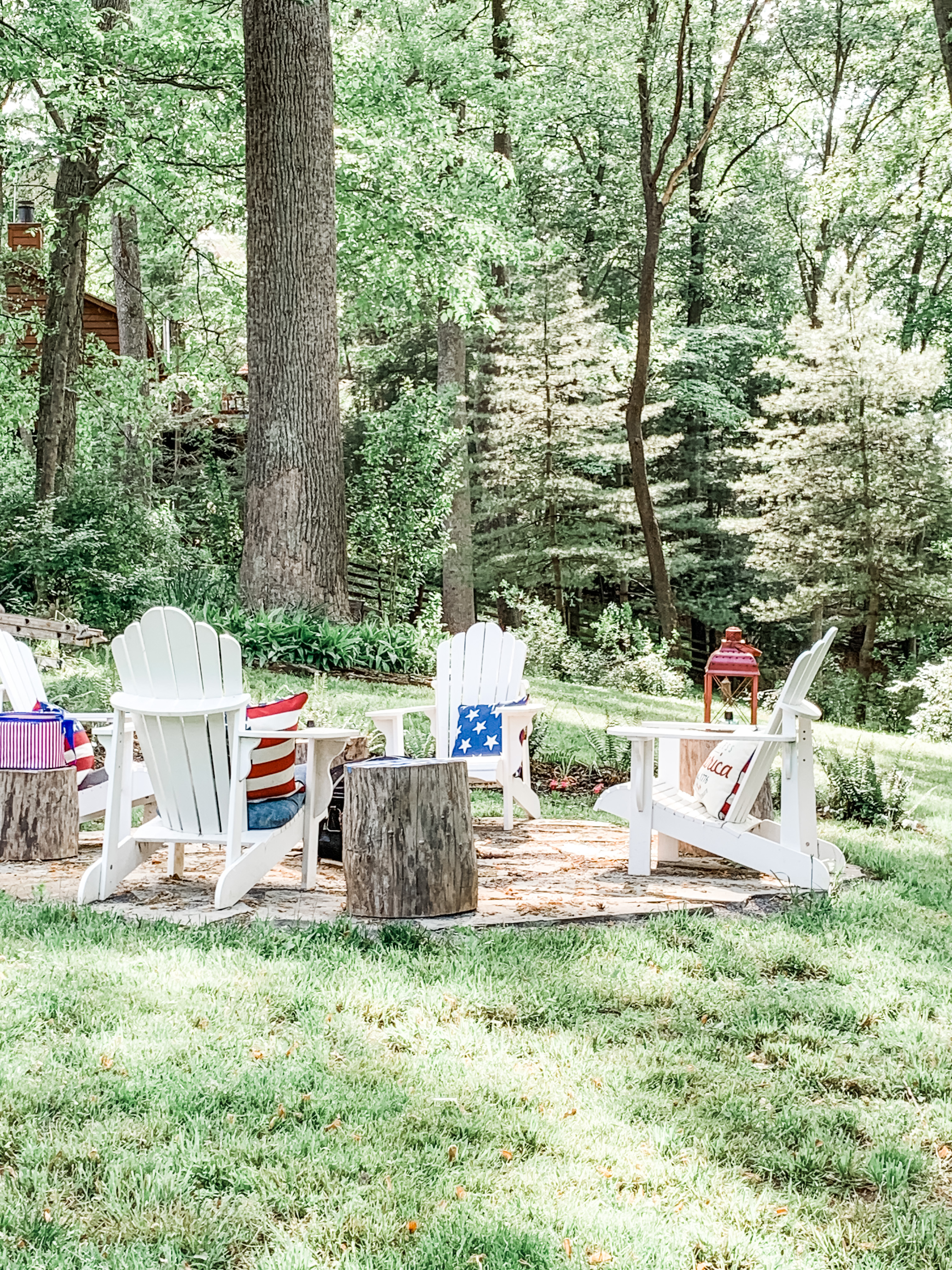 The fire pit area is just down the hill from the food/drink space. A short walk from the bar area. It's stocked with lovely new patriotic pillows I found at Walmart, I also found all my ferns there.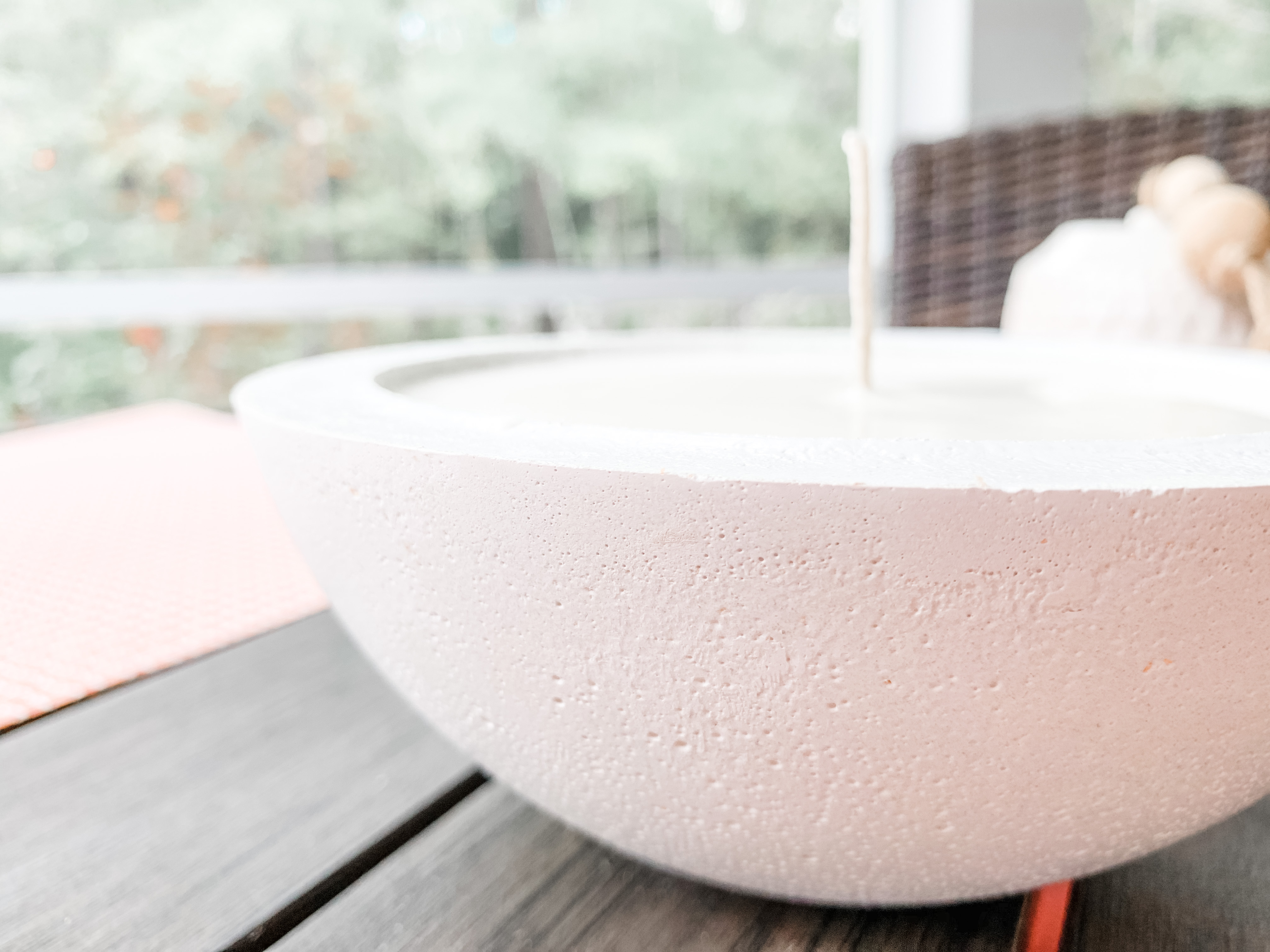 Don't forget that about the uninvited guests at parties….bugs! Here you can see my citronella candle in a concrete bowl, that was a fun DIY you could make: https://www.savedfrsalvage.com/post/how-to-make-a-citronella-candle-in-a-concrete-container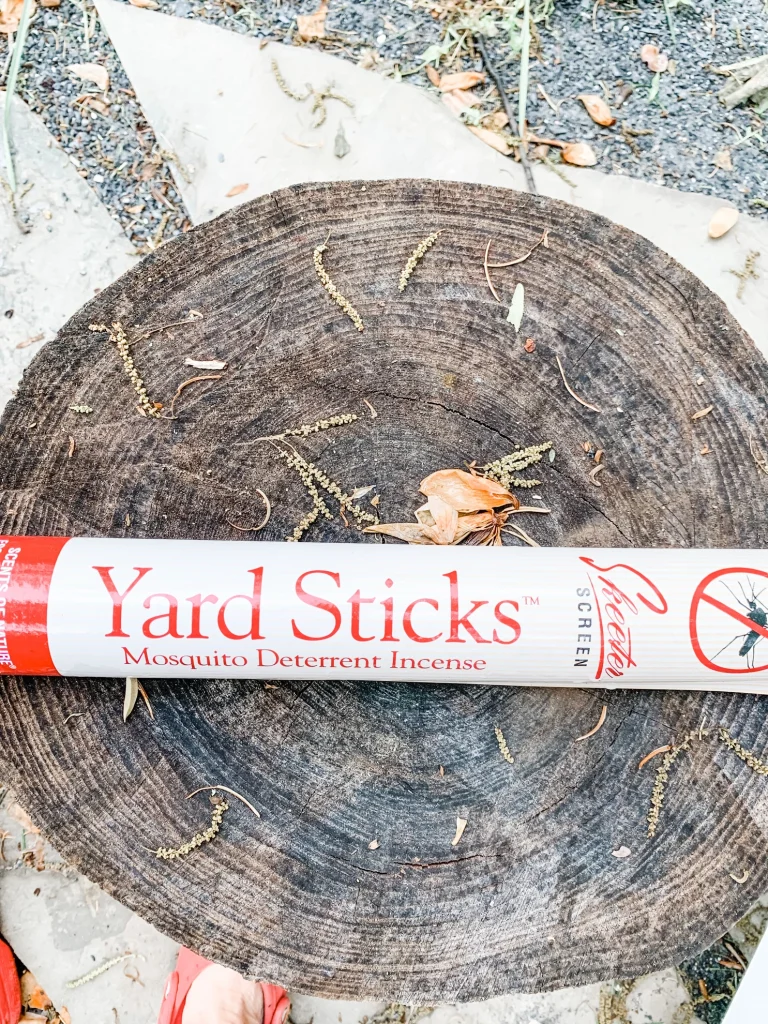 No time for making your own candle? These are the best. Stick them in plants, the ground, anywhere for a lovely scent that keeps the bugs at bay. Find them here.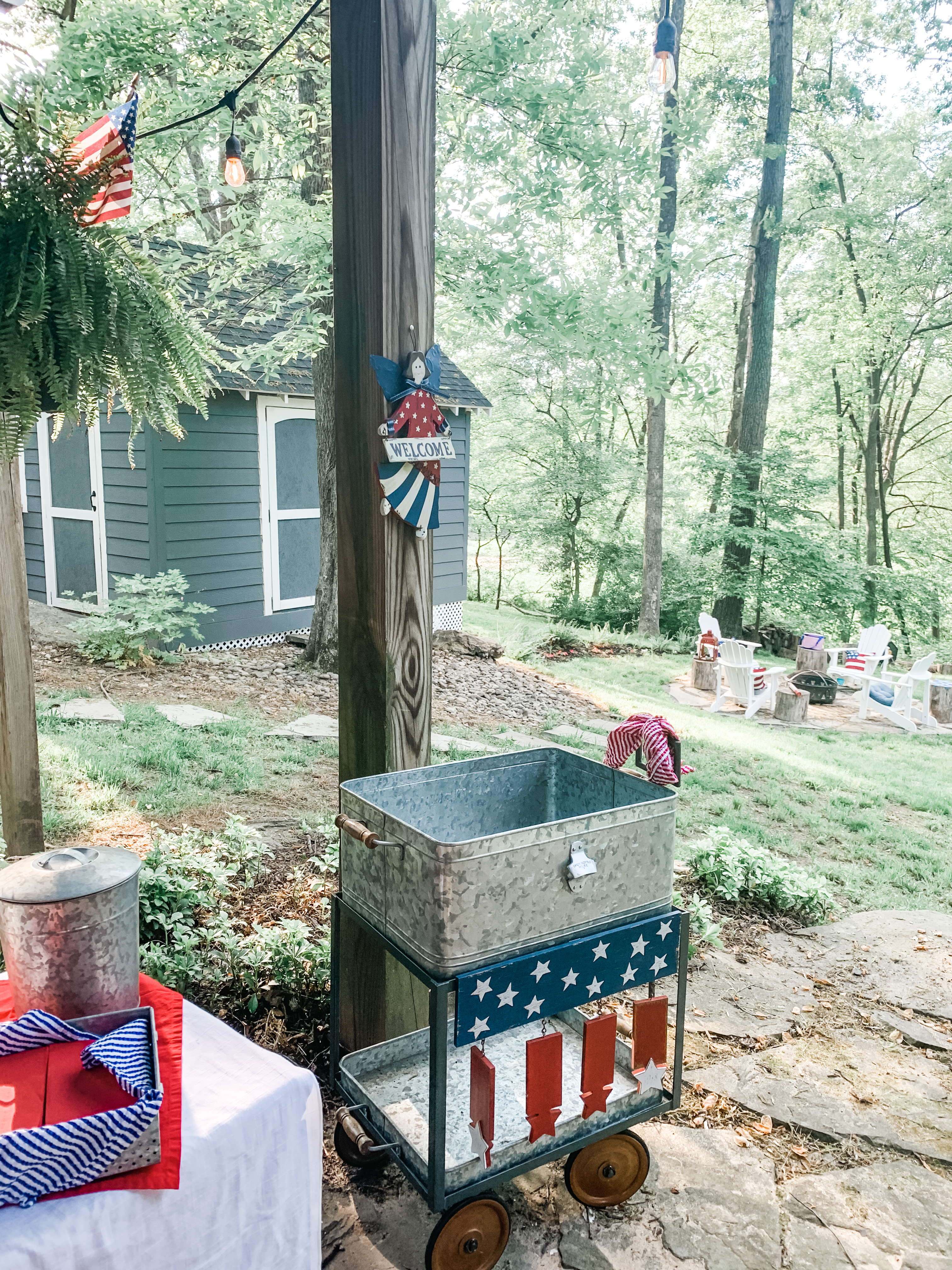 The bar cart has a patriotic look after tying a napkin on the handle so people don't bang into it and fireworks hanging below.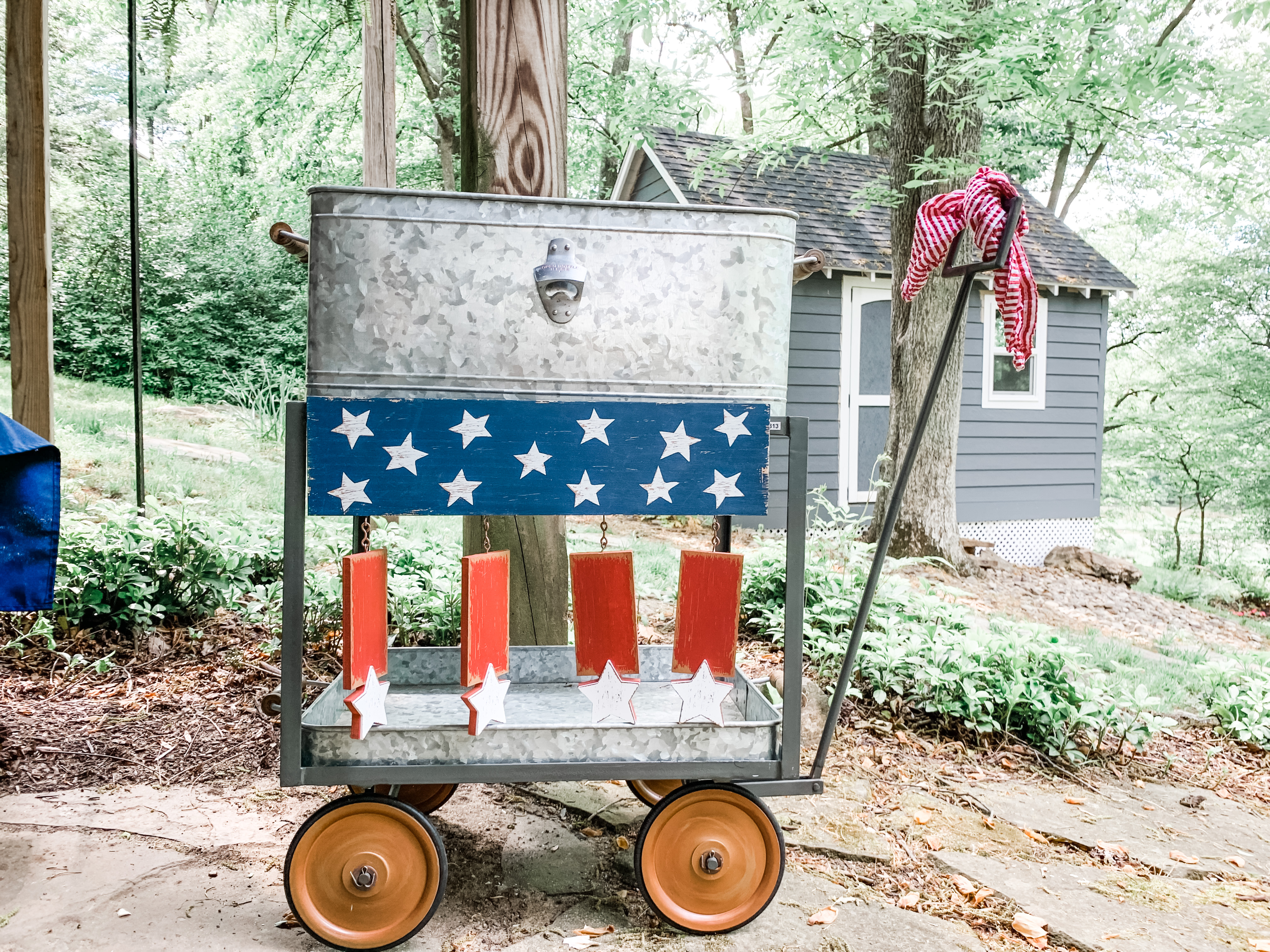 I love to create menus for events, ones that have good food, and are theme related.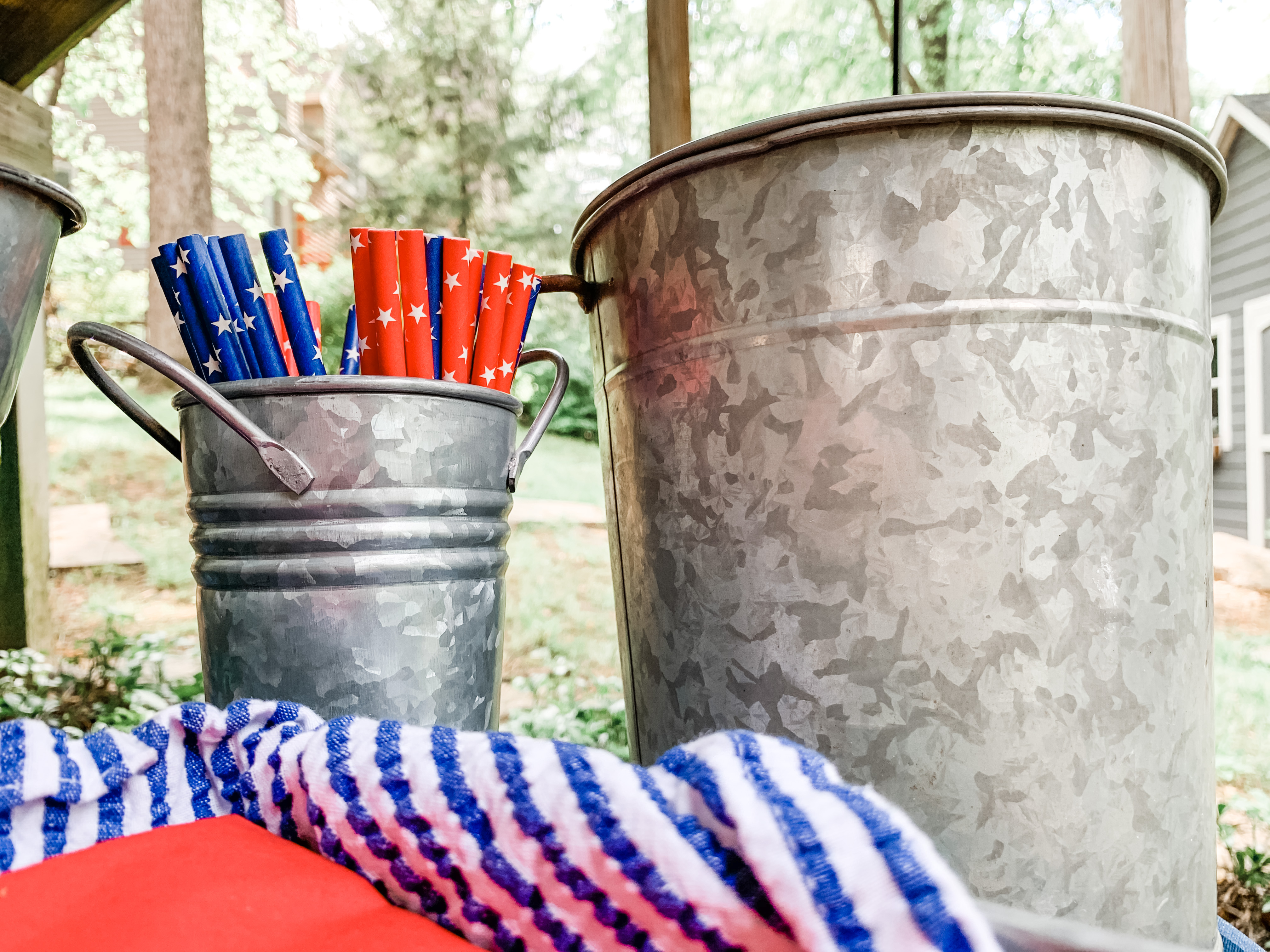 Lots of galvanized items keep the vibe casual and rustic.
This year our signature drink is Stars and Stripes Sangria.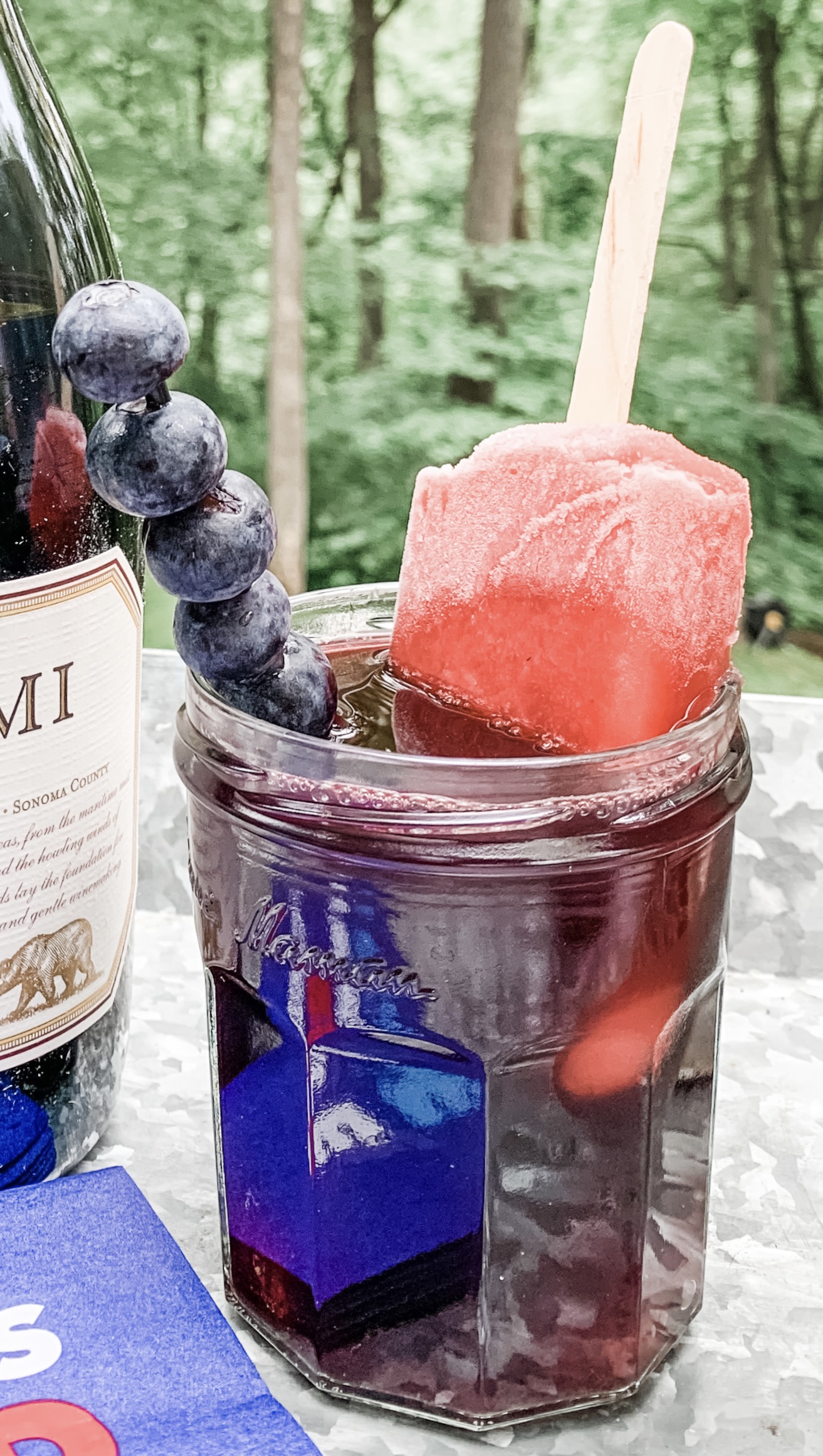 Isn't it tempting with the blueberries and strawberry fruit bar?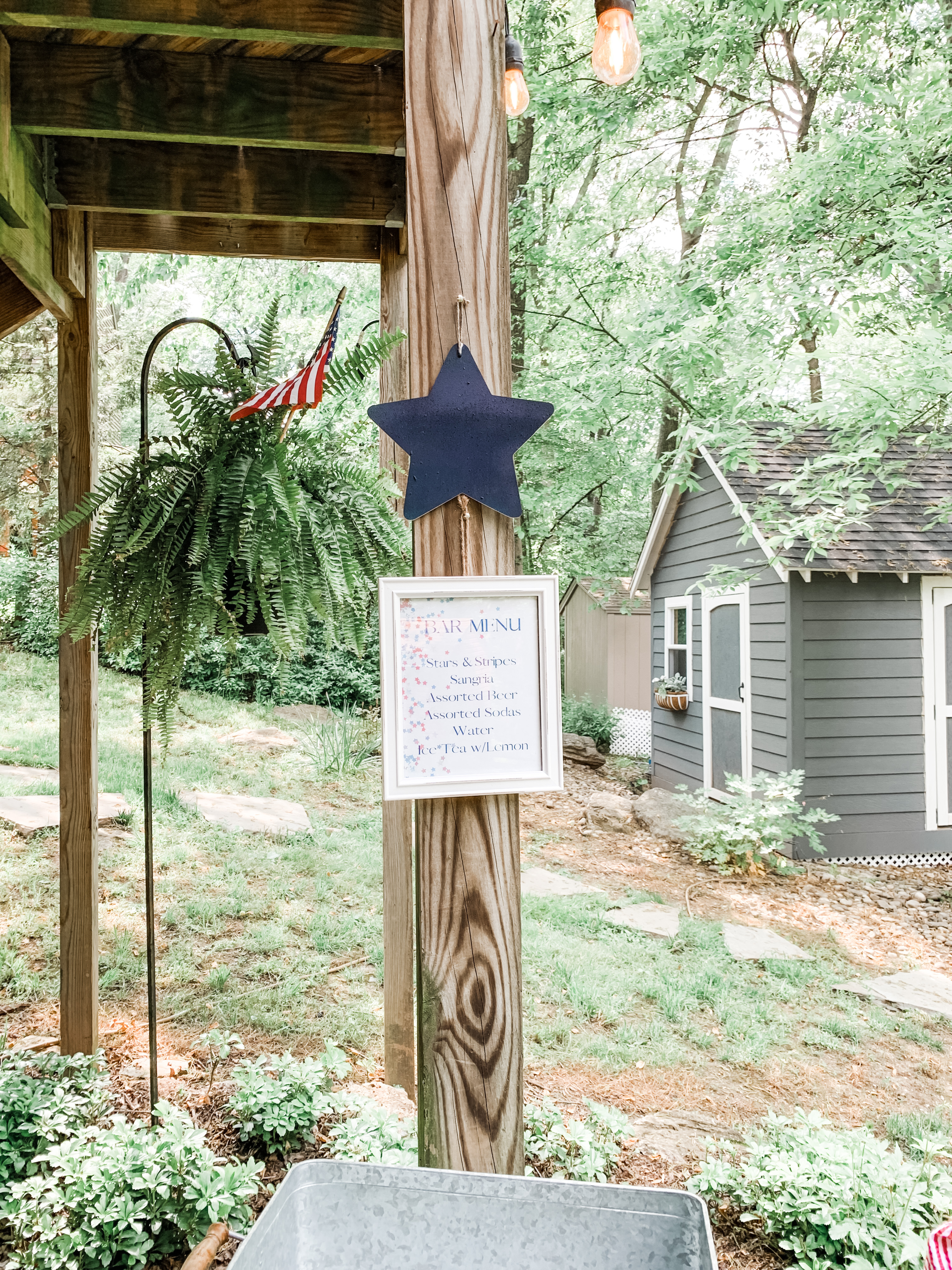 Here is the menu for our meal.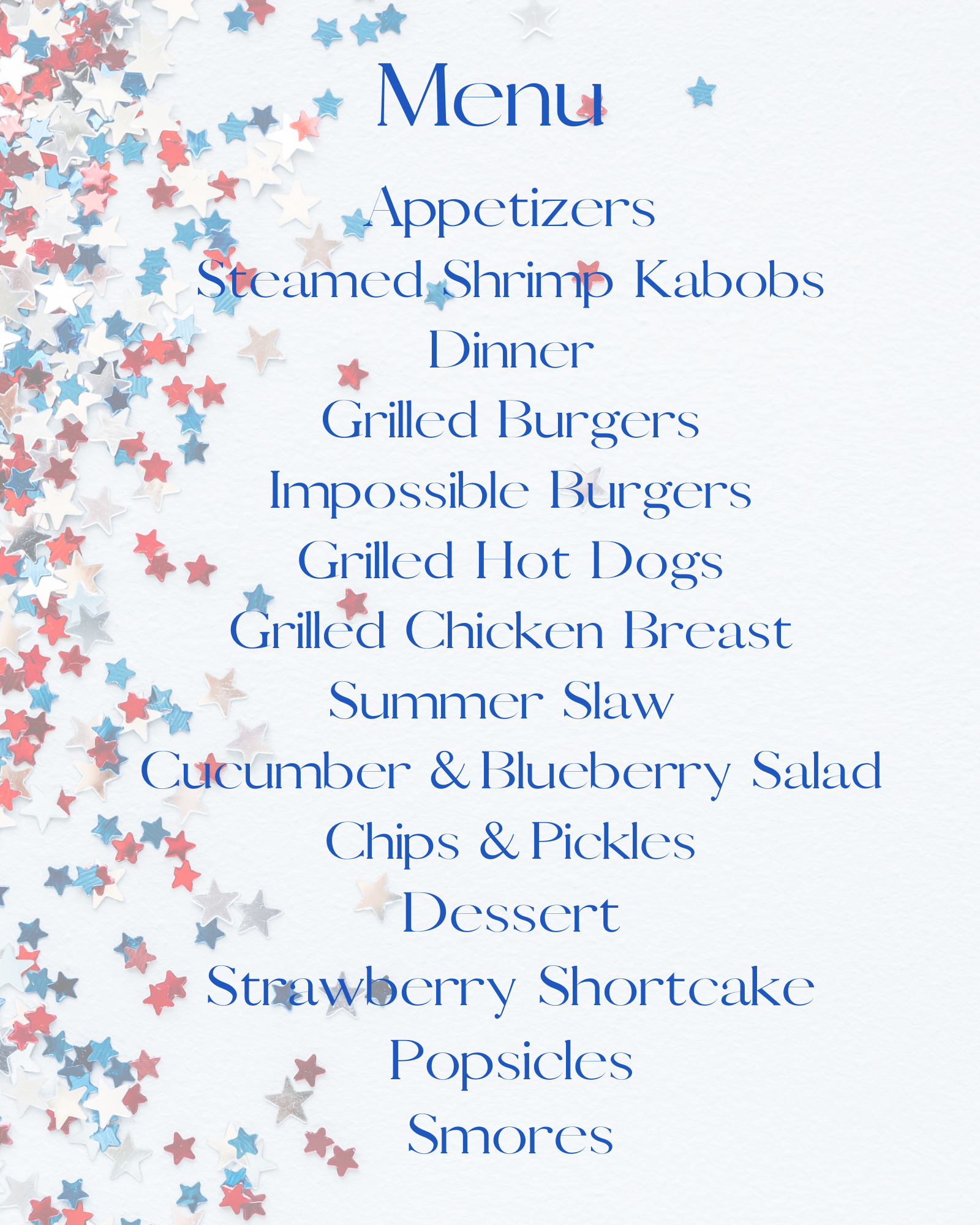 Remember I said this space was unused? I seriously dragged things from all over my house to use to make it feel full and fun.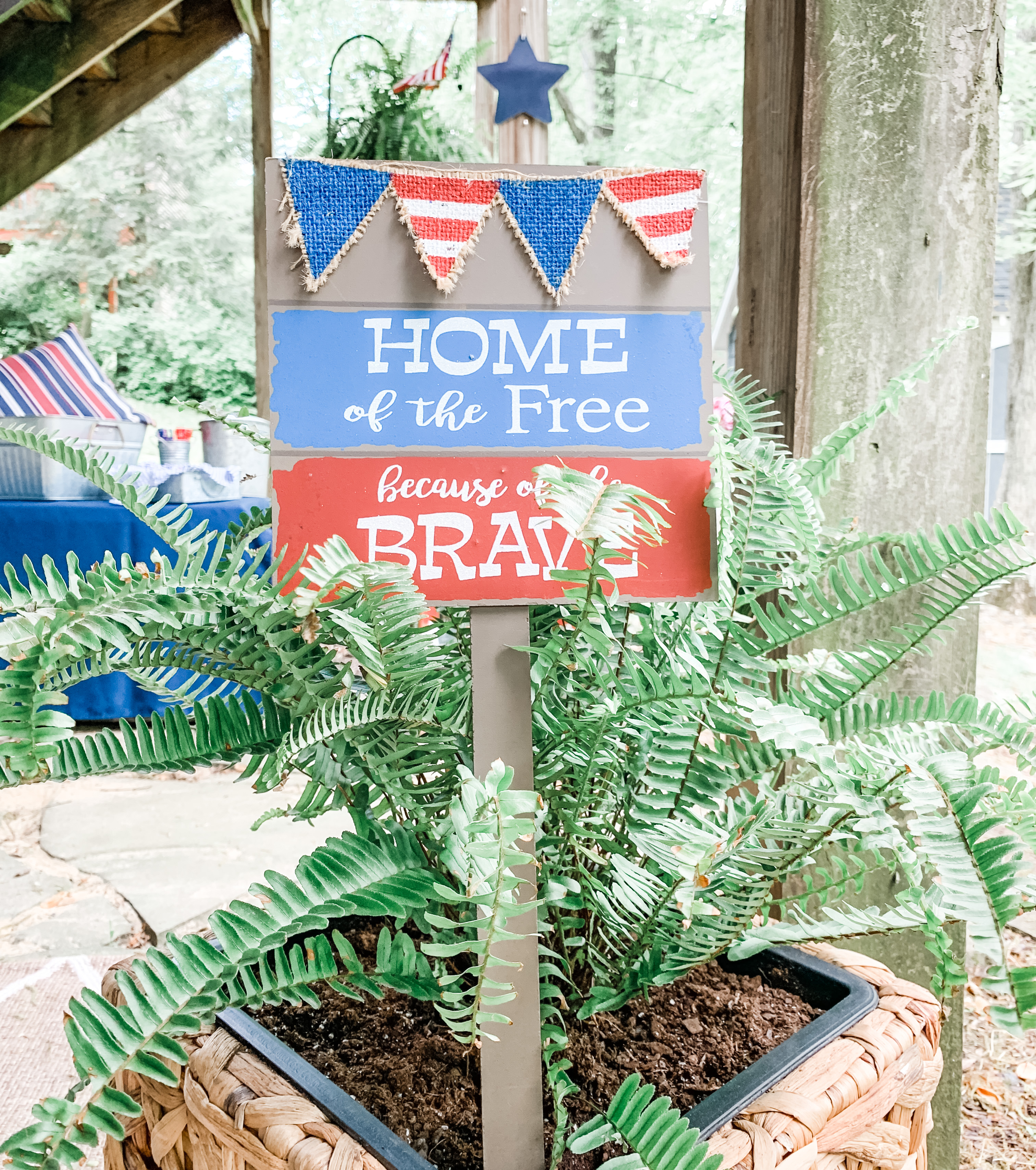 Bring chairs, set up little vignettes, add ferns, flowers, flags and signs all around.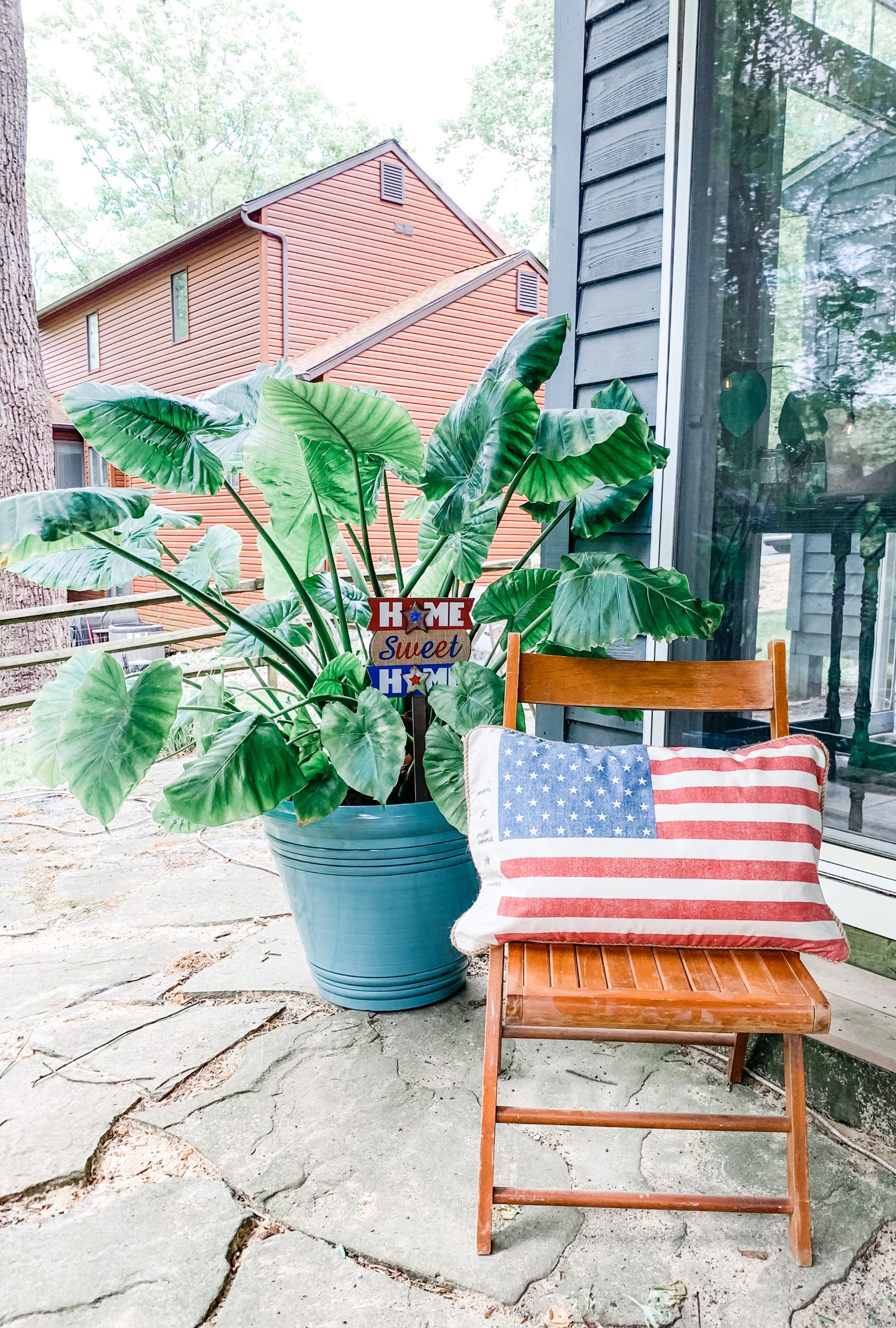 Mix reds, and blues, checks and stripes. It all works if you like it!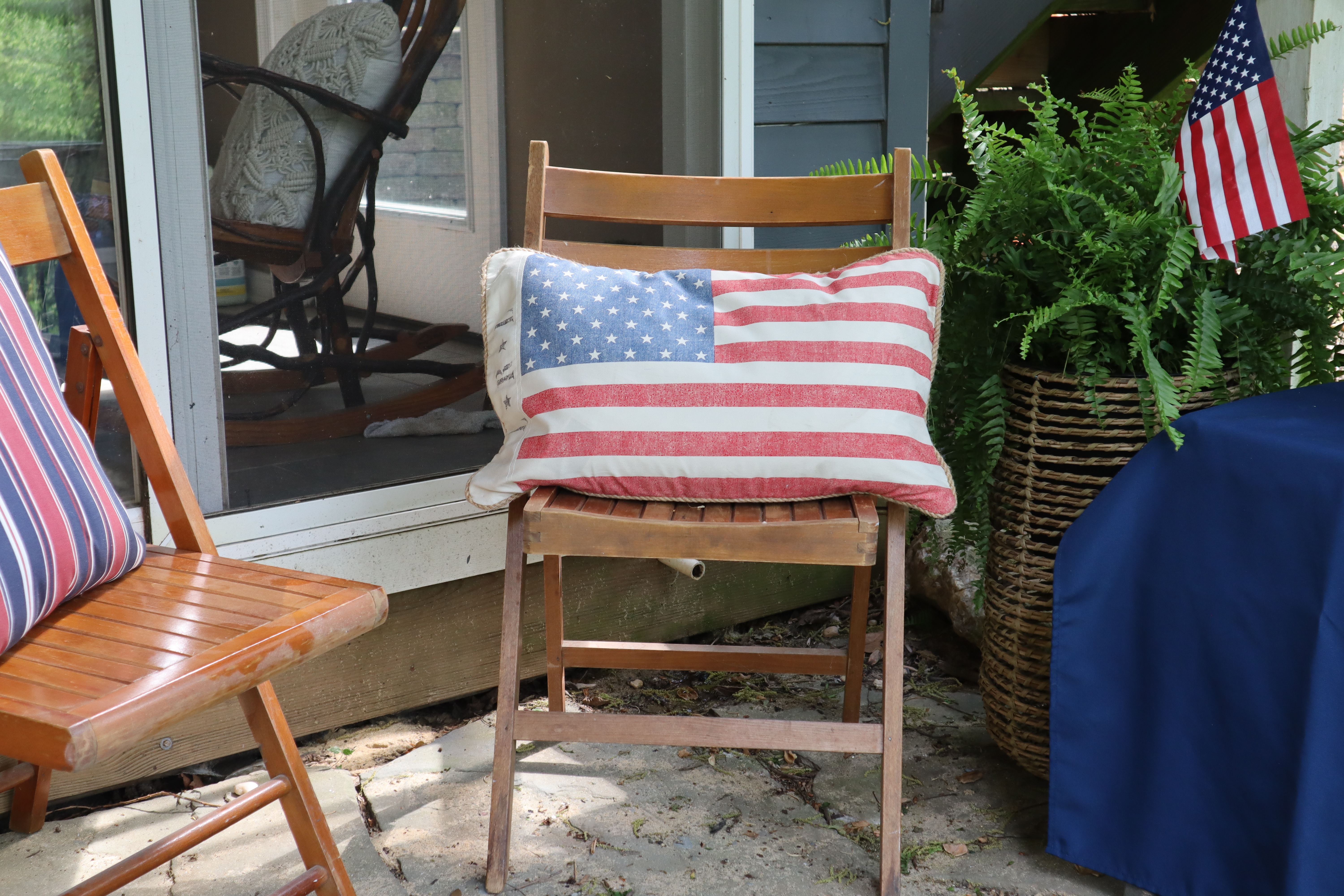 I picked up these brown folding chairs over the years at thrift stores. I love them and they add a perfect vintage touch.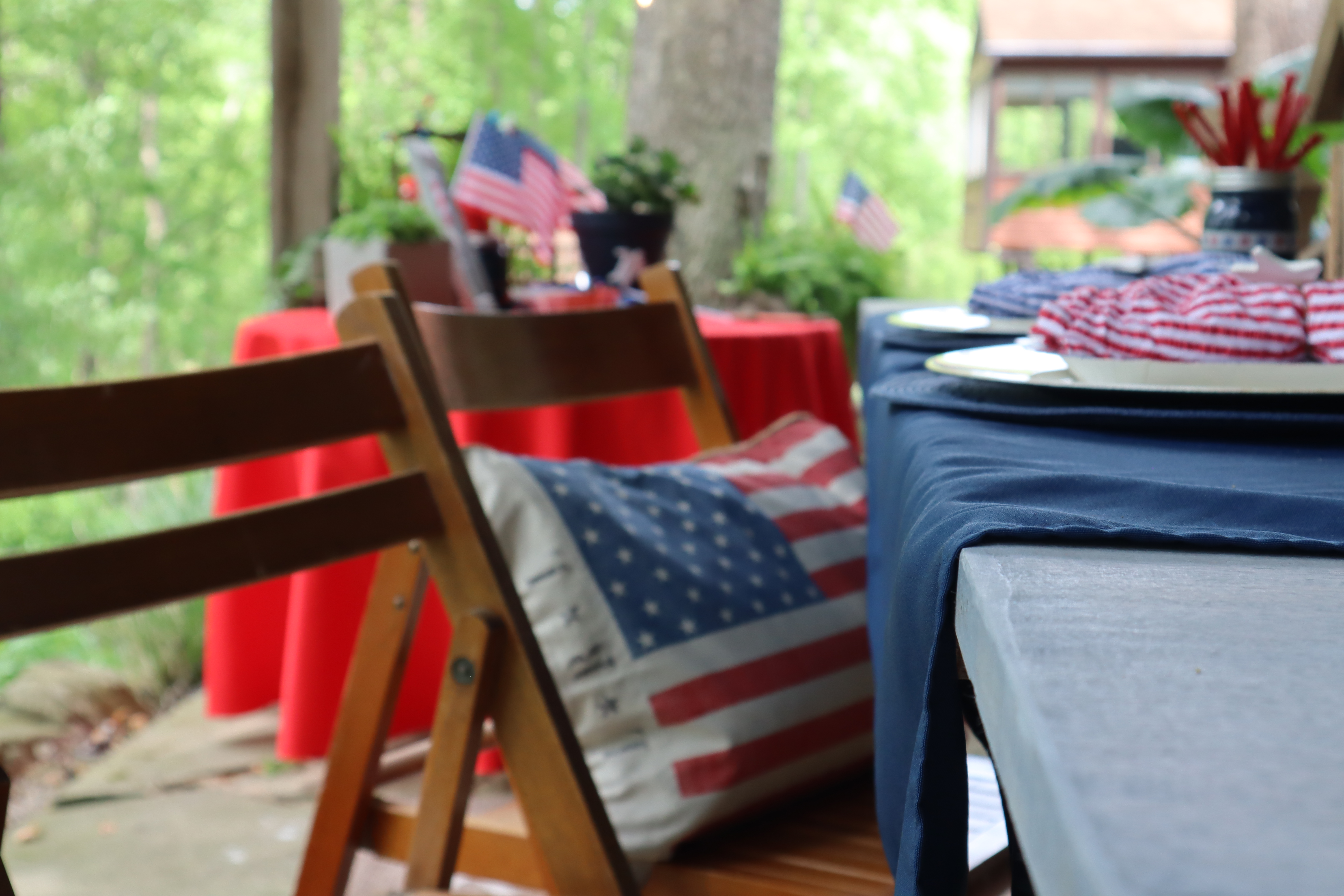 So what do you think about the space transformation?
Below is my after. The first thing I did was put down a rug. You can find a similar one here at Target. I decided something neutral so it just sort of blends into the space but still creates a defined area.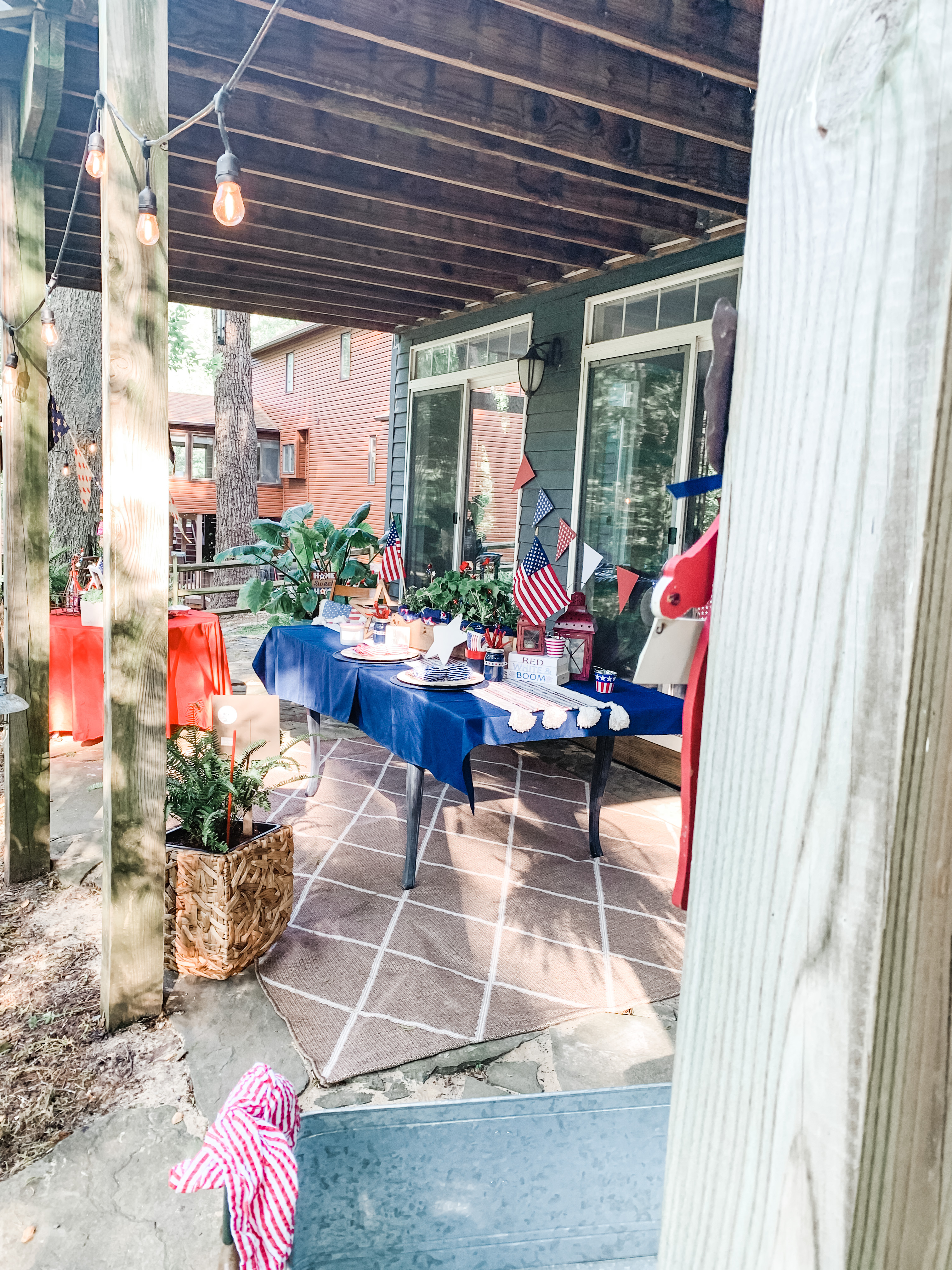 Before: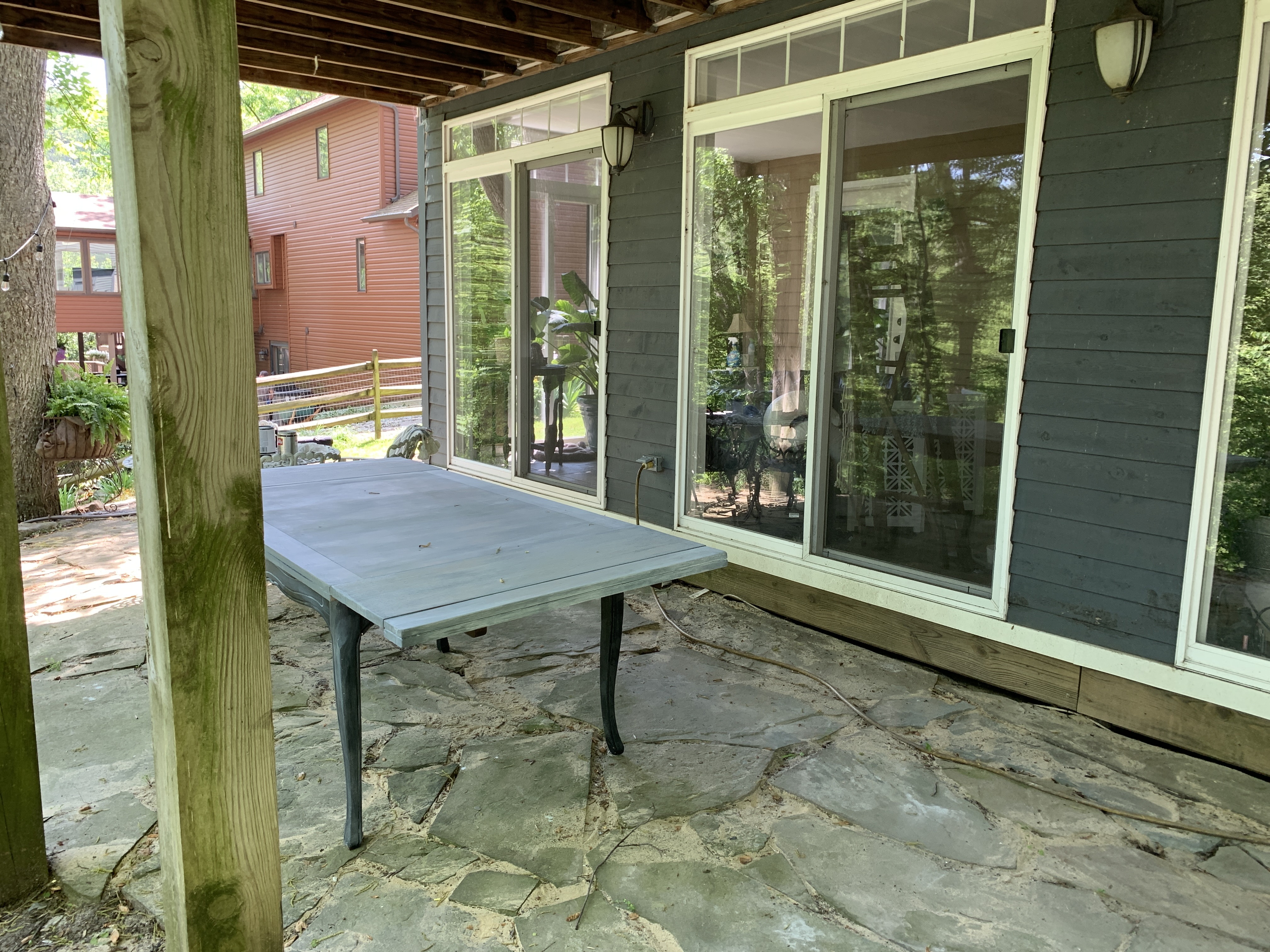 It doesn't have to be perfect. The most important thing is to make your guests feel welcome, and comfortable.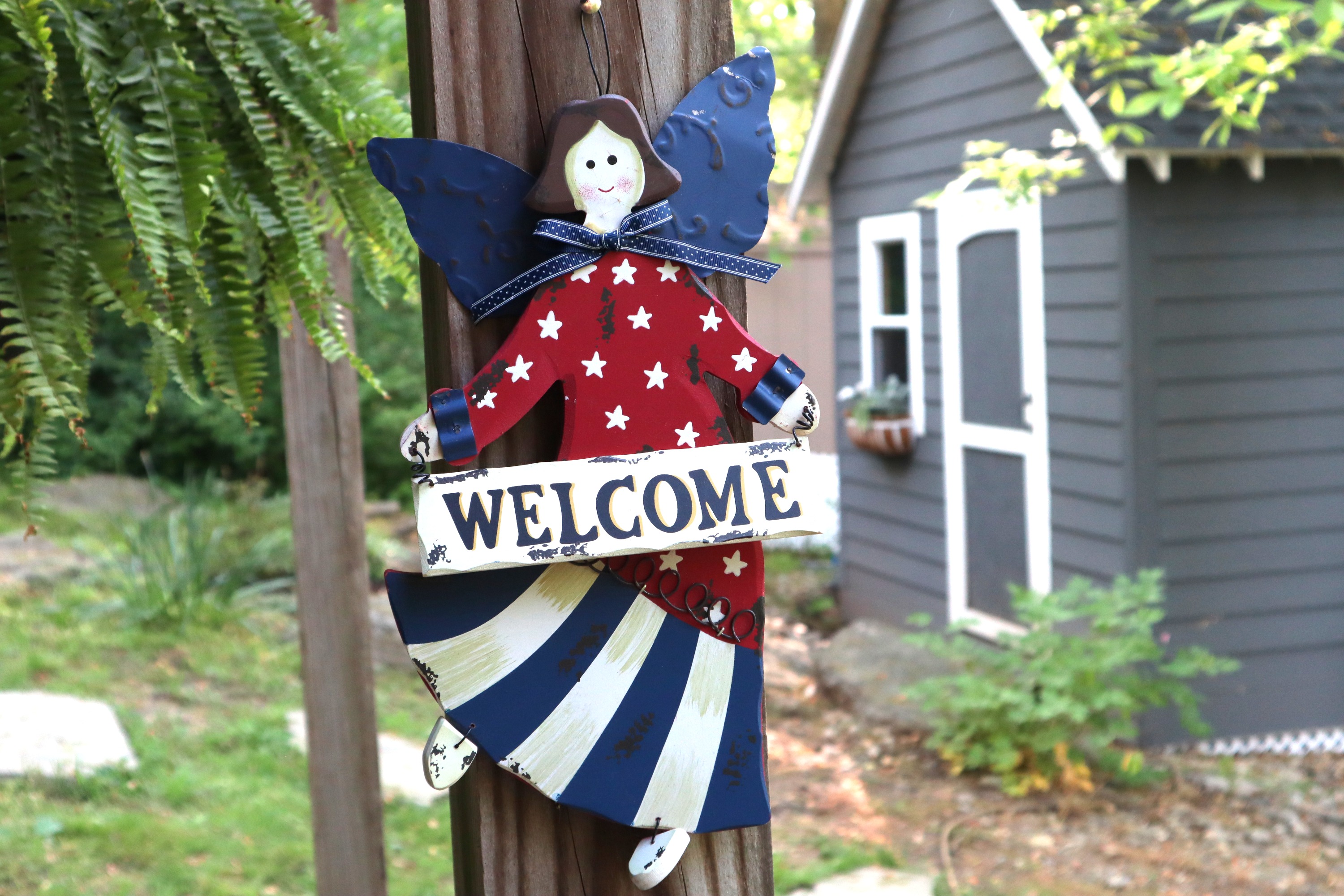 Have plenty of food and drinks, activities like ladder golf or cornhole.
Maybe if you invite the right kind of people, they won't even point out all the green yuck on the wood!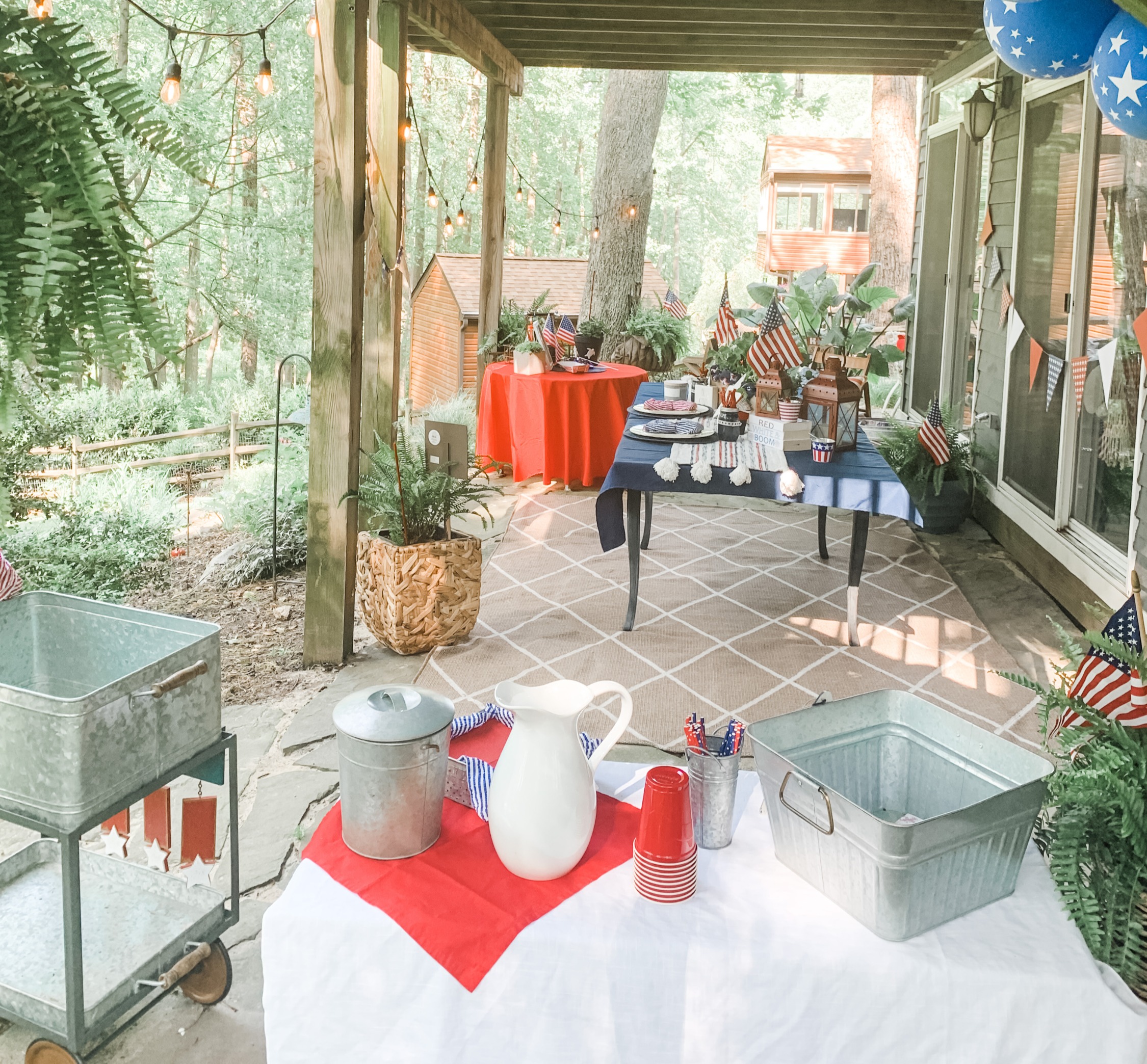 There couldn't be an easier DIY than the one below. The wreath on my front door is made of clothespins, wire wreath frame, paint and wooden or clay stars.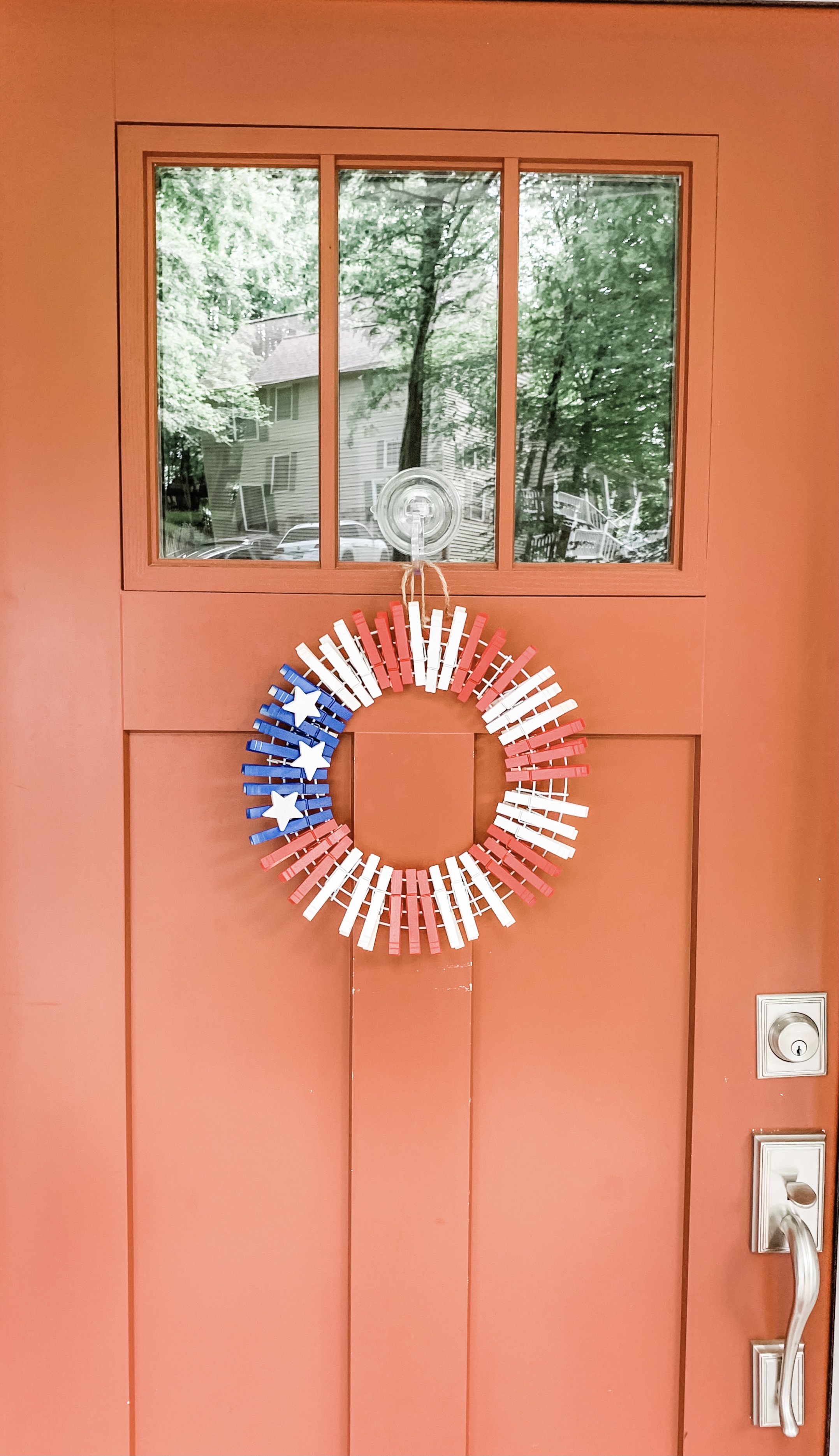 Seriously does my door look orange or what? Eek.
Here are a few more peeks of my patriotic decor ideas.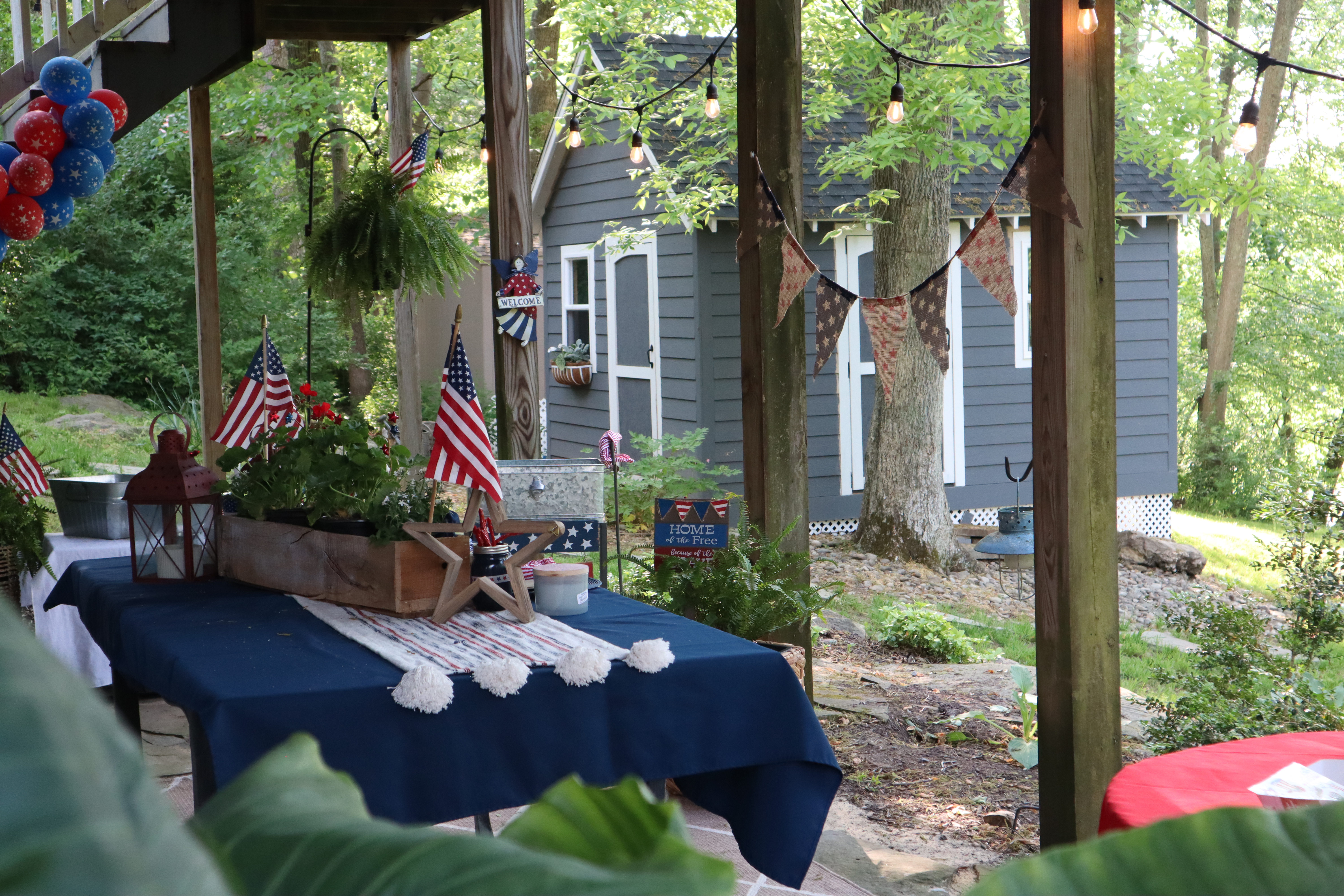 Remember – it's little details that can elevate your event…they don't have to be hard. It seems at parties, sometimes recycling can go by the wayside.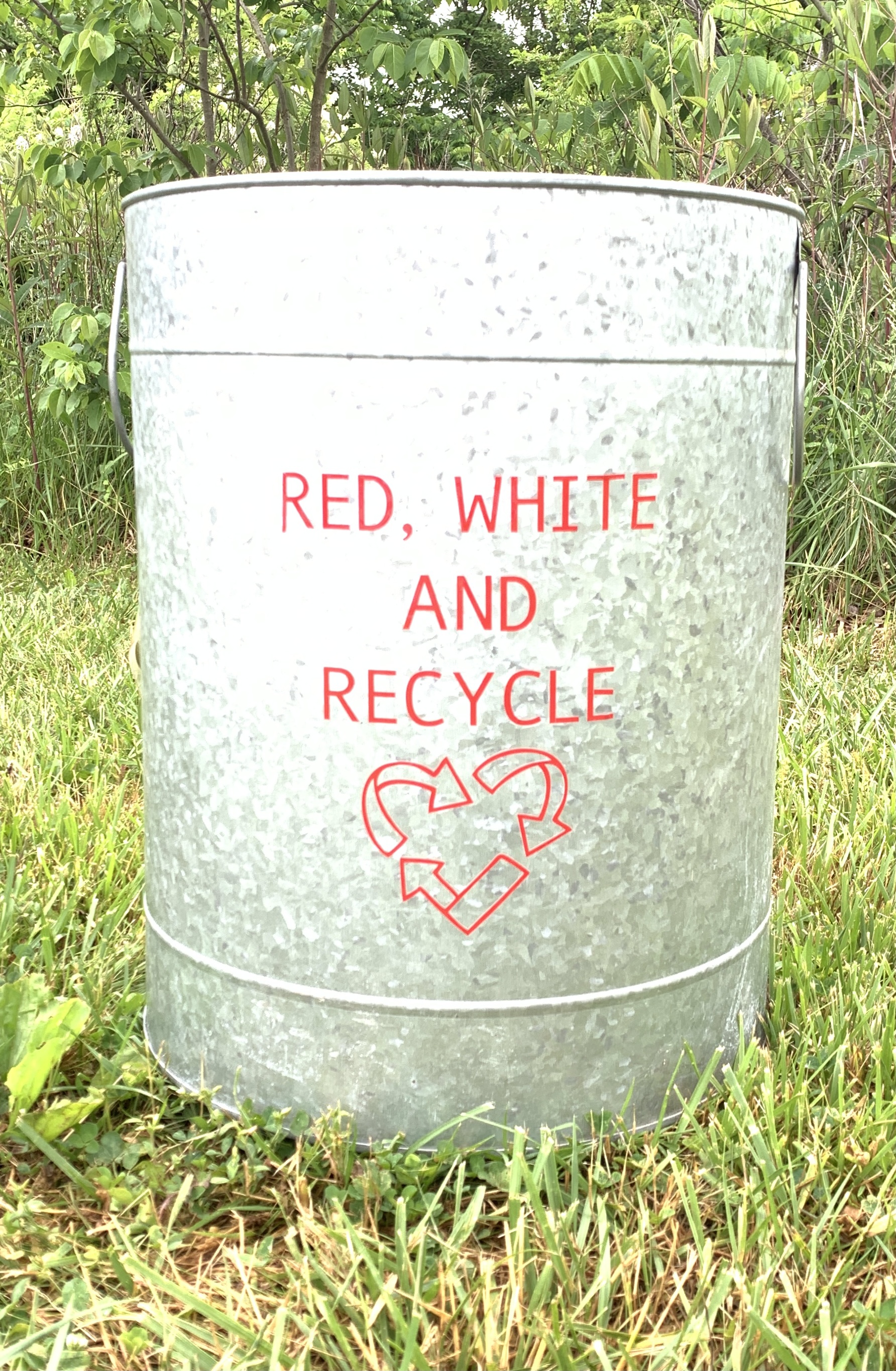 Make it easy and clear for your guests to recycle. I used my cricut to make this decal. You could write a sign on paper also.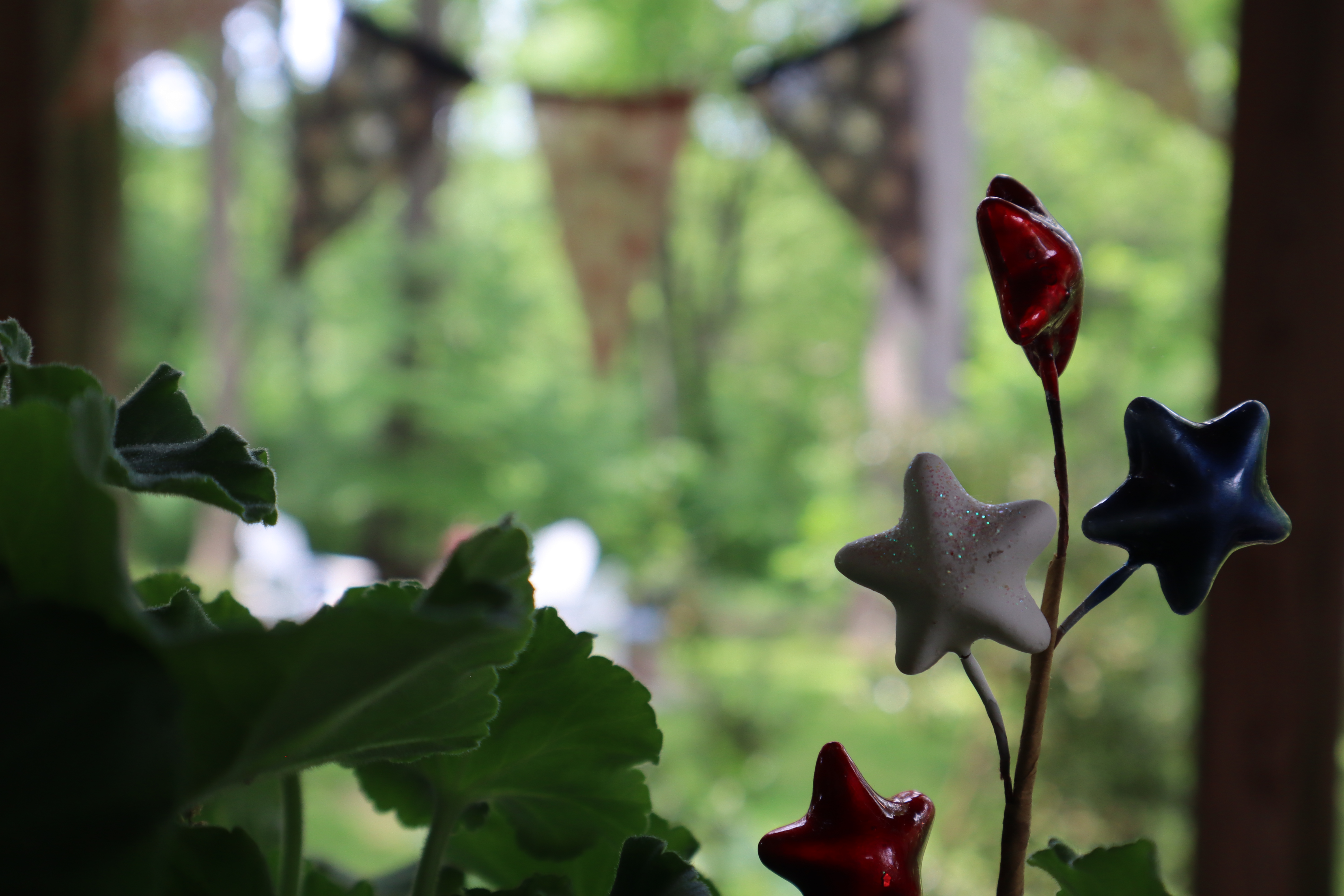 If it's windy where you are, think about decorative items to hold down the tablecloths.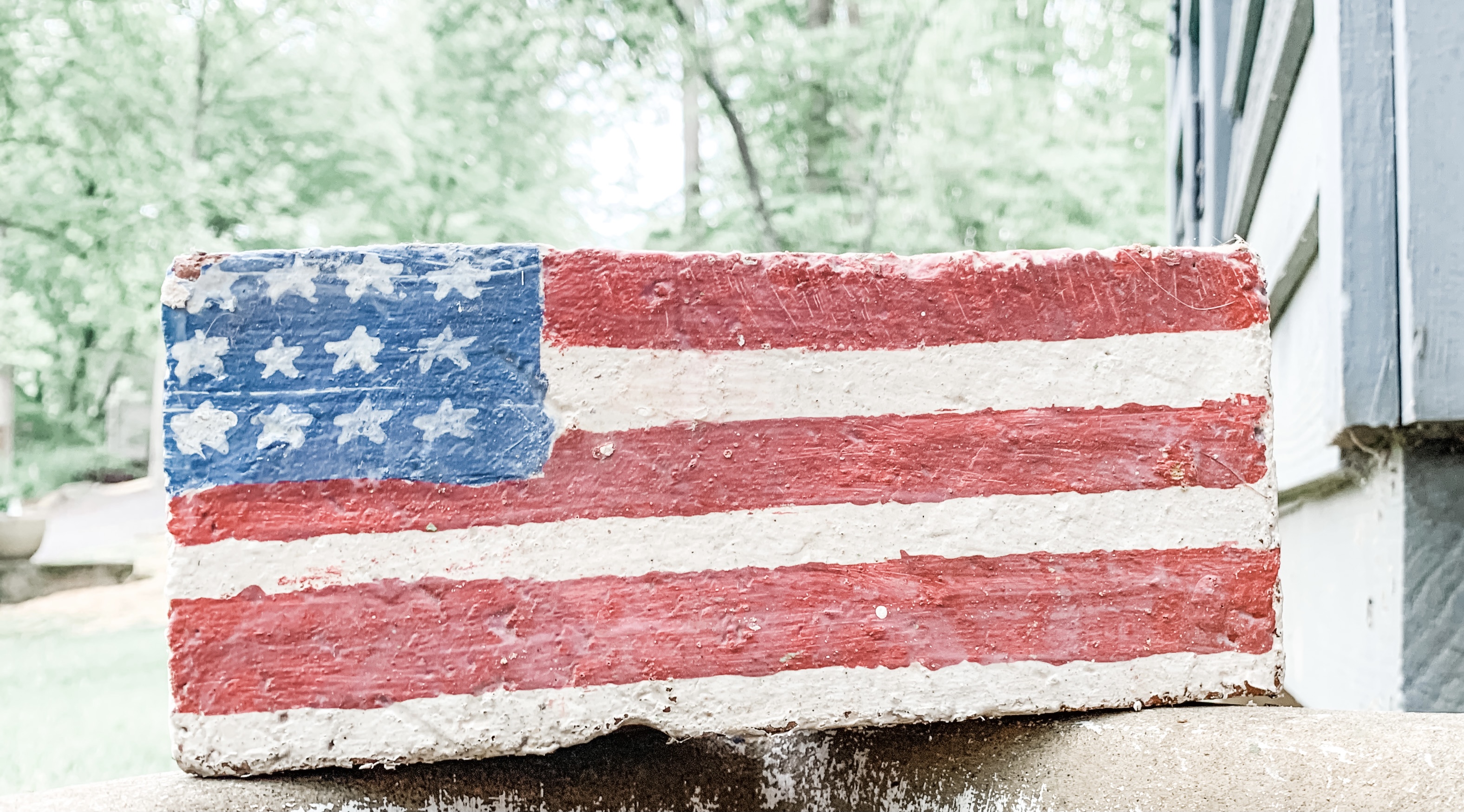 I have these 100 year old bricks that I love to paint for different occasions and in the garden.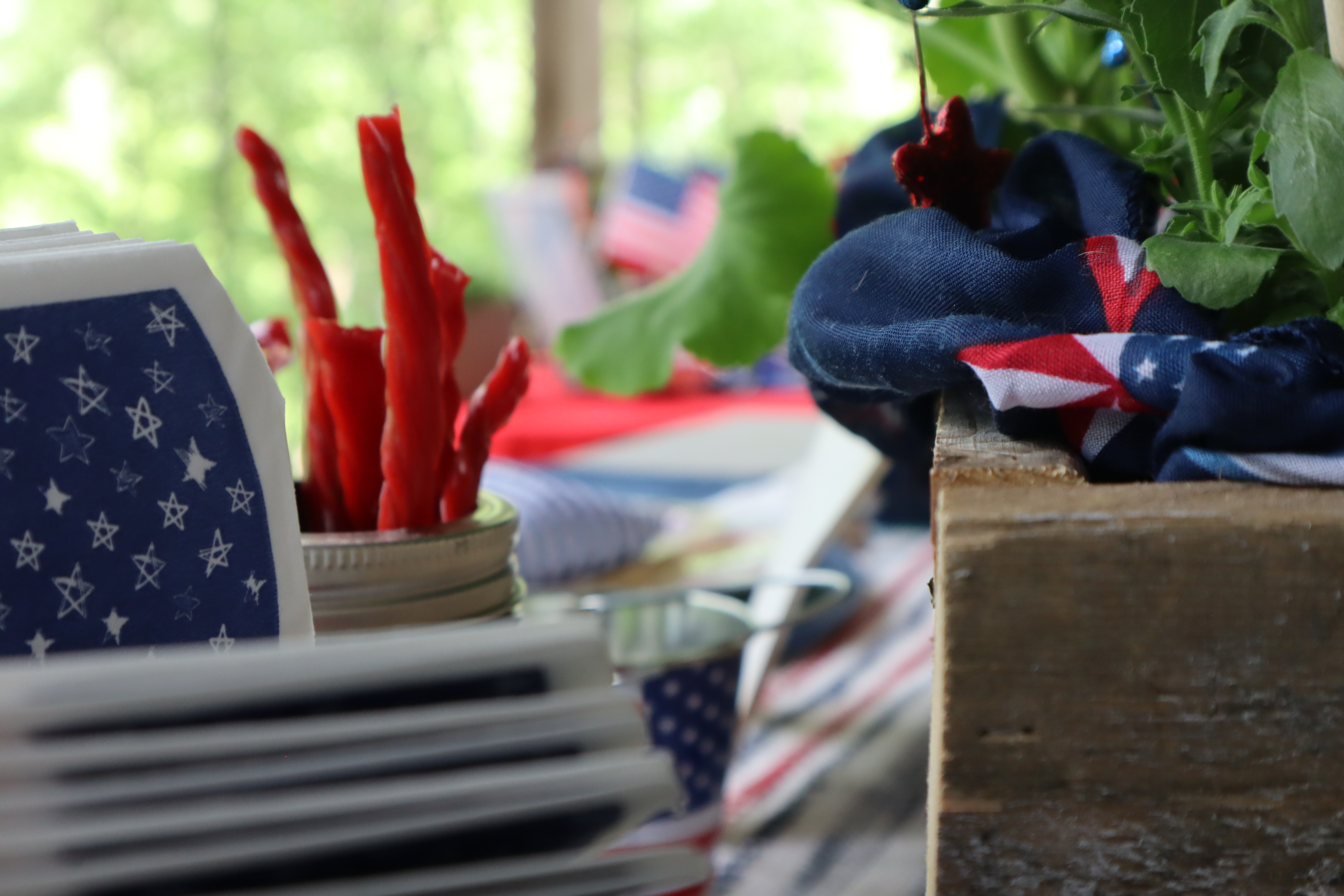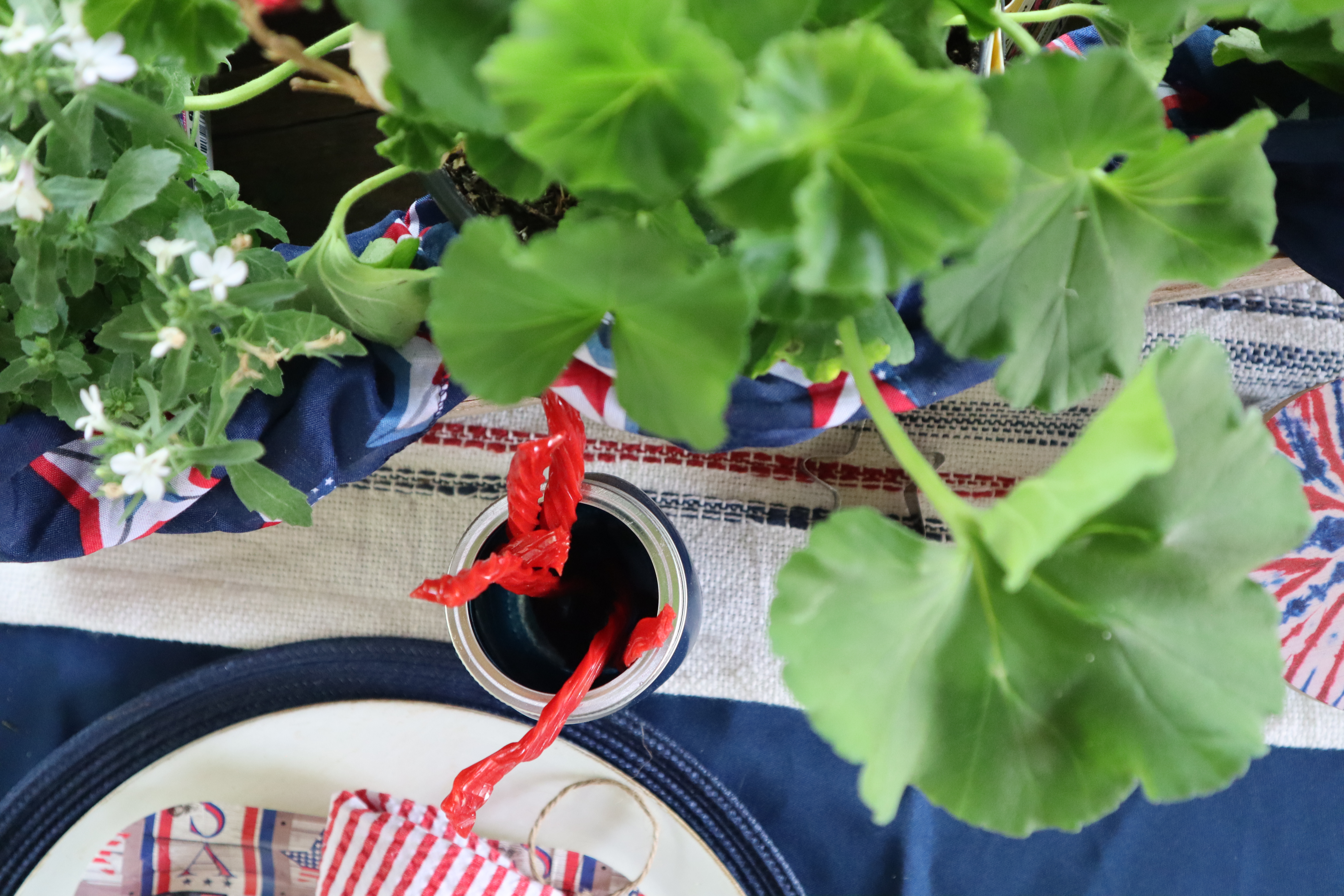 Thanks so much for stopping by! My next post will be include recipes for my Stars & Stripes Sangria (so yummy) and more tasty summer cookout foods.
If you are looking for ideas for other May celebrations, I've got you covered. See my post for Mothers Day and my ideas for celebrating May Day.
Patriotic DIY's to Elevate Your Event!
Air Dry Clay Stars
Clothespin Wreath
Painted Terra Cotta Pot
DIY Tic Tac Toe
Painted Ball Jars
Wooden Table Box
Patriotic Book Stack
Popcorn Cones
Flag Table
Framed Menus
Painted Brick
Recycle Bin
Don't forget to check out:
Have a wonderful day! XO, Regina
This post contains affiliate links for your convenience. I receive a small commission if you purchase at no additional cost to you.