Do you love a rustic look?
These DIY birch candle holders are perfect for outdoor entertaining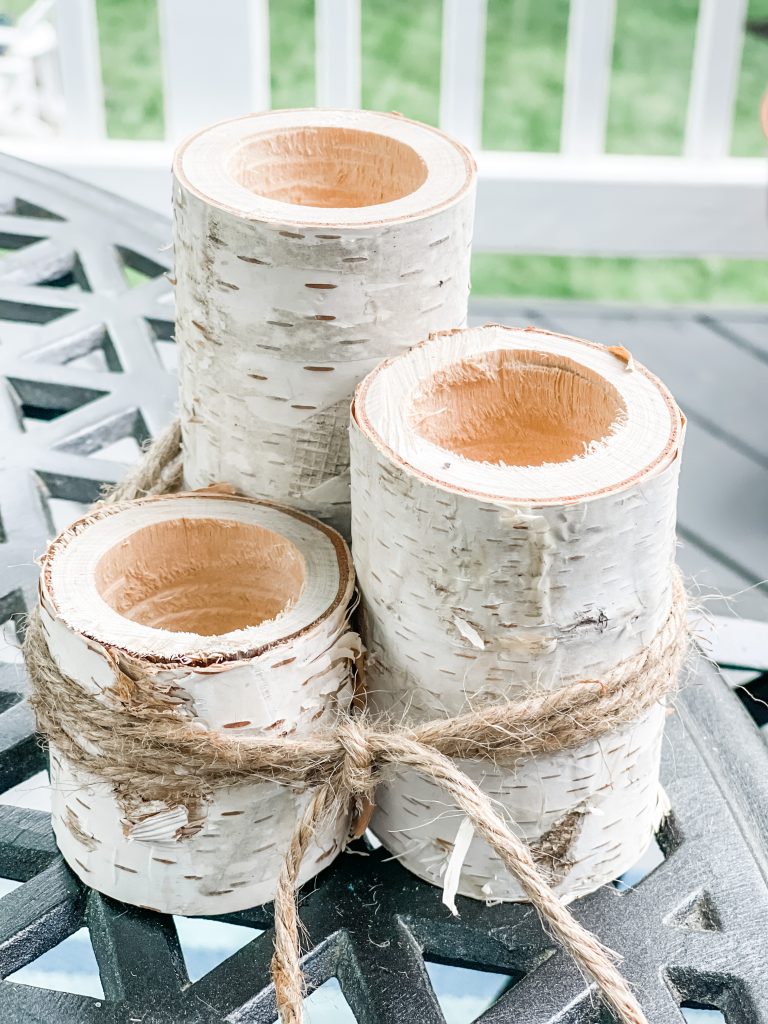 I saw these at one of my favorite stores – Terrain. It's a garden center, home decor and specialty shop which I admit is a little pricey. I've made several things I've seen there but haven't loved the prices.
The first is this Concrete Table, the second was Soy Wax Sachets and now these adorable birch candle holders.
Perfect for tea lights to add a little sparkle or you can use battery operated tea lights.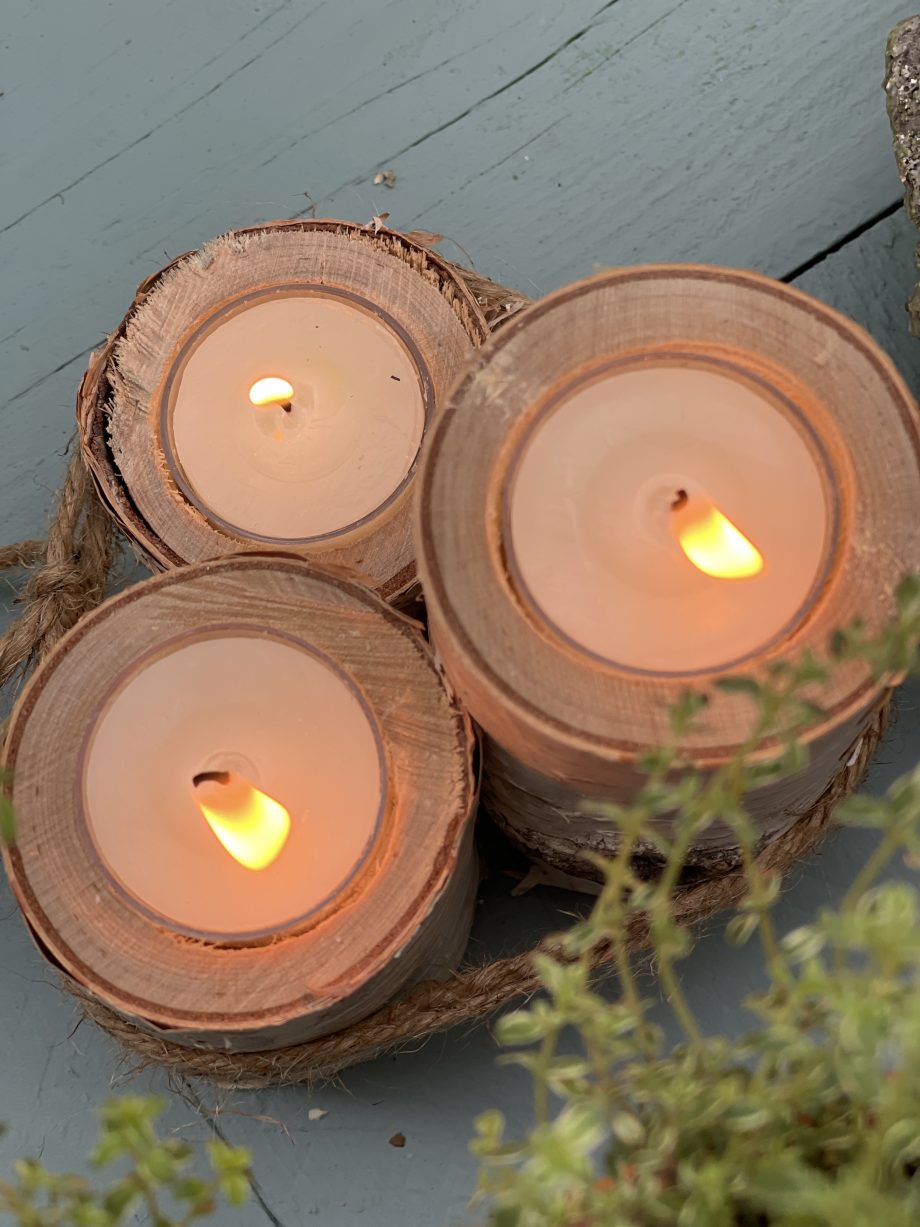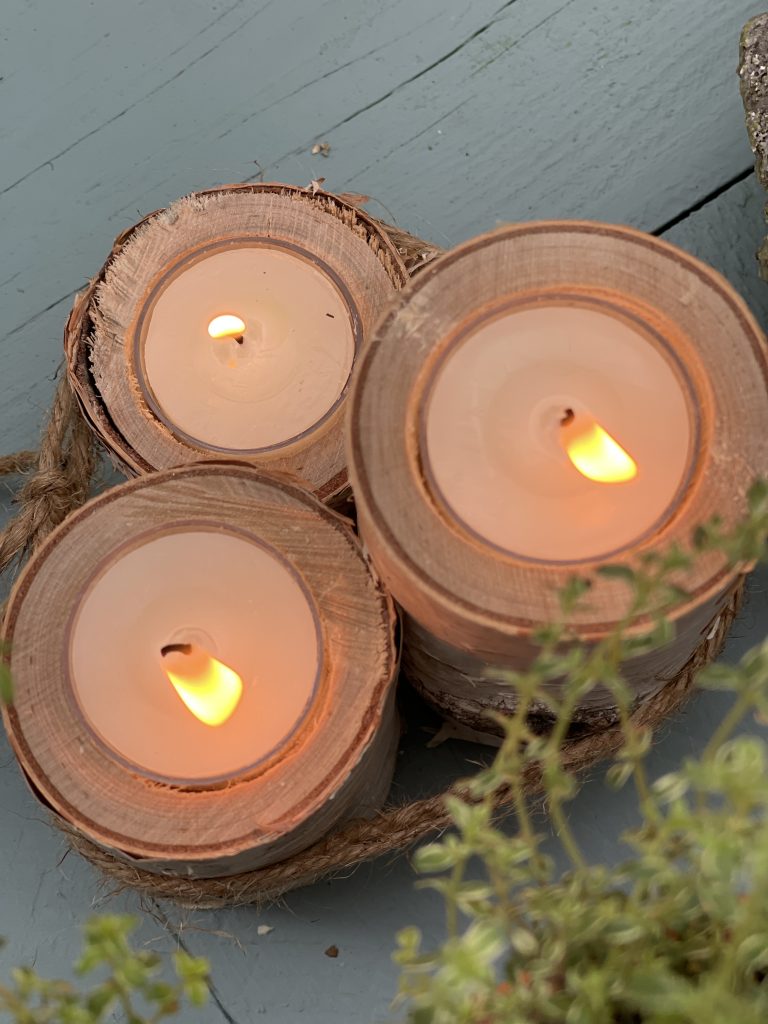 These are one of the items I didn't want to splurge for. I did want them though.
I love to use birch branches and logs in my home during the winter. I've used long skinny logs perched against the wall near the Christmas tree and in my basket of fire wood. Such a pretty look.
Now I am showing you how you can create these candle holders and keep the birch going all summer long.
Recently I took a log and cut it up into 5 pieces, I staged my fireplace with bright white logs. The fireplace had just been cleaned and I repainted the inside with high heat paint. The logs will stay there until fall comes back around.
STEP ONE
You can purchase birch logs at a craft store, online, hardware store or if you happen to be driving north on 81 through Pennsylvania, you may just spot a zillion of them down along the side of the road. (Not recommended)
Cut your logs to the length you want. I wanted 3 different sizes, so I cut them staggered. I used a chop saw but you could use a circular saw and maybe a jigsaw.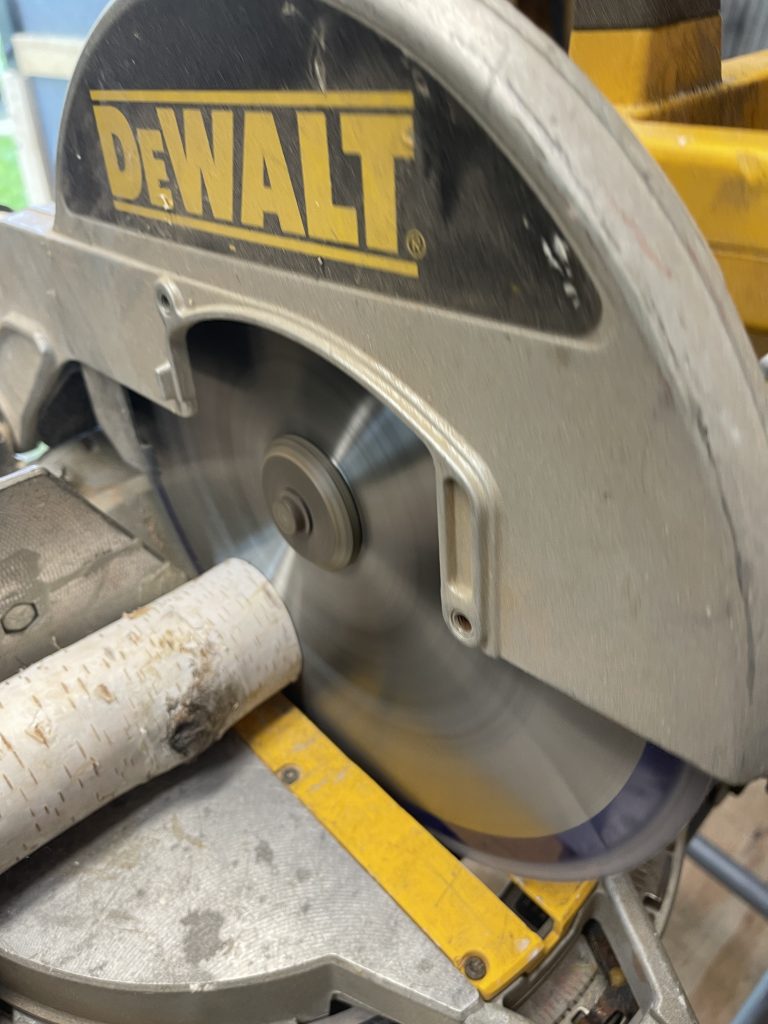 STEP TWO
For this step, you will need safety googles to protect your eyes from the saw dust.
The next thing to do was to cut the hole in the center.
When I tried the first time it was difficult to keep the hole evenly in the middle.
I decided to first pre-drill so I had a hole for the blade to follow. This worked perfectly.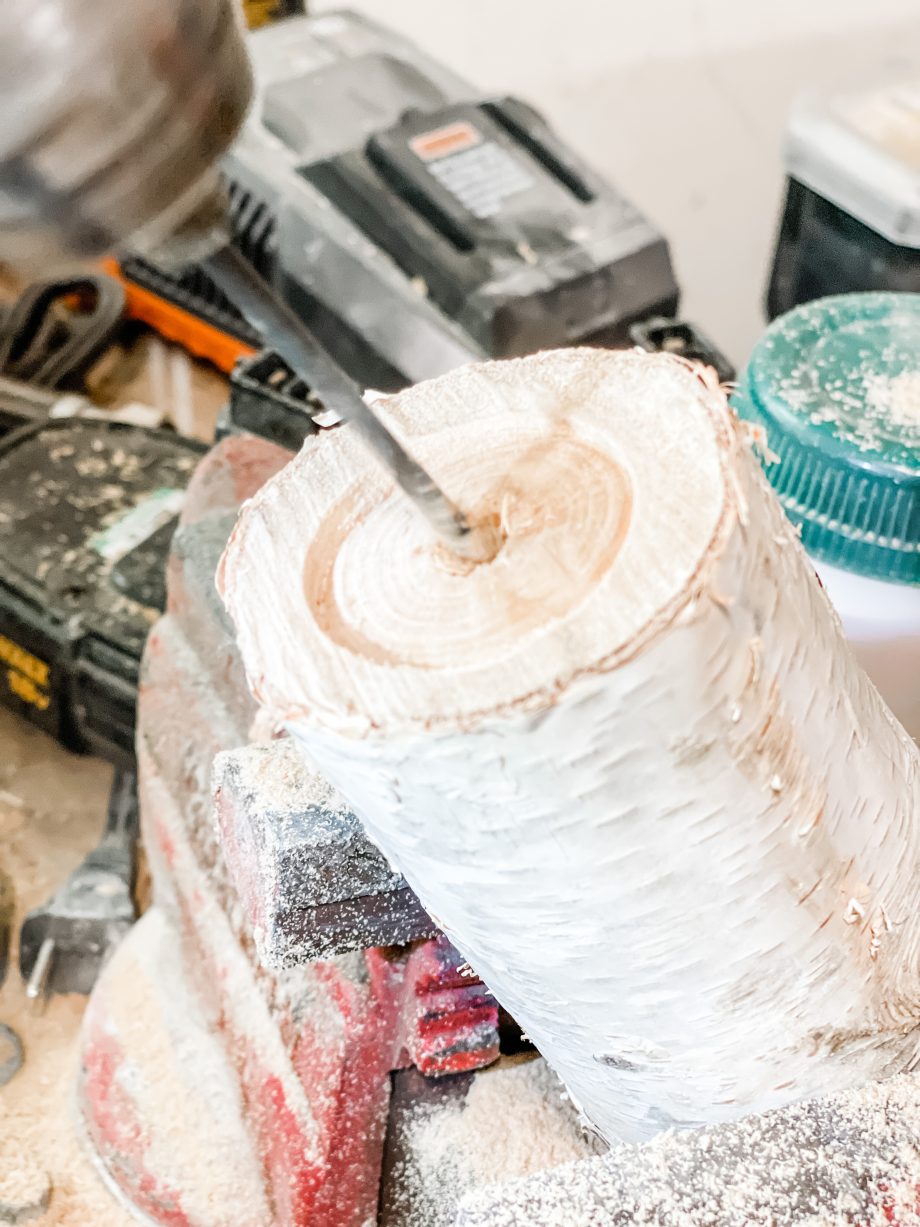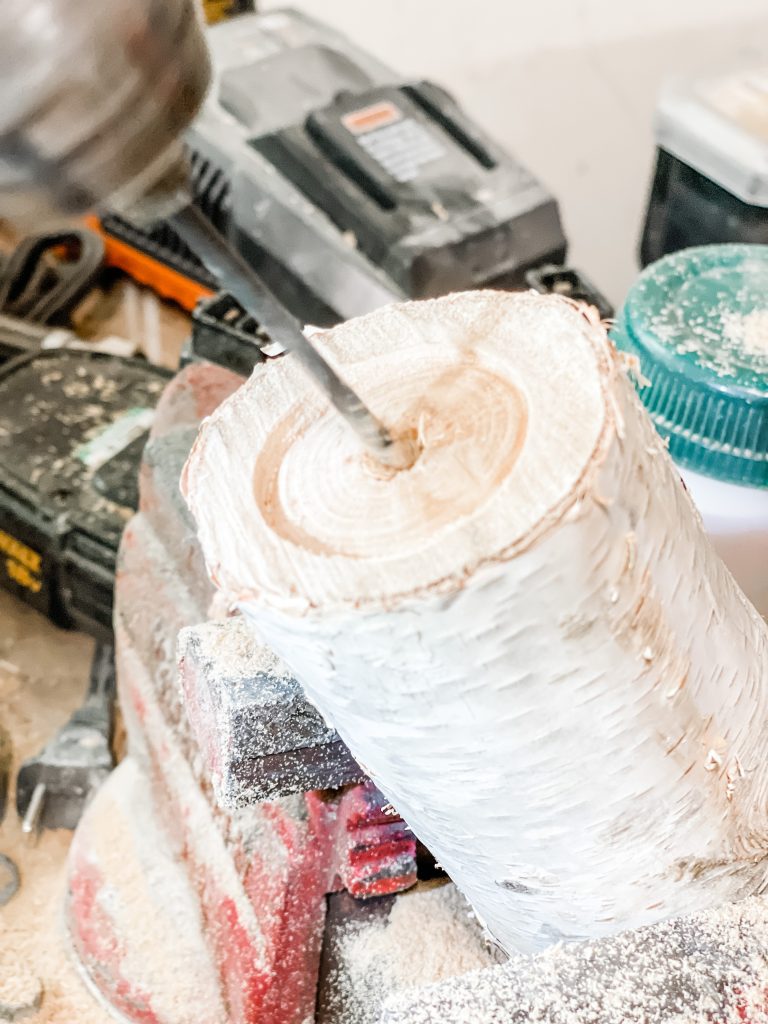 To keep the log stable, I placed it in the vice on the workbench.
Note: You could cut them in pieces first or cut both ends of the log before cutting. I've done both ways.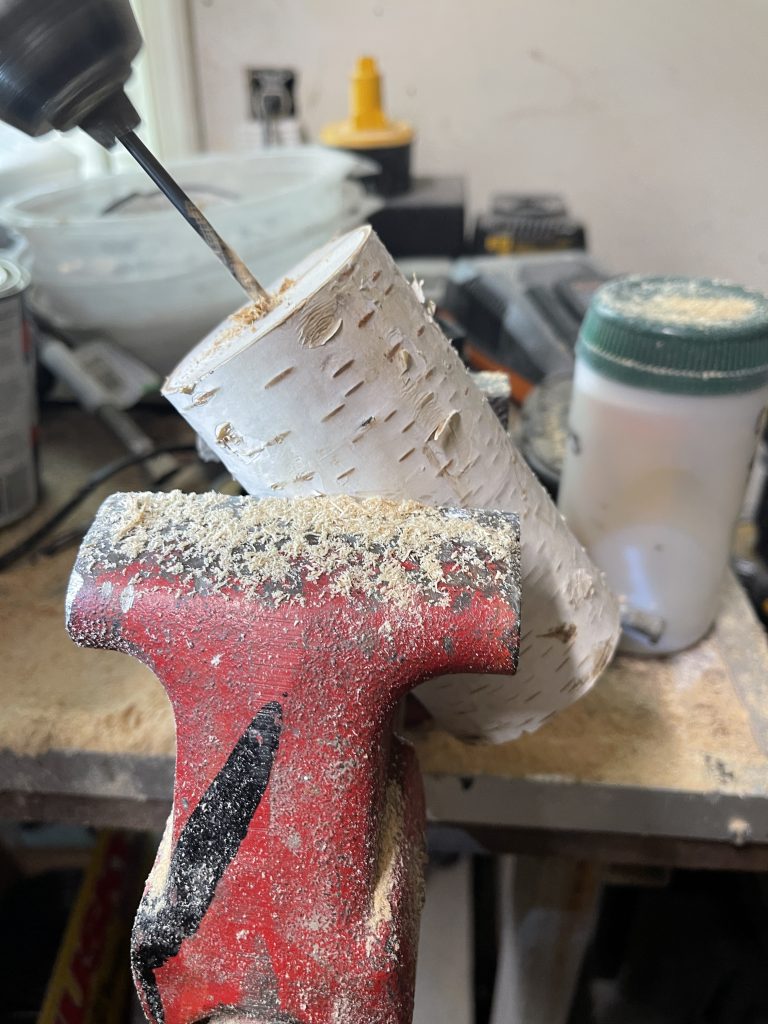 STEP THREE
Next up was to cut the circle in the log. I used a Forstner Bit in the drill. This worked perfectly. For the whole, you cannot go deeper into the wood than the size. For my purposes, this was just enough for a tea light to fit and then some.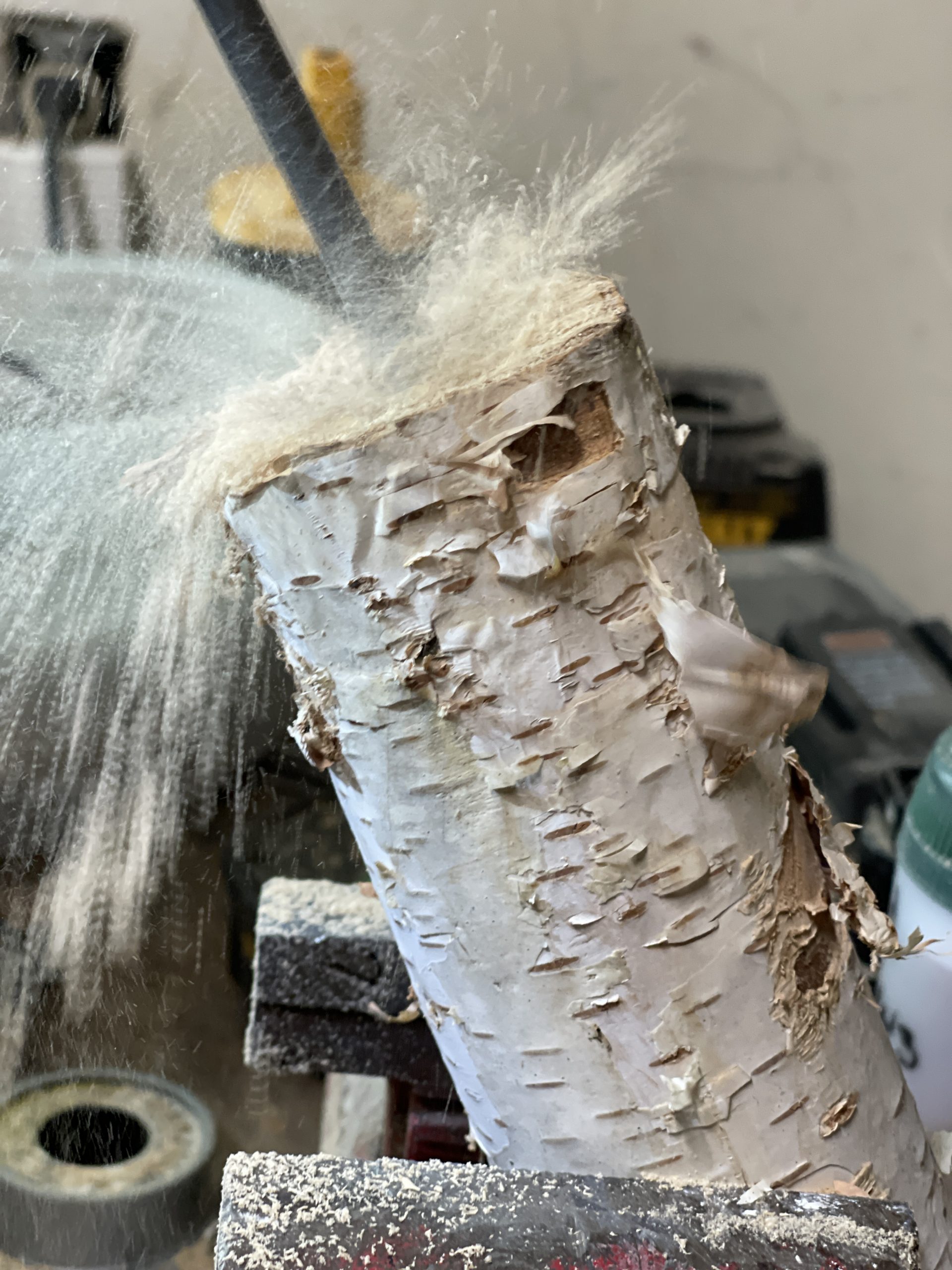 STEP FOUR
Now that I had my three candle holders, I decided to wrap them together with twine. They could be used individually, but I liked the look of them together.
Are they not the cutest? This birch wood candle holder hack was worth it. They cost pennies compared to the store bought ones.
STEP FIVE
The last step is to place tea lights inside, either real or battery operated. Don't you think a larger one would be neat with a real citronella candle inside. I have made them before in concrete bowls, you can see that post here.
An easy idea, because I already have the supplies of wax, wicks and oil.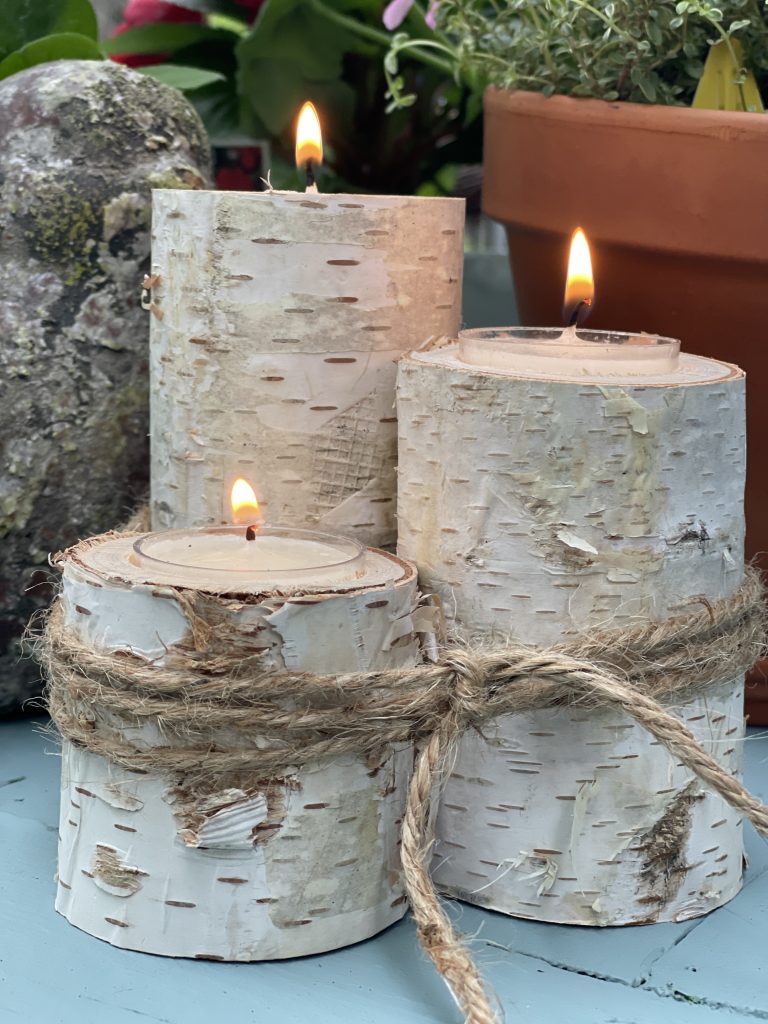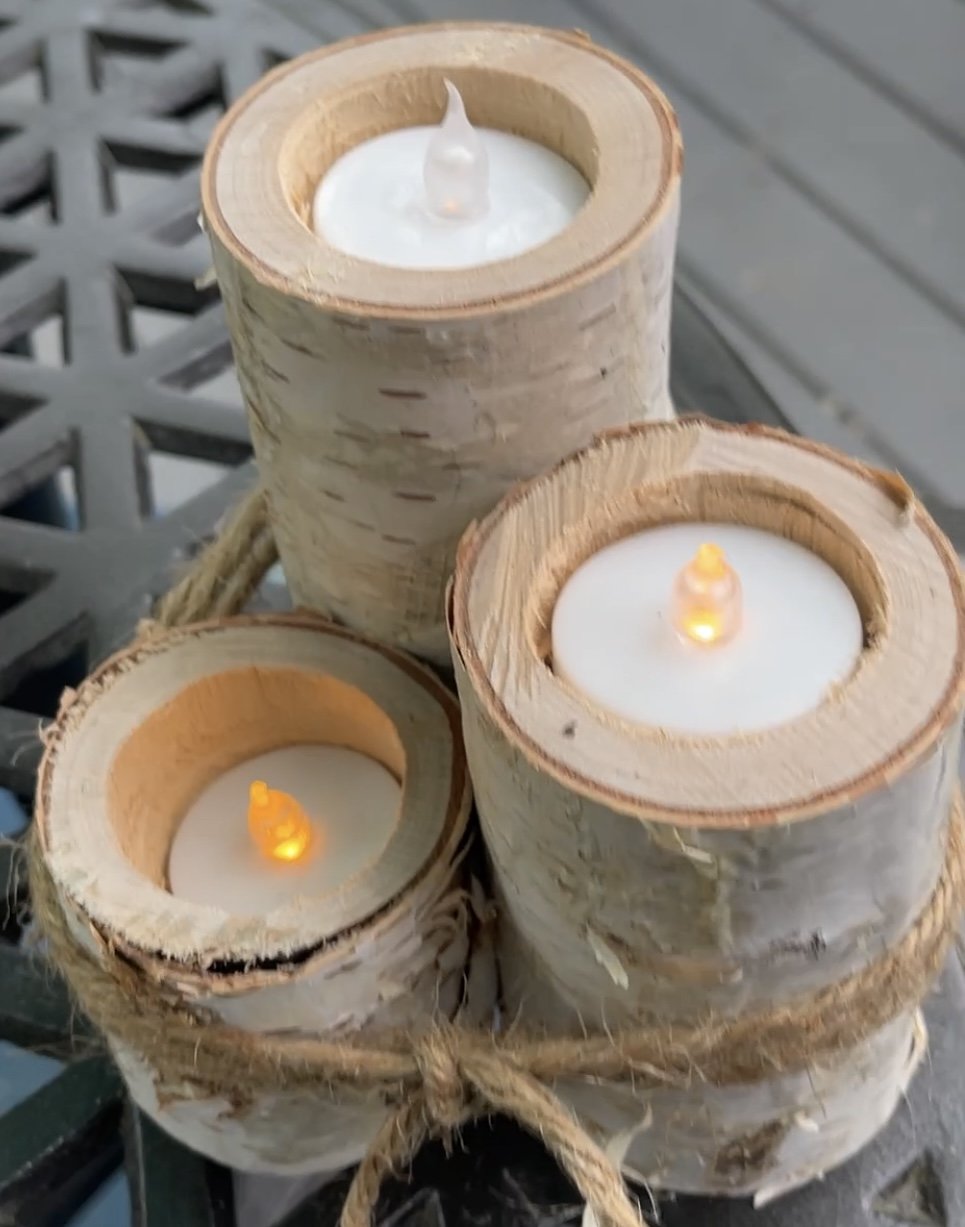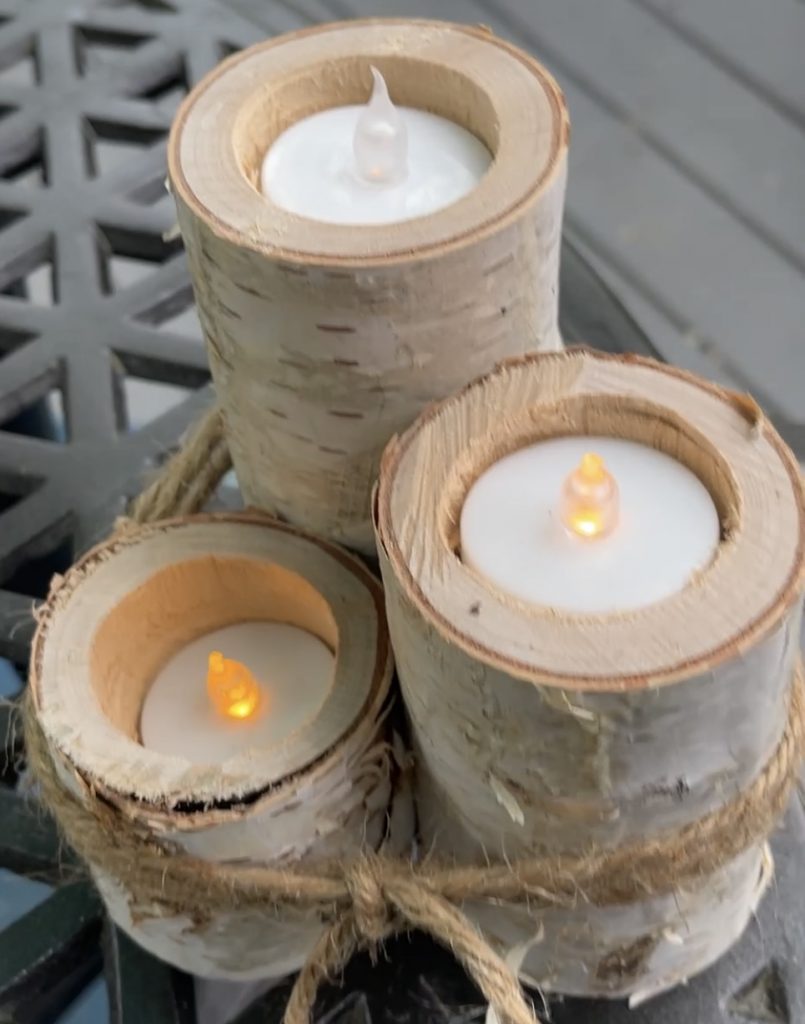 These are so easy and inexpensive to make. What a great centerpiece at a wedding or rustic party, make them any height you want.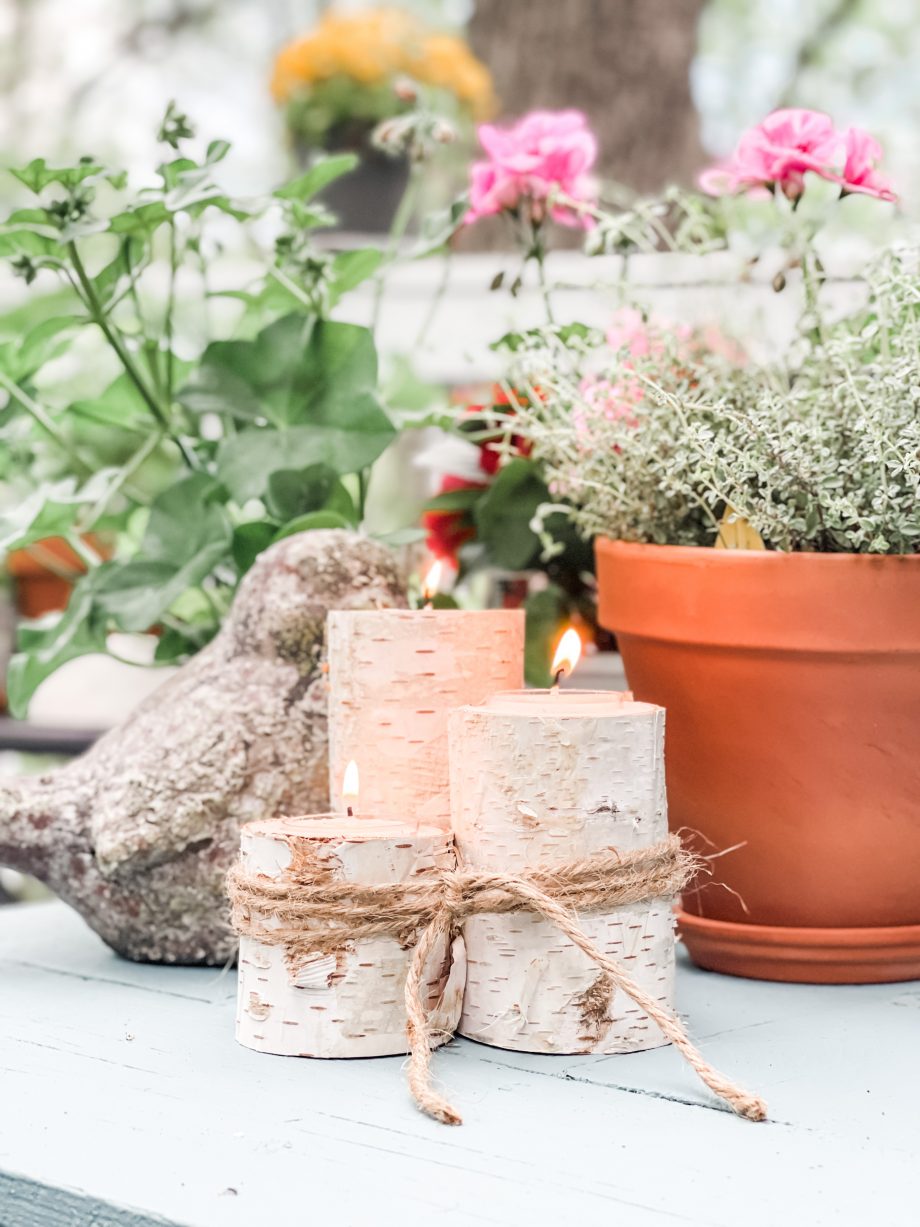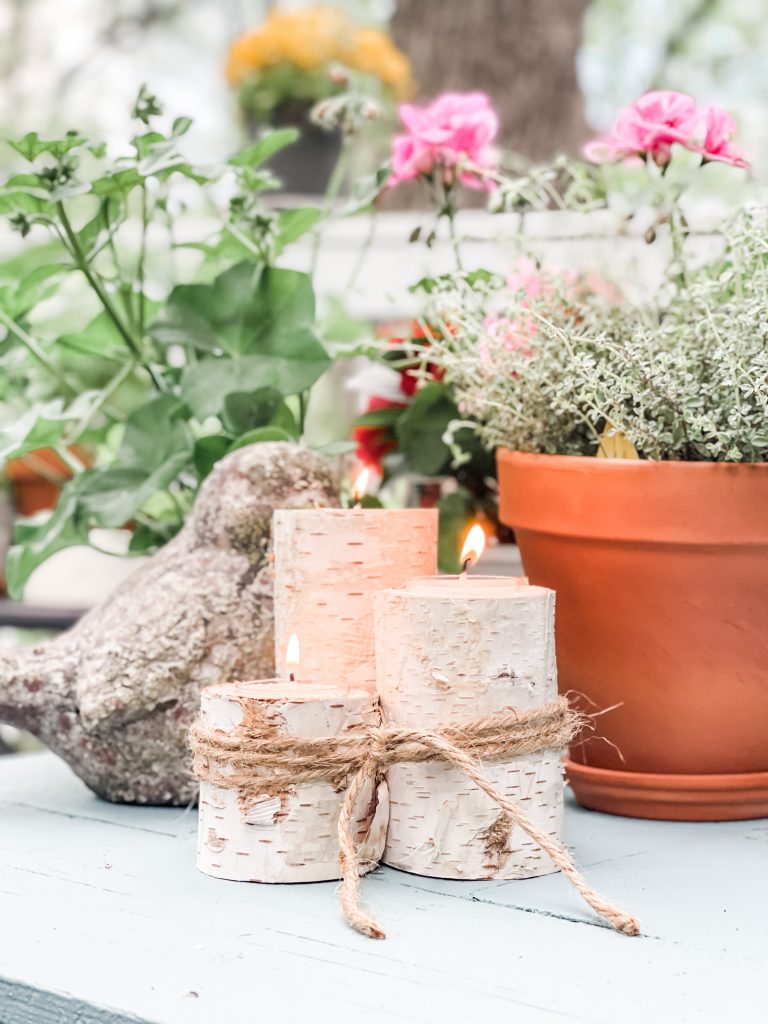 I hope you enjoyed these. What a cute gift for a summer time get together. There are citronella votives you could add as well. These work well inside too.
Thanks so much for stopping by. I've missed sharing projects! Now that the 6 yards of mulch are spread and the plants I said I wouldn't buy this year are planted…it's time to get creating again!
We are in the midst of a front porch remodel, with new railings, custom designed posts and more. I can't wait to share it with you.
XO, Regina
As an Amazon Affiliate, I receive a small commission if you purchase from the links provided at no additional cost to you.
BIRCH WOOD CANDLE HOLDER SHOPPING LIST