Are you looking for a sweet and simple gift idea this season?
I'm sharing homemade sugar scrubs perfect for holiday gifting.
I'm Regina and I welcome you to Saved From Salvage.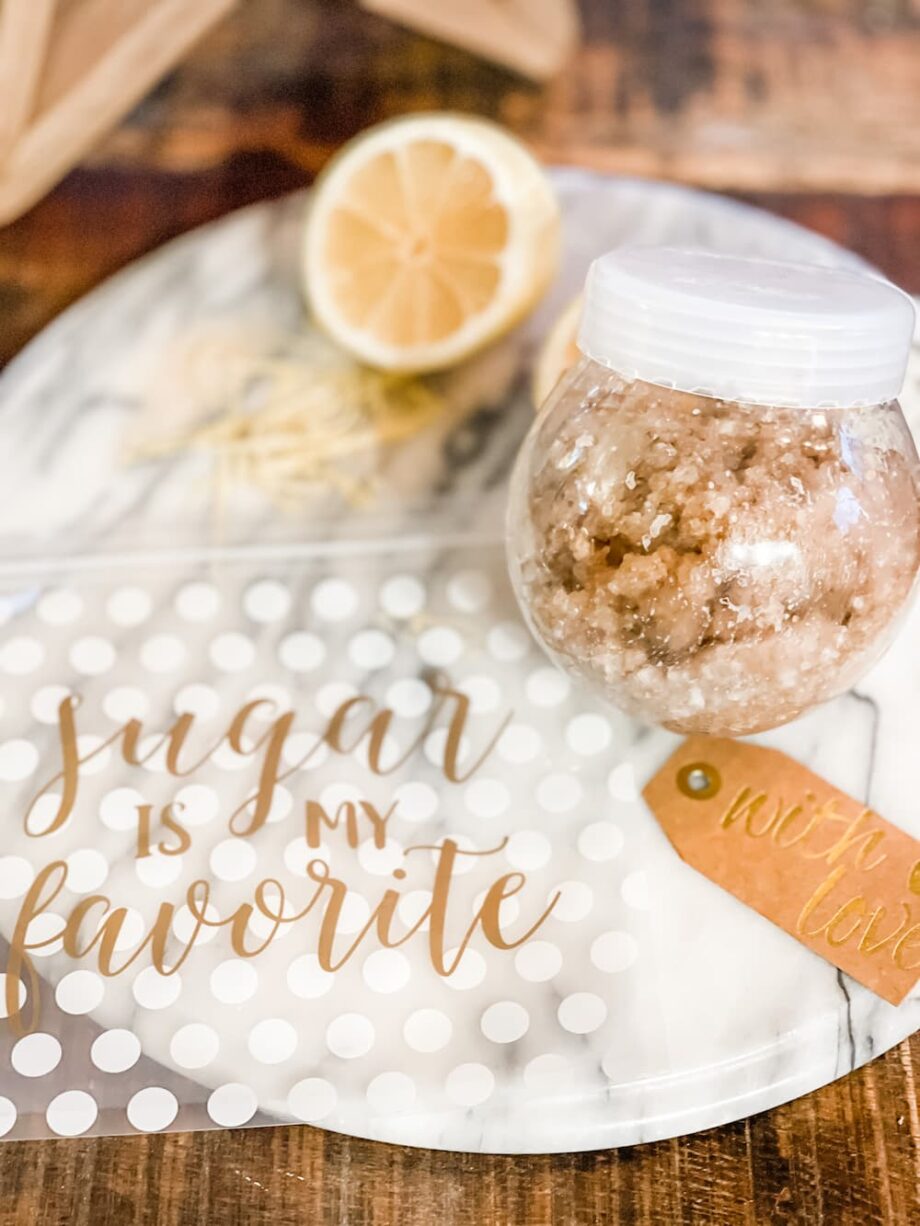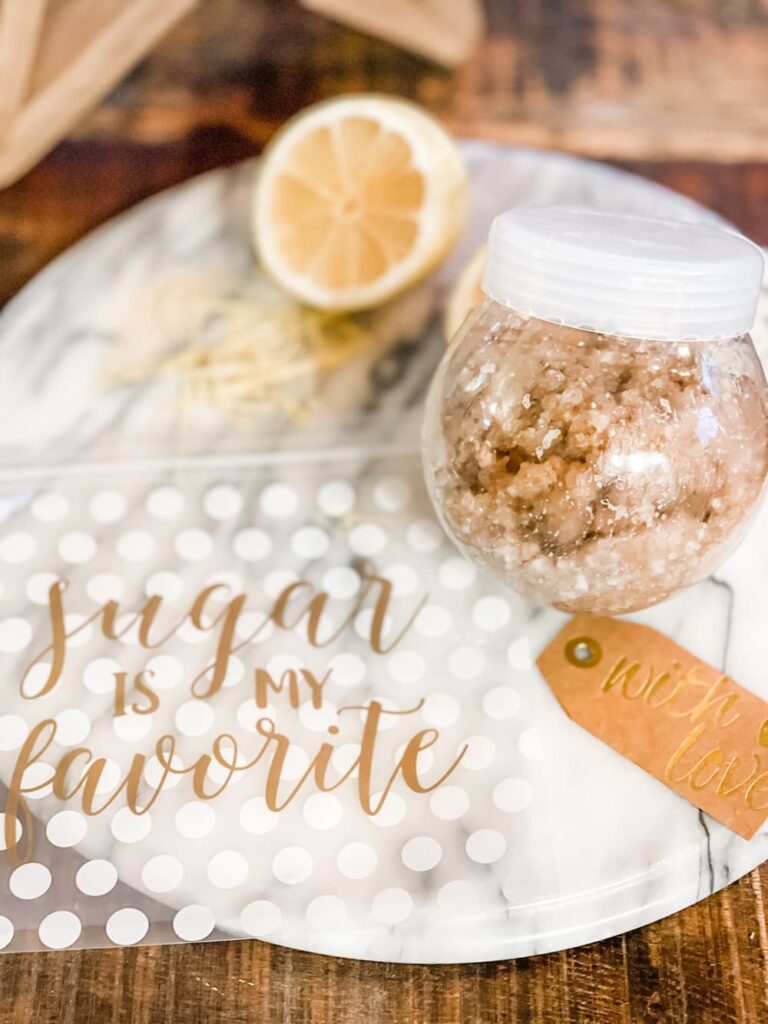 HAPPINESS IS HANDMADE
I have always loved giving homemade gifts. It makes sense that I ended up being a DIY blogger!
Speaking of bloggers, I've joined up with three blogger friends to showcase a different handmade holiday gift for the next 3 weeks. Do the math, that's 4 weeks of ideas from 4 of us. 16 ideas to make yourself!
Taking time to craft something for those I care about brings me joy.
These scrubs can be made in a very short time, less than 30 minutes.
The other thing I love about homemade or any gift, is the presentation and wrapping.
There are so many fun and creative ways to prepare your gift for giving.
SUGAR SCRUBS TAKE ONE
The first homemade scrub I am sharing is lemon.
Lemon is an uplifting and joyful scent.
All of the scrubs are made from the same base of Turbinado Sugar and Coconut Oil.
I like the Turbinado because it is more course and is a better exfoliant.
The only thing that changes between the scrubs is the scent which is always from essential oils.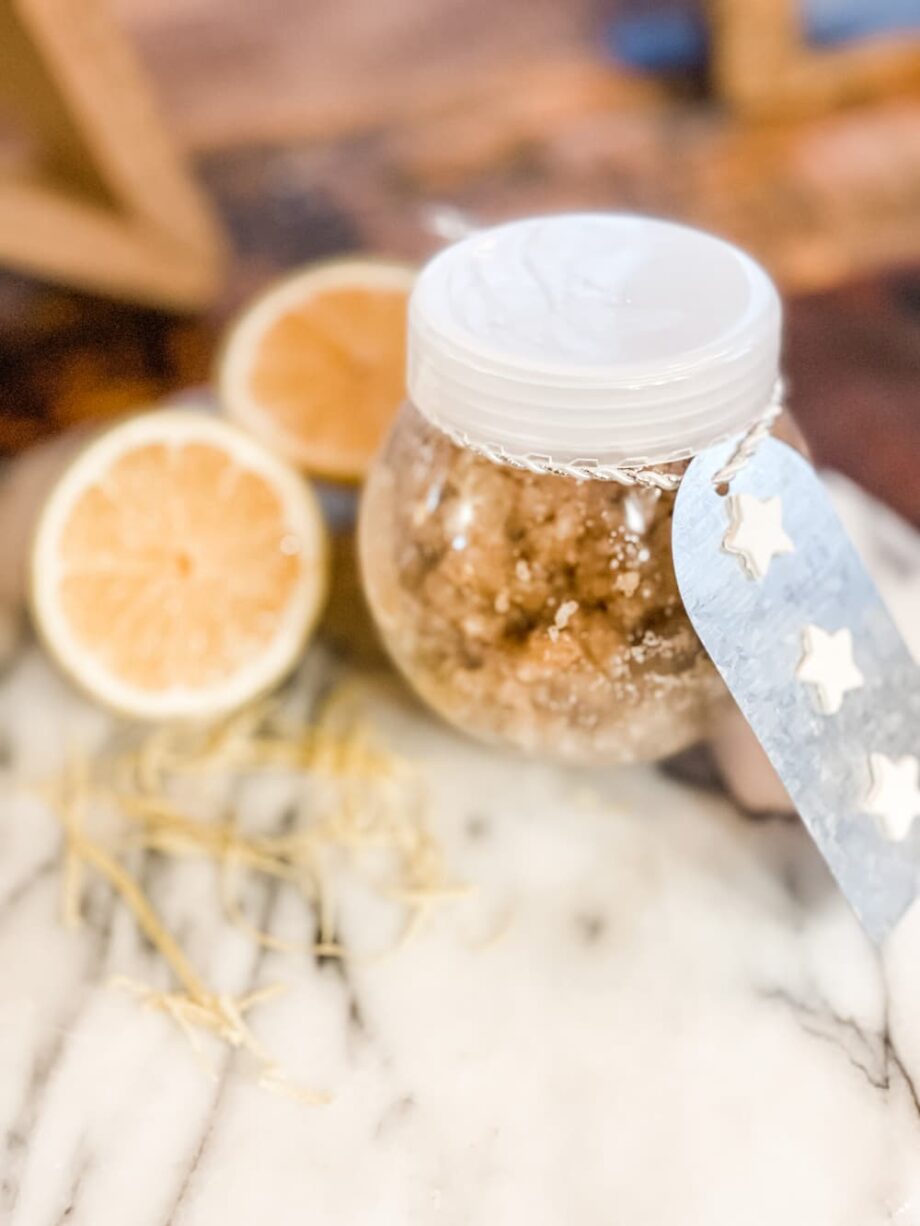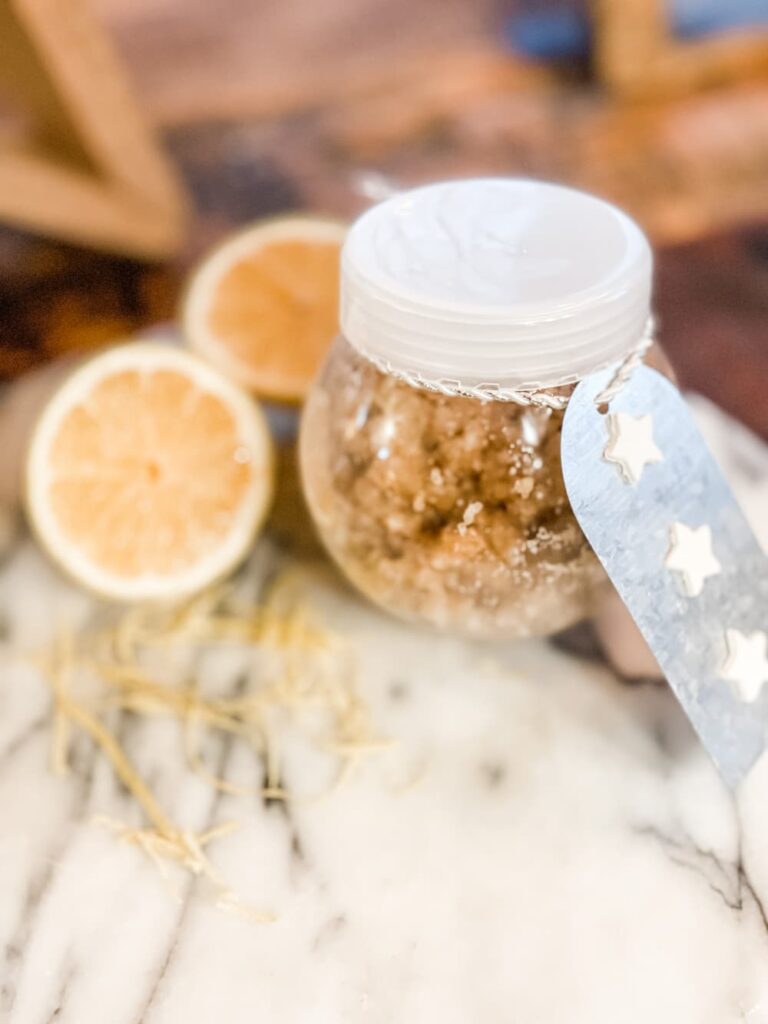 LEMON SUGAR SCRUB RECIPE
1 CUP OF COCONUT OIL (RIGHT FROM CONTAINER)
1/2 CUP OF TURBINADO SUGAR OR GRANULATED SUGAR
2-3 DROPS LEMONGRASS ESSENTIAL OIL
1/2 TABLESPOON OF LEMON ZEST
DIRECTIONS: MIX ALL INGREDIENTS TOGETHER AND PUT IN AN AIRTIGHT NON BREAKABLE CONTAINER.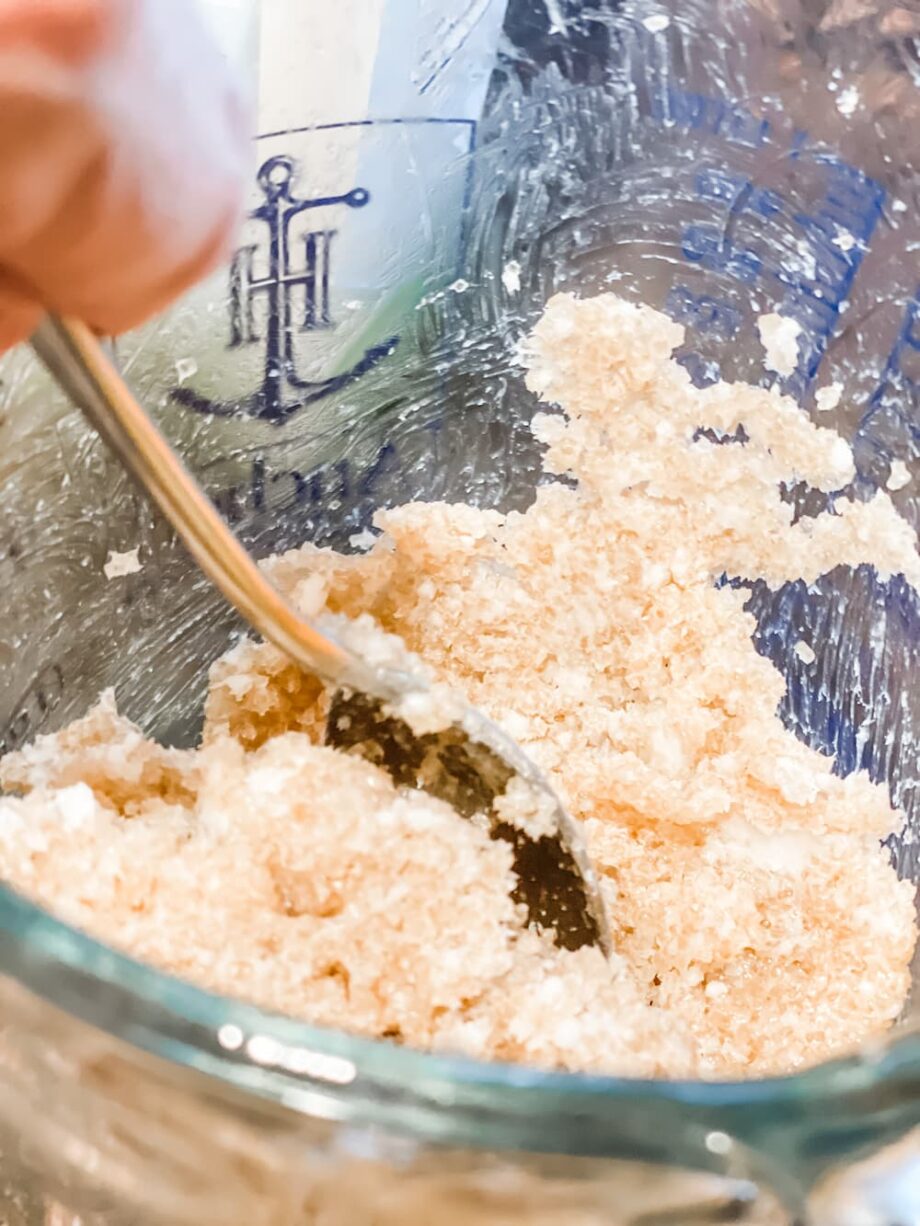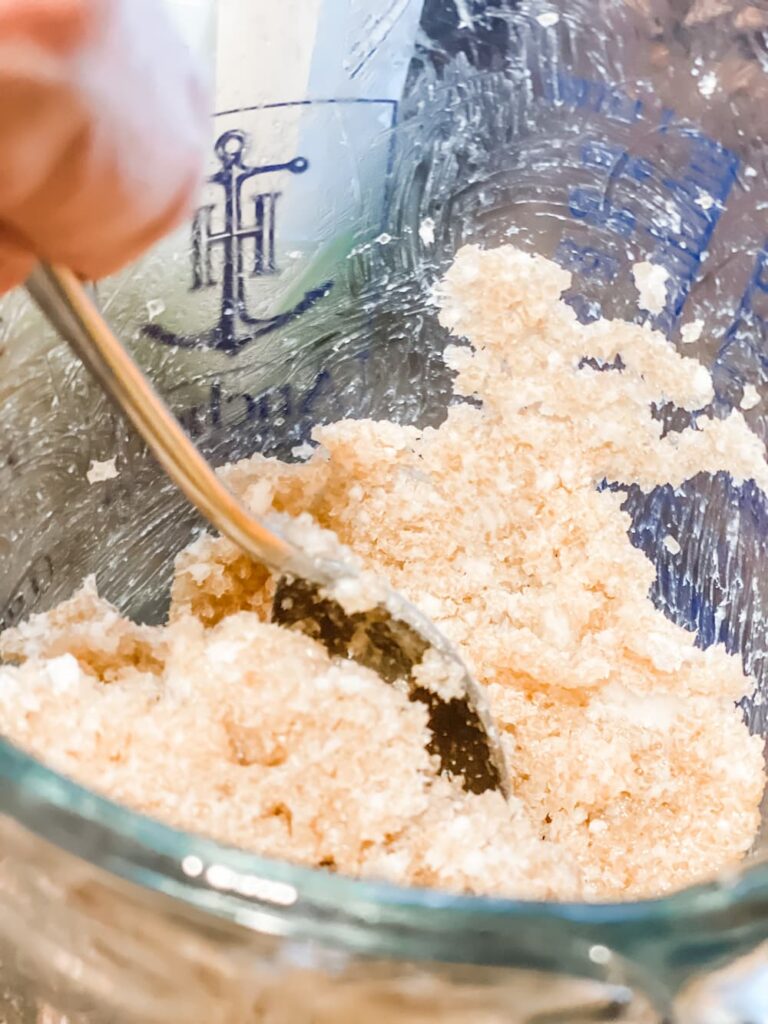 HOMEMADE SUGAR SCRUB TAKE TWO
This next scrub is another favorite. Lavender.
I'm one to always add Epsom Salts to my baths, there is a Dr.Teal's product with Lavender included.
It smells divine. A beautiful calming scent.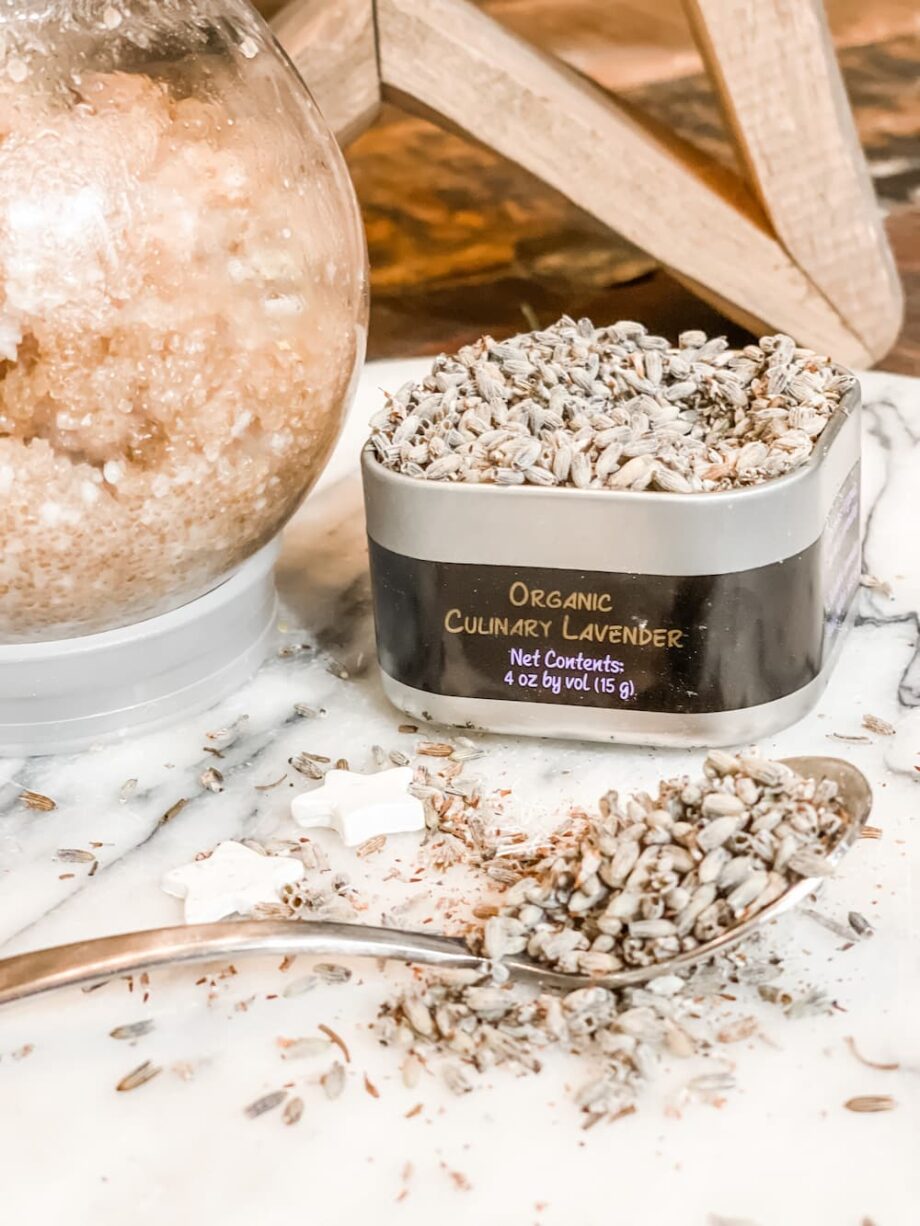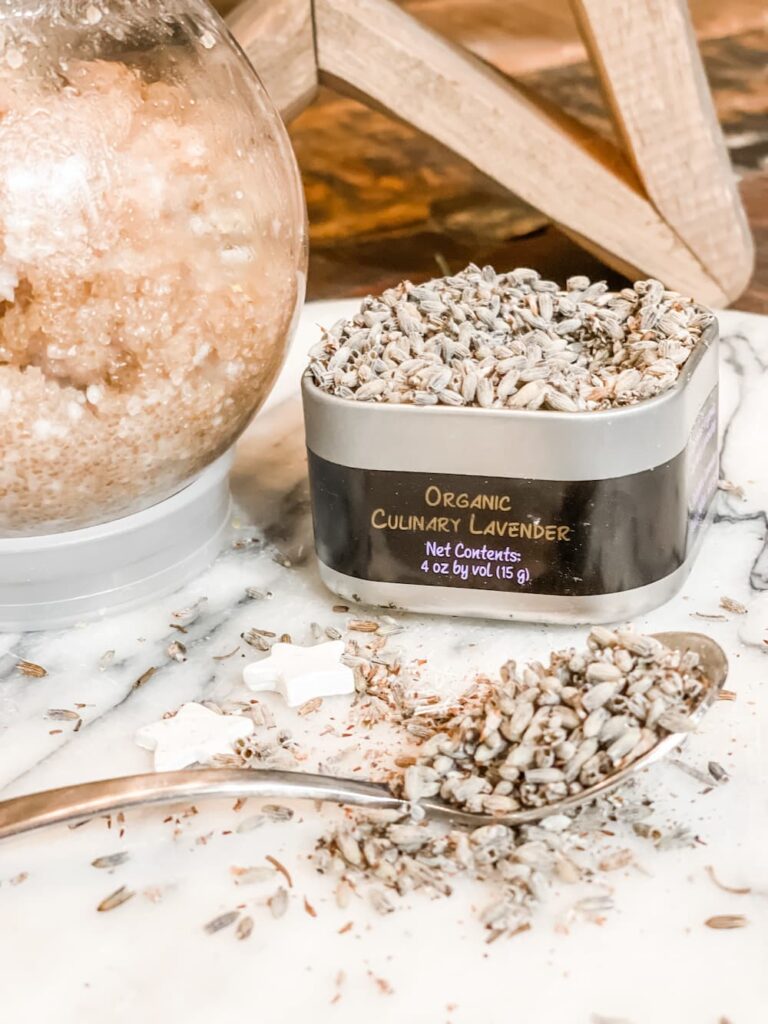 LAVENDER SUGAR SCRUB RECIPE
1 CUP COCONUT OIL
1/2 CUP TURINADO SUGAR OR GRANULATED SUGAR
1 TABLESPOON OF LAVENDER BUDS
2-3 DROPS OF LAVENDER ESSENTIAL OIL
MIX TOGETHER AND PUT IN AN AIRTIGHT UNBREAKABLE CONTAINER
HOMEMADE SUGAR SCRUB TAKE THREE
Do you take baths to relax? Wake up? Or get energized?
If you are looking for an invigorating scent, the eucalyptus scrub is for you.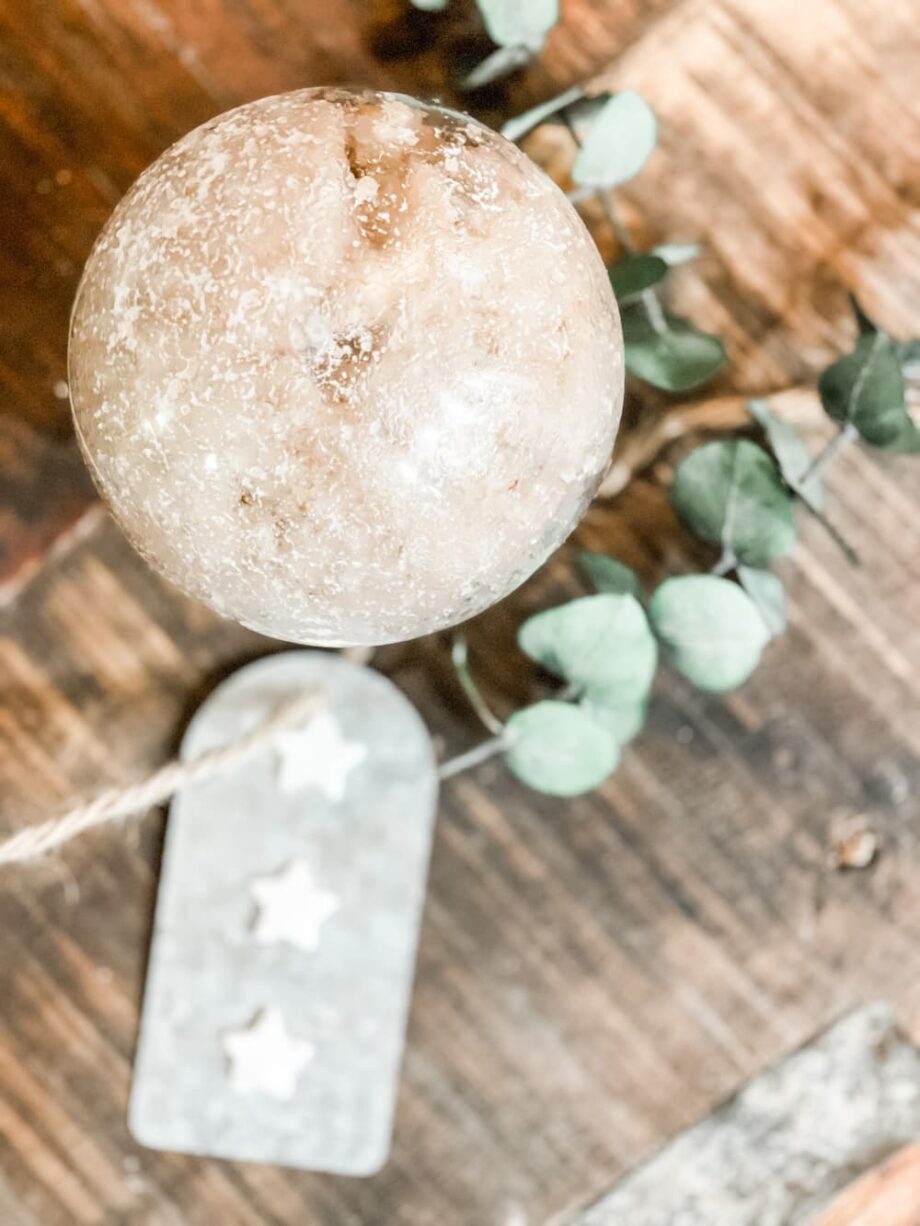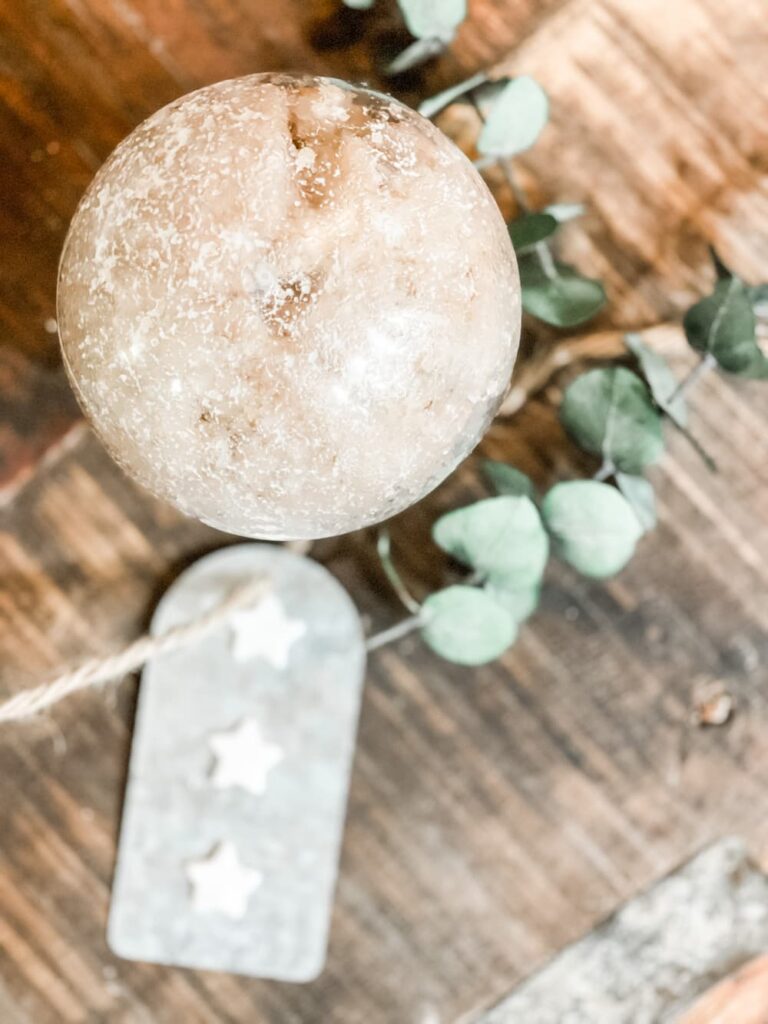 EUCALYPTUS SUGAR SCRUB RECIPE
1 CUP COCONUT OIL
1/2 CUP OF TURBINADO SUGAR OR GRANULATED SUGAR
2 DROPS OF EUCALYPTUS ESSENTIAL OIL
MIX AND PLACE IN AN AIRTIGHT, UNBREAKABLE CONTAINER.
SUGAR SCRUB SUPPLIES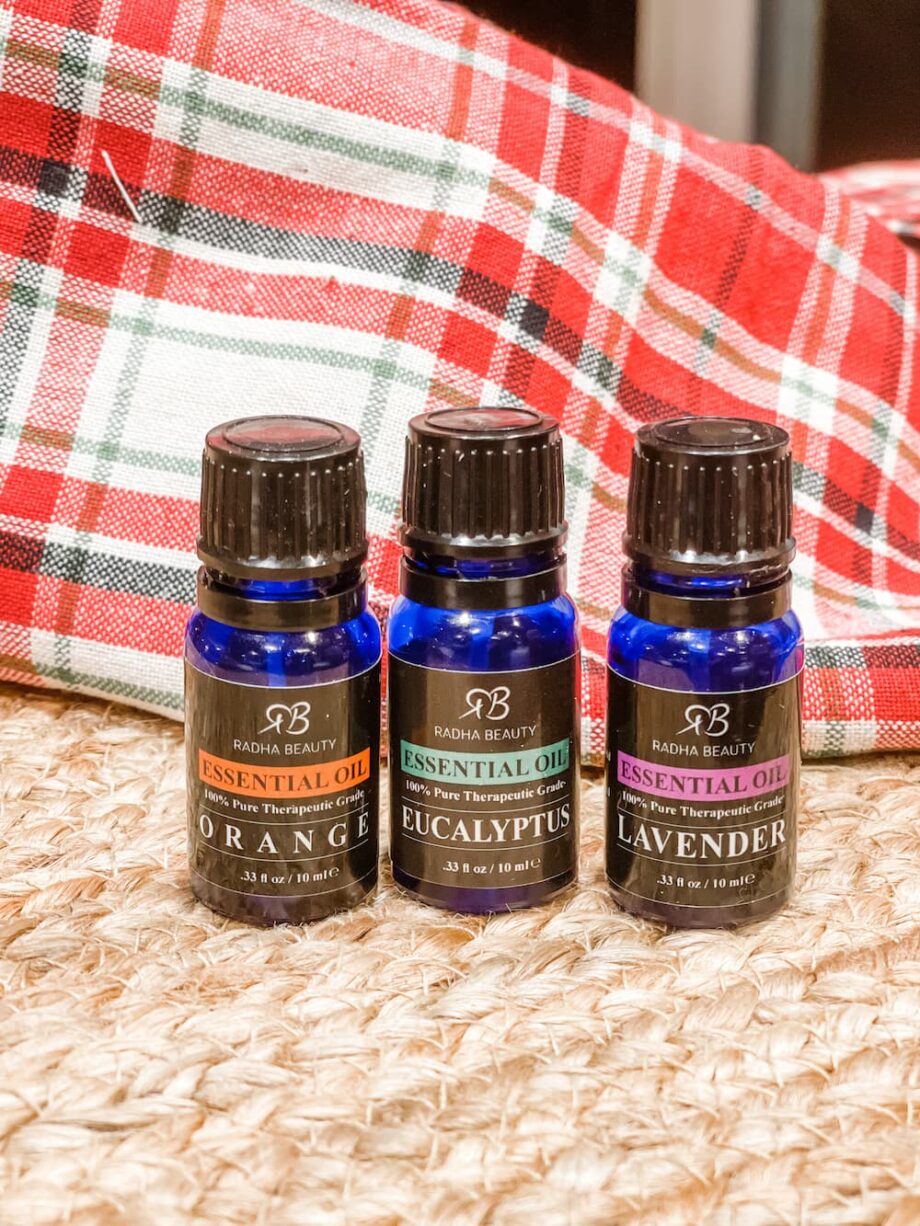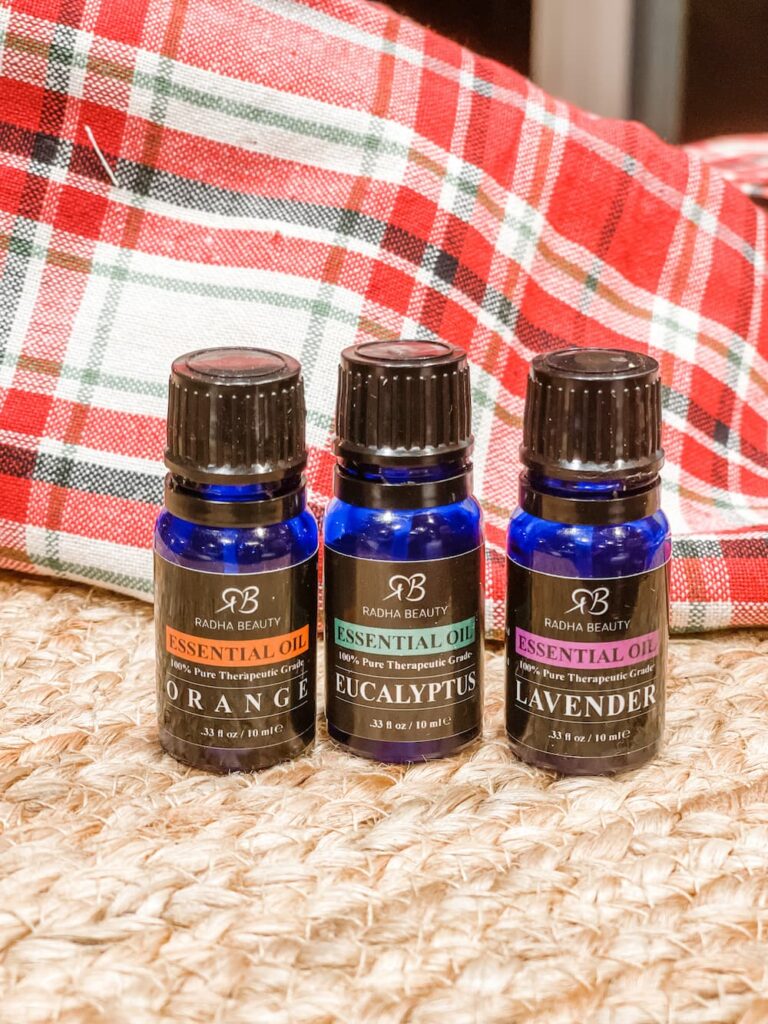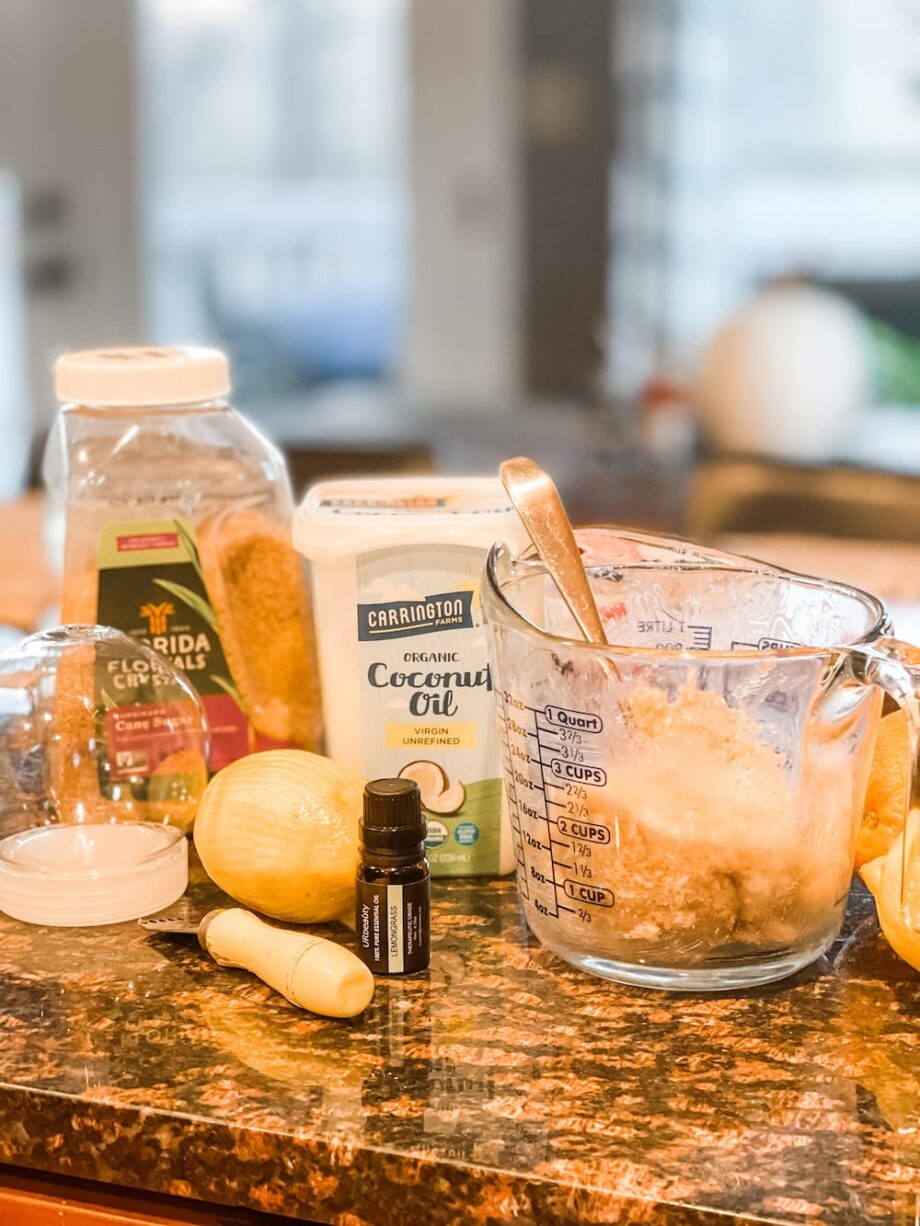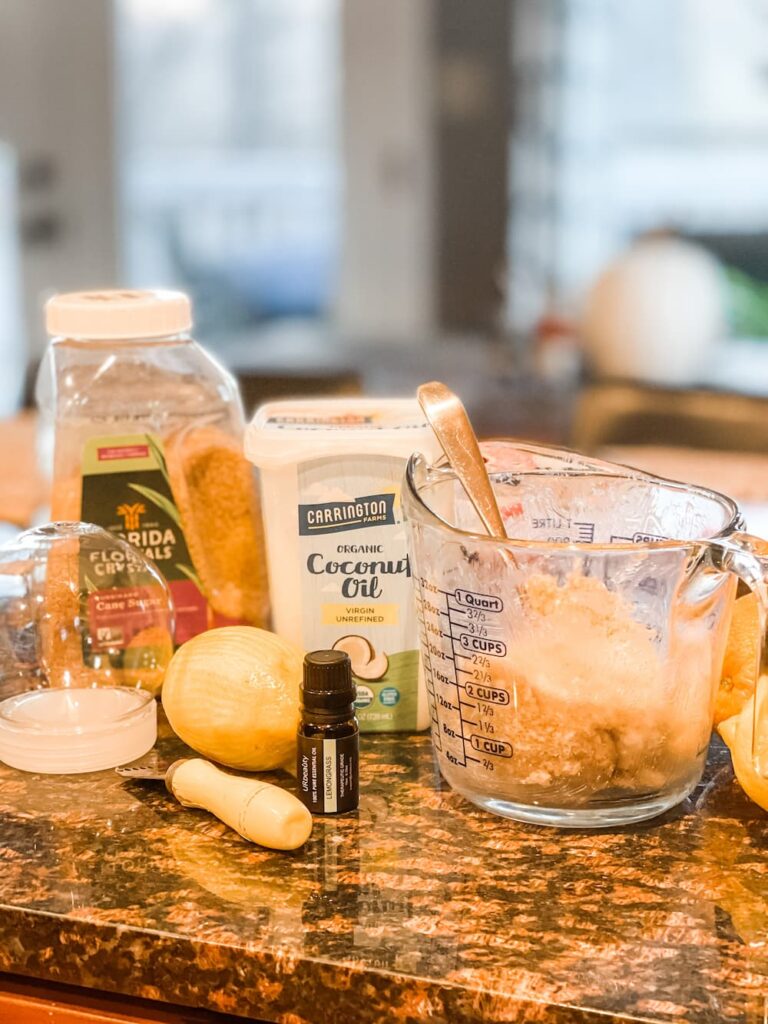 DIY Snow Globe. I found some at the Dollar Tree for $1.25 and some at Walmart for $.98.
They have an insert so that you could actually fill them with water as a snow globe.
But I like that it's plastic, shatterproof and is safer to sit on the lid near the tub.
Reminder – These are to be used in the tub, not shower because of the risk of slipping from the oil.
If you don't want to miss the next 3 weeks of HANDMADE GIFT SERIES, make sure you subscribe below.
I'm working hard on mine but thankfully I have a cute little elf helping out too.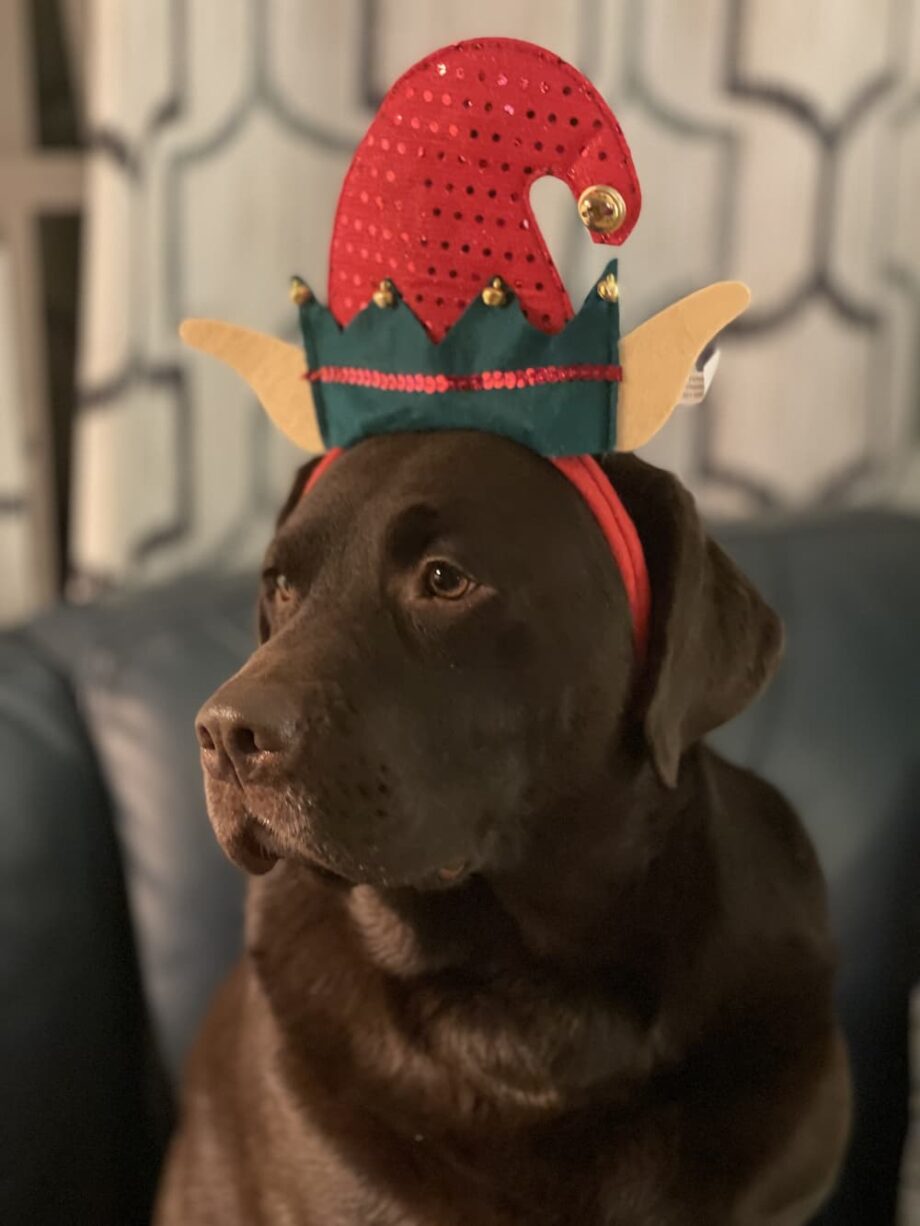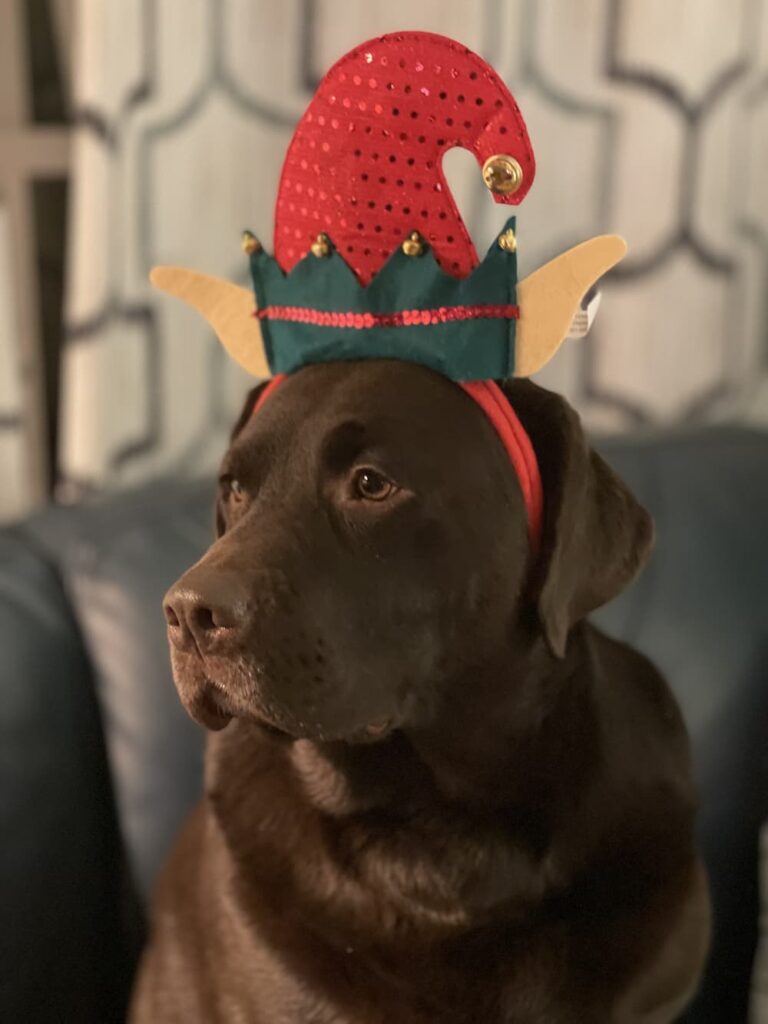 I'm thrilled to be part of this fun hop where Jennifer, Amy, Wendy and I all share our favorite handmade gifts with you. Below you will find pictures of their gifts and a link to read all the details!
Welcome to the HandmadeGift Series from the four of us!
We are happy to be bringing you a handmade gift idea for the following three Wednesdays!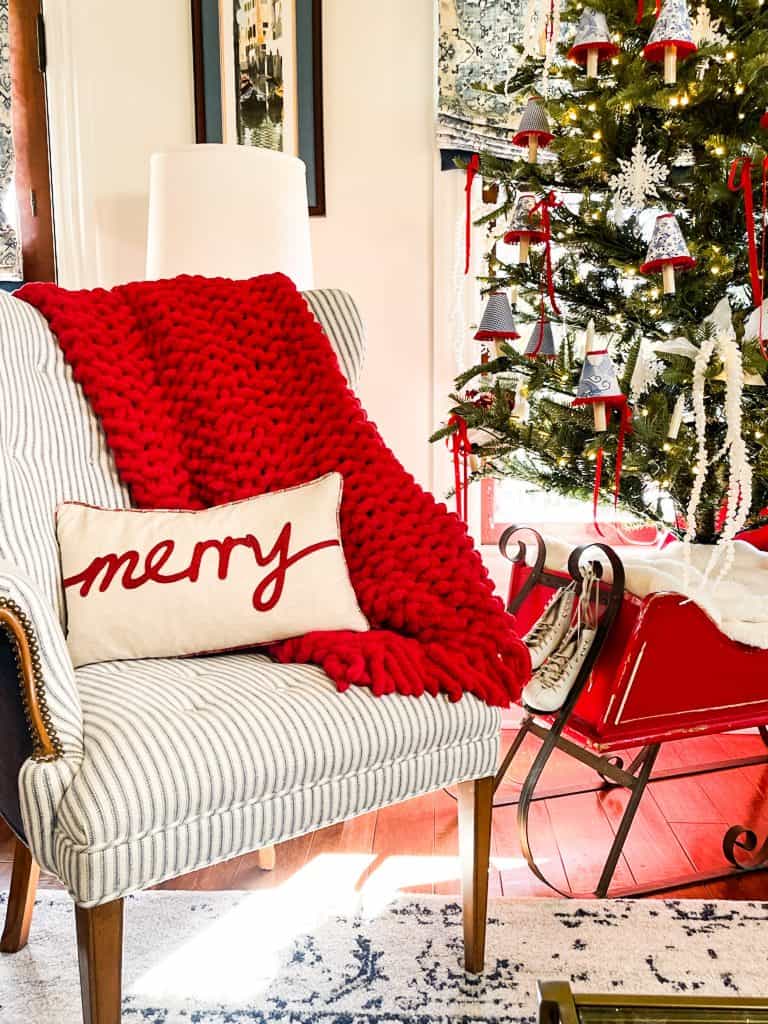 See you next week for another easy and personal gift idea to create. You don't have to gift these, but if you are looking for a fun holiday craft, click here.
Until then,
XO, Regina
I am providing links below for your convenience. If you purchase from these links, I receive a small commission at no additional cost to you. Thanks for supporting my small business.
Let's Go Shopping