Looking for a lovely gift idea? I'm sharing how to make beautiful watercolor notecards perfect for anyone.
It's week 2 of our HANDMADE HOLIDAY GIFT SERIES.
Wendy from WMDesign House, Jennifer from Cottage on Bunker Hill, Amy, from Amy Sadler Designs and I are sharing our second gift idea.
I'm Regina – Welcome to Saved From Salvage.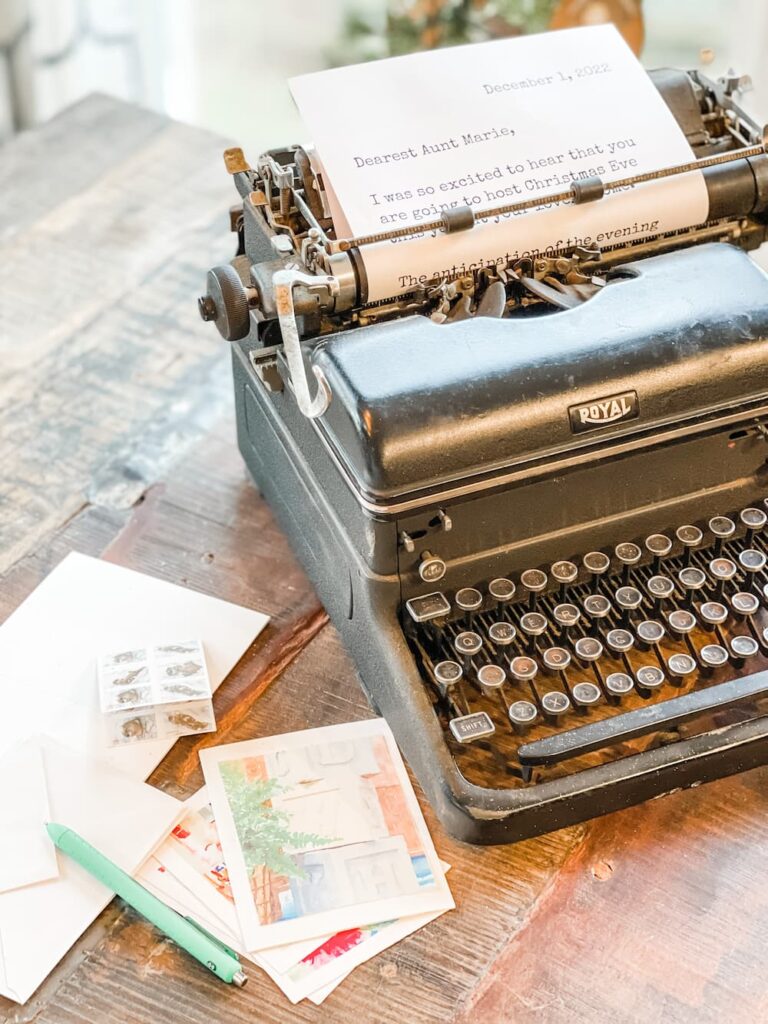 My gift idea this week is creating your own notecards to share.
These watercolor notecards are easy to make and you can let your creativity run wild.
Keeping connected with those we care about is easier than when we had typewriters like this vintage beauty.
I know I'm not alone when I say I love getting hand written notes.
WHERE TO START WITH WATERCOLOR NOTECARDS
Selecting pictures that you love is the first step.
As a blogger, I take tons of pictures, it's so easy to do with our phones always at arms reach.
Go through your camera roll on your phone and pick out pictures you are drawn to that you think someone
else might enjoy.
Examples:
Flowers
Trees
Plant
Pet
Christmas Tree
Ornaments
Fruits
Candle
Bird
Water
Boat
House
Select a number that you would like to create into cards.
Here is an example of a picture turned into a watercolor.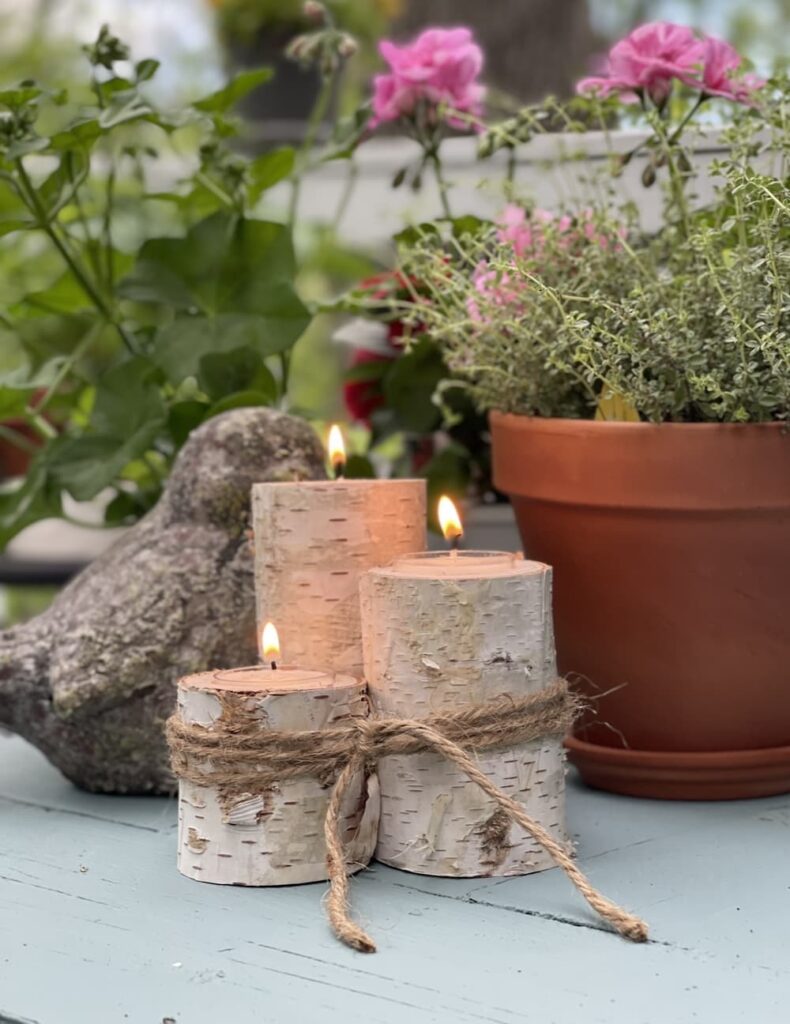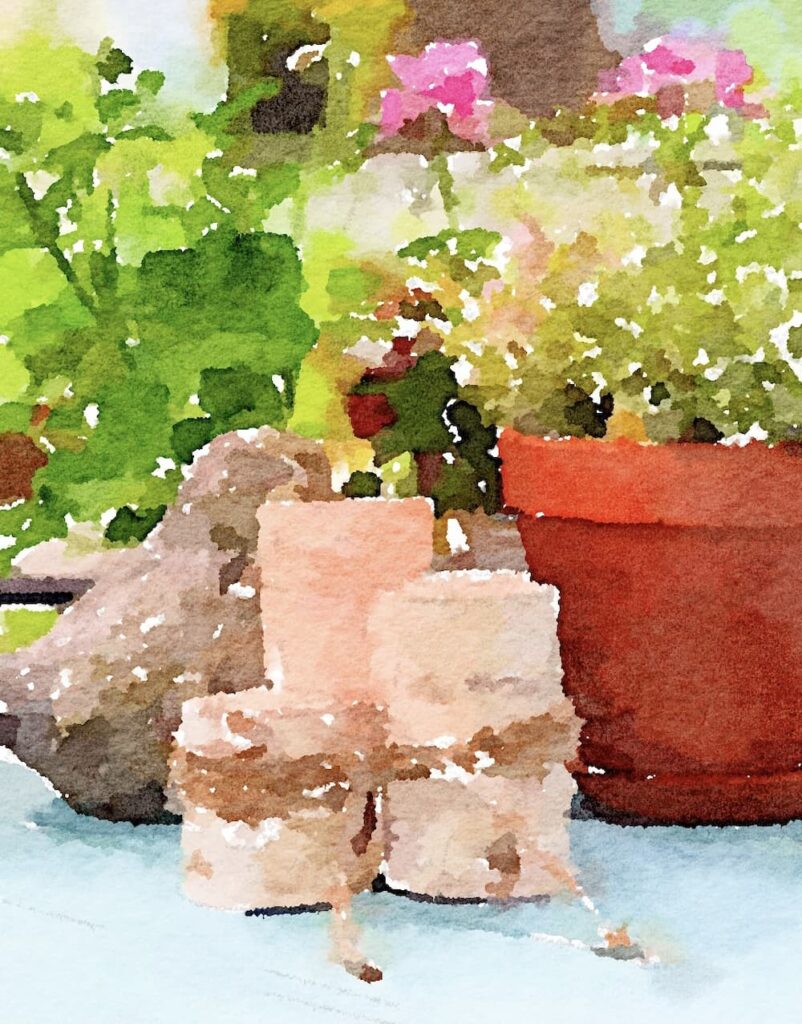 NOTECARD NEXT STEPS
You may want to group types of photos together and gift a set of outdoor images, flowers or holiday pictures.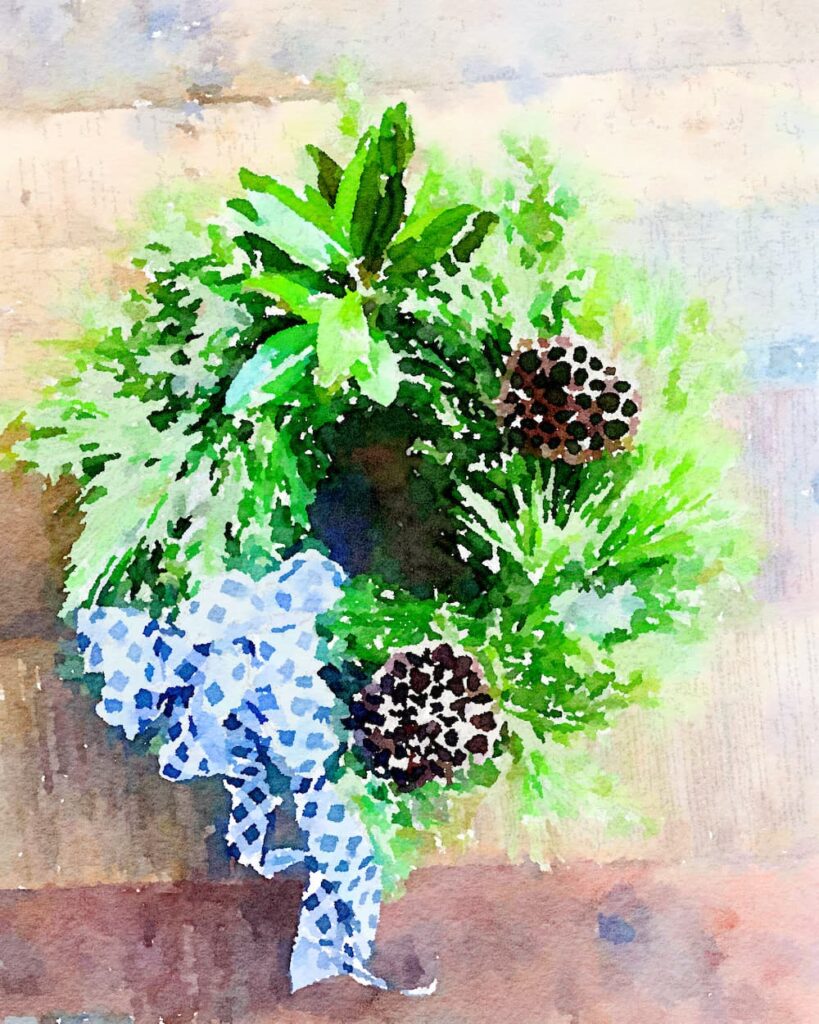 Another idea is to take pictures of the person's home or pets and use those to personalize the notecards.
The next step is to download the Waterlogue App on your phone. It's free and easy to do.
The next thing that you do is to open the app and select your pictures from the camera roll.
TIP: Make sure you have edited or cropped the picture before this step.
After you put the picture through the app, then save it to your camera roll as a watercolor picture.
Below, the first is a picture of the app when you open it, you click on the camera to get the list which you can see in the second photo, that includes the photo library on your phone.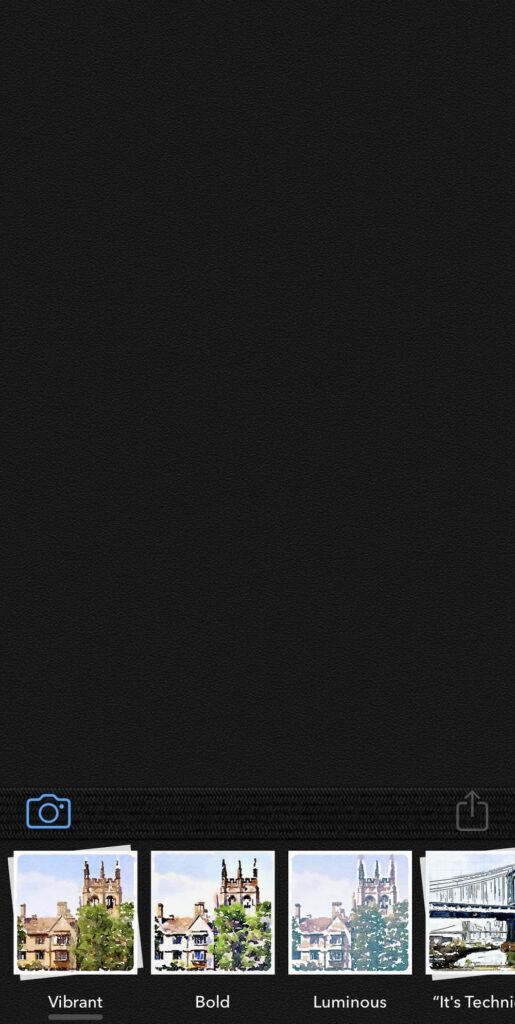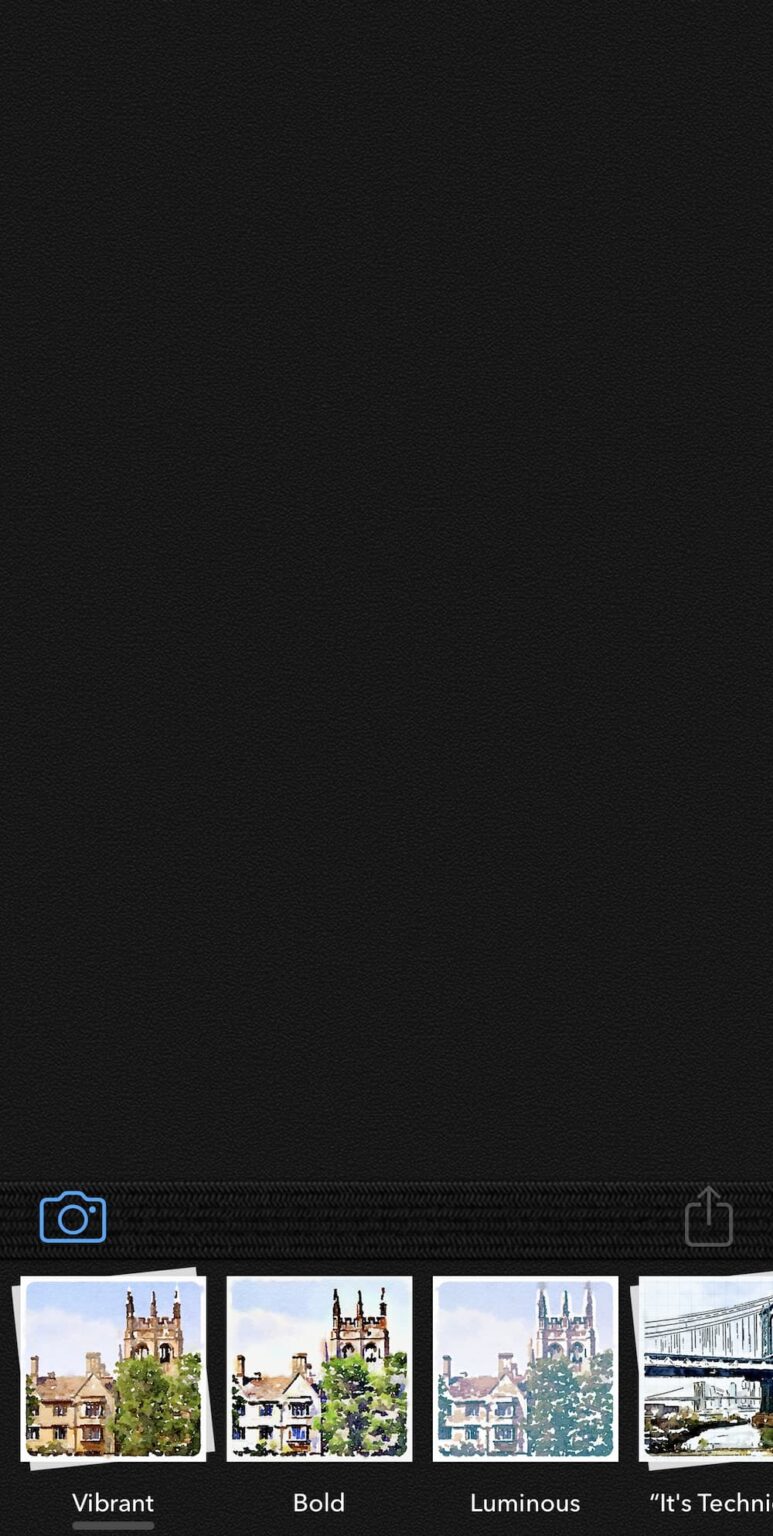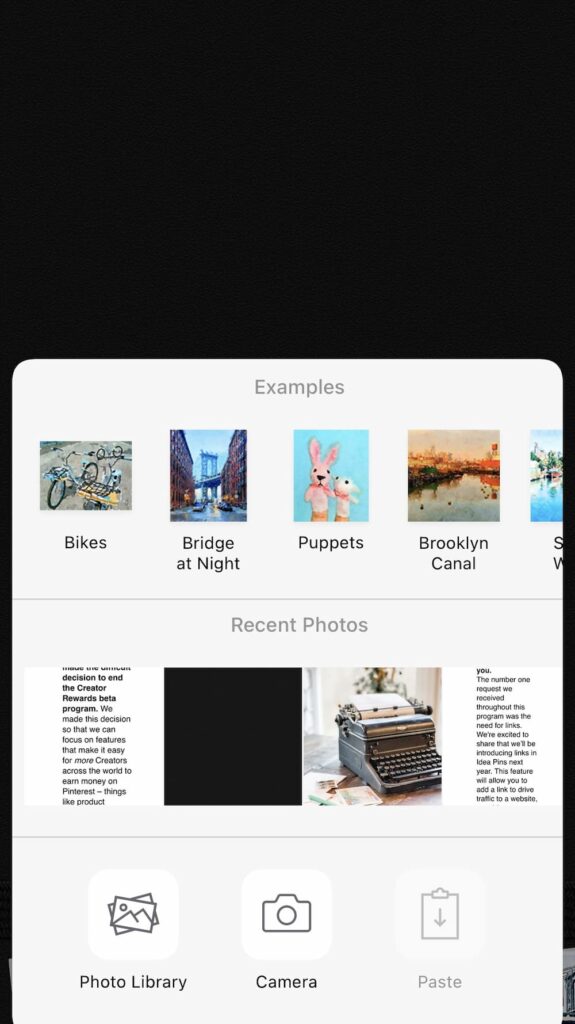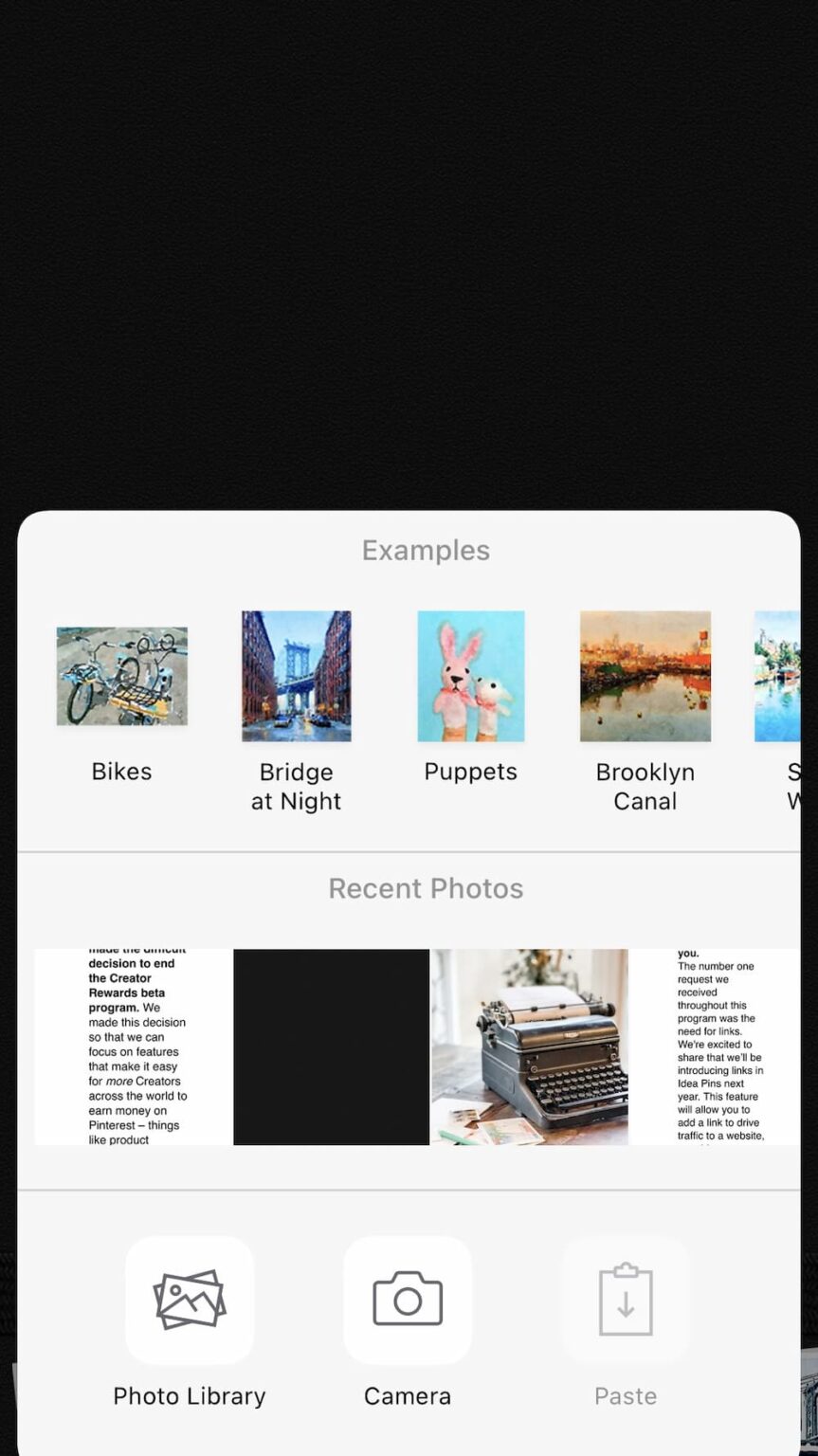 The next picture is a few of the pictures I did recently.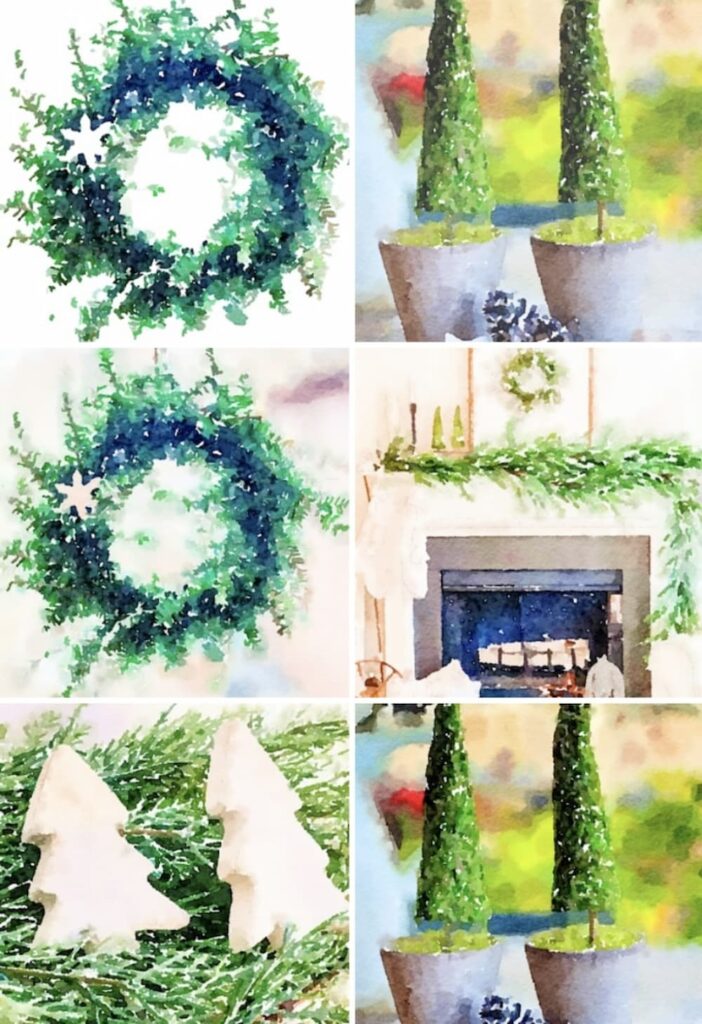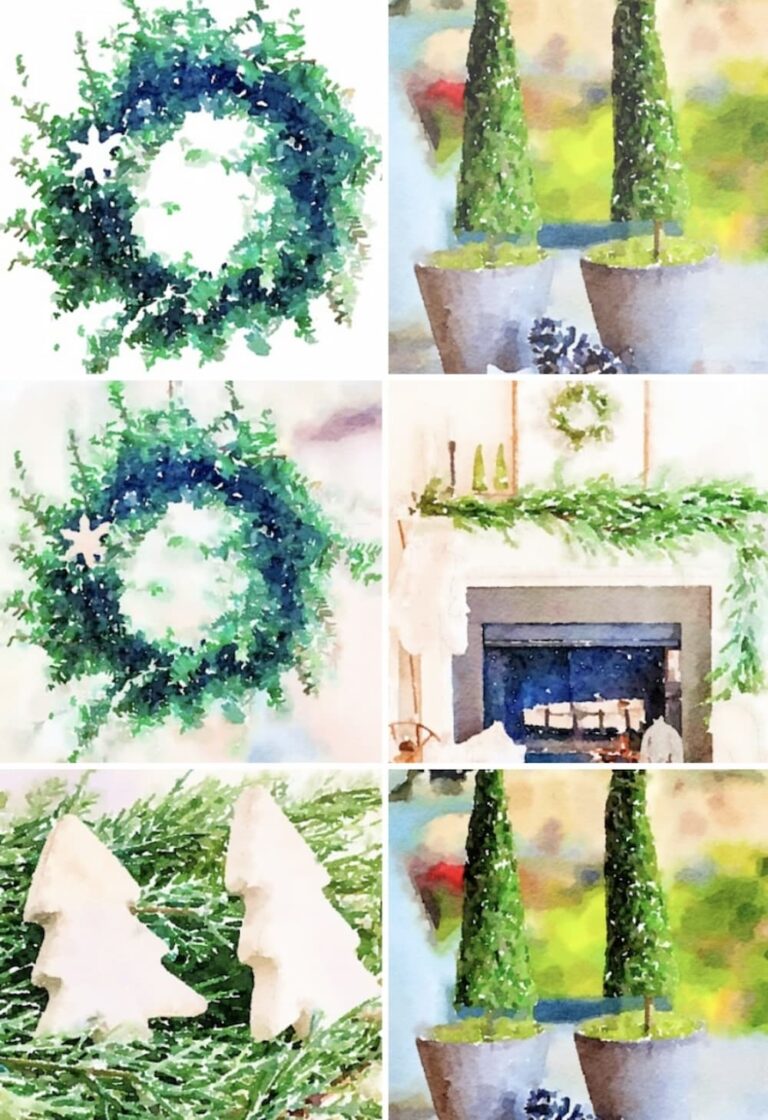 CREATING THE NOTECARD
After you have your pictures saved to your phone, you can email them to yourself or if you have an air printer, you could print them directly from your phone.
The other option is to use another program to make sure they are the size you want and add text if you would like. The one I like is CANVA. There is a free version.
You can purchase envelopes at Michael's, Hobby Lobby, Walmart of Staples.
I recommend using photo paper for a more professional finish.
For the actual card, you can purchase precut and folded cards or you can use plain card stock and create your own.
Just make sure they fit into the envelopes.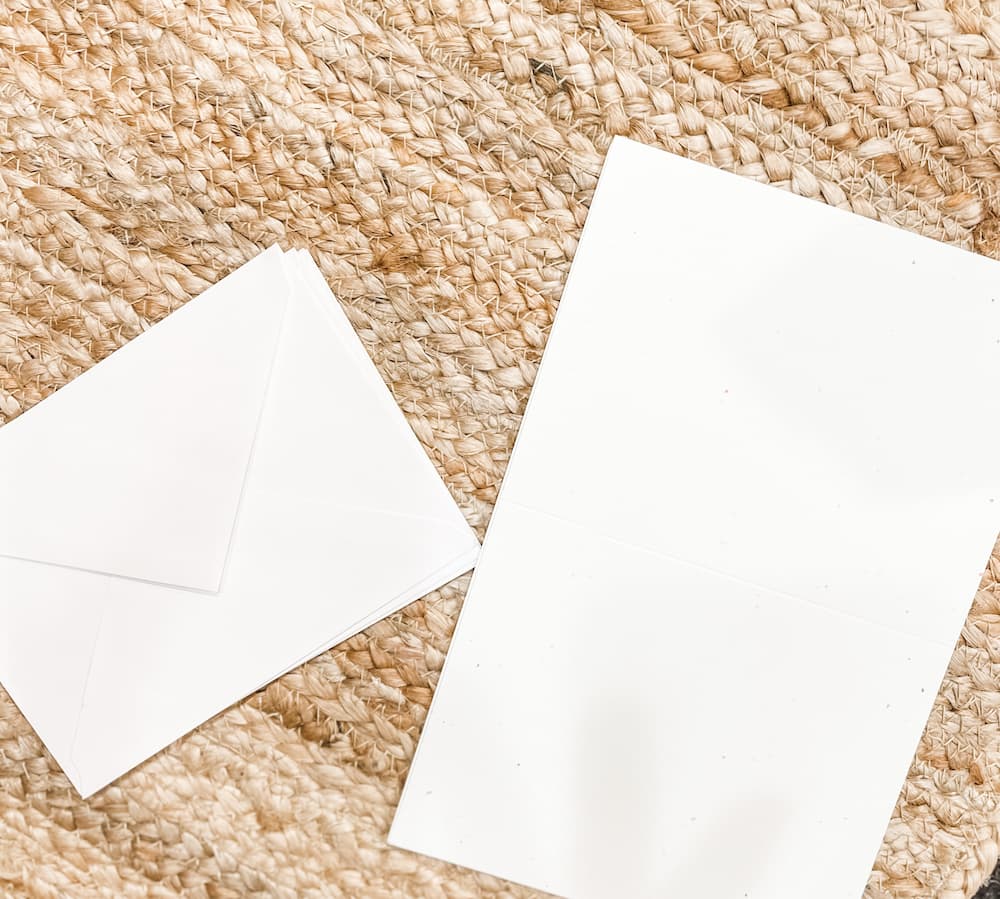 Next you would cut your picture to the size you like.
Cut it a little smaller than the paper or card you are mounting it on so it has a frame.
Use a glue stick or spray adhesive to mount to the card and add an envelope.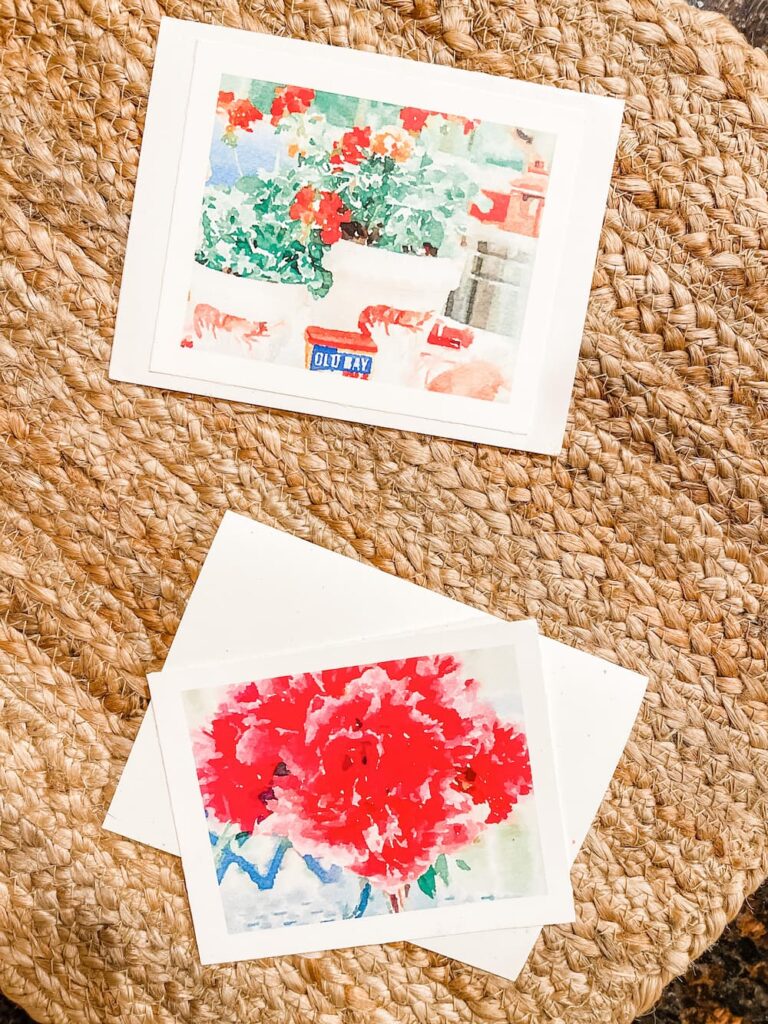 GIFTING THE WATERCOLOR NOTECARDS
To gift the cards, you can bundle 4-6 or more, tie with a ribbon or place in a box.
Ideas to add to the gift could be a nice pen or postage stamps, an address stamp or a stamp and wax seal.
The sky is the limit with your creativity.
FINAL NOTE
This summer I helped to host a baby shower for my niece.
I did lots of the decor.
Before the shower, I took pictures and then created cards for her to use as thank you notes.
They were so personal because they had pictures from the shower.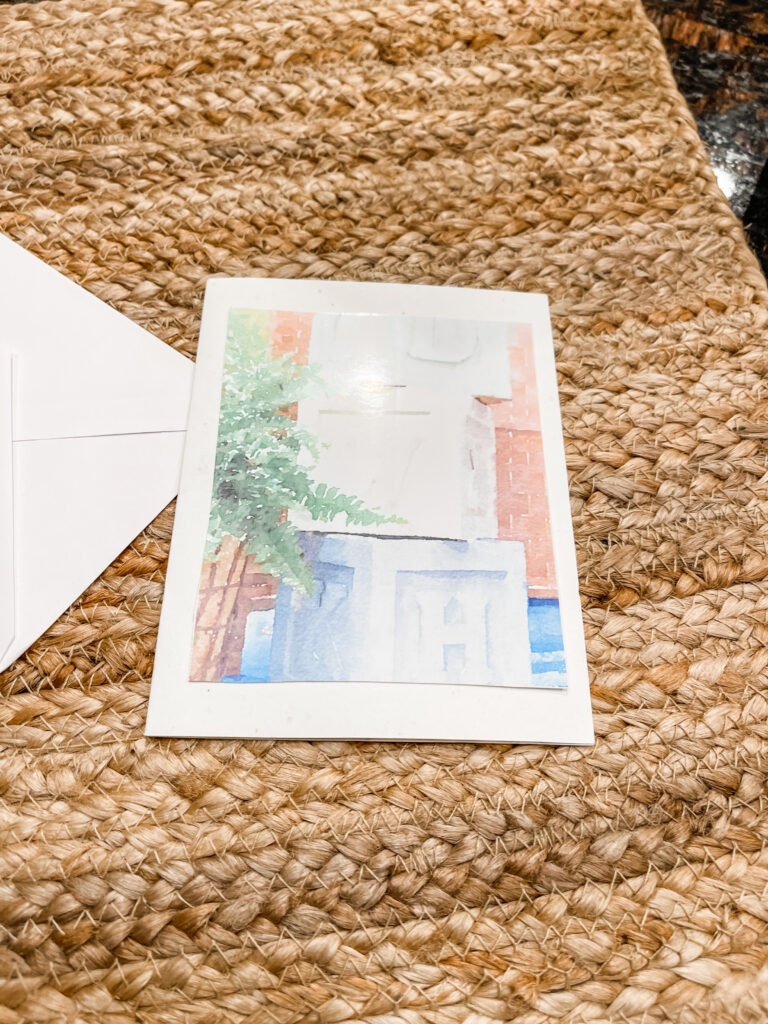 I was tickled to receive one in the mail from her.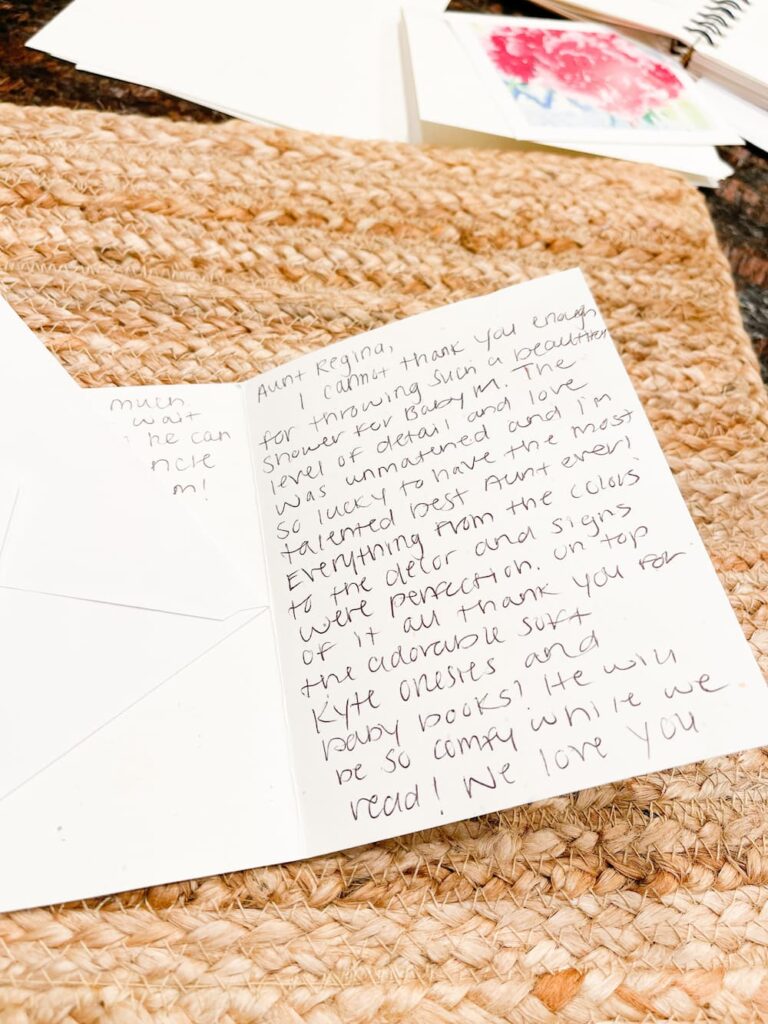 I hope you enjoyed this, make sure to check out what my friends made below.
Mark your calendar to come back next Wednesday for our next gift ideas.
Wendy from WMDesign House is creating wax gift tags.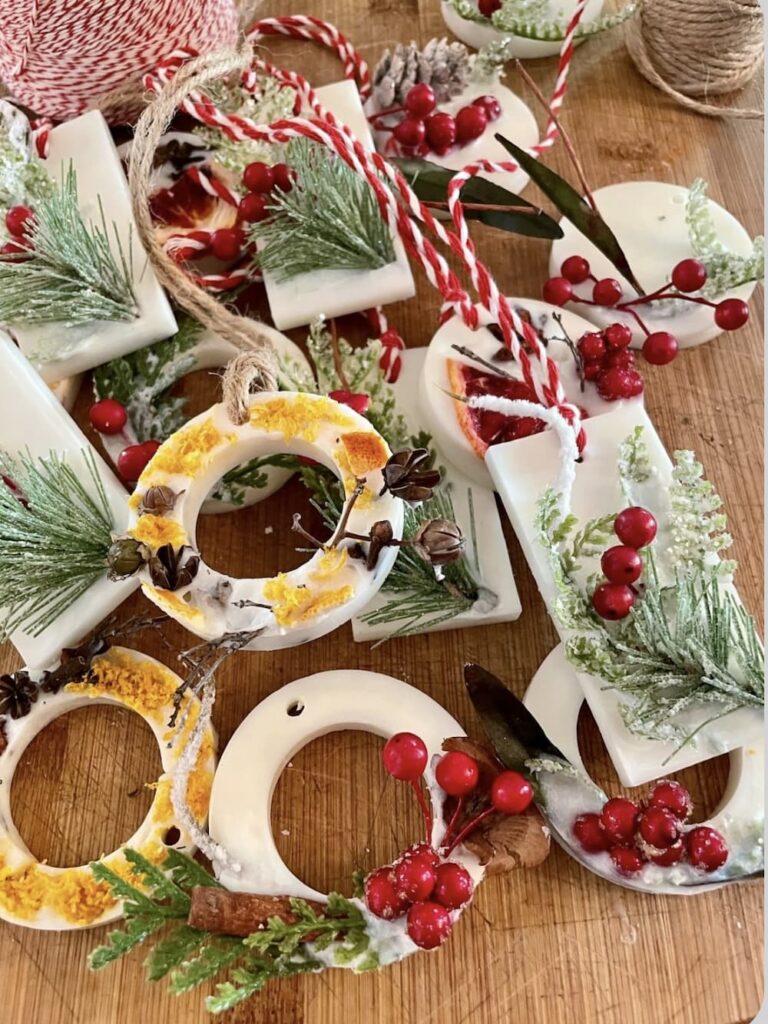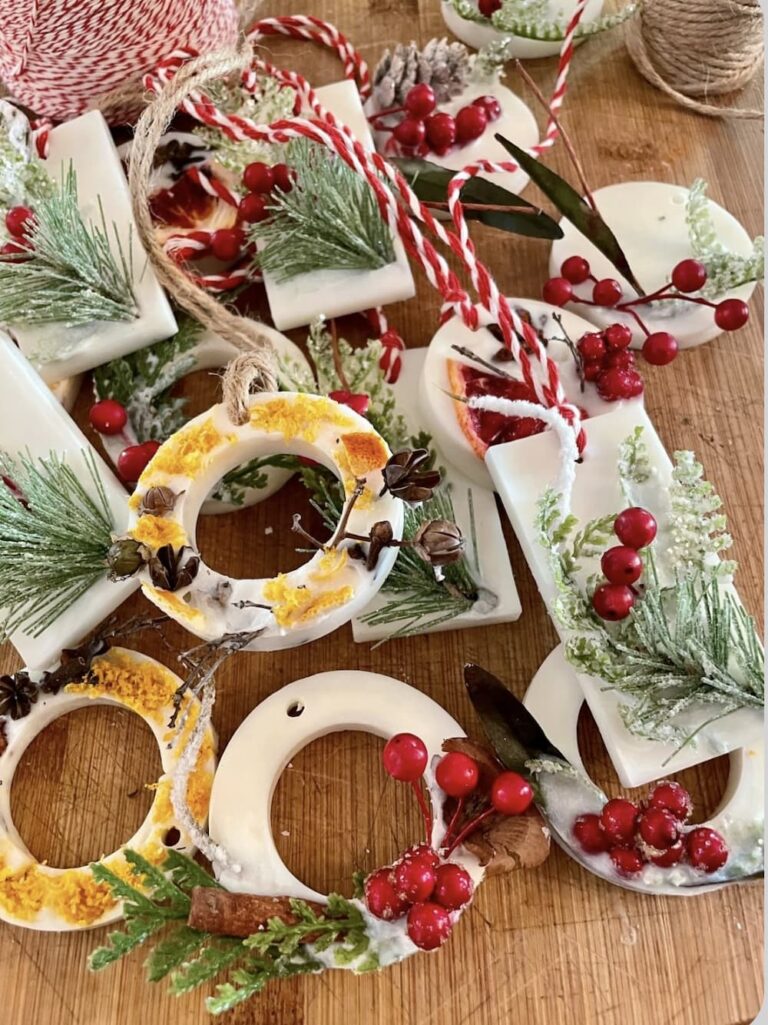 Amy from Amy Sadler Designs is creating easy bath bombs.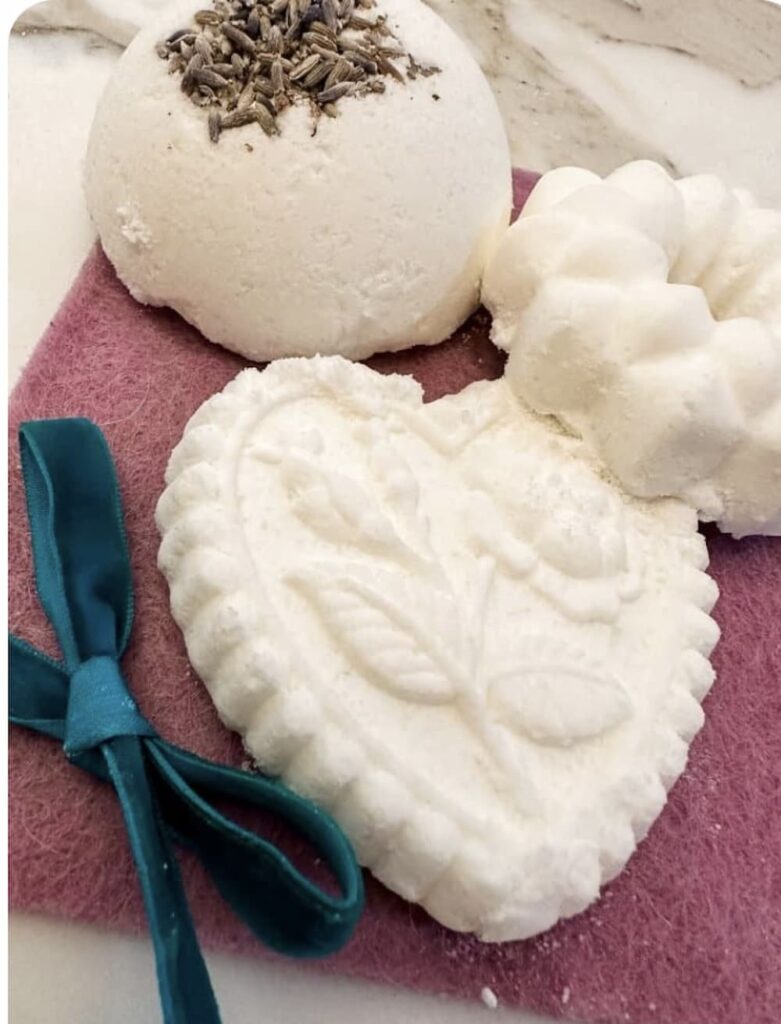 Jennifer from Cottage on Bunker Hill is creating a garland of fresh herbs.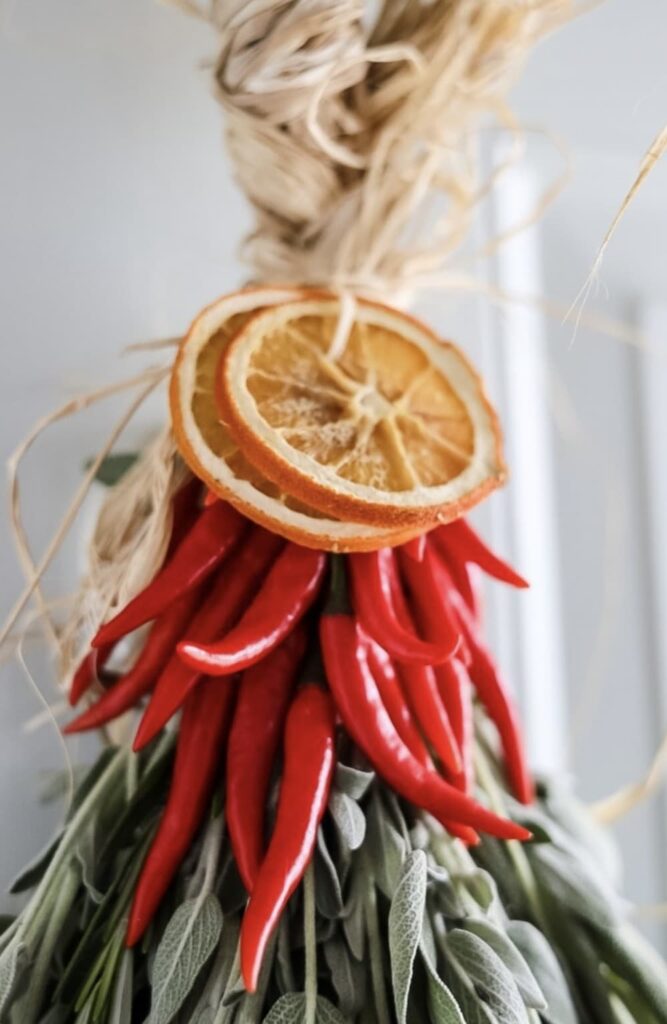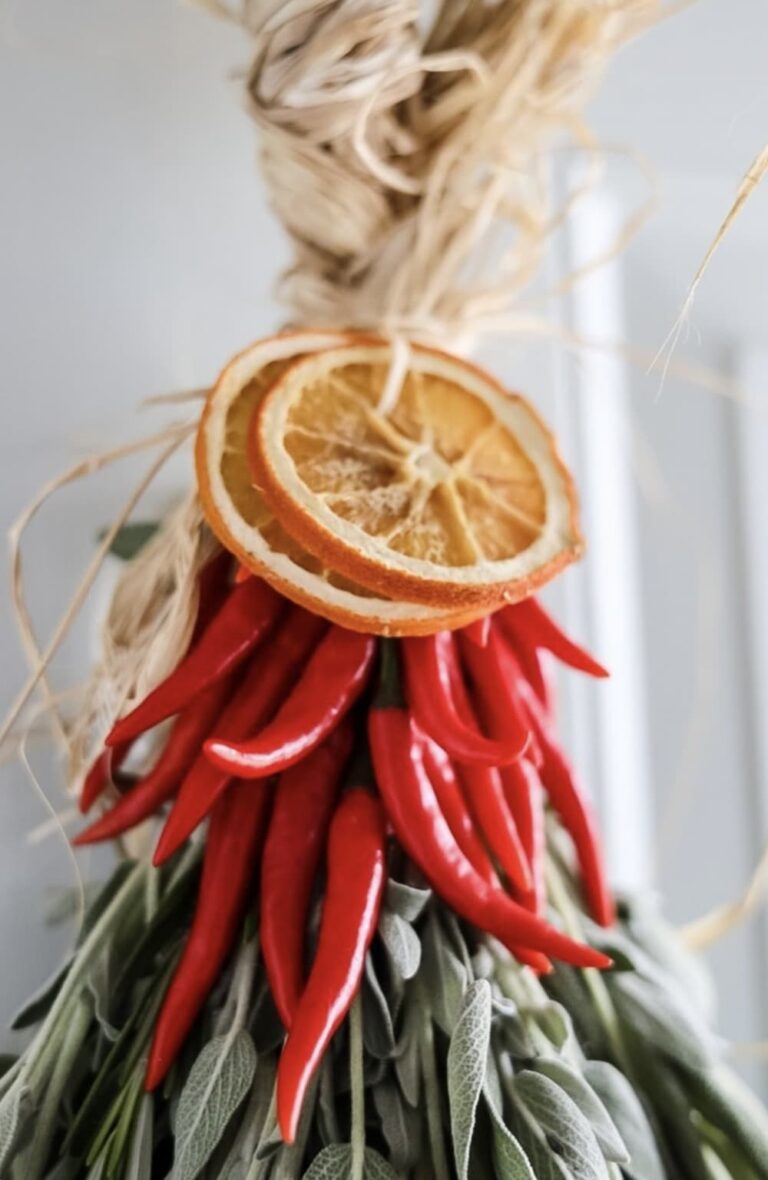 Yes please to all of them.
If you are looking for more holiday ideas, click here to see last week's post on gifts or here to see some holiday wrapping ideas.
As always, I so appreciate you stopping by. Thank you so much.
XO, Regina
I am an Amazon Affiliate. I receive a small commission at no additional cost to you, if you purchase from the links provided. Thanks for supporting my small business.
Let's Go Shopping