Hi and welcome to Lately on the Lake. A behind the scenes look at Saved From Salvage. It's been awhile again since I've posted. So grab a cup of coffee or tea and let's catch up!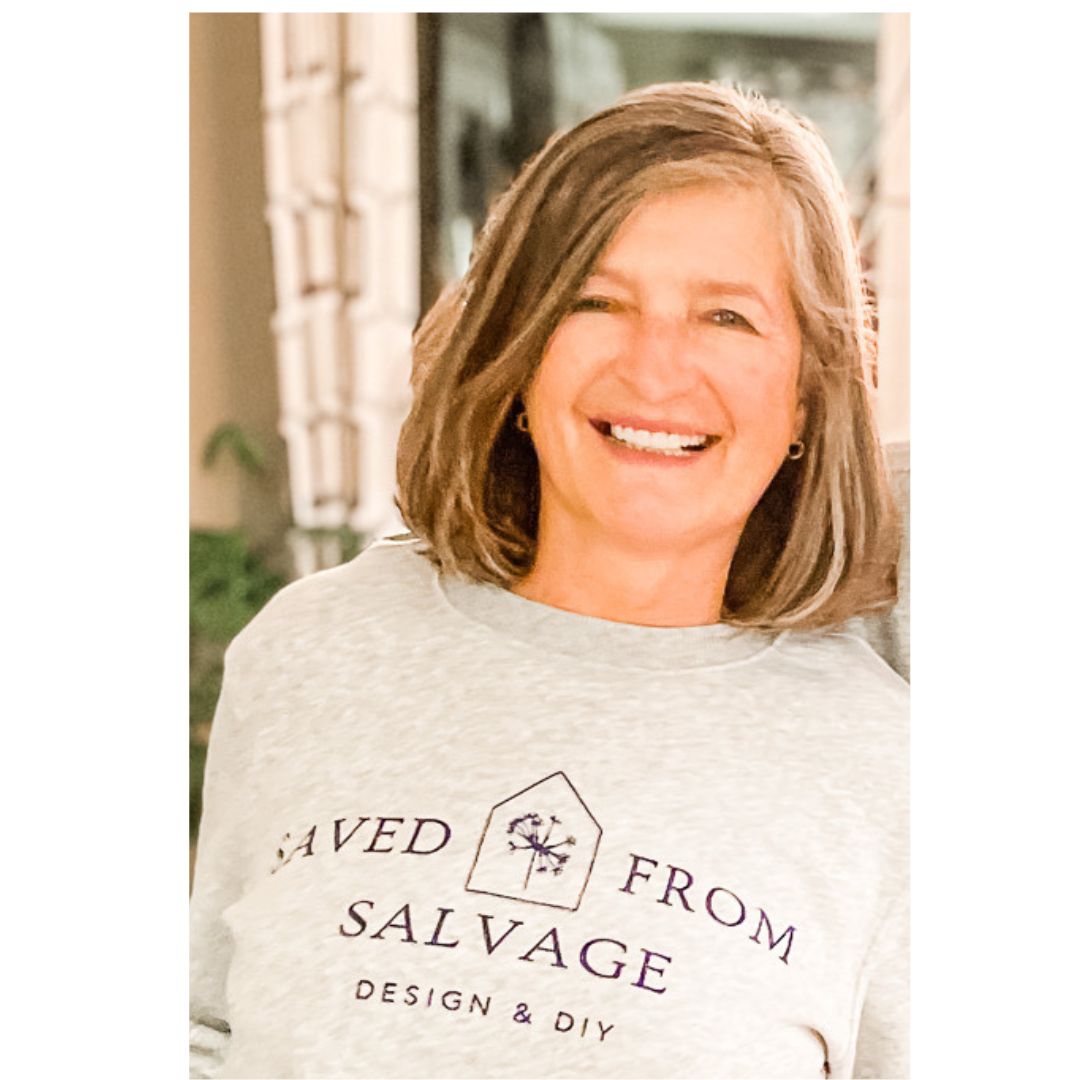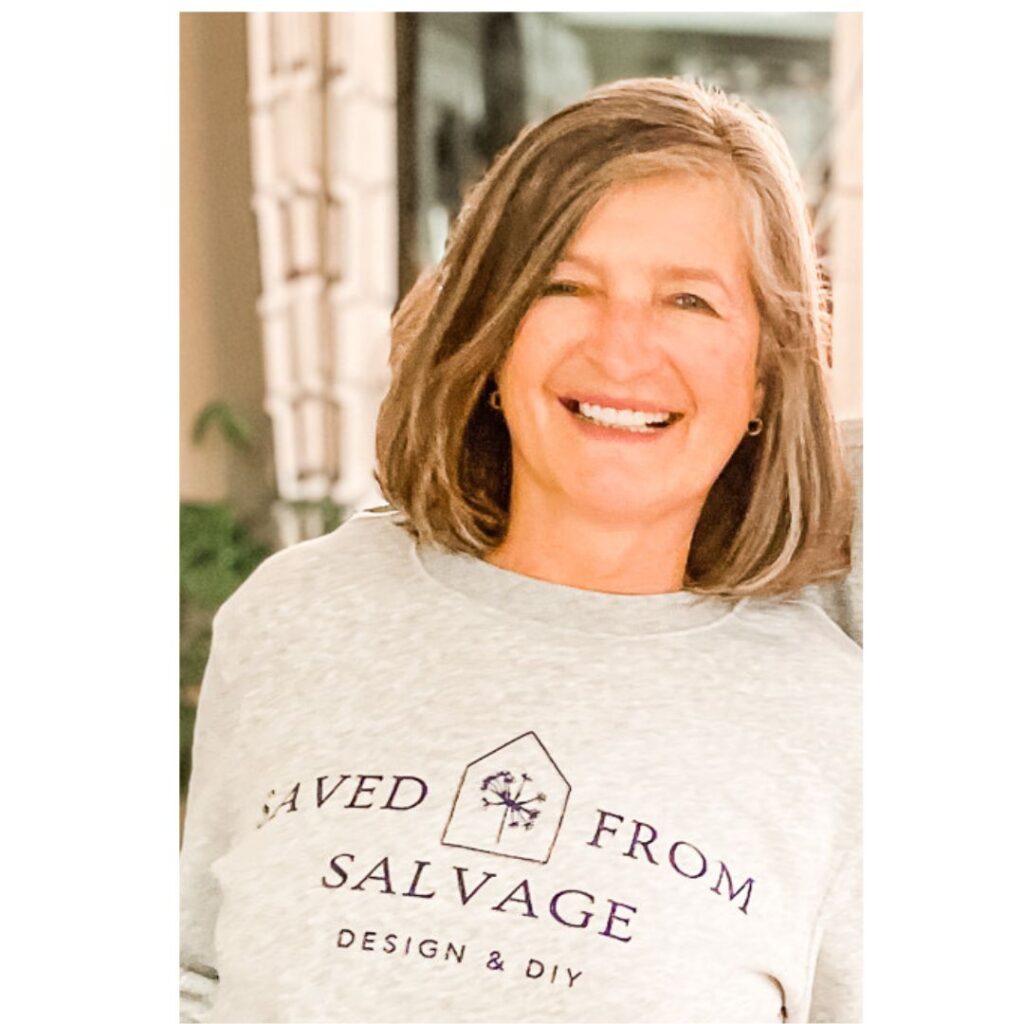 Hi, I'm Regina and this is Saved From Salvage. I love to share DIY's, Home Decor Projects, Furniture Flips, Party Planning, Recipes and more. Thanks for stopping by.
Since my last Lately on the Lake, my son and I celebrated Mother's Day with a round of golf.
That is my favorite thing to do with him. It's always fun despite the score and the weather was perfect.
WHAT I'VE BEEN UP TO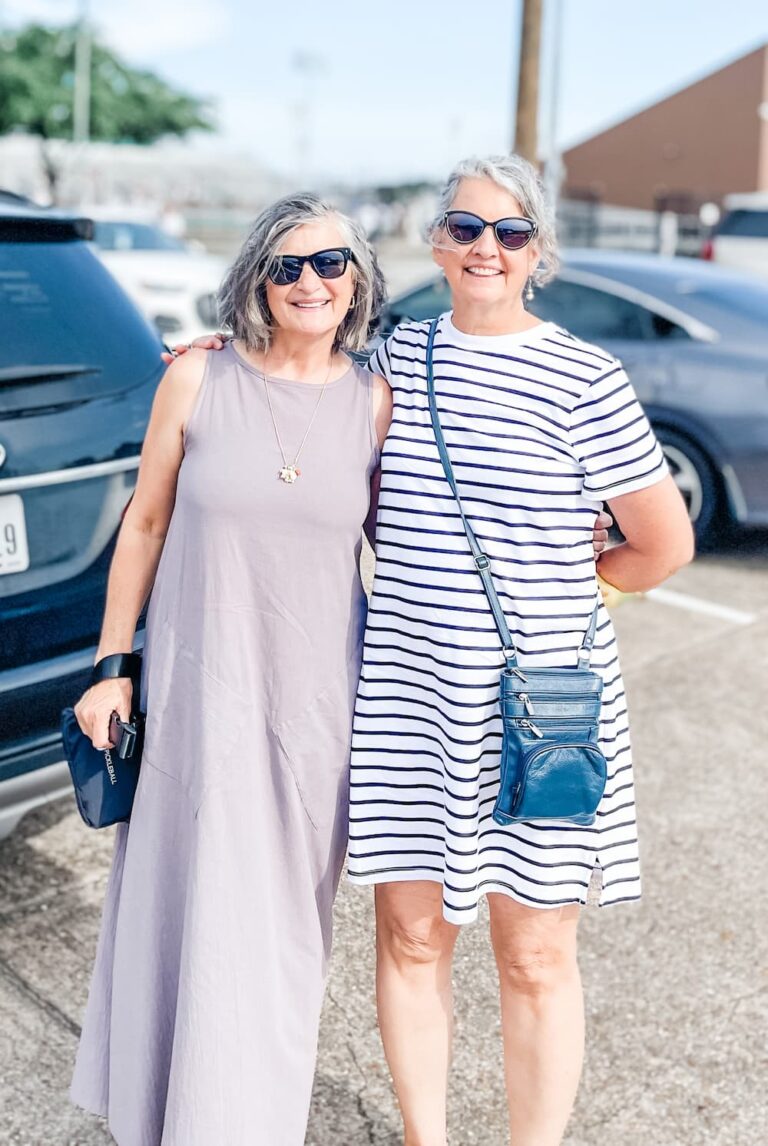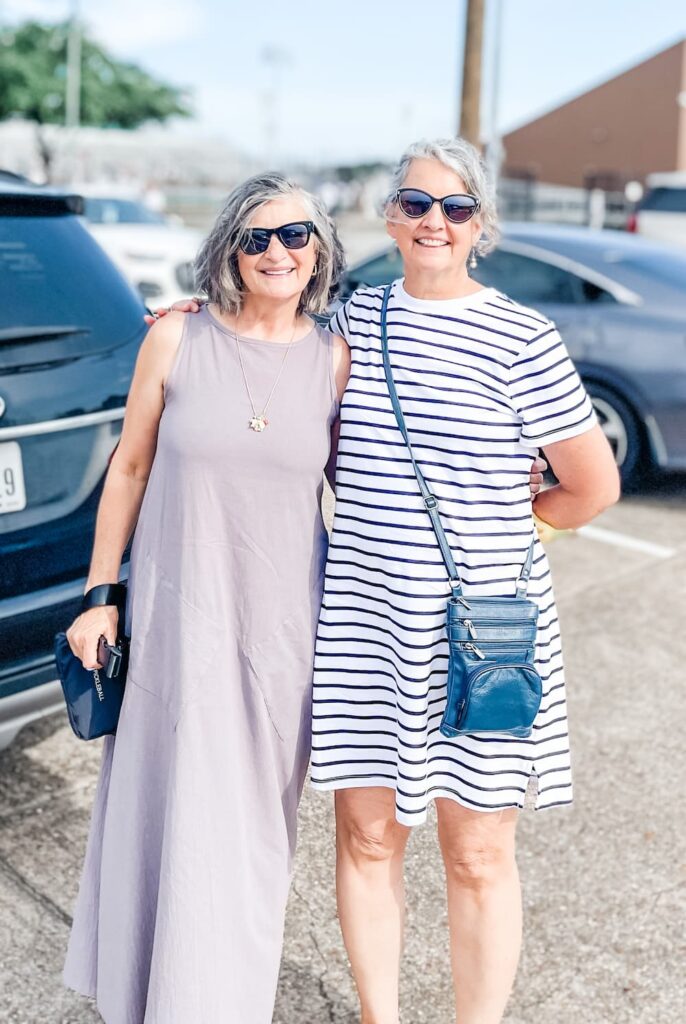 My sister and I flew to Houston to attend my niece's high school graduation and celebrate my nephew who had graduated from college the week prior.  Another quick trip, but this time no flights at dawn and no late nights.
We landed on Sunday afternoon and I was still able to get to a fun surprise birthday party for a teammate and the theme was It's All Fun & Games. I made some more pickleball cookies but this time in red, yellow and green.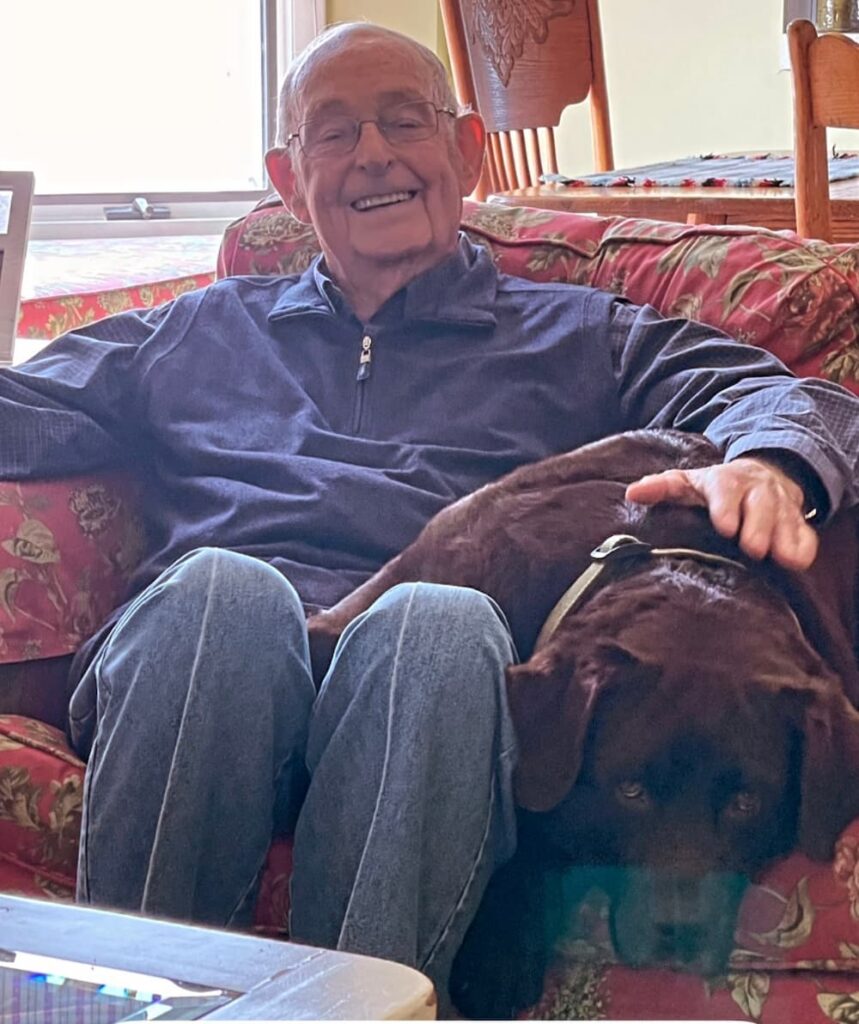 The next day I traveled to the Eastern Shore to spend time with Larry.  He was my mom's partner for over 30 years and it's so important to me to stay connected.
I spent several days in the garden the last two weeks, got my dahlia tubers planted, my elephant ears, wildflower seeds and zinnias.
It's my first time planting dahlias. I will be calling my friend Wendy for guidance, I'm sure.
Have you planted your garden? I've been loving cutting and enjoying my peonies inside. Do you cut yours? They smell heavenly to me.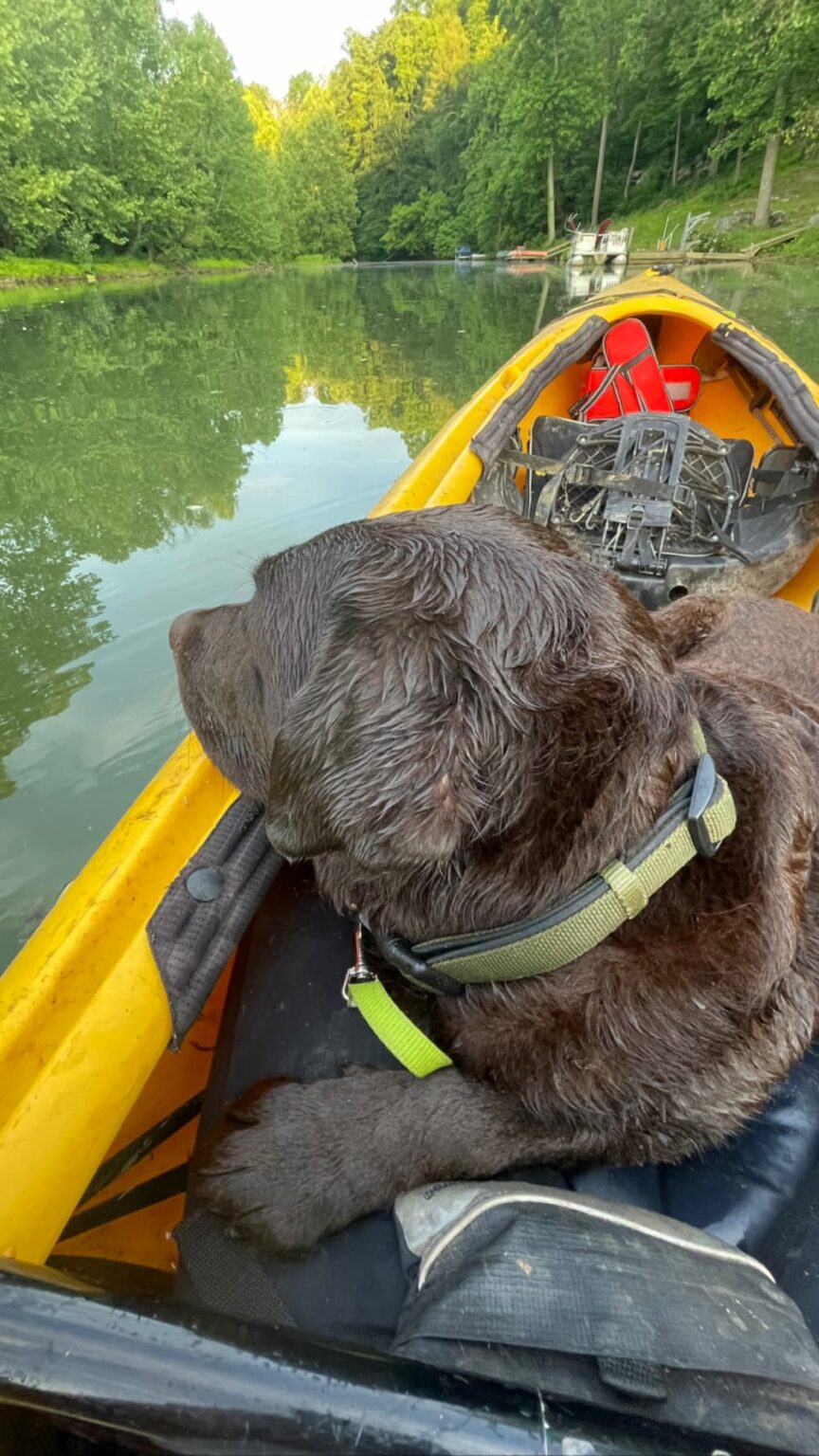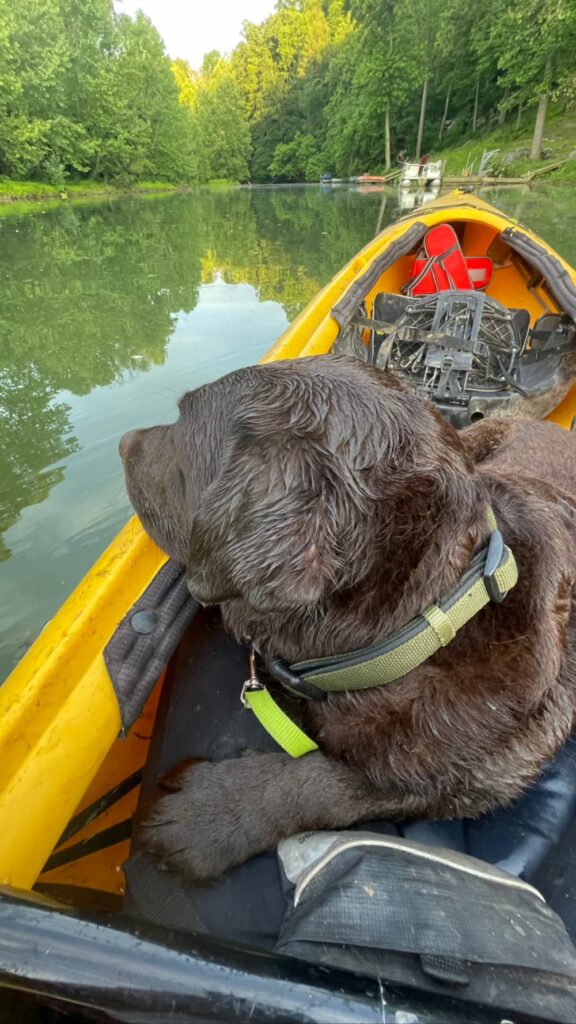 I transplanted my green beans, remember I'm growing them for Dempsey and his green bean diet. Speaking of Dempsey and diets.
He and I went kayaking last Saturday and we startled a Blue Heron.
He jumped out of the boat, swam to a strip of land, somehow got his chunky self up on the mud and then jumped back in the boat without tipping me over.
Needless to say we both needed baths after that paddle.
On Memorial Day I was lucky enough to babysit my niece's 7 month old little guy Carson. Seriously is there anything better than putting a baby to sleep and then looking at them in your arms? I love babies.
WHAT I'VE BEEN WORKING ON
I updated a headboard turned bench this week – here's a peak at it. I'll be posting the details on this Sunday.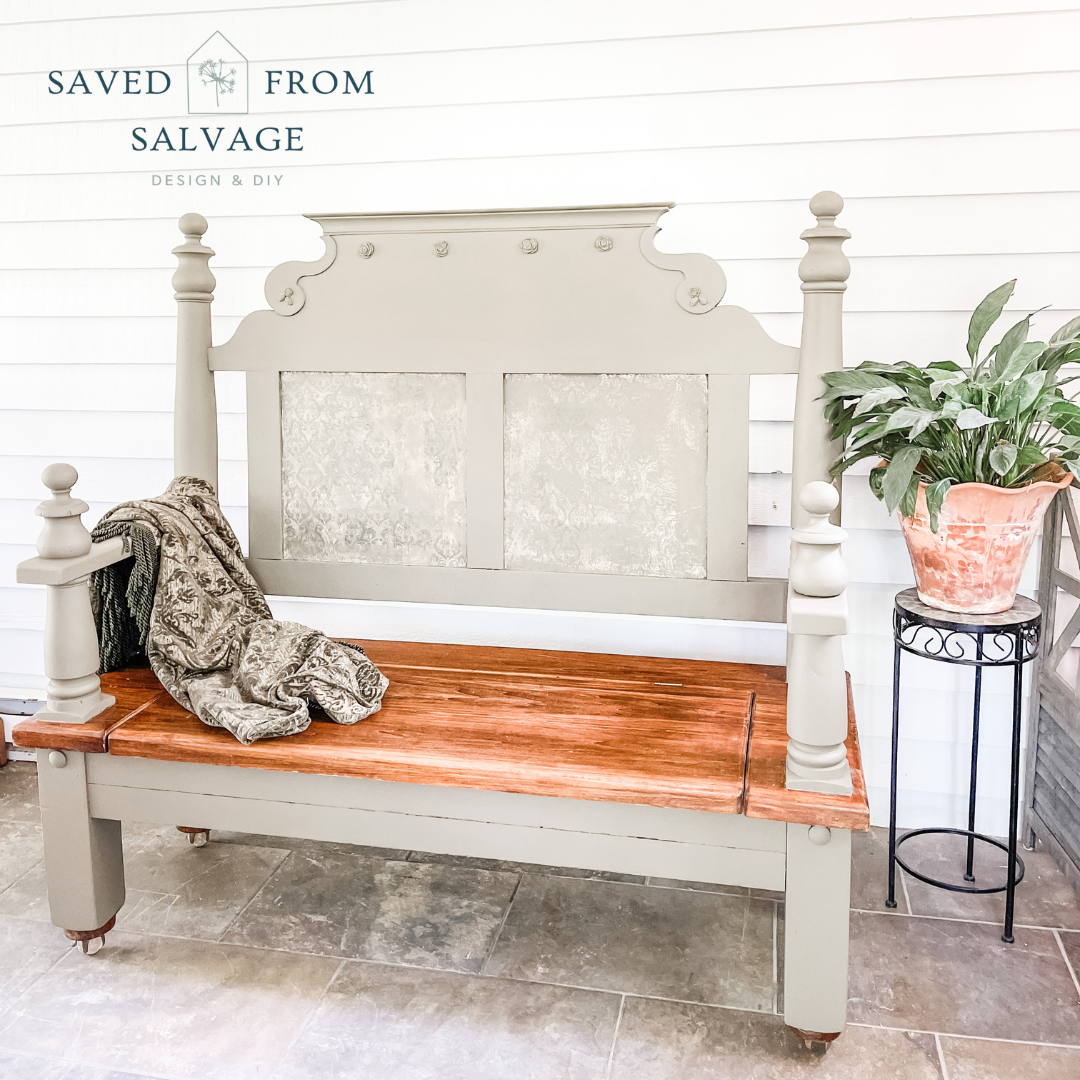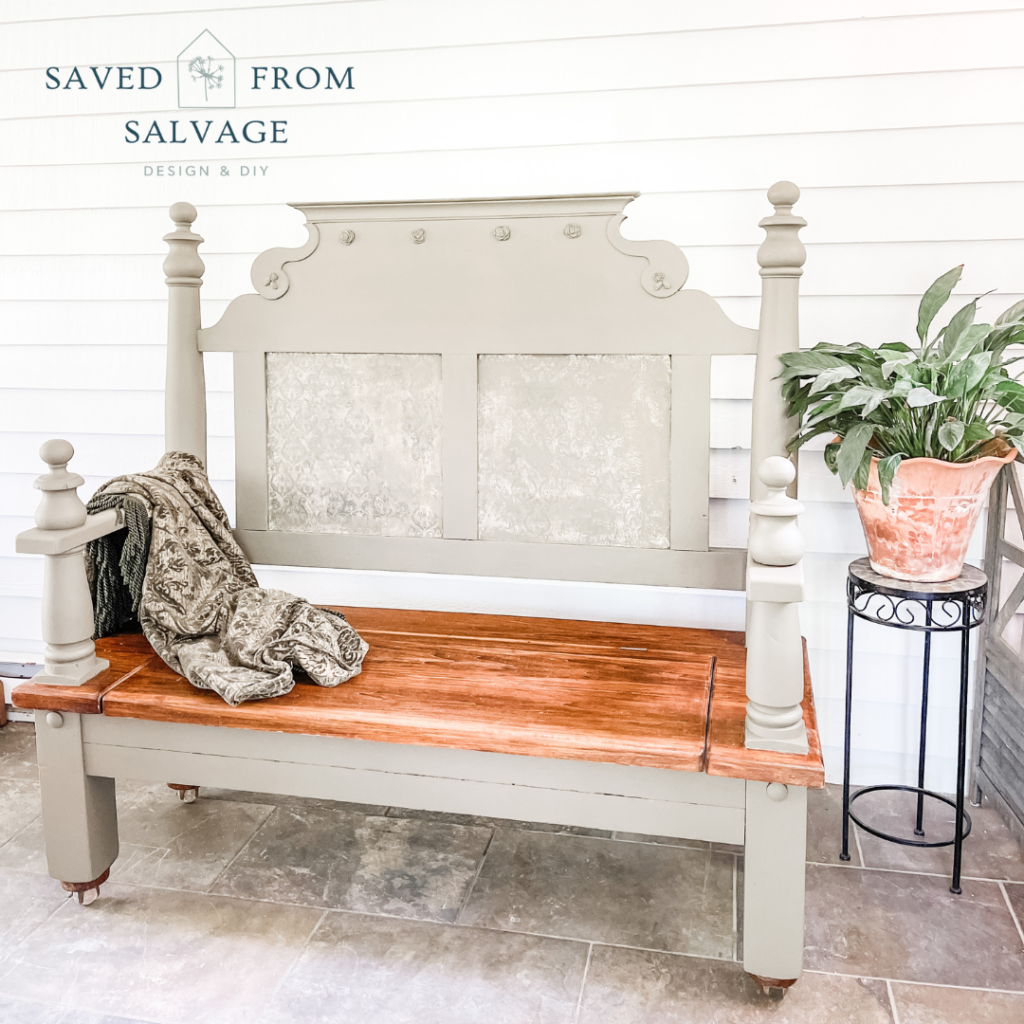 I participated in a monthly Celebrate the Holiday Blog Hop that was all about July 4th.
I made Patriotic Pancakes, How cute are these? Get the details here.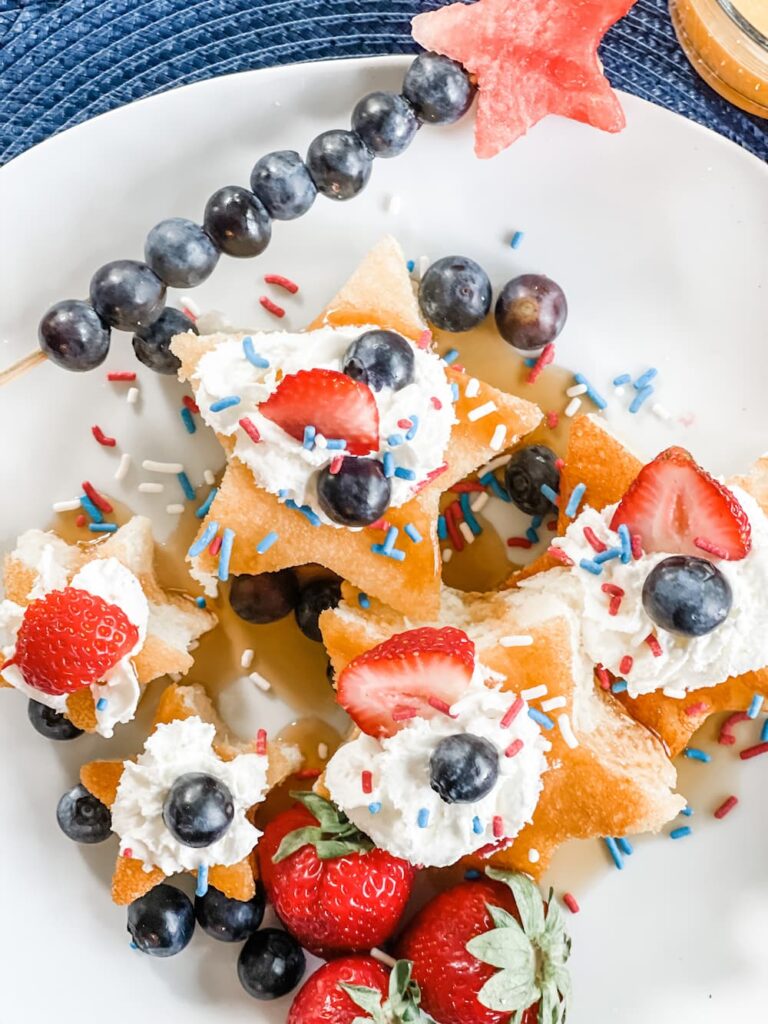 Next week is our monthly Handcrafted Society and I can't wait to share, we all had to paint something red, white and blue. What a fun variety of projects. Mine was a makeover of something of my moms.
It's the first Saturday of the month, so it's time for HandPicked 4 You, where Cindy, Lora, Anna and I share what we are loving.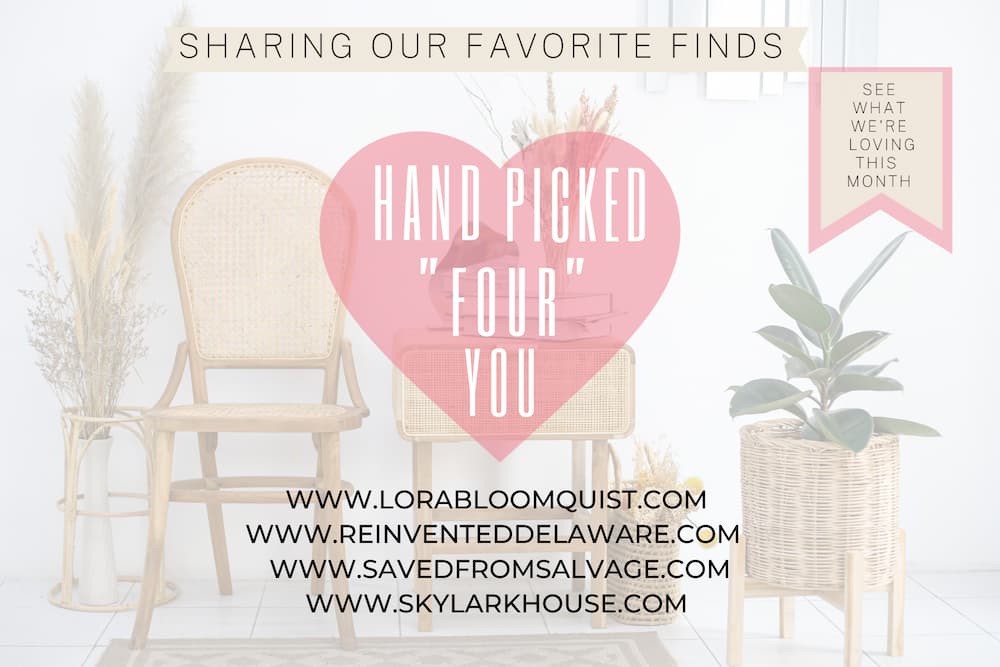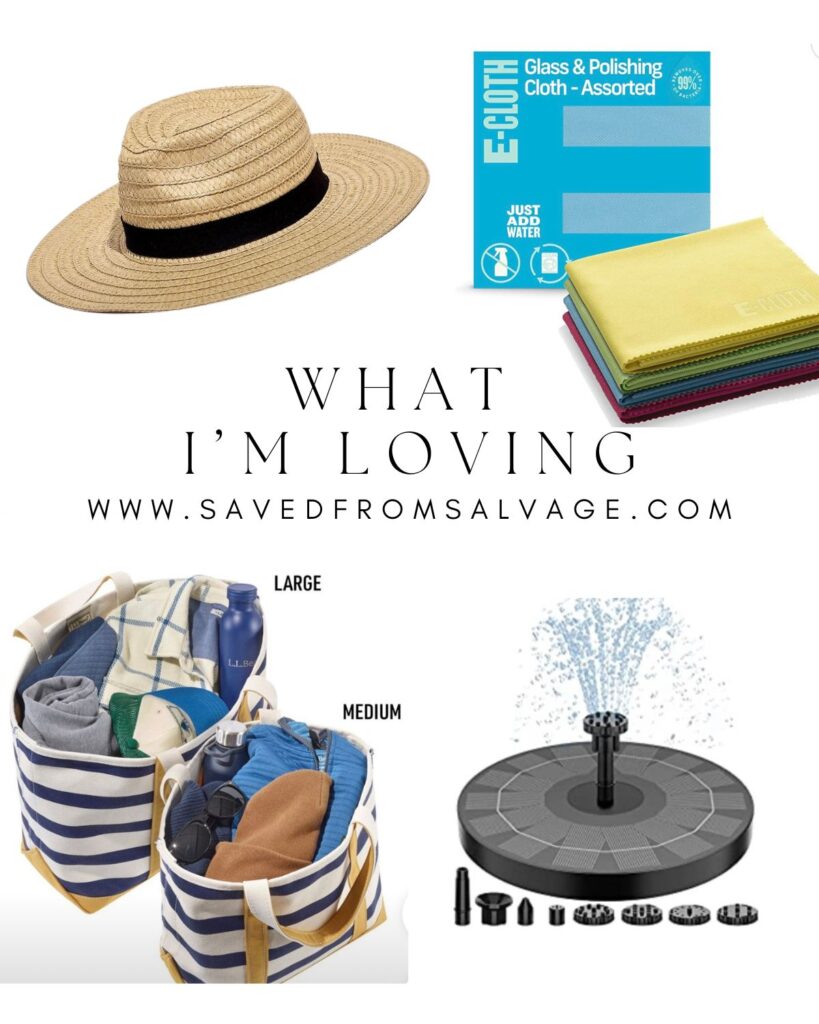 WHAT I'M LOVING
REINVENTED DELAWARE
LORABLOOMQUIST.COM
After a long day of gardening, there's no better place to stretch out and relax than a hammock in the shade. A classic rope style will allow the breeze to cool your back. Make sure to grab a pillow and a vintage quilt so you can doze off watching the clouds. (great Dad's day gift idea, too;) Find a hammock like ours HERE.
Hot summer days require plenty of hydration. I love making simple, refreshing sun tea. I fill a glass pitcher with cold water and suspend 6-8 tea bags in the top. I cover with plastic wrap and let it steep in the sunshine all day. My favorite flavors are Good Earth's Sweet and Spicy Original and Green. I see they also have some other flavors I need to try. They have both caffeinated and un-caffeinated versions, FYI. Find Good Earth Tea HERE. (Cute striped pitcher can be found HERE)
Our family has come up with a revised version of the classic croquet game. It's called "extreme croquet". They don't just set the wickets in grass, they spread them far and wide so players have to go through woods, through sheds, on driveways-the harder the better. Memorial Day's game lasted 3 hours! I have a great collection of old games to choose from (and decorate with), but my eldest, Mr. Freckles, said the new games have longer handles which is easier for taller people. If you don't have a croquet game in your yard game stash, definitely get one…and play it extreme! Find classic new croquet sets HERE. Find vintage croquet pieces HERE.
Brightly colored enamelware can be found in all the fun summer colors. Because it's unbreakable, it's perfect for the porch, picnics, and camping. I'm filling my porch cupboard with my vintage collection this summer and think I need to get some enamelware plates to set a cute outdoor table. Love THESE vintage-looking ones and THESE yellow ones. THESE vintage-looking plates are cute, too. Wouldn't it be fun to set an outdoor table with a mix of vintage and new enamelware? Find vintage enamelware HERE.
SKYLARK HOUSE
WHAT'S INSPIRING ME
Here is just a few of the things I've seen this week that caught my eye. On the top of the hit parade this week is my friend Wendy and her Free Printables. You have got to visit and download them for your next get together. You will be the talk of the town.
Tired of wreaths? Looking for something fun and different? Go to Sonata Home Design and check out Missy's adorable front door decor. You will love it.
I used to steer clear of anything red white and blue. I am not a fan of the shimmery, plastic stuff you find at the stores. It's things like this adorable flag decor made from Vintage Rulers that make me love it. Yep, Beth from Creatively Beth made this unique flag.
Are you a fan of vintage? I am and I love window shopping and seeing how others style them and what they are passionate about collecting. Mary Jo of Masterpieces of My Life shares here Vintage Salt & Pepper Shaker Collection. If you love vintage goodies, you will want to check this out.
Ok – that's a wrap for this week and Lately on the Lake. Thanks so much for stopping by – If you enjoyed this post, leave me a comment and let me know. I'd love to hear from you.
XO, Regina