Hello from Saved From Salvage! How was your week? I'm excited to share what I've been up to.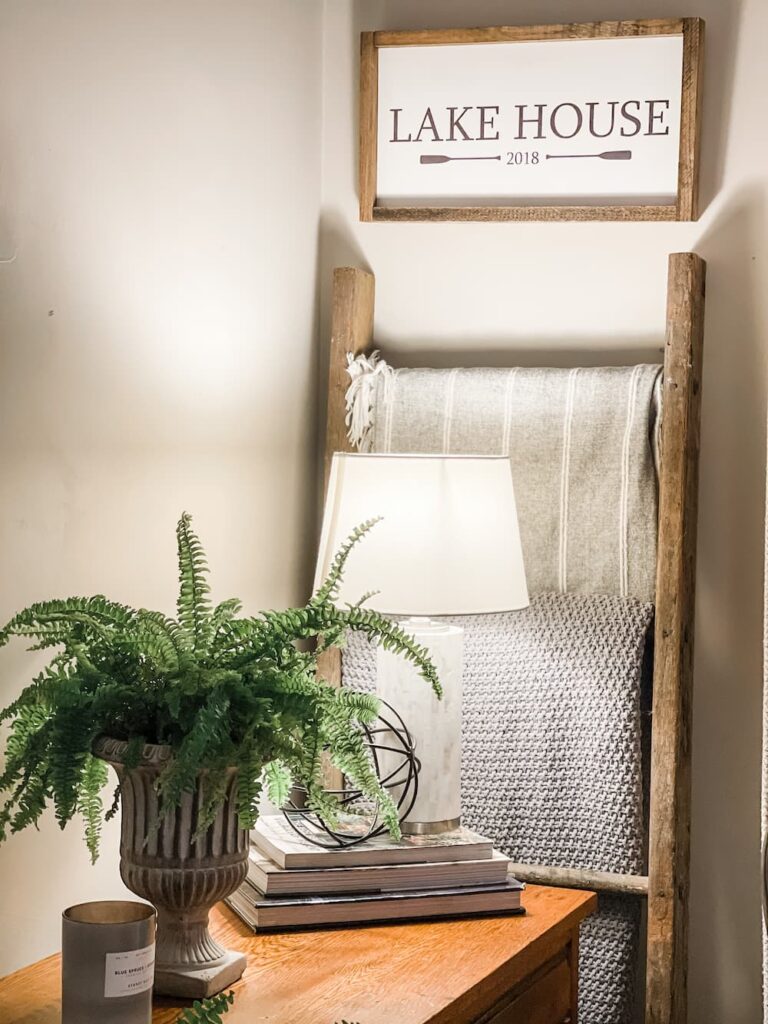 Dempsey and I had a wonderful trip to see my sister last weekend. I got to meet the cutest little grand baby and visit with my nephew and family.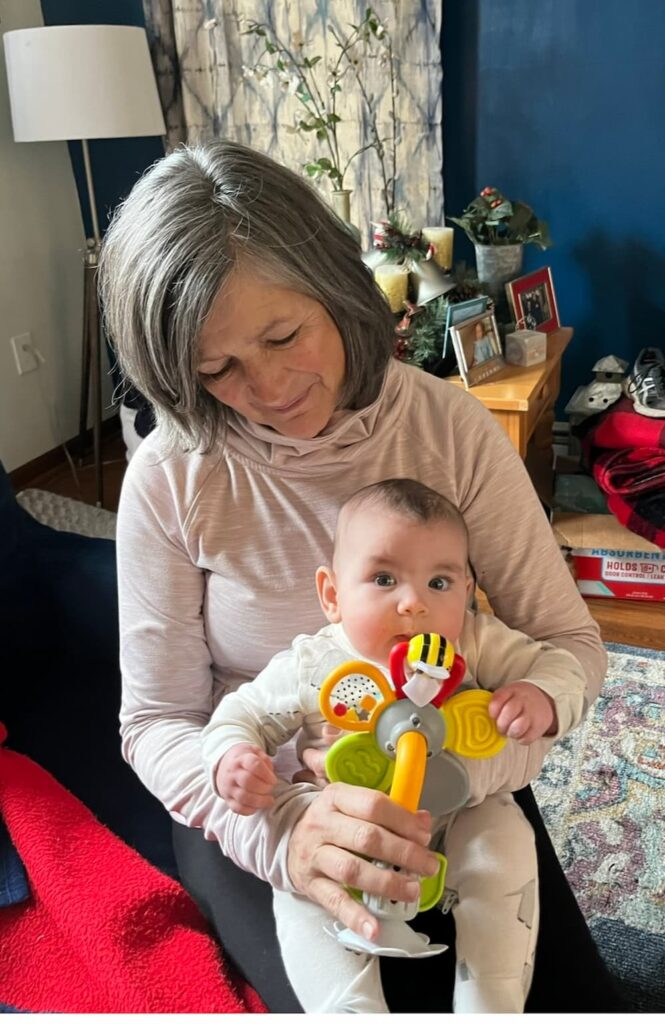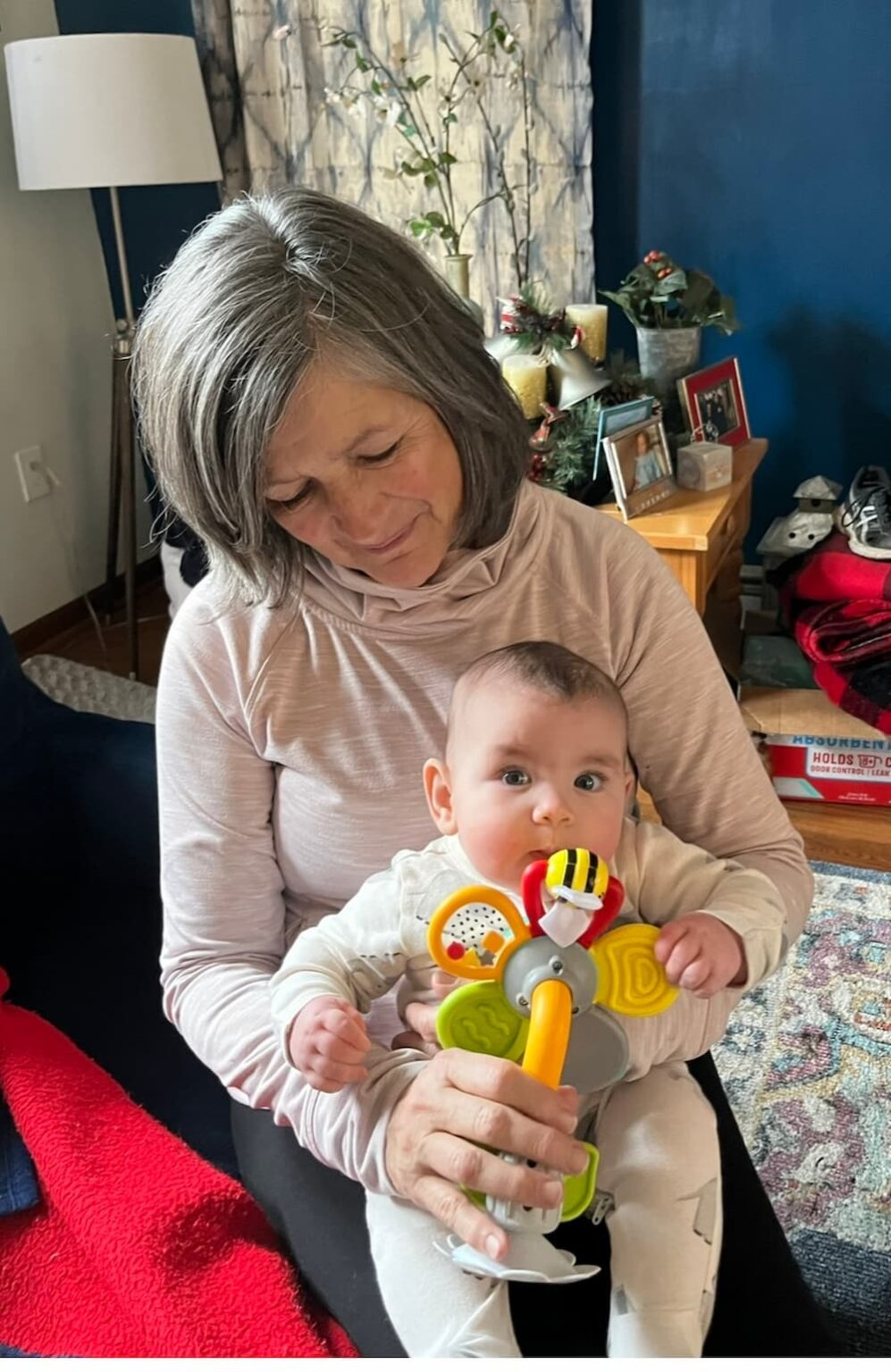 It makes me realize how important it is to stay connected to those we love
On Monday morning Dempsey refused to come to work with me. This was him Sunday night.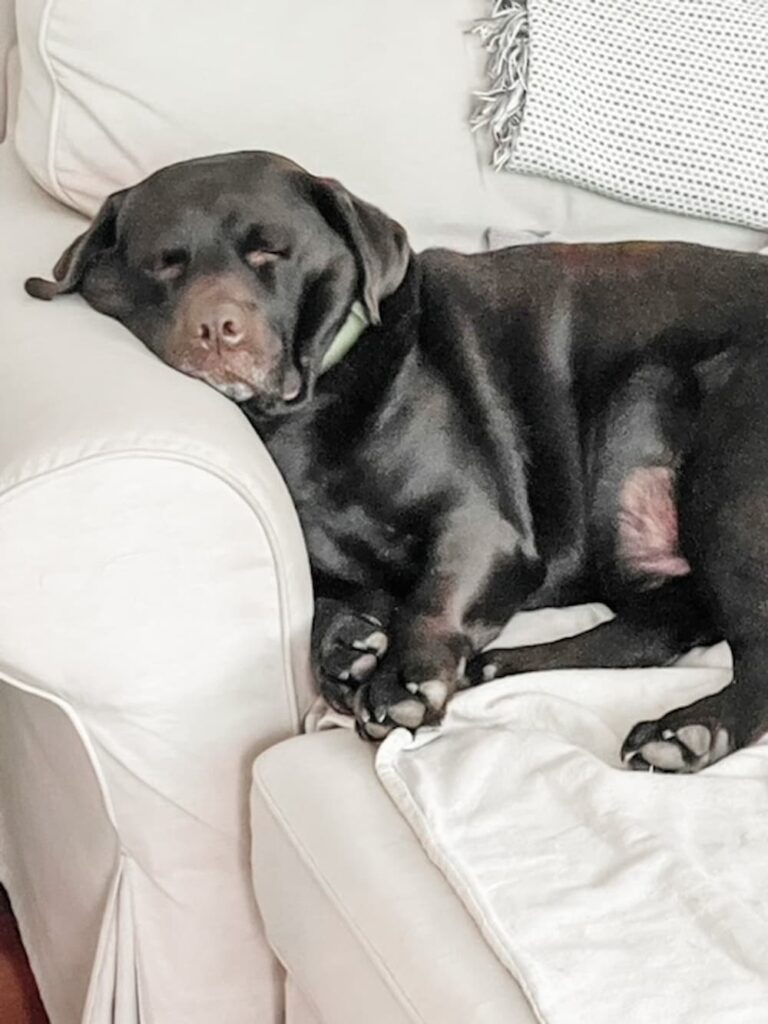 what i've been up to
After all of our organizing and new shelving, this was the first time we didn't have to spend hours neatening to prepare for the cleaning lady to come. That feels amazing!
Carmine made an amazing paella this week, I'll have to share the recipe soon, it is the best.
We headed out to a local restaurant this week, Dutch's Daughter. Located in Frederick, it has the best food and service – what a treat!
what i'm planning
Today is a 3 hour class on Pinterest with my Blog Tribe, and then Carmine and I are off to the Capitals hockey game. This was a Christmas gift from my son. I'm looking forward to it, Carmine and I will be rooting for different teams but that's nothing new.
This is a 3 day weekend and I don't hate it. Tomorrow Carmine is headed to NJ to practice driving with his oldest granddaughter, better him than me!
I'll be working on a dresser in the sunroom that has been patiently waiting on a makeover. I'll keep you posted.
what i've been working on
This week I led a workshop on DIY SHOWER MELTS. I spent 3 nights this week working on my recipes, presentation and content.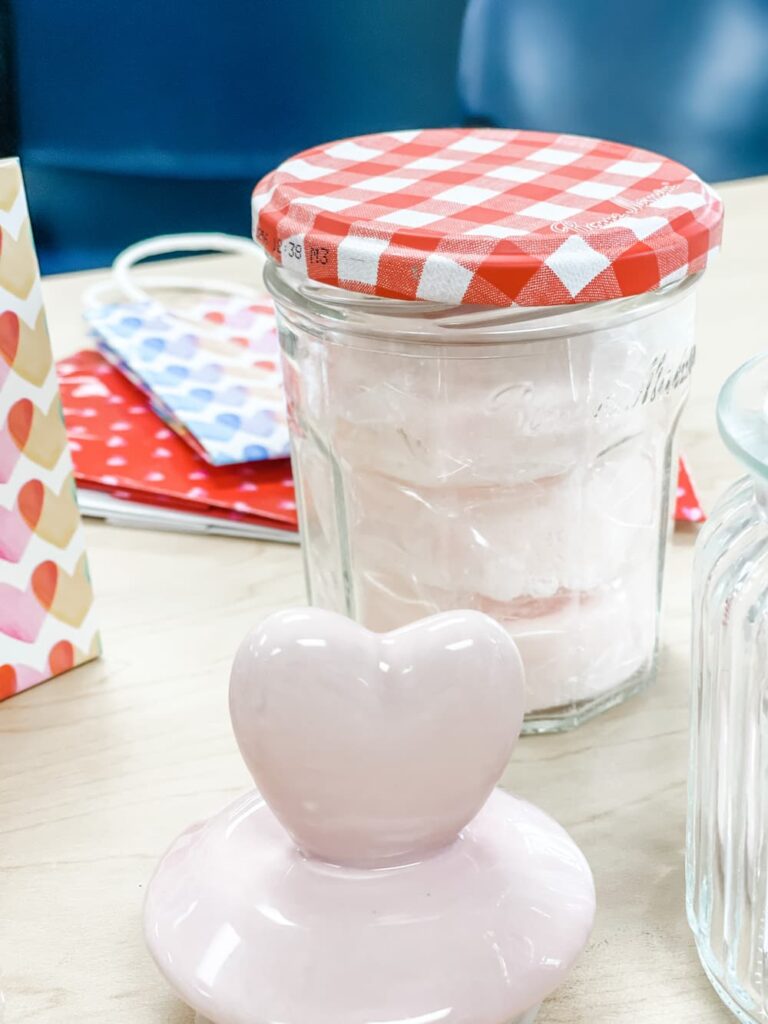 It was loads of fun, the classroom never smelled so good. Everyone was super happy to go home with a shower melt I made, one I bought and 8 they made.
Have you ever made them? They were so easy and quick to make. I'm hooked. I'm thinking about hosting a get together with girlfriends to make some together.
what i'm loving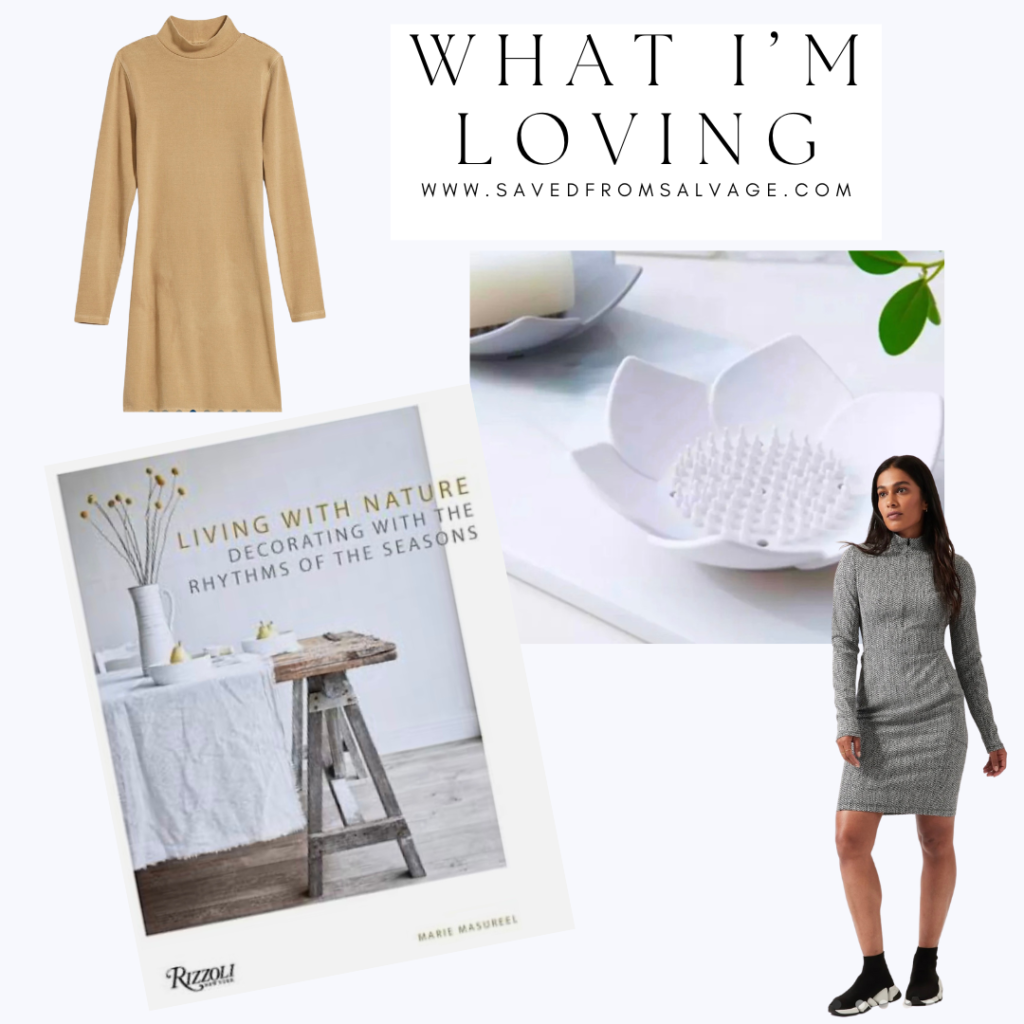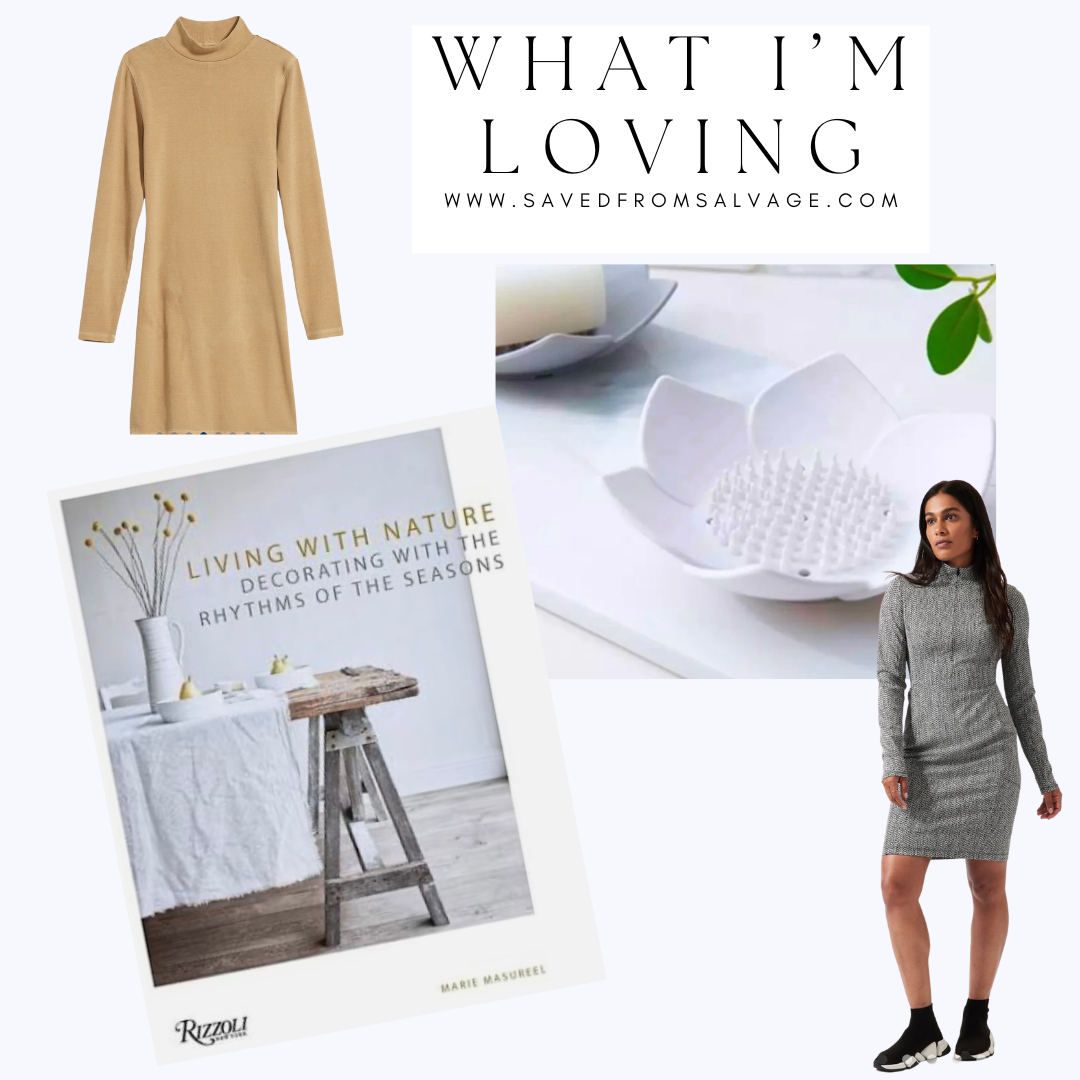 I love magazines and books like this. I don't seem to have the time or take the time to read fiction lately. But I do love to dream and drool over homes and touches you can find in this book. It includes some DIY's as well.
Well since I just made the shower steamers, I had to have this. It seems more intentional to place the disc in this little tray.
I bought this in four colors. It's perfect to dress up or down. I've worn with boots and tights, flats and tennis shoes. Such an easy dress to throw on and the high color is what I love. It's on sale for $21 – a steal!
I had gift cards to Athleta and settled on this cute dress. I am all over at work and often wear tennis shoes. This pairs perfectly for that look. Super super soft too – oh and on sale!
Thanks so much for stopping by the lake today. Miss last week's Lately on the Lake? Click here to catch up.
I hope you have a wonderful weekend and be sure to add your email at the bottom of this post so you can keep up to date with Saved From Salvage.
XO, Regina
I am an Amazon Affiliate and may receive a small commission from authorized purchases at no additional cost to you.