Do you struggle with the shifting of seasons when it comes to decor? I'm sharing easy and subtle changes from summer to fall with you today.
Hi! If you are visiting from my friend Missy at Sonata Home Design – welcome! I'm Regina and I'm so glad you are here at Saved From Salvage.
It's funny, I always think of August as summer, and actually it is…but, around my home, leaves are swirling and falling in the wind, flowers are leggy and past their prime.
I sense the shift to fall in the air. As much as I would love to hold onto summer, fall represents new beginnings to me. I think it must be from years of starting a new school year in September.
So am I ready for all out fall? No, but I am ready to start shifting my decor to fall.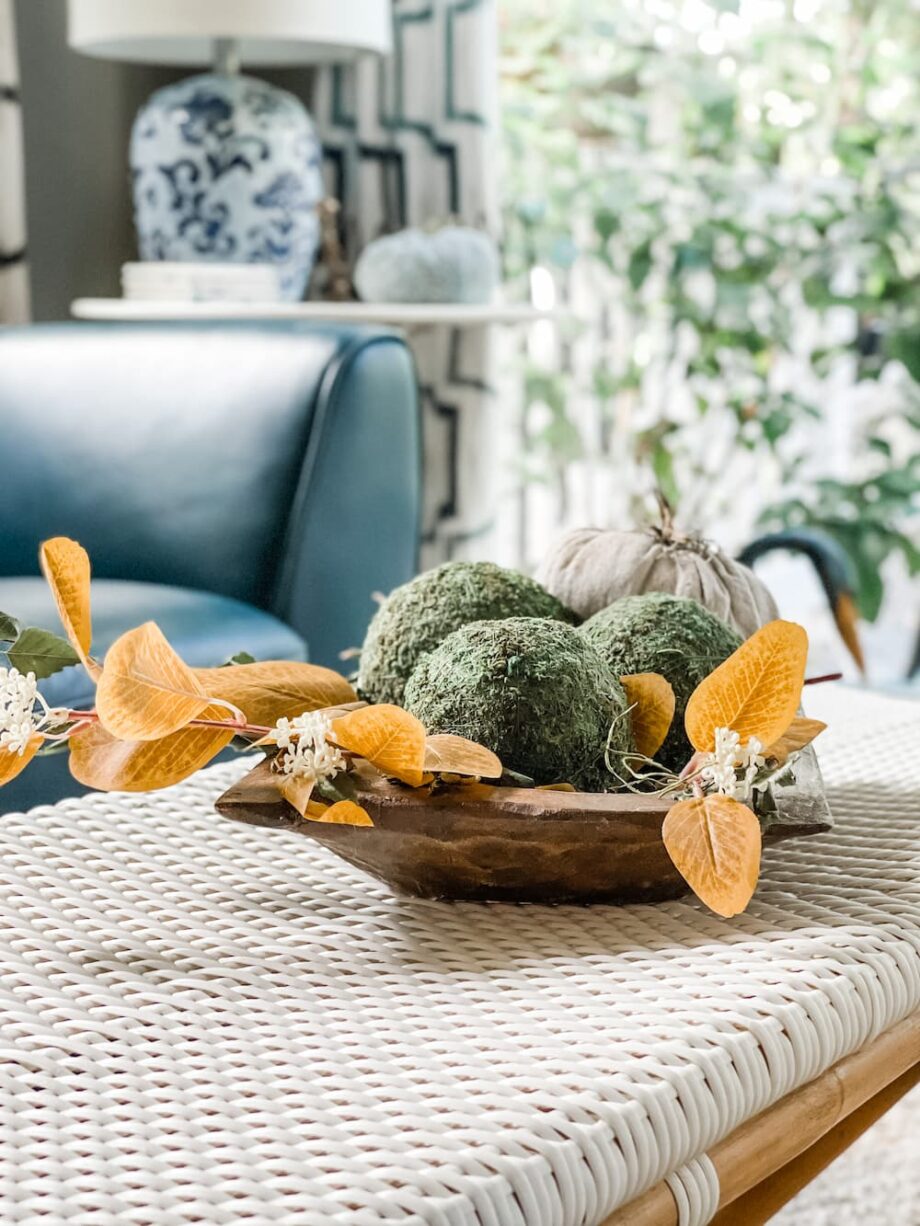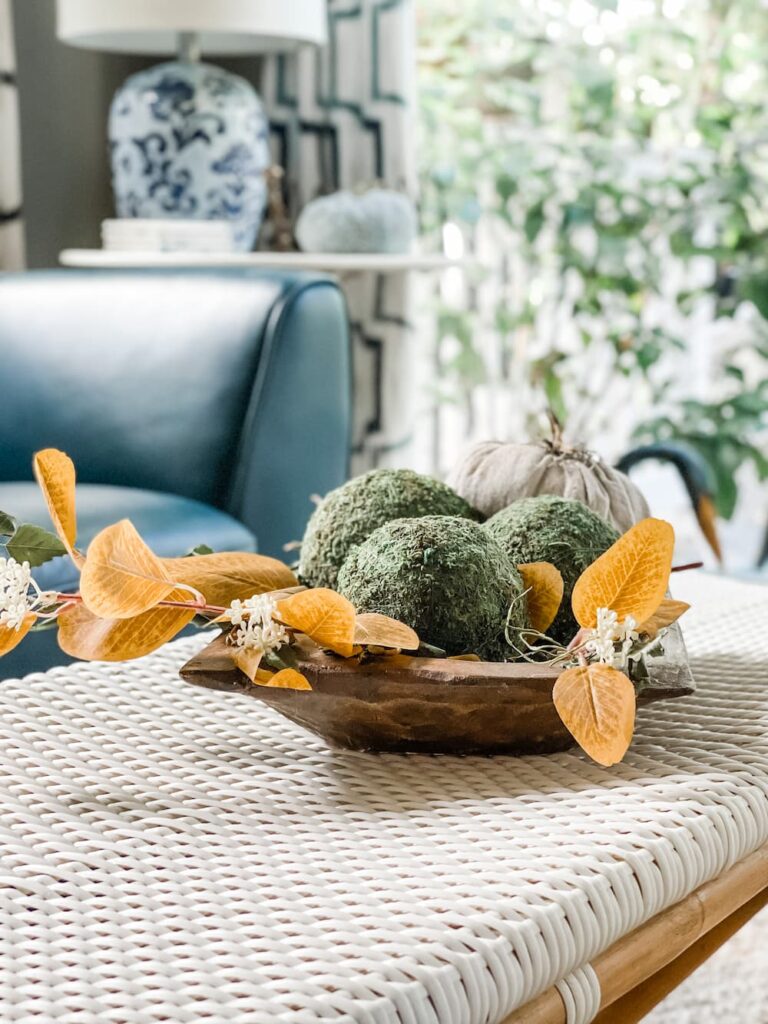 I'm sharing little ways that you can do just that in August and early September.
CHANGE OUT YOUR THROW PILLOWS
Ok, we all know I have throw pillow issues. I mean who doesn't?
I think swapping out pillows or pillow covers is the quickest and easiest way to change your decor and hence the feel of your space.
Outdoors on the porch, deck or near the fire pit, and indoors in the living spaces, pillows set the tone for me.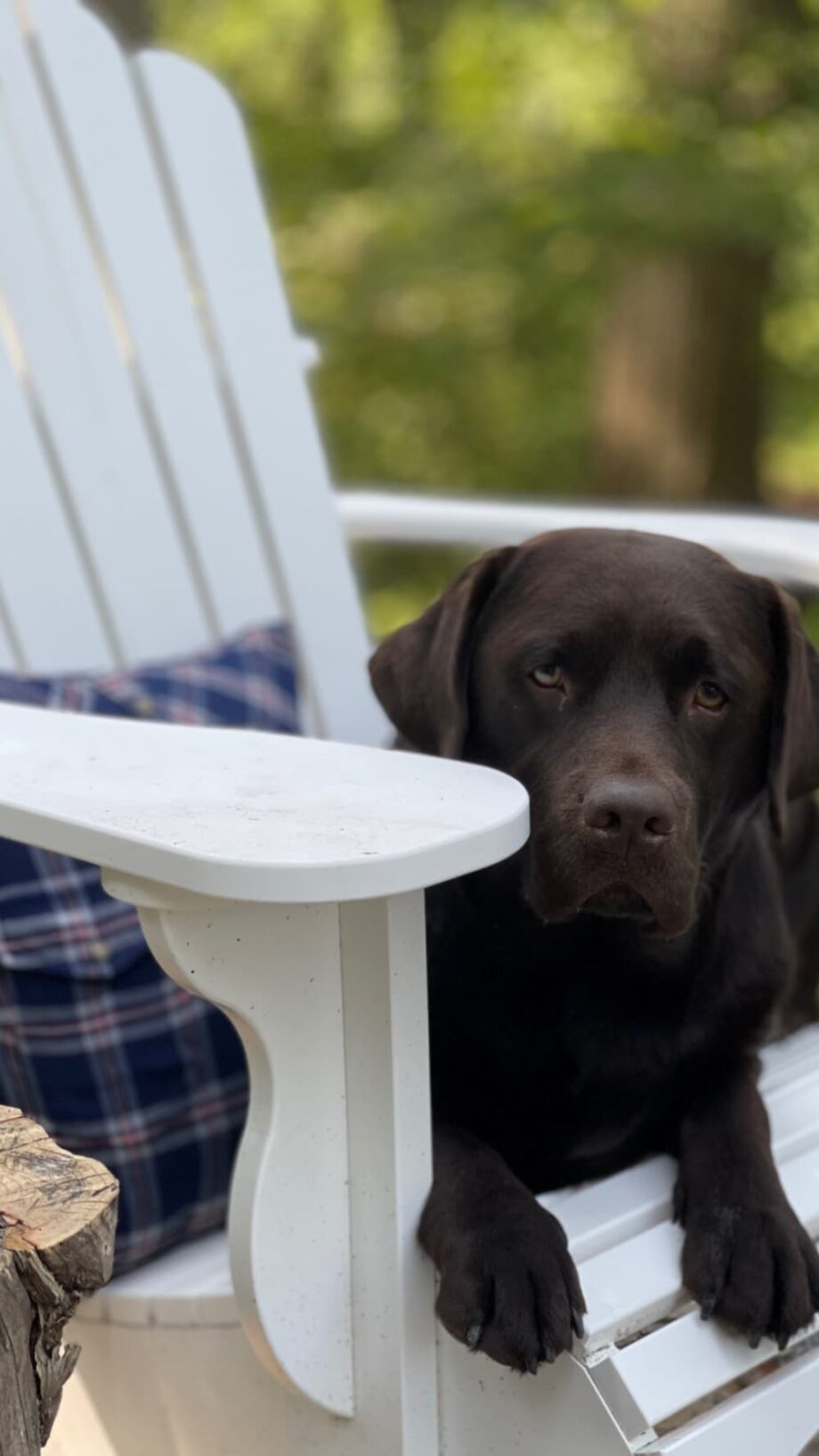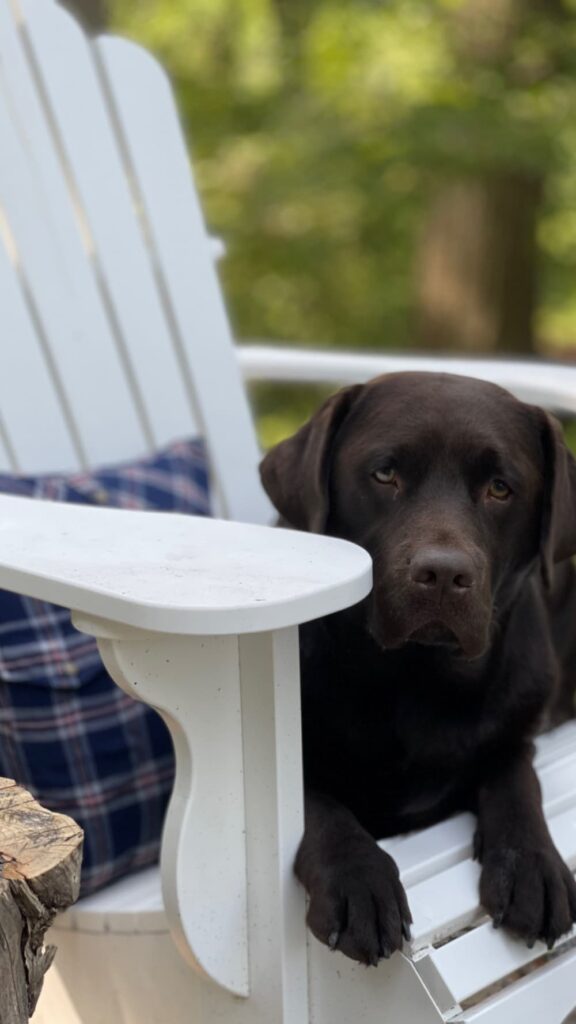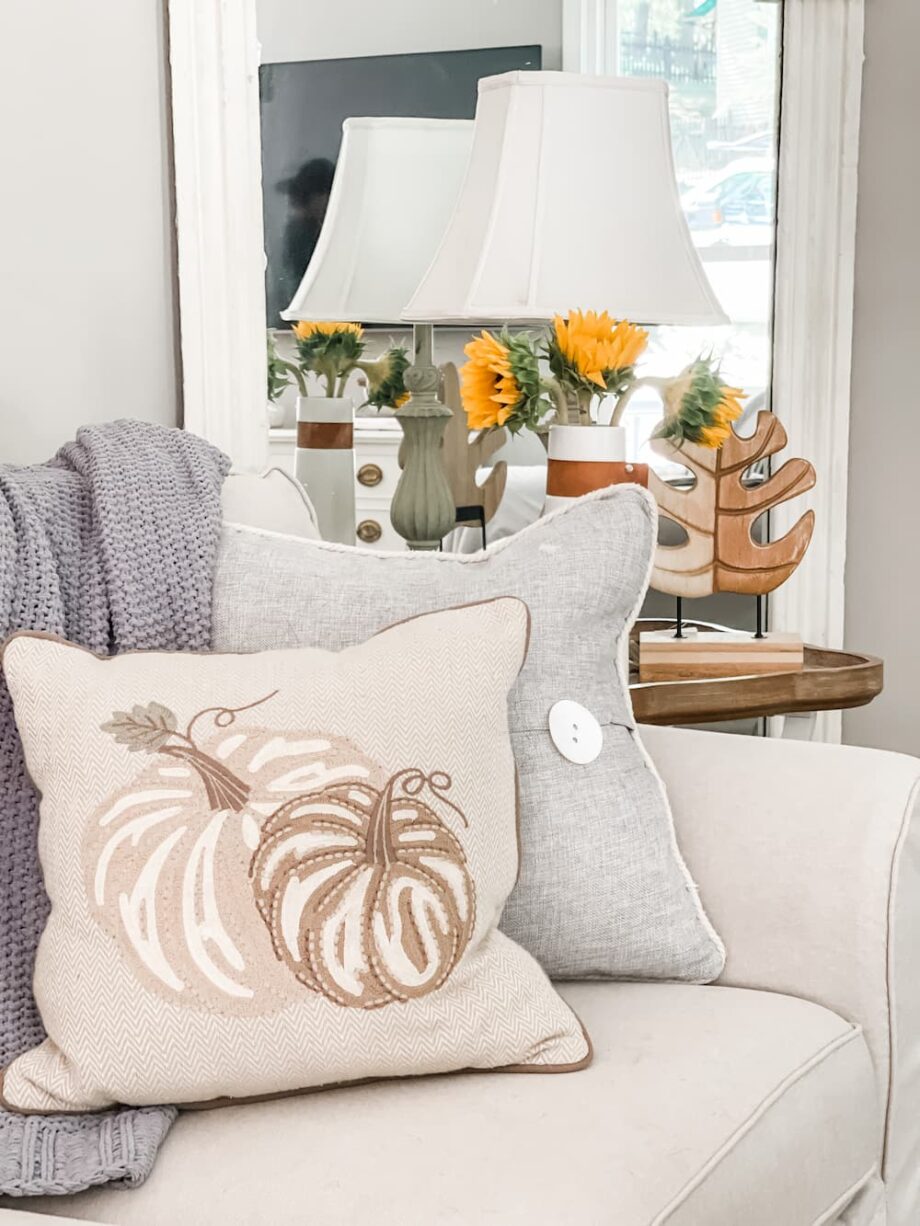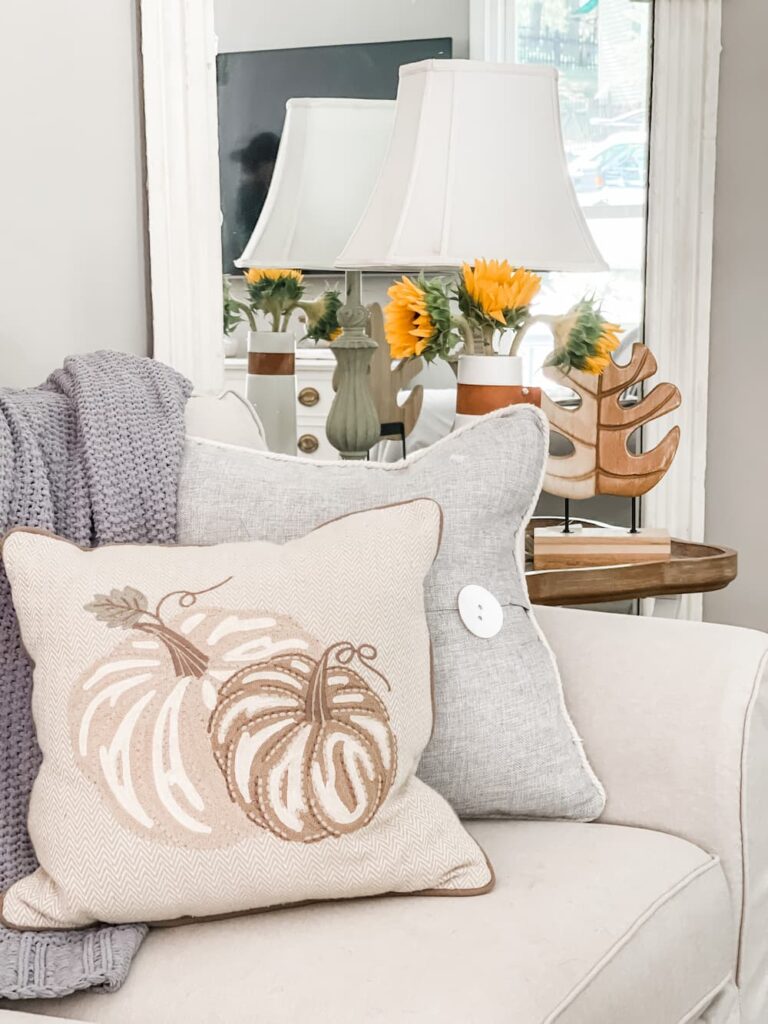 SUBTLE NEUTRAL PILLOWS
ADD FALL FLORALS
Sunflowers are abundant near me right now. I have them all around. I add some grapevines around the base of the vase to bring some more natural elements in.
Now is a great time to bring in some fall florals, sometimes faux, sometimes branches.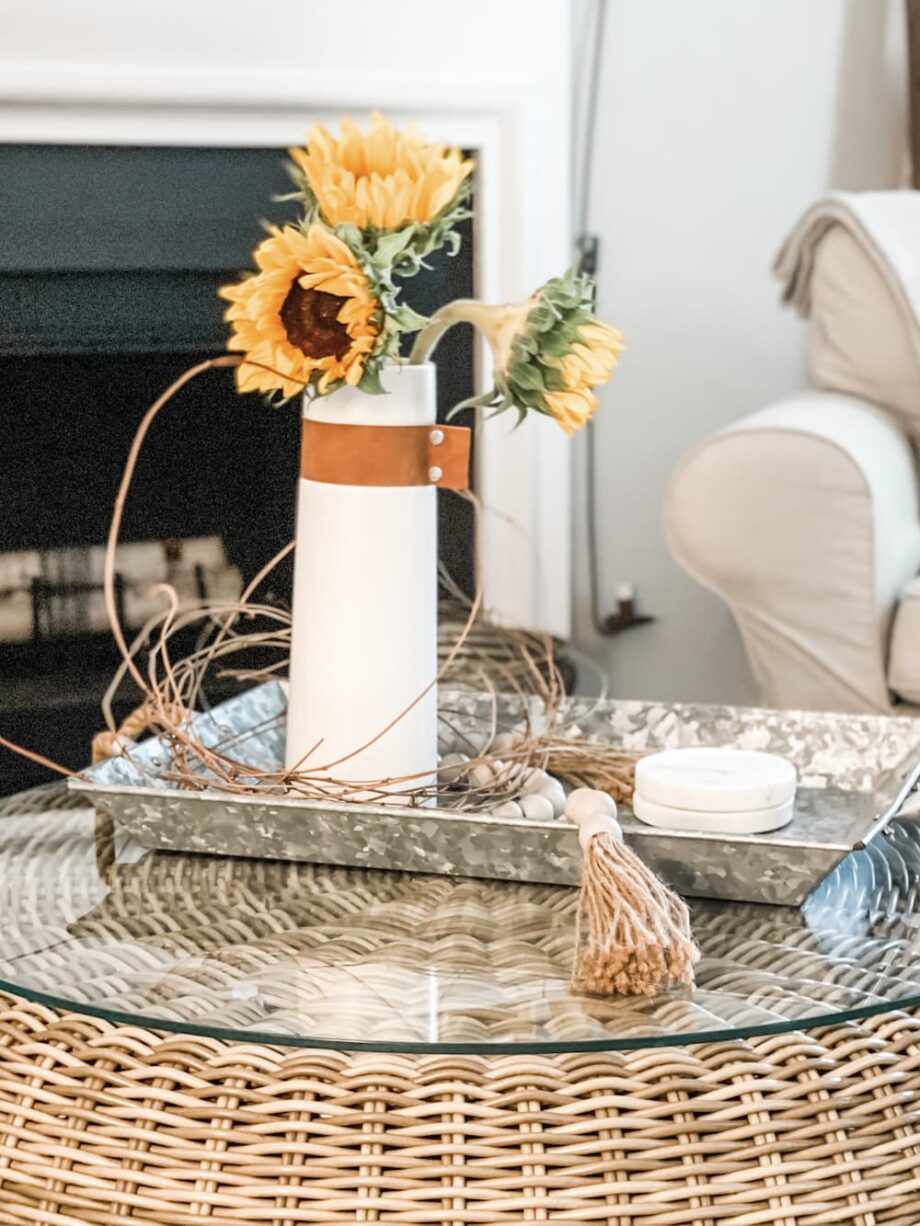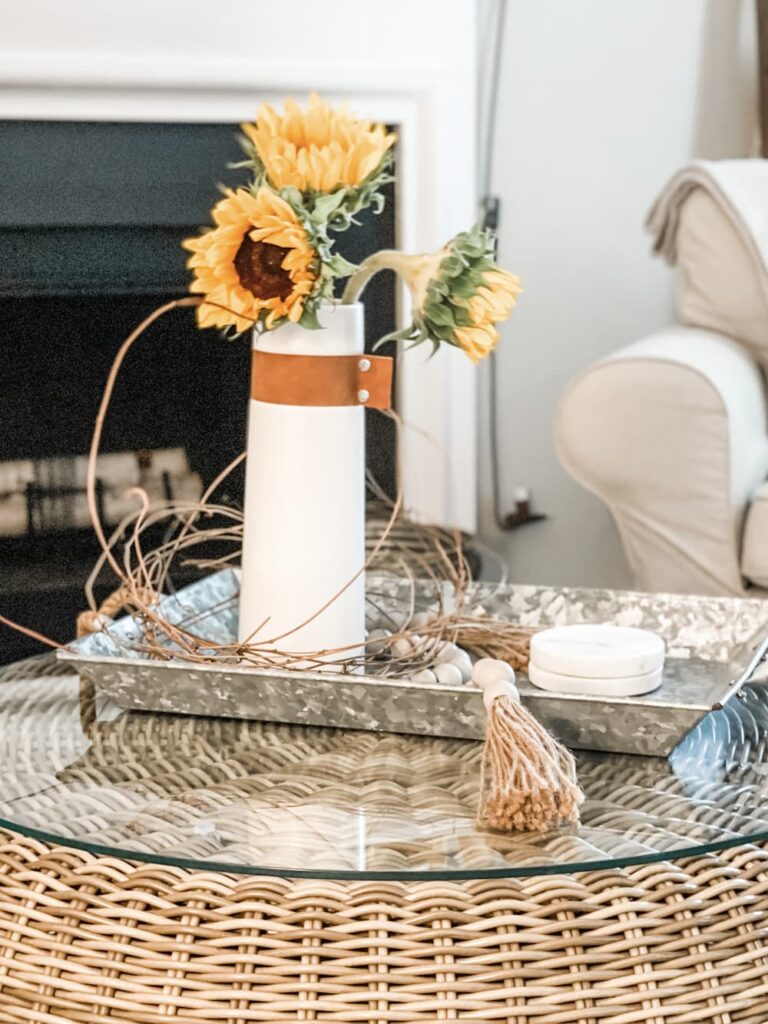 FRESH SUNFLOWERS
I love adding them to my white vase on the dining table. They add a soft seasonal vibe to the table.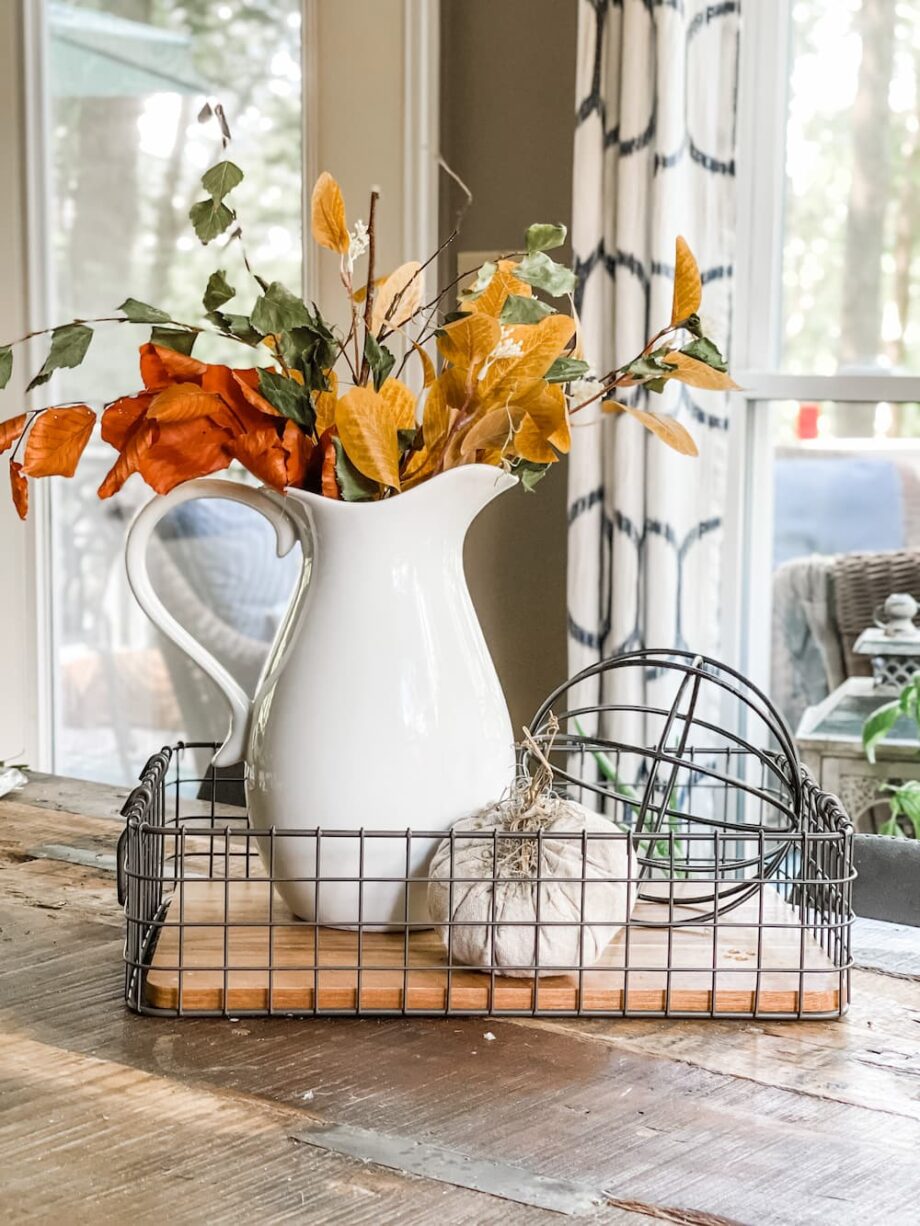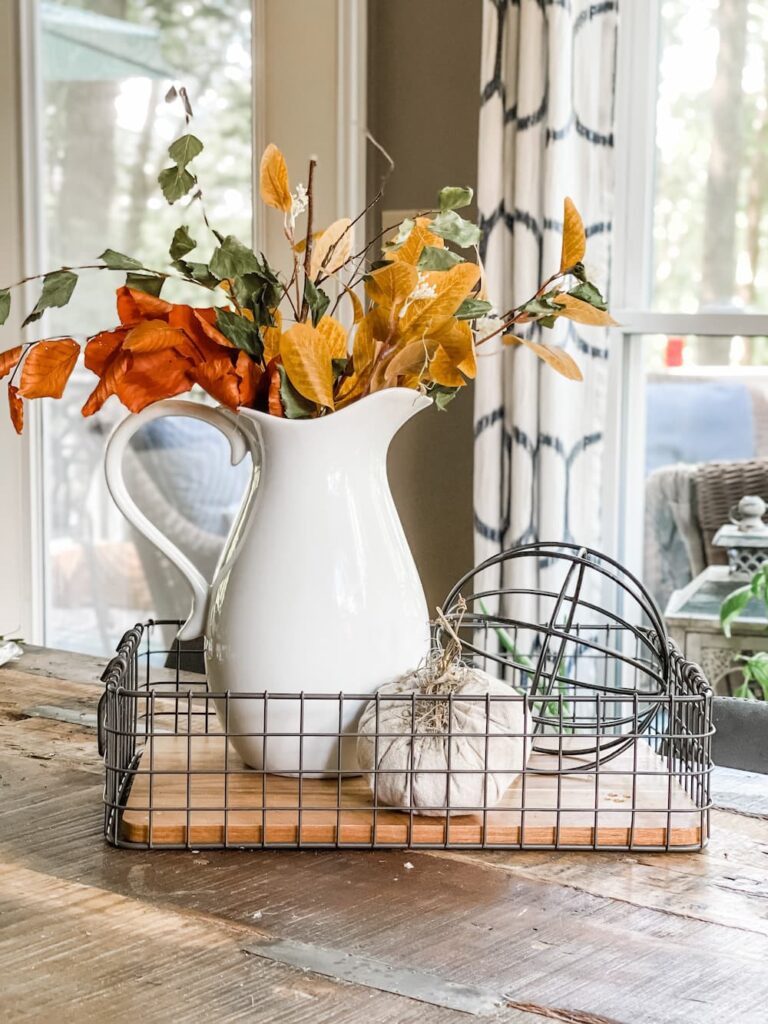 FAUX FALL FLORALS
BRING OUT THE PUMPKINS
It's too early for real pumpkins, they will be rotten and smelly by the end of September.
So bring out some pumpkins. I have a great tutorial for FABRIC PUMPKINS here.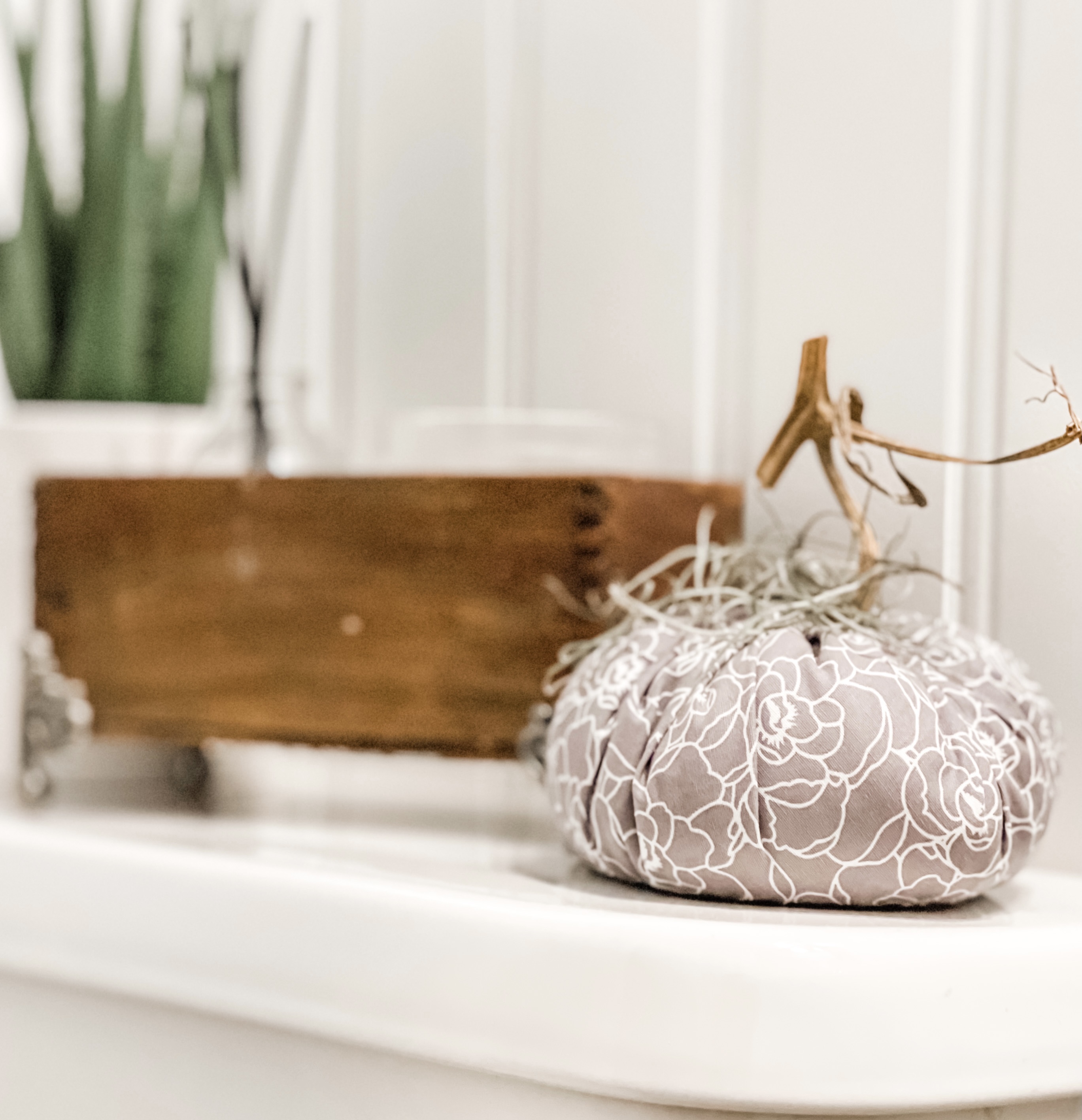 Since I made like a zillion last year, I am bringing them out slowly. Maybe I need to make them in Sunbrella fabric so they can lay outside like I have a pumpkin patch.
I am starting with very neutral colors that blend in. Maybe that way Carmine won't notice that we have 30 pumpkins out in August, before we've even been on our summer vacation!
I have a cream fleece one out on the SEWING MACHINE TURNED BAR CART, and a drop cloth one on the table and another blue fleece in the sitting area.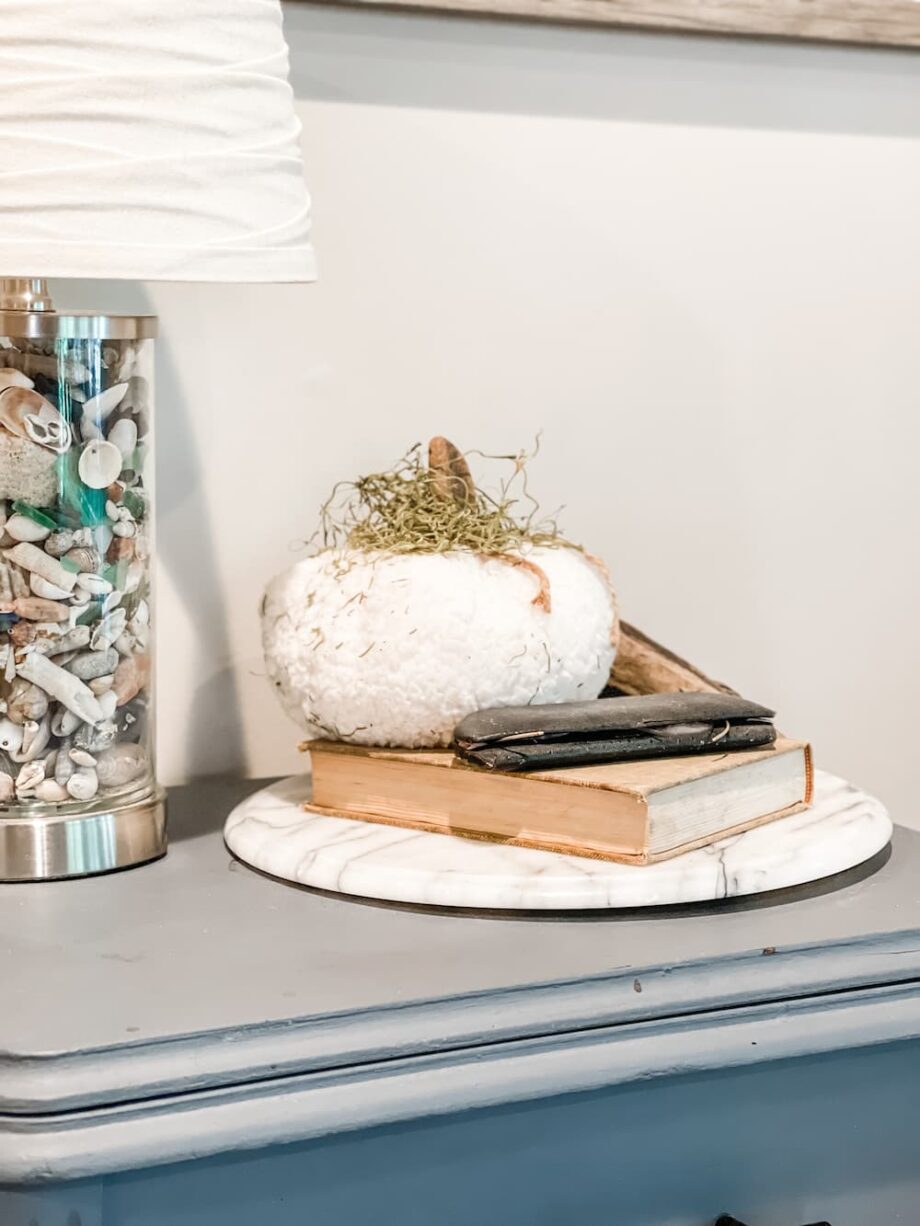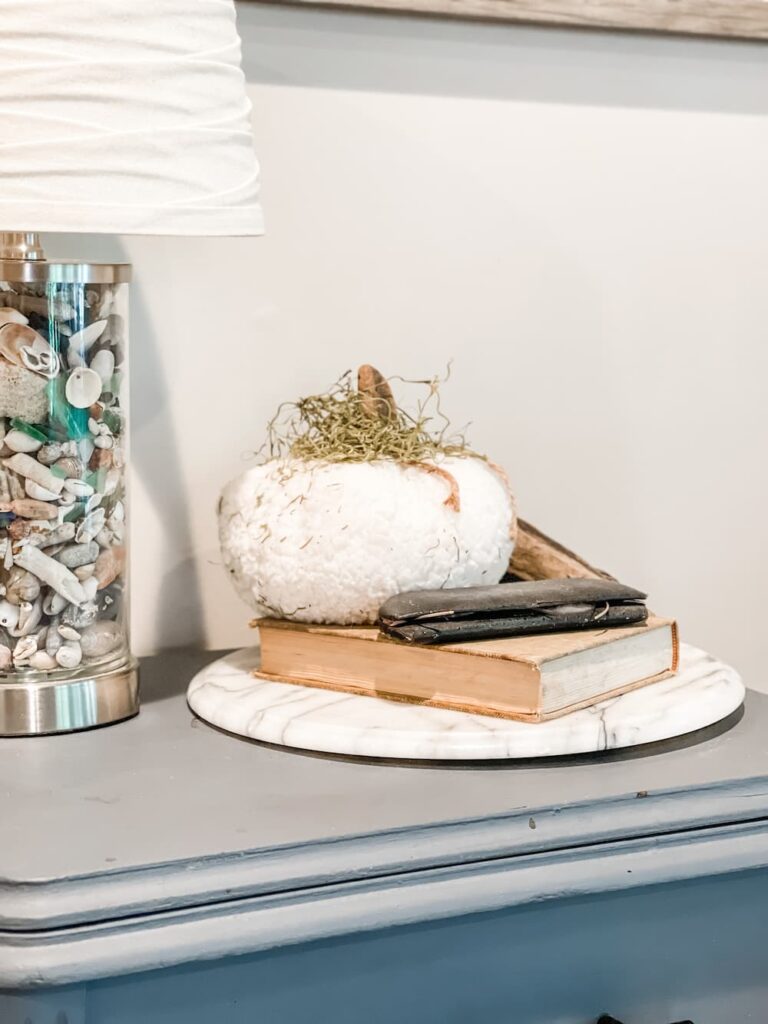 CREAM FLEECE PUMPKIN ON THE BAR CART
OUTDOOR ACCENTS
Adding fall touches outside is another easy transition you can make.
Even the grocery stores have their mums out now and there's nothing like a bright pop of color if like me, your flowers are waning.
Mums are puppy approved by the way.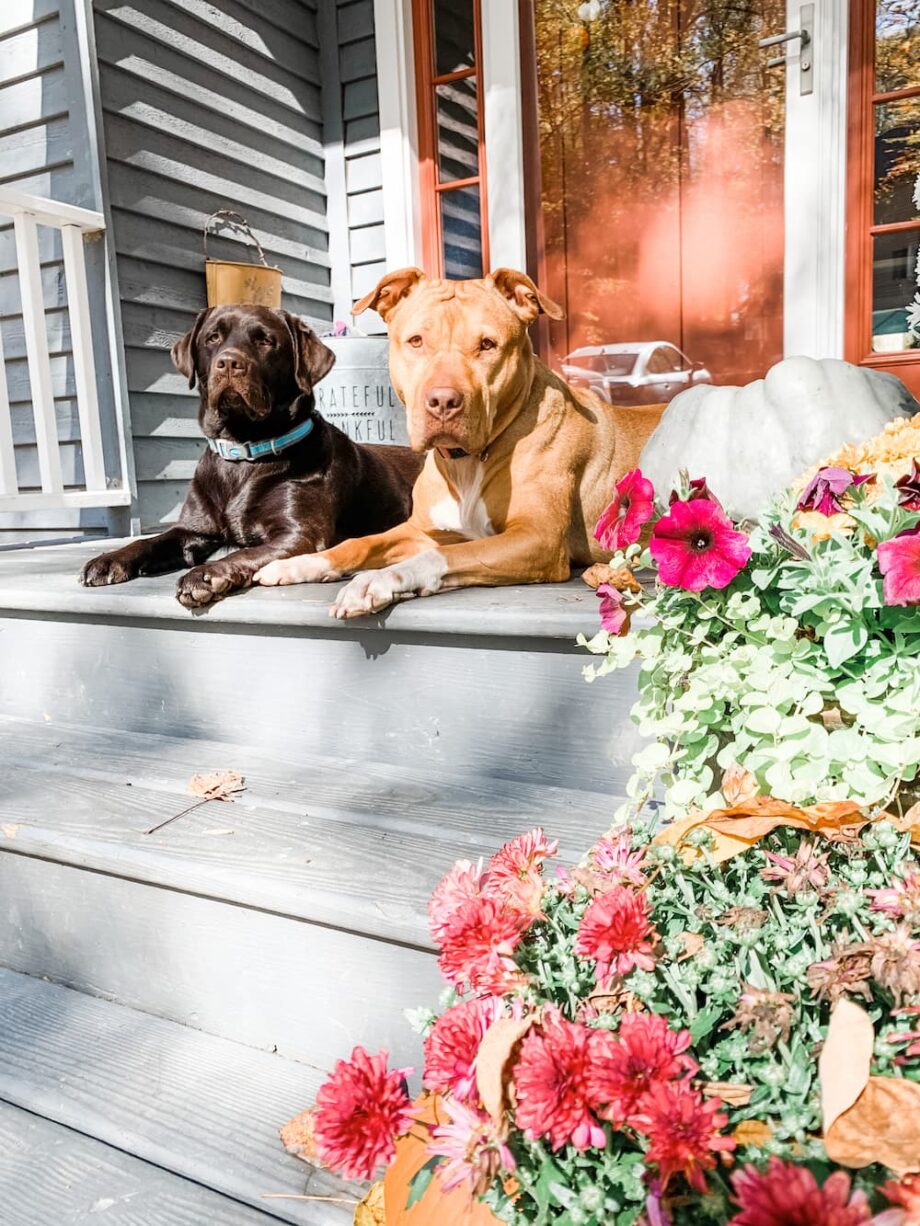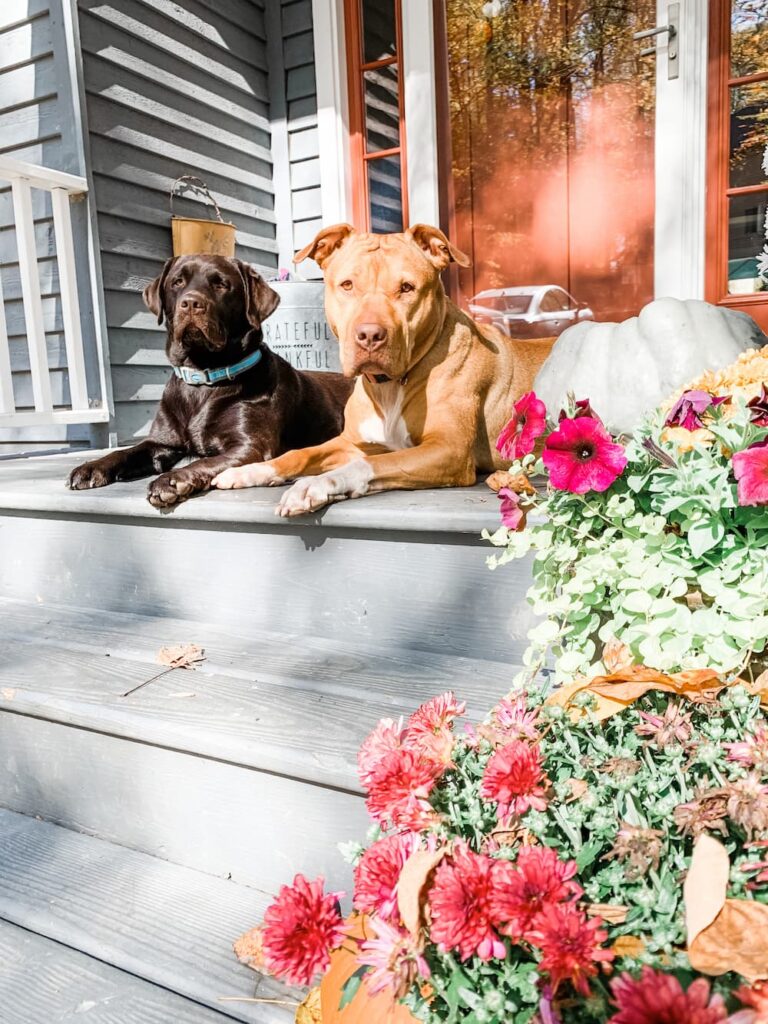 I hope you were able to get some ideas on easy transitions from summer to fall. Thanks so much for stopping by!
Next up on the Fall Decor Blog Hop is Rose from JennyWren Design. Click here to see her fabulous ideas!
BLOG HOP BUDDIES
https://kristymastrandonas.com/early-fall-decorating-french-country-coastal-style/
https://truemanstreasures.com/easy-and-simple-ways-to-transition-from-summer-to-fall/
https://www.savvyinthesuburbs.com/
https://wmdesignhouse.com/its-easy-to-add-fall-throw-pillows/
https://www.henandhorsedesign.com/easy-fall-mantle-decor-ideas-you-can-create-today/
https://www.tracyshaven.com/post/tips-for-transitioning-from-summer-to-fall-from-the-sheshed
https://vintageandgraceliving.com/5-simple-ways-to-transition-your-home-from-summer-to-fall/
lET'S GO SHOPPING
I am an Amazon Affiliate, if you purchase from these links, I receive a small commission at no additional cost to you. Thanks for supporting a small business.