If you are like me – you love a good thrift store find. Seriously not much gets me more excited than scoring something from a thrift store.
Something I can makeover and give a forever home. Bonus if it has a little backstory. Actually Carmine would say "bonus" if I sold it.
Meet my thrifted bookcase makeover.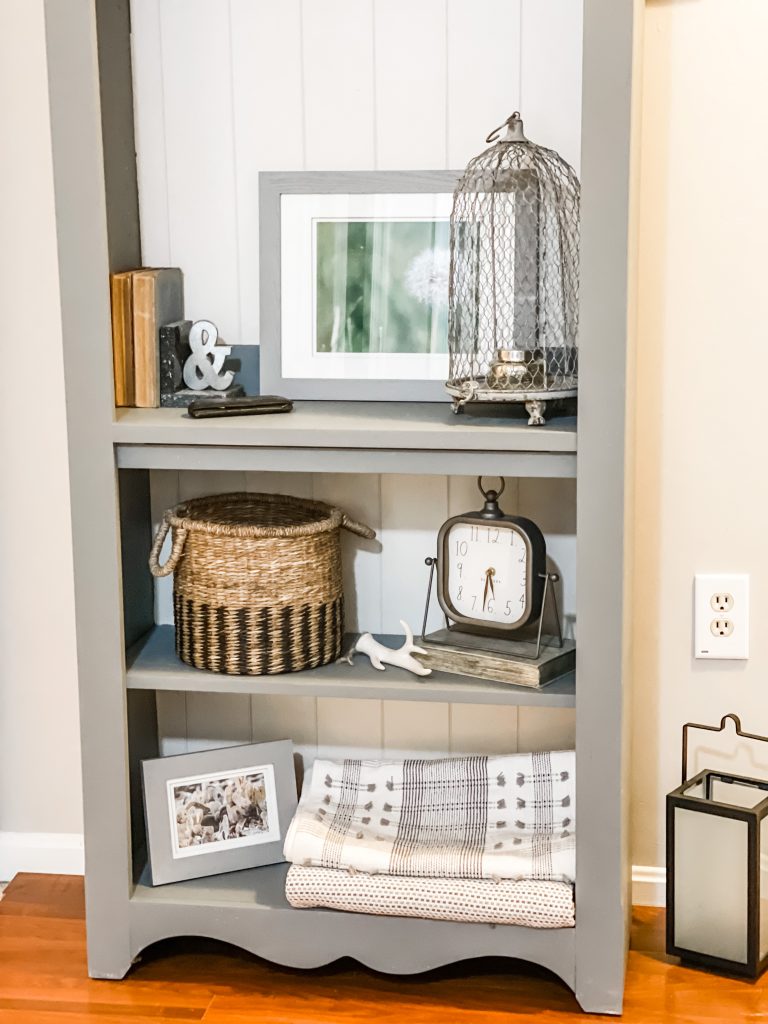 The color was a creamy yellowish one and I didn't love it. I really cannot believe how heavy duty and well made this piece was.
The back was white, very different from the sides and front. I know above it all looks the same.
When you look at this piece it doesn't scream "history" does it?
After discovering a tag and doing a little research I found it interesting.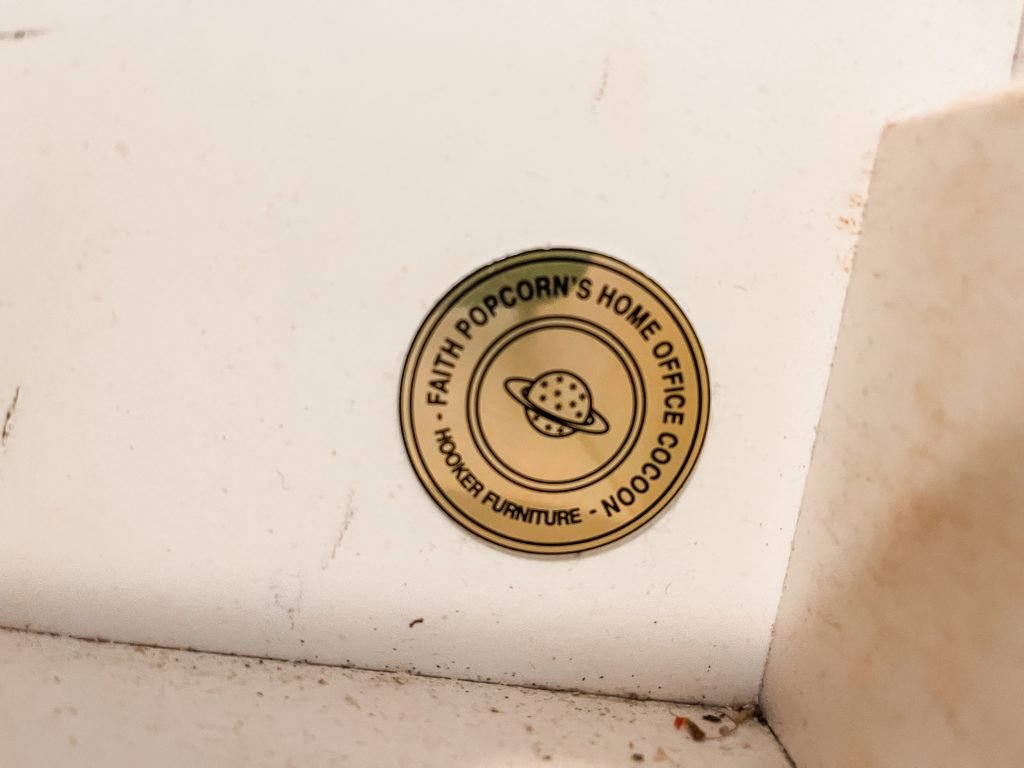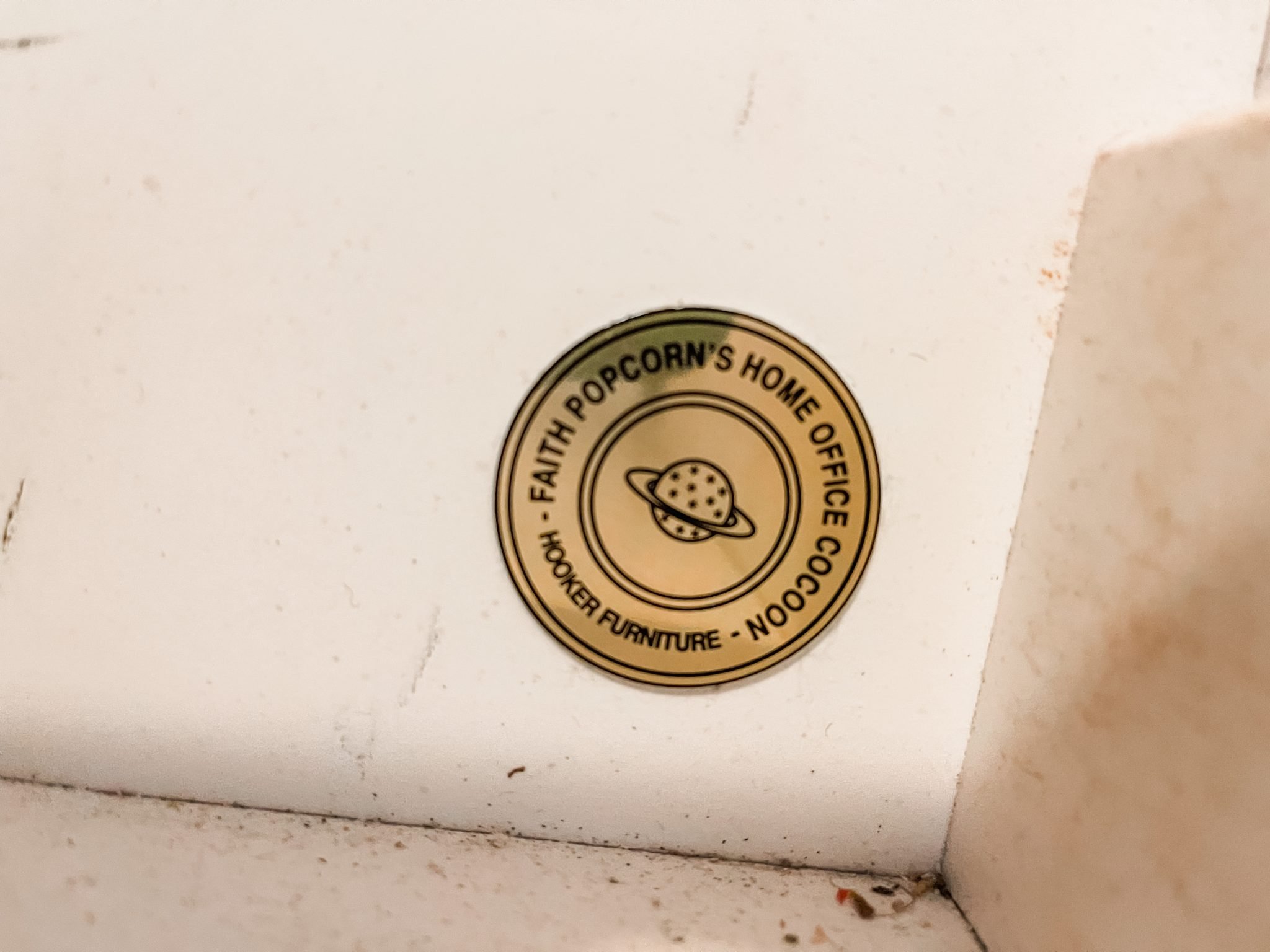 BUT FIRST – THE HUNT
We were on our way home from our favorite reuse warehouse. We had just dropped off a toilet from our guest bath and an old saw that wasn't being used. I know someone was very happy we left with an empty car.
But we were passing a store I hadn't been in for years. I am fast, I promised just a quick glance for furniture. The thrift store was incredibly organized and spacious. There was an old hutch and china cabinet on sale for $75, it had a waterfall type top and was a little hunky even for storage. I wasn't feeling it.
Carmine spotted this bookshelf, it was sturdy and real wood. The price was $59.99 but that seemed like too much to me. A worker pleaded with us to take the hutch and cabinet so he could have more space. I said I'd prefer the bookshelf because it would work better for me. How about $39.99? "Sold."
NEXT – THE MESS
Around New Years I began organizing my office/craft room since it was a hot mess. It was the space where everything from downstairs got dumped.
It consisted of a desk and cart and too many boxes and bags to count. Yep, time to take inventory and clean it up.
I purchased a large bookcase cabinet combo from Ikea last year on clearance and it sat in the boxes in my office since last February. I'm not going for a "showroom" office, just a functional one where I can find my supplies.
I have problems with out of sight out of mind, this is why I don't use dressers for my clothes. My clothes are hung so I can see them. I don't use file cabinets at work, I use racks with file folders on and around my desk.
Basically, I need a space to create instead of taking over the dining area and kitchen, and I want a spot for everything from my glue sticks to floral foam. Are you lucky enough to have a space that organized?
My Ikea cabinets are grey so I wanted to do something in the grey family. I used Dixie Belle Silk Mineral Paint in Wharf. This is the second time using this color, it's beautiful. See here where I used it before.
NOW – THE HISTORY
So you see that tag? On our way home I looked up Hooker Furniture, I'd not heard of it and I found bookcases and things at Wayfair for ridiculous prices. Hmmph, not a bad piece I guess.
The next day I looked at the tag again and looked up the entire description. Wow. Faith Popcorn, what a name, have you heard of her? A futuristic marketer? Talk about interesting. Here is a link to an article from Furniture World Magazine in 2004. https://www.furninfo.com/Furniture%20World%20Archives/350
WHO IS FAITH POPCORN?
Below is an excerpt:
Celebrated author and consumer trend forecaster Faith Popcorn has entered into licensing agreements with the Hooker Furniture Corporation and The Barcalounger Company to create furniture tailored to the unique needs of the female consumer. Popcorn and Hooker have joined forces to create a home office collection for the at-home businesswomen. "Women in America own eight million businesses, and many of them work out of their homes like I do," Popcorn said. "We do things differently and need different tools. My furniture collection will give the at-home businesswoman what she needs – be it 2 desks that expands into a conference table or a side table that doubles as a diaper changer."
Popcorn, the author of best-selling- books "The Popcorn Report" and "Clicking," is credited with first identifying and naming the stay-at-home trend Cocooning. "Faith Popcorn's Home Office Cocoon Collection" will be unveiled in October at the 1999 International Home Furnishings Market in High Point, N.C., the largest such exhibit in the world J. Clyde Hooker, Jr., Chairman and CEO of Hooker Furniture, said, "We have admired Faith Popcorn's ability to forecast trends, particularly the Cocooning trend – which has benefited our industry. We took forward to working with Faith to develop a collection of home office furniture that meets the needs of today's businesswomen and female entrepreneurs." The collection will be eclectic in scope, mixing traditional and transitional styling, with the possibility of incorporating stone and metal to mix with wood tones, State-of-the-art functional applications for the home office will be included in this collection. Shipment of the product to retail stores should begin in early 2000.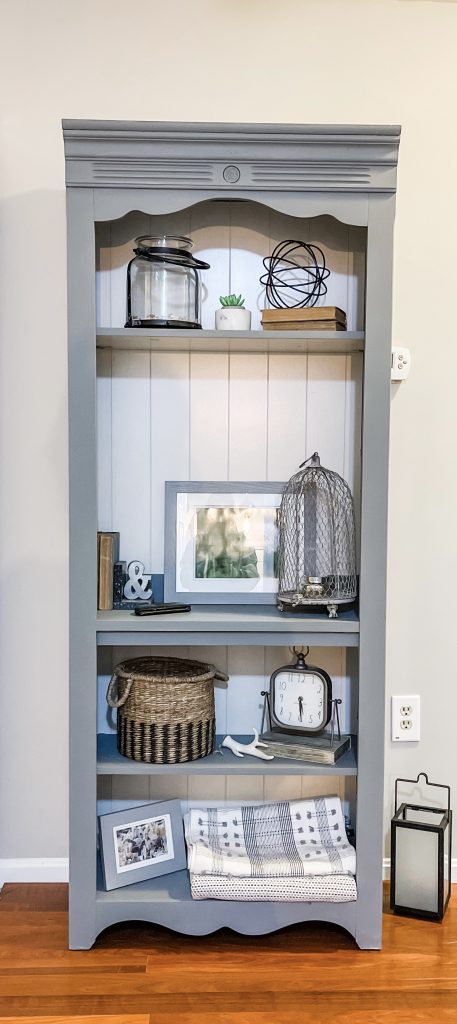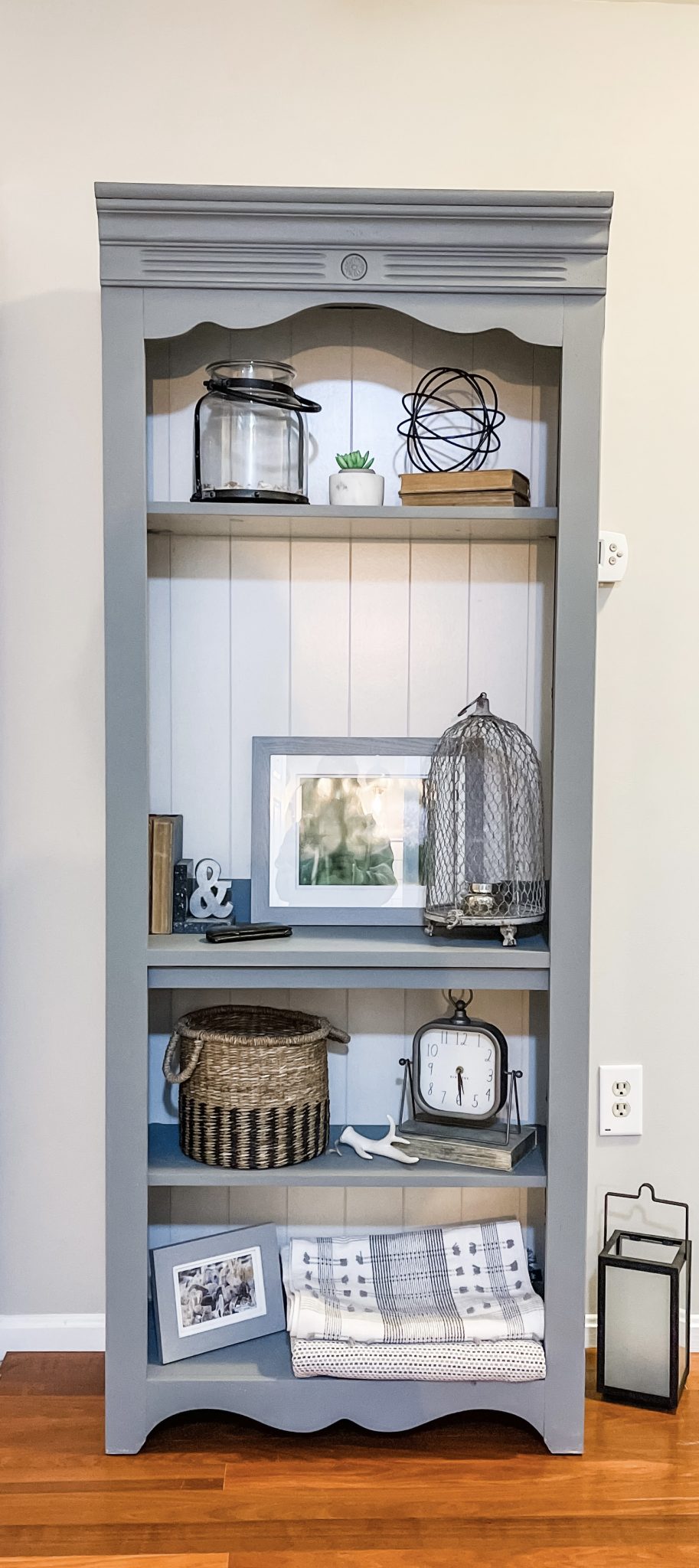 STEP ONE:
THE CLEANING AND PREP
To prepare the bookcase, I used White Lightning by Dixie Belle. It is definitely my go to. Mixed with water in a spray bottle, it's the perfect product to thoroughly clean any piece. A staple in my furniture painting arsenal.
Taking time to clean and prep your piece thoroughly helps to ensure your paint will adhere.
My steps are to dust and wipe down, then go over it with the White Lightning and then wipe it down again.
STEP TWO:
THE PAINTING
Since I decided to keep the back of the bookcase white, I needed only one more product to get this look. I used Wharf, a beautiful grey color which is part of the Silk Mineral Paint line with Dixie Belle.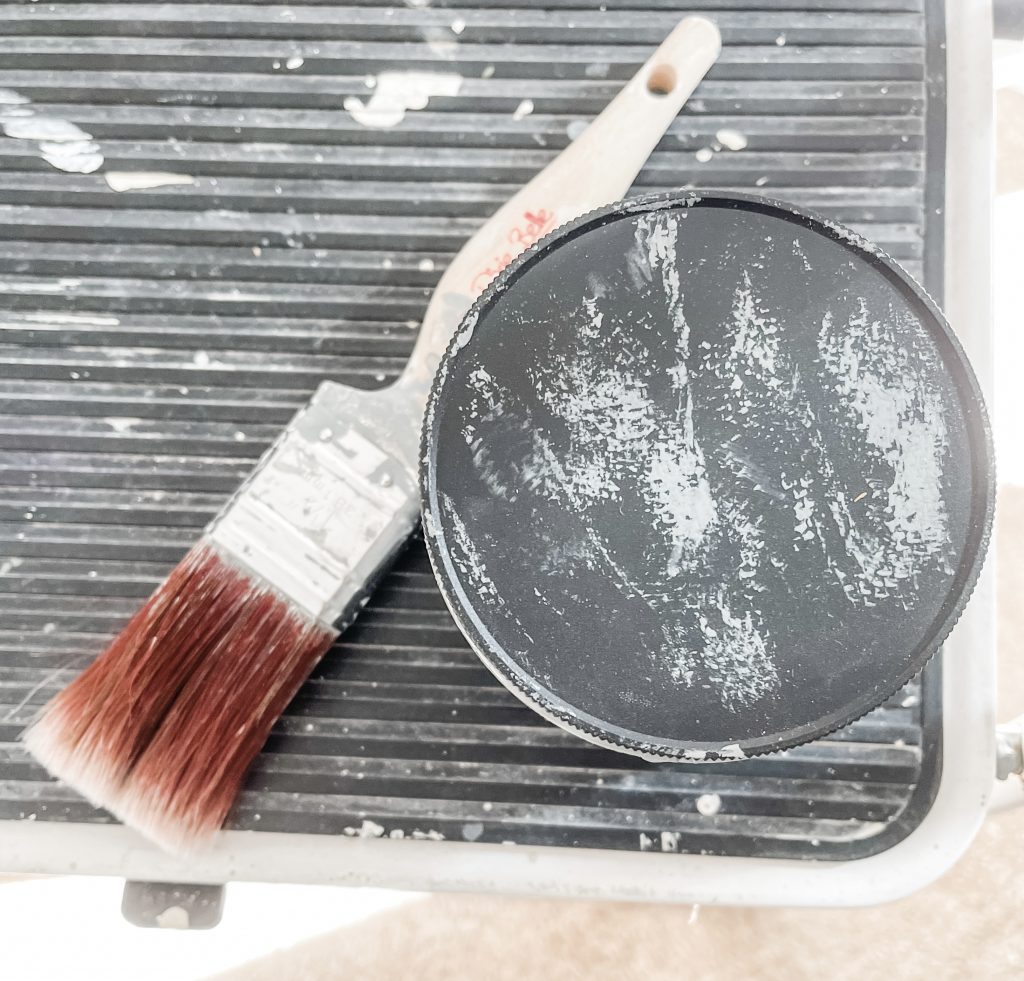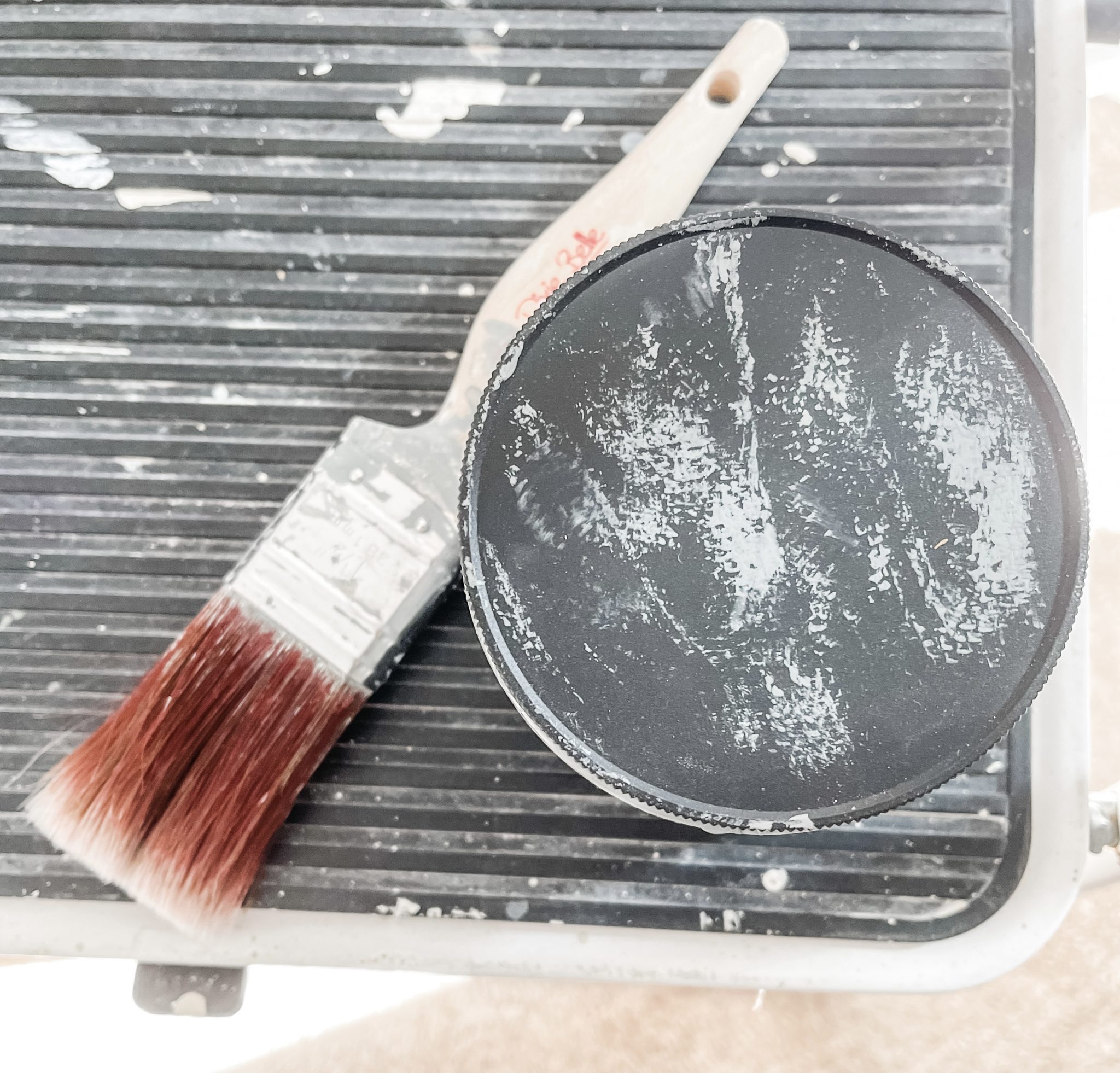 Currently there are 21 beautiful colors of Silk Mineral Paint. It's a great paint that contains a primer, color and finish all in one jar. The paint is self leveling which means you won't have annoying brush strokes.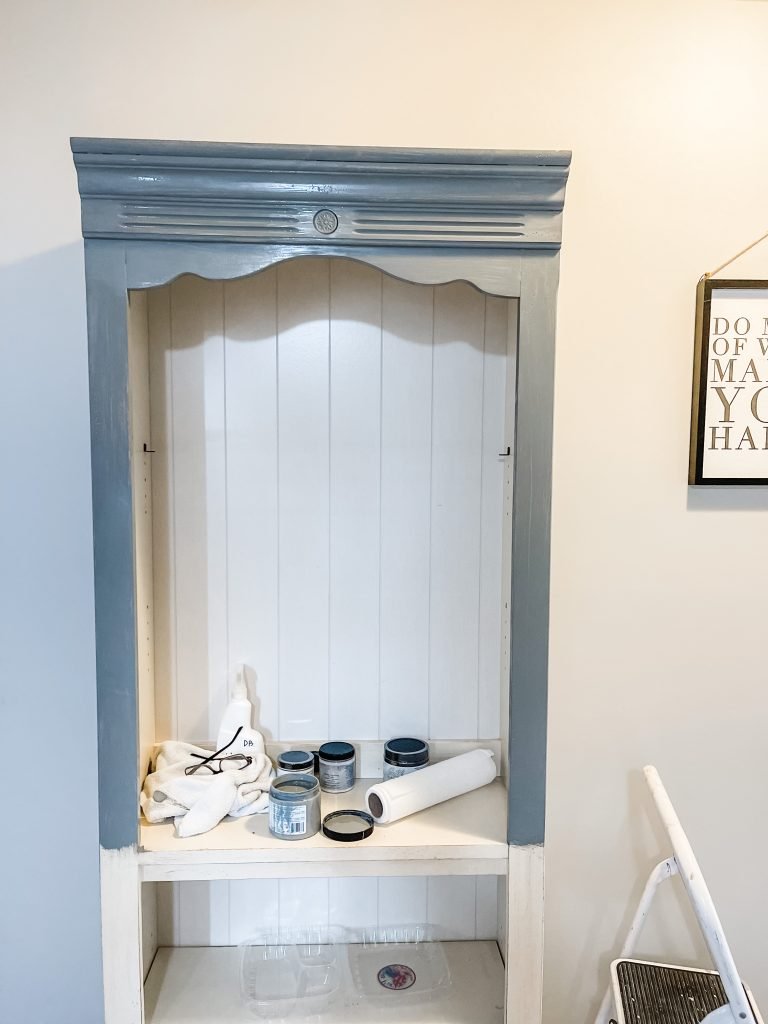 To keep from getting anything on the back I used FROG TAPE. I find this works better than the traditional blue painters tape. They also have a more delicate tape for certain surfaces. This green version worked great for me. I began painting one coat all over.
It dried pretty quickly. There was no sanding or anything necessary, it went on so nicely.
Next I put on a second coat, then I removed the tape and the final product was super smooth.
It's traditional I know, I was thinking about doing stripes on the shelves but I decided not to for now.
When I decide what the remainder of my office will look like, it may be something I add later.
STAGED AND COMPLETED
I am so happy with how this turned out. I don't have anything like it and it's going to be a perfect addition to my office. The way I staged it in the pictures is how I would decorate if it was in my living room. Probably wouldn't look as exciting with stacks of paper, containers clay or jars of paintbrushes!
Thanks so much for stopping by to check out my Thrifted Bookcase Makeover. It never ceases to amaze me how easily you can transform a piece with a few coats of paint.
Do you remember these pieces I recently painted? I love them.
Thank you Dixie Belle!
If you'd like to see how the office turns out, subscribe to my blog and get my updates delivered directly to you inbox.
XO, Regina
LET'S GO SHOPPING!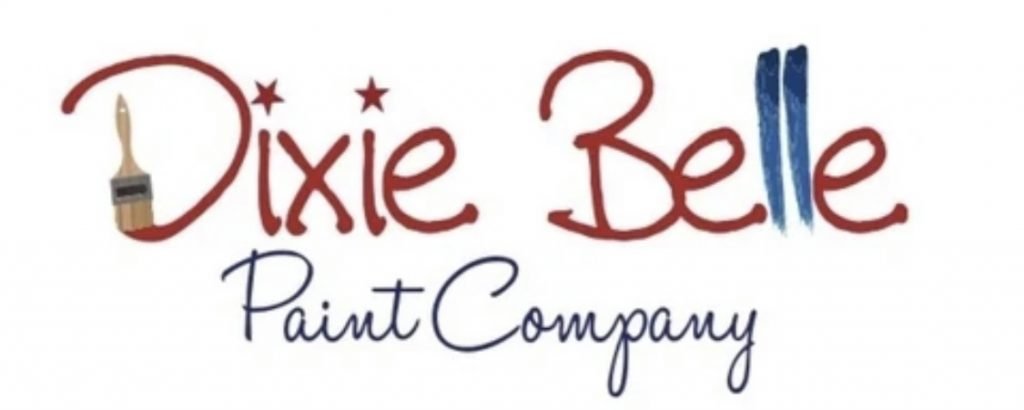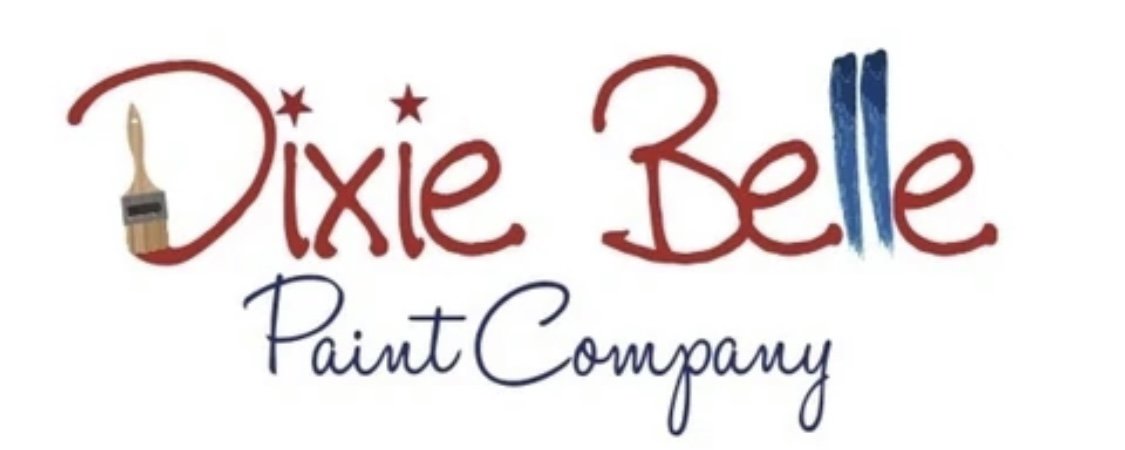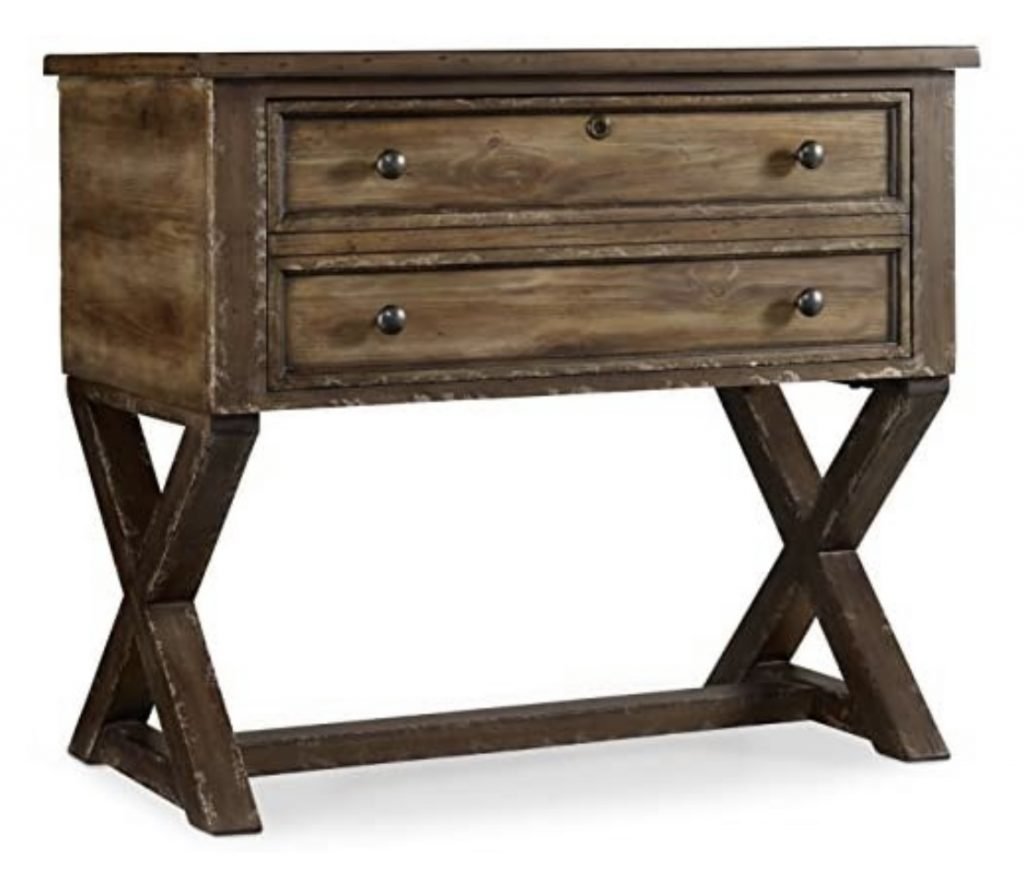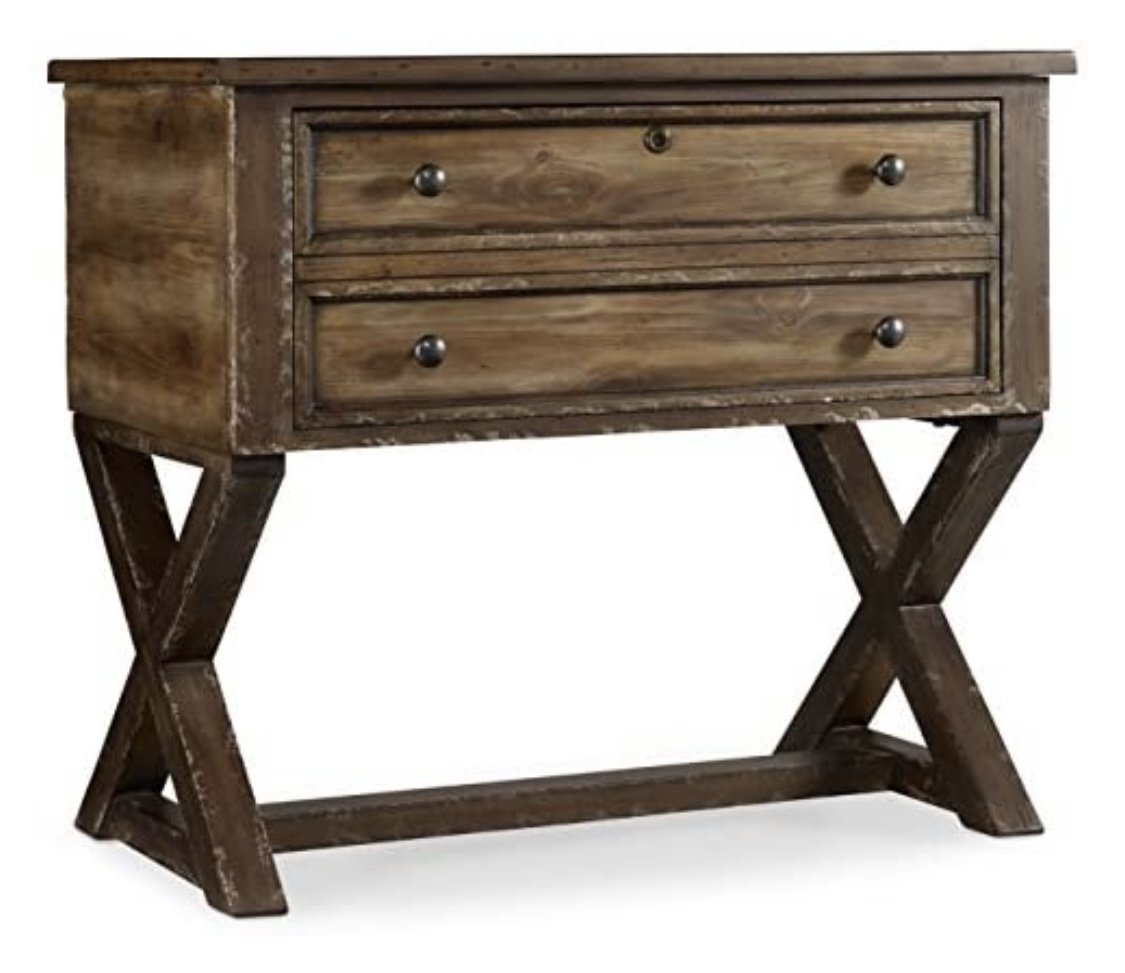 This post may contain affiliate links. You can order from these links at no extra charge to you and I will receive a small commission. Thanks for helping support my small business.
This post is sponsored by Dixie Belle Paint, but the ideas and opinions expressed are my own.