Looking for an easy and quick idea for dinner? I'm sharing delicious grilled flatbread recipes, perfect for summer.
Welcome to Celebrate the Holiday hosted by Carol from BlueSky at Home. This month we are focusing on all things summer, whatever that means to you. If you are coming from Michelle at Thistle Key Lane, don't you think flatbreads would look amazing on her coastal tablescape?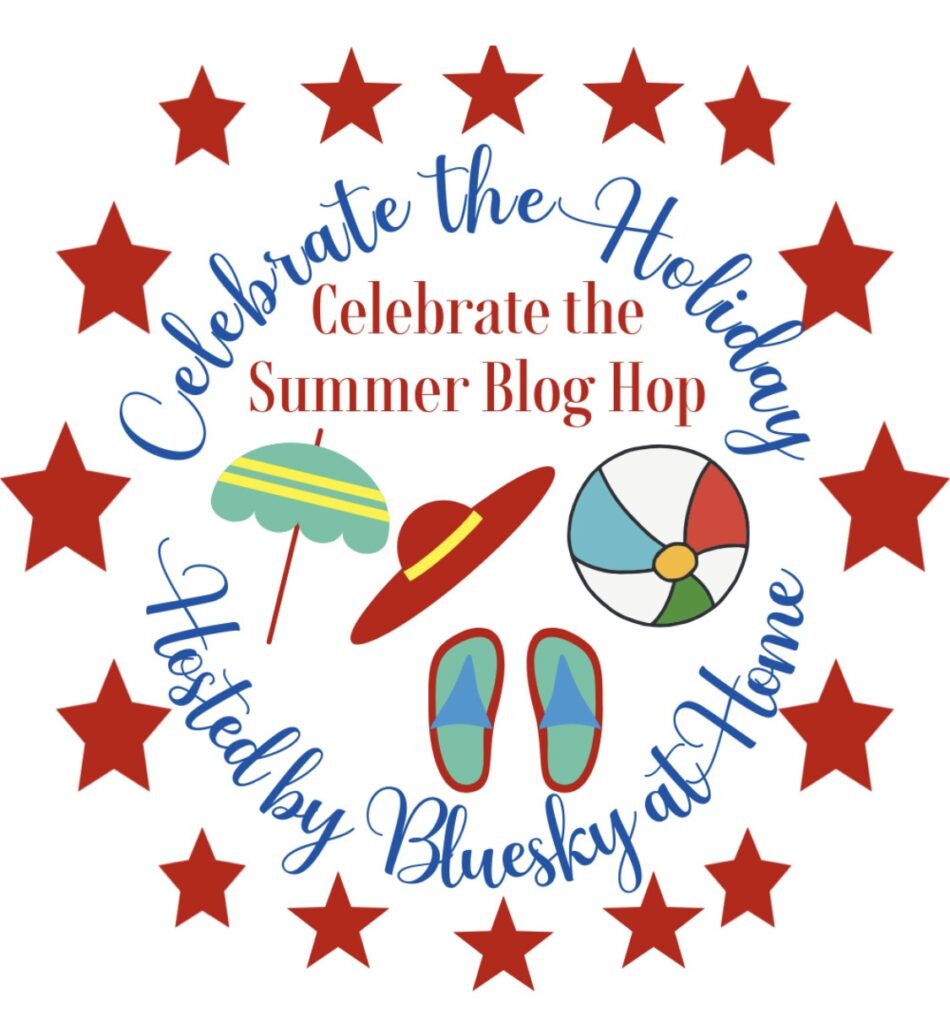 I love grilling out, as a matter of fact, we grill out most nights throughout the year. Summer time we kick it up a notch and also eat out on the deck. One of my favorite meals are these easy flatbreads that can be customized to your liking.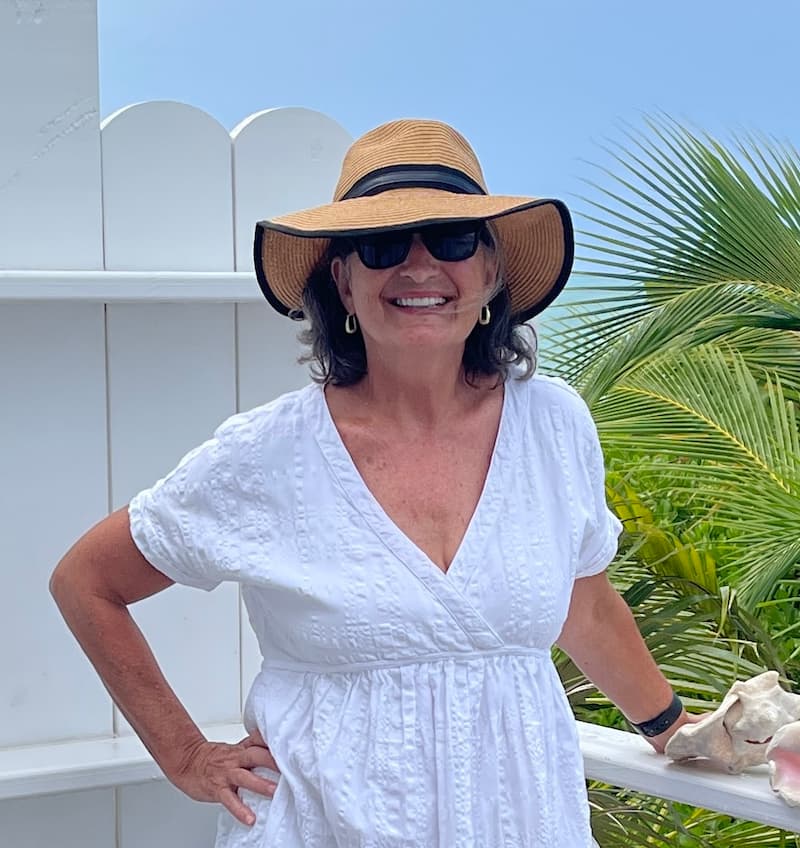 Hi, I'm Regina and this is Saved From Salvage. I love to share DIYs, Furniture Flips, Event Inspiration and Recipes.
Thanks for coming by, I'm so honored you are here.
MY FAVORITE SUMMER FLATBREAD RECIPES
Each of these is a simple summer flatbread. This is the best way to add some fruit and veggies to your meals. Taking a plain flatbread and adding these fresh ingredients makes for an easy weeknight dinner.
Creating each recipe is as easy as prepping and adding the ingredients. I think this post should have been called must love basil, because 3 of the 4 flatbreads used fresh basil.
PEACH FLATBREAD
This is my all time favorite flatbread recipe. It's a great way to use ripe peaches or if you don't have any peaches, you could add a peach jam. Sweet peaches pair beautifully with the goat cheese's mild flavor.
Peach Slices
Goat Cheese Crumbles
Fresh Basil
Olive Oil
Balsamic Glaze
Naan Bread
CAPRESE FLATBREAD
For this recipe, use fresh tomatoes, a drizzle of olive oil, fresh mozzarella cheese and fresh basil. The one ingredient that takes it over the top is the balsamic vinegar glaze. Much like a margherita pizza, it's like an old stand by for me. Carmine likes to add a few red pepper flakes to his Caprese flatbread.
Tomato Slices
Fresh Mozzarella Slices
Fresh Basil
Olive Oil
Balsamic Glaze
Naan Bread
BLACKBERRY FLATBREAD
For this recipe, fresh blackberries are scattered on the flatbread along with feta cheese and cooked over medium-high heat. The feta and berries make a great team on this unique flatbread.
Fresh Blackberries
Feta Cheese Crumbles
Fresh Basil
Olive Oil
Balsamic Glaze
Naan Bread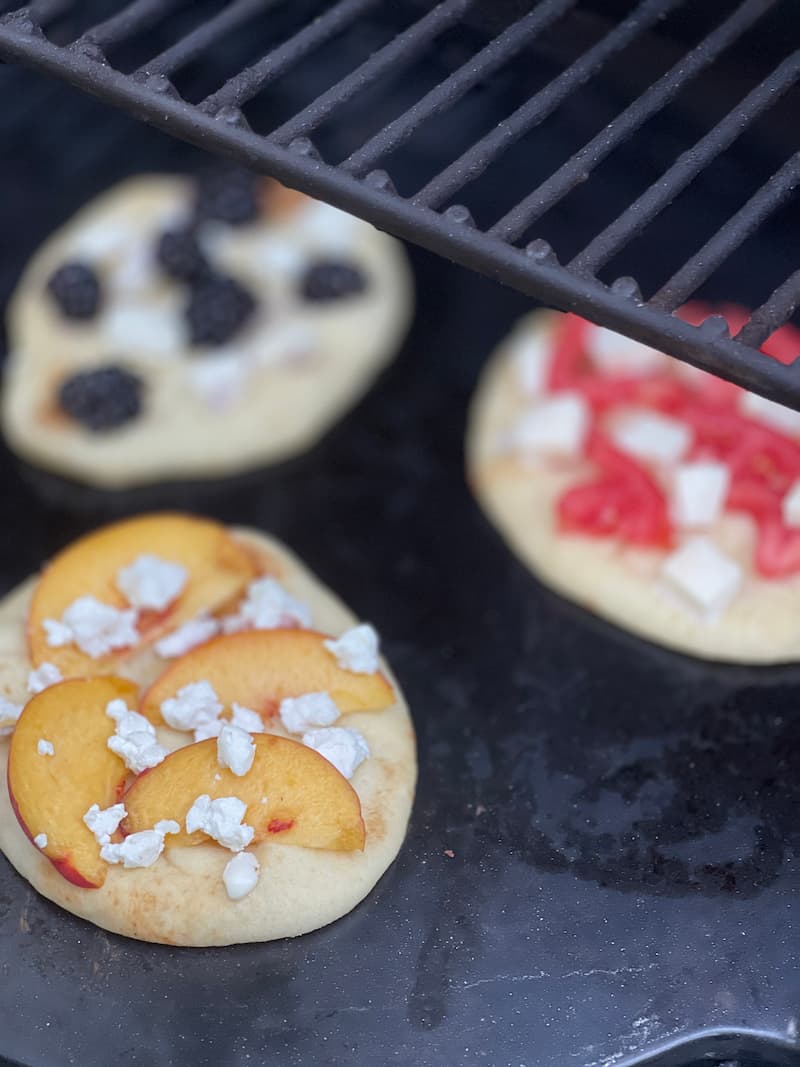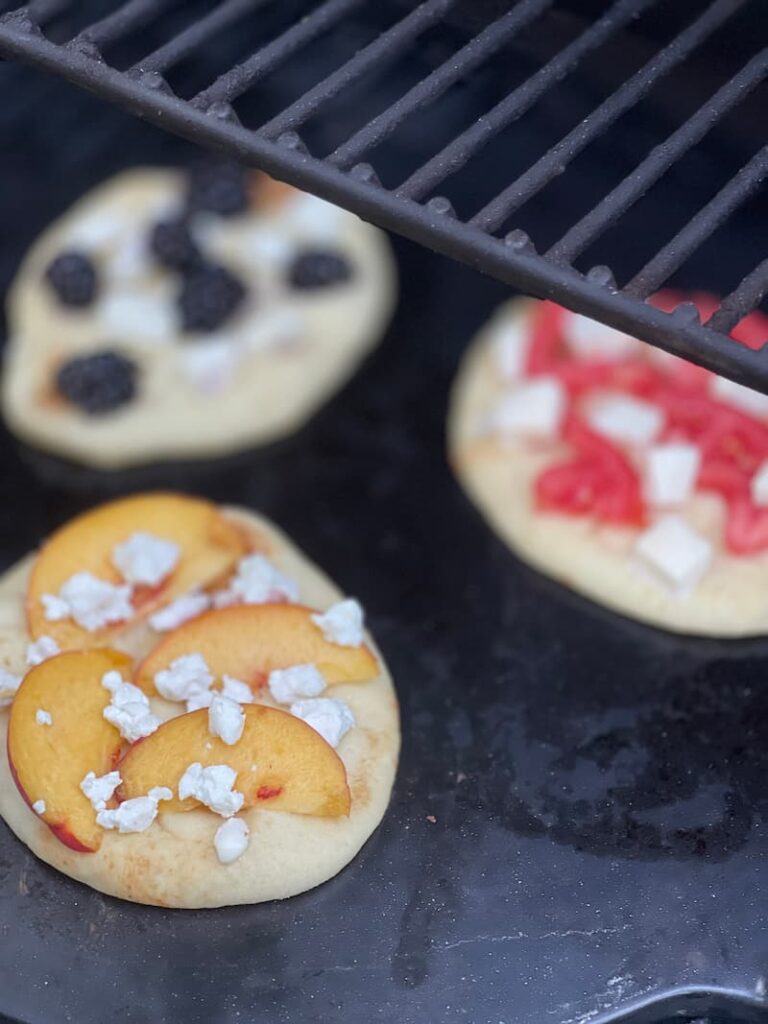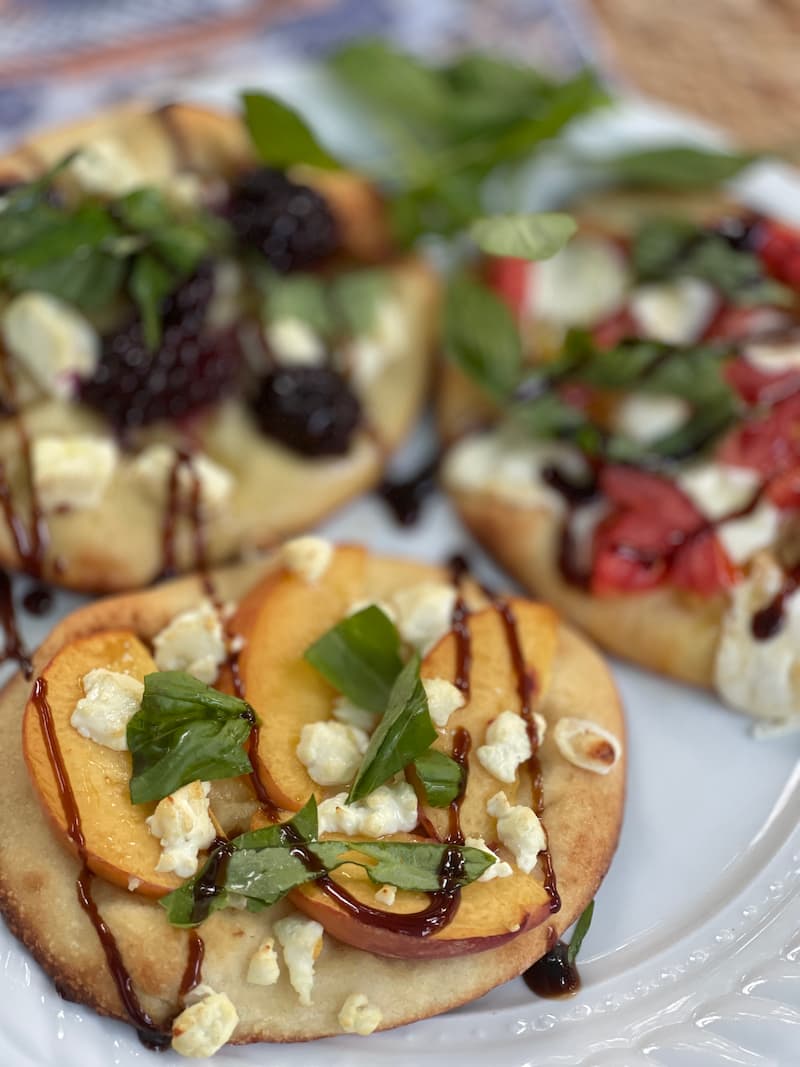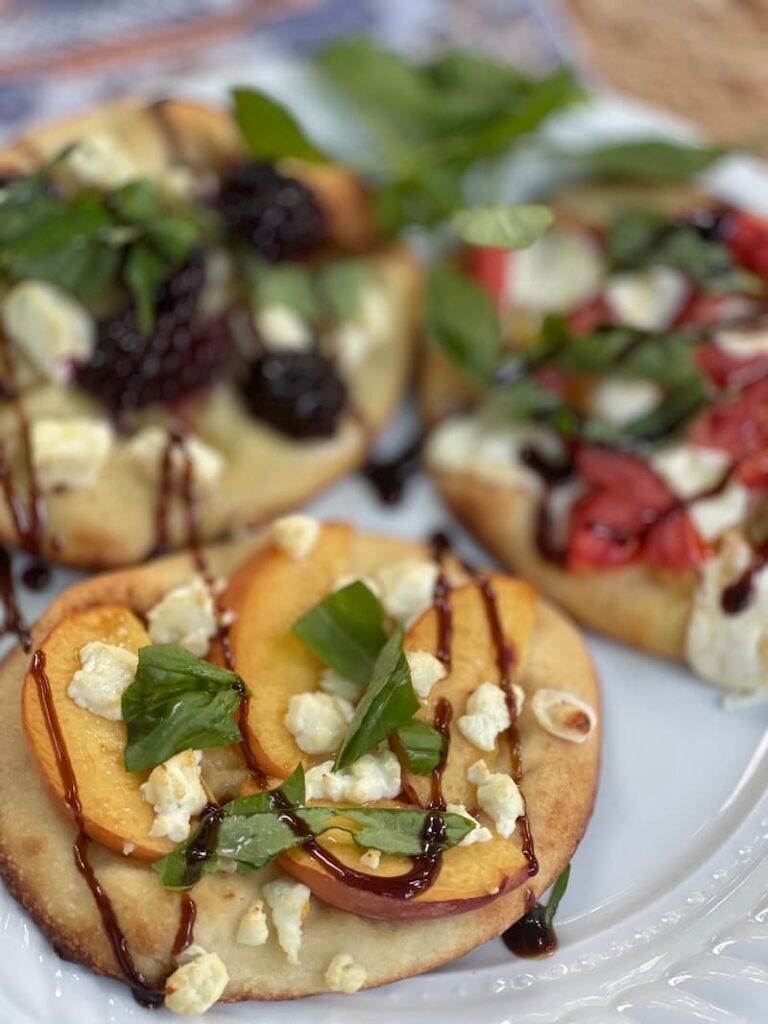 FIG PROSCIUTTO FLATBREAD
For this recipe you want to add figs and prosciutto and shredded mozzarella cheese, optional is to add caramelized onions. The cheese I used for this is shredded mozzarella and of course olive oil. ​This is the more savory of the flatbreads I make.
Dried Figs
Prosciutto Sliced
Shredded Mozzarella Cheese
Olive Oil
Naan Bread
(Caramelized Onions Optional)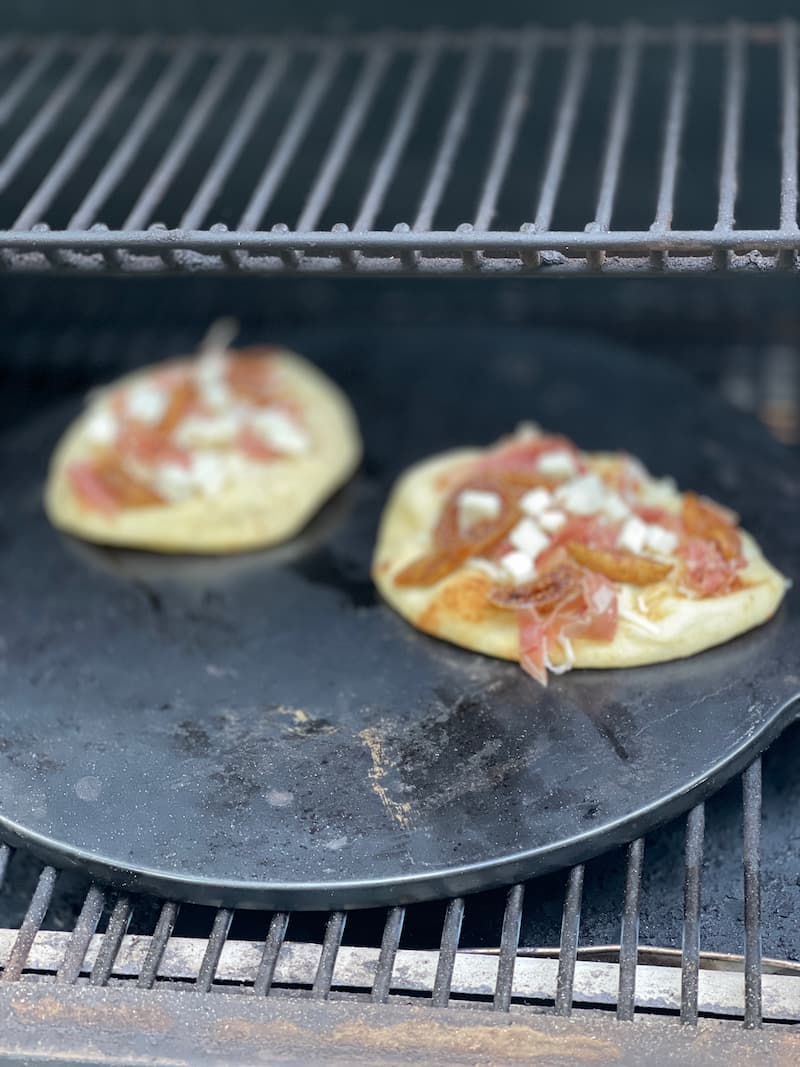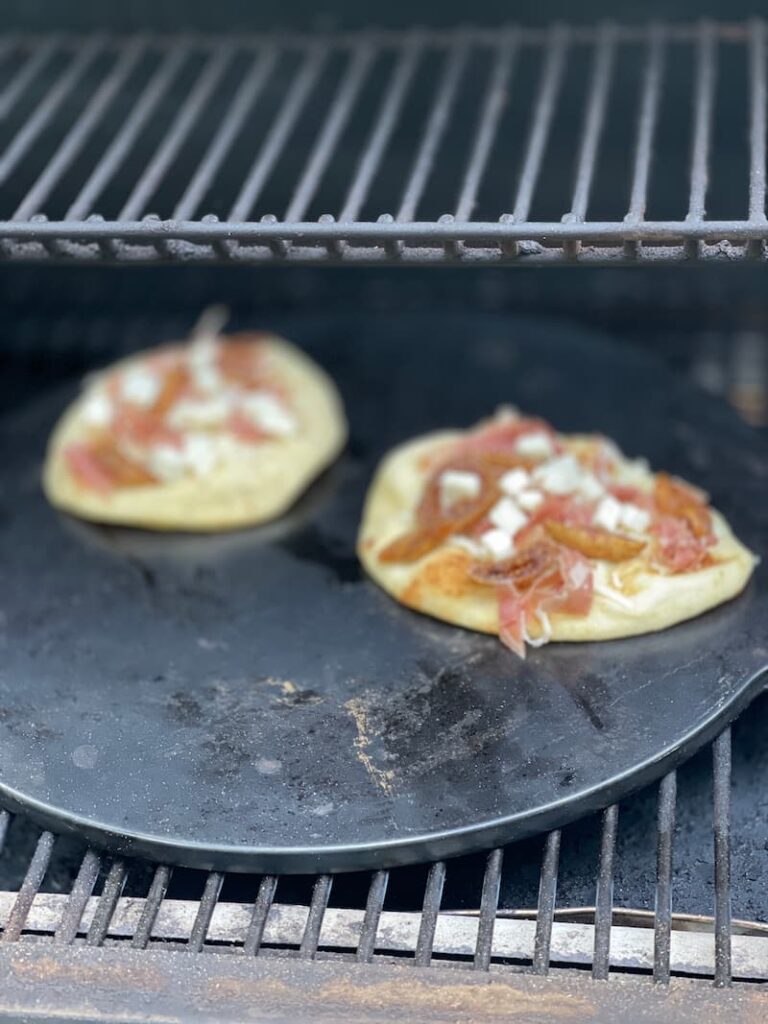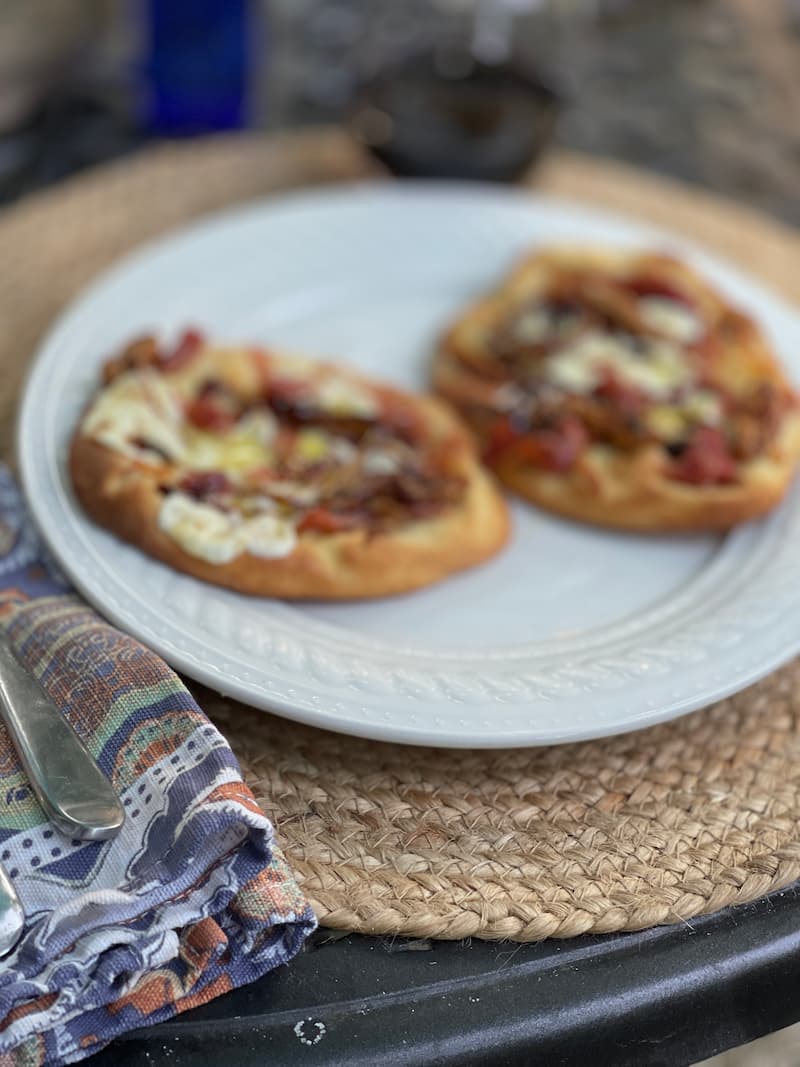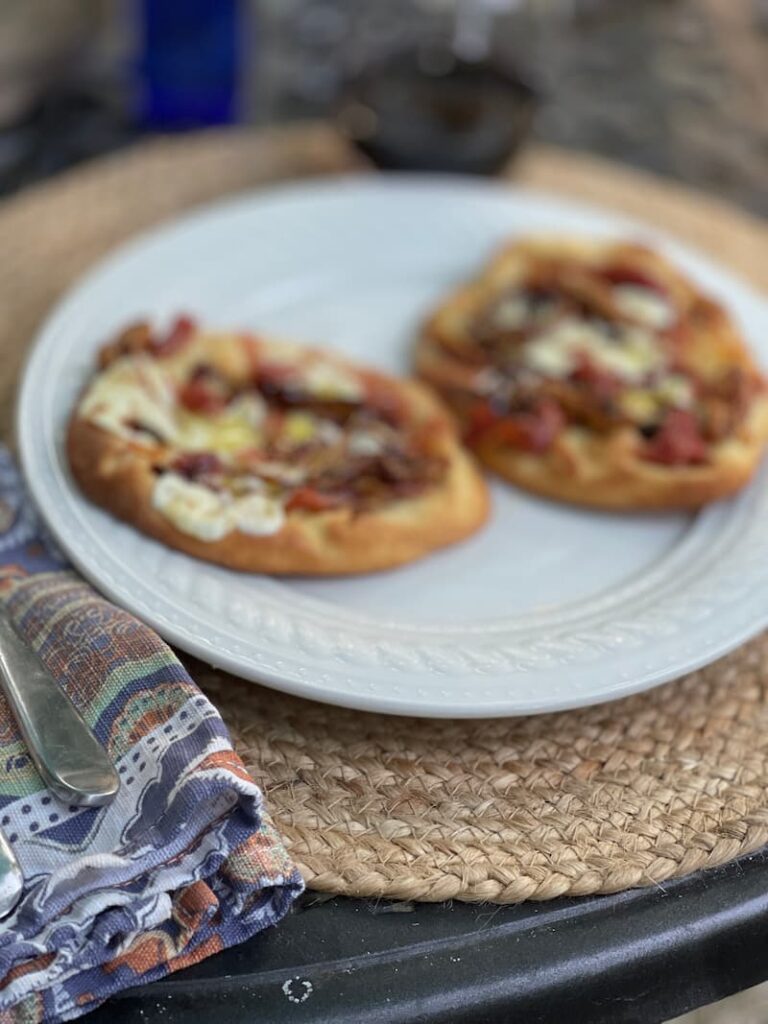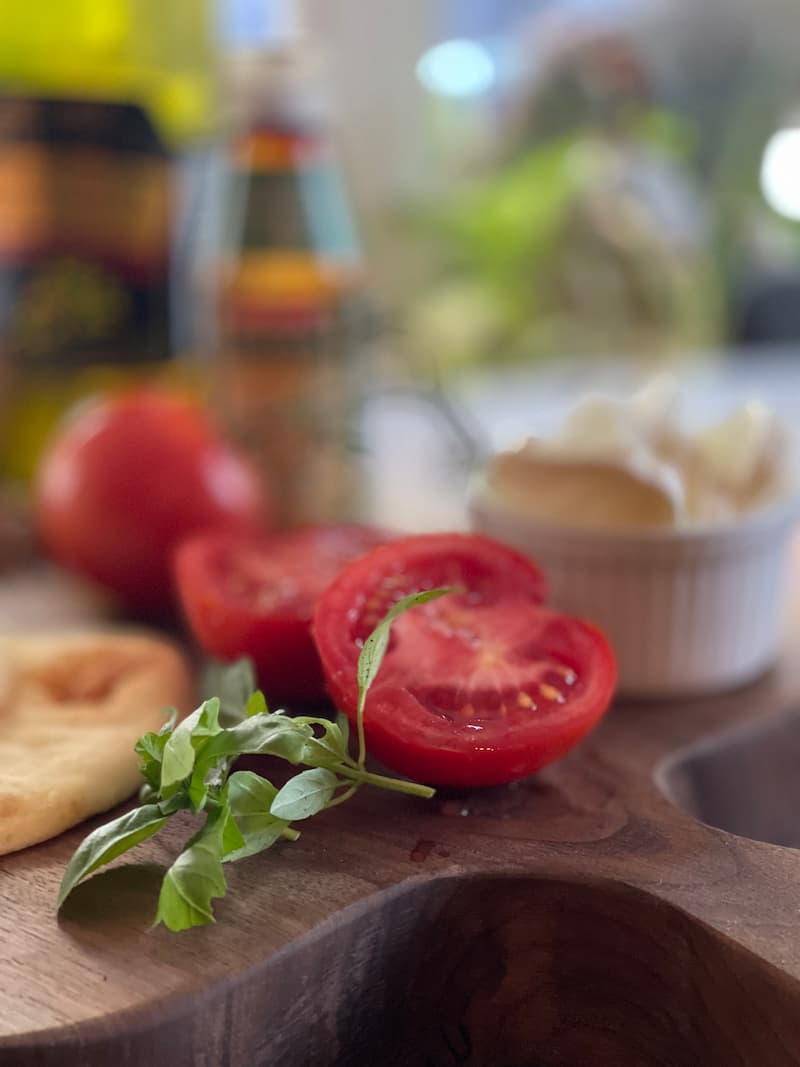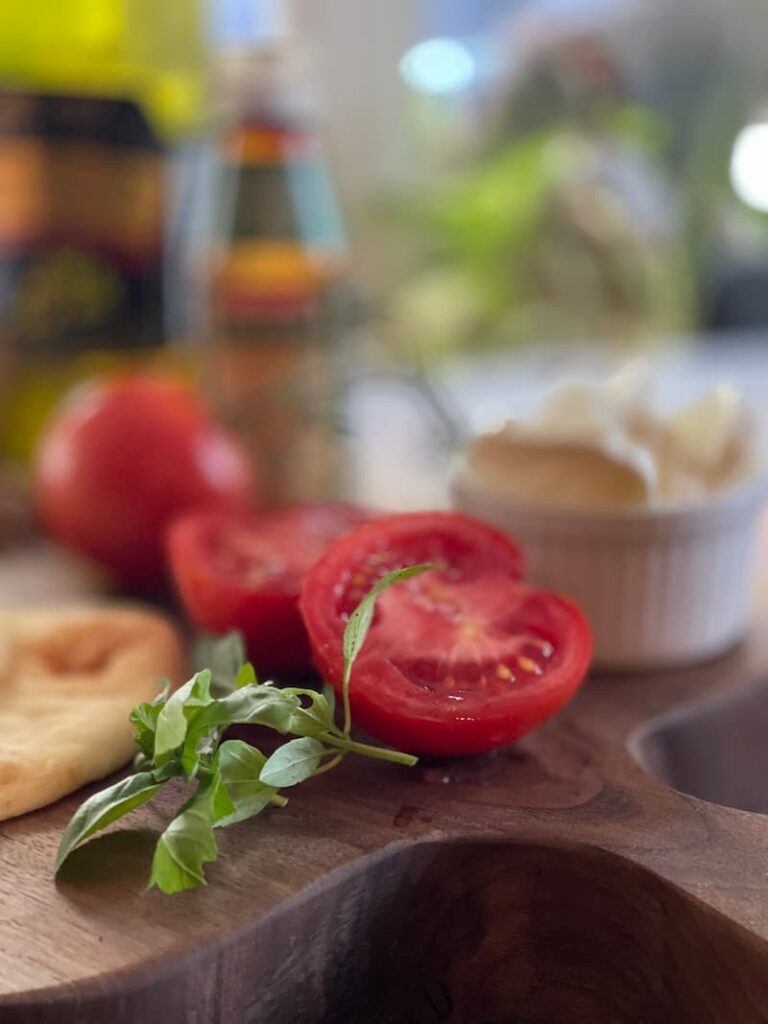 For these recipes, I am using a pizza stone.
I have also used a baking sheet or a small skillet, typically a cast iron.
What you use also depends on how you like your flatbread.
Do you lean toward a crispy flatbread?
I'd use the pizza stone on a hot grill.
FLATBREAD SHOPPING LIST
NAAN BREAD
BLACKBERRIES
PEACH
FIG
BASIL
PROSCIUTTO
OLIVE OIL
TOMATO
BALSAMIC GLAZE
CHEESE / GOAT / FETA / CREAMY MOZZARELLA
MAKING THE GRILLED FLATBREADS
First I gathered all of my ingredients, cut up my tomato, snipped basil, cut my peaches and sliced my blackberries. I cut up the prosciutto and cut the fresh mozzarella.
I preheated our Traeger grill to 500 degrees. Then I placed the pizza stone inside and closed the lid.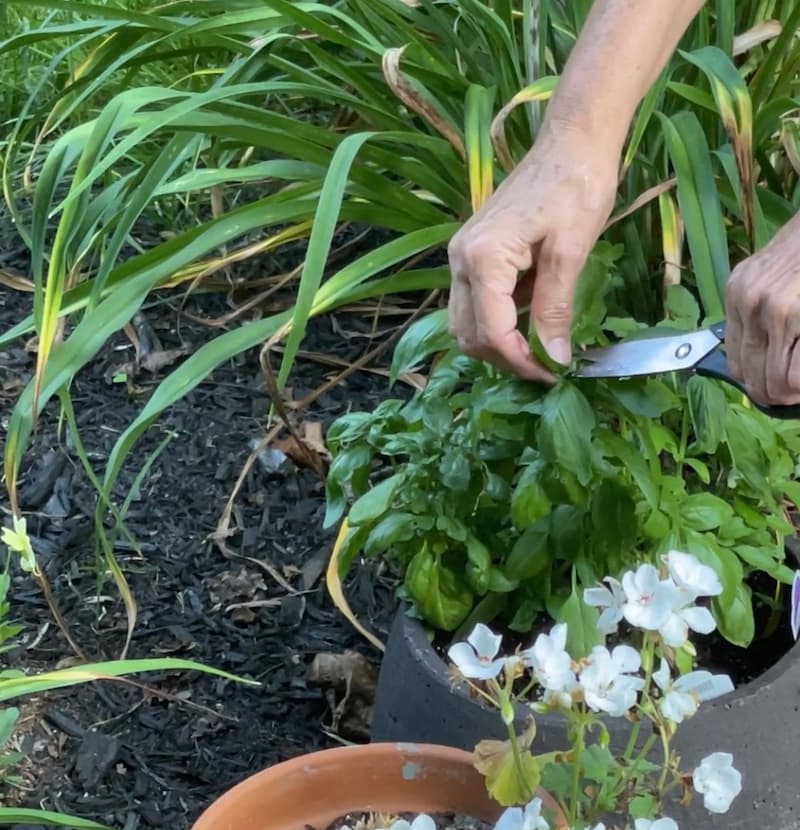 BASIL TIP:
Only add your fresh basil after you have cooked or grilled your flatbread and it's been removed from the heat a few minutes. If you add it to the flatbread on the grill or oven it will turn black. If you add it immediately after the grill then it turns dark. For the most attractive look and taste, add later.
Peach Flatbread: Cut up 1 peach into slices and add as many as you would like. Add a generous amount of crumbled goat cheese and grill. When cooked (8 minutes at 500) to your liking, add your cut up fresh basil, drizzle with olive oil and balsamic glaze and enjoy.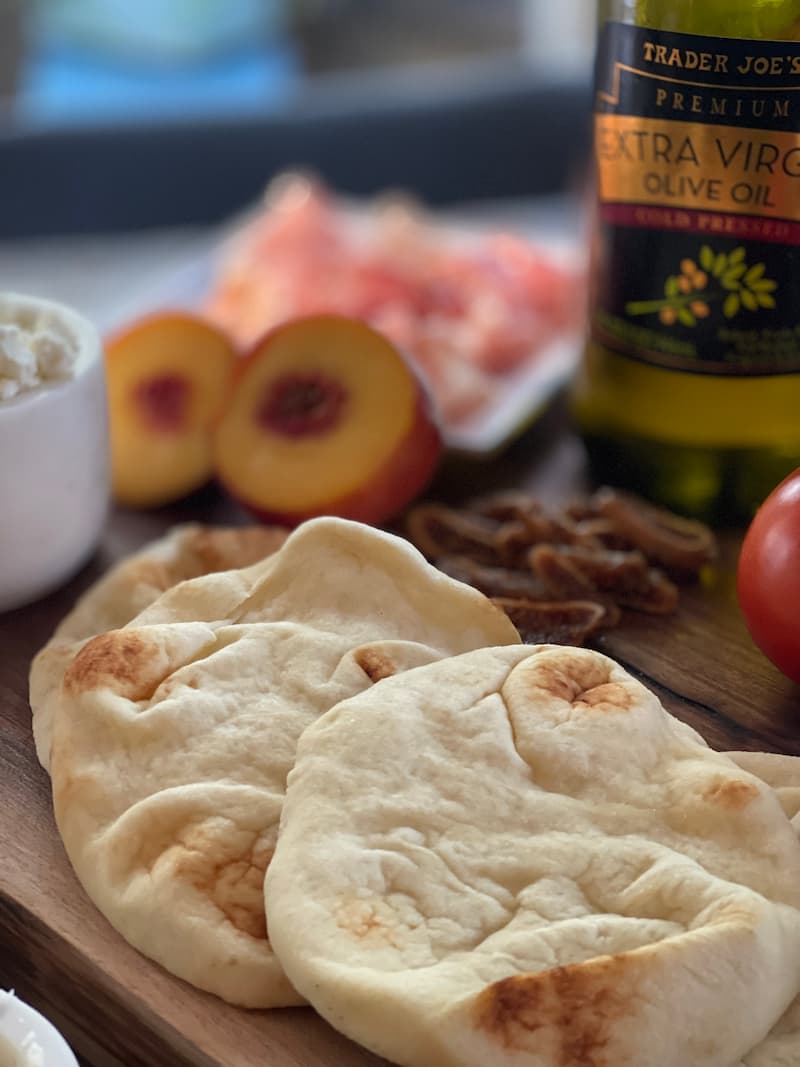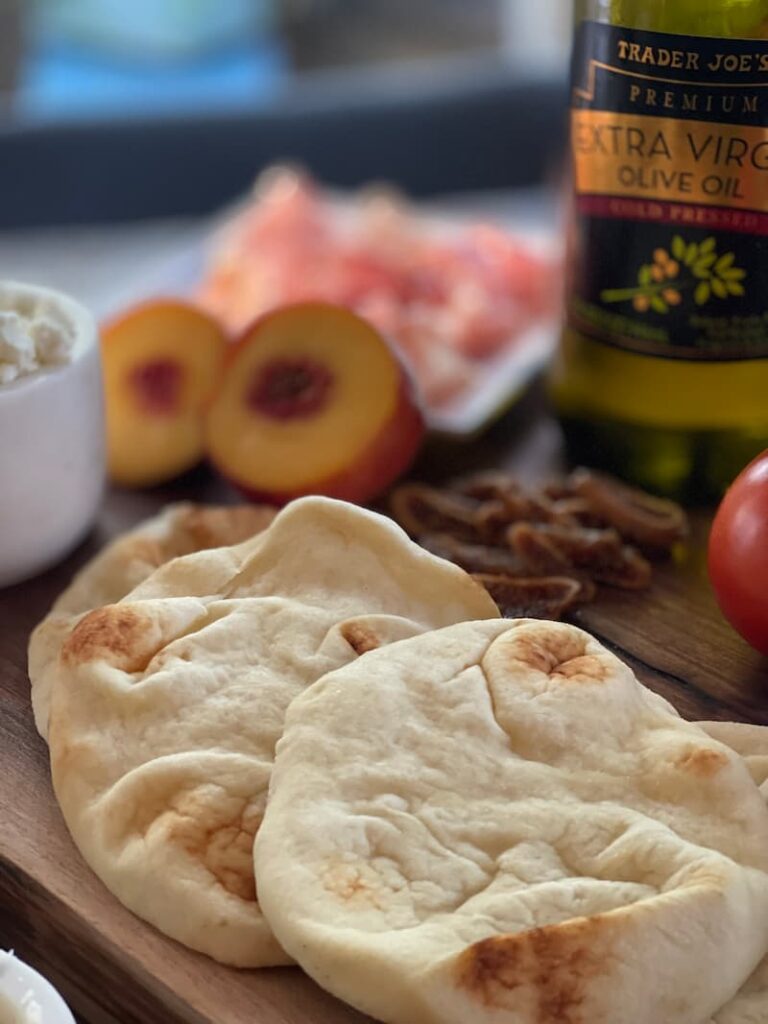 Caprese Flatbread:Slice your tomatoes then cut into quarters, cut up fresh mozzarella and cook. When done, add your fresh basil, drizzle with olive oil and balsamic glaze and enjoy.
Blackberry Flatbread: I sliced my blackberries and placed them on the flatbread face down. Then I added feta cheese crumbles. After cooking to my liking, the berries were bursting with juice and flavor. I drizzled my olive oil, glaze and basil and enjoyed.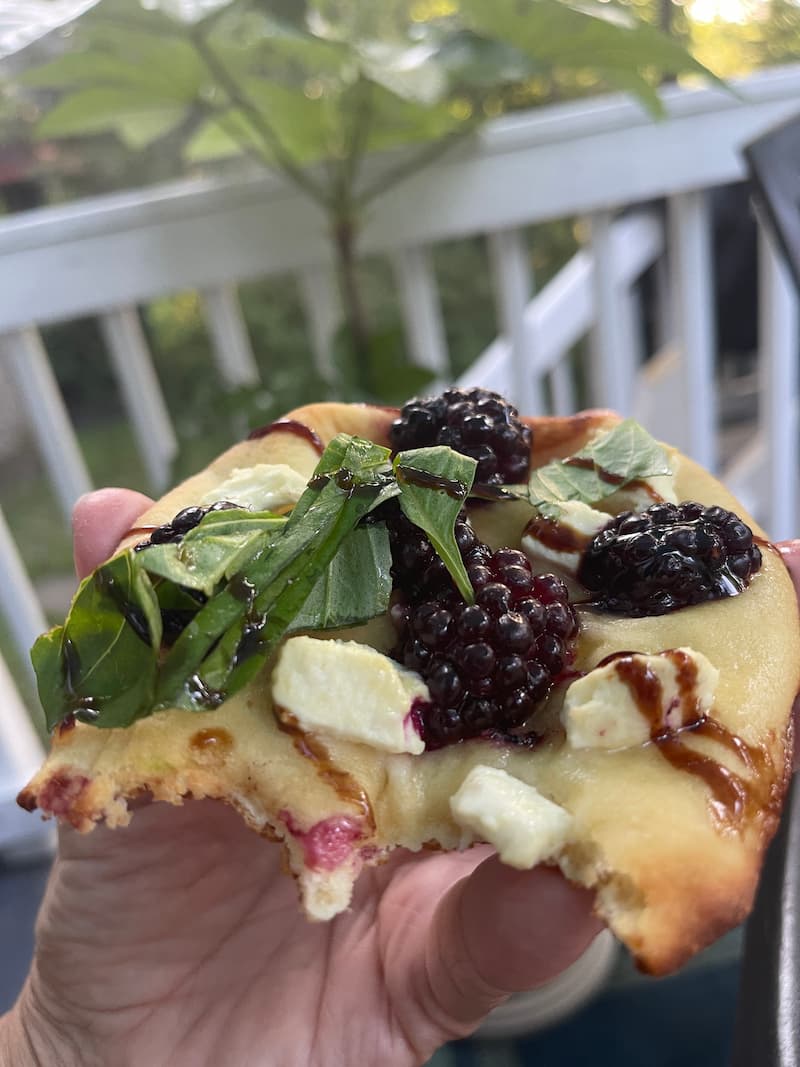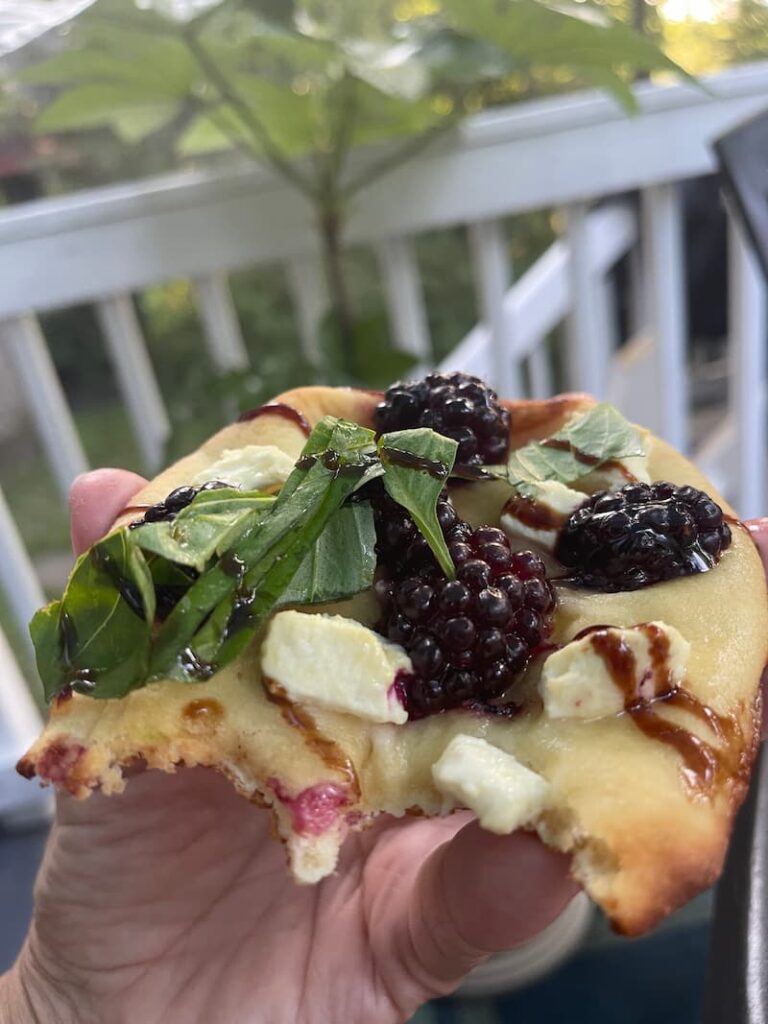 Fig Flatbread: Slice the dried figs, cut up the prosciutto, add the mozzarella and cook. When done you drizzle with olive oil and balsamic glaze.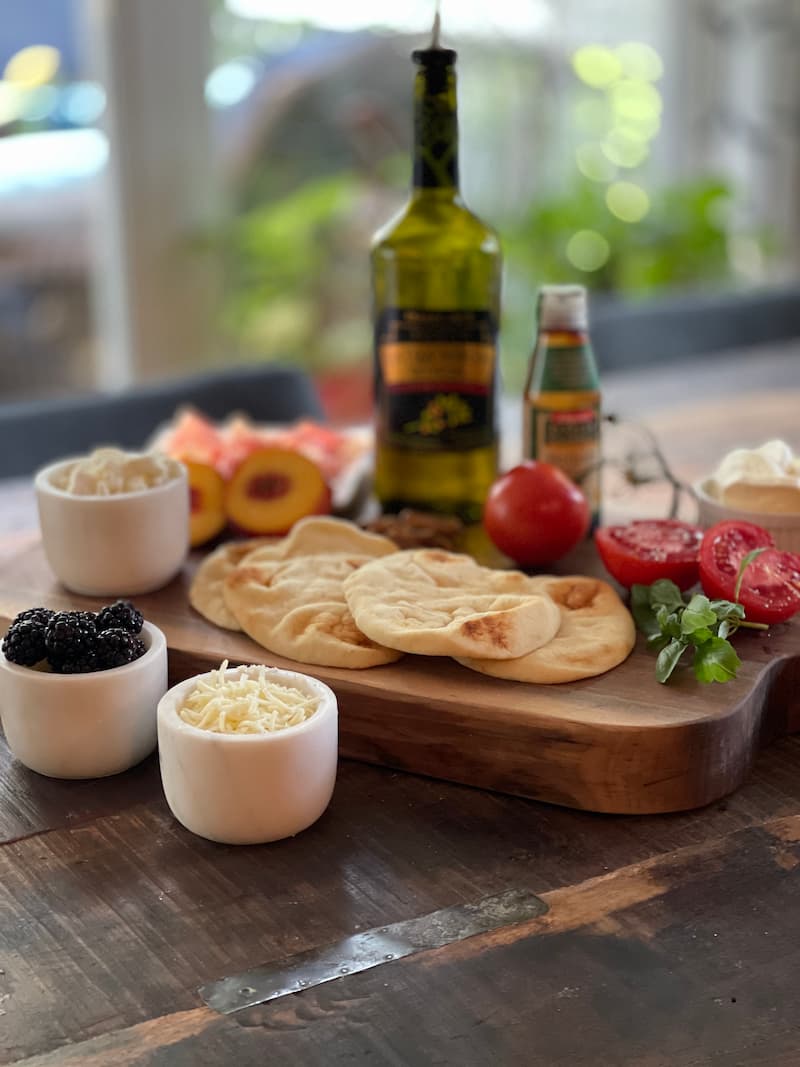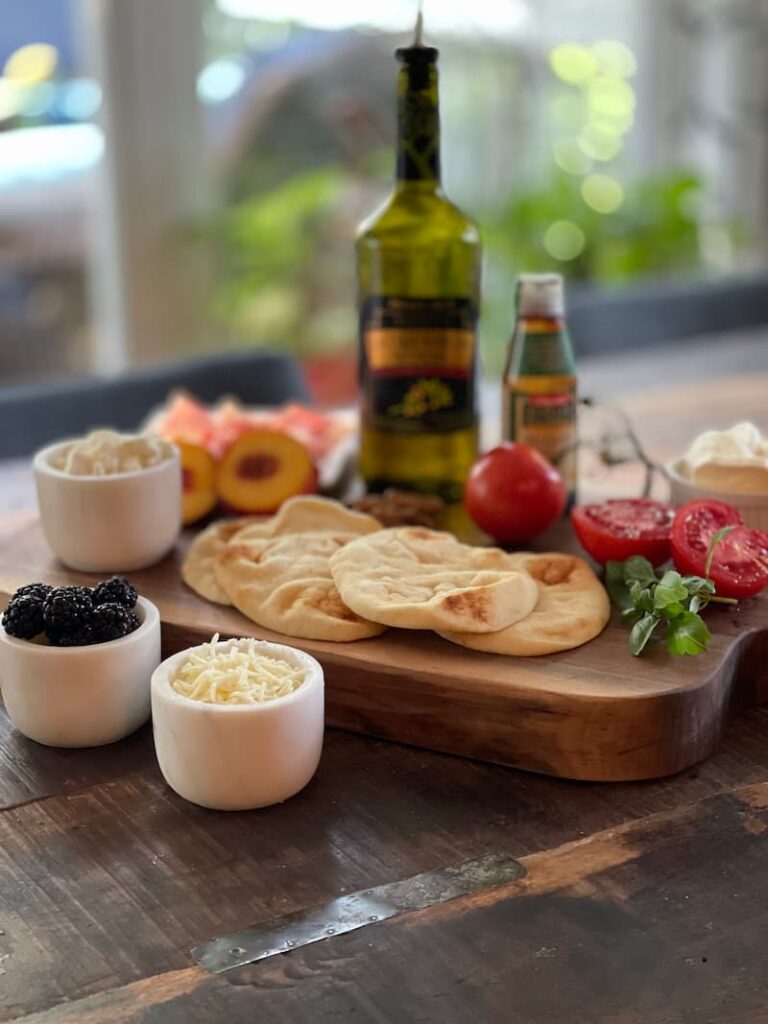 There are so many options for delicious flatbreads. Hopefully this will inspire you to try making some with your own toppings.
Just remember to keep it to simple ingredients and you cannot go wrong. You don't have to stick to just one type of cheese either, you could use a blend of cheeses, whatever you prefer.
Below is a list of more ingredients you could add to your shopping list to get creative.
SAVED FROM SALVAGE TIP
I've had friends over before and created little cards on easels with different flatbread combinations so they could pick and choose what they wanted but it also provided some guidance if they couldn't decide what to add. They then can cook them themselves and enjoy. It's a fun interactive dinner event.
SHOPPING ITEMS FOR VARIOUS FLATBREADS
​SWEEET CORN
ZUCCHINI RIBBONS
YELLOW SQUASH
FRESH ARUGULA
GRILLED CORN
RED ONION
SWEET CORN
SUN-DRIED TOMATOES
​PIZZA SAUCE
​CHERRY TOMATOES
MUSHROOMS
FREQUENTLY ASKED QUESTIONS
WHAT CAN YOU SERVE WITH FLATBREAD
Some people like to make the mini flatbreads and serve as an appetizer. I like to have mine as my main meal. It pairs well with a spring greens salad. I keep the salad simple so as to complement the flatbread.
WHAT IS FLATBREAD
A flatbread is a bread made with flour; water, milk, yogurt, or other liquid; and salt, and then thoroughly rolled into flattened dough. Many flatbreads are unleavened, although some are leavened, such as pizza and pita bread.
CAN YOU COOK A FLATBREAD ON A GRILL
You can cook flatbread in the oven or on the grill. Last week we made some and made them on our Traeger grill. The time to cook is up to you, depending on how long it takes for the cheese to melt, and how dark and crispy you want the bottom. Both options work perfectly with any homemade flatbread. I prefer to cook them on the grill and do so at 500 degrees on the pizza stone. It was 88 degrees when we had them last week and that's too hot for the oven to be on.
IS FLATBREAD AND NAAN BREAD THE SAME
A traditional flatbread is unleavened but many people substitute naan bread and pita bread when making a simple flatbread recipe. If you are interested, you could make your own flatbread dough. To do this you would need warm water, an oiled bowl, plastic wrap, all purpose flour, and a floured work surface. You could also buy your own pre-made pizza dough or any store-bought pizza dough and using a rolling pin, roll it very thin.
I cheated a tiny bit and used mini naan bread for my flatbreads. Using the naan bread as your base lets you go from grocery to table in 15 minutes max.
Now it's time to see how my friends celebrate summer. Next up is Laura with Everyday Edits. I think her Raspberry Yogurt Bars would make a perfect dessert with the flatbreads. You can check them all out below.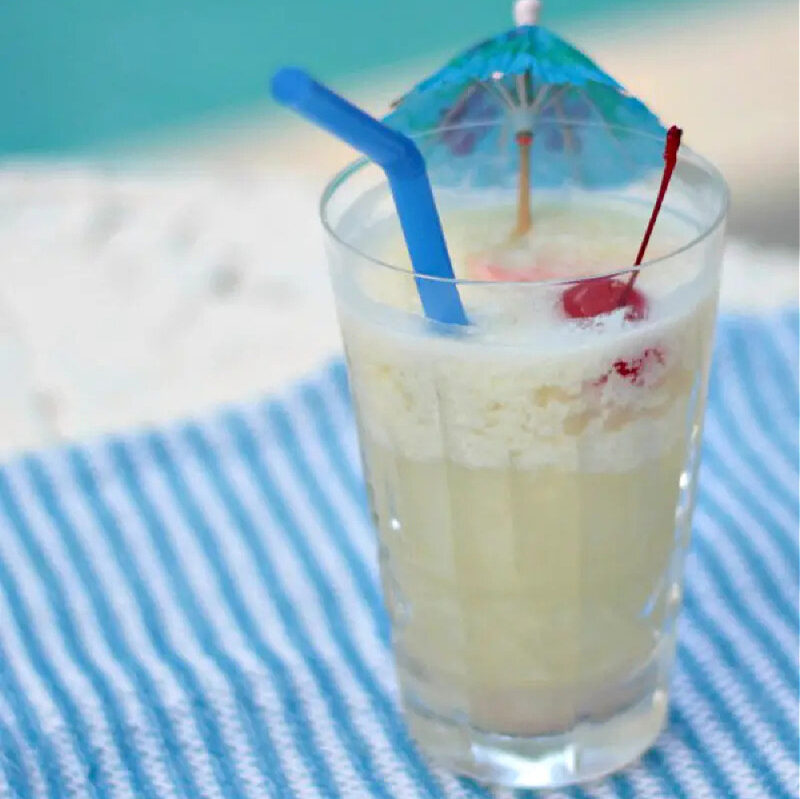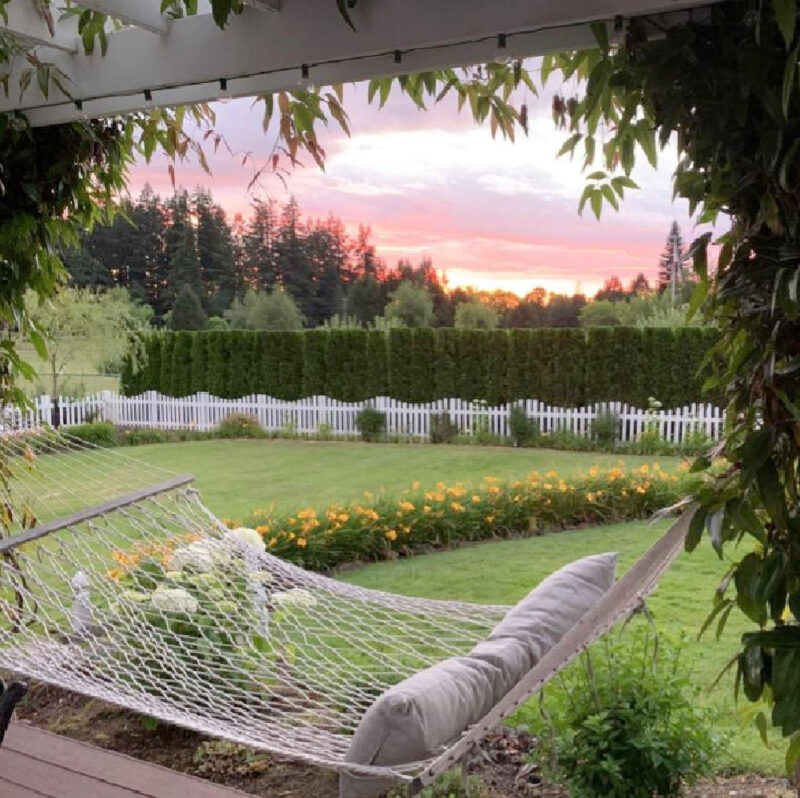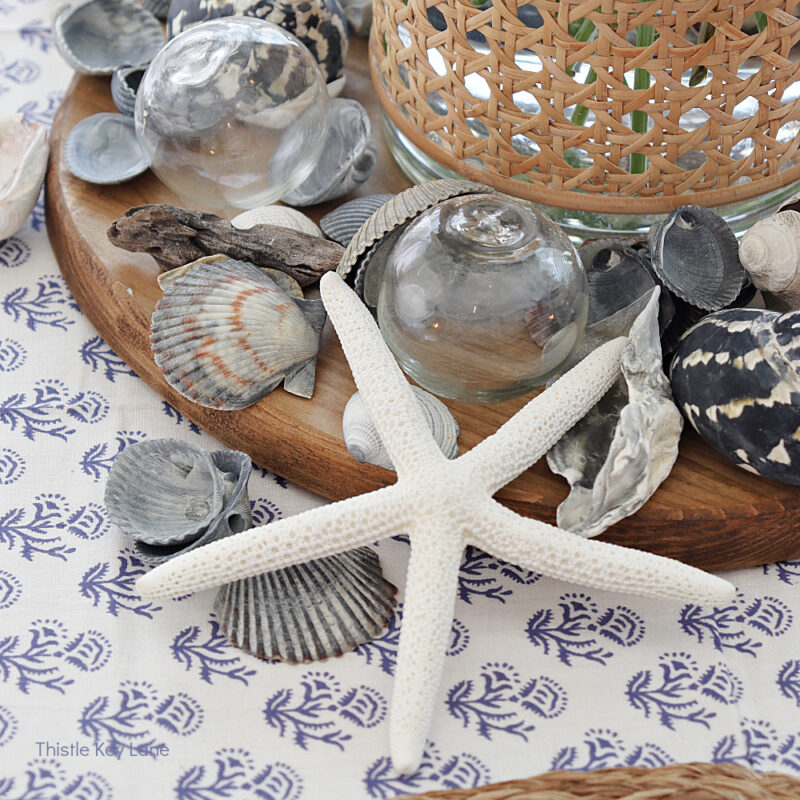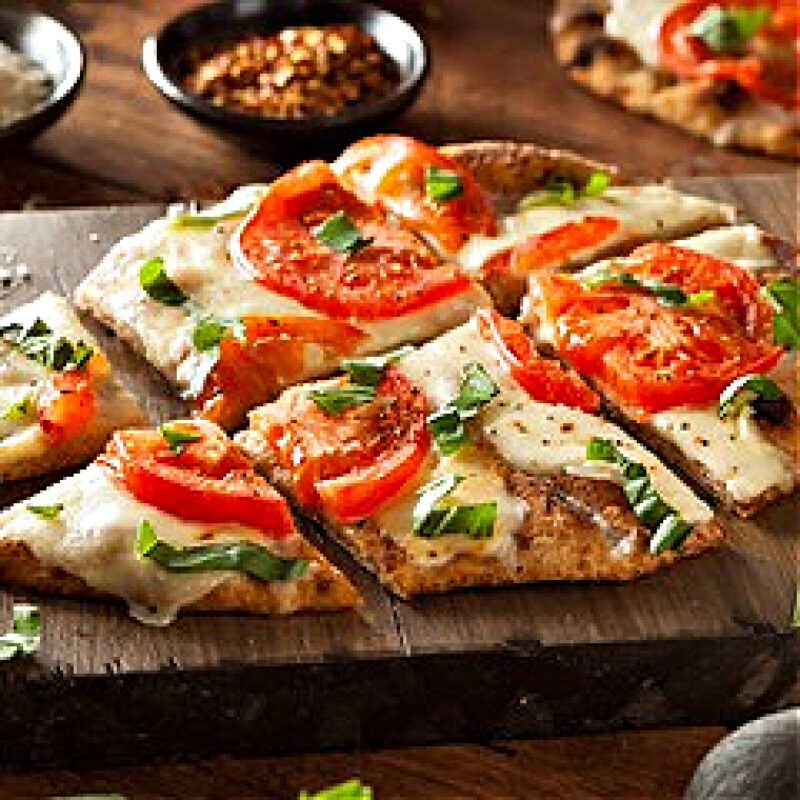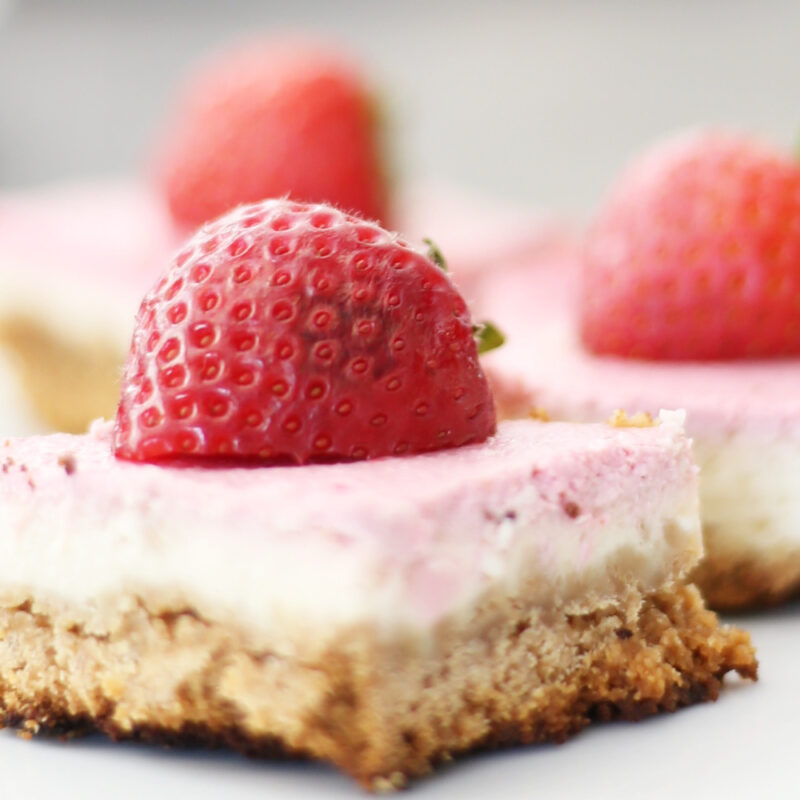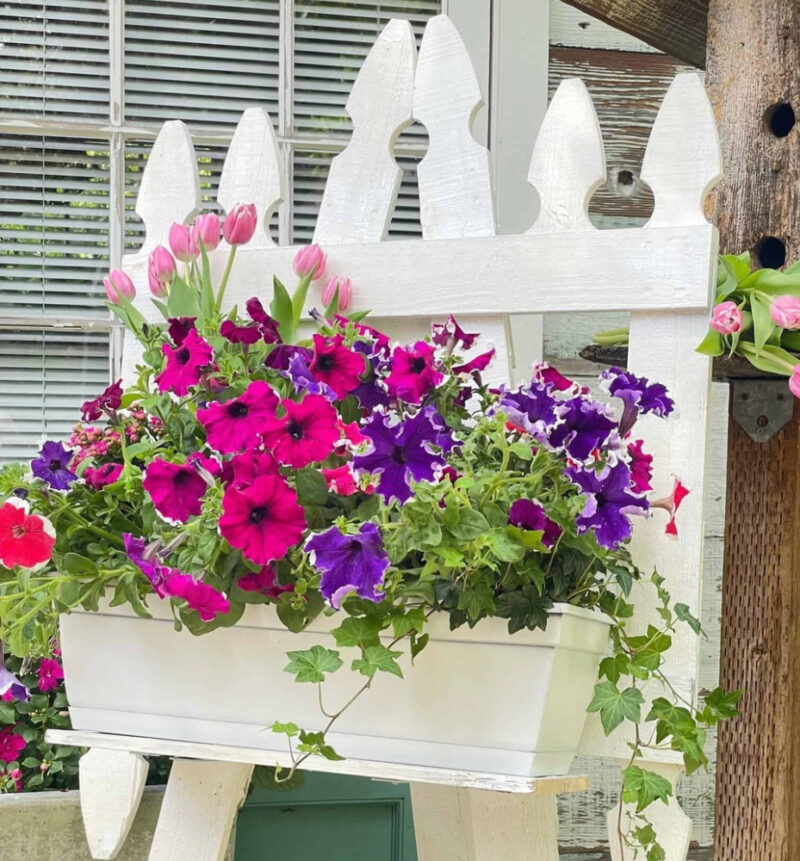 I hope you enjoyed these recipes today. You could certainly make more savory recipes in the cooler months, think granny smith apple, bleu cheese, you get the picture.
Have you tried my sheet pan pancakes? They make the lightest and fluffiest pancake ever, you can get the details here.
Being summer, how could I not share this coastal tablescape, the perfect backdrop for your flatbreads. See how I created this coastal vibe here.
Have a great day
XO, Regina
SHOP THIS POST
I am an Amazon Affiliate. I've provided these links for your convenience. If you purchase from these links, I receive a small commission at no additional cost to you.