Do you want to know how to elevate your gatherings?
I'm sharing the best ideas to create a cozy table.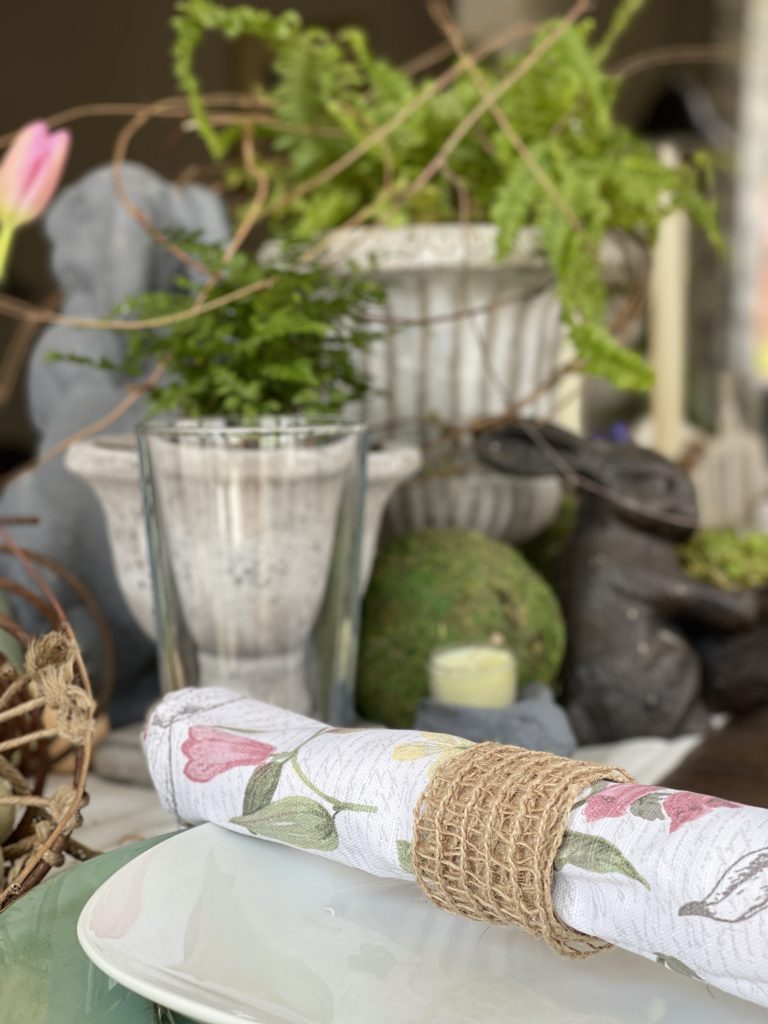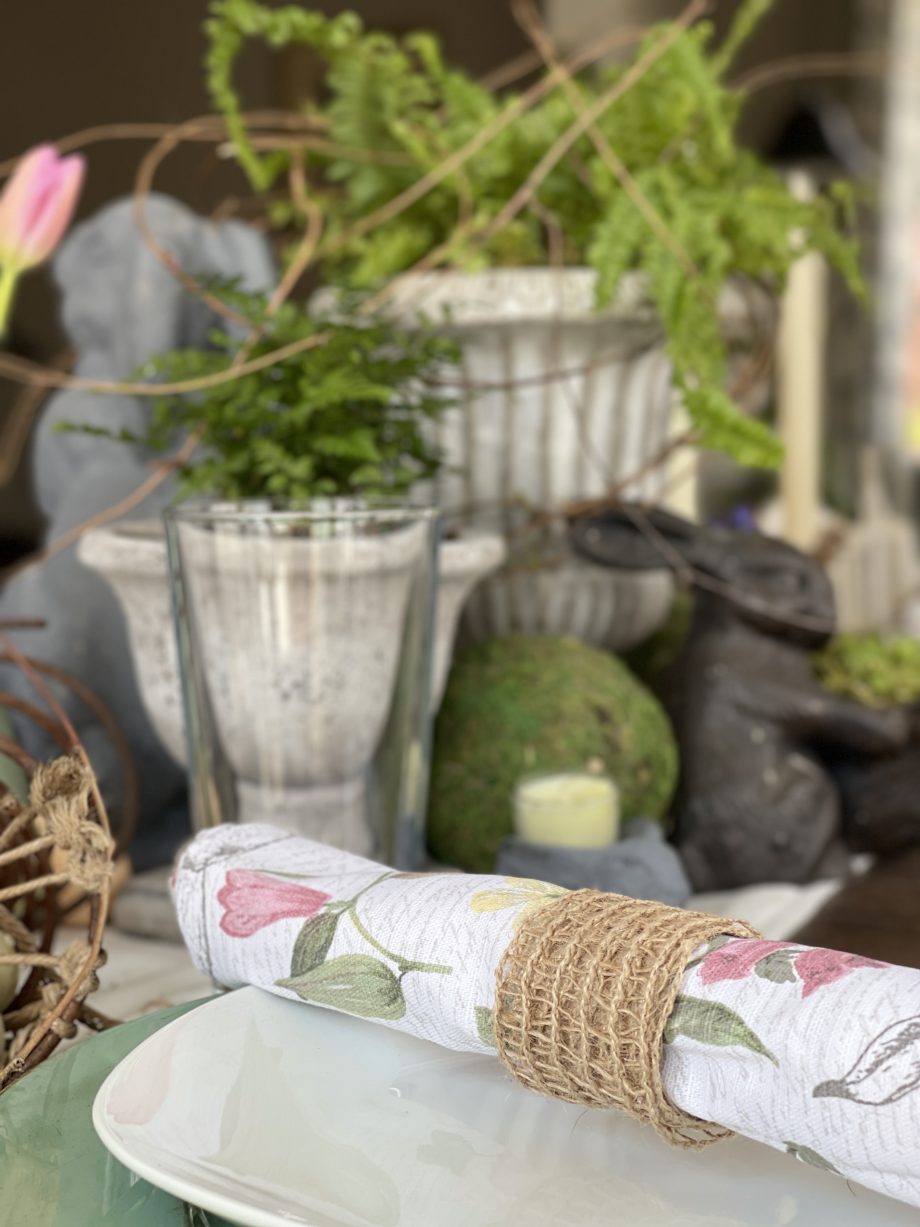 I absolutely love setting a table and creating a special feeling for those eating.
There are a few things that I include on most of my tablescapes and events and they are easy to recreate.
First I love to include things from nature, plants, flowers, moss, grasses, twigs. These can be used for any type of event but the one I'm sharing is from my Easter table.
TABLESCAPE FOUNDATION – TEXTURES
This wooden table I purchased last year is rustic and I love the look of it.
It doesn't deserve to be hidden under a tablecloth.
So instead I add several different things. Beginning with a table runner. The table runner I used is grey and cream, but I wanted cream so I flipped it over. Fortunately it was finished on both sides so no one could tell.
Next I added my seagrass woven placemats. I have these in round, square and two tone.
Adding this layer of texture is important in creating your table.
On top of the placemat I added my galvanized chargers, you can find some like that here.
Next I added a moss green charger. Chargers are one of my favorite ways to change up the look of a table.
They come in so many colors, and as you can see from this tablescape, they can be easily painted.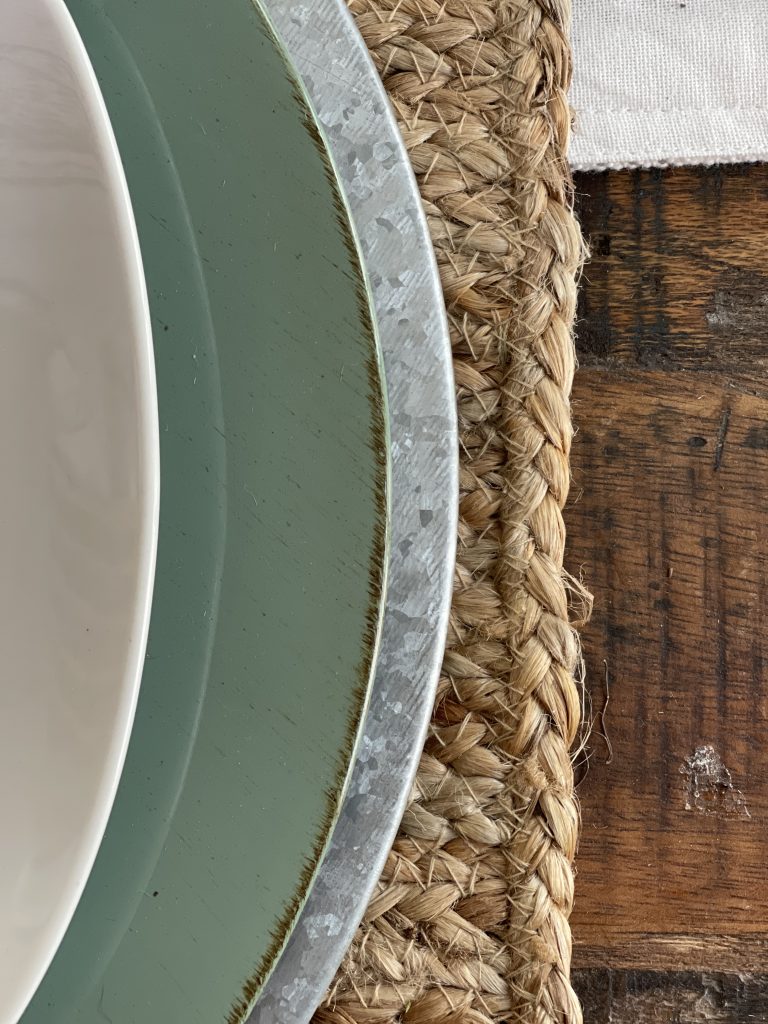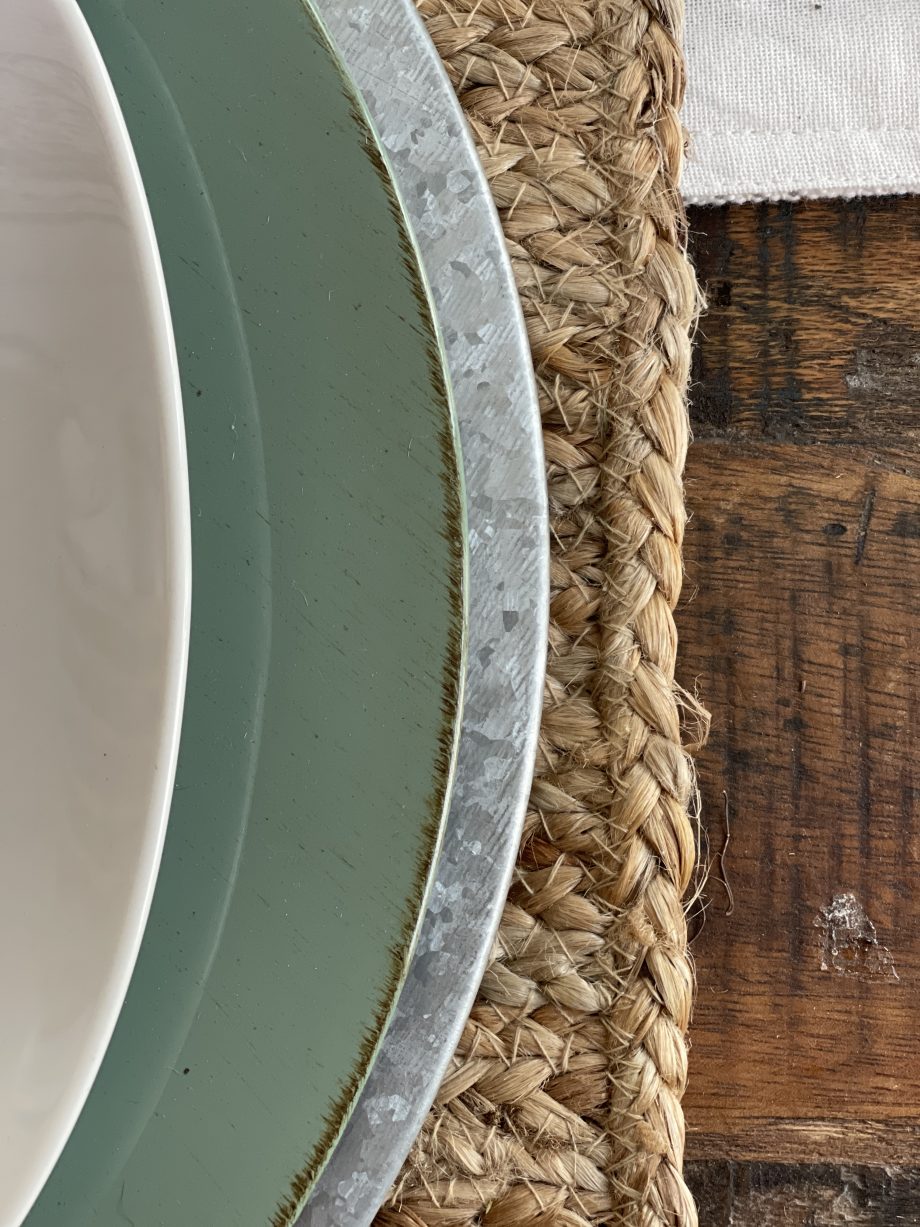 The shape of the plates were square with rounded edges. I liked the look of that shape on the round charger.
On top of the plate was the cutest napkins. These were picked up at Homegoods. I loved the greys, pinks, greens and soft butter colors.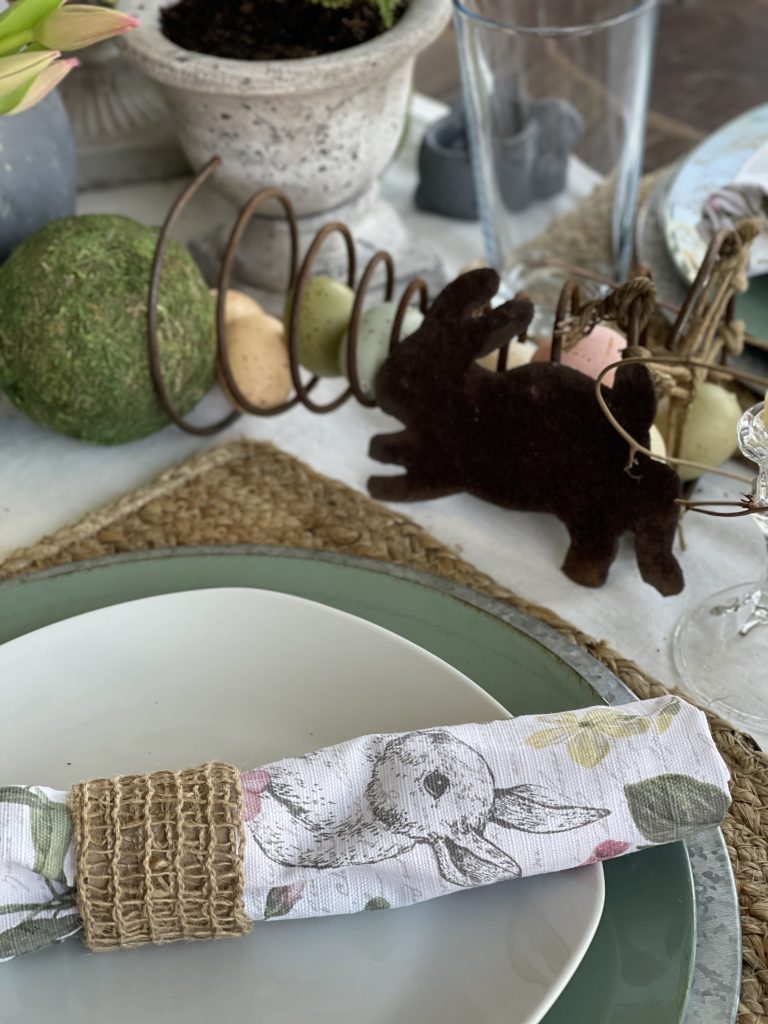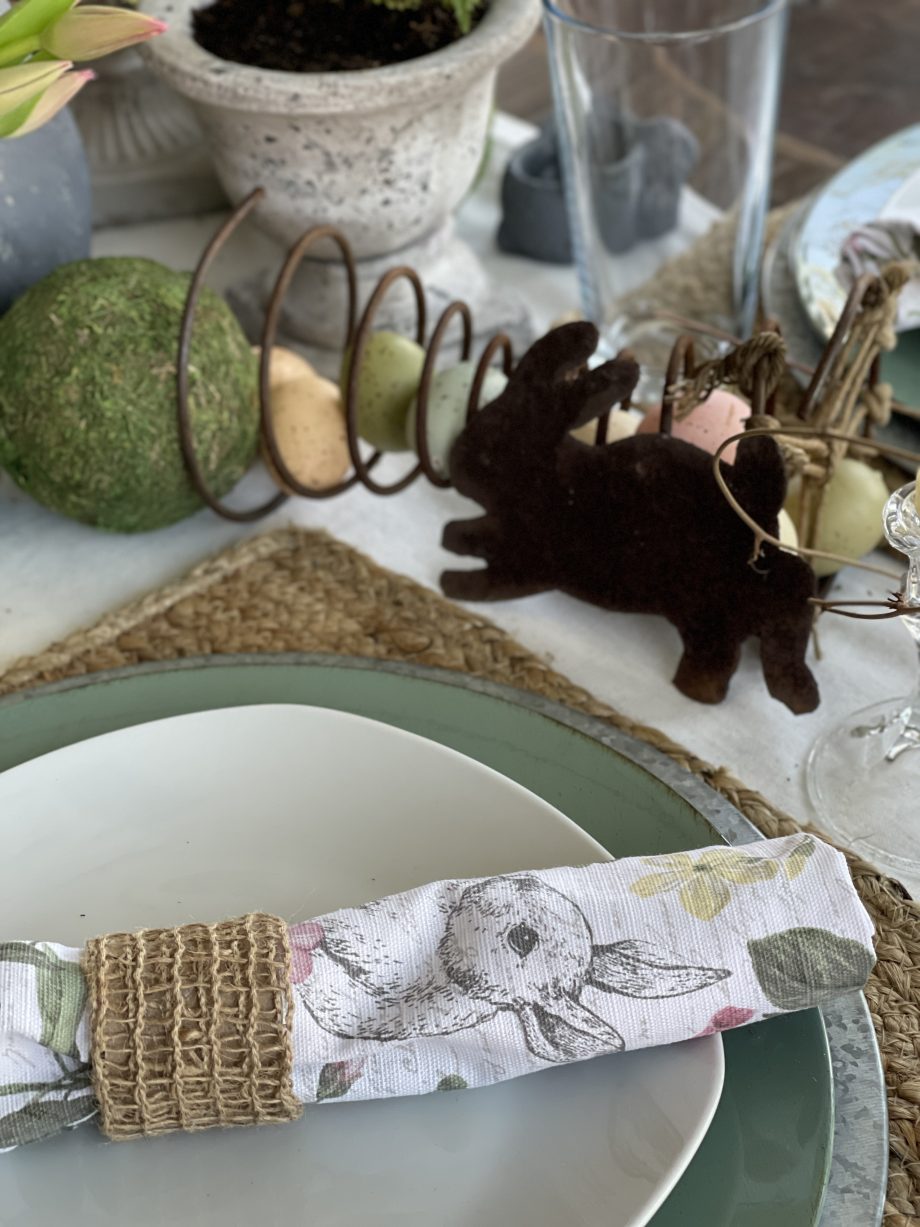 A perfect companion to my soft egg wreath.
Ok, so these napkin rings? A five minute DIY using a paper towel roll and leftover ribbon from my glassware hack. I cut up the paper towel roll, wrapped them a few times with the ribbon and hot glued them on. They tied in perfectly with the placemats.
TABLESCAPE BUILDING BLOCKS – ADDING LAYERS
After adding the base of the runner and the place settings, I added in some unique pieces to create a cozy feel.
I used a fern in a small pedestal vase and added a smaller fern in another footed potter.
This tall concrete bunny was a thrift store find and I just love him. He stood tall next to the ferns.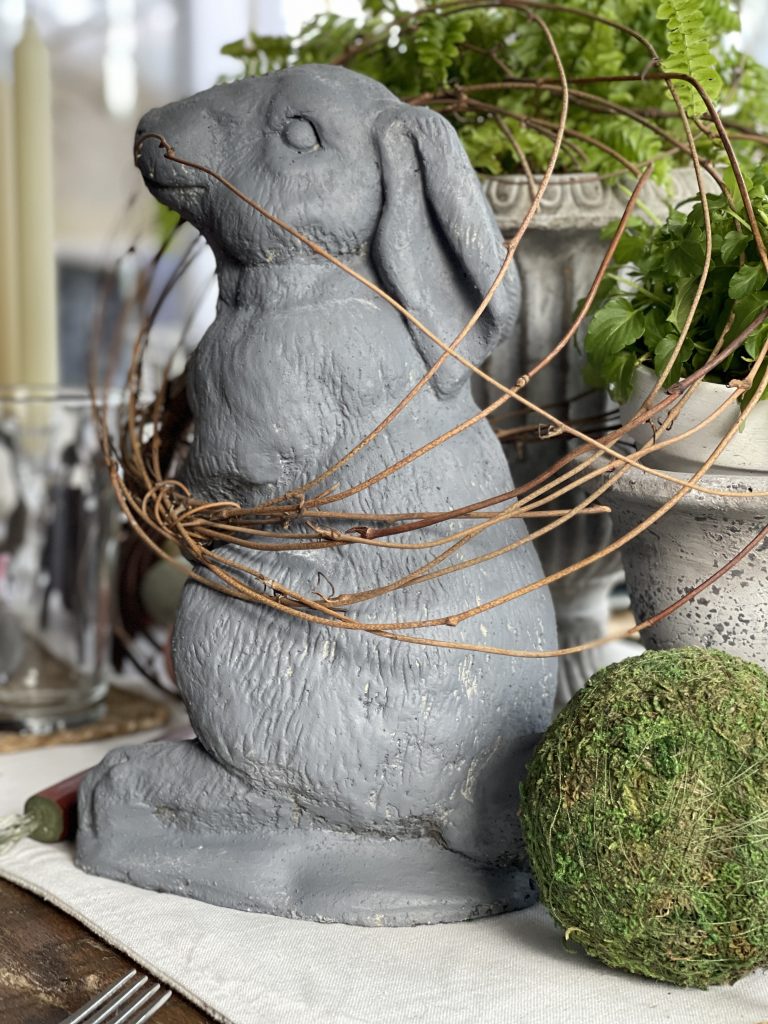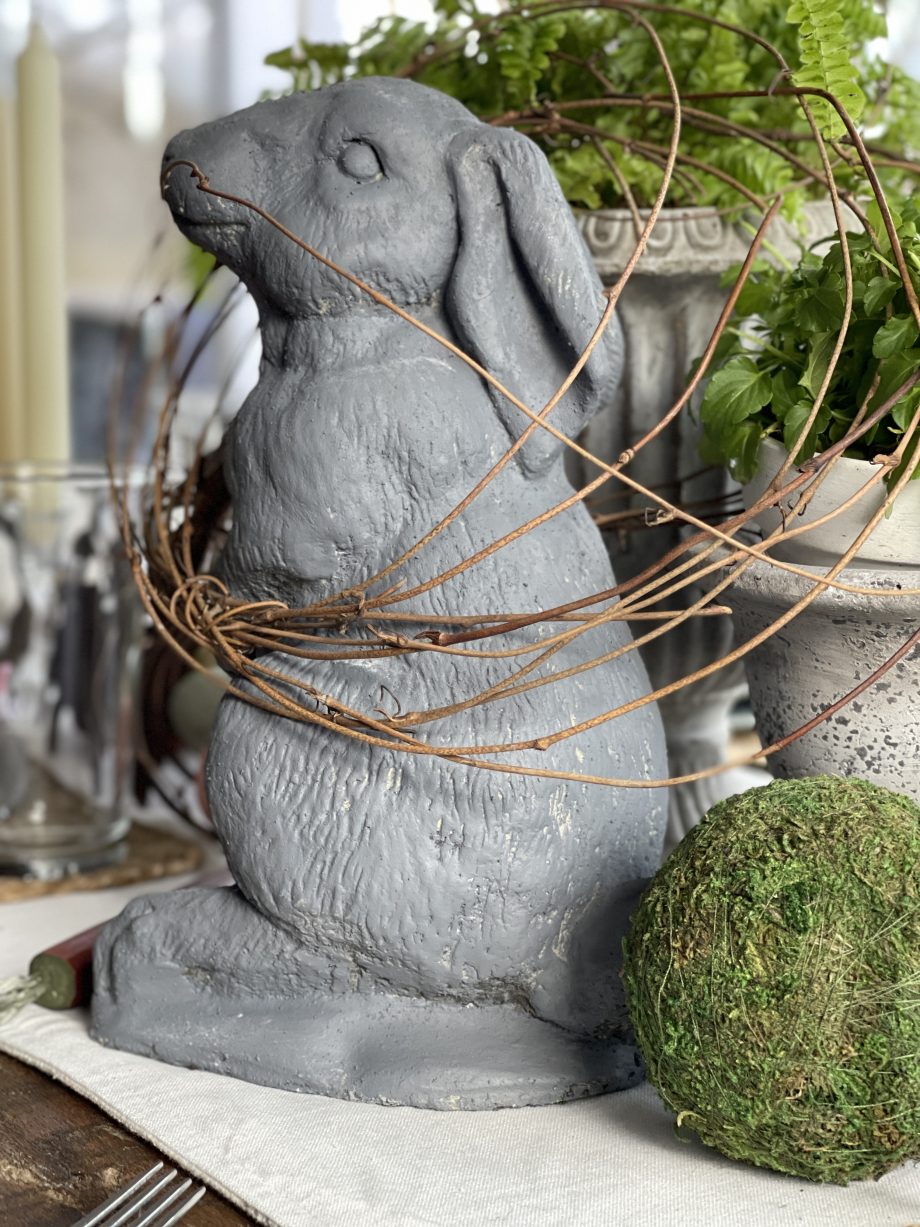 These vintage bed springs were placed on their side and I filled them with extra eggs from my wreath.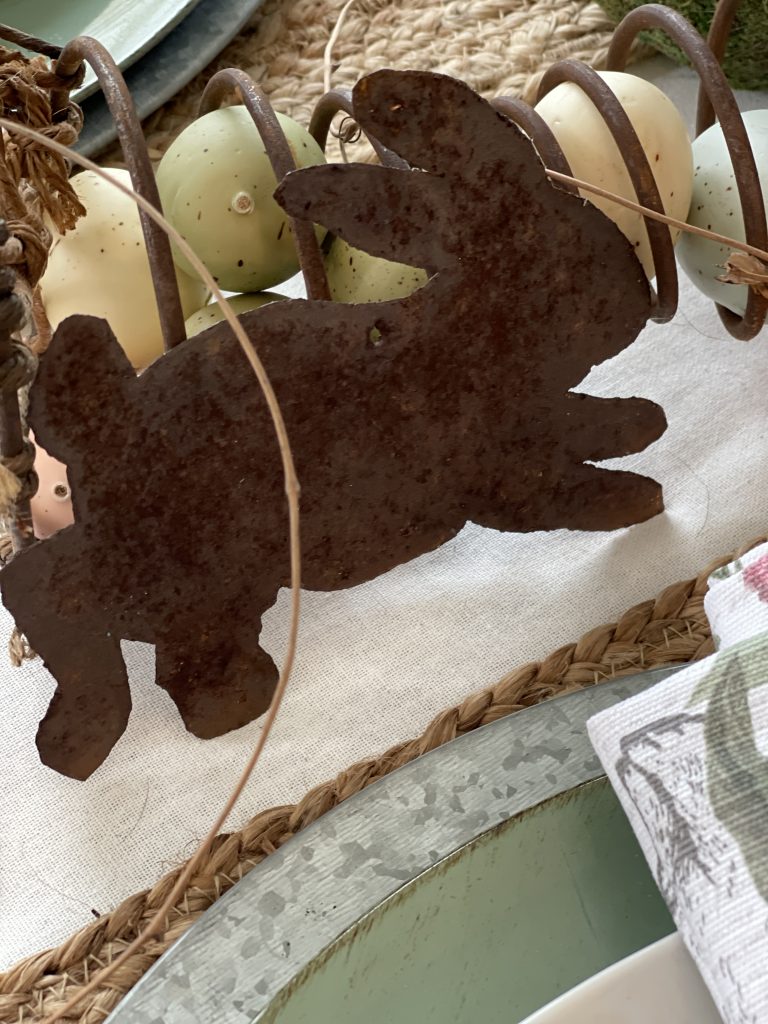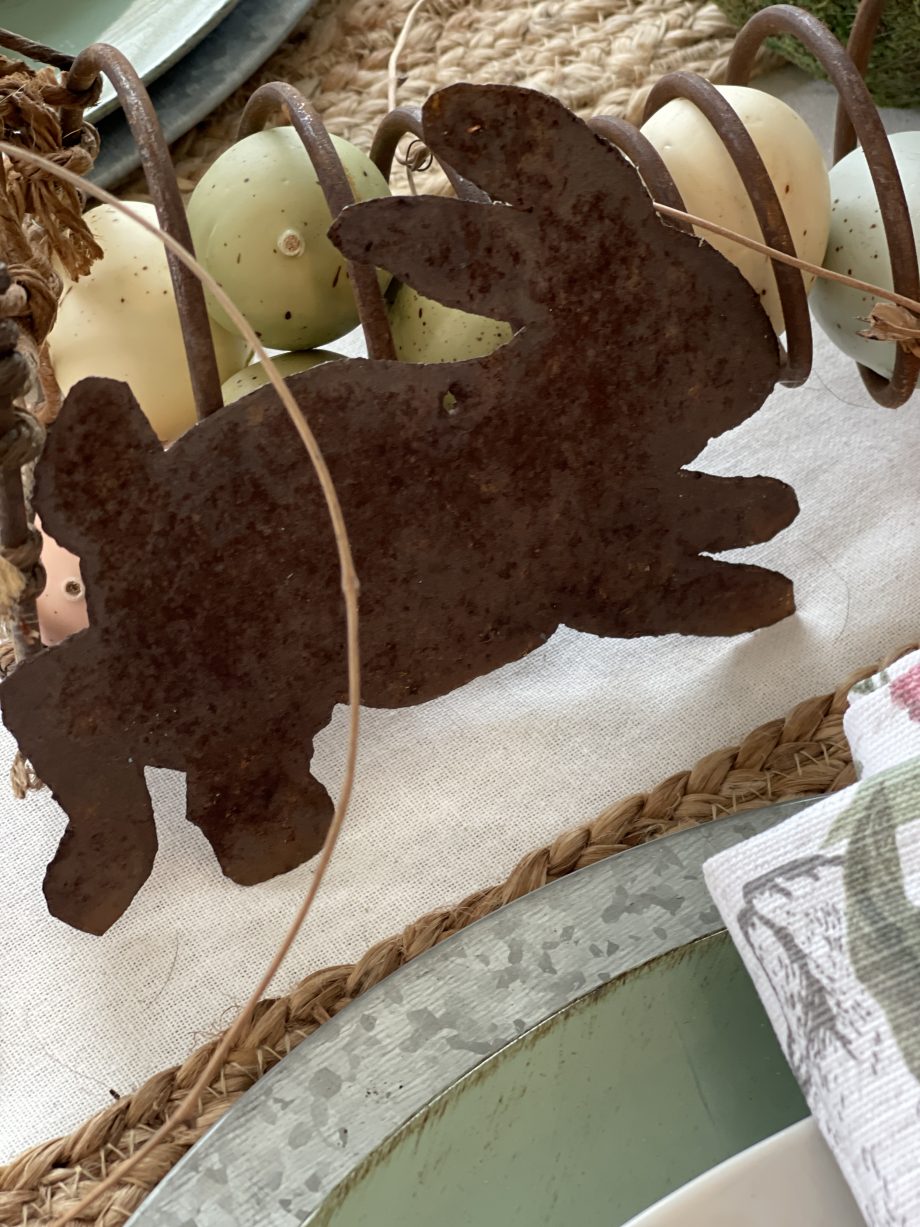 Two rusty bunnies were propped up against each spring.
I purchased this really neat metal flower spray and tucked it into a vintage silver salt shaker.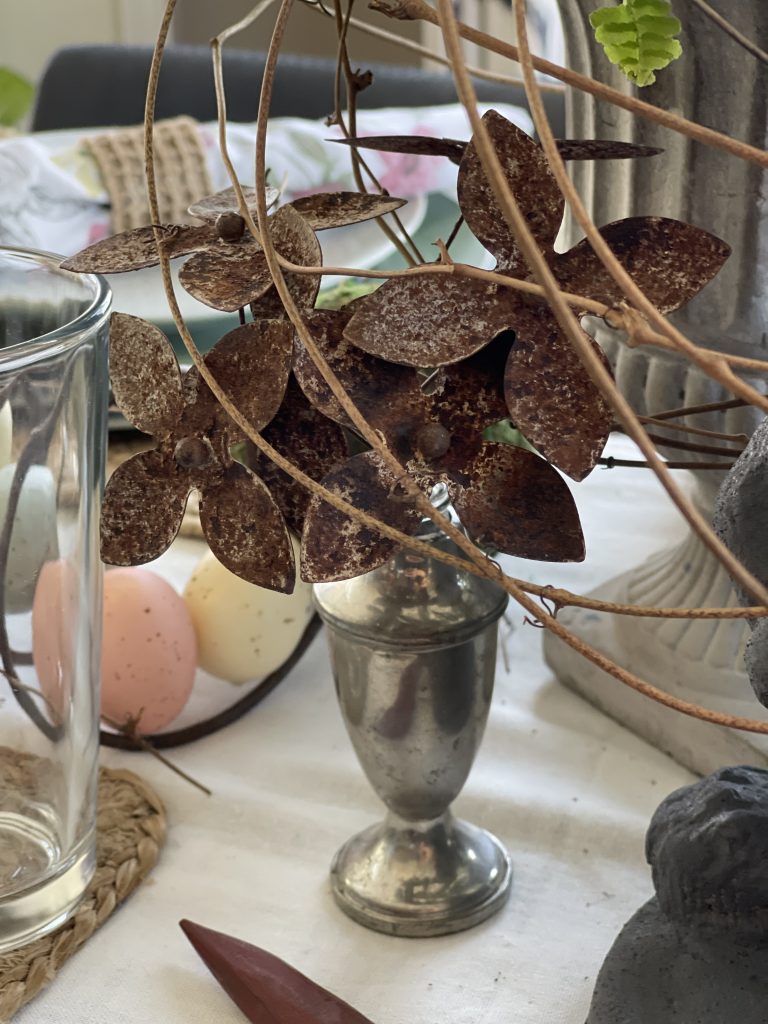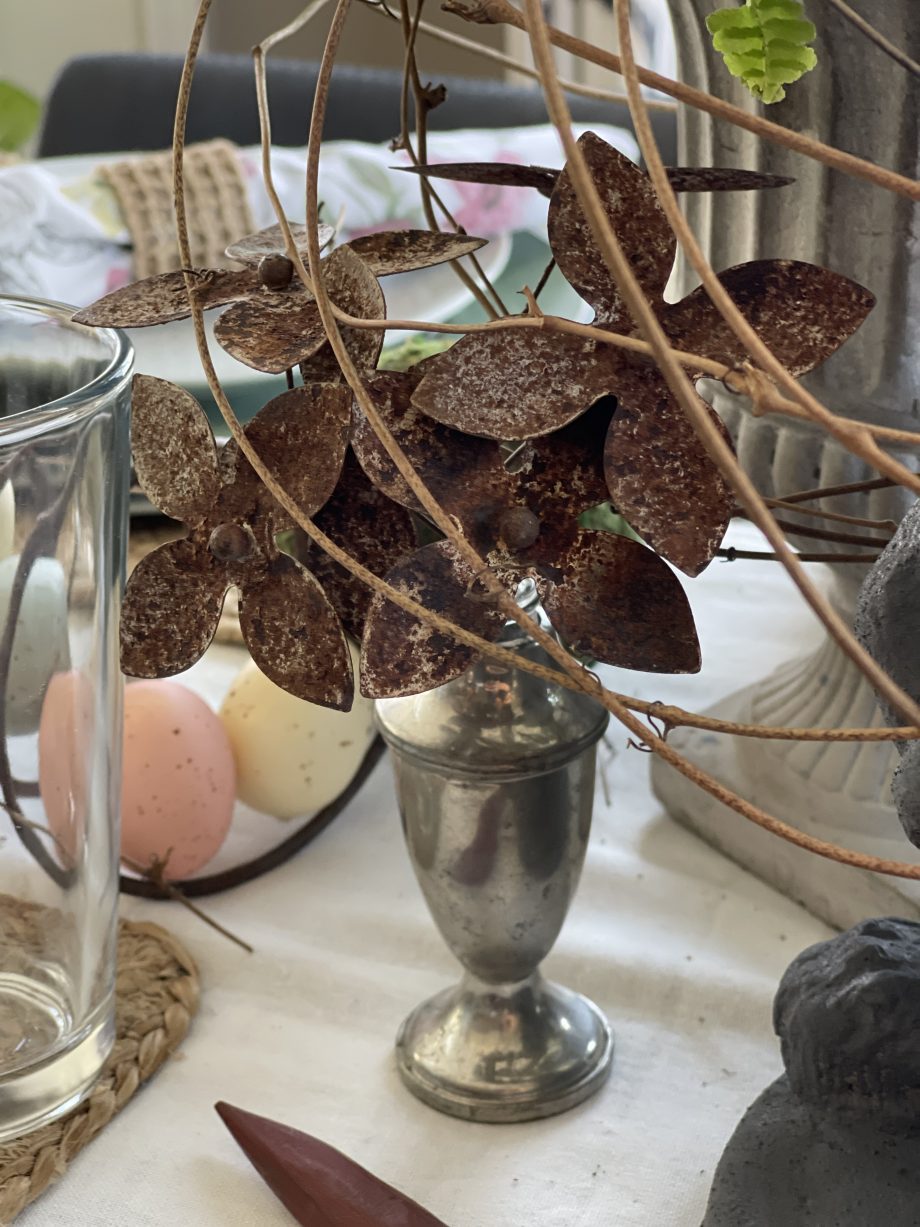 Little grape hyacinth were added to a small glass jar and a glass salt shaker.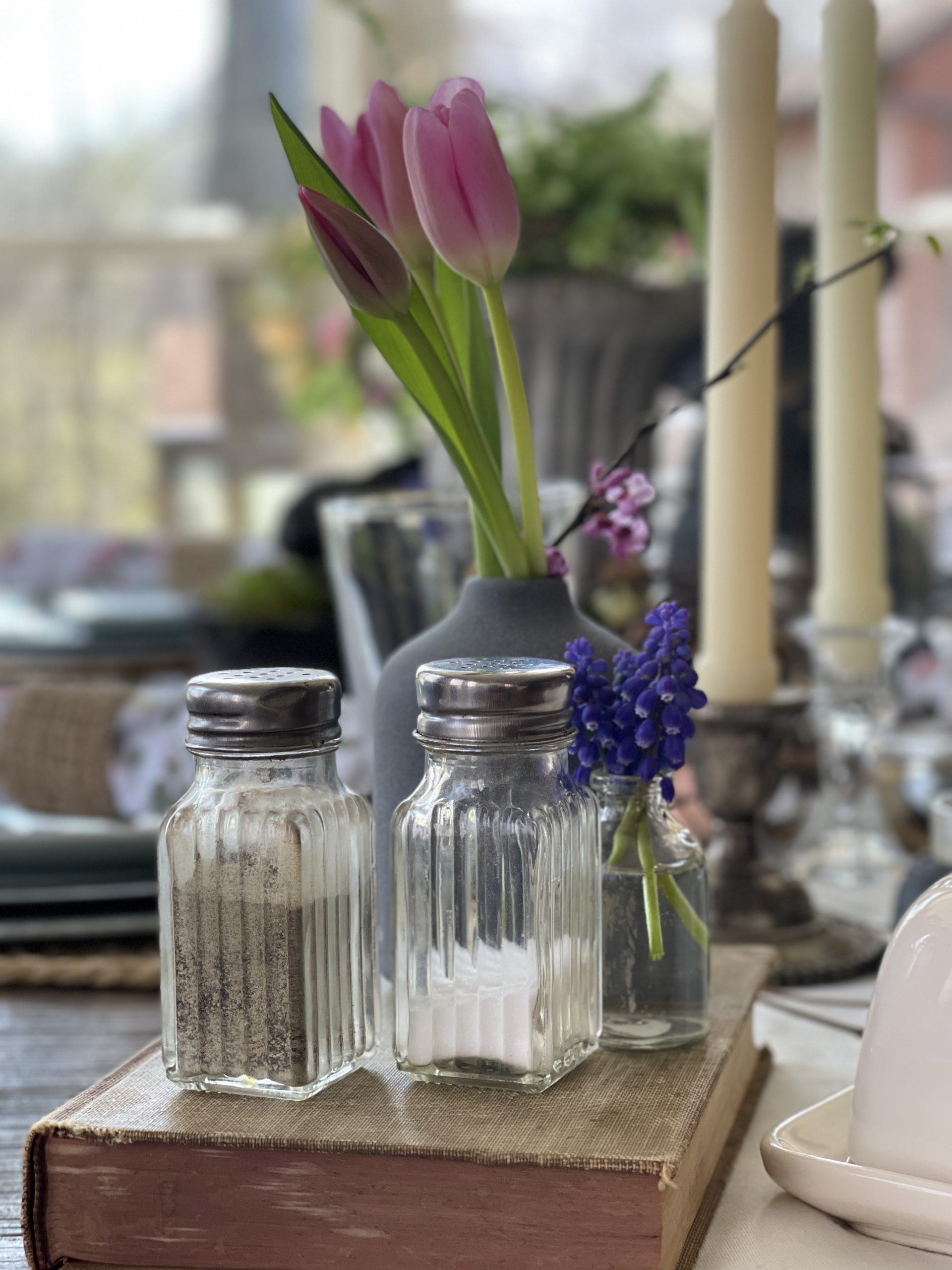 I found three vases for $2 each in pink, grey and green and had to have them. Only because they were so inexpensive did I scoop them up.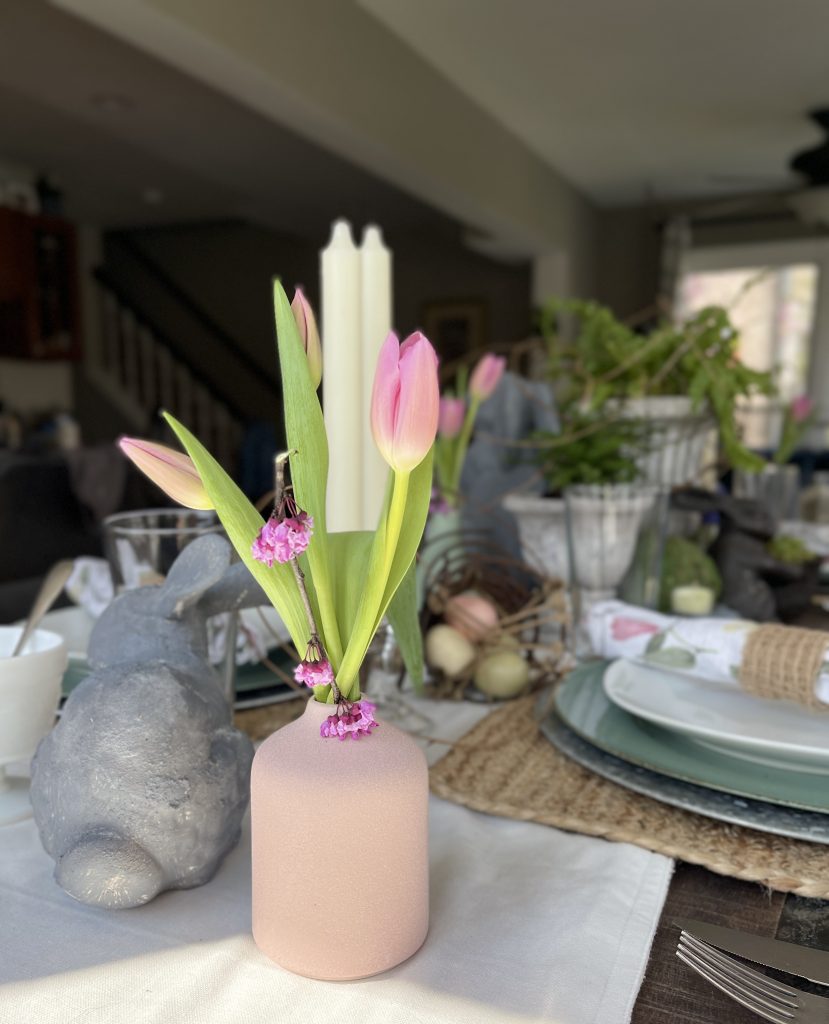 They matched the napkins perfectly. I laid them around the table with three tulips and a sprig of a tree from the yard.
Lighting is an important component to a cozy table, I used two vintage silver candlestick holders and two glass ones to hold my cream tapers. I also had two small glass bunny votive holders I painted and added a candle.
SPECIAL TOUCHES THAT MAKE IT
This is where I love to be creative. These ideas are easy but impactful. The first was adding wildflowers to ice cubes for the ice bucket to chill the wine. This is away from where we were seated but it all added to my creating a cozy table.
I have large square and round ice cube trays, and I filled them partially with water and froze them, then I added some purple wildflowers I had picked and filled them up and froze them again.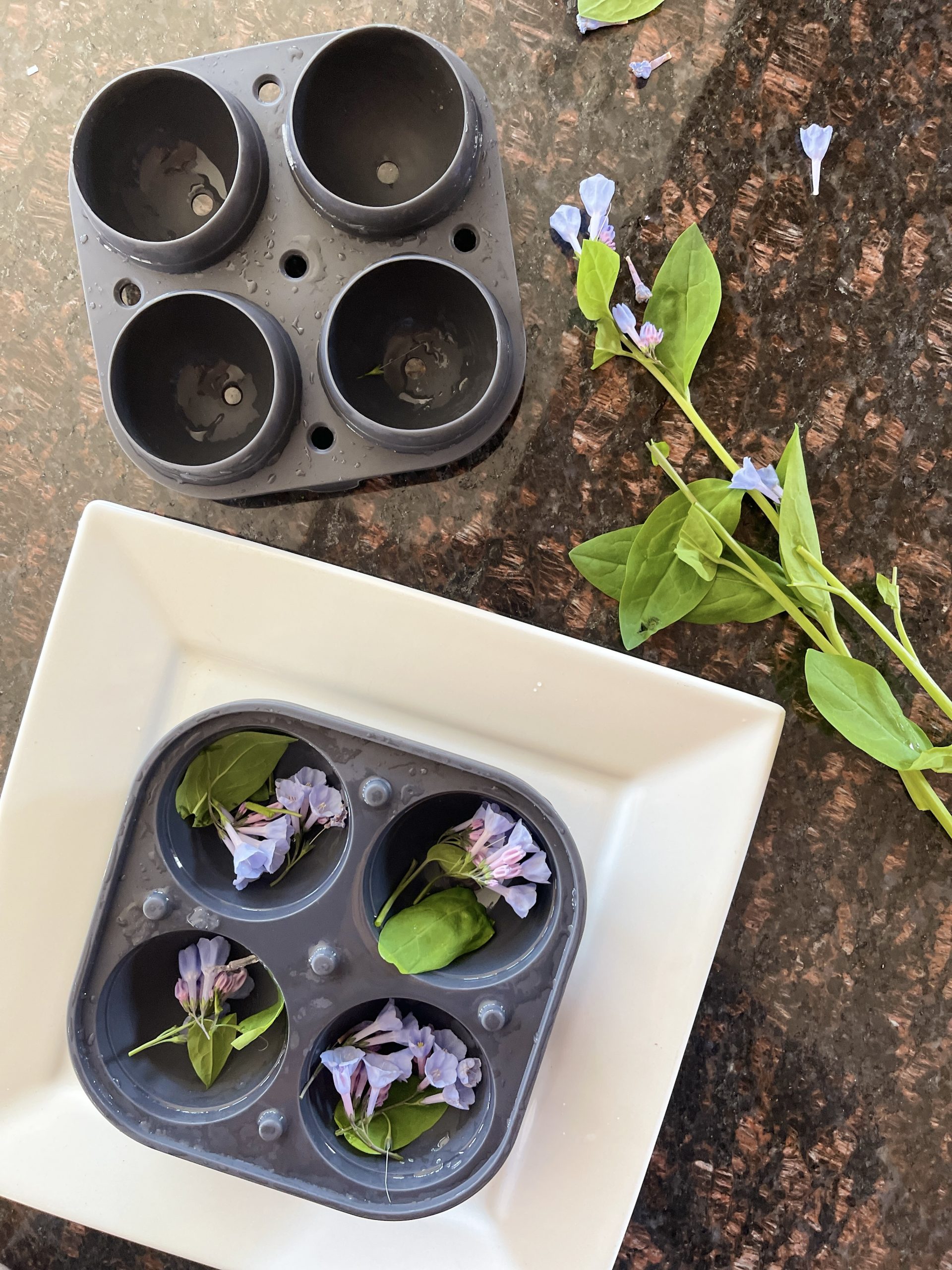 See how cute they looked?
You can use them to ice things down, they are not edible so they would not be used in glasses.
Since this was an Easter meal, I decided to use a silicon food grade bunny mold to make bunny butters.
I filled them with soft butter and then popped them in the fridge for a bit then turned them out onto a plate.
I only had one mold so it took a little bit but I loved them.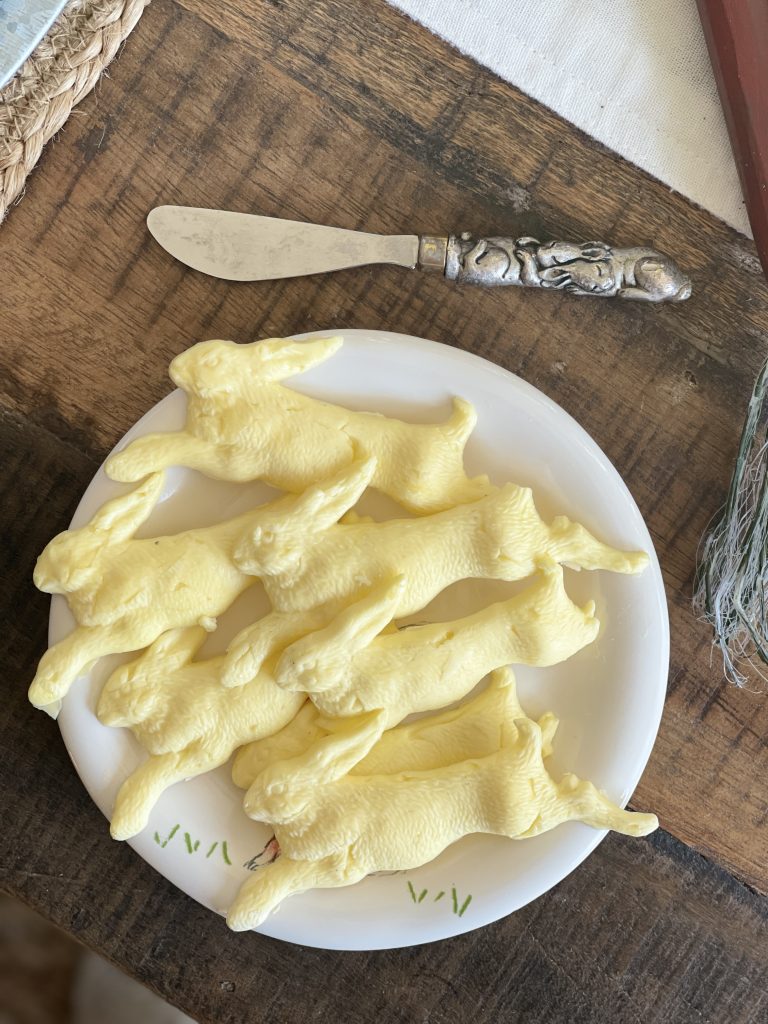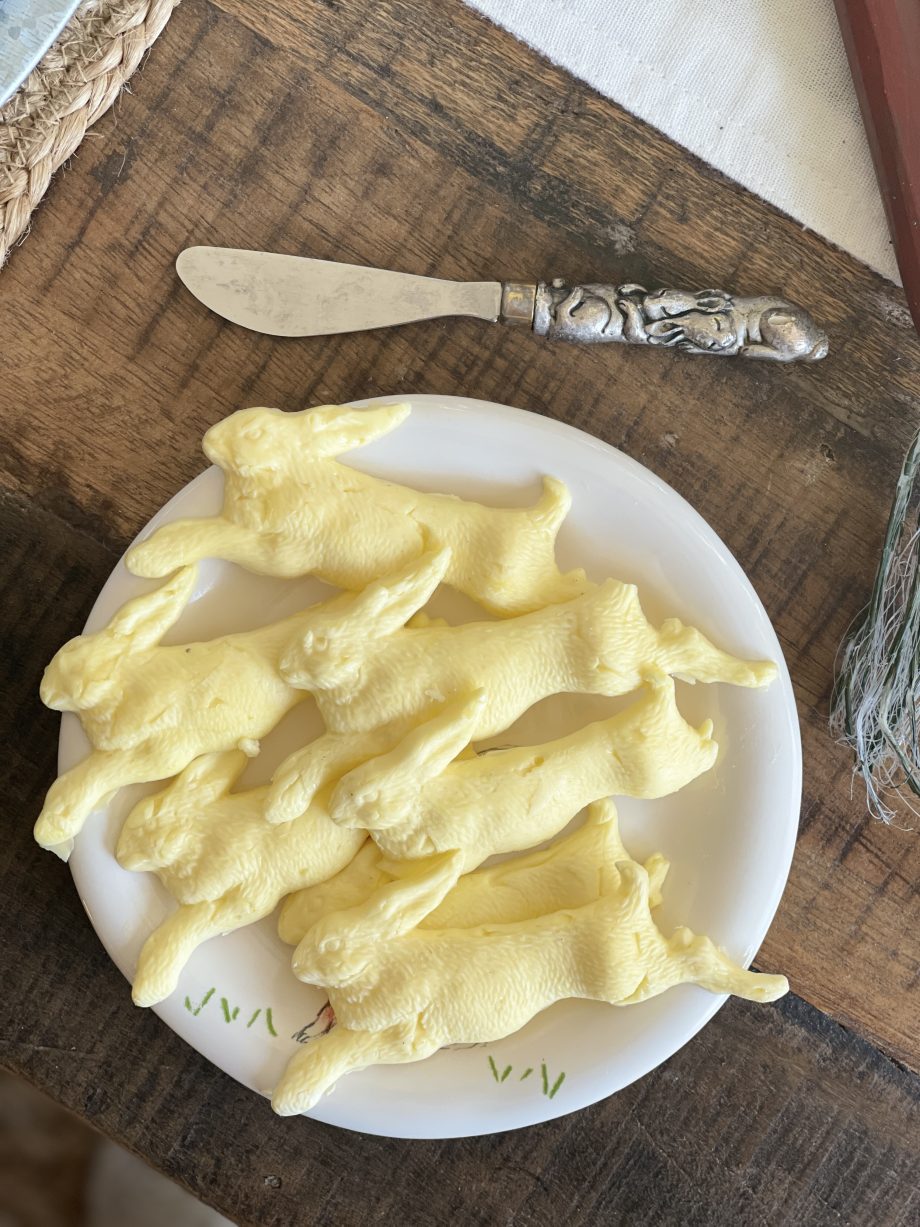 SHOP YOUR HOME
I always shop my home to find things to incorporate into my table settings.
I have so many vintage books from my mom that I use to elevate items.
They can't help but add a cozy factor just by themselves.
Here they elevate flowers and salt and pepper.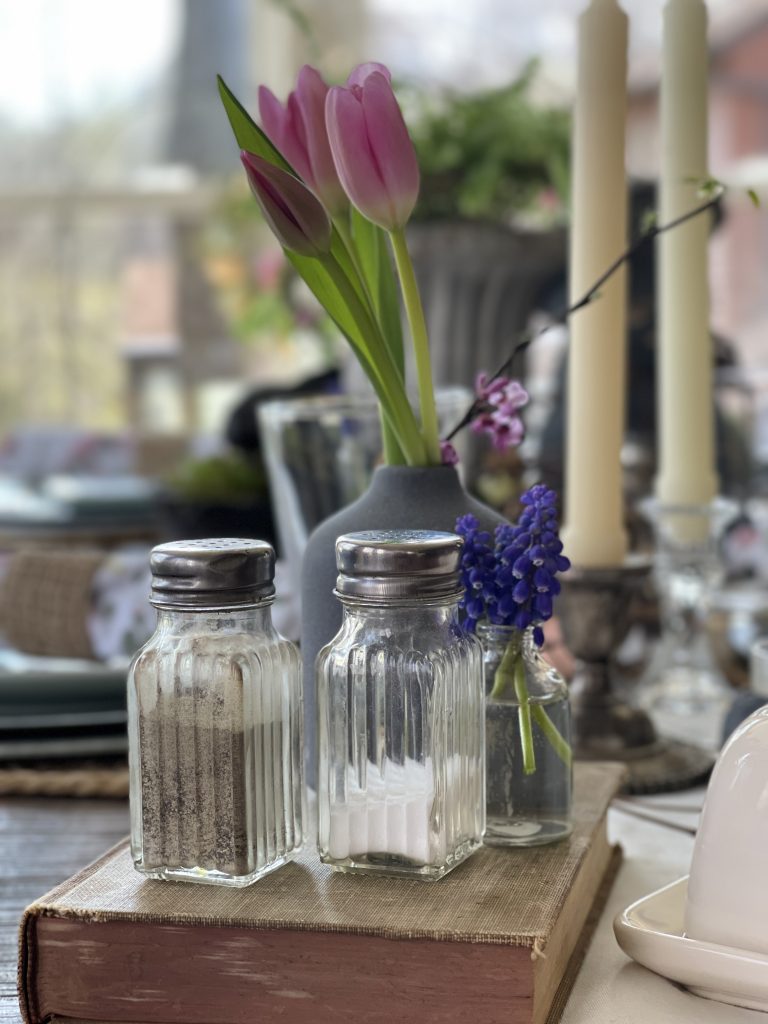 I also used a small trellis from a plant to place on the dessert and drink area. I added a little grapevine wreath and a sculpey carrot.
It is propped next to a few cake stands I made.
Using a candlestick and small plate and using a dollar store glass plate and a globe from a ceiling fan light.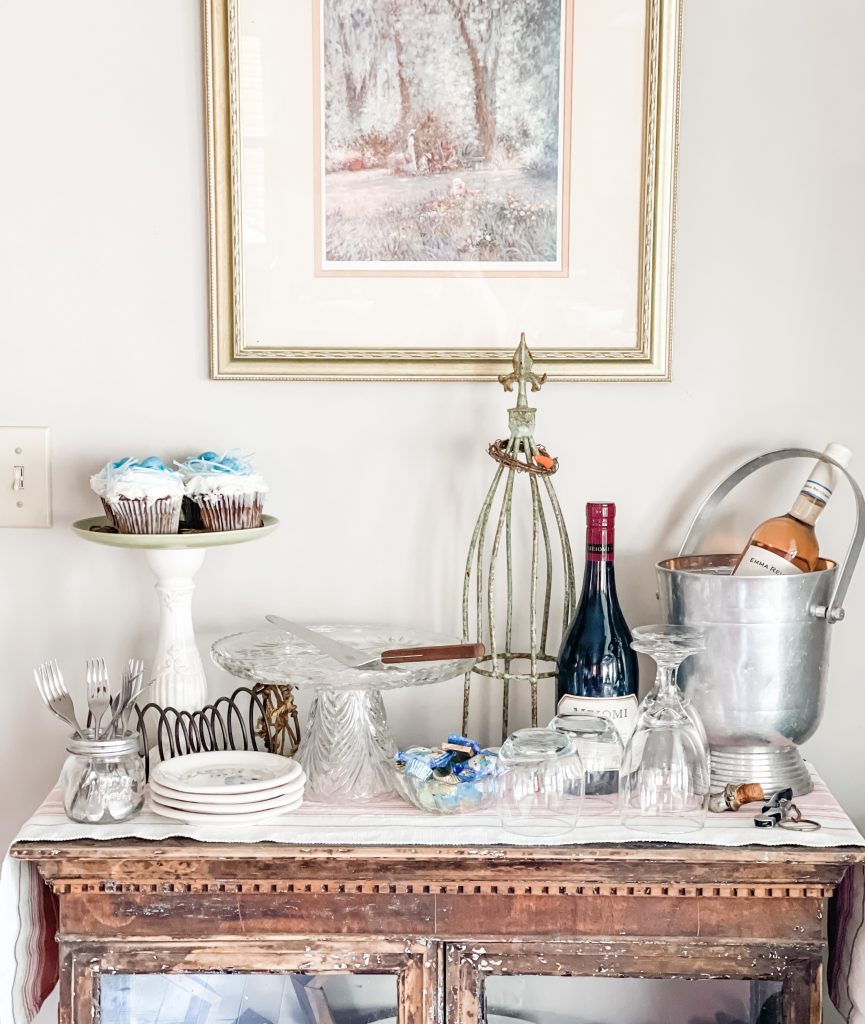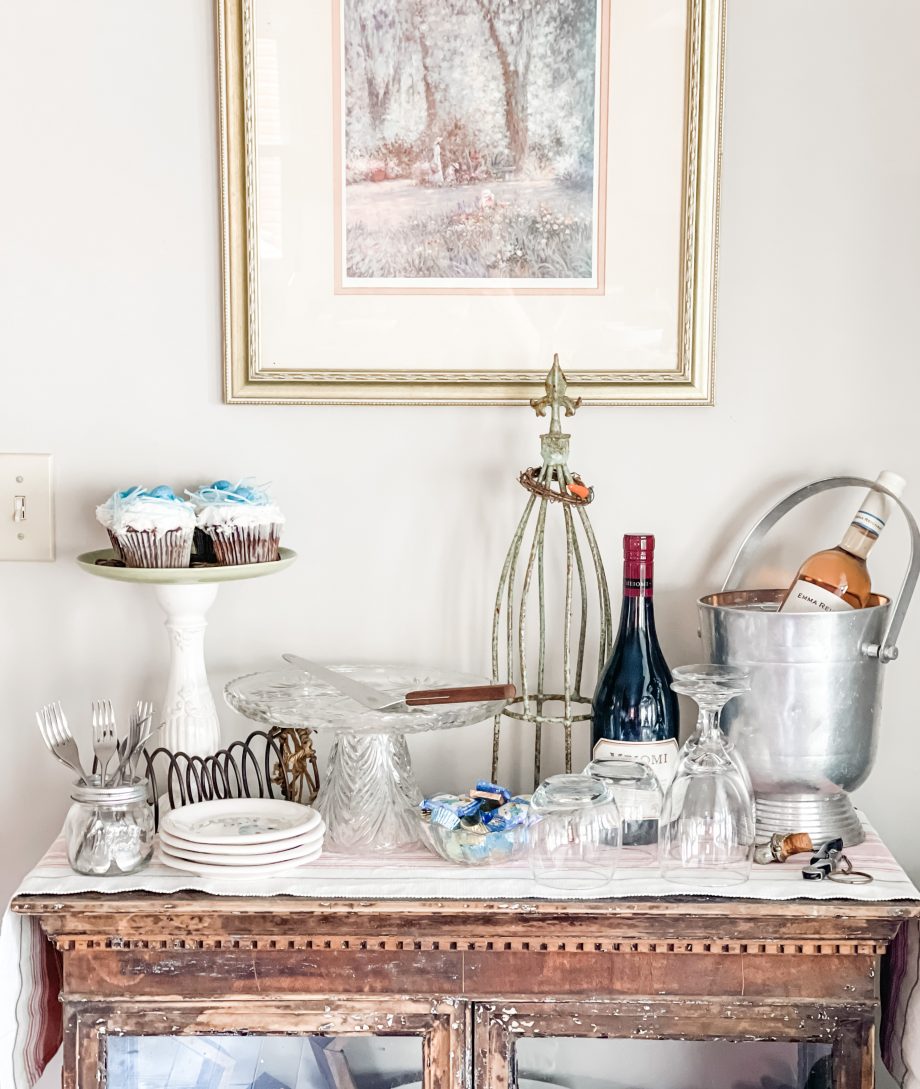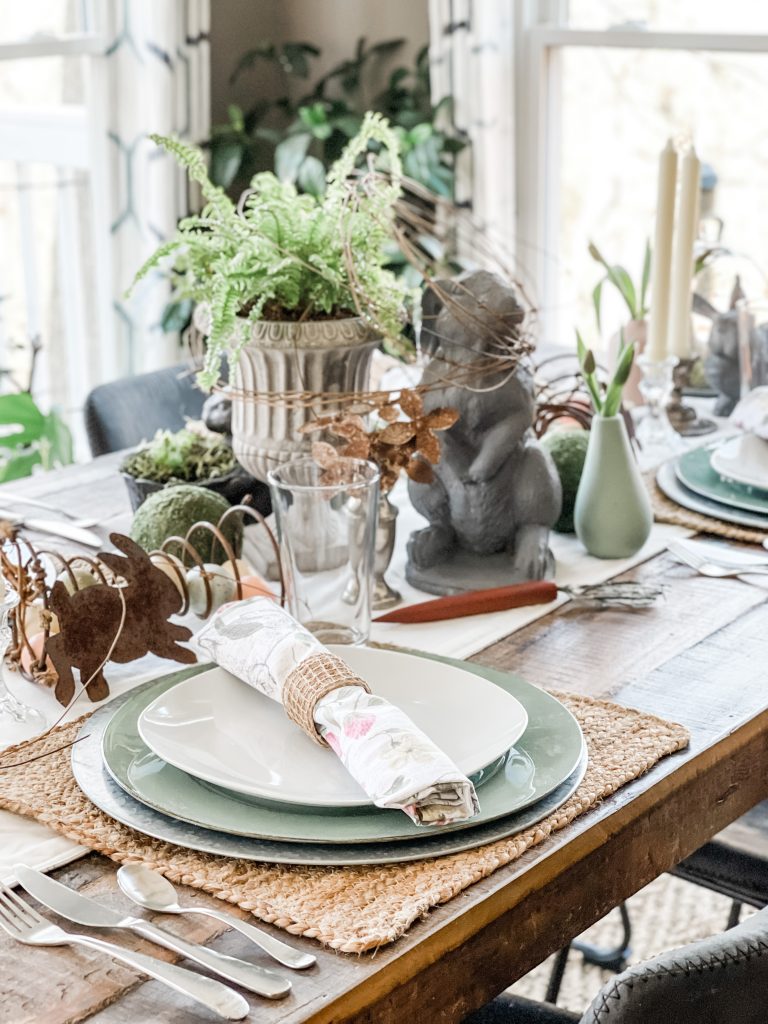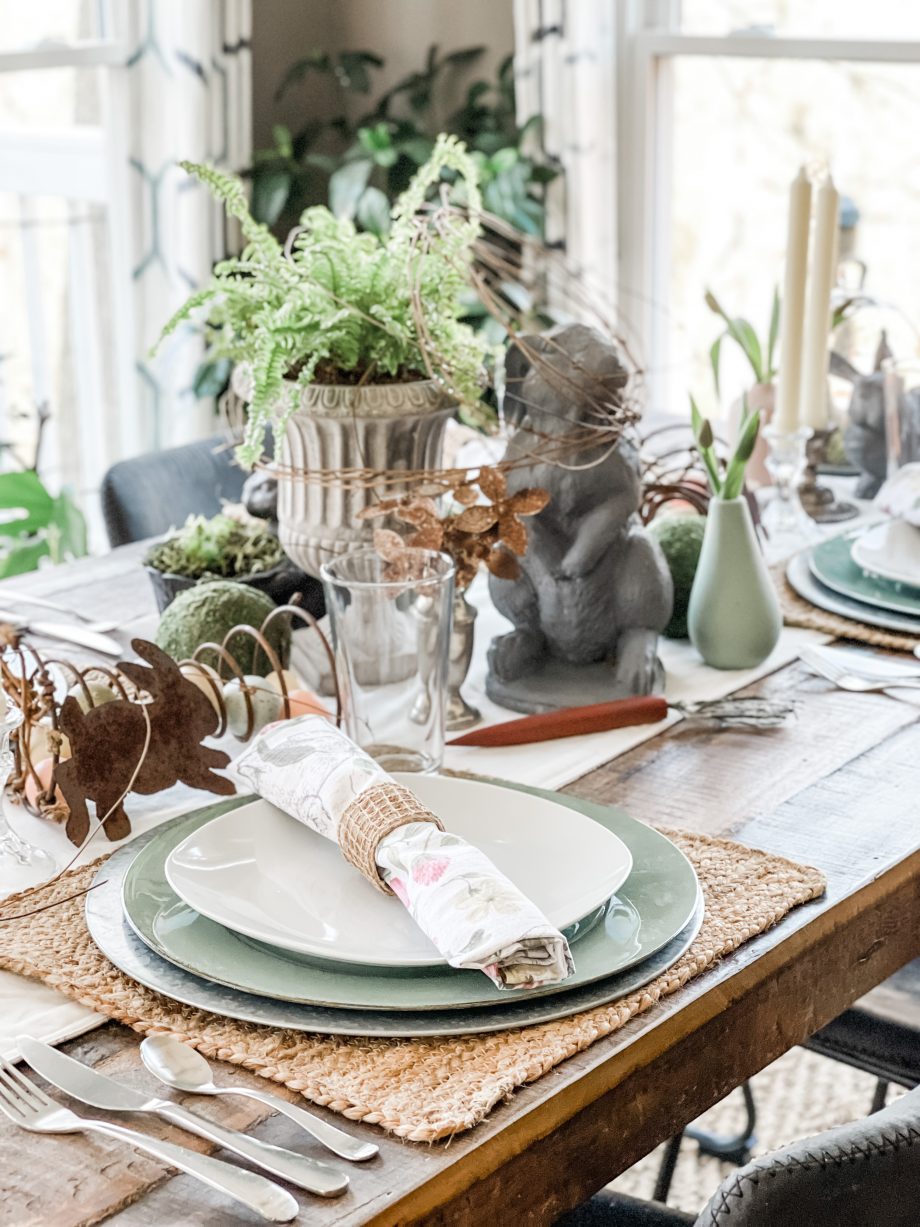 This was definitely a fun table to create. Luckily the food turned out amazing also. I did a ham in the crock pot, roasted sliced potatoes, glazed roasted carrots, grilled asparagus, rolls, cheesecake and cupcakes.
CREATING A COZY TABLE RECAP
I think Easter is my favorite time to decorate, I hope you enjoyed learning what it takes to create a cozy table and got some ideas for your next event.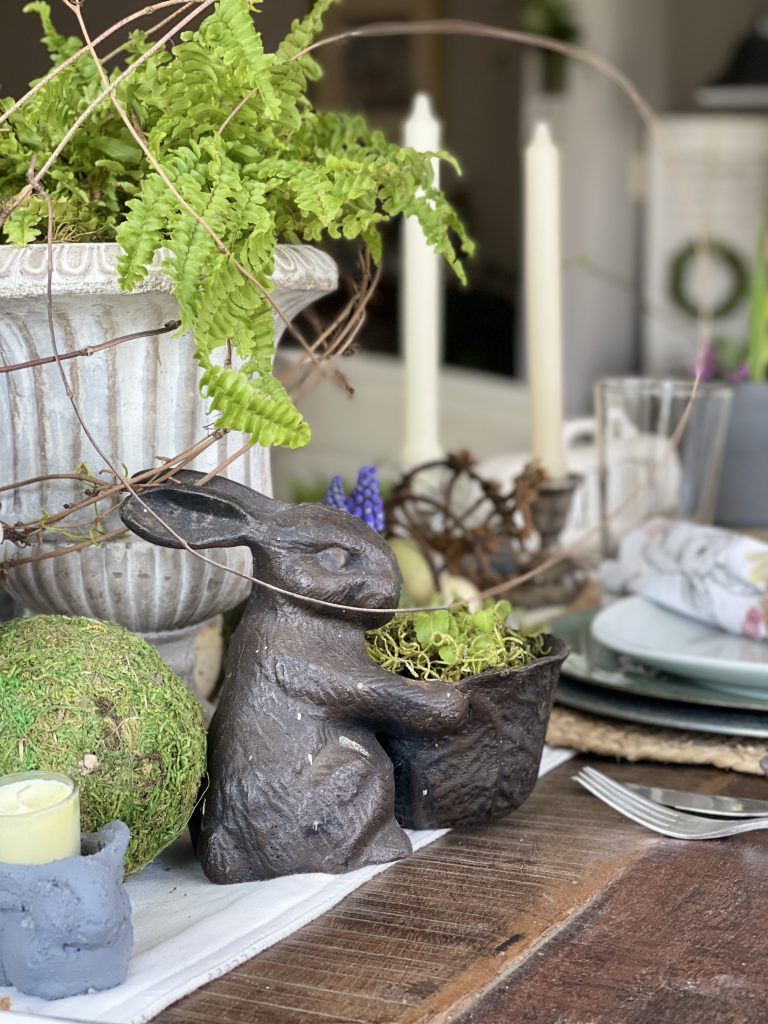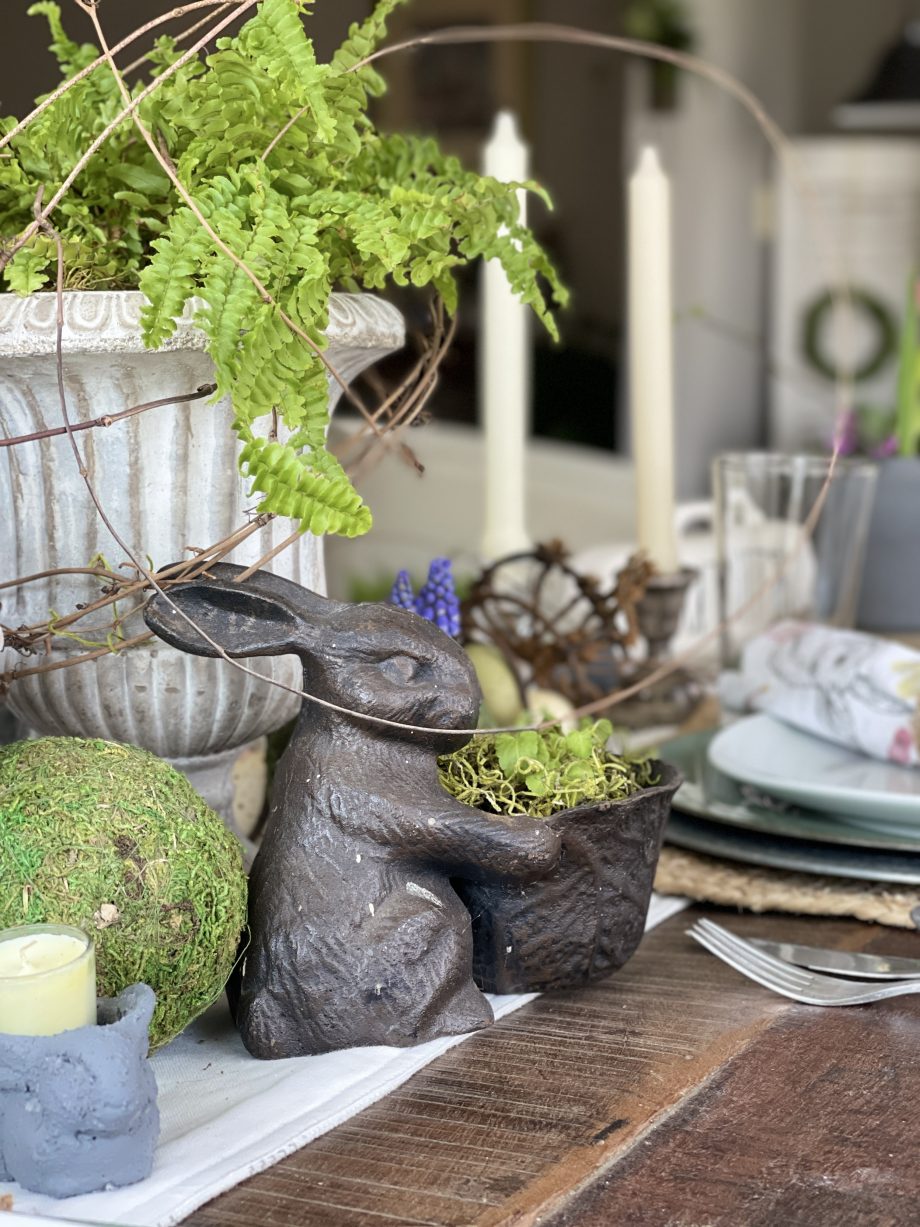 Thanks for visiting, I look forward to hearing what you think!
XO, Regina
I am an Amazon Affiliate, which means if you purchase from these links, I will receive a small commission at no additional cost to you.