If you are looking for rustic valentine decor ideas, I've got you. I'm showing you how to make rustic valentine decor on a budget. We will start with these adorable hearts.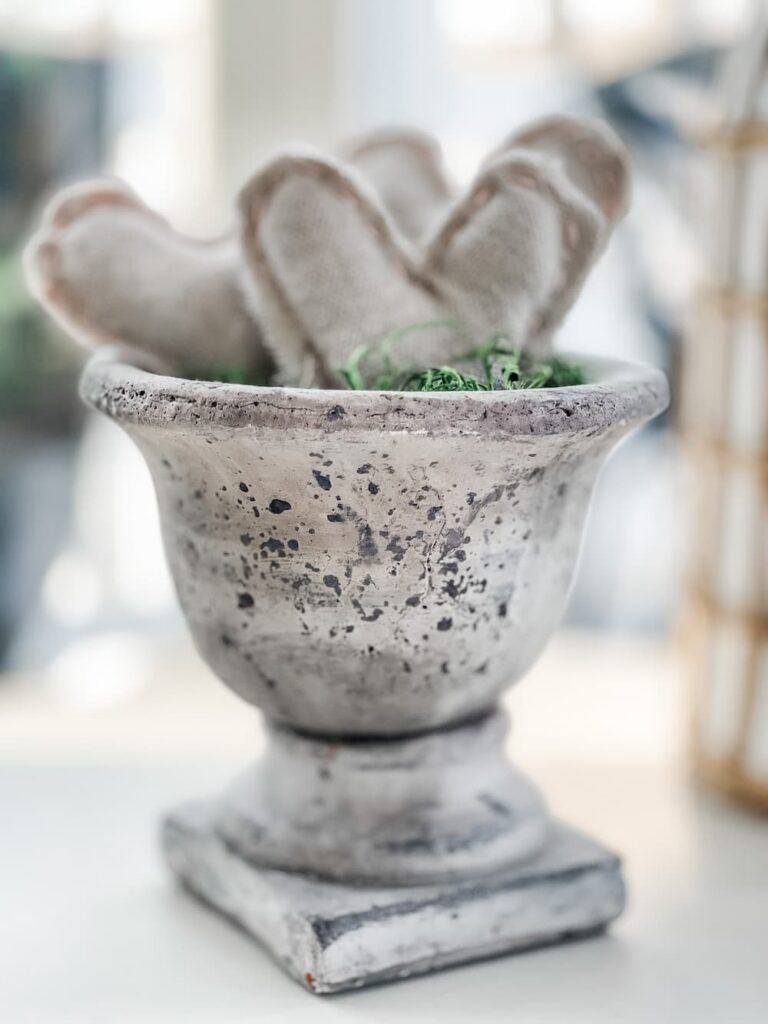 I've always loved hearts, having them around my home year round. So of course I just love these hearts made from my go to paint tarps.
Hi, I'm Regina, welcome to Saved From Salvage, I am so glad you are here. Make sure to add your email below to keep up to date on the latest at Saved From Salvage.
supplies for the rustic hearts
steps to make the rustic farmhouse style hearts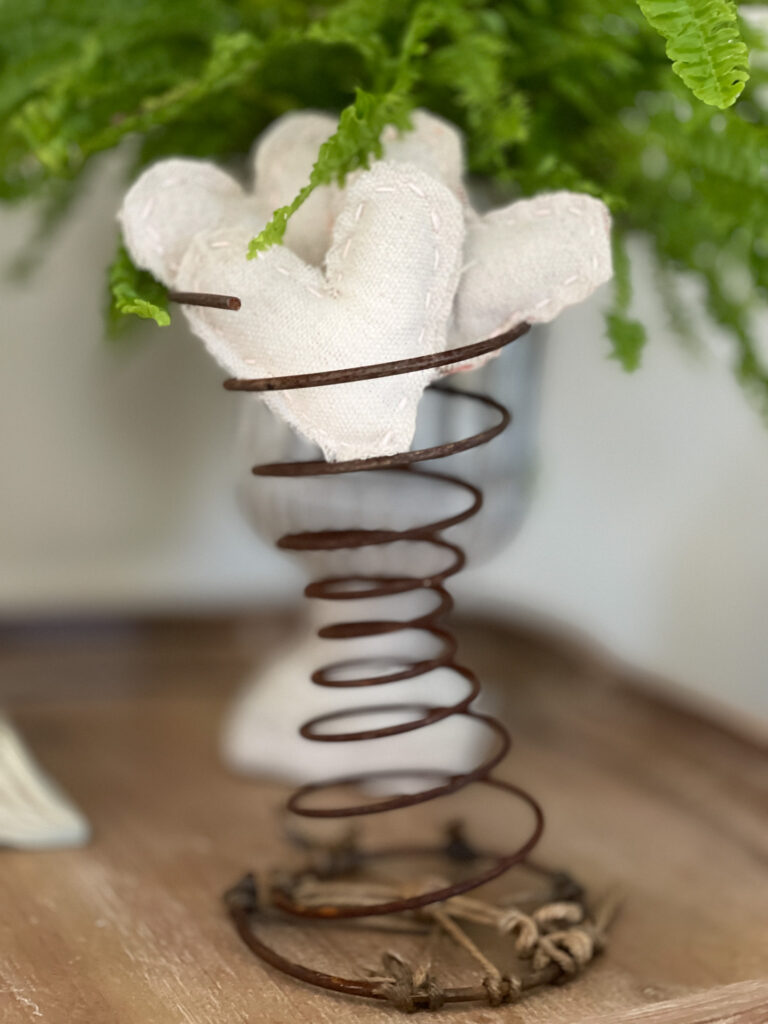 The first step after gathering my supplies was to find a heart shape that I liked.
You can download something from the internet, I found this one on Canva.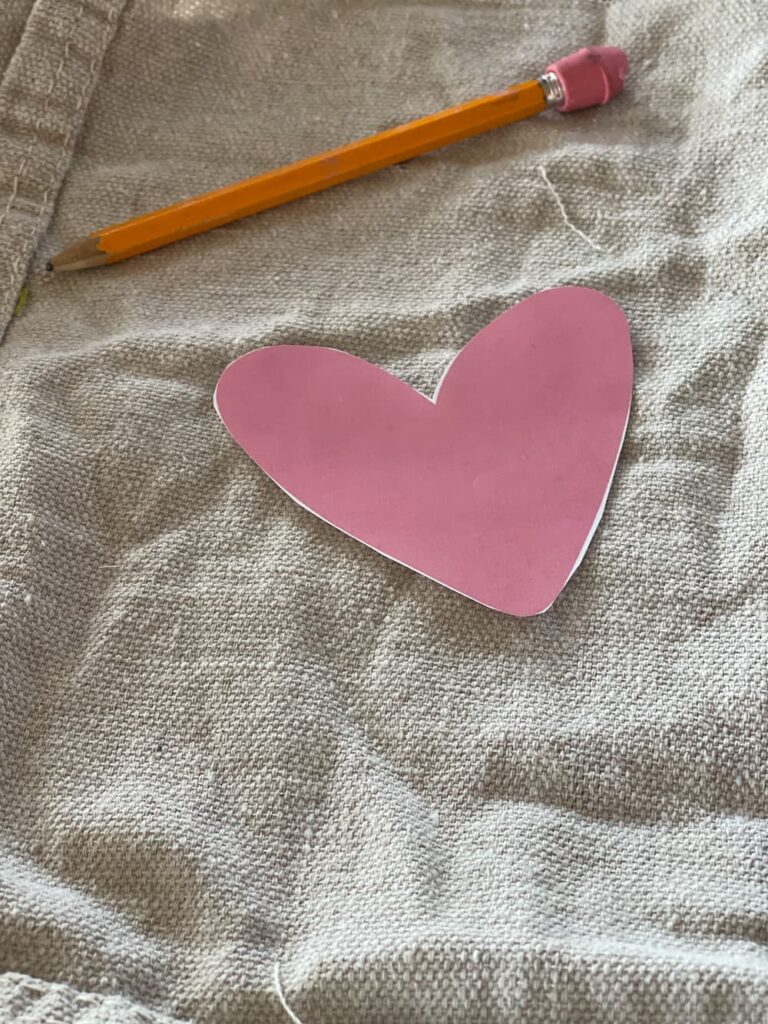 I cut out the heart just from paper.
The second step was to fold over my tarp so I only had to cut one time for both sides of the heart.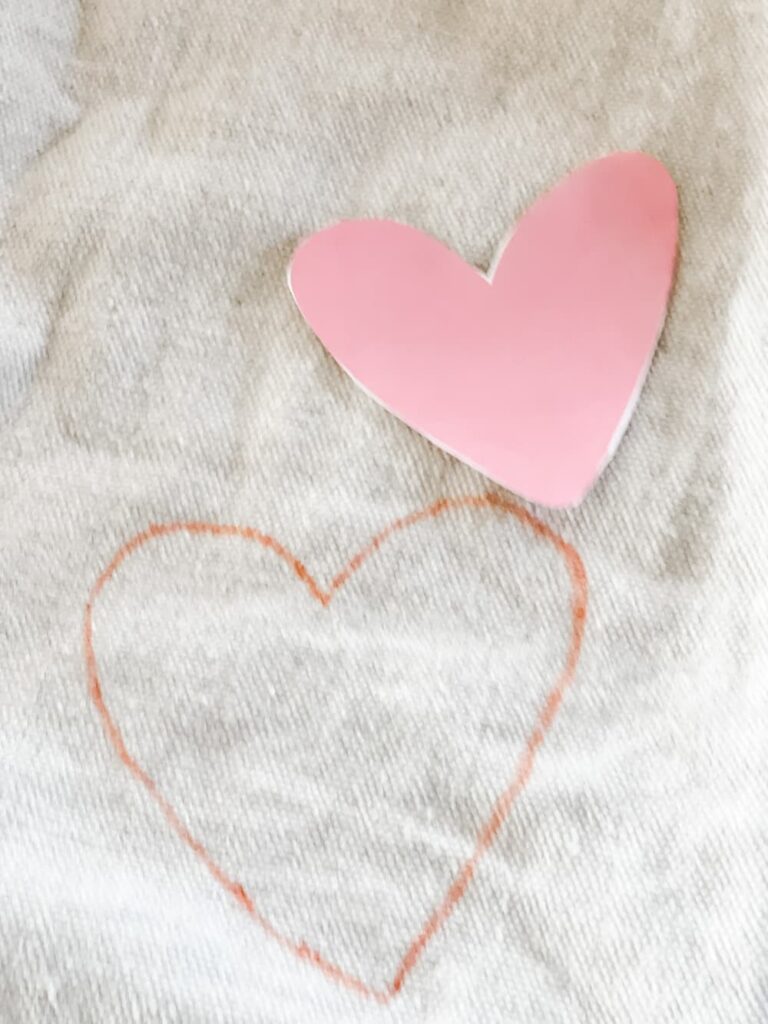 The third step was to place the heart on the tarp and trace it. Sometimes I traced away from the heart to make it a little larger than what I printed.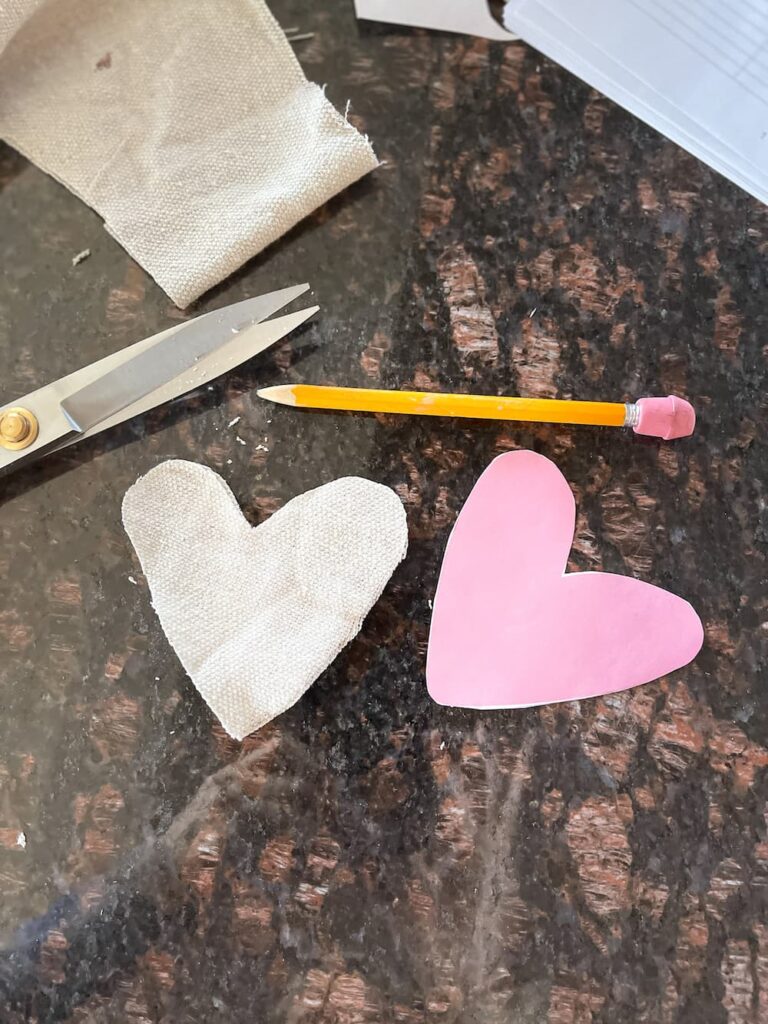 The fourth step is to begin stitching the heart. I start anywhere on the heart and put the needle through the back to the front so the knot is in the back.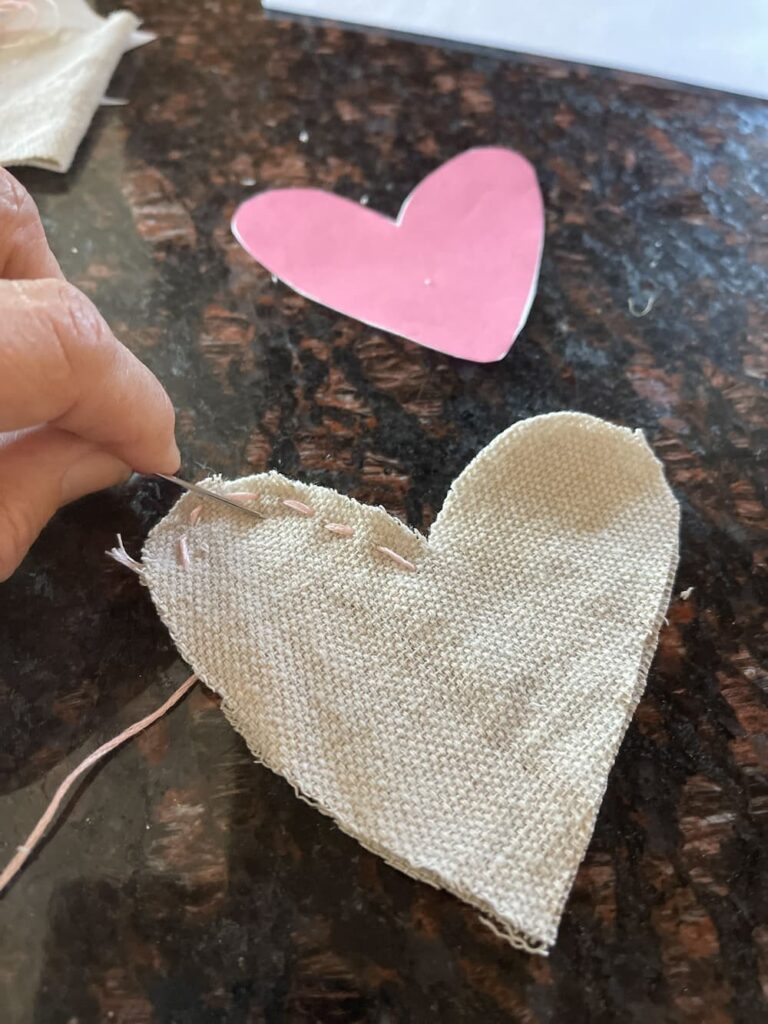 I don't even worry about the distance and size of the stitches, I go in and out until I am 3/4 of the way around the heart. This is the "running stitch."
It is important when working with the tarp to stitch far enough away from the edge so that the stitches don't fall out.
The fifth step is to stuff the heart with the Polyfil.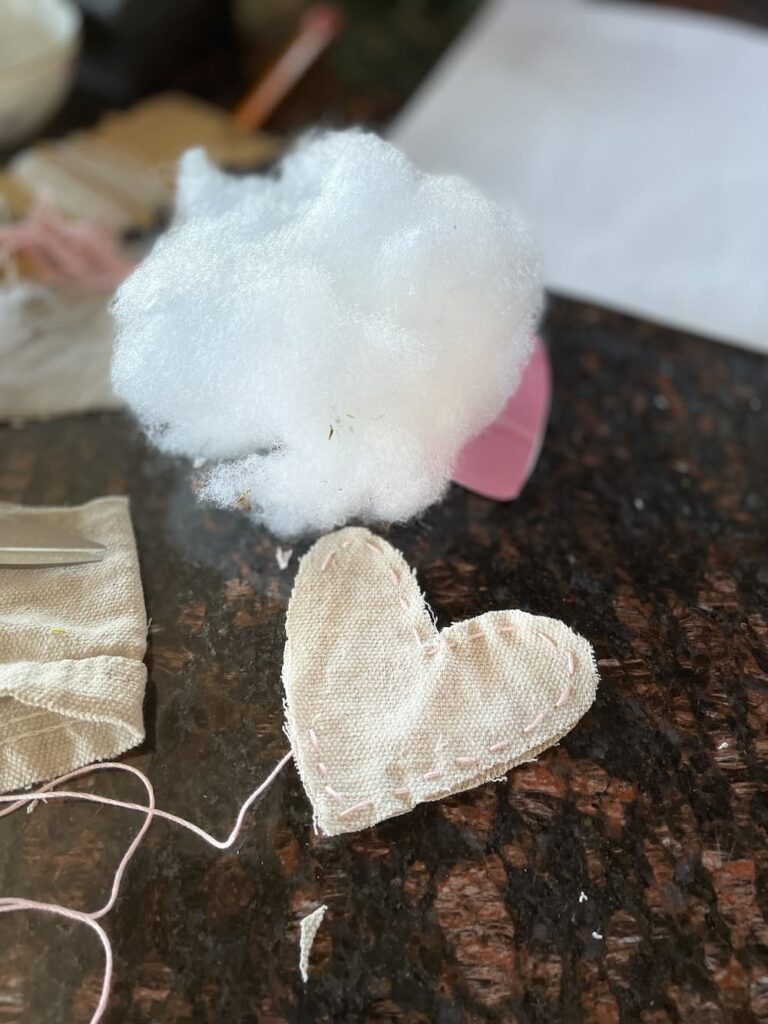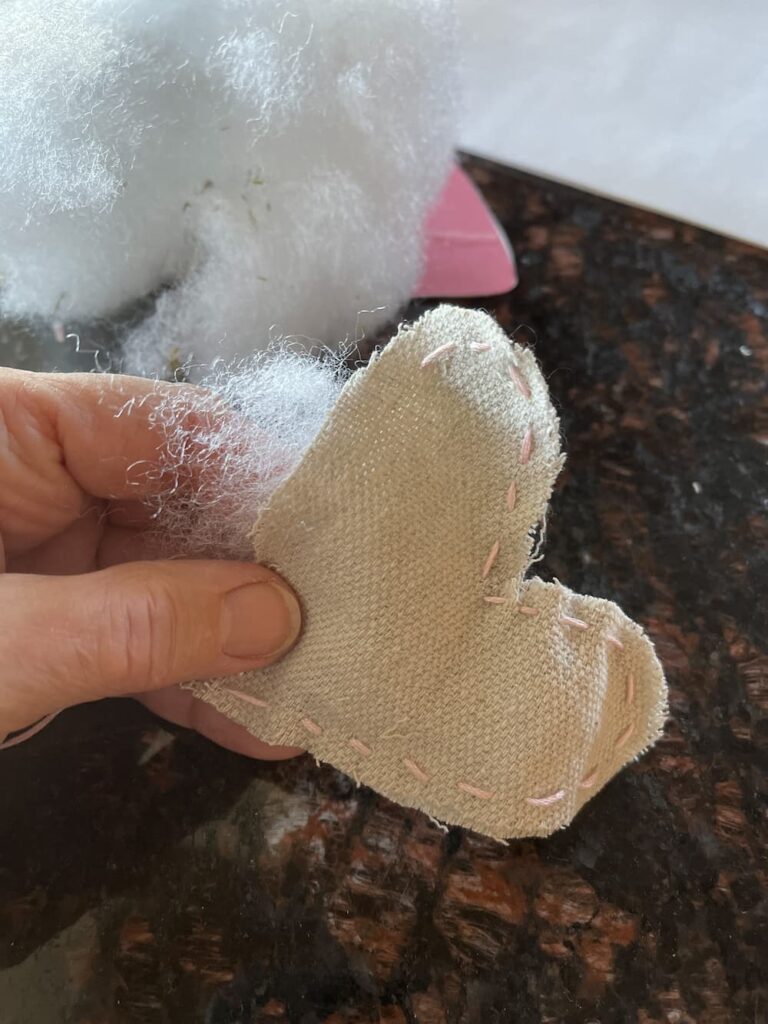 The sixth and final step is to finish stitching up the space you put the filling in and knot it off. If you like the vintage look, feel free to unravel a little bit of the edge to make it look more homemade.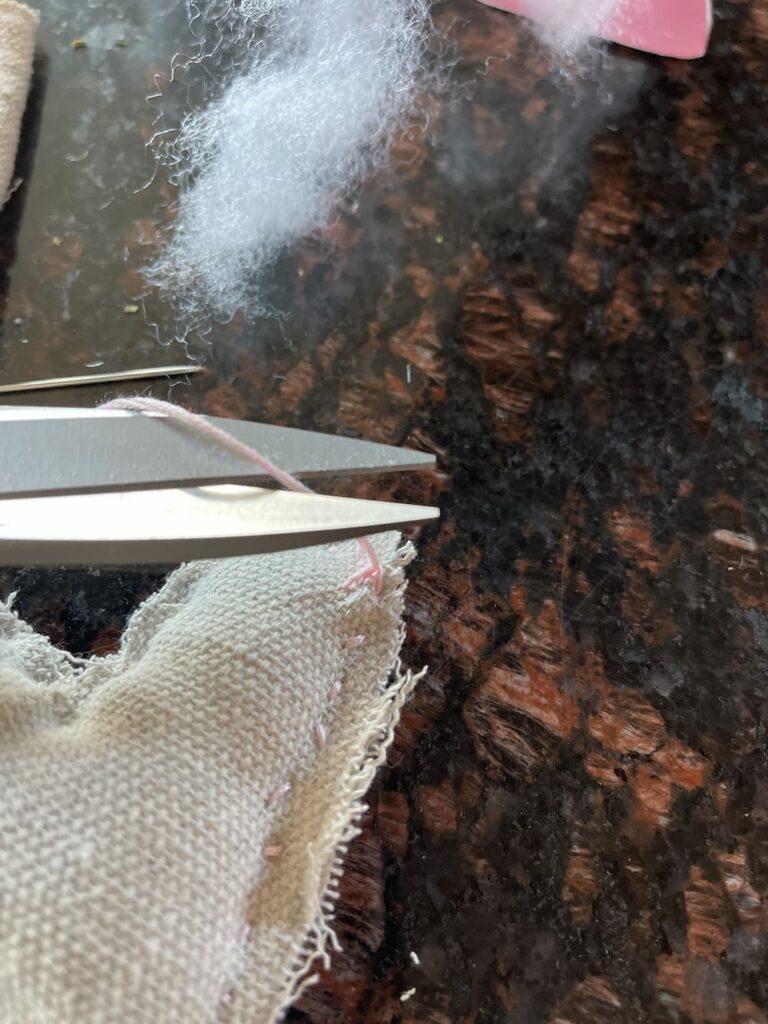 HANDMADE HEARTS IN THE HOUSE
I found making these very relaxing. The entire process took very little time. I find that I really enjoy stitching the hearts and think they are quite cute.
It's been quite fun to stage them all over my house. What do you think? Aren't they adorable? You could certainly turn these into a garland by attaching to a string or twine. You could hang them by stitching a twine loop to the top or like me, place them in a variety of vessels to display.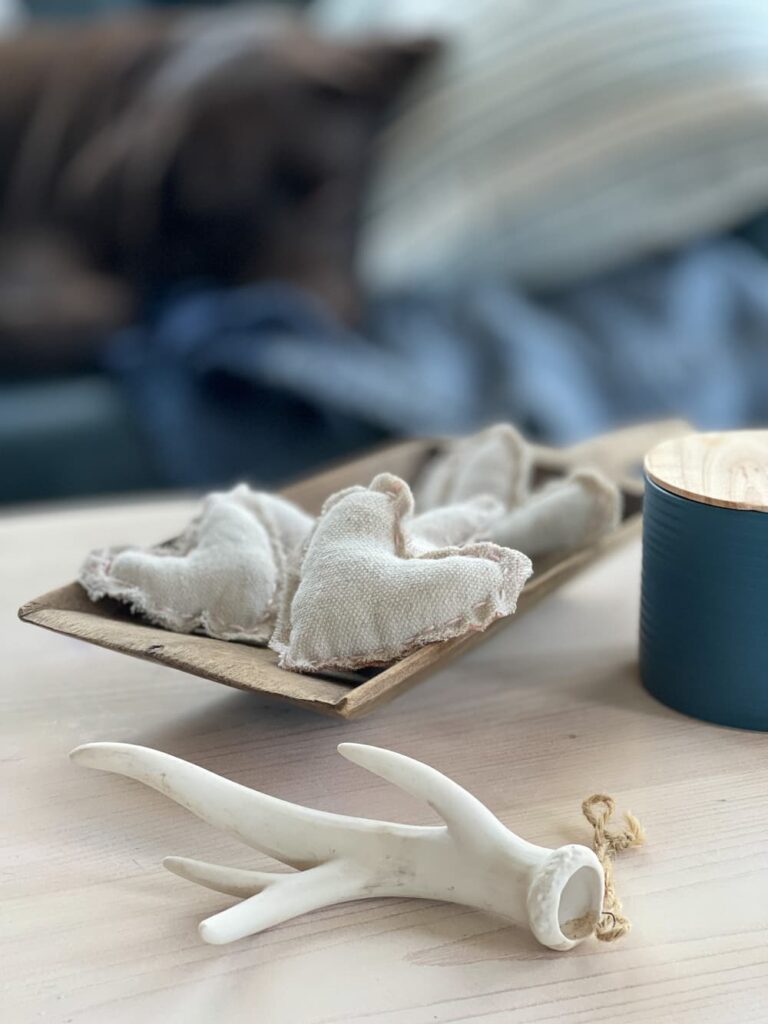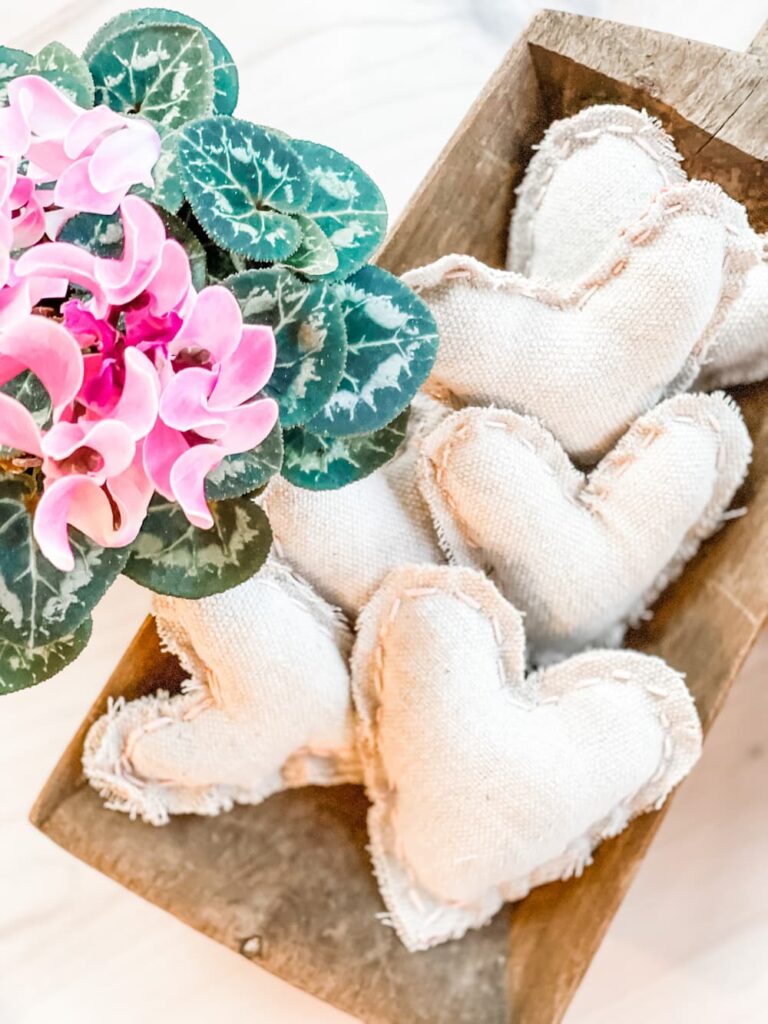 After making these, I am already thinking about making bunnies for Easter.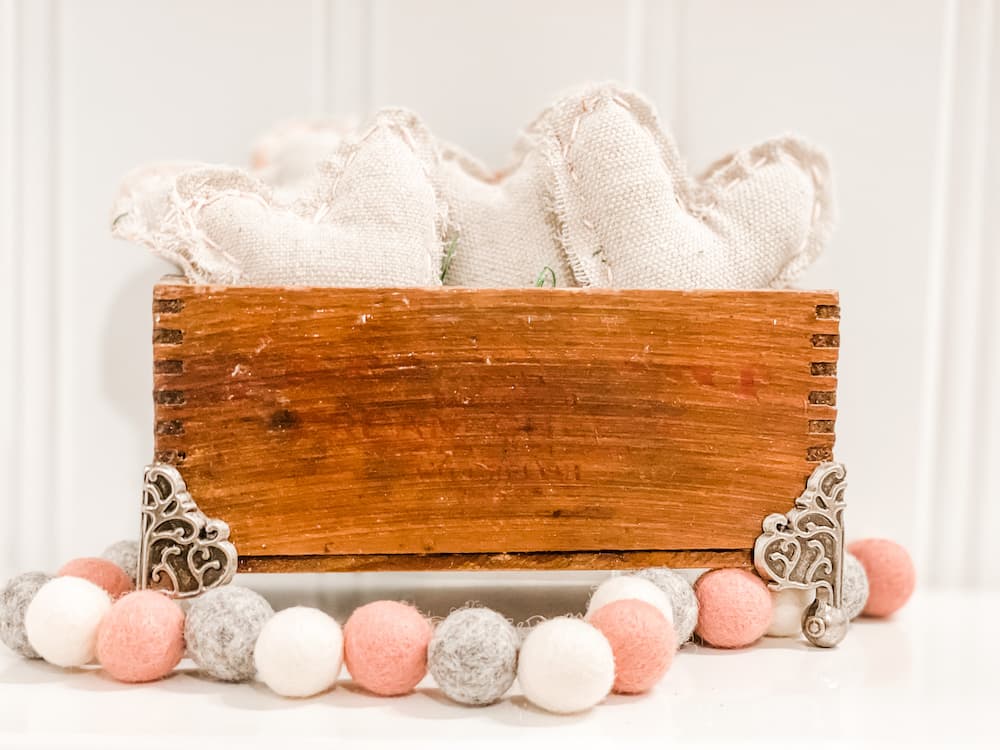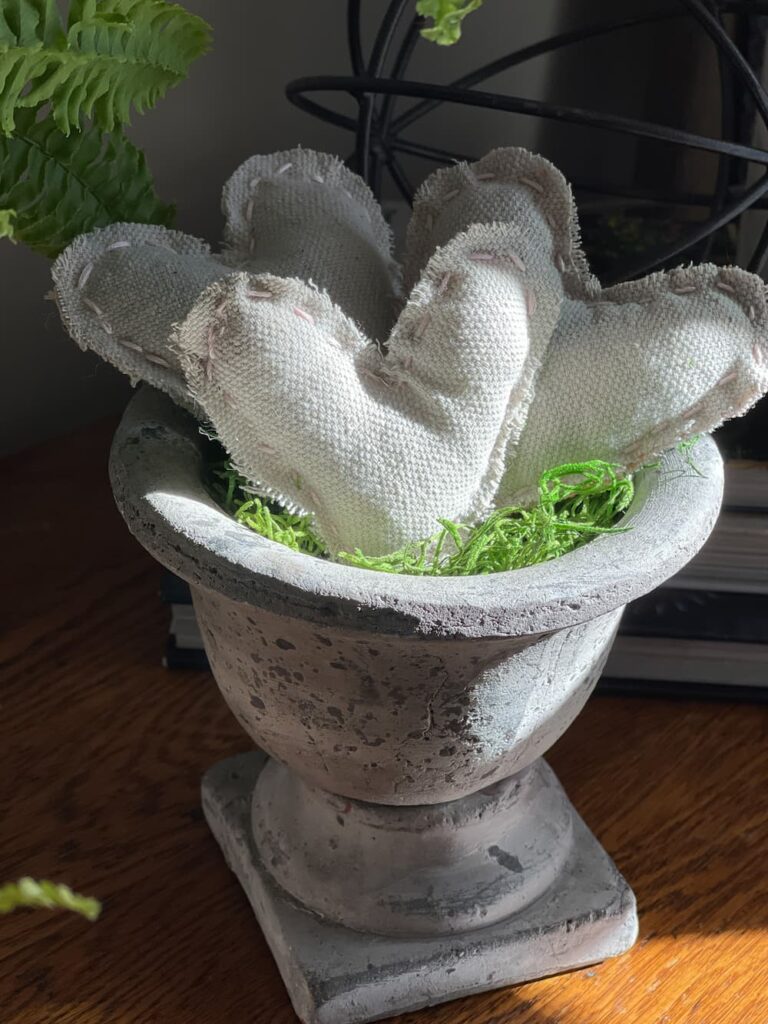 Thank you for coming by! I am going to be sharing a few other fun Valentine decor ideas that cost pennies to make.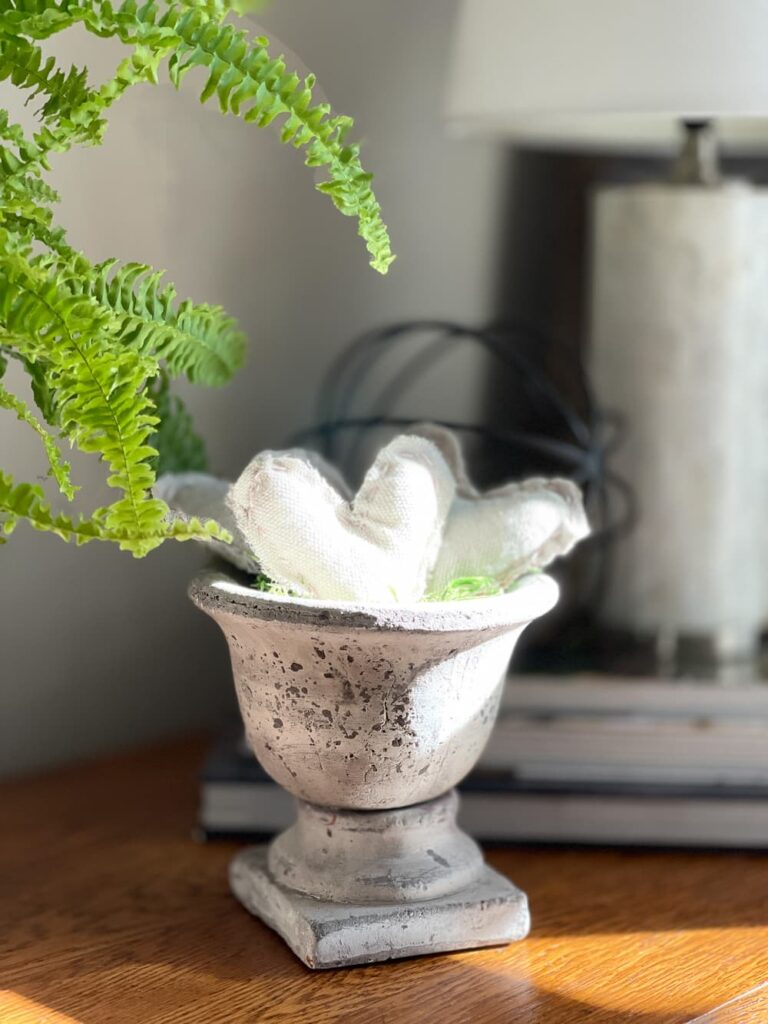 Did you see the Valentine pillows I made? Talk about pennies and minutes. You can see them here.
These Scrap Wood Hearts were easy and fit in to my rustic decor.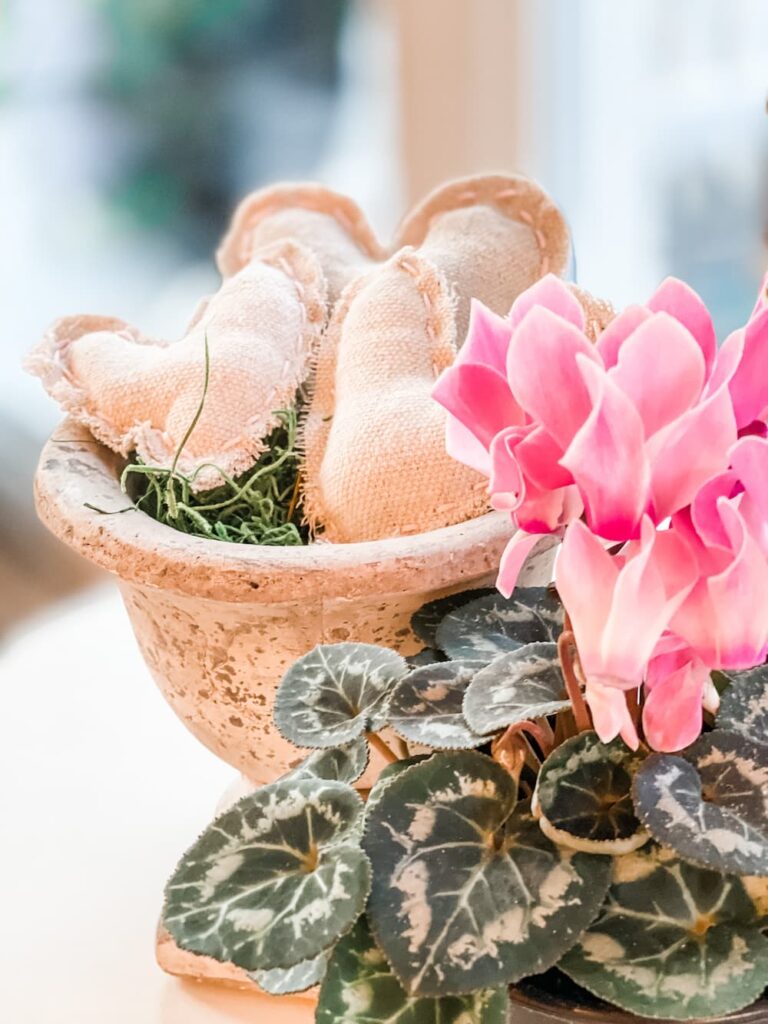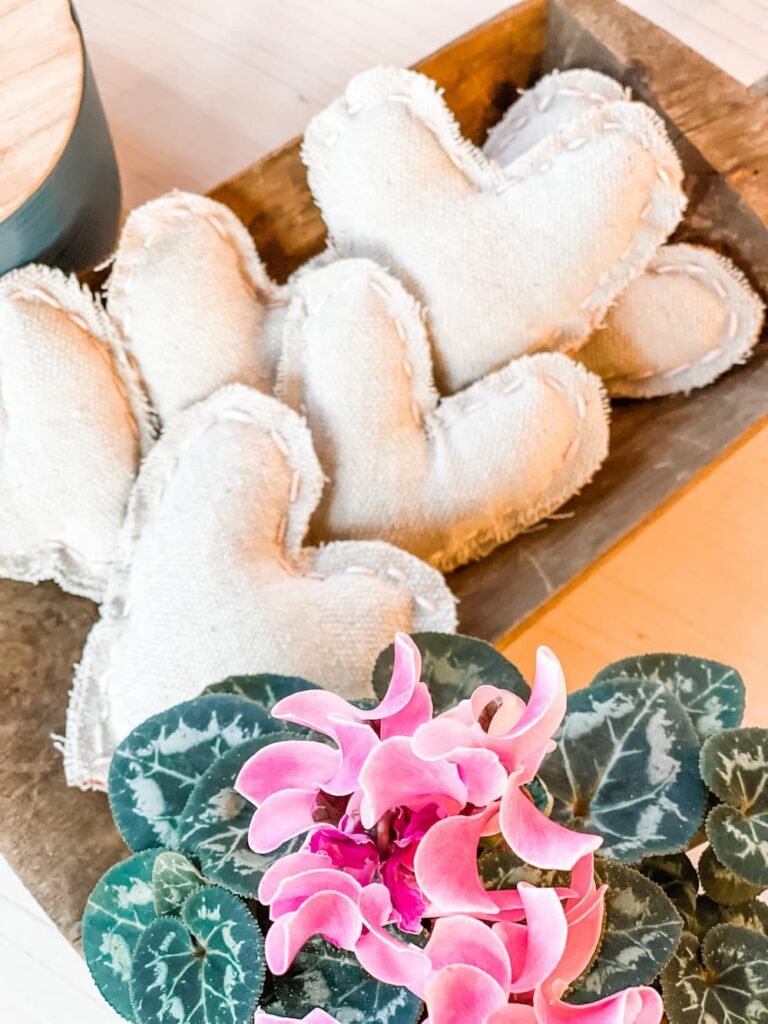 There is one more thing I want you to see. A group called the "Handcrafted Society" had our inaugural post and it's all about Hearts and Paper – see all the fun here.
Until next time – XO, Regina
I am an Amazon Affiliate, I've included Affiliate Links for your convenience. If you order from these links, I will receive a small commission on qualifying purchases, at no additional cost to you. Thanks so much for supporting my small business.
Let's Go Shopping