Would you like to make your guests feel comfy and welcome? I'm sharing ideas on how to organize your guest bath to do just that.
Hi, I'm Regina, welcome to Saved From Salvage. Here you will find ideas and inspiration on diy projects for home and garden and ways to make any guest in your home feel extra special. Make sure to get on the list by subscribing below.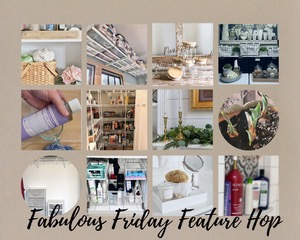 Welcome to the 2nd Fabulous Friday Link Party Blog Hop. The Fabulous Friday Link Party is where you can find the best posts from dozens of home bloggers every Friday.
Four times a year the six hosts, each picks a regularly participating blogger to join in the blog hop.
February is a month for cleaning and organization and this blog hop is dedicated to inspiring and helping you unleash your own cleaning and organizing brilliance. Be sure to visit all twelve posts. — so many unique ideas, tricks, and hints. They are all listed at the bottom of the post.
START WITH A CLEAN SPACE
It's hard to organize a dirty or cluttered space. Tidying up and making any repairs that are needed is the first step in getting organized. Use the space and look at it as if you were a guest. Do the walls need touching up?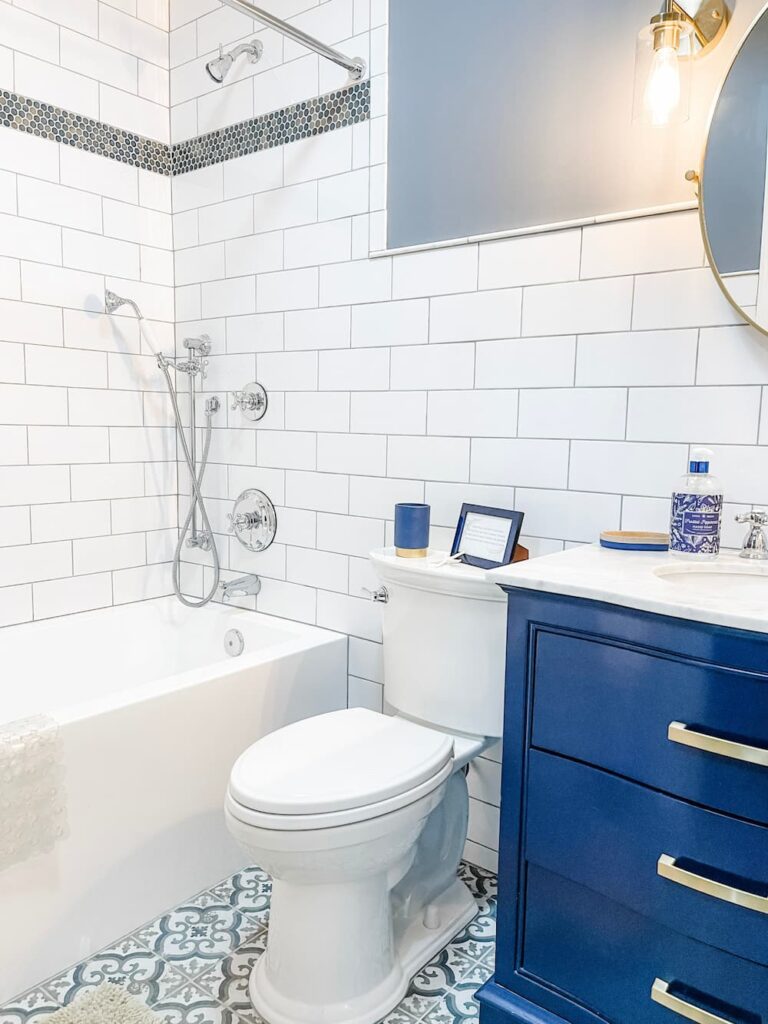 Is the shower curtain liner grungy? Does the sink drip? Does the toilet run? Little repairs go a long way in making the space enjoyable.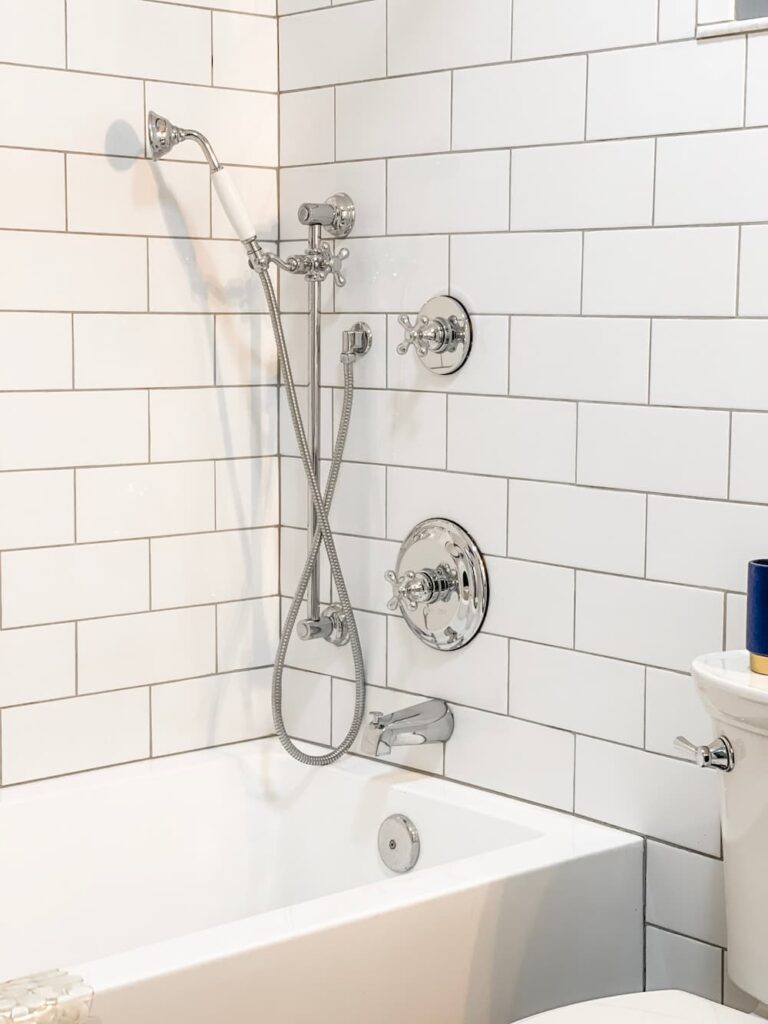 Next do a deep clean of your space. Floors, tub, toilet, sink and vanity. Wash the shower curtain and liner. Invest in new towels that match the space.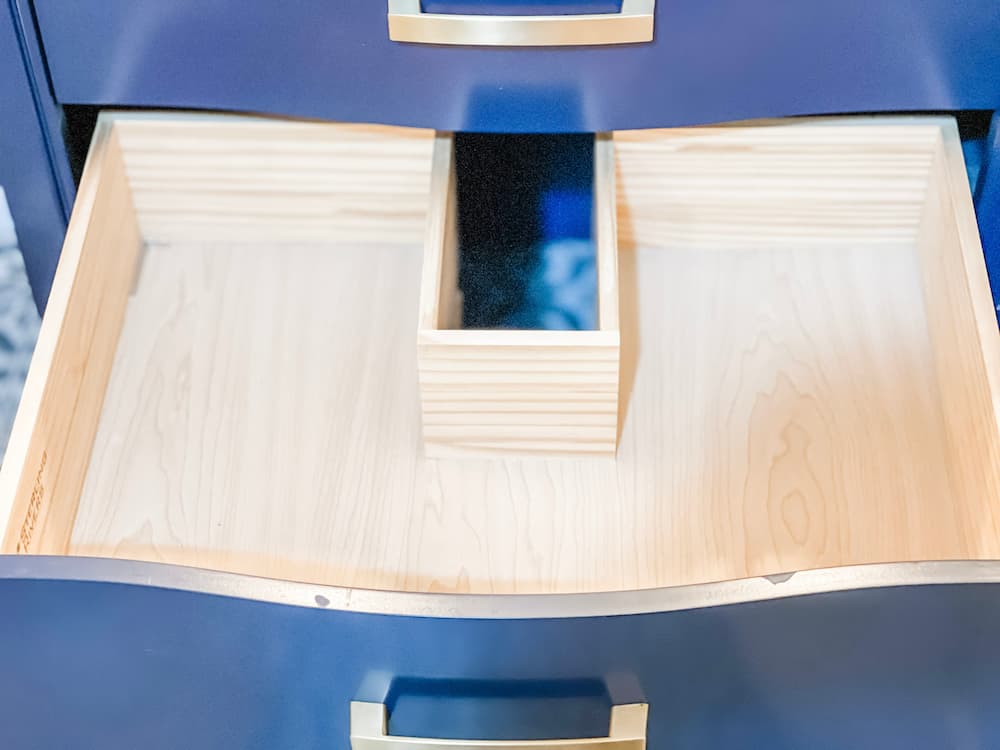 In the last year we renovated our guest bath. It was such an eyesore that I can't believe I actually ever let anyone use it.
We went with mixed metals and a navy vanity. I love it. To see all the details, click here.
It might seem like a no brainer but making sure there is a trash can is key. I prefer to have one with a lid so that the guest has "trash" privacy.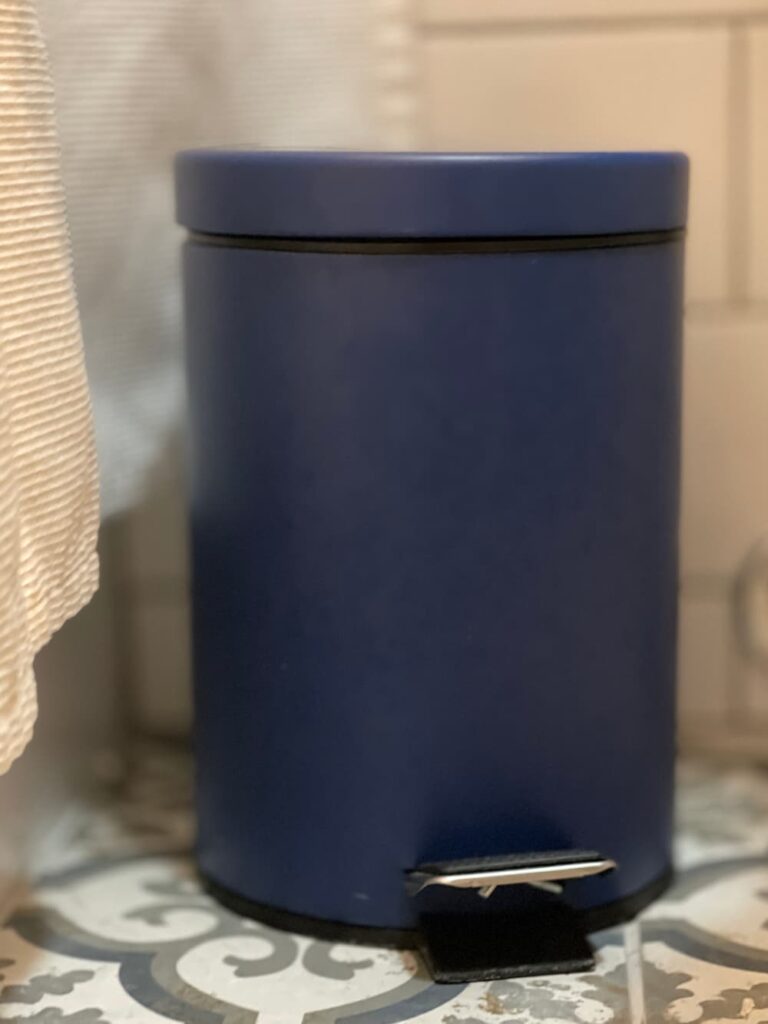 MAKE IT FEEL LIKE HOME
I think the best thing you can do for your guests is to have the comforts of home at the ready so they don't have to ask.
Gather items that one might need. Think of everything you can. Fingernail file, clippers. Normal bathroom items like q-tips, cotton balls and cotton pads. Eye makeup remover, face wash cloths. I like to have flushable wipes and bathroom spray on hand.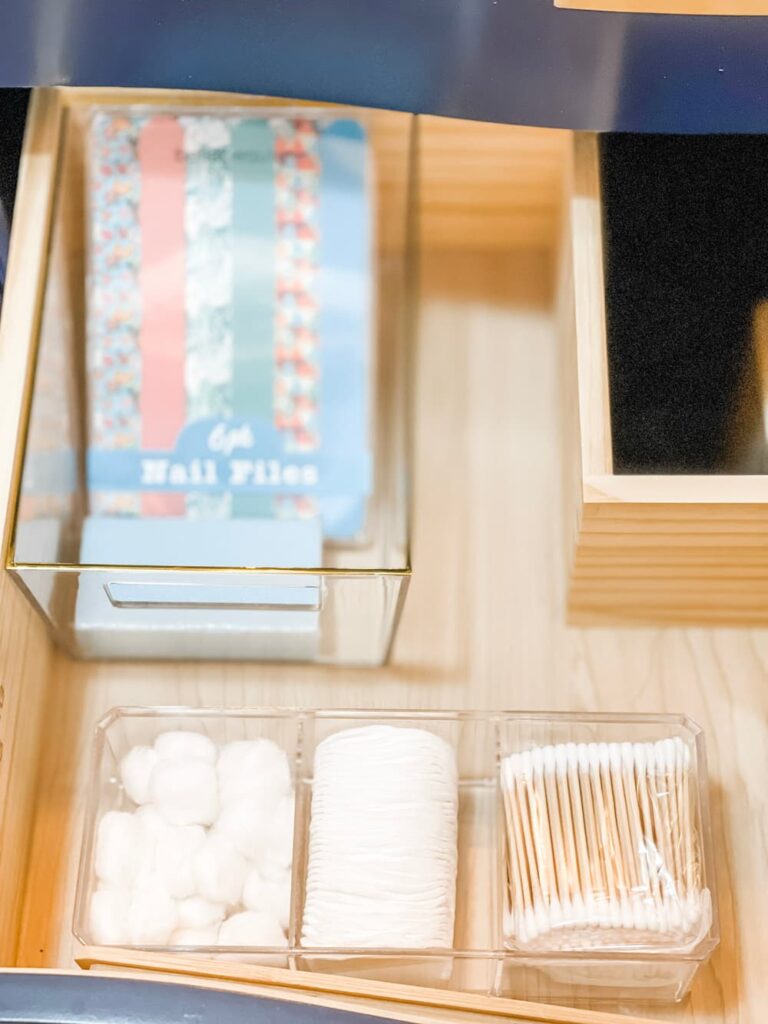 How about a magnifying mirror that can be put on the large mirror?
Disposable hand towels, fancy soaps, cleansing wipes, extra hairdryer and toothbrushes.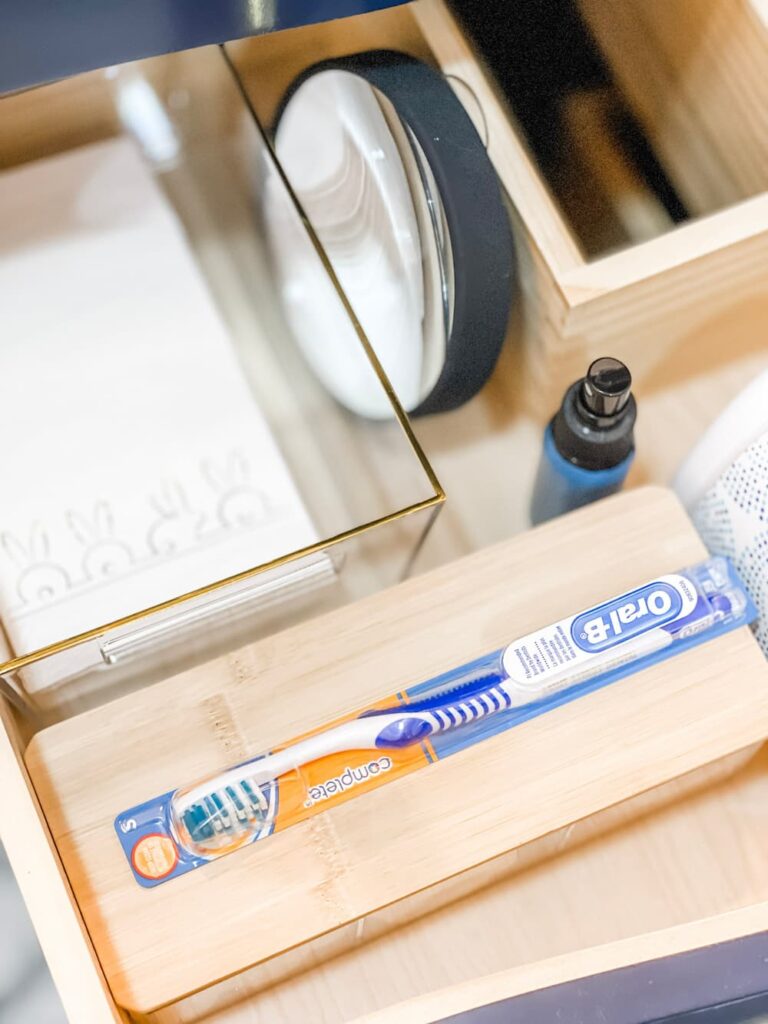 ORGANIZE YOUR BATHROOM
Again, I recommend you use the space and add what you would need. Taking a shower or bath?
A place to place your rings or jewelry is a nice touch. Having a spot for that on the counter is easy.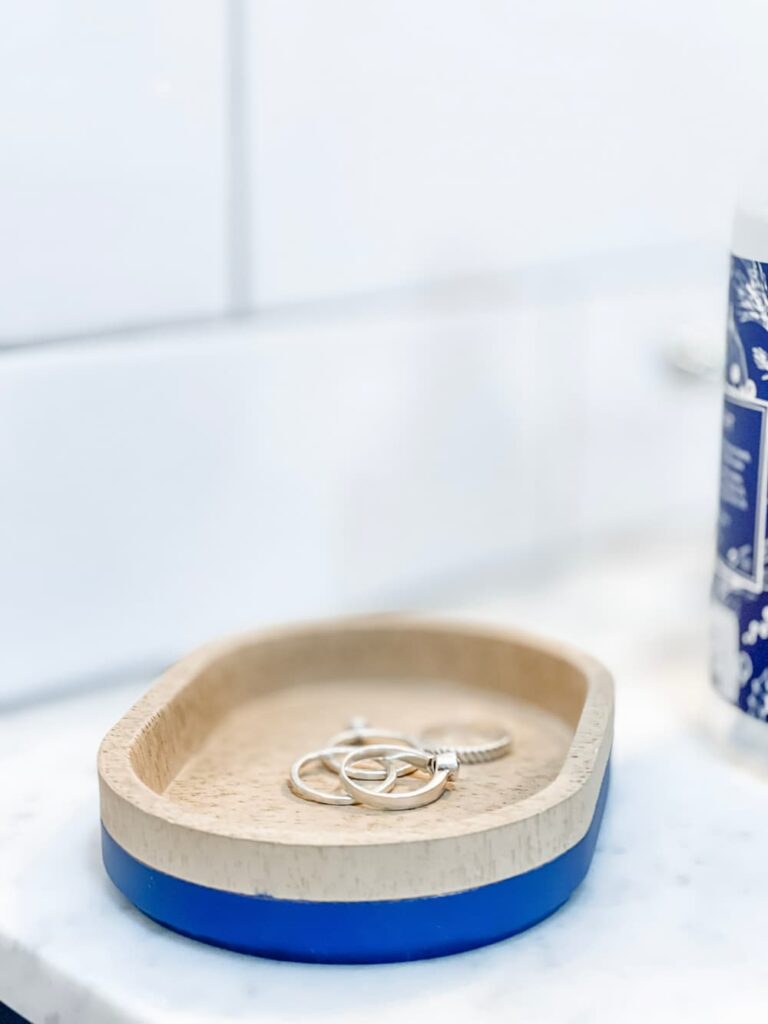 Inside the drawers, having containers makes your items look more appealing and intentional.
I've used baskets for extra washcloths and hand towels.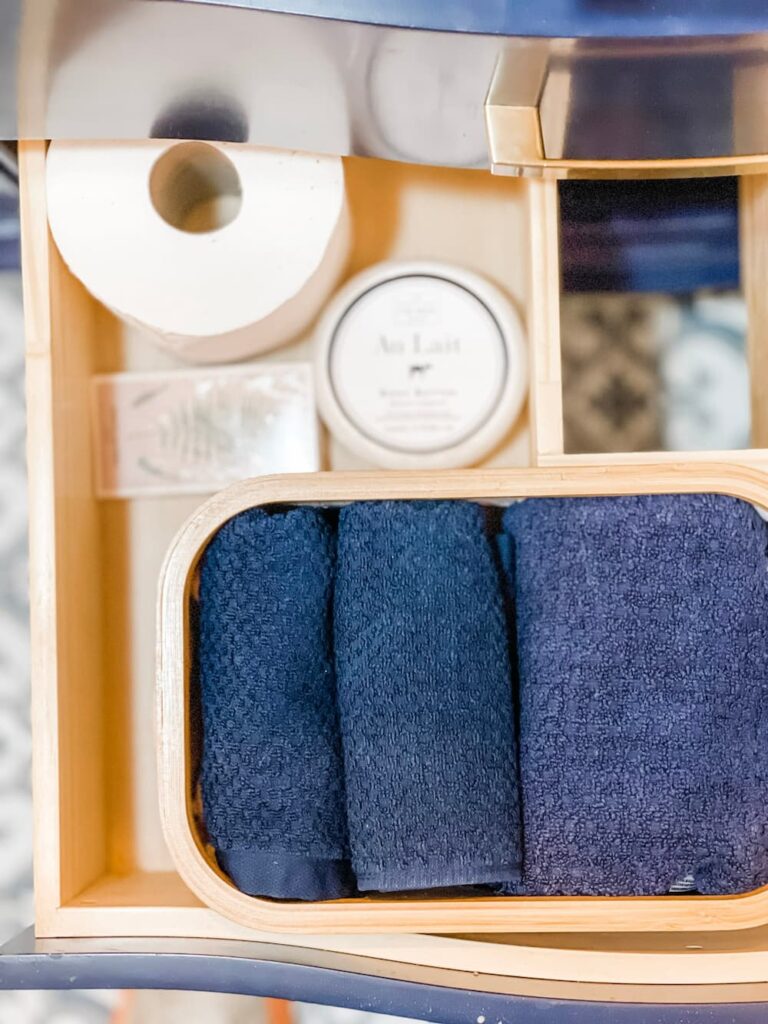 Clear lucite containers with a gold edge for other items.
If you have items that don't fit in the containers, making sure they are visible is important.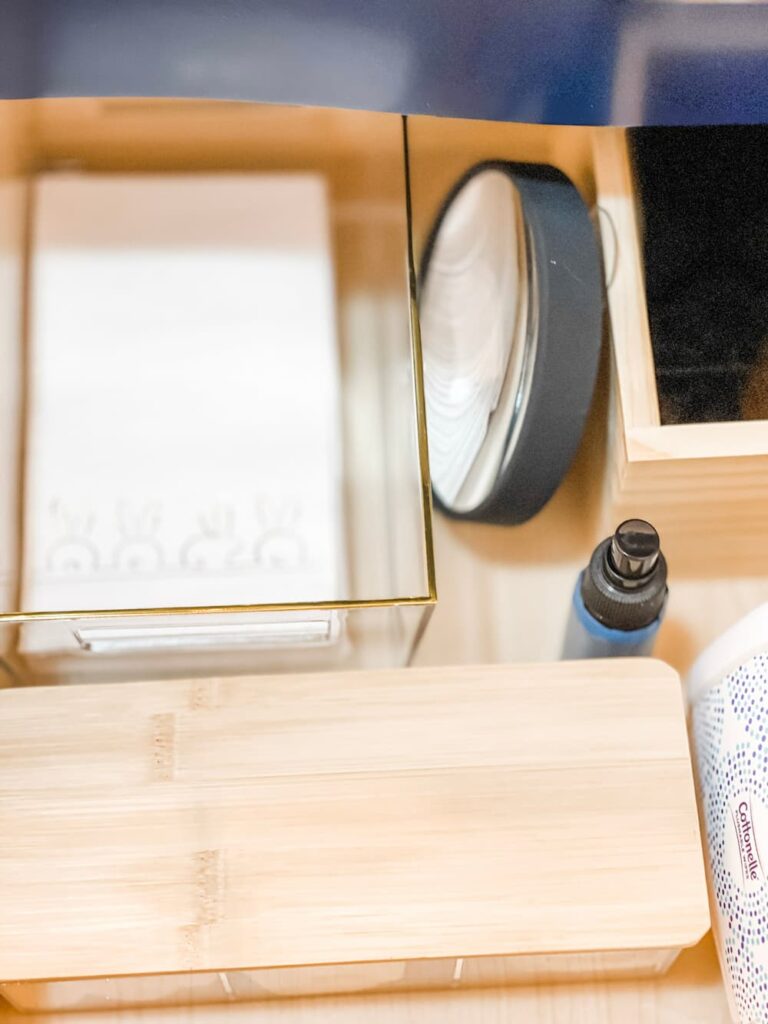 I am limited with space inside the vanity but I keep everything within sight so it can be easily identified.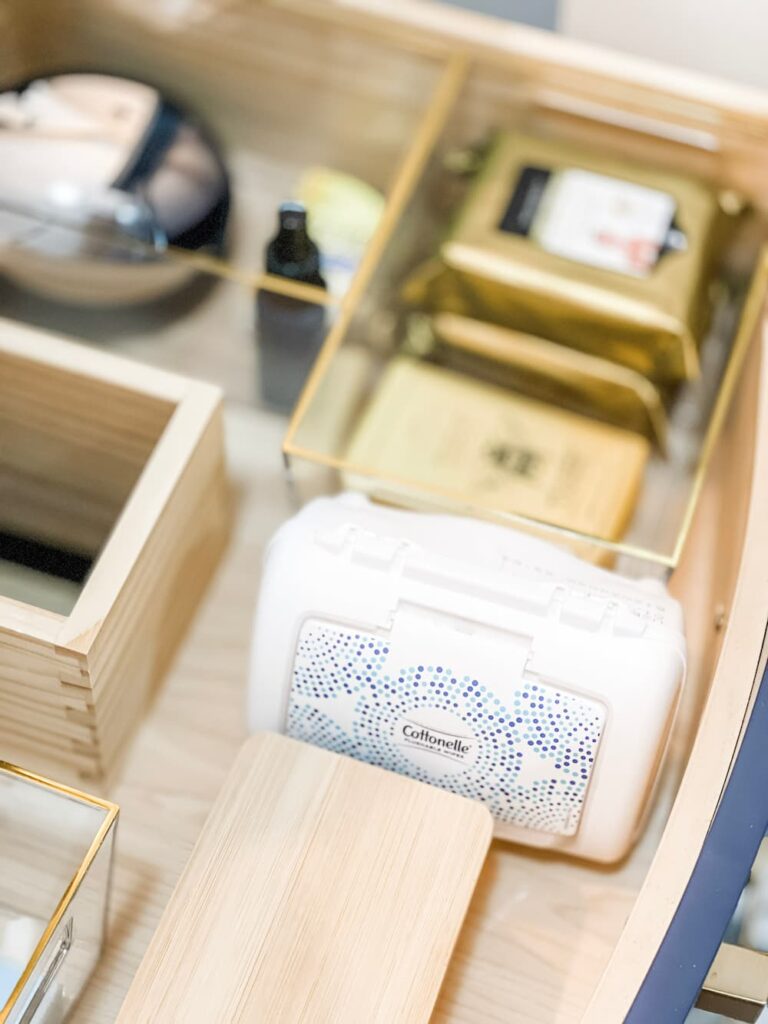 On the vanity I keep a large glass jar of miniature toiletries.
I collect these from hotels and trips and add them here. If they are used at all, replace them with new and full items.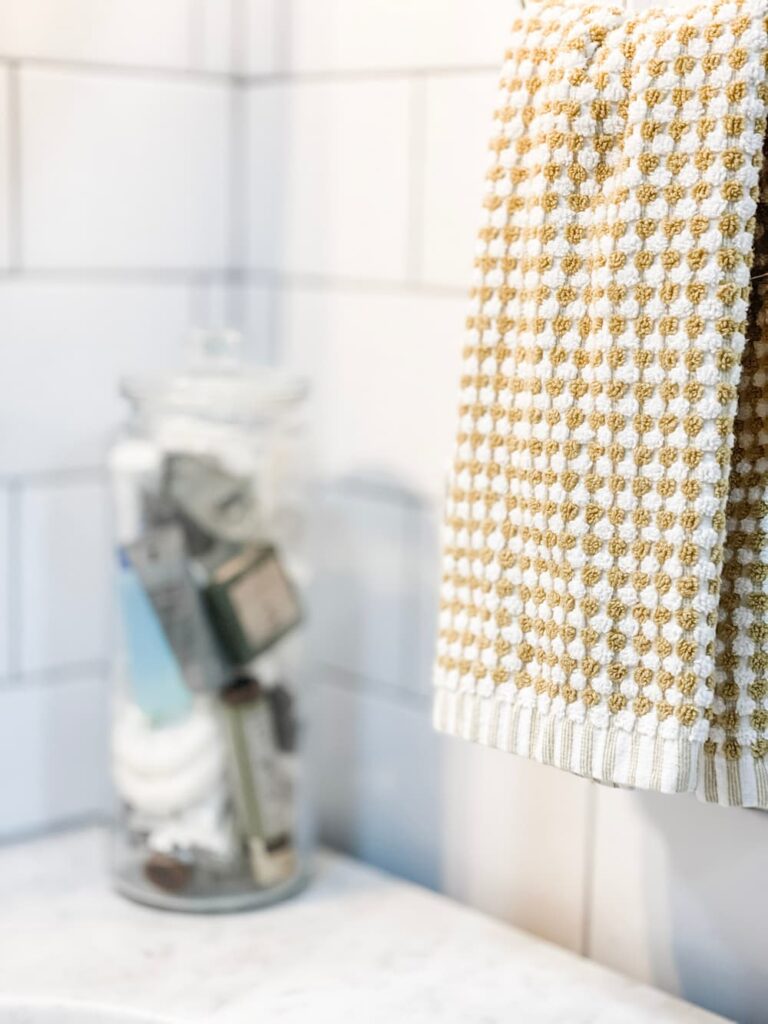 The appeal of this is that they are out in the open, and you can see what is there.
I add ibuprofen, bandaids, deodorants and other little items that fit inside.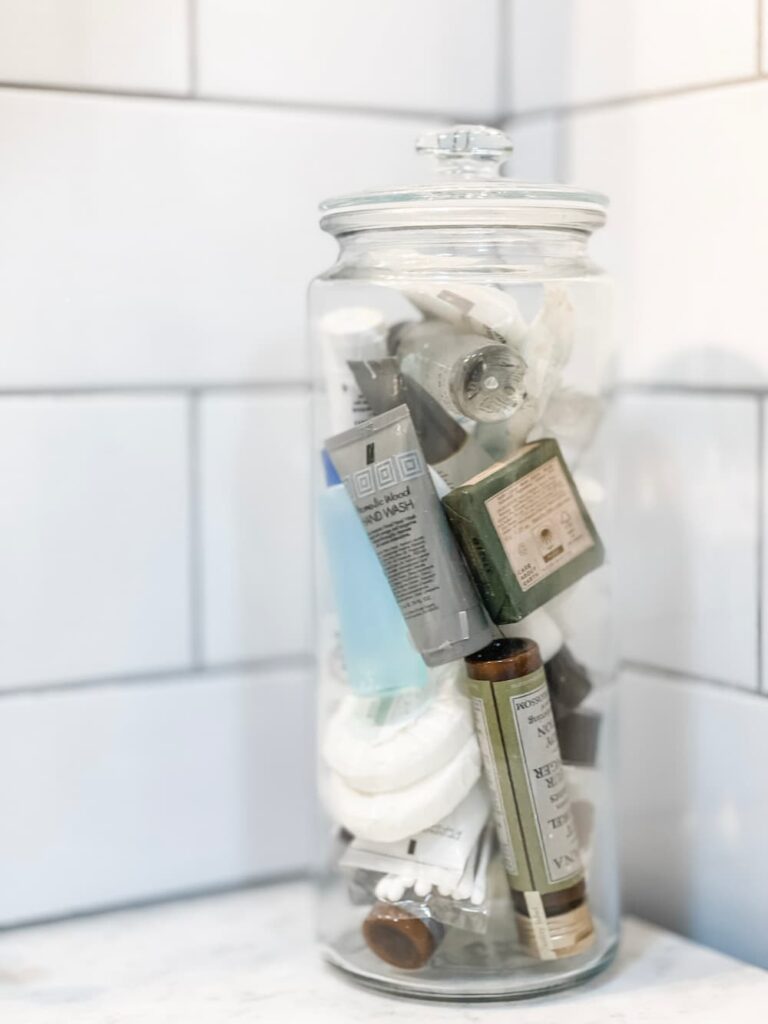 In your containers, put similar items together.
In some bathrooms you may not have much space so you don't need to put a year supply of items but more than enough for your guests visit.
I like for the room to be clean and cohesive. So I use these large plastic bottles to hold shampoo, conditioner, and body wash. I opted for white so the didn't detract from the tiles in the niche.
Which look do you prefer?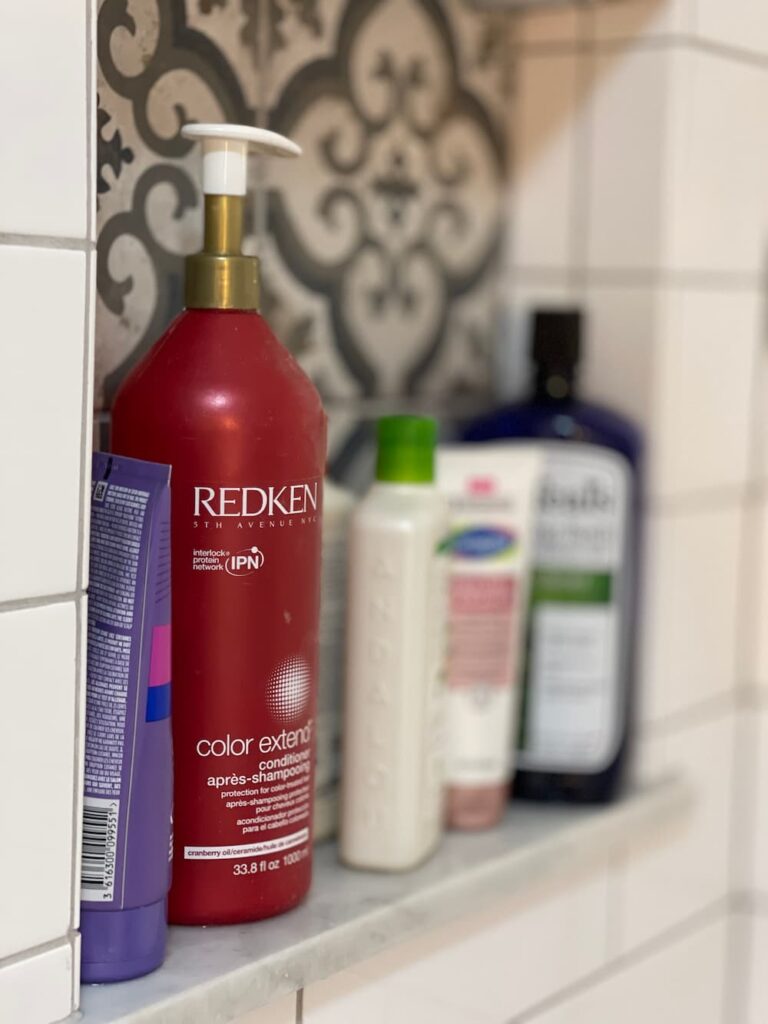 Other items can be covered in vinyl to tie into the color scheme. This might be a little much for some, but I'm ok with it!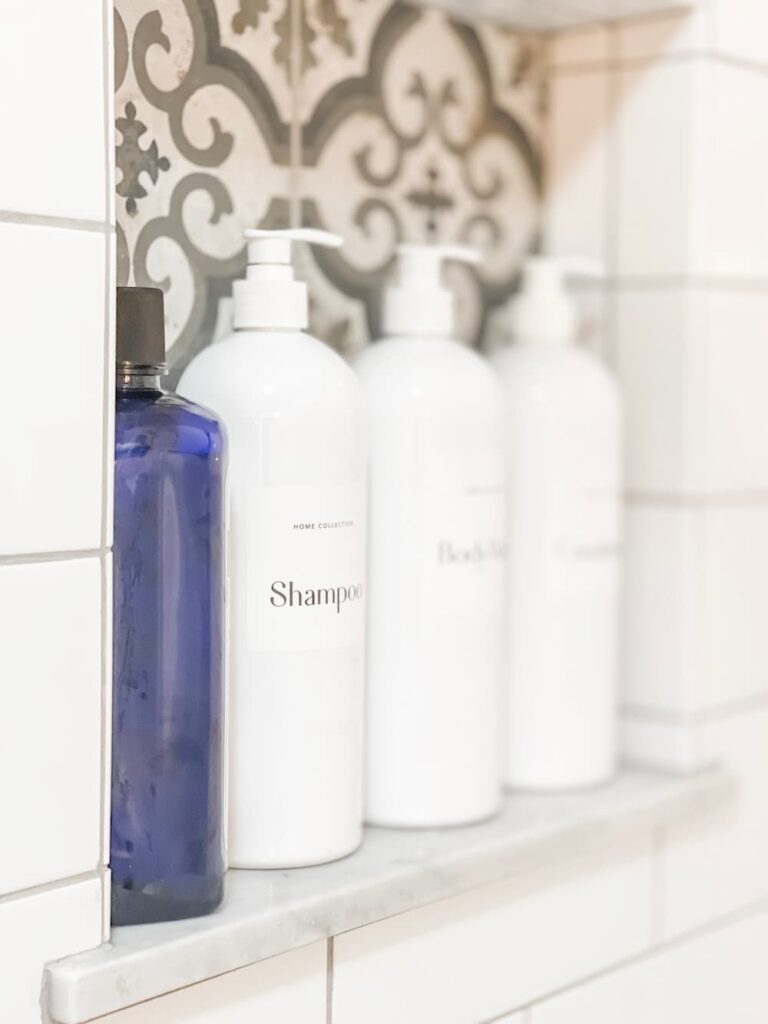 THE FINAL TOUCHES
It's the little things that matter. Making sure you have fresh towels, all the items they could need, adding a candle and matches.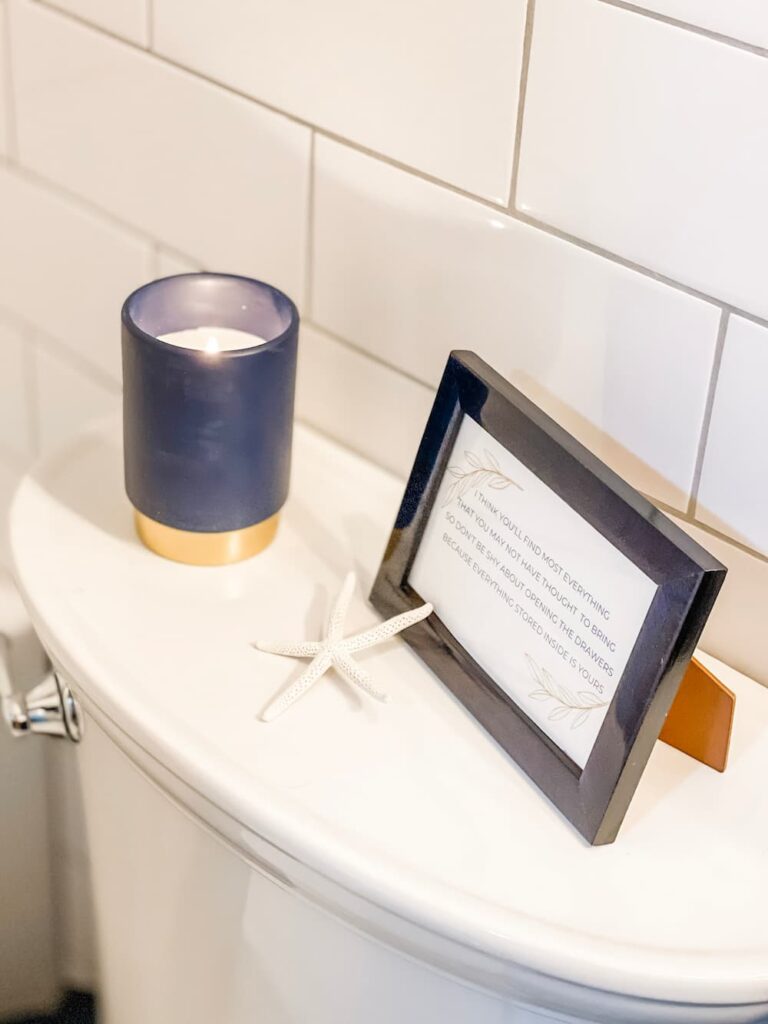 A tray for the tub, epsom salts, a mat for the shower.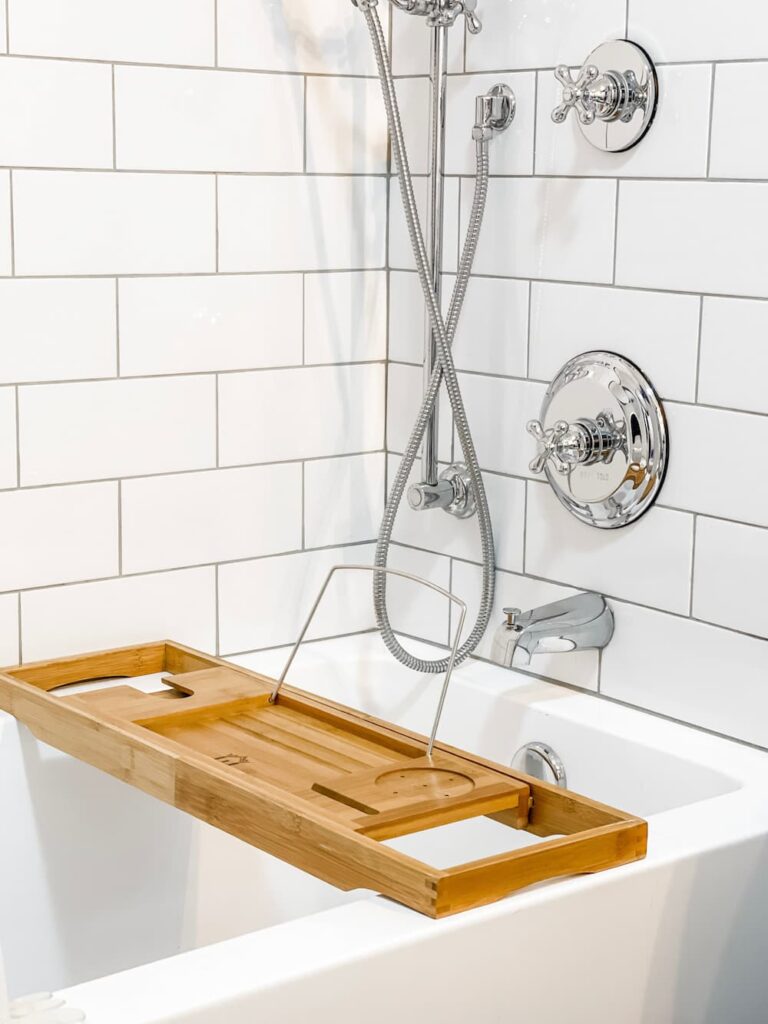 Depending on the season, adding some fresh flowers is a lovely touch. Of course, I added white because they match the space, and these tulips look beautiful in my vintage Bromo Seltzer bottle.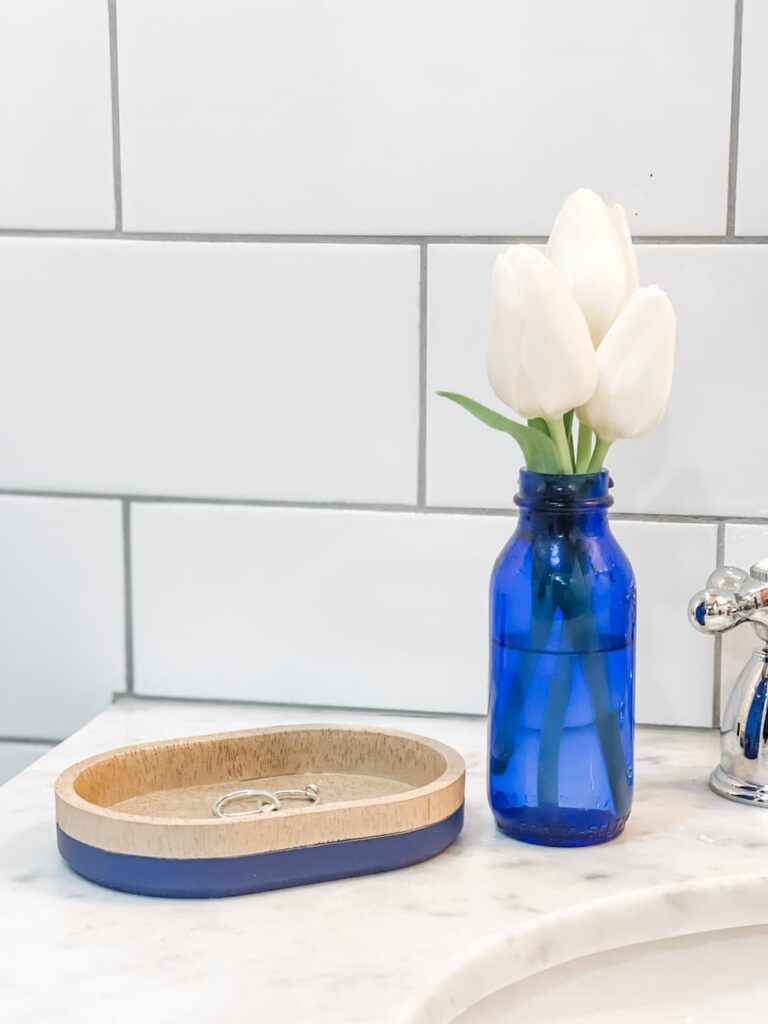 House slippers are a nice touch because not many people pack slippers on a trip.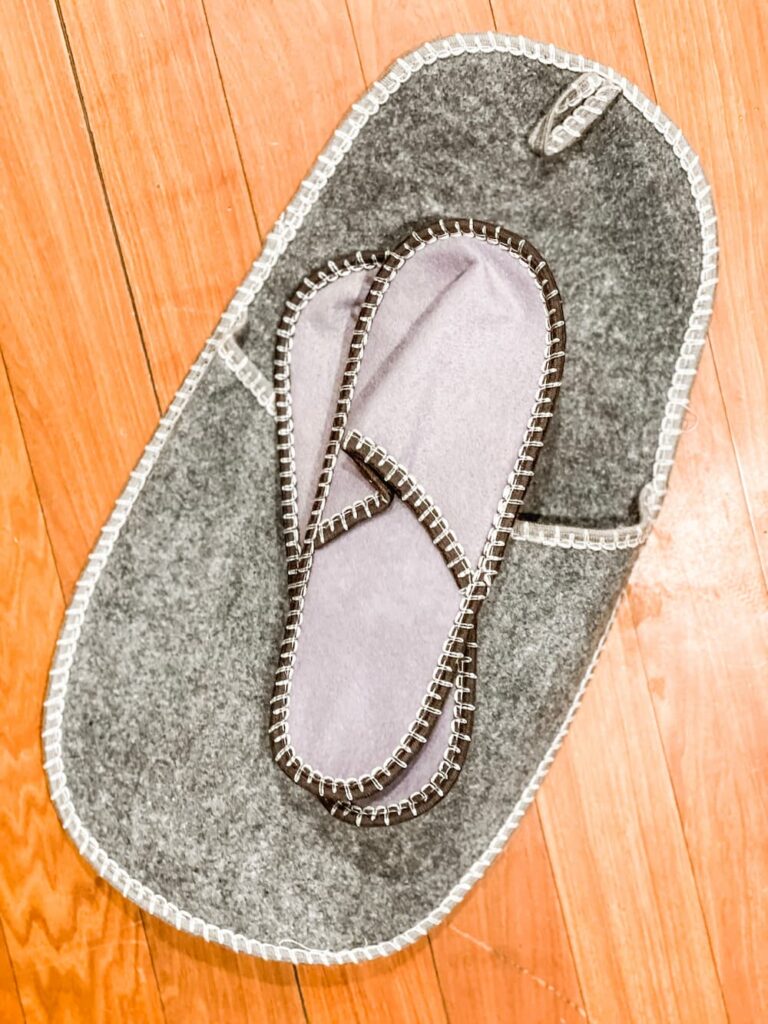 I purchased these and they are perfect to have on hand.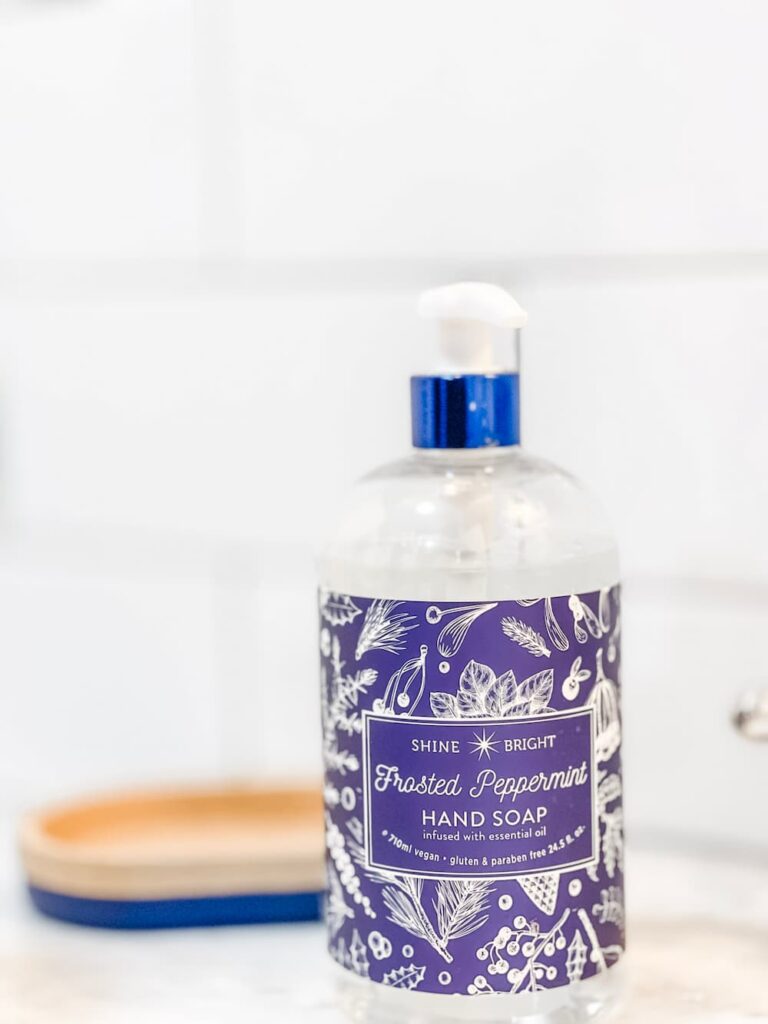 Hand soaps and disposable hand towels are always needed.
Change out hand towels and hand soaps seasonally or you can keep plain ones for all year round.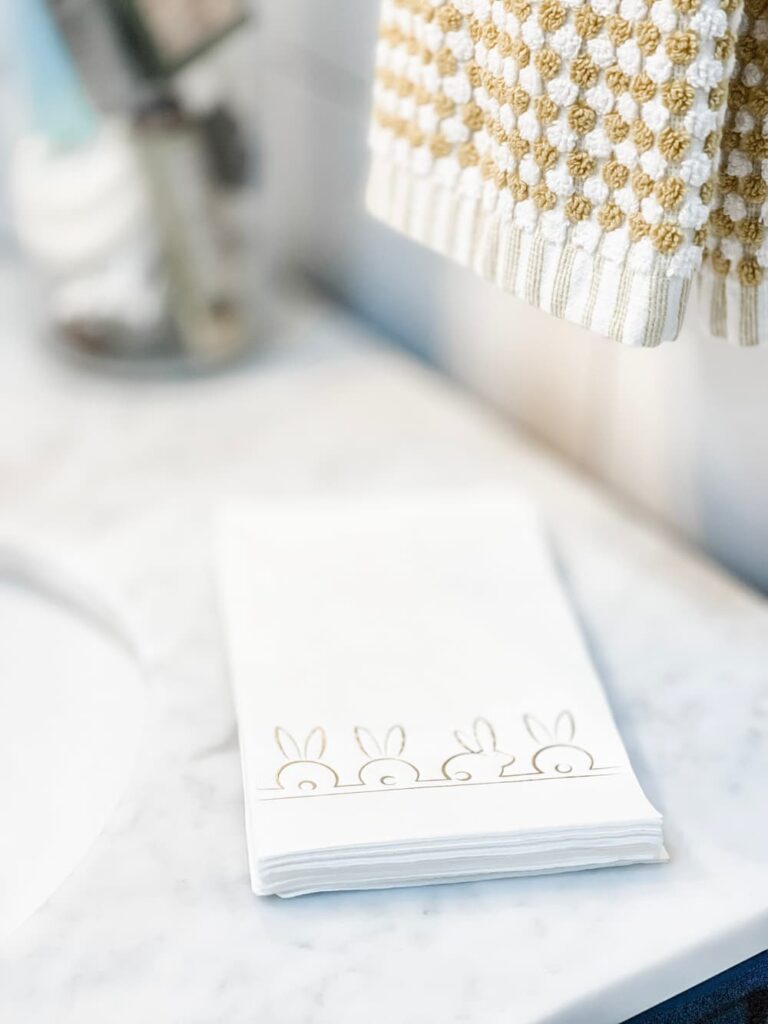 Ok, so all the goodies are packed away neatly in the vanity, shelves and cabinets, but what happens if your guests don't feel comfortable opening cabinets and looking for things?
That's why this little touch is important and makes a difference.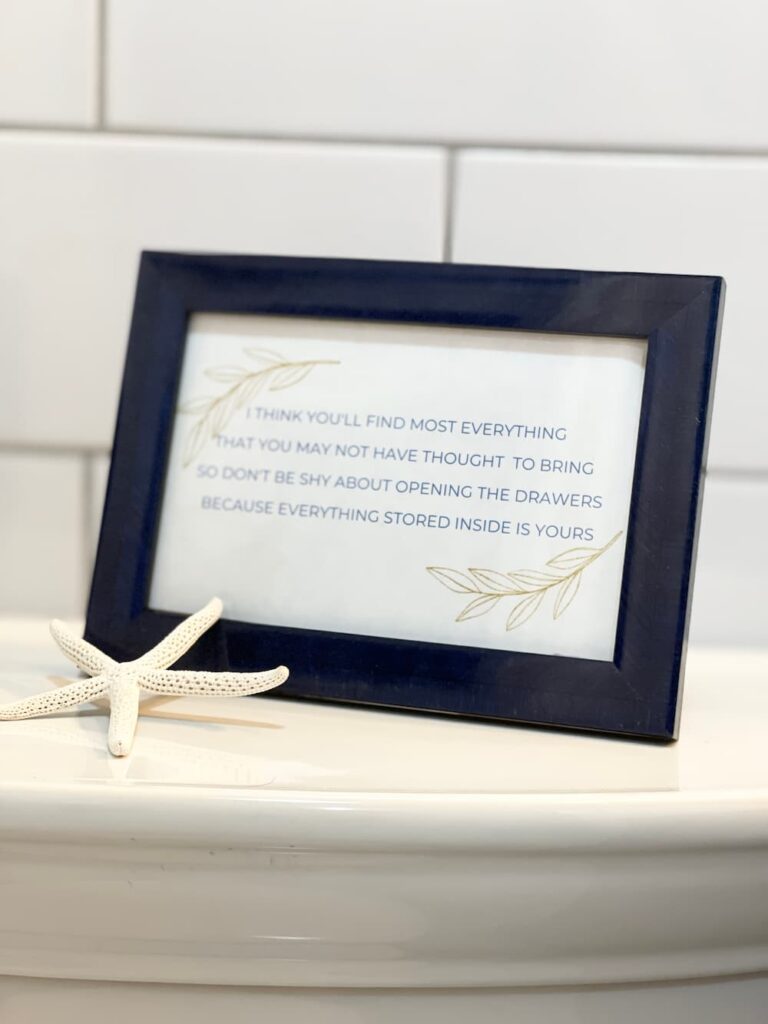 I made this little sign and I put it out when guests are here. This gentle reminder makes sure nothing goes unused because your guest didn't want to intrude in your space.
MORE ORGANIZATION INSPIRATION
IT'S A WRAP
Thanks so much for stopping by Saved From Salvage. I really enjoy creating a welcoming and warm space, I hope you enjoyed the post.
Til next time,
XO, Regina
I'm an Amazon Affiliate, if you purchase using the links provided, I receive a small commission at no additional cost to you. Thanks for supporting my small business.