Happy Saturday – it's time for Lately On The Lake, a behind the scenes look at Saved From Salvage.
I'm excited to add one more "WHAT" to this weekly post. It's What's Inspiring Me. I'm sharing a few things from around the internet that have caught my eye. I hope you enjoy.
WHAT I'VE BEEN UP TO
How was your week? I had a good one, probably better than Carmine who took down a wall and replaced it Sunday into Monday.
Saturday we headed to ReStore looking for windows and then stopped at a local antique store. I was online searching for pots with no rim and they were one of the first things I saw in the store. Woohoo! I scooped a bunch up, they were only $3 so how could I not?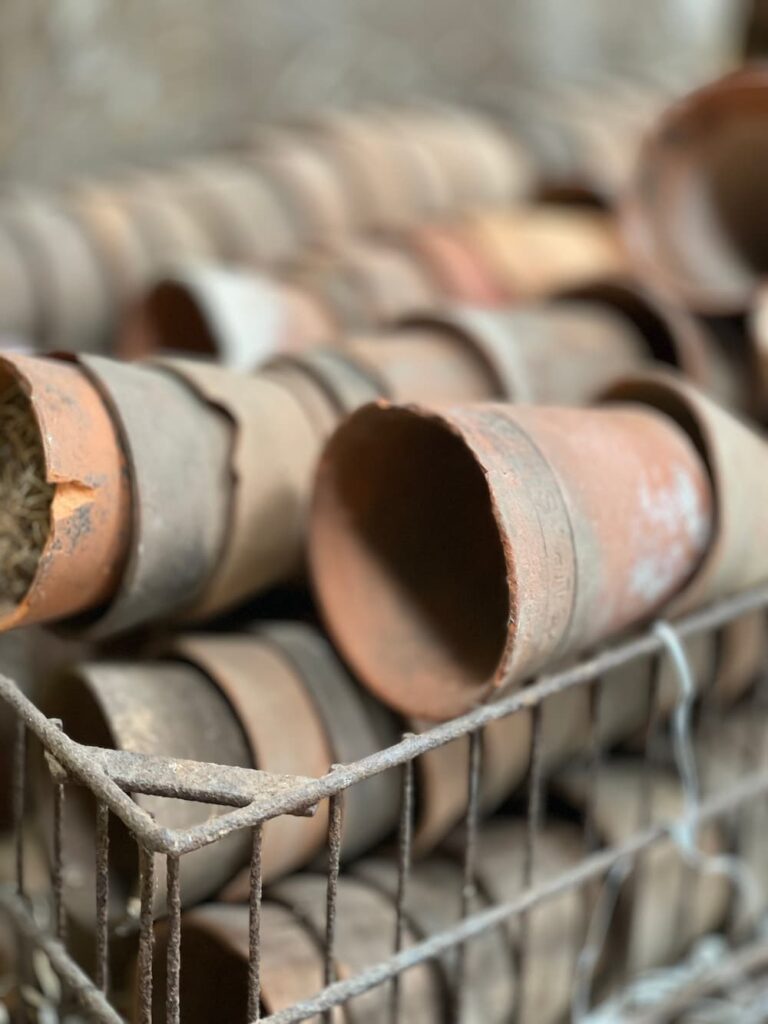 I started playing with clay and bunny molds and I'm in love. I haven't shared the post yet but here is one I made so far. If anyone knows of a job where I can spend my days like this, please let me know.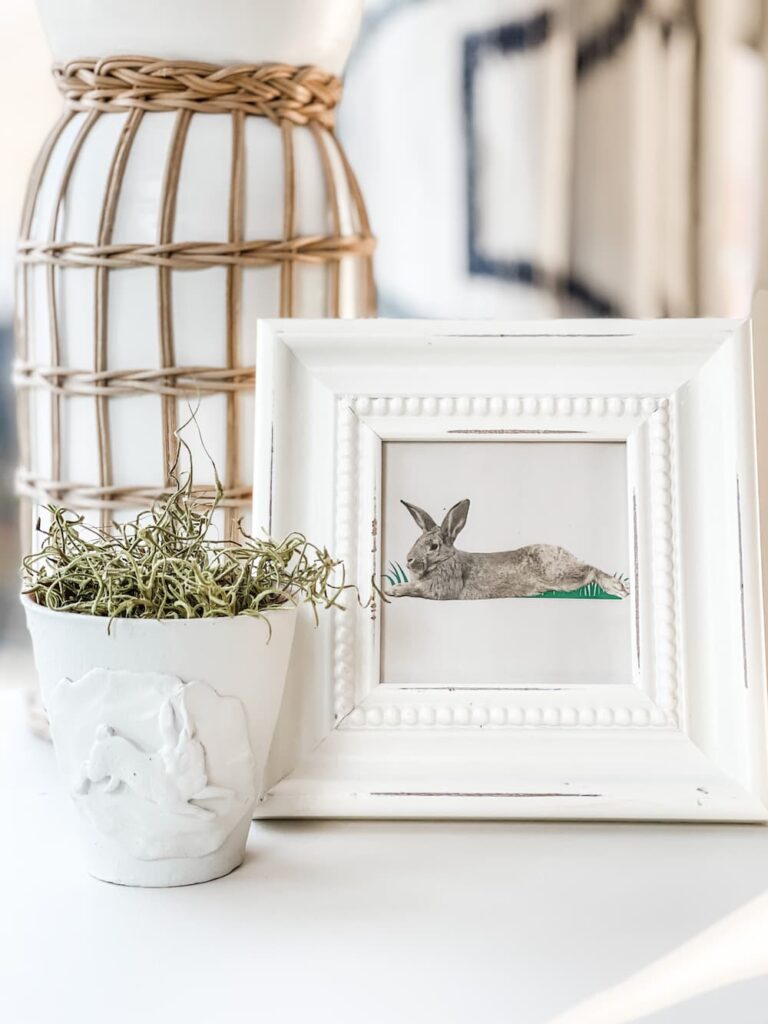 OK, back to Carmine and the wall. We have a clapboard house and it needs lots of upkeep. Matter of fact after Carmine painted it two years ago, he said we are moving before he has to do it again, sad face.
There is a particularly damp shady spot on the side of our house in the basement. There was a small area near the window that needed clapboard replaced.
Well time flies, and when Carmine opened it up on Sunday it was like one of those HGTV shows where they take down a wall and then go Uh Oh.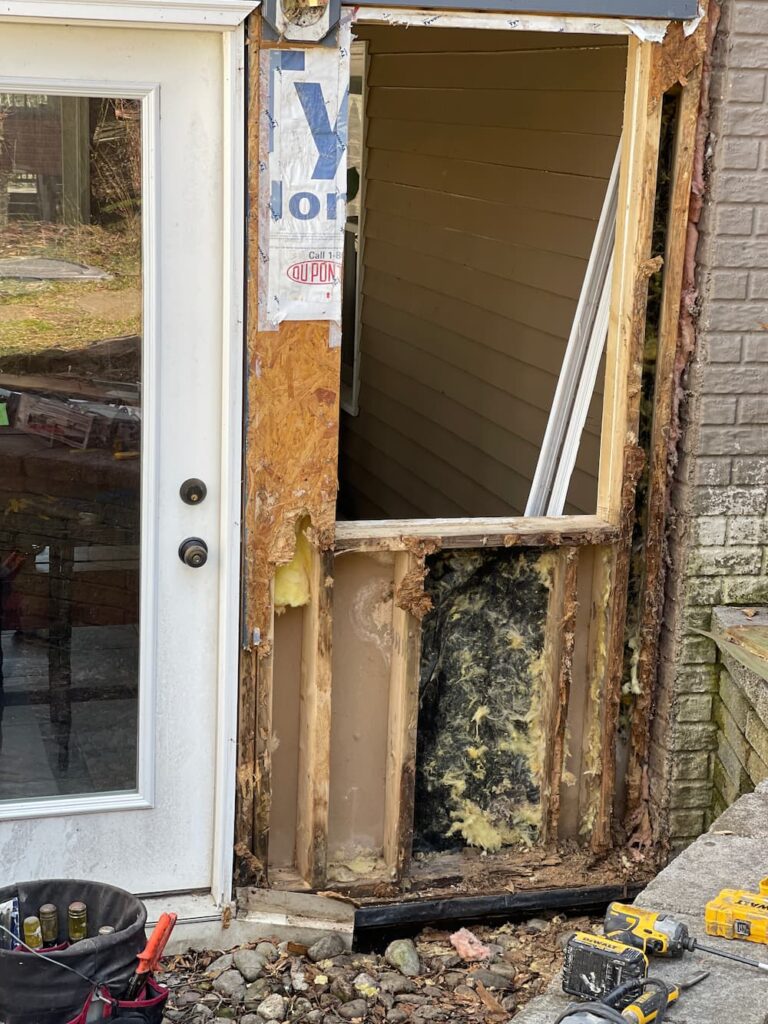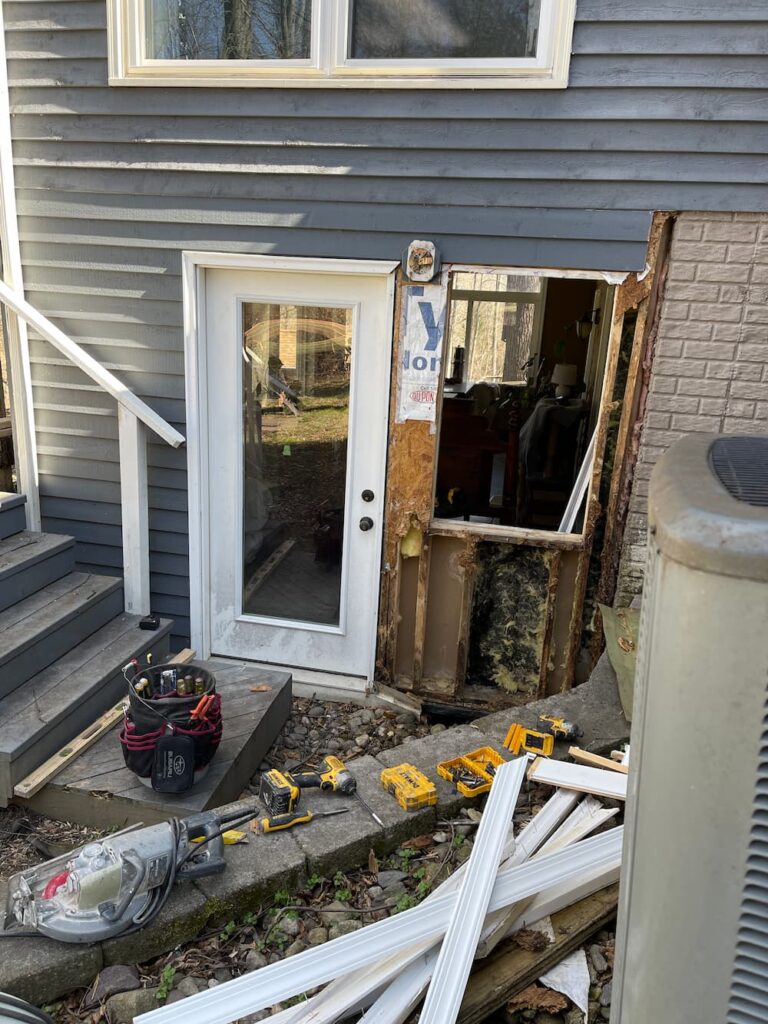 Lot's of rot and apparently some critters who weren't paying rent were inside. Yuck. Carmine started removing things and mentioned that these things hold up our house. A trip to Home Depot for windows, 2×6's, insulation and nails and a few hundred dollars of other supplies and he was ready to go.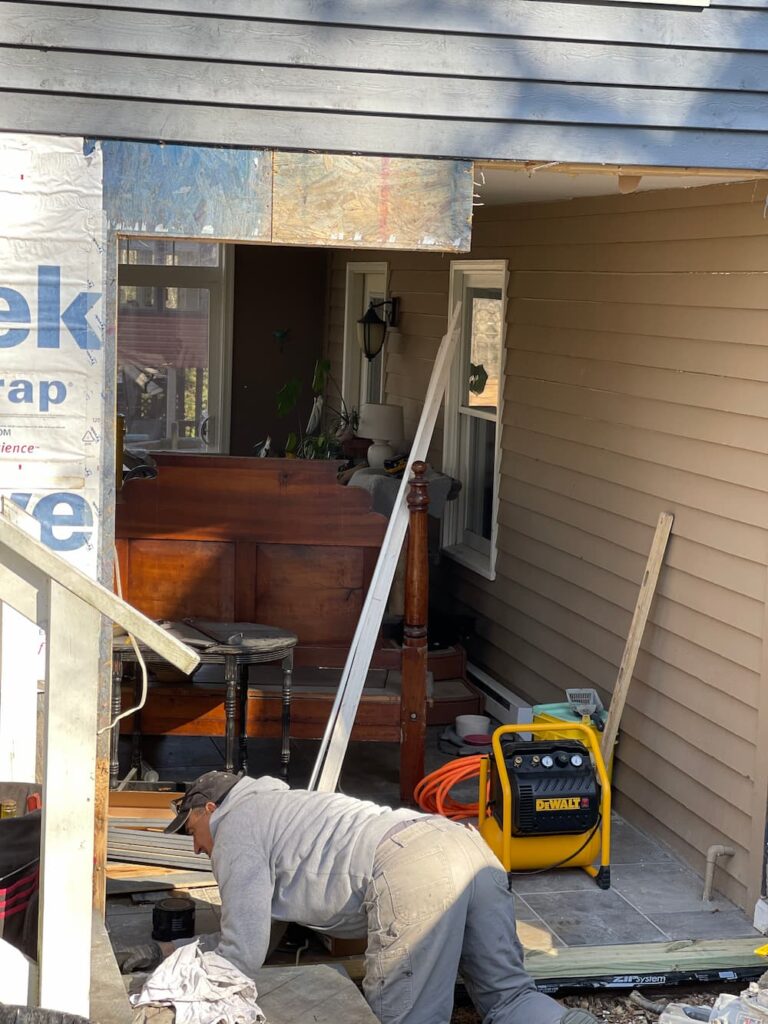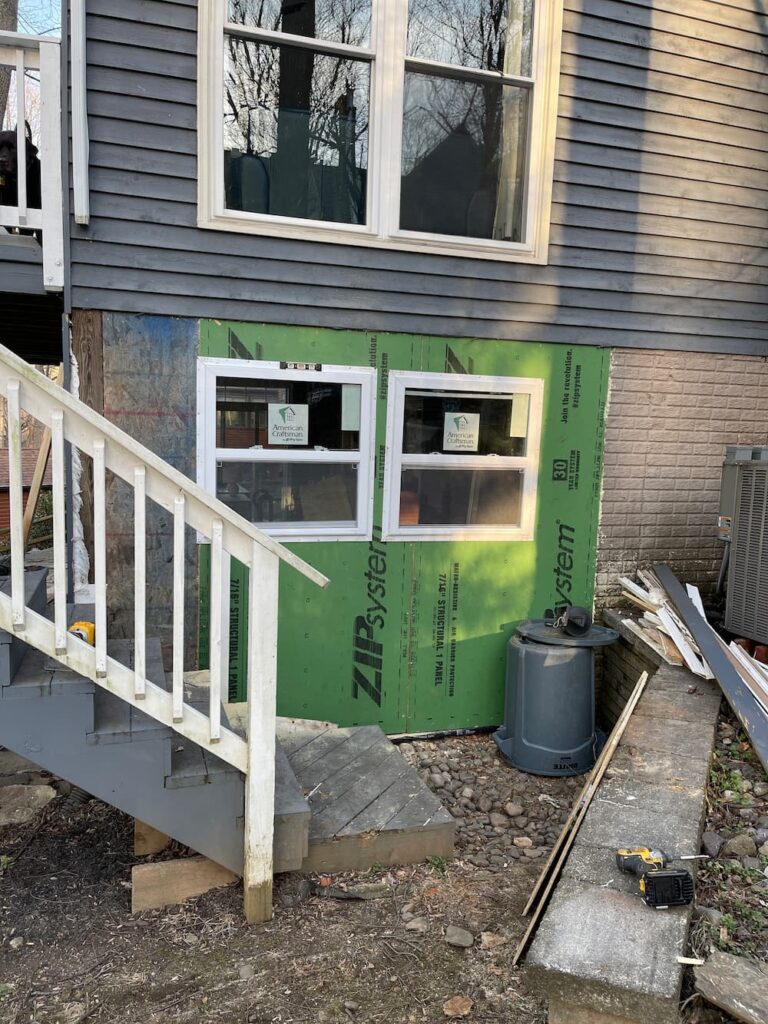 He removed the window, the door and then the remainder of the wall.
We had decided to not replace the door as it is the sunroom / cat room and there are already 4 sliders so we didn't need the door. This will give me a wall to put furniture on eventually.
I'm so so blessed to have someone who can just knock this out like he did. Without him Lately On The Lake wouldn't be so fun!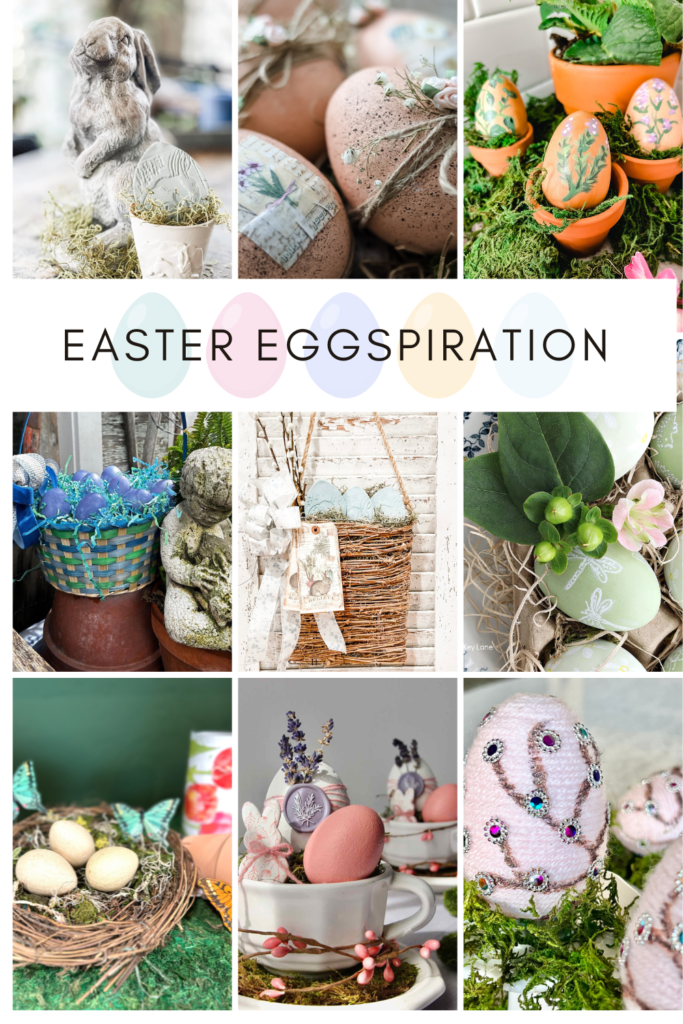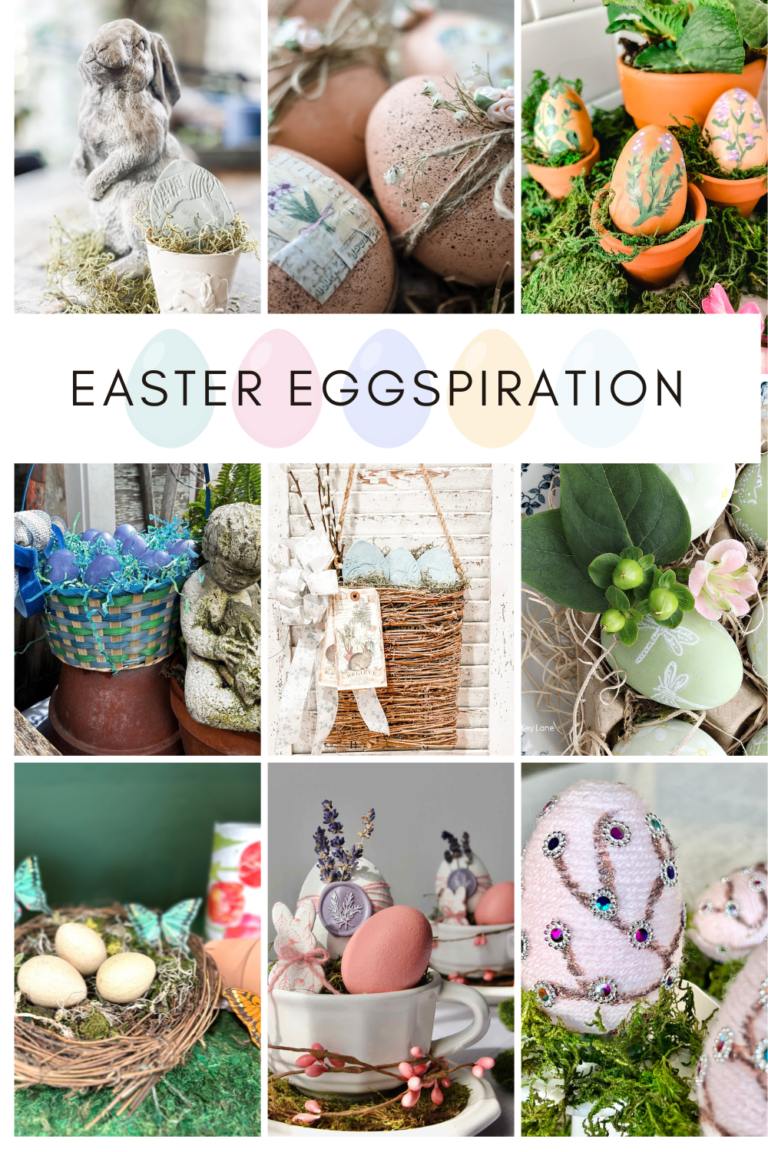 This week our Handcrafted Society shared our second post on Easter Eggs. I think I'm the one kid who couldn't follow directions. You can see that post here. I'm reminded of the song from Sesame Street, one of these things is not like the other, one of these things just doesn't belong.
In other big news, I got my hair fixed after I decided to cut it last week myself, even Carmine tried to fix it but it needed a professional, why do I ever do that? Have you ever hacked your own hair? The good news is Dempsey had a play date while I got my hair cut, of course then he was too tired to go to work the next day.
I ended the week by meeting a dear friend for lunch then had a meeting about helping with decor for a wedding.
WHAT I'M WORKING ON
Well I'm working on more and more bunnies and can't wait to share the post soon. I mentioned in another post that I'm working on an e-book about crafting with clay. I can't wait to share that for those of you who would enjoy a zillion projects in one place.
I'm also working behind the scenes for my son's pickleball business. He's doing a relaunch of his business and I'm working on all sorts of pickleball related things. I'll share when they are done! Have you tried pickleball? It's is such a fun sport.
With Carmine in New Jersey today, I may even pick up a book or magazine and chilax a bit.
WHAT I'M LOVING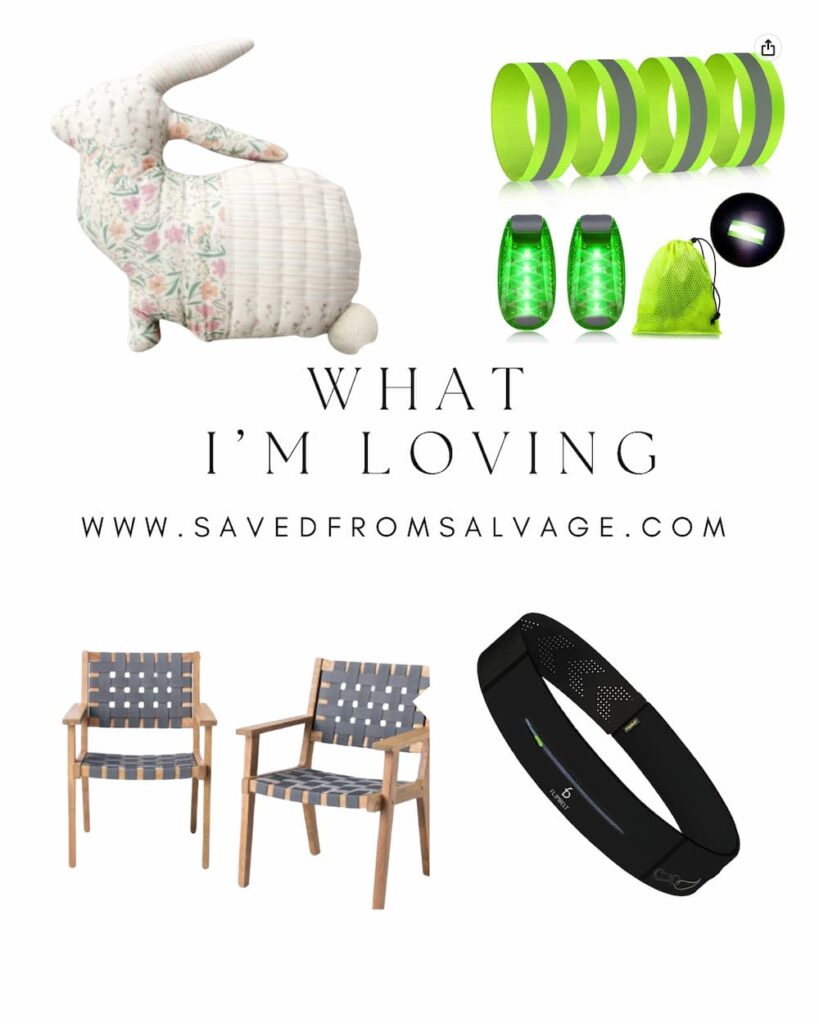 I love to wear reflective gear when I'm walking the dogs. I have a vest but it doesn't fit over coats well. These are perfect, I put some on me and the dogs!
I'm all about bunnies and pillows but usually they are too cutesy. This vintage quilt inspired pillow looks great in a bedroom.
This is a lifesaver if you are a runner or even a walker who doesn't like a bulky pack that bounces. This slim fitting belt holds so much more than you would think. Keys, large phone and money and even a bar.
I've been crushing on this type of chair in leather and they are on my list for the sitting room. When I saw these I was like yes please.
WHAT'S INSPIRING ME
This new feature saves you time from scrolling the internet – not really but I am sharing what stopped me in my tracks this week. More things to add to my todo list. Check them out and if you do, tell them Regina sent you.
WMDESIGNHOUSE – This post left me with She Shed Envy. Oh my goodness you have got to see this.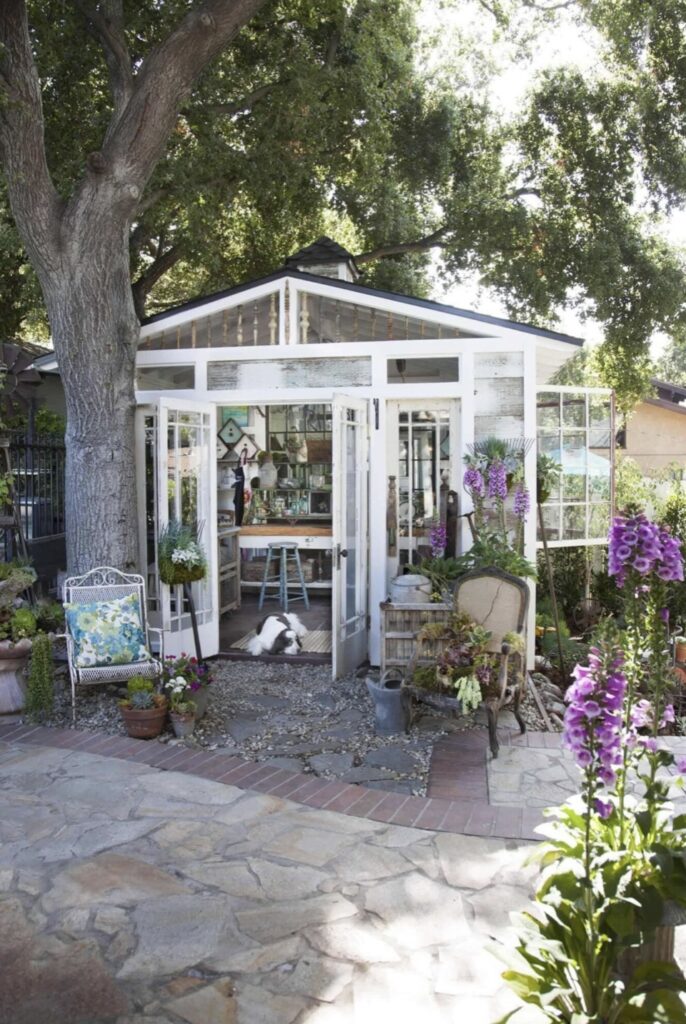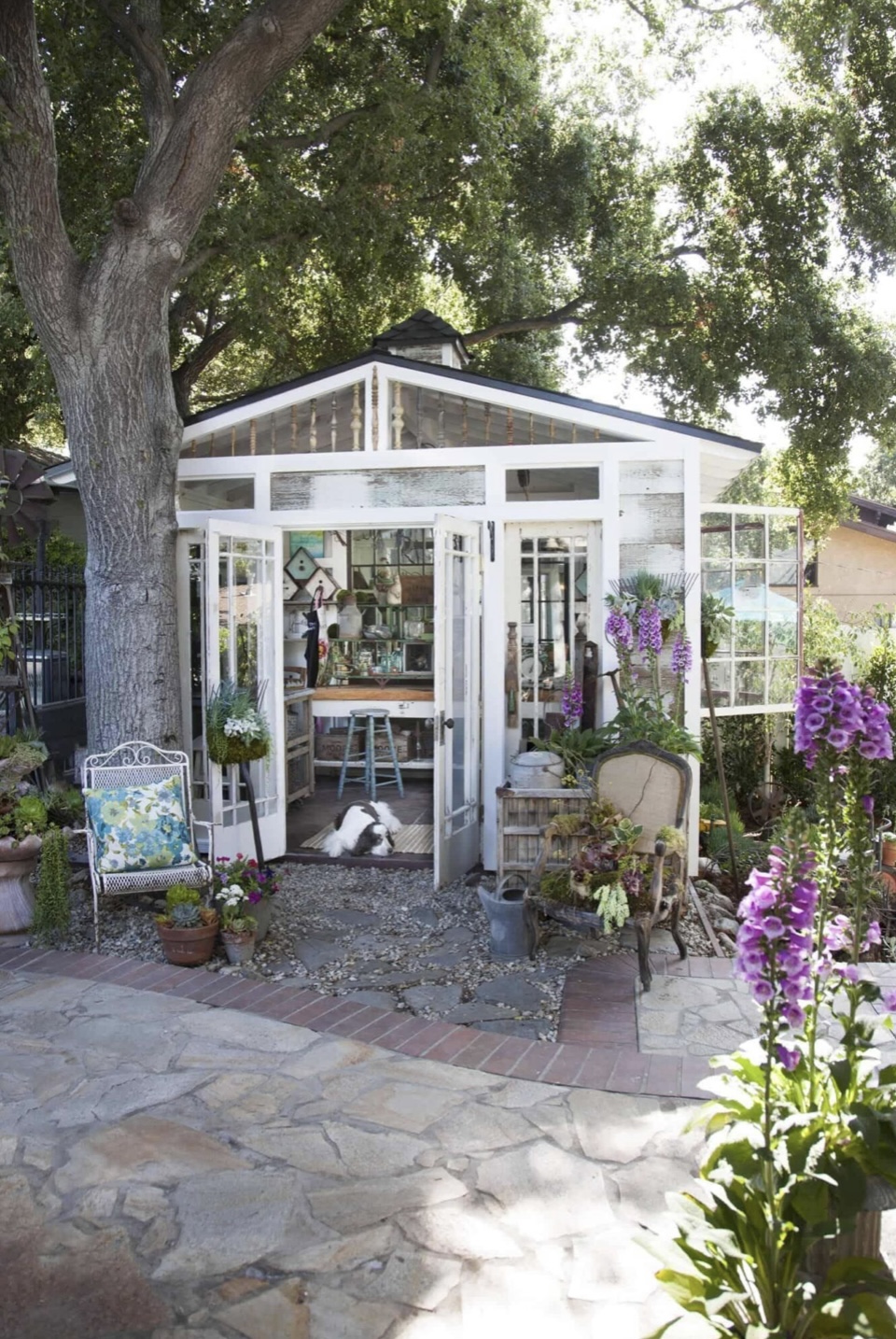 VINTAGE HOME DESIGNS – This is the cutest little bunny ever. See how it was made.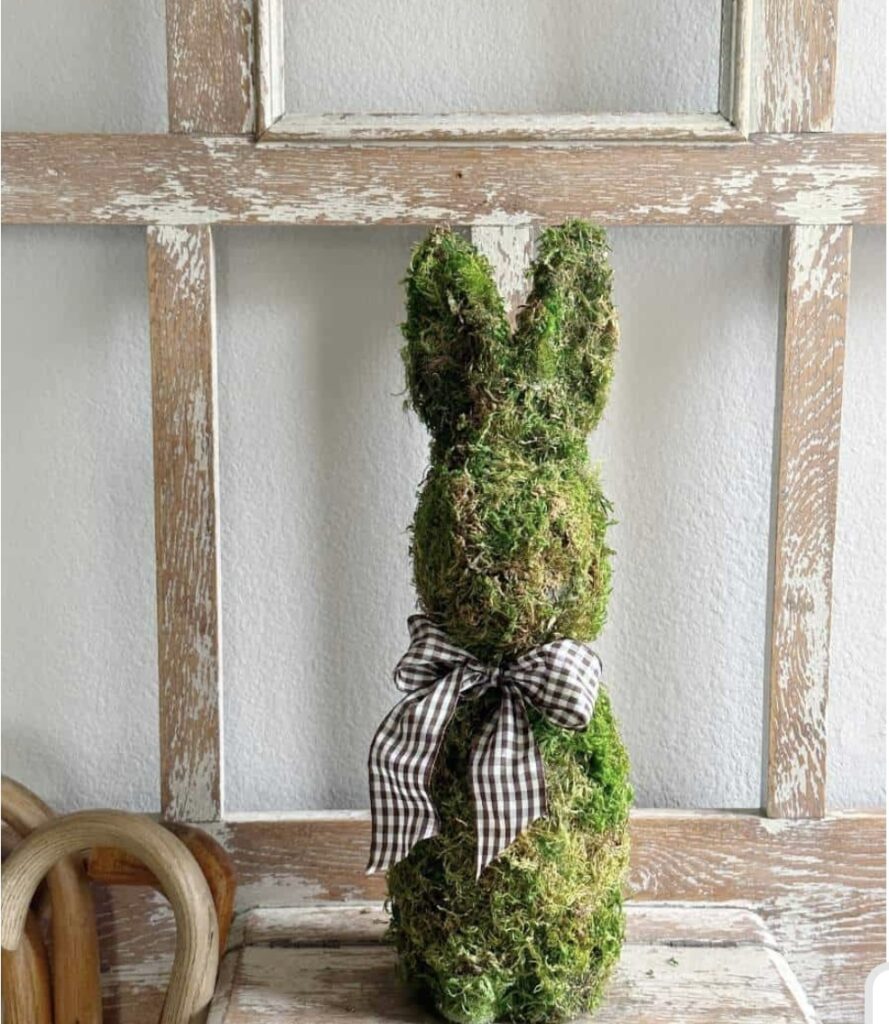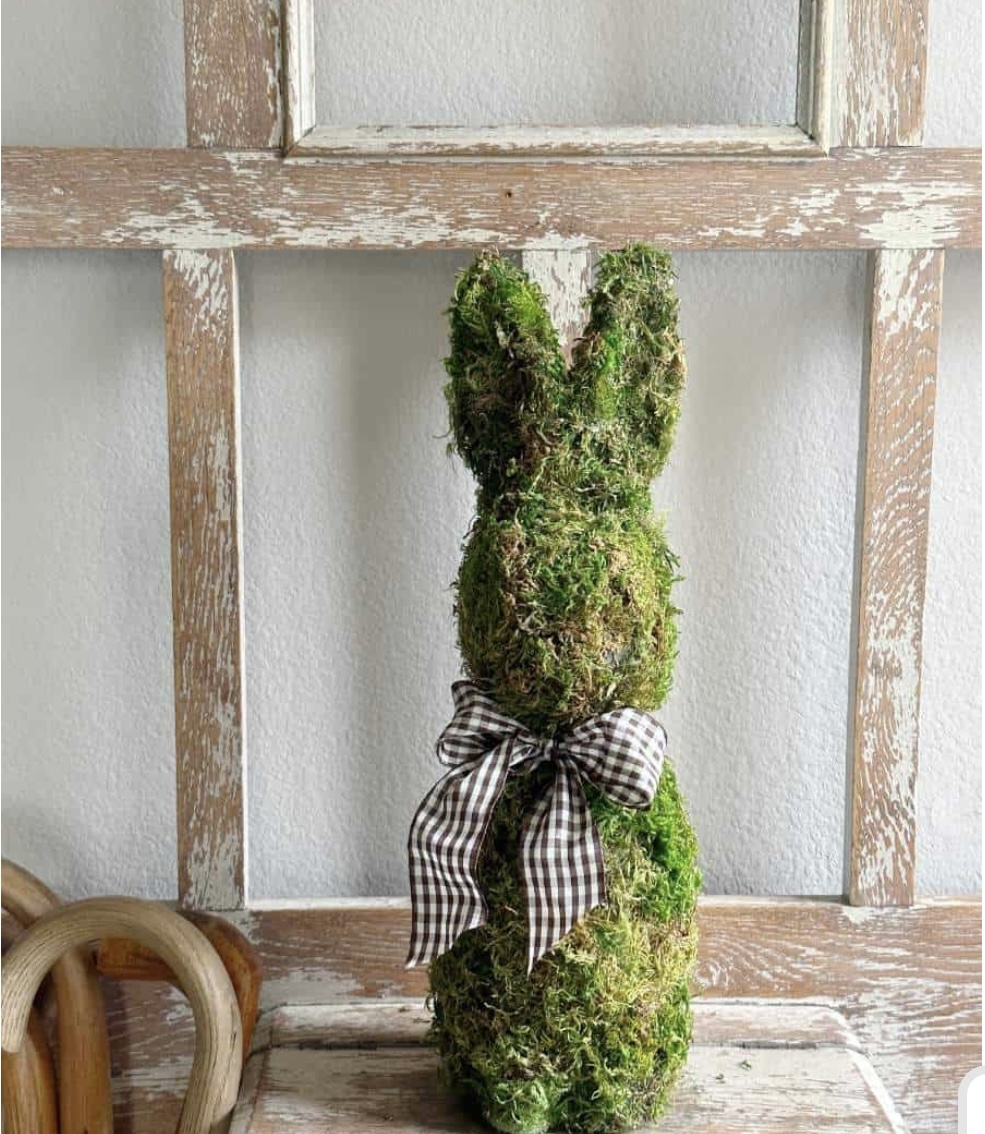 THE PONDS FARMHOUSE – If you love setting a cute table as much as I do, you need to read this.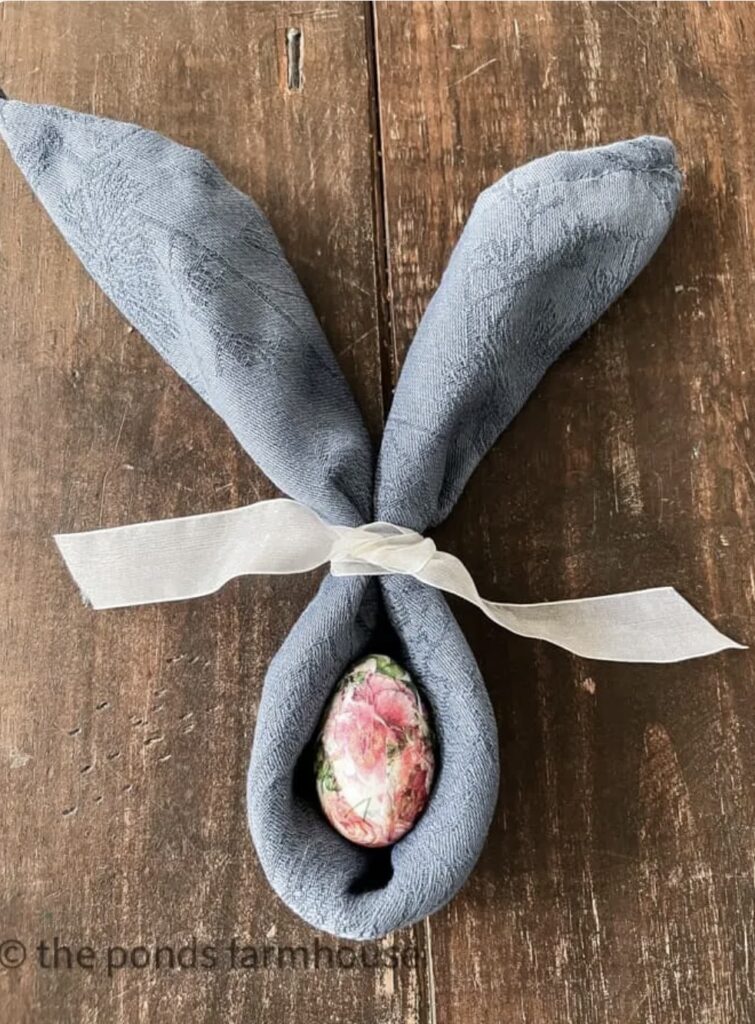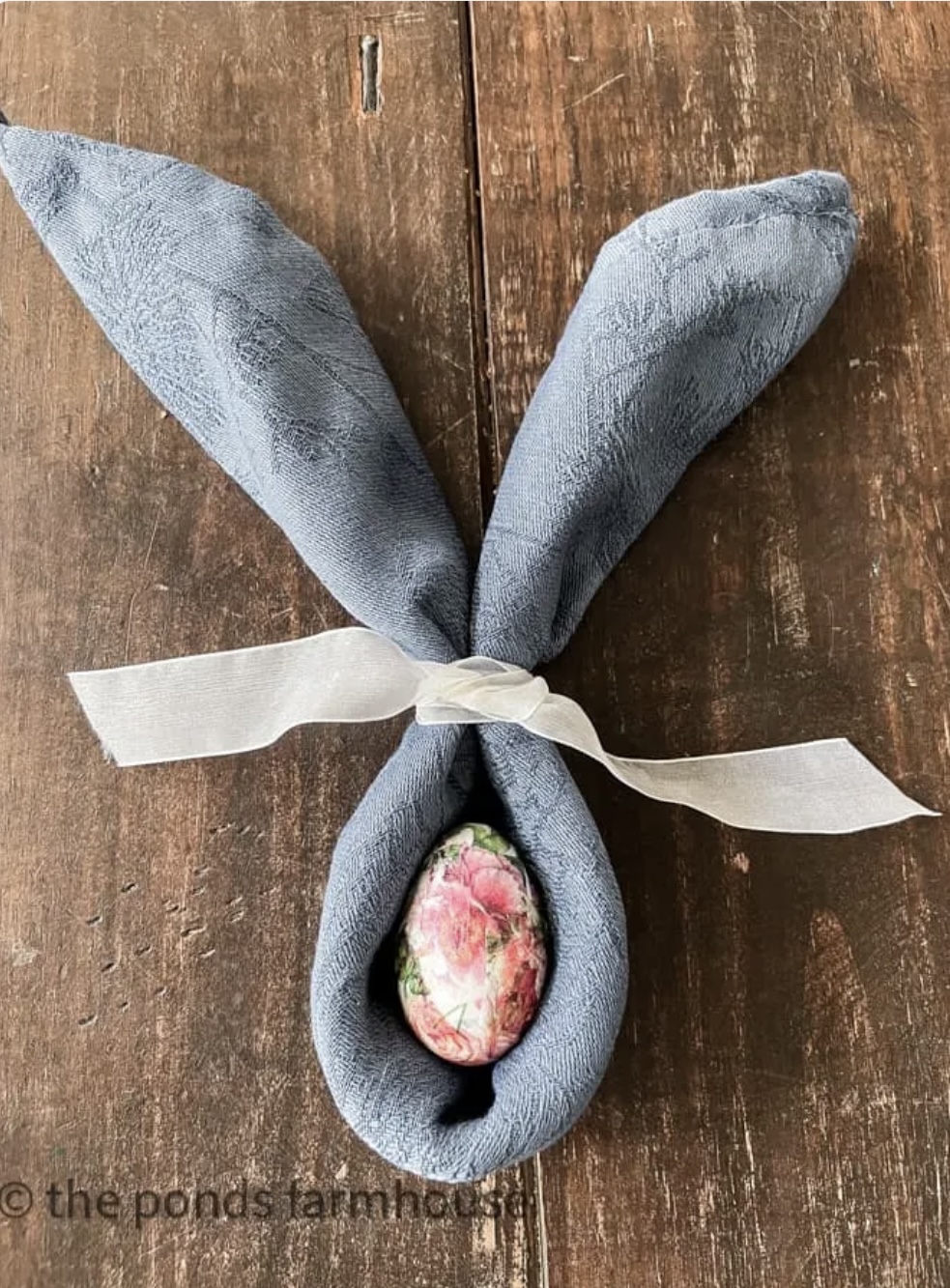 I hope you enjoyed this week's Lately On The Lake. Let me know what you think about the new WHAT'S INSPIRING ME. I'd love to see your comments.
XO, Regina