Happy Saturday. Welcome to Lately on the Lake volume 3. Are you hanging in there with holiday prep? I'm going to share what I've been up to, what I'm planning and what I'm loving this week!
Hi, I'm Regina and welcome to Saved From Salvage. Thanks for joining me on my journey, I love sharing projects, ones that work and don't, tablescapes, and so much more. I am glad you are here.
Yay, I can finally cross this off my list. I made the dough Sunday evening, baked them Monday morning and made marshmallow fondant that evening and finished them.
Have you ever made fondant? It takes minutes and it's so easy. I have tried to frost with royal icing and I'm just never happy with it. I make a mess. Anyway, leave me a comment if you'd like the fondant recipe.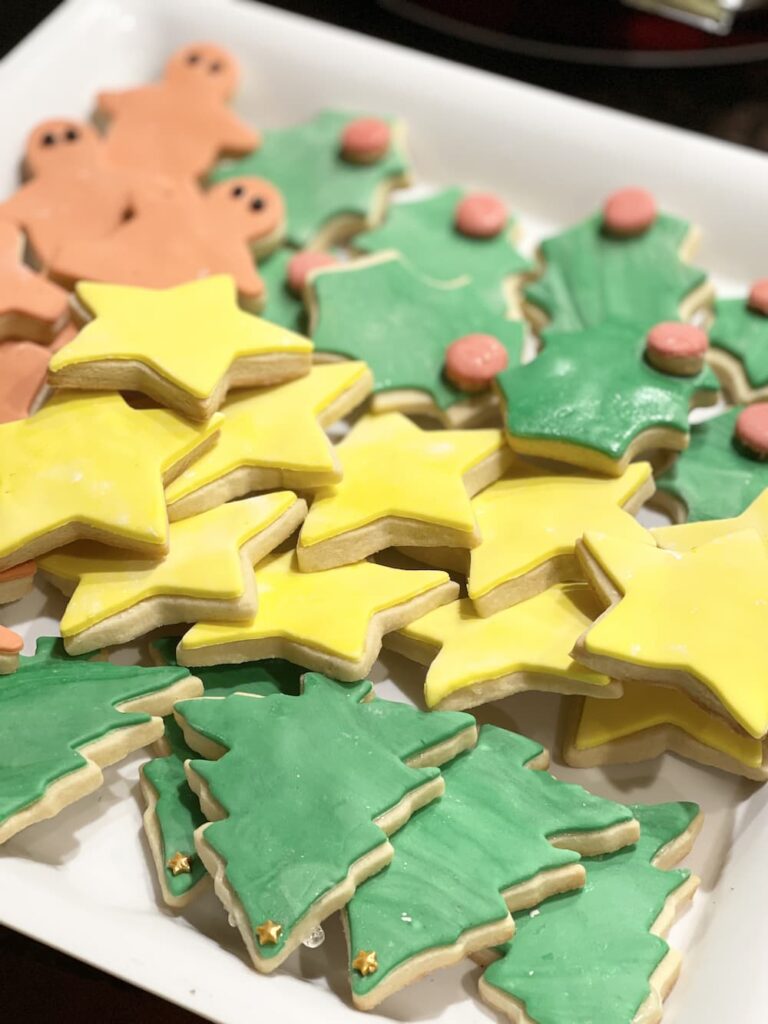 Carmine made all the biscotti and all of these cutout cookies. I jumped in and helped him ice his. These will be served on Christmas Eve and given to family. He used his mom's recipes and colored the cookies and added sprinkles, the same as she did for years.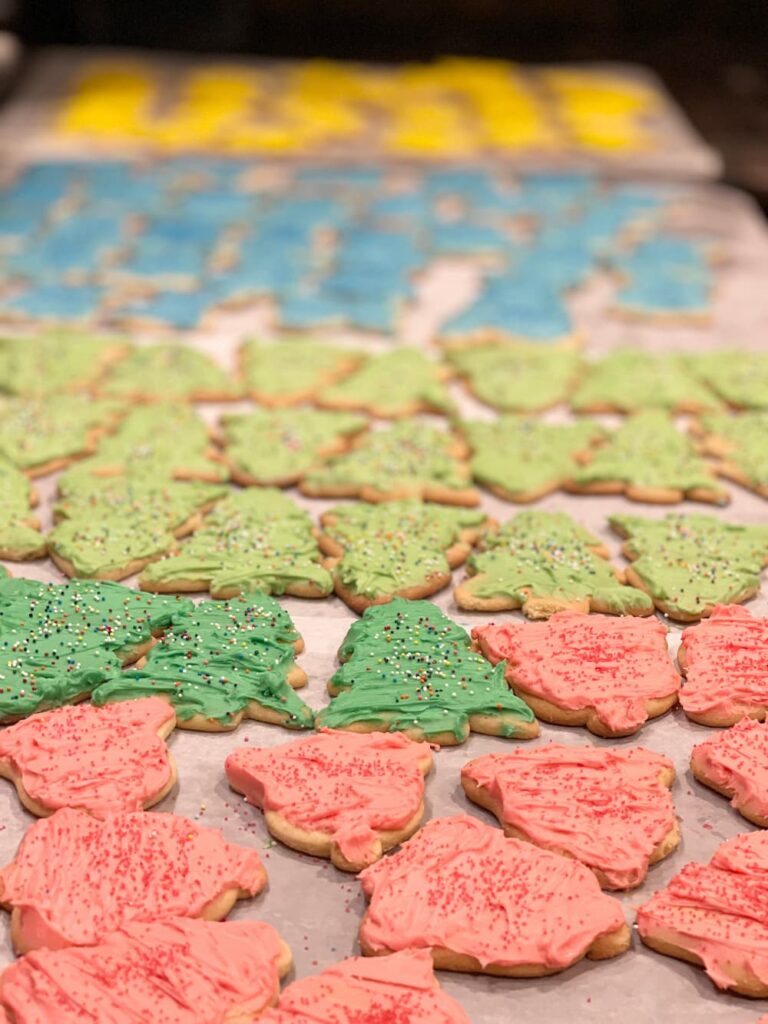 HOLIDAY GATHERING
For the first time since Covid, we were able to hold our annual holiday party at the center. We had 80 attendees and it was lovely. We filled mason jars with epsom salt and then fresh greens, and that was our centerpiece, easy and simple. We focused on being together and music.
There is just something about holiday songs in person, I was plating the food as I listened. Mary Did You Know, O Holy Night, so many beautiful songs, it's hard not to feel joyful when you hear them.
The day before I made 4 boxes of brownies, 3 packages of slice and bake and 2 batches of 7 layer bars, then 3 stock pots of hot chocolate.
Here are a few pics from the event.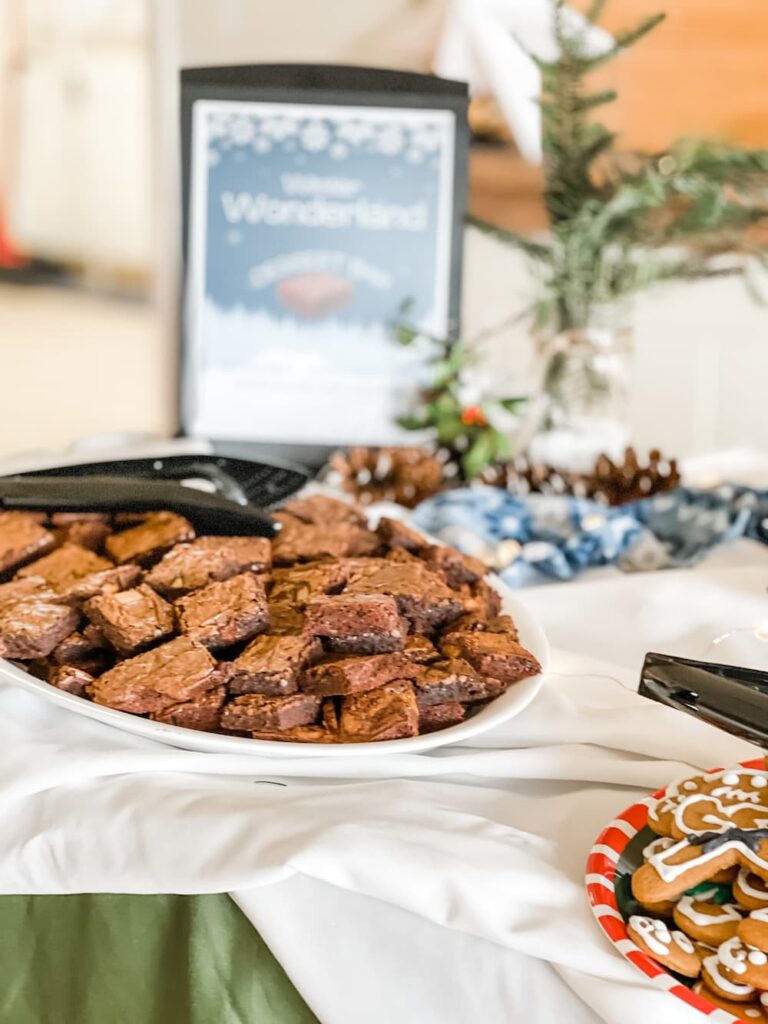 what i'm working on
This week I participated in a Holiday House Tour. It was fun to do and pushed me to finish decorating my house. Remember the tree? It's still a hot mess. I keep trimming it, trying to give it some shape.
My friend said I had a Chia Pet Tree. But with lots of lights and a few ornaments, I am enjoying the glow. Click here to see my Holiday House Tour.
It was the fourth and final week of our Handmade Gift Series and I started a movement to get rid of the foil around poinsettias. I mean yuck. In minutes you can upgrade a pot that will carry your poinsettia through the winter with style. Click here to see.
what i'm loving
I made a few white clay houses this year, although you can hardly make them for as inexpensive as these are. They can be hung on the tree but I like them tucked in greens, they would look cute anywhere.
Ok, call me crazy but it's pretty cold on those dog walks. Daisy has to be dragged off the porch when it's too chilly, Dempsey doesn't care but they are both getting a hat. These are super cute and affordable and I just can't wait to get them so I can share a picture.
I am not a fan of overhead lights. I turn them off all the time. I love the softness of lamps. I was excited to find this for the guest room, perfect for a reading nook.
I finally found something that looks better than my snow boots and hiking boots, but still give me traction and are waterproof. Who wants to go out to dinner in jeans and a nice top and wear hiking boots? Not me, but I don't want to wear some flat shoe that I'll freeze in, especially if I step in a puddle. Leave it to Sorel to make the perfect option.
have a wonderful week
Last night I finally got to a basketball game to watch my nephew coach. Carmine and I stopped at Dan's Tap House in Boonsboro beforehand. If you get a chance to go there, I highly recommend it. It's the town where Nora Roberts has a shop and inn.
We've got a week until Christmas Eve, I hope you build in some fun and relaxation. I saw this on a friends Facebook page and I liked it. "Allow yourself to toss the notion you are behind and just do what is before you."
Today I'll be writing Christmas cards and wrapping some more. I'll be watching the World Cup finals on Sunday and in the meantime I'll be sitting tree side enjoying the lights.
XO, Regina