Are you planning a get together for Independence Day? I've got you covered with outdoor inspiration for July 4th.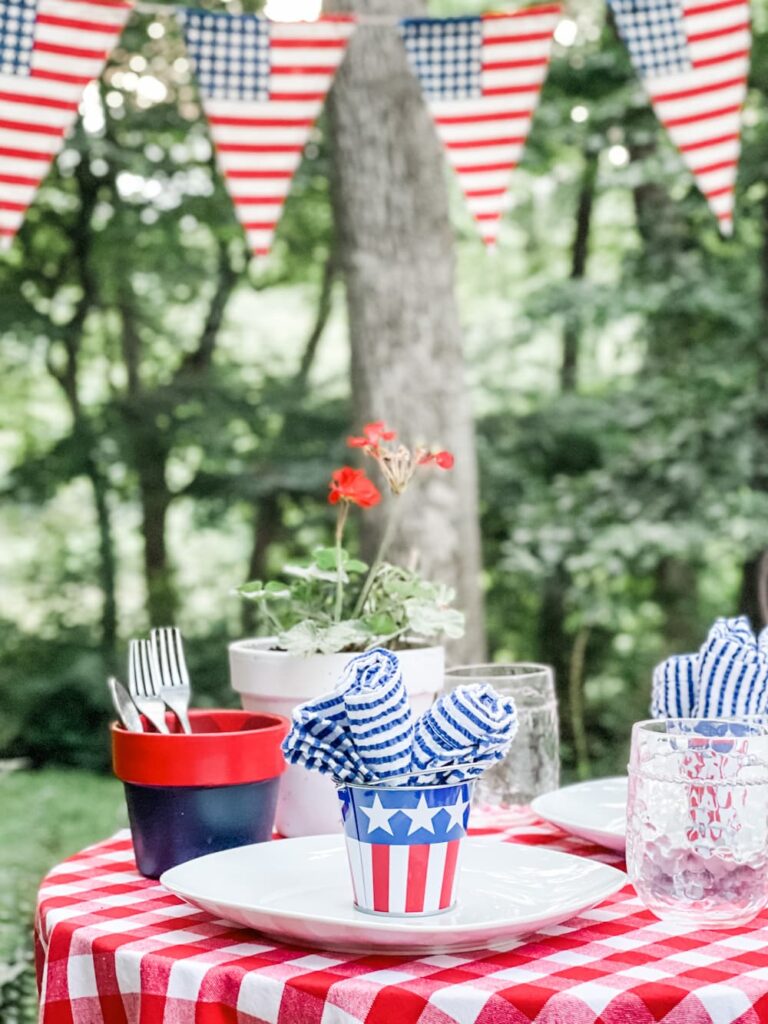 Hi, and welcome to Saved From Salvage, I'm Regina and I'm glad you stopped by. Are you visiting from Kristin at White Arrows Home? Don't you just love her Nautical Candle Holders?
This is where I love to share my passion for upcycling, trash to treasure, diys and tablescapes.
Today you will get some fun some ideas to add a little "Red, White & Blue" to your outdoors.
The heat has finally hit Maryland, but I am a huge fan of summer and warm weather, and jump at every opportunity to be outdoors to eat, drink or play. So no complaining here.
It's fun to add little touches of decor throughout my yard. Simple things like a flag bunting on the porch railing, planting red and white flowers in a blue pot and putting flag pics in my potted plants.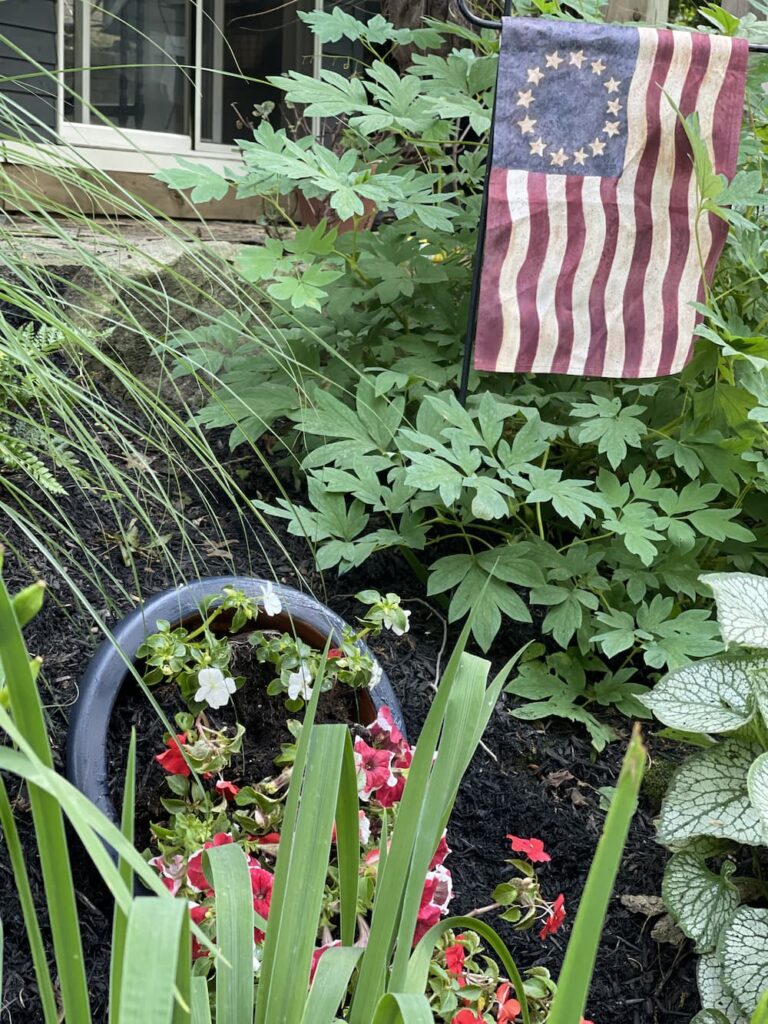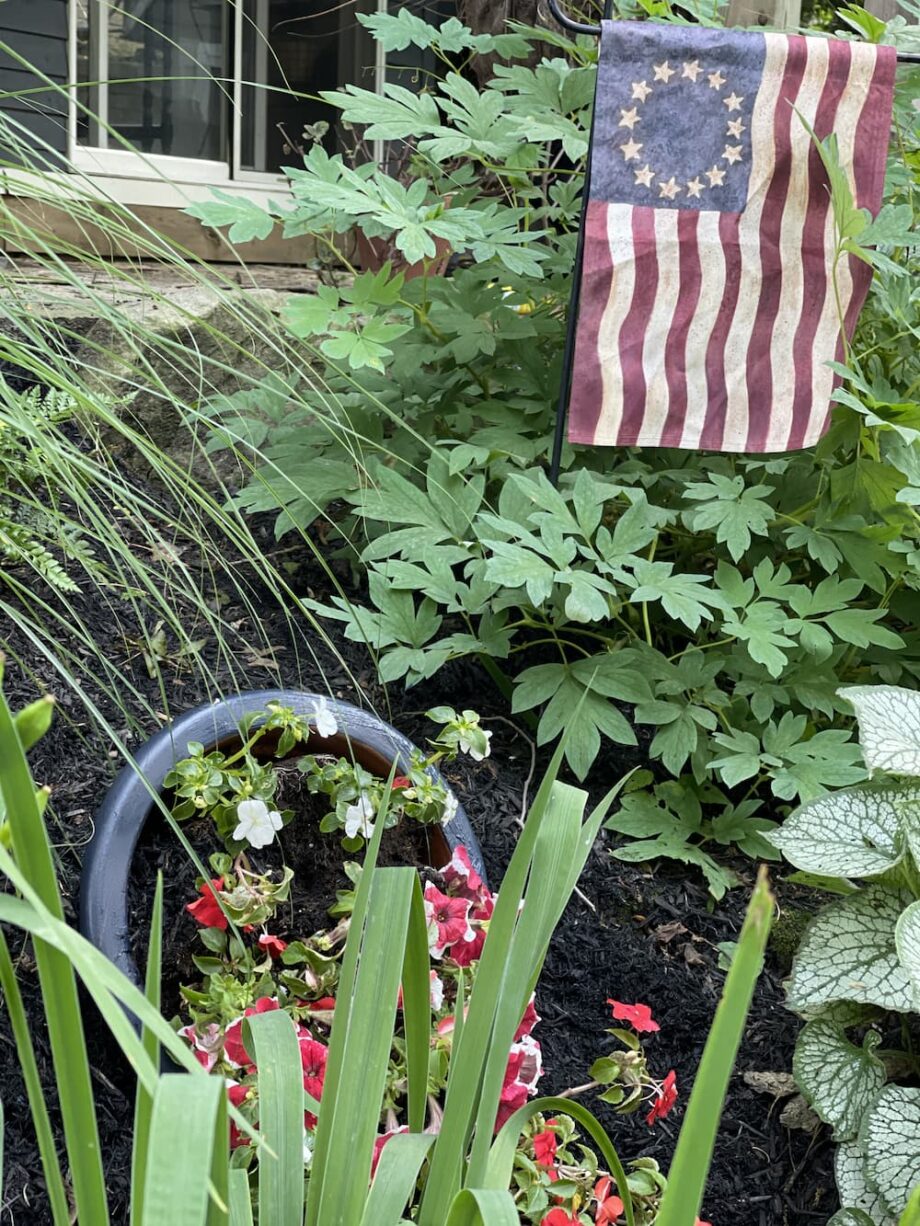 By the way, there is no rule that you have to have people over to put out your "Red, White & Blue" decor. I love setting my little bistro table and enjoying breakfast or a happy hour overlooking the water.
UPDATING DECOR
When a holiday is approaching, it's a great time to take inventory of what you have on hand. We like to call it "shop your home." July 4th is no different. The best part? It keeps worn out decor out of the landfill, so that's a win for me.
SOLAR LANTERN
My first stop was at the end of the driveway where this solar lantern hangs, it is completely rusty and filthy. Should I toss it? Actually, that never entered my mind. So I grabbed it and headed in to gather my Dixie Belle paints and give it some new life, just in time for Independence Day!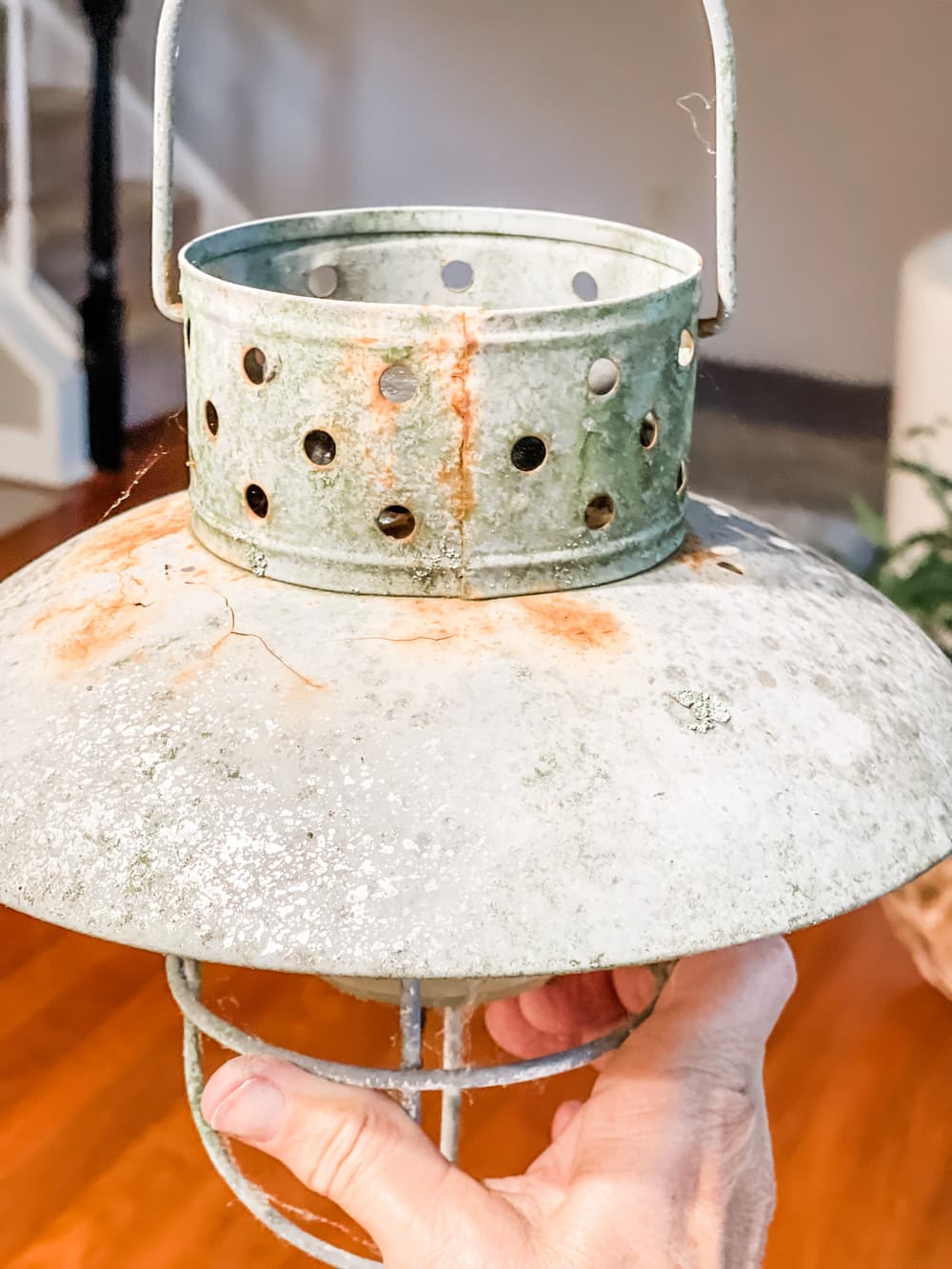 Using a my favorite BARN RED CHALK PAINT and NAUTICAL SILK MINERAL PAINT, I gave it a quick update and hung it on the deck. I never get tired of what a fresh coat of paint can do to transform something.
RED LANTERN
Next up was one of three red lanterns I have from my mom. They too, live outside and are rusty, peeling and filthy. (I see a theme here). Anyway, back to old faithful BARN RED CHALK PAINT and now I have a bright fresh lantern that I put on the coffee table on the deck.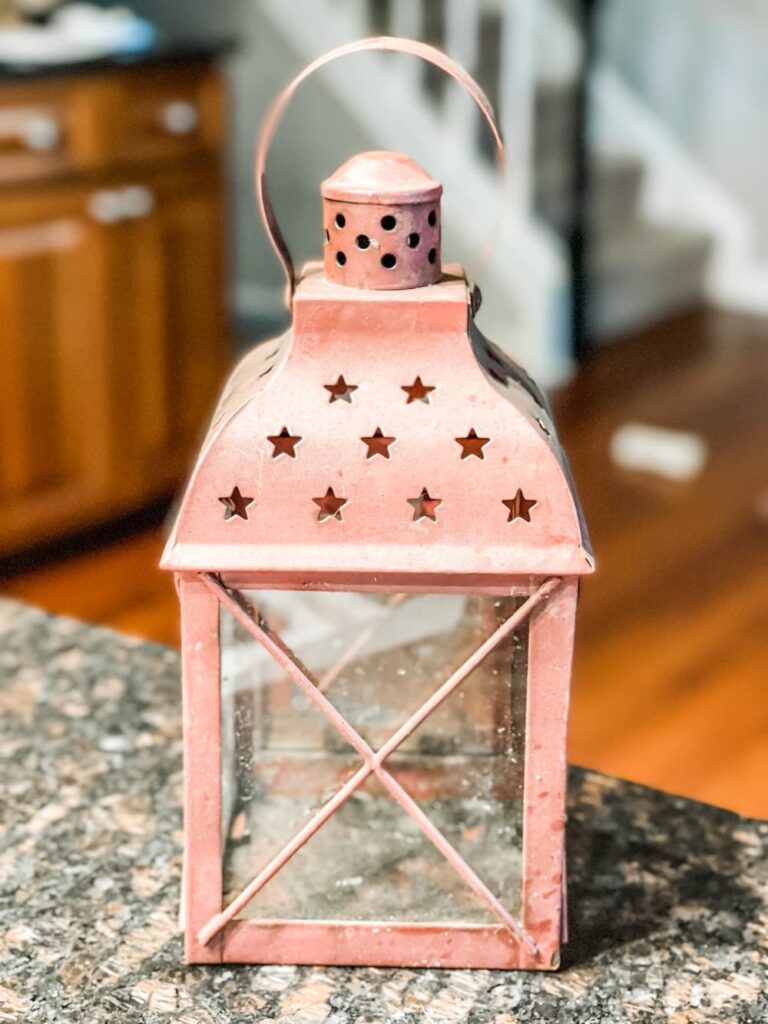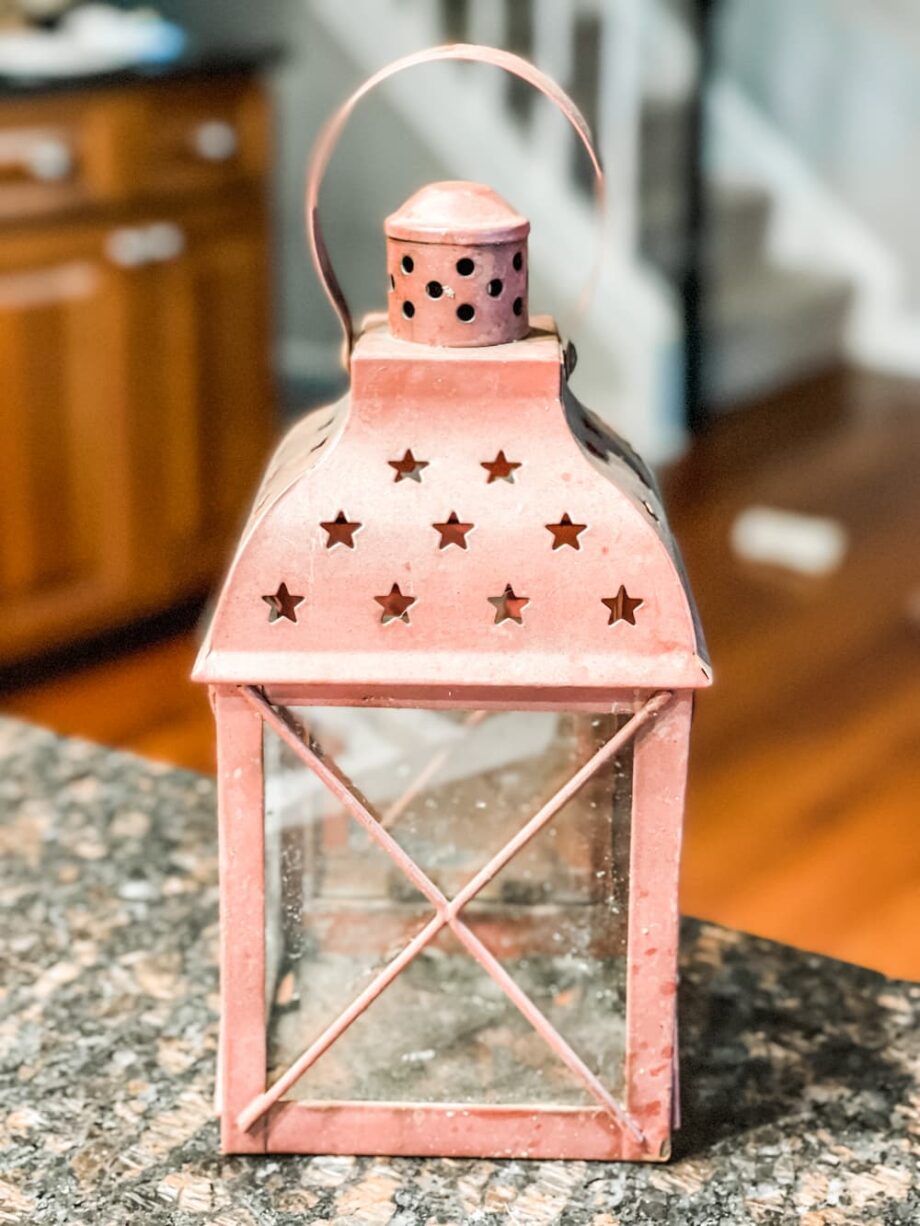 CREATING NEW DECOR
Since my post is about outdoor inspiration, I'll share how I created a patriotic flower display, and a slate flag.
PATRIOTIC GARDEN FEATURE
I purchased flowers on clearance from Walmart, $1.11 each and then took an old pot and painted it with NAUTICAL SILK MINERAL PAINT. I tucked it onto the slope of the back garden and filled it with flowers. They will grow and cascade down onto the mulch.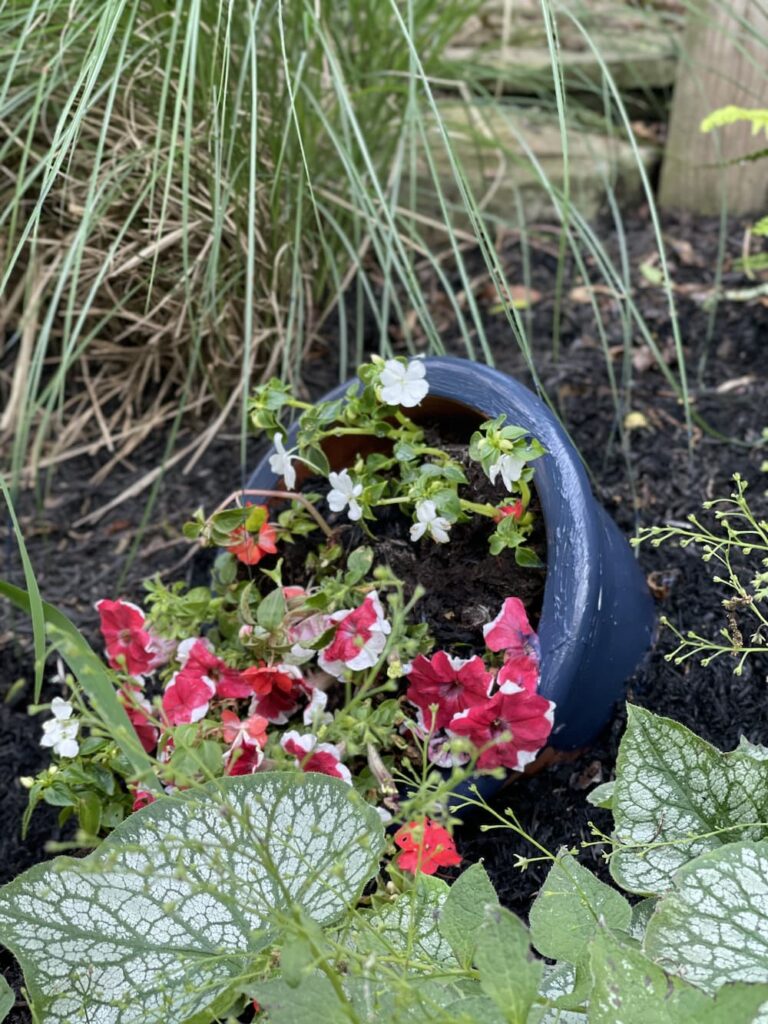 An inexpensive and beautiful feature in my shade garden.
Not far away from the blue pot is my mom's shot put ball from the Senior Olympics that lives there all year. It's red so it looks intentional!
DIY VINTAGE INSPIRED SLATE FLAG
I always love a good Trash to Treasure, and this is no different. A friends' neighbor, gifted her with a boat load of slate. Some pieces were small, some larger, but all thick and with clean lines. I drilled holes in the top and created a flag decor for the front porch.
See the steps to create it below: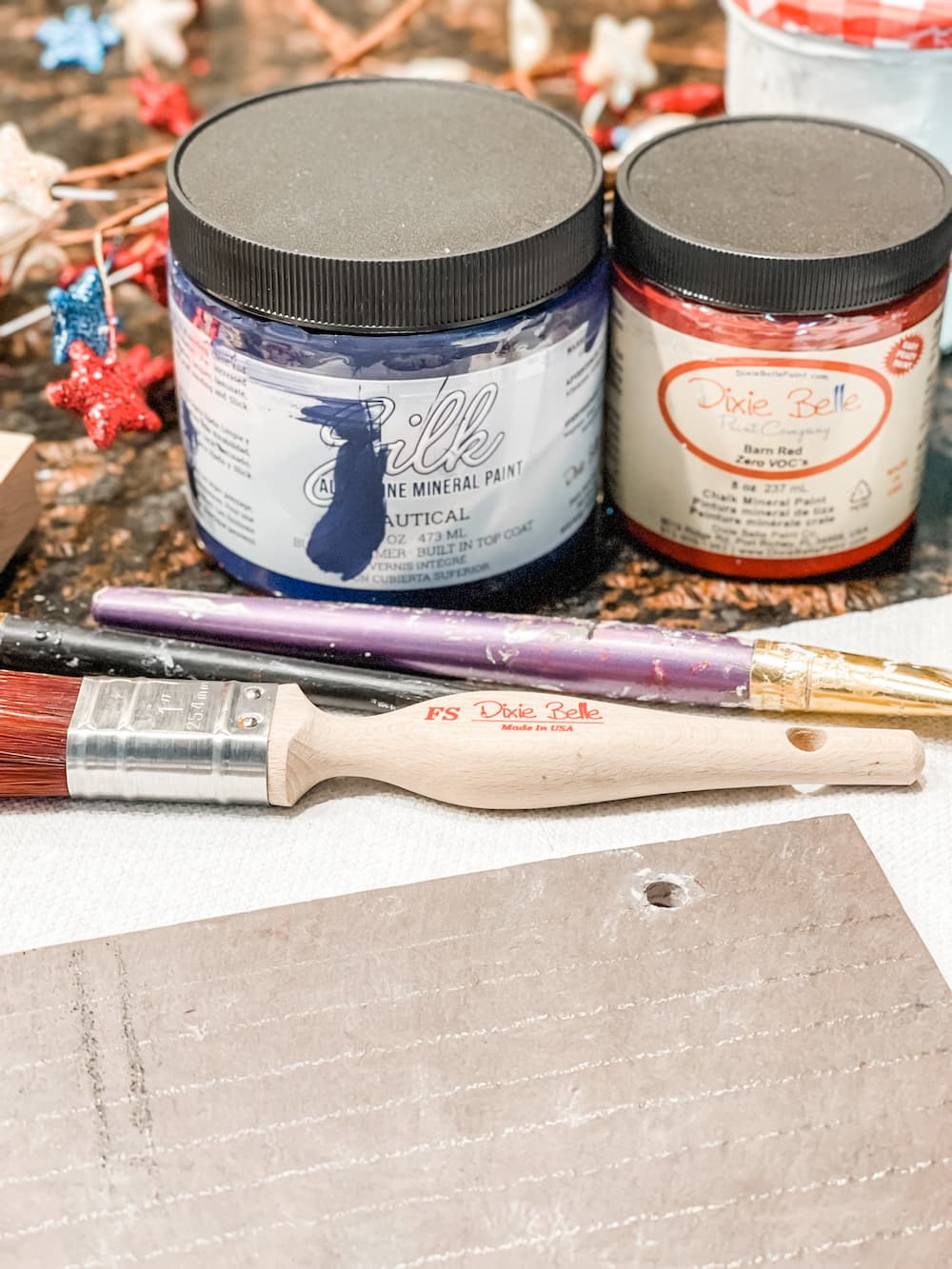 After drilling the holes, I drew lines with a pencil. Next I painted it, but not neatly or exactly. I wanted a more rustic look. I painted stripes using the BARN RED, then the NAUTICAL and when the rest was dry, I added the FLUFF WHITE.
My next step was to stamp one white star on the blue. The last step was to rub it with a dark wax to give it a vintage look. When you look closely you can still see dark slate through the paint and the darker wax tint.
I'm really happy with how simple and cute it turned out. For free!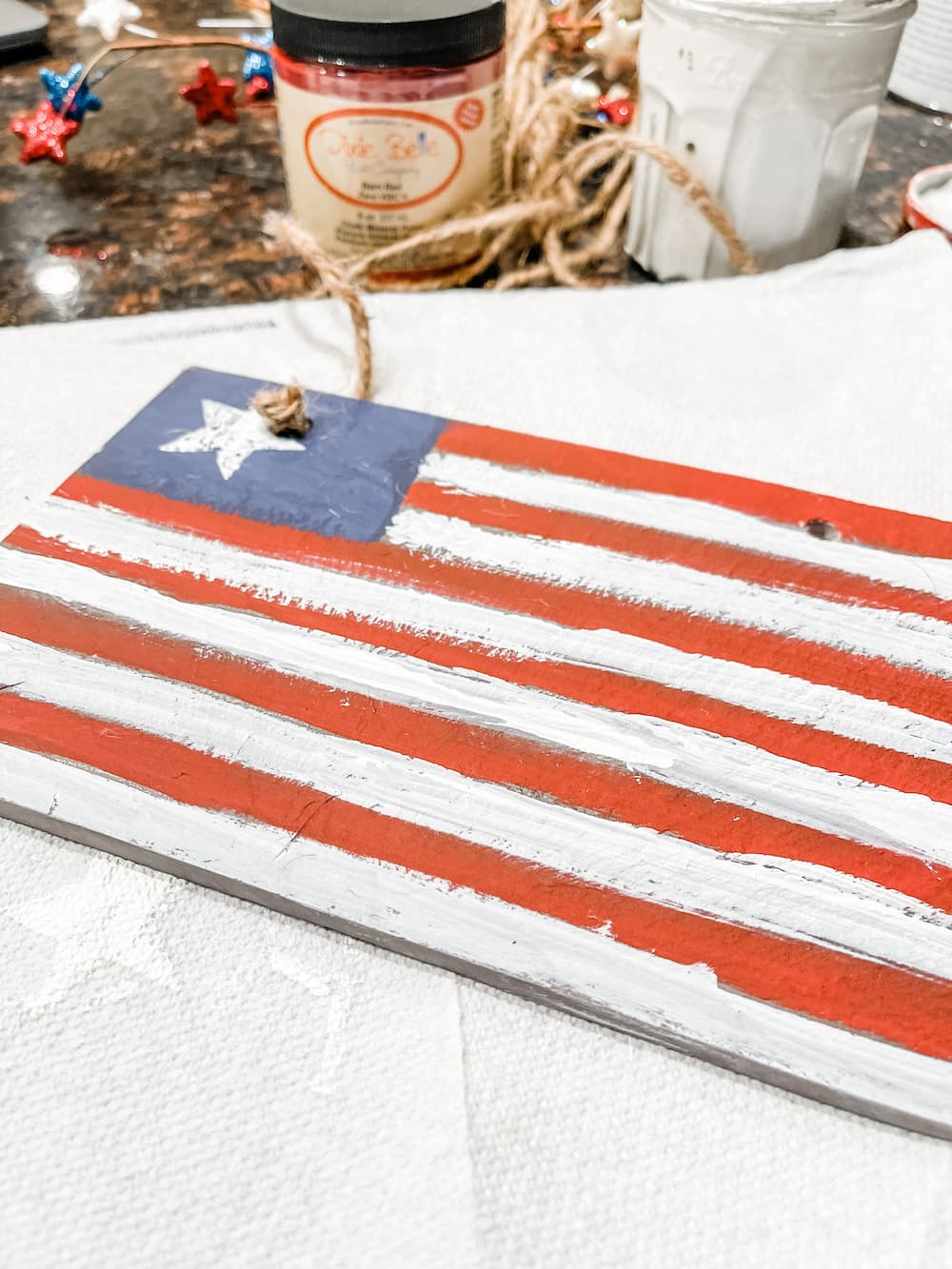 TYING IT ALL TOGETHER
If you've followed Saved From Salvage for a while, you know I used to despise red, white and blue decor. I don't know why but for the longest time I steered clear of using it at home and tried to keep it out of the senior center at work!
I've also mentioned that now living in a blue/grey house with reddish shutters has probably been what has changed my outlook on patriotic decor. Now I love it. I love the look of flags in my ferns, in my potted plants and my bunting.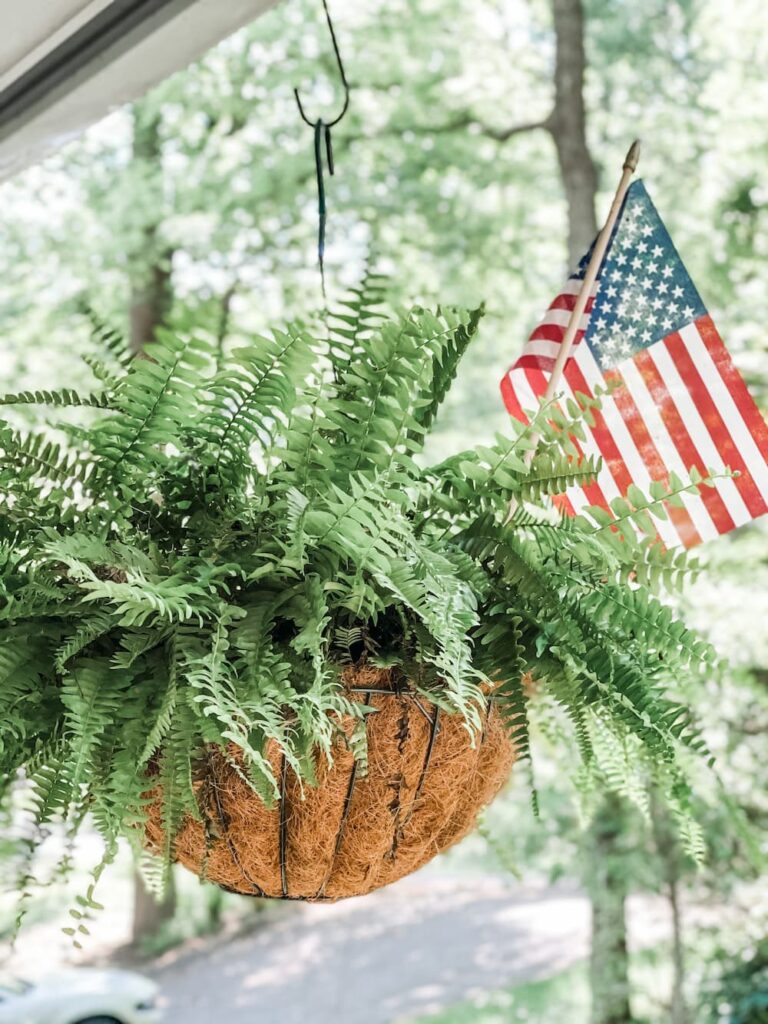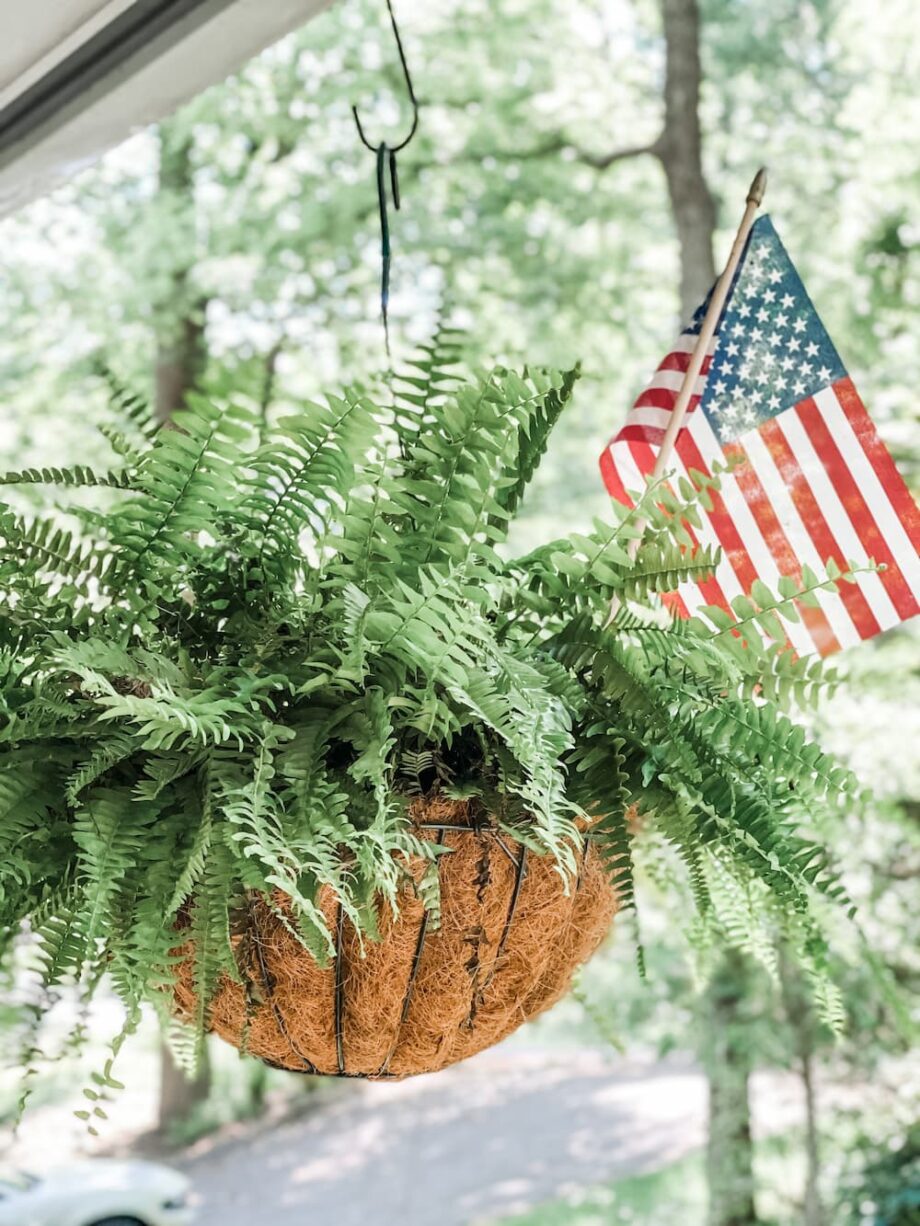 See how my newly updated lanterns look on the deck with surrounded by all things Red, White & Blue.
DECK DECOR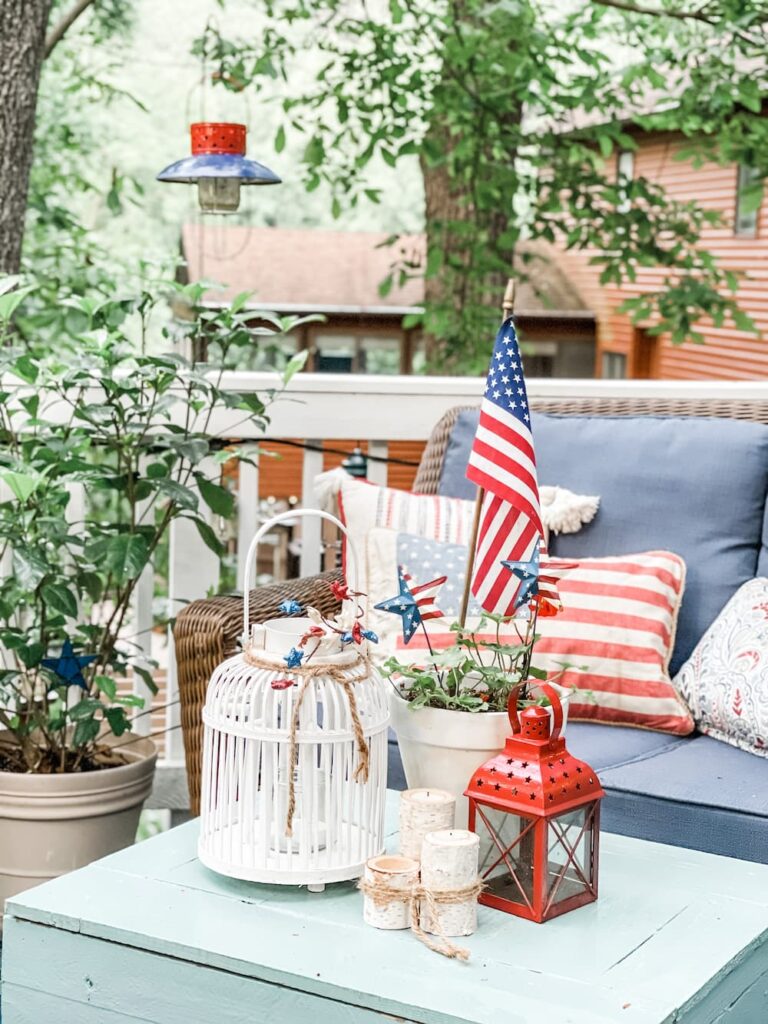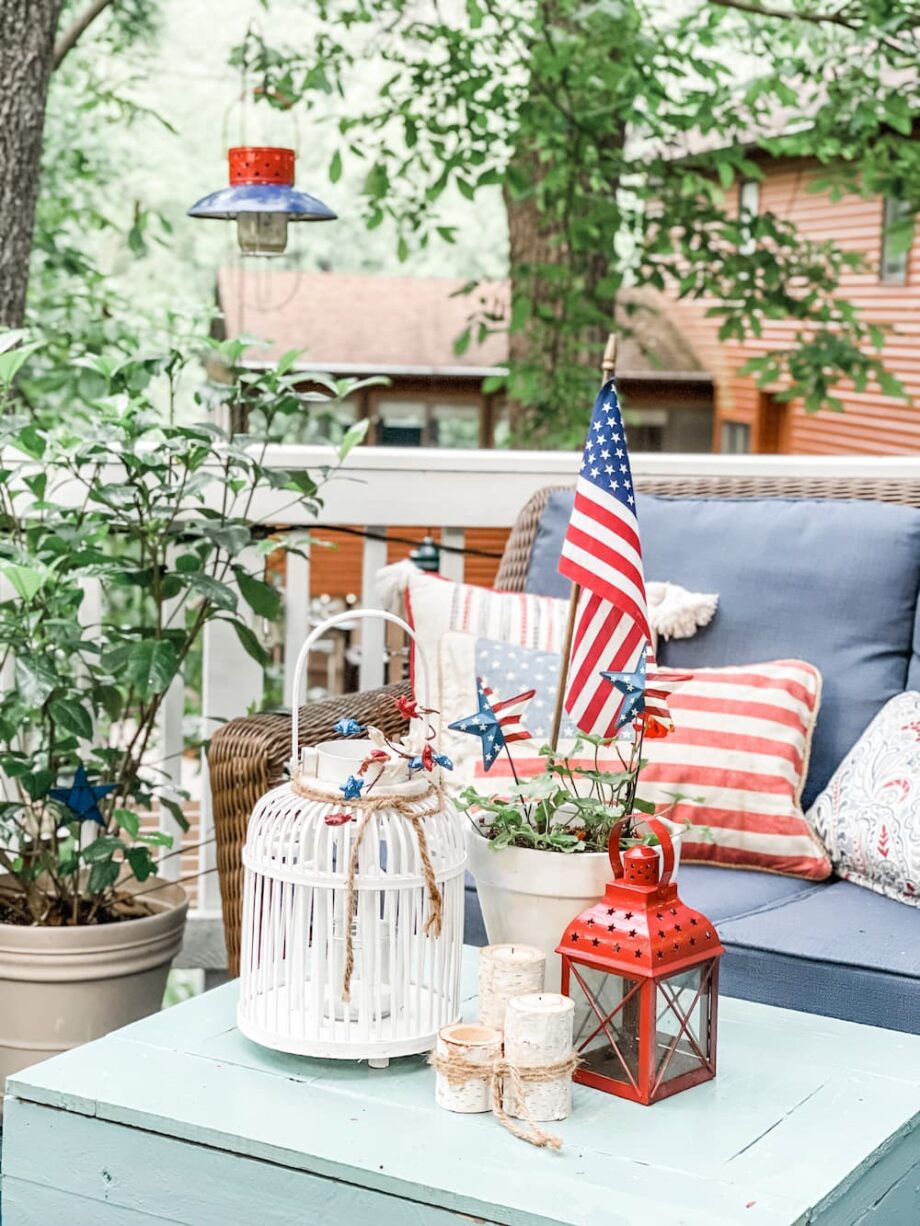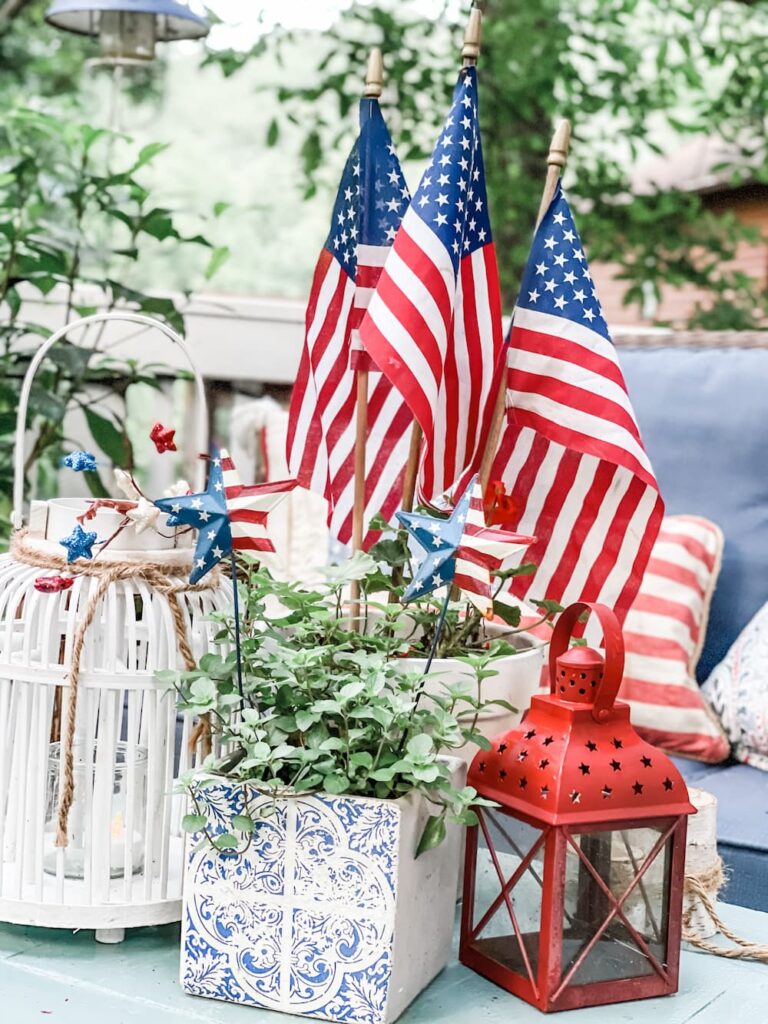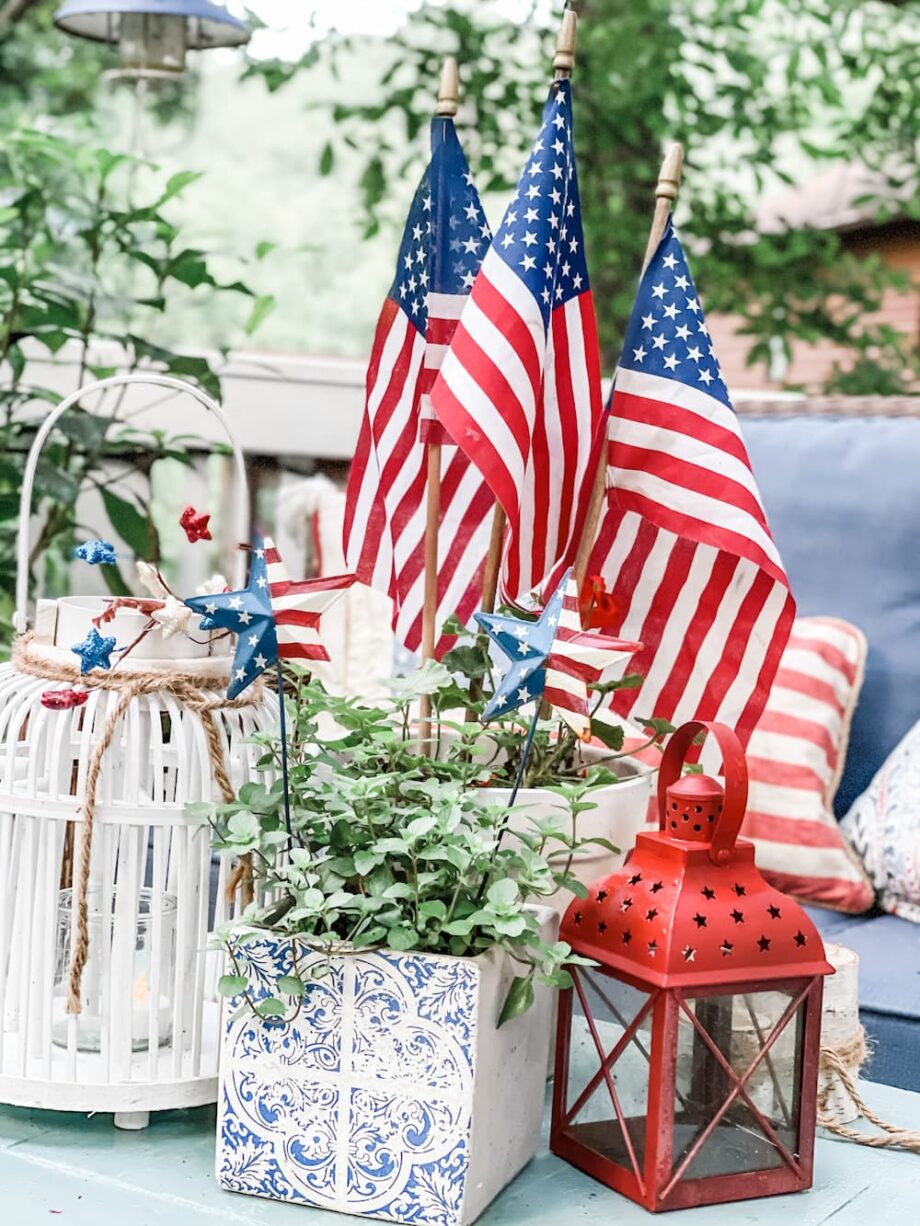 One of my most favorite things to do is to create tablescapes and vignettes. Remember you can be the company too, so even if you want a quiet evening or early morning breakfast, you can still create a space that you love and you deserve.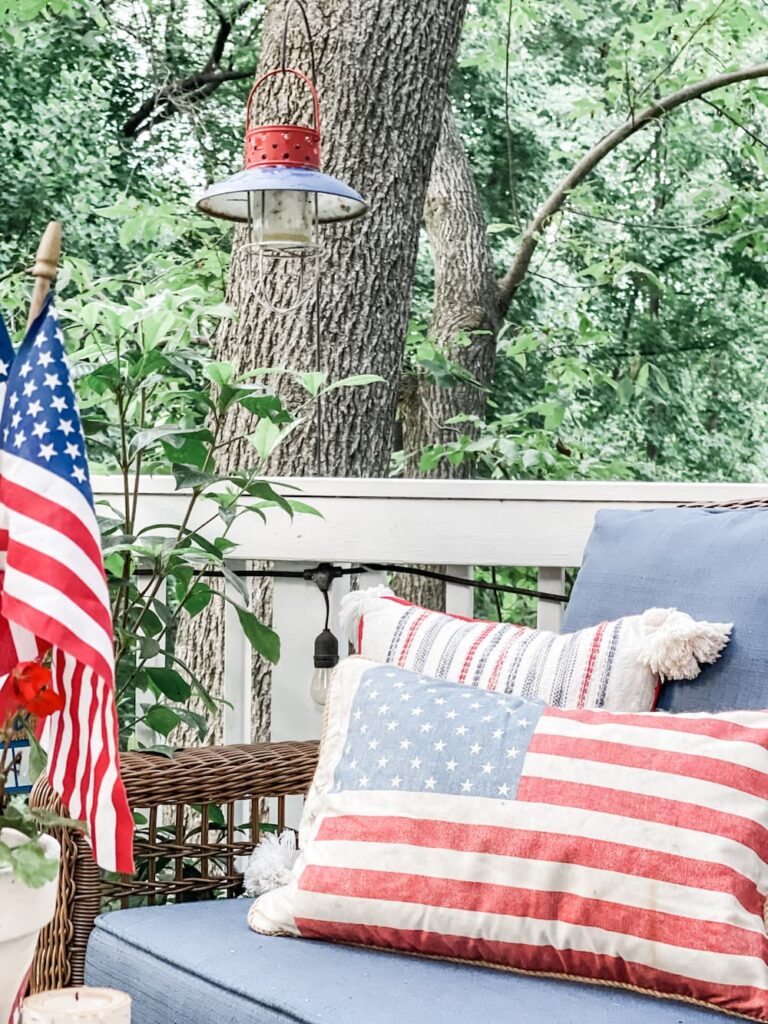 PATRIOTIC TABLE FOR TWO
Below is a fun patriotic table for two with backdrop of flag bunting between two shepherd hooks.
One day soon I'll create the concrete containers for my party lights and then I'll be in heaven.
But for now, you'll have to enjoy the sunset this was set against.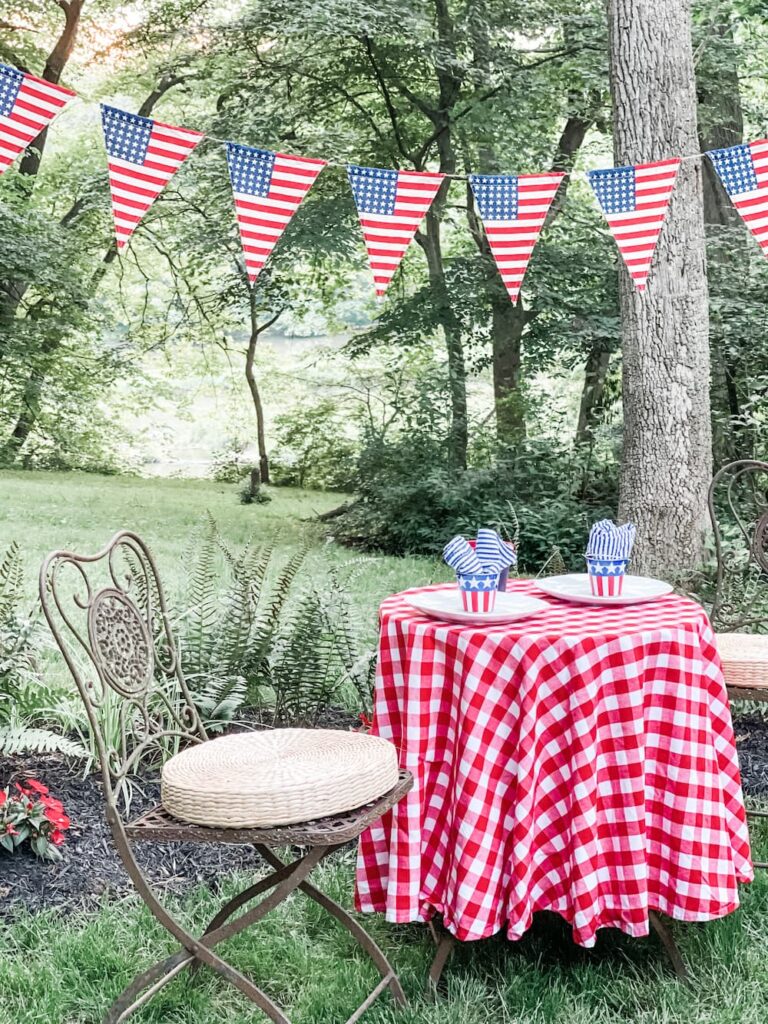 The perfect spot set against the water. This little rusty bistro table is my favorite.
Every year Carmine asks what we are going to do with it and if I'm going to paint it. Every year I say "don't worry about it." I think it gets in his way when he's mowing. Actually I know it does.
I find it romantic and perfect for two. The seats are a bit hard so these round cushions work perfectly.
I added my red and white checked tablecloth that is the main event in my Italian Dinner tablescapes and little metal containers from the Dollar Tree to hold the seersucker napkins.
My trusty red geraniums in my white pots look great on the table. A simple setting but festive.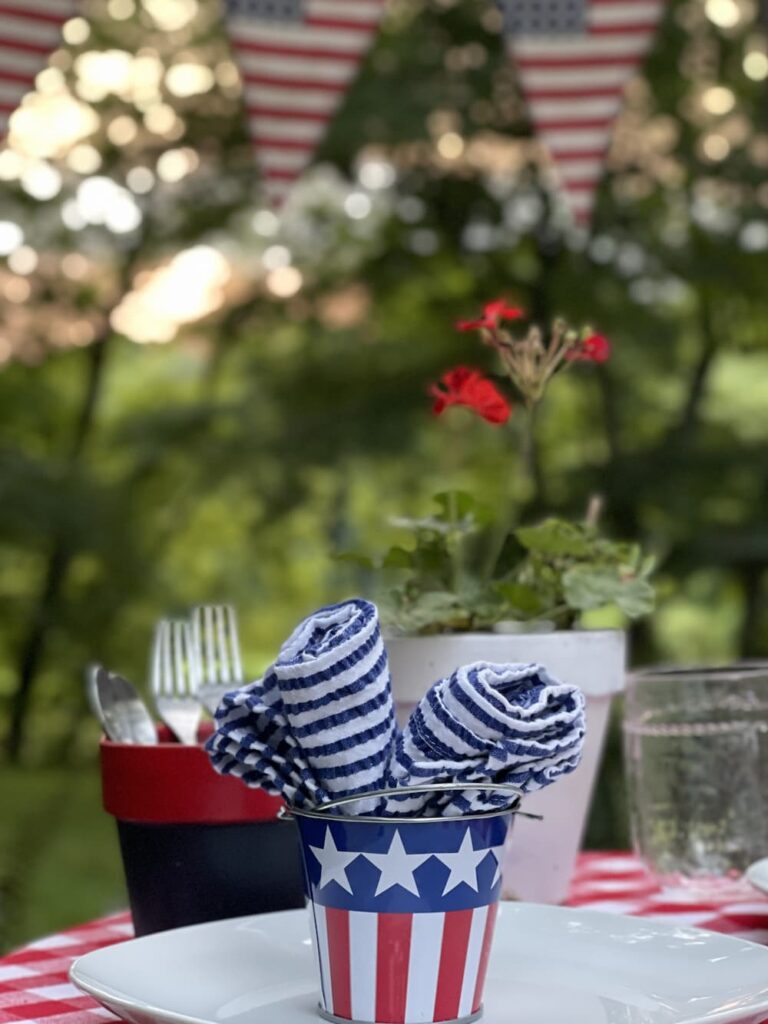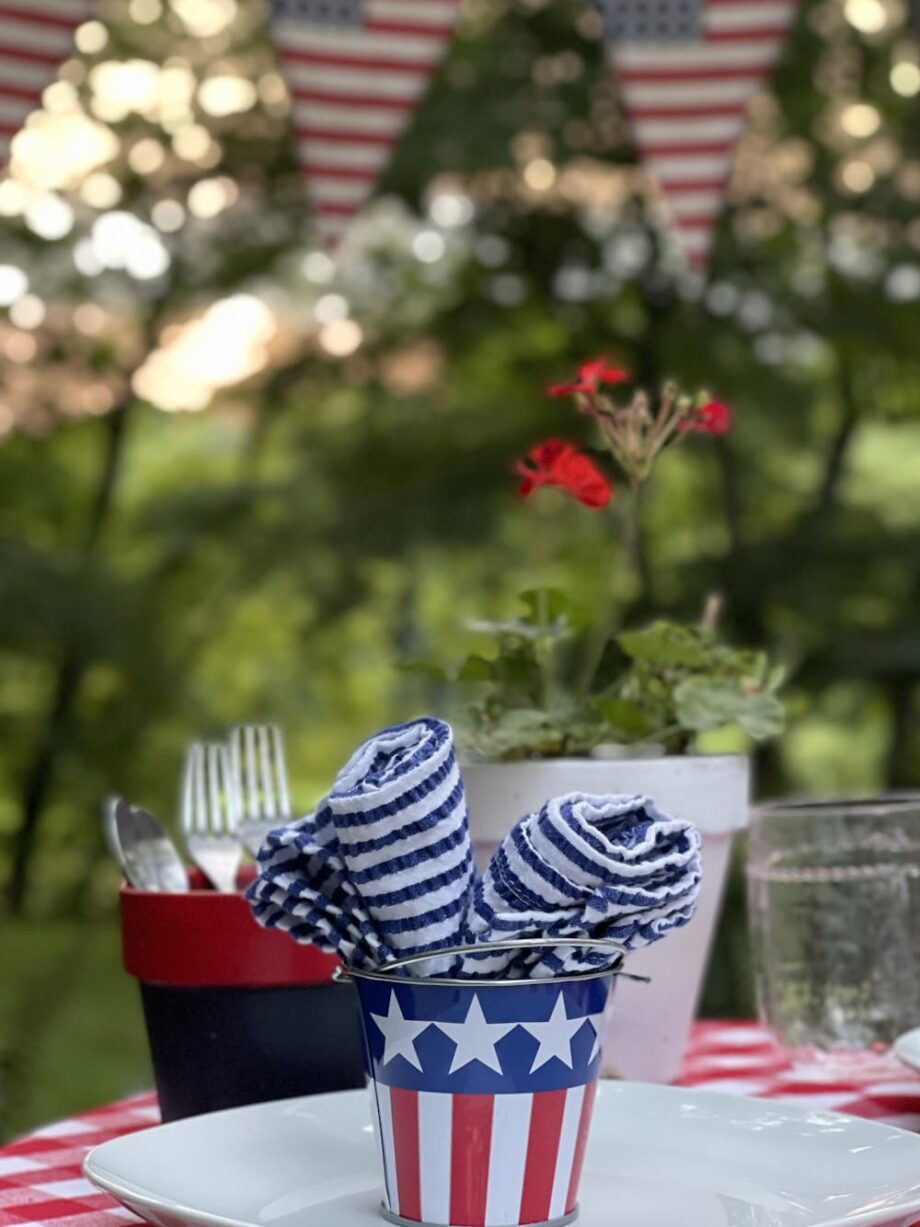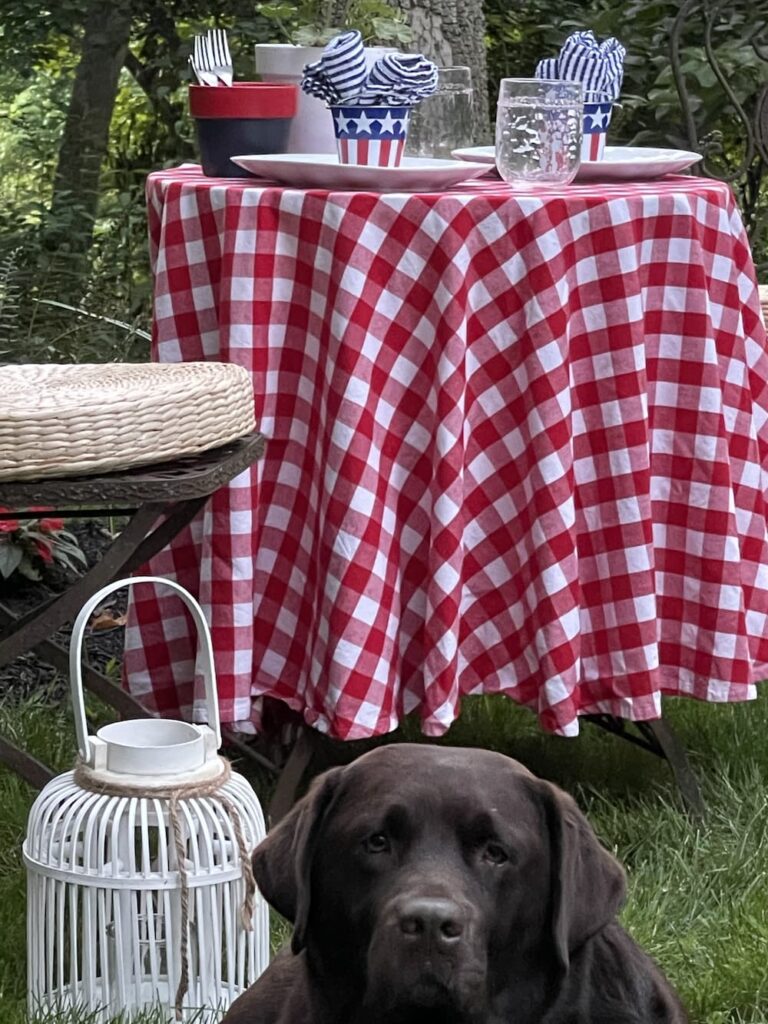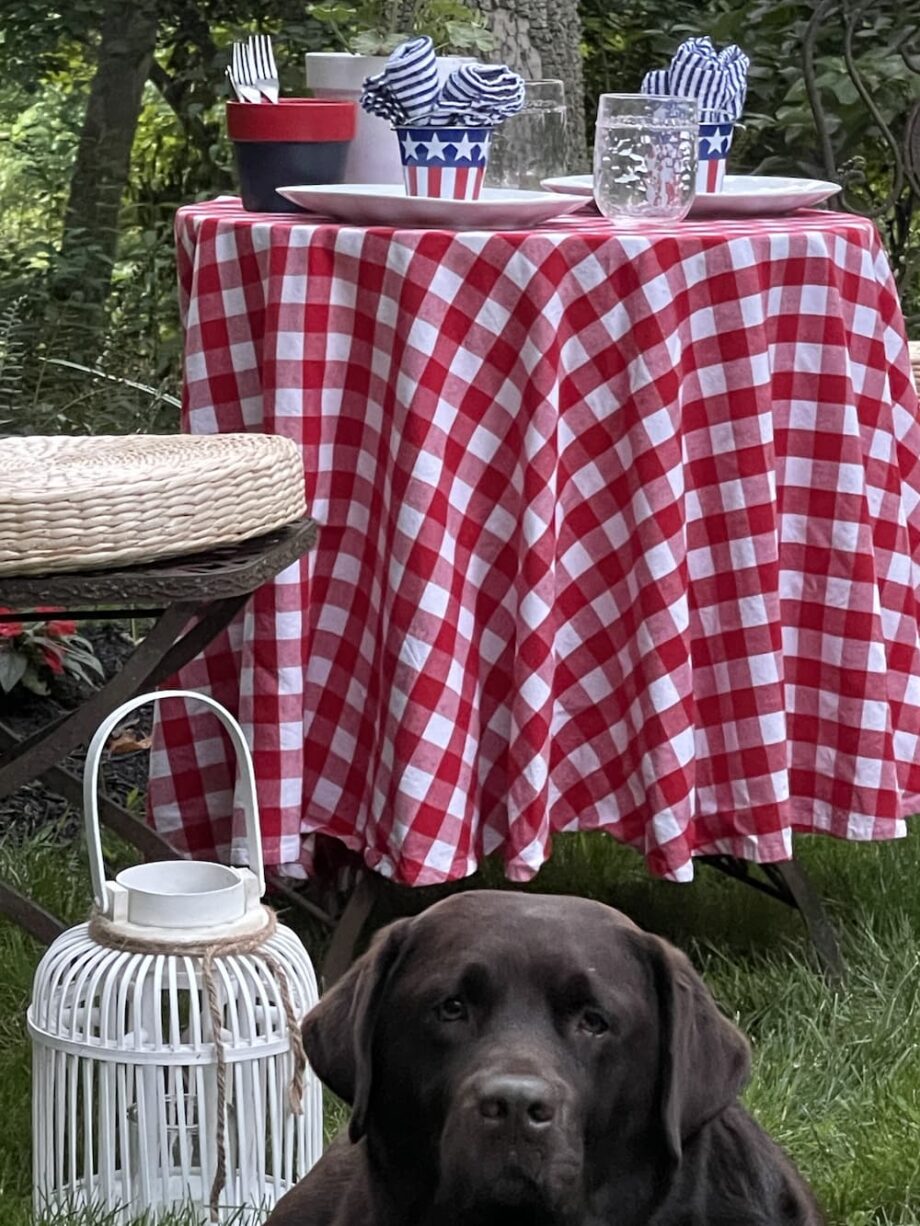 Thanks so much for stopping by. Ready for more inspiration? Visit my good friend Kylie from Truemans Treasures. Kylie is sharing how to add patriotic decor to your everyday decor. Tell her Regina said hi!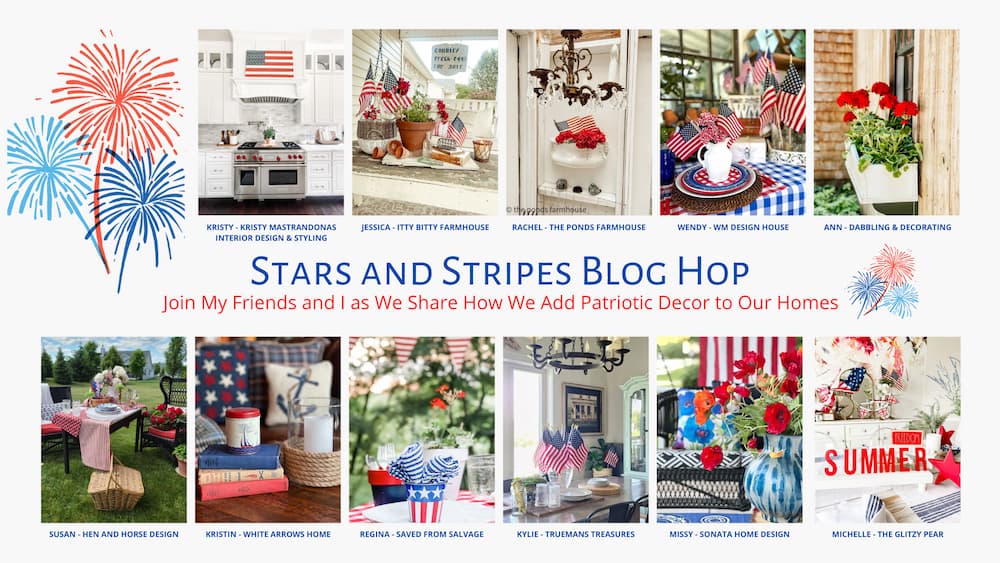 Often decor for Memorial Day and Independence Day can be easily interchanged. Here is a LINK to some other patriotic decor for outdoors you may enjoy.
With it being Father's Day this weekend, I thought I'd share a few ideas that are always a hit with guys I know!
XO, Regina
I am an Amazon Associate. I receive a small commission if you purchase from a provided link. This is at no additional cost to you.
LET'S GO SHOPPING