It's that time of year when we are searching for the perfect gift. Functional, useable, beautiful, unique. You can stop searching and start making.
These DIY Hand Dipped Pinecone Fire Starters make a perfect gift for neighbors, friends, housewarming or hostesses. Come see just how easy these are to create in an afternoon.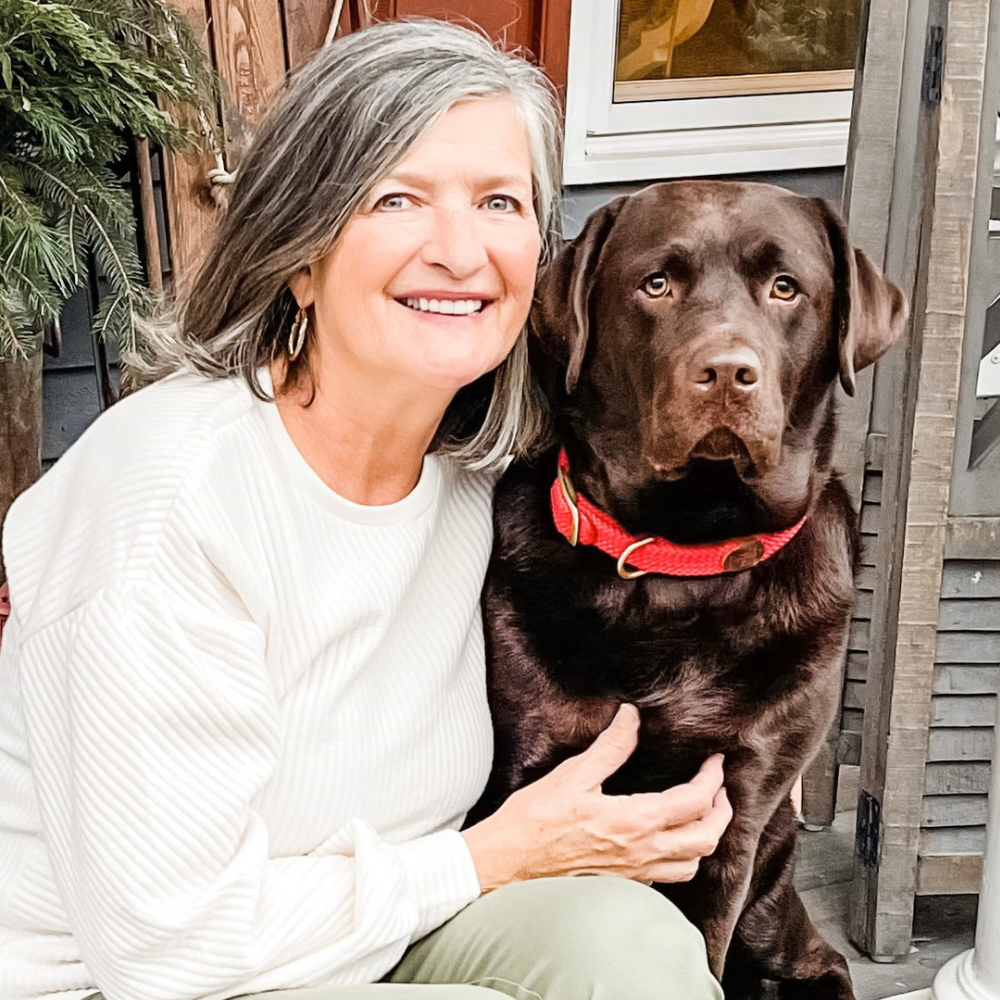 Hi, I'm Regina and this is Saved From Salvage. I love to share DIY's, Home Decor Projects, Furniture Flips and Event Inspo. I'm so glad you are here.
Today is Handcrafted Society Day and you will get some pinecone project ideas from all of these talented bloggers.
A big shout out to Wendy from WMDesign House for coordinating us. Jennifer of Cottage on Bunker Hill selected out medium today and it's perfect for November.
If you are coming from Kim at Cottage in the Mitten, how adorable are those mini pinecone wreaths?
For my project I am finally doing something I've wanted to for a long time.
Seems we are constantly buying fire starters at the hardware store because we love a cozy fire.
I love that I can use items that I find, forage or have on hand for these.
These fire starters also make really sweet hostess gifts and can be used either outdoors in a fire pit or indoors in your wood burning fireplace.
FIRE STARTER SUPPLIES
BEGIN IN NATURE…
Pinecones ( I find mine in the woods)
Old Candles or Soy Wax Flakes
Muffin Tin
Wick
Crayons (For Color)
Star Anise
Cinnamon Sticks
Whole Nutmeg
Cloves
Himalayan Sea Salt
Essential Oils (Optional)
Empty Can
Tongs or Tweezers
STEPS TO CREATE FIRE STARTERS
GATHER YOUR SUPPLIES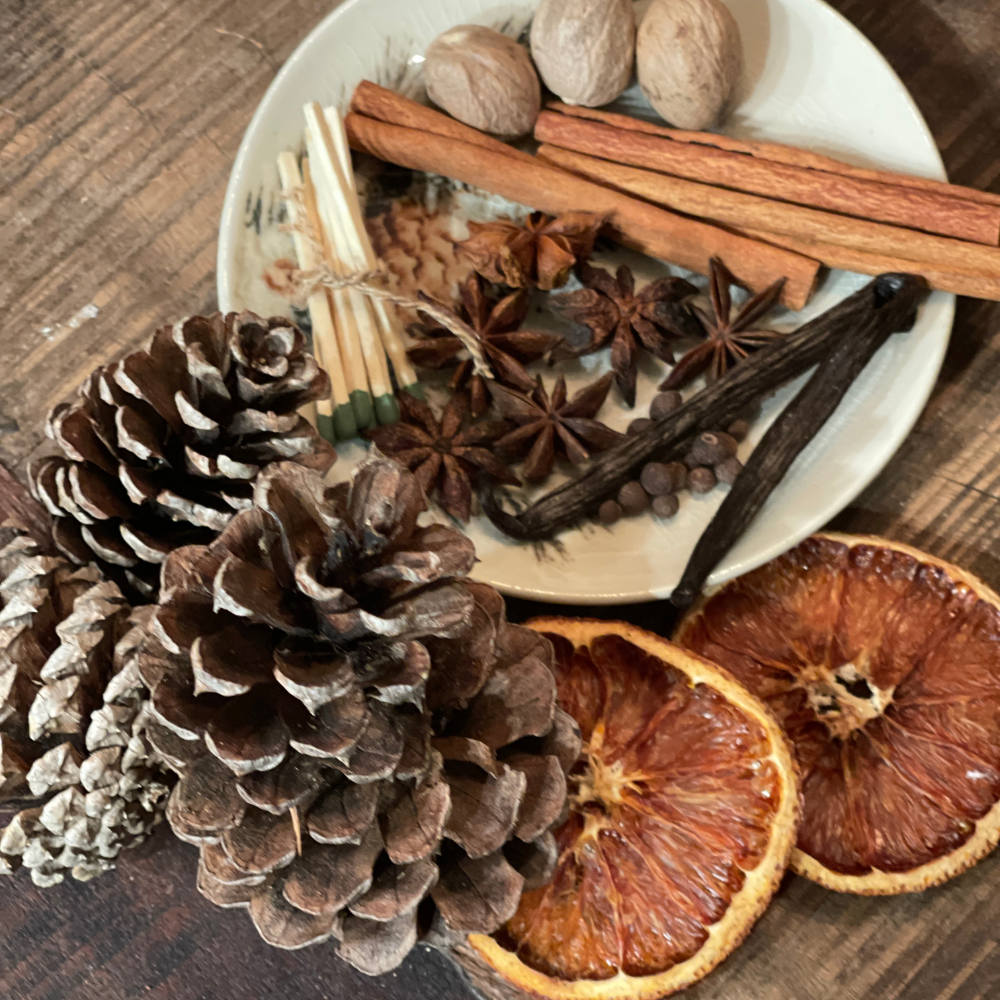 Gather all of your ingredients for the fire starters.
If you are going to make these inside, make sure to cover your surface before you begin.
I keep a roll of plastic tablecloth in the garage and grab some for my projects.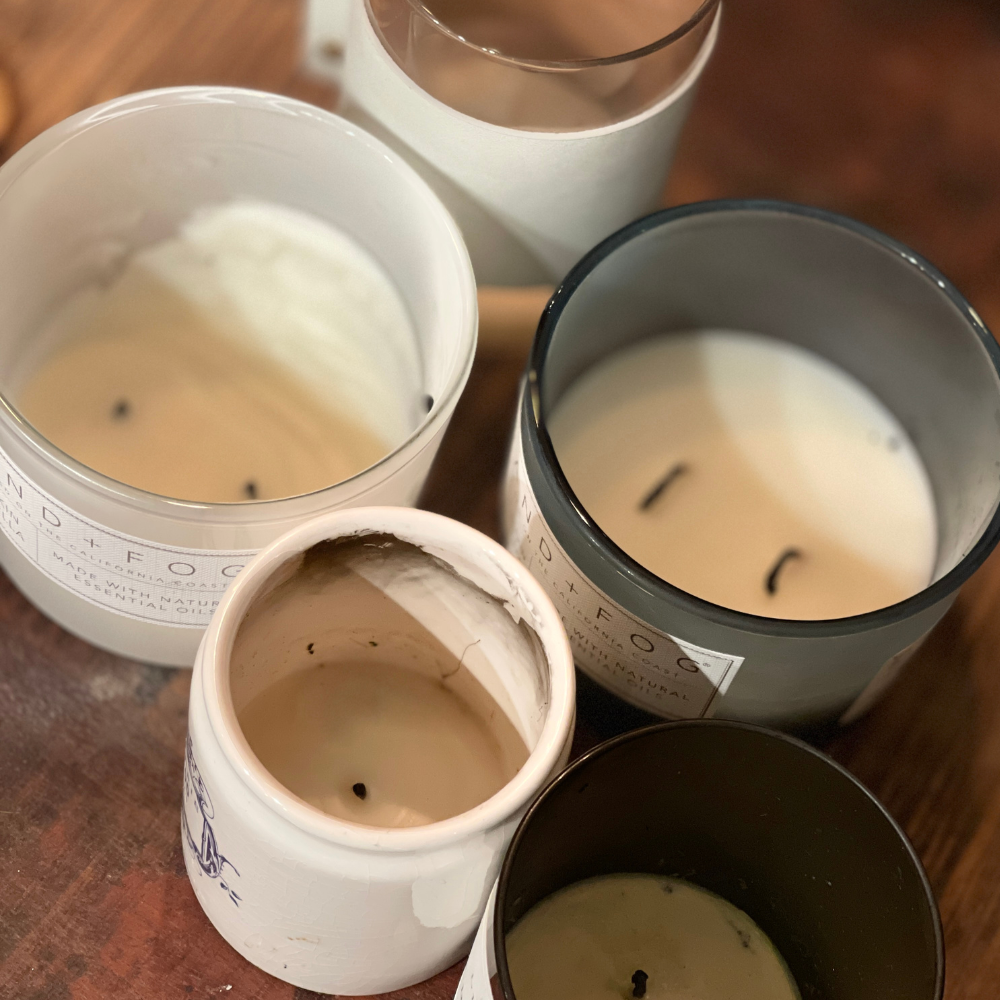 This is a great way to recycle your candle holder and use the wax that is too low to burn.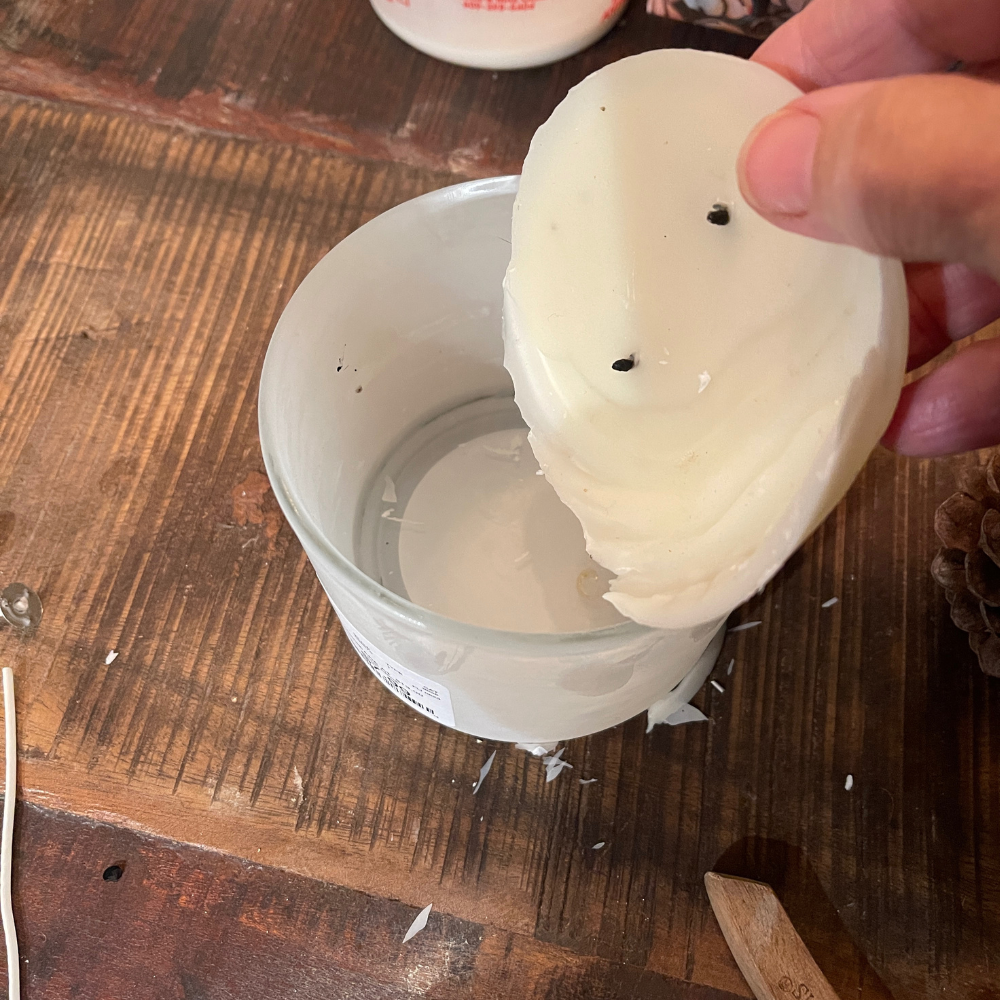 The fun is that you can make these any way you'd like.
The possibilities are endless, you can keep it simple by just using a pinecone dipped in wax with a wick or add cinnamon sticks, star anise and cloves to decorate your fire starter.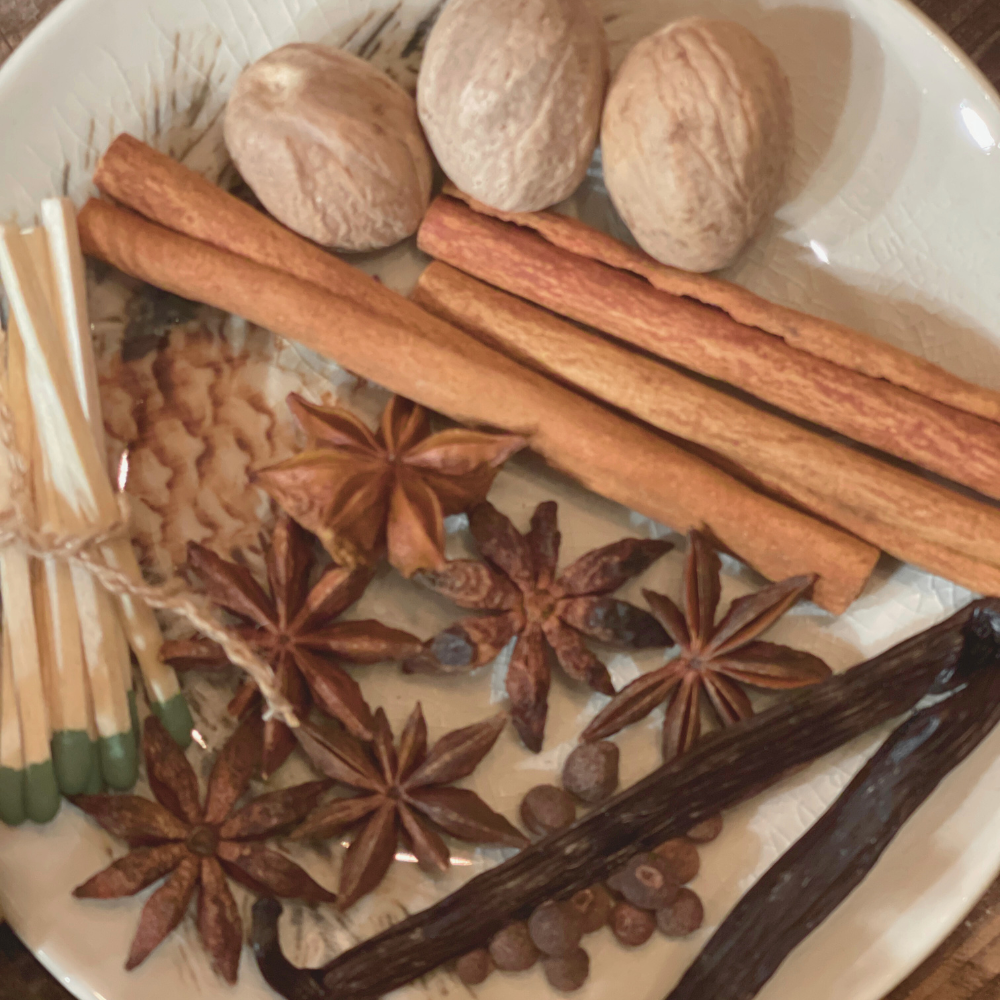 For each pinecone, attach a wick with a glue gun or you can wrap the base around the pinecone.
DIVIDE MATERIALS
Separate your materials into piles.
If you are just using pinecones, make sure you attach a wick to each pinecone.
If you are using additional materials, you can place them inside the cupcake paper inside your muffin tin.
MELT WAX
After I removed the wax from my old candles, I melted it in the microwave.
I placed the wax in a small plastic take out container and melted it much the same as I melt chocolate discs.
For 30 seconds and kept checking until melted. If you would like to add color to your fire starter, you can add crayons to the wax to melt and stir.
Once it is melted and you remove it from the microwave, you could add your fragrance or essential oils if you choose. If you are using these indoors in your wood burning fireplace, you would be able to enjoy the fragrance.
In a fire pit, chances are the scent will not be as noticeable.
If you would like color, you can use crayons to add that. I used a half of green crayon to make this one.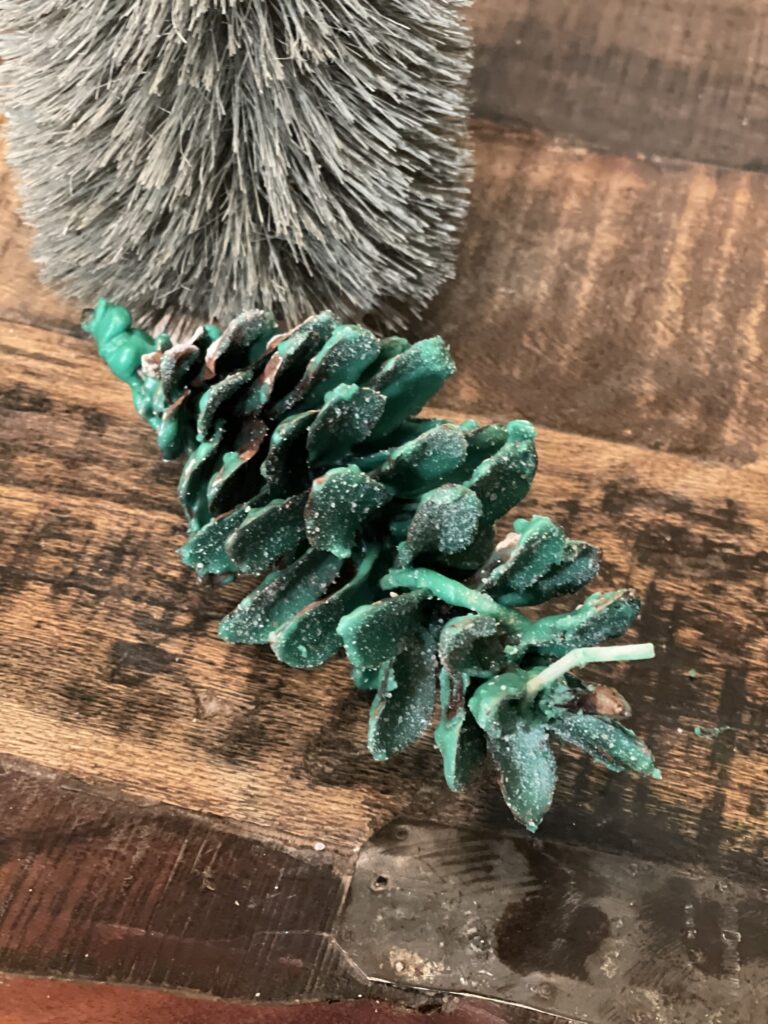 DIP PINECONES
Holding the pinecones by the wick, you can dip your pinecone into the wax.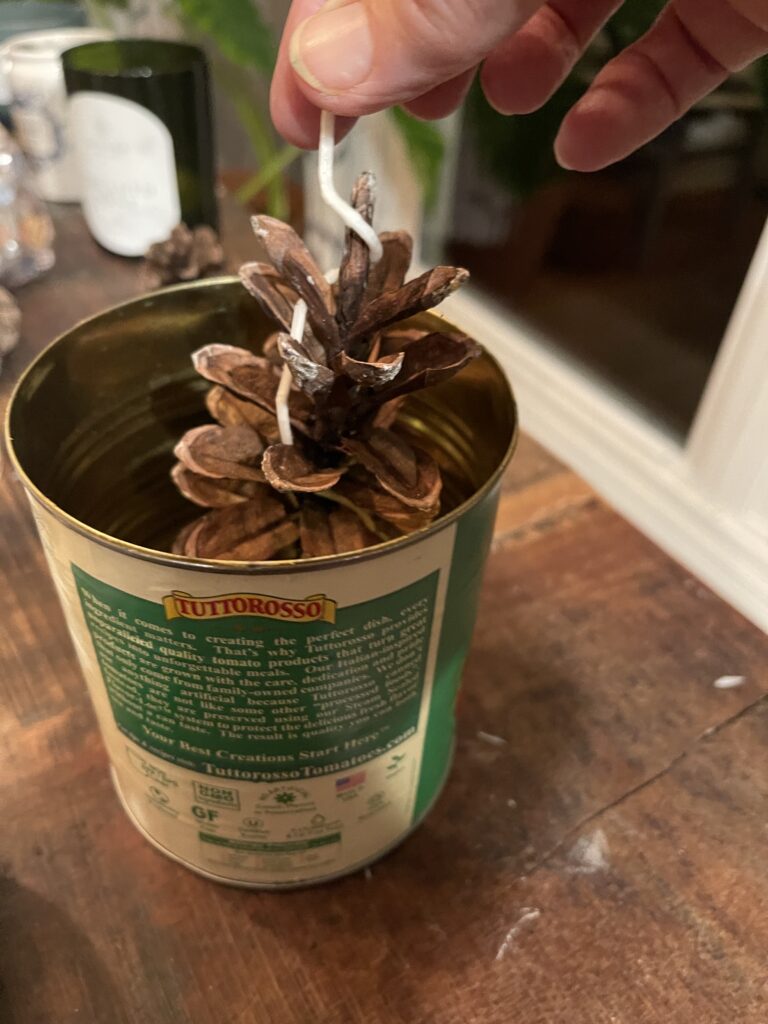 If you are using muffin tins, first pour a little wax in the bottom, let it set up and then add the pinecone and other items.
Next pour the wax slowly over the pinecone in the muffin tin and depending on the size of your pinecone you can either lay your items on top or tuck them next to the pinecone.
Make sure the wick is sticking out of the top.
To add a little sparkle, before the wax hardens, sprinkle your pinecone with Pink Himalayan Sea Salt and watch what happens when you add it to the fire.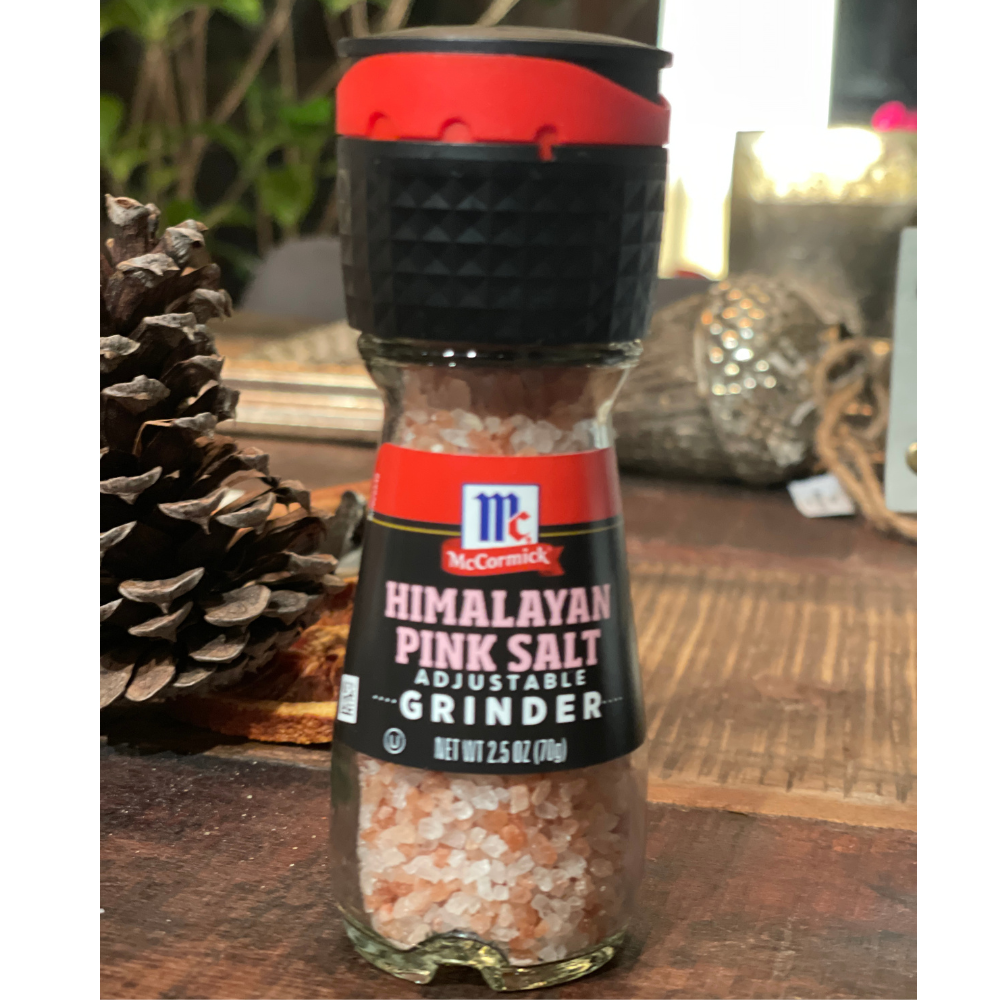 LET DRY
If you are dipping pinecones only, lay them on the plastic to set up. When they are dry, they are ready to add to a container to gift them.
If you made your starters in the muffin tins, keep them in the muffin tin until hardened.
Then remove the cupcake holder by turning over the pan and gently tapping on the bottom to release them.
You can also grab the edge of the cupcake liner and remove them from the muffin tin that way.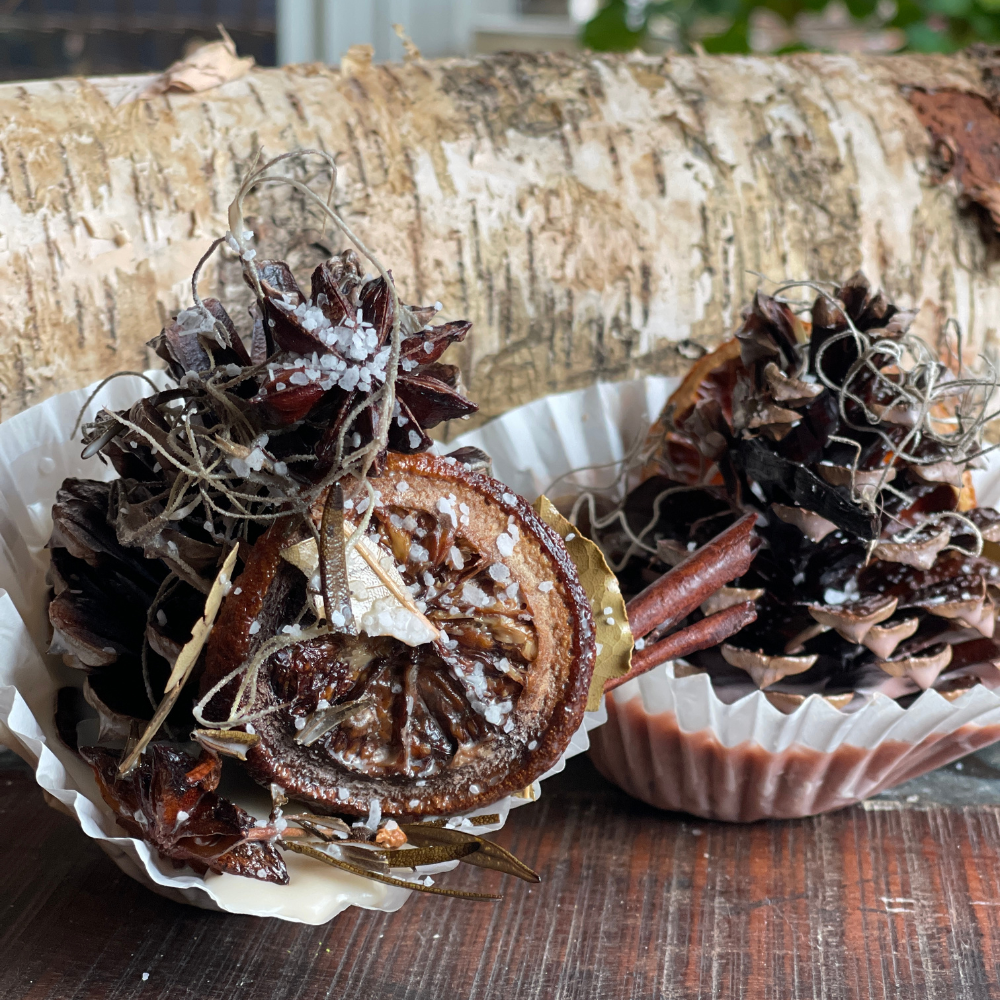 PACKAGE
Now is the fun part. You can bundle these in a basket, tin or a box to gift.
You could also wrap them in a cellophane bag individually and tuck them in some other goodies.
Make sure to add a pack of matches.
You can add them to another larger gift. I found these adorable pinecone plates in Lancaster, I mean how perfect with a pinecone on it?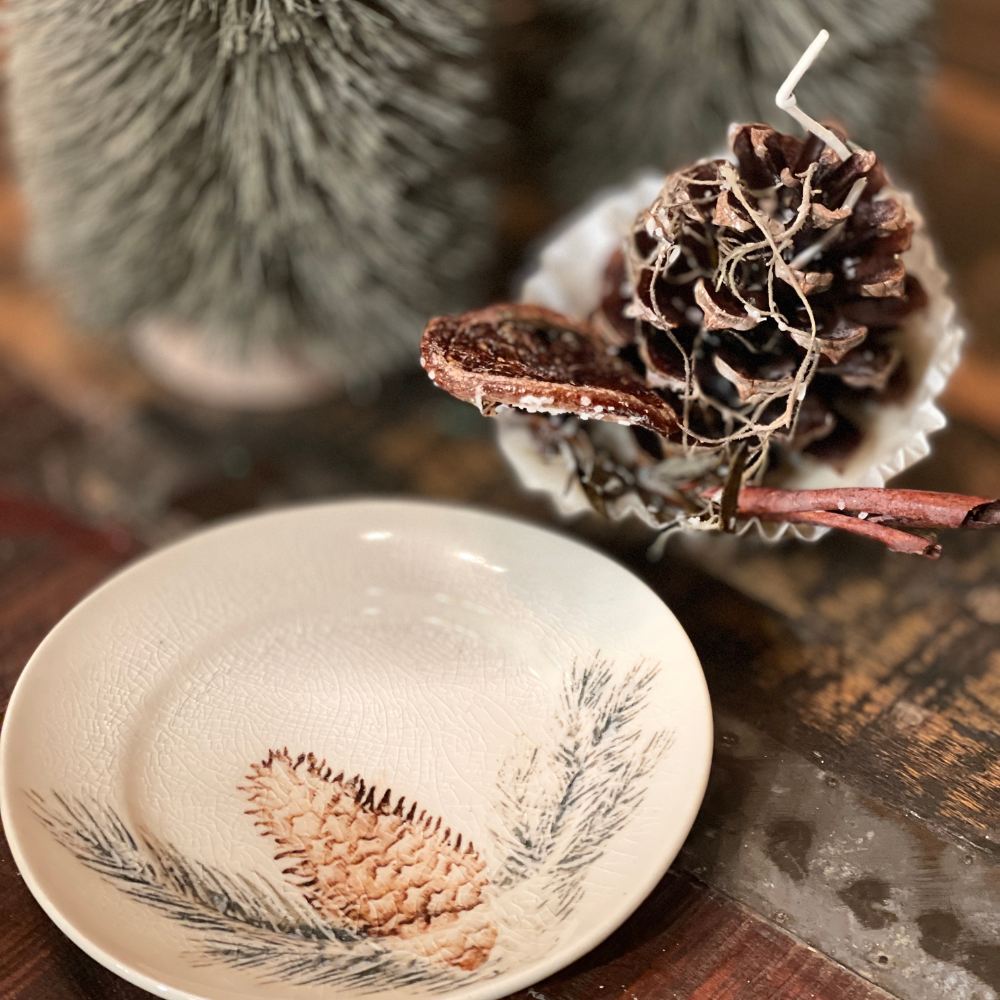 There are several cute tags that you could add.
Click here to download some that I created for you to use.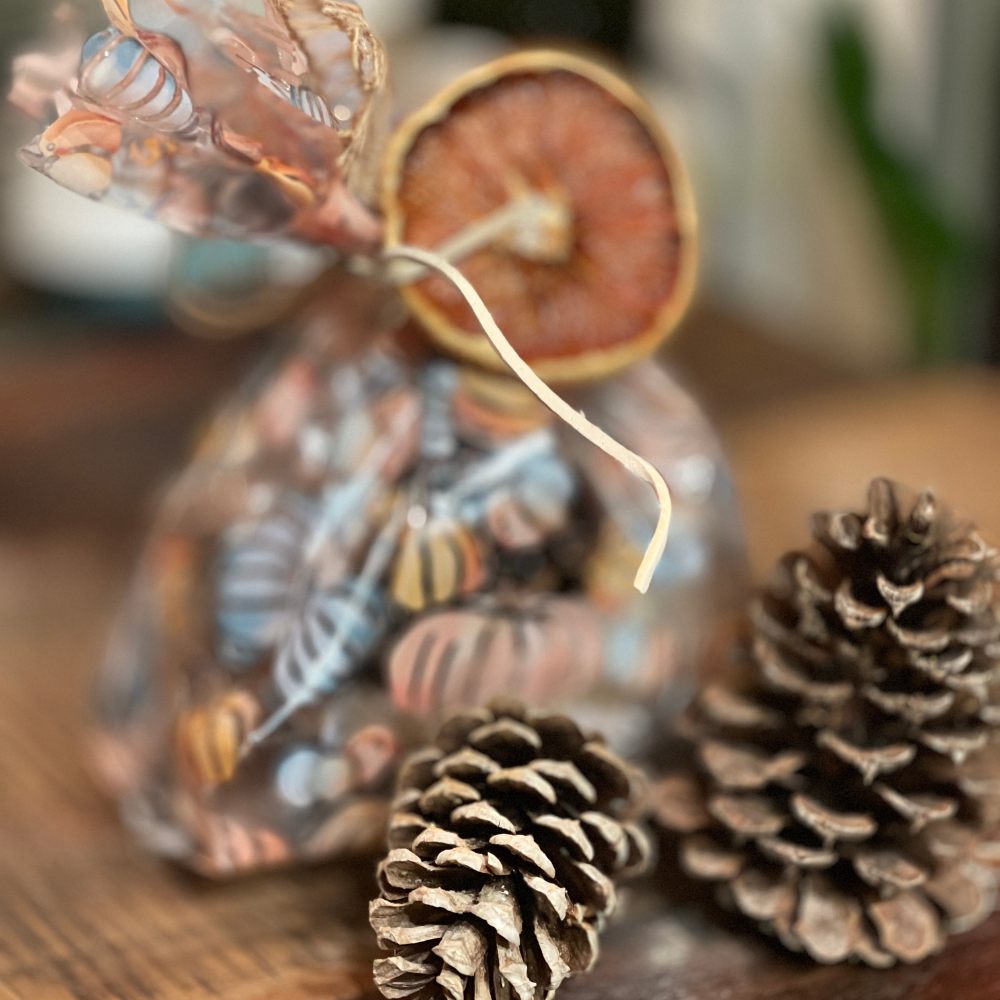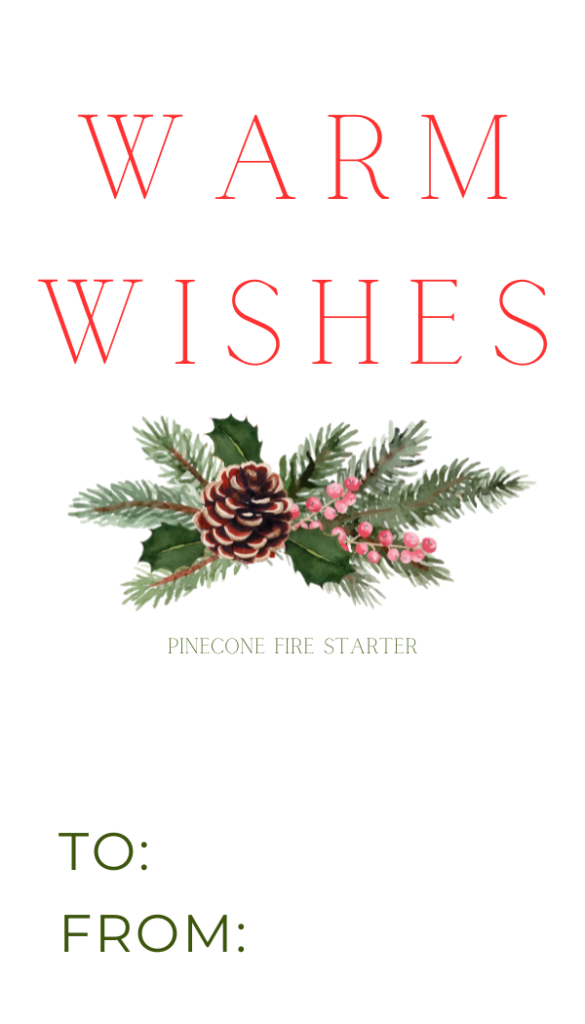 FREQUENTLY ASKED QUESTIONS
CAN I USE A PINECONE FIRE STARTER INSIDE?
You can use these in a wood burning fireplace indoors. These can also be used in a fire pit outdoors.
CAN YOU USE DRYER LINT FOR A FIRE STARTER?
Dryer lint is a great fire starter. But a pile of dryer lint just doesn't shout "gift" to me.
DO I NEED TO PREPARE MY PINECONES FOR THE FIRE STARTER?
If you are making these for a gift or for use inside, it's important to make sure your pine cones are clean and dry.
You can rinse or submerge them in water but pinecones close when they are wet. After rinsing, lay them on paper towels so they drain.
To dry pine cones so they open back up, line a baking pan with parchment paper and spread pine cones in a single layer.
Place the pinecones in a preheated 200⁰F oven for 30 minutes or until the cones are fully opened and any sap has melted. Then they are ready to use, any bugs will be gone.
SHOP THIS POST
Now on to the Handcrafted Society Posts. Next up is Missy from Sonata Home Design. She created something that will wow your guests at your holiday table. You can check that out here.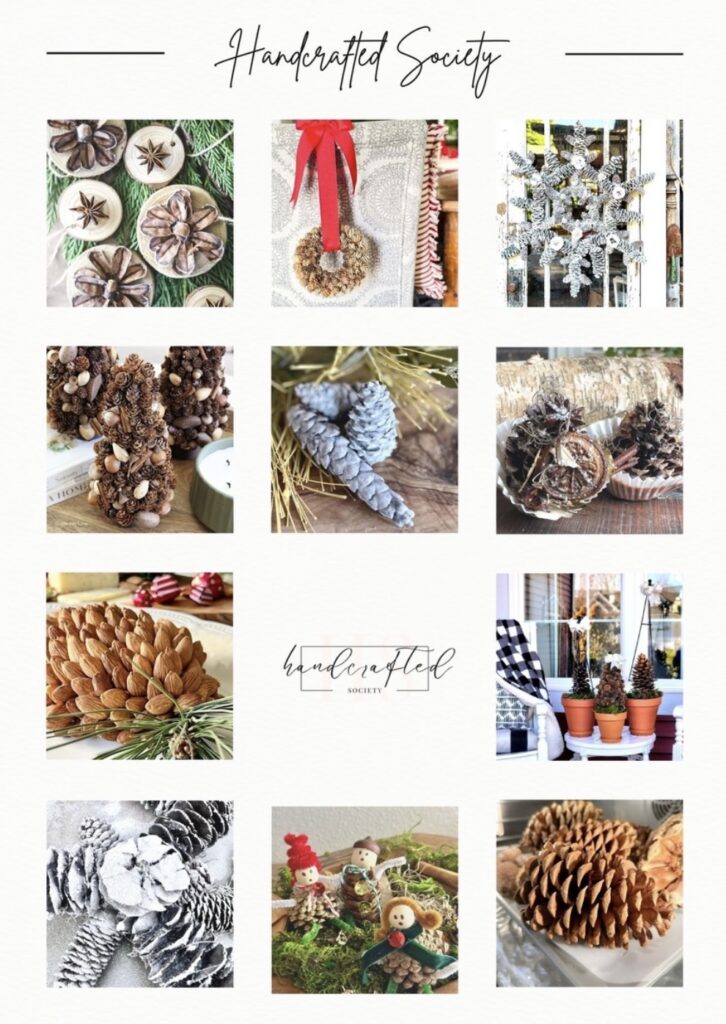 Thanks so much for stopping by. I'll meet you at the fire pit! To catch up on what's going on behind the scenes, check out Lately On The Lake.
XO, Regina
It's that time of year when we are searching for the perfect gift. Functional, useable, beautiful, unique. You can stop searching and start making. These DIY Hand Dipped Pinecone Fire Starters make a perfect gift for neighbors, friends, housewarming or hostesses. Come see just how easy these are to create in an afternoon. Hi, I'm…

Hi and welcome to November and Lately on the Lake. Last weekend it was in the 80's, I woke up Thursday and it was 29. Yuck. I know many of you have already seen that white stuff. Today I'm sharing what I've been up to, what I'm working on, what I'm loving and what's inspiring…

Do you love to use natural elements at the holidays? I do and today I'm sharing how to DIY a faux grapevine tree for Christmas. Inspiration came from the holiday shop at Terrain. If you've not been, it's a great outing for inspiration and gifts. There are two in Pennsylvania that are a few hours…