Are you intimidated by those gorgeous charcuterie boards all over Pinterest?
Don't be, I'm going to show you how to make an Easy Open House Charcuterie Board, perfect for the holidays.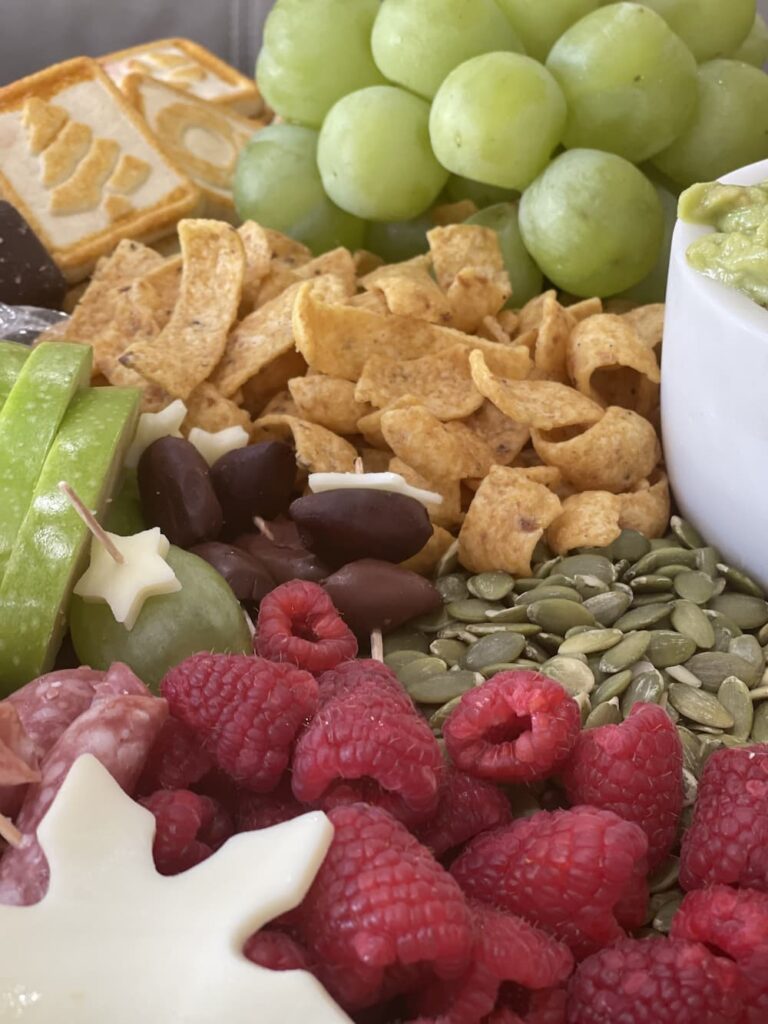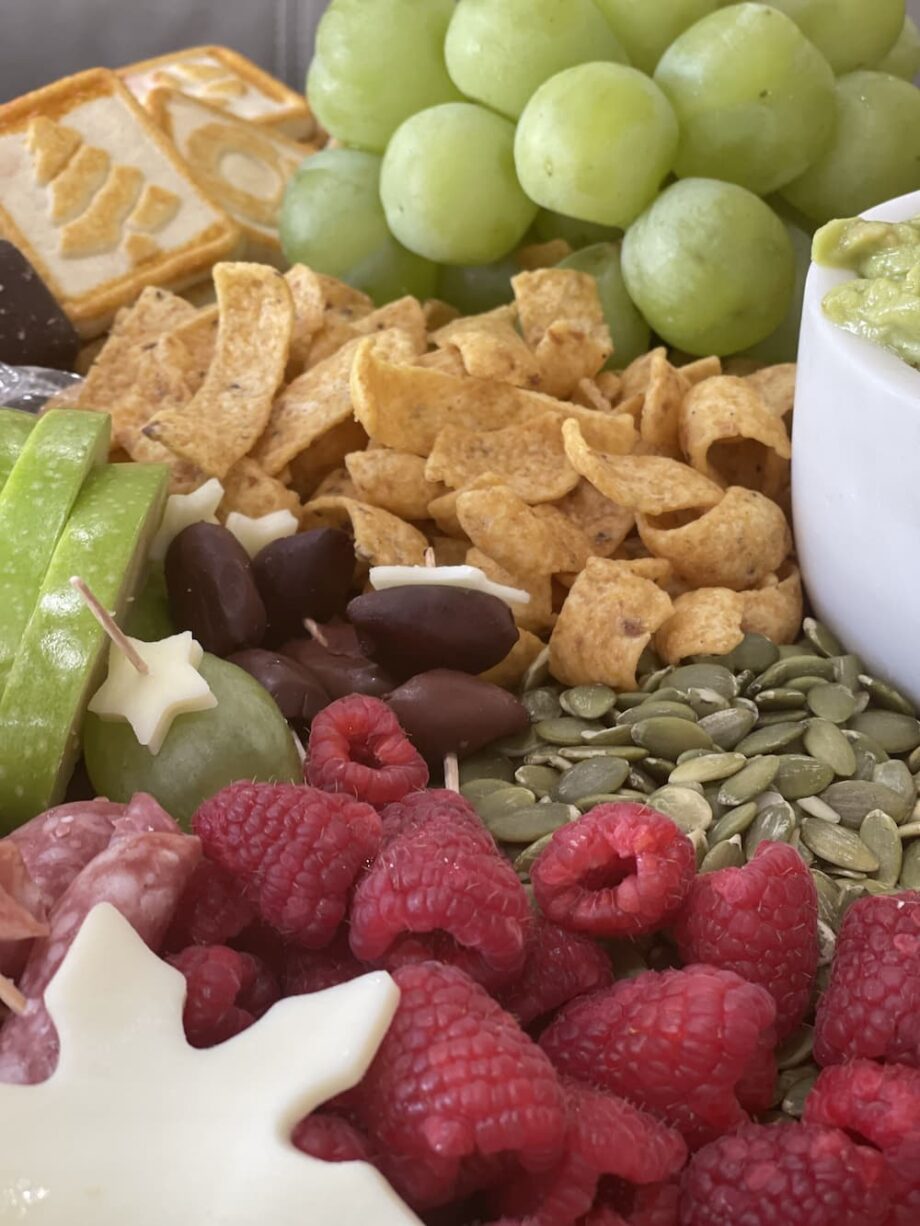 Hi – I'm Regina, welcome to Saved From Salvage. If this is your first time here, consider subscribing to my newsletter to stay up to date on my DIYS, Furniture Flips and More!
If you are coming from Amy at Amy Sadler Designs how amazing was her Christmas Dessert Charcuterie Board?
Thanks to my dear friend Wendy from WMDesign House for organizing this blog hop, I'm honored to be included.
One of the best things about the holidays is getting together with family and friends.
You don't have to spend all day in the kitchen to wow your guests.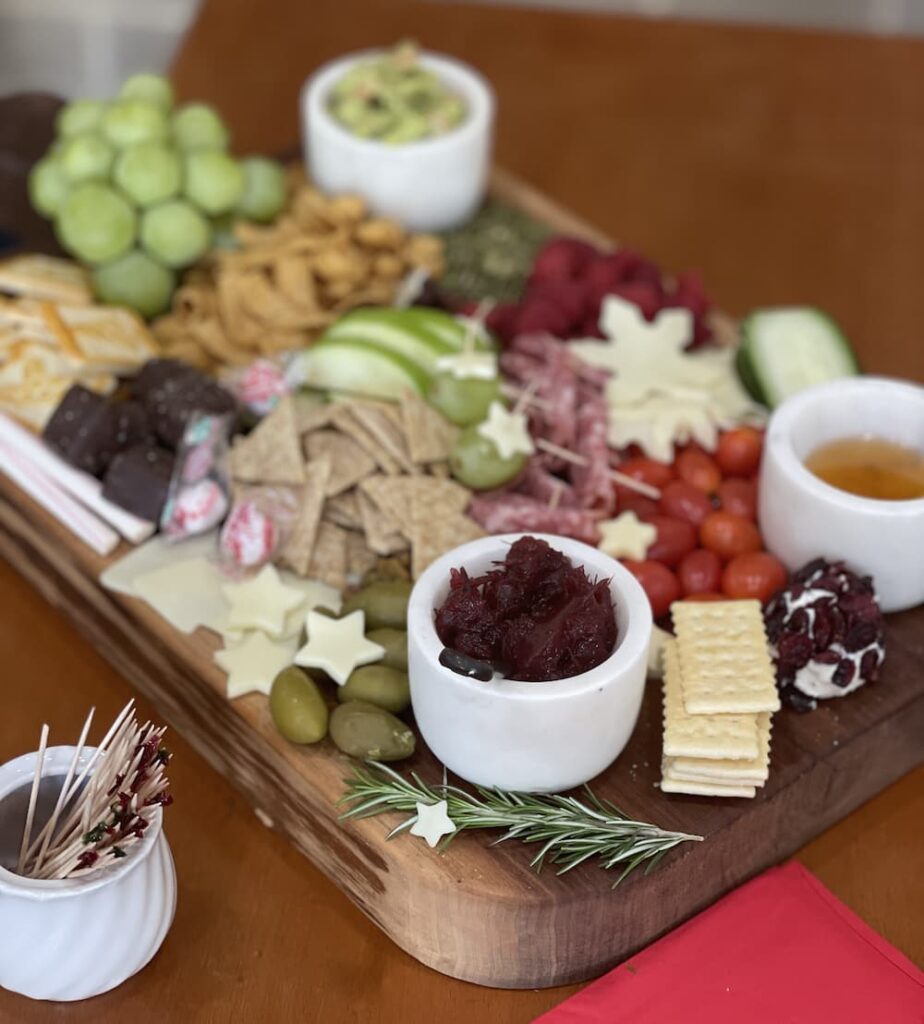 Keep it simple and keep the focus on gathering.
In addition to this easy board, think about making up a pitcher of sangria and having it ready to serve.
WHY A HOLIDAY CHARCUTERIE BOARD?
I say why not?!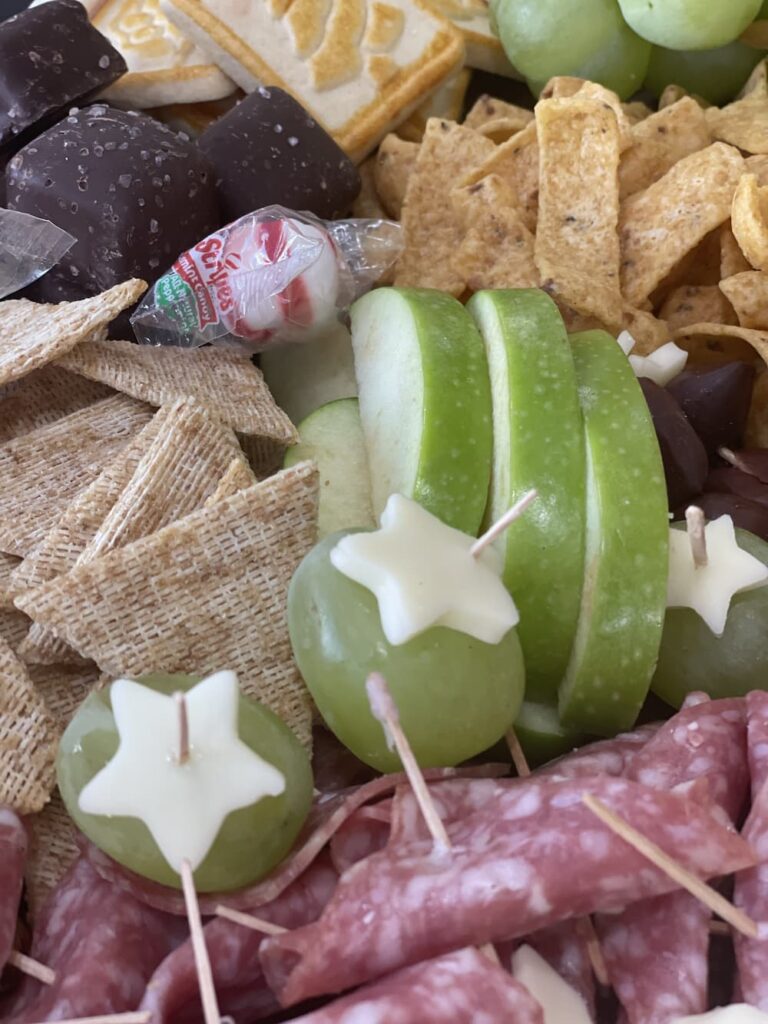 These are so easy to make and require nothing homemade to look amazing.
If you remember, I'm using a board we made from a downed black walnut tree from our yard.
They were cut, then milled and have been drying for 2 years now.
Last year we made a few boards, we are looking forward to making more before Christmas.
To see my post on how we made these, click here.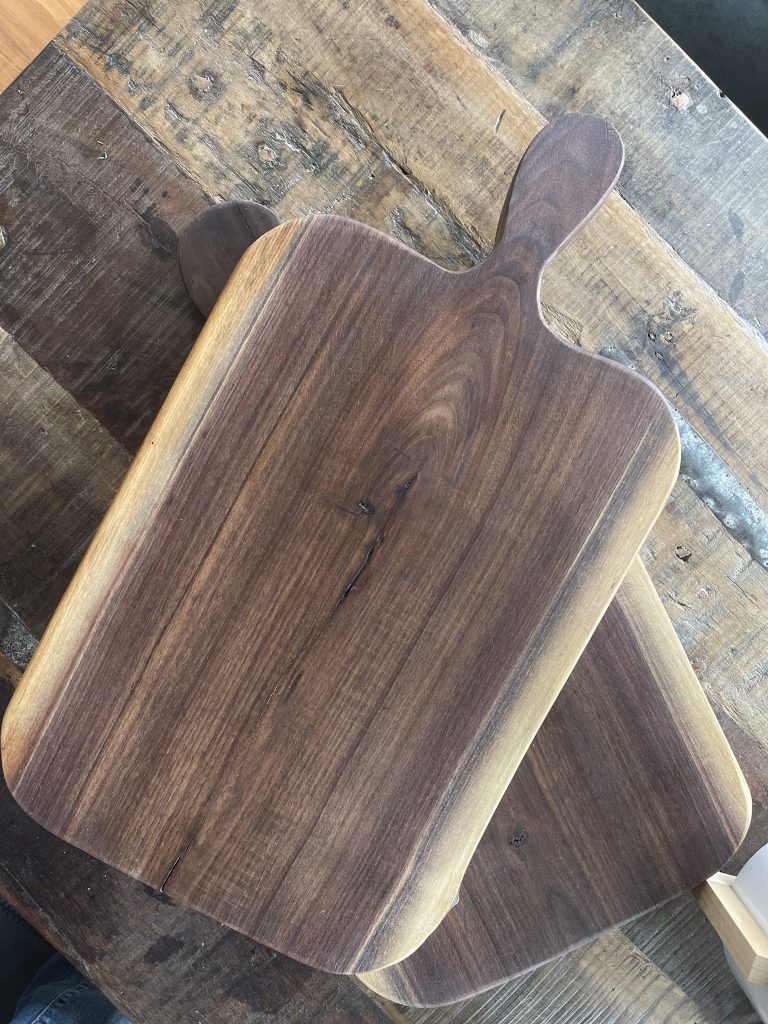 I used holiday cookie cutters to elevate my board and give it a festive feel. Trees, snowflakes and 3 different size of stars.
When I was selecting things for my Holiday Open House Board, I leaned toward items that were red or green and then mixed in a few other colors.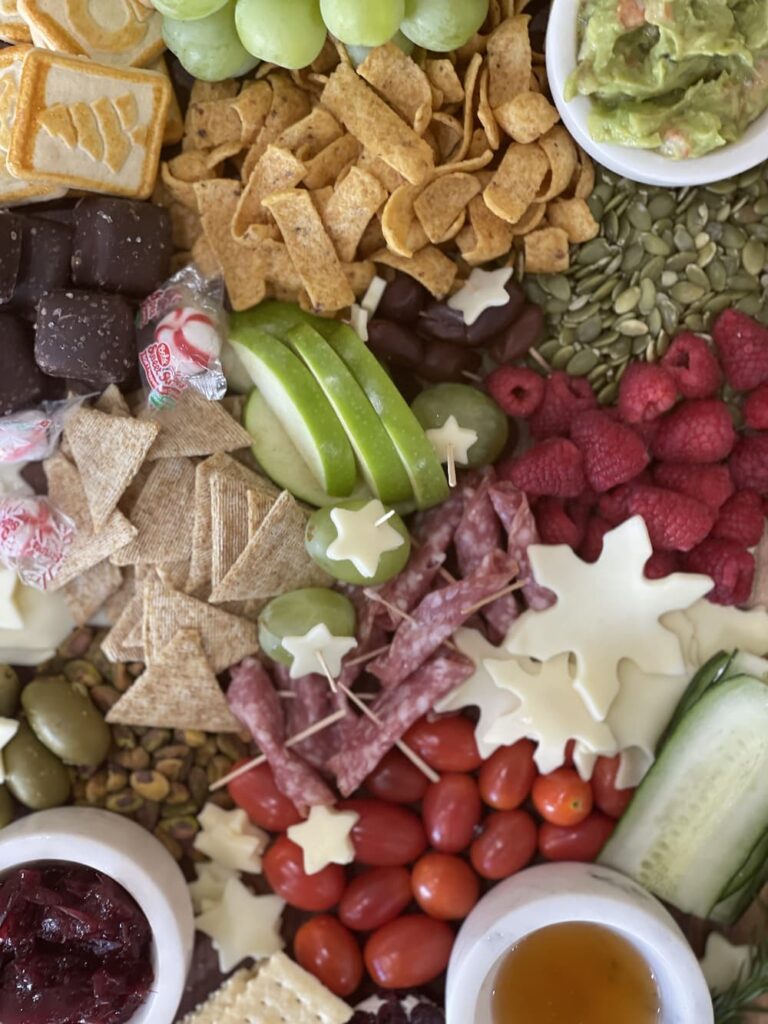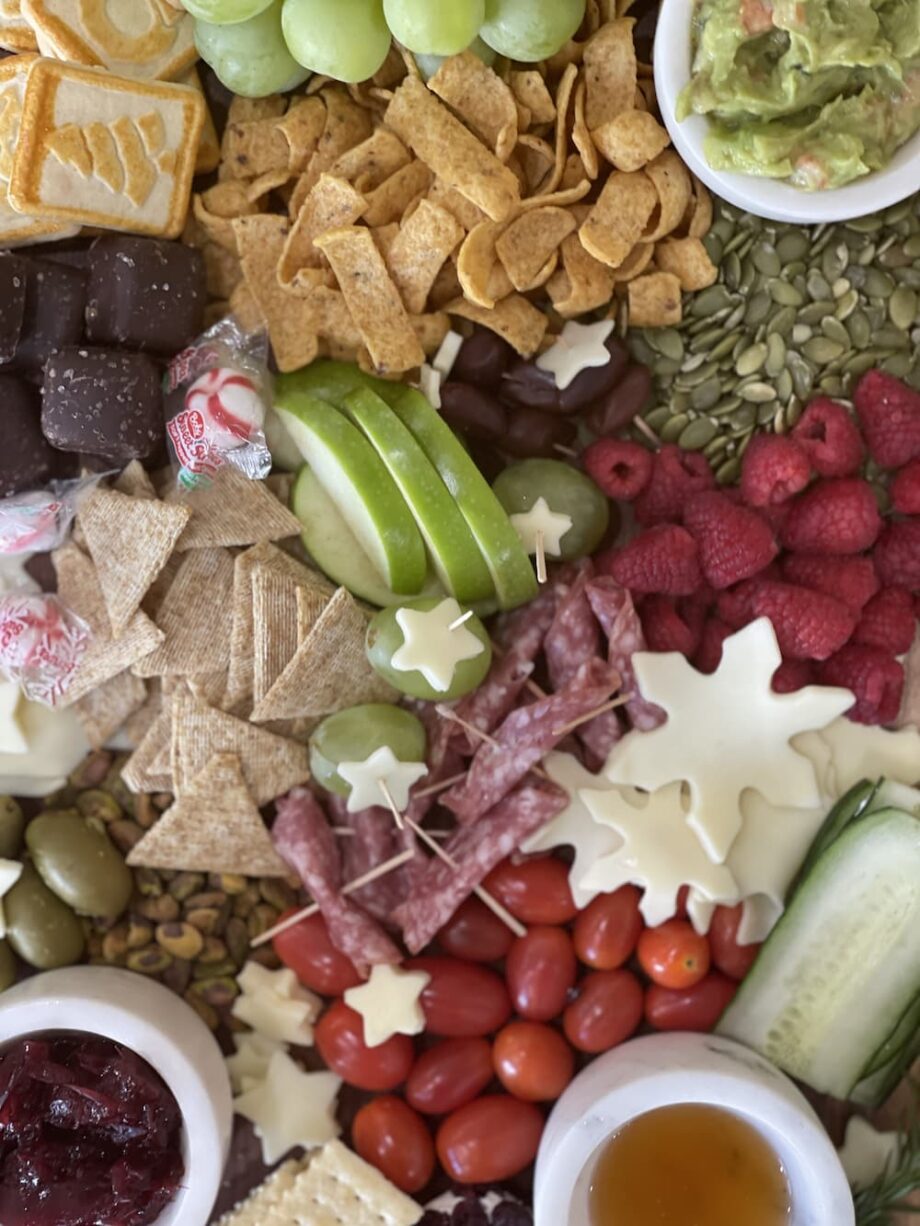 MY HOLIDAY CHARCUTERIE BOARD INGREDIENTS
Below are the ingredients I used on my board. It was a mix of items, that truly had something for everyone.
Guacamole
Fritos
Goat Cheese
Dried Cranberries
Mozzarella Cheese Slices
Cherry Tomatoes
Cucumber
Triscuit Triangle Crackers
Club Crackers
Dark Chocolate Covered Caramels
Green Olives
Kalmata Olives
Granny Smith Apple
Pepperidge Farm Holiday Butter Cookies
Red and White Peppermints
Peppermint Sticks
Salami Rounds
Pumpkin Seeds with Sea Salt
Pistachios
Raspberries
Cranberry Sauce
Honey for Cheese
Green Grapes
Rosemary for Garnish
STEPS TO CREATE MY EASY OPEN HOUSE CHARCUTERIE BOARD
Look for inspiration
Create a shopping list
Shop your home
Grocery shop or order online
Gather cookie cutters. I used stars in different sizes, snowflakes and a Christmas tree.
Cut up your cheese with the cookie cutters
Decide what ingredients go into the small cups
Use toothpicks to attach cheese stars to grapes and/or olives
Roll softened goat cheese in dried cranberries and/or pistachios
Roll salami and put a toothpick through the middle
Lay out your ingredients on the board and then add more so it's overflowing and full.
It's ok to add jars or bowls to your board. They can beside on on top.
These adorable and heavy marble bowls go with a board from Anthropologie.
They are filled with cranberry sauce, guacamole and honey made to pair with cheese.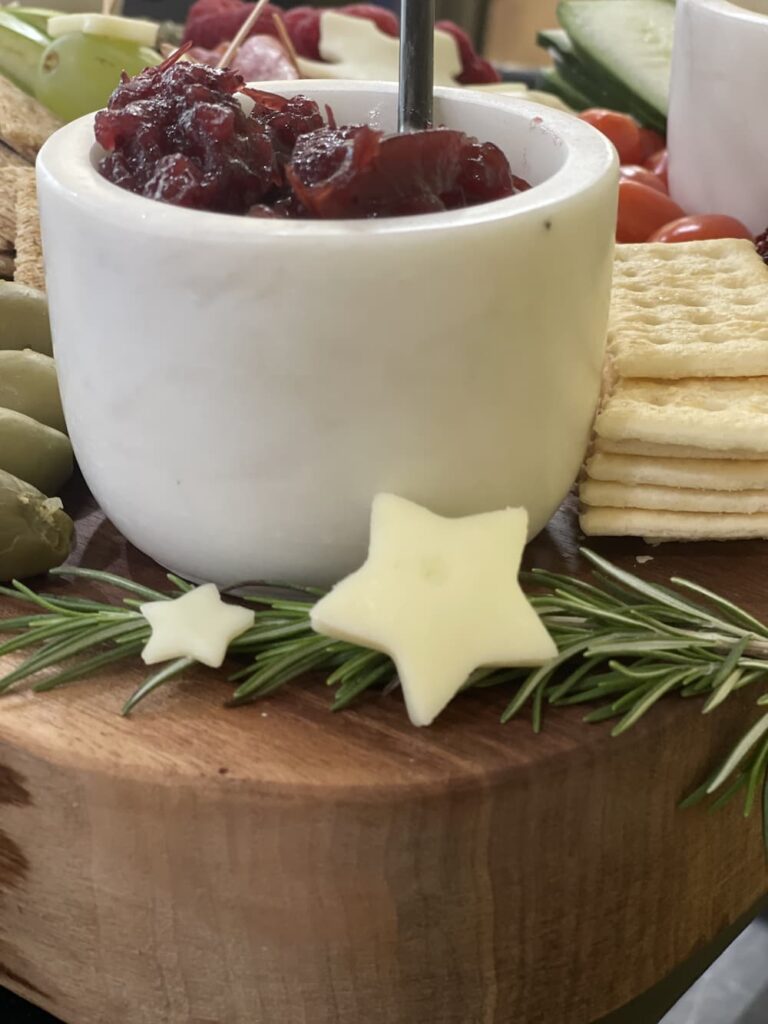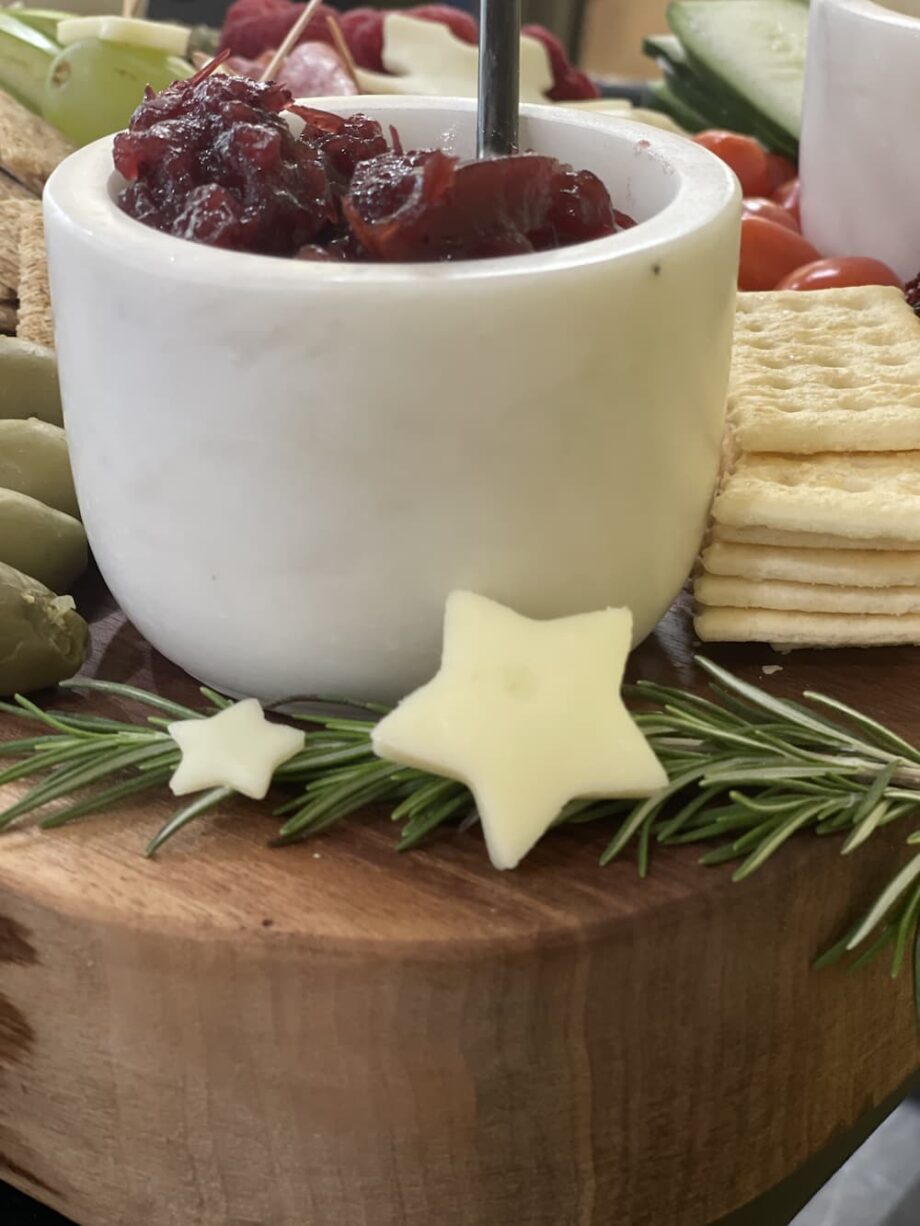 Thanks so much for stopping by. Now on to Anita from A Joyful Ordinary Life. Anita's board is anything but ordinary. It's beautiful just like her.
12 AMAZING HOLIDAY CHARCUTERIE BOARDS
You will want to pin all of these so you can have a whole board on Charcuterie Board ideas.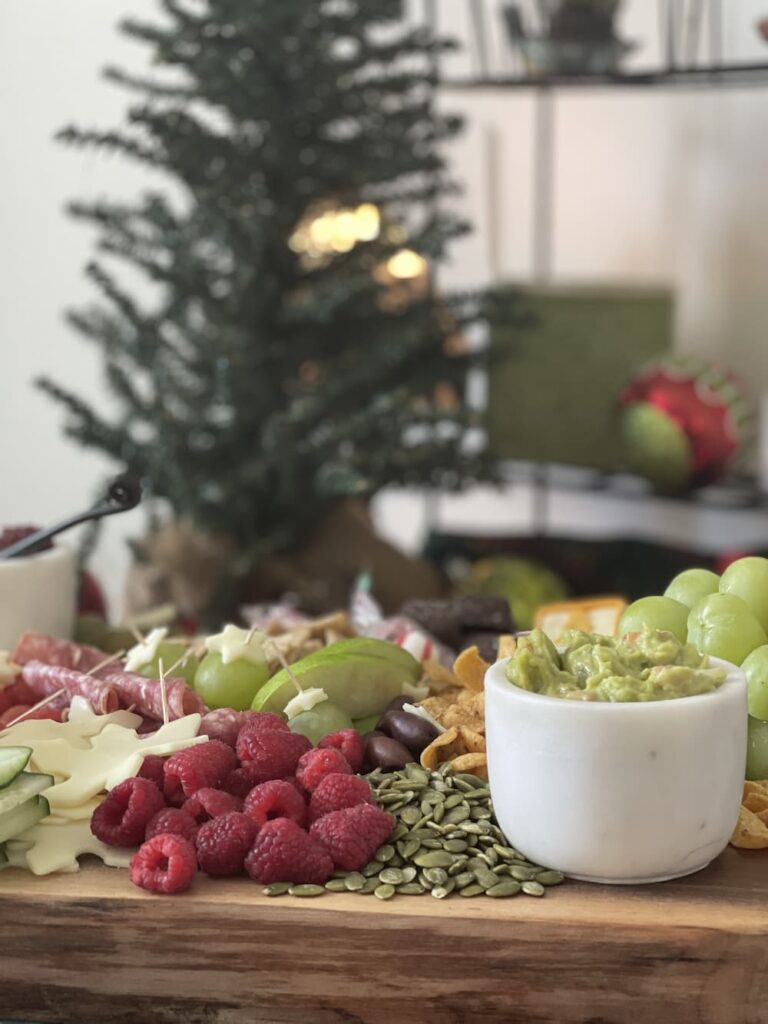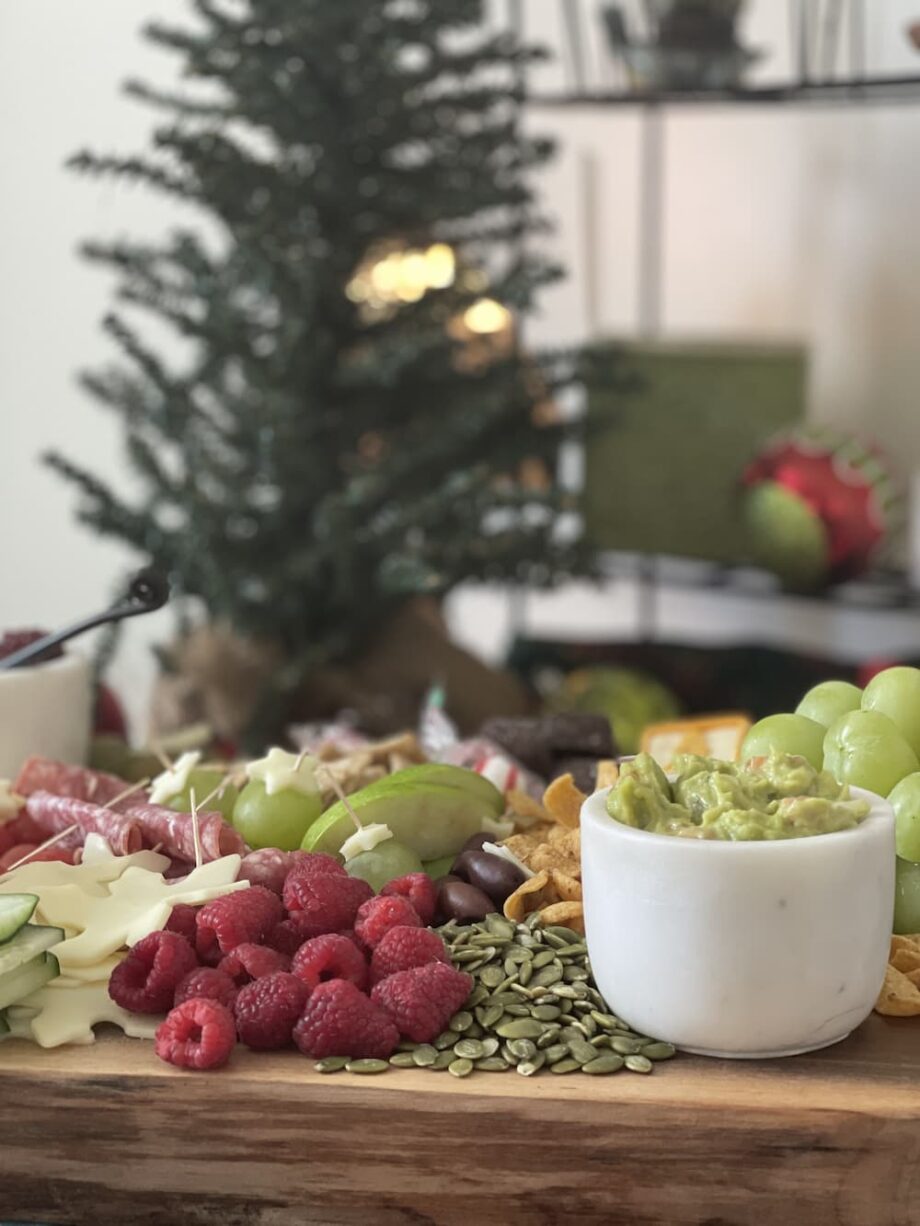 If you are looking for inspiration for simple holiday decor, click here to see my HYGGE CHRISTMAS WREATH.
Too soon to think about the holidays? Maybe you are still prepping for Thanksgiving, if so, see my post on how to set a beautiful THANKSGIVING TABLE.
I hope you have a wonderful holiday season and do whatever makes your heart happy.
XO, Regina
I have provided affiliate links for your convenience, if you purchase from these links, I receive a small commission at no additional cost to you.
Let's Go Shopping
BALLARD DESIGNS SERVING BOARD (ON SALE)
SERENA AND LILLY BEACHSIDE ROUND SERVING BOARD
ANTHROPOLOGIE STAR SHAPED MARBLE SERVING BOARD
ANTHROPOLOGIE SMALL ROUND MARBLE BOWL