Are you hosting Thanksgiving dinner this year? If you are, I'm sharing thanksgiving tablescape DIYs to wow your guests.
Hi, I'm Regina and welcome to Saved From Salvage. Thanks fore being here, I love to share DIYs, tablescapes and easy home decor ideas with you.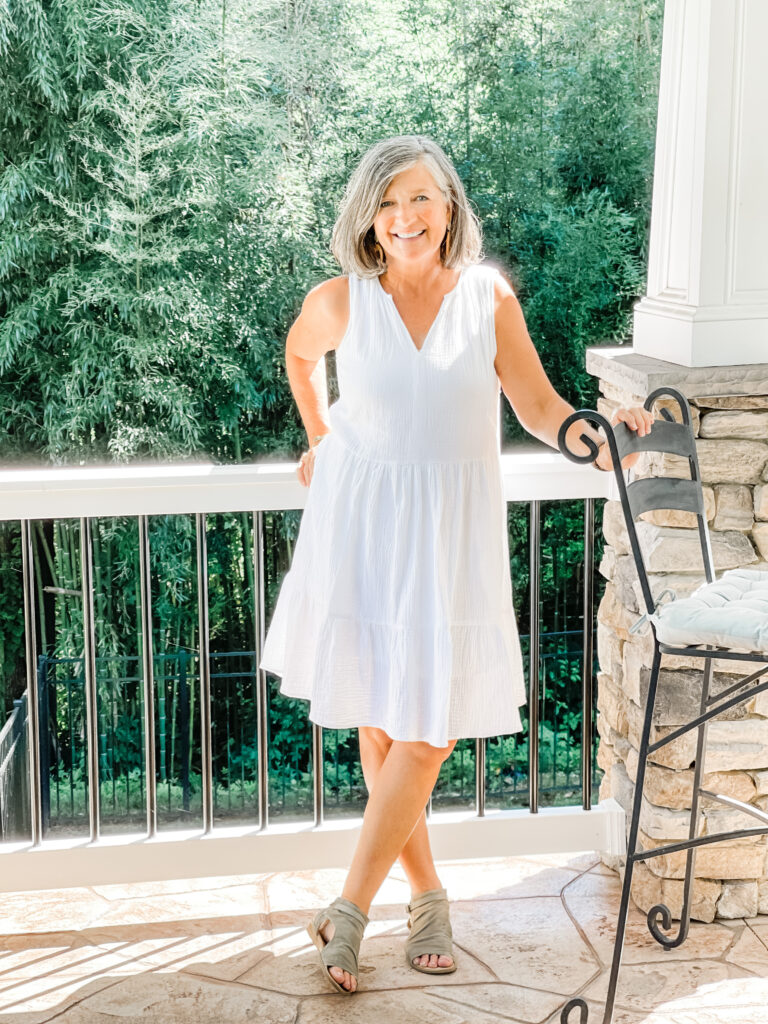 Creating tablescapes is one of my favorite things to do and what I typically save on Pinterest.
I love to see the combinations of colors, little details and centerpieces used. It's fun to find beautiful tablescapes that make me smile.
Hoping to provide you with some inspiration for your Thanksgiving or Fall table.
Do you lean toward the details that make someone at the table feel special? I do, from name cards to favors to take home containers personalized for an event.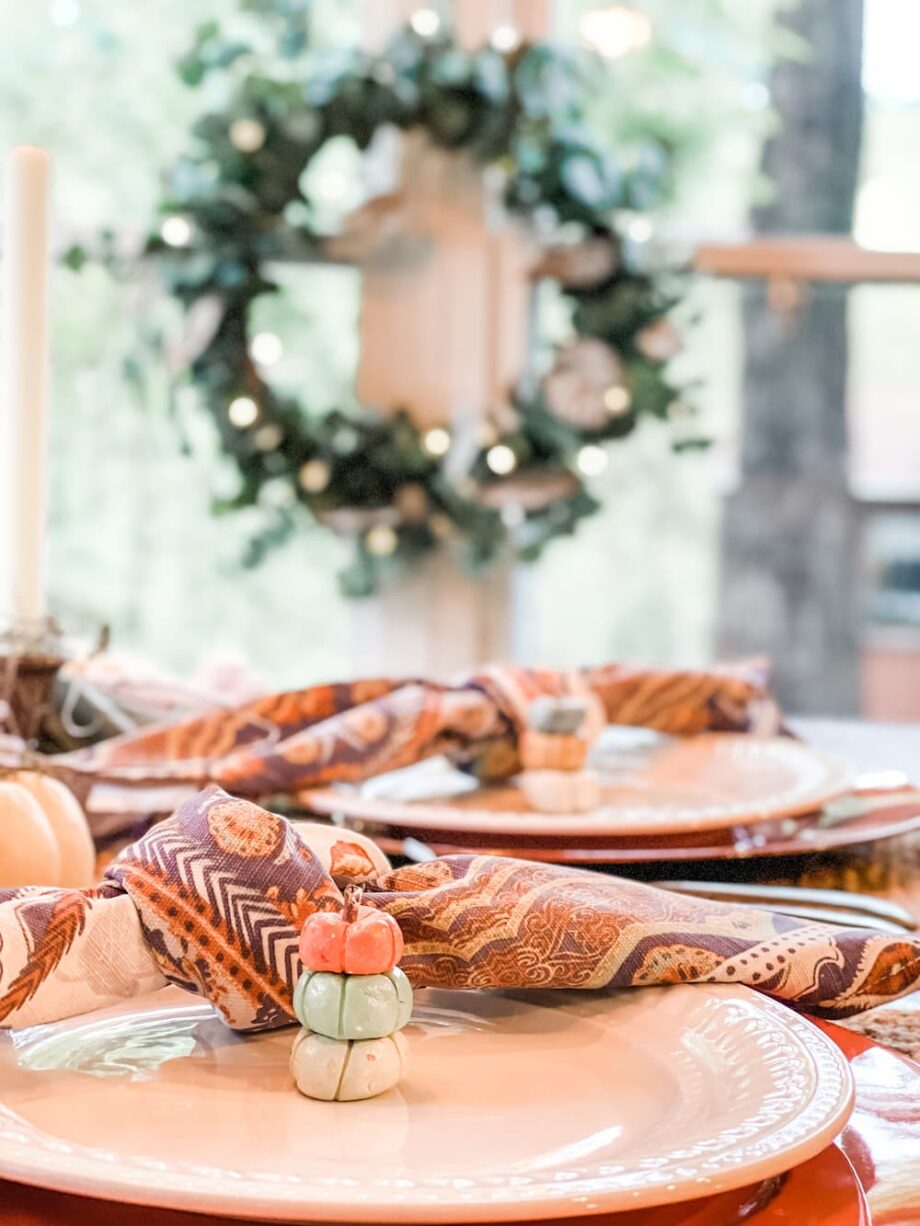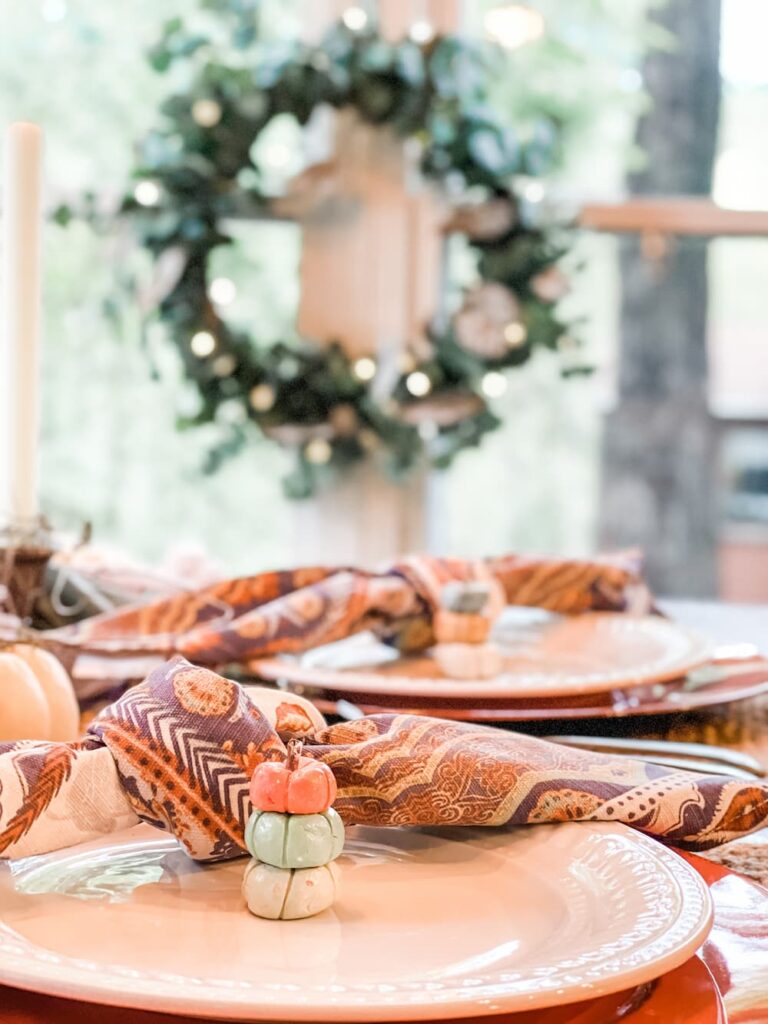 Today I'm part of Thanksgiving Blog Hop hosted by Carol of BlueskyatHome. If you are coming over from Kim at Perfecting Places, didn't you just love her table runner ideas?
I'm so excited to be alongside several talented blogging friends to share loads of Thanksgiving inspiration.
First, there is no rule to your color scheme for Thanksgiving, in the past I've used greys and greens.
This year I built my tablescape around these napkins I found at Homegoods.
They are a mix of beautiful colors, greens, blues, lavender, peach and tan.
My second item that I knew I was going to use was these chargers from Hobby Lobby.
They were on sale earlier this year for $1.99, they are a muted orange and perfect for fall.
TABLESCAPE PLACECARDS
Where are my air dry clay fans? Seriously if you have not played around with this medium, it's time.
I find it very therapeutic to work with clay, either sculpey or air dry.
My inspiration for these was heirloom pumpkins. I am in love with them, the colors, the squattyness (I made that up) and textures.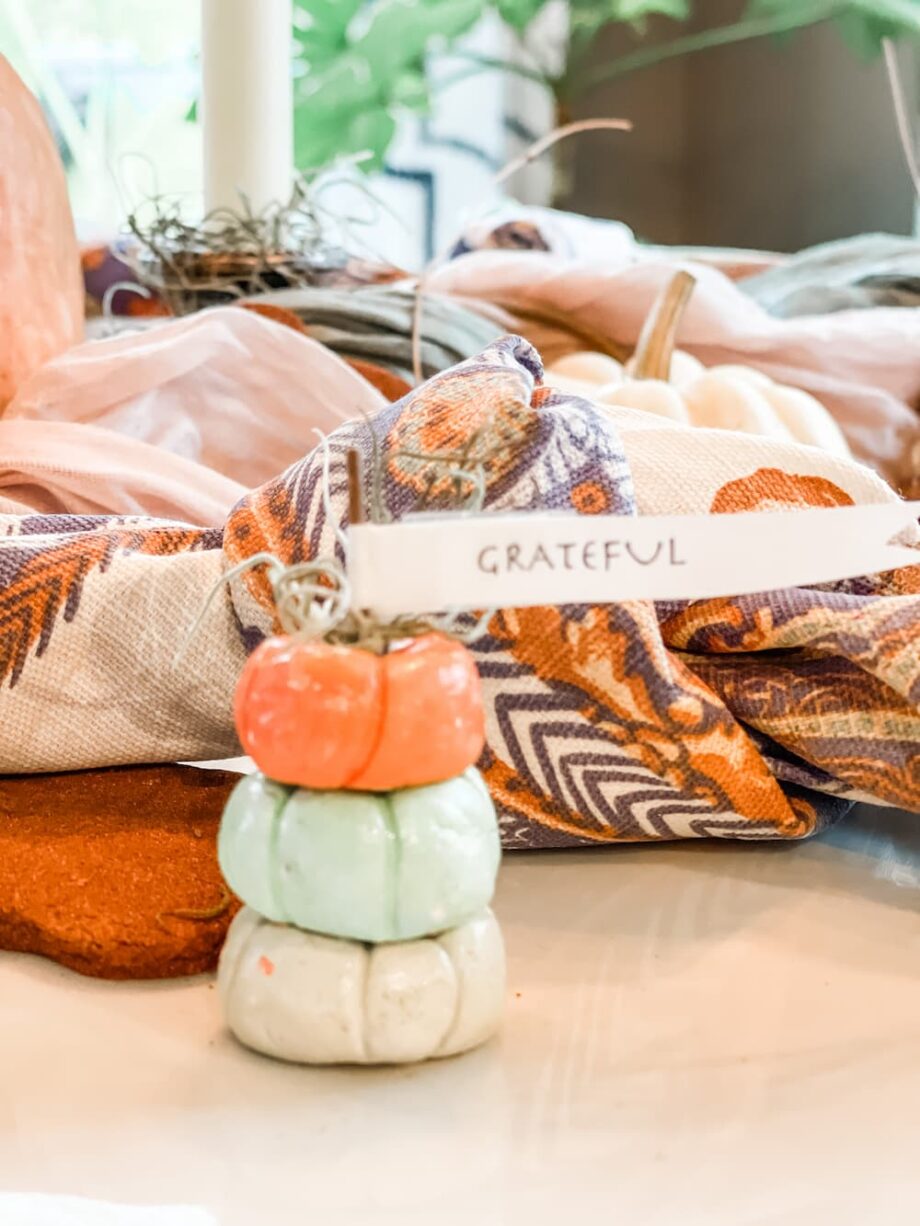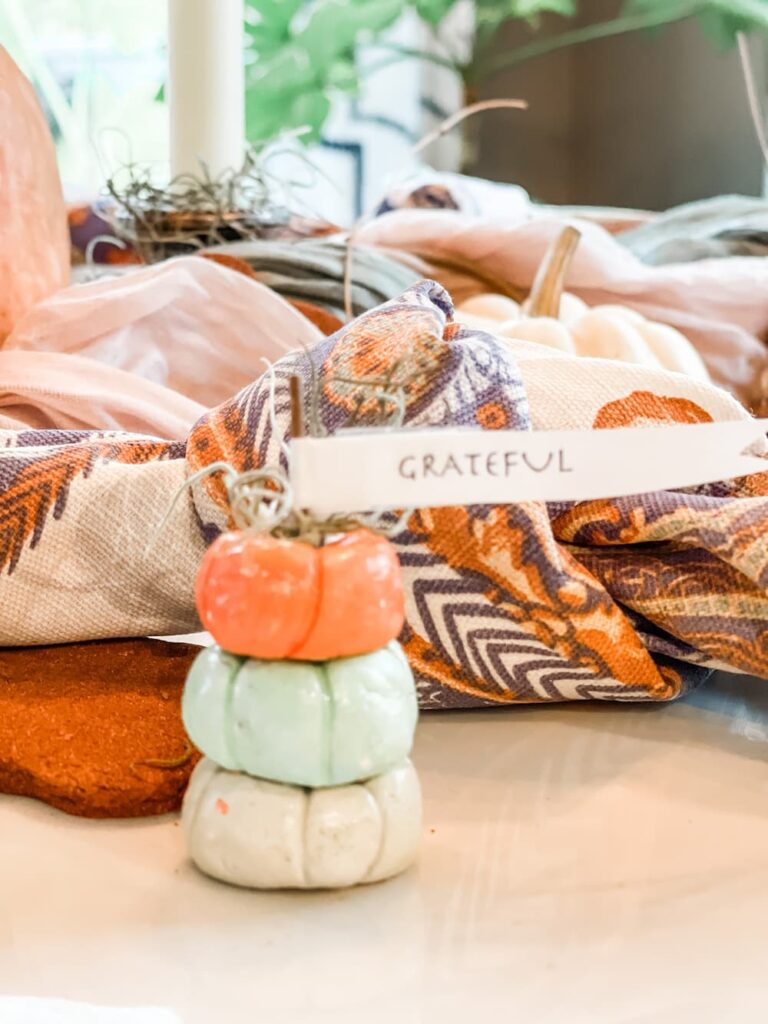 I wanted to create a little keepsake that could be used for name tags or Thanksgiving settings.
STEPS FOR THE PUMPKINS
To make these I took a chunk of air dry clay and rolled it into a ball. Next I used a dull knife and made lines down the sides.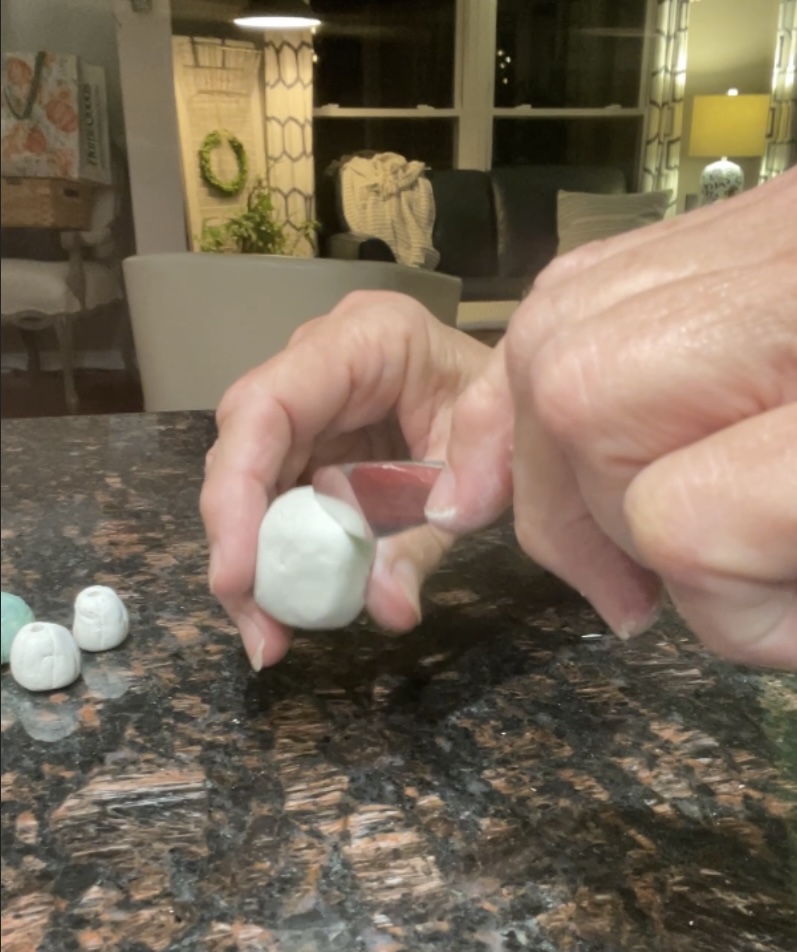 Then I took a metal straw (you could use a skewer) and made a hole all the way through.
My next step is what makes them look like the heirloom pumpkins, I smooshed them down so they were squatty.
Lay them out to dry and after several hours, flip them over.
To paint them, you can use any acrylic paints. The fun part is to mix up your colors to get a good variety.
Paint each pumpkin and let dry.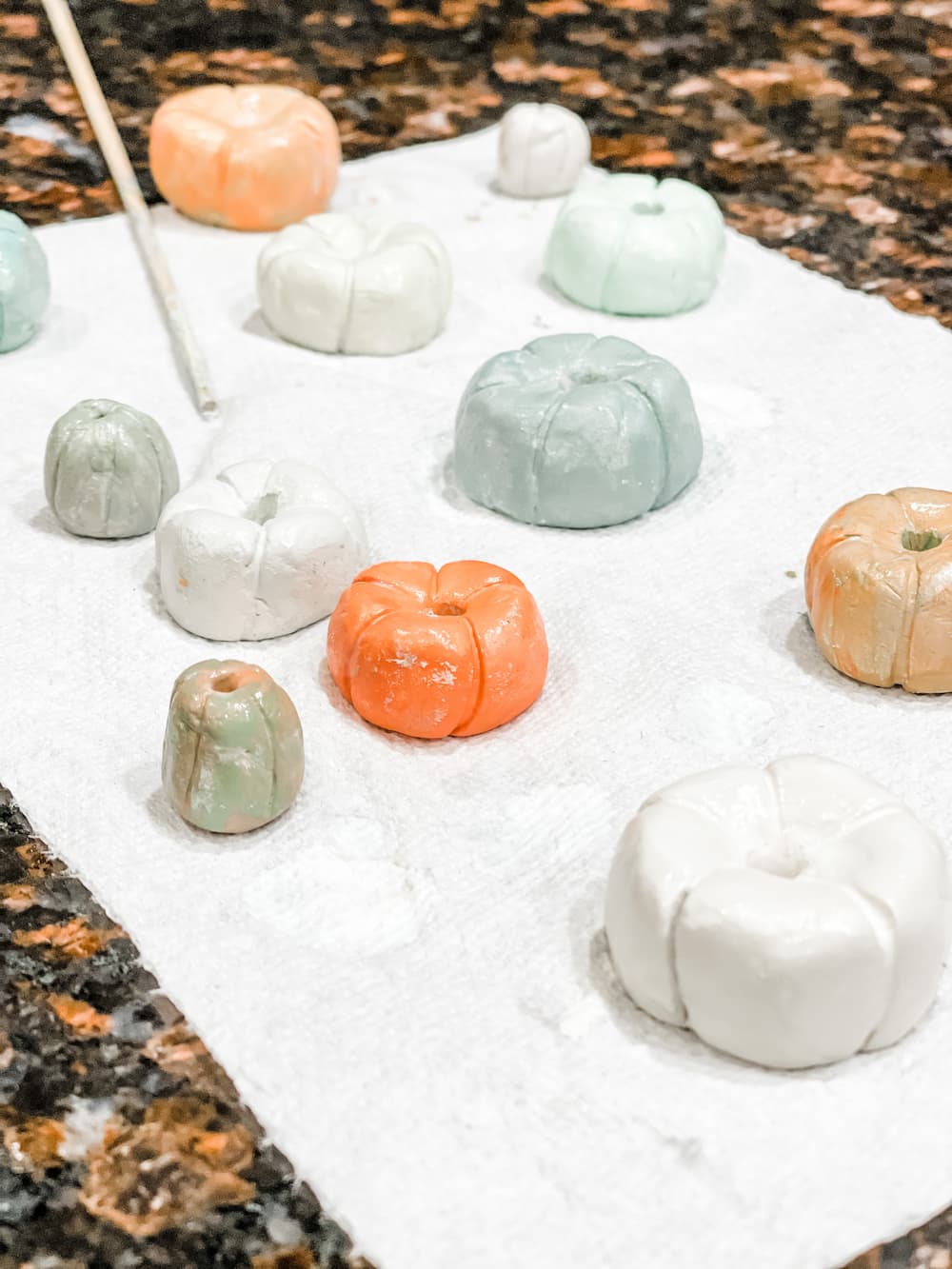 After the paint is good and dry, coat with Mod Podge. I like the sheen the "gloss" makes on them.
The most fun step is to mix and match your stacks, you can do this to match your decor so easily.
Add a twig or stick, you can line up the holes and put one all the way through the three pumpkins so they don't fall over.
Create a name tag or saying on the printer, cut out and wrap around the stick and glue in place. That's it.
A SECRET SCENT
This year I'm obsessed with cinnamon applesauce dough. I've made garlands, mini pumpkins, and napkins rings. For my recipe and directions, you can read that post here.
For this tablescape, I tucked in cinnamon applesauce acorns throughout the tablescape for a pop that beautiful fall color and it gave the table a subtle scent of cinnamon.
TABLESCAPE ELEMENTS
In addition to the chargers, napkins and placemats, I used mini pumpkins and moss balls tucked into a dough bowl.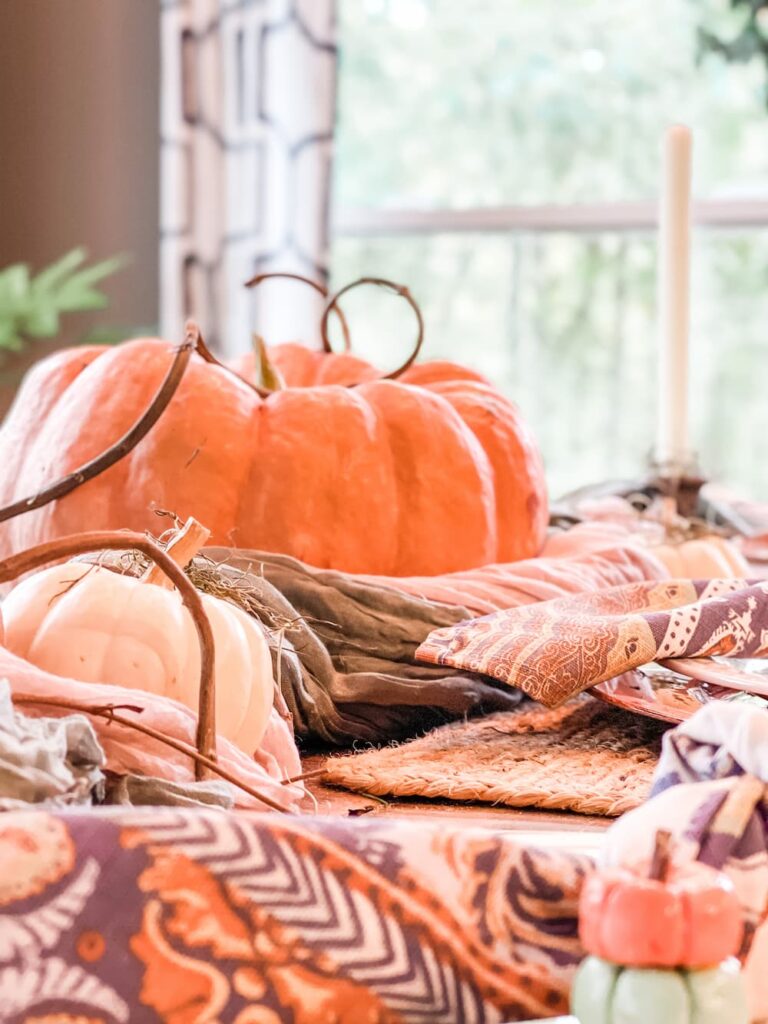 I used a beautiful sage green table runner and placed one large heirloom pumpkin on top. My mom's silver candlesticks with cream tapers finished the look.
I had taken apart a grapevine wreath for another project and used some of the curly sticks in the tablescape as well to add more natural elements.
ELEVATE A WREATH FOR YOUR BACKDROP
I have one more element that I added for the backdrop of my table. A few months ago I bought a wreath.
I cannot tell you the last time I bought one instead of made one.
I actually got it as a gift for someone then had a hard time giving something I didn't love. So I kept it.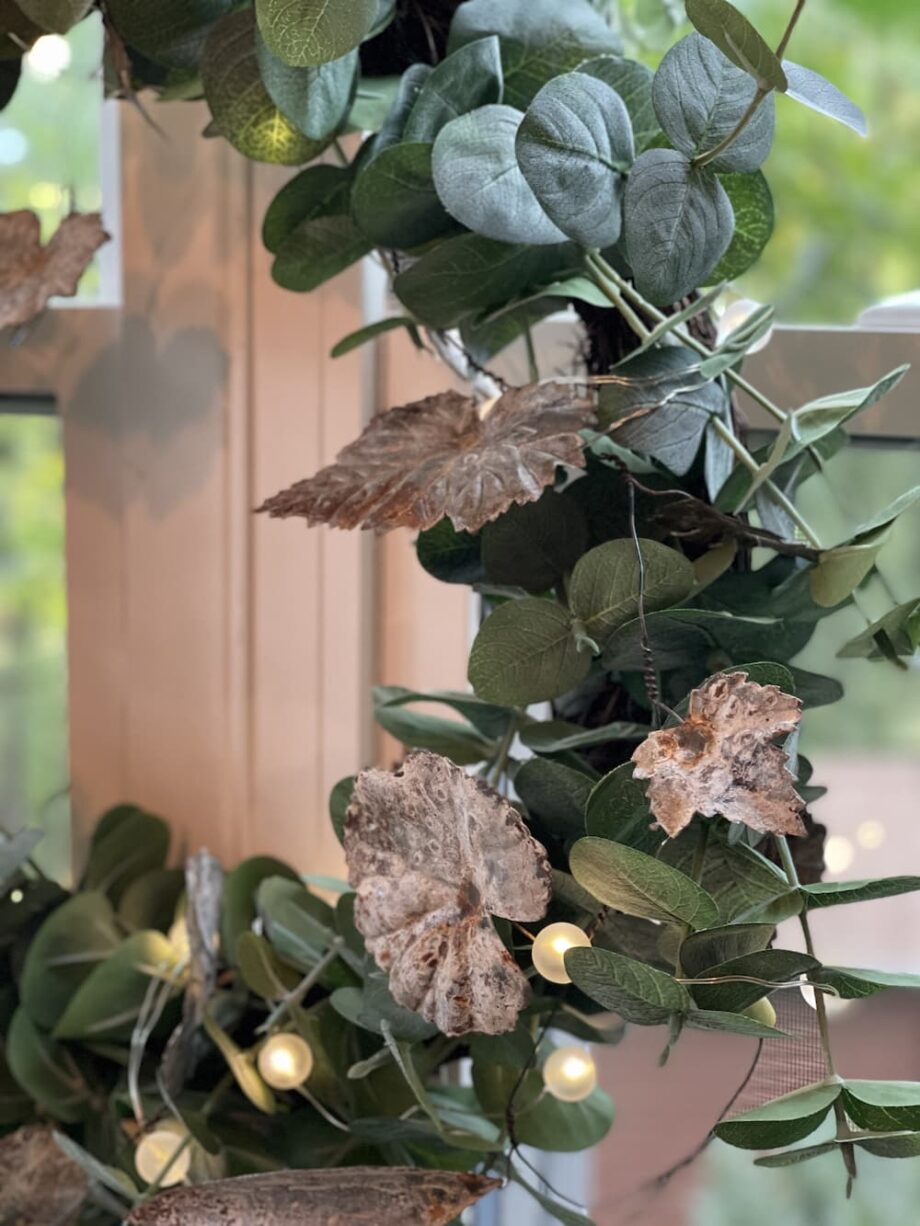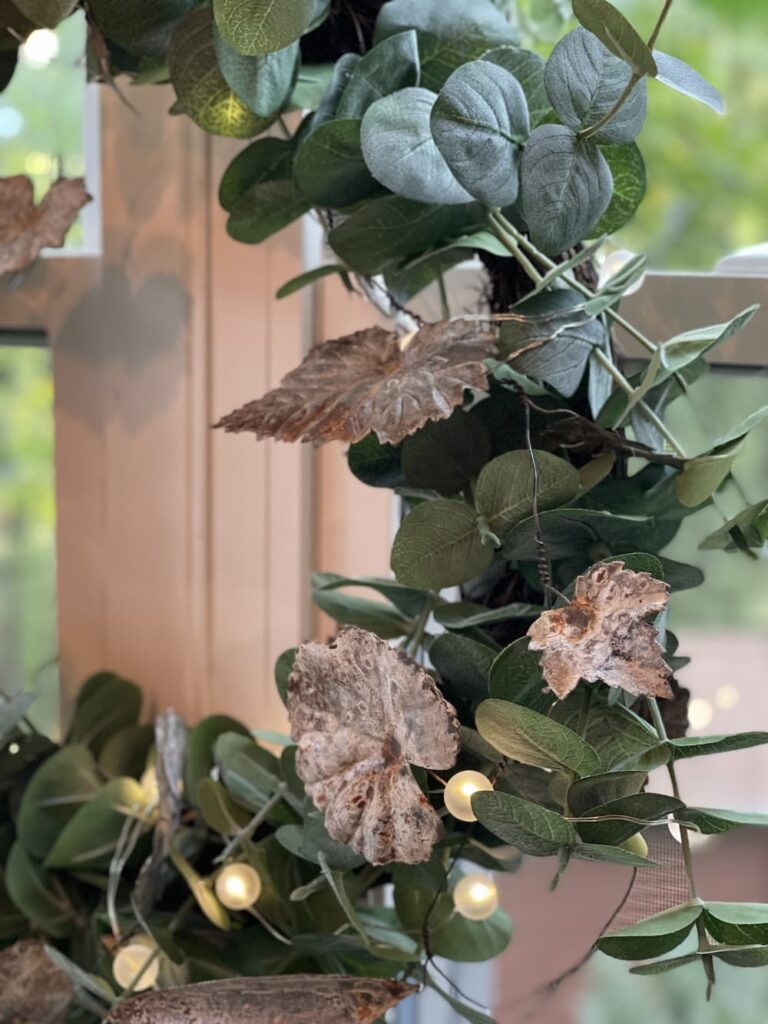 It's cute enough, it's from Hearth and Home at Target. Here is the link. It's just plain.
I had purchased this wire leaf garland from Terrain and I thought that I could wrap that around the wreath for a more fall look and texture.
It's rusty and I love it. You can see that up close here.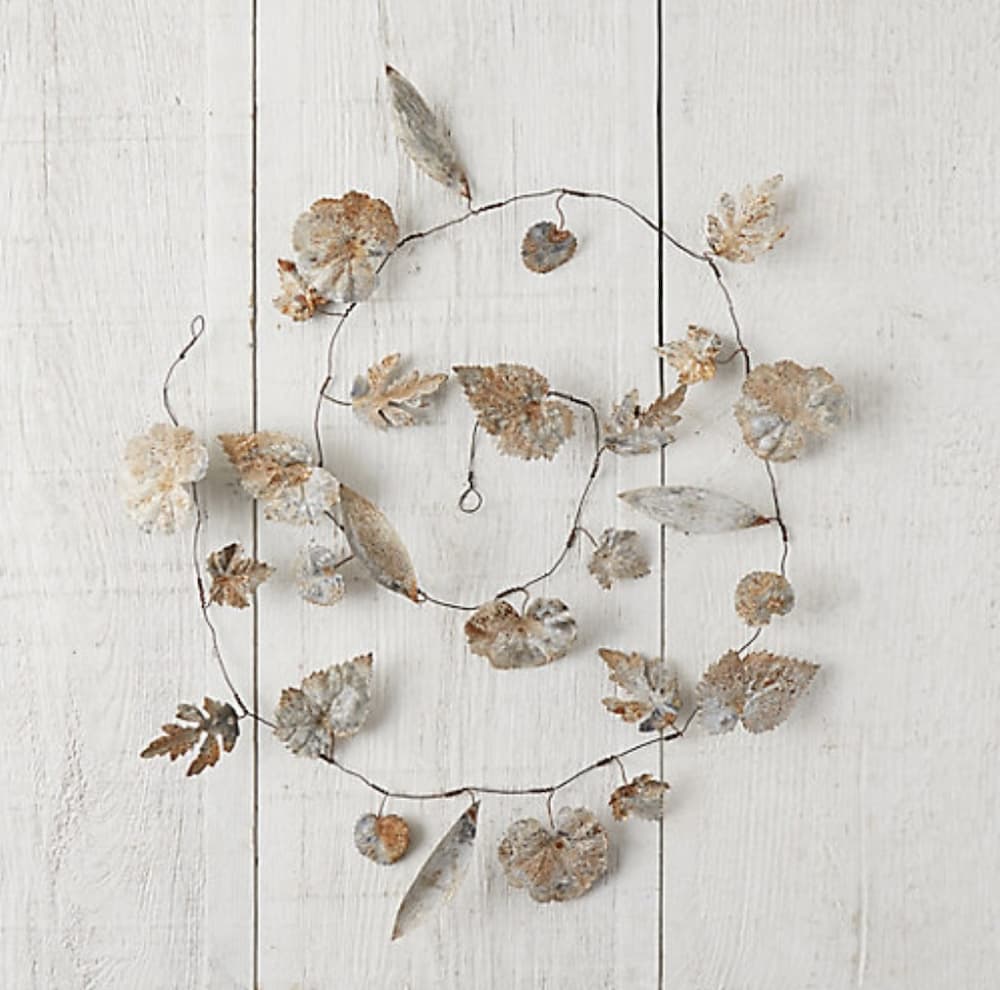 I decided to wrap the garland and lights around the wreath to give it a little pizazz. Now I love it.
It makes the perfect backdrop for my Thanksgiving table don't you think?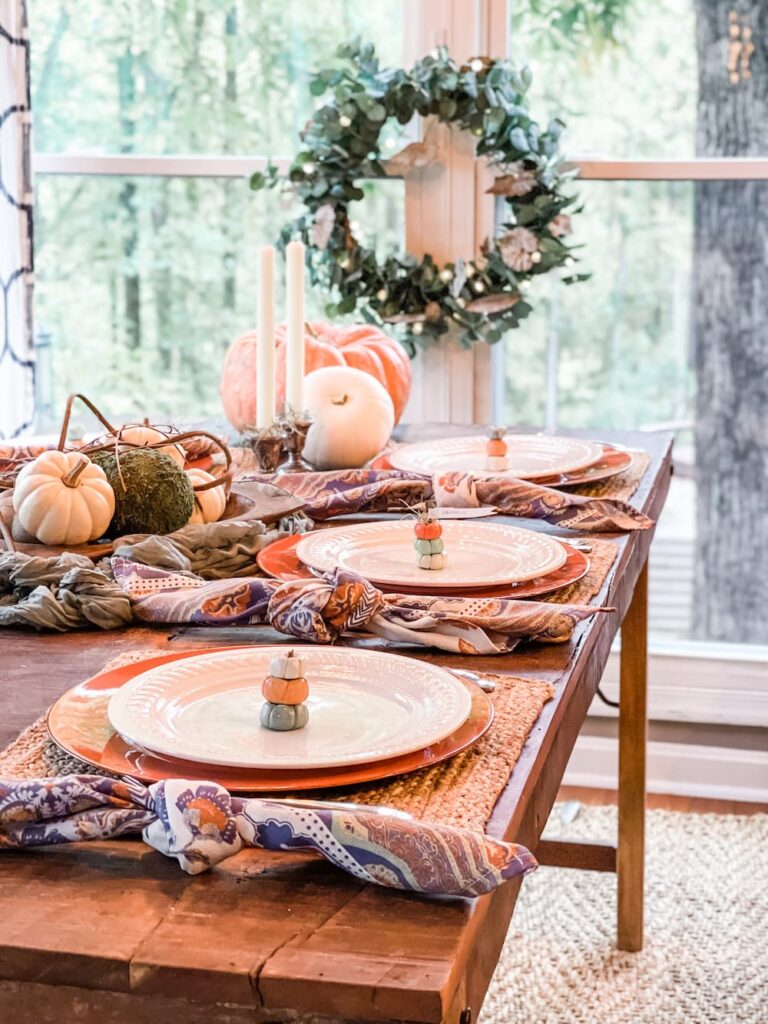 I'm loving my colorful Thanksgiving tablescape this year. I hope you liked it to!.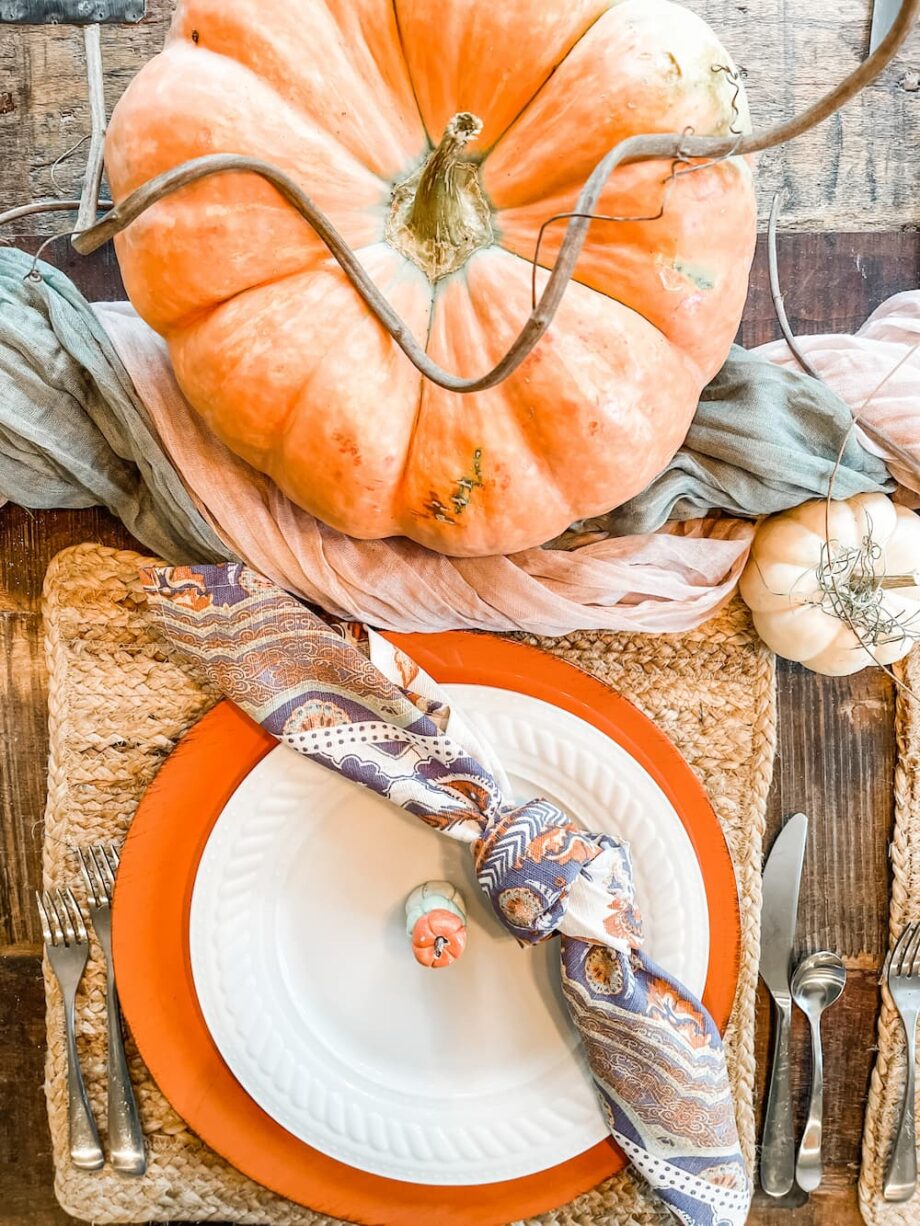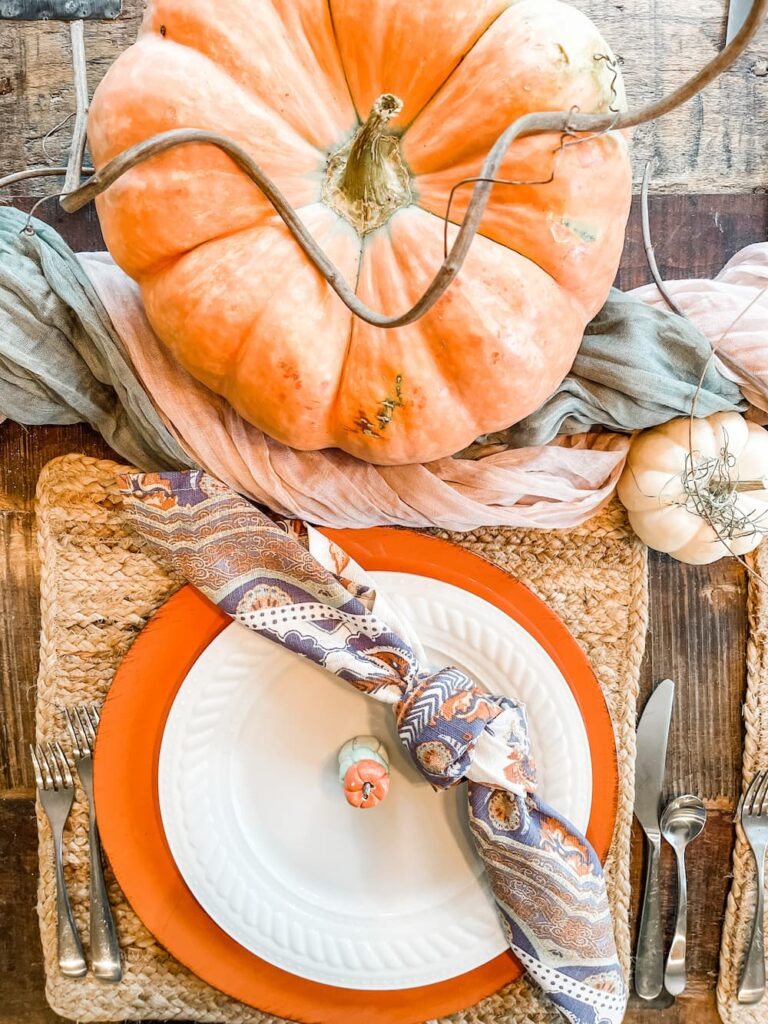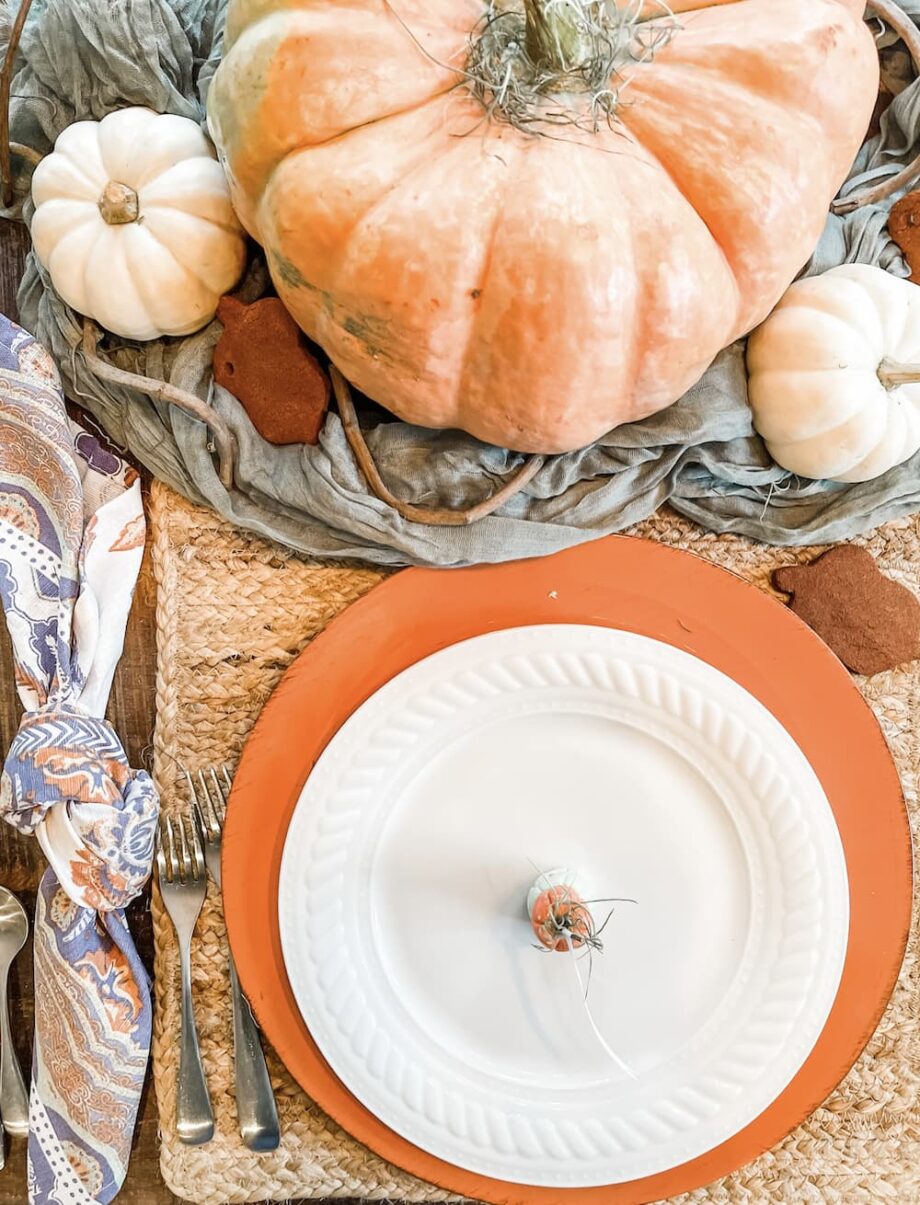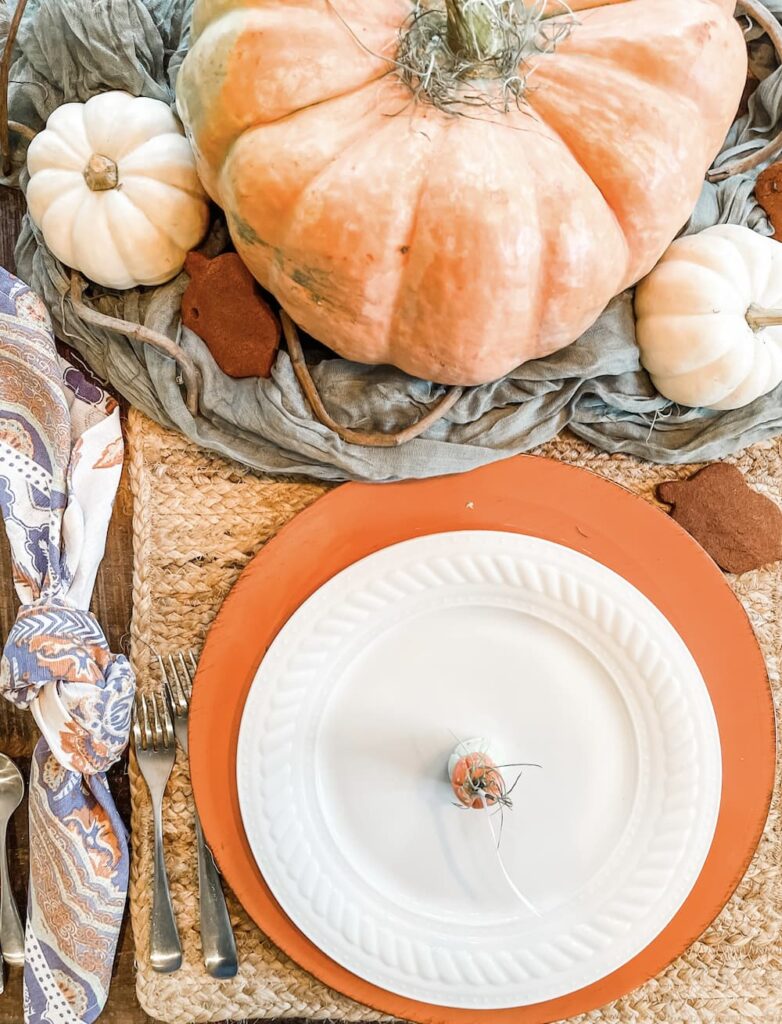 If you are ready to graduate from clay to concrete, you need to check out my DIY Concrete Pumpkins. You make them in the foot of a pair of tights…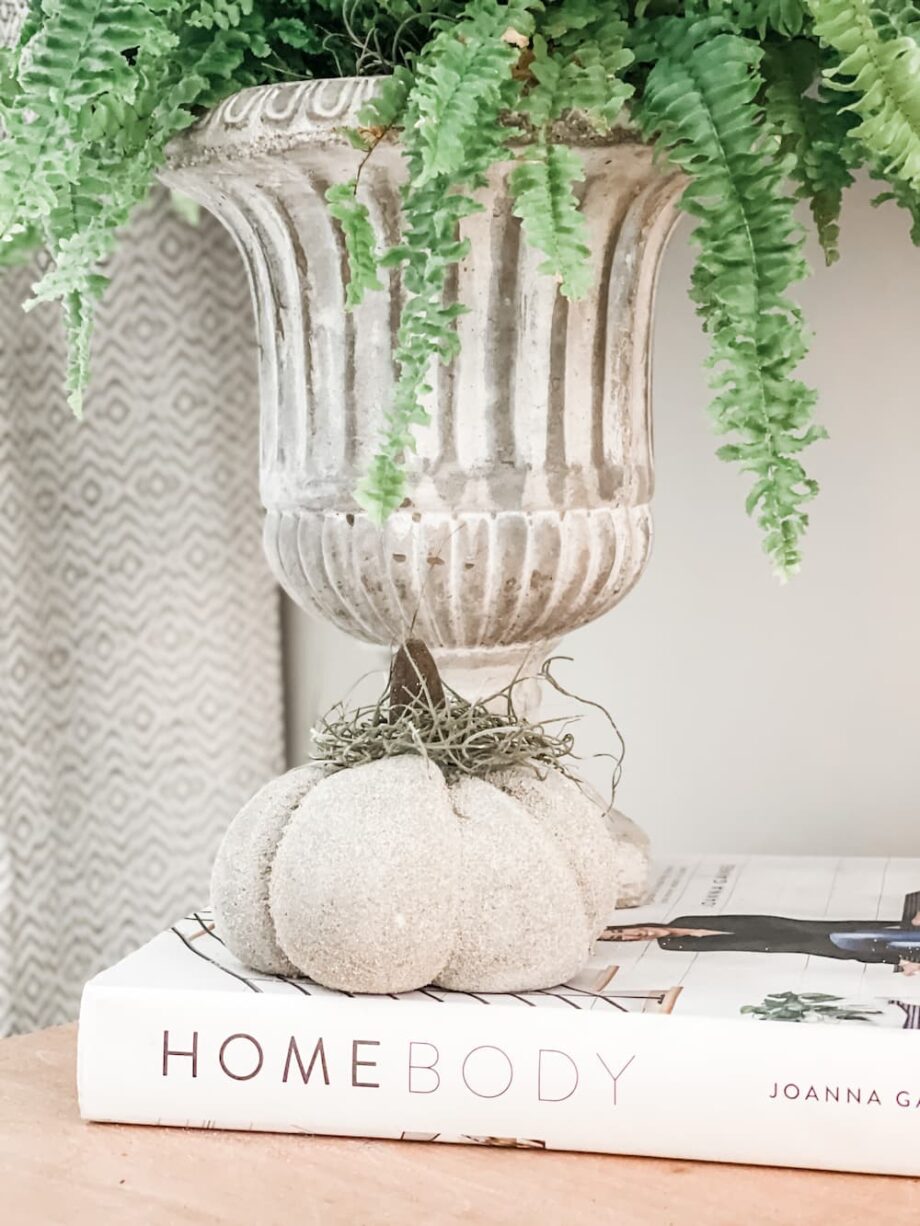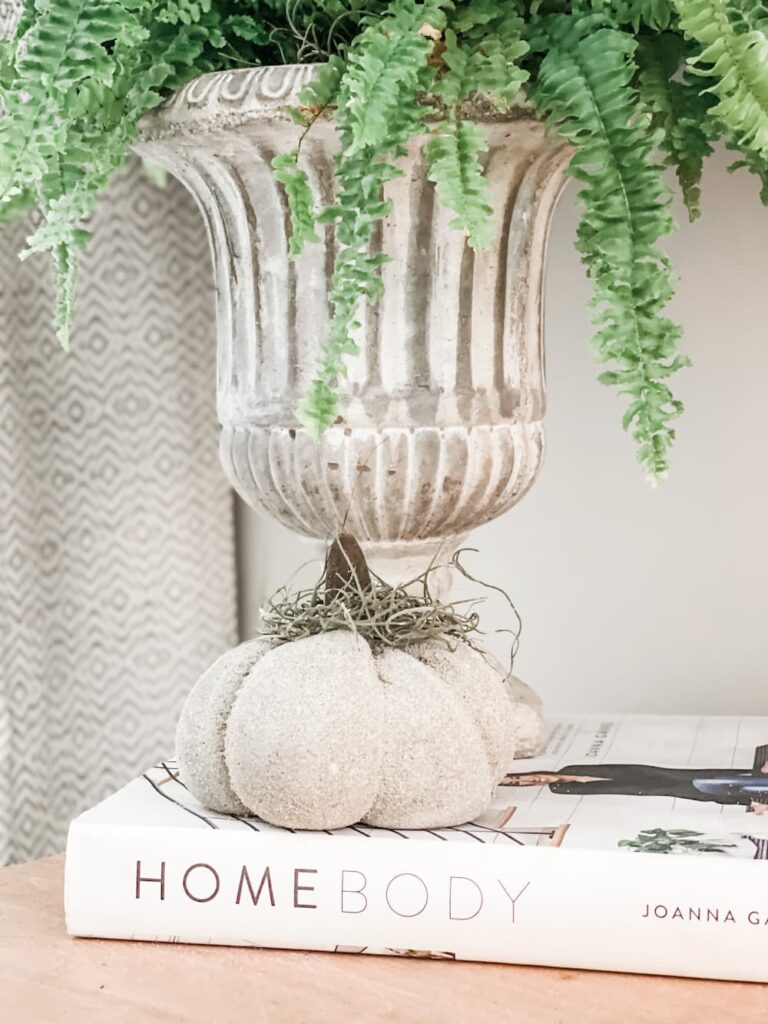 Up next on the BLOG HOP is Carol at Blueskyathome. See her post here, she's sharing easy steps to set your Thanksgiving Table.
I'm so glad you stopped by. I hope you enjoy planning a Thanksgiving dinner or lunch like I do. We have so very much to be thankful for, it's a good reminder to celebrate that. It might seem early but you have to see my Hygge Christmas Wreath. I love it, and I'm going with simple and natural elements this Christmas.
XO, Regina
As an Amazon Affiliate, I receive a small commission when you purchase from the links provided. This is at not additional cost to you.
LET'S GO SHOPPING