Hello and welcome to Lately on the Lake. I have lots to catch up on in this post. I had a knee replacement on September 19th and this is my first update since.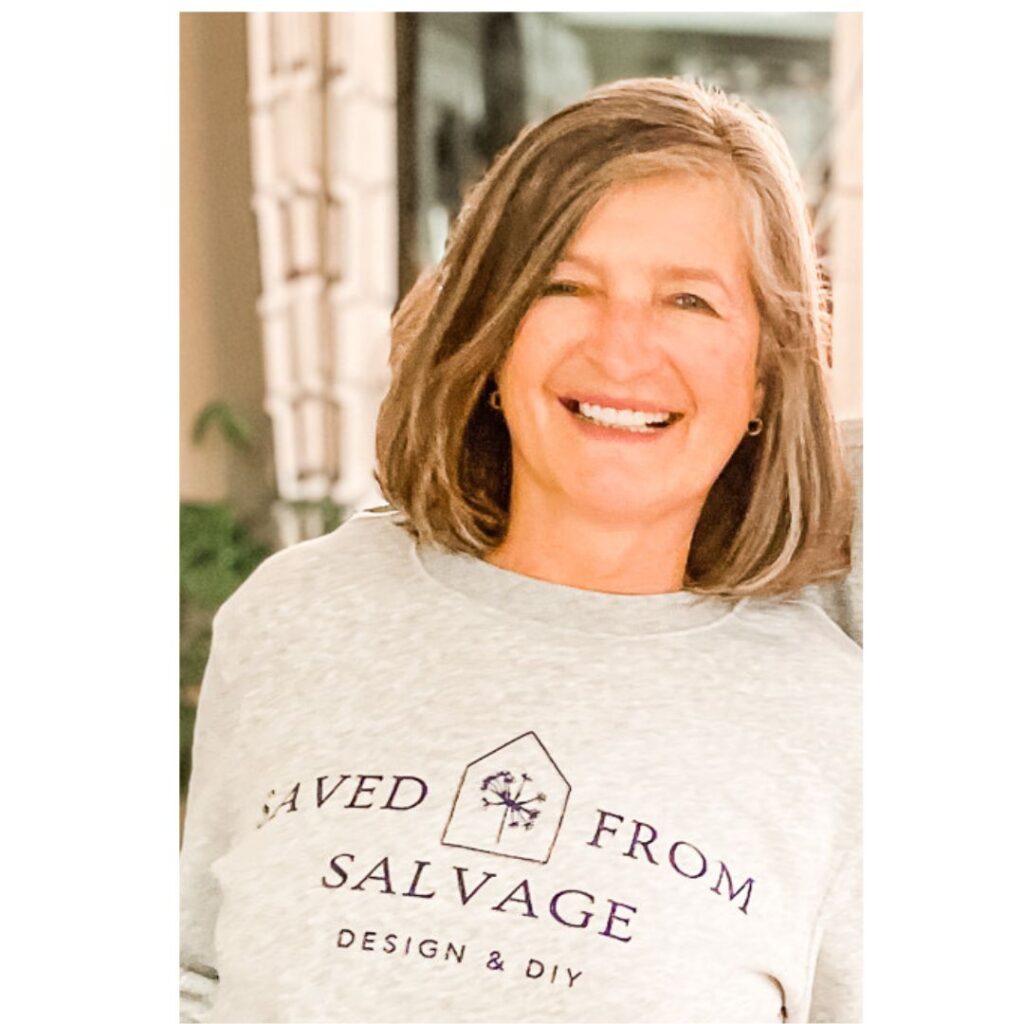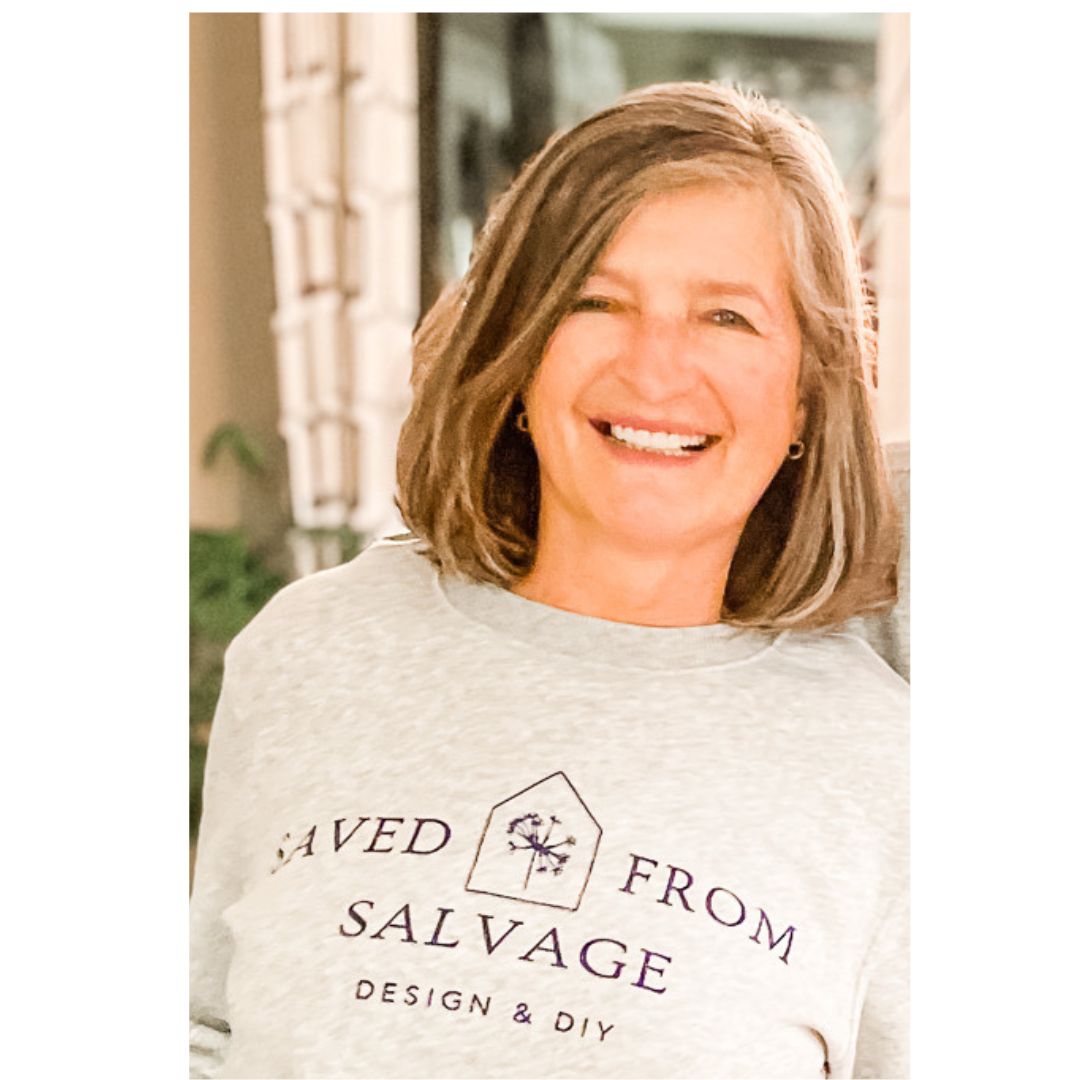 I'm Regina and I love to share DIYs, Furniture Flips, Easy Decor Projects and Event Inspiration. Thanks so much for stopping by.
Today I'll share what I've been up to (healing) what I'm working on, what I'm loving and what's inspiring me.
WHAT I'VE BEEN UP TO
I'll spare you the details but this has been a tough few weeks. I've been reminded that a total knee replacement isn't the same as my cataract surgery. It takes time and patience. One of those I am lacking…patience.
I want to give a shout out to everyone who reached out, stopped by, sent cards, gifts, flowers, texts, meals, walked the dogs and talked me off the ledge.
Your support meant the world to me.
So much for my visions of sitting down healing and blogging non stop.
Over a month went by without me even opening my computer.
But I'm on track, pt is going great, I've been back to work for 2 weeks and of course the weather has been beautiful.
I did create some fun candy containers for Halloween, using leftover peat pots. I know most people are focused on Christmas so I'm a little behind but I'm ok with that. You can see those here.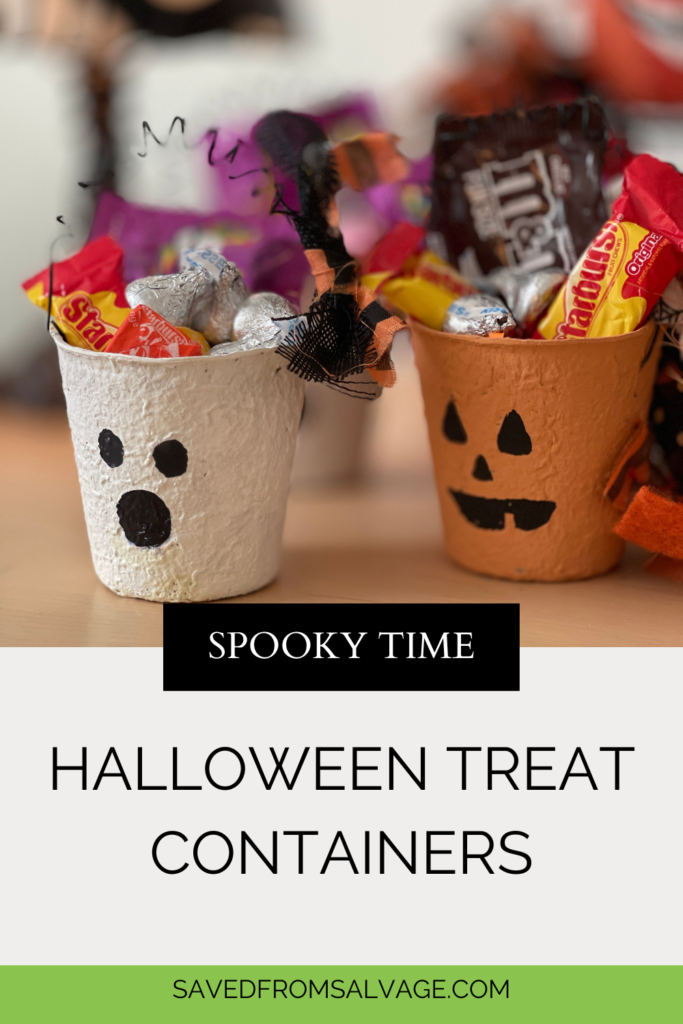 No post but I did make some tomato cage ghosts for our porch and some for my son's new house.
Apparently his neighborhood is big into Halloween so that's my contribution.
Have you made them? I found really cheap tomato cages from Lowes.
I bought volleyballs from the Dollar Tree and used lights I had and sheets from Goodwill.
Some people use styrofoam balls for the head but this girl said no, not for $16 each!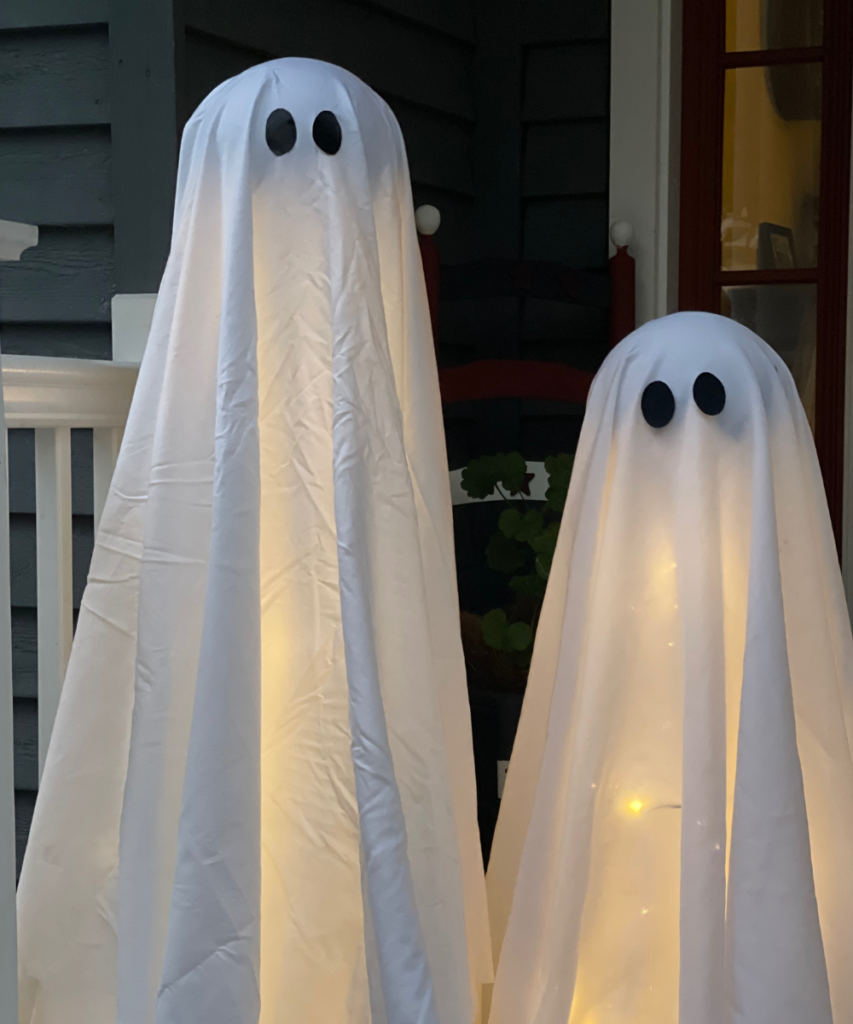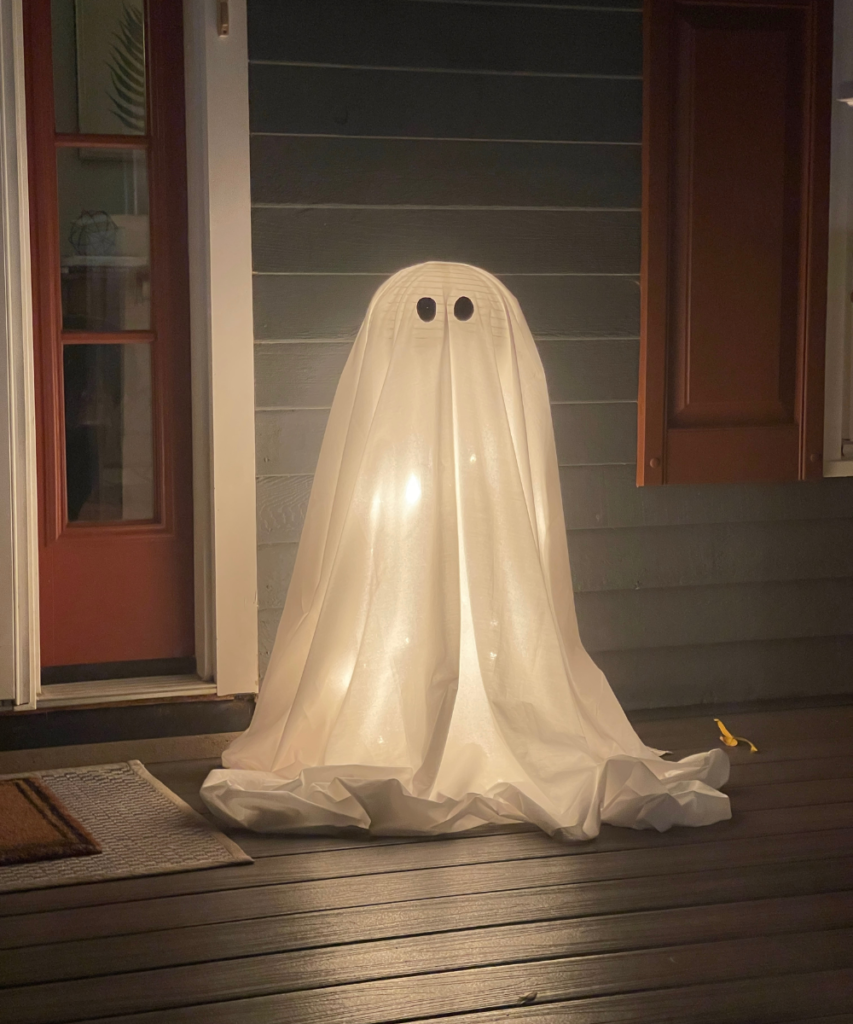 WHAT I'M WORKING ON
Carmine has a friend down from NJ and they will be working on repairs to our chimney (thank you woodpeckers) and replacing clapboard on the dormers.
I'll be making some apple cider donuts for them and watching…
Next week I'm joining Carol from Blue Sky at Home for a Celebrate the Holiday Blog Hop. This will be a Christmas Post so I'll be catching up.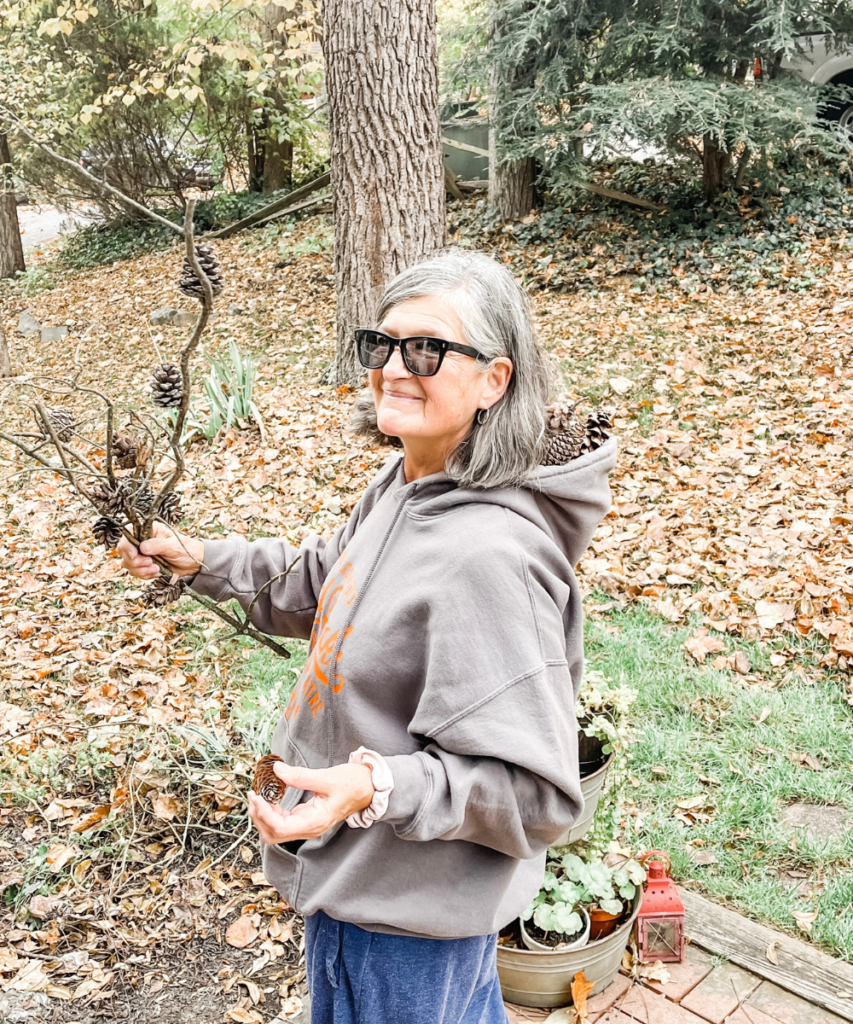 The following week the Handcrafted Society is crafting with pinecones. They are something I usually tuck in my hood or pockets when dog walking but I'm going to have to send Carmine out for some this weekend when he comes off the roof.
WHAT I'M LOVING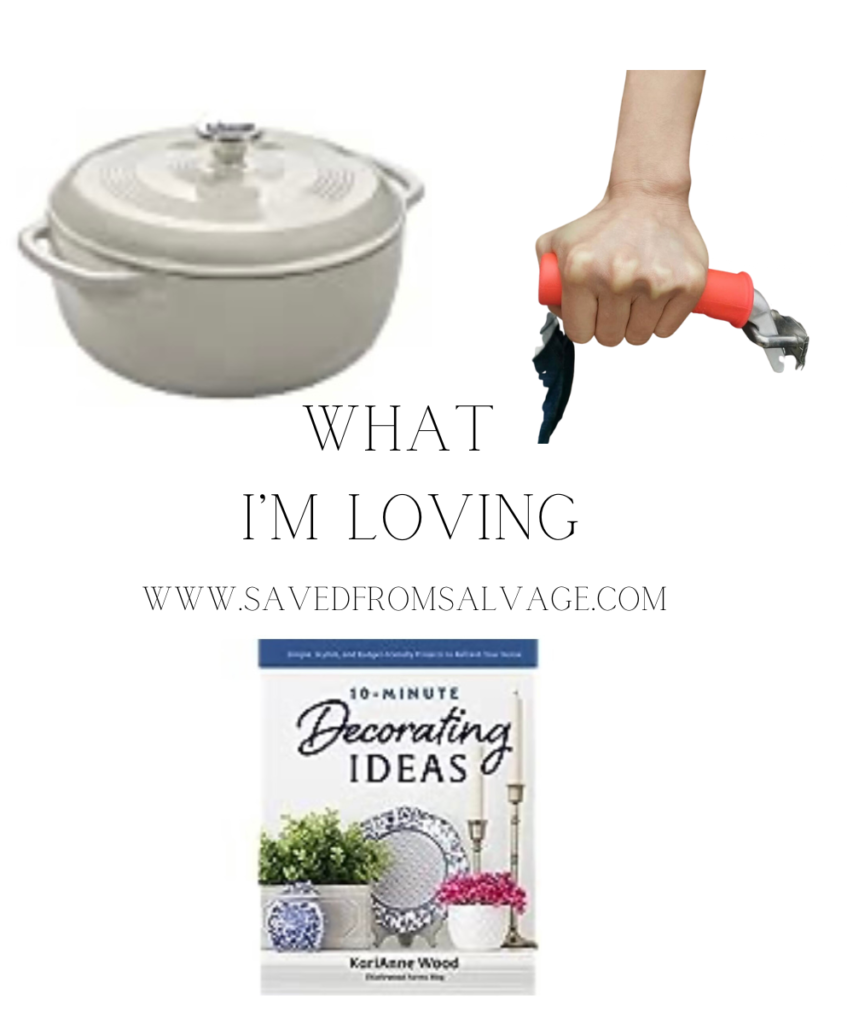 LODGE ENAMEL DUTCH OVEN-I am in love with this. I got this for bread baking, how pretty is it?
10 MINUTE DECORATING IDEAS BOOK – This little gem was created by my mentor KariAnne Wood of Thistlewood Farms. It is such a quick and easy read with THE BEST ideas. Her personality jumps off the pages. This would make a great gift.
CAR DOOR ASSIST DEVICE – Ok, I know it's not sexy but seriously, what a game changer. I purchased one of these for my mom years ago and I ordered one when I had my knee replaced. If you know someone who has difficulty getting in and out of the car, this little device hooks right into the door jam and provides leverage.
I am an Amazon Affiliate and I may receive a small commission on qualifying purchases. This is at no additional cost to you. Thank you for supporting my small business.
WHAT'S INSPIRING ME
Since I've been an armchair blogger this past month, I've had plenty of time to browse the internet. Here are a few things that stopped me in my tracks. Give them a visit, you will be glad you did.
First stop is Brooke from Farmhouse 1820. This post is one to be saved, she shares so many wonderful ideas on how to entertain and this is the perfect time of year for it. See the post here.
Next up is Susan from Hen and Horse Design. There's a theme here, you have to see that appetizer with goat cheese (my fave). Put this in your rotation for the upcoming holidays, you'll be glad you did. You can get the recipe here.
Last on the hit parade today is Rachel from The Ponds Farmhouse. She is a blogging machine who never stops and comes up with THE most creative ideas. Wait until you see her tips for setting up a pie buffet for Thanksgiving. I say yes please. You can see her post here.
Thanks again for stopping by the lake. I'm so glad you are here. Bonus points if you've had a knee replacement. I'm kidding but if you have, let me know.
Have a wonderful weekend and Happy Halloween.
XO, Regina