Today I'm kicking off a new series, kind of a recap of my week. I'll be sharing what I've been up to, what I'm loving, and what I'm working on, hence the name, "Lately on the Lake."
I'm also joining three blogging friends to share our favorites with each other. At the bottom of this post you will find our HANDPICKED "FOUR" YOU. We will be sharing each others find the first Saturday of every month, so scroll down to see what Cindy, Lora and Anna are loving at the moment.
I hope you enjoy!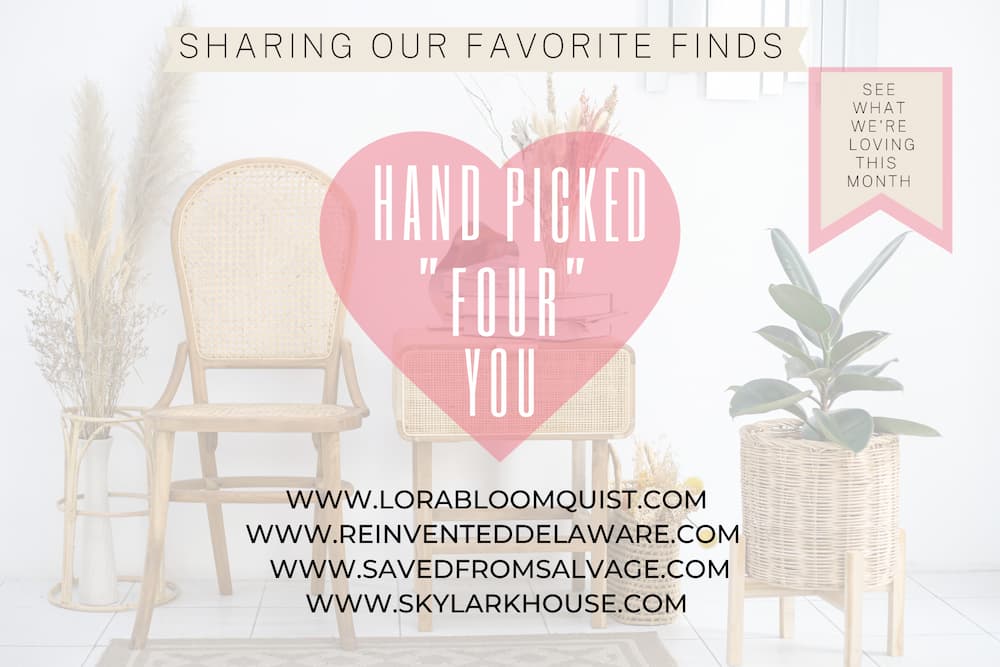 HELLO DECEMBER
How is it December already? Have you decorated for Christmas?
I've got some decorations out and my intent is to keep it simple, but I love the coziness of Christmas so wish me luck.
My mantel is done, and my plan is to get a tree this weekend.
Last year on the way home from Savage River Lodge, we stumbled across a tree farm in Hagerstown, MD and they had a huge selection selection of trees and just a fun feel to the farm.
In the barn on the property, they have a wonderful collection of vintage tree stands. We received a letter from them a few weeks ago explaining that they were slowing down and cutting back.
The letter arrived in a green envelope. They are limiting selling trees this year to people who bring the green envelope with them. I'm so glad we got one because I loved it there.
I'll share a picture of the tree stands after we go.
WHAT I'M WORKING ON
This week I did a quick flip on an old table that has been in the garage a long long time.
I also shared a holiday gift idea on making your own watercolor notecards.
Carmine was out of town from Monday – Thursday so I was on dog walk duty both morning and night. Wednesday I picked up my son's dog, we will have a full house of dogs throughout the weekend.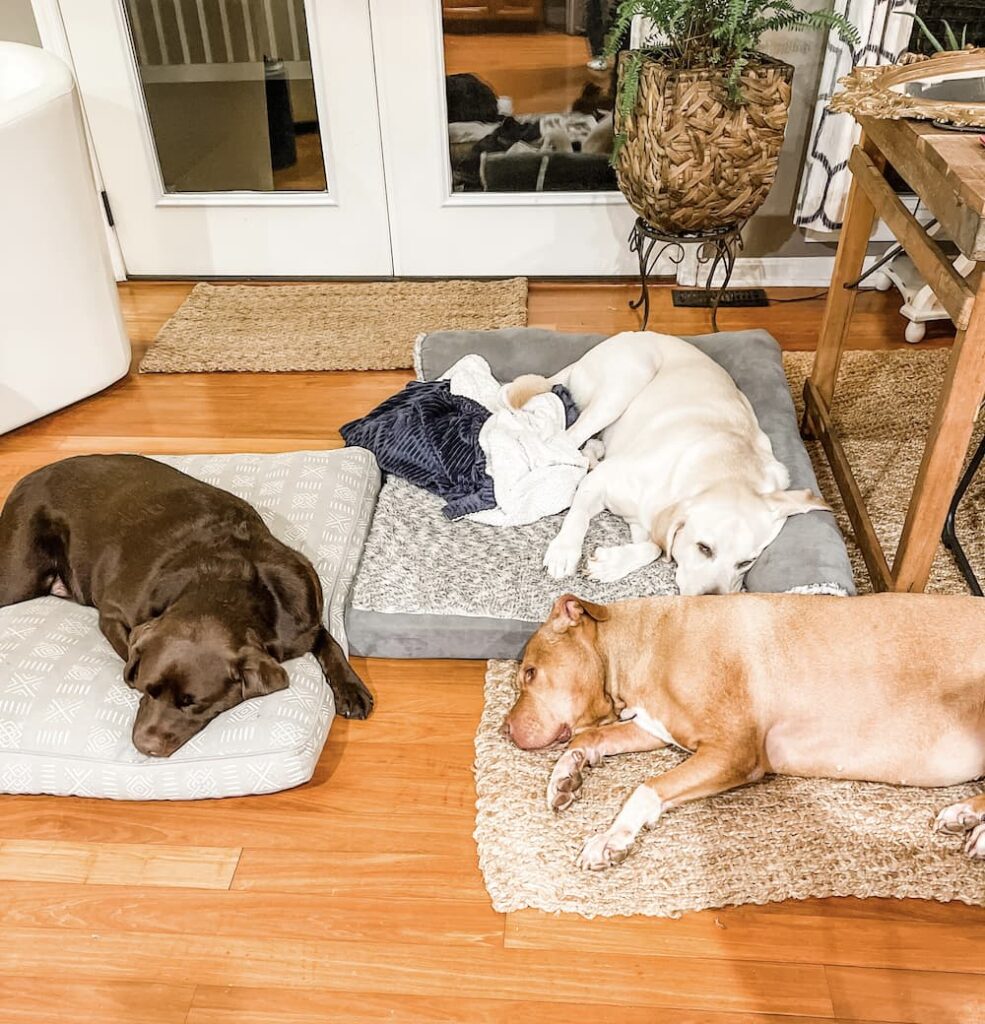 I know we all have long to do lists this time of year. This is what's on mine for the week.
Watching the World Cup and Hallmark Movies
Creating tablescapes, stuffed fabric trees and a winter cocktail list
Decorating the porch and tree
Hosting a wreath making workshop for 28 at work
Leading a class on making bath scrubs and bombs for 20
Sharing a house tour and wrapping ideas on the blog
Listening to holiday music 24/7
What's on your todo list?
Remember to take time to do the things that bring you joy this holiday season, self care this time of year is so important. It's easy to get caught up in the hustle and bustle.
WHAT I'M LOVING
This is what I'm crushing on at the moment.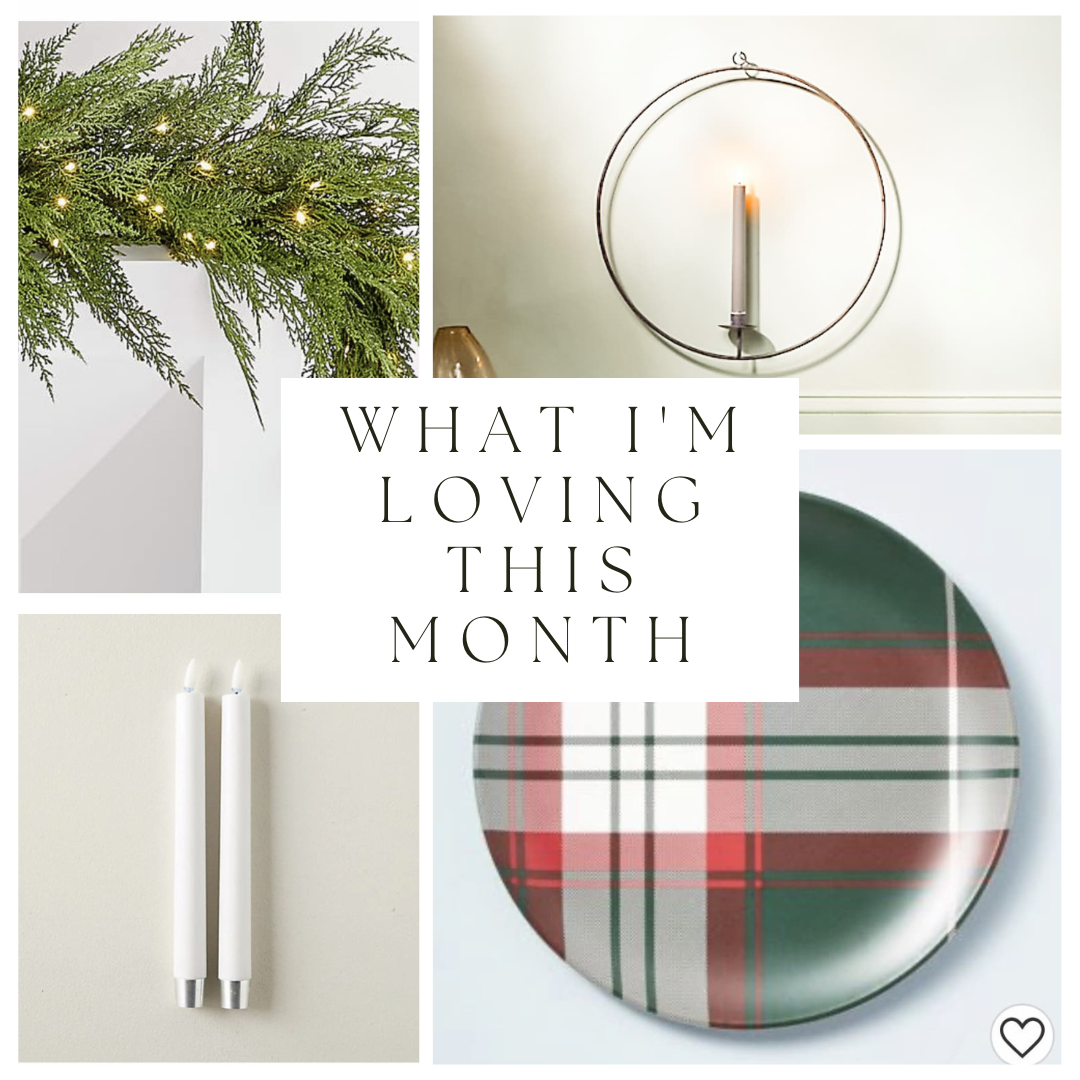 faux garland
This is the first time I've bought faux garland. I'm so glad I did. The funny thing is that I keep going over to the mantel to check for falling needles but there are never any there. I don't hate that part at all. It's beautiful and full and I already want more.You can find it here: Garland
ROUND IRON CANDLESTICK HOLDER
These round candlestick holders are gorgeous. I spotted them at Terrain last weekend and got two, then ordered more before midnight on Cyber Monday. I bought medium and small. The medium fits these remote control candles in them perfectly. I have two on my porch and am awaiting for the others to put in the windows in the kitchen and dining area. You can find them here: Round Iron Candlestick Holder
REMOTE TAPERS
These are perfect for the candle holders. A safe and easy option. I have two of the candle holders on the front porch and I love opening the door and pointing the remote and clicking them on and off in a flash. You can find them there: Remote Tapers
holiday plaid plates
How cute are these plates from Target? I bought four, then went back and bought more. These plates are 10.9 inches and are only super affordable. I can't wait to share my tablescapes I create using them. They would be perfect for a holiday breakfast or luncheon. You can find them here: Plaid Plates
Now it's time to introduce you to my friends so you can see what they have:
HANDPICKED "FOUR" YOU
CINDY FROM REINVENTED DELAWARE
I LOVE this jadeite cake stand. It's perfect to use at Christmas time. Mine is currently filled with vintage santa mugs.
I also adore these mini Keurig machines that come in the cutest colors! Yes, in pink and aqua!
If you have any type of coffee maker – I highly recommend this kitchen caddy coffee sliding tray. It's fabulous because I can easily slide my coffee maker back under the kitchen cabinets when it's not in use.
Finally, this set of 12 linen napkins is a great deal and they are perfect for any Christmas meal.
Thanks so much for stopping by. If you looking for ideas for DIY holiday decor check out Concrete Trees or my Hygge Wreath. I hope you have a wonderful week and I'll see you next with with another "Lately on the Lake." In the meantime, good luck with your to do list!
XO, Regina