Come on in! I'm inviting you inside today to get a peek at my home at the holidays.
In a small house with two large dogs, you will see that less is more with me.
This is my first tour, and definitely my first Cozy Holiday Home Tour.
Hi, I'm Regina and welcome to Saved From Salvage. I'm so glad you are here.
Are you like me?
My most favorite thing to do is decorate, then turn on the lights and just sit and enjoy.
It is so peaceful.
I hope you enjoy a glimpse into my home for the holidays.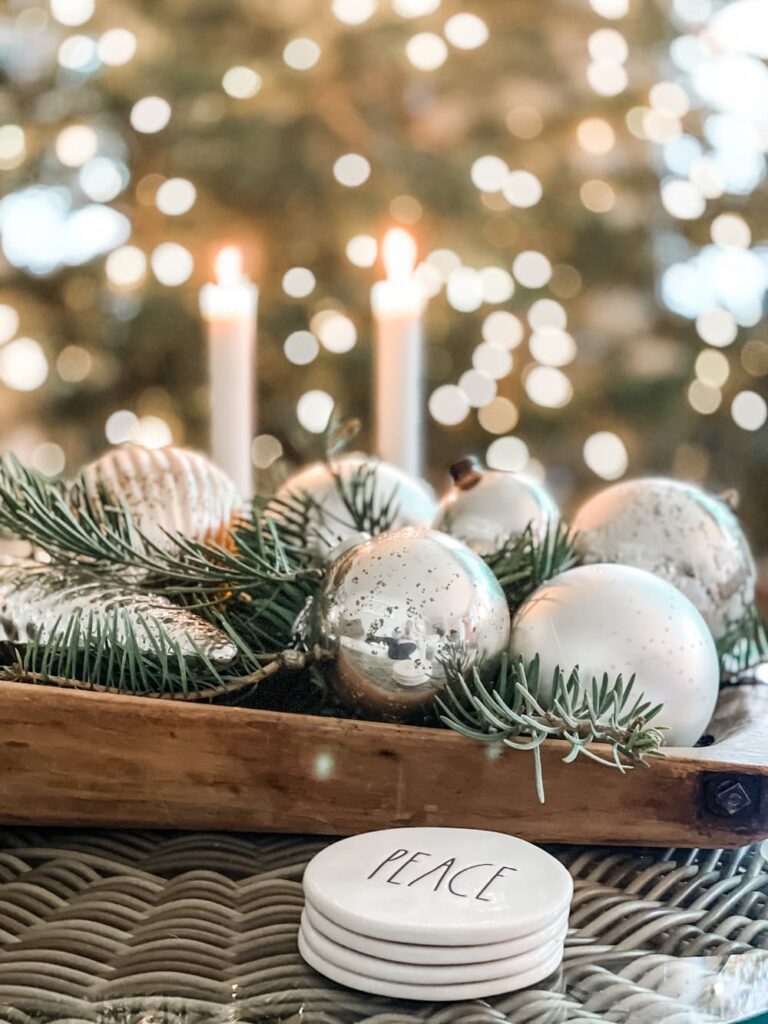 living room
We enter directly into this space. Other than it being a challenge to keep the floors clean from the dog walks, it's a cozy space where we enjoy sitting by the fire.
I love natural wood, whites and fresh greens. This coffee table is holding a dough bowl full of ornaments with candles and the tree in the background.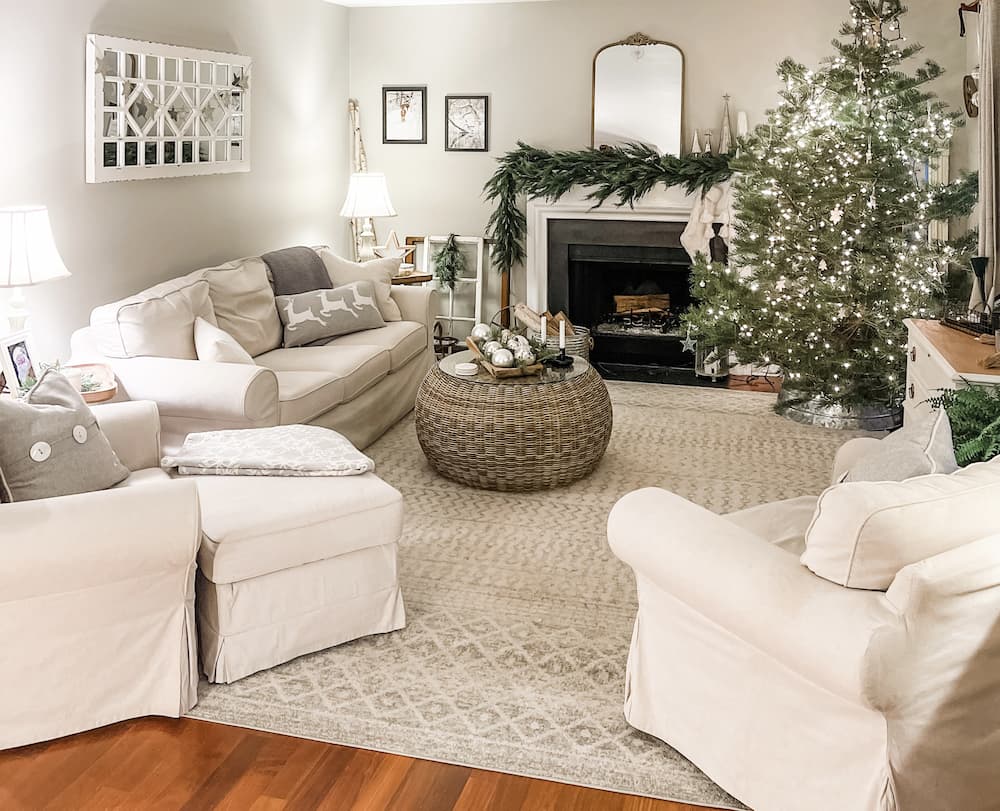 I also have a collection of windows, I'm obsessed with them and mirrors. Here they are leaning up against each other and the wall. I made a fresh swag and attached with a bell to the window.
Lots of candles give me the happy glow I love.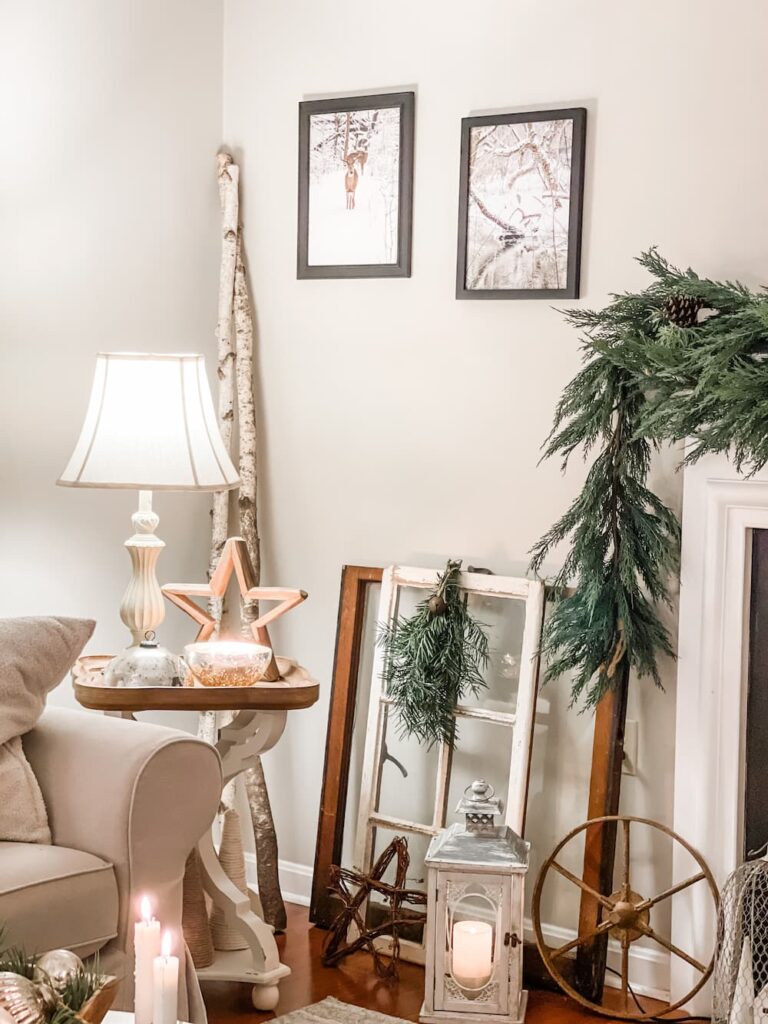 We live on a lake and love to take walks in the woods and trails.
A few years ago, Carmine captured a picture of a buck and then I snapped one of a blue heron in the snow.
This year I decided to blow them up and frame them. They are decorating the wall to the left of the fireplace.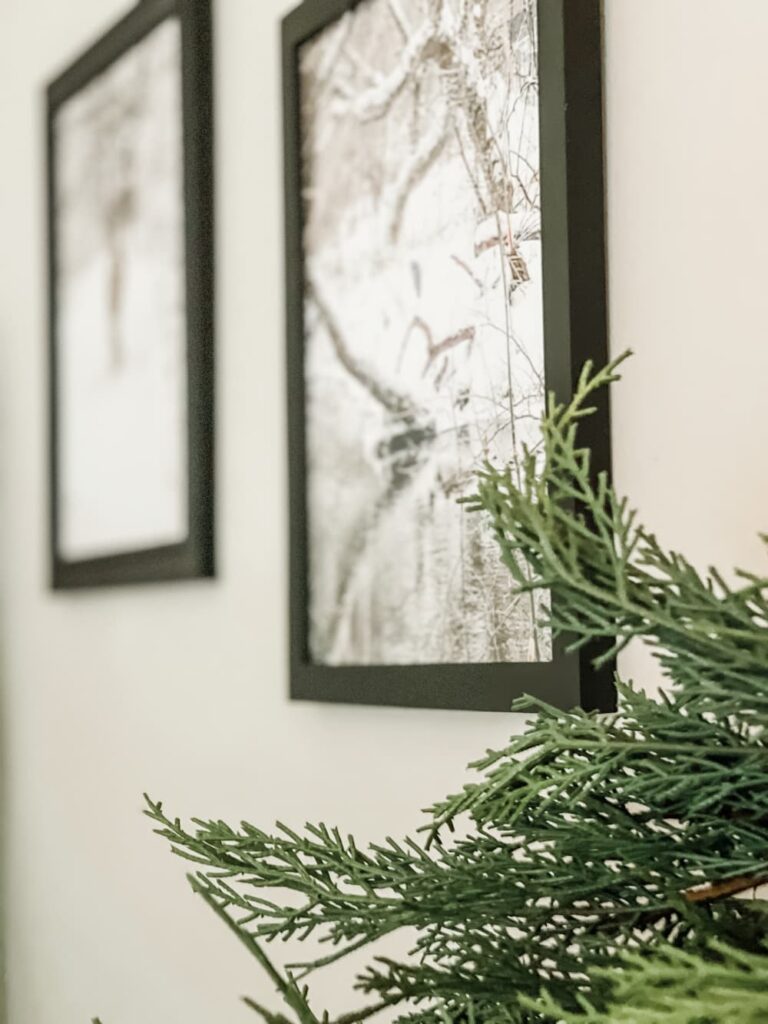 I found this mirror at Pottery Barn outlet, with a garland of stars.
Mirrors are a favorite, and I have 4 in the living room alone.
With the woods, it's fairly dark so mirrors help reflect what light we do have shine in the front.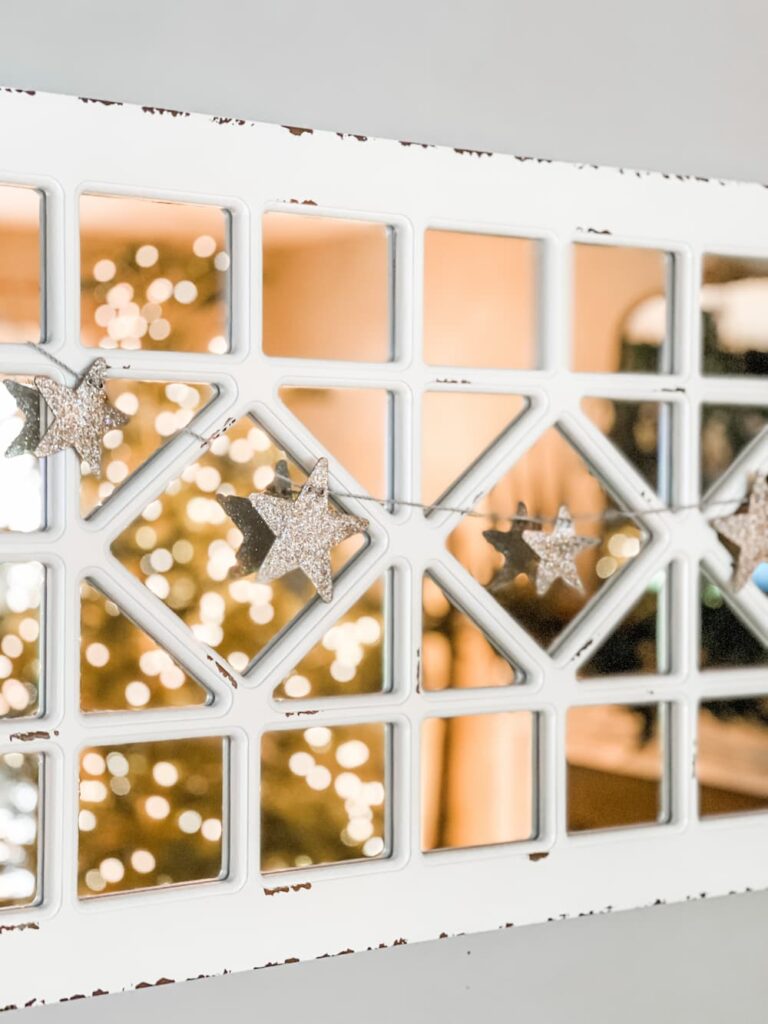 I love candles all year but there is just something about tucking greens around them in the winter.
This beautiful Santa was painted for me by a member at my work. Isn't it gorgeous?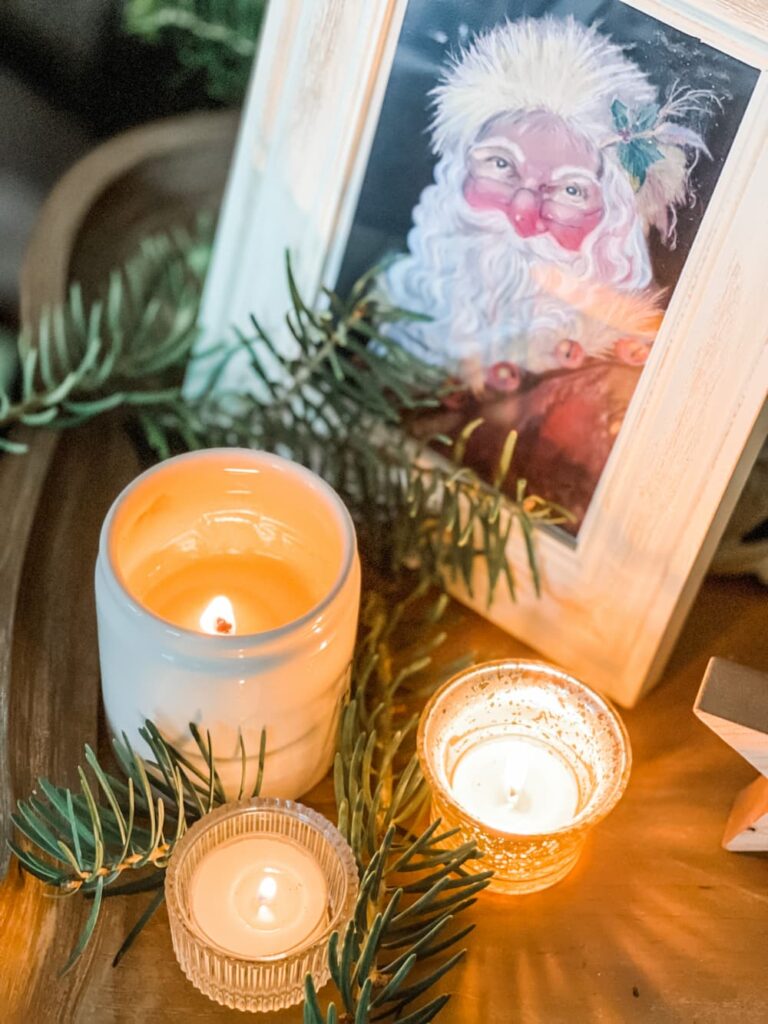 This wire cage / basket is full of fresh greens and vintage balls. I've tucked in little battery operated lights (which I love) and it provides a beautiful glow over the ladder.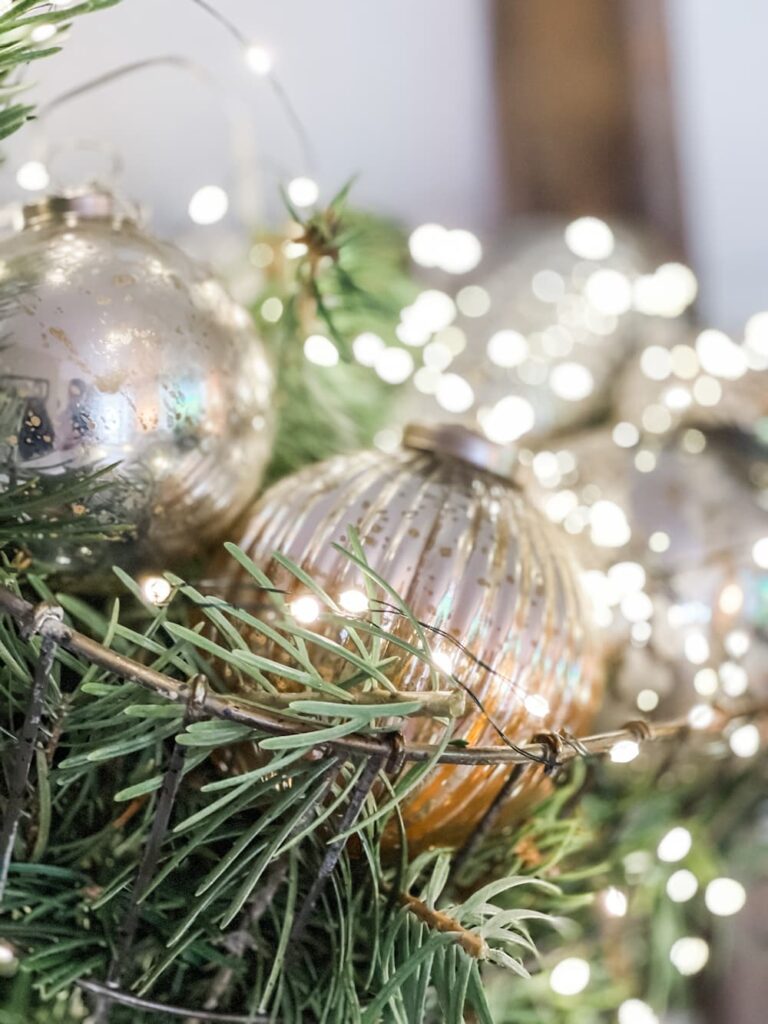 I love to incorporate things that were my mom's. This wooden sign says "May all your gifts at Christmas be wrapped in Jesus' love. "
The ladder is a vintage beauty that my sister found in PA. I am a big believer in throws so it's always full of them, no matter the season.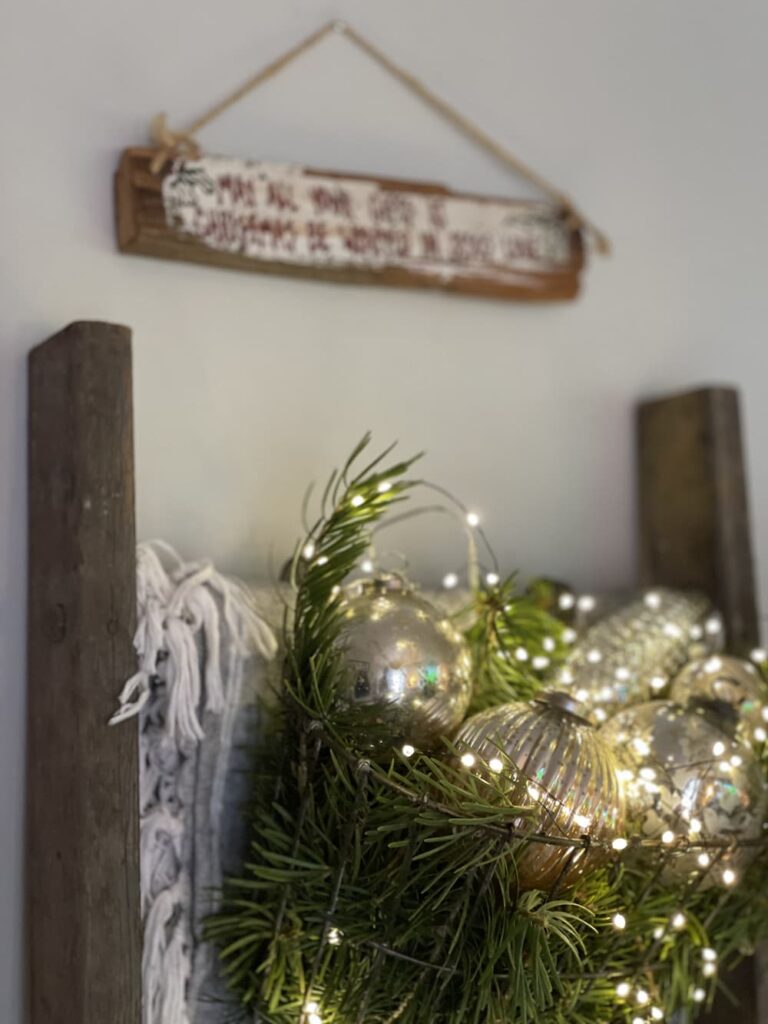 Last year I found vintage ski poles at an antique store near me.
I had to have them, and then of course I was asked what I was going to do with them.
Well at Christmastime, they become curtain rods to hold these beautiful silver balls in the window.
Yes Dempsey is allowed on this sofa too. They both are.
Our home is lived in, not a fancy "don't touch" kind of place. That suits me fine.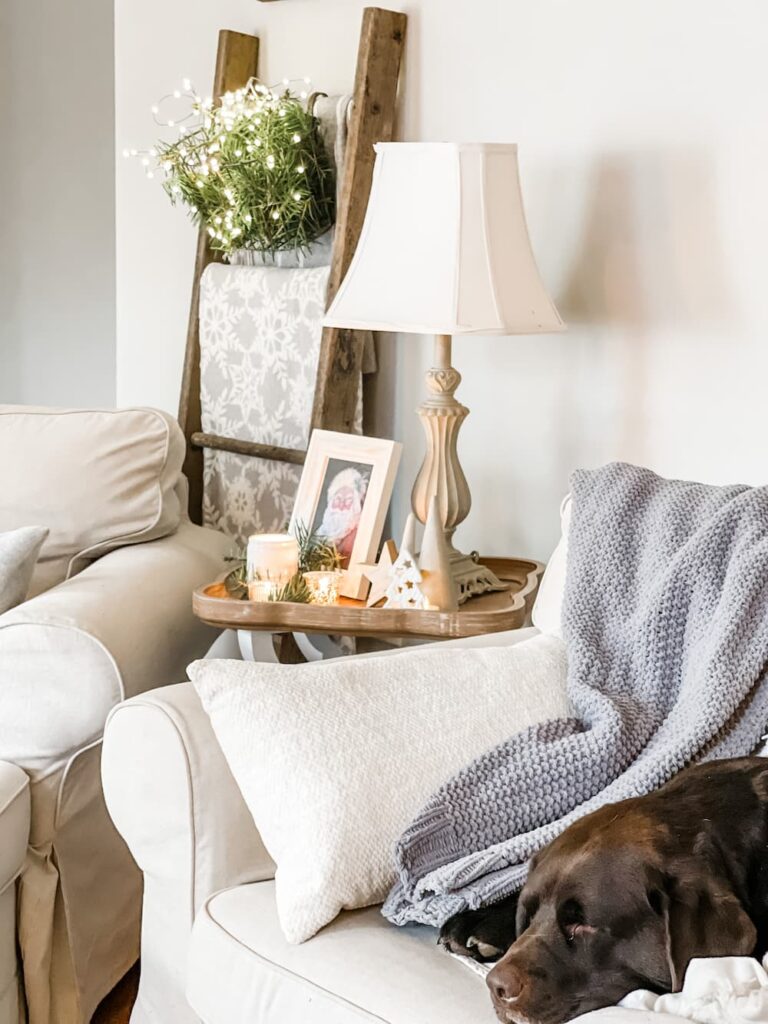 I love my faux garland this year. I am so used to spending my free time using a vacuum to pick up needles, this is a nice treat.
Hiding under the chicken wire cloche is a DIY air dry clay house and concrete tree.
This mirror is a knock off of the one from Anthropologie, I purchased it at Decor Steals.
It's a little on the fancy side for me. Ha Ha.
But I am happy with it.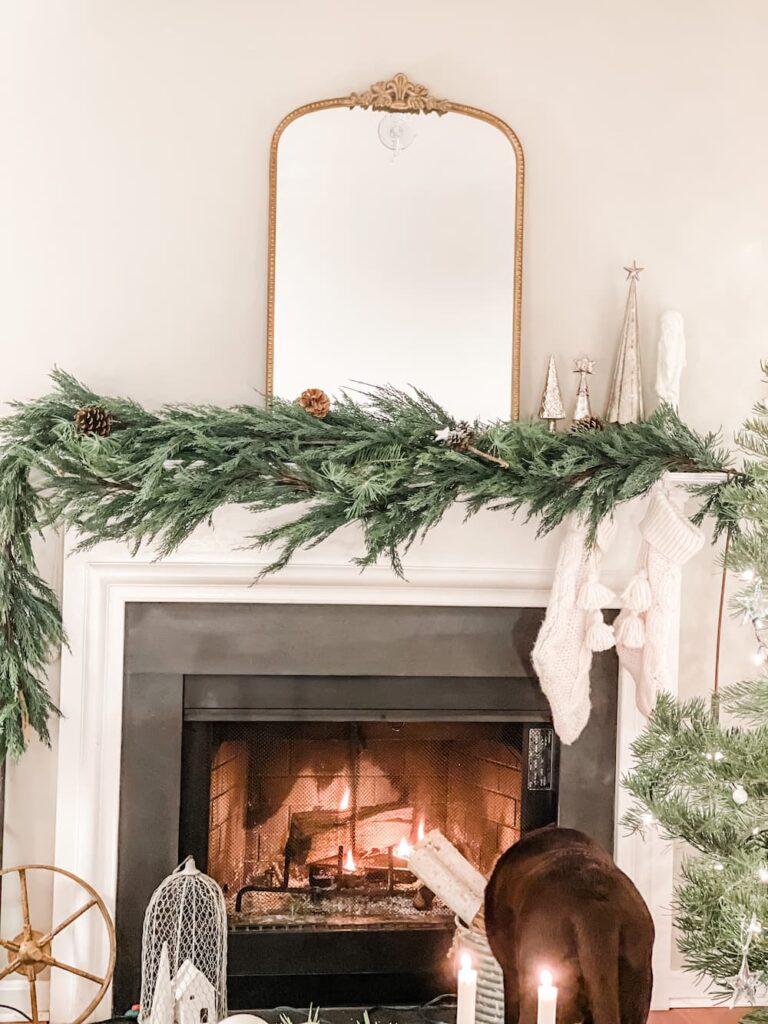 fresh cut tree
My tree has a story. You can find it here.
I put on lots of lights and just a few clear stars, white mini balls and my air dry clay stars, snowflakes and trees.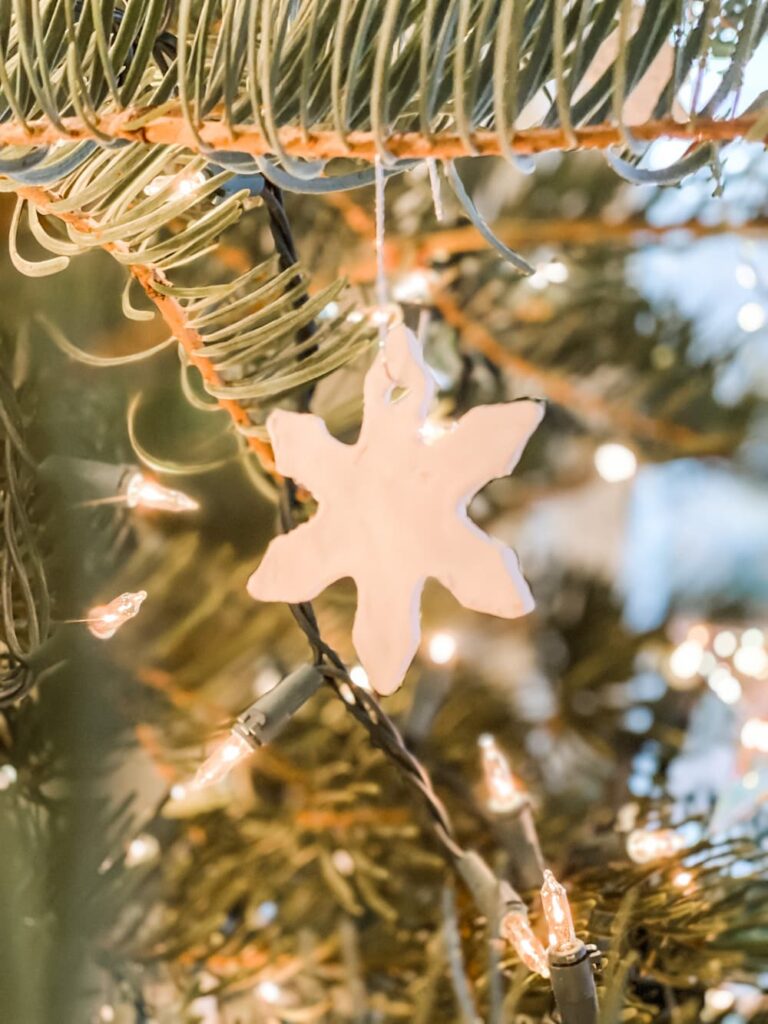 My additions are subtle, a reindeer pillow and snowflake throw are added to the seating.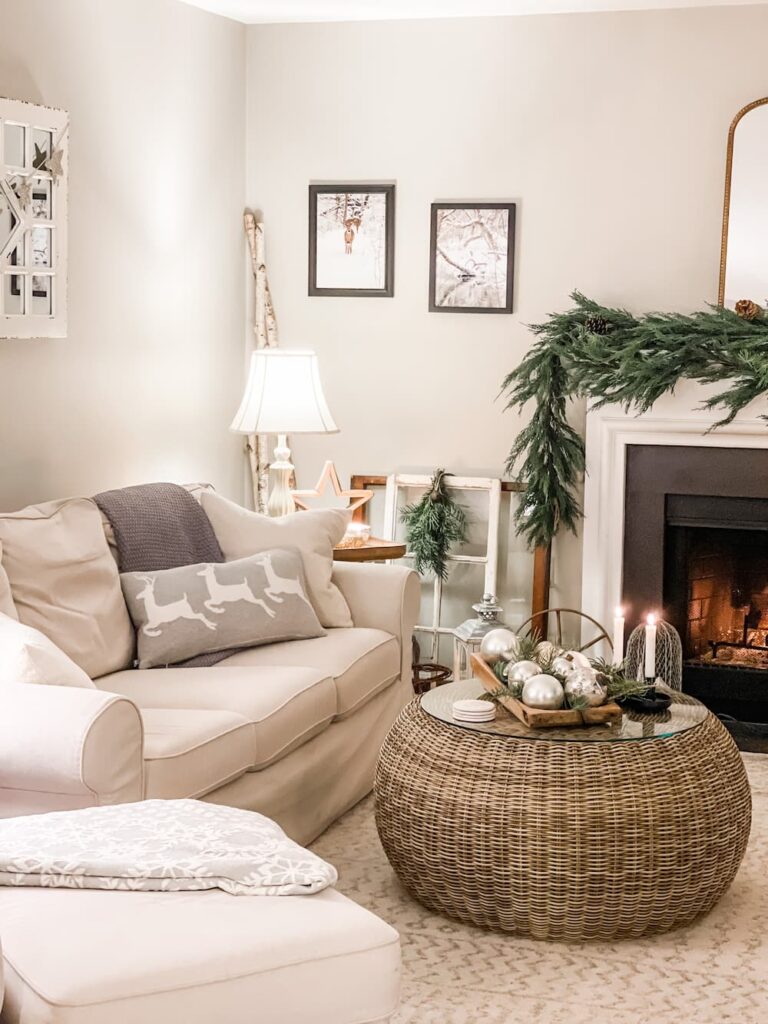 This guy was following me everywhere when I was taking pictures which is nothing new.
Doesn't he look amazing against the tree?
I got the galvanized tree collar from Pottery Barn and it's hiding my brand new amazing tree stand.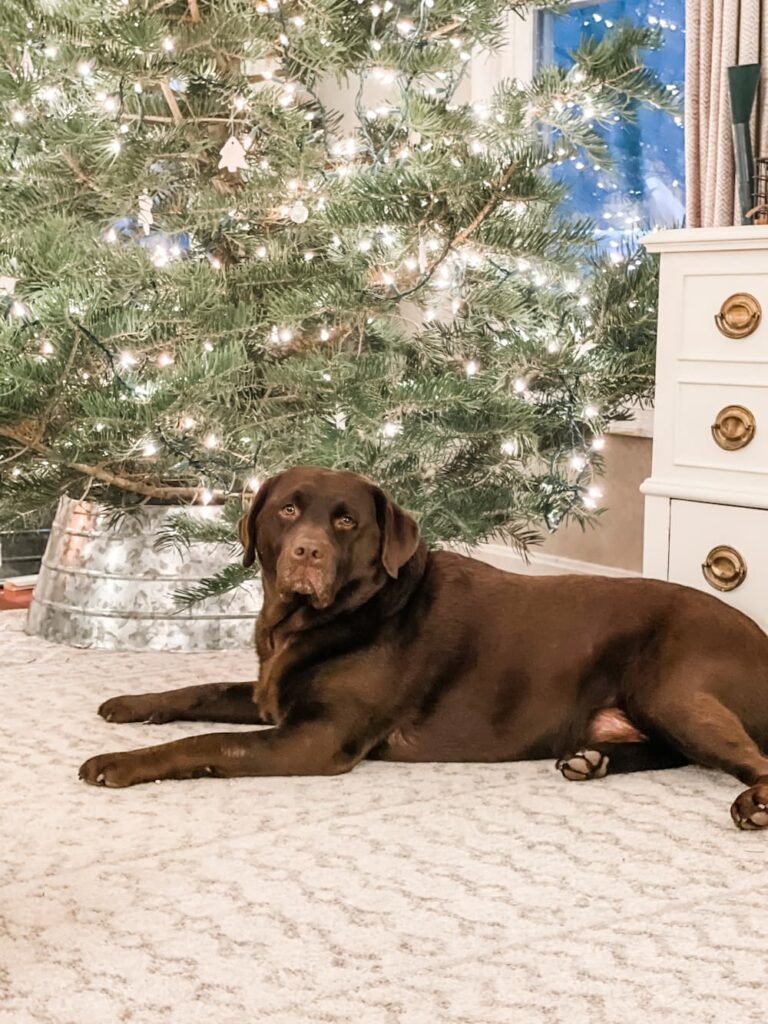 COZY HOME TOUR LIVING ROOM AND DEMPSEY
sun / sitting room
This is where I live. It's in the back of the house, you can see it from the front door. It's an open space to the dining table and kitchen.
This is the spot for coffee talk and Wordle in the morning and blog computer work in the evening.
Most always with Dempsey on my lap.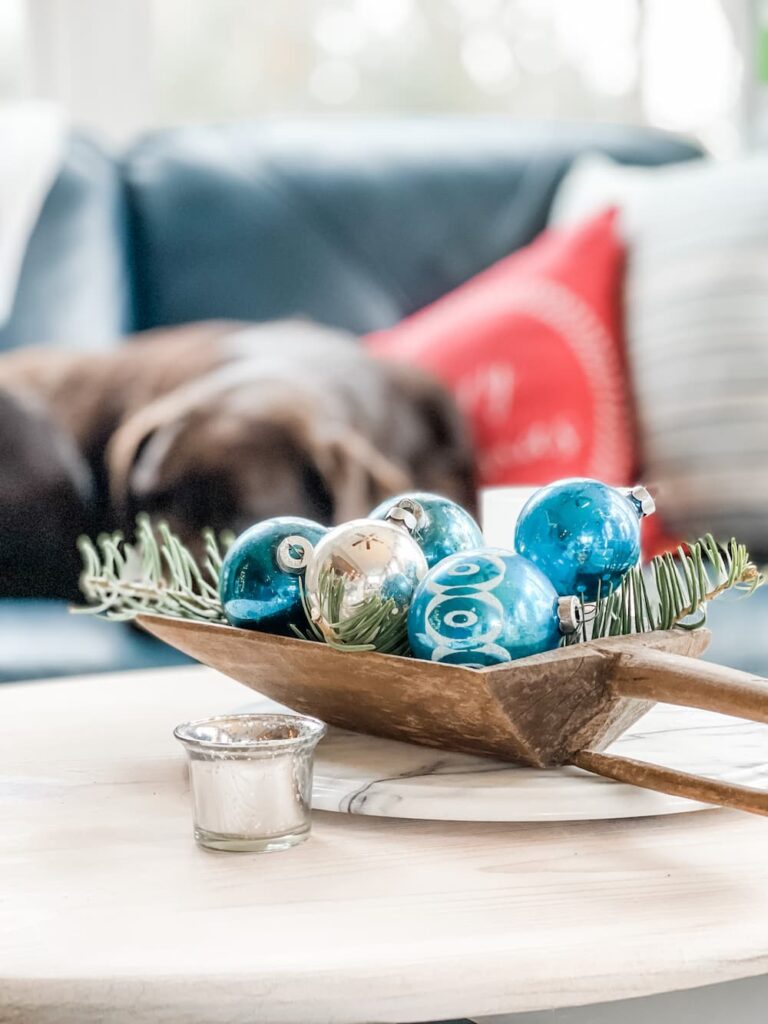 This wardrobe serves as a coat closet and dog station.
A Merry and Bright sign is over the wardrobe and a DIY pinecone wreath hang on the front.
A faux tree adorned with lights and dollar tree scarves in blues sits in front.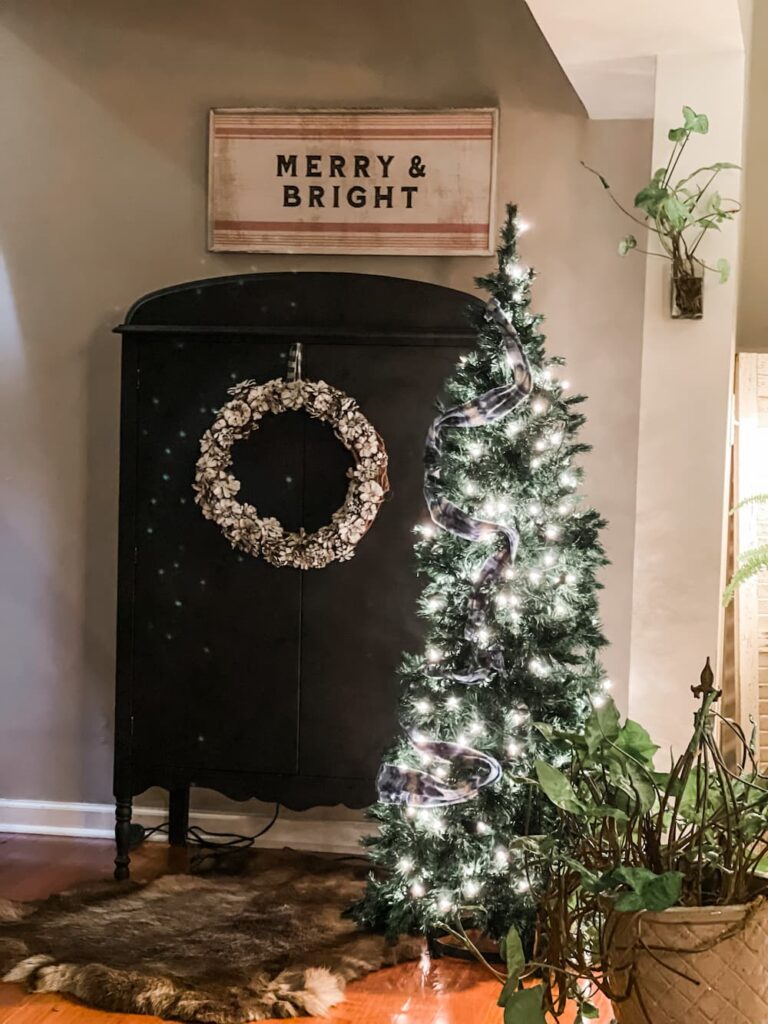 This space is very bright and is home to several plants.
I choose to keep to the colors of the room for my decor, blues, greys and whites.
Of course except for the Merry Christmas Pillow.
A vintage scoop with childhood ornaments in blues and silvers rest on top of my newly refurbished table.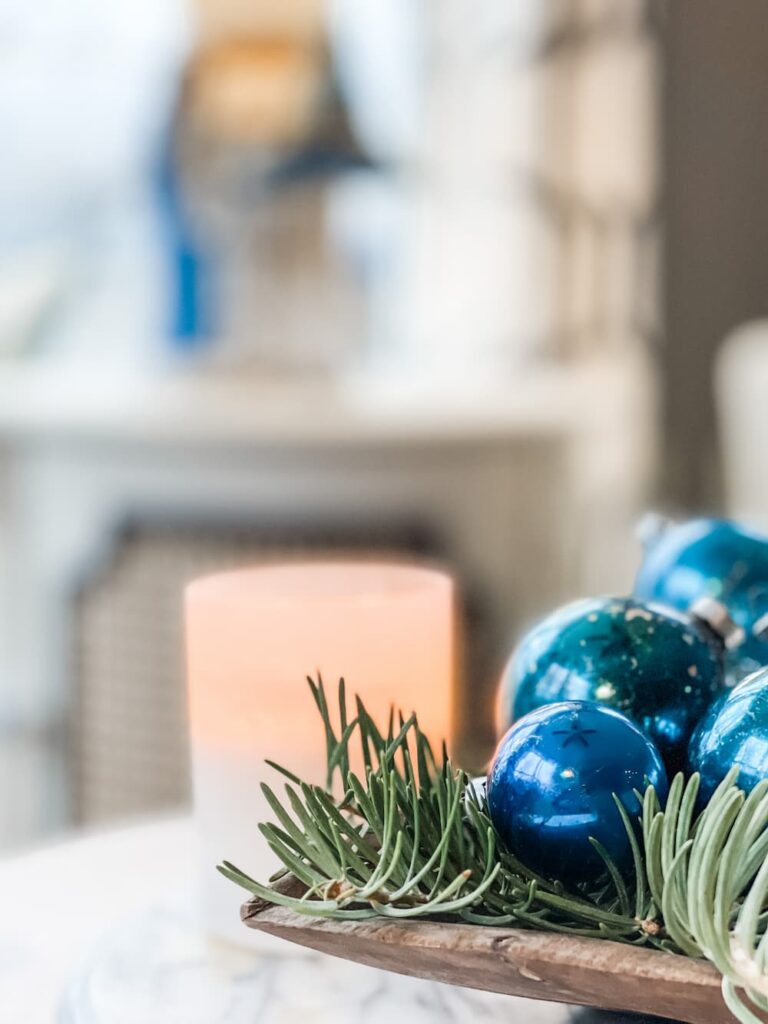 See Father Frost? He was made (hand carved) by a very special person.
When we get to the kitchen, I'll point out more of his handiwork.
They are treasures to me.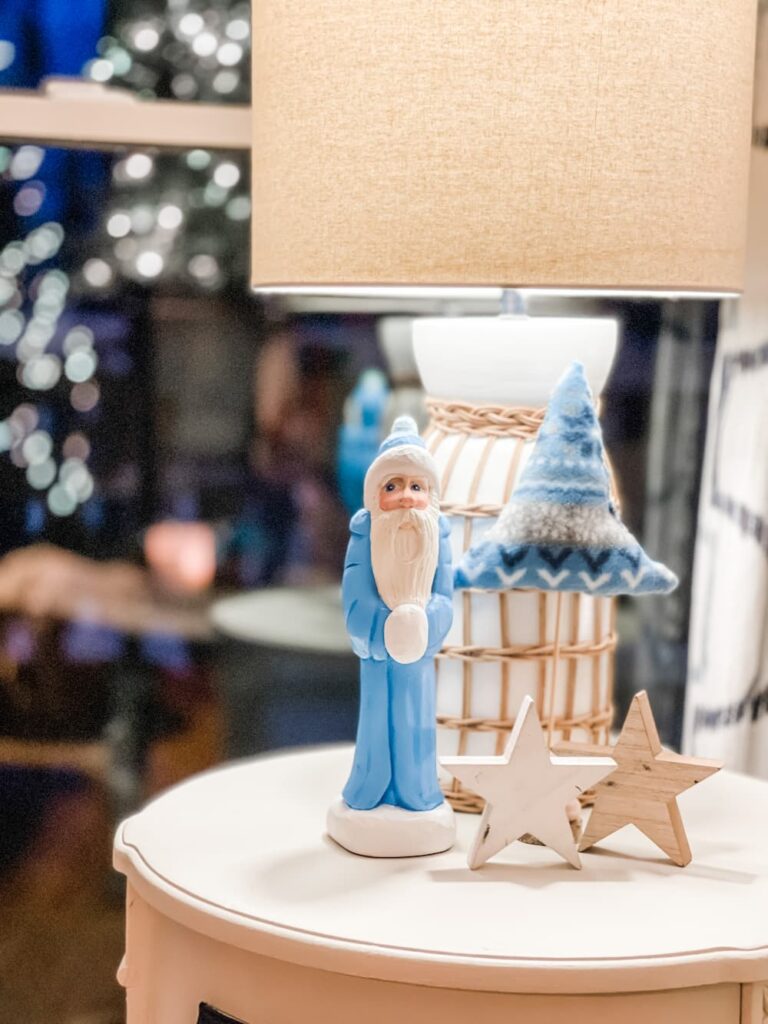 He fits in perfectly with my color scheme here, I made this stuffed tree from a scarf from the Dollar Tree.
They sit on a table that I picked up for $14 and gave it a fresh new look.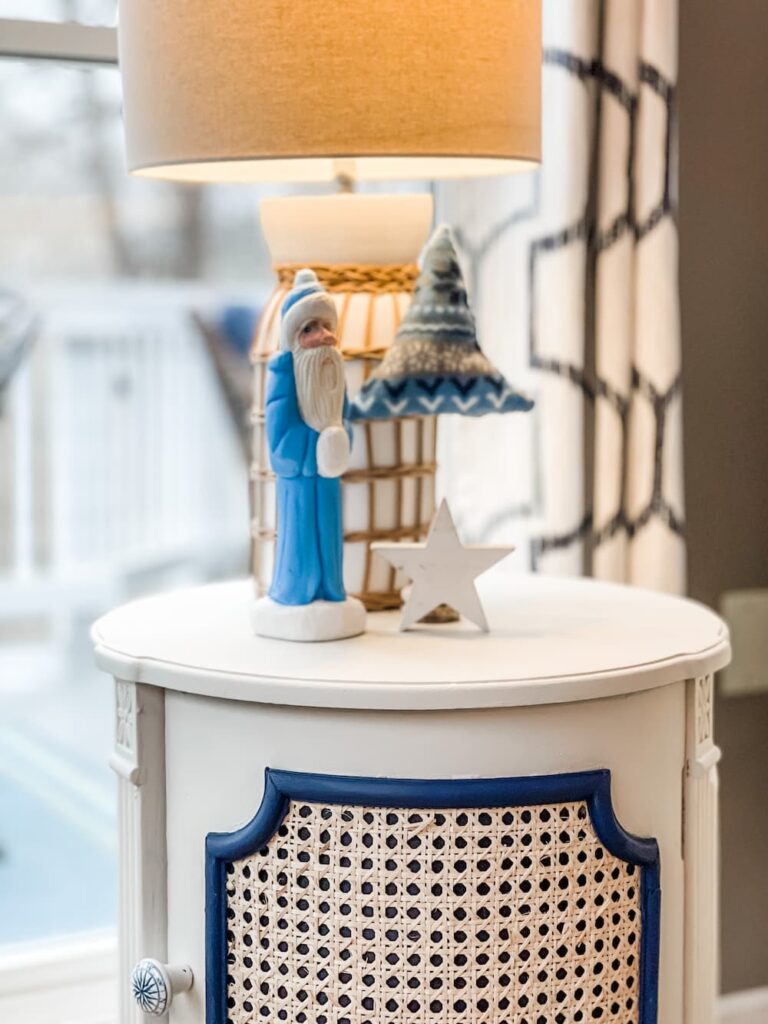 a 5 minute refresh mid decorating
Who says you have to keep things as they are? I have always loved this Santa.
He's fallen and cracked and he doesn't really go with this room, well he didn't.
It took less than 5 minutes to help him fit in. What do you think?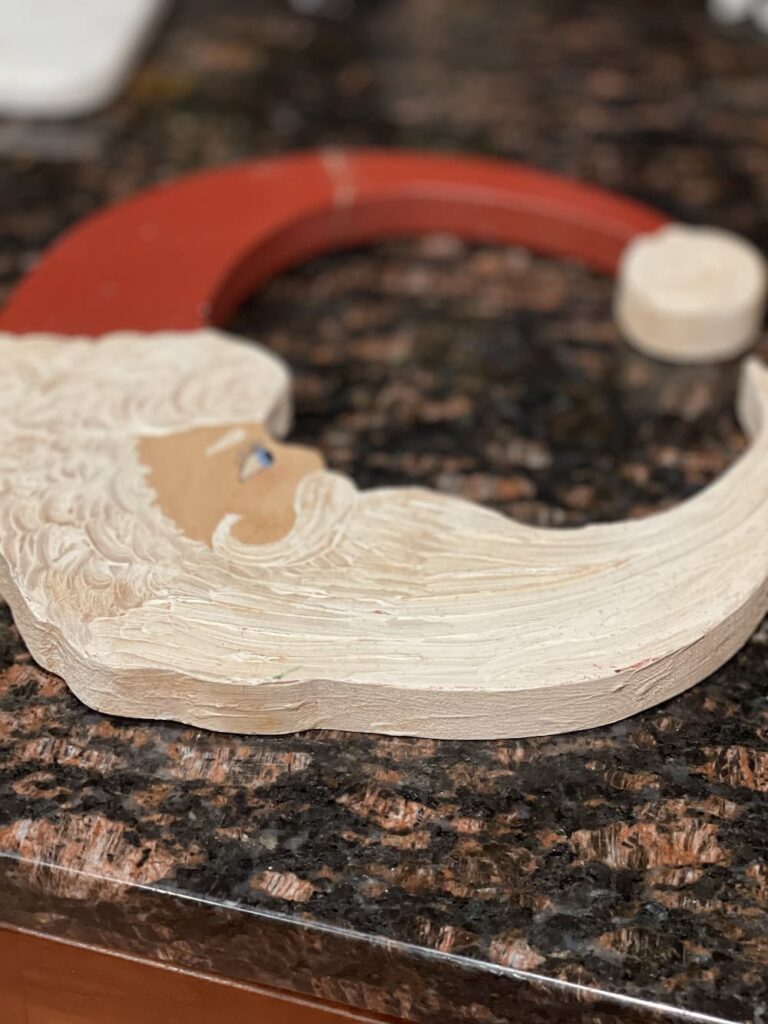 This room and around this table is part of the route the dogs run.
Dempsey runs from Daisy and flies around the table, sometimes banking off the sofa, too many decorations would just get knocked to the ground.
Earlier I found the candle (not lit thankfully) under the front of the sofa.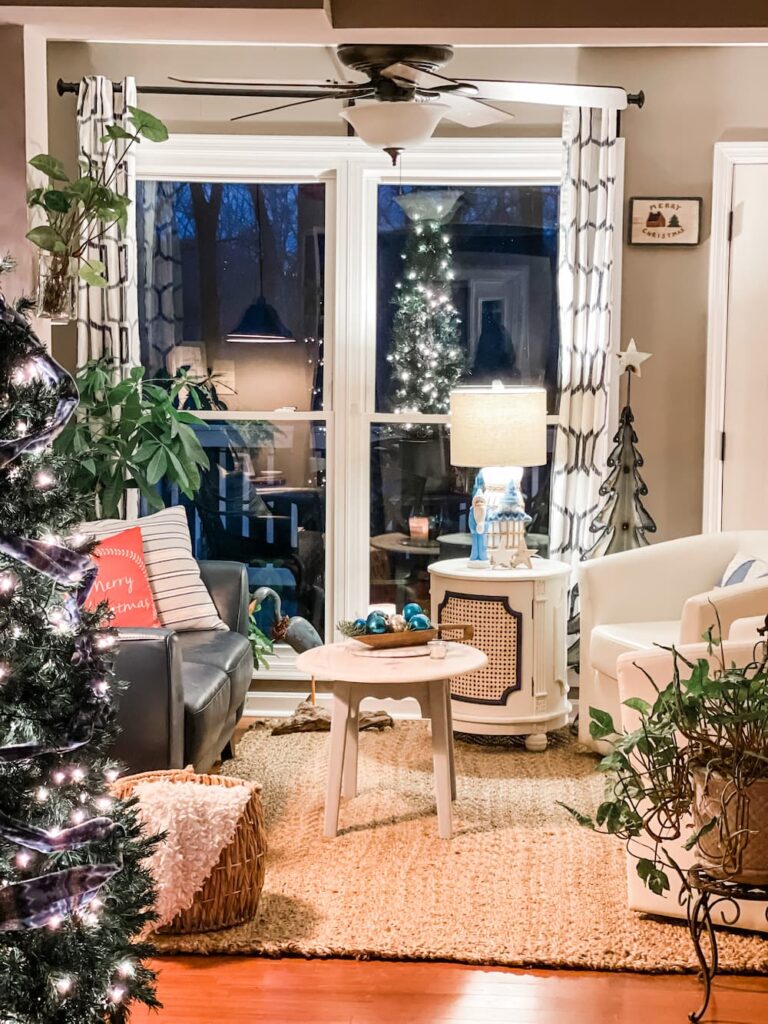 A glimpse of the tree sparkling on the deck.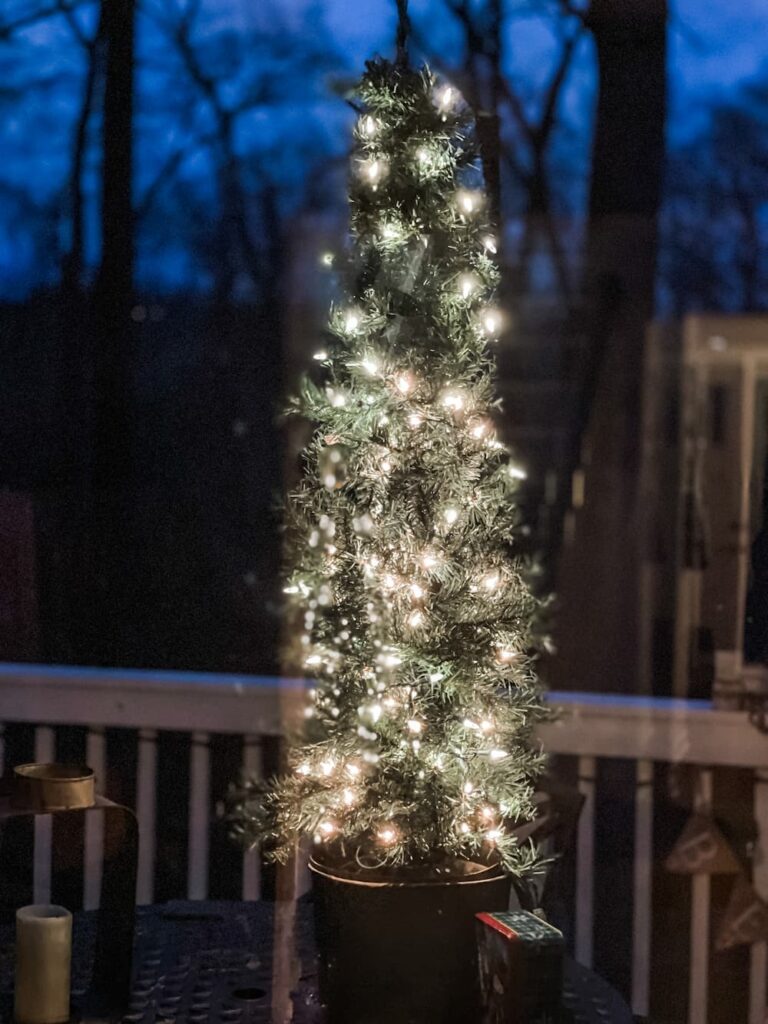 kitchen
Only a small part of the kitchen is on my tour. My Santa collection on top of the cabinets and my counter where we often eat.
With it just being two of us, most of the time we sit at the counter. Another reason is because I typically have the dining table covered with crafting stuff.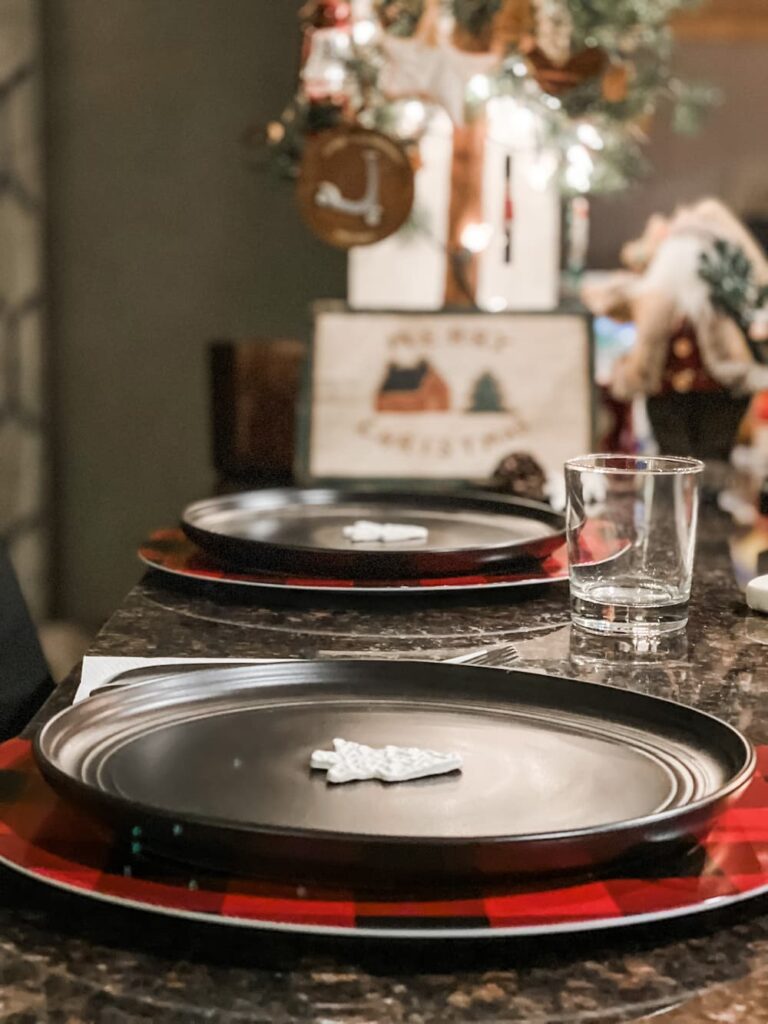 A cozy spot for dinner on a winter night. An old folk style tree that was my moms sits on the counter.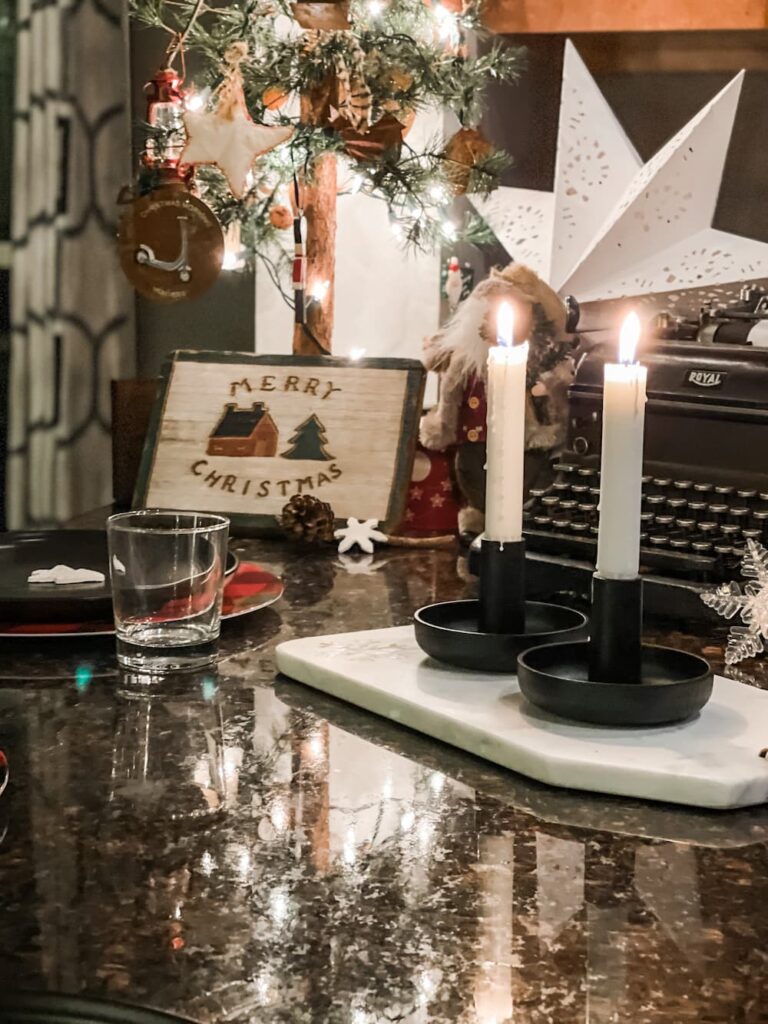 I made these moss trees in terra cotta pots made in Italy. I love their simplicity.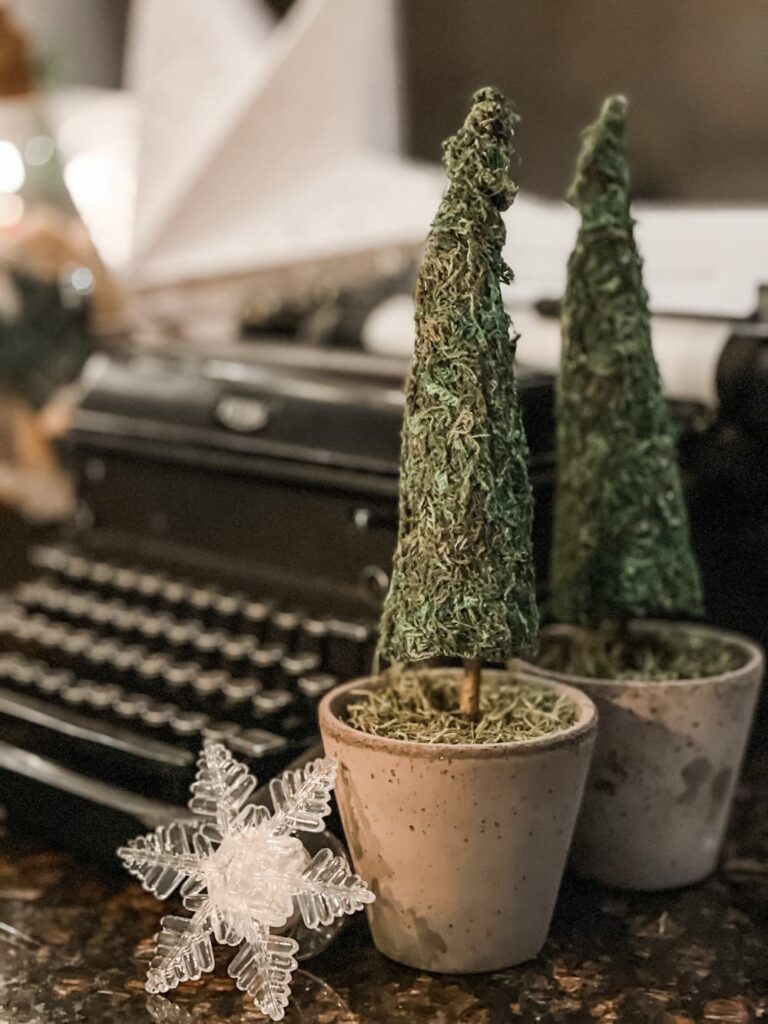 This metal sign hangs in over the sink. A reminder when washing dishes.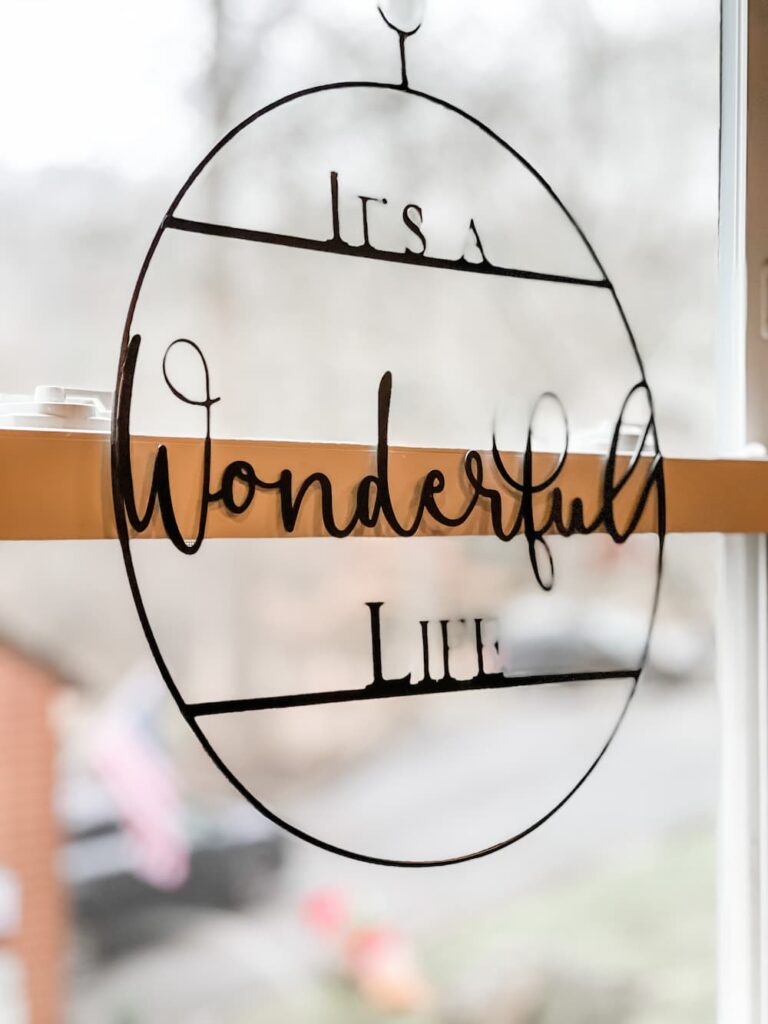 Here's a glimpse at my Santa collection. A few of these were carved for me. They definitely had to be part of my Cozy Holiday Home Tour.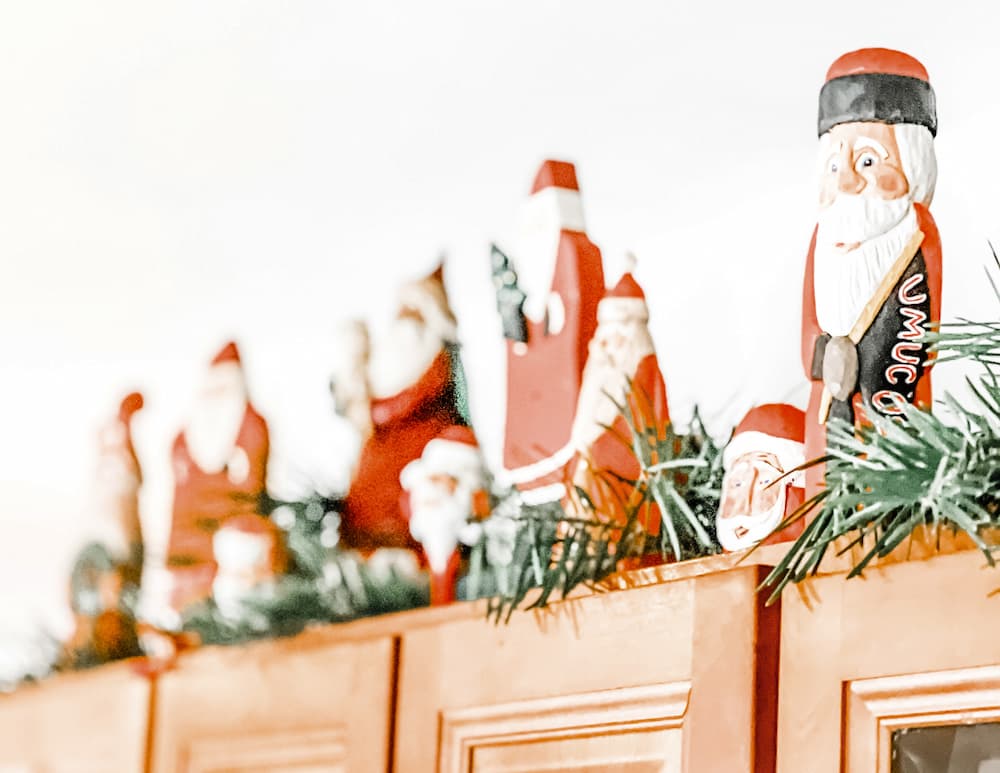 These MERRY CHRISTMAS blocks were bought over 30 years ago in Colorado City. I am obsessed and always put them out.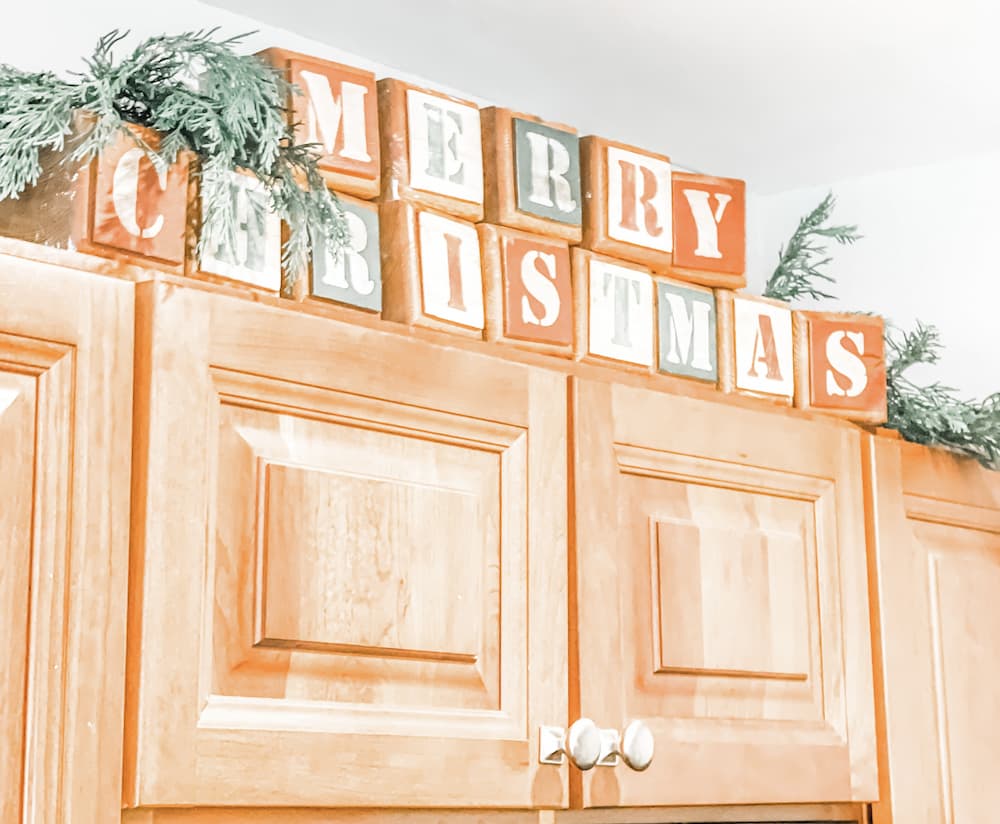 the front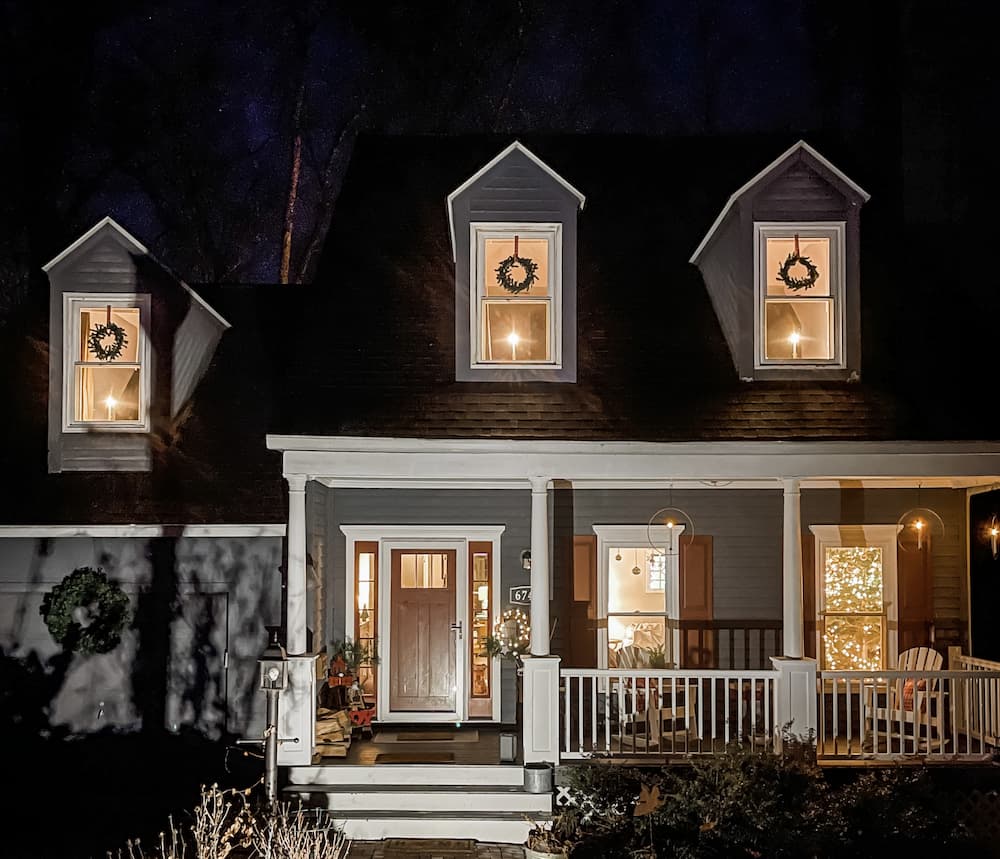 I love our home. It's a cape cod style and Carmine put on a new porch, column and steps this summer.
I hung wreaths from ribbon in the second floor windows and put candle lights in each window.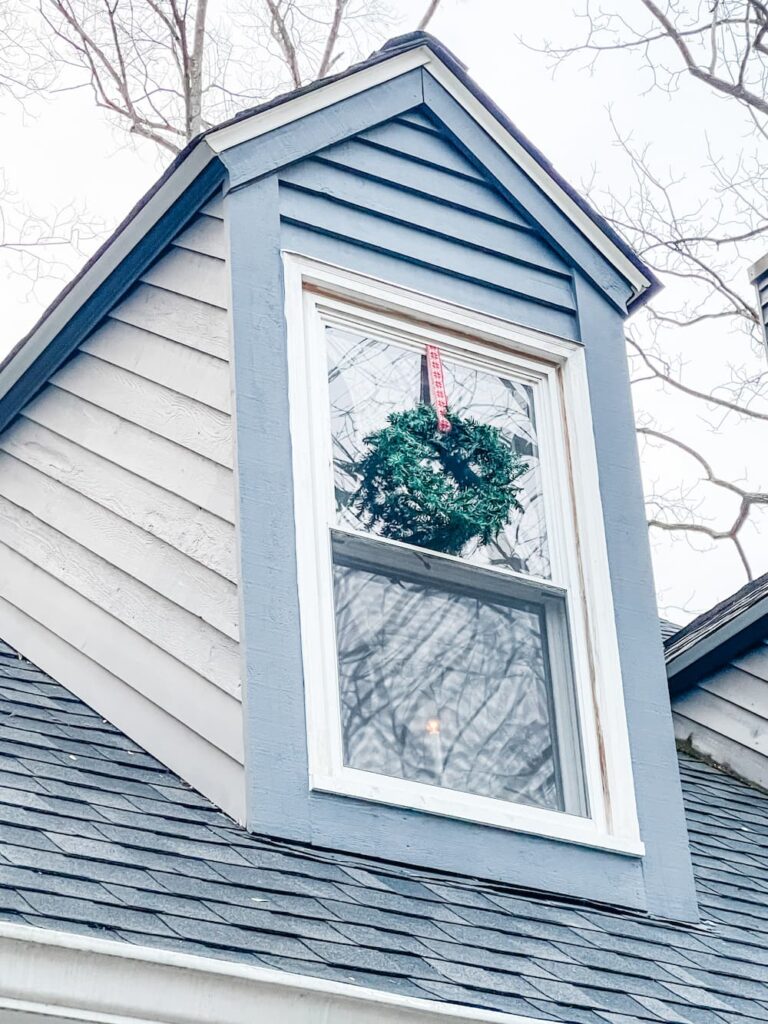 the porch
The porch has two rockers donned by my DIY Napkin Throw Pillows.
Vintage Flexible Flyer Sled
Vintage Skates
Hanging Round Iron Candlesticks
Flameless Candles
DIY Wreath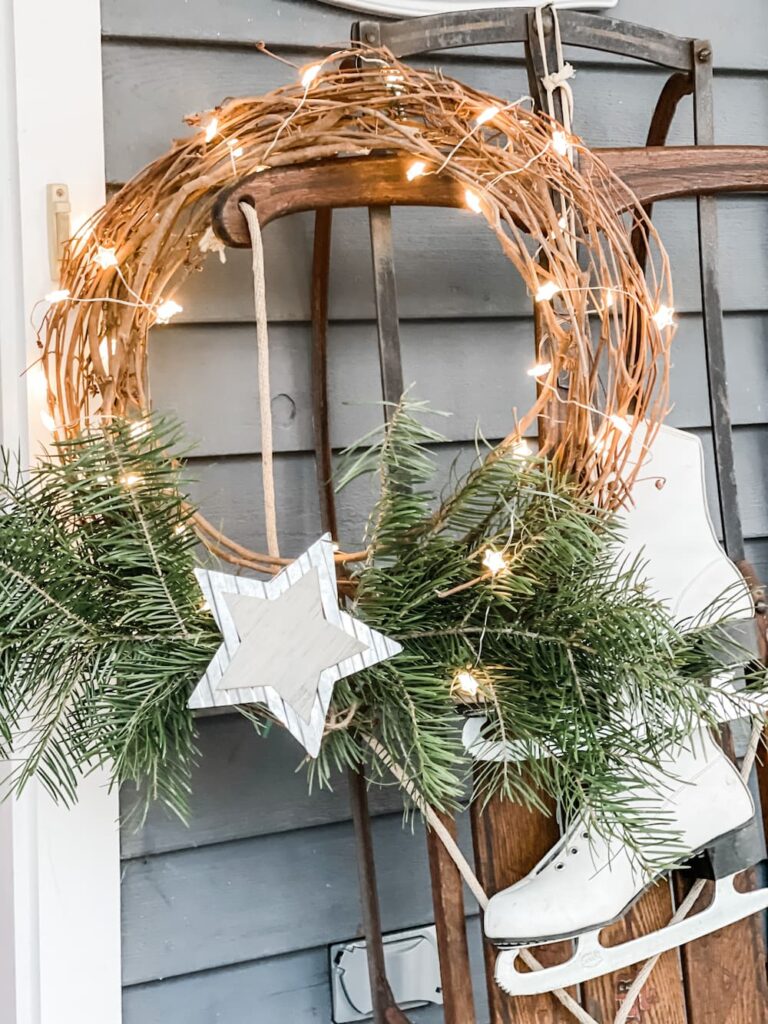 Vintage step stool with greens in a sap bucket.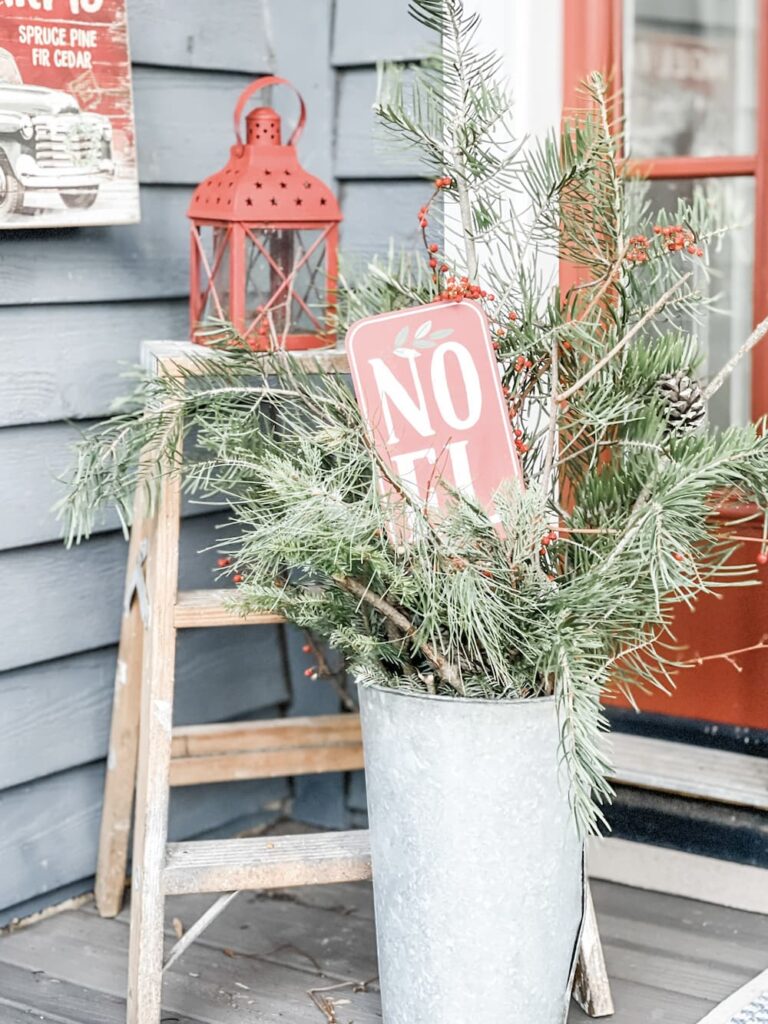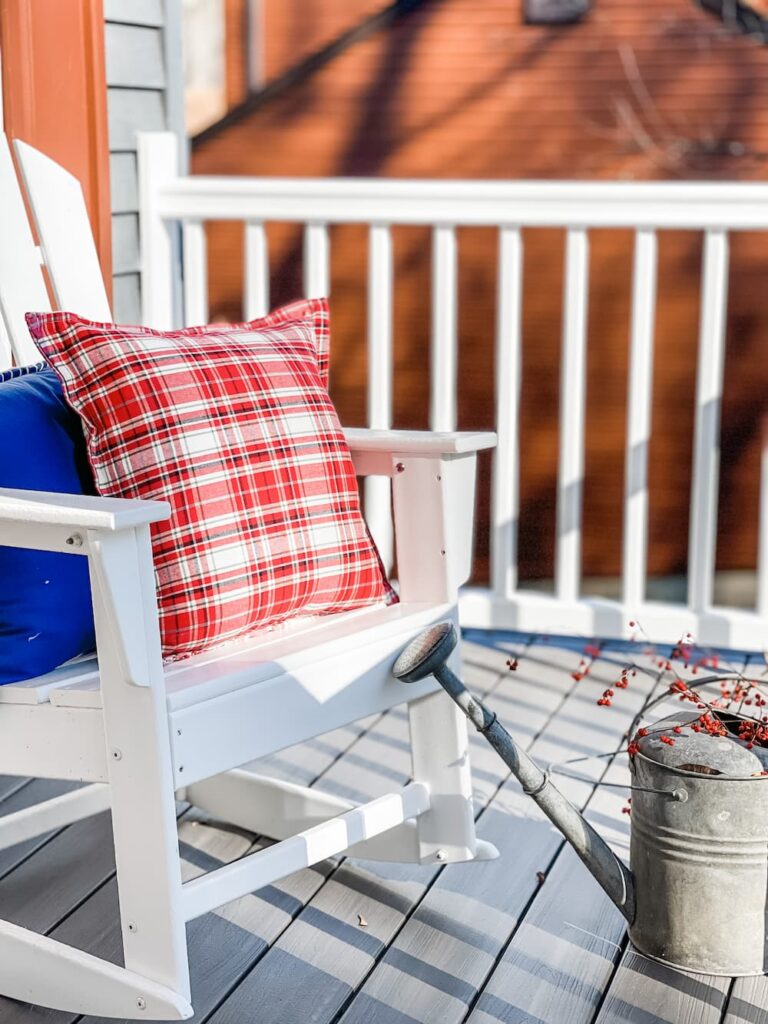 THE SHED
How can I help from decorating the beautiful shed Carmine built from scratch. I wish I could say it was my She Shed but sadly it is not.
I added a wreath on the front door then added some decor to the window box.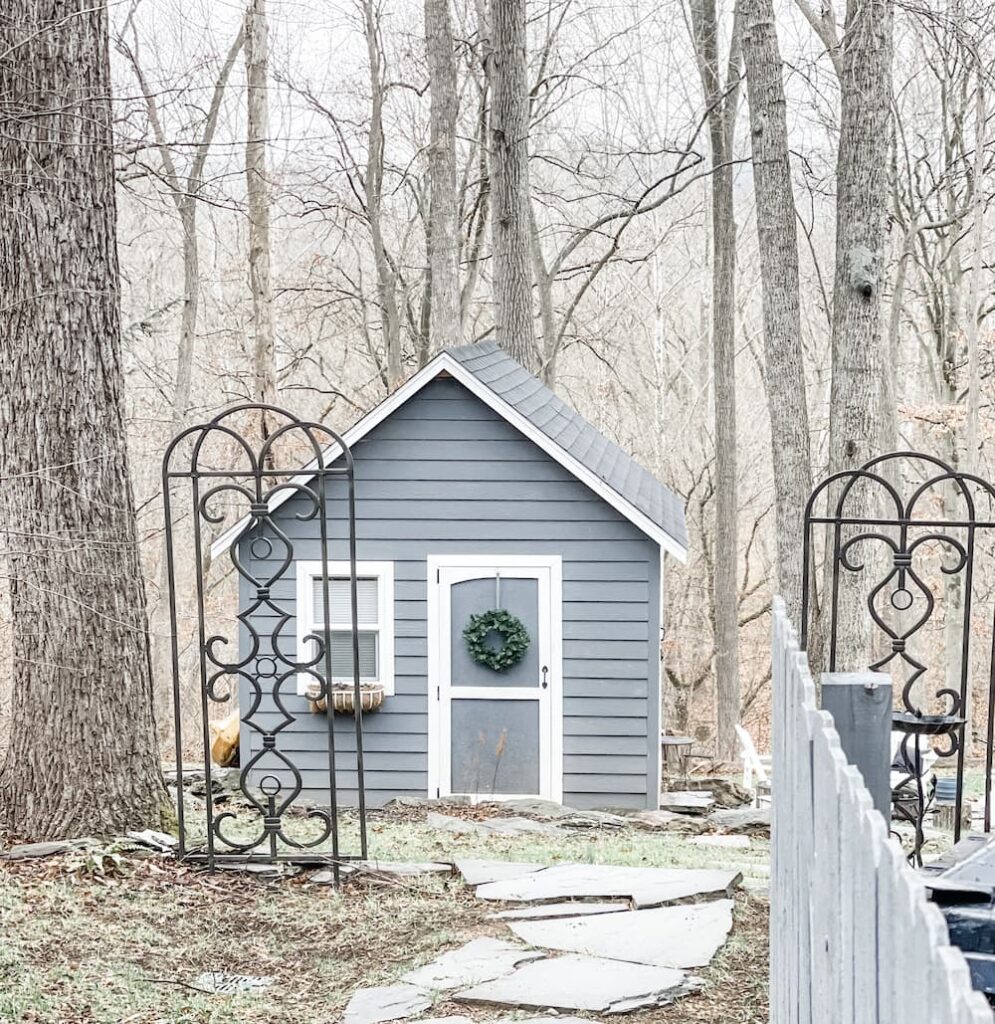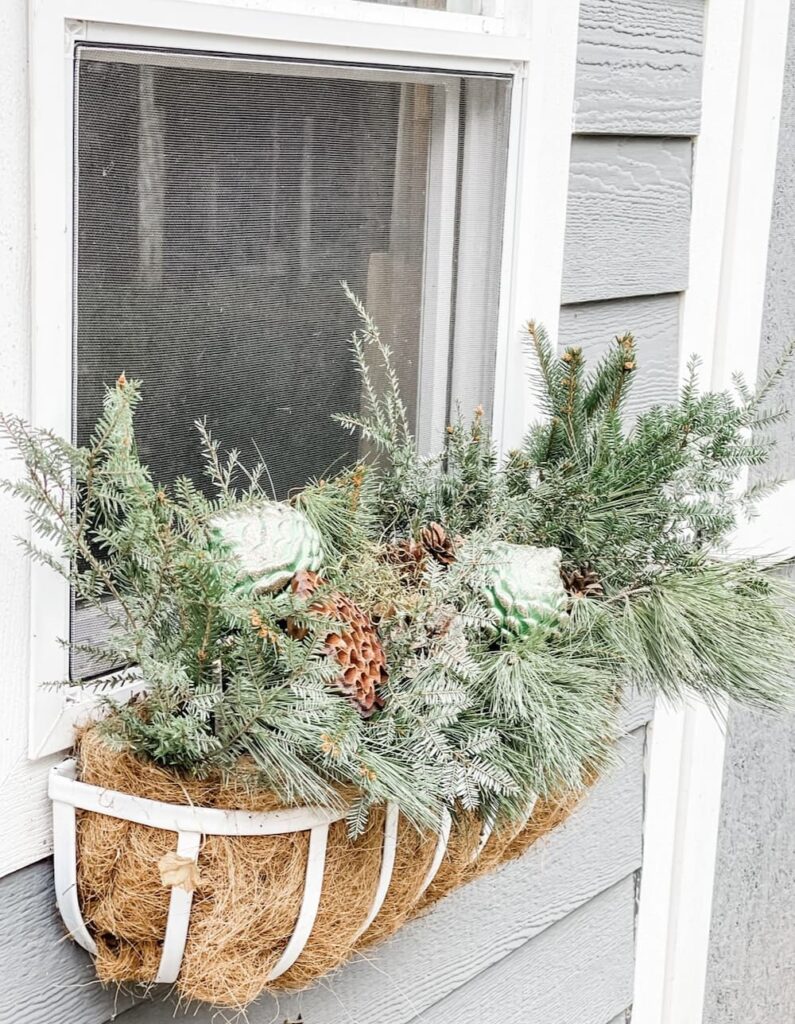 powder room
Last but not least, in bathrooms I add holiday soaps and hand towels. But in this particular powder room I do have the most obnoxious toilet paper holder that makes sounds and plays holiday music.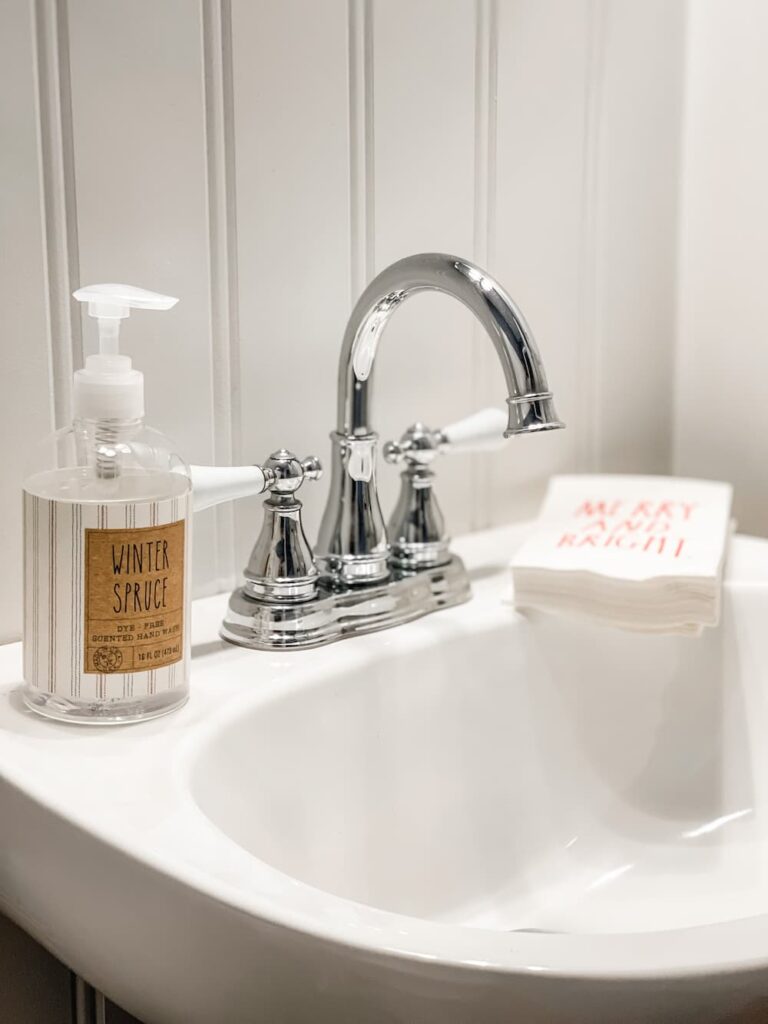 it's a wrap
Cozy Holiday Home Tour is a wrap.
Thanks so much for stopping by my Cozy Holiday Home Tour. It was so nice to have you over.
I hope you have a chance to relax in front of a cozy fire with those you love.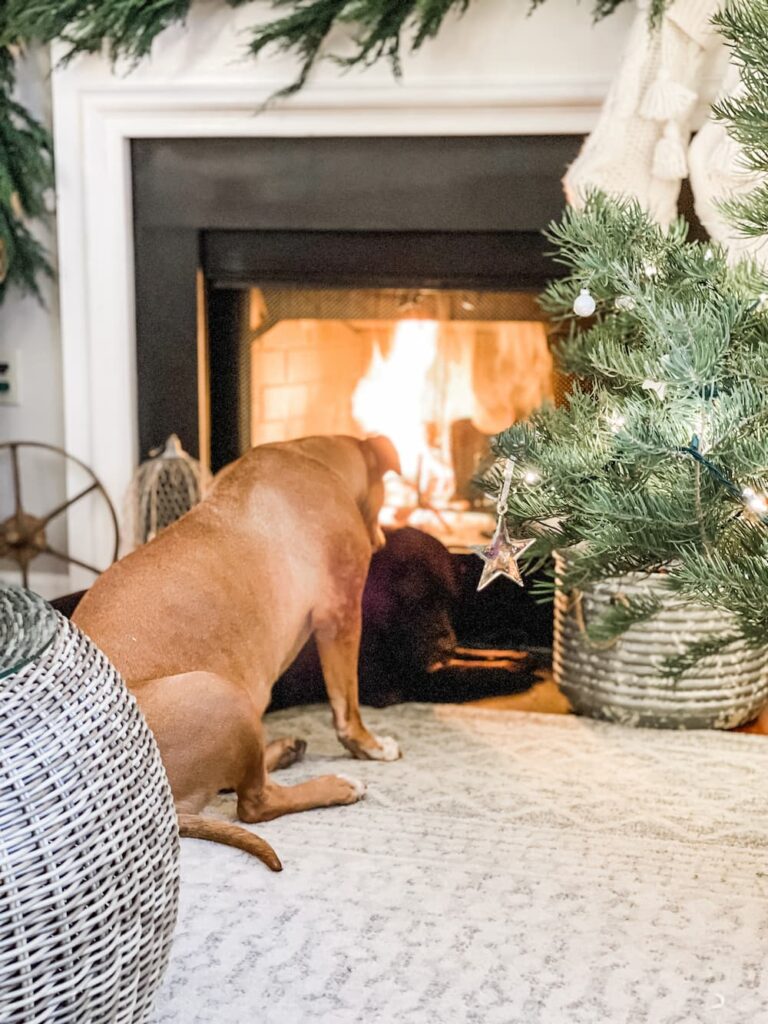 Have a wonderful Christmas season.
XO, Regina