Are you in the market to buy a new home? Or sell one? I'm sharing ideas and tips to prepare, update and stage a small home to sell. Including a few DIY's.
We should all live in a house that's as uncluttered as one on the market. I'm sharing how I helped to update and stage a small home.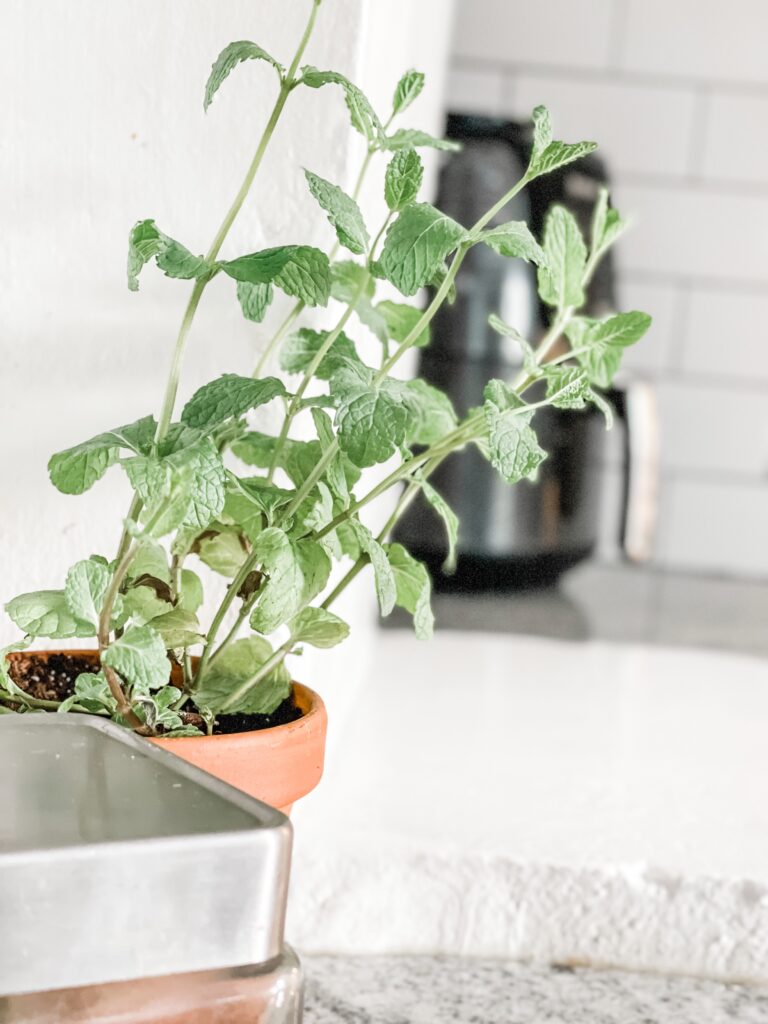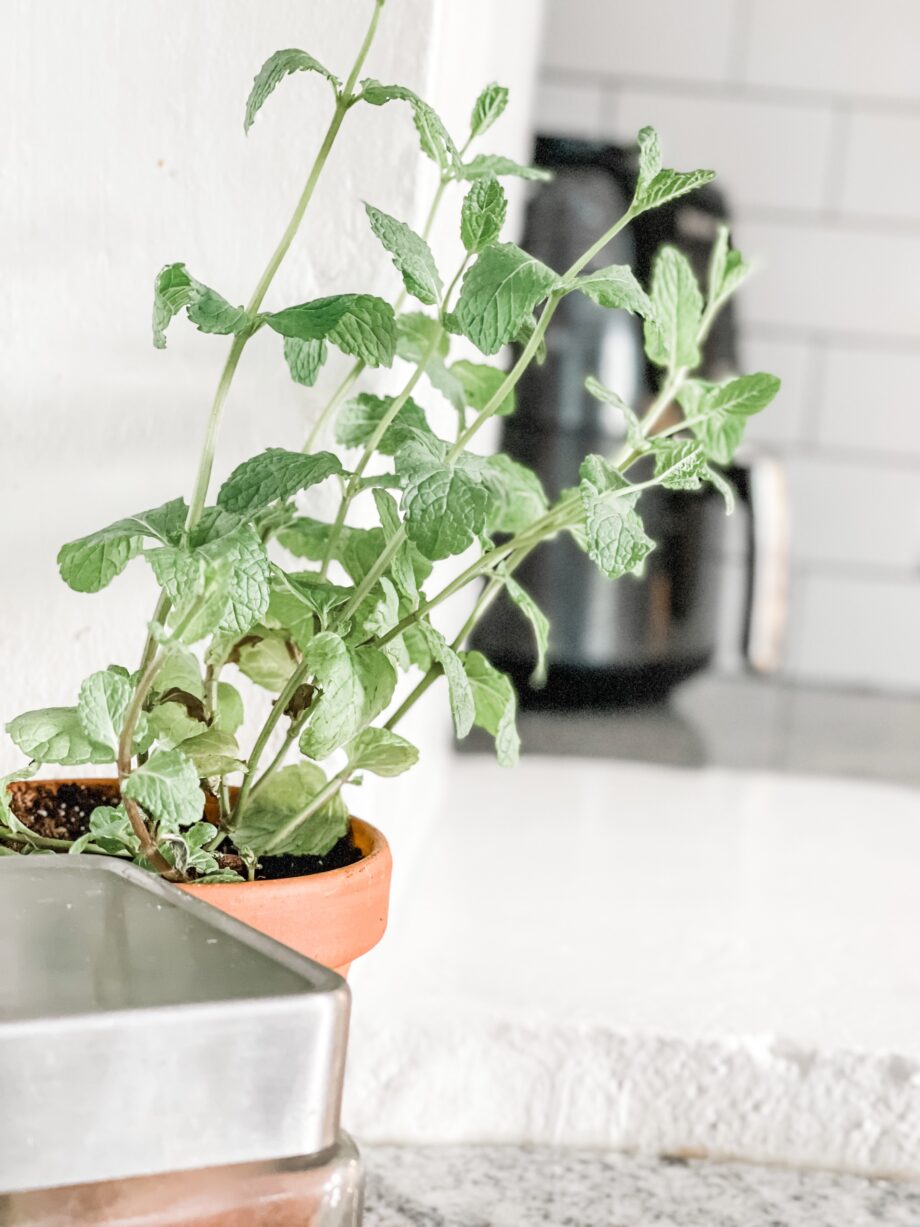 First, who doesn't love a 100 year old home? Well maybe my son when he started to get it ready to sell.
I offered to help as he prepped his home to sell. In a matter of weeks it was done and listed.
The not so fun part was everything leading up to that.
Come along on the journey!
A few years back I emptied and got my mom's home ready to sell. I cleared out and shared items with my siblings and nieces and nephews. It was quite the undertaking.

If you are anything like me (and apparently my son is) going through things isn't a quick process.
Looking at old pictures, reading old things from sports, or work or cards from family members, takes over sometimes.
So when there is a deadline, you need a plan.
SORT BEFORE YOU SELL
A good rule of thumb is to tackle room by room and sort things. My favorite piles are:
Giveaway
Keep
Sell
Trash
Making these piles can really cut down on the overall "stuff" in your home. Let's look at them one by one.
ITEMS TO GIVEAWAY
This category includes useable items, maybe a friend, a family member would be interested. Start there.
Next is to donate to a thrift store, Goodwill, Salvation Army or a thrift store connected to a church.
Think clothes, housewares, unwanted decor, books, sporting goods.
Another great location to donate is to Restore, which is the storefront part of Habitat for Humanity or a local reuse warehouse like Community Forklift.
This is especially good for old tools, lawnmowers, extra lighting or things you may find in your shed or around your tool bench.
Depending on where you live, putting things on the curb is easy too. We did that with a few things and people slow down to look, and they definitely took a few items. This saves you hauling things to a thrift store.
If you are like me you will have to fight taking things from the curb yourself!!!
THE KEEP PILE
This is an area I need help. I keep so much. I'm getting better because I realize that when I go back through "history" that I've kept, I sometimes don't recall the event or I acknowledge that no one else is going to appreciate my "history."
Also, I may have a difficult time parting with things I think I could reuse in another way. For example today I asked Carmine where the extra composite boards where that he was using to build the porch columns.
He threw it away. That's the last time I travel, it happened while I was away these last few weeks. Sad face.
On more than one trip to the dump, I ended up rescuing some old golf balls or things I just might need. So your goal is to not be like me in this area.
THE SELL PILE
My son was a rockstar in this area. He always had someone showing up to buy things those last few weeks. He would list on Facebook Marketplace or Craigslist. If you are weary of doing this, agree to meet at a convenient location or make sure you have friends over when a pick up is expected. His goal was to sell $1,000 worth of things and he did.
THE TRASH PILE
This is easy, if it can't be recycled or given away, then you have the dump option. At the local dump they have a variety of areas for you to drop broken appliances, electronics, computers, recycling metal, recycling paper, broken bikes and more.
EASY UPDATES TO YOUR HOME
There are two schools of thought here. One is leave the home as is and just clean it out, then there is one that says paint or touch up so even if it's not your color or style, you can move into a fresh and clean home and fixing it up isn't as urgent.
That's my school of thought. I'd much rather move in and have everything fresh, then I can leisurely tackle things room by room.
Most of my son's home had recently been painted so it only needed touching up. He painted the mudroom and painted the stairwell and steps.
He had Carmine add a new ceiling fan to the second bedroom/office and his bedroom.
UPDATING THE MASTER BEDROOM
My first suggestion was to take down the curtains. Who doesn't love lots of light pouring into a home? The paint in this room was fine but the furniture (although moving) had been painted 9 years ago and was not in good shape.
You don't want to give prospective buyers any reason to wonder or question the upkeep.
Since this wasn't on the original "to do" list, I did it between coats of paint in the bathroom.
I used Dixie Baja Grey and gave the end table and dresser a fresh coat.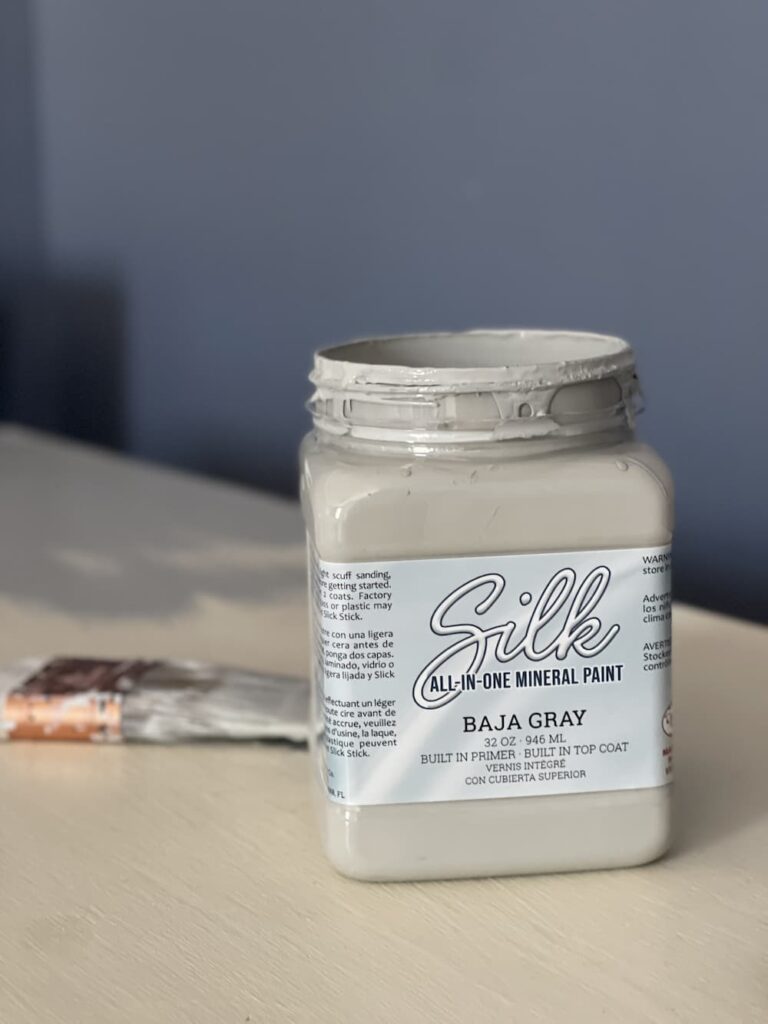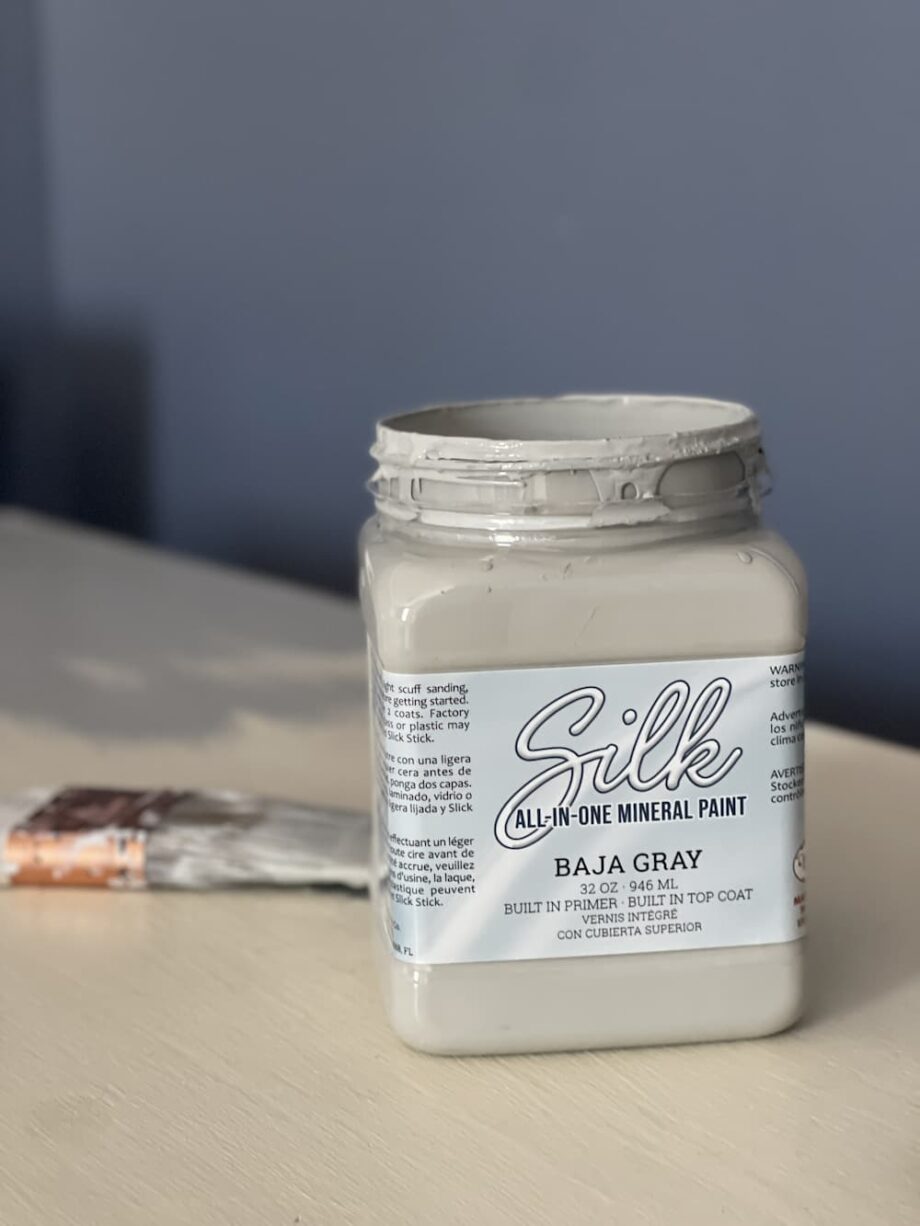 I used the Silk Mineral Paint that has a primer and top coat built in. So it was an easy fix, now the room shined.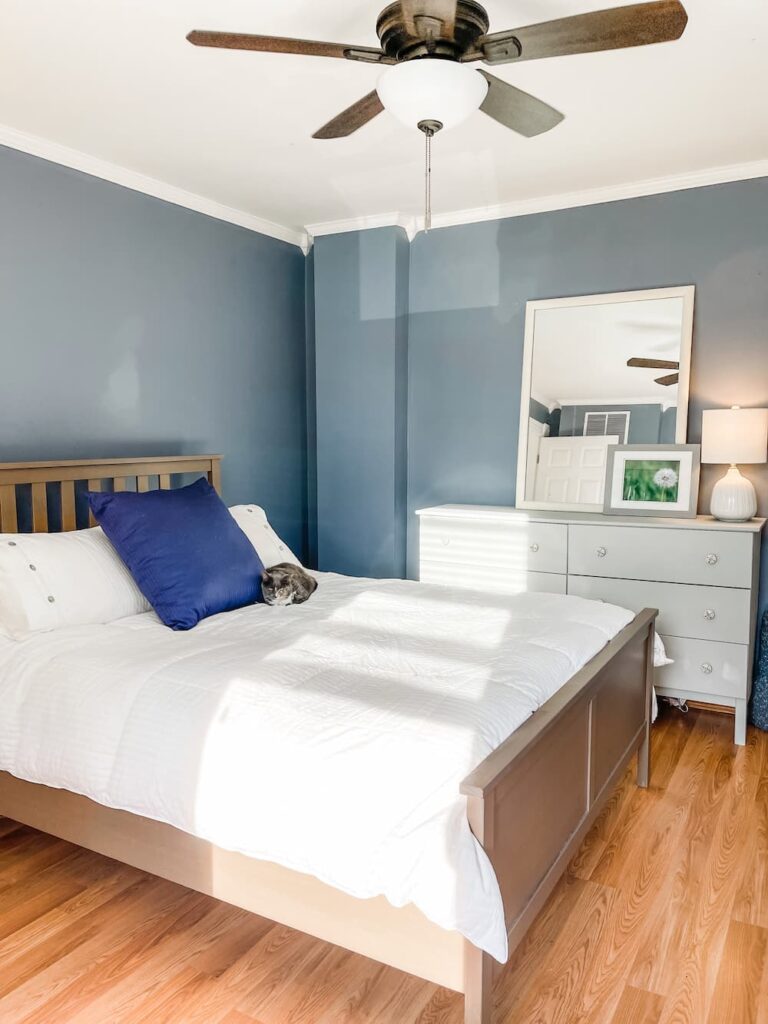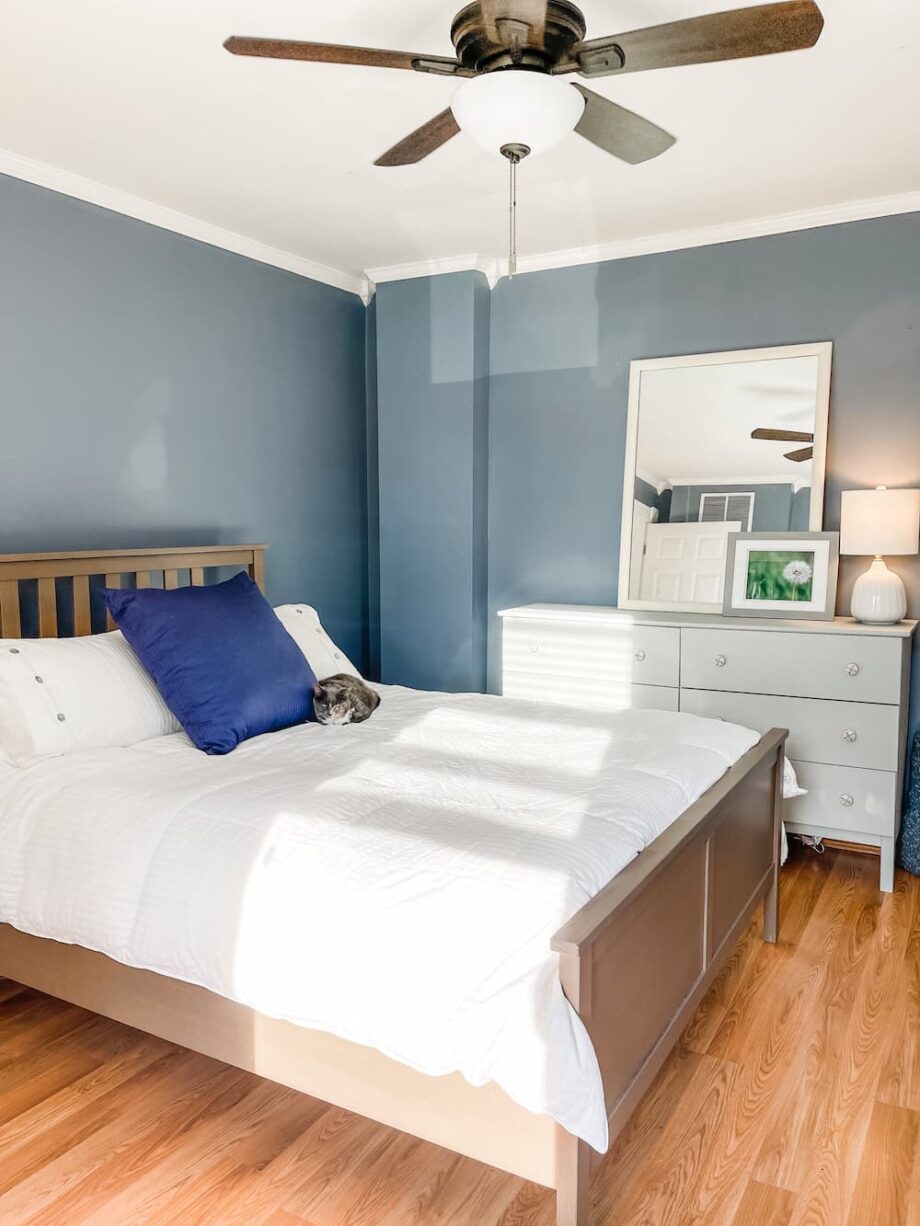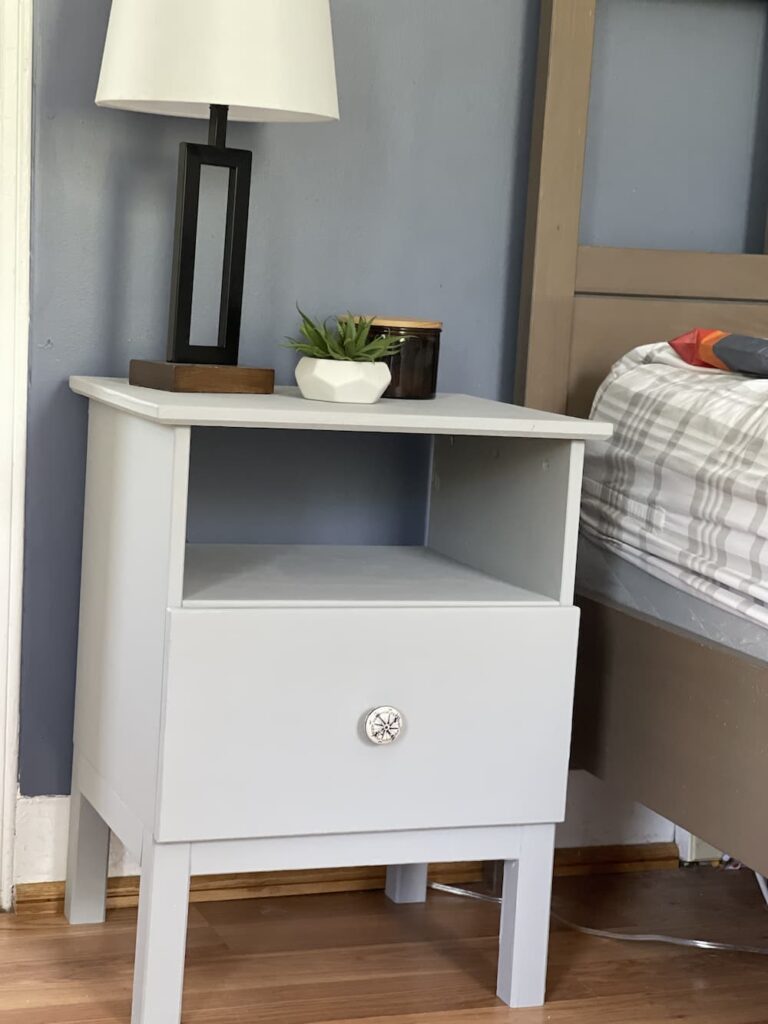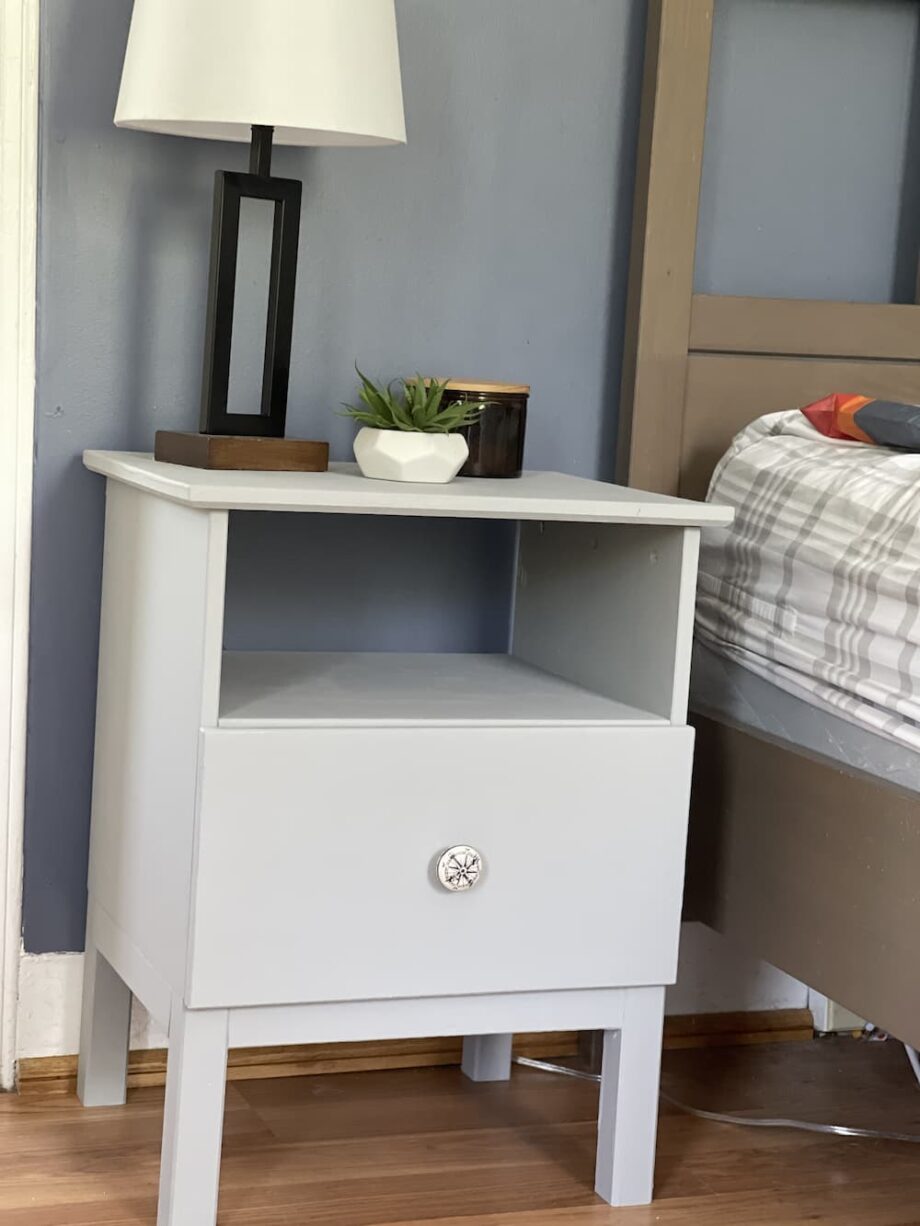 UPDATING THE BATHROOM
We have an extra vanity from our bathroom remodel and we were going to put it in his home. It was moved over to his house and then realizing that the plumbing needed to be moved (remember this is a 100 year old home) we opted to keep the one there.
But, like the dressers, it had been painted over 9 years ago and was looking a little rough. The plan for the bathroom refresh included painting the vanity, updating the hardware, painting the walls and trim and mirror.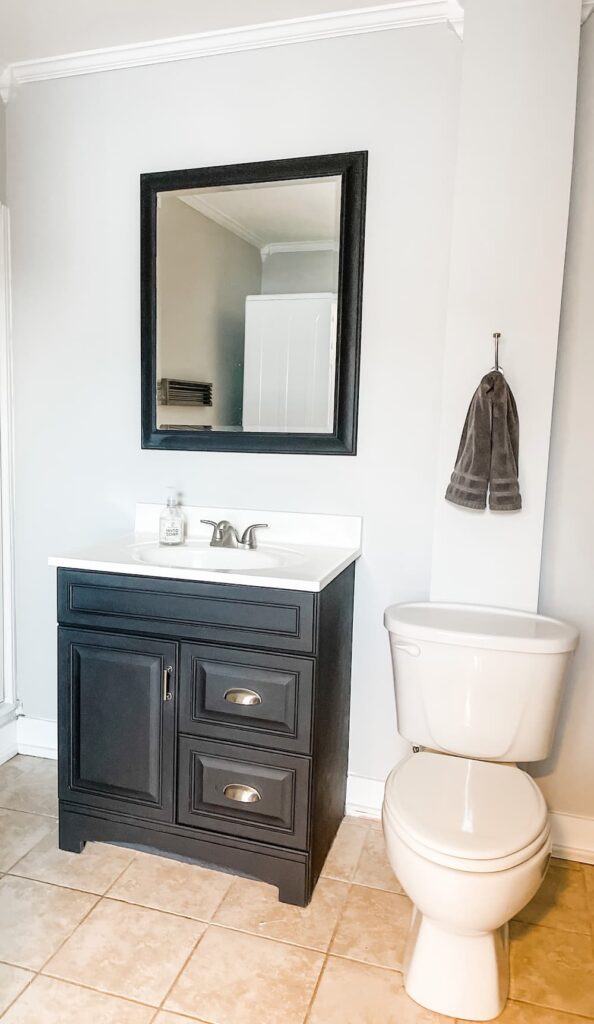 One of my favorite colors by Dixie Belle is Anchor. A Silk Mineral Paint, the top coats and primer are built in. I removed the hardware, my son drilled holes for the new hardware and I cleaned the vanity using White Lightning.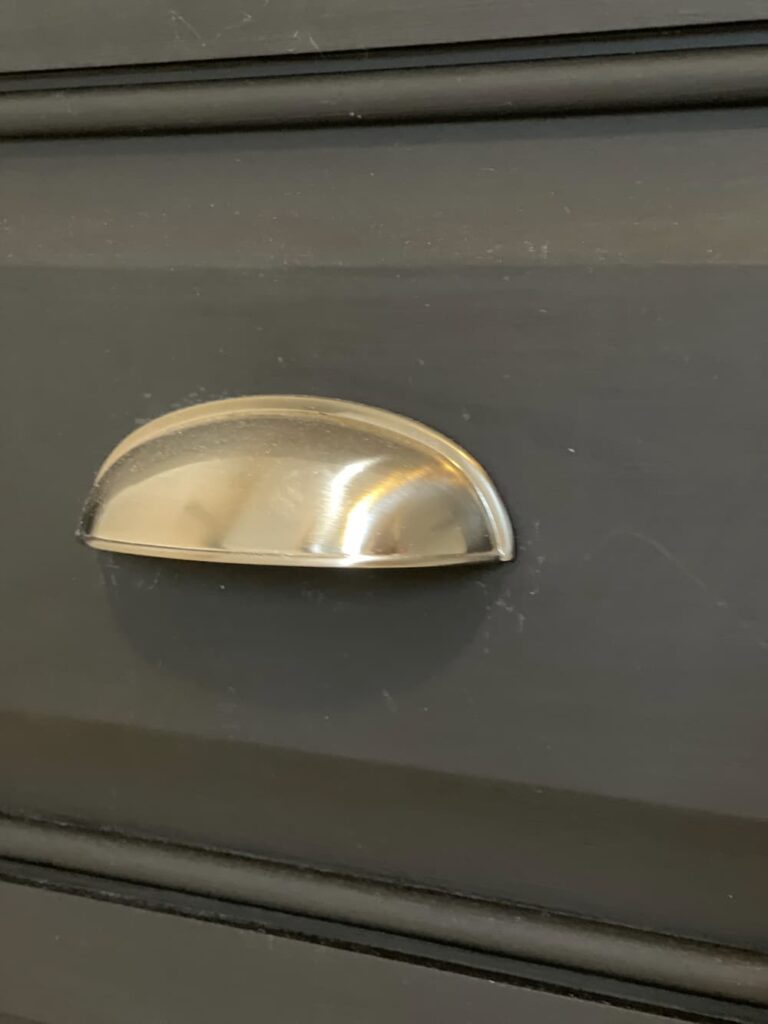 The next step was to paint it. It took two coats and looked amazing. Anchor is such a rich color, no wonder I keep using it over and over. Click here to see another great project in Anchor.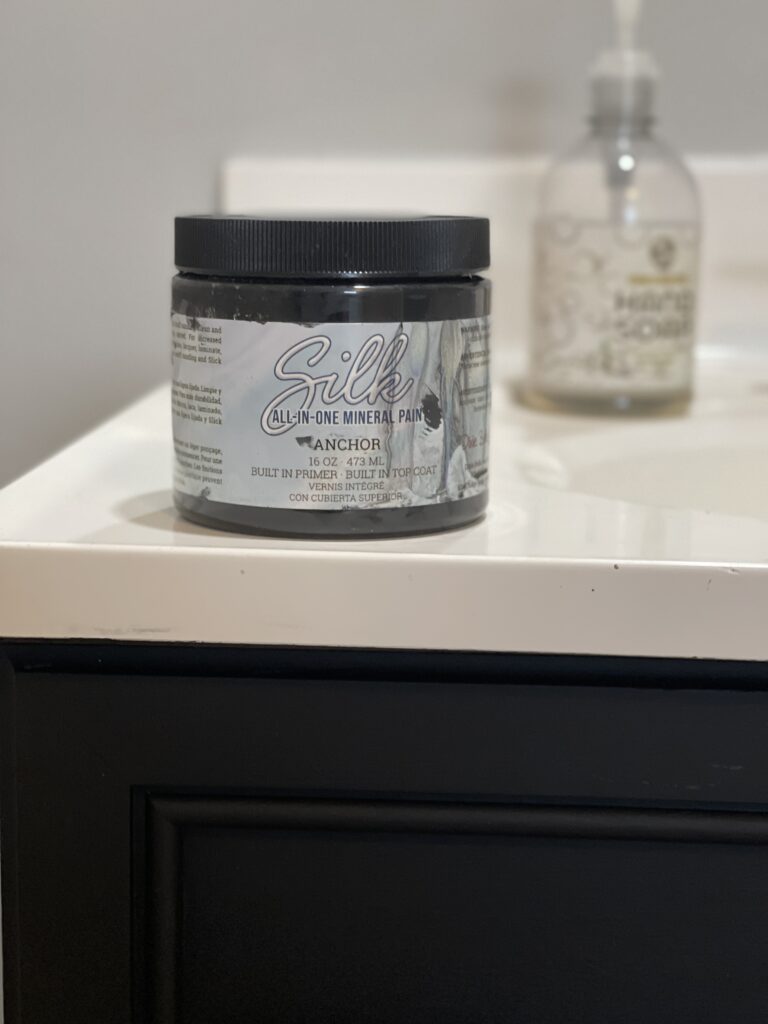 The new knobs were brushed nickel that matched the faucet and other fixtures.
I painted the walls in Owl Grey by Benjamin Moore and I told my son it would lighten up the room. It went on sort of dark but when dry it matched perfectly with the towels, shower curtain and vanity.
A quick redo of the white trim and the bathroom was done.
TIME FOR STAGING
Do you love to window shop homes? I do, I love to look at houses online. It's a great way to get ideas on decorating, landscaping and more.
It's also a great way to know what you don't want your house to look like. I often wonder when I see a house listed what the people are thinking. Why didn't they clear out under the bed or leave clothes laying around.
I've got a great tip that works for me. I know it will work for you. Staging a home to sell isn't that difficult if you take time to review what you are working with.
When we stand and look at a space, often it looks good to us. If you are staging a home, or just prepping for company. Take a picture with your phone of the space and study it.
What needs to go away or change will jump out at you.
STAGING THE KITCHEN
First rule of thumb is to clear the counters. Whatever you put back should be strategic and spaced out.
My son had open shelves which I organized, neatened and added a plant to.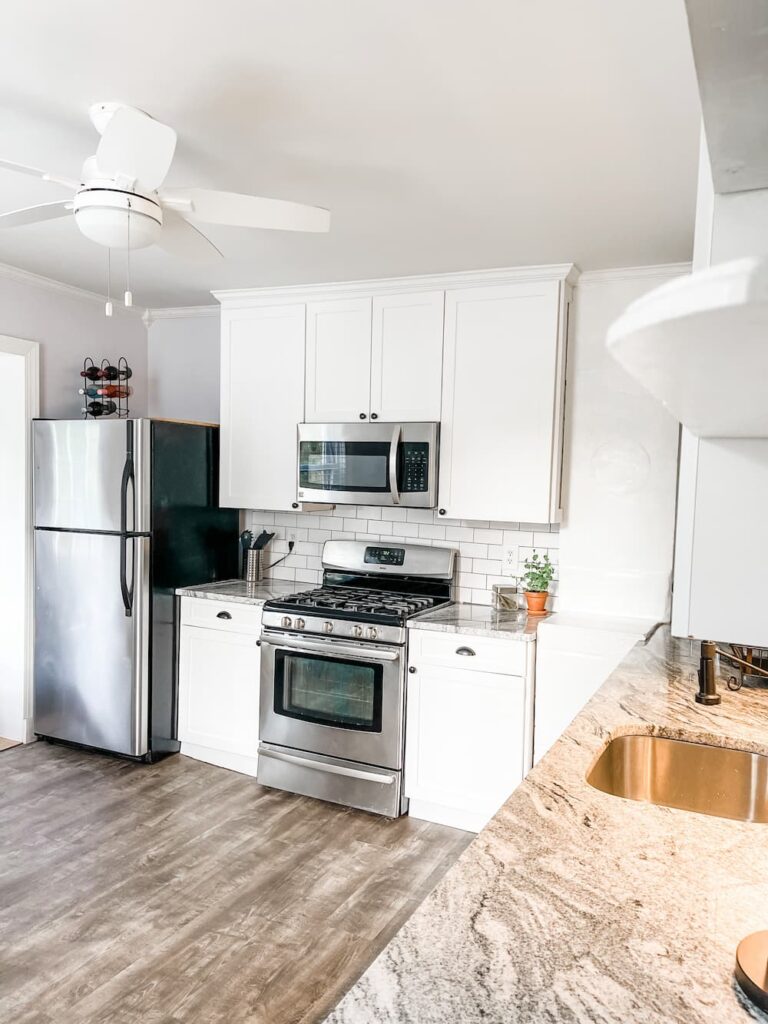 The counter had very few items but I added a mint plant for a pop of green to warm it up.
The table was set for two and another plant was added to the table.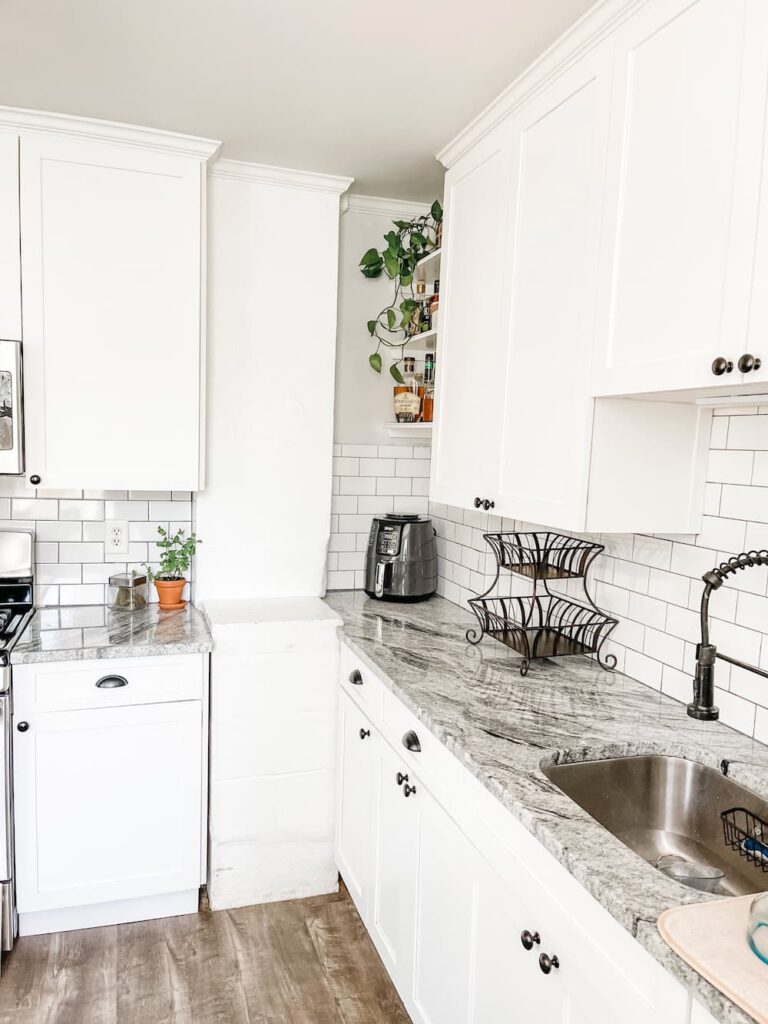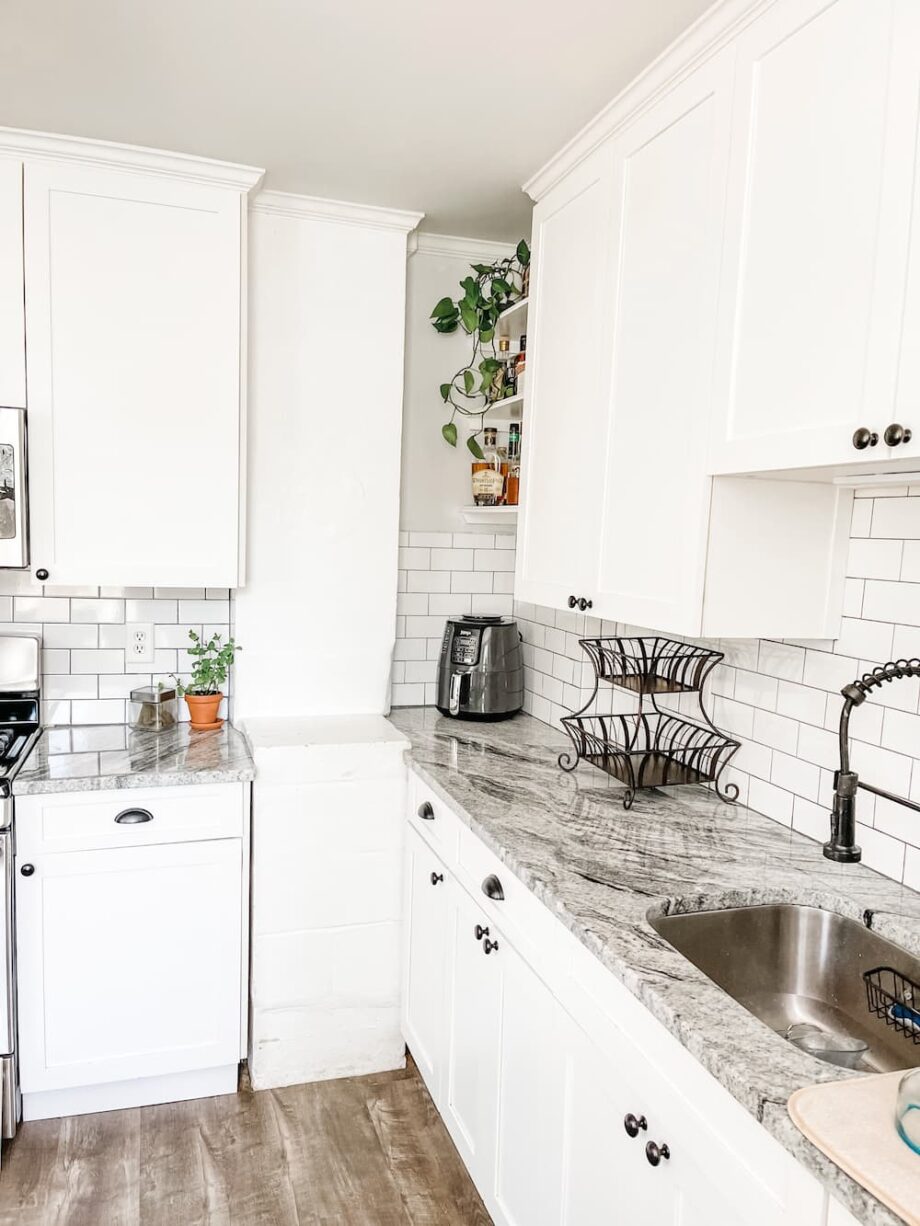 STAGING THE MUDROOM
The mud room is open to the kitchen, I cleared it out and used these grey and white containers from Target to style the shelves. Again I added a small plant.
This is where the cat litter lives and the trash can, the cat was staying while it was on the market so although it could be a turnoff for some, it was a necessity.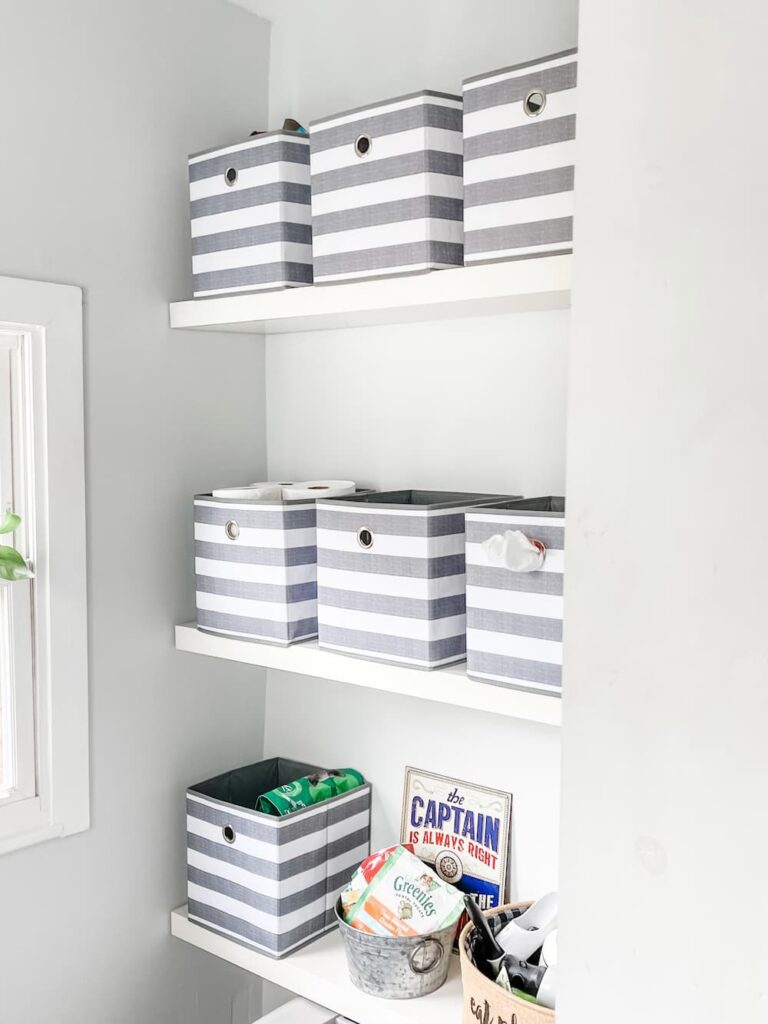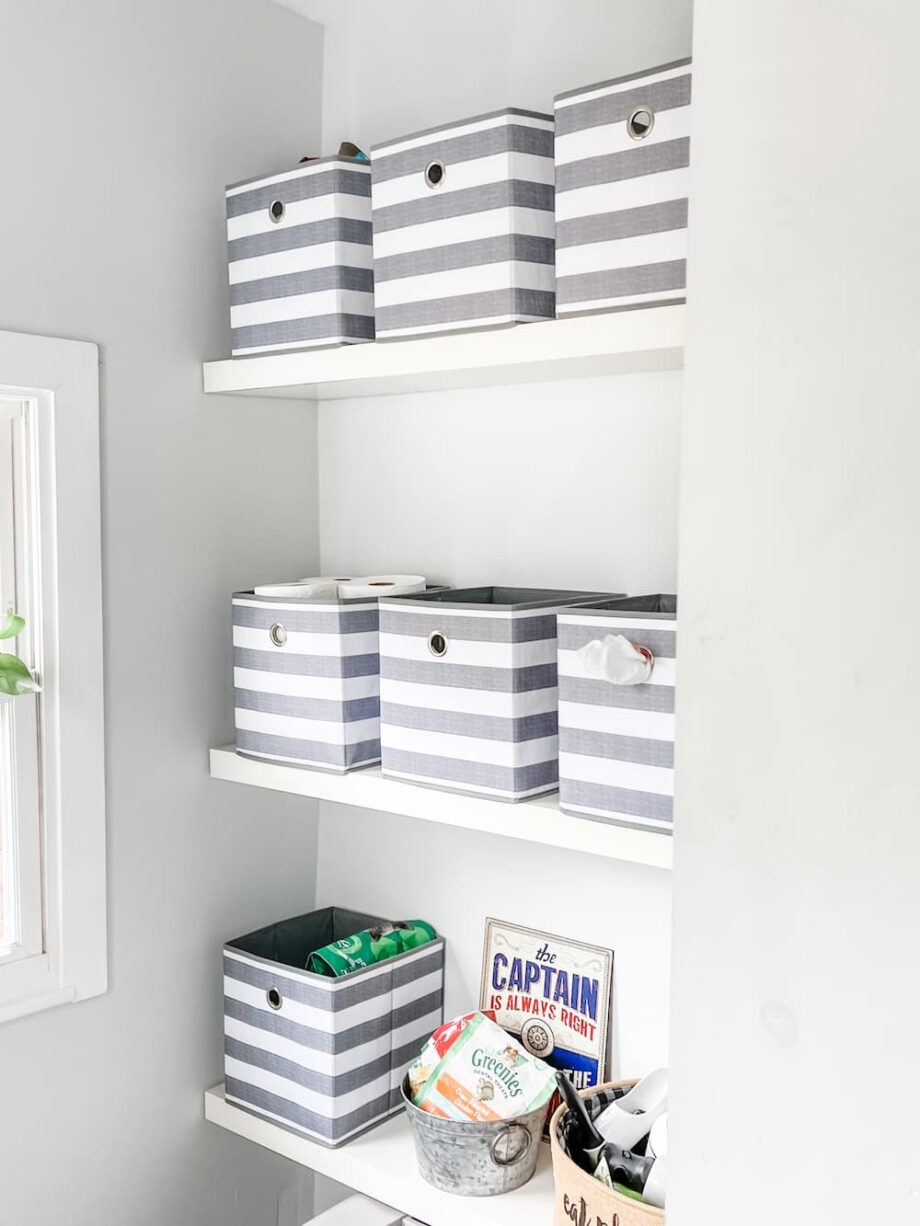 STAGING THE BEDROOM
The bedroom was easy. After it was cleared out, I added pillows to the window seat, made the bed in a solid white comforter, added pops of blue. The dresser had only a mirror, picture and a lamp I brought over.
The curtains were already down.
The side table had a succulent and a candle next to the lamp.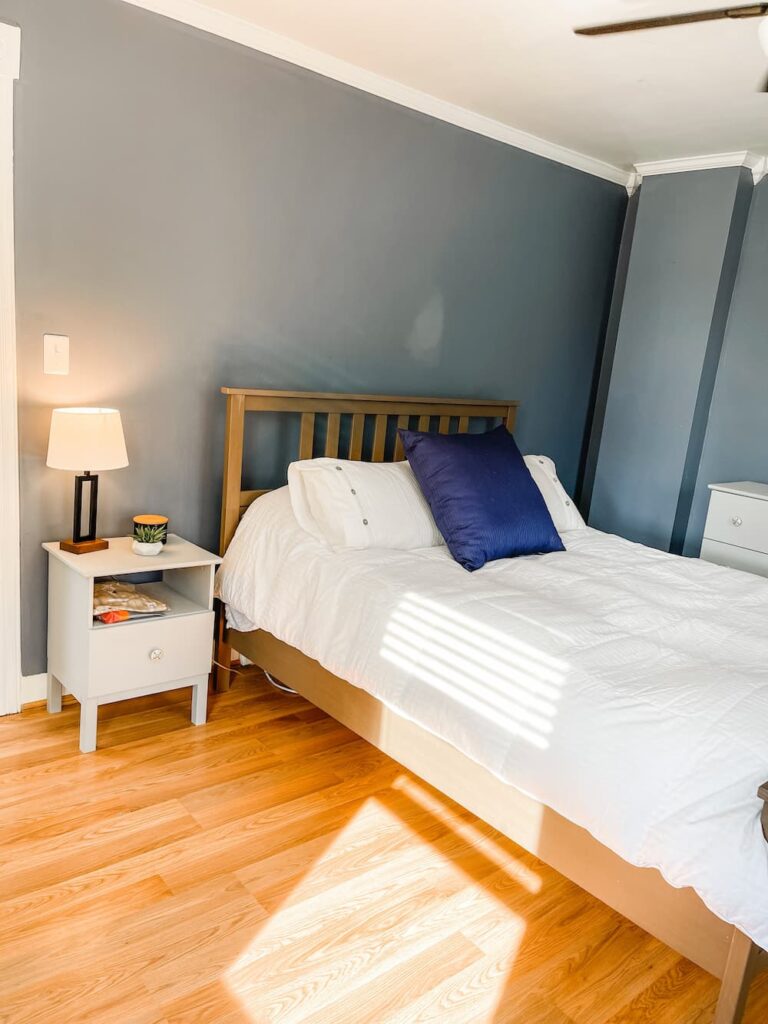 STAGING THE BATHROOM
All clean and painted with the fabulous vanity, not much else was necessary. When selling a small home, you want spaces to look as large as possible.
I added the towels, and used the shelf in the space to hold a glass jar with detergent (the laundry lives there) and a candle and basket.
Everything was off the counter except a hand soap. A clean profile made the space look larger.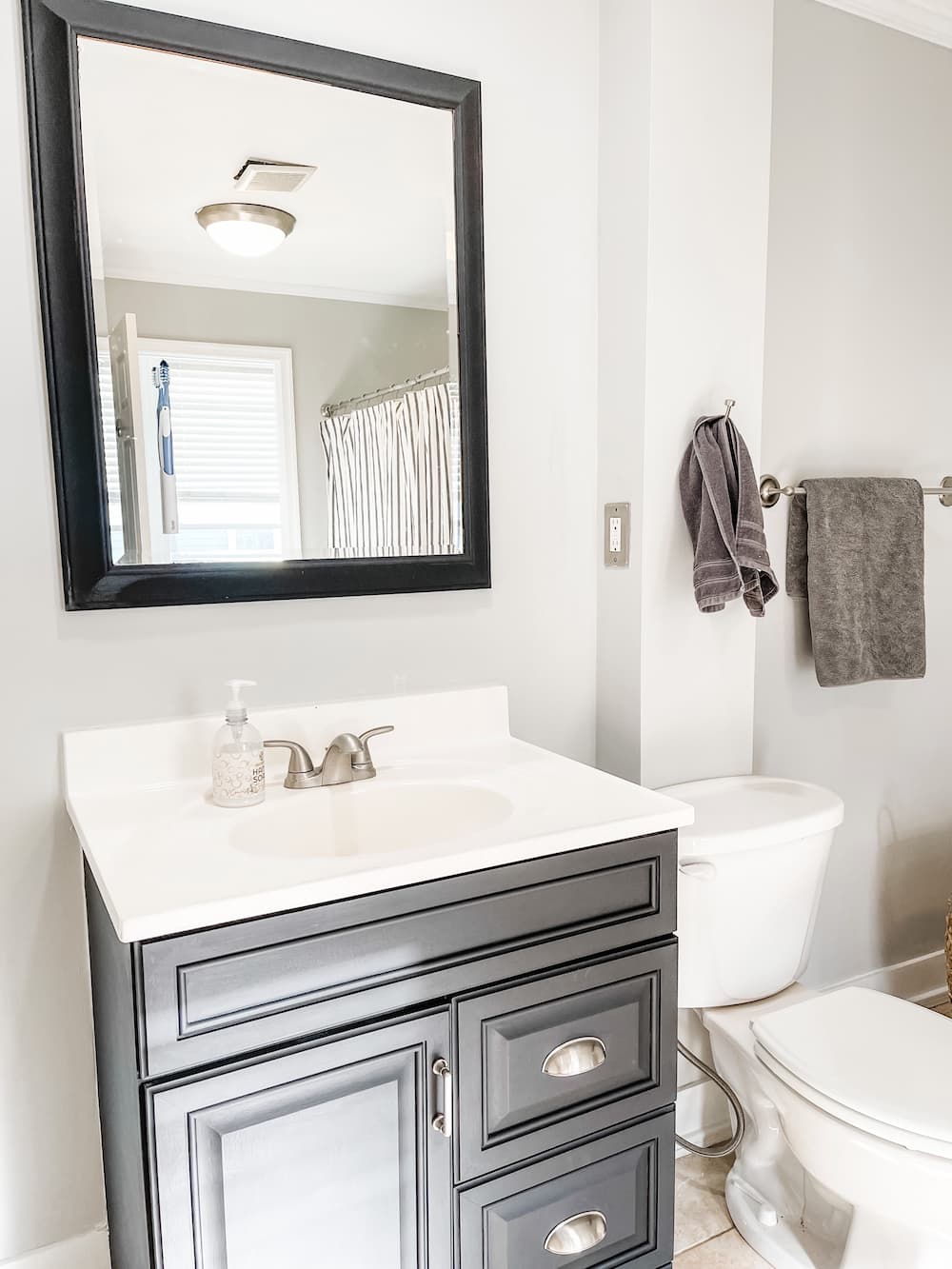 STAGING THE LIVING ROOM
For the living room, I removed most things from the top of the tv cabinet, rearranged the shelves, removed all jackets and hats and leashes from the hooks behind the door and added throws and pillows to warm up the space.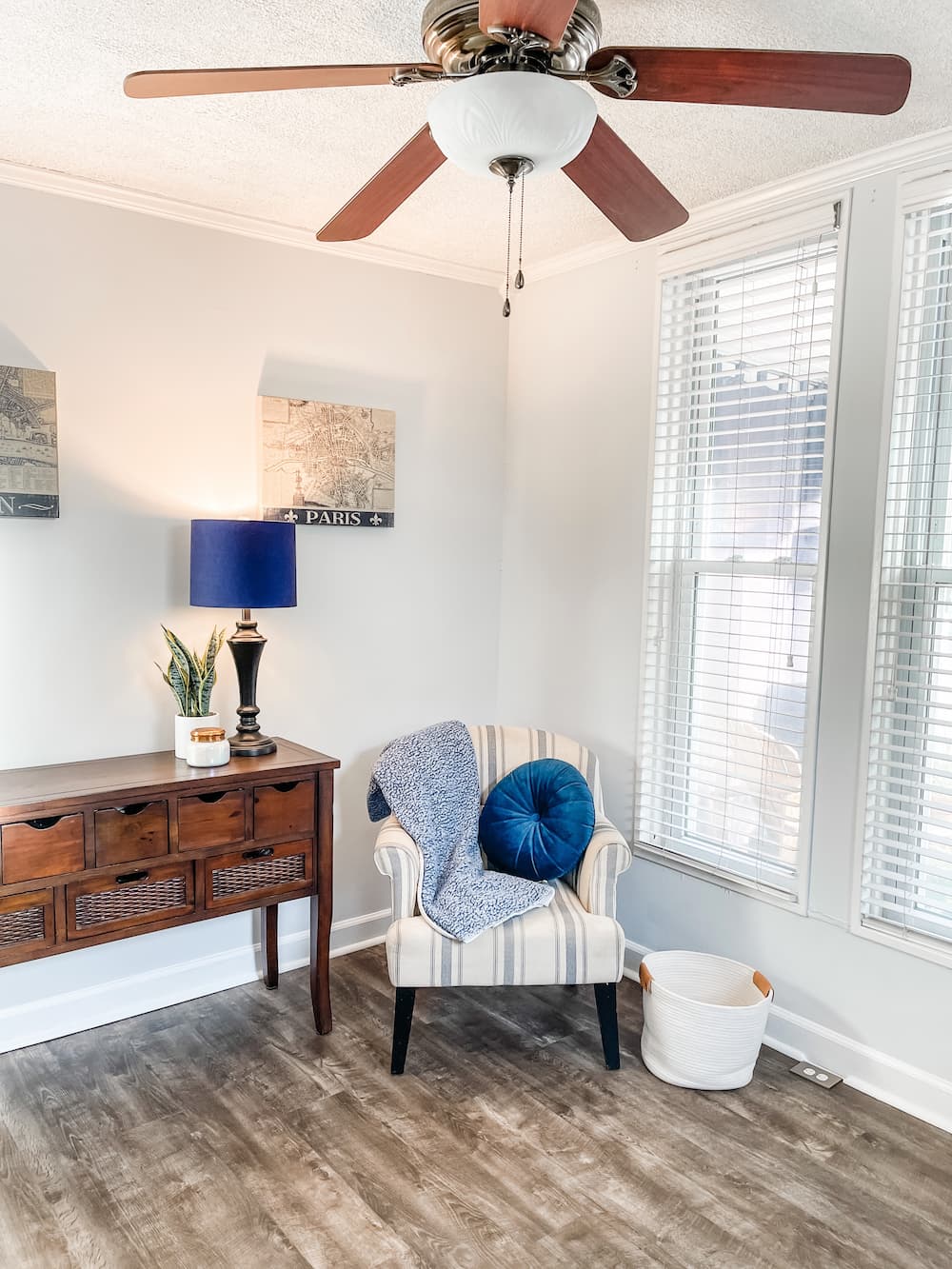 STYLING OUTDOOR SPACES
Curb appeal is very important, it's the first impression. During our prep I painted most of the fencing and railings. I painted the door trim and my son painted the porch. So when you are getting ready to put your house on the market, don't overlook the front and outdoor areas. They need to be staged and styled also.
That clean pallet was perfect backdrop to add the newly pressure washed Adirondack chairs, a few ferns, birdhouse and a new welcome mat and rug.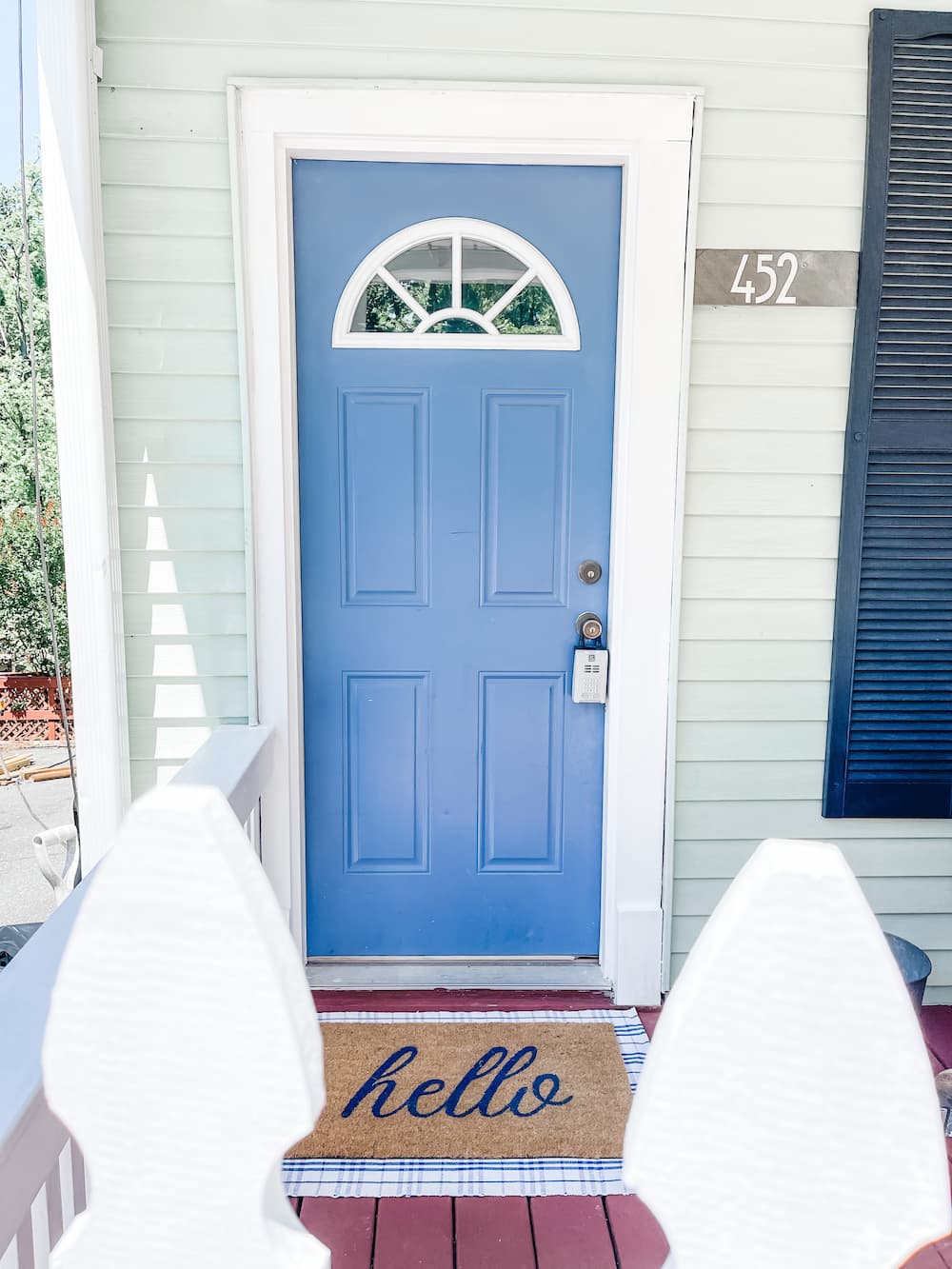 The new deck was staged with coordinated pillows and a grouping of ferns with a lantern and other flowers that were planted and placed to warm up the space.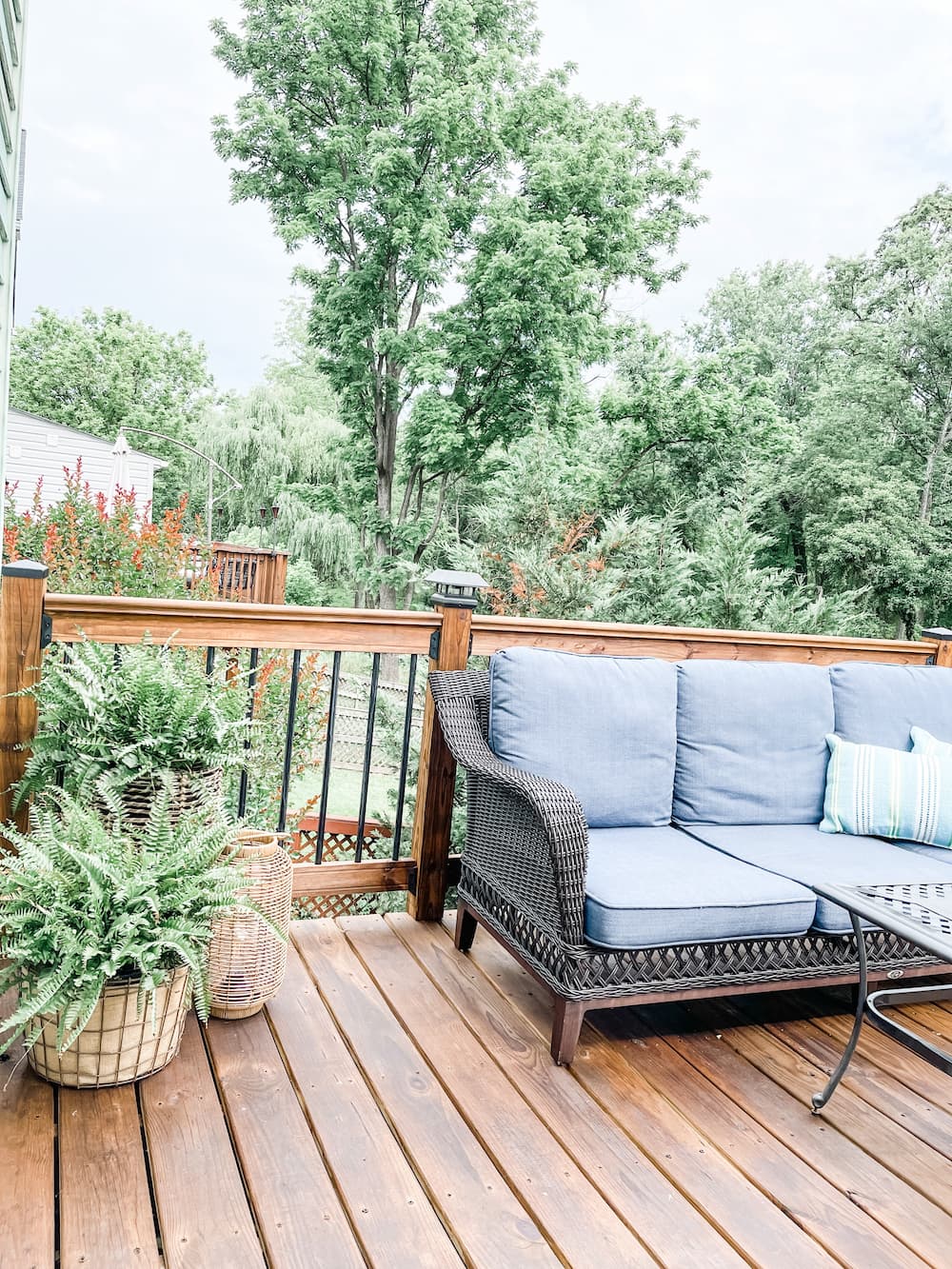 The back yard is fenced, so after weeding, mowing, making a new gate and painting, I found this adorable garden sign on clearance at Target and added it. I told my son that would seal the deal!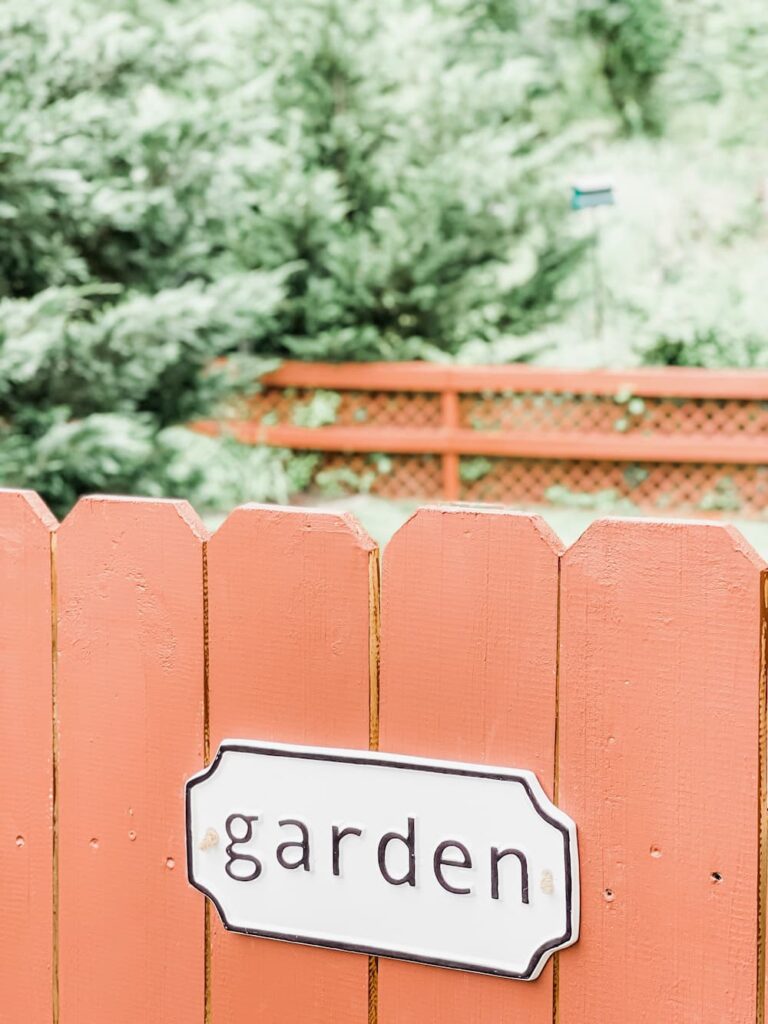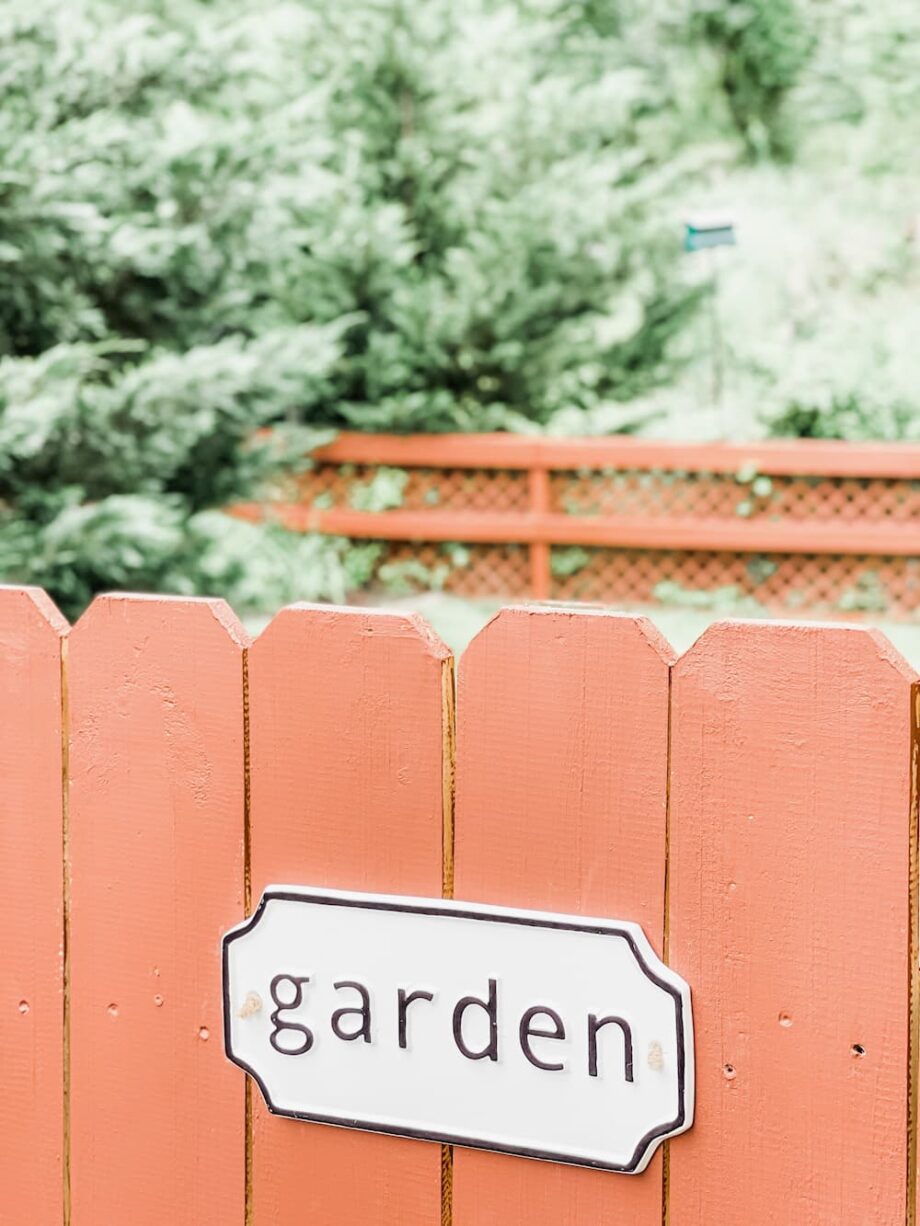 The good news? The house had 2 contracts in 3 days and he got well over asking and it's settled and he's moved. It's a lot of work but doing it right makes the back end that much easier.
I hope you enjoyed following along with this project. It was a labor of love. My son purchased this home when he was 24 and lived there 9 years exactly. I loved it so it was easy to have that shine through in our work.
Make sure to pin this for later so you have it to refer back to when you need it.
Thanks for stopping by. XO, Regina