Do you enjoy decorating for St. Patrick's Day? Are you looking for a more subtle look for your home?
I'm sharing St. Patrick's Day Decor Ideas you will love.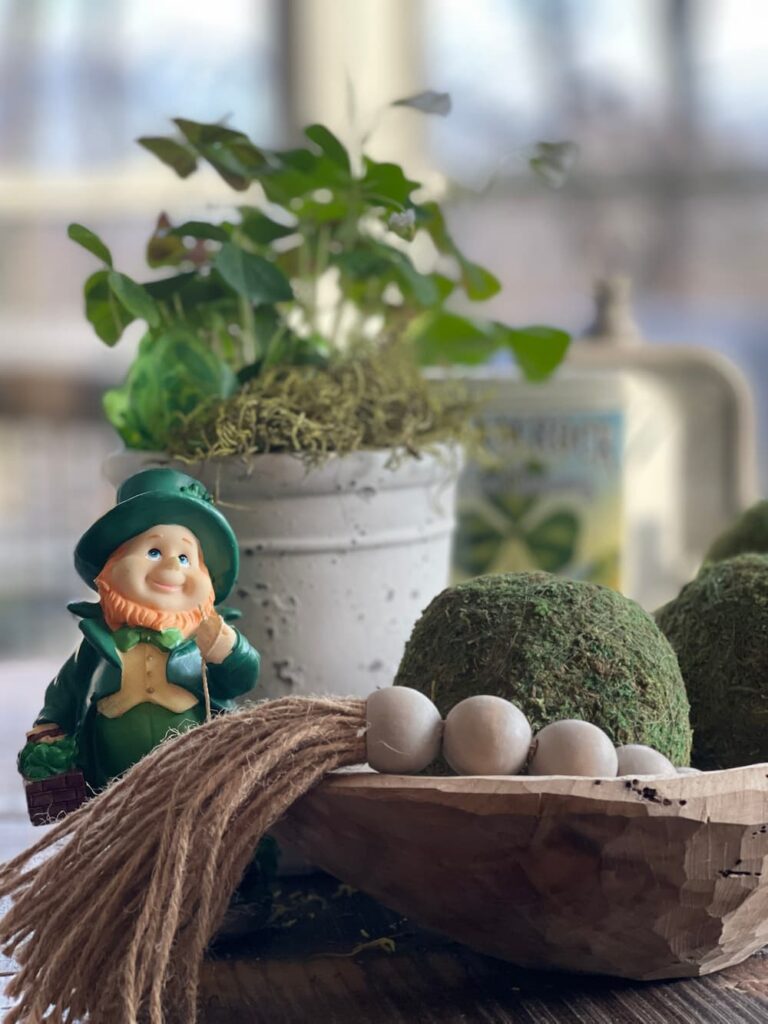 Hi, I'm Regina and welcome to Saved From Salvage. I'm glad you are here. I love to share DIY projects, Furniture Flips, Event Inspiration and Tablescapes and more. Make sure to click below to get on the list.
It's time for Celebrate The Holiday Blog Hop hosted by Carol of BlueSky at Home. Make sure to check out all of the St. Patrick's Day inspiration at the bottom of this post.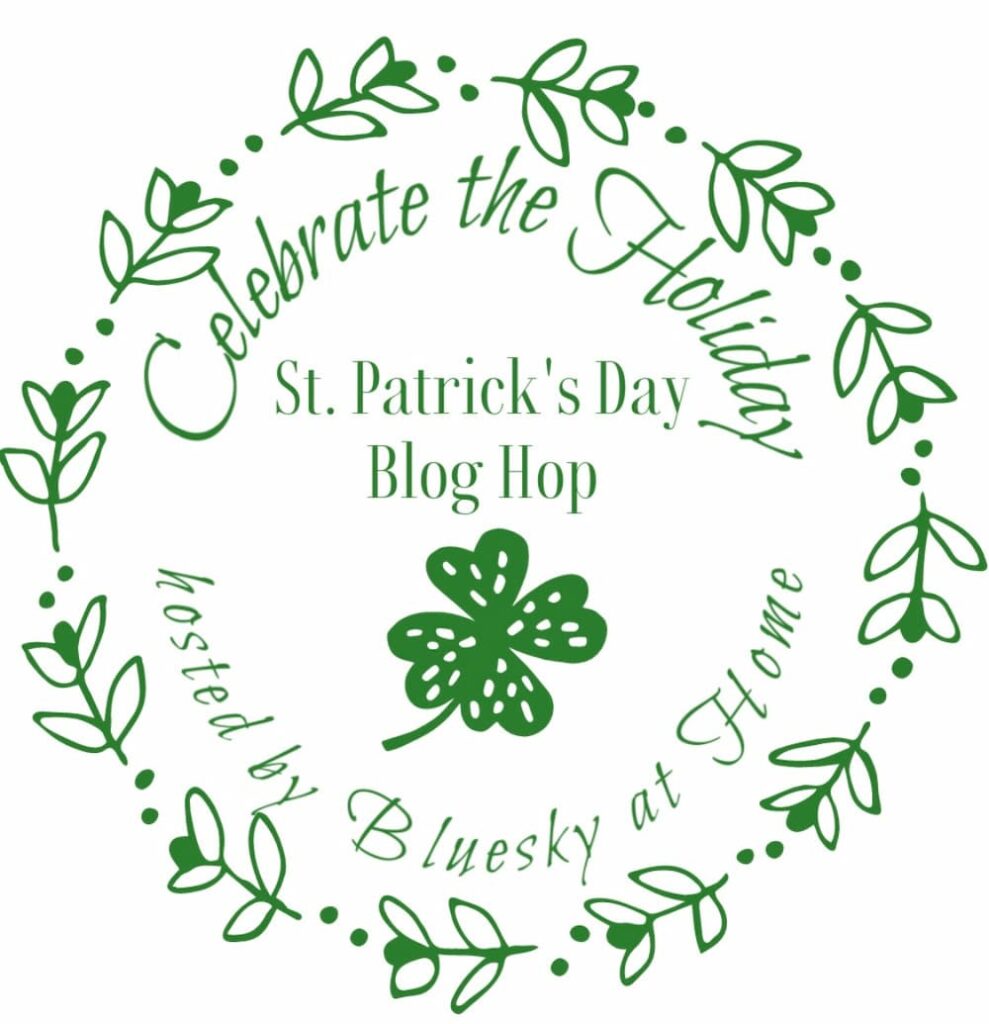 WHAT DECORATIONS ARE USED FOR ST. PATRICK'S DAY?
When decorating for St. Patrick's Day, the first thing that comes to mind is green.
An easy way to add green is with anything moss. I love to decorate with moss and these moss balls are a perfect addition to your St. Patrick's Day decor.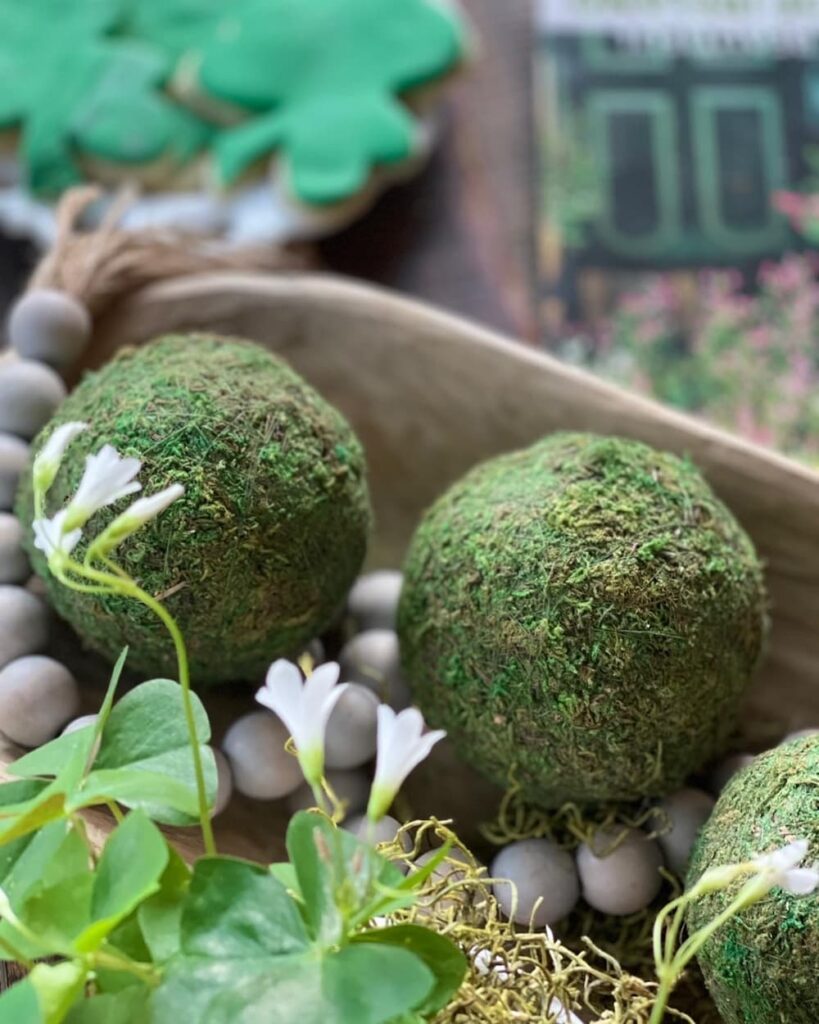 HOW CAN YOU DECORATE FOR ST. PATRICK'S DAY
There are a variety of small touches you can add to your home and still celebrate this Irish Tradition.
You can add green to your decor in the form of plants, especially the shamrock.
These are easy to find close to St. Patrick's Day in the grocery stores.
The delicate leaves are the perfect backdrop for your St. Patrick's Day decor.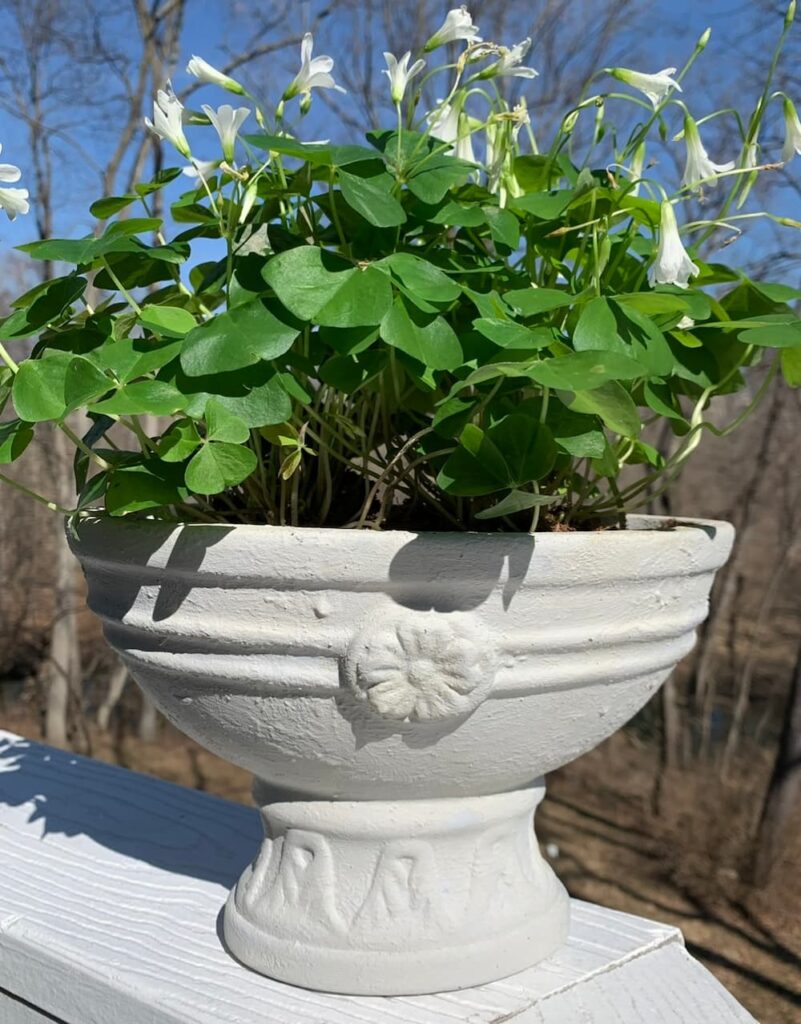 Daffodils in a beautiful vase with a nod to Ireland. This Belleek piece is a favorite.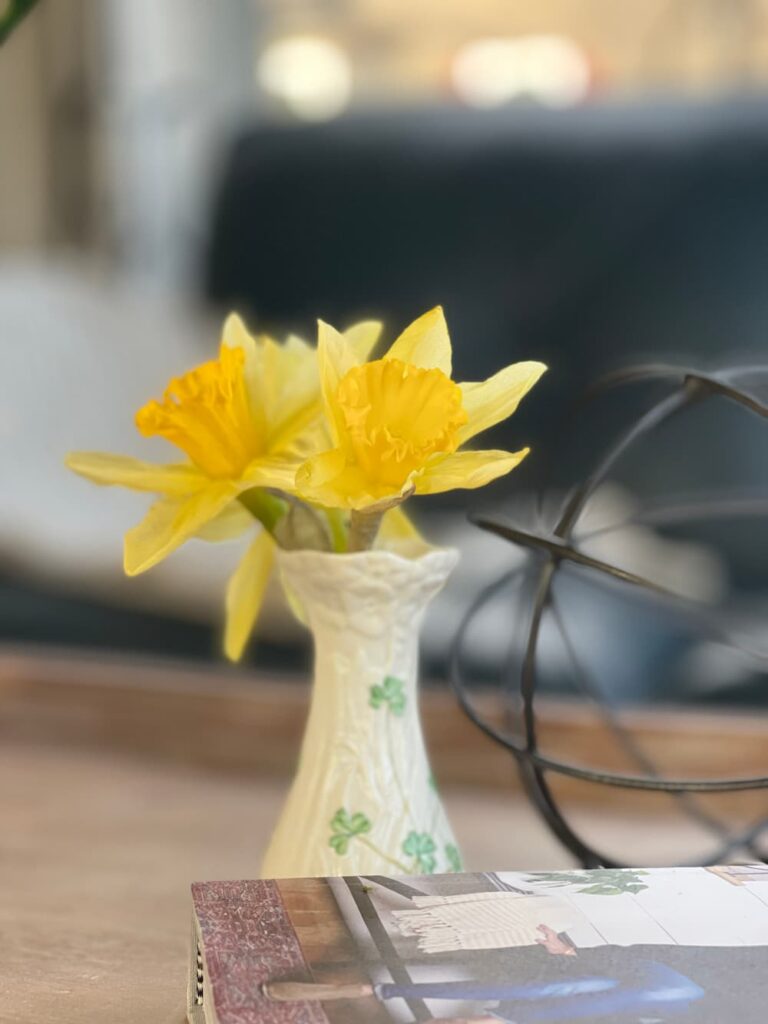 I love to decorate my dough bowl for the holidays. This is an easy way to group your items together and create a cute vignette.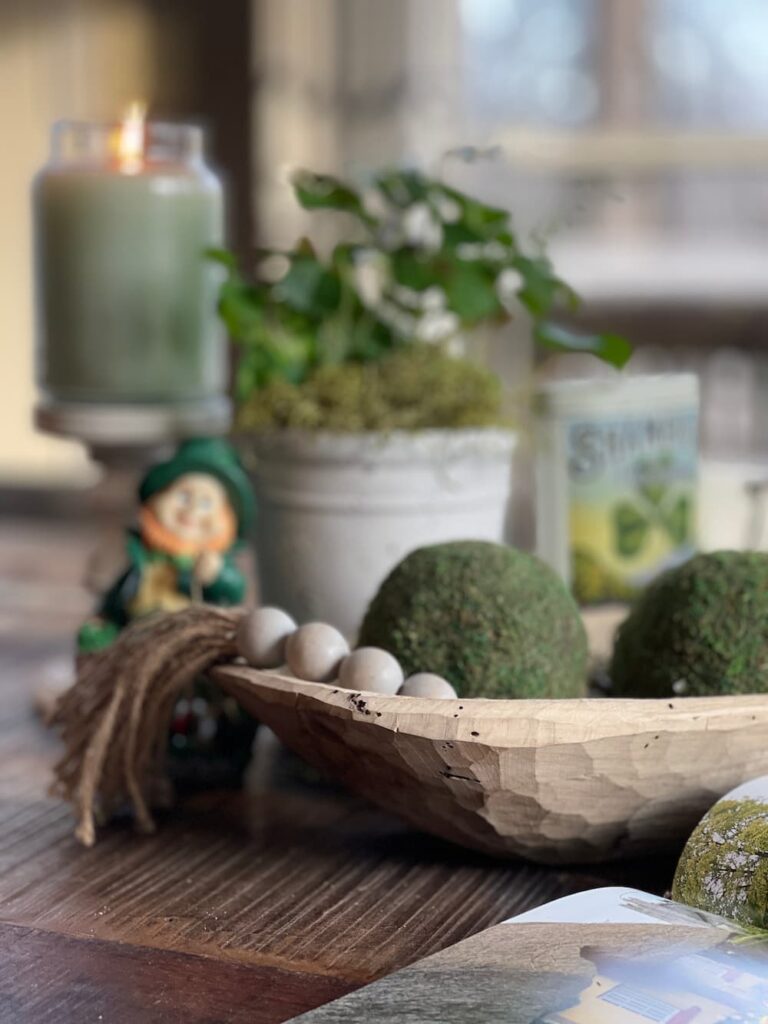 A perfect time to get our your books on Ireland, perfect for your table top.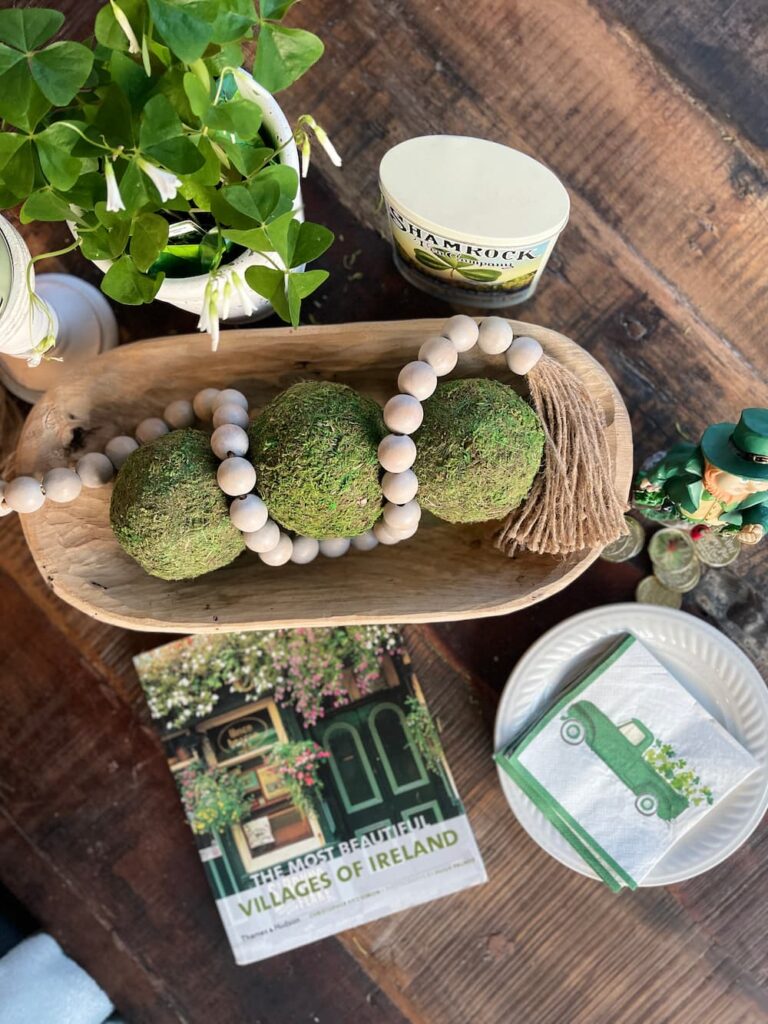 This cute little bunny with the shamrock adds a whimsical touch for the holiday.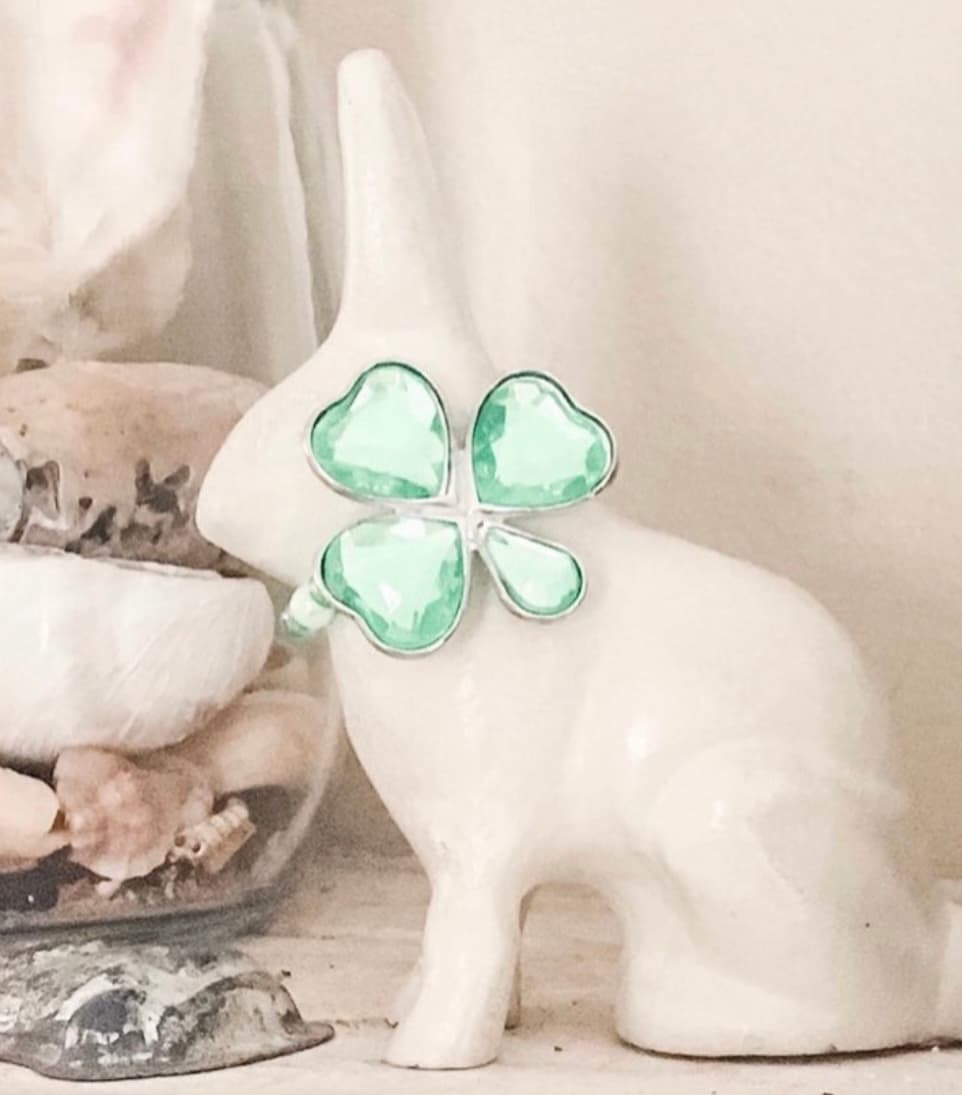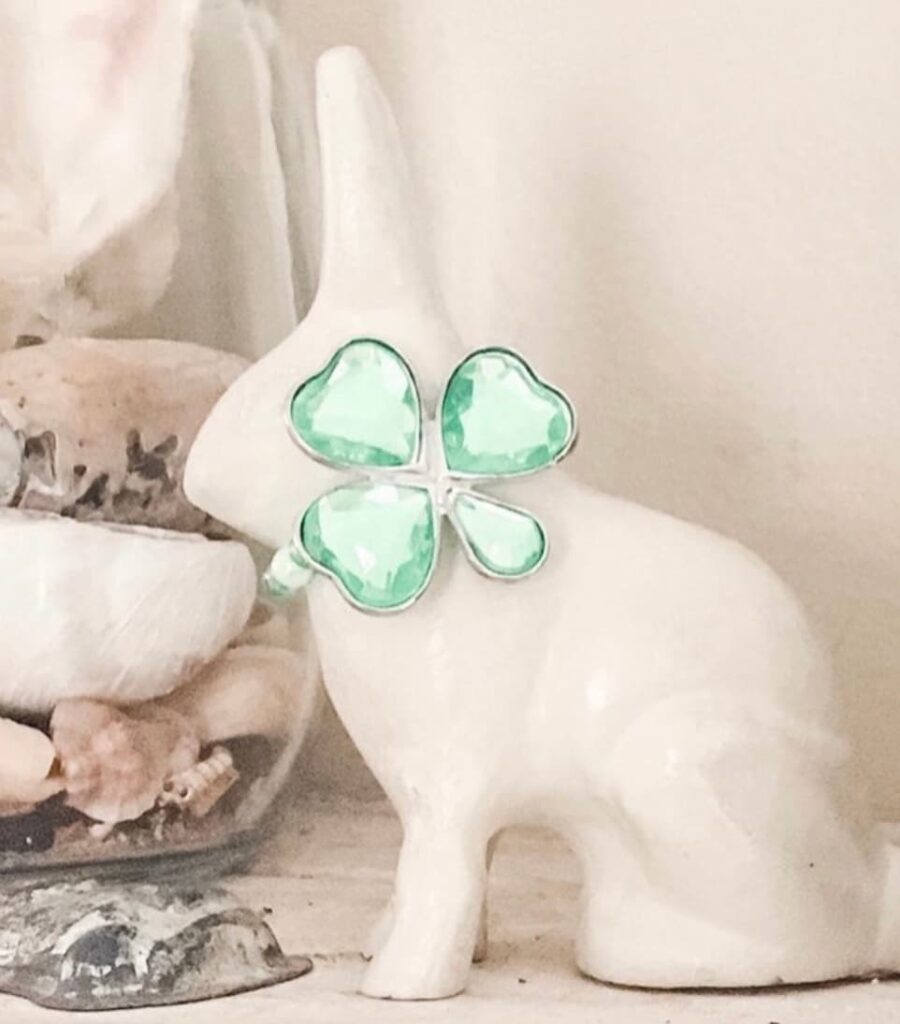 MORE THAN DECORATIONS FOR ST. PATRICK'S DAY
You don't have to stop at decorations for St. Patrick's Day.
You can add to your celebration with sugar cookies using a shamrock cut out.
Make a little Irish Coffee or a lunch of Reubens or Rachel's. How about some delicious soda bread?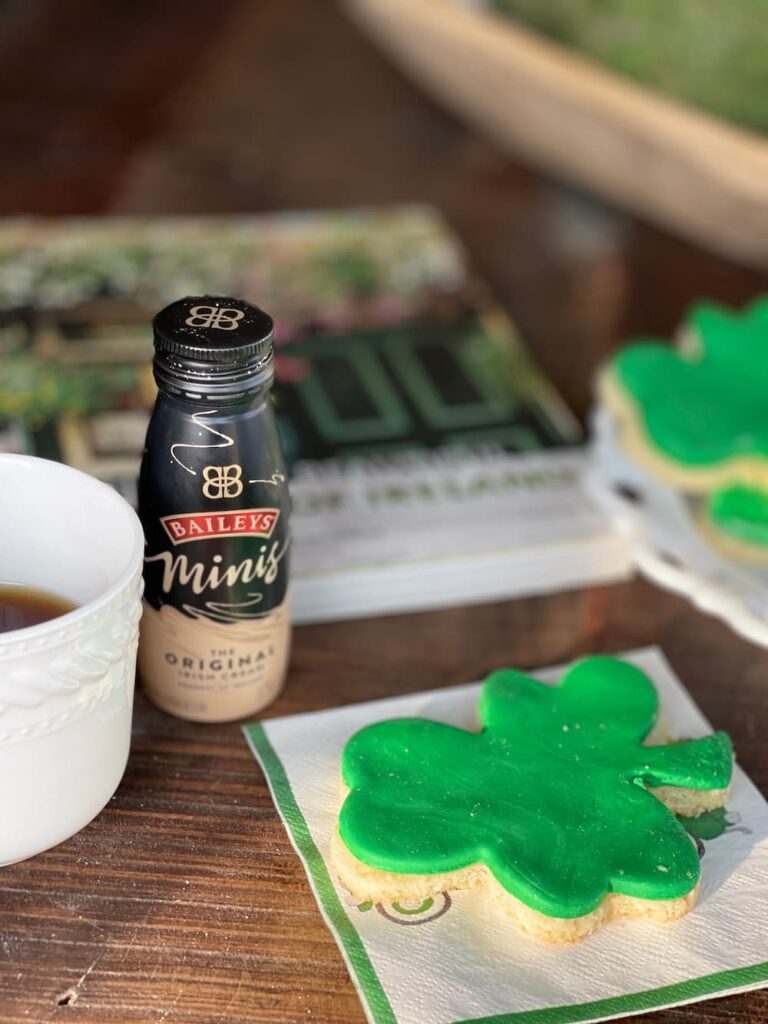 Host a St. Patrick's Day Happy Hour and create a themed charcuterie board. Use your cookie cutters to cut cheese or in this case tortillas that I cut and toasted. Be sure and serve with the famous Irish Guinness.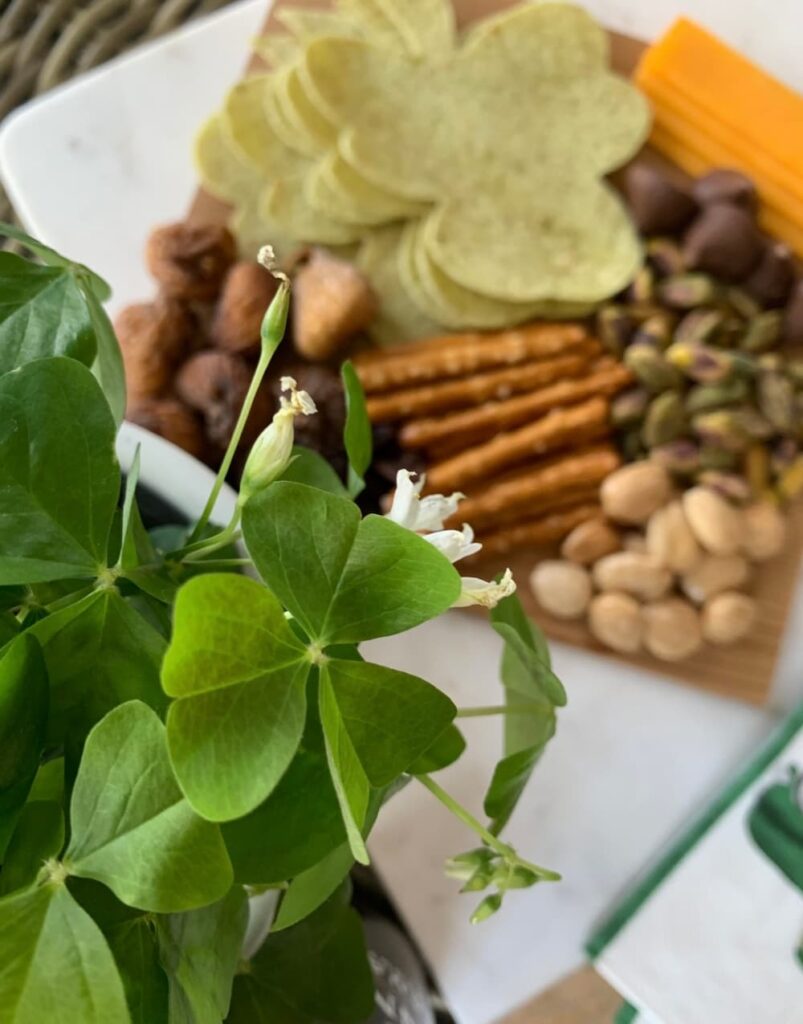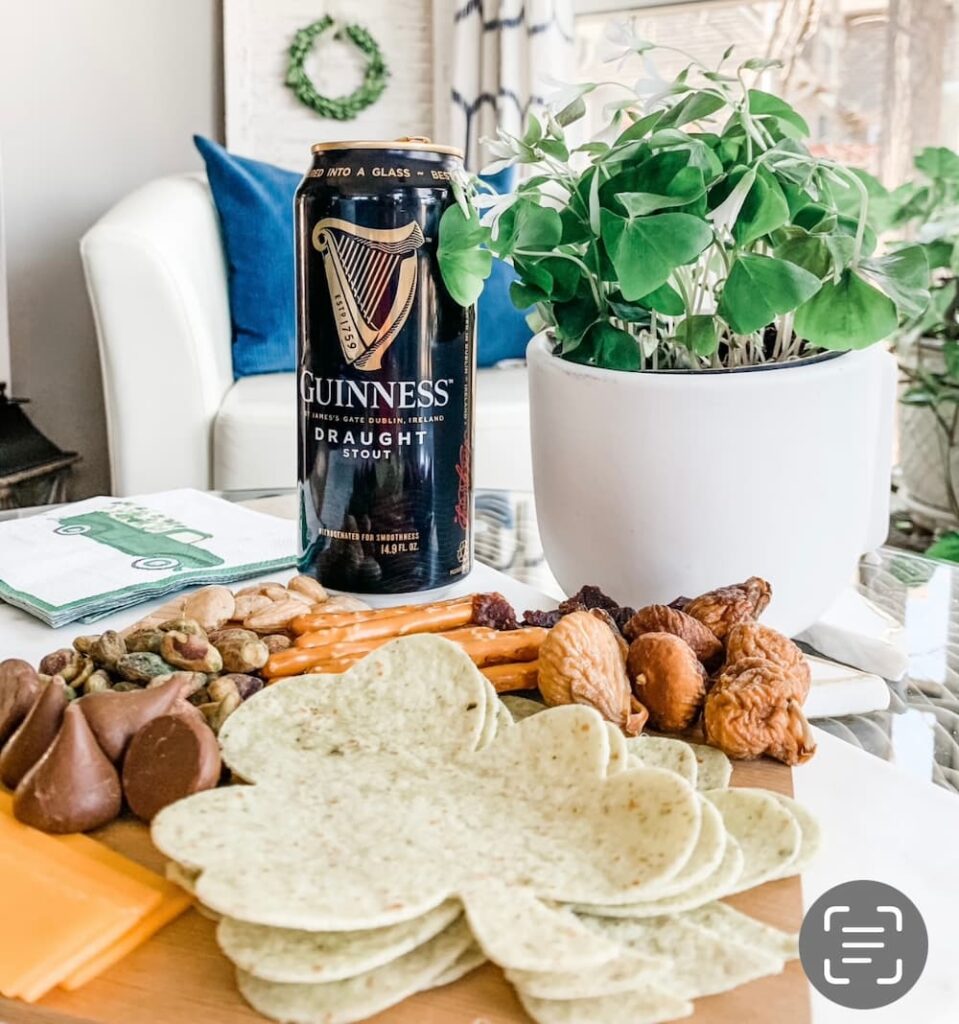 ST. PATRICK'S DAY INSPIRATION FROM MY FRIENDS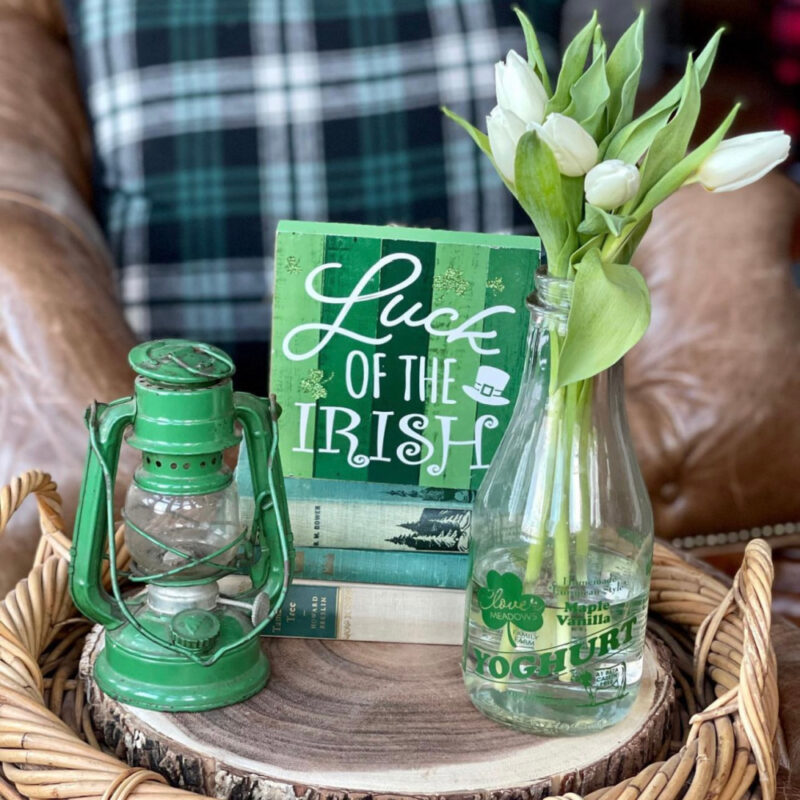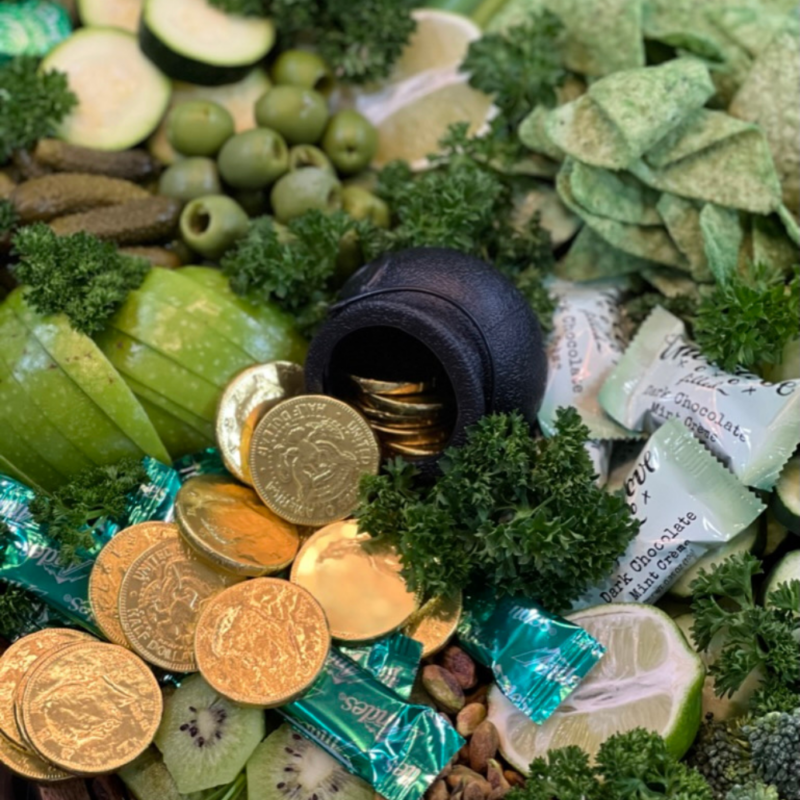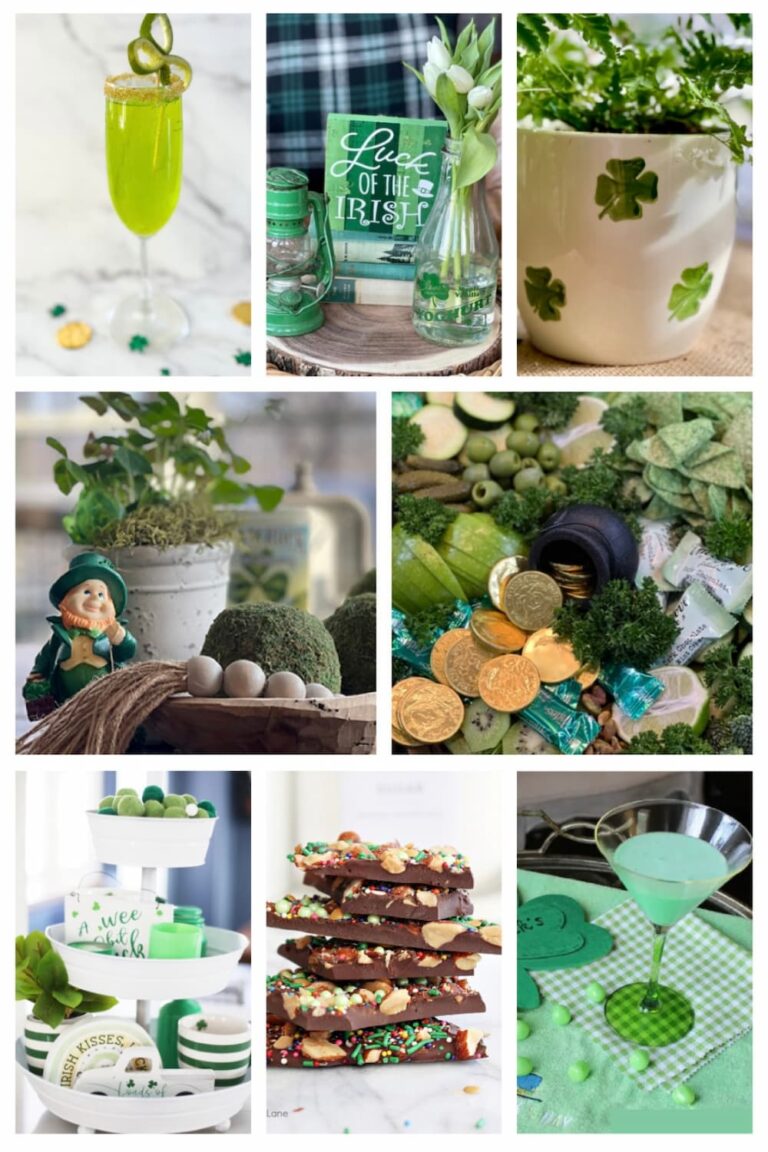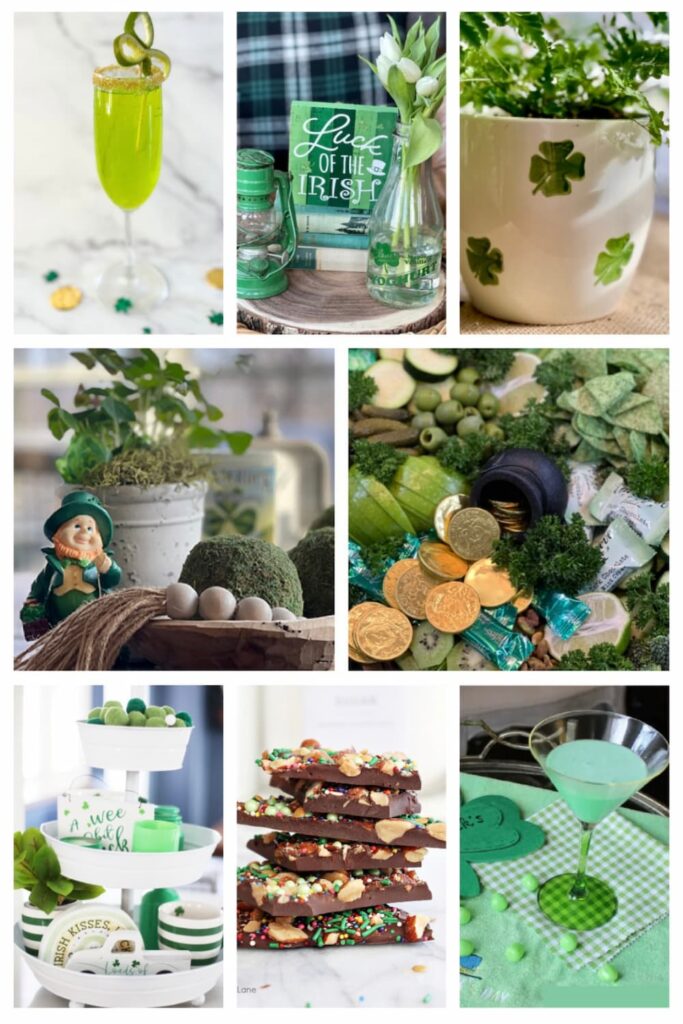 HOW WILL YOU CELEBRATE ST. PATRICK'S DAY?
I hope you enjoyed my touches of decor for St. Patrick's Day and gleamed some ideas for snacks, and foods to serve.
Also, make sure you stop by my friends for their takes on celebrating St. Patrick's Day from simple decor ideas, ways to celebrate, special drink recipes, and more.
For details on my thrifted planter you can click here, or for details on my charcuterie board, click here.
Thanks so much for coming by Saved From Salvage, make sure to subscribe and get my 10 Tips For The Perfect Charcuterie Board. For a behind the scenes look at Saved From Salvage, click here for Lately On The Lake. Until next time.
XO, Regina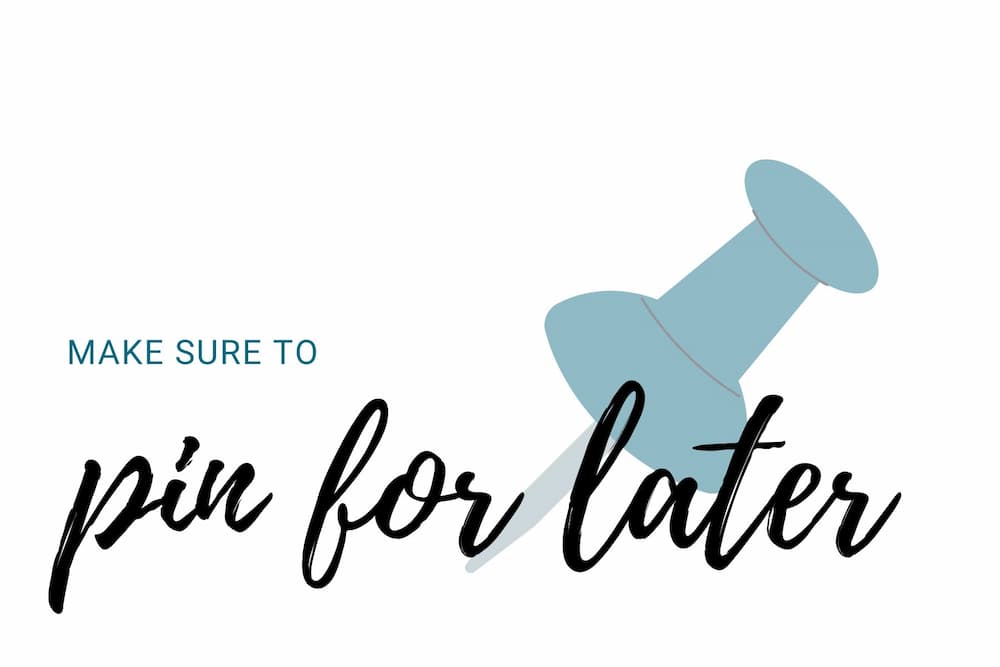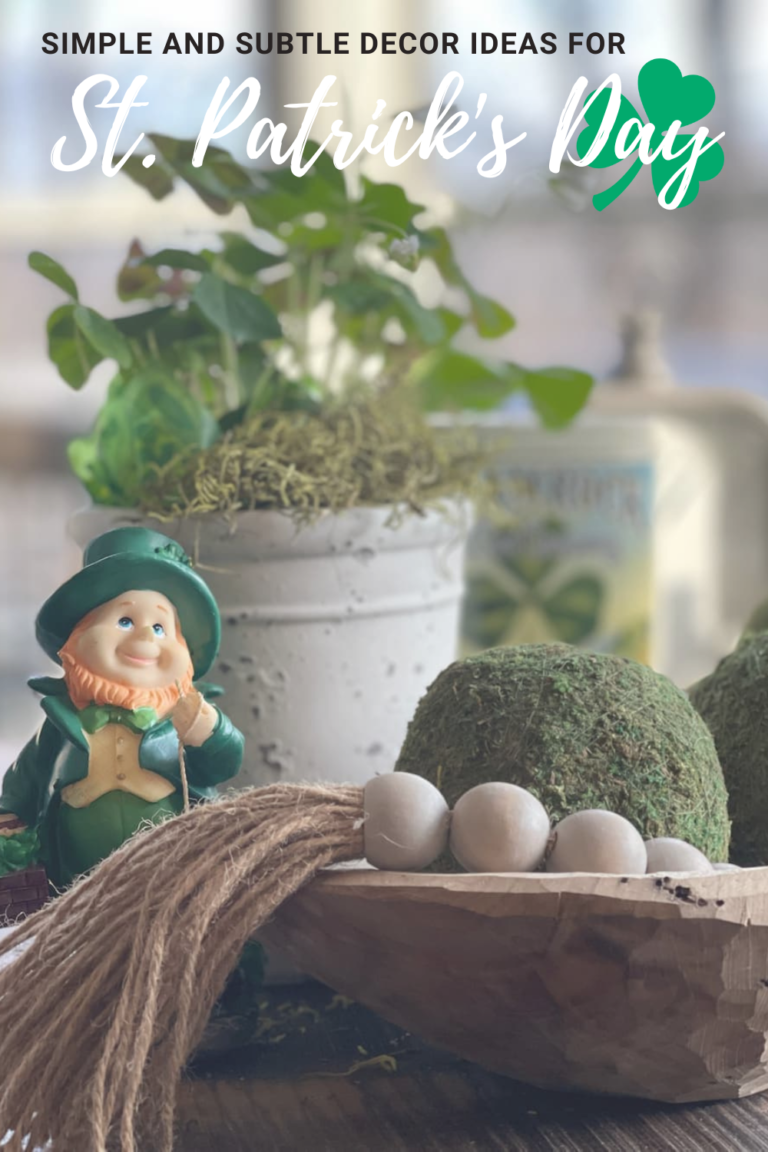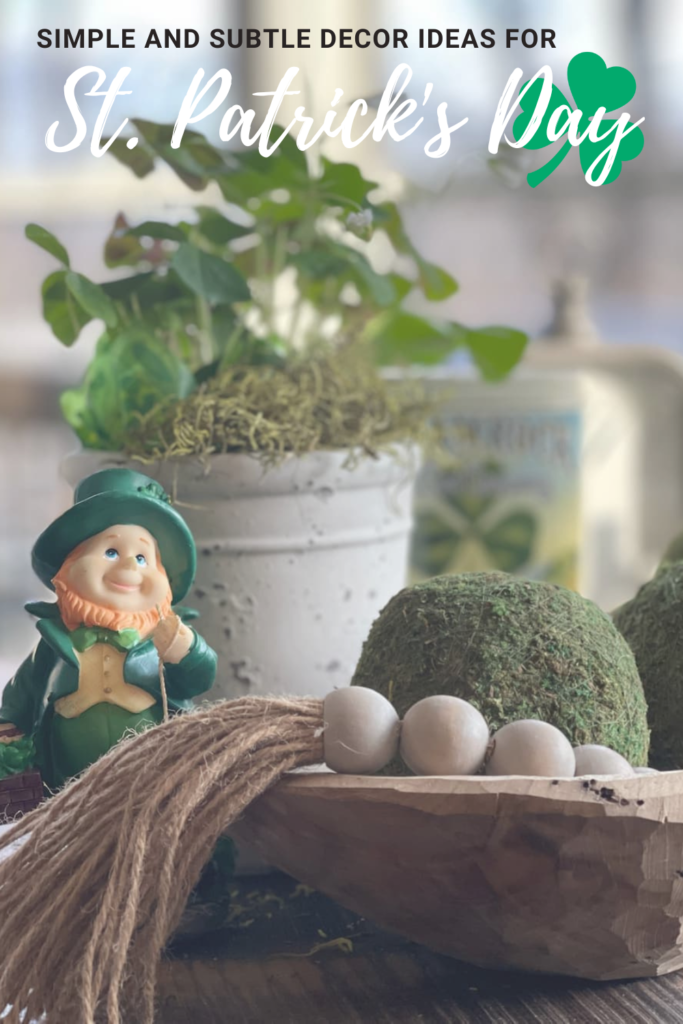 I am an Amazon Affiliate. If your purchase using the links below, I will receive a small commission at no additional cost to you. Thanks for helping me to continue to provide content and inspiration to you.
Let's Go Shopping