Do you need Valentine's Day inspiration? I'm sharing VALENTINE'S DAY IDEAS including gifts, tablescapes decor and more.
BE PREPARED TO BE WOWED.
Valentine's Day – I think you either embrace it or wish it away. If you enjoy this February holiday, you might enjoy my Valentine's Day ideas which run from tablescapes, to DIY's to gifts to upcycling old decor.
Since I love to celebrate holidays, I'm all in. I don't buy into all of it trust me. I prefer a dinner at home, a handmade gift and I never will turn down a card.
Extravagant gifts aren't necessary. Carmine brings me flowers all the time so I'm lucky that way for sure. Plus our goal should be to show our love every day.
But I do like to make a beautiful table, special drinks and desserts and cute gifts to give.
When my son was young, he always woke up to pink heart shaped waffles. It was our tradition and I enjoyed making them.
I also love to send Valentine cards. Just a nice little surprise in the mail, even for a us grown ups.
VALENTINE TABLESCAPE
For my table, I found these mauve print napkins by April Cornell. I decided to create my tablescape around them.
Not a traditional pink or Valentine napkin, I loved the soft look.
I added roses which matched the napkins, a few candies on each plate and a few white features to keep it soft and neutral.
I used one as a placemat, added a white charger then my white plates. Here is a link to my tablescape for last year which was rustic.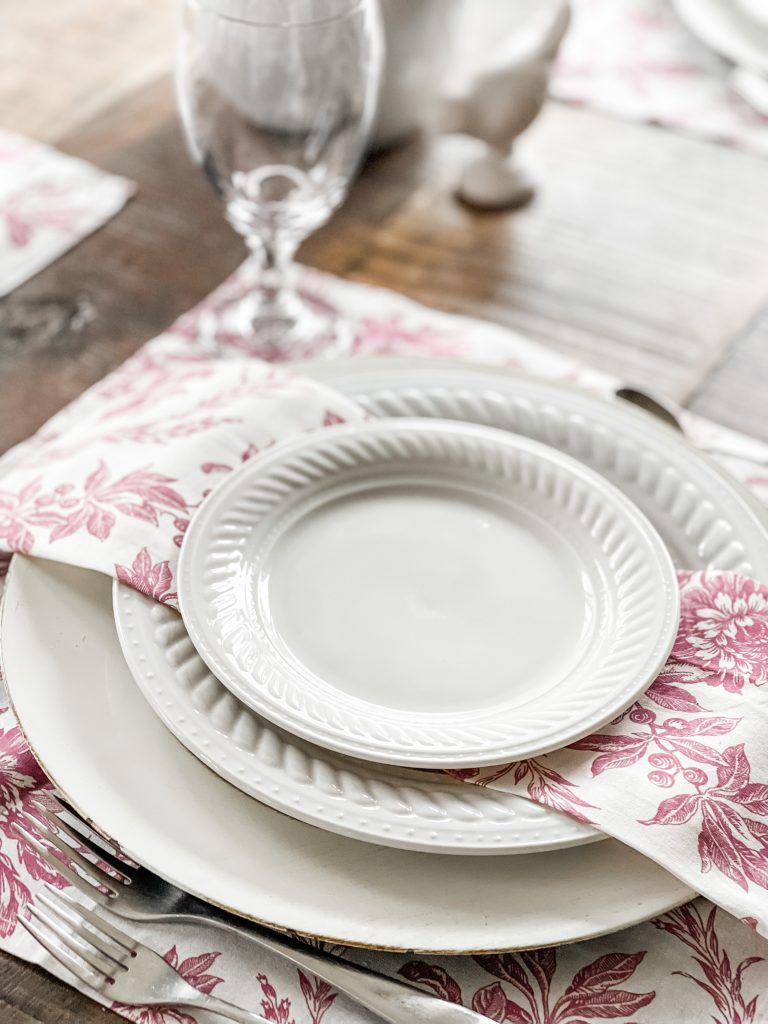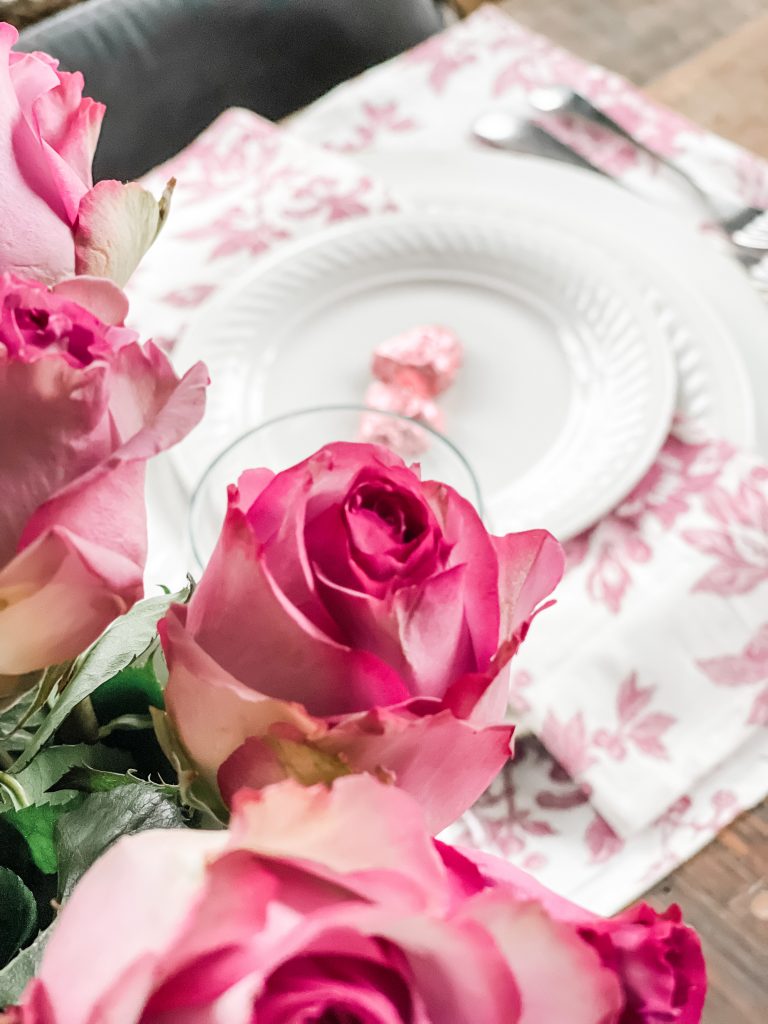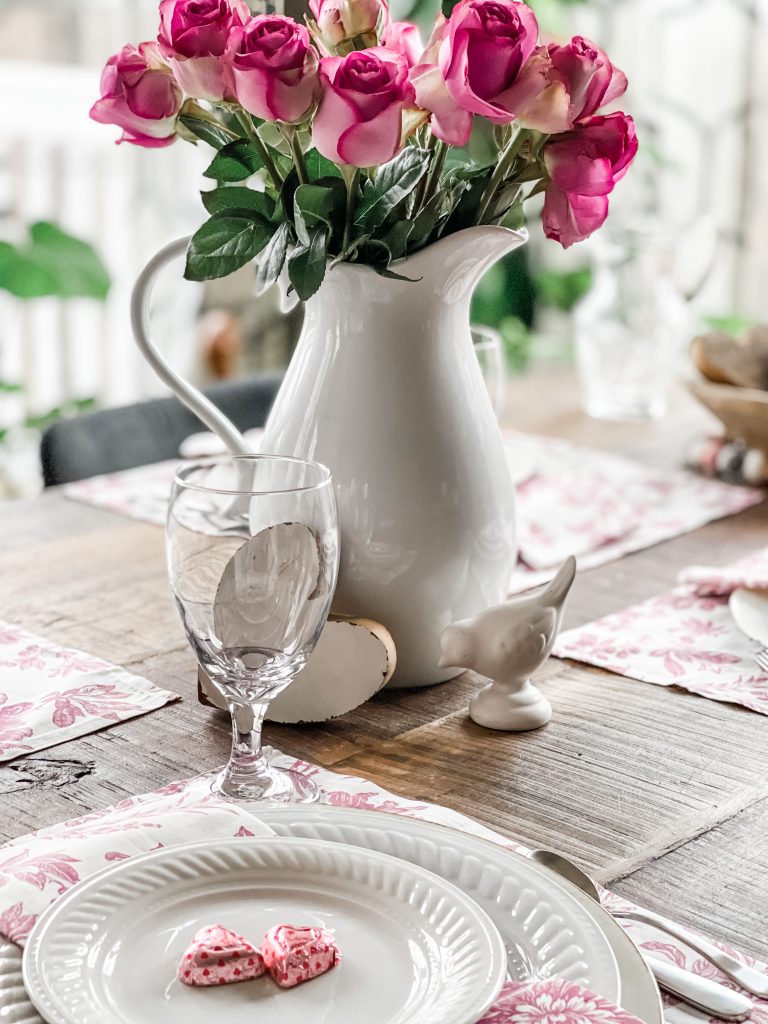 HEART COOKIE GARLAND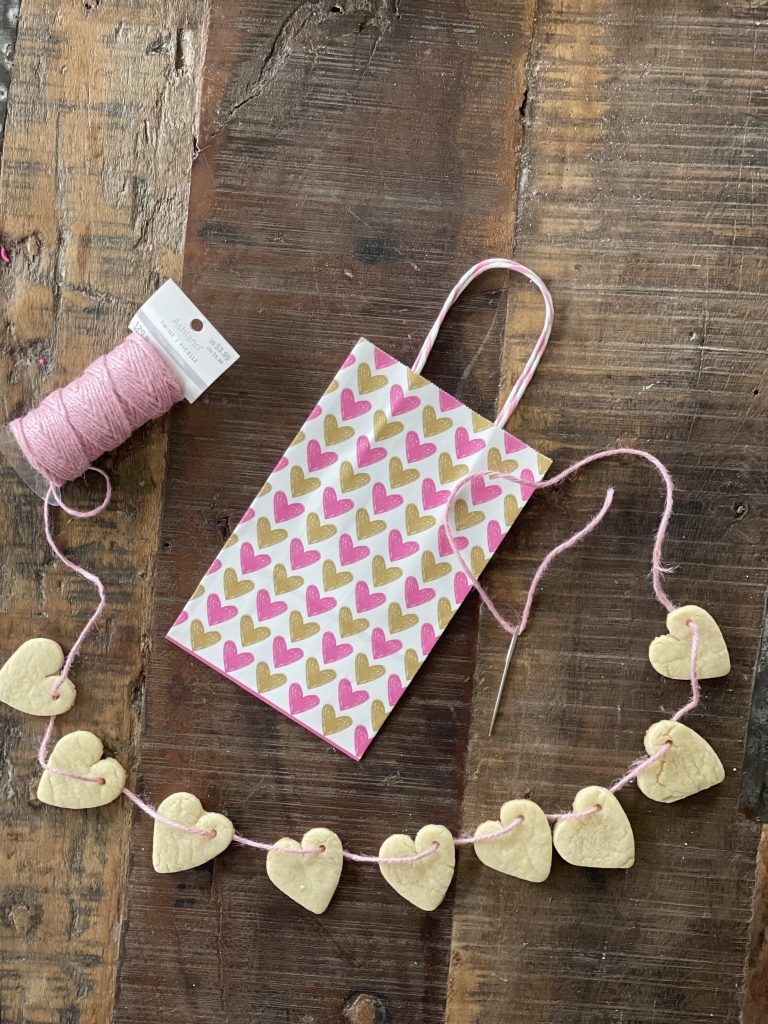 This is a really fun idea for little ones. When I was making my Valentine cookies, I used a tiny heart cookie cutter to make some smaller ones. I used a large needle, pink twine and strung the cookies onto the twine.
This is a cute way to display the cookies that are perfect bite size shape or just use it for decor…good luck with that.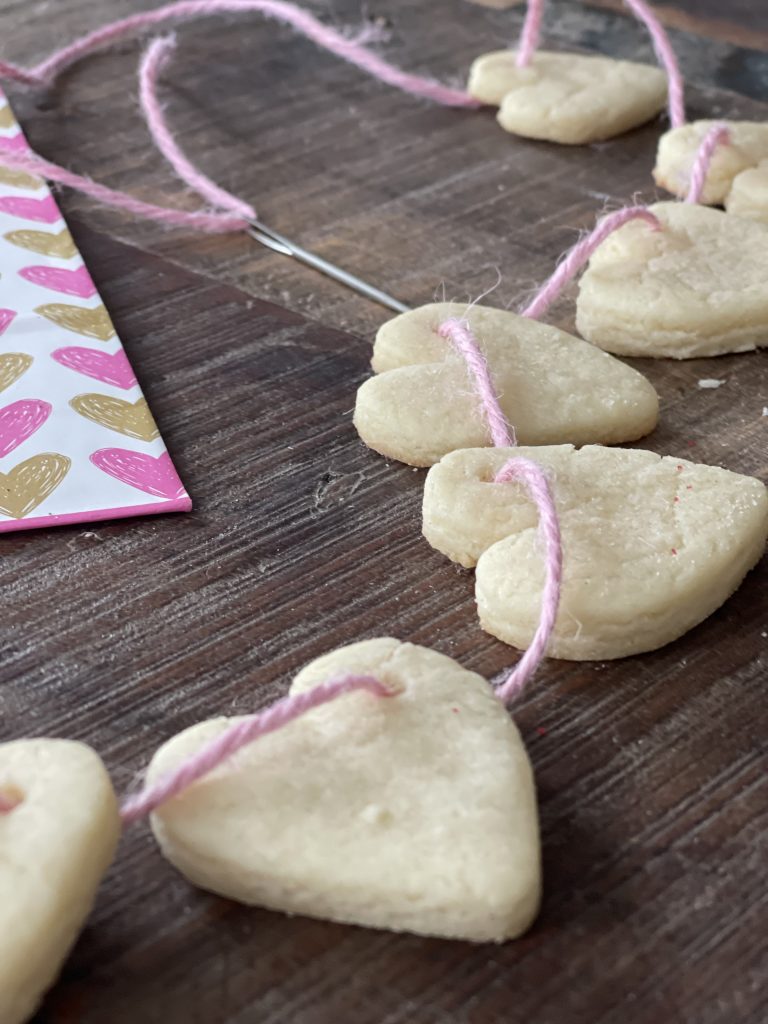 VALENTINE'S DAY IDEA – COOKIES
You can make cookies from scratch or cheat (I did) and use a bag mix. It doesn't really matter because you can make any of them adorable and, perfect for Valentines Day.
I melted chocolate wafers and dipped the cookies in the chocolate and then sprinkled them with pink and white sprinkles. Who doesn't love sprinkles?
For some, I decorated them with white icing and added sprinkles and colored sugars.
It was really easy to up the look of these cookies from boring to beautiful.
DIY VALENTINE'S DAY IDEAS – GIFTS
You have to try this easy and adorable gift. If you like to save jars like I do, then you are all set. If not, dig through the fridge for an almost empty jelly, mustard, or horseradish jar.
Paint the lid a pretty color, glue on a knob and fill with chocolate! Of course.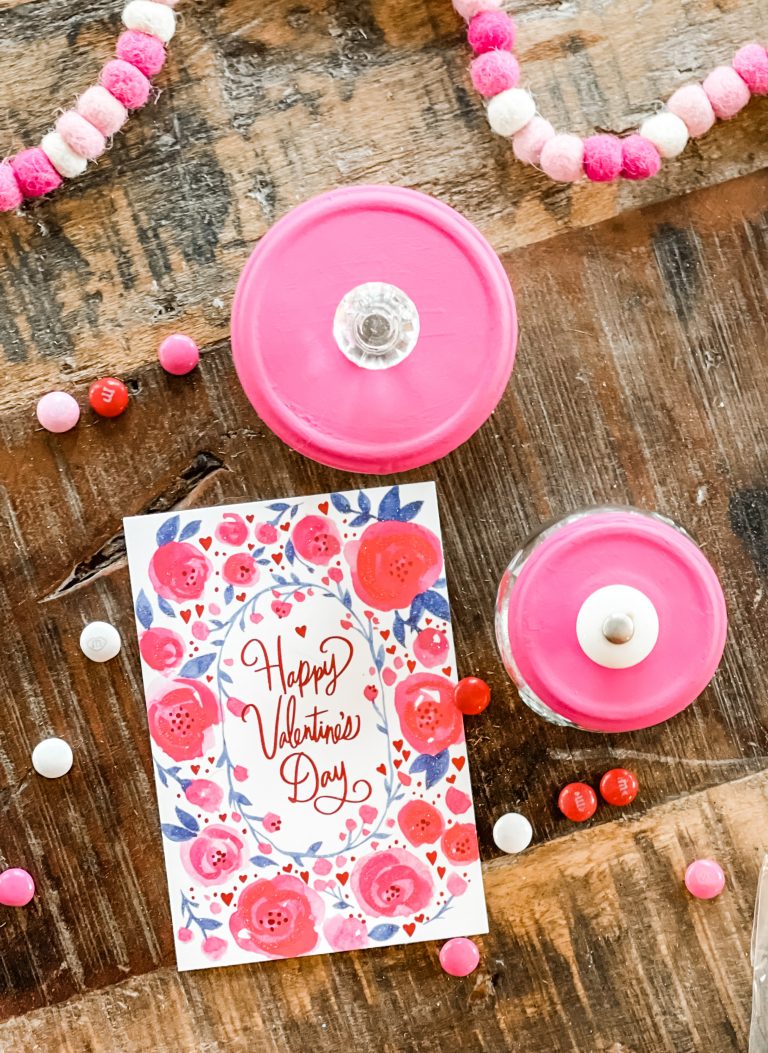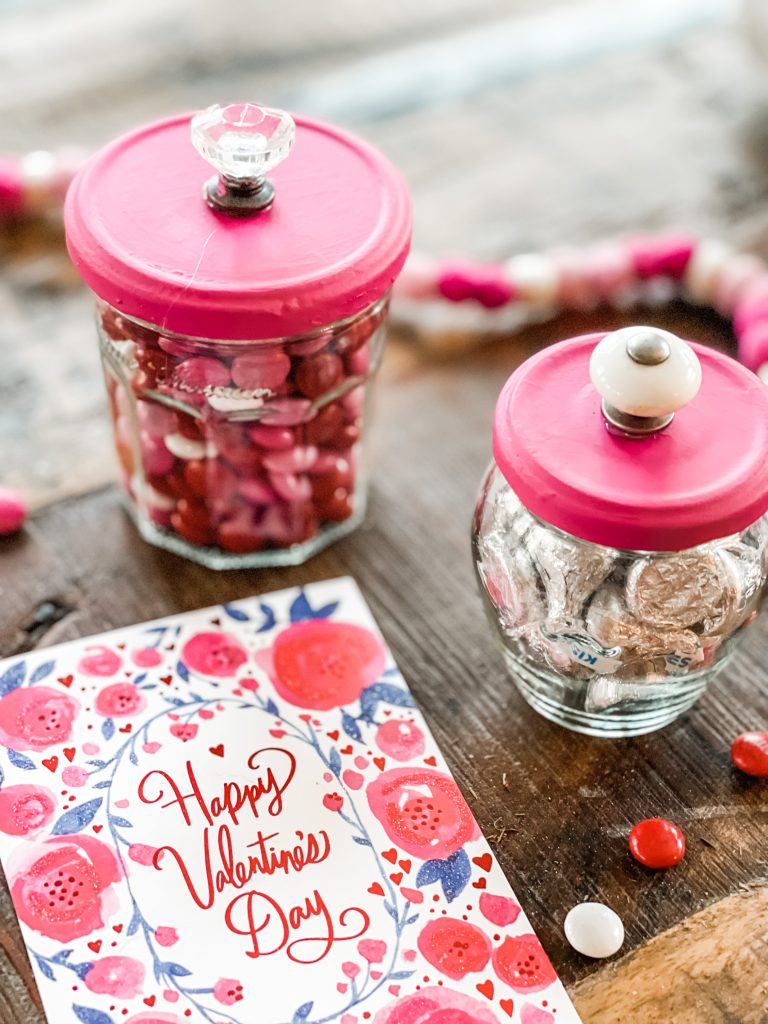 This next gift idea requires a trip to the Dollar Tree. I found these 3 pack muslin bags with a heart stamped on the outside. These can be used for so many things. You could attach them to a garland and start 10 days before Valentines and say here are 10 Things I love About You.
How sweet would that be?
Then inside each bag, you can tuck a note listing what you love about your Valentine.
Another idea is to create and drop a coupon in each, at my house these are some that would be a hit.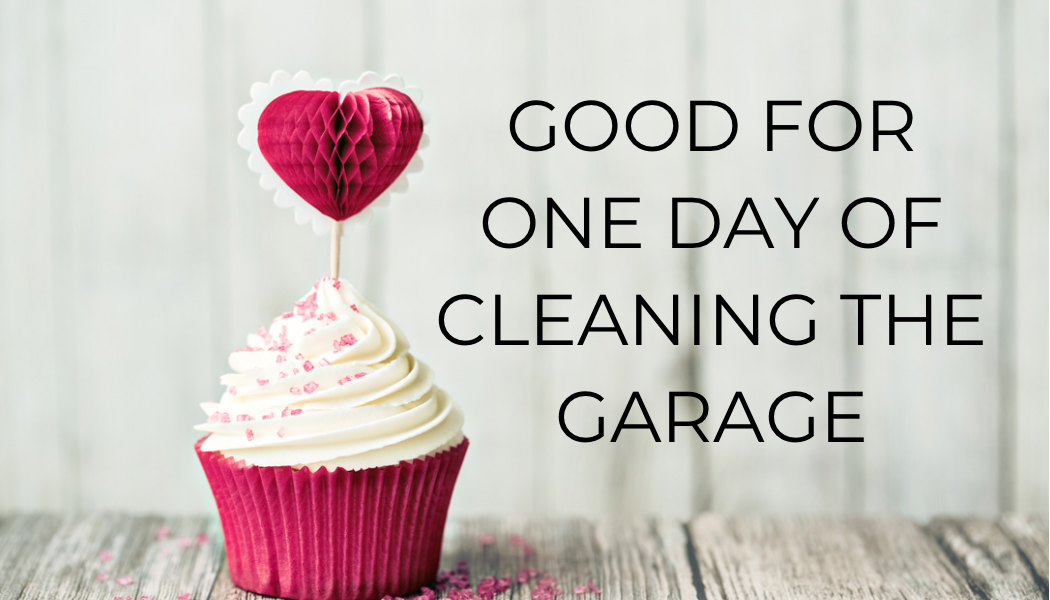 The next idea is to add a candy treat or some other small treat in each bag and give separately or string on a garland.
VALENTINE'S DAY IDEAS – UPDATE DECOR
If you know me, you know I'm not a big fan of red. I had a few pieces of Valentine Decor that I was not using but decided to update.
See how easy it is to give something old, a fresh new look? Shop your house and see what you have that you can spend .99 cents on paint and fall in love all over again.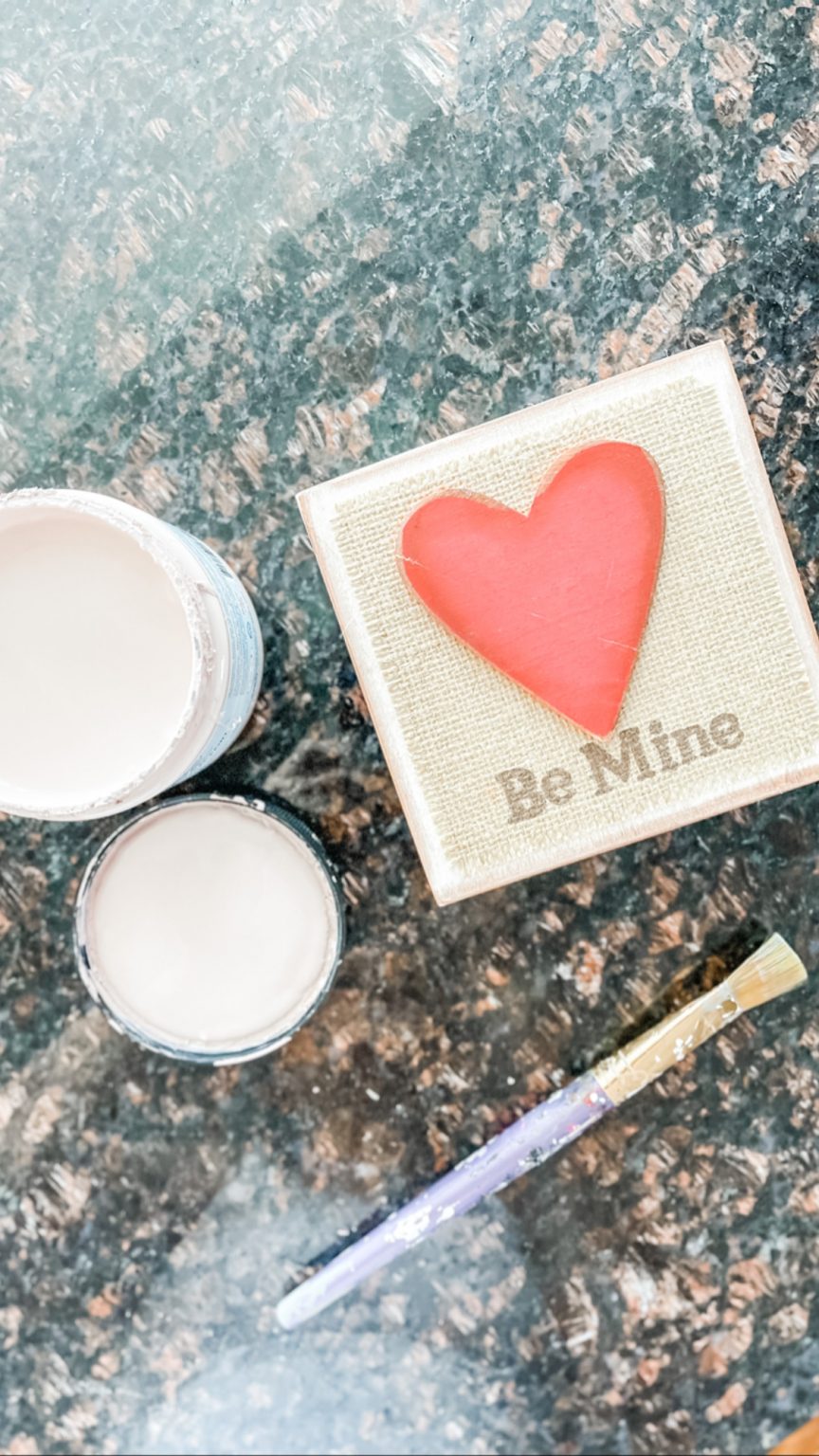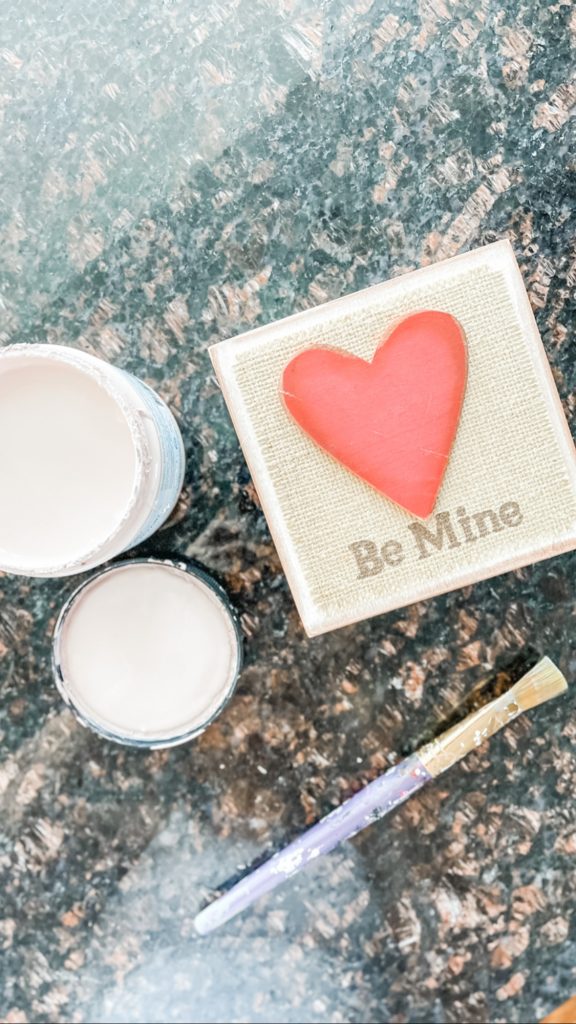 This one I used both a soft pink and an off white to update.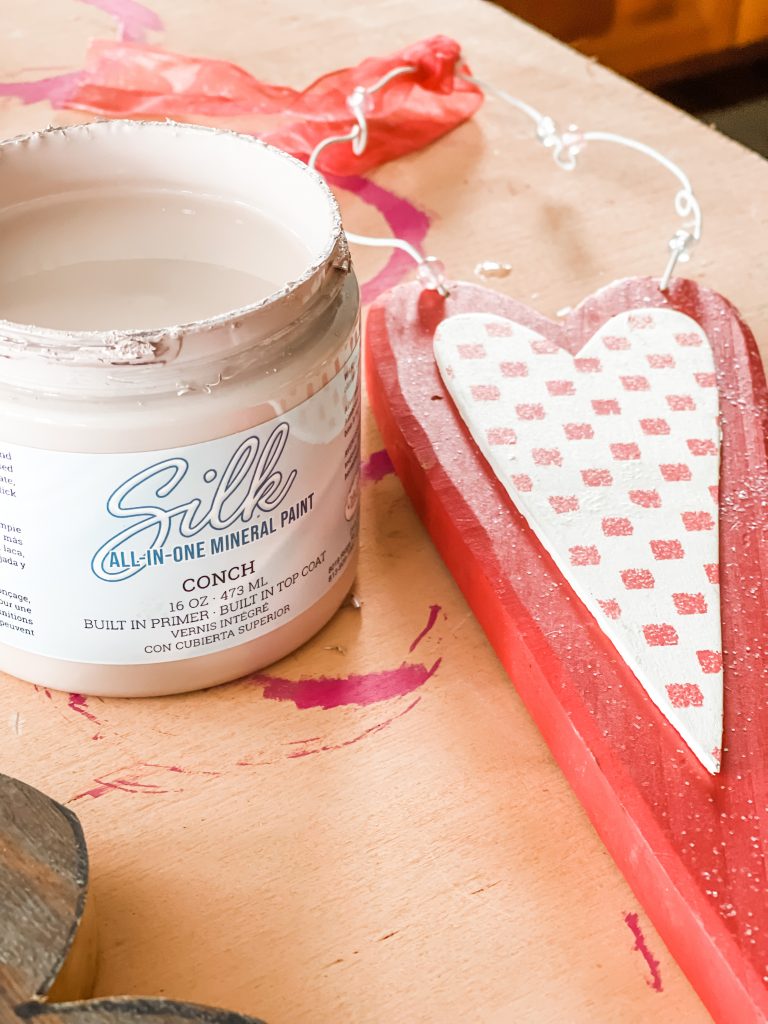 VALENTINE DECOR AT MY HOUSE
After Christmas and through January, I'm more into cleaning, organizing and purging but…I do a few things and I'll share them here.
I've had this pillow for years but I love it because it fits right in with my colors. You can find a similar one here.
The little soft pink bird is perched under a cloche with a little moss.
The Scrap Wood Hearts were a favorite DIY I made this year from vintage tongue and groove flooring.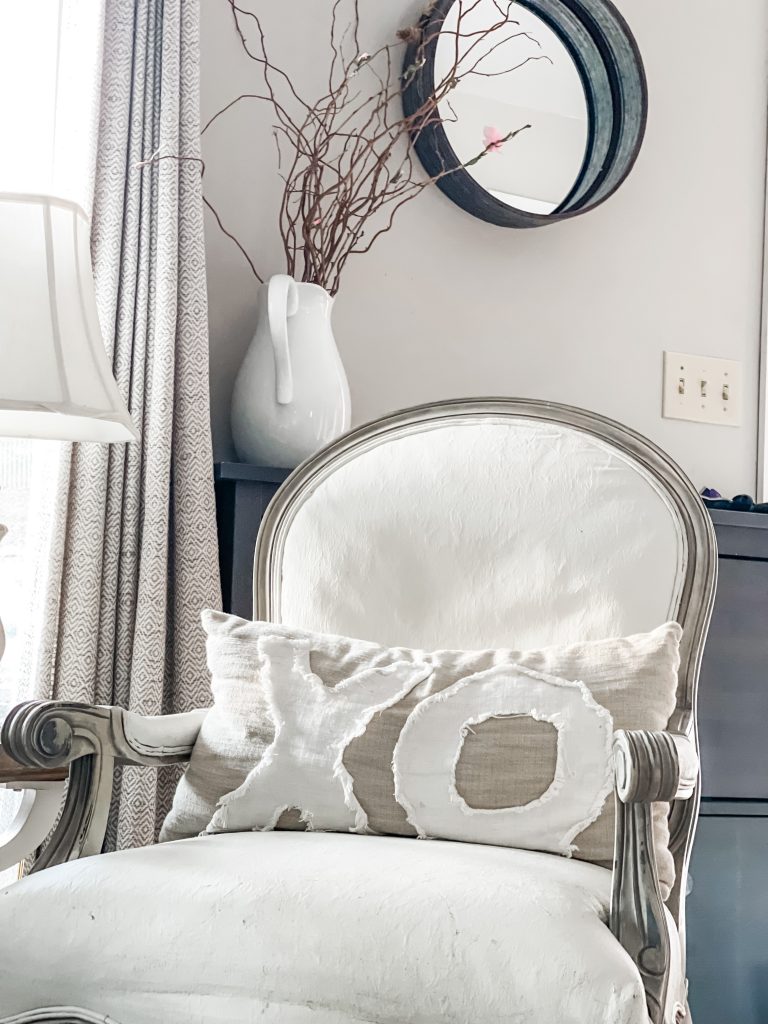 VALENTINE'S DAY IDEAS: CANDY CHARCUTERIE BOARD
Last but not least I'm sharing one more idea for Valentine's Day. A few weeks ago we made these gorgeous cutting/charcuterie boards from a black walnut tree that was taken down in our yard.
They are beautiful and large and make the perfect backdrop for a candy inspired charcuterie board.
This would be yummy to snack on while watching the Super Bowl (the day before Valentine's Day).
No time to make one? Here is a beautiful large board you could use.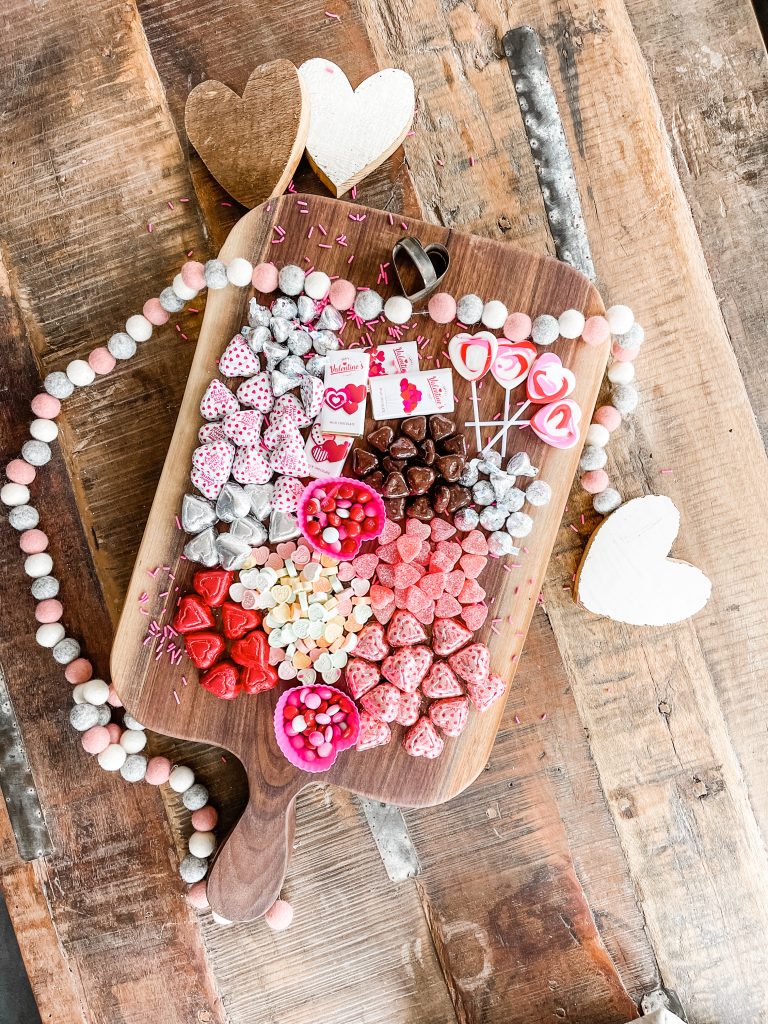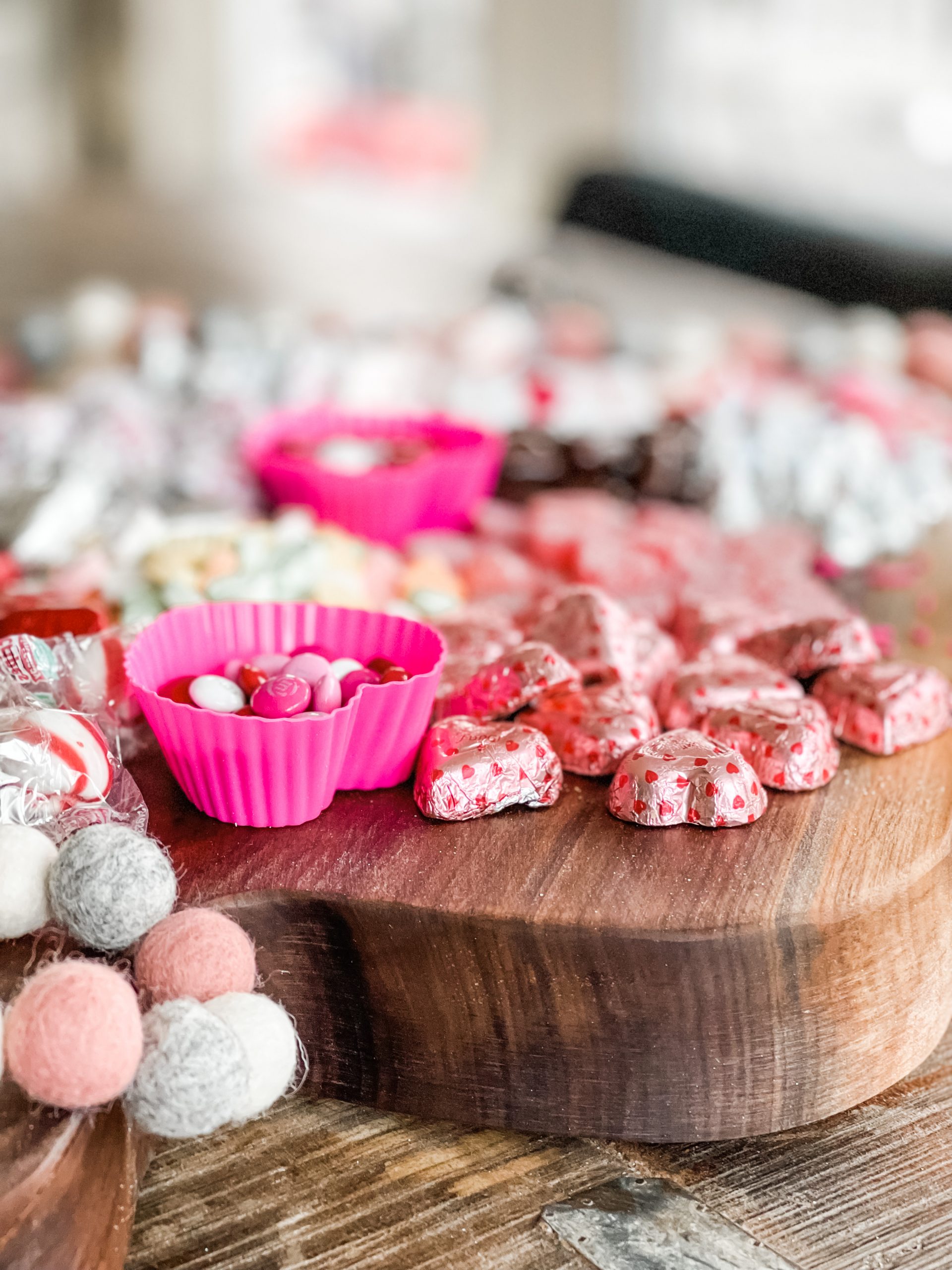 Thanks so much for stopping by SAVED FROM SALVAGE and reading about my Valentine's Day Ideas.
I hope you get a chance to try one of my ideas and if you do – let me know how it turned out.
We will be obviously staying in and enjoying a yummy meal. I'll make a menu and special dessert and Carmine will do his magic on the Traeger.
If you haven't yet, I hope you'll subscribe to my blog and get inspiration delivered directly to your inbox!
Don't forget to comment or share if you like what you see.
Have a wonderful Valentine's Day.
XO, Regina