Do you love creating fun, festive and creative tables? I've created several different Easter Dinner Tablescapes settings to inspire you for any spring gathering.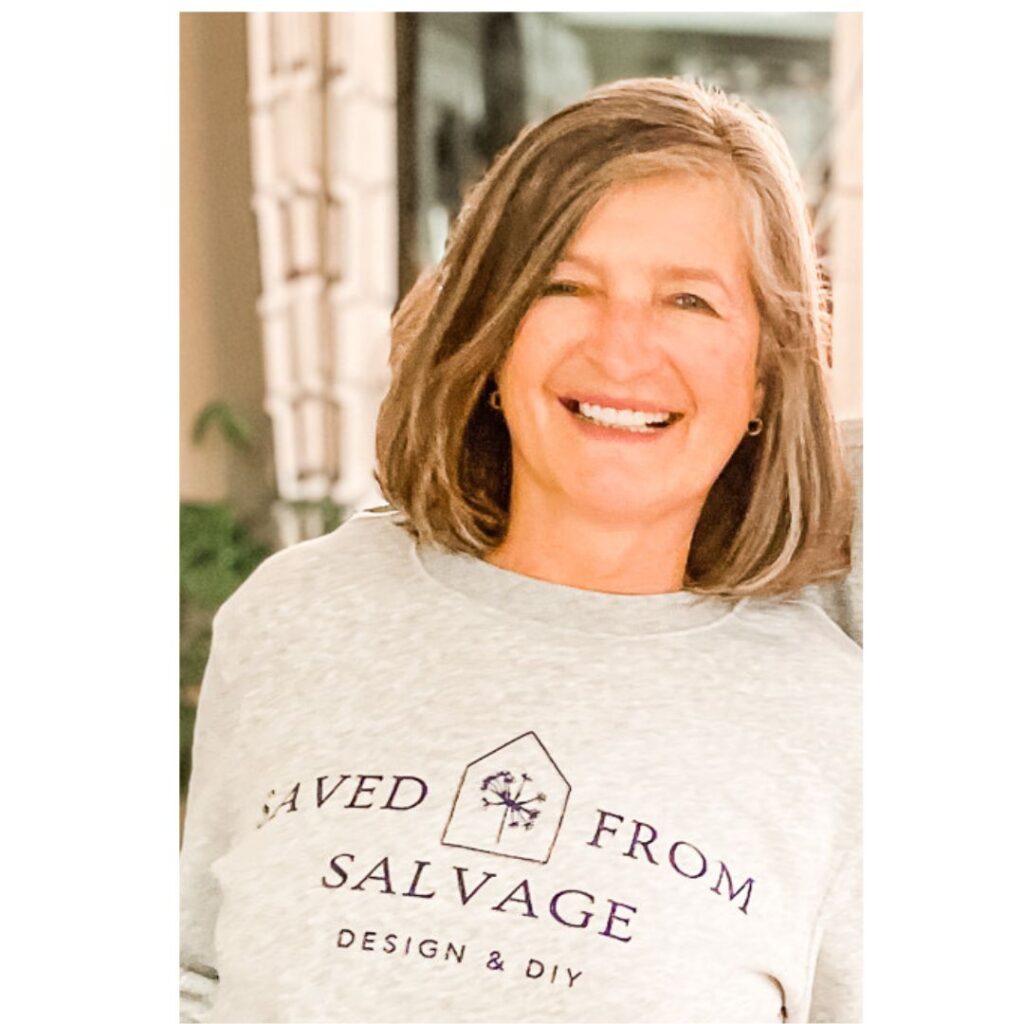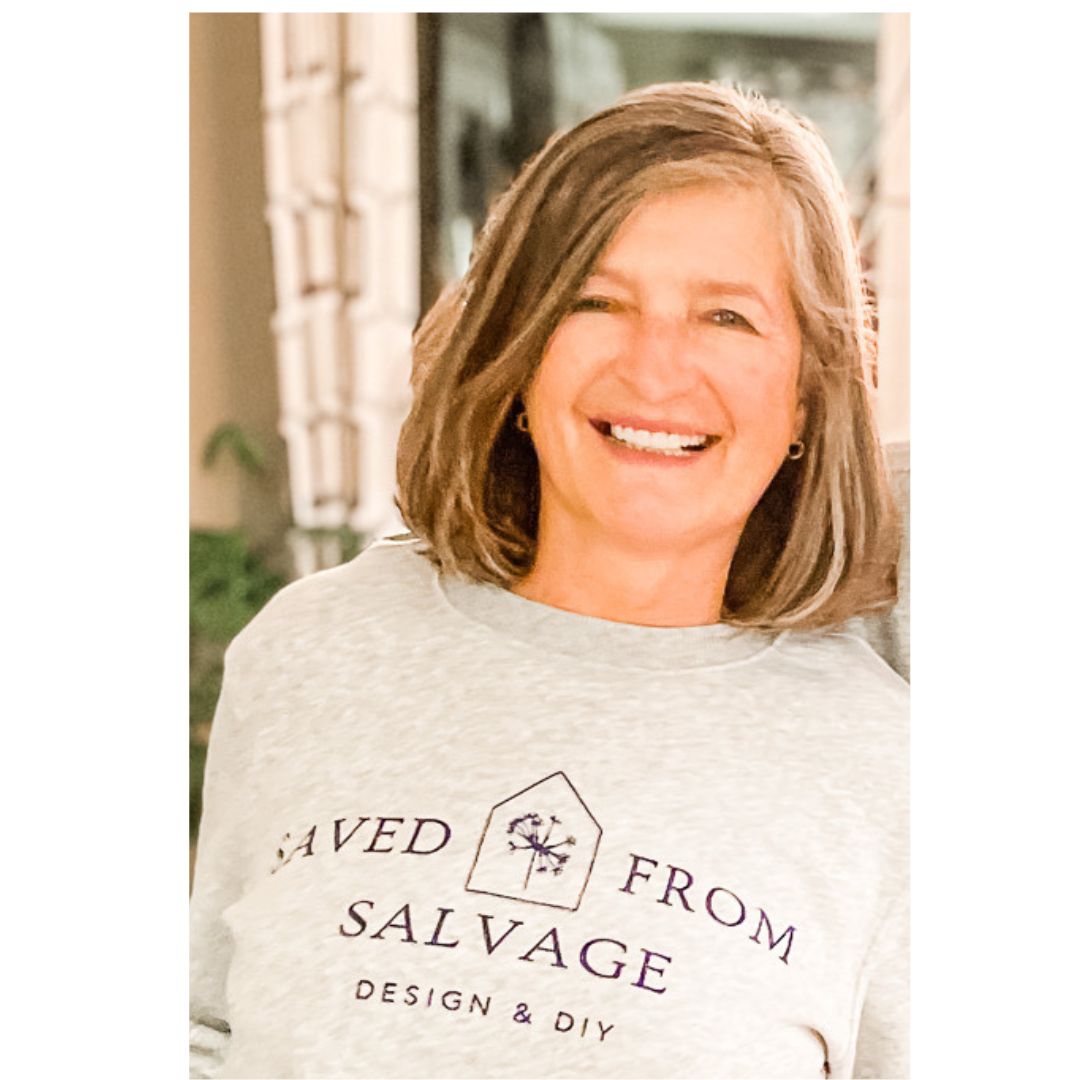 Hi, I'm Regina and you are at Saved From Salvage. I'm so glad you are here.
Today I'm part of a Celebrate the Holiday Blog Hop hosted by Carol of Blue Sky at Home.
We are celebrating all things Easter and Spring.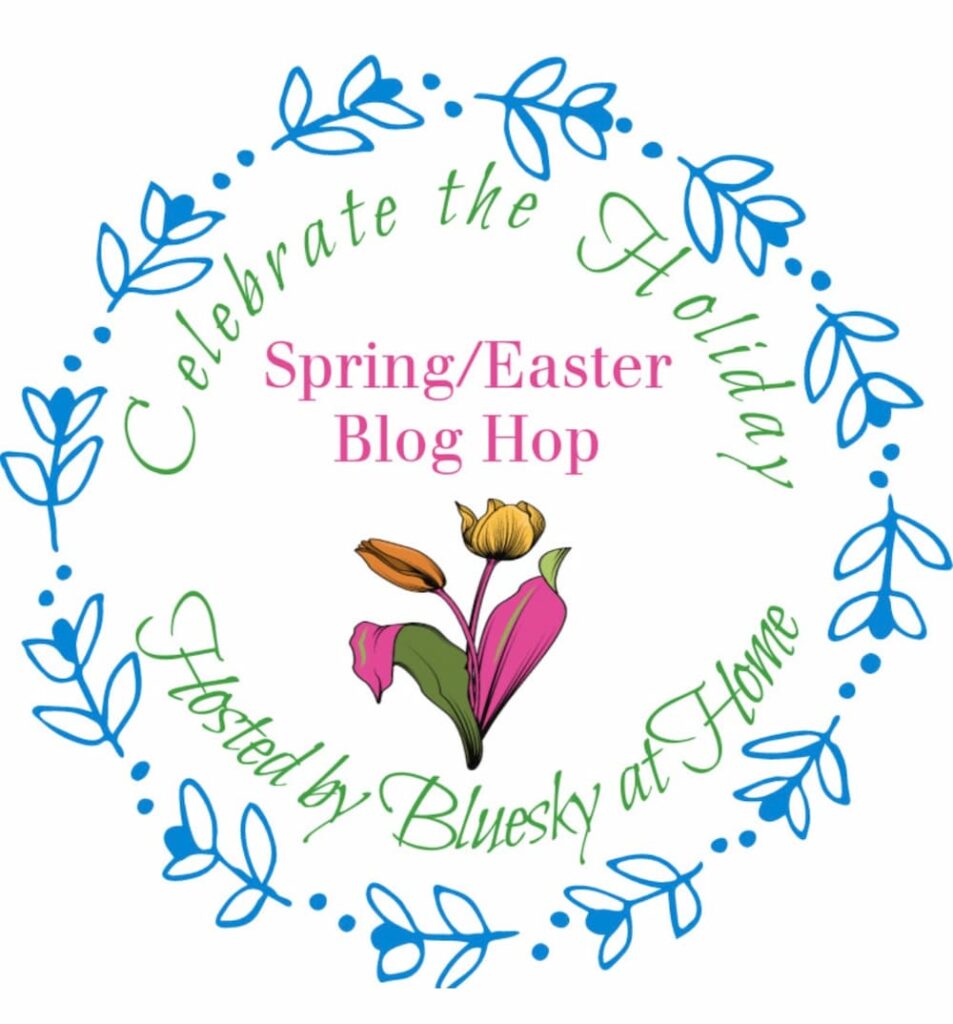 Easter is my most favorite holiday to decorate for. I absolutely love creating tables for this holiday.
It brings me great joy and I have an obsession with bunnies.
I hope you enjoy my various tables and then be sure to get more Easter and Spring inspiration at the bottom of the post.
If you are coming from my friend Tammy at White Lilac Farmhouse, welcome! Yes please to her chocolate covered peanut butter eggs. See them here.
Let's get started.
GREY AND WHITE TABLESCAPE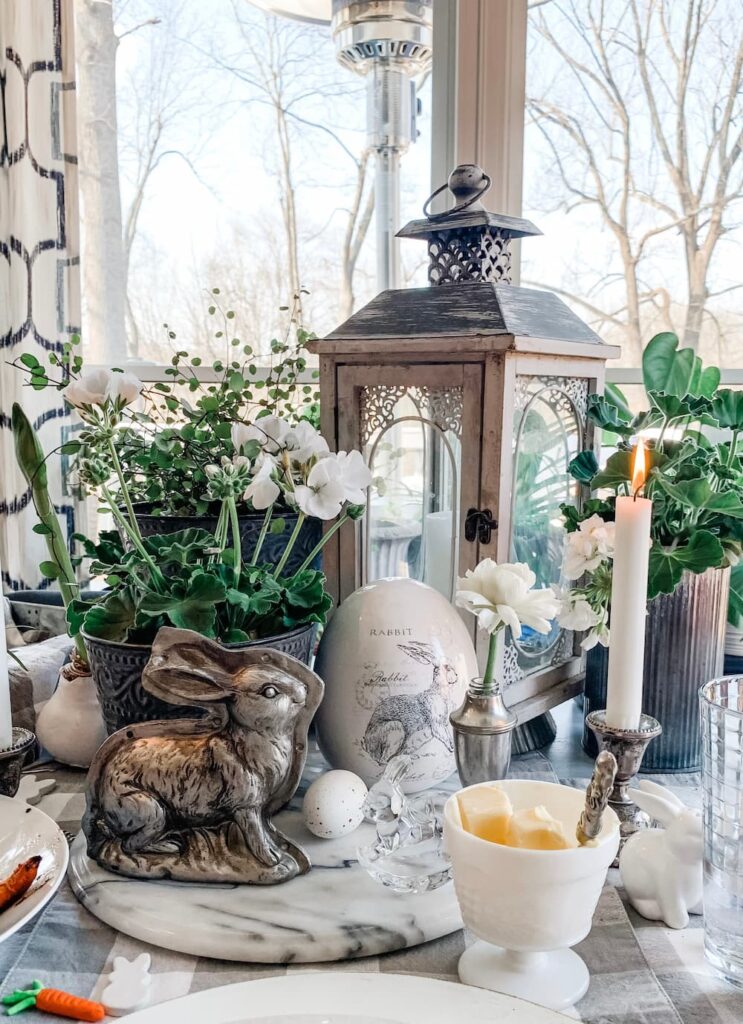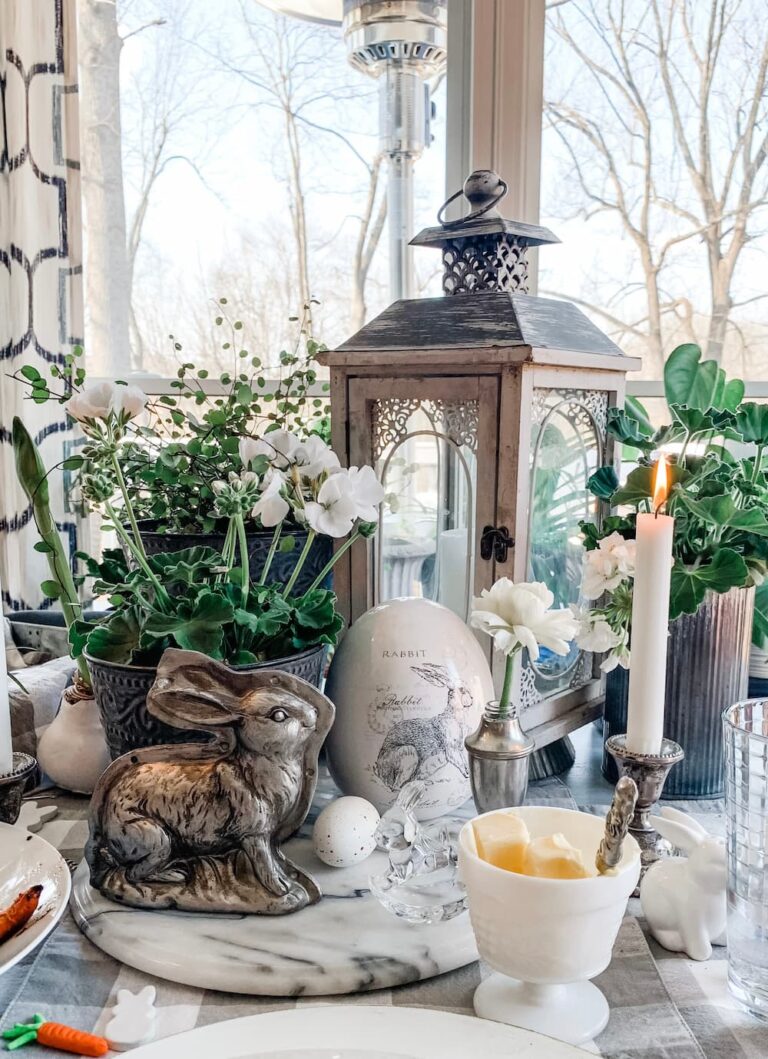 Grey and white can be used for so many different seasons and occasions as it's a classic neutral that is easy to build upon. I focused on greys, whites and pops of green by adding plants and white flowers to the mix.
I pulled out all the bunnies for this table and have them in glass, metal, ceramic and more.
VINTAGE QUILT TABLESCAPE
I used this vintage quilt below as the tablecloth. The colors are soft and perfect for a spring meal.
I'm loving this look. So warm and inviting. Have you ever used a quilt for a tablecloth?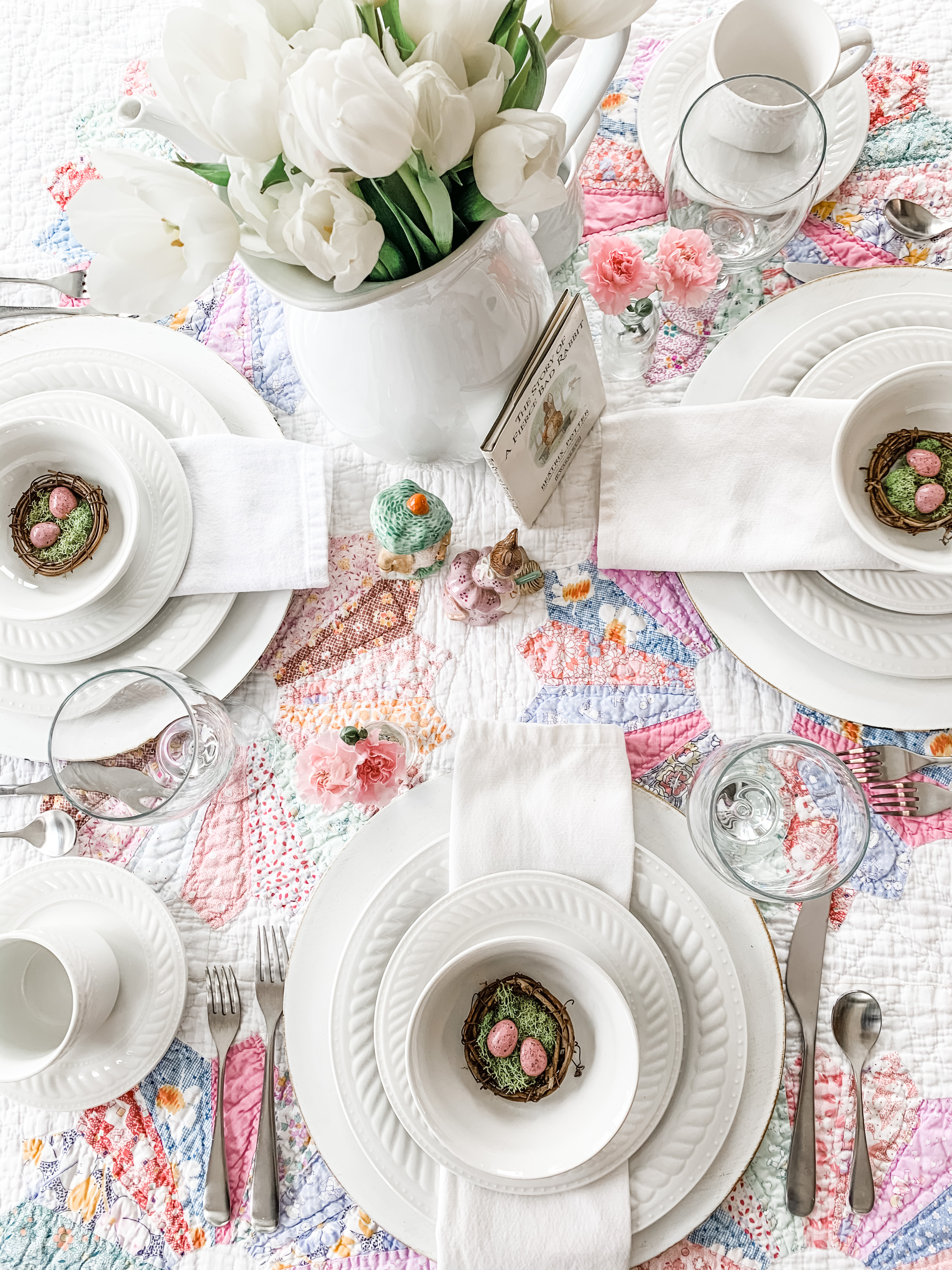 Finding candy that is shaped like eggs for my nests made me happy. These are Junior Mints! Dollar Tree for the win! I found these mini grapevine wreaths and added the moss.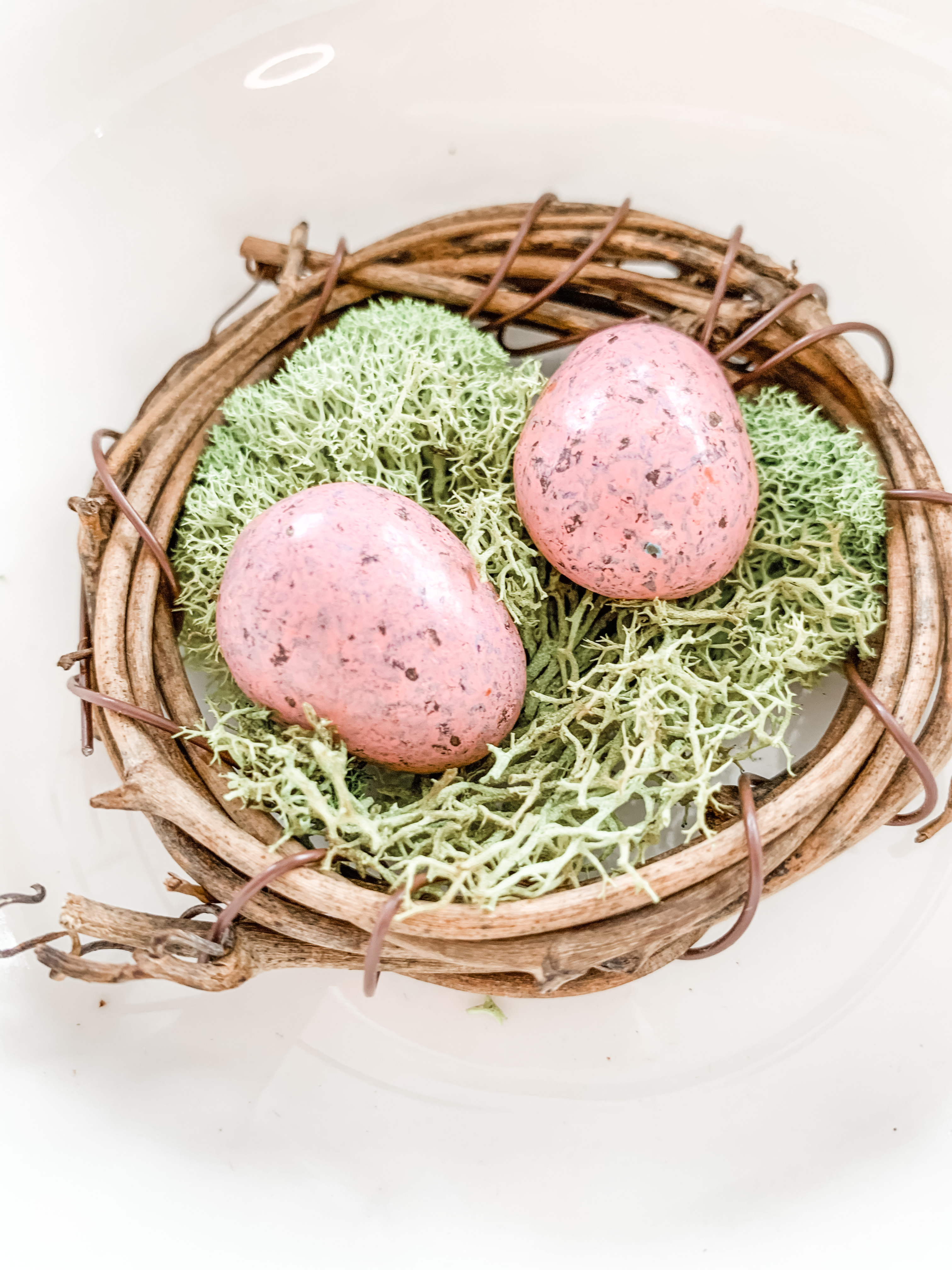 How cute are these? I have them in different colors to match every place setting! Now my decor is edible 🙂
I added a little whimsy with these vintage Beatrix Potter figurines and book from my son's nursery. You can still find Benjamin Bunny figurines here.
BLUE AND RUSTIC TABLESCAPE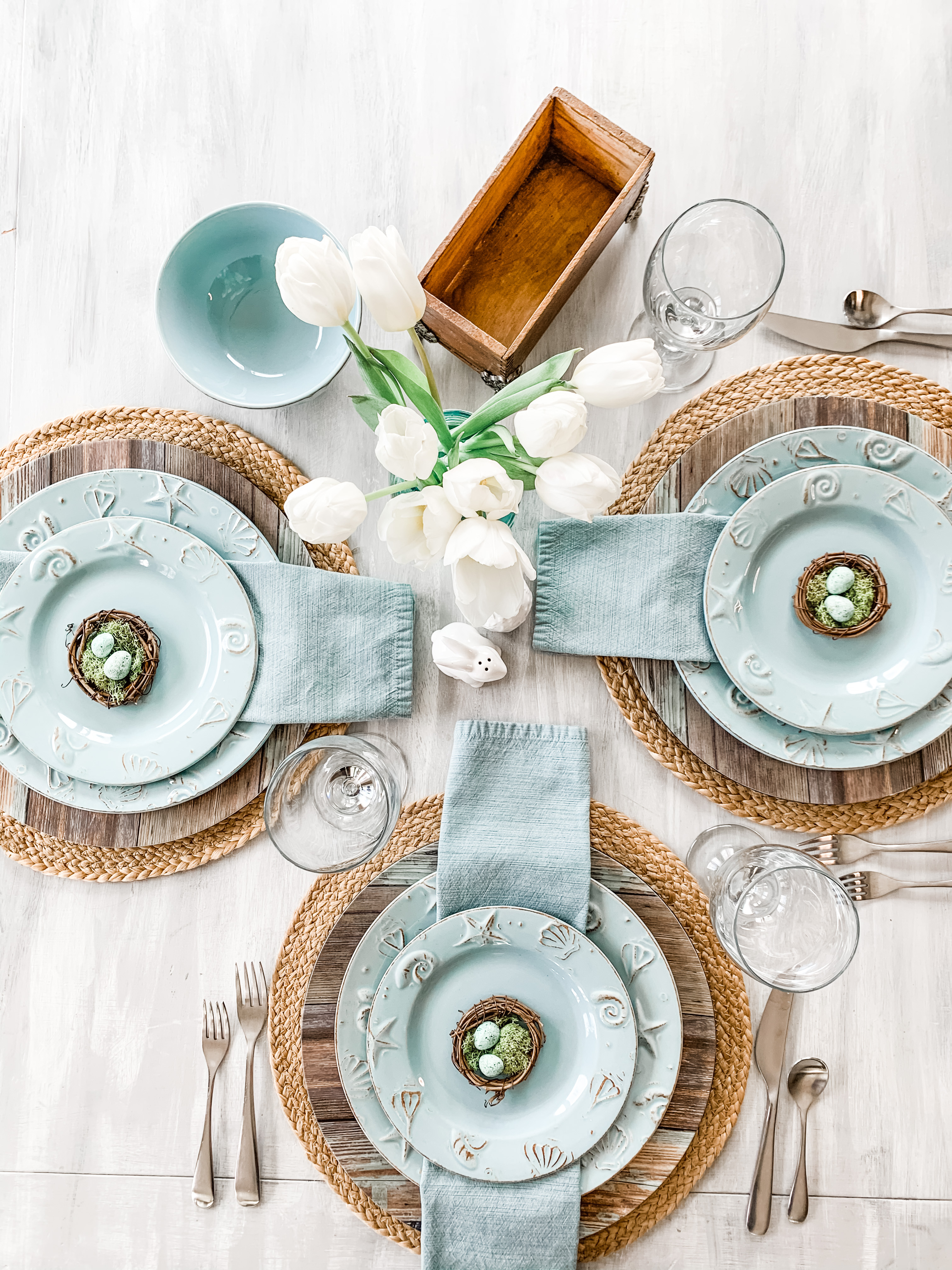 The next setting is beautiful in blues and browns.
More edible eggs in my nests and they are the perfect color to match the plates and napkins?! These plates are beachy but I love them and use them in my daily rotation.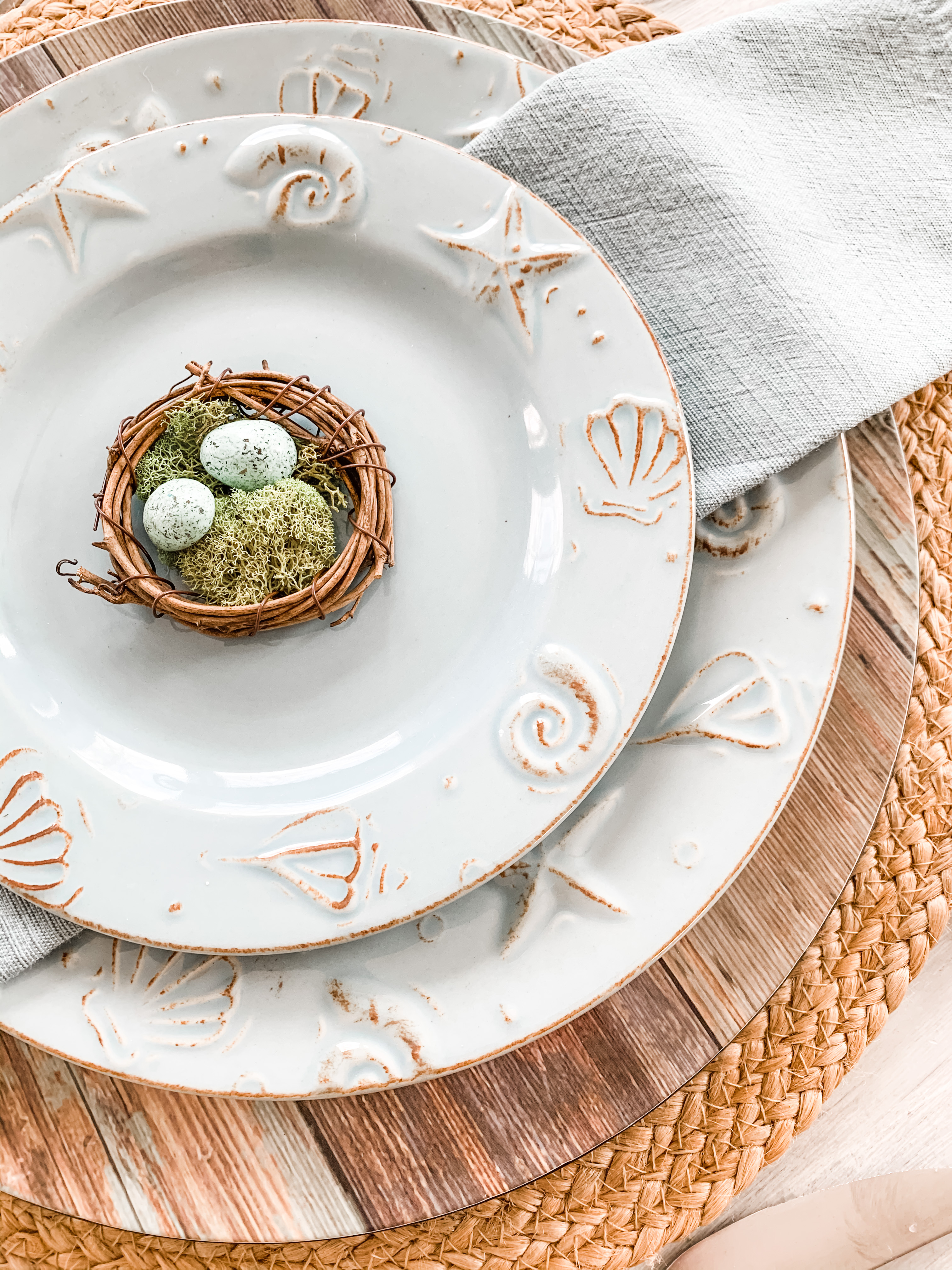 I began with a round woven placemat and then added the wood look plastic charger. The colored chargers I've had a while, I think they tie the colors together perfectly, you can find similar ones here.
Next was my main plate, a napkin with lots of texture then my salad plate. I love the mix of similar colors and textures. I added a vintage cheese box and tulips in a ball jar to finish off the look.
COLORFUL PASTEL TABLESCAPE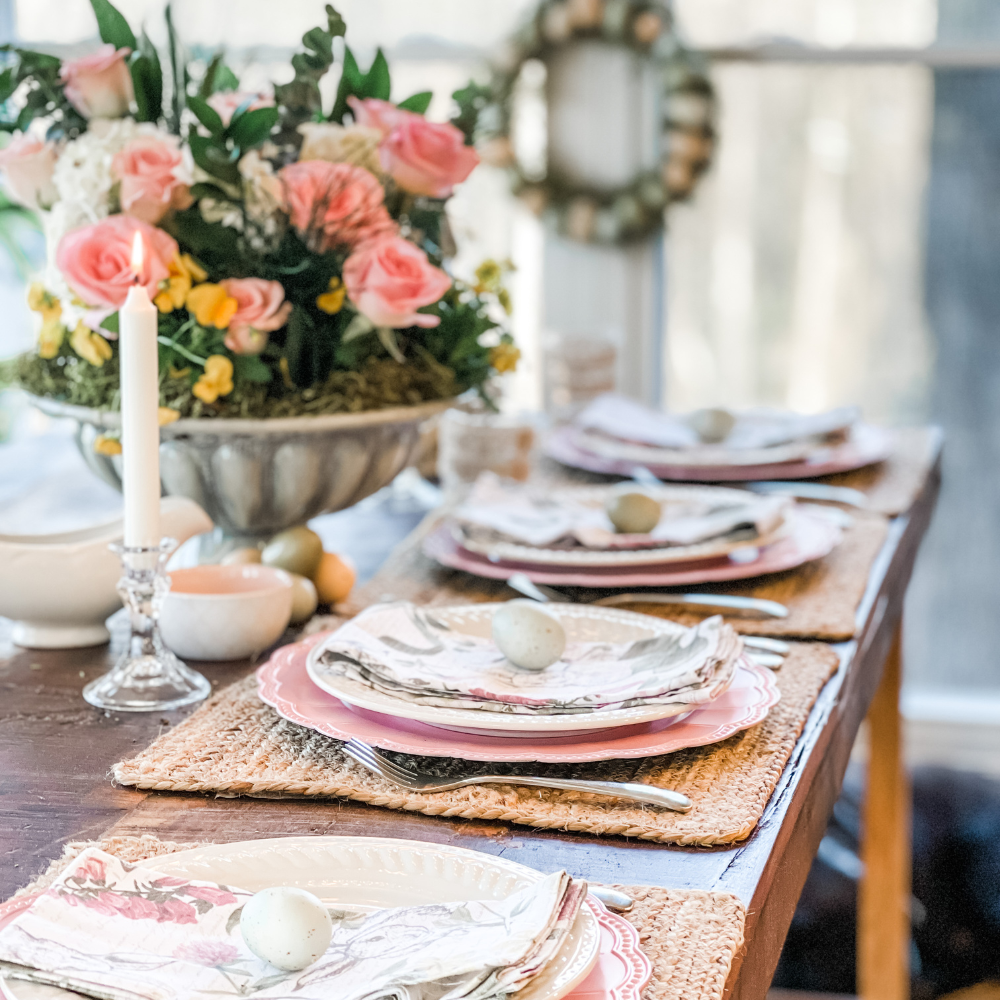 The mainstay of this tablescape was my thrifted container that I added flowers to. I stepped out of my comfort zone to create this arrangement. I am more of a flowers in a jar kind of girl but it fit.
My layering began with a square woven placemat, a pink charger topped with my everyday white plates. I found thee adorable napkins at HomeGoods and added a little egg on top.
You can see my $5 egg wreath in the background. All the details and directions for that are here.
GARDEN TABLESCAPE
Decorating with plants, especially ferns is one of my favorite things.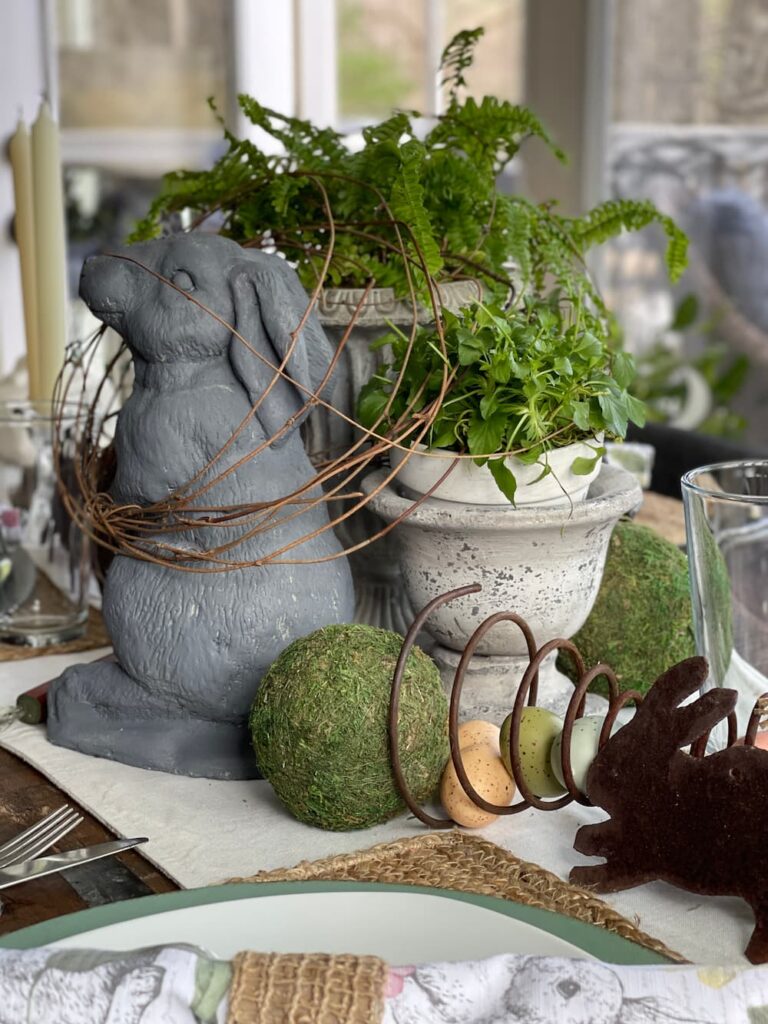 In this tablescape I added plants, lots of grapevines and vintage bed springs to the mix. I layered and included a green charger to my place setting.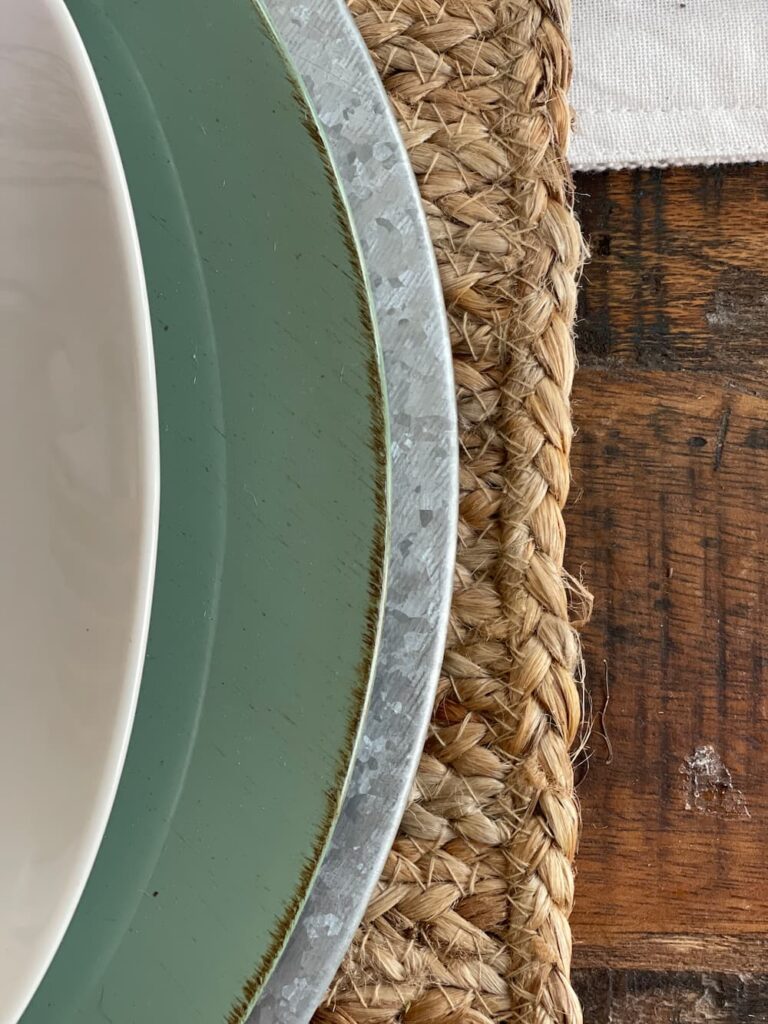 I made these little napkin rings in minutes for pennies. I used paper towel rolls and toilet paper rolls. Oh my.
See how I made them below:
I am all about adding little unexpected touches to my tables. For this one I made little bunny butters and added wildflowers from my dog walks to ice cubes.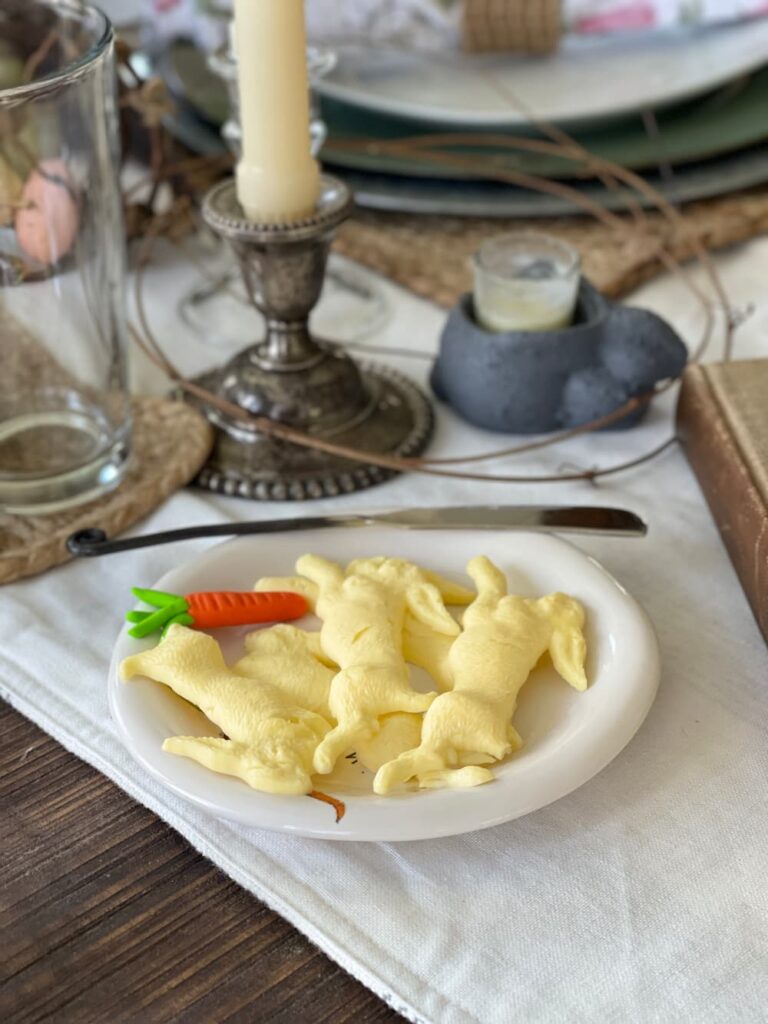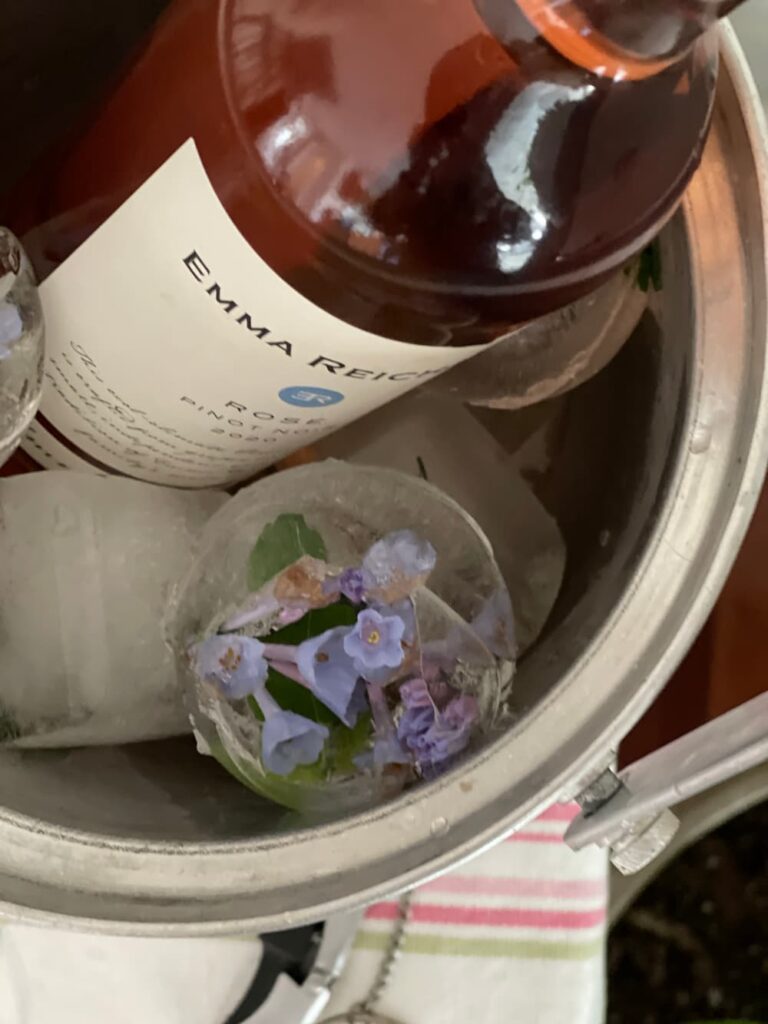 COASTAL TABLESCAPE
My last tablescape is a perfect for a coastal feel. Who doesn't love blue and white anytime? I layered in tans and navy with my white plates. Striped napkins are tied with a sprig of floral wire and a nod to the ocean with driftwood.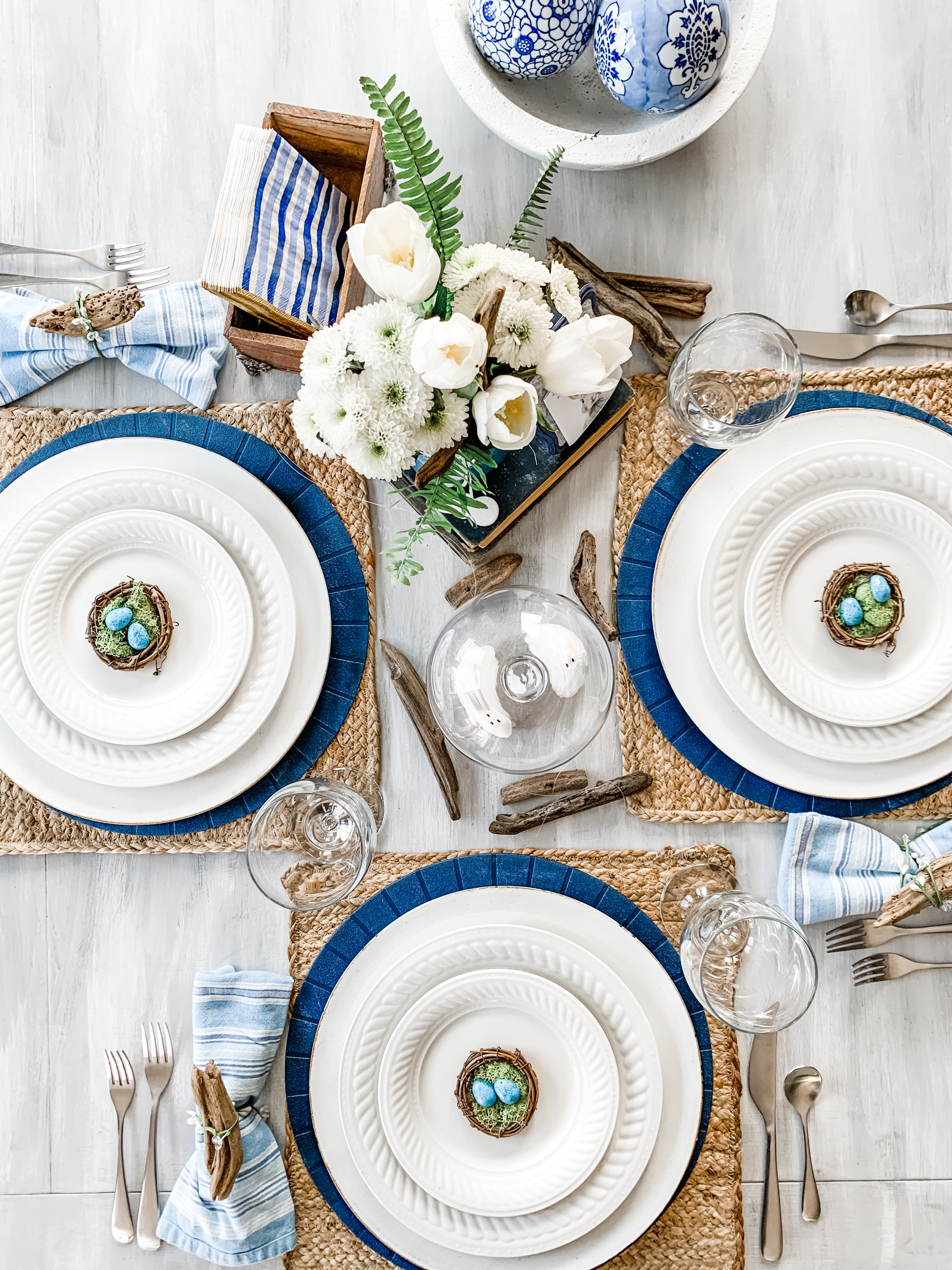 Using collected driftwood from my trips to Edisto Island in SC. There are those eggs again!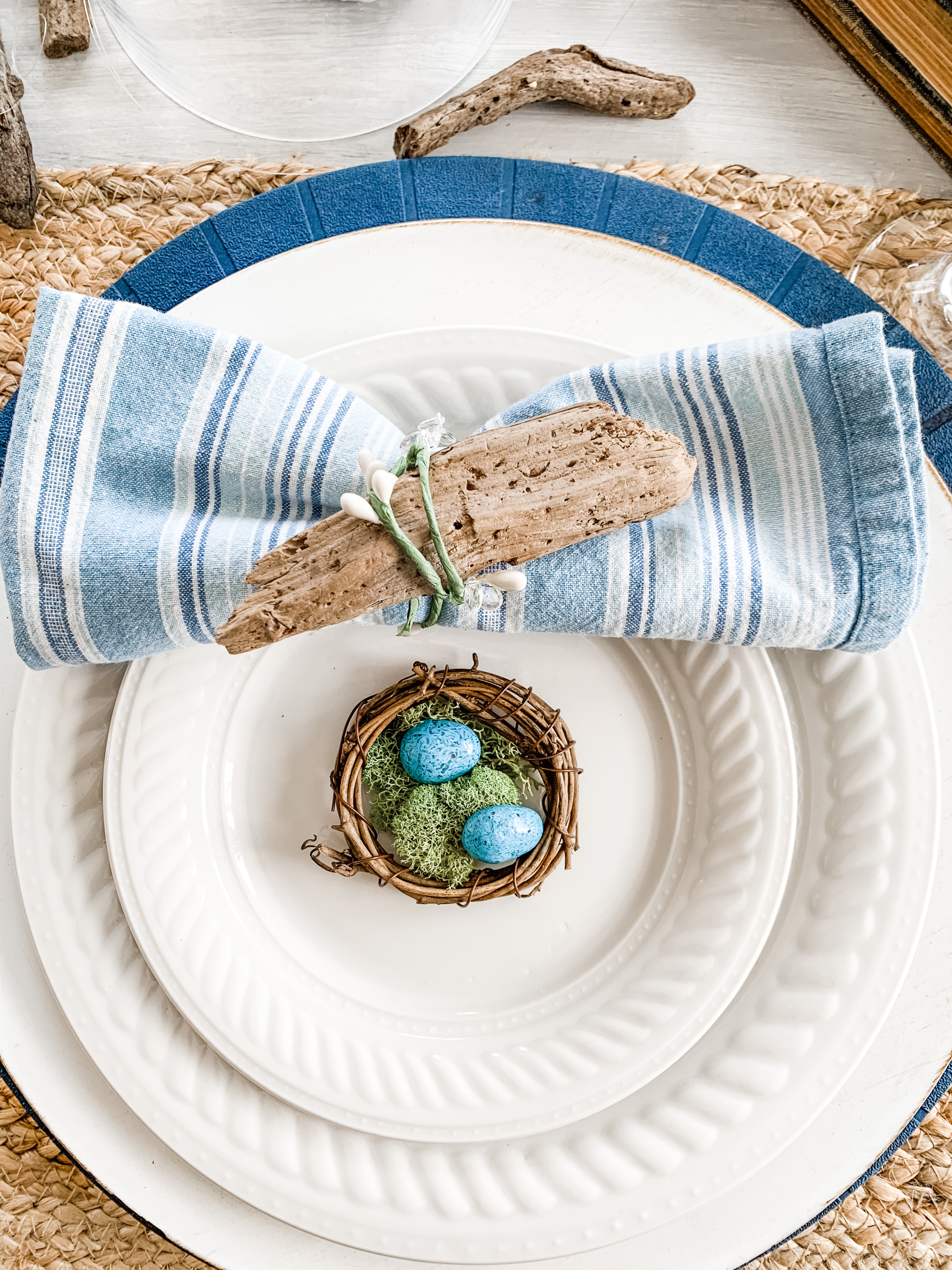 I used vintage books that were blue of course and tucked little pieces of driftwood in with the flowers and around the table.
So around Saved From Salvage, that is how Easter Dinner is Served.
Next up is Kristin with White Arrows Home. Her home is lakeside and so cozy. Today she is sharing an easy spring floral arrangement, you can see it here.
A painted ball jar is perched on vintage books, just one of the items of my mom's I use that reminds me of her, see the other ideas in my post on 10 Ideas to Keep Memories Close.
I hope you have some new inspiration to use when you are setting your spring table.
Now on to lots of other Easter and Spring inspiration and ideas.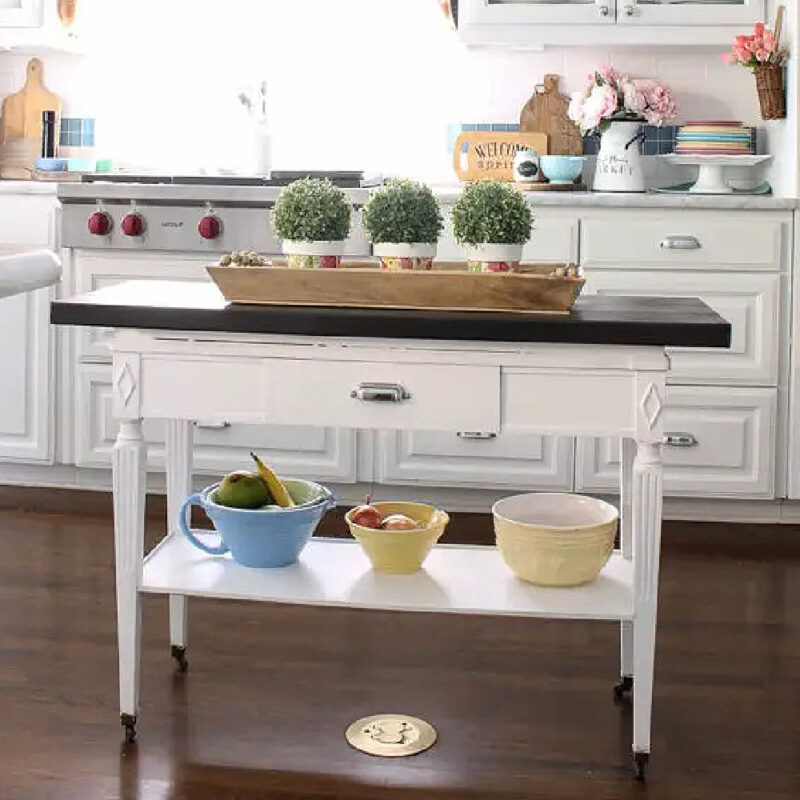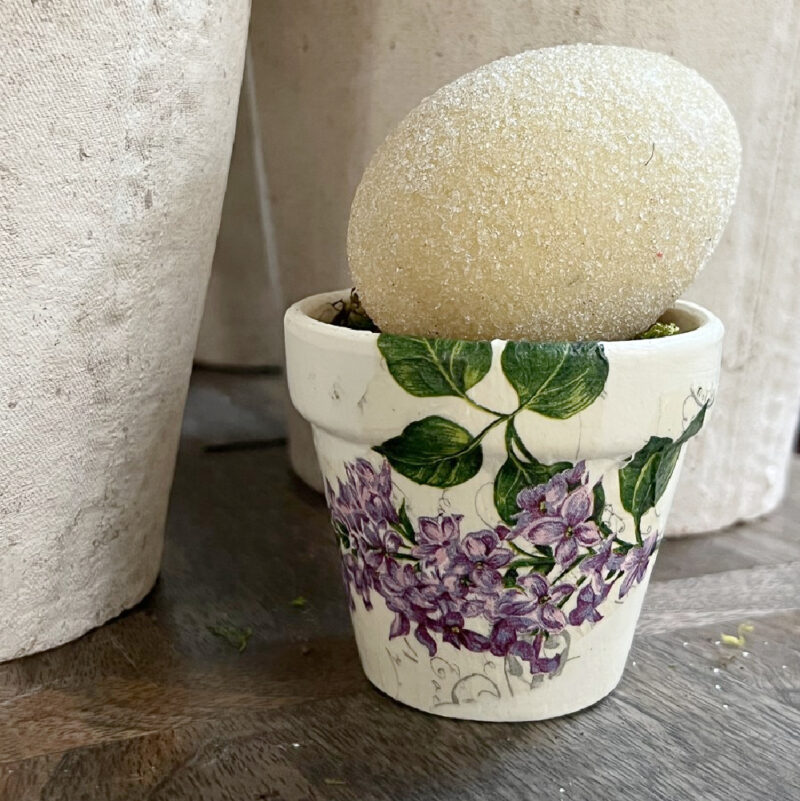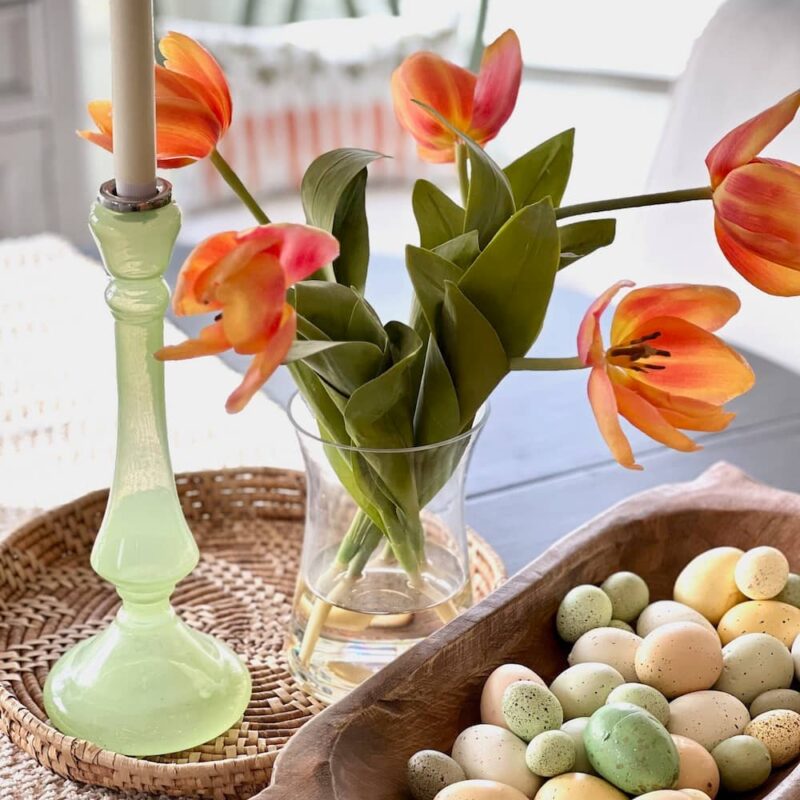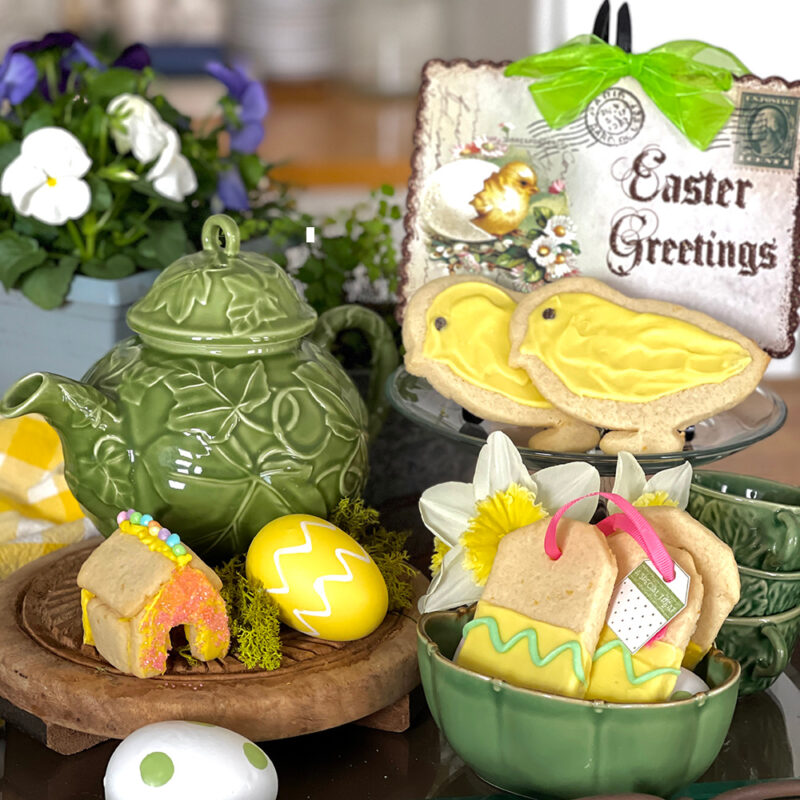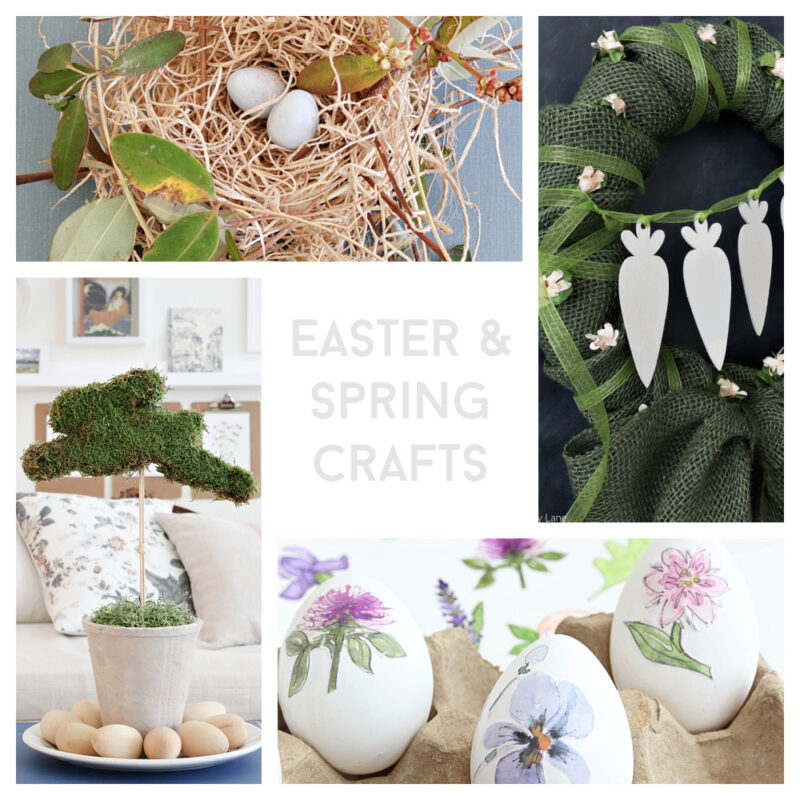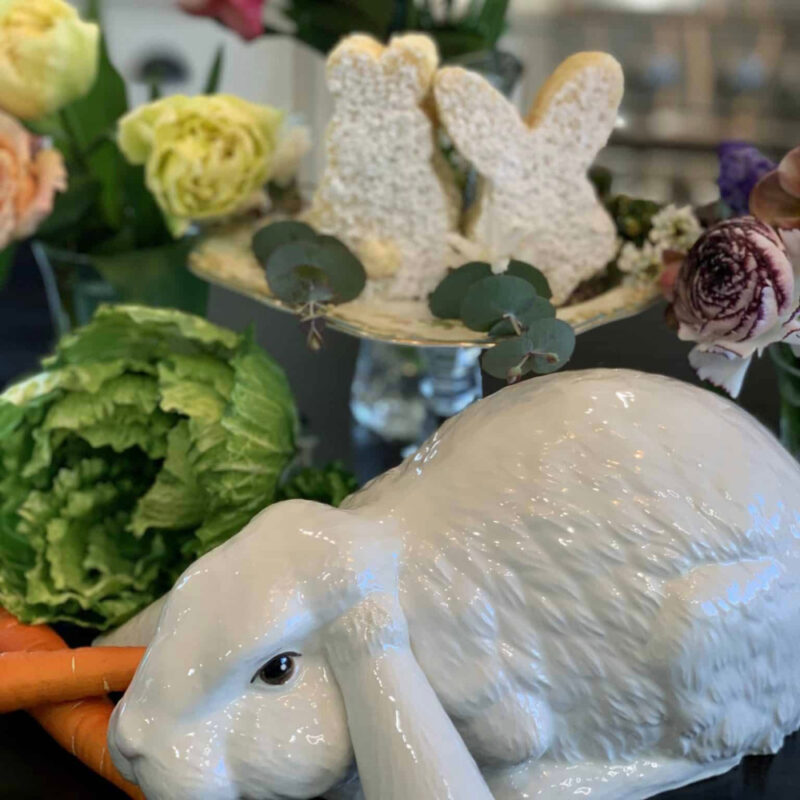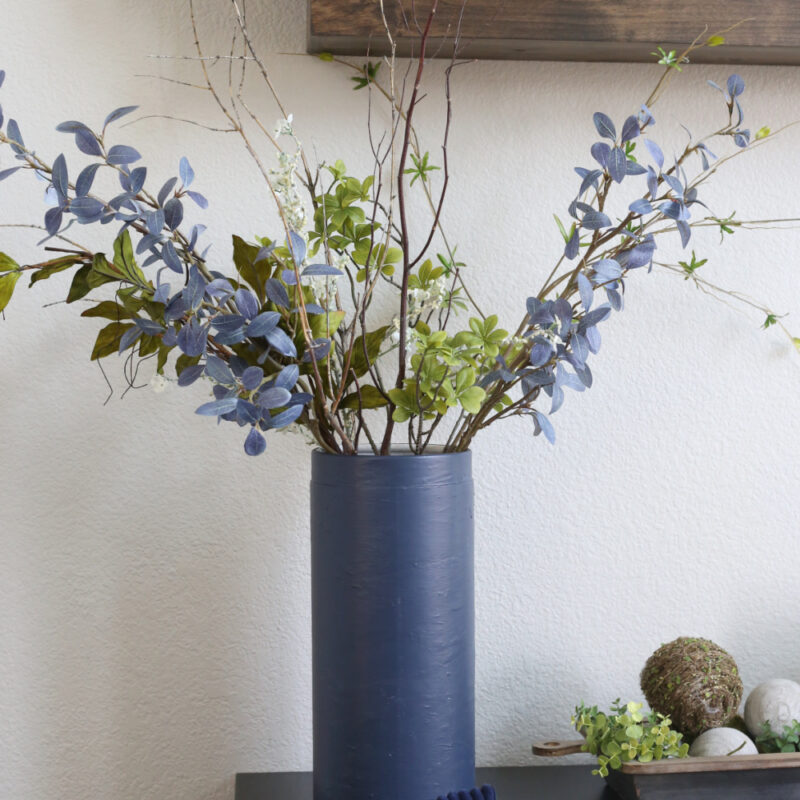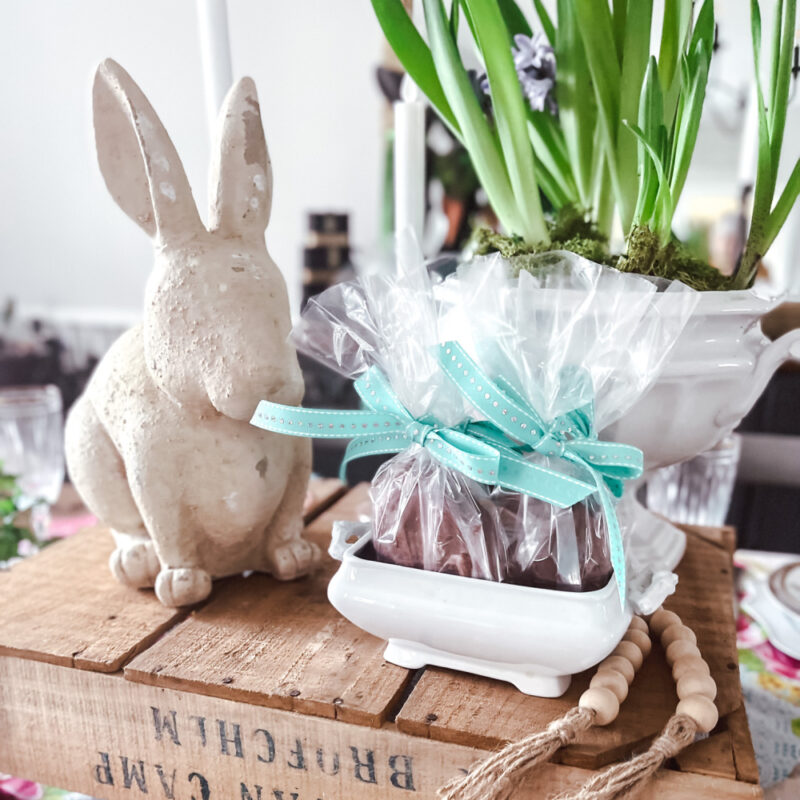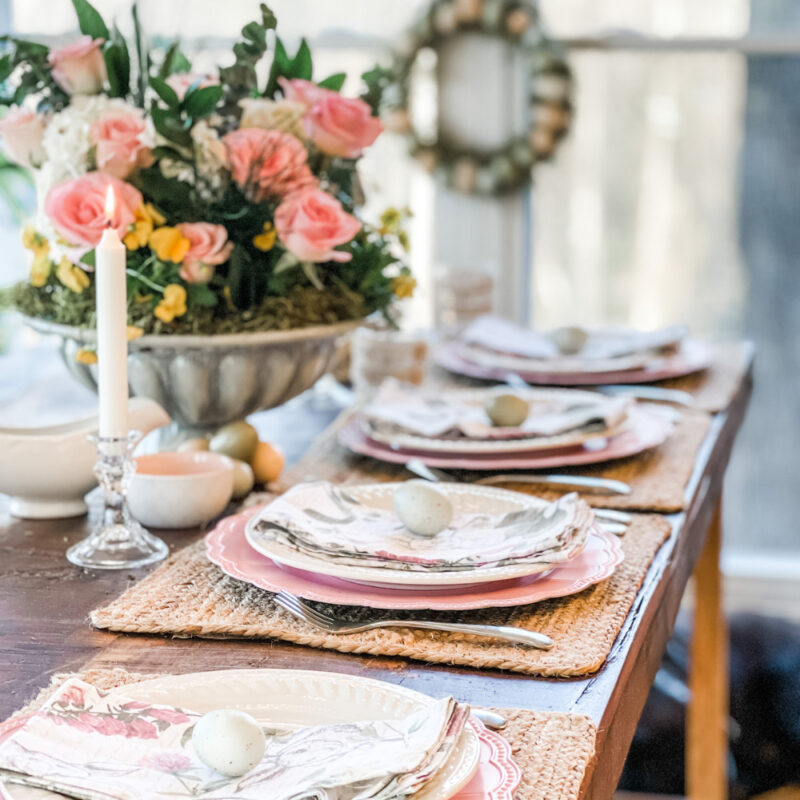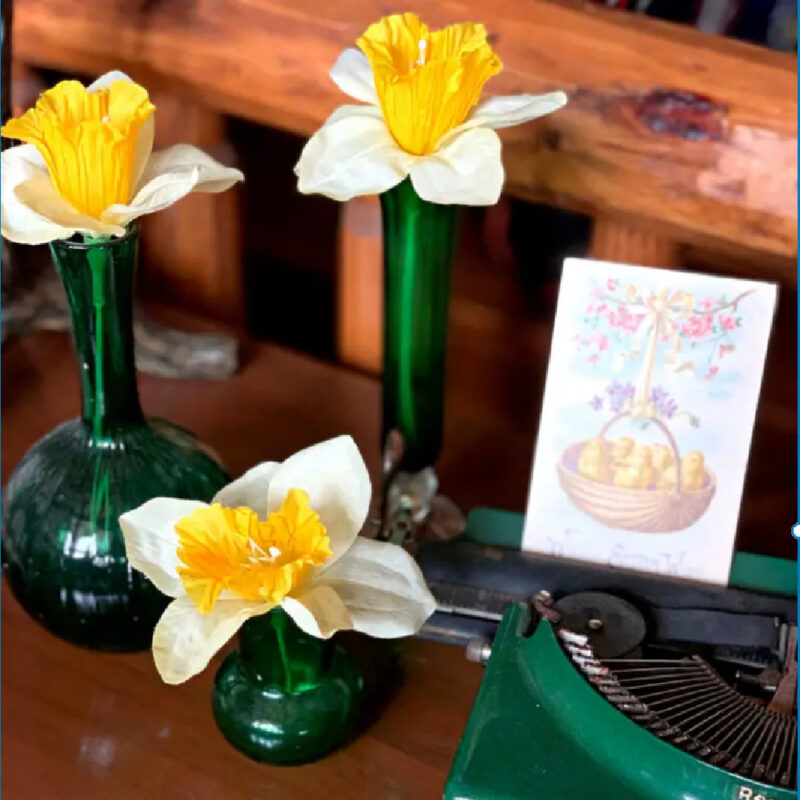 Thanks so much for stopping by.
XO, Regina
THIS POST MAY CONTAIN AFFILIATE LINKS.
SHOP THIS POST