Welcome to Lately on the Lake, a peek behind the scenes at Saved From Salvage. See what I've been up to, what I'm working on and what I'm loving this week.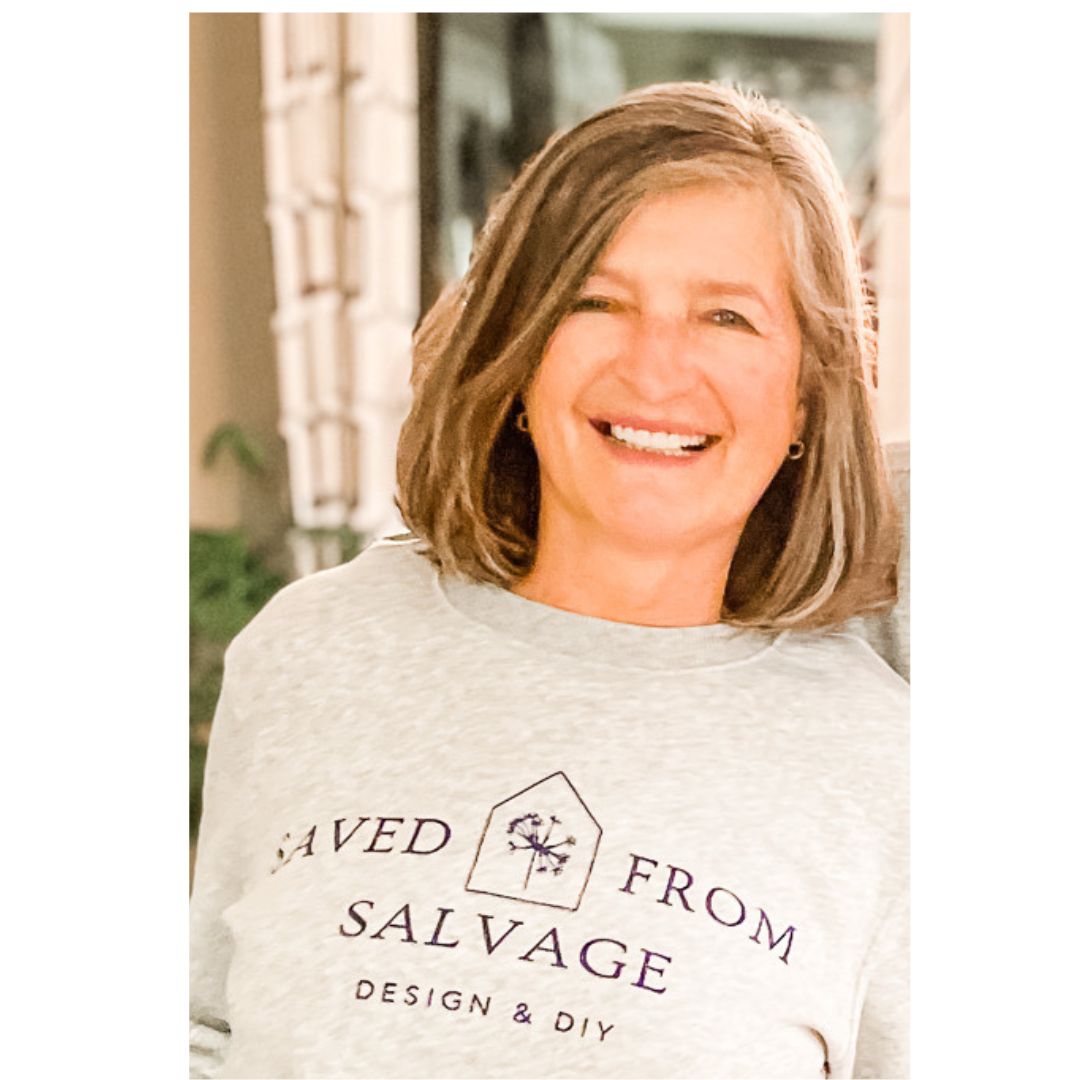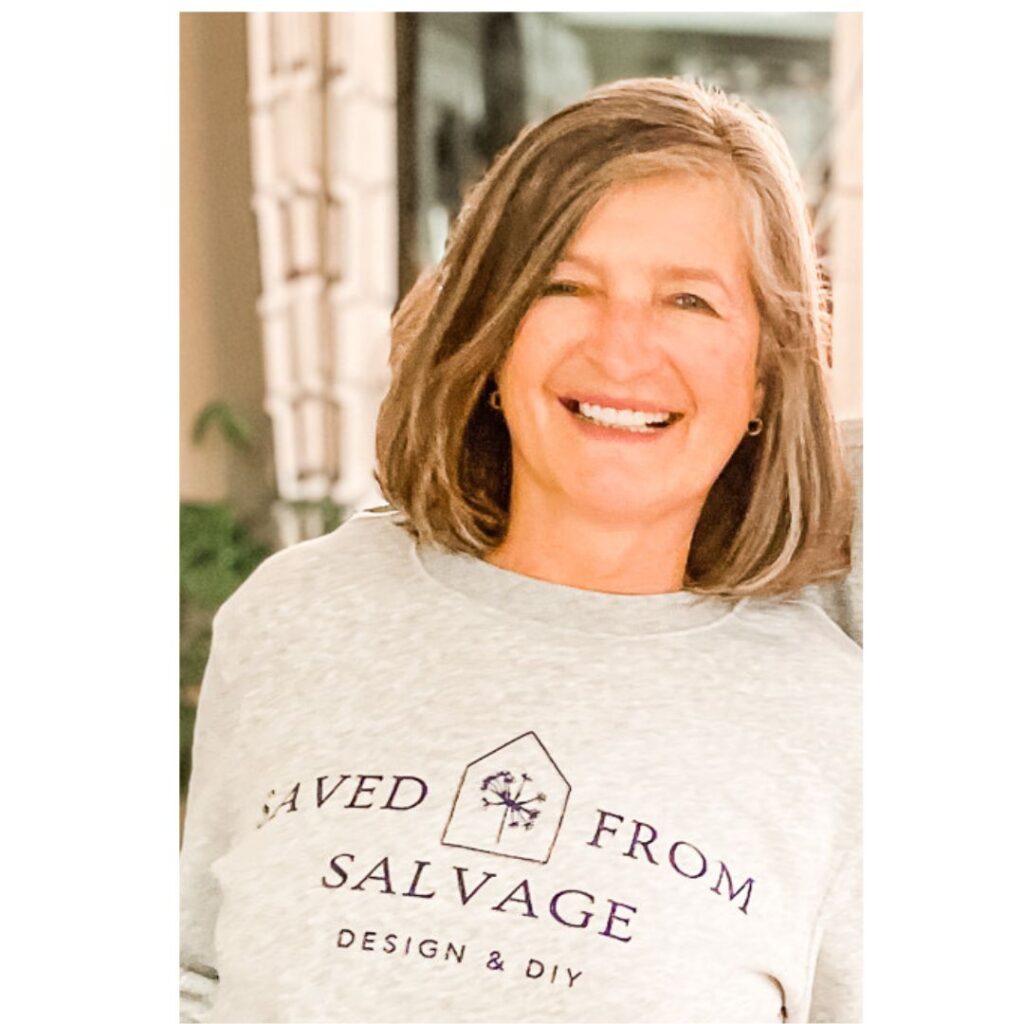 Hi, if you are new here, I'm Regina. Welcome to Saved From Salvage. I love to share DIYS, Furniture Flips, Tablescapes, Home Decor and the occasional recipe.
WHAT I'VE BEEN UP TO
Last Sunday we headed to New Jersey to celebrate a 91st birthday, it was lovely to see Carmine's family and celebrate this milestone for Bob. I was so good, I didn't eat any of the beautiful cake that must have weighed 10 pounds.
Thankfully, Dempsey is feeling better but we still went to the vet on Tuesday. He weighed in at 90 lbs. I tried to explain he had two collars and a leash on, so surely it was only 88. They still wrote down 90. Needless to say he's on the green bean diet again.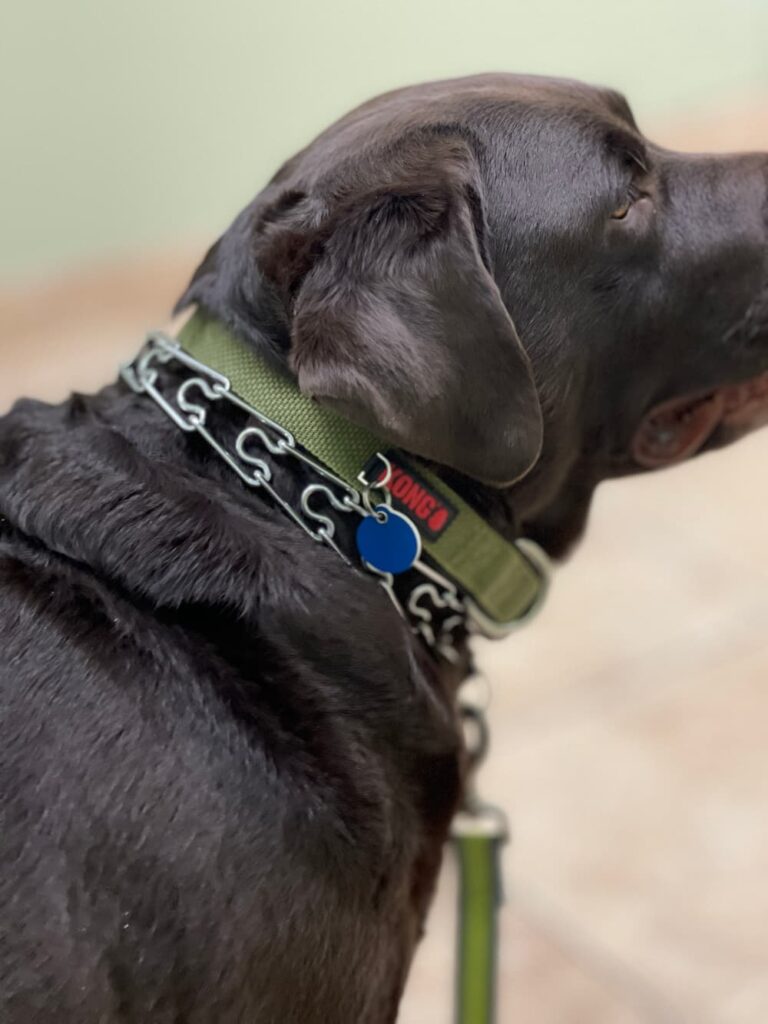 On the blog, I was busy working on spring tablescapes and I shared them in a post with nine other bloggers on Thursday. You can see them here, I hope they give you some inspiration for your Easter table.
I also got around to painting my newly thrifted floor lamp. I used my go to, Dixie Belle paint and I think it turned out great, especially for $10. You can see that here.
Wednesday I got a call from my sister while I was at work. She had ordered something for me, it had come in and she was so excited. She decided to get in the car and drive almost 4 hours to my house to give it to me.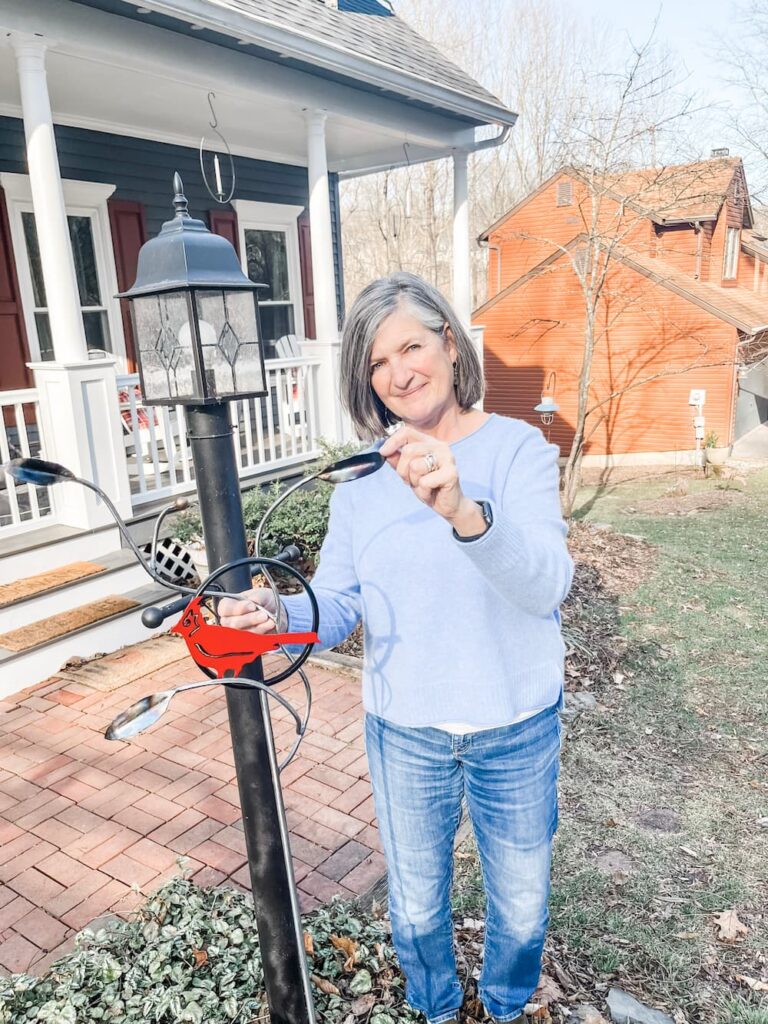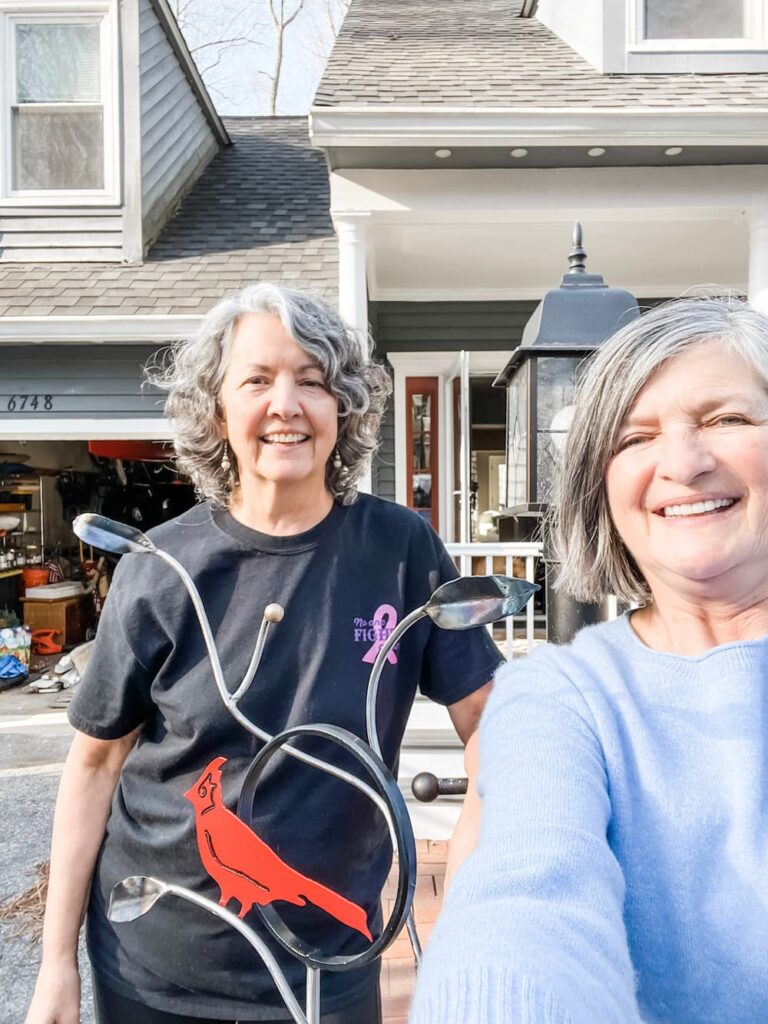 Isn't it lovely? This very unique piece of yard art that will always remind me of my mom because of the cardinal, and of course, now my sister who gave it to me.
She was literally at my house for an hour, we grabbed some Ledo's pizza and she headed back the same night.
She gets that from my mom, that adventuresome spirit to just jump in the car and drive. I am thinking of a spot out back in a garden where I can see it from the deck.
We got out to watch my nephew coach his last high school basketball game of the season on Thursday and Friday night in the freezing cold rain, we headed to our favorite pizza place, Pistarro's in Frederick.
I've been watching what I eat for the last week or so. I had a few calories left and I enjoyed every bite.
It's a great spot if you are ever in the area.
WHAT I'M WORKING ON
We are gearing up for the 2nd Handcrafted Society post next Tuesday. This is all about Easter Eggs, you won't believe how many versions you are going to see. Don't miss it!
We had another meeting about our kitchen remodel, we will meet up again next week to review the drawings and finalize some things. In the meantime, we have got to pick out a floor. We are in a debate, well sort of, but I'm going to lose I know. I want LVT and Carmine wants real hardwood. Which way would you go? I won't tell Carmine if it's LVT.
WHAT I'M LOVING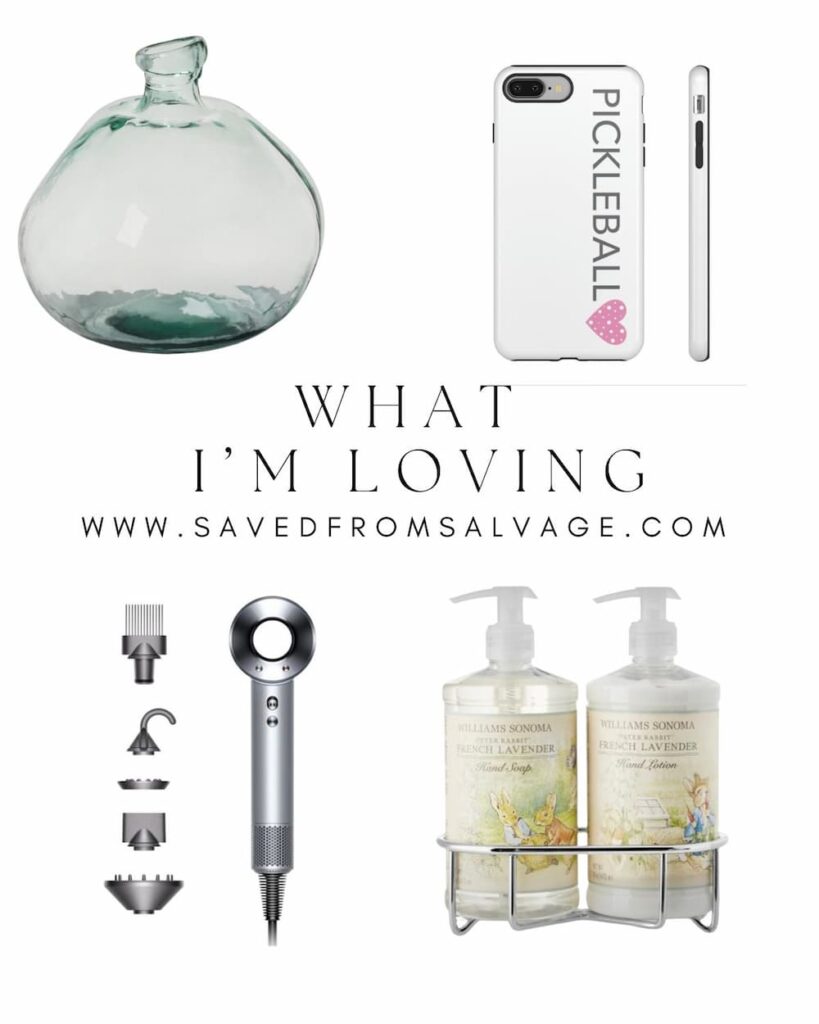 I stumbled across this and fell in love. I have nothing shaped like this at all and I always think they are beautiful when I see them styled.
This is a game changer. I have very wavy hair and I spent years trying to get it straight by blow drying the heck out of it. This is the most amazing hair dryer. It dries so quickly and I lose the heat damage and noise I used to get from my old dryer. It also works perfectly when I'm drying Dempsey.
Have you played the fastest growing sport in the country yet? My son introduced me to this sport, it's sort of taken over the place at my work. This is a fun new case to show where your heart is.
Ever since I did my son's (34 years old) nursery, I've been obsessed with Peter Rabbit and Beatrix Potter. I still have a lamp and all the figurines he had as a baby. So of course when I spotted this at Williams and Sonoma I was like, yes please.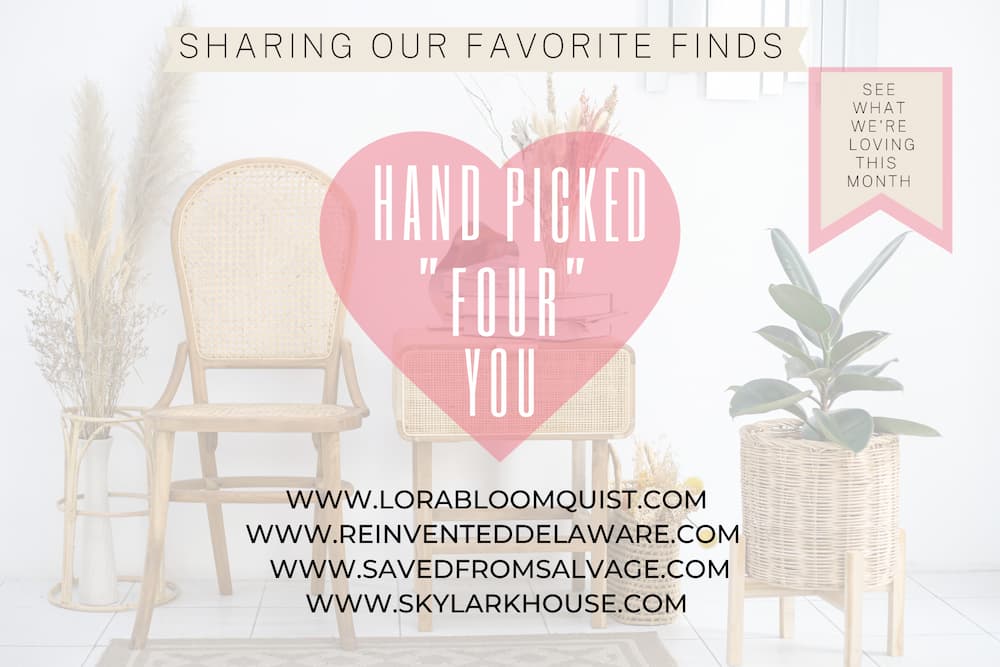 HAND PICKED 4 YOU
REINVENTED DELAWARE – CINDY
LORABLOOMQUIST – LORA
SKYLARK HOUSE – ANNA
This month, I am looking forward to spring and everything associated with it. At the moment, I am actively incorporating rabbits into my home decor. Although we are expecting a foot of snow in upstate New York tonight, in my mind, I can see spring. Here are some of the things that I am using.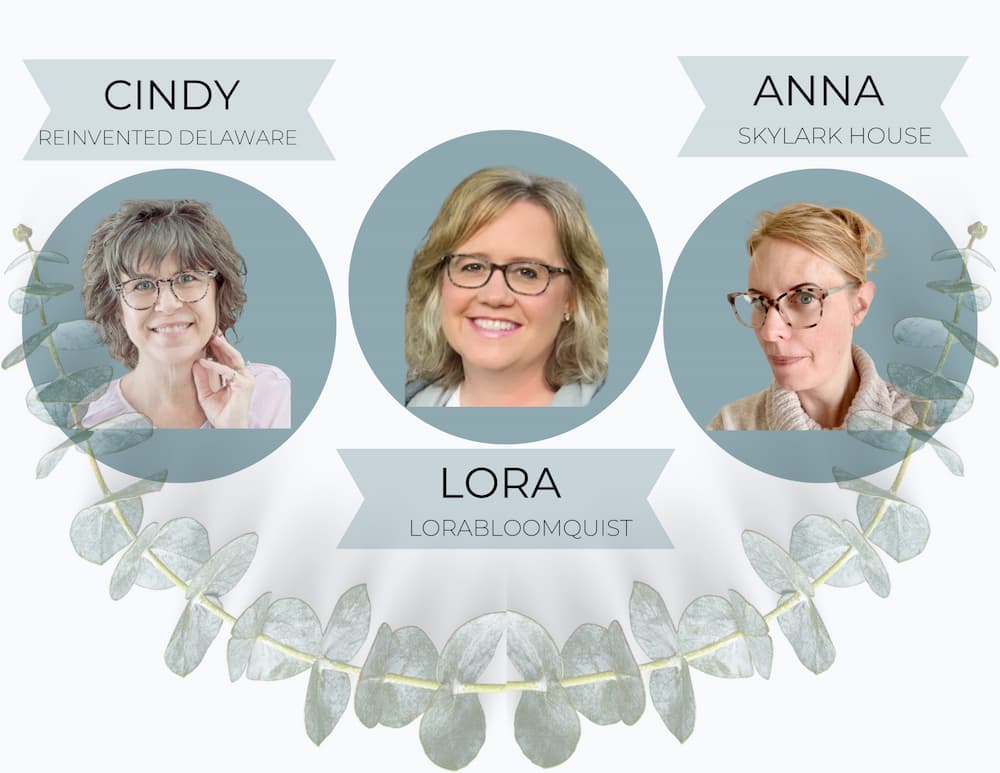 Thanks so much for stopping by the lake. If you missed it, you can see Lately on the Lake from last week right here.
Until next time,
XO, Regina