Do you have a silverware caddy for your outdoor table? I found a caddy at the thrift store and am sharing how I put it to use outside the kitchen. I'll show you so many uses for a silverware caddy. Of course, first I had to give it a makeover. Come along and see.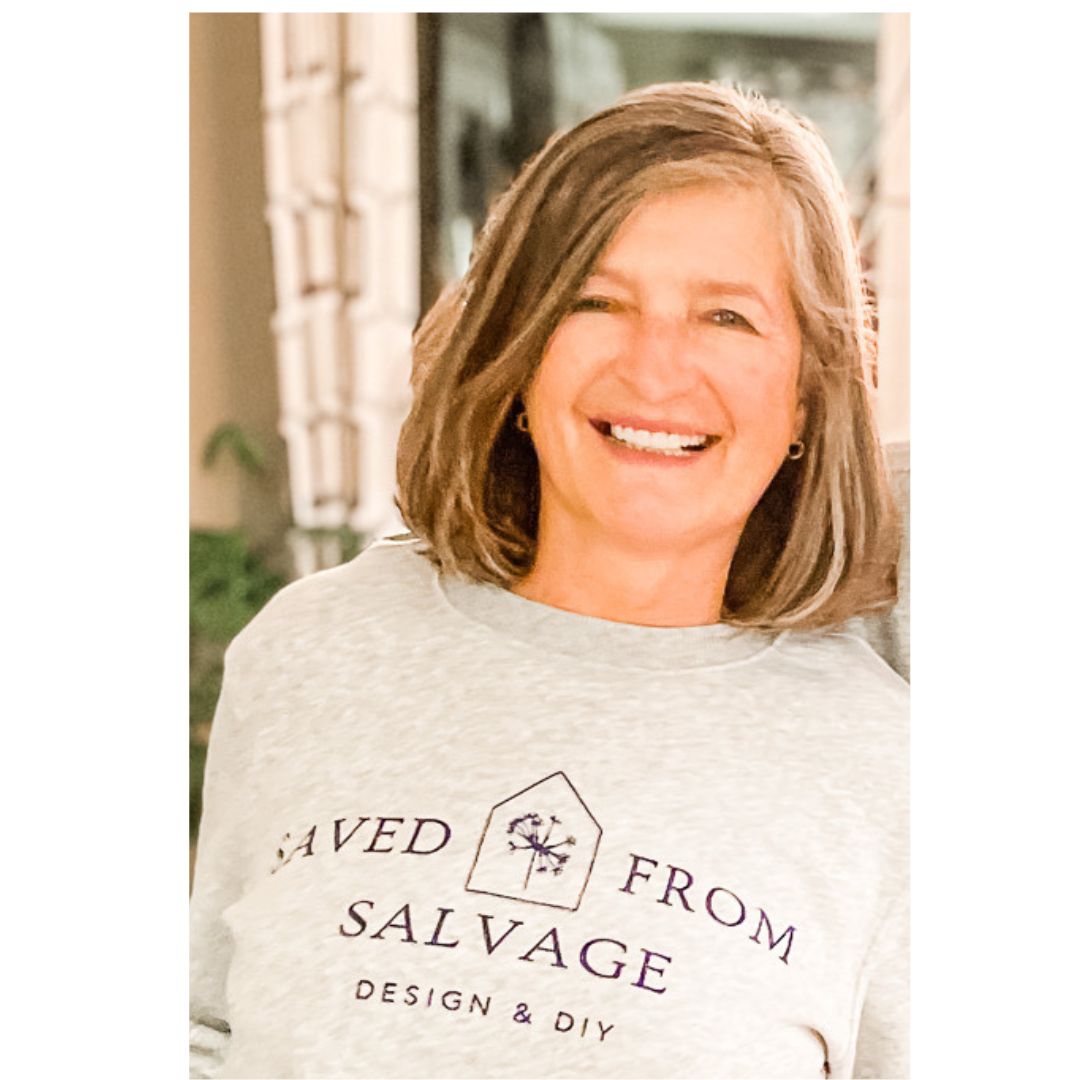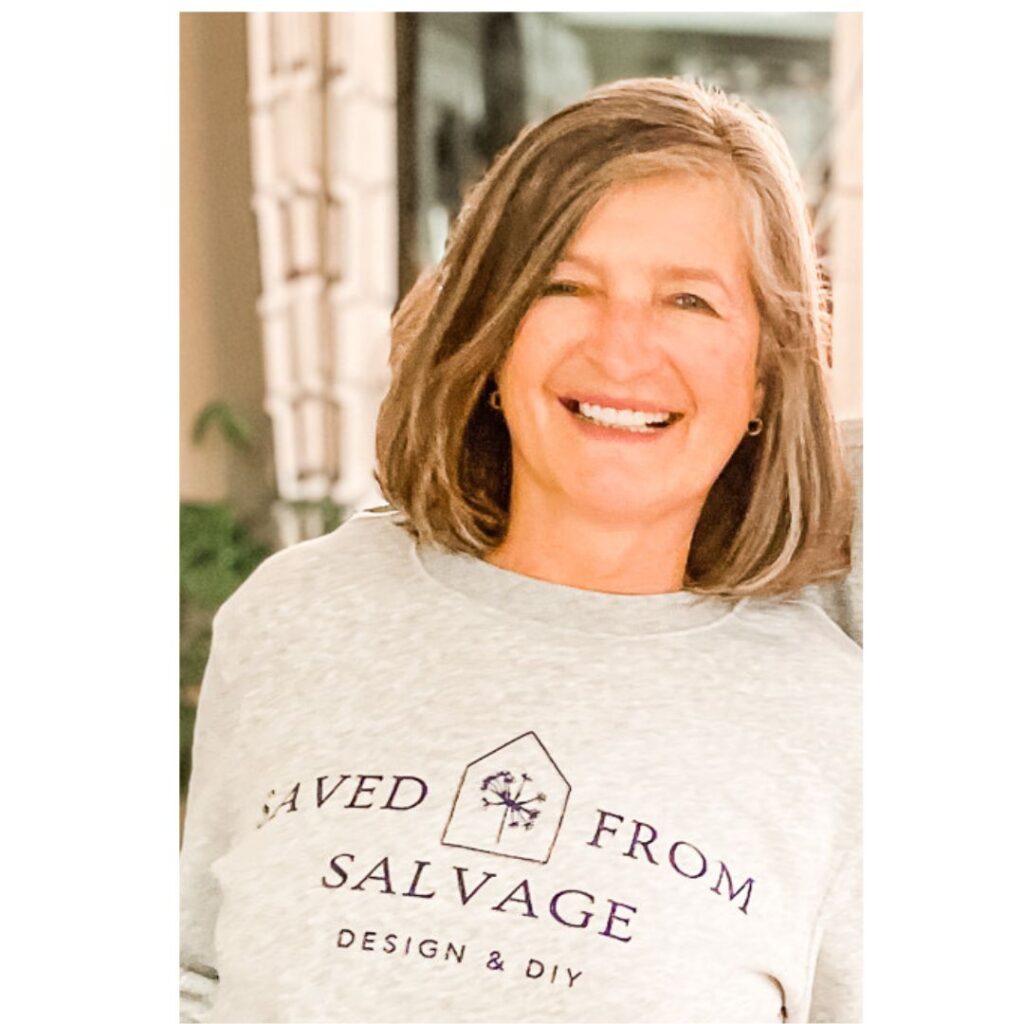 Hi, I'm Regina and this is Saved From Salvage. I love to share DIYs, furniture flips, home decor inspiration, event planning ideas and recipes. Thanks for stopping by.
MY SILVERWARE CADDY
I picked up this metal silverware caddy at Goodwill for $5.49. While bright and clean and in great shape, the design just wasn't my style. I wanted to see what else I could use it for.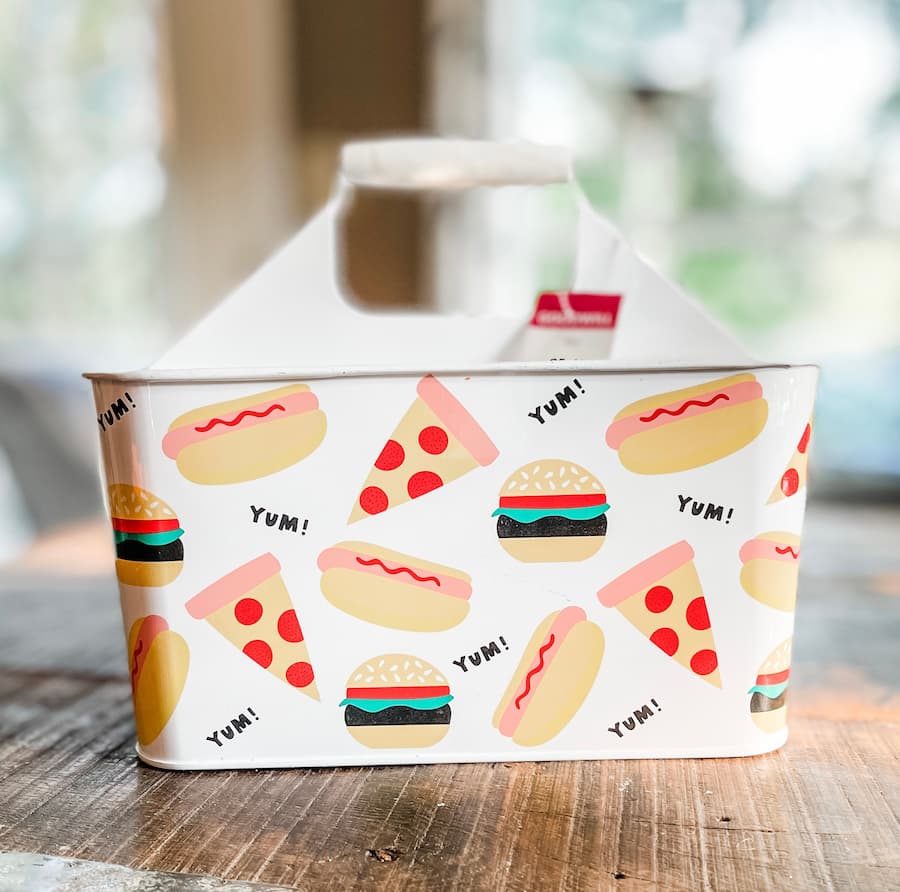 I decided to give it a few makeovers so you could get inspiration for one of your own. You could also DIY one out of wood and then use any of the ideas below to personalize it to your liking.
Hometalk has a variety of tutorials on making your own silverware caddy. You can check them out here.
There are truly so many creative ideas out there to make your own caddy, many of these ideas are using upcycled and repurposed materials which I love.
I'm happy that I was able to keep this one out of the landfill. So remember to Reduce – Reuse- Recycle when you can, especially for home decor.
I know I'm going to keep scouring thrift stores for another at a great price.
THE MAKEOVERS
I decided to create four different looks with my storage container. At the bottom of this post, I share a few more uses for a silverware caddy. I hope you get inspired by my makeovers and seeing the ideas for other uses gets your creative juices flowing and you can imagine great makeover ideas yourself.
COASTAL VIBES
If you have been to Saved From Salvage, you know I love neutrals and lean toward a more simple style.
For my first makeover, I decided to paint the caddy using Dixie Belle's Quiet Cove.
This beautiful shade of blue/grey is the perfect backdrop for any outdoor meals you are planning.
It would fit right in with most decors and I think it could fit right in with paper plates or regular dinner plates.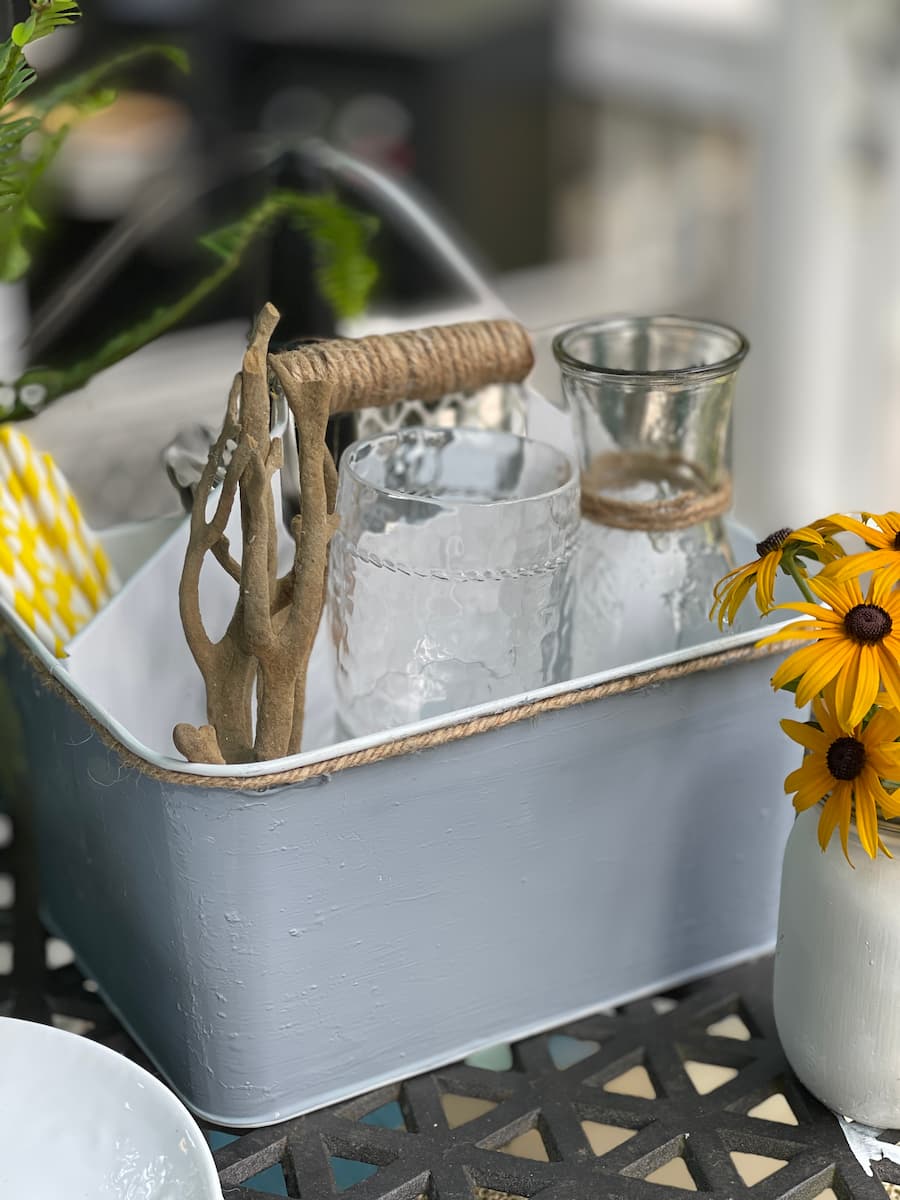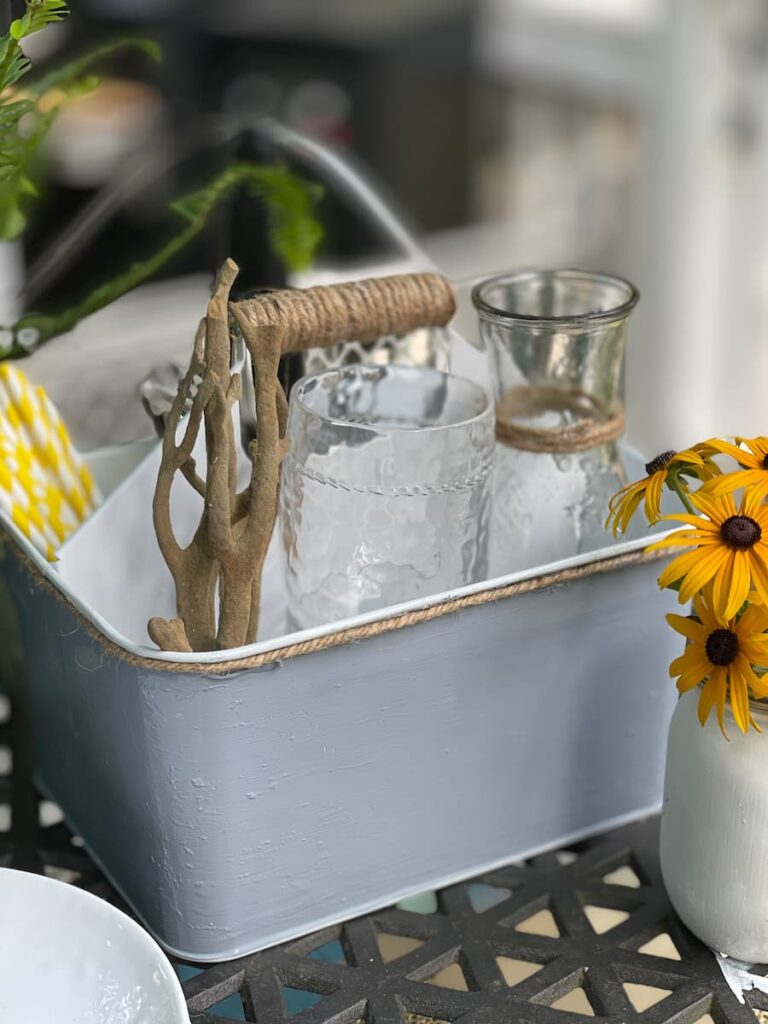 This would have been a perfect addition to my Coastal Tablescape if I had found it by then.
It would have fit with all the colors I used.
The first thing I did after cleaning it was to paint it with the Quiet Cove. After letting it dry,
I used my glue gun and attached one strip of a thicker jute around the top of the caddy.
Next, I added a thin strip of twine around the handle and a thicker piece around the top of the caddy.
This was also attached with my hot glue gun.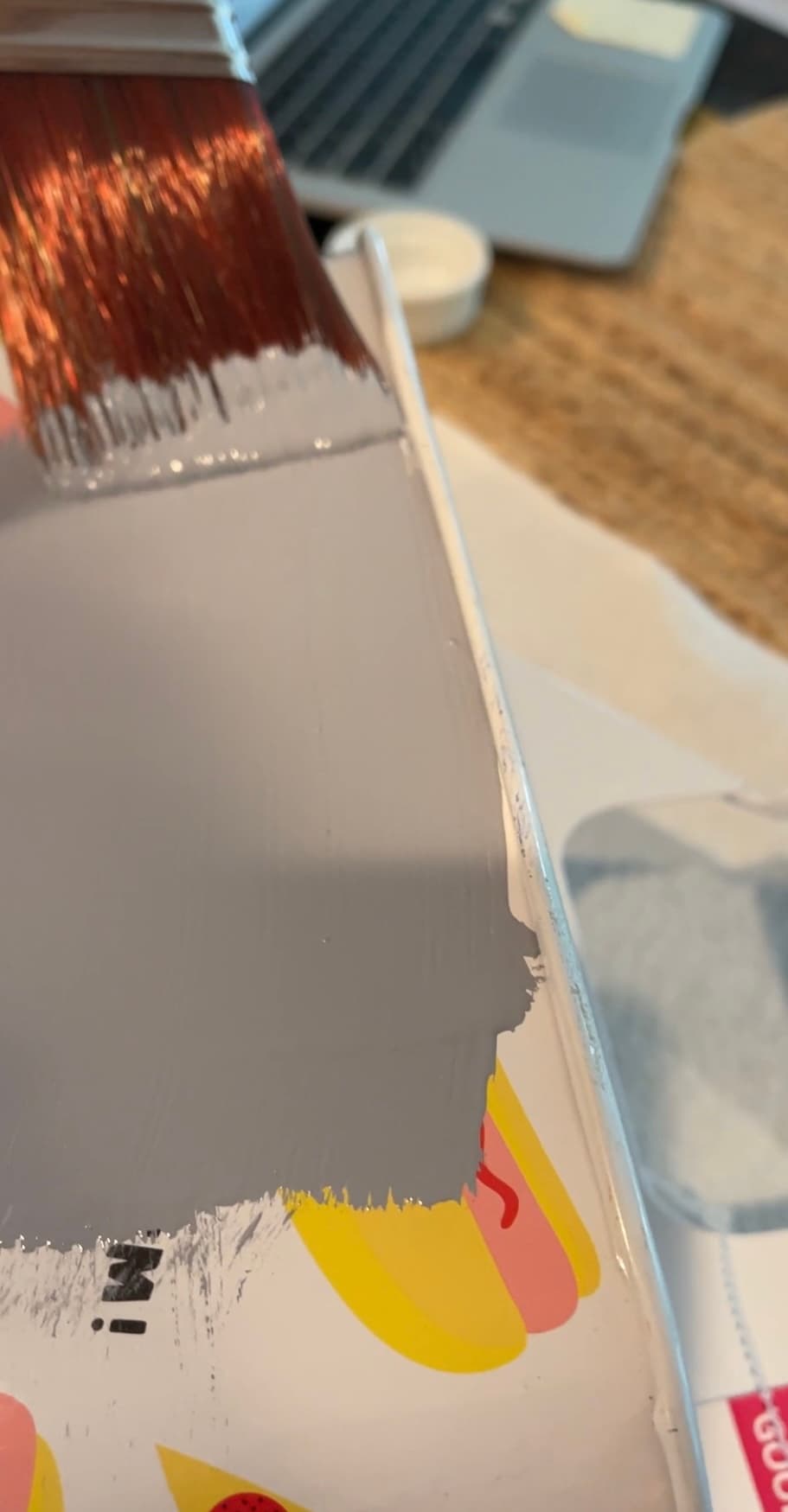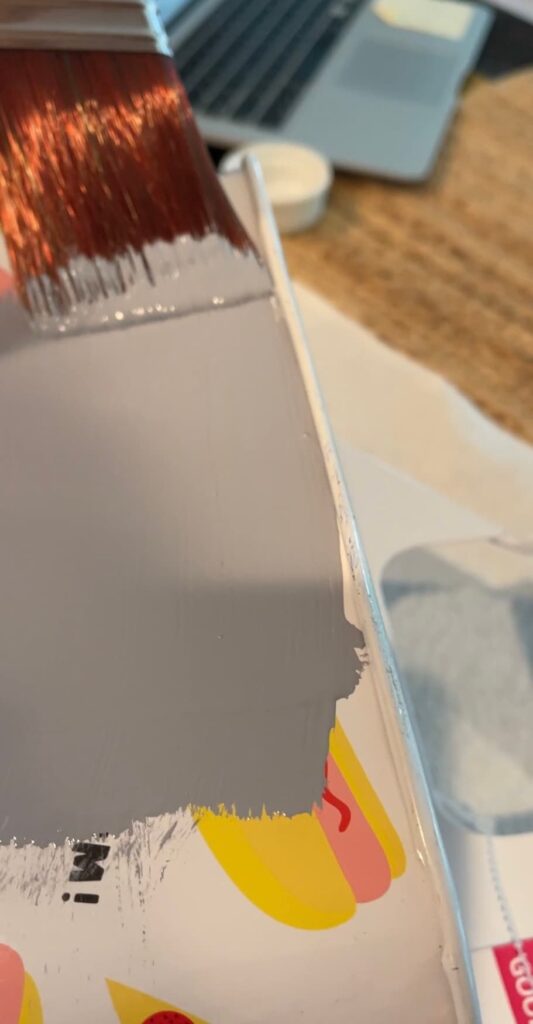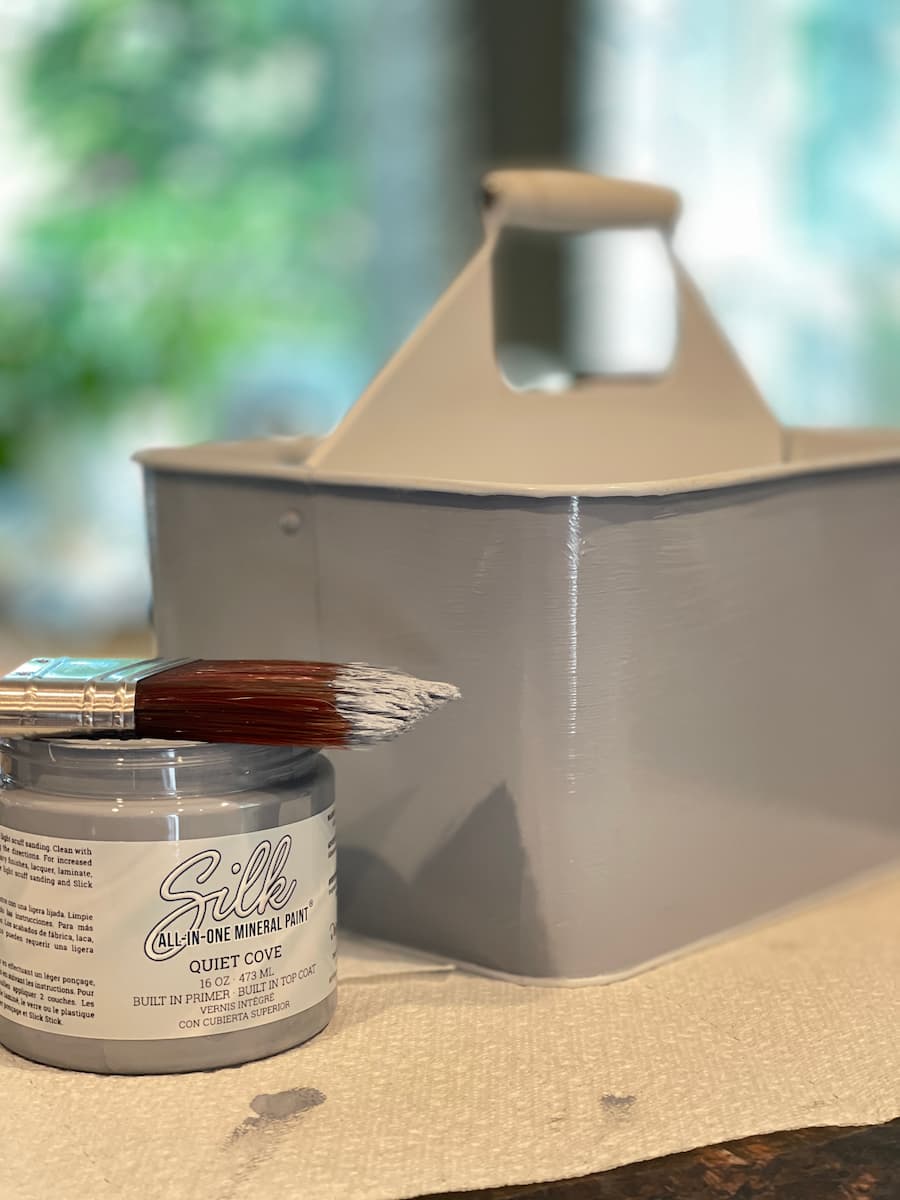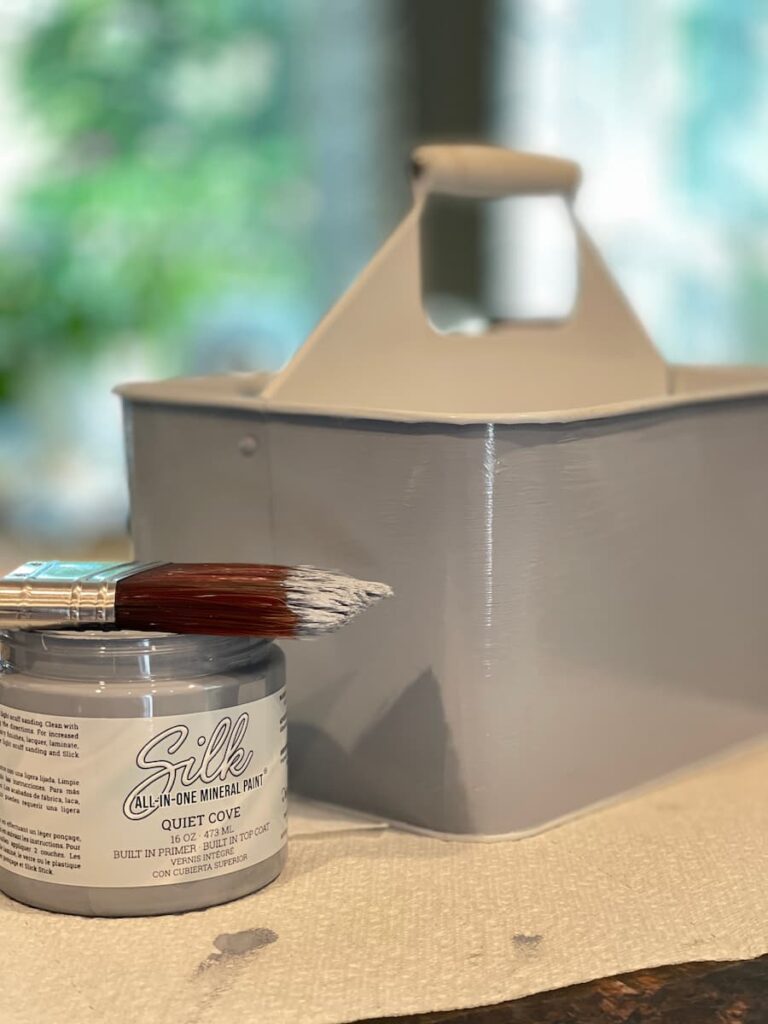 Simple but elegant, this would be a great gift for anyone that loves to entertain outdoors or that friend with a beach house.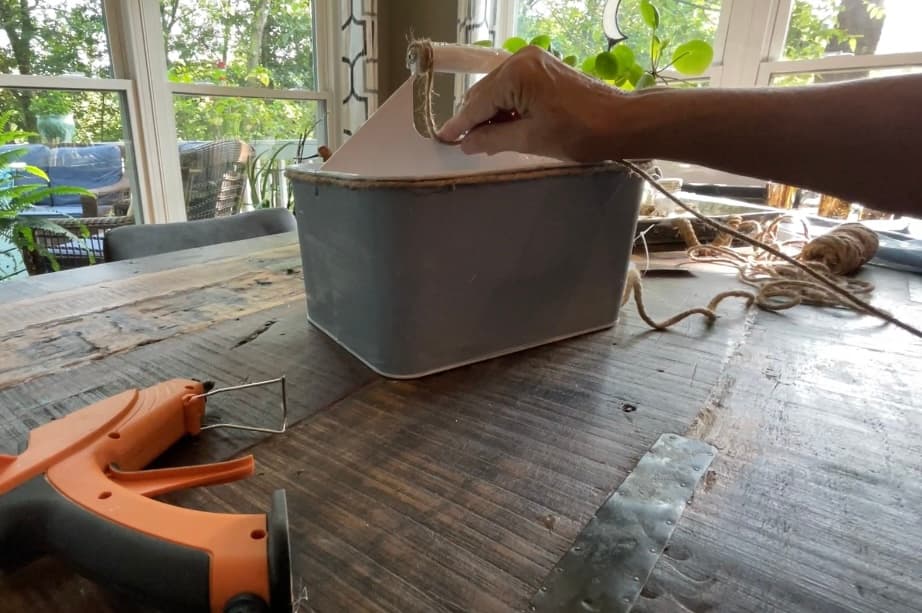 PRIMPING PUPS
So last year sometime I was clipping Dempey's nails. He was always fine with me doing that since I started when he was just a pup.
Then before my eye surgery when everything was blurry, I had the clippers backwards and trimmed one a little short. He yelped and now I go near the drawer with the dog grooming tools, he walks away.
I'm hoping using the caddy might make it possible, even if it doesn't it's still more convenient to carry the grooming tools outside.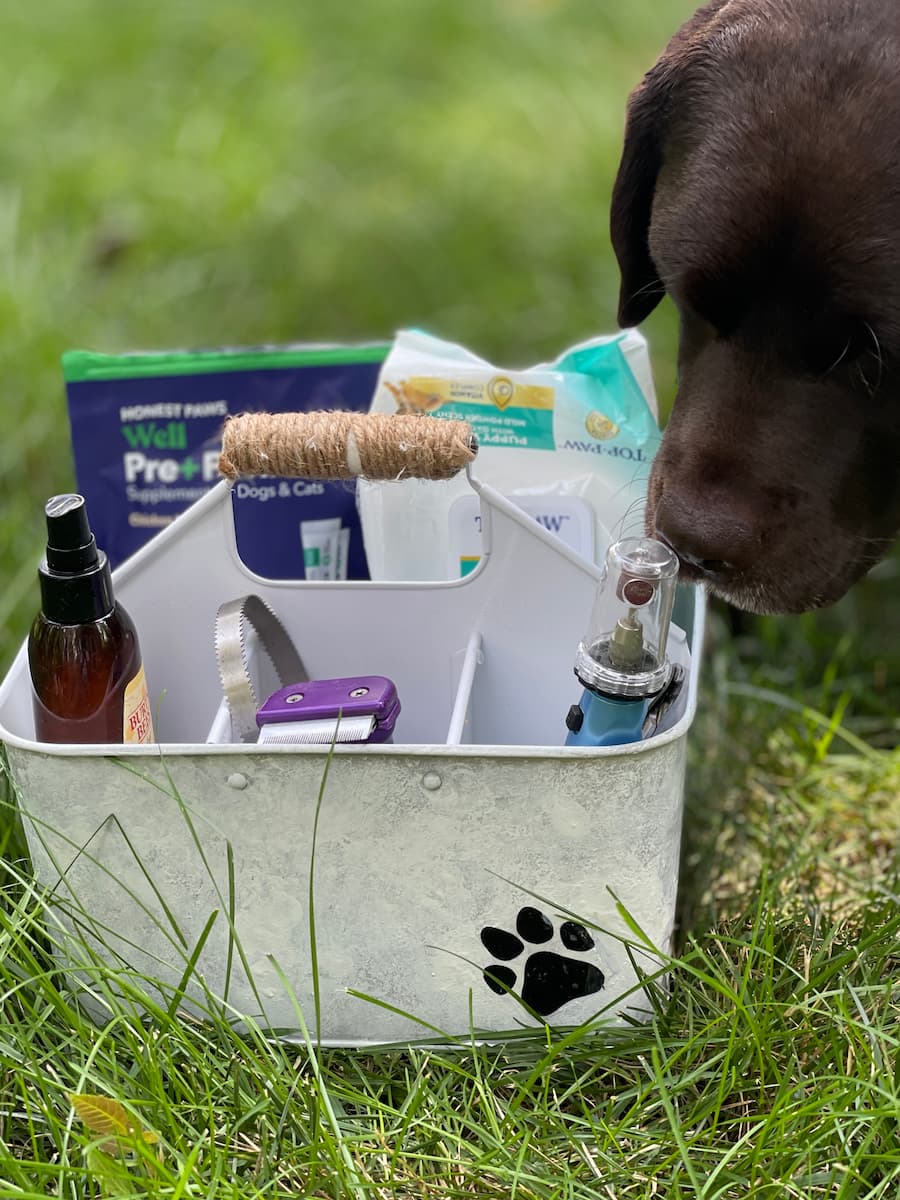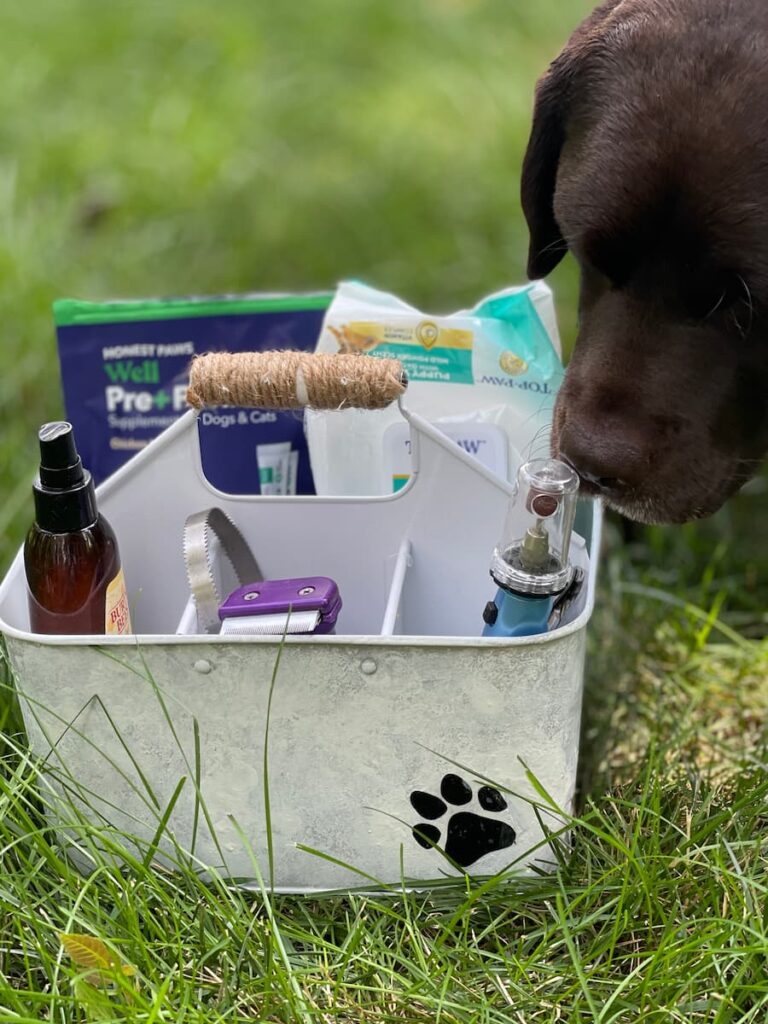 He loves to "brush brush" thank goodness, now I can carry this right out onto the deck or porch or yard and brush, use his wipes and maybe one day clip his nails again.
For this version showing the uses of a silverware caddy, I painted right on top of the Quiet Cove.
This time, I painted Dixie Belle White Cap and dabbed it onto the caddy.
I bunched up a paper towel, dipped it in the paint and used that to apply.
I wanted a more used look to the caddy. Next I used the Cricut Maker and added a simple little paw print so they know it's for the dogs.
Do you have a Cricut? They are so fun to add details and create unique items with. The maker can cut paper, vinyl, material, and much more.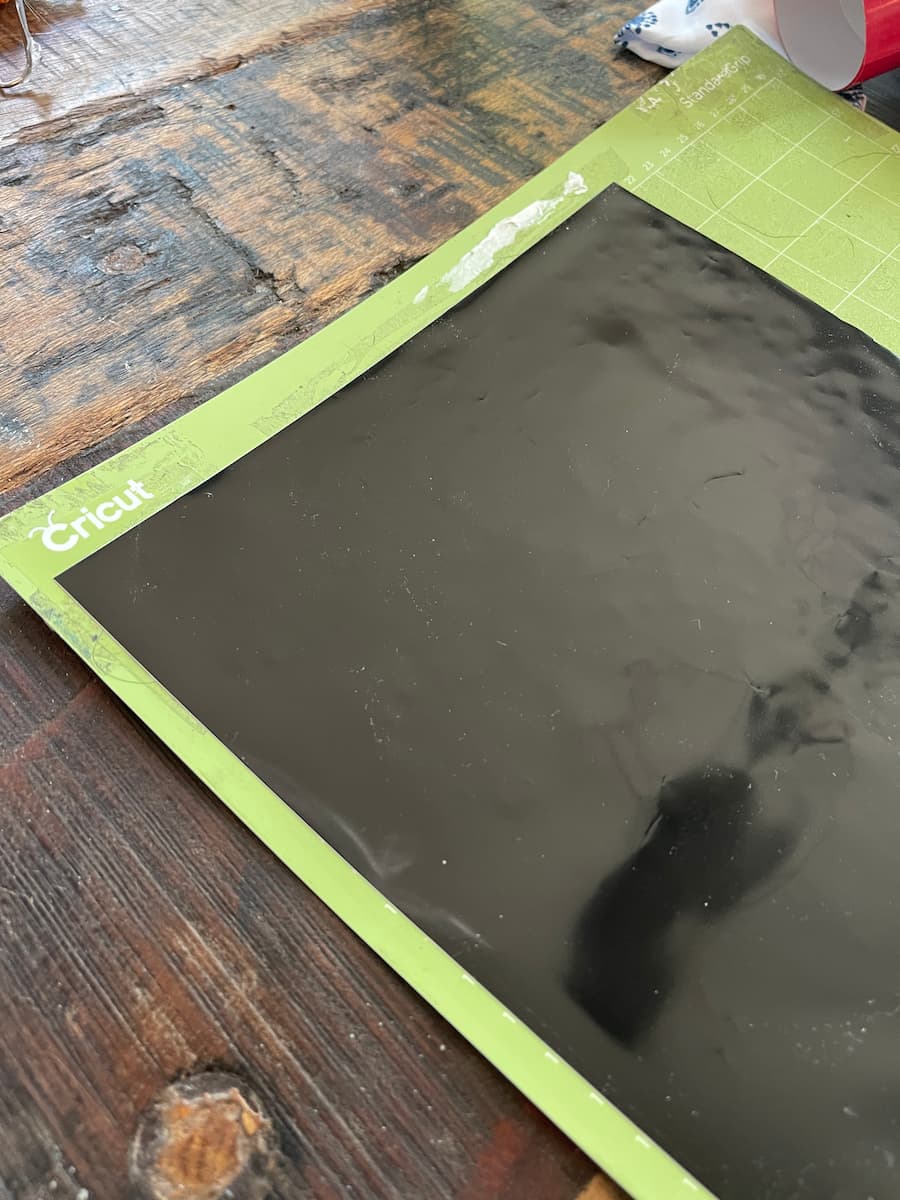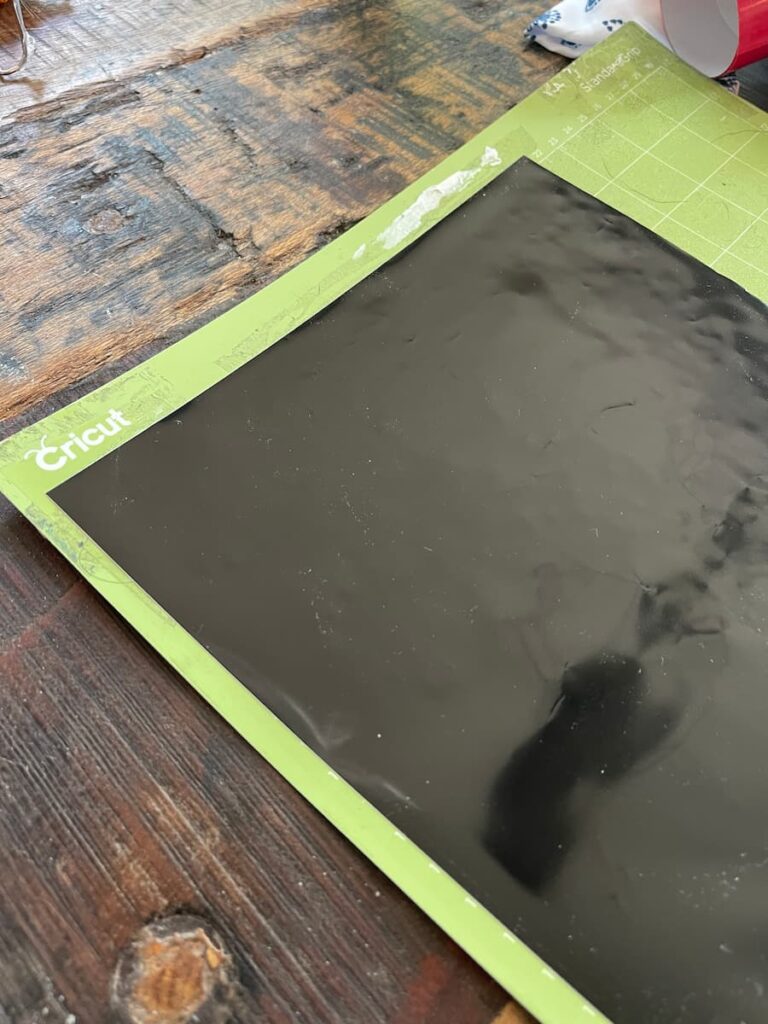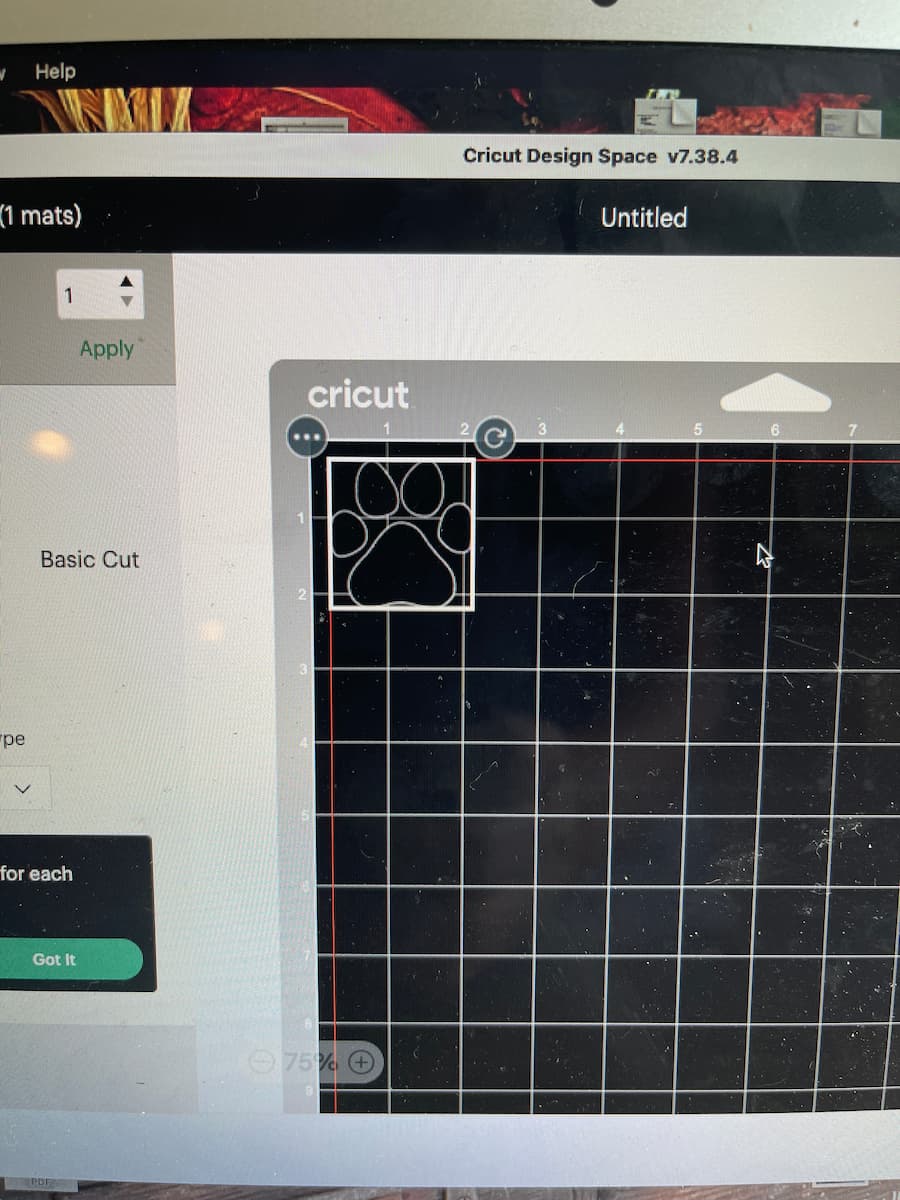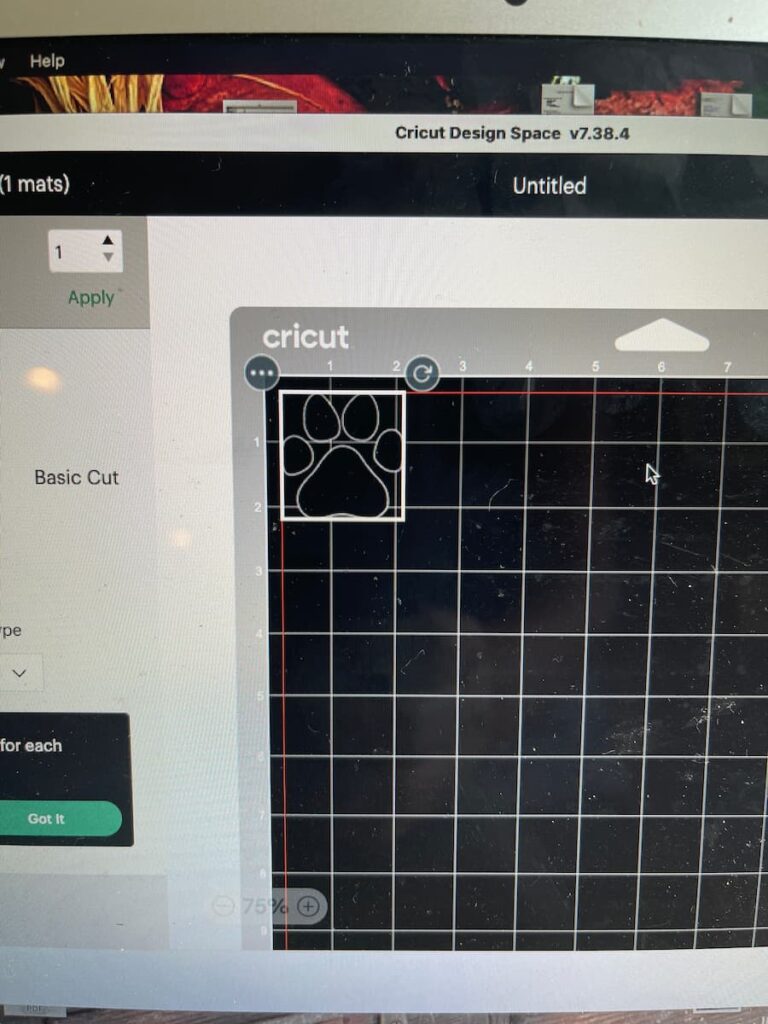 After I designed the paw print, I cut it out on the Cricut. Next I removed the surrounding vinyl (called weeding) and peeled and placed the paw on the caddy.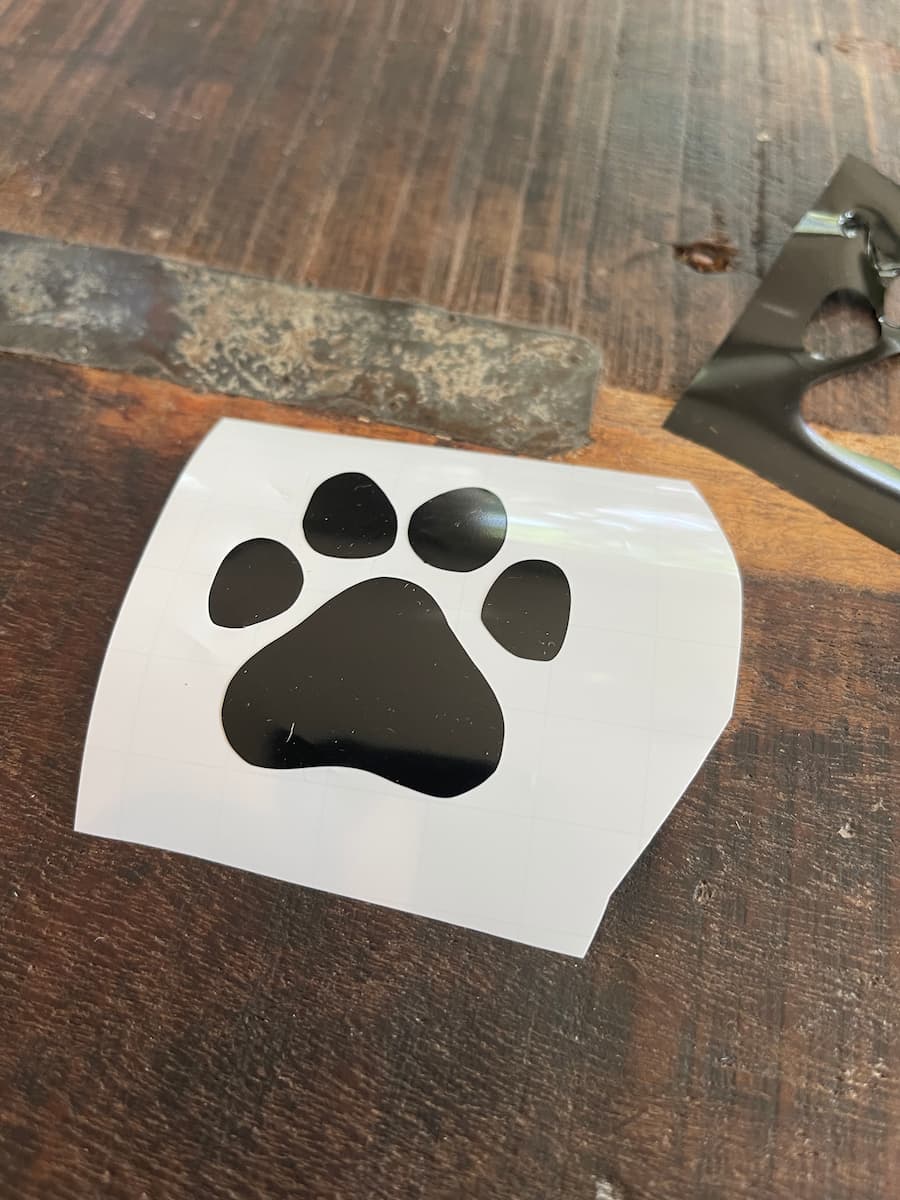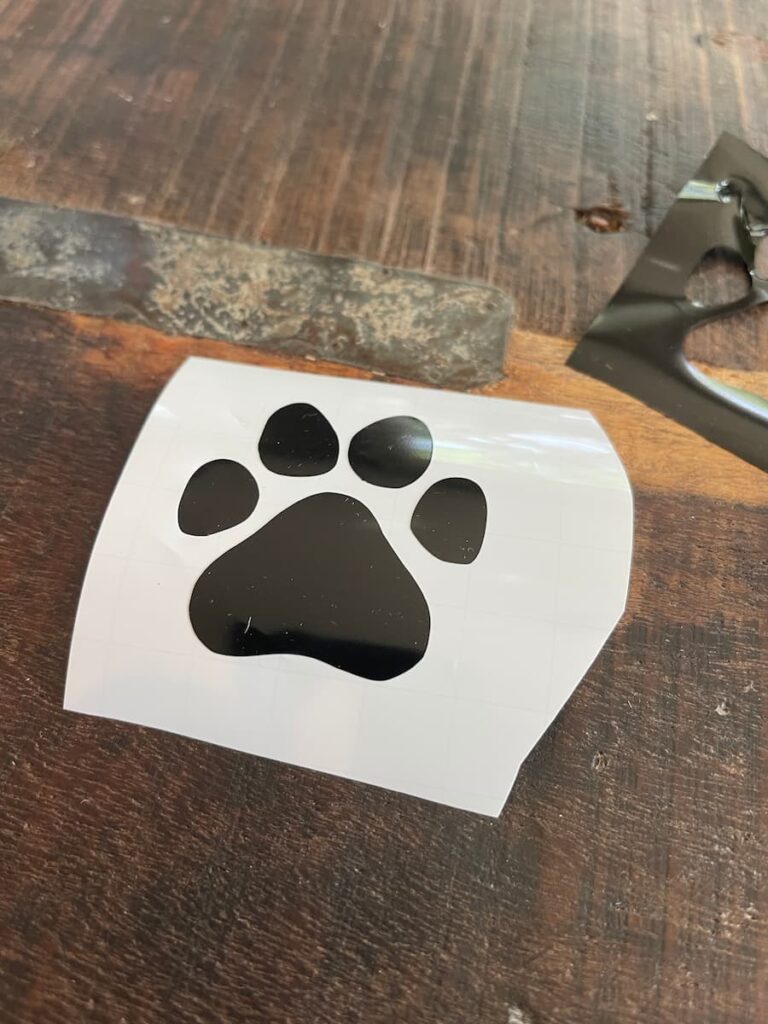 GARDEN GOODIES
Do you love to work in your garden? Even if it's a container garden or on your porch or patio, carrying all the tools loose just doesn't work well.
I saw this beautiful vintage butterfly decoupage paper from Dixie Belle and thought it would make a fitting backdrop for my garden tools.
This is easy to carry to the various beds in the yard to weed, spray and plant.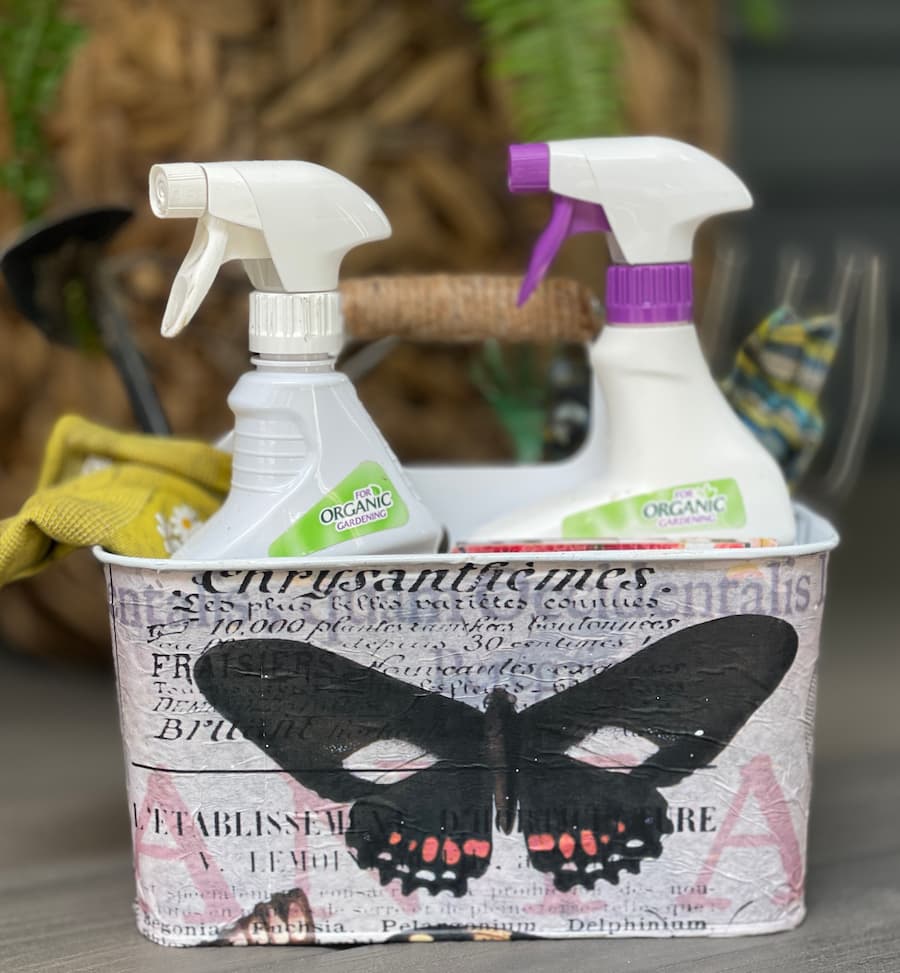 For this I used Mod Podge made for tissue and cut the butterfly that would fit perfectly onto the caddy. I trimmed the piece to fit a little wide and longer than the caddy.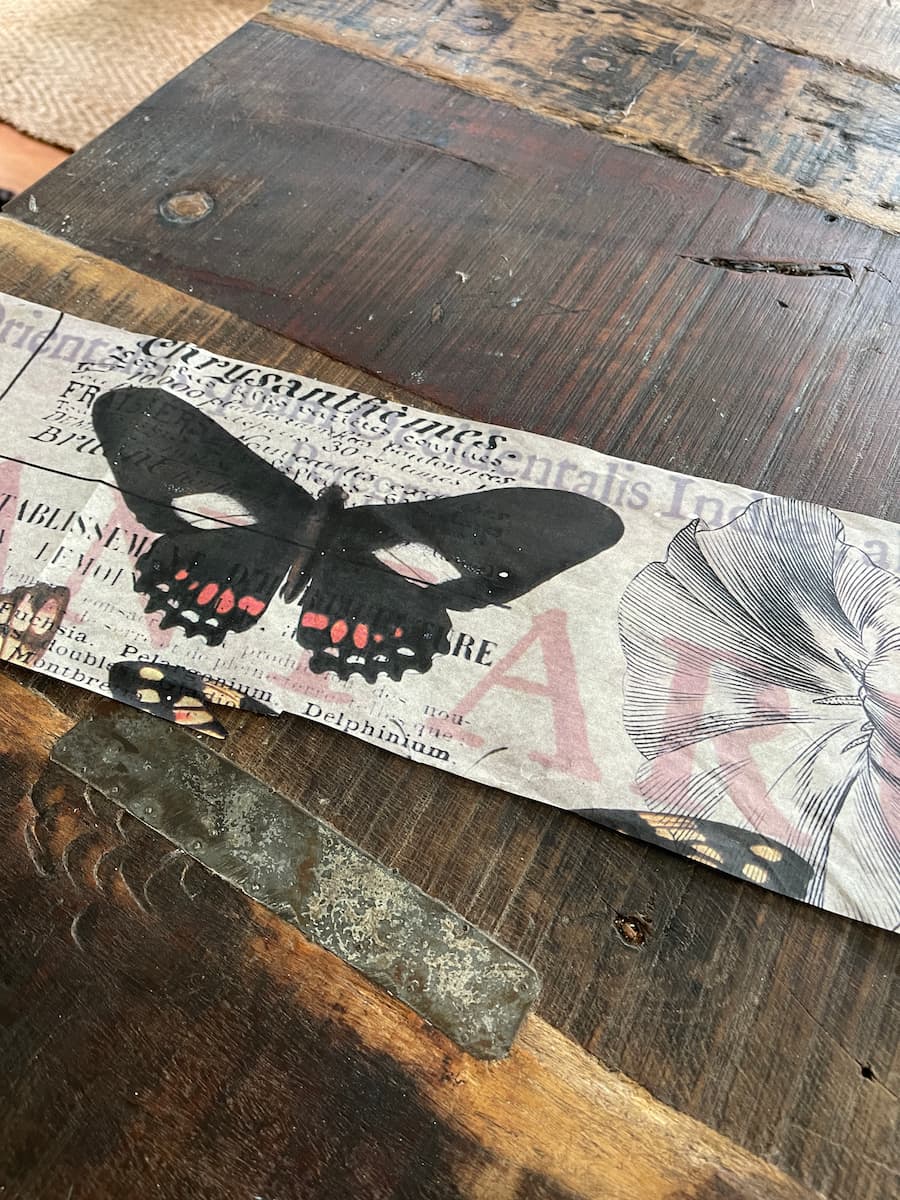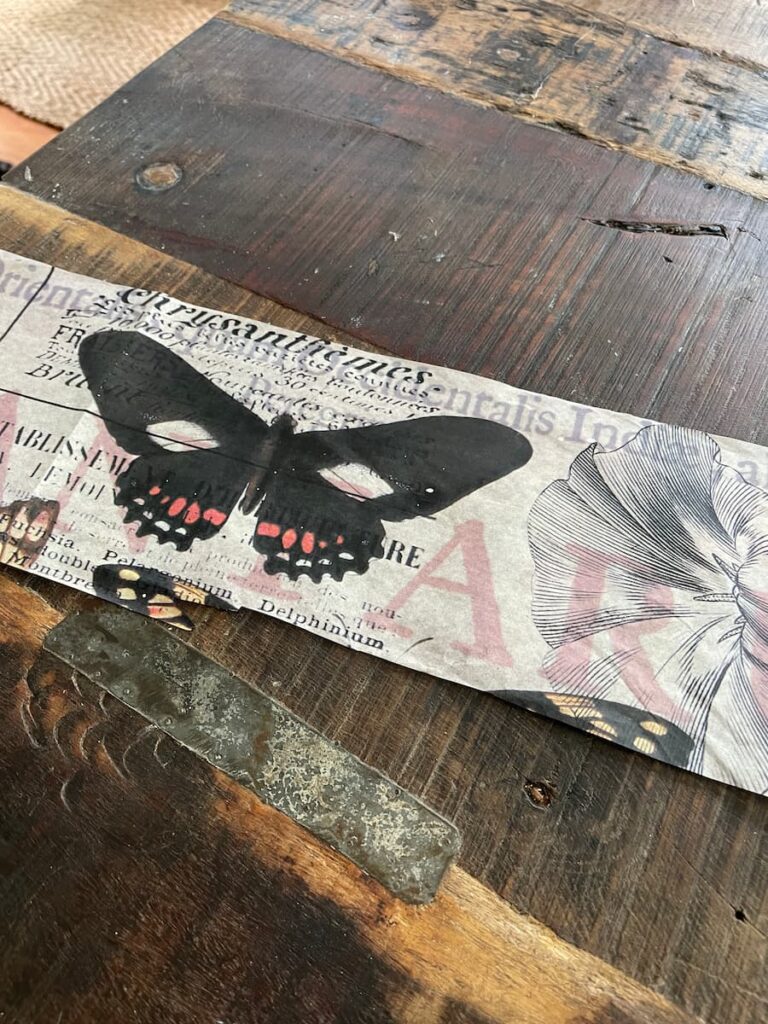 I centered the tissue where I wanted it. The butterfly was to be centered on the caddy.
Next I coated the caddy with a layer of Mod Podge and let it sit just a minute or two. Then I carefully placed the butterfly paper on and smoothed it out as best as I could.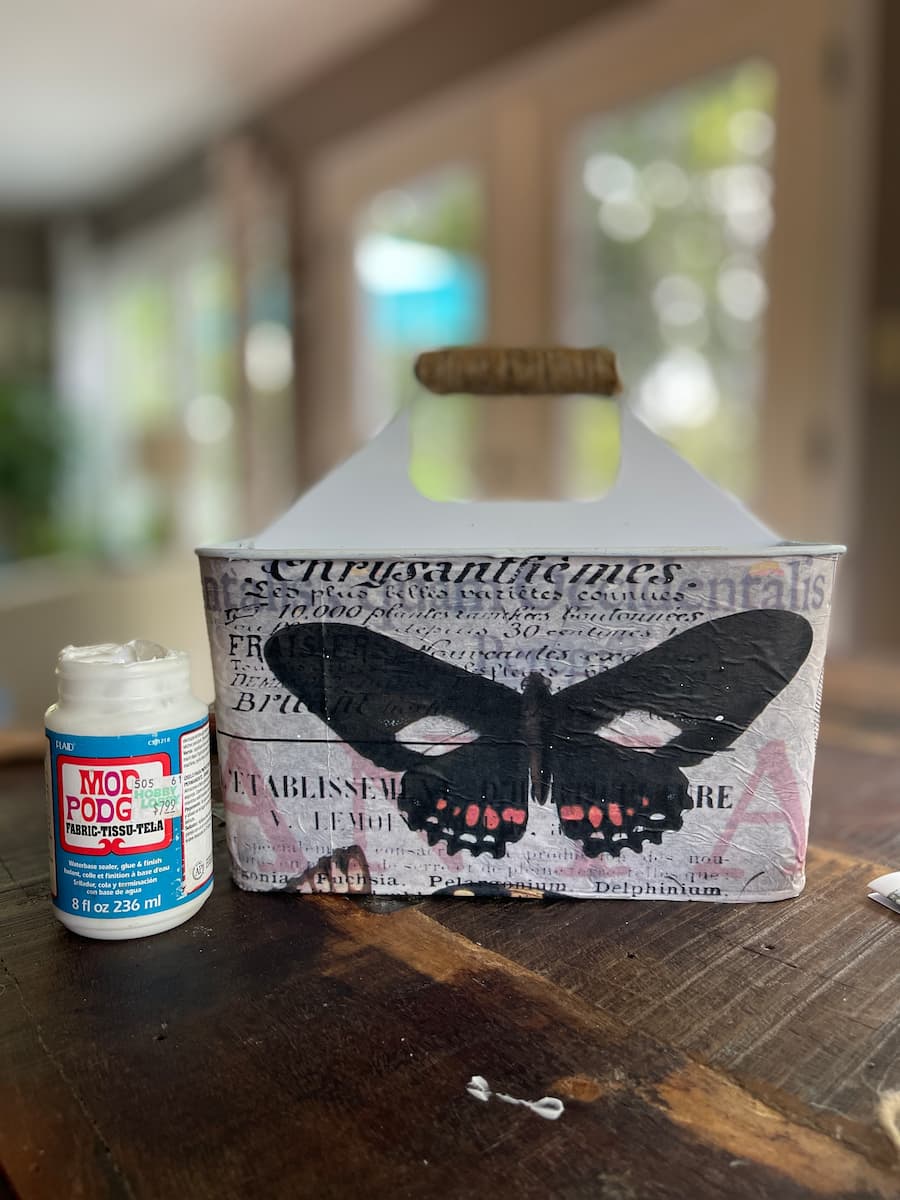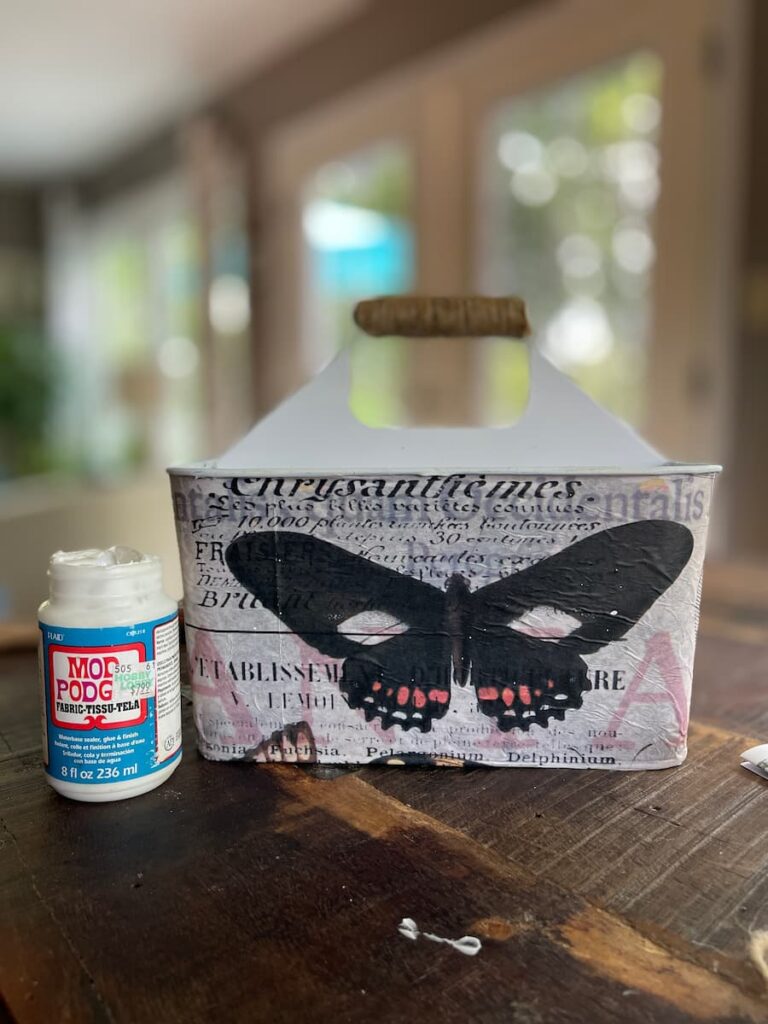 When dry, I used a utility knife to trim the bottom and sides. I added a bit more Mod Podge to secure the edges and then got busy adding my very well used gloves, garden tools and sprays for my insects and bug control.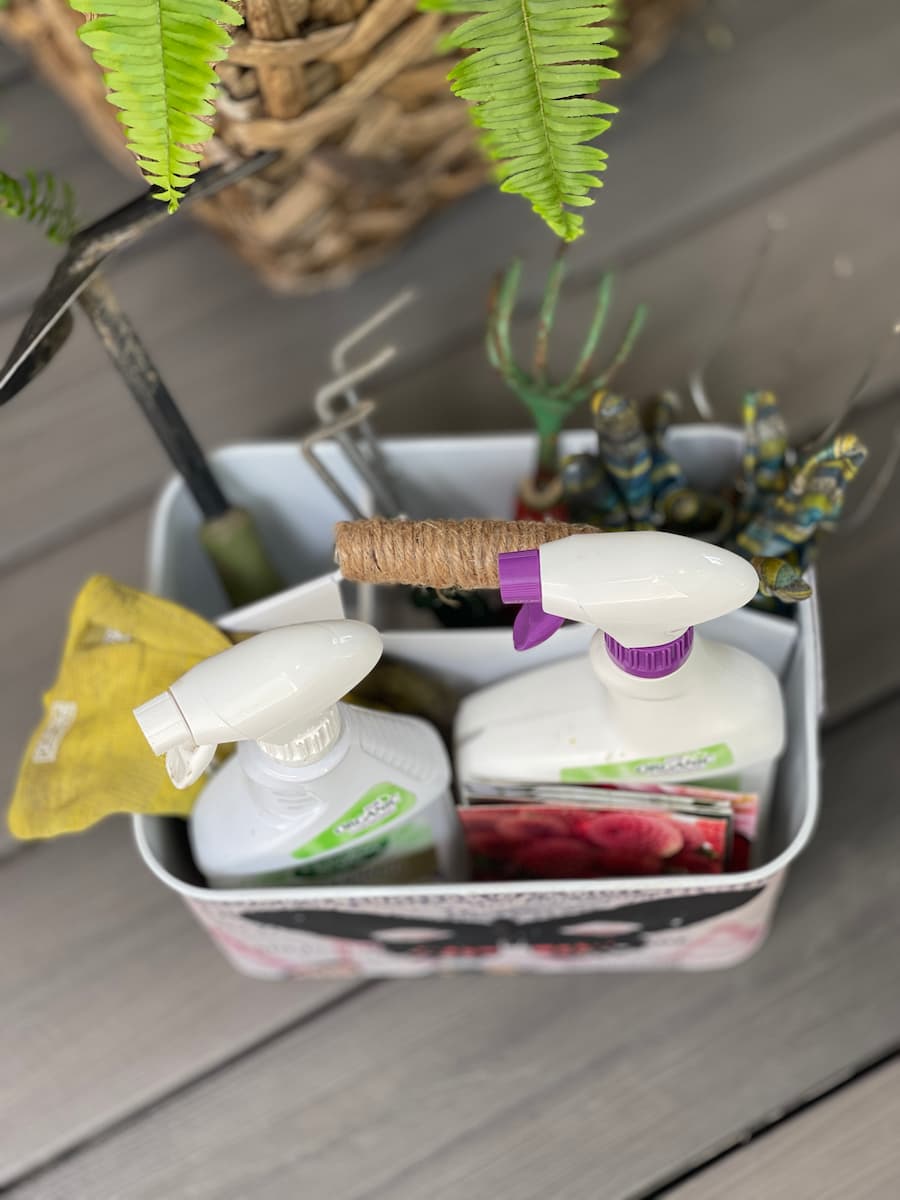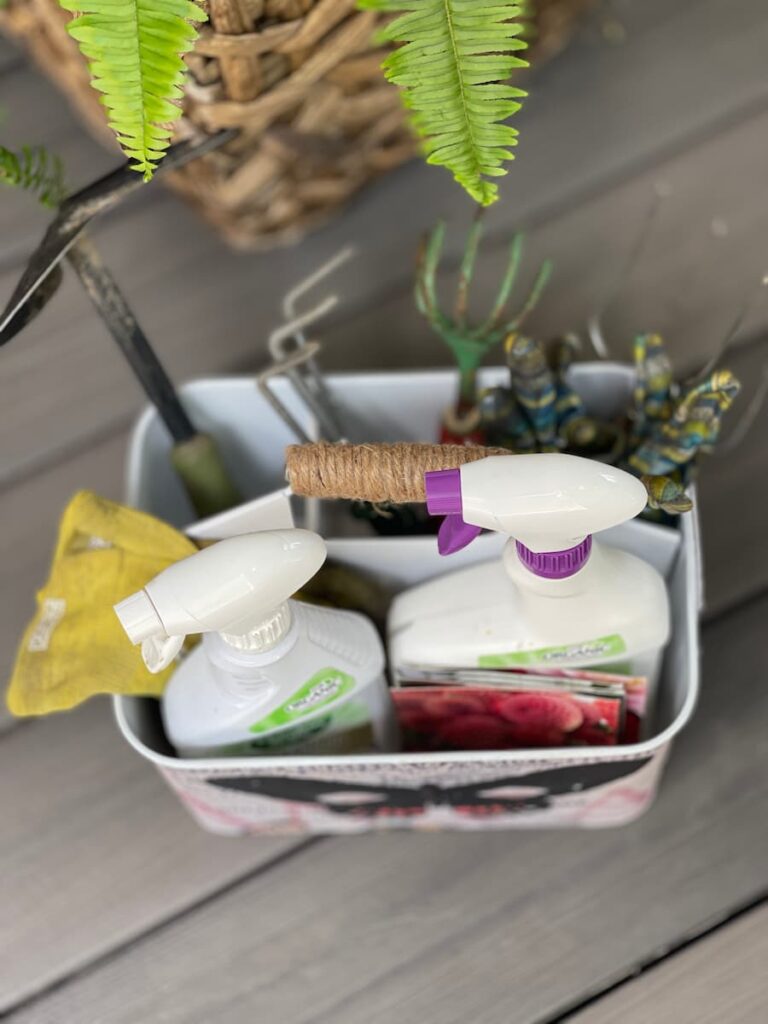 How cute? I added a layer of Dixie Belle Gator Hide on top to protect it.
This would make an adorable gift for a garden lover in your life.
LET'S GET CRABBY
Having crabs or lobster or a seafood boil? What better use for this festive little caddy than carrying your knockers and paper towels and seasonings to the table.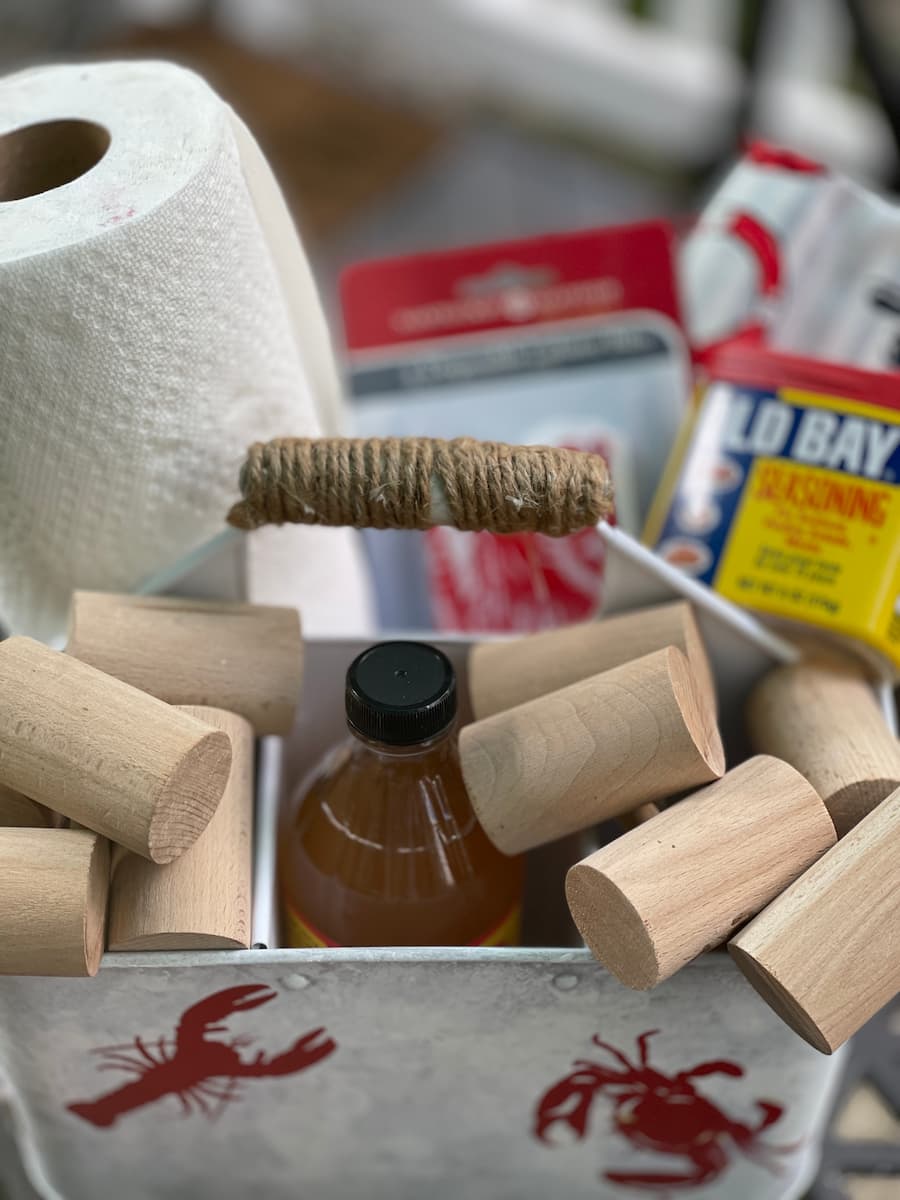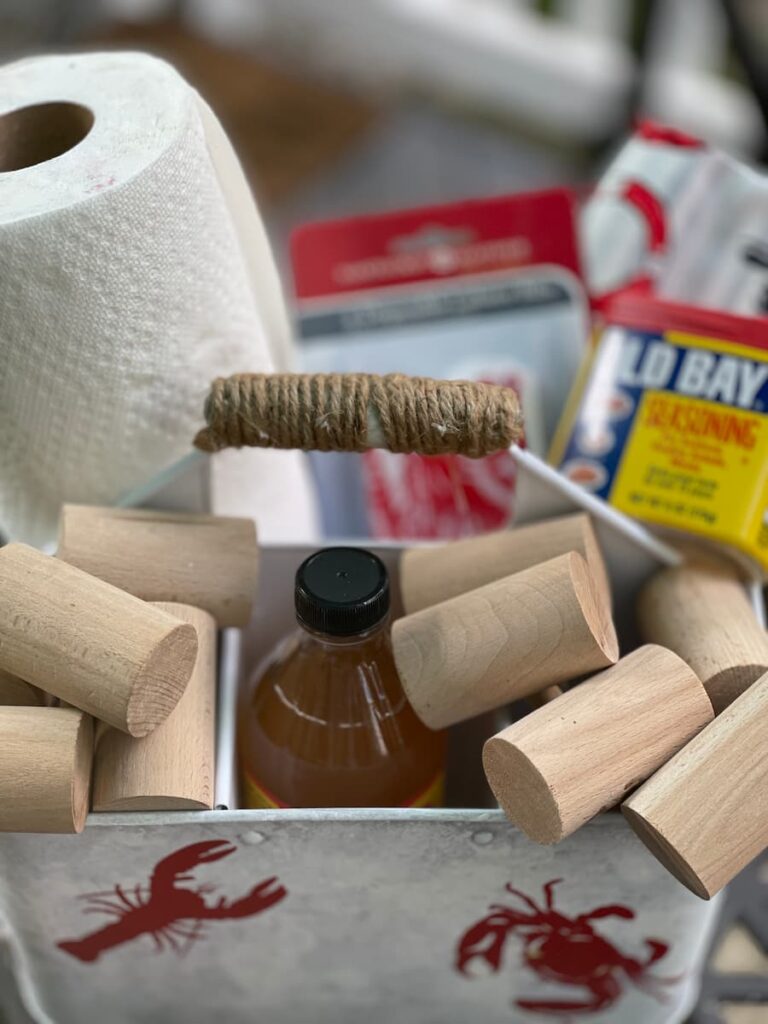 Do you love to entertain outdoors in the summer? You can check out this post on hosting a Low Country Boil or even this one on a great idea for a crab lover in your life.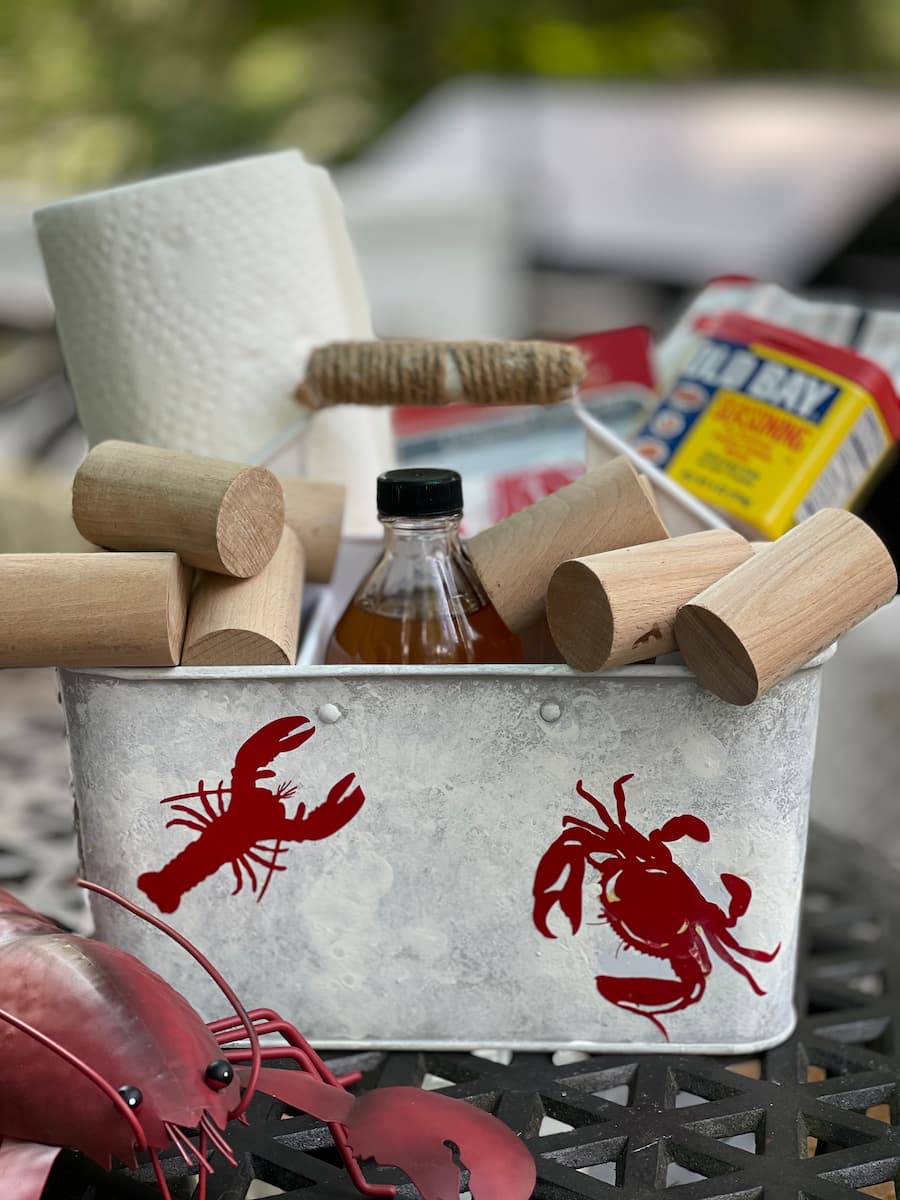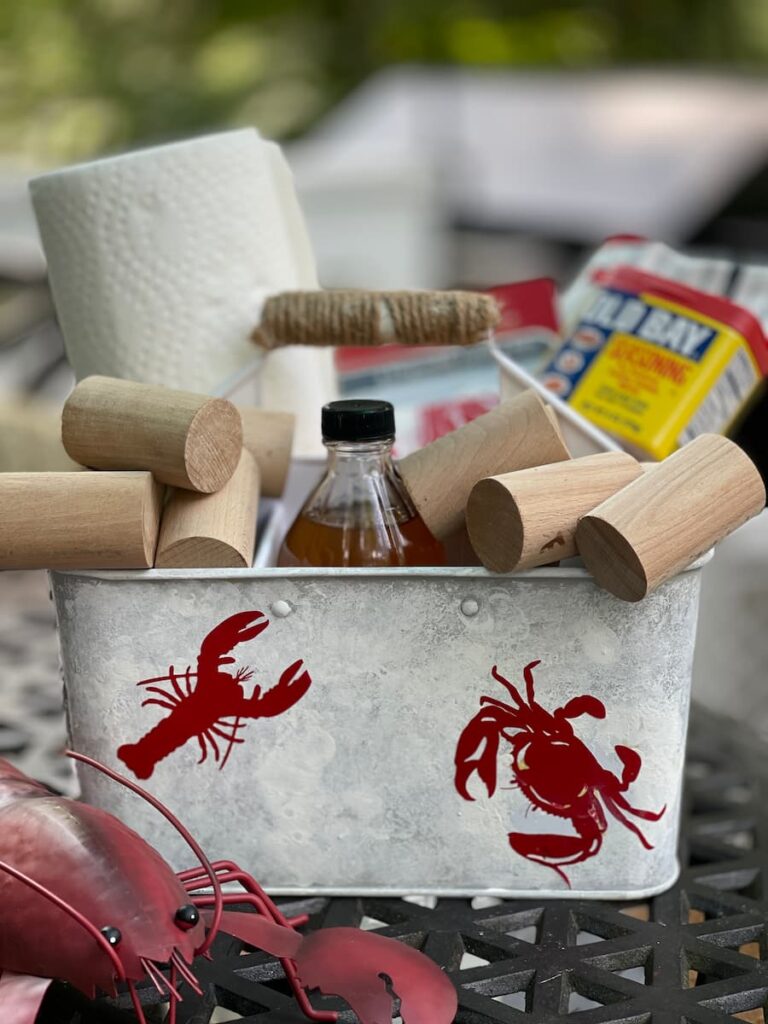 The Cricut came in handy for this version. I removed the paw print and then using the Cricut and red vinyl, I created a lobster and crab. After they were cut, I removed the surrounding vinyl and attached on the caddy.
The best size to hold all of the crab knockers, paper towels, Old Bay, vinegar, bibs, and a hand towel.
WHAT ELSE COULD YOU USE A SILVERWARE CADDY FOR?
MOVIE NIGHT – POPCORN, MOVIE SIZE CANDY, DRINKS
'SMORES STATION – GRAHAM CRACKERS, MARSHMALLOWS, CHOCOLATE BARS, STICKS, WIPES
BATHROOM CADDY WHEN CAMPING
CONDIMENT CADDY WHEN CAMPING
ART SUPPLIES
CRAFT SUPPLIES
HAIR SUPPLIES
MATERIALS I USED FOR MY MAKEOVERS
Quiet Cove –Dixie Belle Silk Mineral Paint
Whitecap – Dixie Belle Silk Mineral Paint
Decoupage Paper Vintage Butterflies – Dixie Belle
I hope you liked the uses for a silverware caddy that I shared today and the makeovers.
I think I need a few more of these in my life and for that price too!
Thanks so much for stopping by Saved From Salvage.
XO, Regina
SHOP MY POST
If you are looking for the perfect paint for your DIY projects or furniture flips, consider trying out Dixie Belle paints. The variety of colors is great and the accompanying stains, glazes, waxes and of course the decoupage papers.
To see just some of the projects I've done using Dixie Belle, click here.
Click here to see all the options.