Does your porch need a post winter refresh? I'm sharing how to cozy up your porch for spring with a few ideas.
Are you a porch fan? One where you can sit and watch the world go by?
Me too! As much as I love our deck, there is just something about a porch.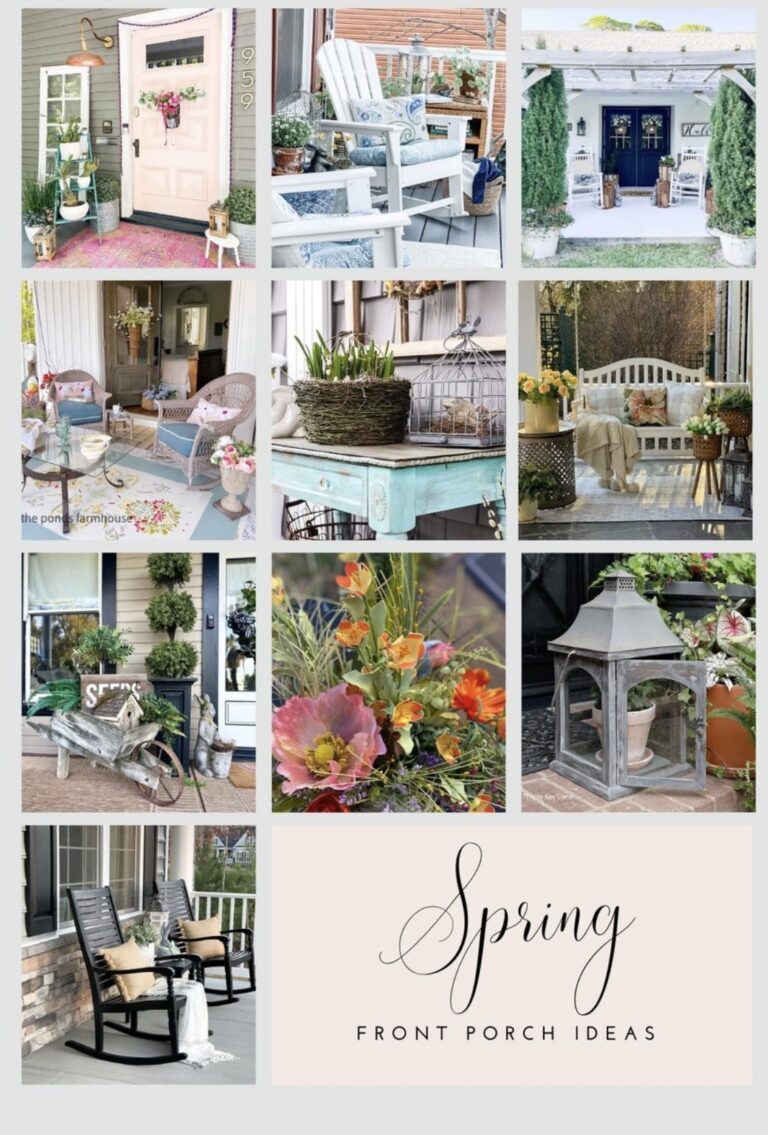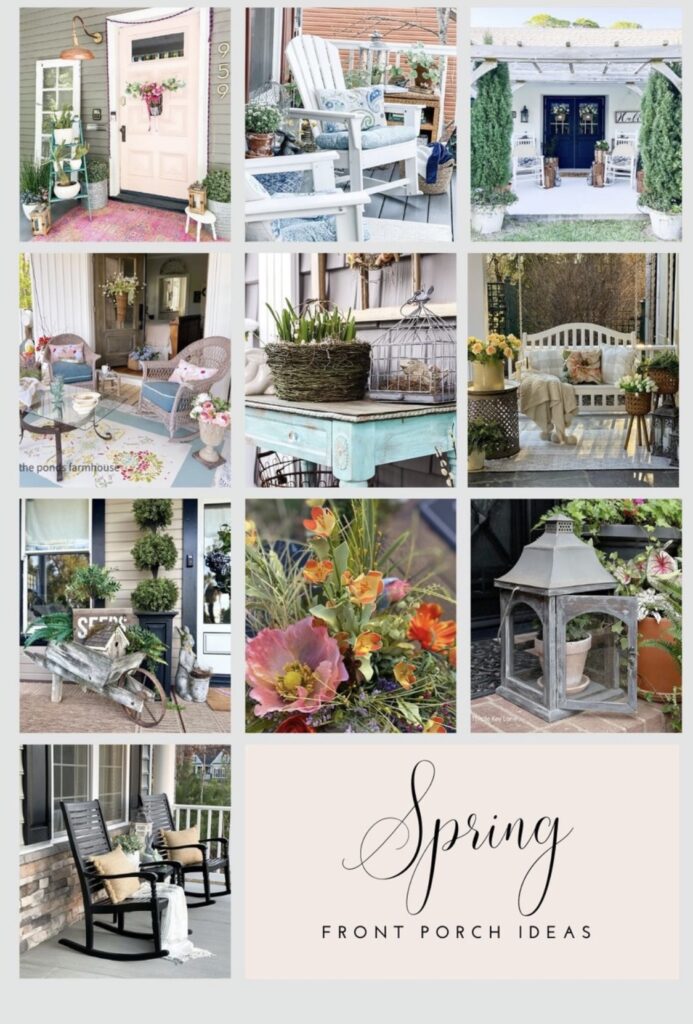 Today I'm part of a Blog Hop hosted by my good friend Wendy of WMDesign House. If you are coming by from Jennifer of Cottage on Bunker Hill, welcome. Have a seat on the rocker, and I'll be right back with a glass of lemonade and some fresh baked brownies.
I'm Regina and this is Saved From Salvage. I love to share DIYs, Furniture Flips, Upcycling projects and more. I'm so glad you are here.
PORCHES
My childhood home didn't have a true porch, it was really just a small space at the top of our concrete steps.
We'd sit outside and when a neighbor would stop by to visit, we called it "stoop sitting."
When my son was young, we rented a wing of a historic farmhouse with a huge wrap around porch.
It was big enough for a hammock, it had a rope attached to the railing and you could swing yourself. I loved it.
Do you like to spend time on your porch? I do, and if you want to see why come along and I'll show you.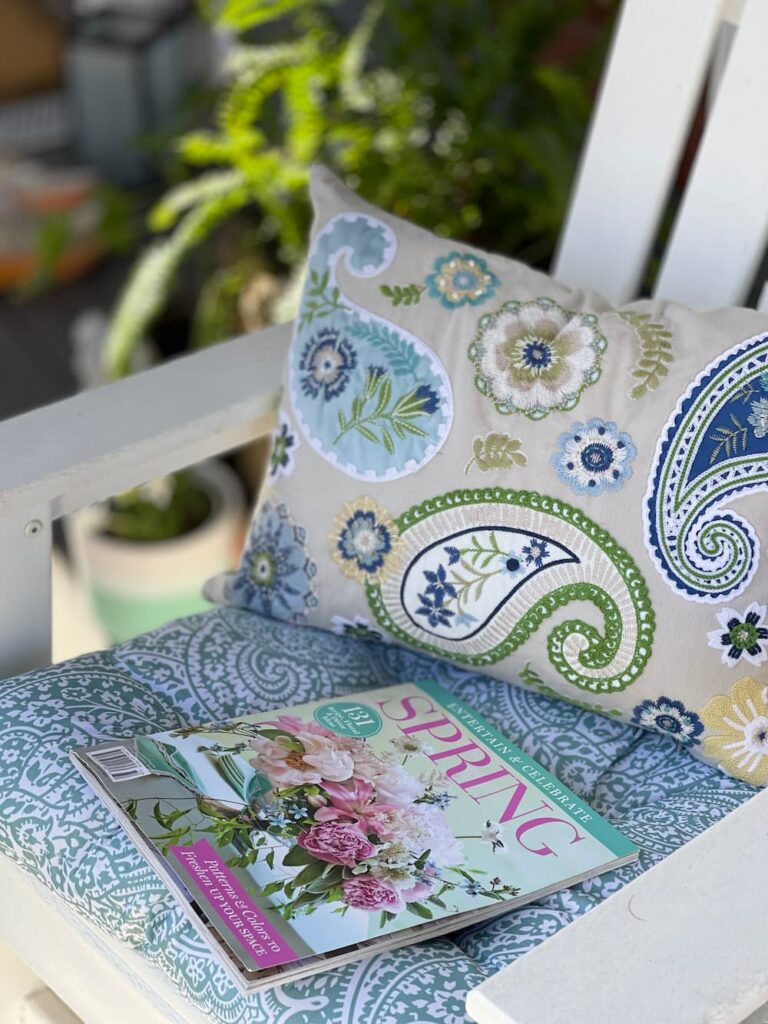 OUR PORCH
This past year Carmine redid our porch. It was made of wood, the deck boards needed to be painted every year and since it is where we come and go every day with the dogs, it would get muddy and be difficult to keep clean. The railing and columns were beginning to rot so it was definitely time.
We headed to Home Depot and picked out new deck boards made from composite. You know the kind that never need to be painted and can be easily cleaned? Now the only thing I do to it is the occasional blower which is a favorite past time of mine.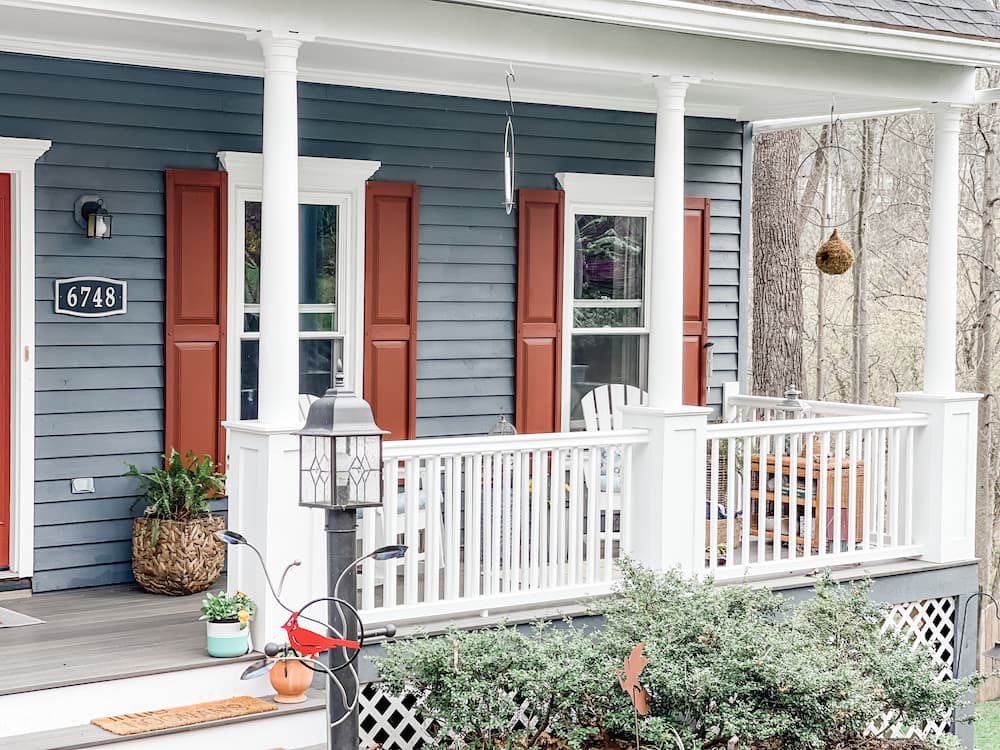 Now it looks amazing and I'm even more excited to spend time there.
I think our pups love it as much as we do, they can spend hours laying out front waiting for the neighborhood dogs to walk by.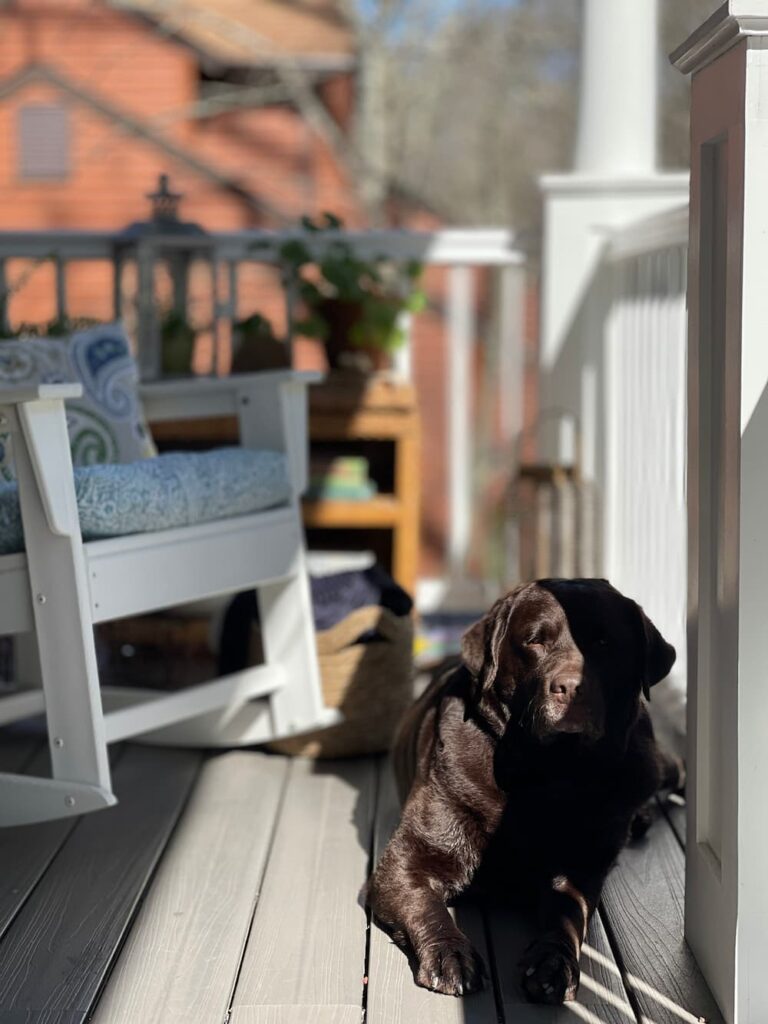 HOW TO RAISE THE "COZY" QUOTIENT
For me the easiest way to make my porch comfy is to add items that make me happy. I want my space to be inviting and "cozy" not stark and cold. So how do I achieve that comfortable look on my porch?
SEATING
I began with rockers, these Polywood rockers were the best investment. I actually put them together myself and I am not even a fan of written directions. They are durable and clean up easily.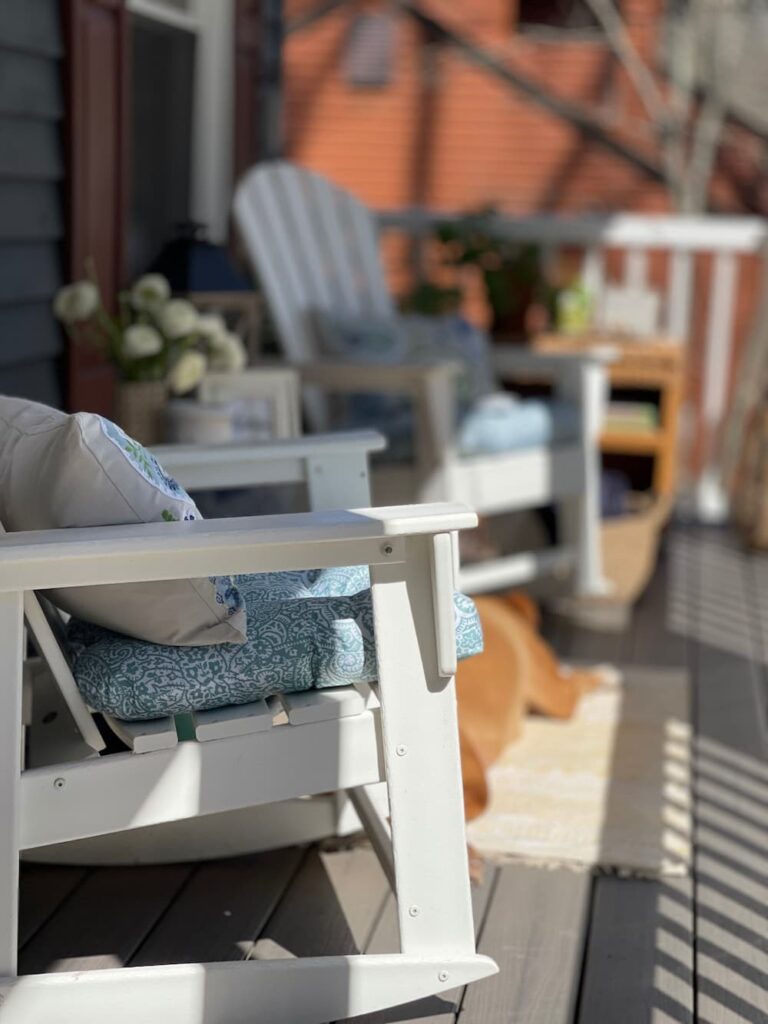 I have two of them on the porch.
TABLES
The next item is a spot between my rockers to lay a drink, my book or phone or decor. Any type of table or bench would do. Last year I made this Side Table out of concrete and I love it.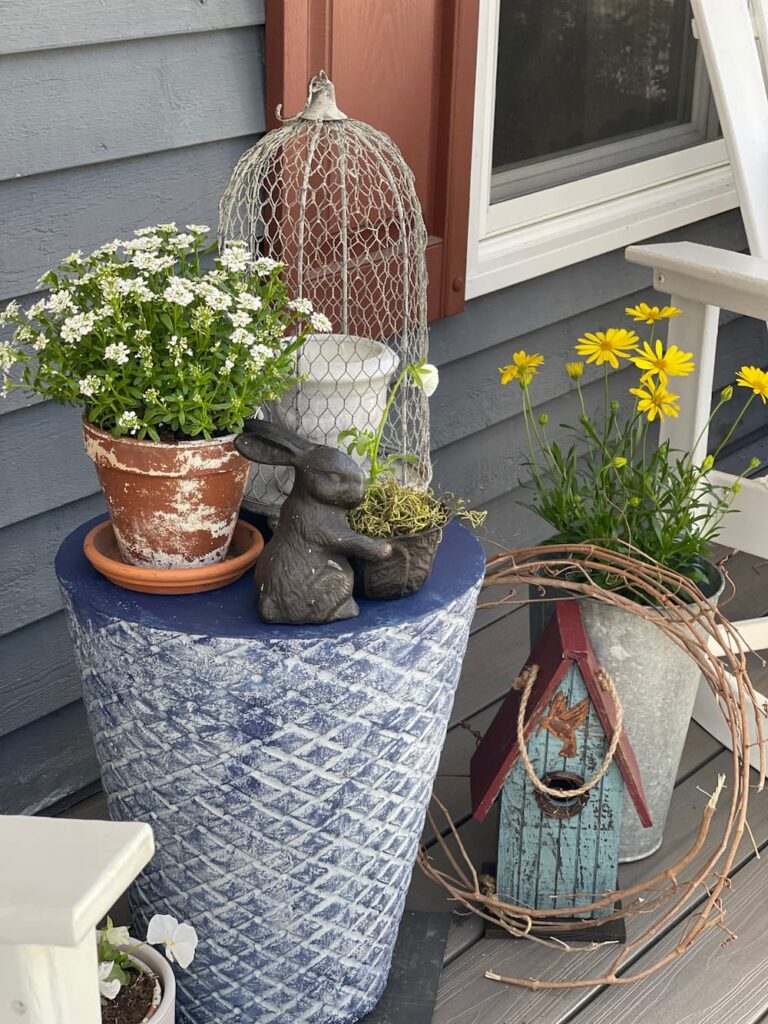 PILLOWS AND CUSHIONS
One of my favorite things to do is to change my throw pillow for each season. I find it one of the easiest ways to cozy up my porch. For spring I chose these beautiful pillows and seat covers from HomeGoods.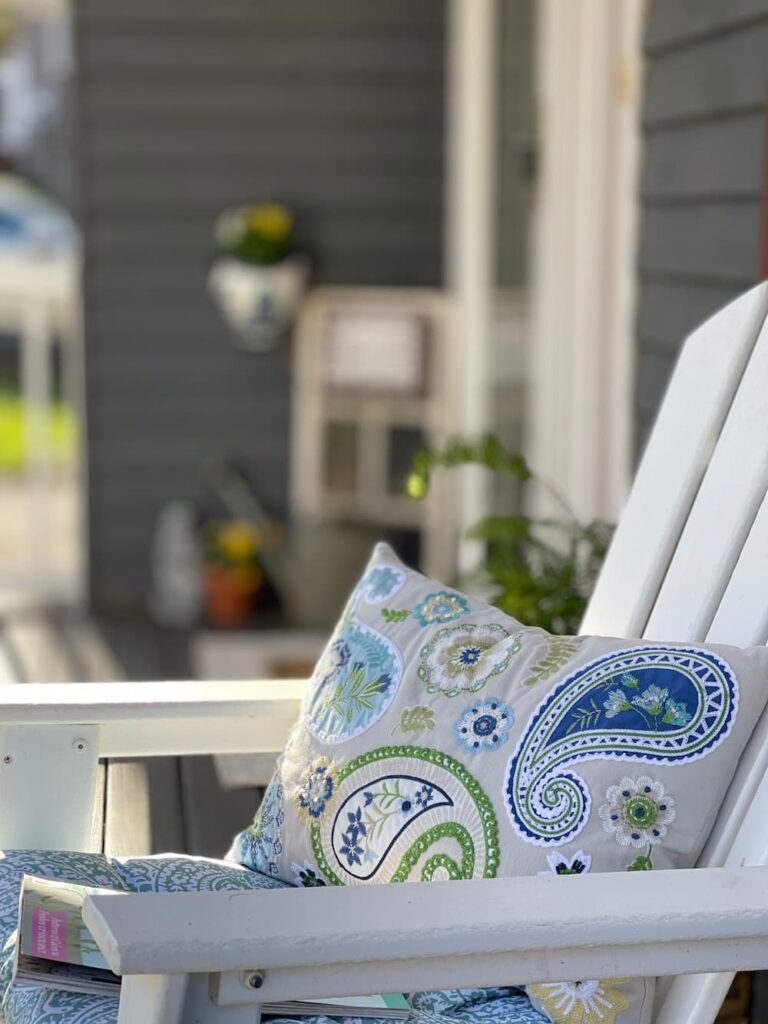 Often I make the pillow covers. I've used table runners and napkins before, you don't have to buy the whole pillow.
PLANTS
Another item that elevates the laid back feeling of a porch is plants. It's still a little chilly in Maryland but I do have some plants out already.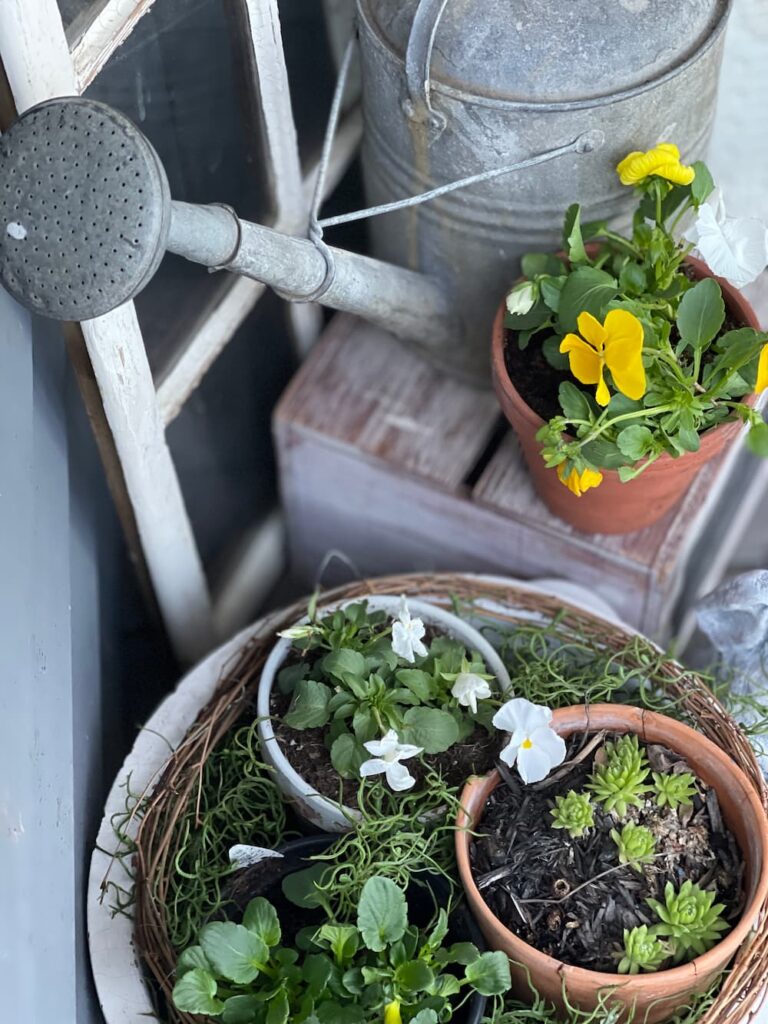 I don't think you can have too many. It's too early for the hanging ferns, but as soon as they are out in the stores I will pick up three and hang them along the porch.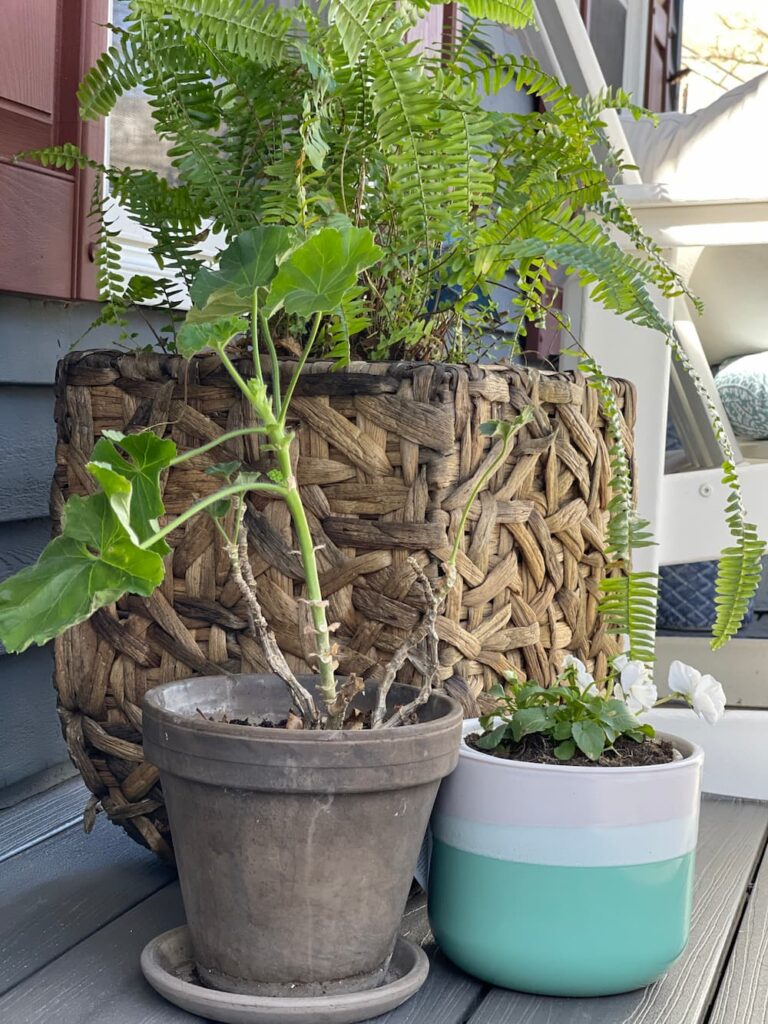 I am so drawn to the look of ferns hanging on porches. Inevitably within 2 days of putting up our ferns, our local house finches decide to build nests in each of them.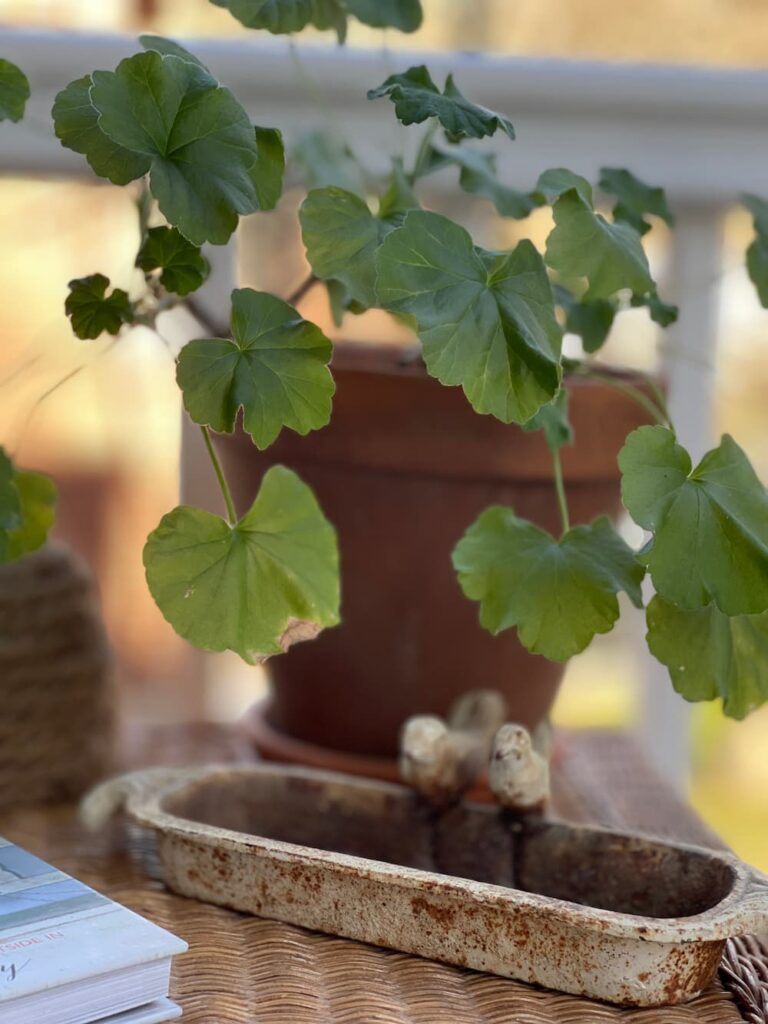 A few years ago I found this hutch on bulk trash day in our neighborhood. It lived on the porch all summer into fall, and used it as a potting station. I adored it being there.
Someone who lives here didn't love it even a little bit, so it finally came in and was revamped. It got taken apart and I made two different pieces from it, and while they are lovely, I still miss the whole thing on our porch.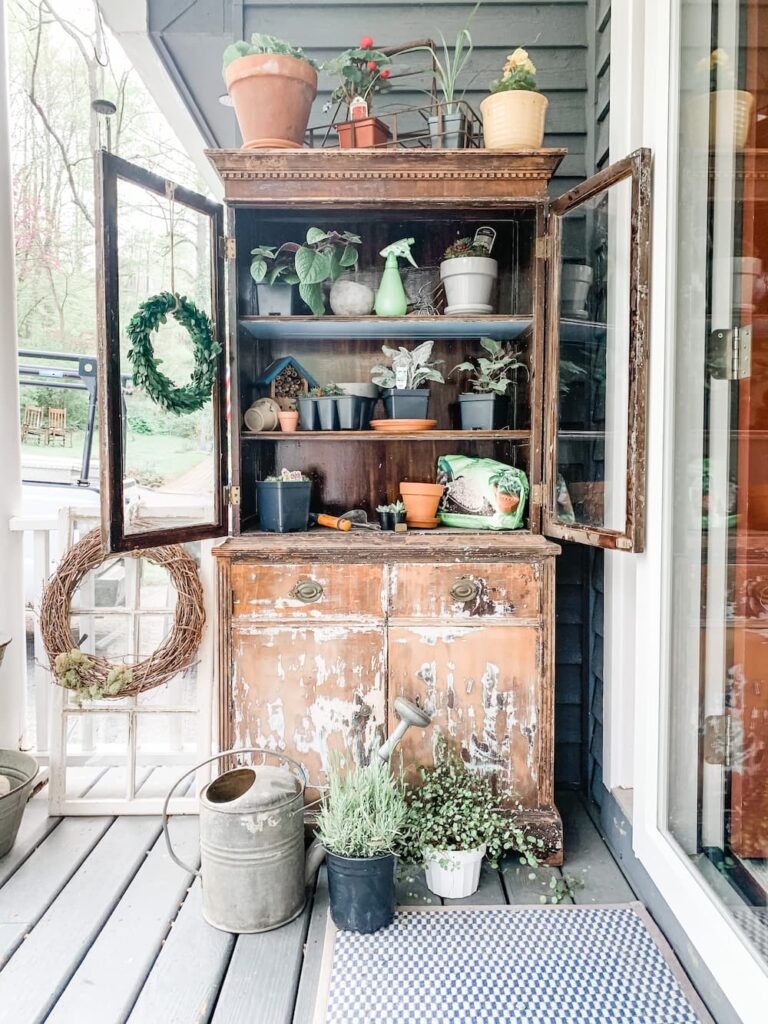 SHELF – LADDER – STEP STOOL – BENCH
Ok back to the porch now. I found this little wicker tv stand at the thrift store and liked the material so I picked it up for $12. It doesn't matter if it gets ruined in the weather, so I added it to the porch for spring. It gives me a space to decorate and even store some of my favorite gardening and outdoor books and some gardening tools.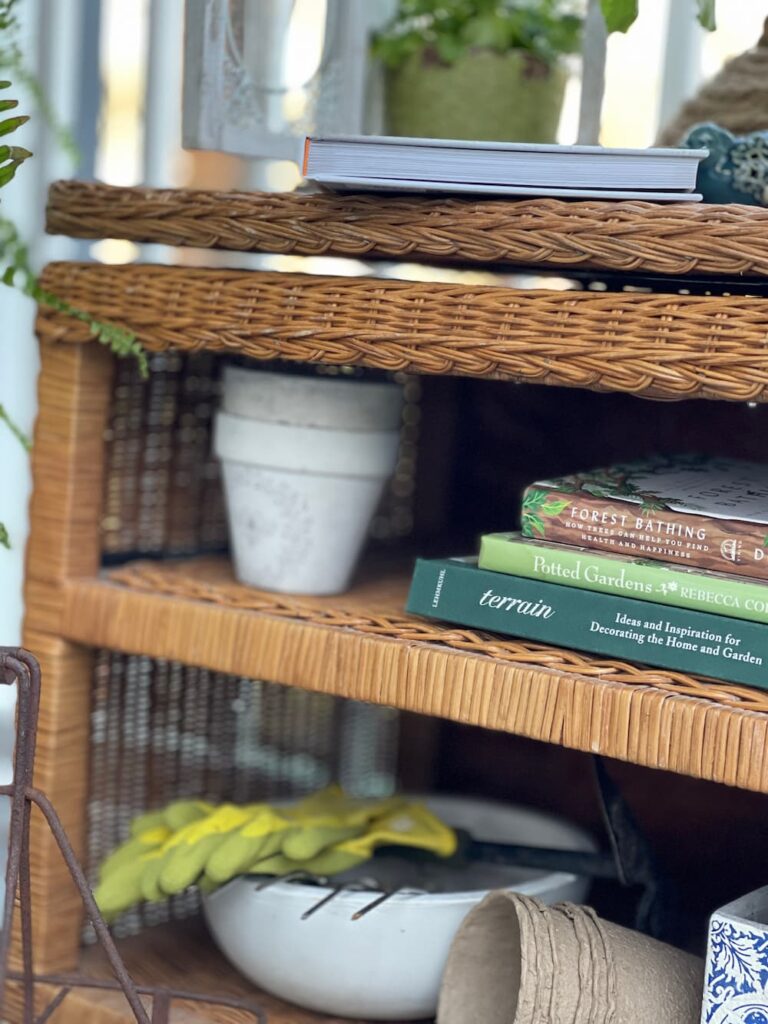 WREATH
Having something seasonal on my front door is a must for me. Maybe because it helps me remember what season we are in. It isn't always a wreath, sometimes a basket or another type of decor but always something. For Spring I have this cute grapevine wreath with bunnies and carrots, perfect for Easter.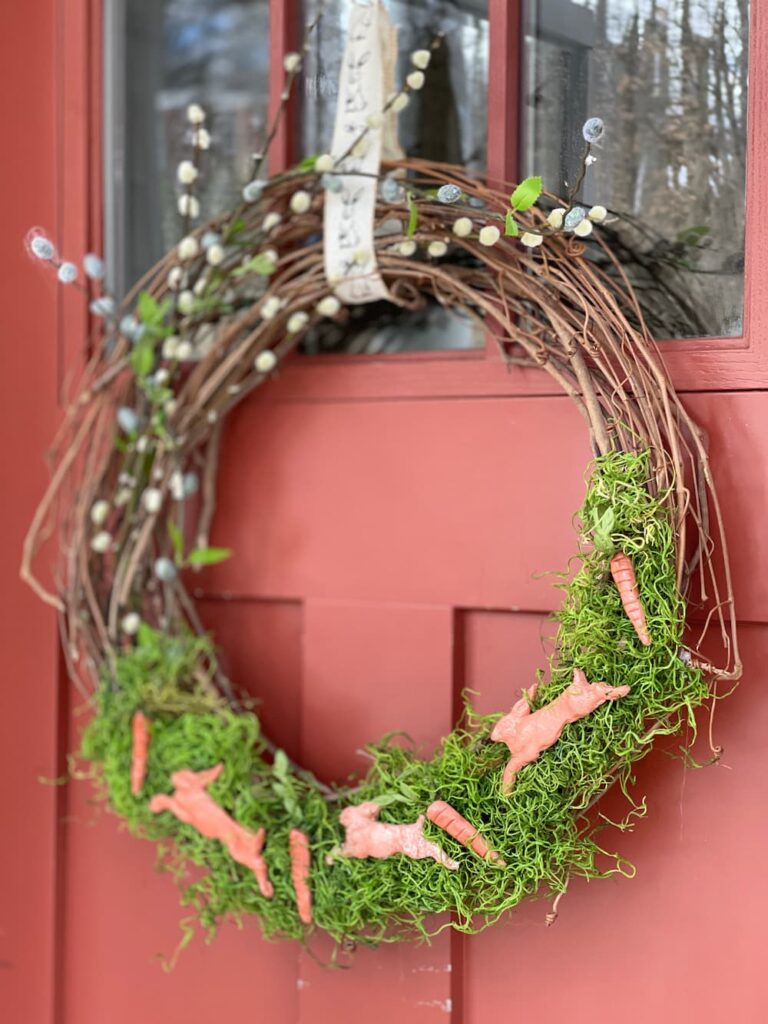 VINTAGE PIECES
Vintage items just scream cozy to me. It's ok to mix old and new and that's exactly what I've done.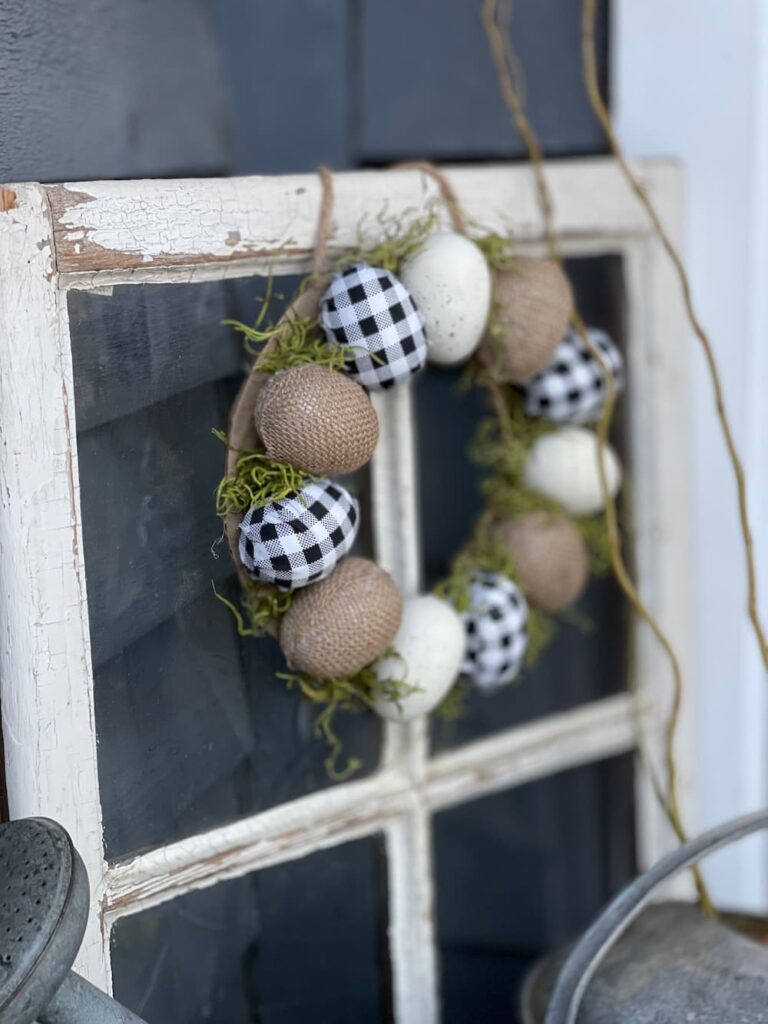 I have a vintage window propped up with a small egg wreath I made last year. In front of the window is a vintage watering can with some spring stems inside.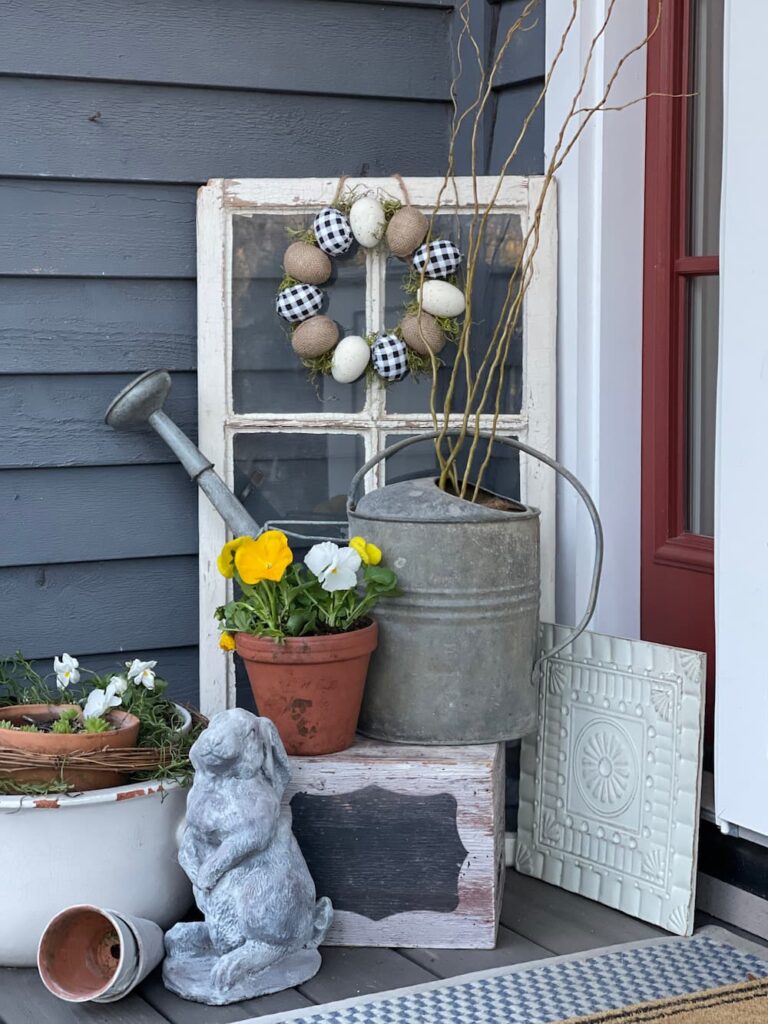 A galvanized sap bucket holds some pretty yellow daisies just waiting to be planted. An old piece of slate roofing sits propped up against the house with a painted bunny.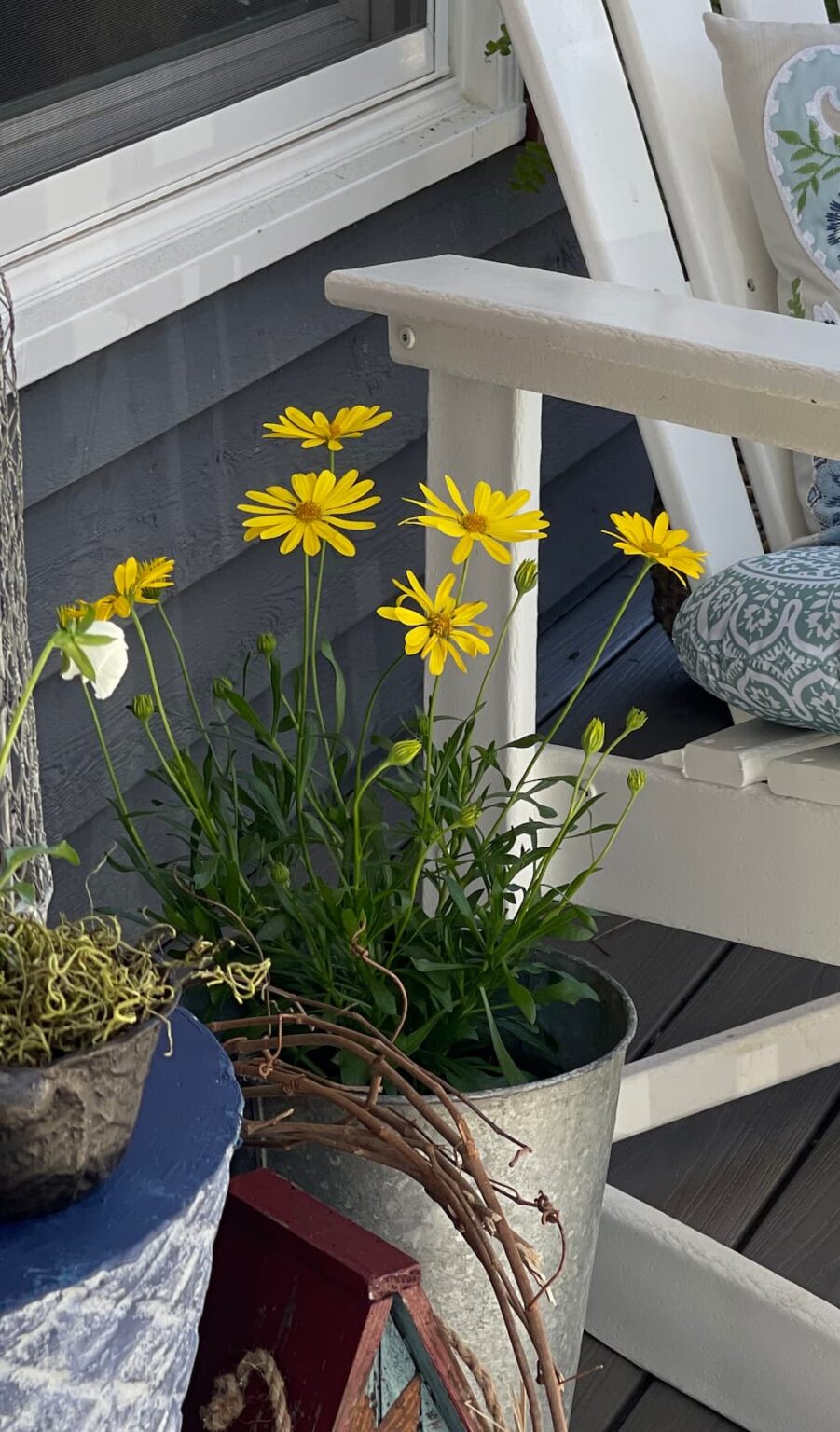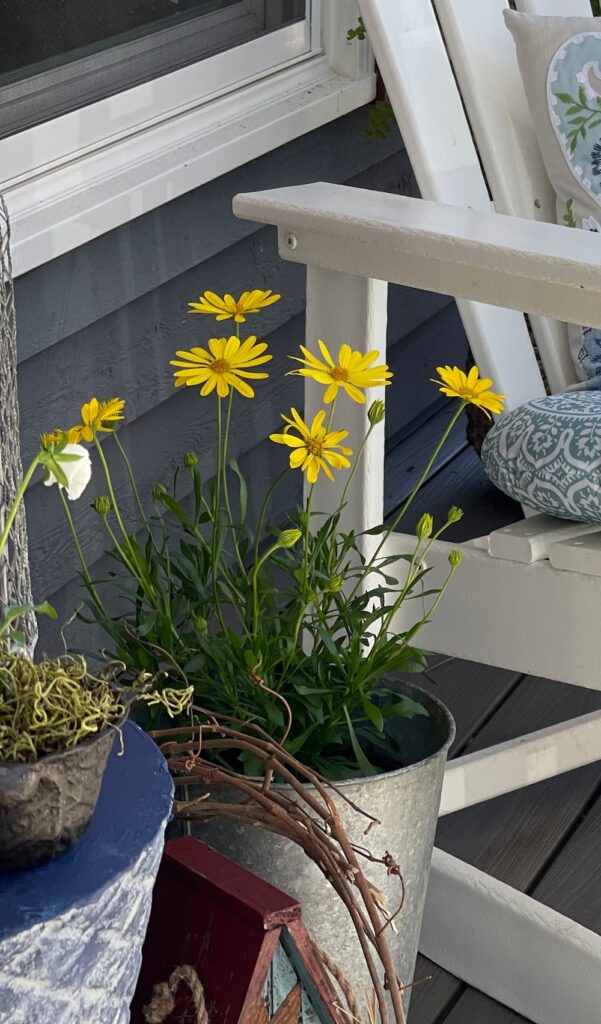 I also have a vintage wooden scoop with seeds ready to be planted
RUGS / DOOR MATS / THROWS
Another fun item to change with the seasons is door mats and rugs. I don't have a rug anywhere but under the doormat in the winter. Once spring comes, I like to add a small throw rug into the mix. It adds a layer of comfort and it's a great way to tie in your colors. This buttery yellow rug pulls color from the pillows and the flowers.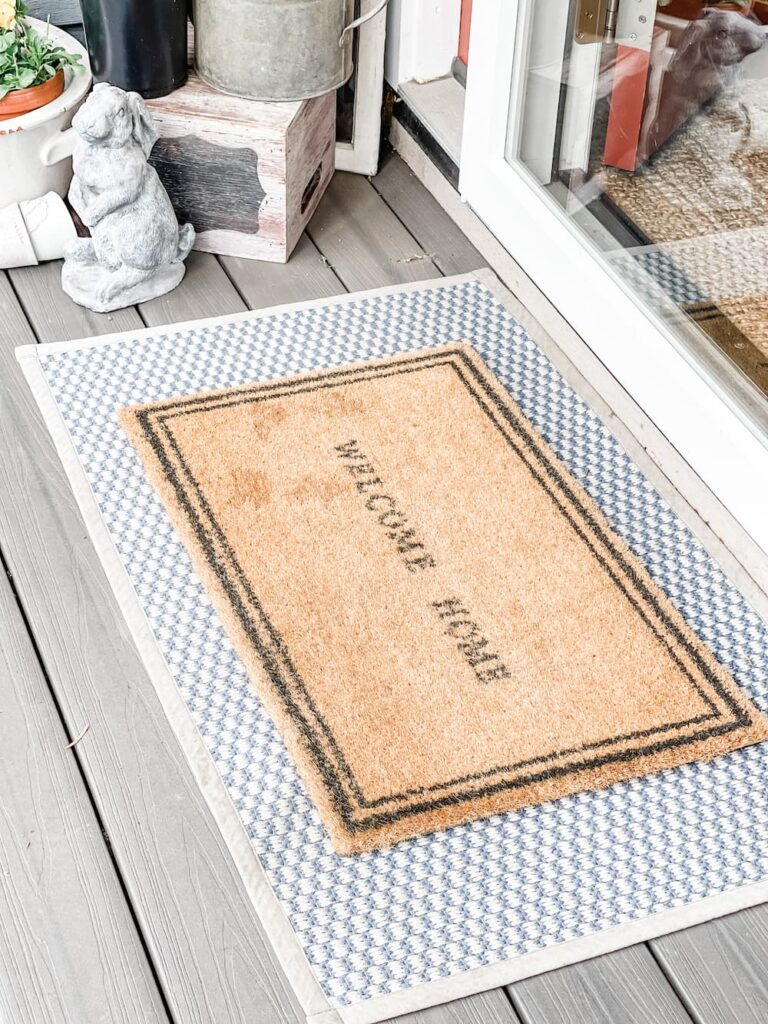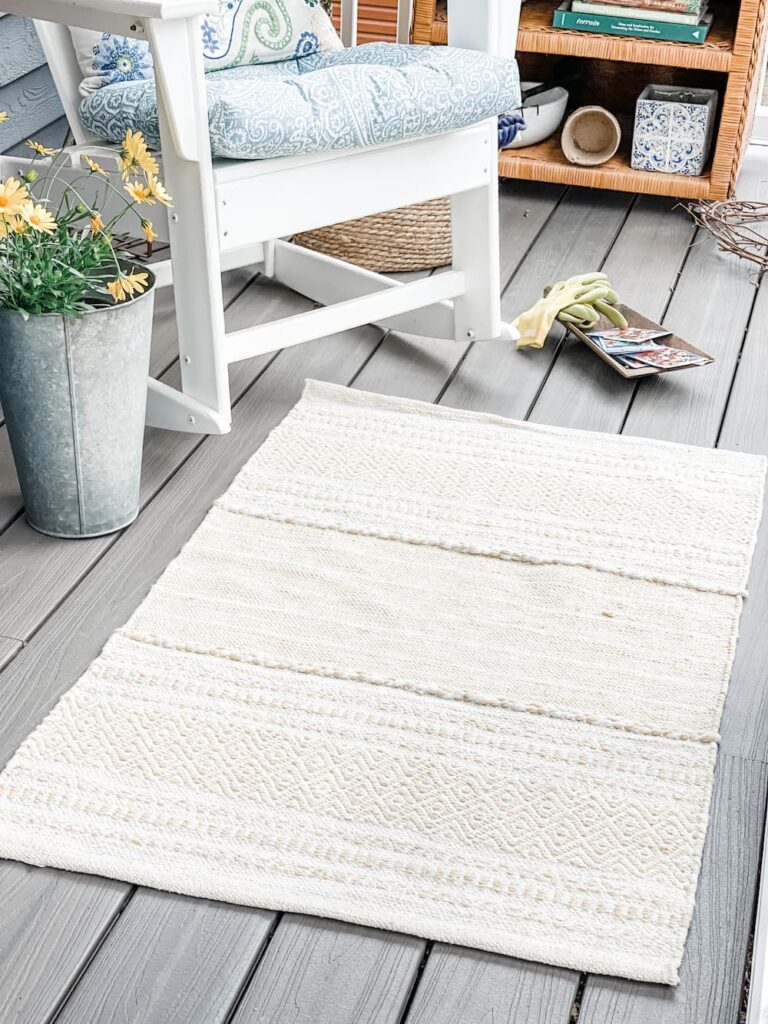 I a throw addict for sure, I always have them around. This is a pitiful picture of one of our dogs enjoying the blankets on the porch. Now if this isn't a picture of a cozy front porch, I don't know what is.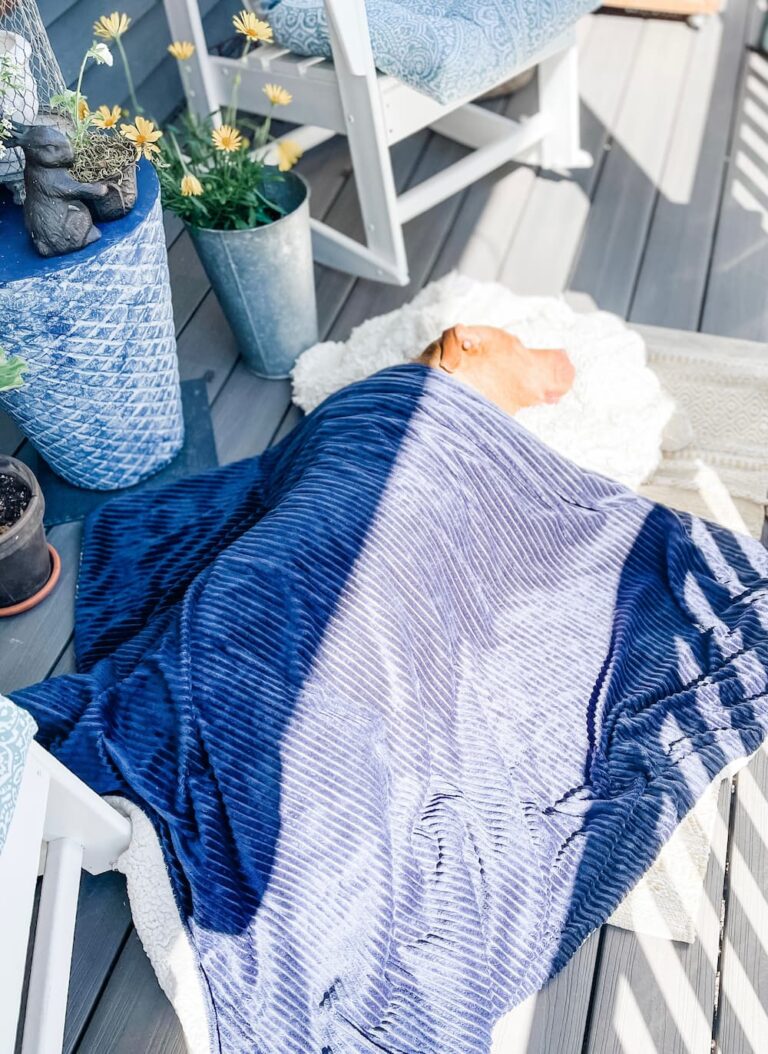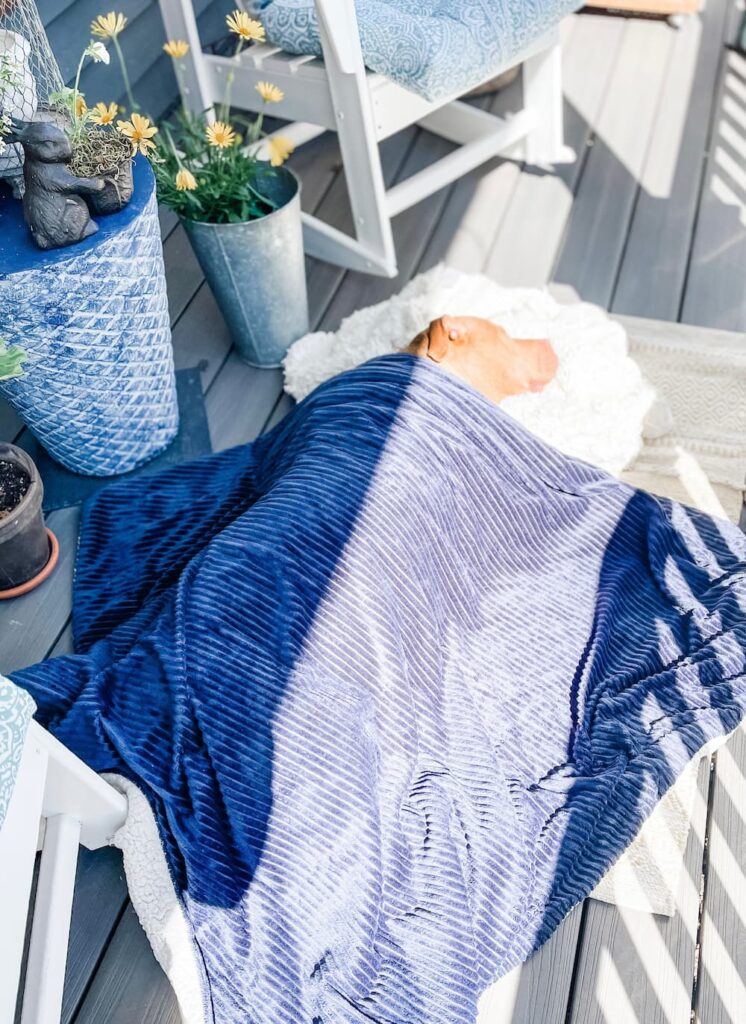 LIGHTING
Doesn't everything look better with lights? I've added candles for out front but I do have my party lights on the deck and out back. In our neighborhood we are not allowed to have them out front, or I probably would.
I so hope you have enjoyed all this porch inspiration. Next be sure to visit Amy from Amy Sadler Designs to see her fabulous door.
I hope you get some time outside soon to enjoy your porch, steps, deck or wherever makes your heart happy.
If you want to see what's going on behind the scenes at Saved From Salvage, visit this week's LATELY ON THE LAKE.
XO, Regina